This post may contain affiliate links to things like tours, hotels, Amazon associates and products. These help me earn a small commission at no additional charge to you.
First thing's first: I LOVE the Lake District! Throughout my recent Lake District weekend I felt like I'd been magically transported out of England and back to my Queenstown visit of 2016 or my Vancouver trip in 2011. I'm going to share my Lake District itinerary to help you plan a similar trip…
I think at least once or twice a year I need to be dragged out of the city and into the country. As an urban bod I rarely ever optionally plan trips away from amenities, WiFi and cappuccinos but I always fall in love with my surroundings when I get to the sticks. I feel more awake and alive from less dependency on screens, plus the fresh, country air really can do wonders for your mind.

Although we have some fantastic cities in the UK such as Oxford, Brighton, Bristol and Manchester, we all want to get away into nature, too!

From beautiful walks in the Lake District to cosy cabins, rolling scenery and fresh, local cuisine, the Lake District is ripe for staycation adventures.
LAKE DISTRICT QUICK LINKS

Lonely Planet Pocket Lake District

Hotels and self-catering accommodation: Booking.com

UK trains: Trainline

Lake District activities: GetYourGuide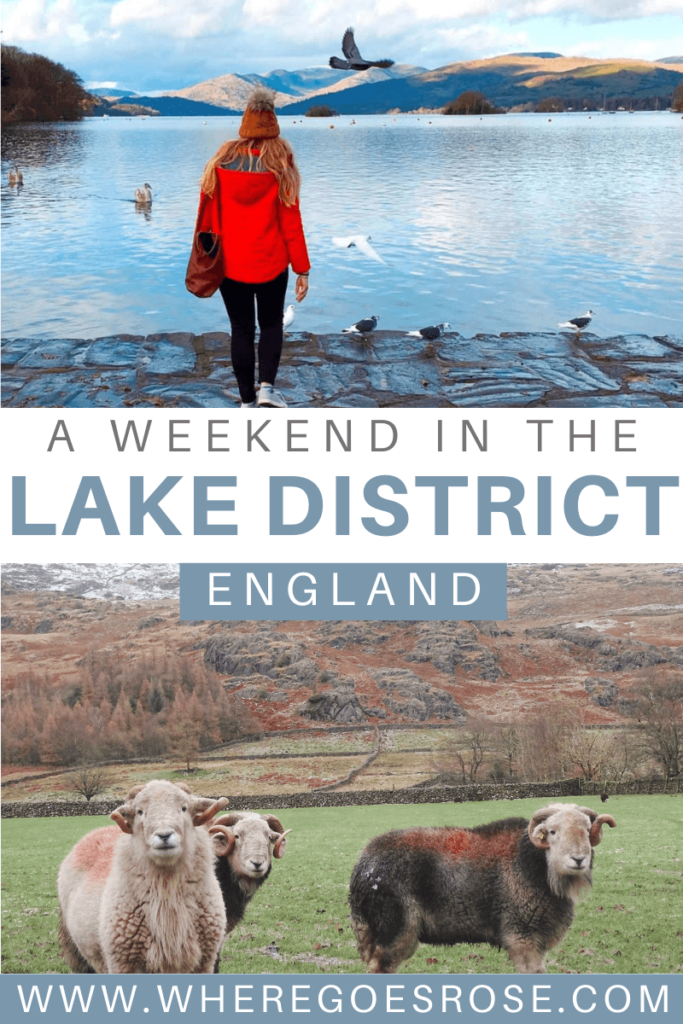 Looking for UK staycation inspo?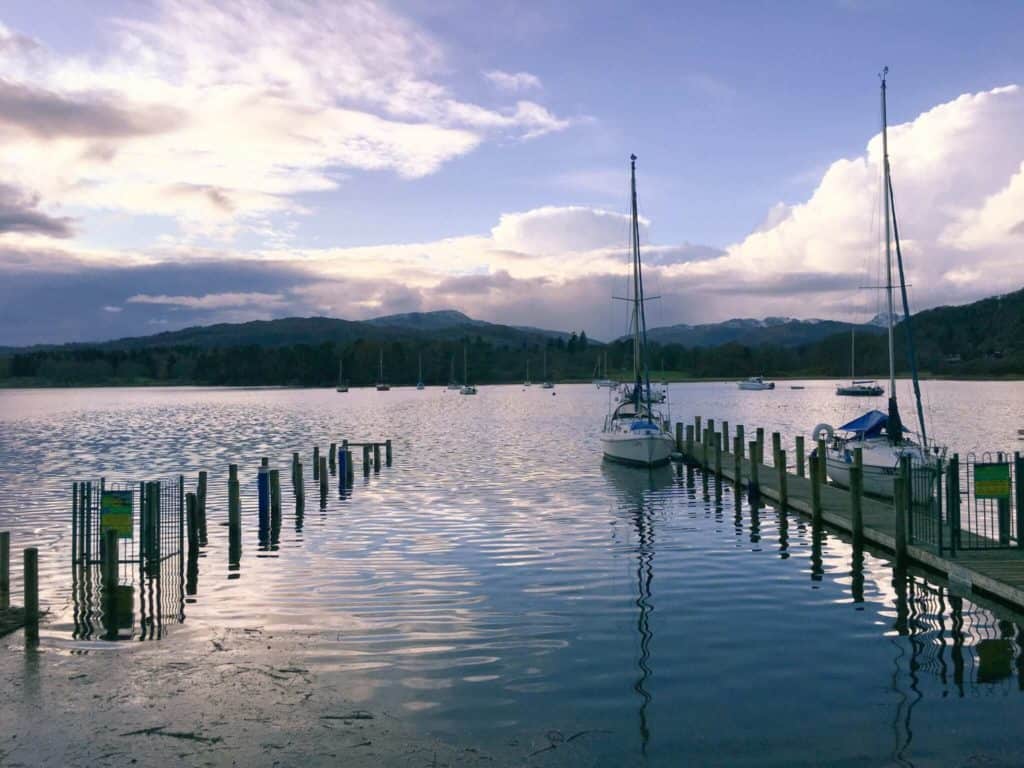 We planned our weekend in the Lake District for late November which was risky as we could have had terrible weather. But then in England you can always have terrible weather, right? I flew into the north of England from a short trip to Denmark and Poland so you can bet the weather was warmer than where I'd come from! It was the first time I'd felt my fingers in days as the Lakes were about 5 degrees during our stay.
Where is the Lake District?
The Lake District is England's largest National Park and it's also a World Heritage Site home to deer, ponies, red squirrels and lots of bird life. There are 16 lakes in total, though some people try and be clever clogs and say that there's actually only one because only Bassenthwaite Lake has the word 'lake' in the title. But yeah there are 16 bodies of water so do what you will with that info!
Where to stay in the Lake District?
A few of the bigger towns in the lakes are Kendall, Penrith and Barrow-in-Furness. Central locations such as Keswick and Ambleside are also popular or alternatively, you can stay somewhere remote to enjoy the natural scenery.

A few privare self-catering options (perfect for travel in 2021) include:
South Lake District: Abbey Apartments (sleeps 2-4 from £80pn) // Brown Cow Cottage (sleeps 2-4 from £100pn) // Log Home Vilage (sleeps 4, £100pn)

North Lake District: Penrith Apartments (sleeps 2-4 from £100pn) // The Cosy Cottage (sleeps 2, £70)

Central Lake District: Quaysiders Club Apartments Ambleside (sleeps up to 3 for £100pn) // Hapimag Burnside Park Apartments (sleeps 2, £127pn).
Browse all Lake District hotels, huts and self-catering accommodation on Booking.com.
Getting around during a Lake District weekend
One thing to note is that it is tricky getting around the Lakes. Thank God I have friends who are proper adults and have driving licenses and vehicles (unlike me). Even then, the roads are windy meaning it can take an hour to arrive somewhere just 10 miles away as the crow flies.

If you're backpacking the UK, it might be worth getting a group together in a hostel and seeing if anyone wants to hire a car and split a trip. Use Rentalcars.com to get the best deal.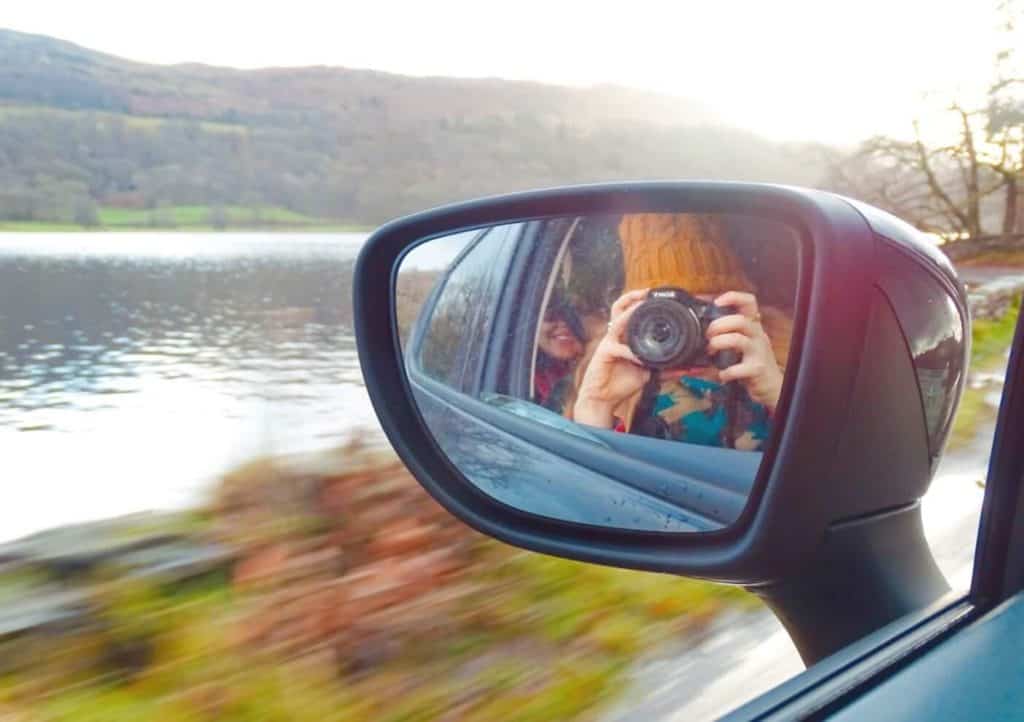 Visiting the Lakes without a car
Never fear if you don't have a car. Catch a train to Oxenholme Rail Station. I use Trainline to find the best prices on UK trains.

Search trains into Oxenholme here.

From here, you can take a guided Lakes District tour. This GetYourGuide full day tour to 10 lakes departs from Oxenholme or Windermere. Browse all Lake District tours.
2 day Lake District itinerary
With a weekend in the Lake District, plan where to go in advance. Pick a handful of destinations you'd like to see and scout out the driving distances.

As we had just 2 days in the Lake District, we stayed around the south of the Lake District. There's loads in the North but we didn't have time to do it all justice. Here's how I'd recommend spending a weekend in the south of the Lake District:
Lake District weekend – day 1
Windermere
The largest lake in England is probably the most famous spot in the Lake District. This area is beautiful so I'd highly recommend it as a starting point for your weekend Lake District itinerary. Lake Windermere was the first place we came to after driving up the M6 so I pretty much fell in love with the Lakes straight away.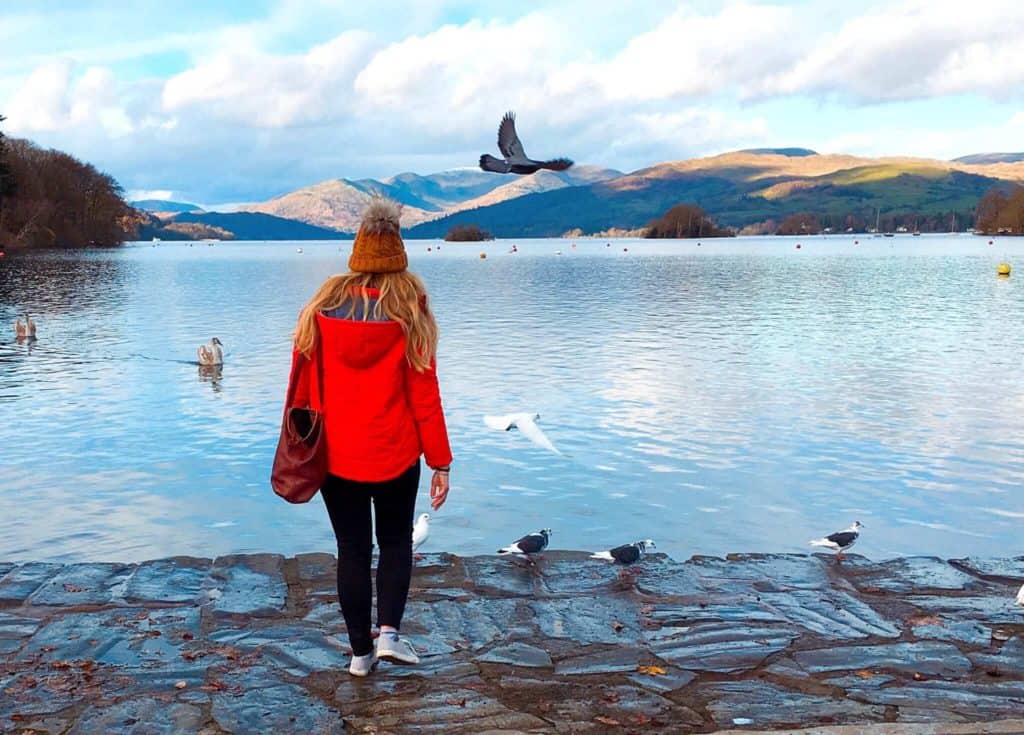 Things to do in Windermere:
Rowing, sailing, orienteering, horse riding, cycling – name something active and you can do it here.
Catch the boat across the water from Bowness-on-Windermere to Ambleside. The Yellow Cruise is a 90-minute return journey and costs £11.20. You can spend as long as you like exploring Ambleside before catching a boat back.
Where to eat in Windermere – the Crafty Baa is a cosy spot with an open fire and lots of cheese. Eat a delicious grilled cheese sarnie and enjoy the fact you're supporting a family business using mainly recycled and upcycled materials.

For tasty Italian fare, you can head to San Pietro Restaurant Windermere. Here you can choose from pizza, fresh seafood, meat dishes and finish with cheesecake, brownies or ice cream. There are also a range of wines and craft beers.

Where to stay in Windermere: Hapimag Burnside Park Apartments (sleeps 2, £127pn).
Ambleside
If you catch the Yellow Cruise across Lake Windereme like we did, this is where the boat drops you. The town is fairly small but there are loads of outdoor activities for your Lake District itinerary.

Things to do in Ambleside: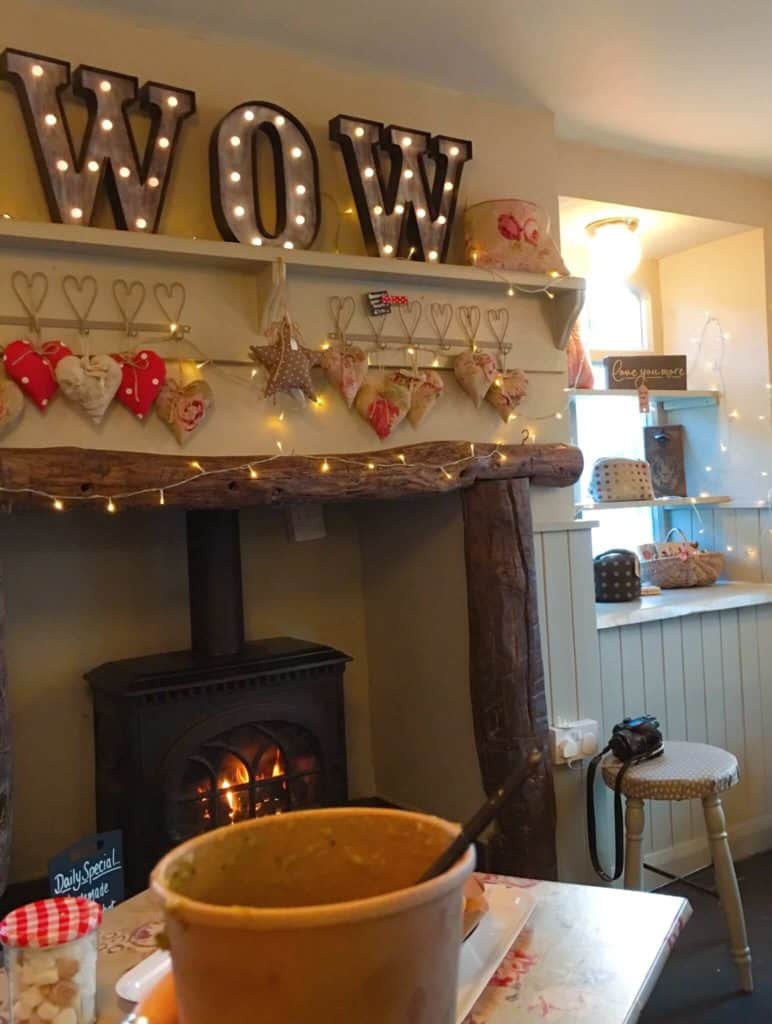 Places to eat in Ambleside – the Waterhead Coffee Shop when you get off the ferry might be the cutest and cosiest cafe I've been to. The pea soup with crusty bread was divine and the Amaretto latte was even better.

After a busy day cruising on Windermere and exploring Ambleside, we headed to our Airbnb for a festive night of home cooking, wine and Christmas movies in prep for a big hike the next morning. However there are lots of lovely English pubs you can explore around the Lake District for example the Ambleside Tavern and the Unicorn Inn known for its house ales and live music.

Where to eat in Ambleside: Quaysiders Club Apartments Ambleside (sleeps up to 3 for £100pn).
Lake District weekend – day 2
For your second day in the Lakes, there's plenty to see and do. I would suggest adding to your Lake District itinerary…
Coniston
This village is beside Coniston Water, one of the biggest lakes in the south of the Lake District. You can go for scenic hikes in this area, explore the village or take a boat cruise upon the lake, making it a lovely spot for a Lake District weekend.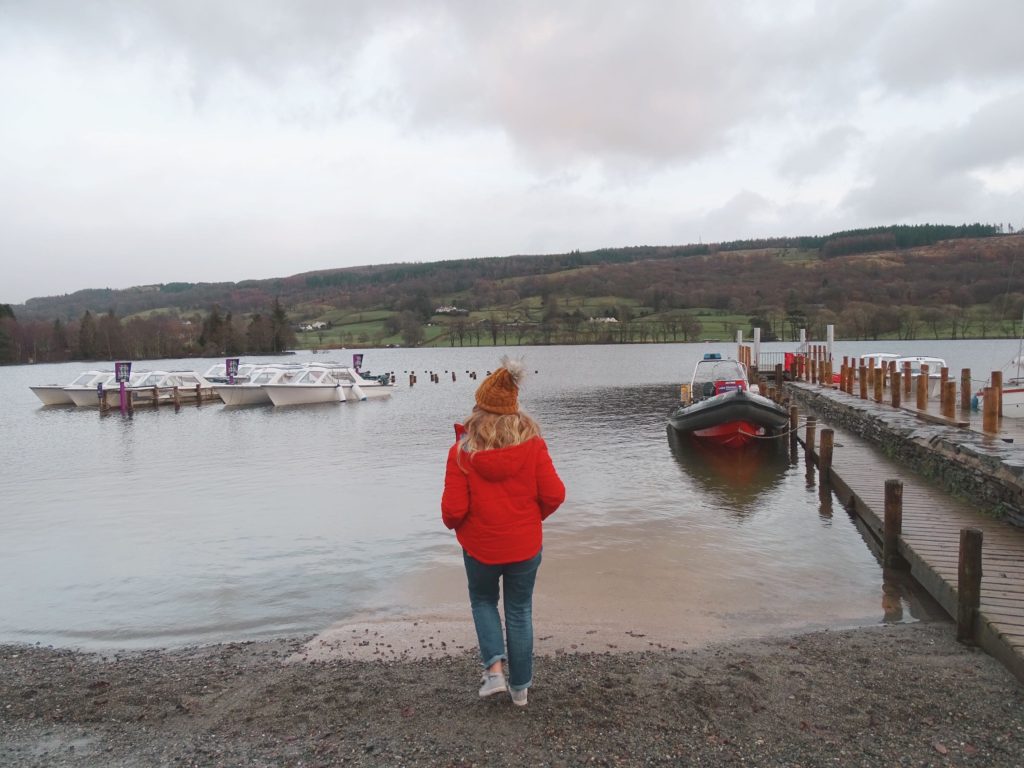 There's not a lot to do in the village itself but the lake is beautiful and there's so much to see in the surrounding countryside, making it a great place to visit during two days in the Lake District. The Old Man of Coniston is a popular hike and extra beautiful as it was capped with snow during our stay.
Things to do in Coniston:
Explore the lake aboard the Coniston Launch Cruise. The Red Route takes 45 minutes while the Yellow Route takes 60 minutes and the Green Route takes 90 minutes.
From April to October, catch the Steam Yacht Gondola. You can even get afternoon tea cruises so it's probably a good birthday present for someone.
Take the Old Man of Coniston walking trail for spectacular views. Visit Lakes Walks for directions.
Visit nearby Tarn Hows just a 10-minute drive from Coniston and take the Tarn Hows Circular Walk which takes 1 hour and will hopefully see you meet cute Lake District cows.
Places to eat in Coniston – the Bluebird Cafe is lakeside goals. Sit outside with a blanket or by the window to enjoy the views. The food is awesome too; I can vouch for the toasted cheese sandwiches.
Cartmel
This village is famous for one thing – sticky toffee pudding. The ultimate reward after the Old Man of Coniston hike!

Cartmel Village Shop is known as the birthplace of this dessert and when we stopped to ask someone for directions to Cartmel they said 'ah yes, for sticky toffee pudding!'

So either it's really famous or we just looked SUPER greedy.
At the Village Shop you can sit in and enjoy your pudding or buy it in shed loads to take home. It's freezable don't cha know and only £12 for three giant tubs that each serve four (okay, let's just go with super greedy!). The shop also sells every other type of confectionary under the sun and got me feeling excited for Christmas.
Other things to do in Cartmel during a Lake District weekend:
Explore the village's vintage clothes shops.
Check out the pretty Priory church.
Places to eat in Cartmel – for a non-sticky toffee meal, head to the Mallard Tea Shop. This themed cafe serves soups and toasties plus has ducks of the china and fluffy variety absolutely everywhere. Random but why not?
Other places for your Lake District itinerary
We didn't make it to up the north of the Lakes but here are some of the most popular places to visit. If you have more time during your weekend in the Lake District, you could check out…

Keswick – This town an hour north of Windermere is just a 10-minute walk to Derwentwater, another beautiful lake surrounded by mountains. Here you can catch a boat on Derwentwater Lake and admire the four islands in the middle, take the Catbells Lakeland Walk, visit Go Ape (Whinlatter), catch a show at the Theatre by the Lake or visit Castlerigg Stone Circle which is like a mini Stonehenge.
Buttermere: Stay in this little village and you'll be close to three lakes: Buttermere, Crummock Water and Loweswater. Take the 3-hour Lake Buttermere Walk, see red squirrels at Crummock Water beach or walk around scenic Loweswater Lake.

Ullswater: The second largest lake in England (after Windermere) which some people think is the most beautiful and compare to Lake Lucerne in Switzerland. You can go kayaking, fishing or take a boat cruise across the lake. There are lots of little villages nearby with accommodation or you can camp or get a campervan. Alternatively, you can stay in Penrith which is a larger town a 20-minute drive from Ullswater.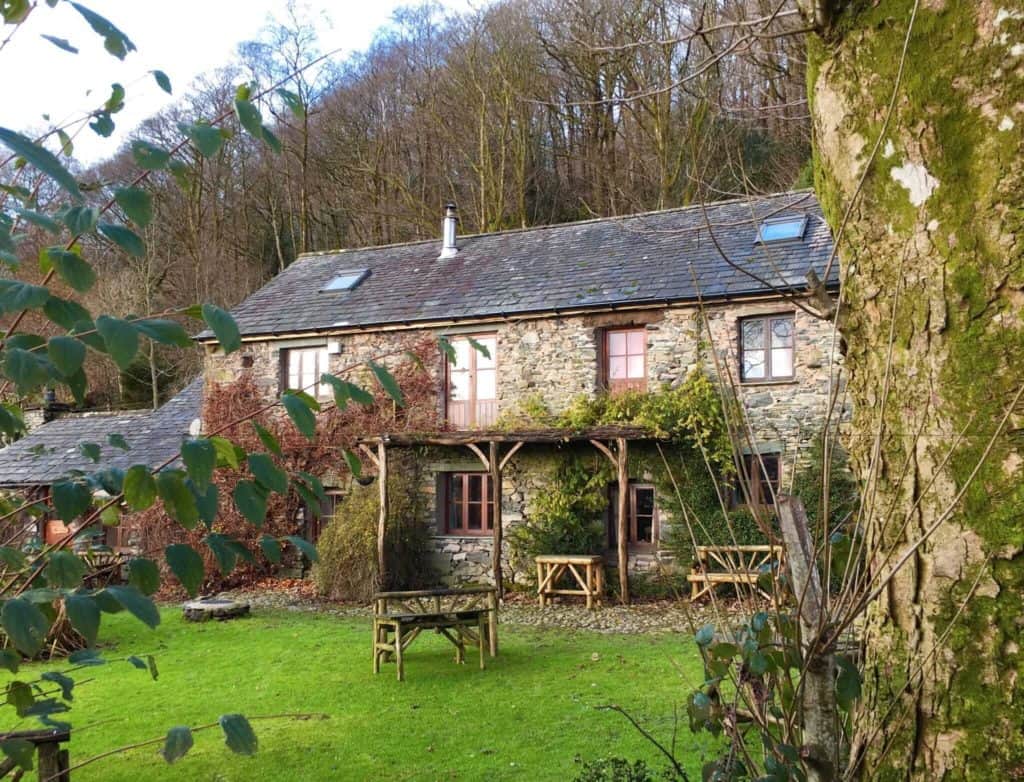 Lake District walks
Where to even begin? There are so many walks to do during 2 days in the Lake District. Helpful resources to find them include Lake District website, the Walk Lakes site and the National Trust. Here are some of the most popular walks for your itinerary in the Lake District:
Old Man of Coniston – because of a little problem I will refer to as the 'no Wi-Fi or phone signal anywhere ever problem' we got majorly lost trying to find this trail and ended up walking somewhere else instead. Having looked it up on Instagram afterwards I'm majorly gutted – the view looks gorgeous!

Scafell Pike – the tallest mountain in England. This trek is about 5 hours up and down and requires some training as it's pretty gruelling. Also give the time of year some thought as it gets freezing cold at the top even in summer. Saying that, the views are apparently insane and it's definitely one to get on your bucket list.

Tom Gill to Tarn Hows – this easy path of 1.6 miles between Coniston and Windermere was gifted to the National Trust by Beatrice Potter and is really beautiful.

Catbells Lakeland walk – this is a short and steep climb near Keswick but the end result is seeing for miles around.

Derwentwater via Walla Crag – this 8-mile route also near Keswick has great views of the lake.
When to visit the Lake District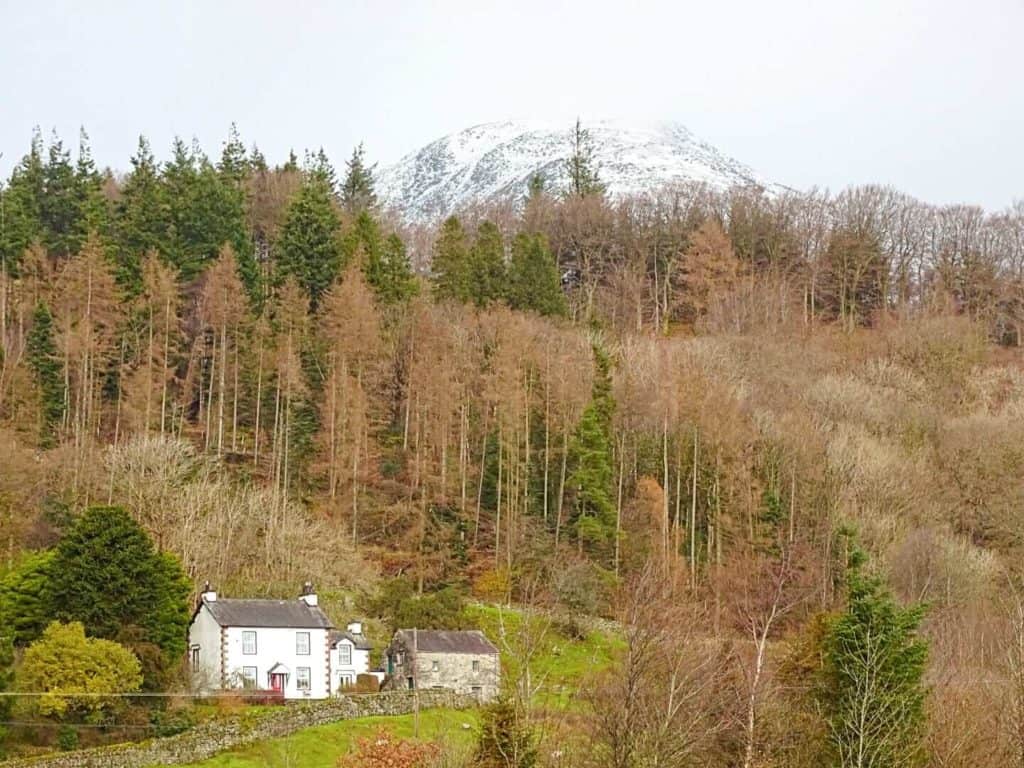 The climate in England is mild. There's no time of the year where it will be -20 unlike some countries so you can pretty much visit whenever as long as you're prepared it might rain or even snow. Our November Lake District weekend was cold and bright with the odd shower and we benefitted from off-peak prices.

Saying that, your chances of sun are highly increased from March to September. You'll see more crowds but the sun is about 78% likely to break through the clouds at least twice during your stay! It's totally up to you.
Tips for a weekend in the Lake District
There's little signal in the Lakes. Like hardly any at all. If you want to get online, check your accommodation has strong Wi-Fi in advance.

With that in mind, go old school. Get some paper maps from a tourist information shop (even the smallest villages have these) as Google Maps will let you down out in the hills.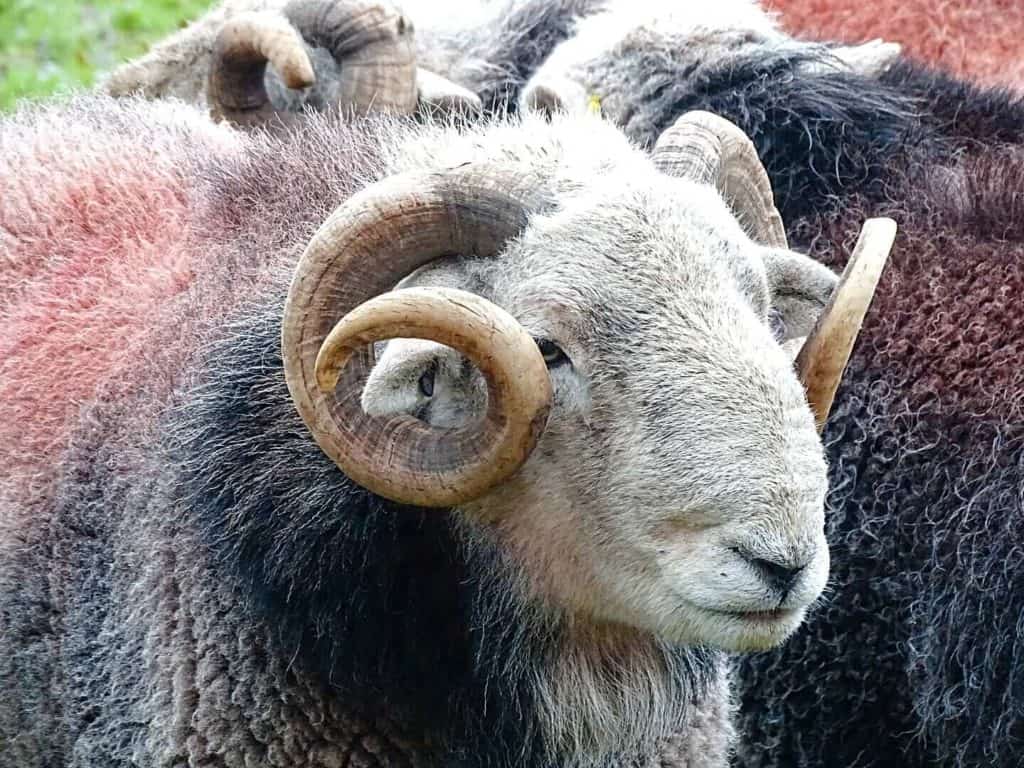 Learning the lingo
You'll hear these terms during your 2 days in the Lake District but might not know what they mean. Learn these words in case someone's like 'you're happy to go up the pike, right?' and you accidentally end up on the hardest climb of your life.
A tarn – a lake in the mountains (um, beaut!)
A fell – a large, flat mountain
A pike – the peak of a mountain
A dale – a valley
A gil – a narrow stream.
What to bring and wear
Accounts to provide inspiration
Follow these Instagram accounts to help plan your trip:
Now you're sorted!! I hope you enjoyed this 2 day Lake District itinerary – let me know how you get on!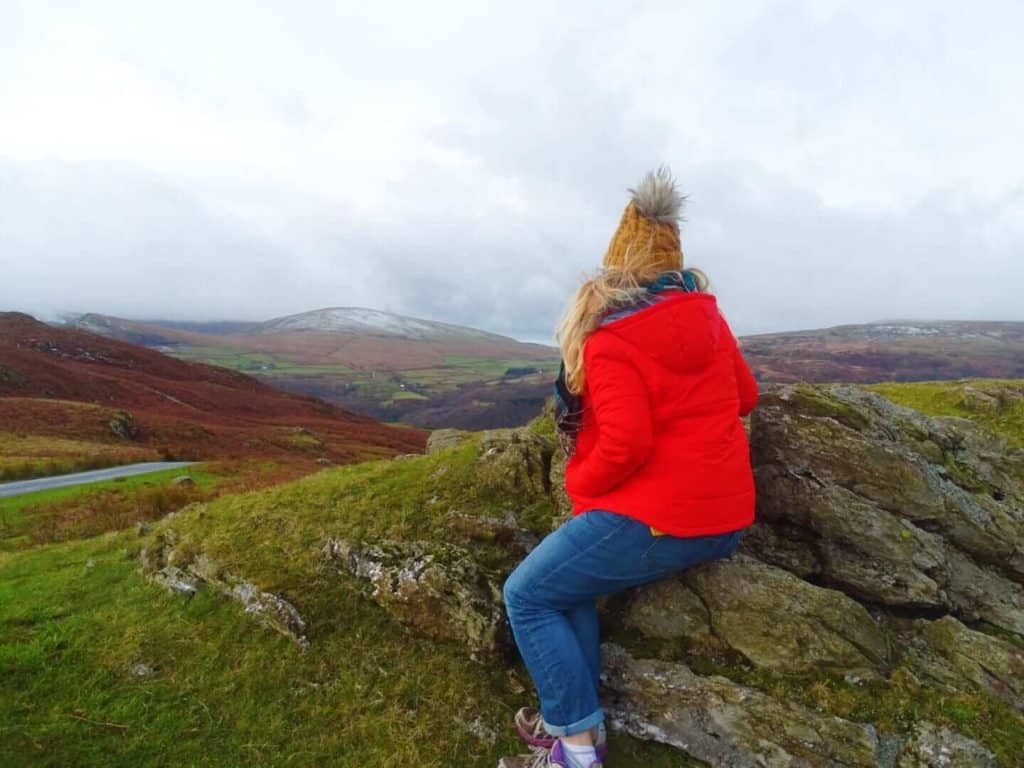 Visiting the UK?

Guidebooks – LP always get my seal of approval. Use the latest copy of Lonely Planet England.

Flights (international and domestic) – I use Skyscanner to find the best-value flights, using the 'search by month' tool to find the cheapest dates. You can also use the 'to anywhere' feature if you're flexible on where you're going.

Car hire – use Rentalcars.com to compare car rentals in the UK (and all around the world).

For UK trains, I use Trainline. The search feature allows you to compare prices, and they show live departure times on the website.

For buses, I use Busbud. It's the only site that compares UK coaches and buses. Find London to Manchester journeys for £1!

Use Omio to compare trains and buses in one search. It's so handy.

For hotels and self-catering apartments, I use Booking.com. You can filter by review score and price to find the best-rated budget places. For hostels, I use Hostelworld.com.

To save money on accommodation, I use Trusted Housesitters, a website that connects homeowners going away and travellers who can sit their homes & pets.

I use GetYourGuide for tours & activities when I don't want to travel solo. The guides are knowledgeable and you can't beat the prices. I also check Viator as they often have fun and unique offerings.

Need travel insurance? I use True Traveller (for UK & Europe residents) since it's affordable but covers everything you'd need including various activities, valuables and pre-existing conditions. Unlike some companies, they insure you if you're already travelling / don't yet have your flight home booked. Get a quote.

For travel insurance for other nationalities, I recommend Hey Mundo and for long-term digital nomad travellers, I suggest Safety Wing.

Check out my resources page for more travel discounts and budget tips from my 10+ years on the road!
Are you planning a weekend in the Lake District? Let me know in the comments!
Thanks for reading my Lake District itinerary
If you're looking for England inspo, check out some of my other posts:
See you next time for more adventures,
Rose
Follow for more UK content on Instagram, Facebook, Twitter and YouTube.
Ps. Liked this Lake District itinerary? Pin it for later!