Welcome to my 2 day Miami itinerary! I recently spent a fantastic 2 days in Miami and it exceeded all my expectations.

I didn't really know much about Miami before my visit to the US. I'd heard of South Beach and seen the glamorous side of Miami portrayed on TV but that was about it. I had no idea that most of the city is Hispanic and there's plenty of fantastic Mexican and Cuban cuisine to try and culture to be experienced.

From vibrant street art to communities from all around the world, there's more to Miami than just the beach. In this guide, I'll share my 2 day Miami itinerary including my favourite places, eats, quirky corners and nightlife. Enjoy!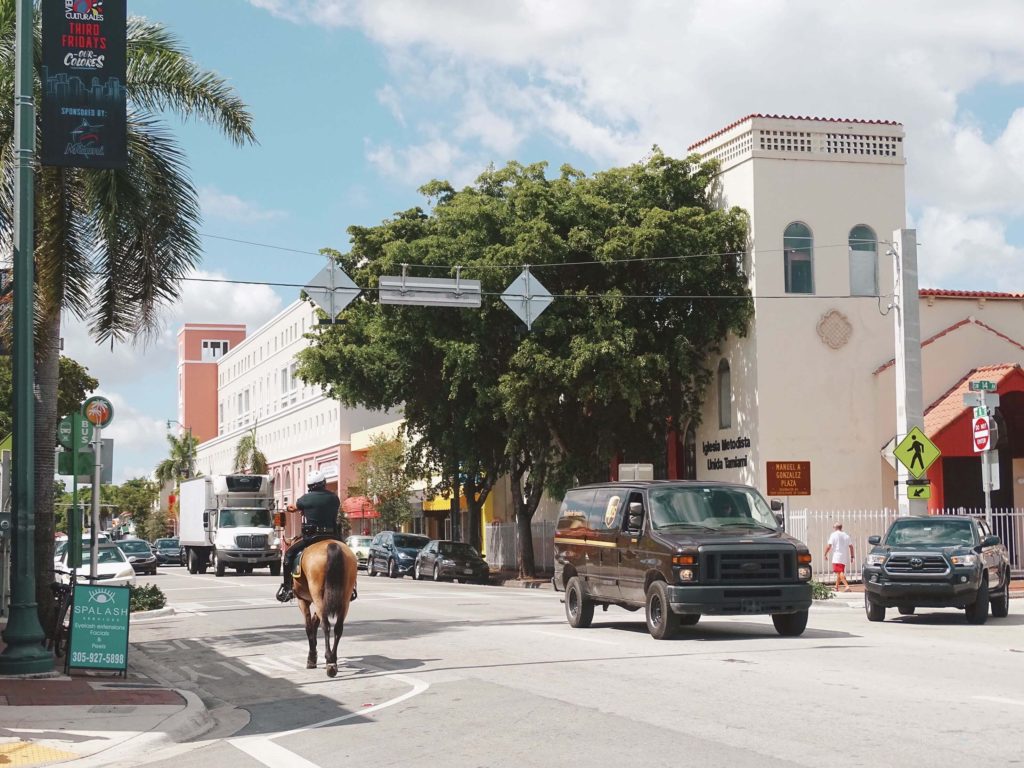 2 DAY MIAMI ITINERARY ESSENTIALS

Miami Pocket Lonely Planet

Hotels: Booking.com / Hostelworld

Activities: GetYourGuide / Viator
Two days is a great amount of time for your first trip to Miami whether you're visiting for a weekend trip or as part of a larger Florida road trip. You'll have time to explore a few of the highlights and also relax on the beach, have a few drinks, and sink your teeth into the local cuisine.

Granted, you could stay much longer in Miami, especially since there are several day trips you can take, but 2 days in Miami is enough for a nice introduction.

For me, a budget traveller, I found Miami very expensive and wouldn't have been able to stay much longer!
Where to stay during 2 days in Miami
I stayed in Miami Beach and would really recommend it. This island city is one of the few places I discovered in Miami that was walkable and easy to get around without a car. The other perk is having the beach right on your doorstep!
How to get around Miami
How to get from Miami airport
Miami itinerary – day 1
I chose to have a busy first day in Miami then spend my second day relaxing in Miami Beach. I began my Miami itinerary by exploring two of the coolest neighbourhoods, Little Havana and Wynwood Walls. These areas are just a 10-minute drive apart but they're totally different. By visiting both, you'll see two totally contrasting sides to Miami…
Morning – Little Havana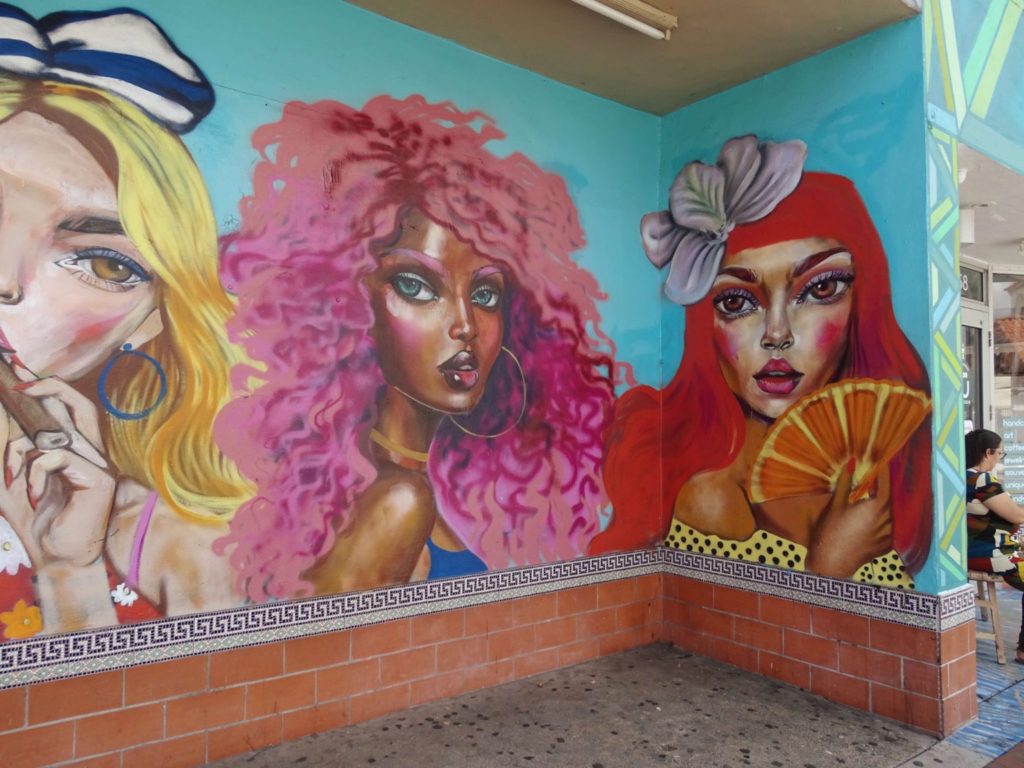 I was excited to explore Little Havana partly because I knew I'd be heading to the real Cuba in a few month's time and wanted to see how they compared. I was visiting Miami as a stopover en route to Mexico so I also couldn't wait to practice my Spanish. But the main reason?

FOOD. I was headed on a Little Havana food tour with the promise of 5+ meals. If you've ever read my food blogs before, you'll know how happy this makes me!
Quick background of Little Havana
If you don't know about Cuban history, you may not understand why there's a Little Havana in Miami or why over 50% of Miami's overall population have Cuban origins. The reason relates to the ex Cuban dictator, Fidel Castro, who ruled Cuba mercilessly, inflicting a controlling Communist regime on the country.

Understandably, thousands of Cubans were keen to flee. The US Wet Foot Dry Foot policy allowed Cubans to earn US citizenship if they could get a foot on US soil. Some drowned or were captured on the crossing but many made it to Miami where their ancestors still reside today, many within the neighbourhood of Little Havana.
Things to do in Little Havana
– Visit galleries and performance venues: to learn about Cuba and Little Havana via music and art, visit CubaOcho Museum & Performing Arts Center. We watched a musician perform at midday and browsed some impressive pieces of artwork, one of which was apparently worth $35,000! The well-stocked bar and enormous rum collection is another reason to visit.

– Shop: there are plenty of places to buy Cuban-style jewellery, art and trinkets. I chatted to the owner of Agustin Gainza Arts and Tavern who told me that the beautiful jewellery is made by his daughter.

– Eat Cuban food! Check out my guide to where to eat in Little Havana, Miami. From super strong Cuban coffee to empanadas, Cuban sandwiches, fresh fruit and gelato, there's so much amazing food in Little Havana.
Afternoon – Wynwood Walls
Little Havana was exciting but Wynwood Walls was the reason I was in the US. I'm a huge fan of street art so when I discovered that it was the same price to fly from London – Mexico City with 2 days in Miami, I decided to tag on a visit to the US to see Wynwood Walls, somewhere I'd seen countless times on social media. It didn't disappoint!
Read next: A complete guide to visiting Wynwood Walls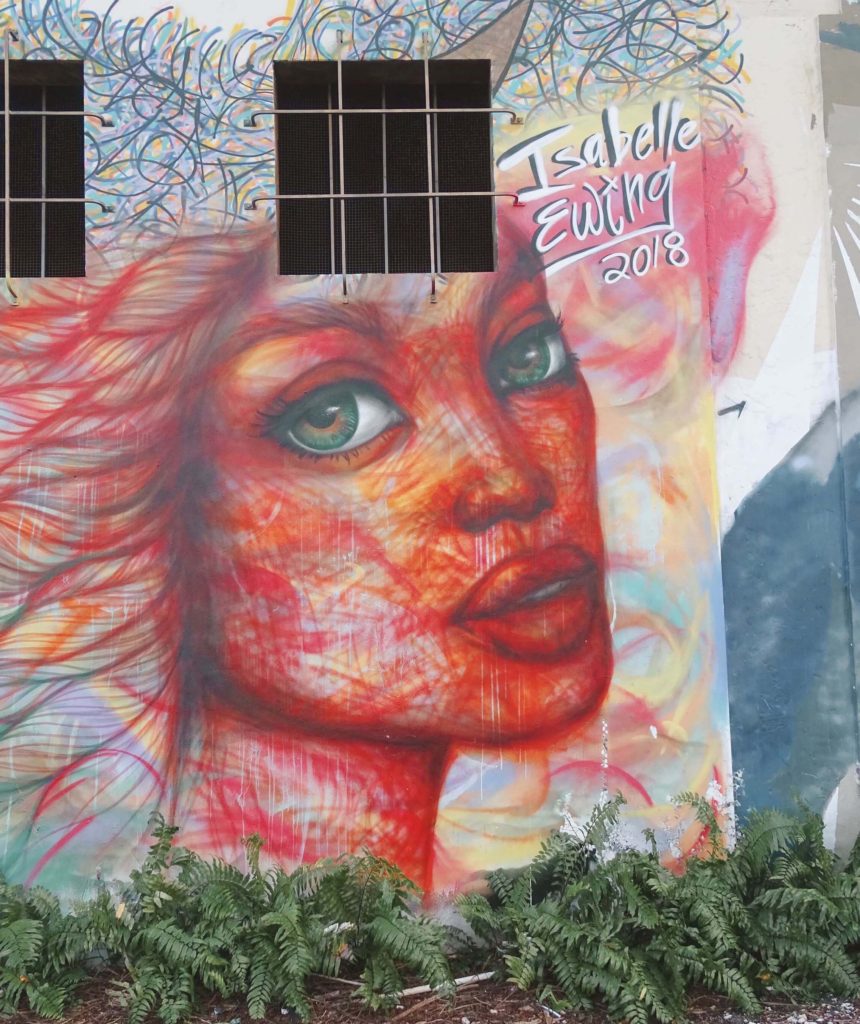 Where to find street art in Wynwood
Where can't you find street art? What I like about Wynwood is how walkable it's become thanks to the street art.

I imagine this was once an area where it would be rare to see pedestrians. Nowadays, there are murals dotted all around the neighbourhood which gives people a reason to wander.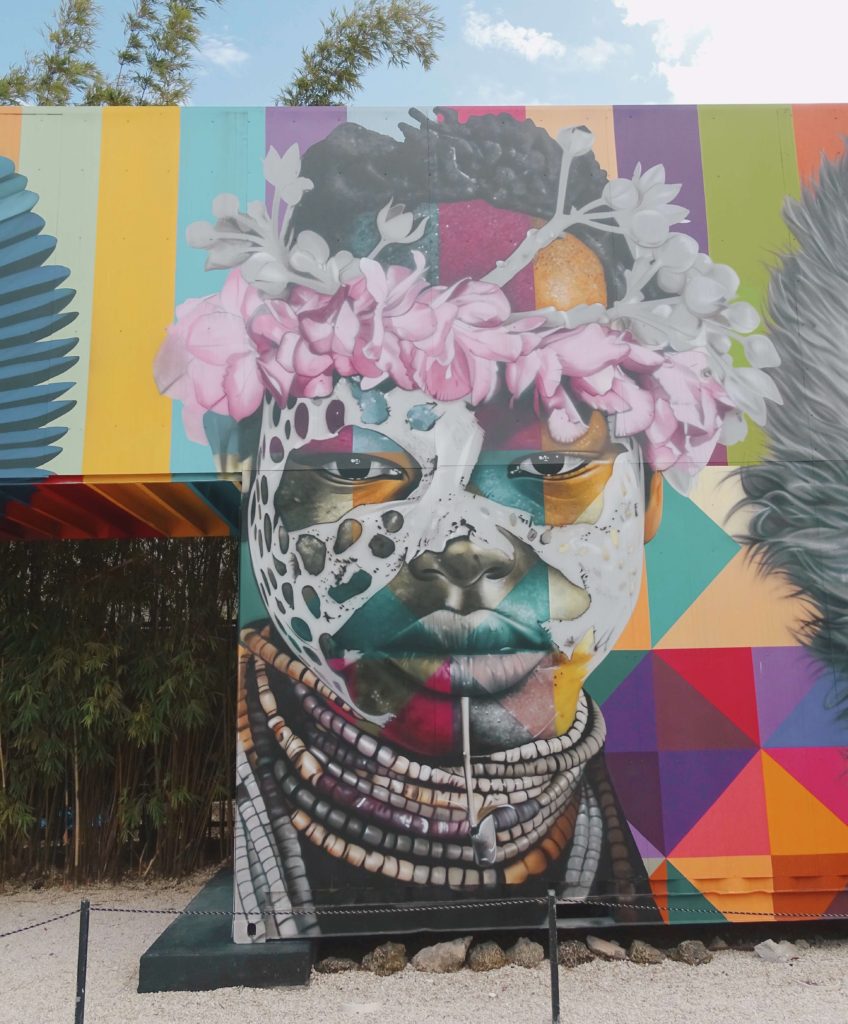 Where to eat and drink in Wynwood
World Famous House of Mac – this restaurant needs no frills. They serve all kinds of mac and cheese dishes like jerk chicken mac and cheese and lobster mac and cheese. Prices start at $14 for huge portions.

Zak the Baker – you can't miss the rainbow-coloured bakery which blends into the backdrop of Wynwood Walls. But it's more than a colour pop: there are croissants, salads, pasta dishes, deli foods and coffee. Everything is kosher. Order the chocolate croissant!

La Tiendita Taqueria – this is the place to eat tacos, quesadillas, chilaquiles and flautas washed down with frozen margs made with tequila or mezcal. Prices are high but worth it.
Where to stay in Wynwood: Stylish studio apartments with cooking facilities – book from $120 a night.

Browse all apartments in Wynwood.
Miami itinerary – day 2
If you have a second day in Miami, there are plenty of things to do. Personally, I was feeling burnt out from all the long journeys I'd taken on public transport the day before (as I mentioned, the bus system in Miami isn't the best) and was glad to stay near my accommodation and relax around Miami Beach.

If you fancy something a bit more active, a few things you could do during the second day of your Miami itinerary include:

– Vizcaya Museum and Gardens: this is one of Miami's most beautiful buildings located in Coconut Grove and built in Renaissance style. Wander the 43 acres, snap photos and escape the busy city.

– Fairchild Tropical Botanical Garden: another ideal place for some fresh air is this 83-acre estate a 30-minute drive from central Miami. There's a rainforest, running water and plenty of events that can be researched on the website.

– Bill Baggs Cape Florida State Park: jutting down below Miami is Key Biscayne, an island connected to the mainland by road. At the tip of the island is this state park, measuring 400 acres and filled with picnic areas and biking trails. You can enjoy the beach and practise water sports.
Miami Beach
Española Way
Another place to explore during 2 days in Miami is Española Way, originally built in the 1920s to resemble charming Mediterranean villages in Europe. While it was frequented with artists then, it's now popular with locals and tourists especially as it had a multi-million dollar facelift a few years back.

As well as being incredibly picturesque, Española Way is full of cute shops and restaurants including Italian, Japanese and Mexican. It comes to life in the evenings when tables spill out into the street. Consider visiting in the evening for an atmospheric dinner, and finish with drinks at Española Cigars Craft Bar & Lounge.
Art Deco buildings
I knew nothing about Art Deco before my trip to Miami but I was blown away by these colourful, quirky buildings. Little did I know I would see even more in Condesa, Mexico City during the following months.

Even if you're not into architecture, you'll love wandering around Miami Beach and spotting these vibrant and unusual-looking buildings.
– Park Central Hotel, Ocean Drive – this bright blue building has circular windows (that remind me of portholes) all built in observance of the 'Rule of Three' which is at the heart of Art Deco style.

– Senor Frogs, Collins Avenue – once an elaborate 1940s cafeteria, this is now Miami Beach's most infamous bar. Whether you go inside for drinks or snap a few photos from the outside, it's worth it.

– The McAlpin, Ocean Drive – this iconic hotel is painted white with pastel pink and pale green colour pops. Like the others, it's perfectly symmetrical.

– The Breakwater, Ocean Drive – possibly my favourite Art Deco building in Miami, this hotel has a purple facade with a neon-studded tower at its centre. Apparently inside there are 99 boutique rooms.
Ocean Drive
You can't miss it, especially if you've already explored the Art Deco buildings, but it's worth adding Ocean Drive to your Miami bucket list. Here there are boutique beach shops, coffee shops and many stylish bars serving margaritas! Like much of the area, it's busy 24-7 but really comes to life as a party destination at night.
Lincoln Road
If Ocean Drive is the place to sightsee and promenade, then Lincoln Road is a place to relax and socialise after a hard day's exploring.

This wide, pedestrianised street is overflowing with cafes and all kinds of restaurants from Latin American to European and Middle Eastern. There are more global chains on Lincoln than independent boutiques so I preferred it for people-watching than shopping.
Where to eat during 2 days in Miami
Miami Beach has a reputation for being expensive and I can confirm that to be true! I can't tell you much about upmarket restaurants in Miami Beach but I can tell you about some affordable, casual eateries to visit during your 2 day Miami itinerary.
Budget eats in Miami Beach
Sriracha House – I loved this healthy Asian cafe on Washington Avenue. You can choose from noodles (egg, rice, glass, udon or wholewheat) or rice (jasmine or brown), then top with a protein (meat, shrimp or vegan), veggies and a sauce.

I went with Vietnamese green coconut milk curry but there are other inventive choices like Mongolian tamarind and Taiwanese oyster sauce. I paid $11 for lunch which is cheap for Miami!
Hiro's Sushi Express (South Beach) – I ended up eating here twice in two days which is high praise. The sushi is tasty and affordable. You can eat in, takeaway or order via UberEats.
Upscale eats in Miami Beach
If you have 2 days in Miami and fancy treating yourself, go for it! While I didn't dine here myself, I heard great things about The Local House which does all kinds of fancy brunch dishes like caramelised banana pancakes and eggs benedict, washed down with cocktails.

To try Cuban food in fun and authentic surrounds, head to one of the branches of Havana 1957 and order the ropa veija and a mojito!
Nightlife in Miami Beach
There are so many bars and clubs in Miami Beach. For a proper night out, head to Twist South Beach, one of Miami Beach's megaclubs and a popular LBGT+ venue with 7 different bars, drag acts and DJs from around the world. For a lively Latin-inspired evening, visit Mango's Tropical Cafe which has been a Miami favourite for the last 30 years.
Miami itinerary – additional day trips
I only had 2 days in Miami but if I'd had an extra day, I would have taken one of the many popular day trips from Miami. These include:

Key West archipelago – this set of tiny islands connected by road can easily be visited from Miami. As the southernmost point of the USA (only 90 miles north of Cuba), it's a favourite with cruise ships but you can also self-drive or take a day tour. Browse GetYourGuide tours to Key West from Miami some including dolphin watching, snorkelling, sailing and more.

Everglades National Park – this is one of the most famous regions of Miami and now a World Heritage Site known for its swamps and marshlands home to all kinds of important habitats. Turtles, panthers, alligators and manatees live in this protected reserve measuring 1.5 million acres. Browse Everglades tours with GetYourGuide.

Biscayne National Park – another natural wonderland south of Miami is Biscayne. This national park is almost entirely underwater, boasting incredible coral reefs and mangrove forest. If you're lucky, you might glimpse turtles and dolphins. Take a Biscayne boat cruise with GetYourGuide.

Boat trips from Bayside Marketplace – this waterside shopping centre is worth a visit in its own right with a huge collection of shops and eateries. It's also the location that boat rides depart for as little as $20 around Millionaire's Row and the Venetian Islands. Browse boat trips here.