This post may contain affiliate links to things like tours, hotels, Amazon associates and products. These help me earn a small commission at no additional charge to you.
Looking for a Taiwan itinerary that includes cities, street art, hiking, food markets and culture? Whether you're browsing for a potential future trip or have a 2 week itinerary for Taiwan in mind already, I'm extremely jealous.

My 2 weeks in Taiwan were spectacular: full of hiking, eating and culture. In fact, Taiwan was favourite new destination of 2019 and it had South Korea, Romania, Bulgaria and the Czech Republic to compete with.

Not only is Taiwan colourful, friendly and extremely beautiful, but it's also very affordable. Oh, and Taiwanese food is to die for!

In this guide, I'm going to share my Taiwan itinerary including the best destinations around the island. I'll tell you what to see, do and eat in each place and share my transport tips for getting around, as well as general Taiwan tips and inspo.
Check out my other 2 week Asia itineraries to Malaysia, Vietnam, Bali and Korea.
How to get around Taiwan
When spending 2 weeks in Taiwan, you'll probaly wonder how to get around. Taiwan is a relatively small island and, thanks to the speedy rail network, it's easy to get around. Unlike other Asian countries where gruelling night buses are the norm, you'll never spend more than a few hours in transit in Taiwan.

Train is the best way to get around during your Taiwan itinerary. The trains are modern, clean and run regularly between the main cities and transport hubs. You can choose between the fast and slow train depending on your Taiwan budget and how quickly you need to get there. I always caught the slow train but you could upgrade if you're short on time.

You can book your trains on the Taiwan Railways website but personally I could never get it to accept my payment card. While you can usually turn up at the train station on the day get a seat, you'll want to be careful during peak periods and weekends. To avoid disappointment, book your tickets the day before at the train station.
Taiwan itinerary for 2 weeks
While it's possible to fly into Taiwan's second-biggest city, Kaohsiung, I'm going to assume you're arriving into Taipei.

Reverse the itinerary if you're spending 2 weeks in Taiwan and going the other way.

Another option is to fly into Taipei and out of Kaohsiung, calling at the following stops along the way. However, since there are cool destinations on both the east and west side of the island, it almost makes sense to do a loop like I did. Adjust this itinerary as you see fit.
Days 1-5: Taipei
Does five days in one city sound excessive? Trust me, you're going to need it if you want to see Taipei to its fullest and explore the surrounding area.

There are some awesome day trips which you can take from Taipei so it's worth basing there for a good few nights.

I didn't have huge expectations for Taipei as it's just not as well known as other Asian capitals like Seoul and Bangkok. However, I ended up liking it as much if not more.
Read next: 3 and 5 day Taipei itinerary for first-timers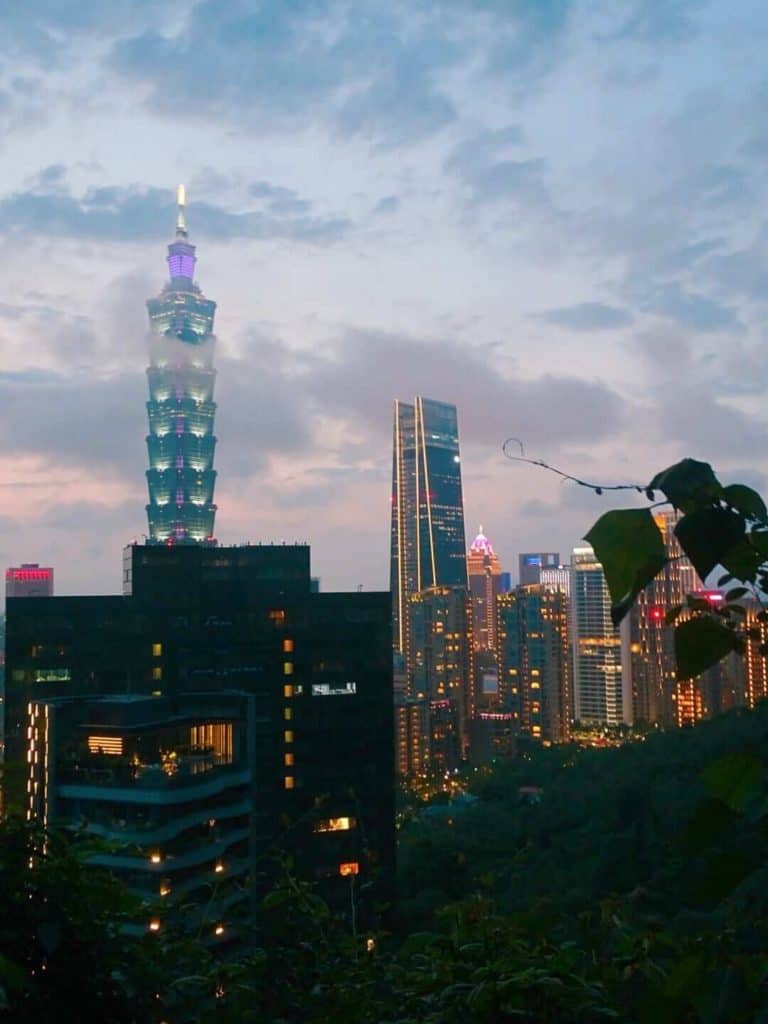 Taipei is such a colourful and diverse city. Exploring the gaming arcades and quirky cafes of Ximending couldn't be more different to hiking in Yangmingshan National Park and visiting old-fashioned Jiufen Village. In Taiwan, the modern and traditional meet perfectly.

Foodies will also be impressed by the number of night markets, authentic Taiwanese restaurants and modern, hipster cafes. I could easily imagine living in Taipei and not running out of things to do. This is how I would recommend spending the first 5 days of your Taiwan itinerary:
Day 1 – explore Taipei
Go on a free walking tour with Tour Me Away to learn about Taiwan's rich history. Before this informative tour, I had no idea that Taiwan had been ruled by China, Japan and briefly Holland.

Taiwan is a country that has been through a lot in terms of foreign invasion: it was even given to Japan as a 'prize' for winning a war against China. I'm so glad Taipei is now its own independent country with an open-minded and progressive government.

After your walking tour, wander quirky Ximending neighbourhood which is often called the Harajuku of Taiwan (if you don't know Harajuku, it's Japan's coolest neighbourhood known for arts and fashion). This area is alive with street performers, fashion stores, street food and neon billboards. It feels quirky and high-tech all at once.
For contrast, head next to Chiang Kai-shek Memorial Hall and Longshan Temple, two of Taipei's most famous temples. Longshan Temple is a traditional Chinese folk temple where you'll see locals at worship.

Swing by Huaxi Night Market for dinner, also known as Snake Alley after the famous dish served there. If you don't fancy trying reptile, there are plenty of other tasty Taiwanese street foods to sample instead!
If you have time before sunset, head up Taipei 101 for cityscape views. Alternatively, you could reverse this itinerary and visit Huaxi Night Market after Taipei 101. Entrance is 600 TWD ($20) so a little steep.

If you'd rather save your money, head for a free skyline view by hiking Elephant Mountain for sunset. This isn't a hard hike however it's very busy and crowded at this time of day.
Day 2 – Juifen Village
Visit Juifen Village, an iconic village dating back to the gold mining days of Japanese rule. Not only is the quaint village fun to explore with a fantastic food market, but it's surrounded by mountains and beautiful countryside not far from the coast.

If you have time, you can explore the surroundings including Jinguashih village and hike up Teapot Mountain if you're feeling energetic. Factor in lunch at Juifen market; I can personally vouch for the bubble tea, peanut ice cream rolls and taro ball dessert.

It's easy to take a day trip to Juifen by bus from 90 TWD each way.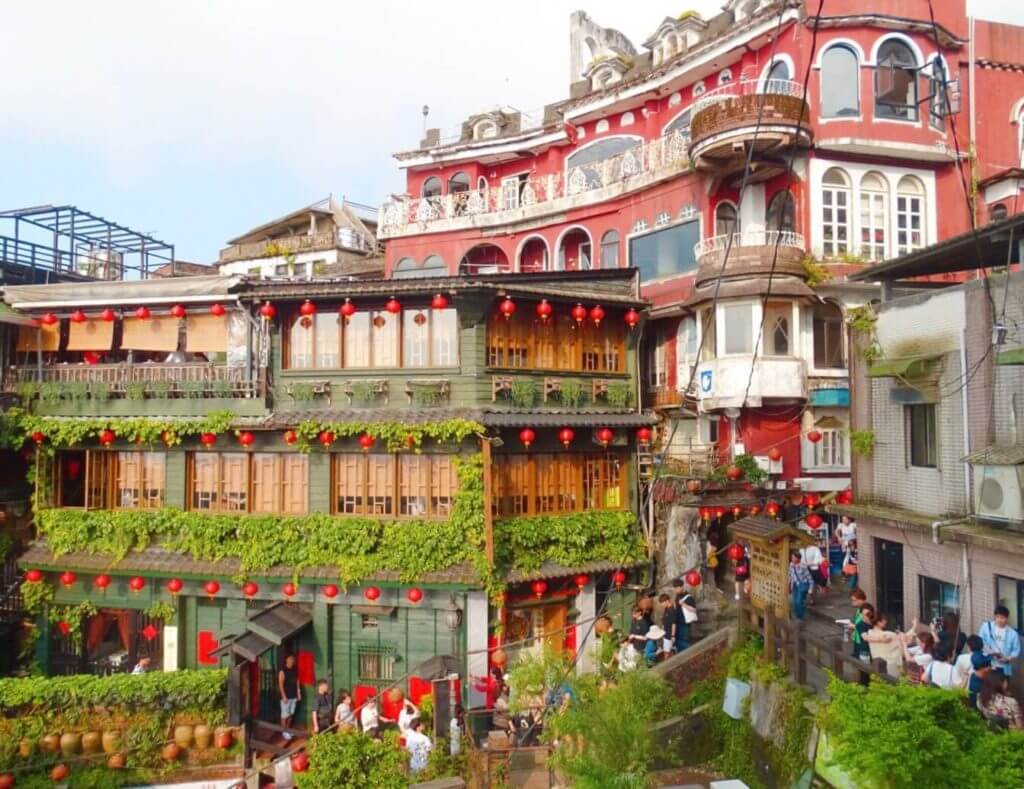 Day 3 – Pingxi Line
An adventure along the Pingxi Line is recommended while spending 2 weeks in Taiwan. The penultimate stop is Shifen, a village set along a railway line where people today release colourful lanterns and make wishes.

On the way to Shifen, you can stop at Houtong Cat Village which is exactly what it says on the tin: a village where cats rule the roost!

Afterwards, you can continue further to Pingxi Village. Make it back to Taipei in time for sunset and hike Elephant Mountain or check out another food market.
To save a day, follow my Taipei to Jiufen and Shifen day trip by exploring Shifen Village in the morning and Juifen in the afternoon.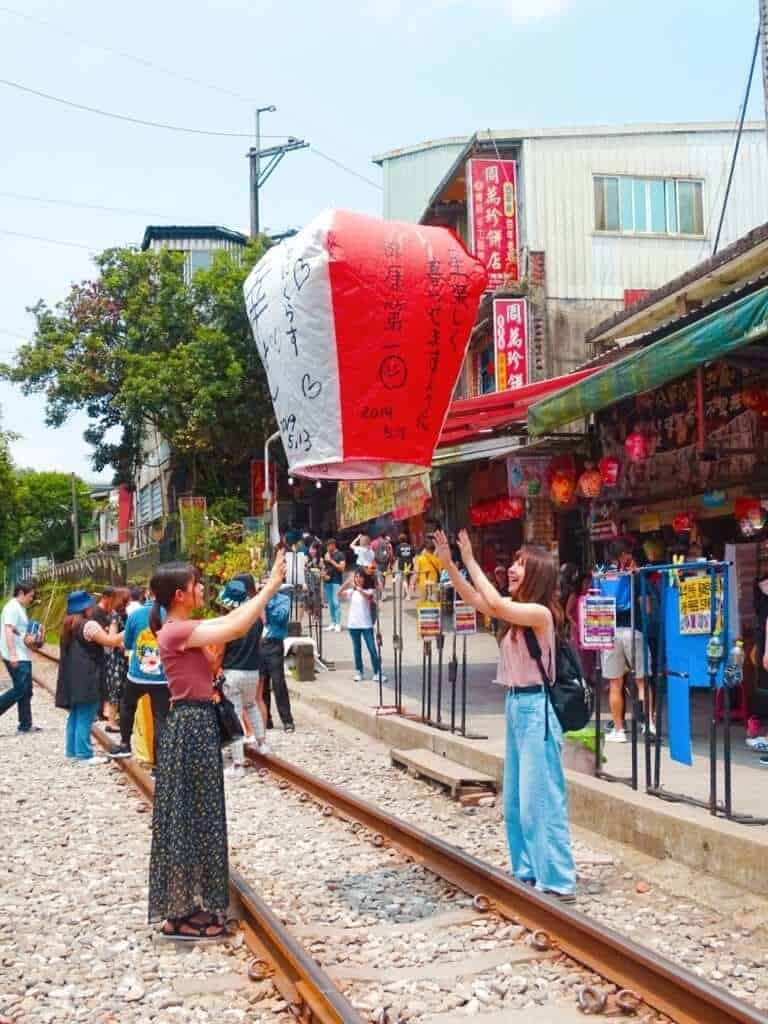 Day 4 – Yangmingshan & Beitou
Get lost in nature at Yangmingshan National Park north of Taipei by hiring a car or taking a day tour. Highlights of the park include exploring Qingtiangang grasslands, Lenshuikeng Hot Spring and climbing Mt Datun.

To relax on the way home, swing by Beitou Hot Springs on the outskirts of Taipei. Relax in the hot pools, learn about the region's history at the neighbouring museum and marvel at the Thermal Valley.

On the way back to Taipei, stop for dinner at Shilin Night Market. This is a modern and vibey night market where you can try everything from noodles to bubble tea and the national dish of stinky tofu (I'm not a fan).
Day 5 – Yehliu Geopark
Take a half-day trip to Yehliu Geopark, an amazing area of natural geology where the rock formations look like something from a different planet.

There are lots of fun rock sculptures including one named The Queen's Head due to its resemblance to a women's side profile wearing a crown. It's easy to catch a bus to Yehliu or take a day tour.

In the afternoon or evening, you catch a 2-hour train to Hualien. Since the journeys are so short in Taiwan, it makes sense to save yourself a day and travel after sightseeing.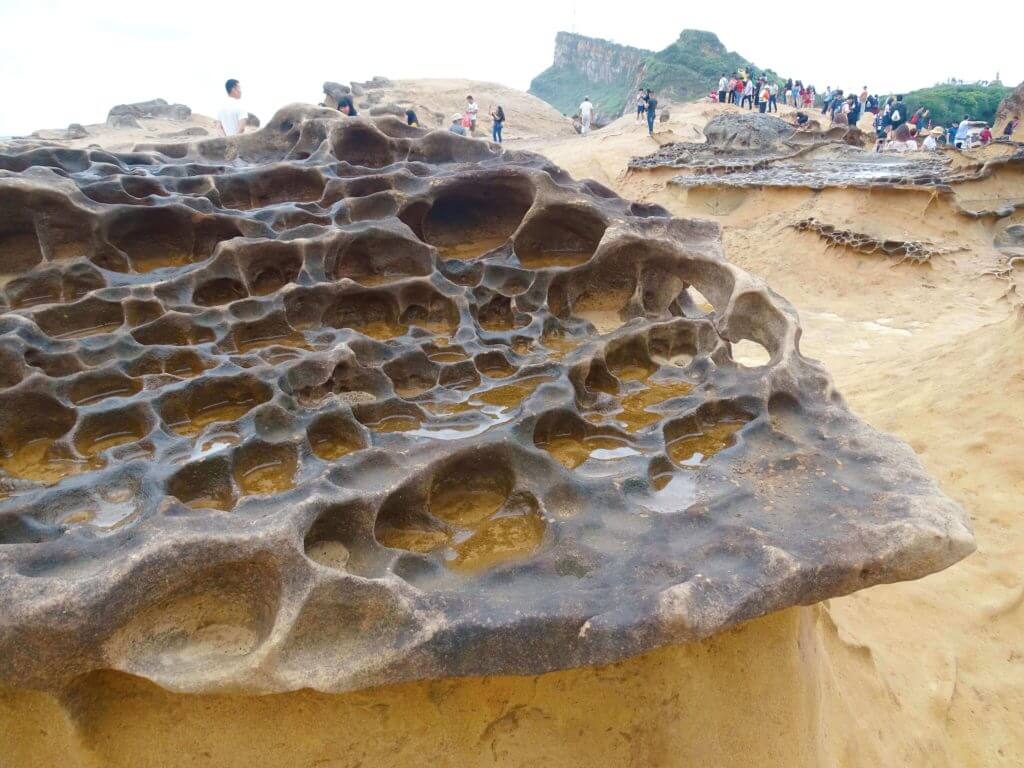 Where to stay in Taipei: I would recommend Sleepy Dragon which is a friendly hostel with a comfy lounge area. Each bunk has its own curtain, light, power sockets and fold-down laptop table. The staff are great and there's even a bar, Tipsy Dragon, down below.
Day 6-7: Hualian & Taroko National Park
To experience Taiwan's nature, you need to add Taroko National Park to your Taiwan itinerary. Before my trip, I had no idea it was so beautiful and untouched.

Now when I think of the most naturally beautiful places in Asia, one of the first places that comes to my mind is Taiwan.

There's nowhere to stay in Taroko National Park so I would suggest spending two nights in Hualien city with a day to go hiking in the middle.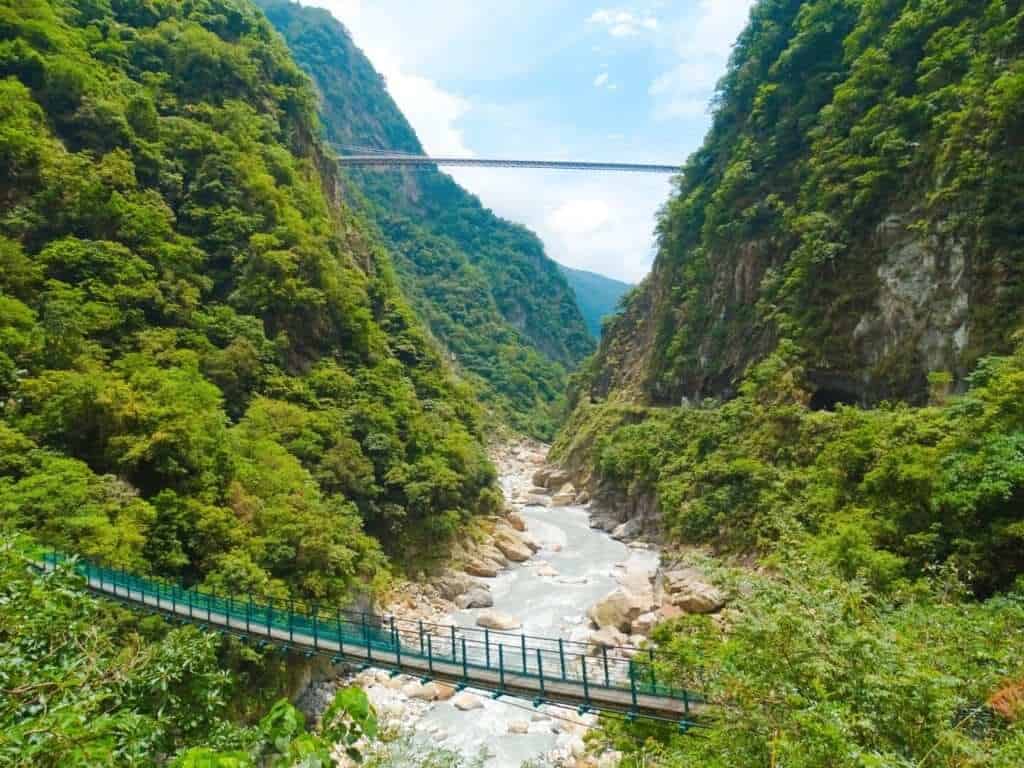 Day 6 – Taroko Gorge
Head off hiking in Taroko National Park. It's easy to catch a shuttle bus from Hualien into the park and back. Alternatively, you could drive or take an organised day tour with a guide. Read this blog to plan a Taroko Gorge itinerary.

Add an extra day if you're a big hiking fan. I spent one day hiking in the park which was enough for me but I spoke to a guy who'd spent more than a week travelling to Taroko each day for hiking!

For the evening you can head to Dongdamen Night Market which is a lively night market in Hualien. It's enormous with several alleyways of stalls serving everything from noodles to sushi to stinky tofu.

The highlight was a Taiwanese delicacy called coffin toast. This is a deep-fried sandwich stuffed with meaty curry. I absolutely loved it and the prices were very low, probably due to the lack of foreign tourists.

Where to stay in Hualien: For a convenient base right beside the train station and the bus stop for Taroko, you can't do better than On My Way Hostel. The staff are so kind and friendly (even walking me to the train station with a hostel umbrella when it was raining) and run evening movie nights in the common area. From what I say there wasn't a huge nightlife scene in Hualien so you may as well relax after your hike.
Day 7 – travel day
Your longest travel journey during this 2 weeks itinerary in Taiwan will be from Hualien down south. It takes 6 hours to Kaohsiung or 8 hours to Kenting on the bottom tip of the island. Pack a good book and spend the day soaking up Taiwan's impressive scenery.
Days 8-9: Kenting National Park
Beautiful beaches in Taiwan? This really is the island that has everything.

In Kenting National Park you can expect palm trees, sunshine and sea views. If you're in need of some beach chills during your 2 week Taiwan itinerary Taiwan, this is the place.

It's well connected with Kaohsiung thanks to the Kenting Express bus that leaves from Kaohsiung Main Station and takes 2.5 hours to reach Kenting.

The best place to stay in Kenting National Park is Hengchun which is a pleasant town with four well-preserved city gates. However, it's more of a place to stay while exploring the national park. As well as scenic lakes, you can relax on one of the many beautiful beaches in Kenting.

After a day of exploring, have dinner at Hengchun Night Market. Of course it wouldn't be Taiwan without a night market!
Days 10-11: Kaohsiung
For such an awesome city, Kaohsiung is relatively unknown. That's generally the case with much of Taiwan but I can't imagine it staying that way for long.

Kaohsiung was one of my favourite places during my 2 weeks in Taiwan. The second-largest city in Taiwan will impress art and culture lovers with its vibrant Dragon and Tiger Pagodas, quirky outdoor Pier 2 Art Gallery and all the colourful street art.
Read next: Things to do in Kaohsiung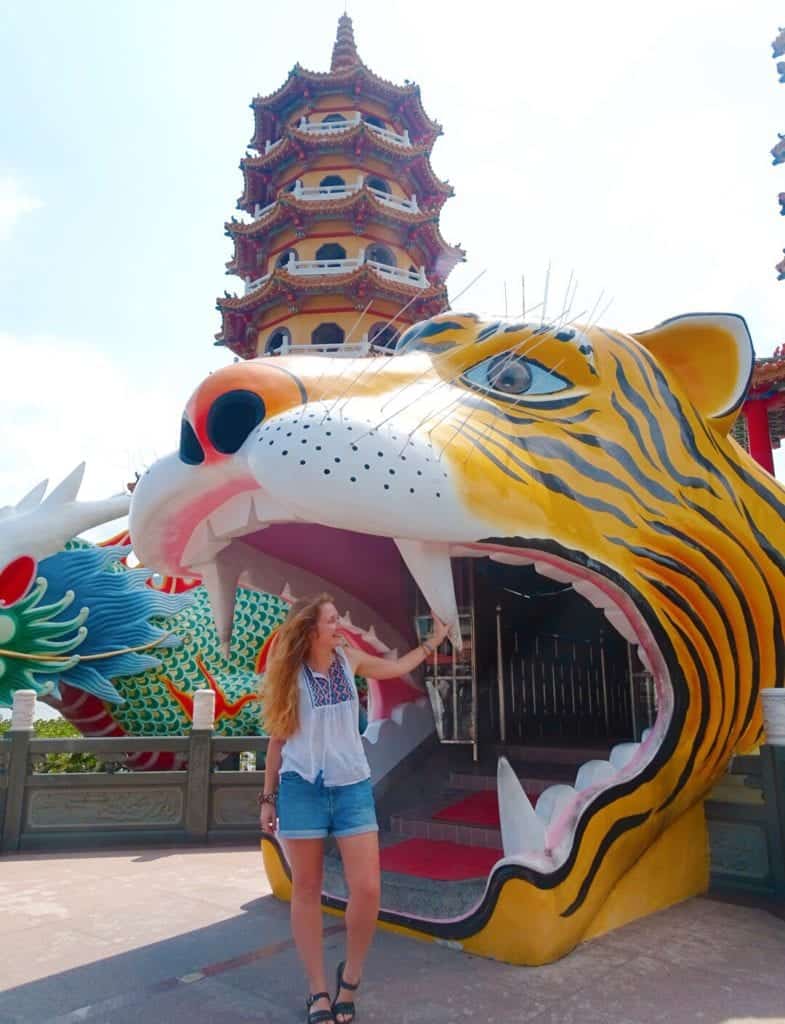 Day 10 – Kaohsiung
Spend a day exploring the Dragon and Tiger Pagodas which, unsurprisingly, are a set of two twin pagodas, one shaped like a dragon and one like a tiger. For good luck, you must enter via the dragon's mouth and exit through the tiger's. You can also climb to the top of the pagoda and look out over the peaceful lily pad lake.
If you have time during your Taiwan itinerary, another option in Kaohsiung is visiting Fo Guang Shan Temple and Buddha Memorial Center. This Buddhist cultural centre and museum is 30km from Kaohsiung and takes 45 minutes to reach by bus. I personally didn't squeeze it in but I've heard good things from my friends who've visited. The 36 metre Buddha statue at the centre is one of the largest in Taiwan.

Don't miss Ruifeng Night Market one evening while visiting Kaohsiung. This atmospheric street market is visited by young Taiwanese people as well as whole families. Here I tried scallion pancakes, seafood takoyaki balls and waffles.
Day 11 – Cijin Island
Spend the morning visiting Cijin Island which is connected to Kaohsiung by boat and bridge. I caught the bus there as it was cheaper and quicker, then caught the ferry home.

Cijin Island is best known for the Rainbow Church, a colourful art installation that's become popular on Instagram. Nearby are a few other installations like the giant shell beside the Cijin Shell Museum.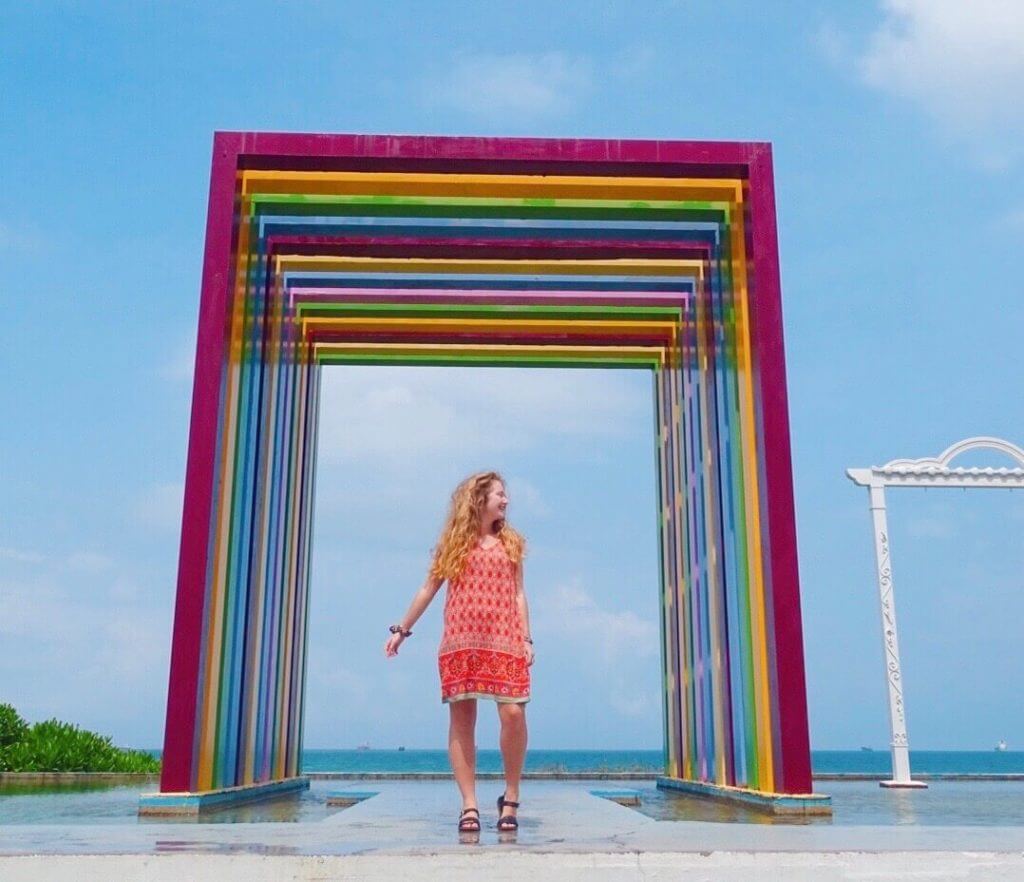 Pier 2 Art Center: The benefit of catching the ferry back to the mainland is that you'll arrive near Pier 2 Art Center, one of the most colourful places in Kaohsiung. Unlike most galleries, the art isn't on the walls but all through the streets.

Grab a map at the tourist office then spend a couple of hours wandering the neighbourhood where you'll see giant modern art sculptures as well as urban murals and hidden details.

Linya Street Art Village: Stop here before the end of the day. Again, this isn't a specific location but a whole neighbourhood full of art. Even if you're not a street art fan, it's very impressive. Catch the orange metro line to Weiwuying Station and you'll find the art as soon as you exit.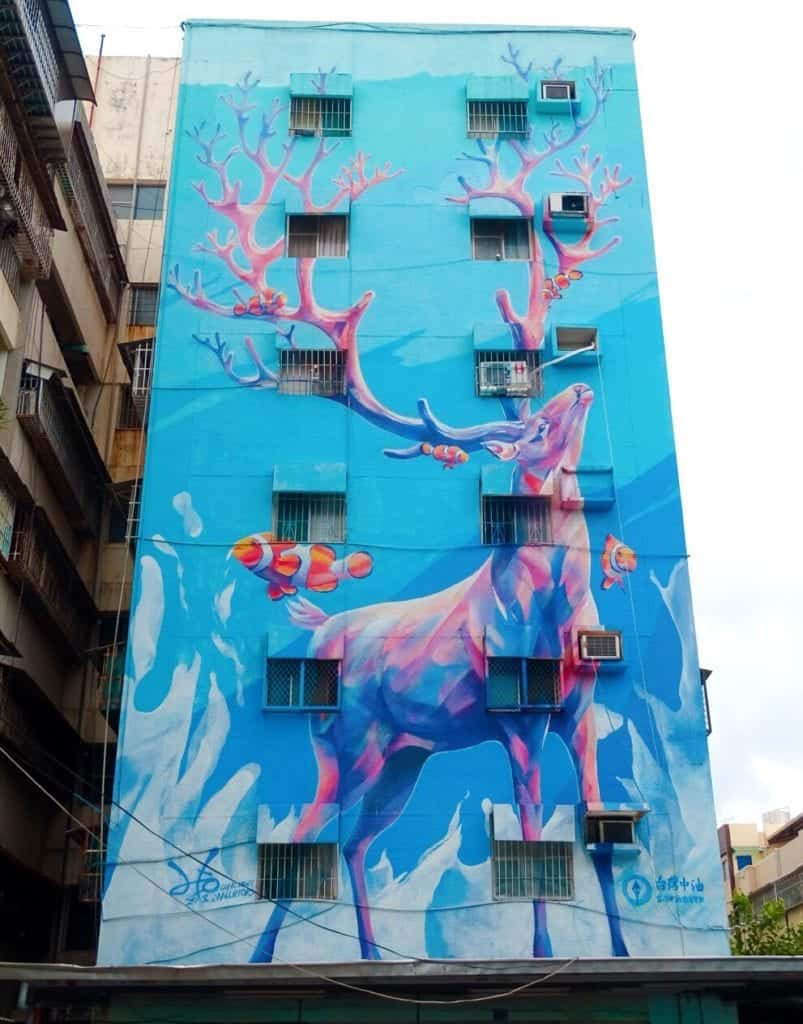 Alternative option – combine your preferred Kaohsiung attractions into 1 day and visit Tainan, the ancient capital, on day 11.
Where to stay in Kaohsiung: I really enjoyed my stay at Dreamwell Hostel. Not only are there comfy double rooms if you don't fancy a dorm, there are also language exchange evenings that help you get to know the locals. How cool is that?

In the evening of day 11, take an evening train to…
Day 12-13: Taichung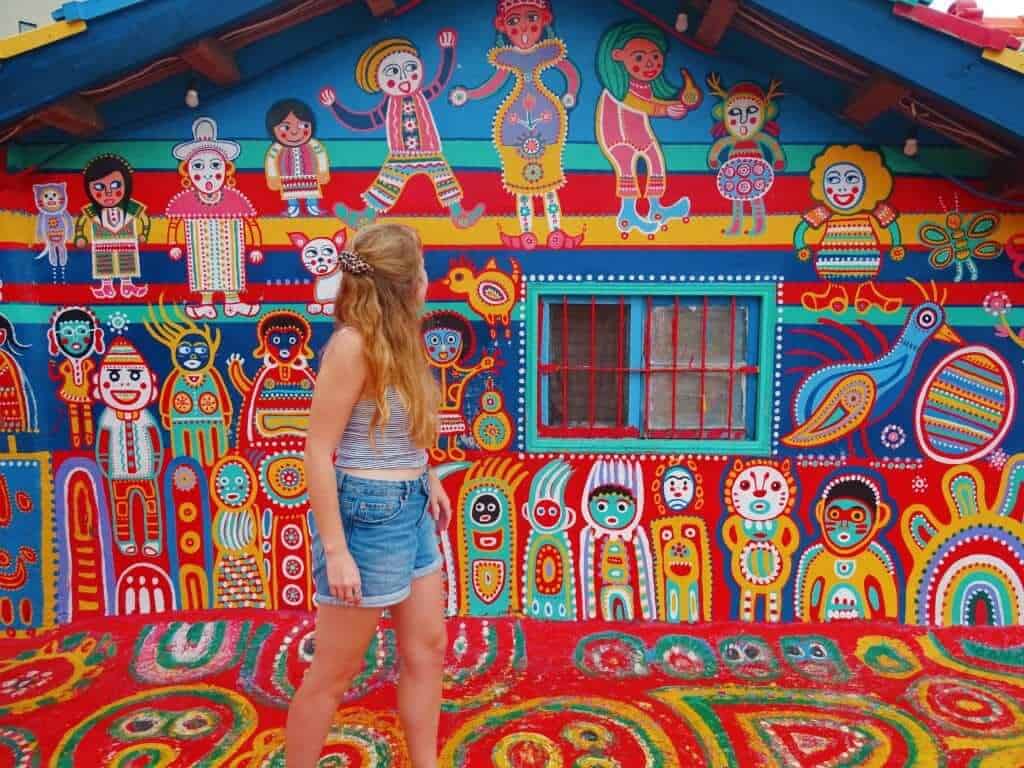 My final stop during 2 weeks in Taiwan was Taichung, an awesome city on the west coast of Taiwan, around 3 hours from Taipei. The colourful Rainbow Village has put it on the map but there are a couple of other things to do including day trips to scenic Sun Moon Lake.

If you like Instagrammable spots, Taichung is well worth adding to your Taiwan itinerary. Even if you don't, Taichung is worth a quick visit.
Day 12 – Rainbow Village
Explore the Rainbow Village of Taichung. Rather than an intended urban art gallery like those in Kaohsiung, this wasn't invented as a photo opportunity but by a local man trying to see his home from demolition.

The heartwarming story of the Rainbow Grandpa will tell you all you need to know about Taiwanese people. He began drawing on walls of the village after demolition was planned, hoping to cheer up local children. Some local artists heard his story and helped decorate the village with colourful murals which eventually ended up saving the village.

If you're very lucky, you might visit the Rainbow Grandpa as he still lives nearby!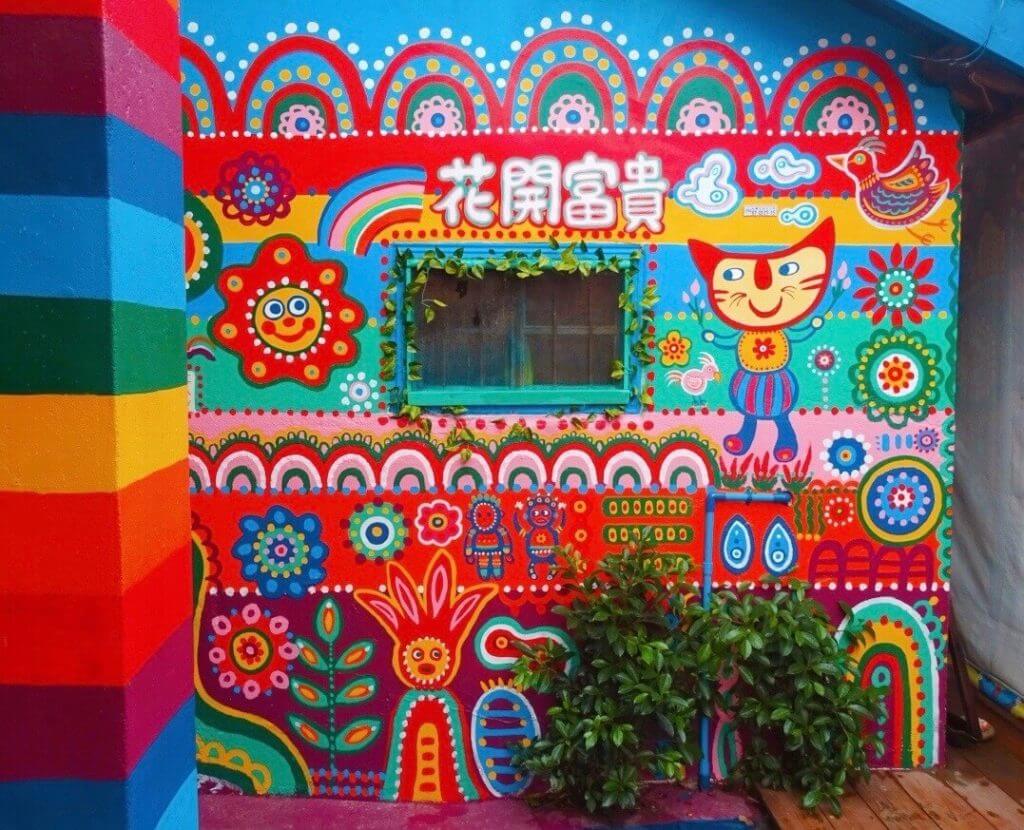 This should take half a day so why not head into town afterwards and sample local food and the original bubble tea cafe? Check out my guide to the best food in Taichung which includes Instagrammable ice creams at Miyahara.

For the rest of the day, you can wander the shops and parks of Taichung before the day at Yizhong Street Market. Here I tried stinky tofu and, while I never will again, I loved this busy and bustling market.
Day 13 – Sun Moon Lake
Take a day trip to Sun Moon Lake. I had to miss this due to terrible weather but it looks so pretty. It takes 2 hours each way to get to Sun Moon Lake from Taipei so I would recommend setting off as early as possible so you can spend a whole day there.

You can board the Sun Moon Lake Shuttle Boat and explore the island at the heart of the lake. You can also swoop over it upon a cableway or admire the scenery by cycling around the 12km bike path running around the lake.

Where to stay in Taichung: For cosy private pods and a stylish bistro area to relax in, I would recommend Getcha Hostel & Bistro. If you don't want bistro food, it's near to one of the city's biggest and most atmospheric night markets, Yizhong Street Market, as well as the bus stop to the Rainbow Village.
Day 14: Head back to Taipei and fly away!
Leaving was a sad day for me because I'd had the best 2 weeks in Taiwan. The greenery and natural beauty of this little island blew me away, as did the quirky, colourful cities and the friendly people.

I know I'll be back someday to eat more dumplings and take more photos of the colourful street art.
Thanks for reading Taiwan itinerary
Check out some of my other Taiwan posts:
See you next time for more adventures,
Rose
For more content, follow me on Instagram, Facebook, Twitter and YouTube.
Ps. Liked my 2 week Taiwan itinerary? Pin this for later!