This post may contain affiliate links to things like tours, hotels, Amazon associates and products. These help me earn a small commission at no additional charge to you.
This city close to my heart has so many photo-worthy spots. I thought I'd share them with this guide to the most Instagrammable places in Oxford. Here goes!
OXFORD ESSENTIALS

Oxford Lonely Planet guidebook

Accommodation: Booking.com

Activities: GetYourGuide

Getting there: Trainline / Busbud
Instagrammable places in Oxford
There are so many photo-worthy spots in Oxford thanks to its long history and 38 hidden-away colleges. The teeny alleyways give way to all kinds of surprises including the doorway thought to inspire the Narnia books.

There are plenty of big tourist attractions like the Radcliffe Camera and Christ Church College but I'd encourage you to dig a little deeper and visit different areas of the city like charming North Parade and alternative Cowley Road.
Read next: How to spend the perfect weekend in Oxford
I hope you enjoy these pretty places and photo spots in Oxford and they brighten your trip to my home city!
1. The Rose & Crown pub, North Parade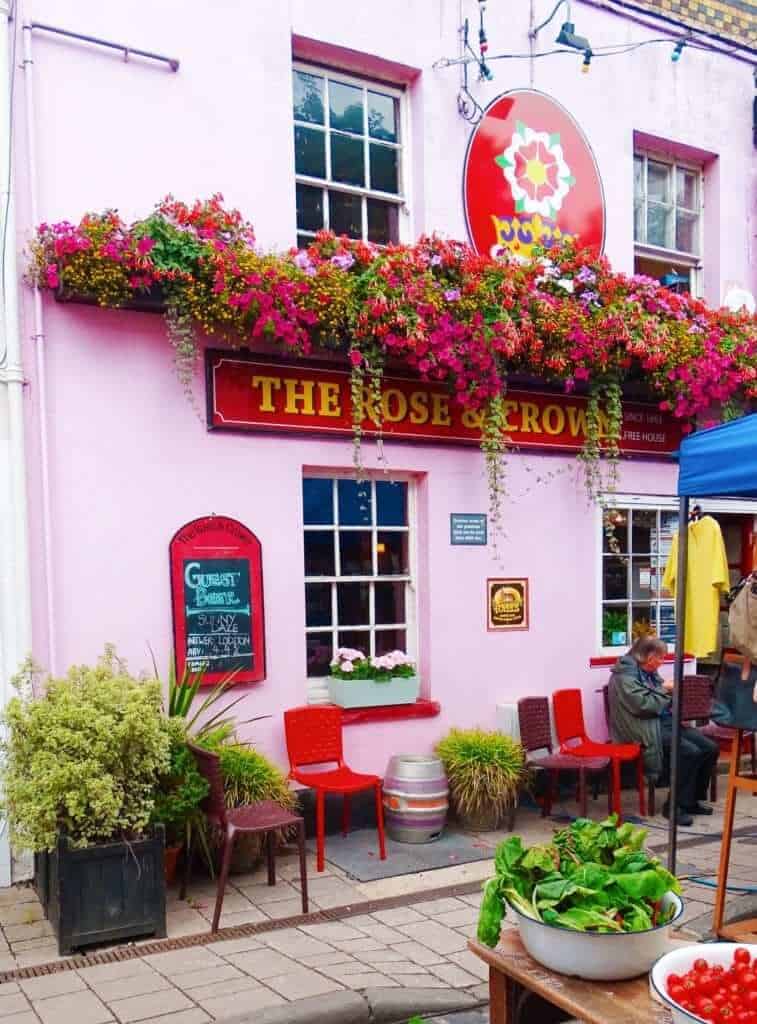 I love this pub. With lanterns and flowers galore, it's one of the prettiest places in Oxford. It's worth a photo or five despite being a bit of a walk from Oxford city centre.
2. The Botanical Gardens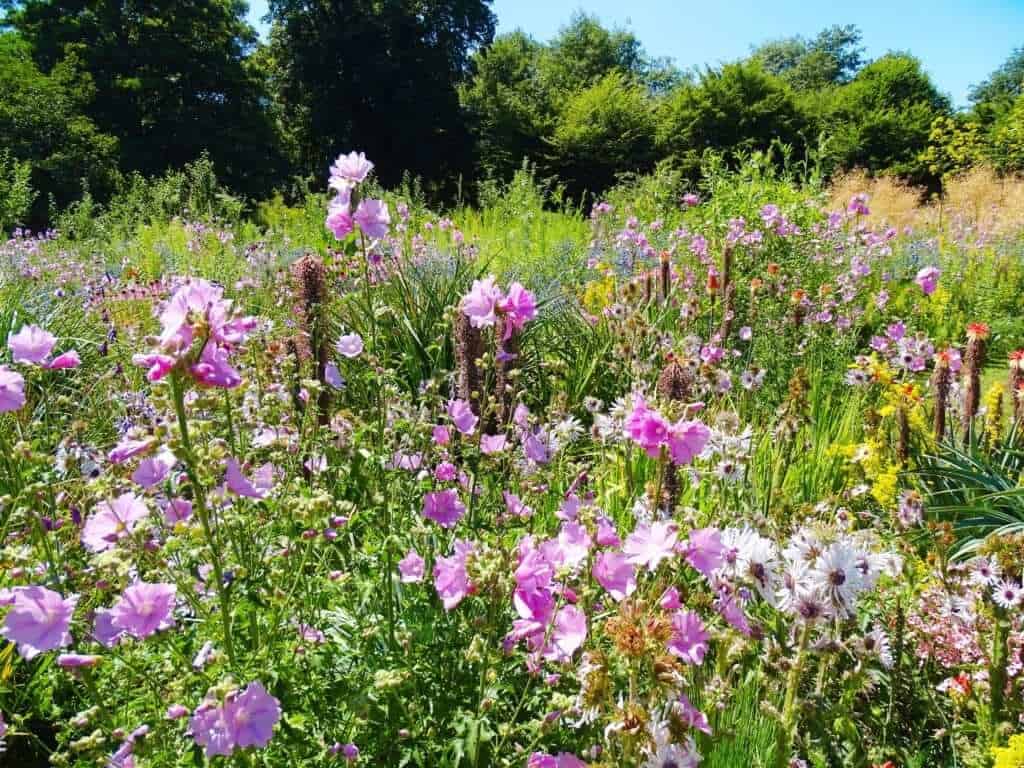 If you're looking for beautiful places in Oxford, you've just found one of the best!

In the summer I could spend all day snapping photos in this wildflower meadow. I can't believe it's in a city as it feels like being lost in the countryside miles from anywhere.
3. The Sheldonian Theatre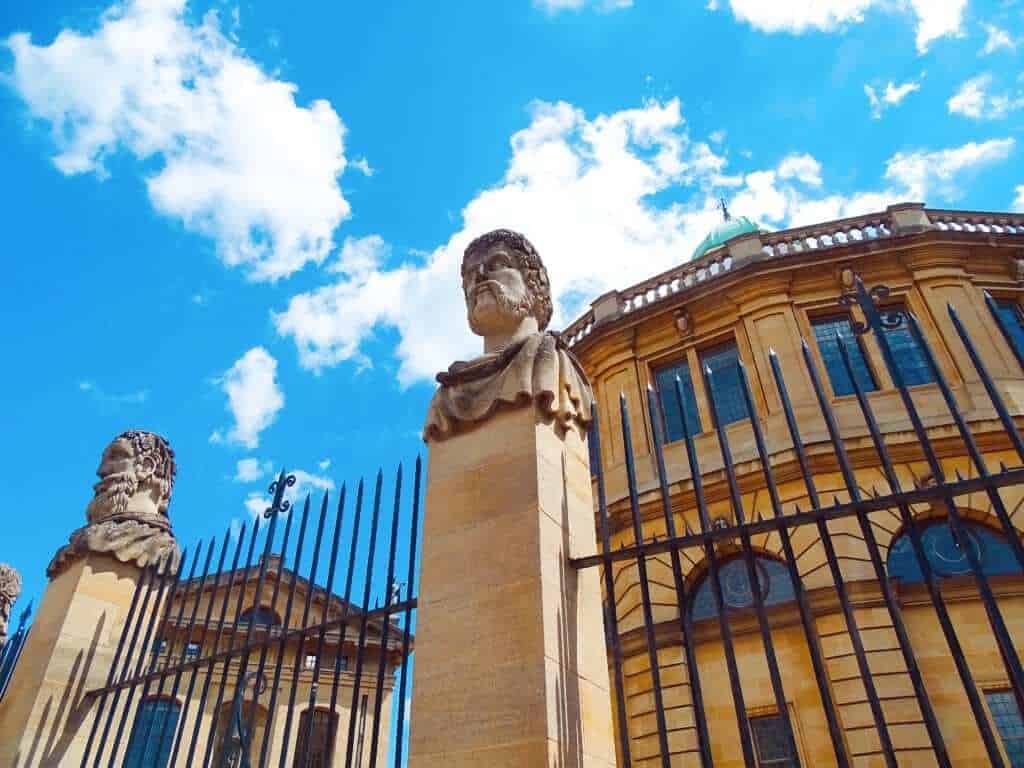 Don't miss this impressive venue or the Sheldonian Heads on the outside. Being so iconic, it's one of Oxford's prime photo spots whether you're a local or tourist spending a day.
4. The Missing Bean coffee shop, Turl Street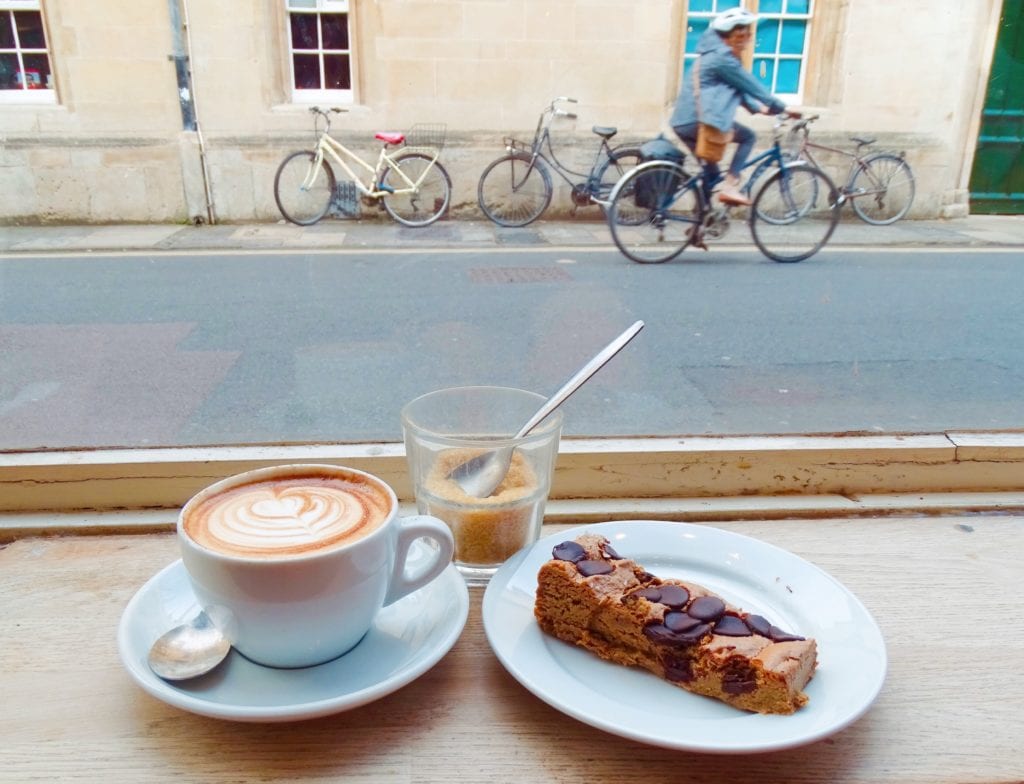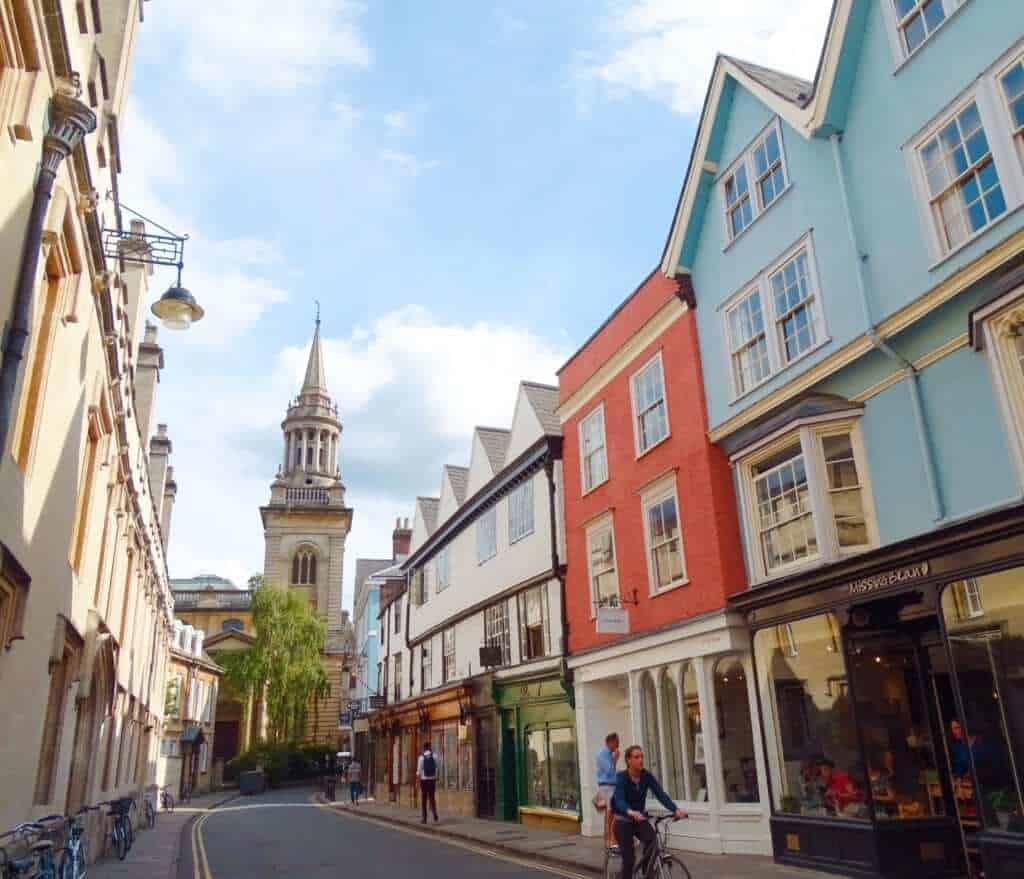 If you're looking for an Instagrammable cafe in Oxford, this is the one. Sip your coffee drizzled with pretty patterns while gazing over Turl Street's doorways and leaning bicycles. Give the whole street a wander whilst you're there – it's definitely one of the most Instagrammable spots in Oxford.
Read next: The best coffee & cafes in Oxford
5. Wisteria in Balliol College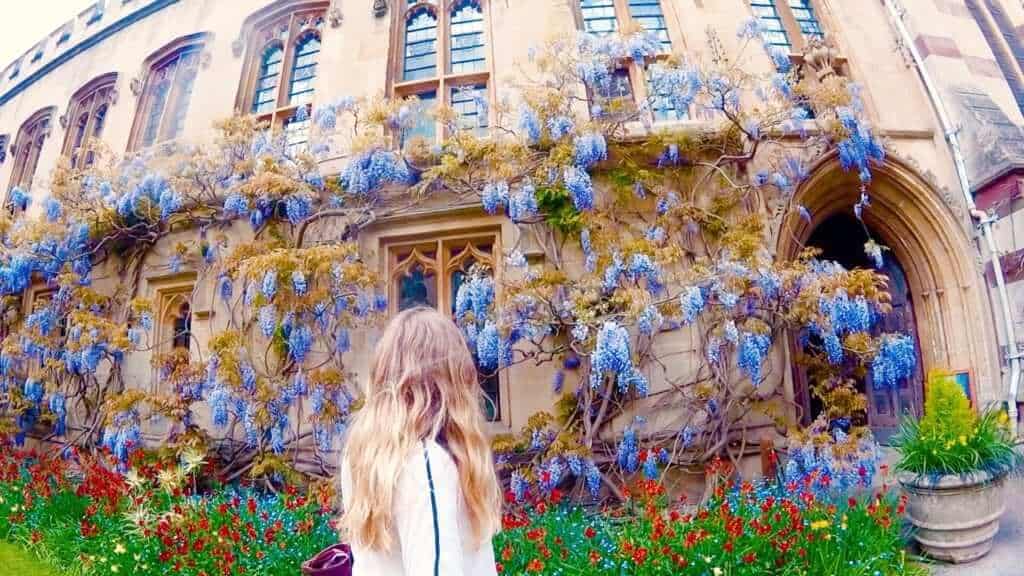 Many of the prettiest places in Oxford are nestled away in the ancient colleges. If you can visit during wisteria season DO, but if not the quad and gardens are pretty all year.
6. Holywell Street's colourful houses
As Instagrammable spots in Oxford go, you can beat an old-fashioned street entirely made of colourful houses! I like the yellow one. What about you?
7. The Narnia door Oxford (St. Mary's Passage)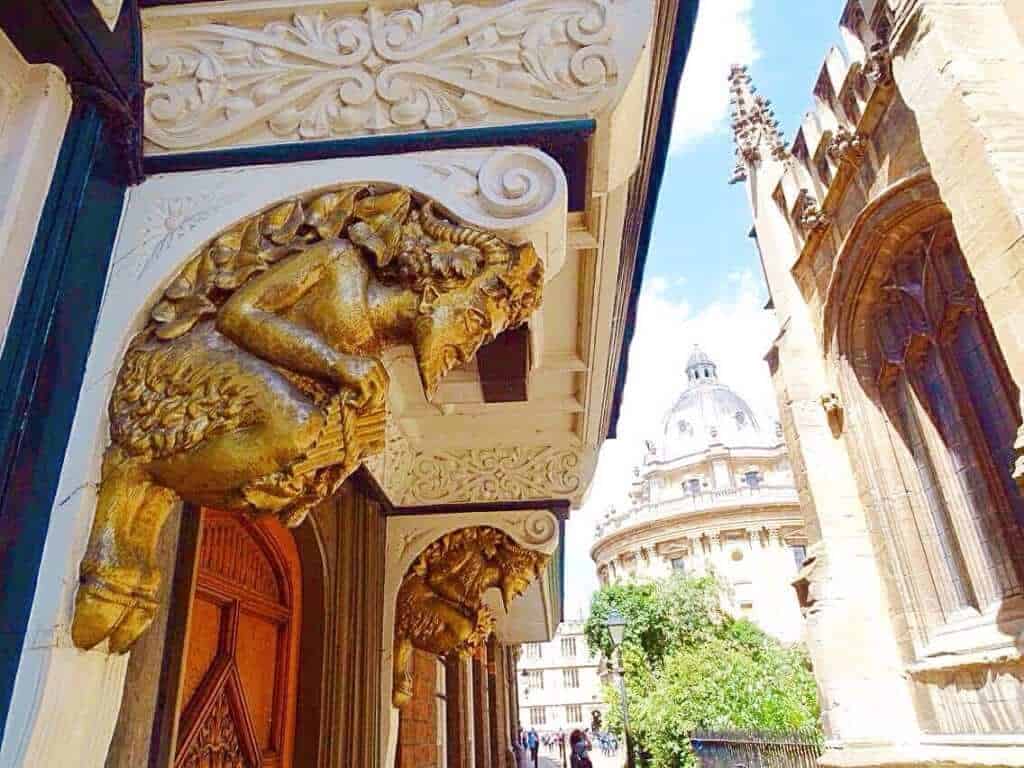 "This is the land of Narnia, where we are now; all that lies between the lamp post and the great castle of Cair Paravel on the eastern sea."

My favourite hidden gem in my hometown is the Narnia Door Oxford.

C.S Lewis lived on this street and it's thought to have been the inspiration for The Lion, the Witch and the Wardrobe. There's indeed a nearby lamp post which leads to a fawn-like carving above the door to Brasenose College. He could definitely be Mr Tumnus and the doorway is maybe Narnia.
8. The Radcliffe Camera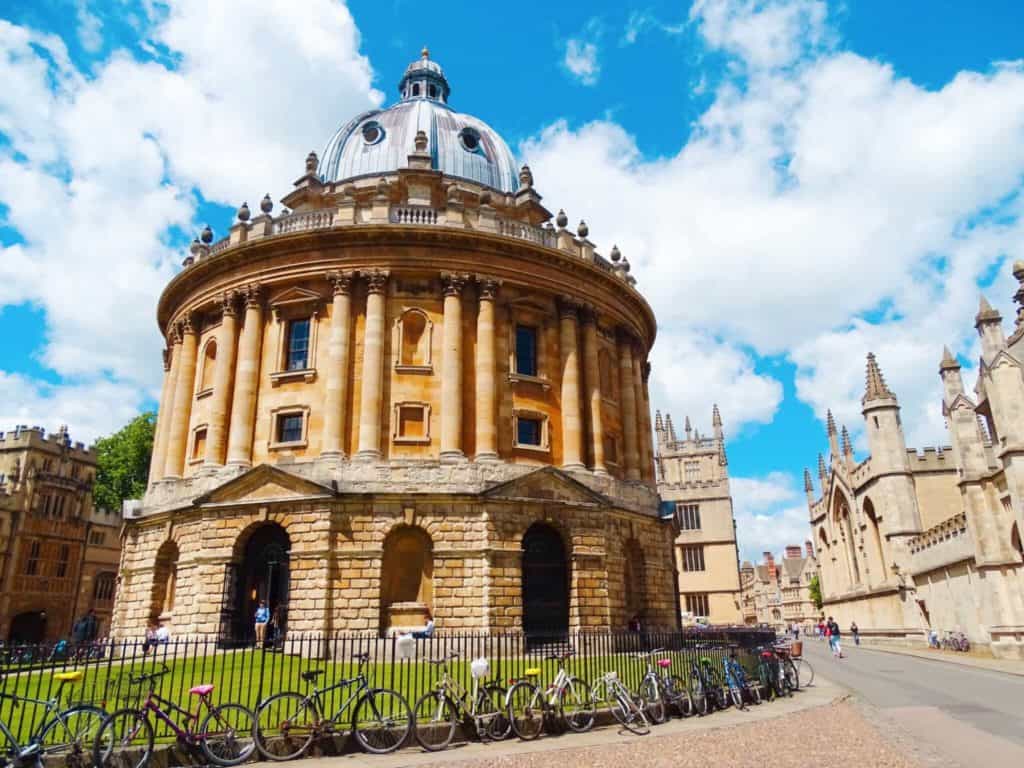 The ultimate top photo spot in Oxford is the Radcliffe Camera, known as the Rad Cam by locals. It's part of the Bodleian Libraries and has been around since the 1700s – a newbie in terms of Oxford architecture!

Insider tip: for a stunning aerial view, head to the top of St Mary's Church.

9. The Cowley Road street art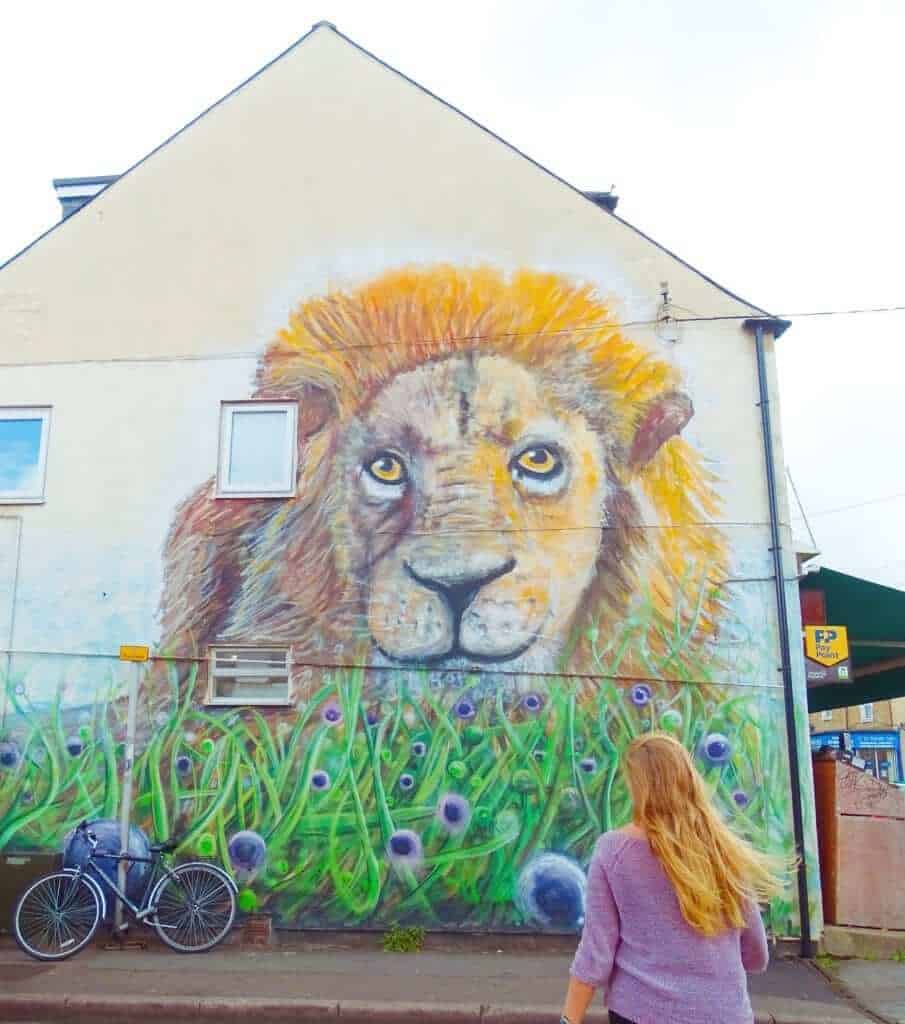 This hidden gem is one of my top photo spots in Oxford, probably because I always get it to myself.

Cowley is an alternative area of Oxford boasting food from all over the globe and colourful urban art. I like this creative interpretation of the Radcliffe Camera as well as the enormous lion on Catherine Street.
Related read: 17 best cafes and restaurants on Cowley Road, Oxford
10. Christ Church College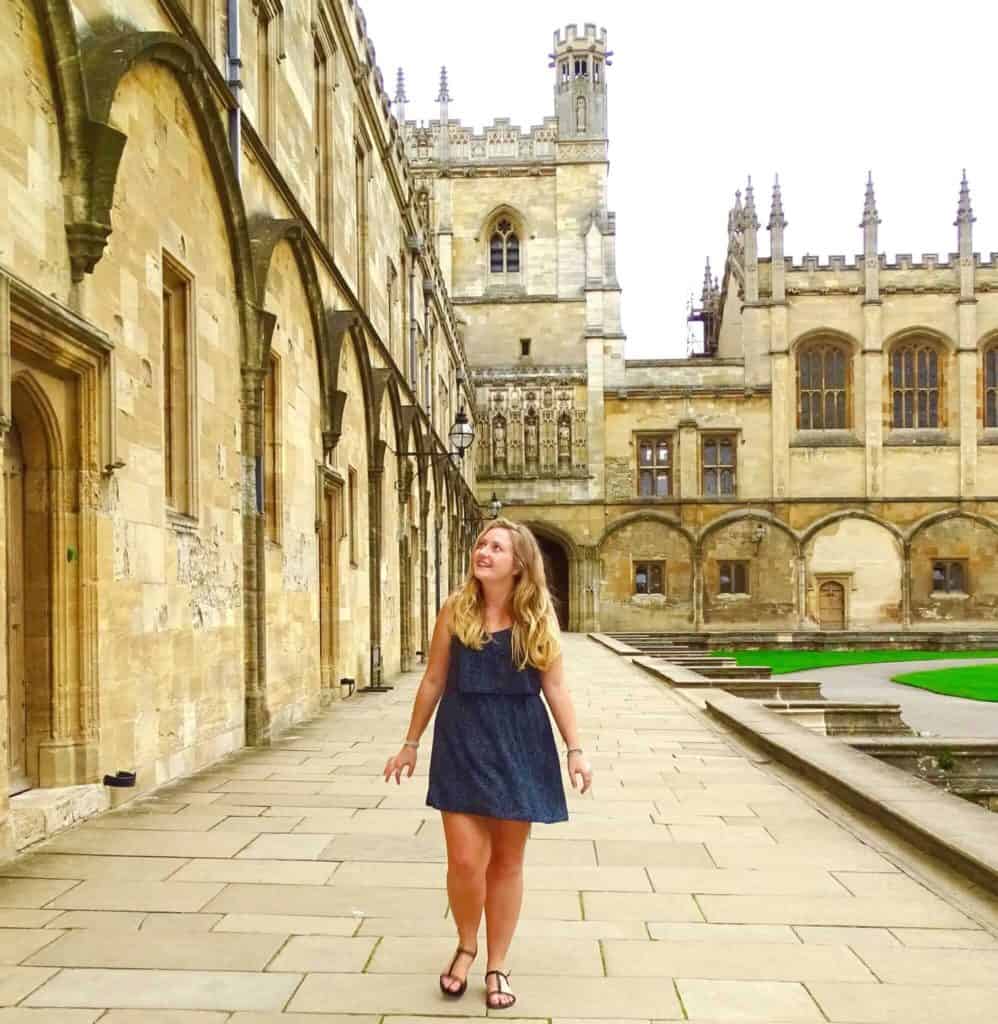 It's no hidden gem but Christ Church is one of the most impressive colleges in Oxford and the location for some of the Harry Potter filming. Try to visit early or late to beat the crowds like I did.
Read next: My self-guided Harry Potter Oxford tour
11. The phone box at Magdalen College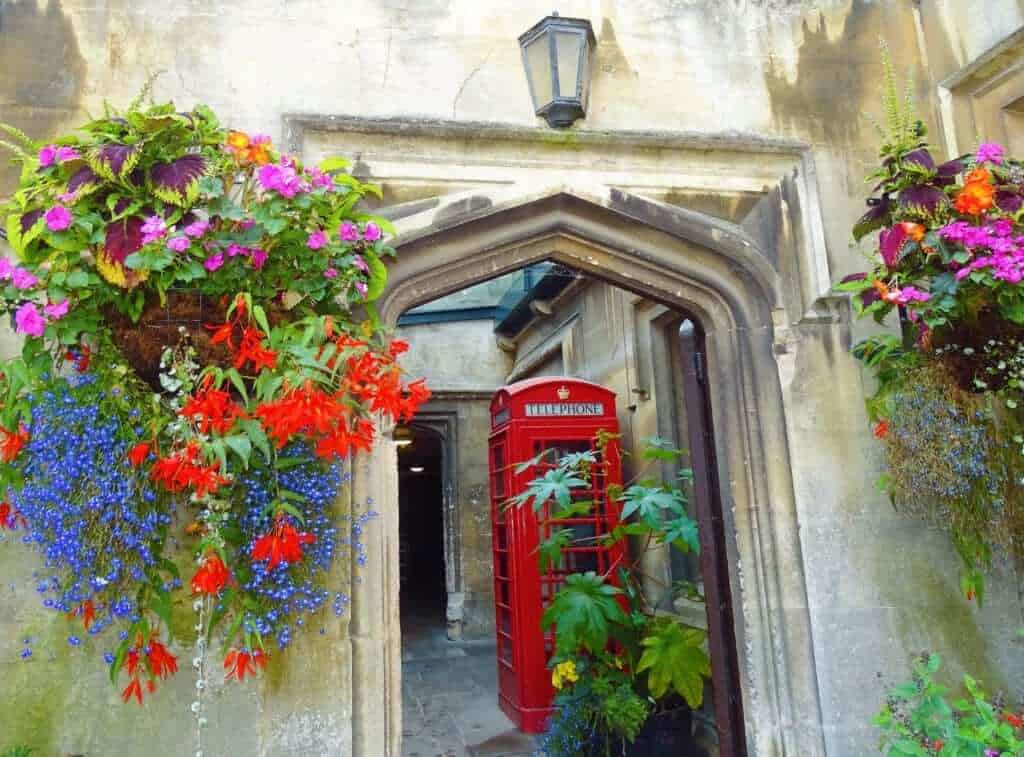 You'll find this Instagrammable place in Oxford within Magdalen College. This typical English post box is located near the gift shop. The whole of Magdalen is worth a visit with an impressive quad and roaming deer.
Read next: A guide to visiting colleges in Oxford
12. Holywell Bed & Breakfast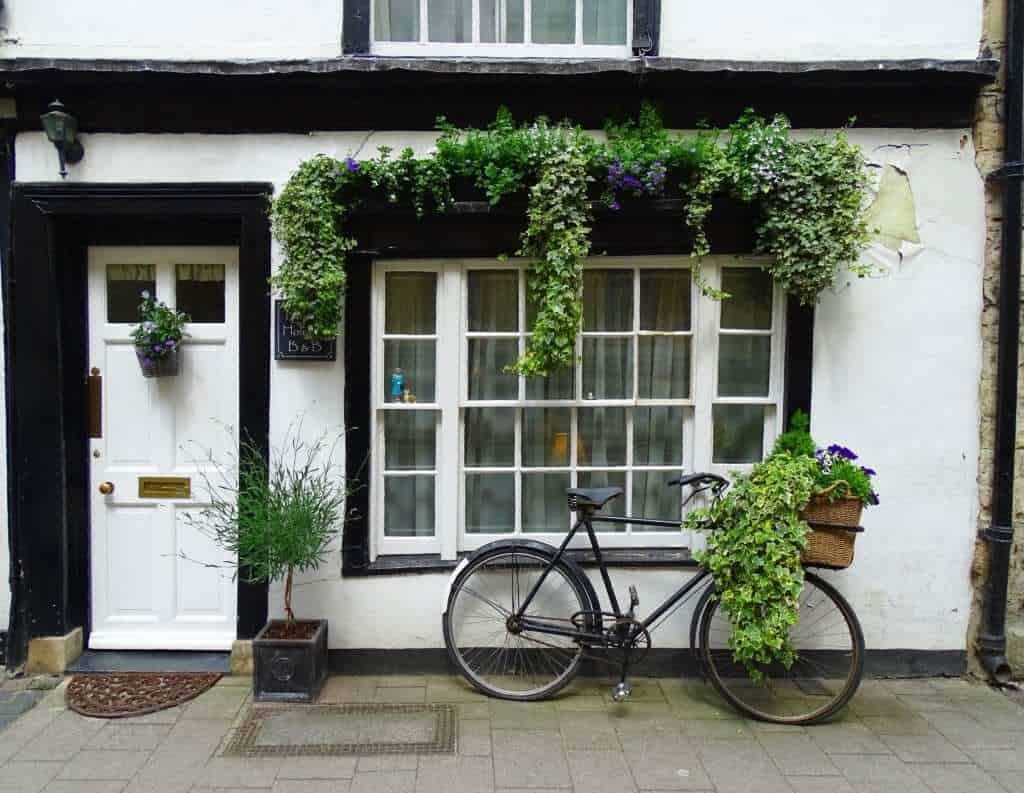 Possibly the cutest place to stay ever?

I've never stayed myself but I have wandered past it on many a lunch break while en route to the colourful houses further down Holywell Street.
13. Magdalen Bridge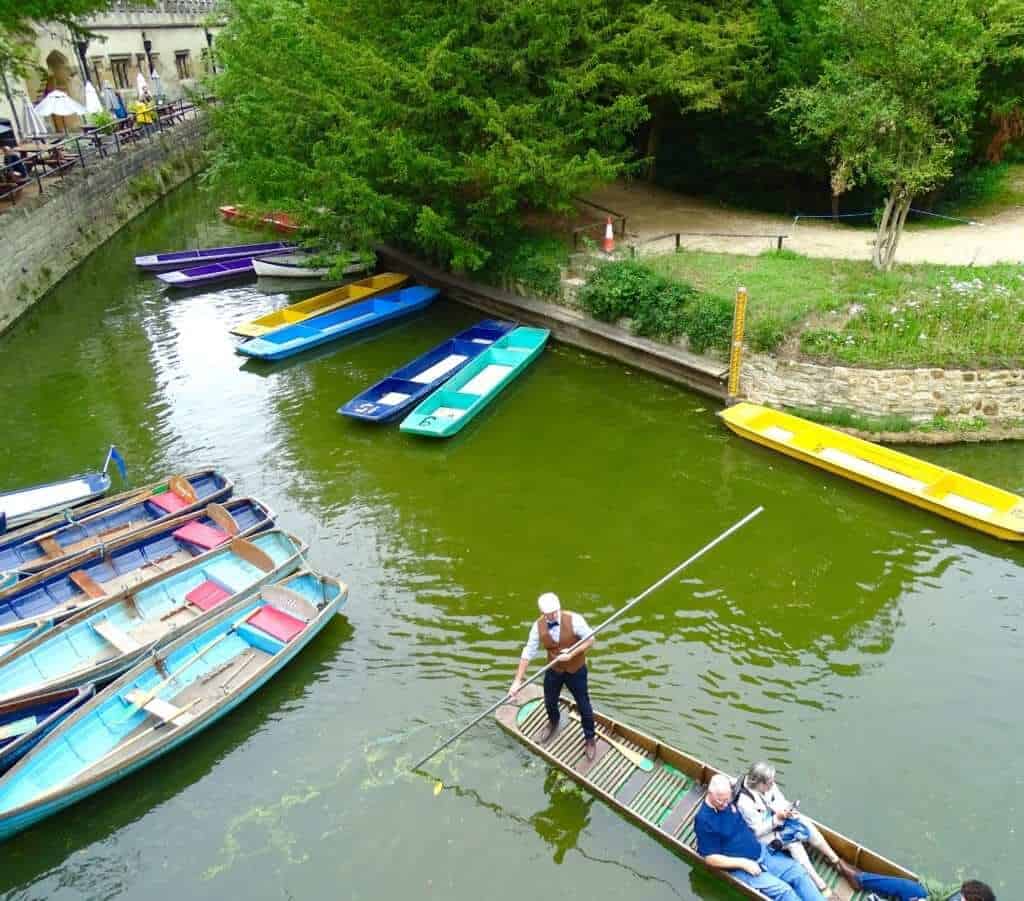 In the summer you'll see people punting, rowing and pedallo-ing (did I just make up a word?) up and down the Oxford river. If you can't beat 'em, join 'em. And if you can't afford to join them, stand on Oxford Bridge and snap photos for free.
14. Colourful houses on the High Street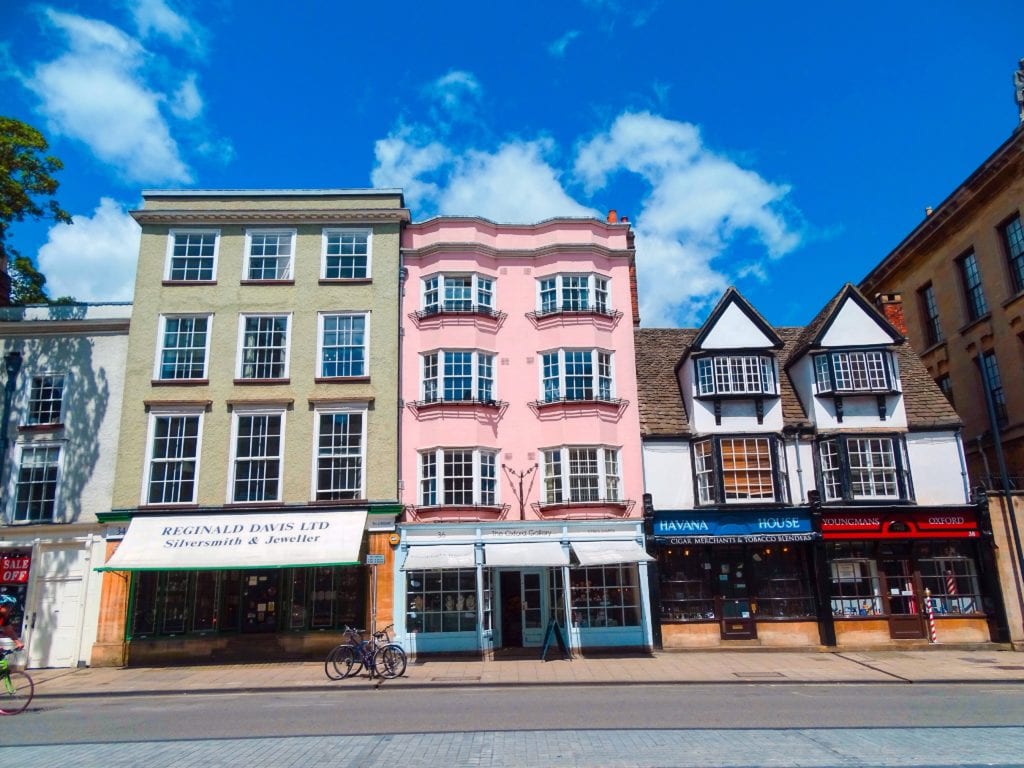 More pretty painted buildings can be found on the High Street. This central location will brighten up any Oxford Instagram shot.

If you visit Cowley while in Oxford, the High Street is en route from the centre of town.
15. Oriel Street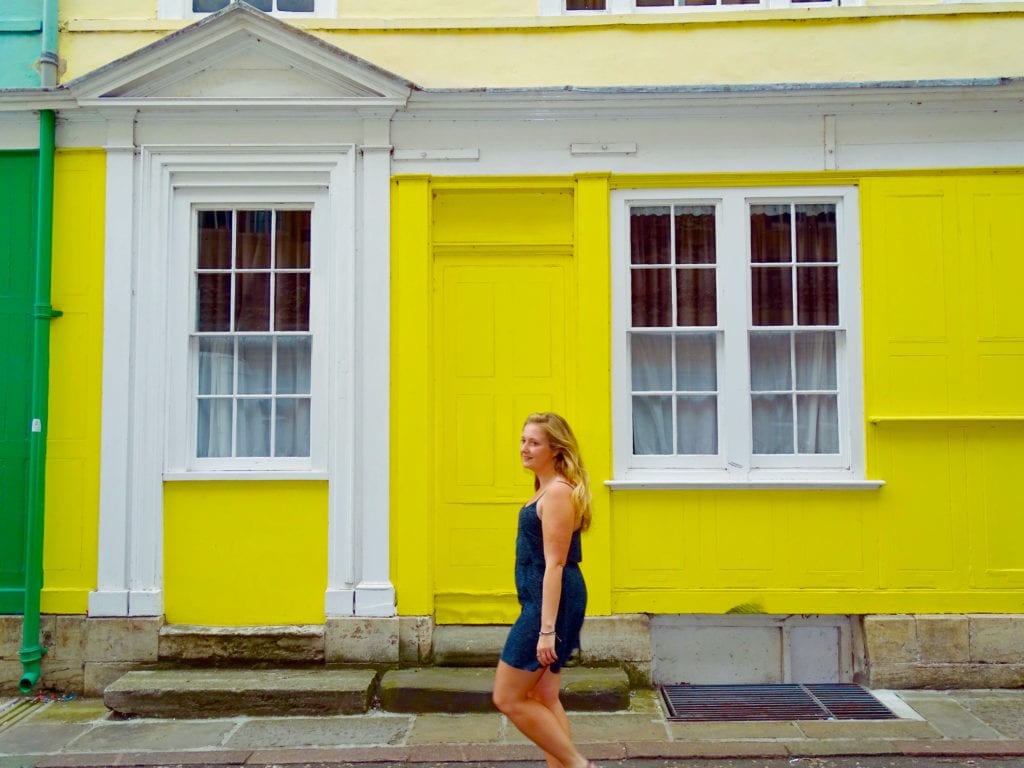 This little alley off the High Street is a hidden gem. Oriel Street doesn't look much from the entrance but if you know where to look (thanks to this blog), you'll find one of the most Instagrammable places in Oxford nestled further down.
16. Merton Street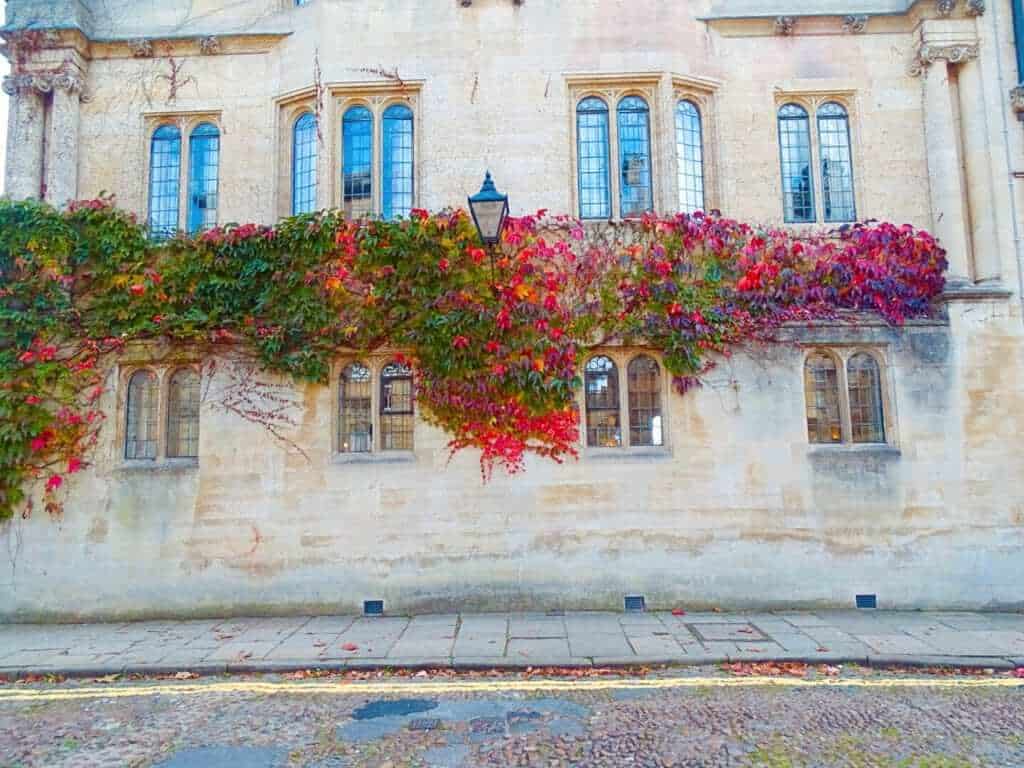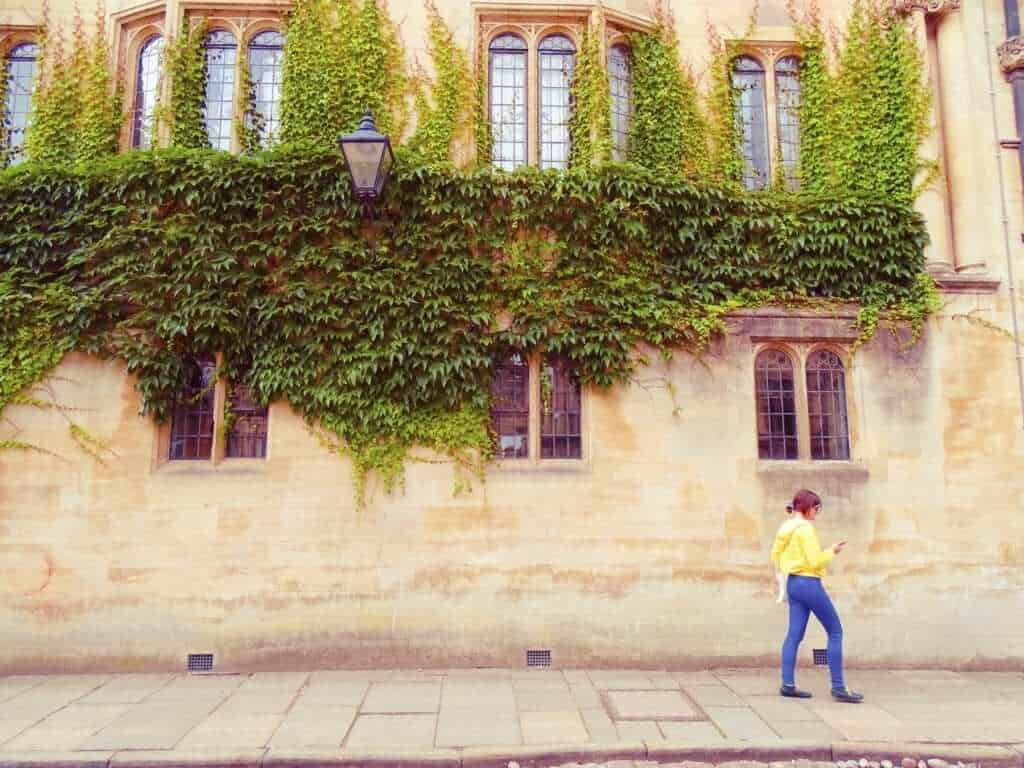 Merton Street is gorgeous in any season. It runs adjacent the High Street so walk it instead to skip the crowds.

Tip – if exploring the yellow houses of Oriel Street, you will connect from High Street to Merton Street,
17. The Bridge of Sighs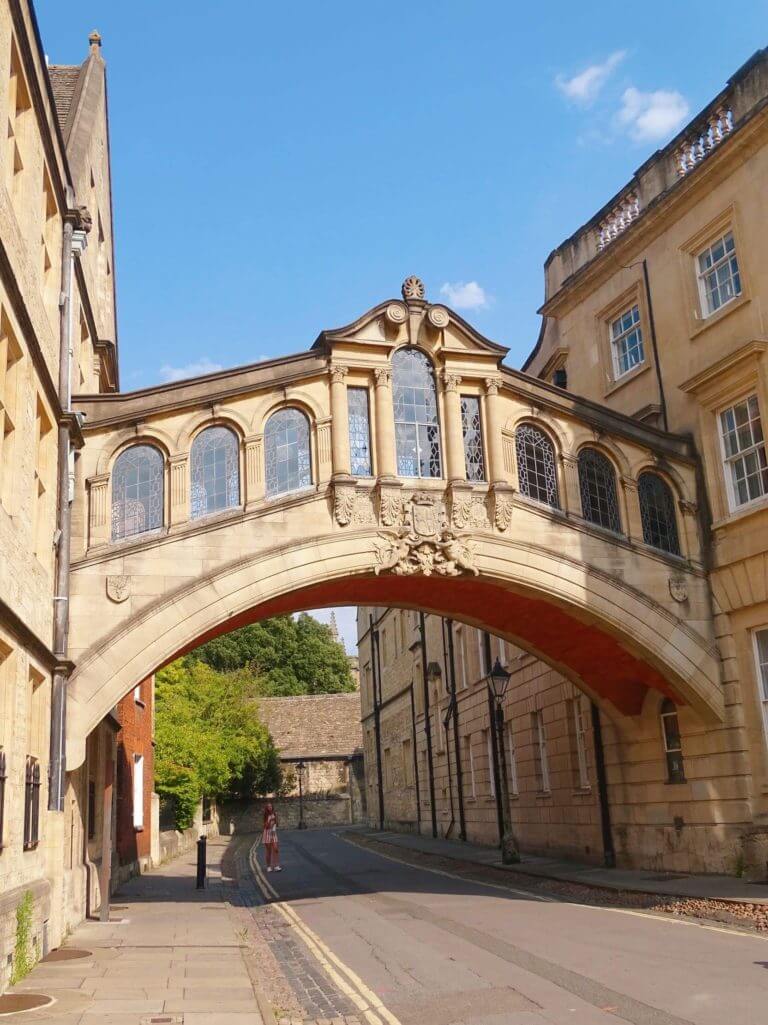 The Bridge of Sighs is a photo-worthy walkway connecting Hertford College over New College Lane. It's a big Oxford tourist attraction so it's worth spending a good few minutes here trying to crop out the crowds.
18. The view from St Mary's Church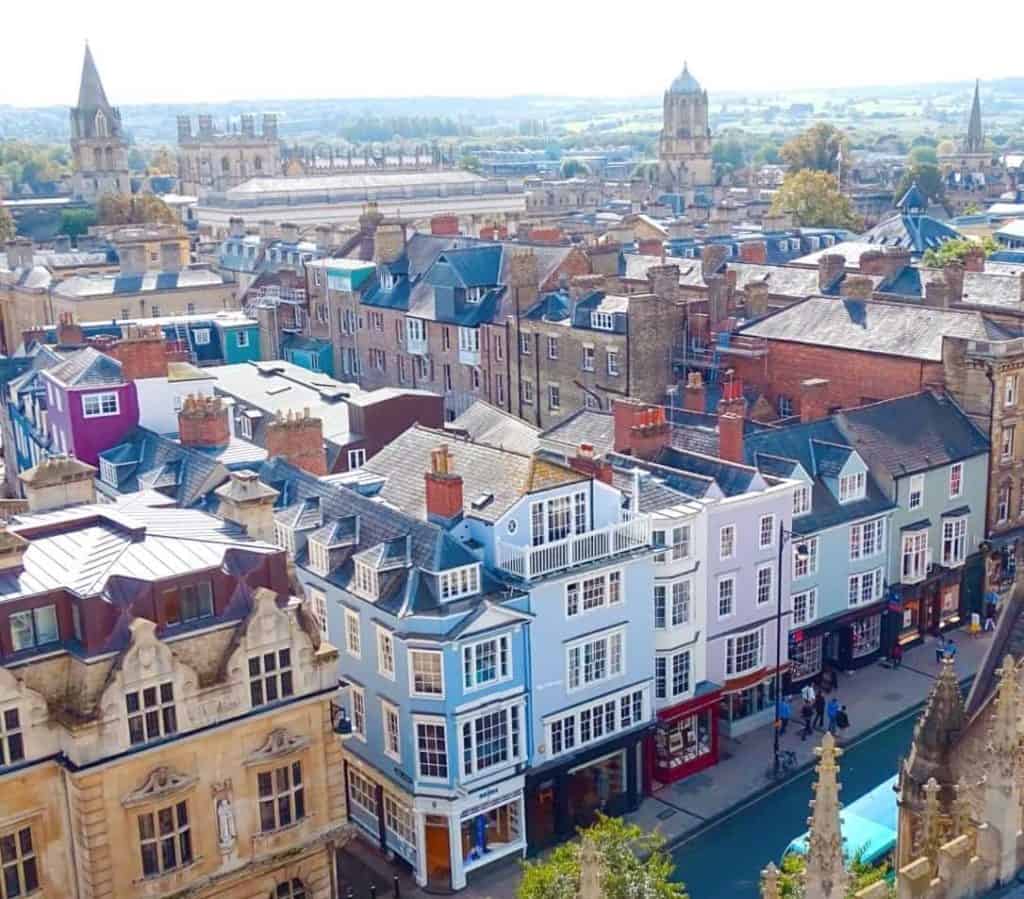 If you're looking for a different take on the usual Oxford Instagram snaps, why not get a bird's eye view?

I already mentioned the High Street's colourful buildings but they've never looked better than from above. Climb the windy staircase of University Church of St Mary the Virgin for £4 and you'll see for miles around.
19. The skyline from the Varsity Club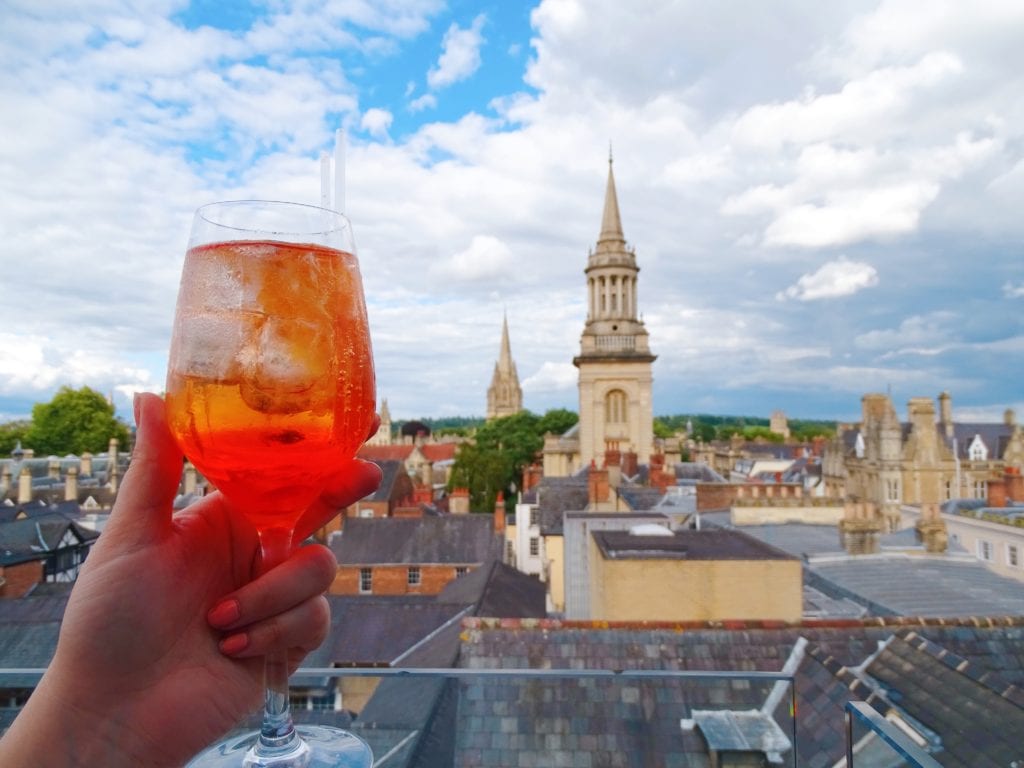 If you don't want to pay to climb a tower, buy a happy hour cocktail at the Varsity Club and gaze out over the many beautiful places in Oxford.

To visit TVF, find the staircase beside the High Street entrance to Oxford Covered Market. Climb to the top and – voila – spectacular views!
20. North Parade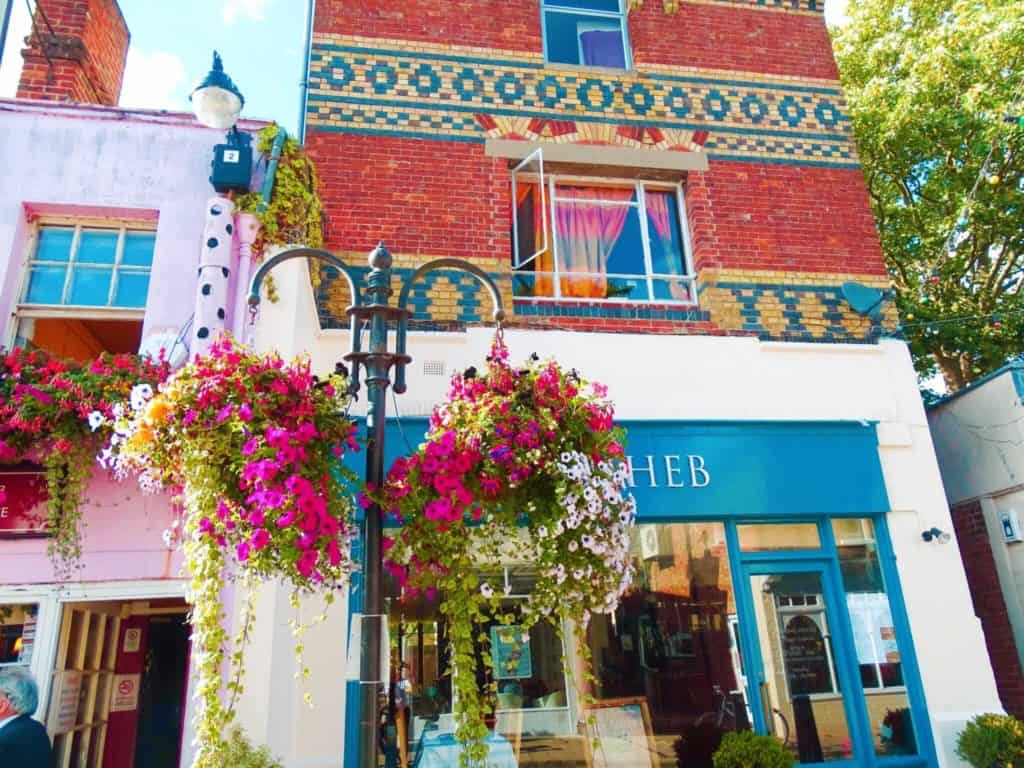 I already mentioned the pink Rose & Crown pub but actually, this whole street is lovely. Visit on the second and fourth Saturday of the month to visit one of Oxford's best markets, North Parade.
21. Victors restaurant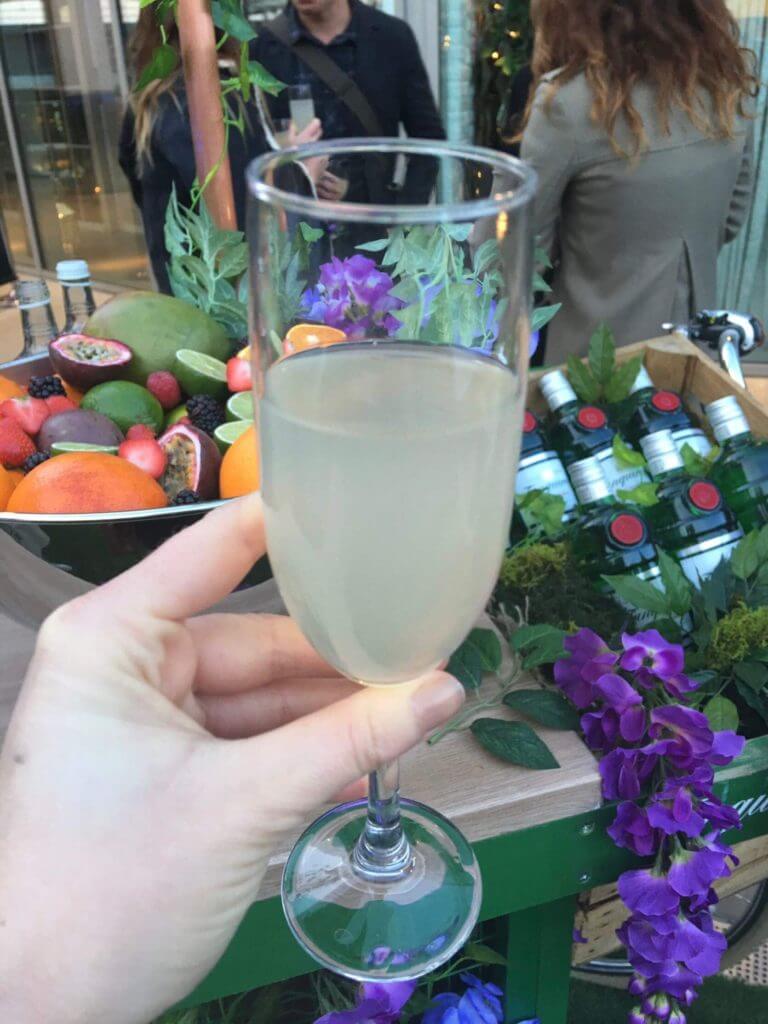 For an Instagrammable restaurant in Oxford, you can't do better than Victors. This beautiful venue on the Westgate rooftop is laden with pink and purple hanging flowers. The views from the rooftop over the Dreaming Spires aren't bad, either!
Do you have any other favourite Instagrammable places in Oxford? Let me know in the comments!
Thanks for reading!
If you liked it, please share it 🙂
Check out my other Oxford posts:
See you next time for more adventures,
Rose
For more travel content, follow me on Instagram, Facebook, Twitter and YouTube.
Ps. Liked these Instagrammable spots in Oxford? Pin the guide for later!