This post may contain affiliate links to things like tours, hotels, Amazon associates and products. These help me earn a small commission at no additional charge to you.
As South Korea's second biggest city, Busan is a popular stop for backpackers, flashpackers and everyone in between. For that reason, I decided to put together this 3 day Busan itinerary to help you plan your trip.
BUSAN ESSENTIALS

Accommodation: Booking.com / Hostelworld

Activities: Viator

Getting there: air (Skyscanner) / Train (Trip.com) / bus

Getting around: Metro / bus

Stay connected: Unlimited data SIM / e-SIM card

Busan airport to hotel transfers
Seoul and Busan sit at opposite ends of South Korea so it's often most convenient to fly into one and out of the other. I flew from Taiwan into Busan then left South Korea from Seoul. Busan set my first impressions of South Korea, almost all of which all positive.
Read next: 2 week South Korea itinerary
I didn't fall in love with Busan like I did Seoul or so many other Asian cities but that's okay – I enjoyed my time in Busan even if I didn't have that 'I must live here feeling!'. It's not as big or quirky as Seoul but it's potentially better for outdoorsy activities like hikes. And it's without doubt better for people-watching at city beaches!
Read next: the best day trips from Busan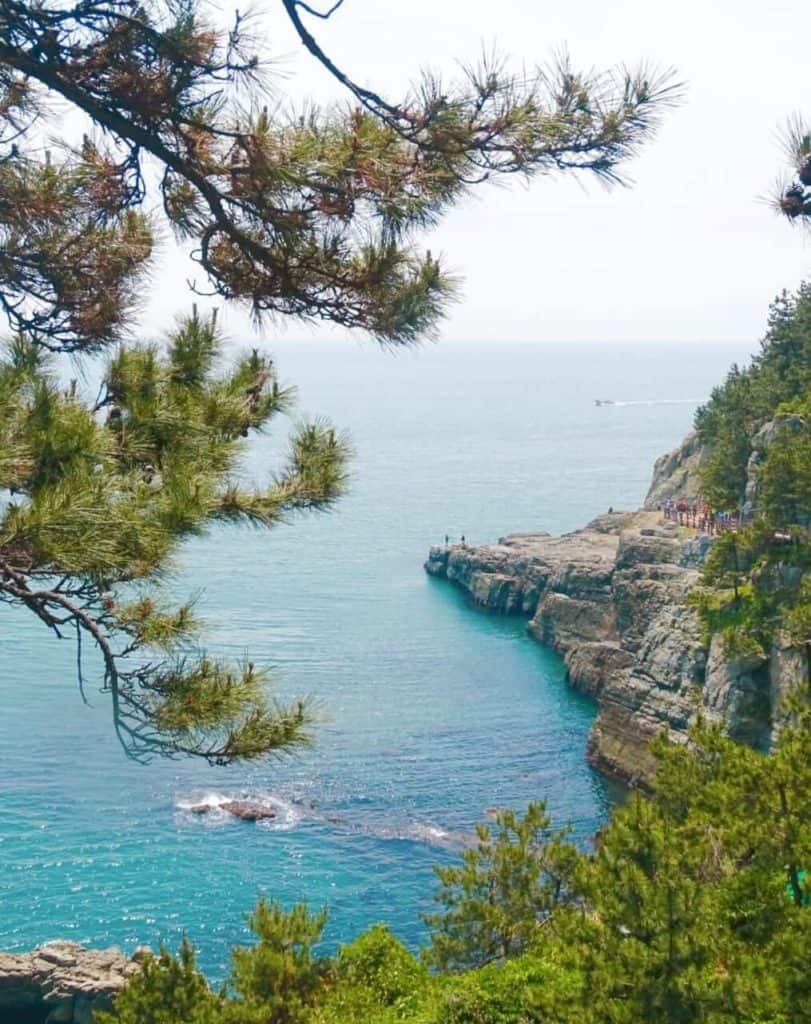 Getting to Busan
By air: Gimhae International Airport is located just outside of Busan and only takes around 40 minutes to reach from the city centre.

If you're looking for affordable international or domestic into or out of Busan, I'd recommend checking out Value Alliance. This airline alliance is made up of six low-cost carriers, Cebu Pacific, Cebgo, Jeju Air, Nok Air, NokScoot and Scoot. When you use the search tool on the Value Alliance website, it'll bring up the best value fares for your dates.

Note – during the summer, flights get booked up in advance so book ahead of time.
Bus – there are great bus connections in South Korea. You can catch a bus from Busan to Seoul in in 4 hours, Gyeongju or Daegu in 1 hour and Jeonju in 3 hours.

The main Korean bus websites to use are T-Money, Kobus and Bustago. You can also show up at the station and buy a ticket on your day of travel (this is what I did and never had any problems).

Train – these are a great way to get around South Korea and more scenic than the bus. Use Trip.com to book tickets. They partner with Korail (the official railway network of Korea), accept online payments in multiple currencies, and issue e-tickets to skip queues and hassle at the station.
Getting from Busan Airport to city
Catch Line 2 Metro or take a local bus. For ease and convenience, pre-book a private airport to hotel transfer.
Where to stay in Busan
My best Korea travel tip for Busan is picking a good neighbourhood. The city is quite spread out and you don't want to spend your whole time on public transport. There are accommodation options even if you're travelling Korea on a budget. I've heard good things about Haeundae close to the beach but personally, I'd highly rate Seomyeon.

One reason is that Seomyeon transport hub, connecting to Lines 1 and 2 (orange and green), allowing you to get anywhere in Busan quickly. The other reason is that Seomyeon is super cool! At night it has some serious Harajuku vibes, brightly lit and alive with people socialising at cool restaurants and bars. There's also a lot of street food in this area if you're looking to keep the costs down.

Best hostel in Seomyeon: I stayed at the lovely Blue Backpackers. While the area is loud and lively, the hostel is hidden away down a side street meaning it's quiet at night. Dorm beds start at 20,000 won (£13/$17) and this includes breakfast and coffee which you can eat on the rooftop terrace with a cityscape view.

All the rooms are super cute with travel inspo quotes and stencil art. The couple who run it are really helpful and will fill you in all the best things to do in Busan. Highly recommended!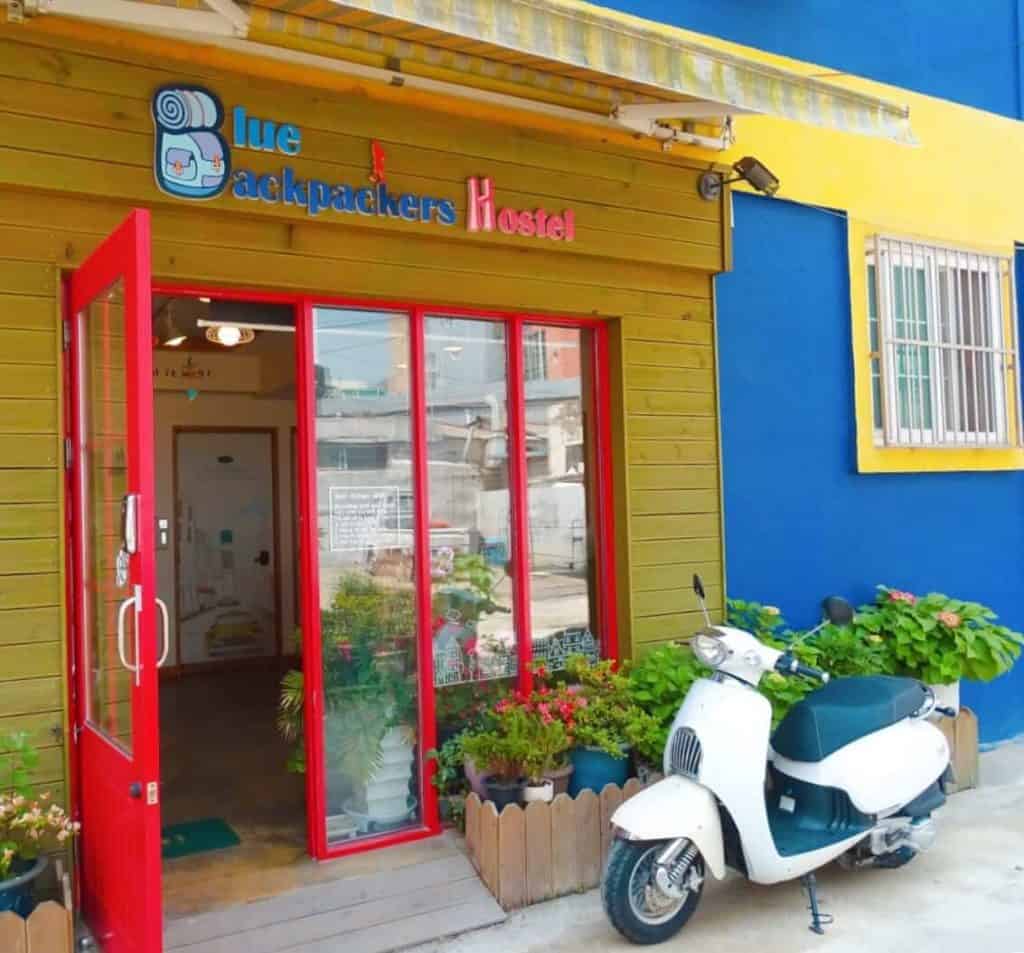 Apartment: Close to Busan station and the port, Le Collective boasts stylish, spotless suites with city views and easy access to vibrant Chinatown. Check availability from $80.

Hotel: for some of the most affordable yet comfortable rooms in the area equipped with TVs and en suite bathrooms, stay at Seomyeon Brown-dot hotel gold. Breakfast is included. Check availability here from $40.

Browse all Busan accommodation on Booking.com and Hostelworld.
Staying connected in Busan
Although there's plenty of public Wi-Fi networks in Korea (such as within train stations), it's a tricky place to buy a SIM card as you usually need to prove residency. The best idea is to pre-order a tourist SIM for pick up at the airport or, easier still, purchase an e-SIM activated by QR code.
How many days in Busan?
I would suggest spending 3 days in Busan at a bare minimum. This will allow you to spend a full day in the city then take some fantastic excursions on day 2 or 3. If you have an extra couple of days to spare, great! You could easily fill them.
3 Day Busan itinerary
Day 1 – Spend the morning at Gamcheon Culture Village and the afternoon in Nampo. Here you can climb Busan Tower and visit the nearby markets, Gukje and Jagalchi Fish Market. You can also explore Biff Square and wander Gwanbokro Cultural & Fashion Street.

Day 2 – Take the Igidae Coastal Walk in the morning. Afterwards, catch the 24 or 27 bus to the Kyunsung University area and grab a cheap lunch at a student cafe. Then board Line 2 (green) to Gwangalli Beach.

On the way home, visit Spa Land in Shinsegae Centum City. You can do this any evening of your trip but it's on the same metro line as the beaches so it's easy to tie them together.
Things to do in Busan
I was really surprised at how much there is to do in Busan. After 4 days in Busan, I still hadn't squeezed everything in. You could easily stay much longer. I spent the same while spending 5 days in Seoul – Korean megacities are anything but boring!

These are some of the best things to do in Busan. Keep reading for my 3 day Busan itinerary lower down. Enjoy!
Gamcheon Culture Village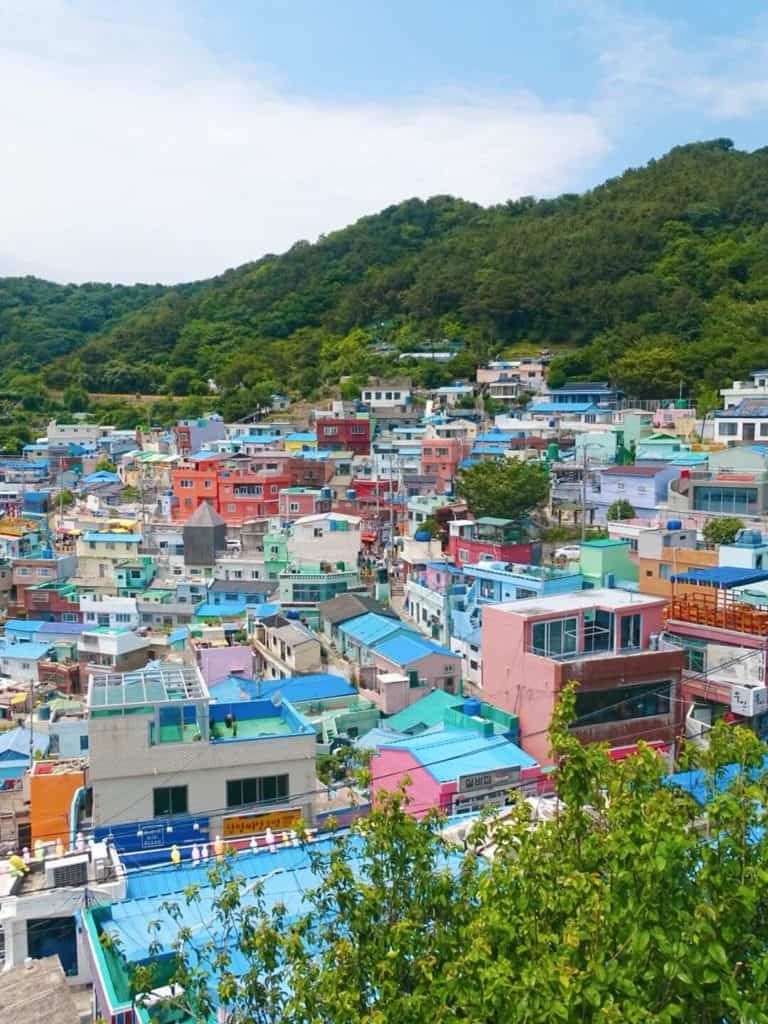 Gamcheon Culture Village has me written all over it! I love colour, street art and seeing how places have positively reinvented themselves.

To give you a quick history, Gamcheon Culture Village was once a slum town inhabited by refugees of the Korean War. Busan was one of the few areas not affected which is why so many people came to this settlement beside the ocean.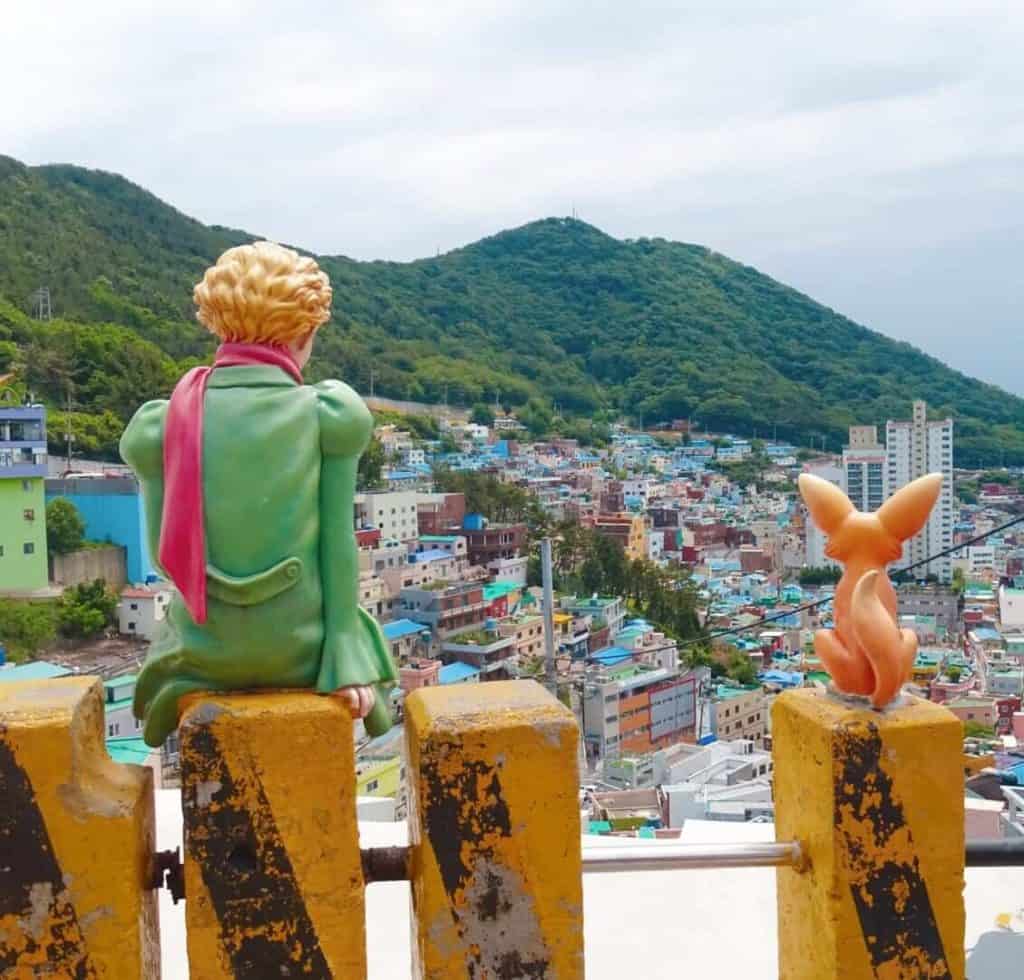 Gamcheon underwent a total transformation in 2010. The houses were painted rainbow colours, murals and statues popped up, and shops, cafes and galleries opened their doors. Nowadays, tourists flock to the area yet the locals have retained their homes and culture.

The best thing to do in Gamcheon Culture Village is grab a paper map from the tourist information office. This interactive map tells you where to find hidden stamp points around the village. Once you collect enough, you'll get rewards like free postcards to send home. This brought out my competitive streak – I was dead set on finding them all (though I took a wrong turn and missed like 6. Dammit!).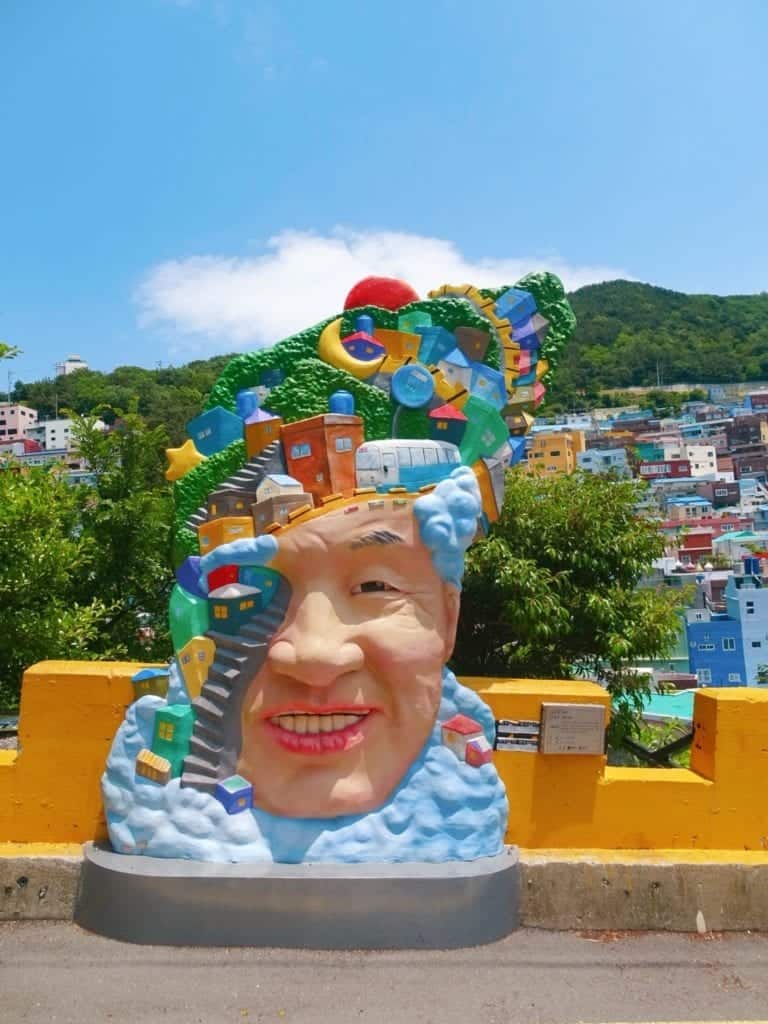 Getting to Gamcheon Culture Village: Find a subway station and hop on Line 1 (the orange line) to Toseong-Dong station. Then jump on bus number 2 up the hill to the village. Set aside a half-day for wandering the area and finding stamps.
Igidae Coastal Walk
One of the best things to do in Busan for nature lovers is hike Igidae Coastal Walk. It's not a particularly tough trek so you don't need any kit or to be super sporty. It's a pleasant walk mostly along a boardwalk with views of the ocean and city the whole way, taking about 1.5 hours in total.

It doesn't matter which end you start at. I chose to begin at Igidae Park and finish at the Skyway Observatory, a transparent walkway jutting out over the ocean.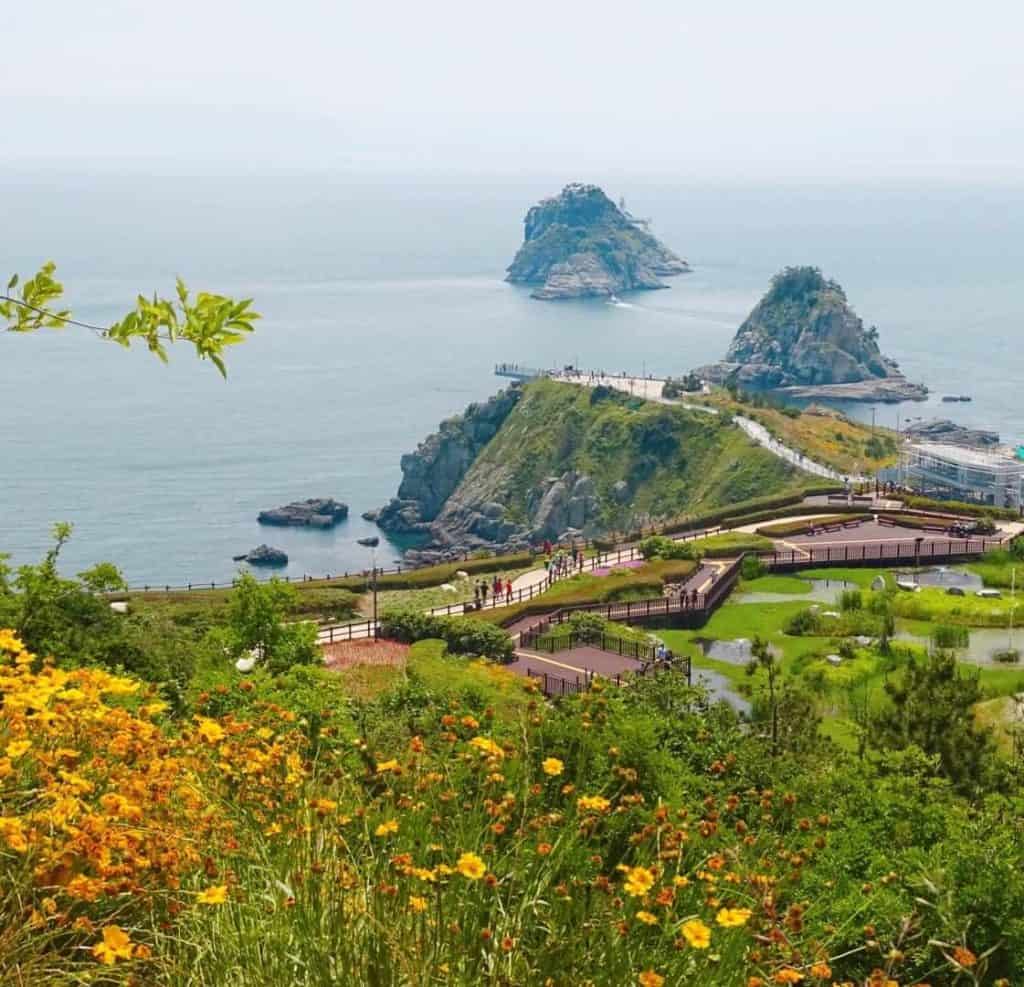 To do the same route finishing at Skyway Observatory, set your journey planner to Igidae Entrance. From Seomyeon, you can catch the number 24 bus the whole way from this stop.
Gwangalli Beach
Busan is known for its city beaches which are quite unlike any I've ever seen before. They're certainly not peaceful island getaways: they're usually busy and full of glamorous locals, sometimes wearing high heels on the sand! For that reason alone, you've got to check out a beach during your stay in Busan.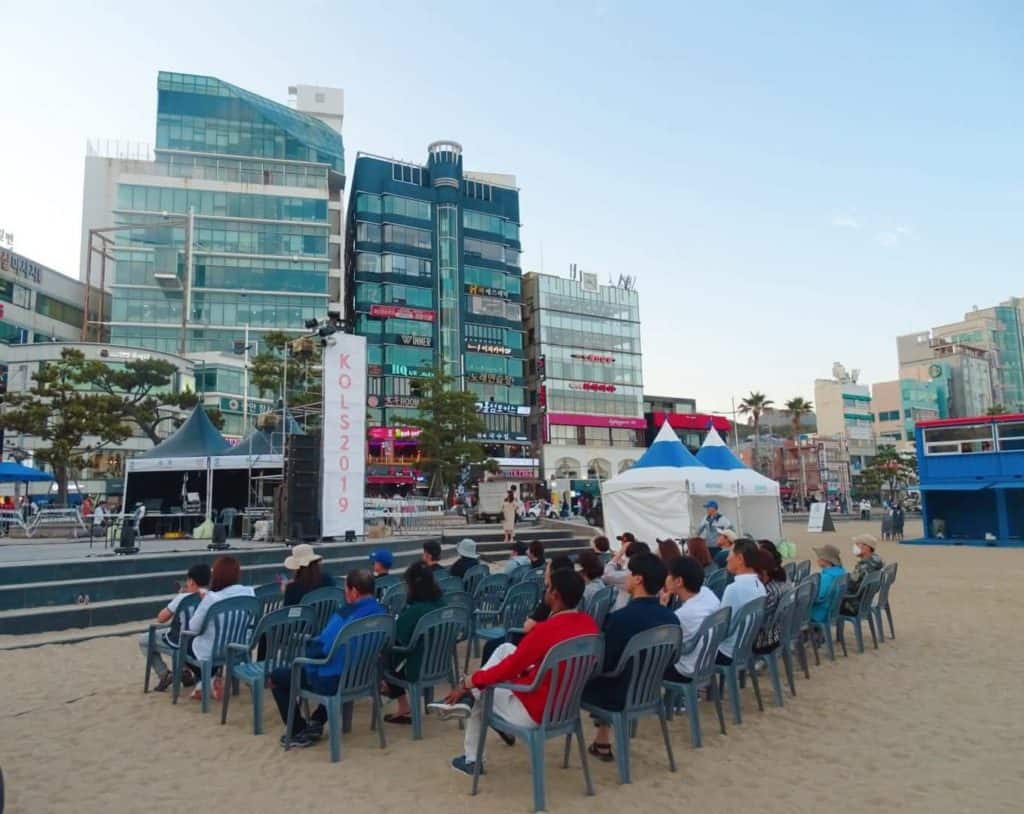 Haeundae is the most famous beach in Busan but I'm glad I checked out Gwangalli Beach, too. If you're pushed for time, they're pretty similar. Gwangalli is meant to be better for sunset so I visited in time to watch the blue skies fade to a dreamy pink.

The best bit was the movie night happening on the beach (I'm not sure how regularly this occurs). I caught a documentary all about our oceans, featuring freedivers and surfers from around the world.

As I sat on a deck chair under the fading skies and towering skyscrapers, I considered what a unique city Busan really is!
Bujeon Market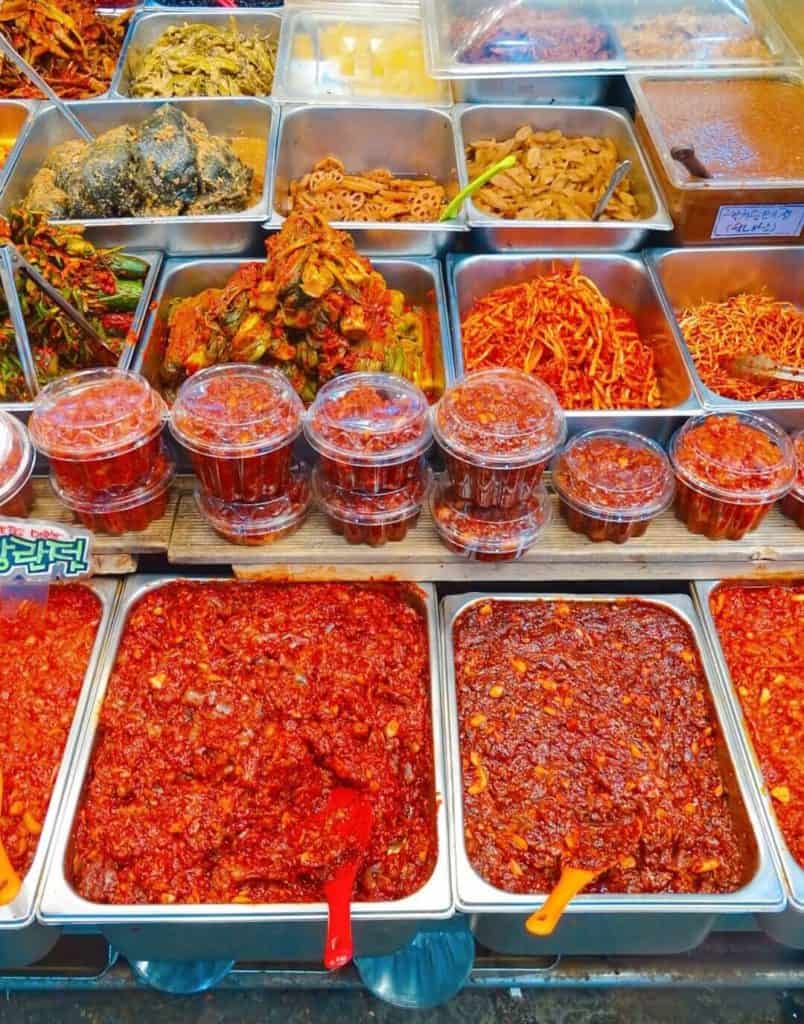 There are lots of local markets in Busan but if you stay in Seomyeon, I would recommend wandering around Bujeon Market. You won't find the best lunch of your life here (or much English spoken) but you will see an authentic side to Busan. In fact, it makes quite the contrast to the skyscrapers of Seomyeon towering above it!

The best Korean foods to try in Bujeon Market include gimbap rolls and fish cakes, both popular Korean snacks. Expect to pay around 2,000 won for these. Otherwise, it's more of a wet market where locals pick up raw ingredients and fresh veg for their home cooking. Why not stroll around and soak up the colours, sights and smells?
Haeundae Beach
Probably the most iconic thing to do in Busan is visit Haeundae Beach. There aren't many places in the world where you can top up your tan while looking up skyscrapers but Busan is one of them.

Even if you don't spend long here, Haeundae Beach is a must for people-watching (although prepare to see some men in teeny-tiny string thongs. Disturbing!).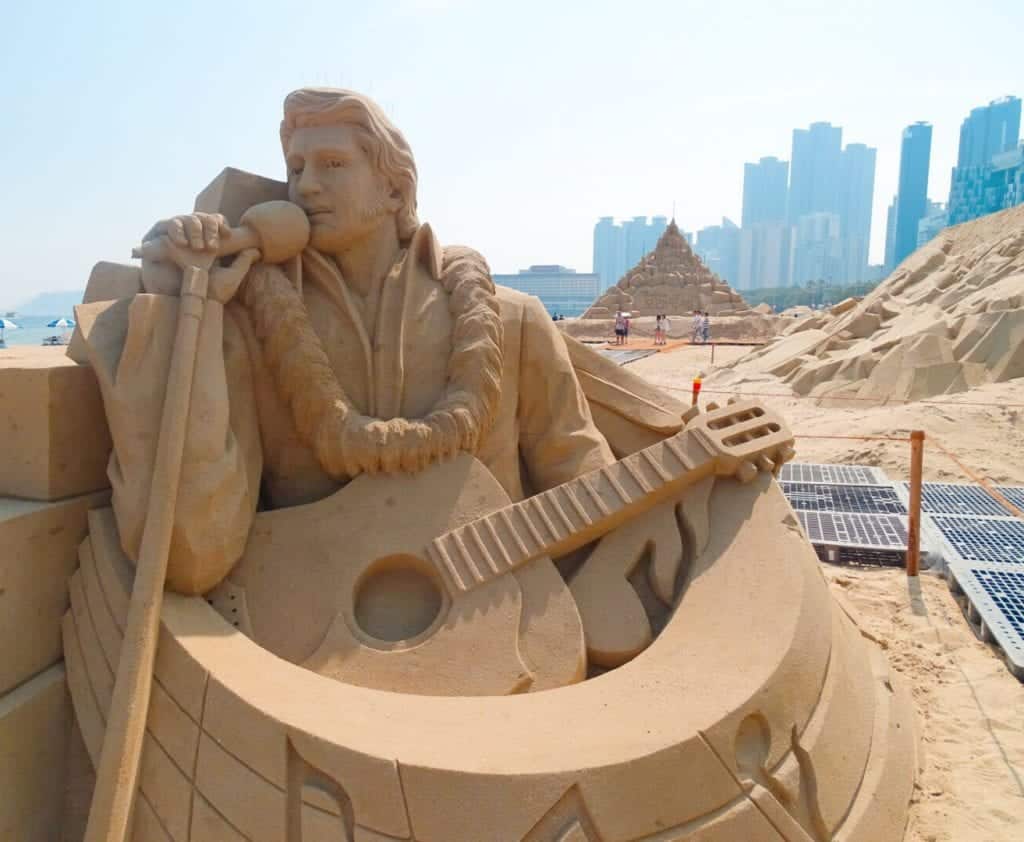 If you visit Busan in early summer, your visiting may coincide with Haeundae Sand Castle Festival. I assumed I'd missed this because the castles are built in May and I didn't visit until early June. However, there had been no rain since the festival so I managed to spy them fully-formed.

The 2019 theme was music so there were sand sculptures of Elvis Presley, Madonna, Bob Marley and some Korean artists. They were so detailed and lifelike. If you can time your trip right, get this on your Busan bucket list!
Spa Land Centrum City
Speaking of Korea bucket lists, you shouldn't leave South Korea without visiting a jimjilbang, in other words a naked spa! There are many places to do this in South Korea but I took my chances at Spa Land, often listed as one of the best things to do in Busan.

You'll find Spa Land inside Shinsegae Centrum City Department Store, connected to Centrum City metro station. Yep, you can get naked and soak in a jacuzzi technically without even leaving the train station.

There's only one nude area of Spa Land which is the hot pool jacuzzi area. Here, there are no clothes allowed and the locals bare all without being embarrassed – and neither should you! (Though I have to admit I was awkward at first).

For the other areas including the foot spa and steam rooms, you wear a set of pyjamas which are given to you at the entrance. The best bit was watching K-dramas while lying on a heated floor in the TV area. Here you can also purchase Haagen-Daz for a proper chill out sesh.

Entrance to Spa Land is 17,000 won or 12,000 if you visit before 9am or after 8pm. An evening session would be the ultimate wind-down after a busy day in Busan.
Nampo District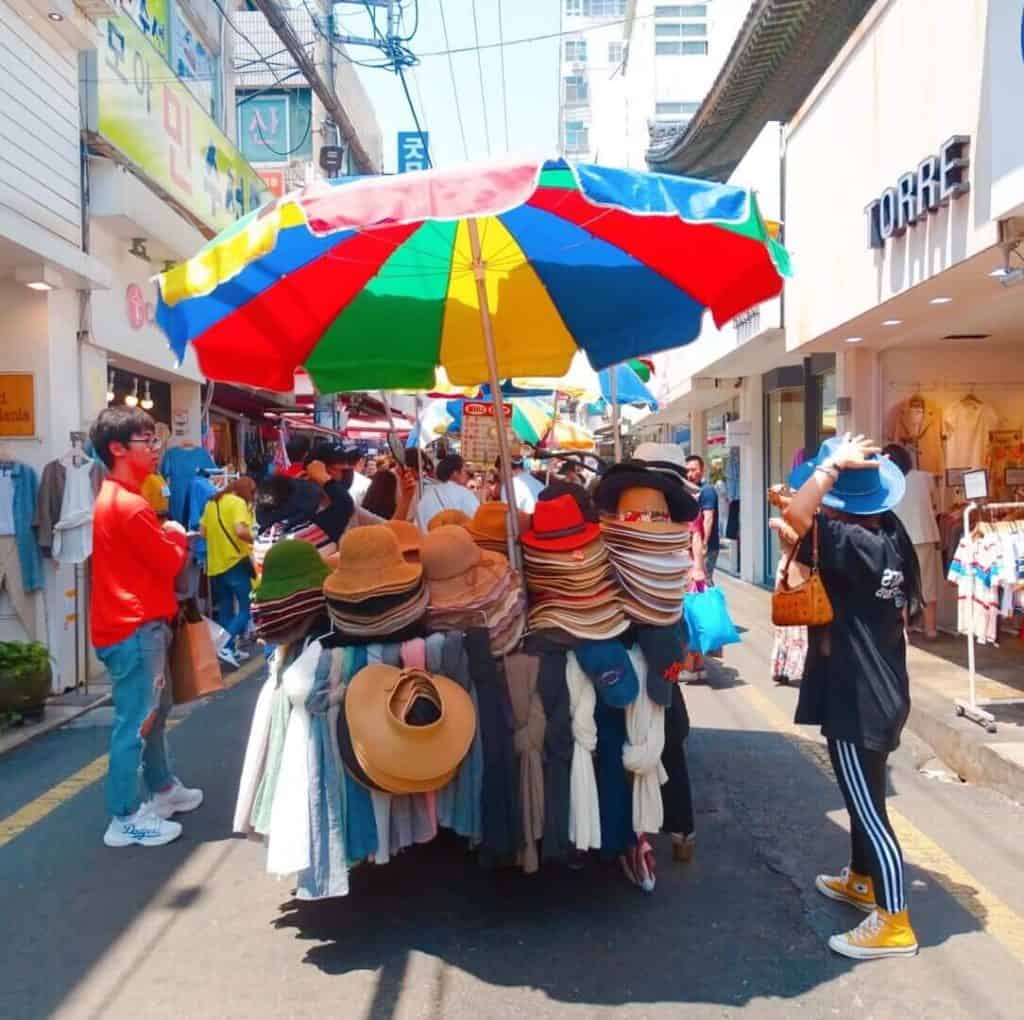 Nampo is one of the oldest areas of Busan and one I'd recommend setting aside a half day to see.

Things to do in Nampo include:
Jagalachi Fish Market – the biggest fish market in South Korea is a great place to grab a fresh seafood meal or simply soak up the sights. I visited in the morning which is usually the best time to see Asian markets but actually, Jagalachi gets busy around lunchtime.
Gukje Market – this busy outdoor market is massive and takes up the central streets of Nampo. Try local foods like tteokbokki (spicy rice cakes) and hotteok (fried dough stuffed with honey and seeds) and shop for clothes, accessories and souvenirs. Again, visit in the afternoon for the best atmosphere.
Biff Square – this lively square has loads of street food options.
Gwanbokro Cultural & Fashion Street – I set this place into Google Maps but it kind of merged into the rest of the area. Check it out for fashion stores and cosmetic shops. It's known as a smaller version of Myeondong in Seoul.
Get a skyline view (Busan Tower or Lotte Building)
Busan Tower, pictured below, is one of the highest vantage points in Busan. Heading up to the top only costs 4,000 won which is pretty cheap compared to sky decks in many cities (including Seoul). However, as an advocate of not paying for things if you don't have to, I opted for a free alternative. I mean why not?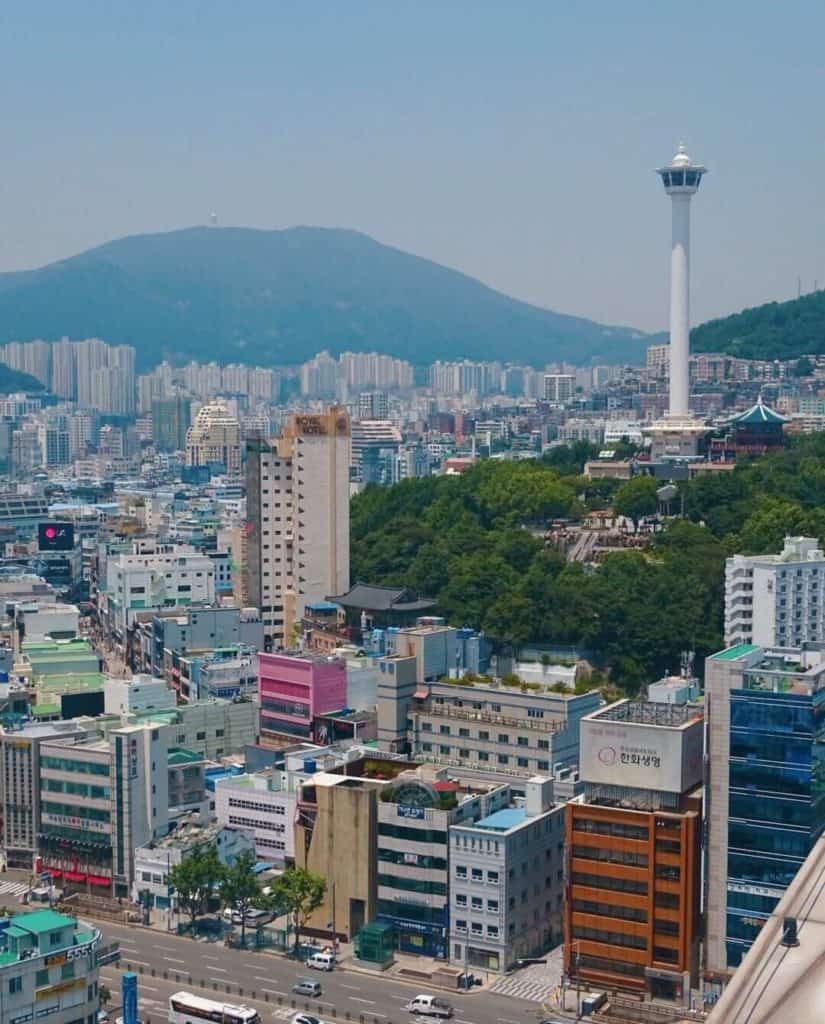 While you're in Nampo, consider soaking up the free view from the Lotte Department Store like I did. This is a peaceful leafy garden with some spectacular city views.
The Lotte building is connected to Nampo metro station so it couldn't be easier to visit. Keep following the escalators upwards until you come out at the garden and sky deck at the very top.
Explore Seomyeon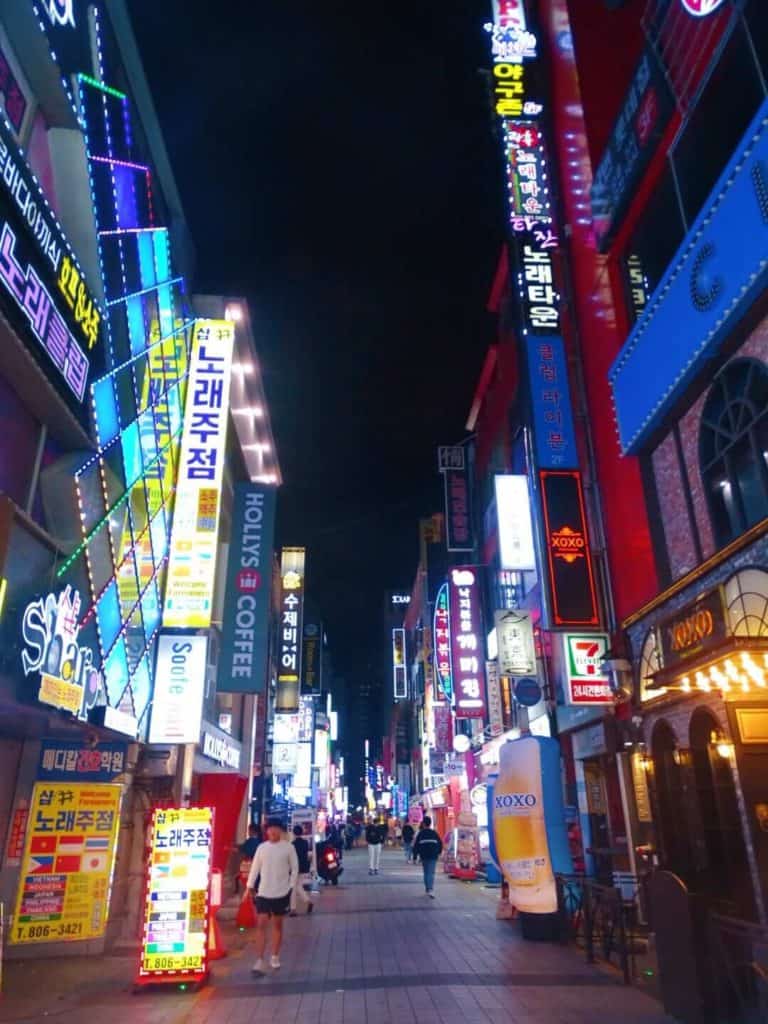 I've mentioned Seomyeon already as great place to stay in Busan. However, if you choose to stay elsewhere, definitely come to explore Seomyeon at night.

Even if you don't go partying, it's an optimum place to wander and people-watch. The bright lights made me think of Tokyo, and I was also blown away by the number of cosmetic stores. Apparently, Seomyeon is also the plastic surgery area of town, something I believe after seeing the perfectly groomed locals strolling around!

For a fun evening activity in Busan, take a night tour and food market crawl with a local guide.
Taejongdae Resort Park
An alternative to Igidae Coastal Walk is Taejongdae Resort, an island connected to Busan by bridge. It's known for its craggy cliffs and ocean views, as well as its greenery; there are over 200 species of plants on this picturesque little island.

Getting to Taejongdae: It's a bit of a trek on public transport from Busan but there are a number of buses you can catch from around Seomyeon station including the 186. Get off at Taejongdae Elementary School and walk over the start of the coastal walk.
Haedong Yonggung (Temple by the Sea)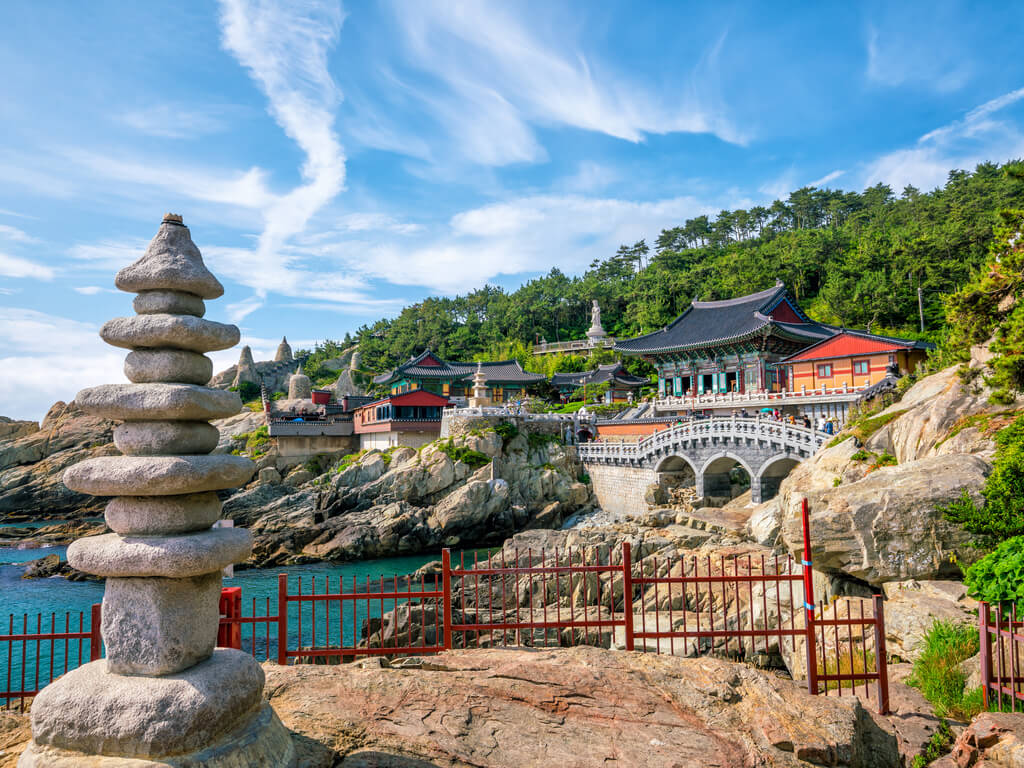 This Buddhist temple by the sea was virtually destroyed during Japanese invasions and rebuilt in the 1970s, making it a cultural treasure the locals are grateful to have back. The shrine is set at the edge of the cliff, overlooking the ocean and doubling up as a fantastic sunset spot in Busan.

Getting to Haedong Yonggung: Take bus number 100 or 181 from Haeundae Station and get off at Yonggungsa Temple Bus Stop. Simple enough but a 1.5-hour journey if you're staying centrally in Busan. Well worth it if you have the time!

For an easy option, take a Busan day tour including a trip to Haedong Yonggung.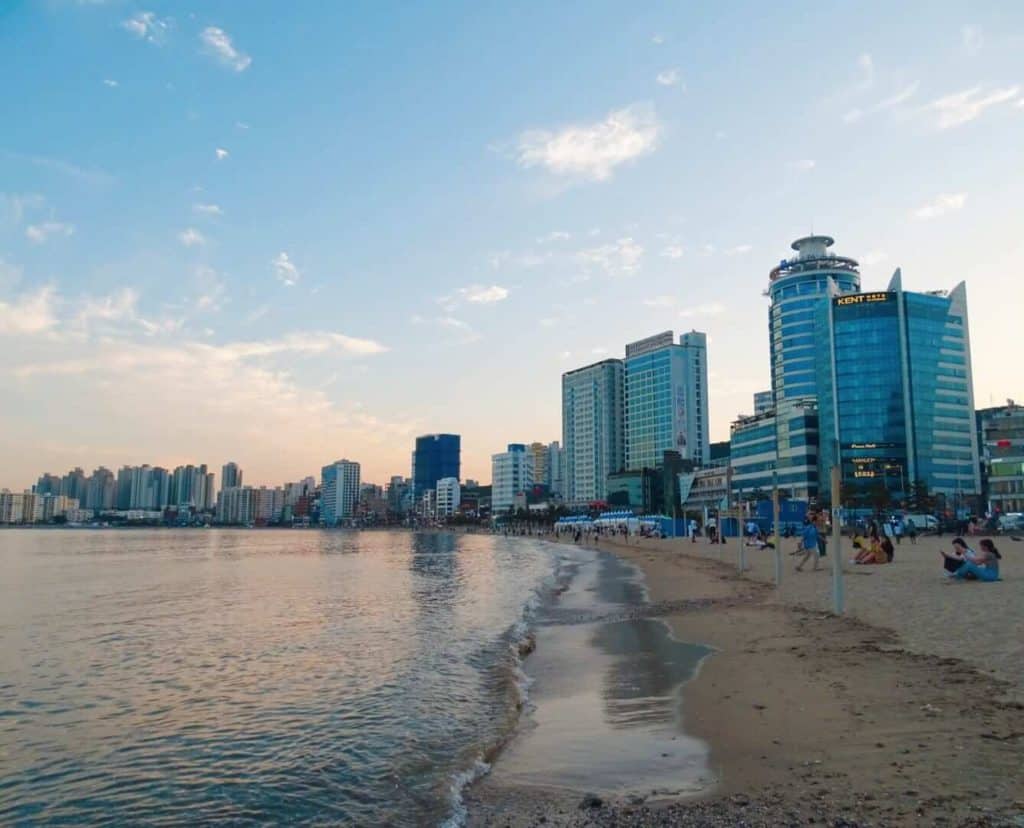 Day 3 – In the morning, take the Taejongdae Resort hike or visit Haedong Yonggung (Temple by the Sea). Head to Haeundae Beach during the afternoon, then explore Seomyeon in the evening, grabbing a street food dinner or tucking into a restaurant meal. Explore the vibrant bar scene if you're keen!

Finished this 3 day Busan itinerary? If you have a fourth day, hike Taejongdae Resort or visit Haedong Yonggung (Temple by the Sea), whichever you didn't do the previous day.
More day trips from Busan
I wrote a whole guide to the best Busan day trips. It's a great base to explore more of South Korea. A few of the best include…
Gyeongju – the old capital of the Silla kingdom is a fascinating stop for historians, dubbed the 'museum without walls'. Visit the serene Wolji Pond at Donggung Palace, UNESCO Heritage Bulguksa Temple and see inside the Daereungwon Royal Tomb full of artifacts relating to Silla kings. Arrive by bus, train or organised day tour from Busan.
Daegu – this modern city boasts impressive hiking opportunities in Apsan Park and Palgongsan. Arrive by train.
Tongyeong – this UNESCO port city with abundant history and the country's longest cable car can be visited by bus or day tour.
Oedo Island – this privately-owned island is open for visitors and what a place it is! The European-style gardens are somewhere between grand and charming, boasting blooming foliage and equally appealing ocean views. Take a bus and ferry or a day tour.
Thanks for reading my 3 day Busan itinerary!
Check out my other South Korea blogs:
See you next time for more adventures,
Rose
For more travel content, follow me on Instagram, Facebook, Twitter and YouTube.
Ps. Liked my Busan travel guide? Pin it for later!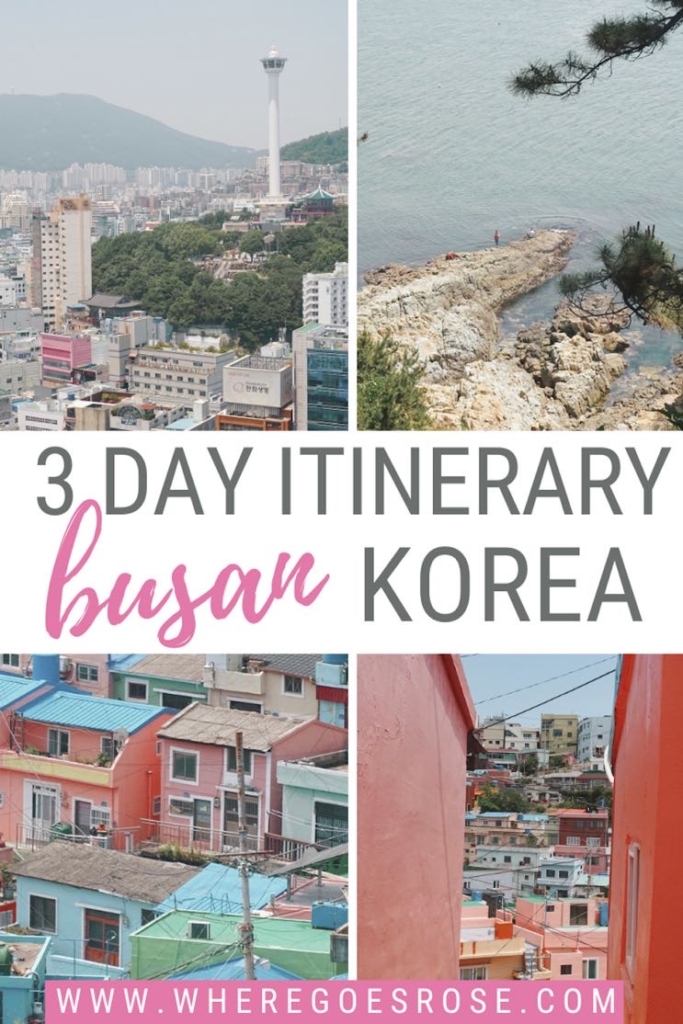 Note: I was compensated for my partnership with Value Alliance and I was hosted by Blue Backpackers during my time in Busan. All opinions are my own.
VISITING SOUTH KOREA?

These are my trusted resources:

Getting around by air – I use Skyscanner to find the best-value flights, using the 'search by month' tool to find the cheapest dates. You can also use the 'to anywhere' feature if you're flexible on where you're going.

Buses – buses are comfy and efficient. It's tricky for foreigners to book online so it's best to turn up on the day.

Trains – use Trip.com, partner of Korail (the official railway network of Korea) to book your tickets in advance. The website accepts international payment options, unlike Korean rail websites. Click the three stripes in the top right corner then the flag to change it to English.

Driving in Korea – use Rentalcars.com to compare car rentals. Hiring a car will be especially useful on Jeju Island.

For hotels in Korea, I use Booking.com – they also have self-catering apartments. You can filter by review score and price to find the best-rated budget places. For hostels, I use Hostelworld.

To save money on accommodation, I use Trusted Housesitters, a website that connects homeowners going away and travellers who can sit their homes & pets.

Browse South Korea tours and activities on GetYourGuide. I also check Viator and Klook in case they have a better price.

For food tours with passionate local chefs and foodies, check out EatWith.

Need travel insurance? I use True Traveller (for UK & Europe residents) since it's affordable but covers everything you'd need including various activities, valuables and pre-existing conditions. Unlike some companies, they insure you if you're already travelling / don't yet have your flight home booked. Get a quote.

For travel insurance for other nationalities, I recommend Hey Mundo and for long-term digital nomad travellers, I suggest Safety Wing.

Check out my resources page for more travel discounts and tips!