This post may contain affiliate links to things like tours, hotels, Amazon associates and products. These help me earn a small commission at no additional charge to you.
I recently spent 3 days in Copenhagen and – despite spending a fair bit of money – had a fantastic time. There's so much to see and do in the capital of Denmark hence I decided to put together this Copenhagen itinerary. I'll include the mistakes I made (so you don't have to), what's worth visiting, what's not, and general tips 'n' tricks for your visit.
COPENHAGEN ESSENTIALS

Accommodation: Booking.com / Hostelworld

Tours & activites: GetYourGuide

Getting there: Flight (Skyscanner), Bus (FlixBus), Train (Omio)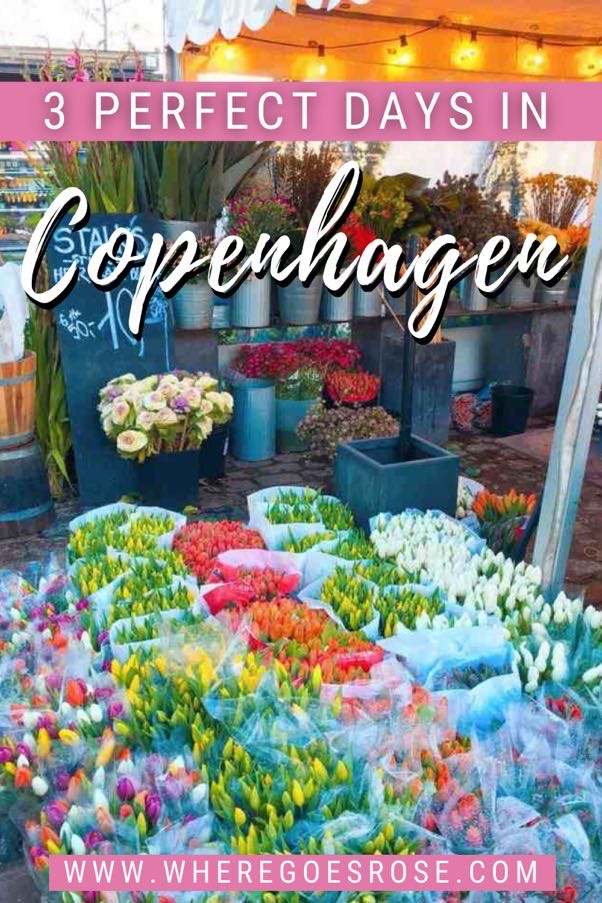 Visiting Copenhagen? Check out my other blogs:
How to get around Copenhagen
Even though Copenhagen can be an expensive city to visit, you'll save money based on the fact it's easy to get around on foot. Like when I spend 3 days in Budapest, I mainly explored on foot and took the odd journey when necessary.

In Copenhagen, there are very few hills and you'll soak up the best sights in the city while walking about. Just make sure you have warm, waterproof shoes if visiting in the winter (a lesson I learnt the hard way).

If the idea of 3 days in Copenhagen on foot sounds tiring, another option is to hire a bicycle. The locals are big fans of cycling and you'll find bike lanes all over the city. Just make sure not to walk in them; you won't win over the locals by upsetting the bike-related status quo! Simply unlock a Bycyklen via the mobile app. These electric bikes cost as little as 0.38 DKK a minute.

Copenhagen also has a clean, efficient public transport network. To take the metro or bus, purchase individual tickets from ticket machines or 7-Eleven shops in the station. These tickets remain valid for 90 minutes so don't purchase a bunch in advance.

For ease and convenience, do what the locals do and purchase a Rejsekort card. This lets you tap on and off without messing around at the ticket machine. It also offers 20% off (aside from during rush hour).
A tourist-friendly option for those spending 3 days in Copenhagen is purchasing a Copenhagen Card. This includes all your transport plus entry to 80+ museums and attractions in Copenhagen. Book your Copenhagen Card.
Getting to Copenhagen
By air: Copenhagen Airport is well-connected with other European capitals. I managed to find a flight from London for £20! I use Skyscanner to find the best-value flights, using the 'search by month' tool to find the cheapest dates.

By train: Although it's not as well connected by train as cities in central Europe, there's an efficient train network connecting to Malmo, Lund, Stockholm (Sweden) and Hamburg (Germany). Use Omio to book trains.

By bus: Around Europe, I use FlixBus. You can travel between Copenhagen and Malmo from €9 and Hamburg for €19.
Getting from Copenhagen airport to the city
Both the metro and train run from Terminal 3 of Copenhagen Airport to the city, taking just 15 minutes. The train arrives into Copenhagen Central Station and the metro travels to Kongens Nytorv which connects to metro line M3, linking up the whole city.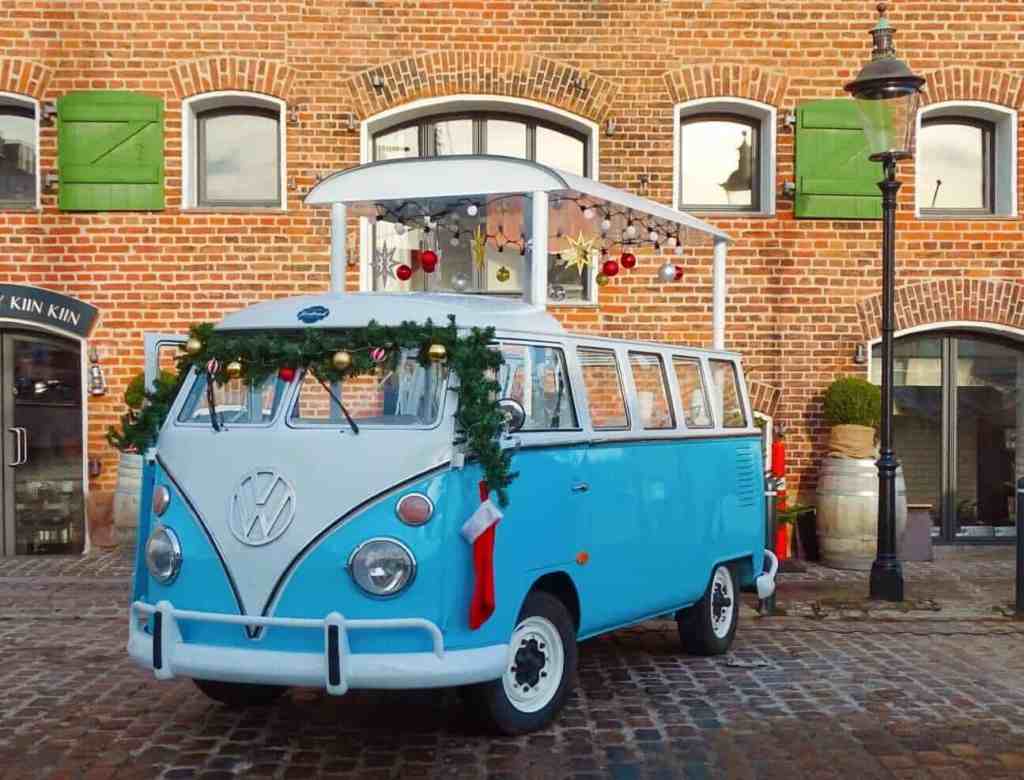 How expensive is Copenhagen?
This was the question on my lips while planning my Copenhagen itinerary. Could I afford castle visits and hipster brunches after the horror stories I'd heard about Copenhagen prices?

Although Copenhagen IS pricey, you can travel on a budget. I'll share my budget tips further down but for now, here's a quick run-down of average Copenhagen prices:
Cup of coffee – 35 DKK
Dish at food market – 85 DKK
Main meal in a restaurant – 110 DKK
Glass of wine – 50 DKK
Pint of beer – 45 DKK.
Best time to visit Copenhagen
Summer in Copenhagen (June to August) is the best season for good weather and endlessly long evenings but prepare for the city to be busy with visitors.

Spring is a lovely time to visit: slightly quieter and beginning to warm up. If you can handle the cold (and darkness from 3pm), enjoy a winter trip to Copenhagen. November and December are atmospheric with countless Christmas markets to visit.
Where to stay during 3 days in Copenhagen
Hostel – I stayed at Copenhagen Downtown Hostel which was a great option for meeting other travellers. There are communal dinners and a bar. If you're visiting on a budget, take advantage of their breakfast buffet and happy hour. You won't find cheaper drinks elsewhere! Check availability and book from €20.

Budget hotel – Urban House Copenhagen is inside a lovely old building with clean, comfy rooms. There's an outside food and bar area with a fantastic menu. Check availability and book from €65.

Midrange – Comfort Hotel Vesterbro is in one of Copenhagen's hippest areas, just a 5-minute walk from Central Station. All the rooms are individually designed with funky, colourful details. Check availability and book from €110.

Apartment – NORD Hotel Apartments have all your amenities, laundry facilities, TV and a fully-equipped kitchen. Check availability and book from €130.

Browse all hotels and self-catering apartments on Booking.com. For hostels, use Hostelworld.
3 day Copenhagen itinerary
Let's get stuck in! This is my suggested itinerary for 3 days in Copenhagen followed by my personal food and drinks recommendations and some frugal budget tips…
Copenhagen itinerary – day 1
I love to start my sightseeing in a new city by touring the city centre and seeing the popular sights before moving on to hidden gems and more unusual attractions later. During the first morning of my Copenhagen itinerary, I did what I usually do in a new place…
Take a free walking tour
I love a free walking tour and have done them in Cape Town, Munich and London this year. Begin your Copenhagen itinerary by seeing the top sights and learning about Danish culture.
Things I learnt:
Danish people often get voted the happiest in the world – something our guide attributed to free health care and university fees and…
Hygee! This is integral to the country's psyche. The closest translation is 'cosy' and refers to moments or feelings of contentment that Danish people seek in daily life
However, the Danes also have some of the highest depression rates possibly due to low levels of sunlight in the winter
It's really difficult to get a Danish passport as not only do you have to learn the complex language, you also have to pass a citizenship test which most Danes themselves even fail.
To do this tour yourself, book online at Copenhagen Free Walking Tours.
City Hall Square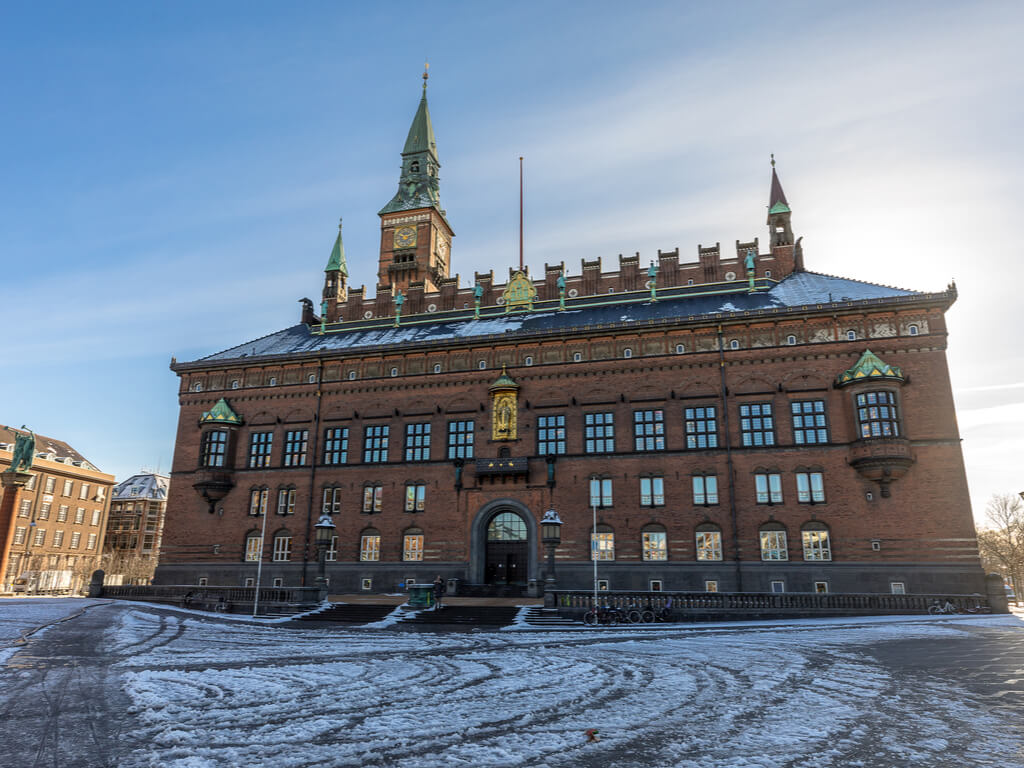 When you're in that initial sightseeing phase, don't miss City Hall Square and Copenhagen City Hall. Wander the square, people-watch and get a feel for the city.

The City Hall combines Danish architecture with Italian Renaissance (the style of choice when it was built). Head inside to see Jens Olsen's World Clock, a masterpiece with 14,000 moving parts that took 27 years to build.

Opening times: 9am-4pm daily.

Address: Rådhuspladsen 1, 1550 København.

Entrance fee: Free or 60 DKK for a guided tour.
Strøget
While exploring central Copenhagen, don't miss Strøget. This is the city's main shopping area comprising 5 streets that link together City Hall Square and Kongens Nytorv (New Kings's Square).

Here you can shop everything from tourist souvenirs to designer goods. If you're not much of a shopper, head up to Original Coffee at the top of Illum department store and soak up panoramic views over Strøget from the balcony.
Amalienborg Palace Square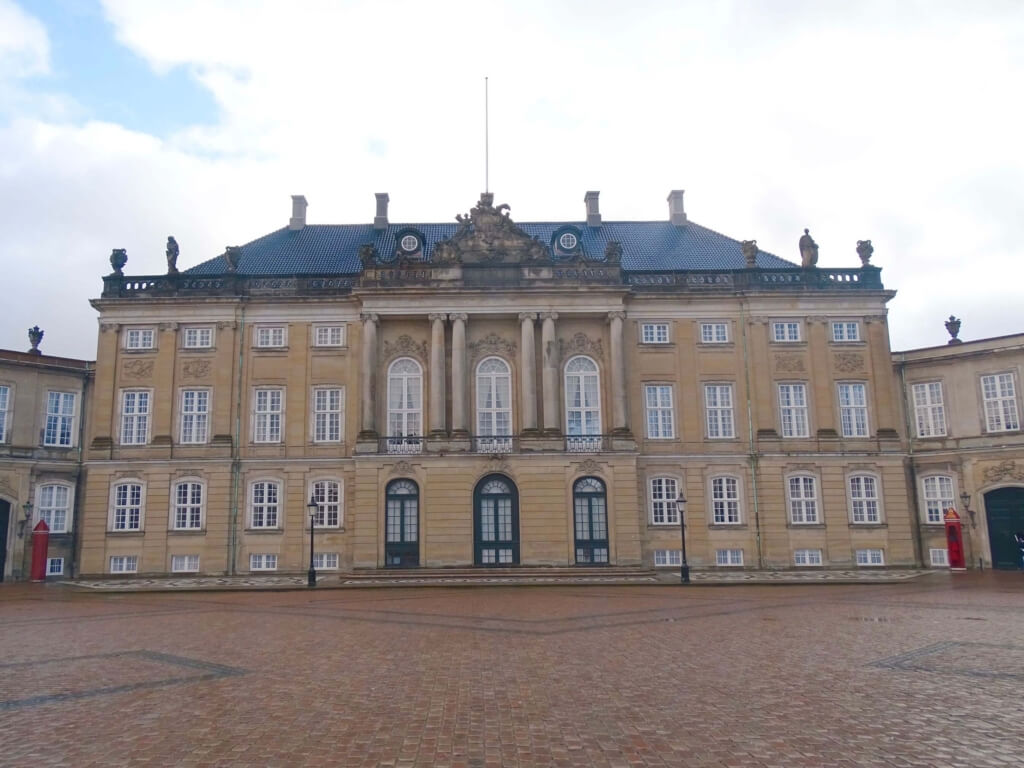 I'll mention some more palaces later in this Copenhagen itinerary but, for a great introduction, visit Amalienborg Palace Square in central Copenhagen. As you may know, Denmark is one of the new European countries to have an active royal family. Amalienborg is the Queen's official winter residence.

If you can, aim to visit at midday to witness the changing of the guard. If a band is playing, you know the Queen is home!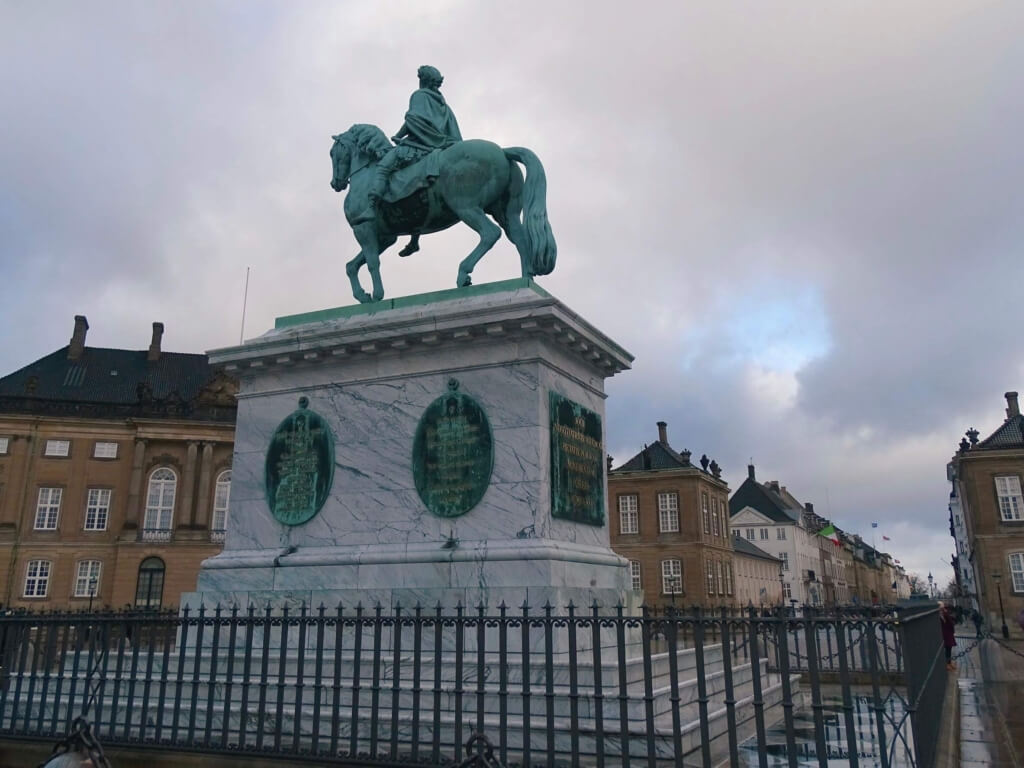 As well as the impressive King Frederik V statue outside, there are four palaces in this majestic complex, two of which you can head inside: Christian VII's palace and Christian VIII's palace. The first can only be visited as a guided tour while Christian VIII's can be visited with just an entrance ticket.

Right beside the palace is Amalie Garden, a small park beside the water with some impressive fountains.

Address: Amalienborg Slotsplads 5, 1257 København K.

Entrance fee: 95 DKK.

Opening times: 11am-4pm, daily.
Frederik's Church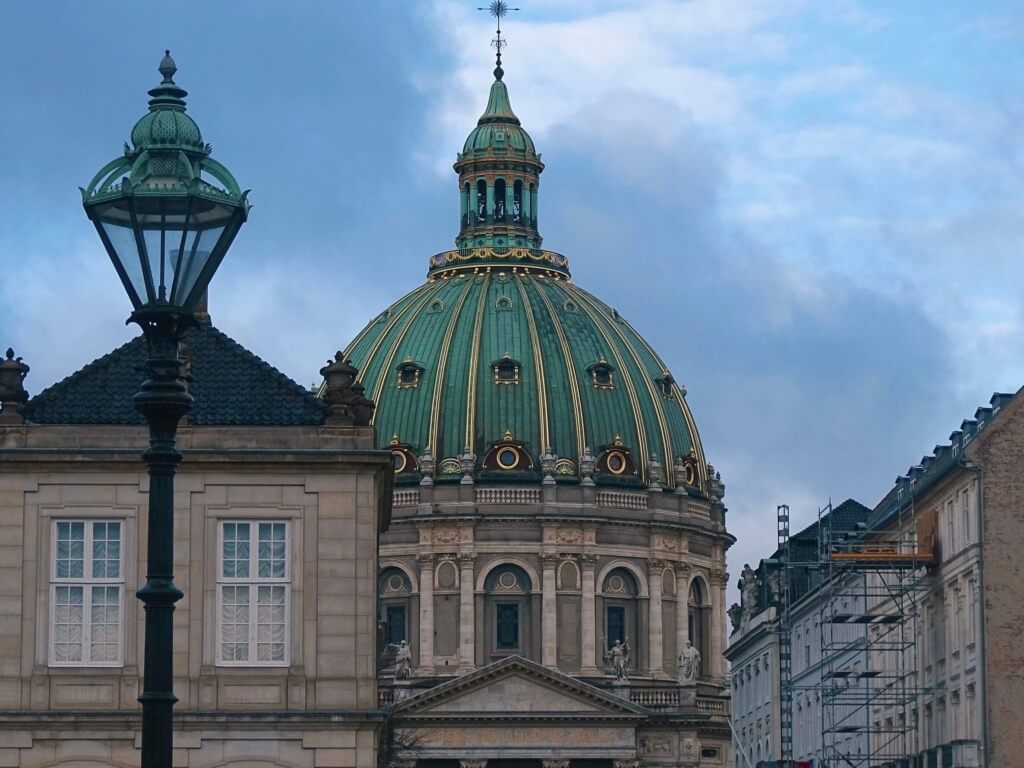 Just a moment's walk from Amalienborg Palace is this enormous church. If you think it's impressive from the outside, wait until you see the intricate, detailed dome and religious artwork inside.

Address: Frederiksgade 4, 1265 København, Denmark.

Opening times: 10am-7pm.

Entry fee: Free but you can pay 35 DKK for a tower tour. Make sure to book your ticket for this at 1pm when they're released. They go fast!
Nyhavn Harbour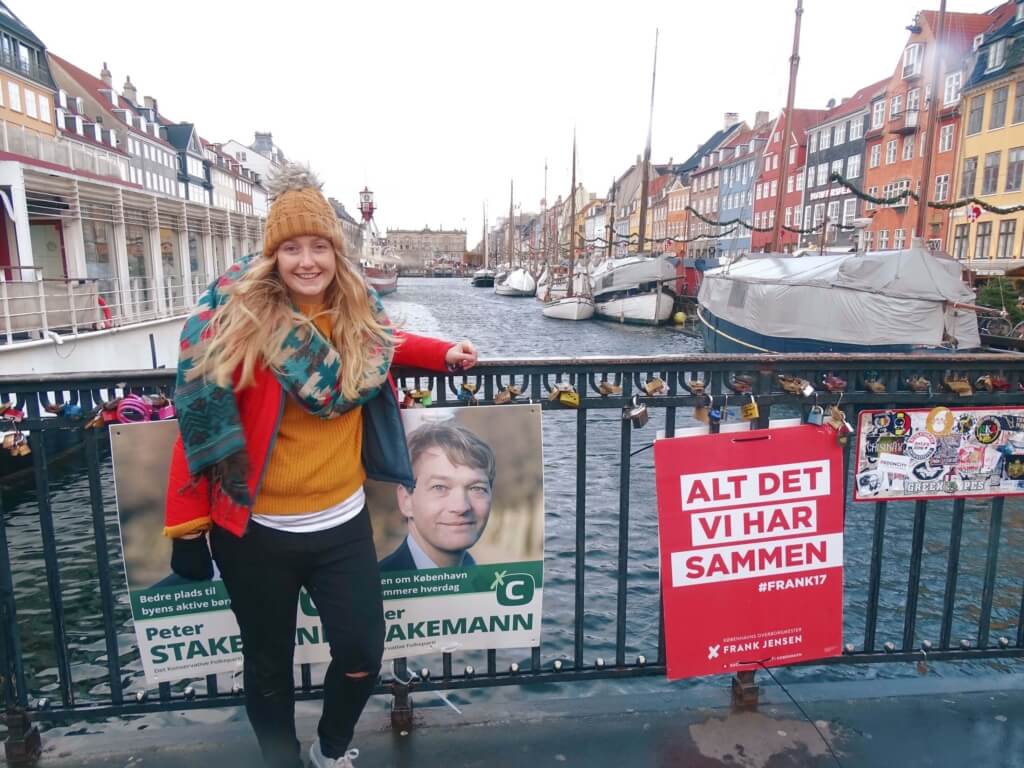 This is the famous harbour you'll have seen online. There are lots of bars and restaurants here so it's a great place to hang out. Come summer, it's vibey with people eating and drinking outside, and during the winter months there's a Christmas market.

Whatever the season, it's a must for three days in Copenhagen even if just to get epic Instagram photos…
Canal tours
A fun option for your Copenhagen itinerary is a canal tour. You'll cruise around the colourful harbour and past the Little Mermaid Statue and palaces.

Book a Copenhagen canal tour for €12.

Note – you get a free tour with a Copenhagen Card!
Round House Astronomy Tower
This beautiful building 10 minutes' walk from Nyhavn offers the best panoramic views of Copenhagen and has a detailed astronomy dial at the top. It was built to be wide enough for the king to take his horse and carriage to the top as he couldn't be bothered to walk!

Tower climb fee: 25 DKK.
Tivoli Gardens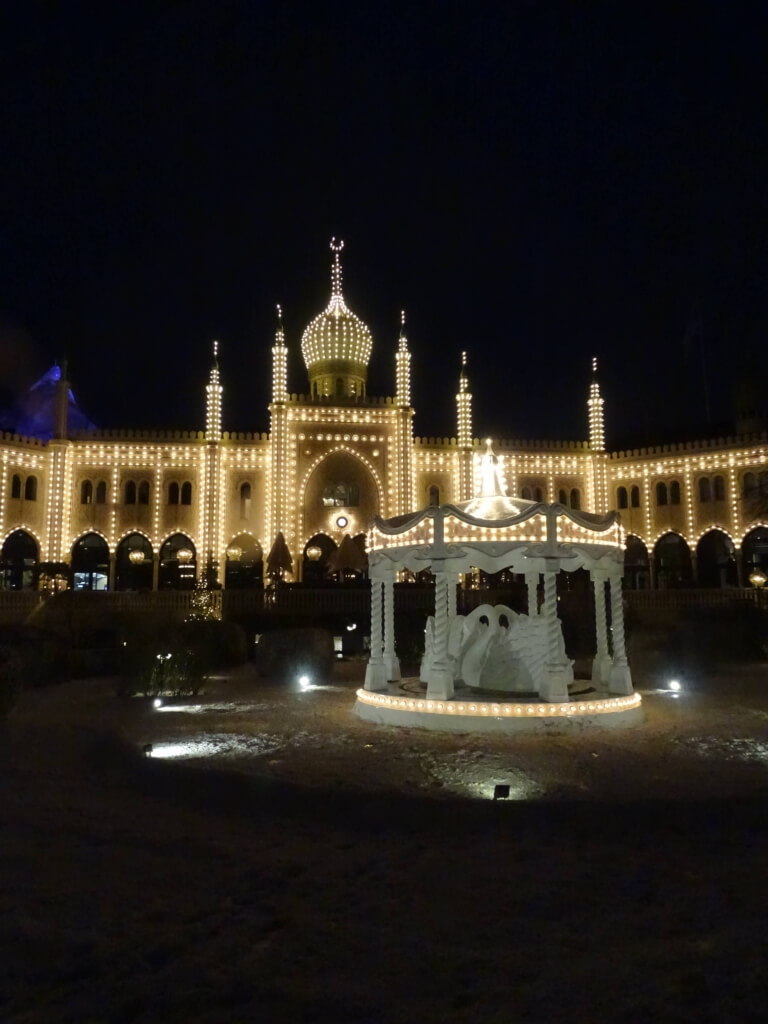 Tivoli Gardens are a must for three days in Copenhagen. Even though it was freezing and dark by 3pm during my winter trip, I was keen to visit.

Tivoli is an amusement park and pleasure garden operating since 1843. There are 30+ rides and open-air concerts in the summer.

The perk of visiting Copenhagen in winter is that you don't have to wait long to see the city lit up. More than 100,000 bulbs give Tivoli a romantic feel (is this hygge?). No wonder Hans Christian Andersen was a regular visitor.

During winter in Copenhagen, Tivoli turns into a Christmas market. I had some expensive mulled wine and wandered the atmospheric gardens. I just wish I'd been able to feel my feet!

Address: Vesterbrogade 3, 1630 København V.

Entry fee: 135 DKK on weekdays, 145 DKK on weekends. Dodge the queues by booking a fast track ticket for no extra cost. If you love rides, it's worth getting an unlimited rides pass for an extra €10.

Opening times: 11am-10pm daily ('til midnight Fri-Sat).
Evening – dinner at Reffen food market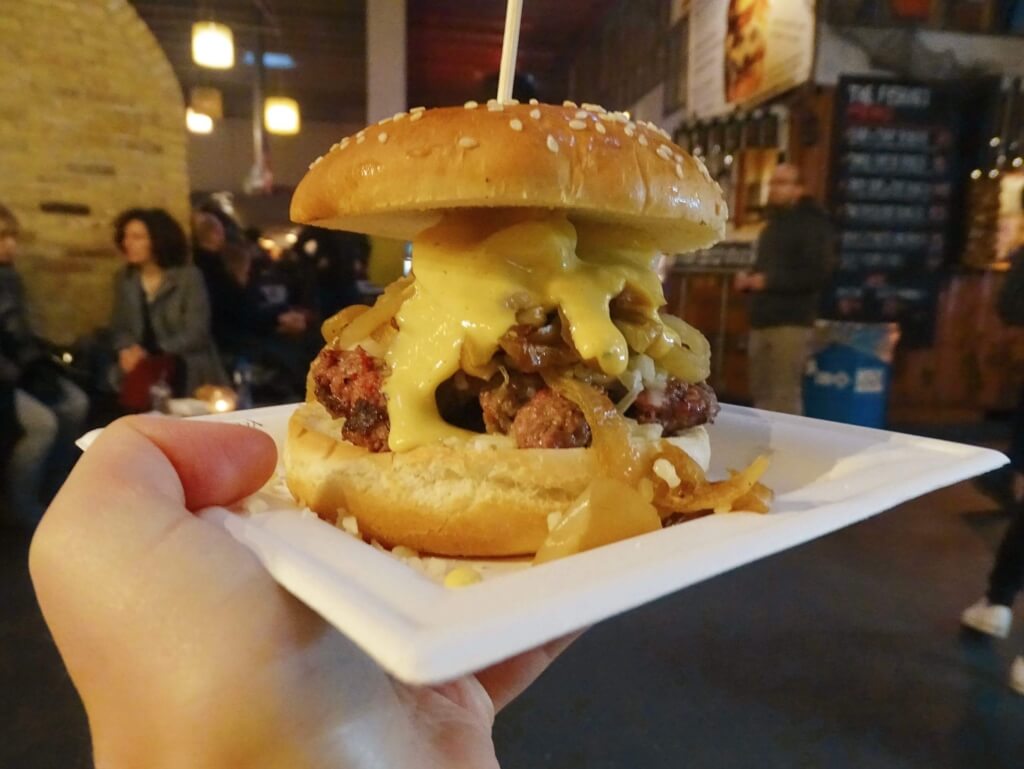 Budget travellers visiting Copenhagen should make a beeline for Reffen Street Food & Craft Market. If dinner and drinks at a restaurant are out of your price range, opt for street food instead.

Not only is Reffen an affordable place to eat (with mains starting at 70 DKK) but the food is mouthwatering.

Browse seafood, crepes, pizza, Asian food, bubble waffles, sushi and more. I opted for an amazing surf and turf burger with a beef patty, prawns, fried onions and cheese sauce. Easily one of my favourite meals during 3 days in Copenhagen!

They serve food 'til 8pm and drinks until 10pm. In the summer, they hold various events outdoors beside the water.

Reffen address: Refshalevej 167 Unit A, 1432 København.

Opening times: Food stalls 12-8pm, bars 11am-10pm, coffee bar from 10am-8pm.
Copenhagen itinerary – day 2
For my second day in Copenhagen, I started with a warming breakfast at a local market before ticking off more must-see attractions and a few quirky ones, too!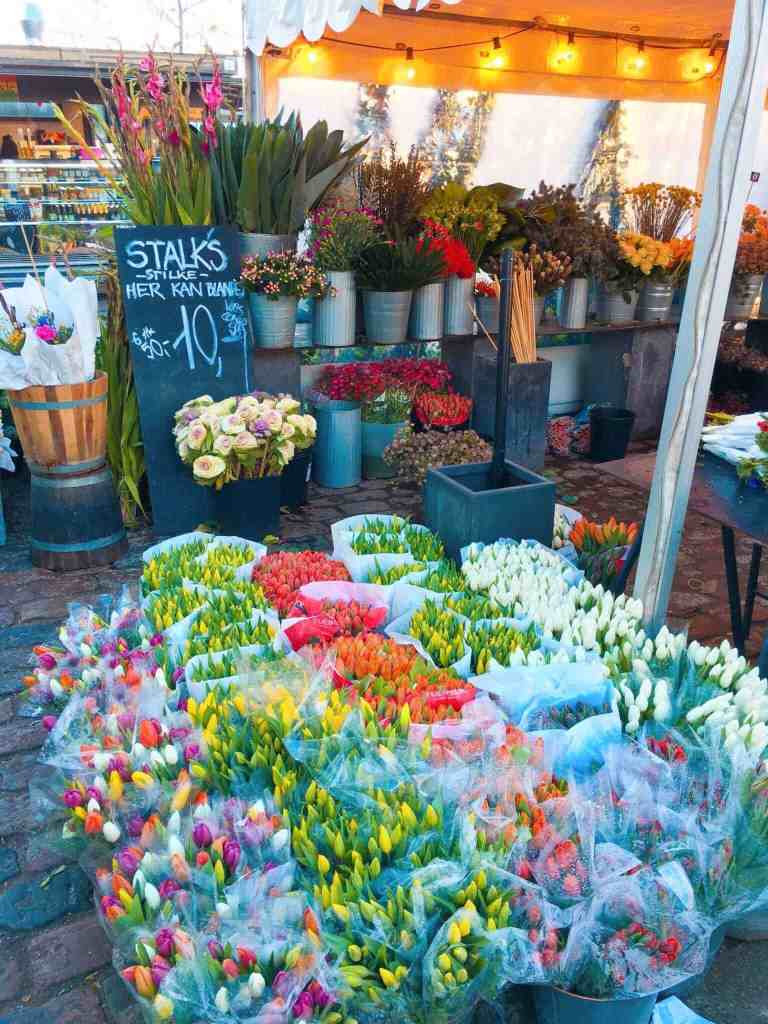 Torvehallerne Market
The best way to start a day in Copenhagen is over fancy porridge at Grød in Torvehallerne Market. This indoor foodie paradise has 80+ stalls and colourful fruit and flower market outside. It's an ideal place to combine eating and sightseeing.

Address: Frederiksborggade 21, 1362 København.

Opening hours: 10am-7pm (6pm on weekends).
The Little Mermaid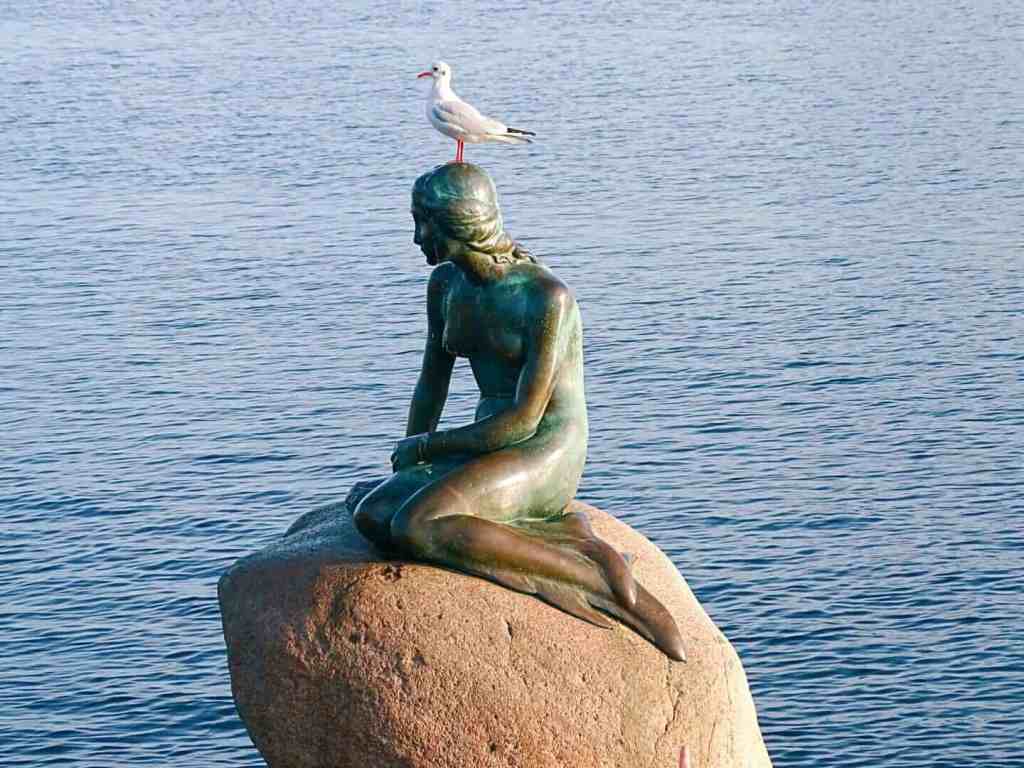 Here's an attraction that divides the masses! Some can't wait to vist the Little Mermaid (built in 1913 and inspired by Hans Christian Andersen's twisted fairytale) but I have to confess I'm in the camp who deem it overrated.

The Little Mermaid statue is a 20-minute walk from Nyhavn Harbour. The round trip on foot took an hour out of my day which I'd almost describe as time wasted: it wasn't very inspiring and was packed with hundreds of tourists and sightseeing buses.

Still, with 3 days in Copenhagen, you may as well see it. Although the Mermaid may not be the most exciting tourist attraction, you can't deny she has an impressive history. She's 100 years old and has had her head and arm cut off by vandals on separate occasions. She's a trooper – I'll give her that.
Fun alternative – for a wacky attraction, head over to the Genetically Modified Mermaid Statue. Responsible is Bjørn Nørgaard, a professor at the Royal Danish Academy of Fine Arts who described the piece as a humorous look at postmodern society. With a twisted figure and non-human head, she's got to be seen to be believed! She's just a 10-minute walk from the OG Little Mermaid.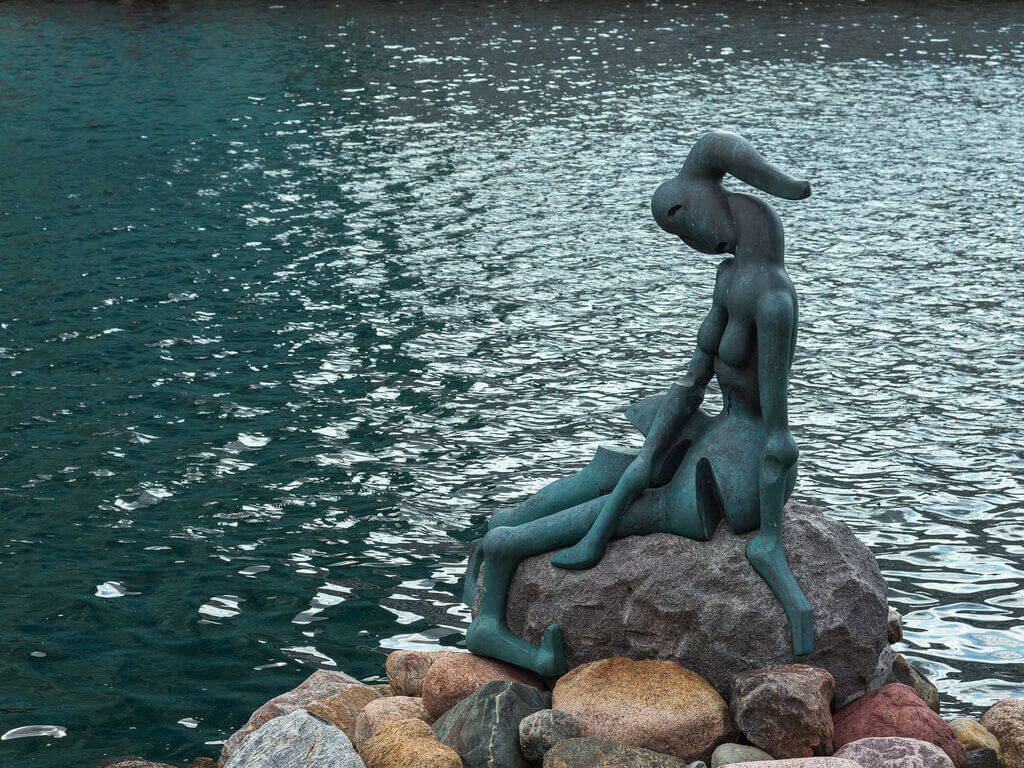 Churchill Park and the Langelinie
Although the Little Mermaid is the most famous attraction at the waterfront, there are a few other places not to miss. Wander Langelinie promenade towards Churchill Park. This promenade is a lovely place to do as the locals do and enjoy a Sunday walk beside the water.

Places of interest include St Alban's Church and Gefion Fountain in Churchill park, and the Angel of Peace statue on the Langelinie.

Keep walking and you'll reach…
Kastellet citadel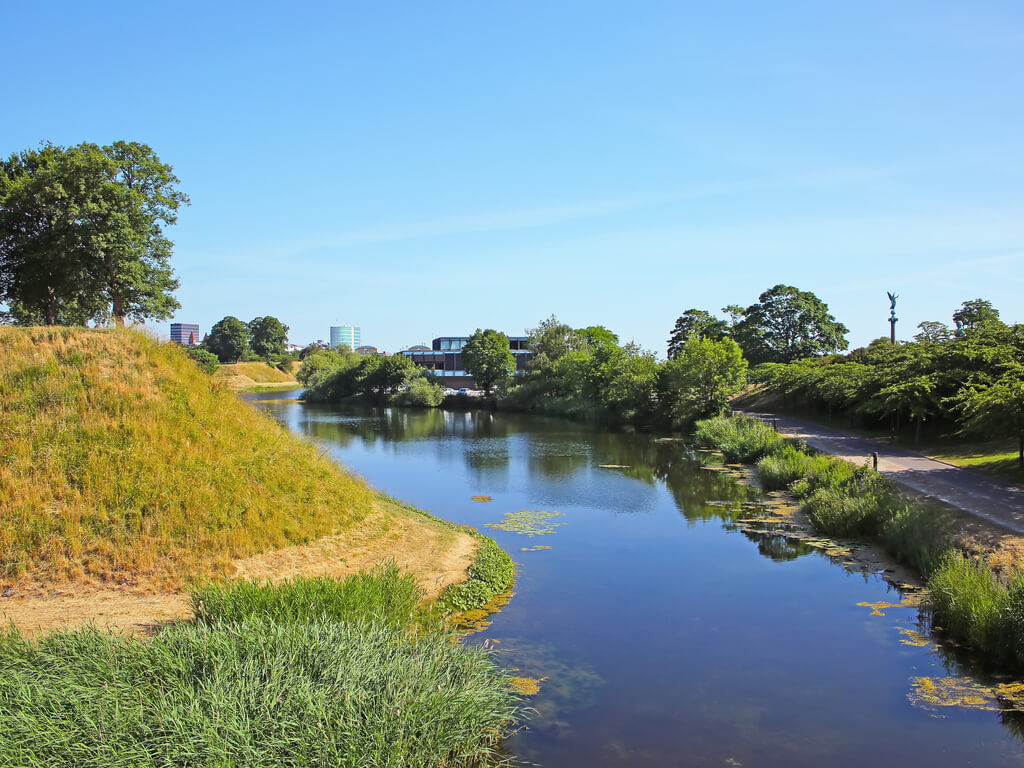 One of the most impressive structures in Denmark is easily the citadel, Northern Europe's most impressive surviving fortress. It's where royal physician, Johann Friedrich Struensee, was held in 1772 after being arrested for his affair with Queen Caroline Mathilde.

The citadel was built in the shape of a pentagon (although it looks more like a star on aerial maps), flanked by canals with five bastions of protection at each corner. Although it still has a military function, it's a popular place for tourists to wander and look across the water. You can't say Copenhagen is short of green spaces!

Address: Gl. Hovedvagt, Kastellet 1, 2100 København.

Entry fee: free!
Christiania Freetown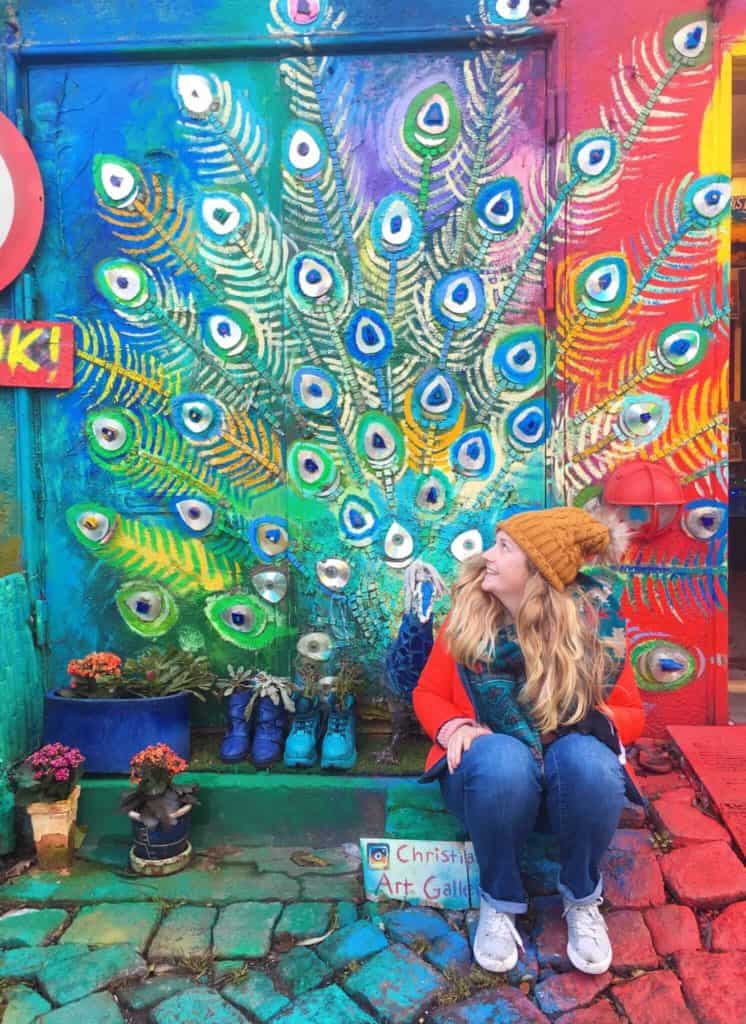 The next stop on my Copenhagen itinerary is not overrated! Freetown Christiania is not your average touristic stop: it's a hippie settlement separated itself from the rest of the city and now an autonomous state.

If you've ticked off the well-known photo stops like the Little Mermaid, why not get to grips with Copenhagen's alternative side? Freetown Christiania is a colourful area with hippie art galleries and organic cafes where you can grab a bite to eat.
Read next: tips for visiting Freetown Christiania
Address: Prinsessegade, 1422 Københav.
Opening times: You can technically visit any time but I would suggest going during daylight hours to feel that bit safer.
Bird's-eye view from the Church of Our Saviour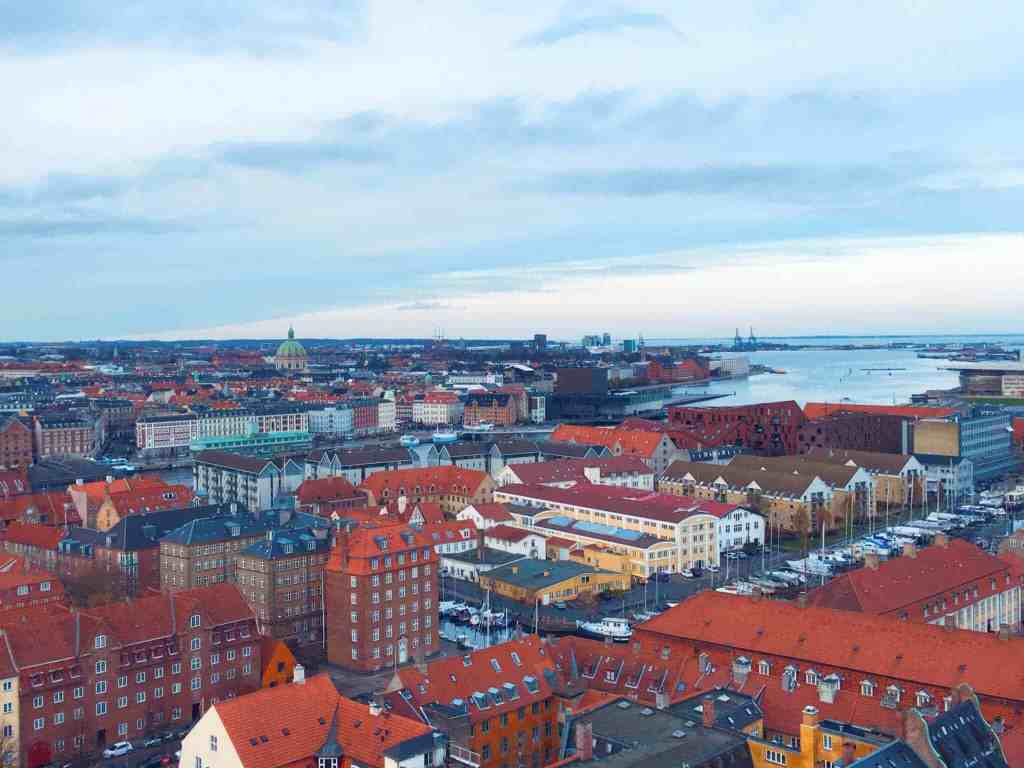 Soak up panoramic views from the Church of Our Saviour's top tower. Since it's just a five-minute walk from Freetown Christiania on Christianshavn (the collection of islands connecting to the mainland via bridge), it makes sense to combine these attractions during your Copenhagen 3 day itinerary.

One of my favourite things to do in a city is see it from above – it always gives me a sense of perspective and a clearer idea of where everything is. The view from Church of Our Saviour is especially impressive because you can see over to Sweden.

Address: Sankt Annæ Gade 29, 1416 København.

Opening hours:
Feb-April: 10am-4pm, Mon-Sat; 10.30am-4pm, Sun & holidays.
May-Sept: 9.30am-7pm, Mon-Sat; 10.30am-7pm, Sun & holidays.
Copenhagen itinerary – day 3
I started the final day of my Copenhagen itinerary with brunch (can you see where my priorities lie?) before ticking off a few more sights.

If you prefer to take your time sightseeing, pick two of the following attractions and enjoy them at your leisure…
Gråbrødretorv Square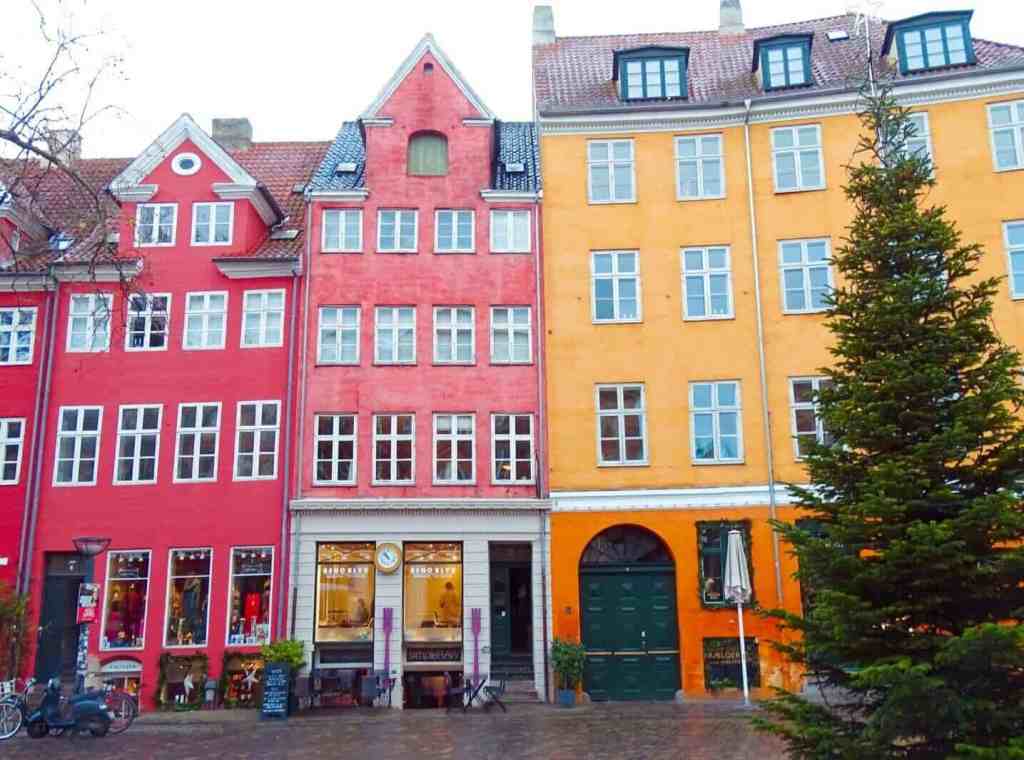 Although Gråbrødretorv Square hadn't been on my radar, I wandered through it by accident on my way to brunch. If you have 3 days in Copenhagen, squeeze it in. Not far from Strøget, this was once a stylish student part of town. They've since gravitated elsewhere, leaving it quiet but picturesque with trinket stores and cafes.
Final brunch at Raw 42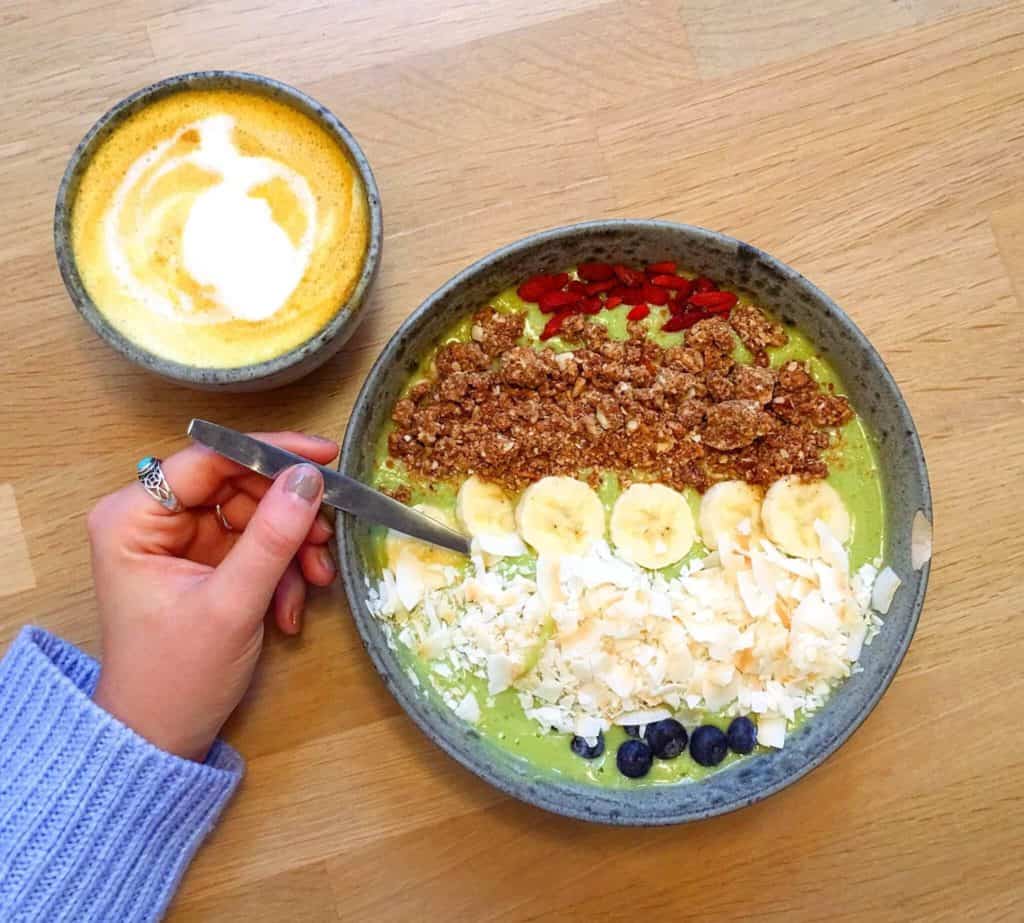 A friend from my hostel told me about brunch spot, Raw 42. Everything's vegan but I wouldn't have noticed if she hadn't told me… I love matcha and berries so even if there had been meat on the menu I'd probably have still ordered this breakfast bowl.

I also tried a turmeric latte. It wasn't bad but I probably won't rush to order it again!

Address: Pilestræde 32, 1112 København.
Explore the palaces
Despite its hipster and alternative areas, Copenhagen is known for its grand palaces, one of which (Amalienborg Palace) we saw on day one.

Before leaving Copenhagen, check out a few other palaces near Strøget. These are…
Christiansborg Palace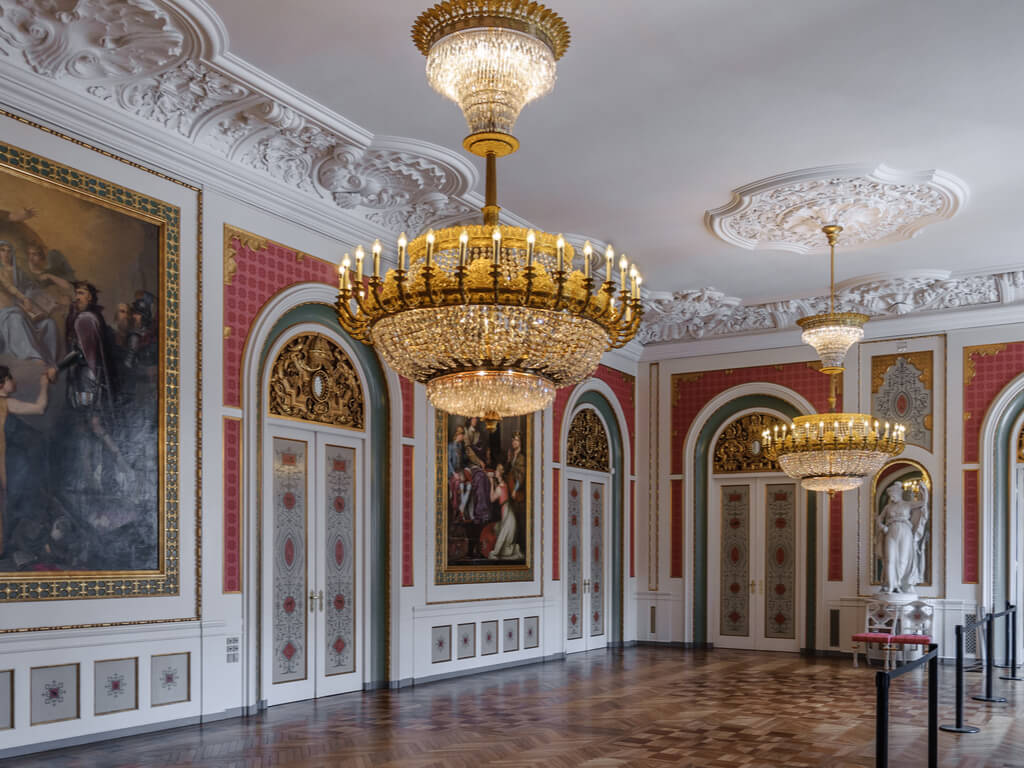 As buildings go, Christiansborg is one of the most significant. It's home to the Danish Parliament, the Supreme Court of Denmark and the Office of the Prime Minister.

While it now has a political function, it's also been home to kings and queens during its 800 years of history. In fact, the Royal Reception Rooms are where the Queen still receives foreign ambassadors to this day.

On a visit, guests can tour various parts of the property including the Royal Reception Rooms, Kitchen, Stables, and Chapel. Don't miss the Great Hall where the Queen's tapestries depict 1,000 years of Danish history.

Ticket price: the 5 rooms have separate entrance fees. To see them all, opt for a combo ticket for 160 DKK.

Address: Prins Jørgens Gård 1, 1218 Københav.

Opening hours: Changeable; check Christiansborg Palace website.
Rosenborg Castle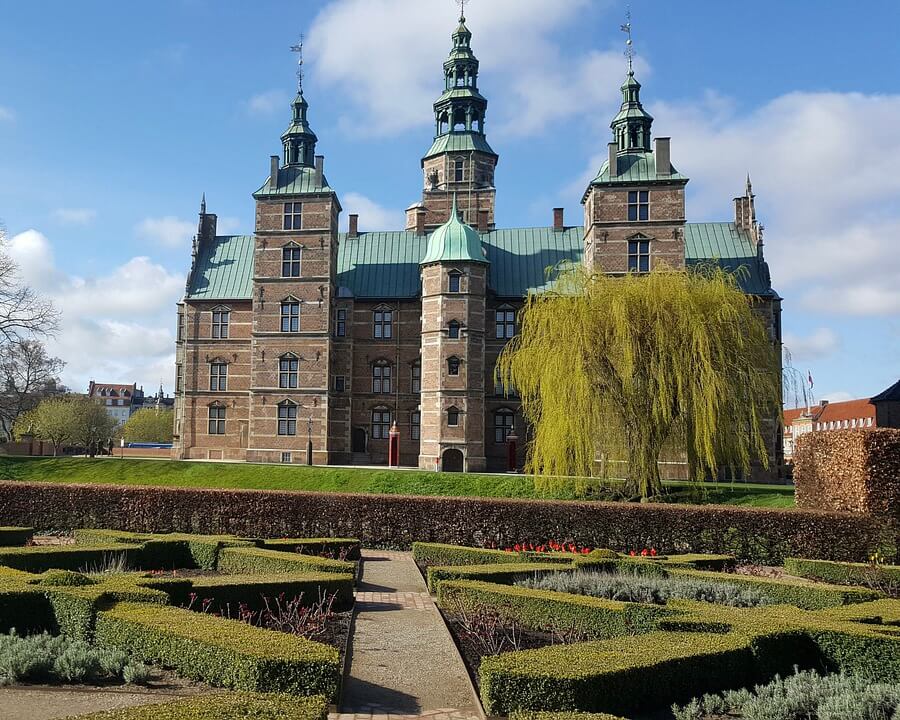 With its turret and towers, Rosenborg is another of the most impressive and foreboding buildings in the city. Add it to your Copenhagen itinerary to marvel over the Danish Crown Jewels and other treasures.

The Castle is located in the King's Garden, the oldest public park in the capital. Although anyone can now enter freely, it used to be a private garden for the royals.

Entrance fee: 120 DKK (75 for students). Free with a Copenhagen Card.

Address: Øster Voldgade 4A, 1350 København.

Opening times: 11am-4pm (closed Mondays).
Ny Carlsberg Glyptotek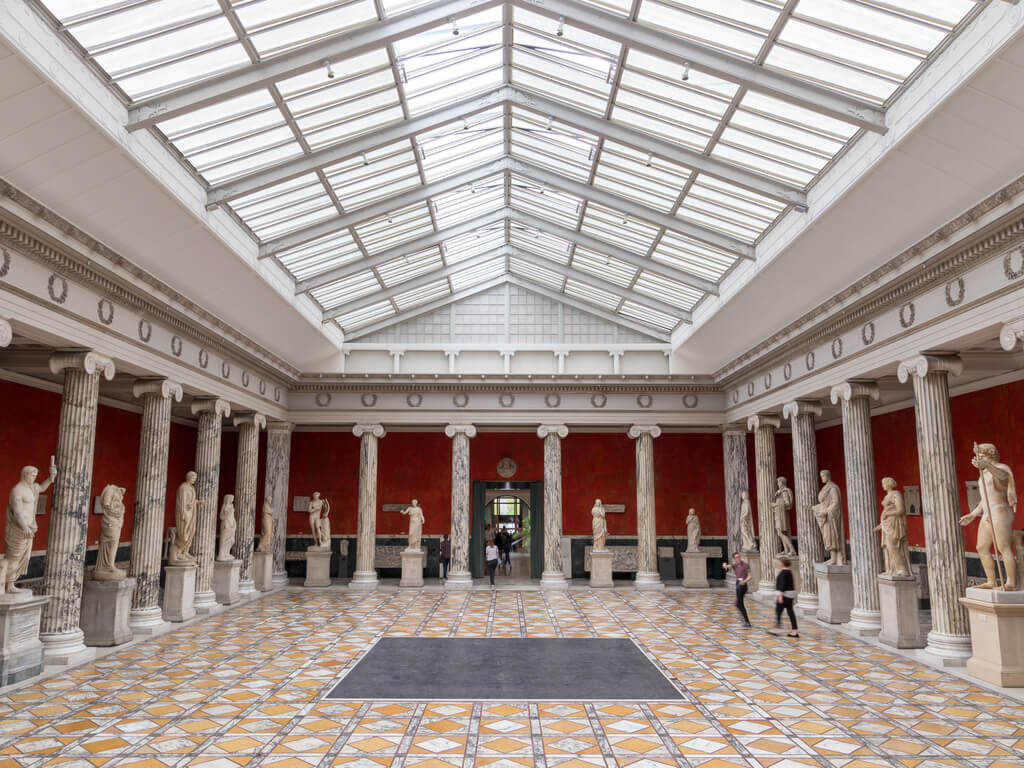 To add a bit of culture to your three days in Copenhagen, swing by the city's most popular gallery and museum. Here you'll see Danish and French paintings, work by Manet and Van Gogh, and items from ancient civilisations like Egypt and Greece.

Don't miss the Winter Gardens under a conservatory-style roof with Roman statues, grand fountains and tropical plants.

Opening times: 11am-6pm, Tues-Sun (until 9pm on Thurs).

Entry fee: 115 DKK. Free on Tuesdays.
Carlsberg Brewery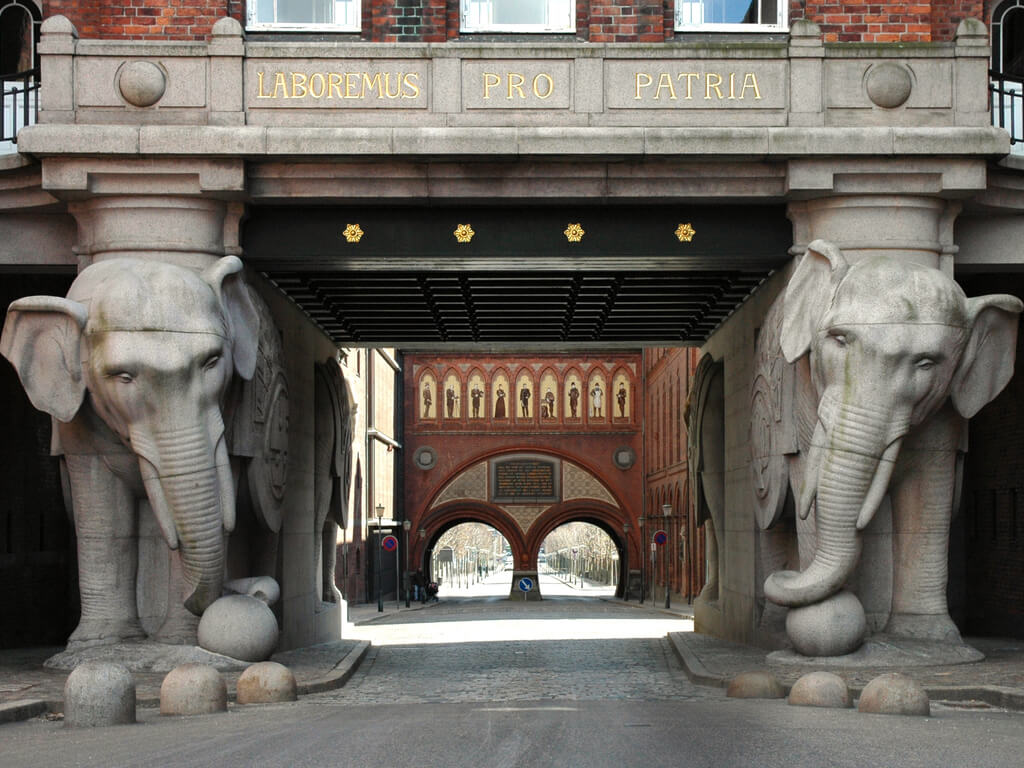 Visiting the largest brewery in Denmark is a final fun activity for 3 days in Copenhagen. At Carlsberg Brewery you can sample pilsners, lagers and even ciders while learning fun facts from a tour guide.

There's even a sculpture garden, cafe, bar and shop meaning you could easily spend a half-day there. There's a free shuttle bus from the city centre.

Carlsberg Brewery is temporarily closed for renovation in 2021 but for the meantime, beer lovers can support other microbreweries in Copenhagen.
Budget for 3 days in Copenhagen
It doesn't have to be bank-breaking because many of the activities are free such as wandering the green spaces and visiting Freetown Christiania. However, these are the entrance fees to budget for:
Tivoli Gardens – 135 DKK (145 on weekends)
Church of Our Saviour tower climb – 35 DKK
Amalienborg Palace – 95 DKK
Rosenborg Castle – 120 DKK
OR Amalienborg Palace and Rosenborg Castle combo ticket – 180 DKK
Christiansborg Palace – 160 DKK
Don't forget you can purchase a Copenhagen Card which gives entry to all the above attractions (aside from the tower climb), public transport and canal cruises. Buy your Copenhagen Card for 400 DKK (€50).
Budget tips for Copenhagen
Eat at markets (Torvehallerne and Reffen are amazing) and cafes as opposed to restaurants, plus look out for hostels with dinner deals.
See the city on foot. Most places are relatively close together meaning you can save money on accommodation.
Take a free walking tour rather than a paid one.
Remember some museums have free entry on certain days. Ny Carlsberg Glyptotek gallery is free on Tuesdays while the Museum of Copenhagen is free on Fridays.
What & where to eat during 3 days in Copenhagen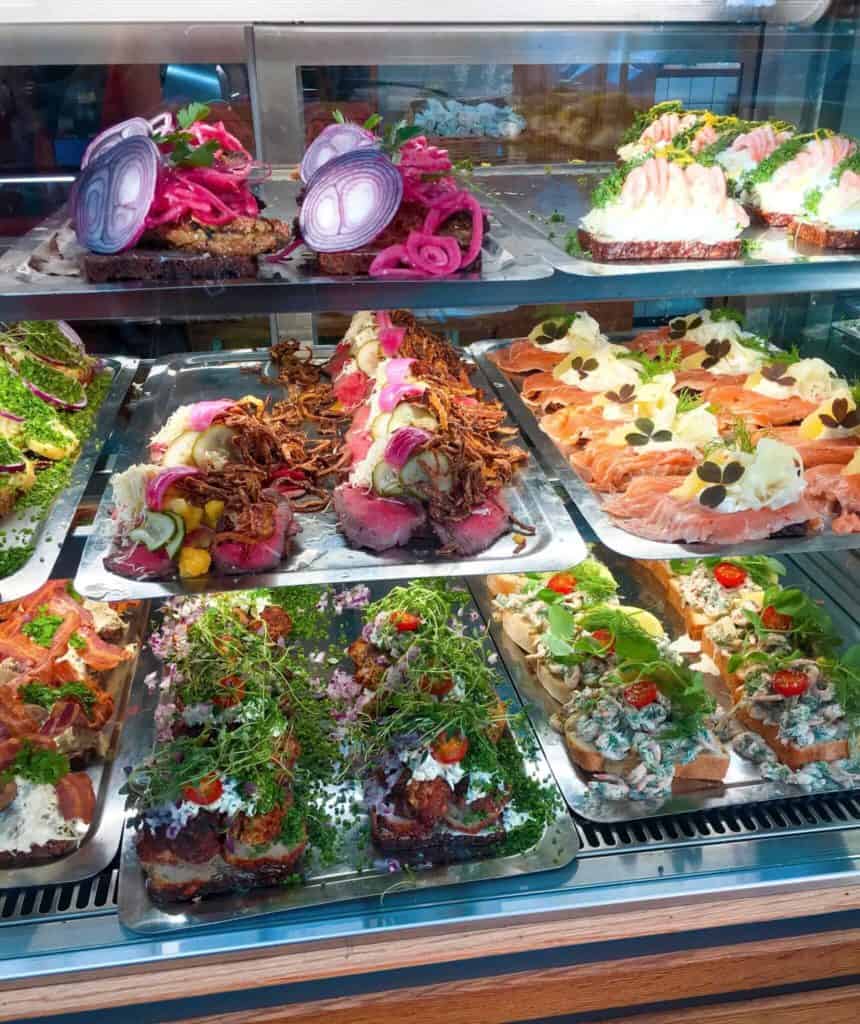 The food in Copenhagen is spectacular even if it is expensive. Head over to my Copenhagen brunch guide for all the places I discovered in town.

A few must-eats in Copenhagen (on a budget!):
Coffee and smørrebrød at Original Coffee at the top of Illum department store
Fancy porridge at GRØD
Gasoline Grill – once a gas station, this is now the most popular burger joint in Copenhagen
GAO – a dedicated dumpling bar (my favourite type of bar!)
Da Gallo Pizzeria – just excellent pizza, Neapolitan style
La Neta – affordable Mexican street food.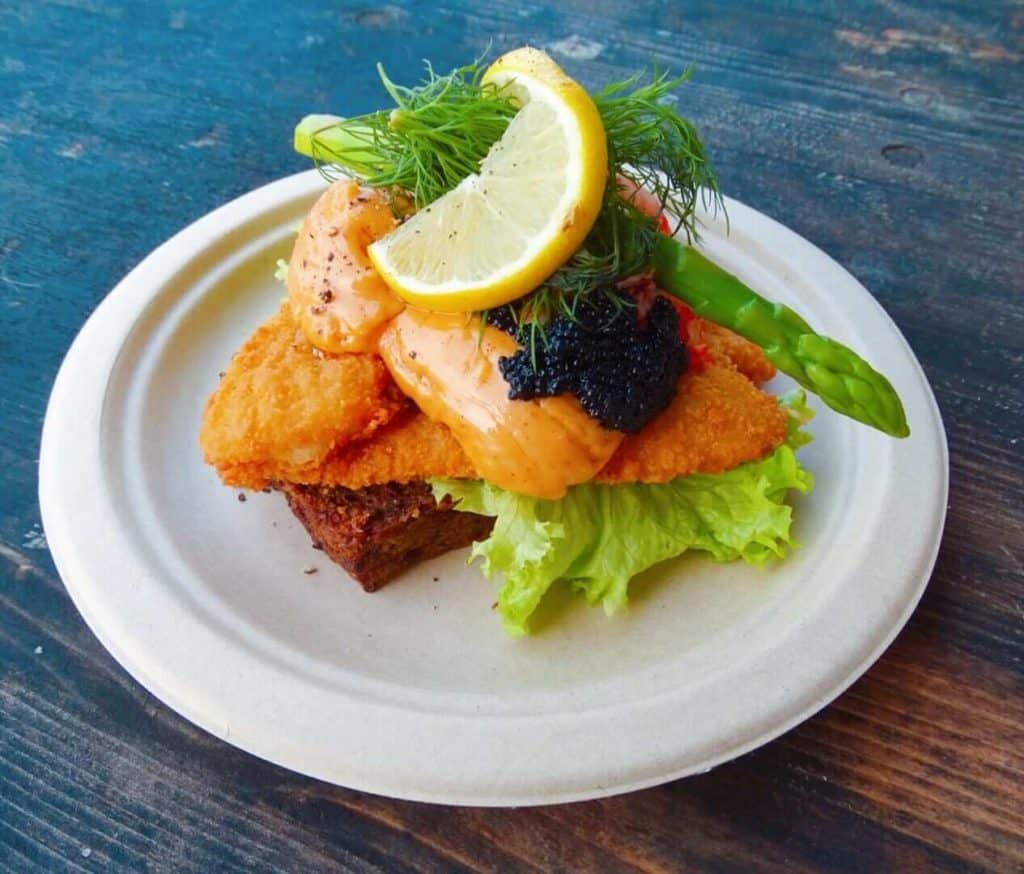 Christmas markets in Copenhagen
If you're visiting in winter, don't miss the following markets. My favourite thing about Europe in winter is that cosy Christmas feel… Especially when mulled wine is concerned.
Thanks for reading my Copenhagen itinerary
Travelling around Europe? Check out some of my other posts:
See you next time for more adventures,
Rose
Ps. Liked my 3 day Copenhagen itinerary? Pin it for later!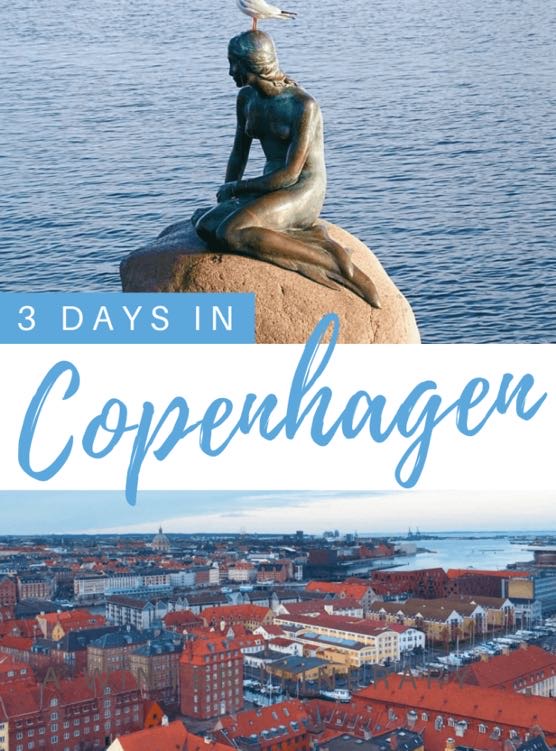 TRUSTED RESOURCES FOR VISITING DENMARK

Getting around by air – I use Skyscanner and and search by month to see the cheapest dates.

Driving in Europe – use Rentalcars.com to compare car rentals in European countries (and all around the world).

For trains, I use RailEurope. The search feature allows you to compare prices, and they show live departure times on the website.

For buses, I use FlixBus. Find journeys between European countries from €1!

For hotels and self-catering apartments, I use Booking.com. You can filter by review score and price to find the best-rated budget places. For hostels, I use Hostelworld.com.

To save money on accommodation, I use Trusted Housesitters, a website that connects homeowners going away and travellers who can sit their homes & pets.

Browse tours and activities on GetYourGuide.

Need travel insurance? I use World Nomads. They cover 150 countries and have 24-hour emergency assistance.

Check out my resources page for more travel discounts and budget tips from my 10+ years on the road!