This post may contain affiliate links to things like tours, hotels, Amazon associates and products. These help me earn a small commission at no additional charge to you.
Jaipur, also known as the Pink City, is a must while in India. With plenty to see and do, I'd recommend spending 3 days in Jaipur at a minimum. It's one of the best places for solo female travel in India as it's fairly safe with lots of hostels. I can't wait to share my Jaipur itinerary to help you plan the perfect trip!

Before you get too excited, it's worth noting that the Pink City isn't entirely pink. Along with the Blue City of Jodhpur, the White City of Udaipur and the Golden City of Jaisalmer, it's one of India's famous colourful cities.

There are a few pink buildings, including the oh-so-Instagrammable Hawa Mahal, but don't expect to find the whole city washed in bright pink paint.
JAIPUR ESSENTIALS

India Lonely Planet

Accommodation: Booking.com / Hostelworld

Activities: GetYourGuide

Getting there: flight (Skyscanner) / bus / train (12Go)

Travel insurance: True Traveller (European travellers) / Hey Mundo (other nationalities) / Safety Wing (digital nomads)
In a rush? Pin this for later on Pinterest.
There are a few theories as to why Jaipur is called The Pink City. Many say it was to welcome the Prince of Wales and Queen Victoria in the late 1800s because pink was traditionally a colour of hospitality.

I've also heard a more simple explanation: that it was built using terracotta stone from the surrounding region.
How to get to Jaipur
Trains and buses run between Jaipur and other towns and cities in India. If you wish to take buses around India (which can be booked the day before unlike the trains which get booked up in advance) check out 12Go Asia.

Jaipur has an international airport. I use Skyscanner to find flights and search by month to find the best value deals.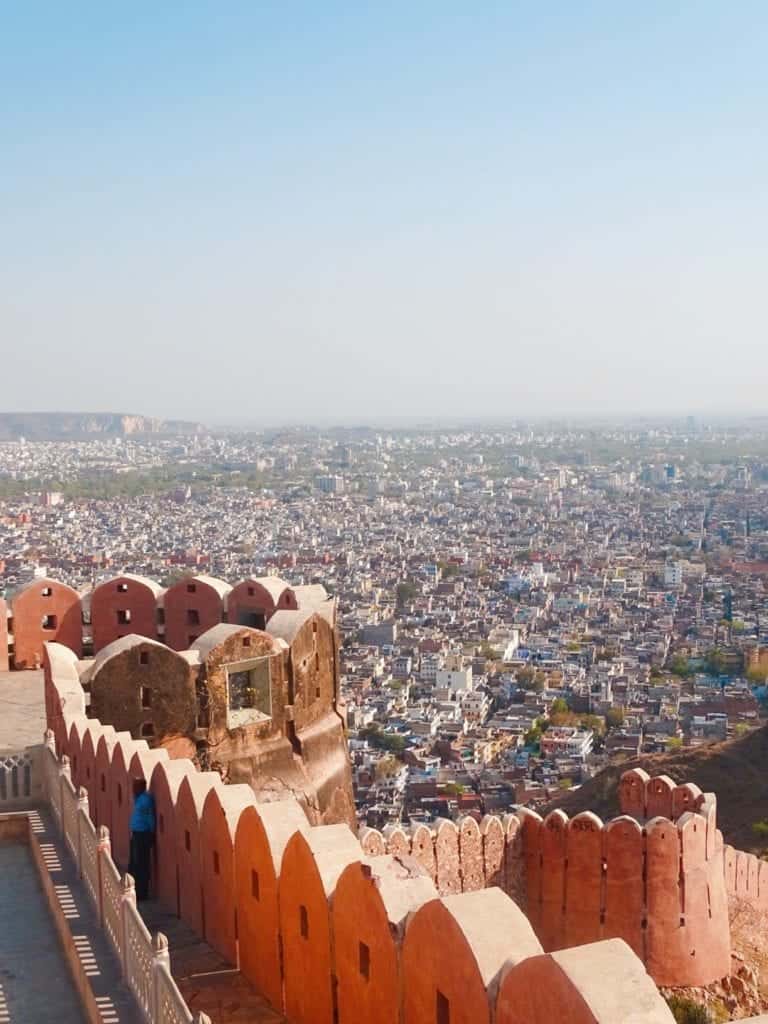 3 days in Jaipur itinerary
Jaipur is a fascinating city to spend 3 days because of its rich history and decadent palaces. It was actually India's first planned city, all designed in the shape of a mandala by Jai Singh II, the ruler of Amer state at the time.

While it's undeniably well designed, Jaipur isn't the most accessible city today. I really loved the mesmerising palaces and ancient forts during my 3 days in Jaipur but I found the city as a whole to be hectic and not walkable. I ended up taking taxis between the sights and I felt I missed the heart of modern Jaipur.
Day 1 – forts, step wells and a floating palace
I always like to see a city's main highlights straight away so I can move onto hidden gems and quirky corners if there's time.

With 3 days in Jaipur, I planned to squeeze way more into my first day than I actually did. This was partly because of an insane tuk-tuk driver who I'd hired to take me on a day tour was 500 rupees.

He messed me around, trying to add other people to the ride, changing me to a friend's cab (I think he got a better offer?) and eventually leaving me on the side of the road. He said a situation had come up and he had to go home, but then, 20 minutes later, was calling me saying he wanted to re-start the tour. By this point, I was having none of it!

I wasted a lot of time during the whole saga, and it was also overwhelmingly hot during April. Instead, of squeezing too much into day one, I moved at my leisure…
Morning – Amer Fort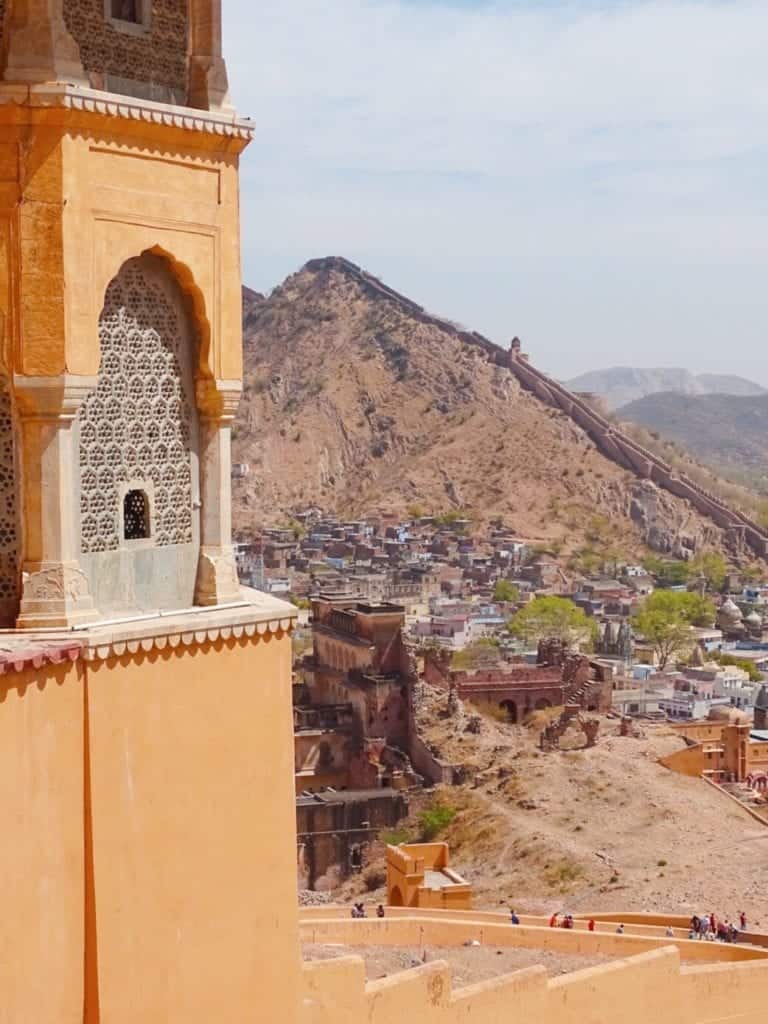 The first place I explored during my 3 days in Jaipur was Amer Fort. This trip to the was my second visit. I visited with my friend Hannah in 2015 and we were captivated by the decadent palace made from sandstone and marble.

I was excited to go back and see it again, especially with an actual camera rather than my iPhone5 of four years ago.
Related activity: Amer Fort walking tour with a local guide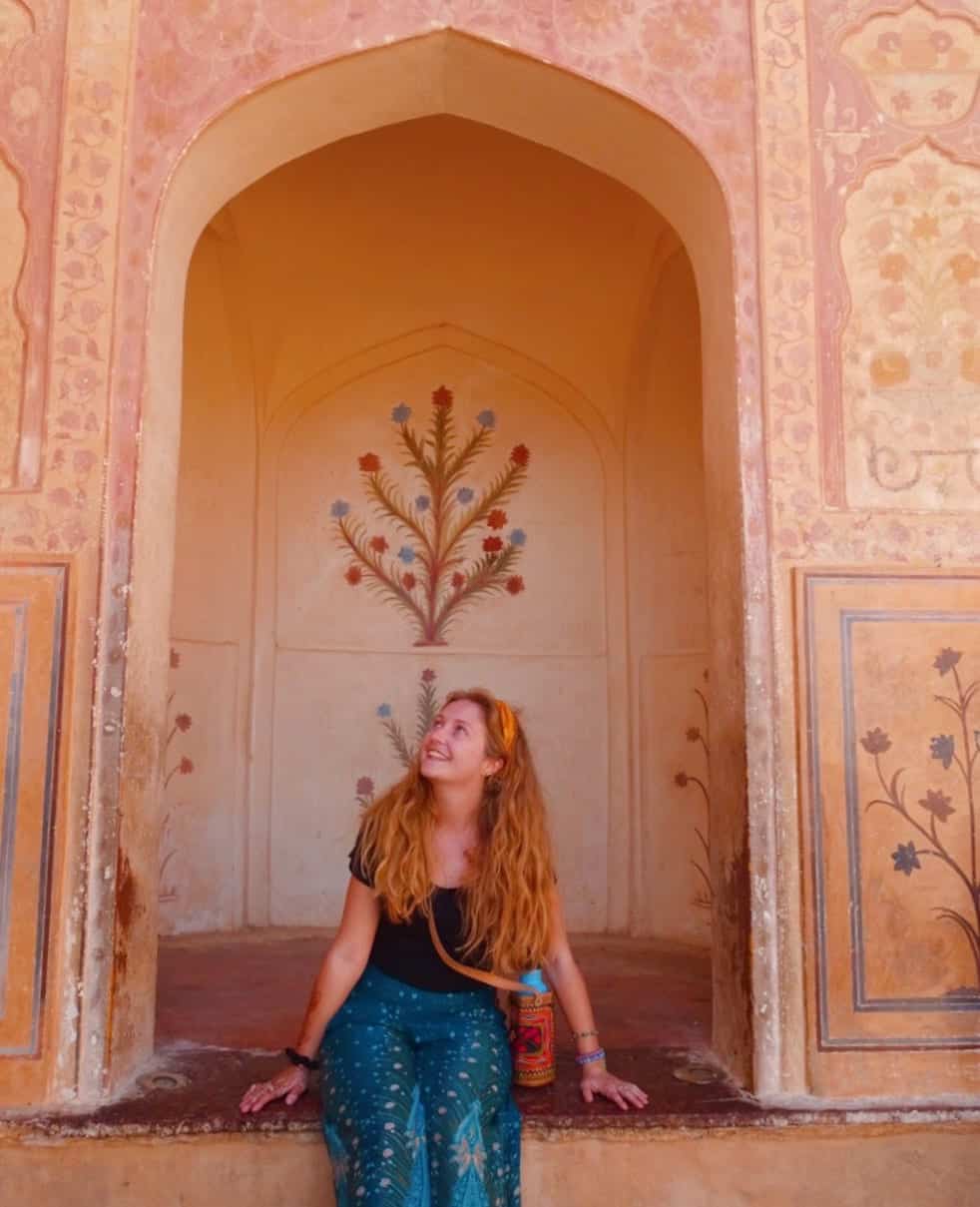 This spectacular palace complex is entirely protected by the third-largest wall in the world. To me, it looks like a mini Great Wall of China. Guards would have stood at each checkpoint, protecting the royals and looking out for potential invaders.

There was a structure on the site from the year 967, but the Palace wasn't built until the 16th century. It was then continually improved upon during the upcoming decades. Judging by the architecture and mind-blowing details, I'm not surprised it took hundreds of years to perfect. It really is a work of art!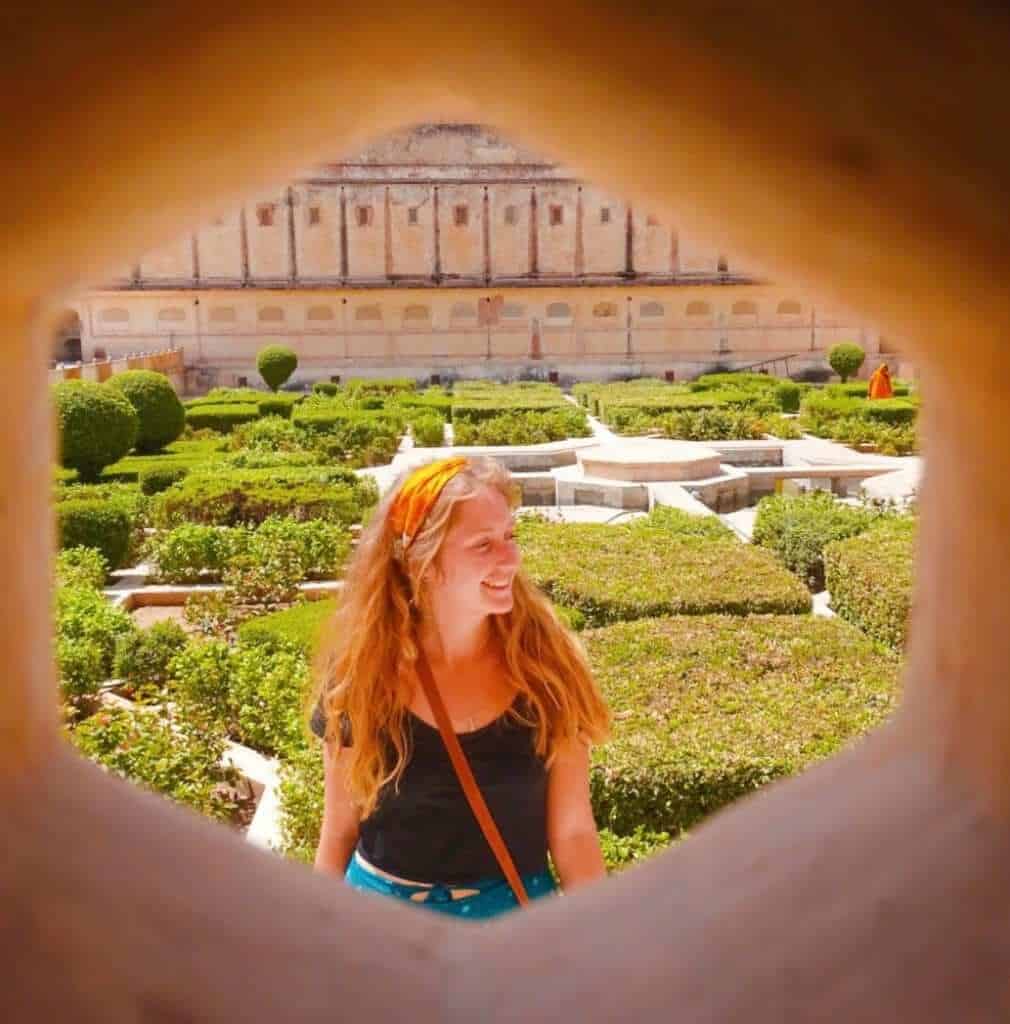 The best bits to see at Amer Fort are the Palace of Mirrors (Sheesh Mahal) and the secret peepholes that look down over the first courtyard. These were used by the women of the palace to view the courtyard without being seen themselves.

There's so much to see at Amer Fort and I'd really recommend hiring a guide to navigate it all. If you tour it solo, you won't really glean any of the history. Many of the guides charge 300 rupees but, as mine was a guide in training, he only asked for 100.
Panna Meena ka Kund (Step Well)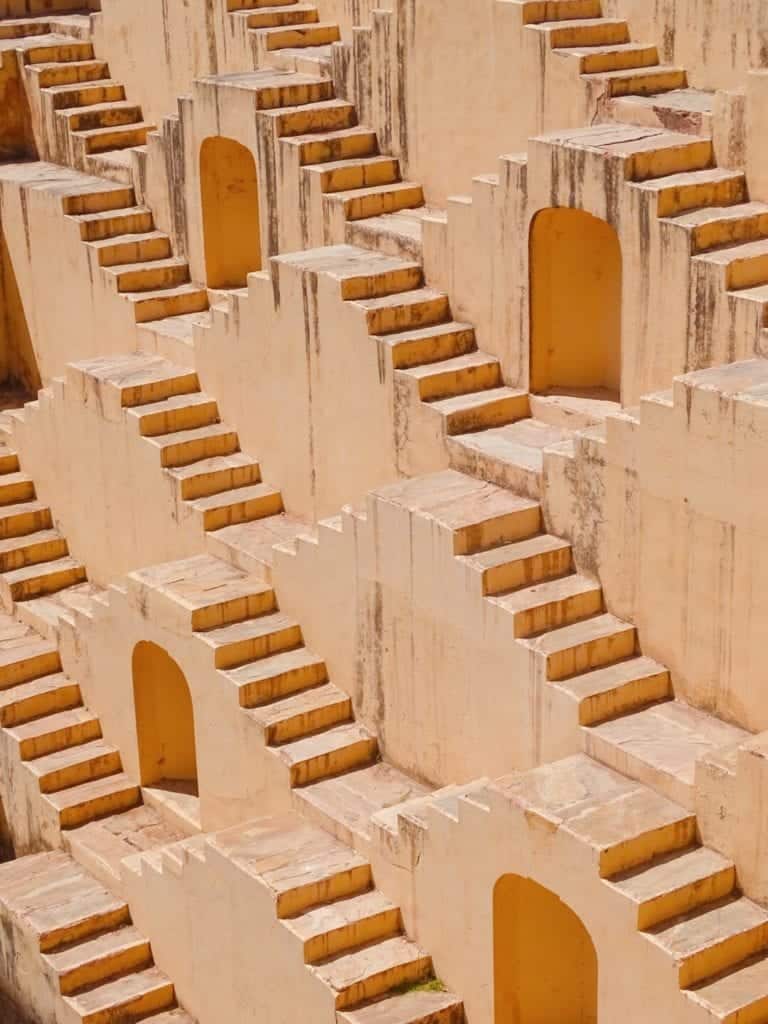 There's a cool hidden gem near Amer Fort that many tourists miss. If you're coming to the Palace during your 3 days in Jaipur, you may as well take an extra 15 minutes to find the site locally known as Panna Meena ka Kund.

Such step wells were once prevalent in Rajasthan, used by locals to collect water during dry months. They were designed so that people could fill up regardless of how full the pool was, taking the steps down to the surface.

They became a social place to sit, wash, chat and conduct daily life. There aren't so many of them around these days, so take this chance to see one!

You can follow Google Maps down from the back of the Amber Palace to the step well, although there's also a shortcut that any local can point you in the way of.
Nahargarh Fort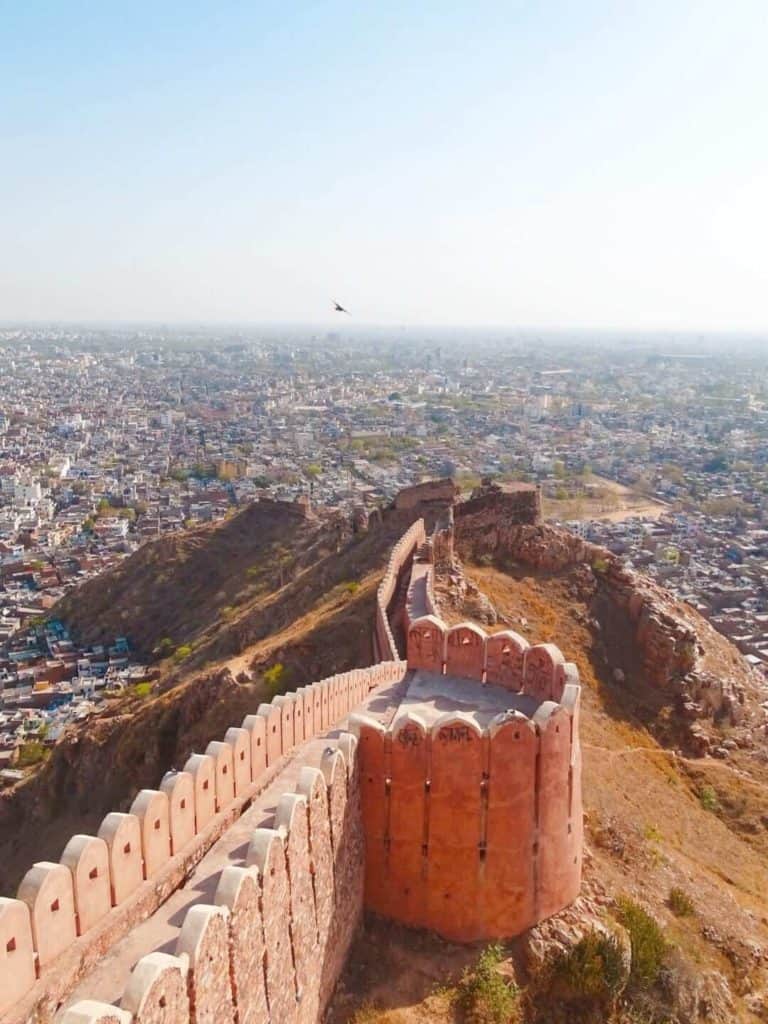 Okay, an honest opinion here – Nahargarh wasn't the highlight of my Jaipur itinerary. Why am I mentioning it anyway? It offers the best panoramic view of the city.

If you've had your fort fix for the day, maybe skip Nahargarh. But history lovers and photographers spending 3 days in Jaipur should swing by.

From the city centre, it's a bit of a drive but from Amber Fort it's just 20-minutes by road. You'll then pass by Jal Mahal (the Water Palace) on the way home. If you start your day a little later, Nahargarh is an excellent place to see sunset.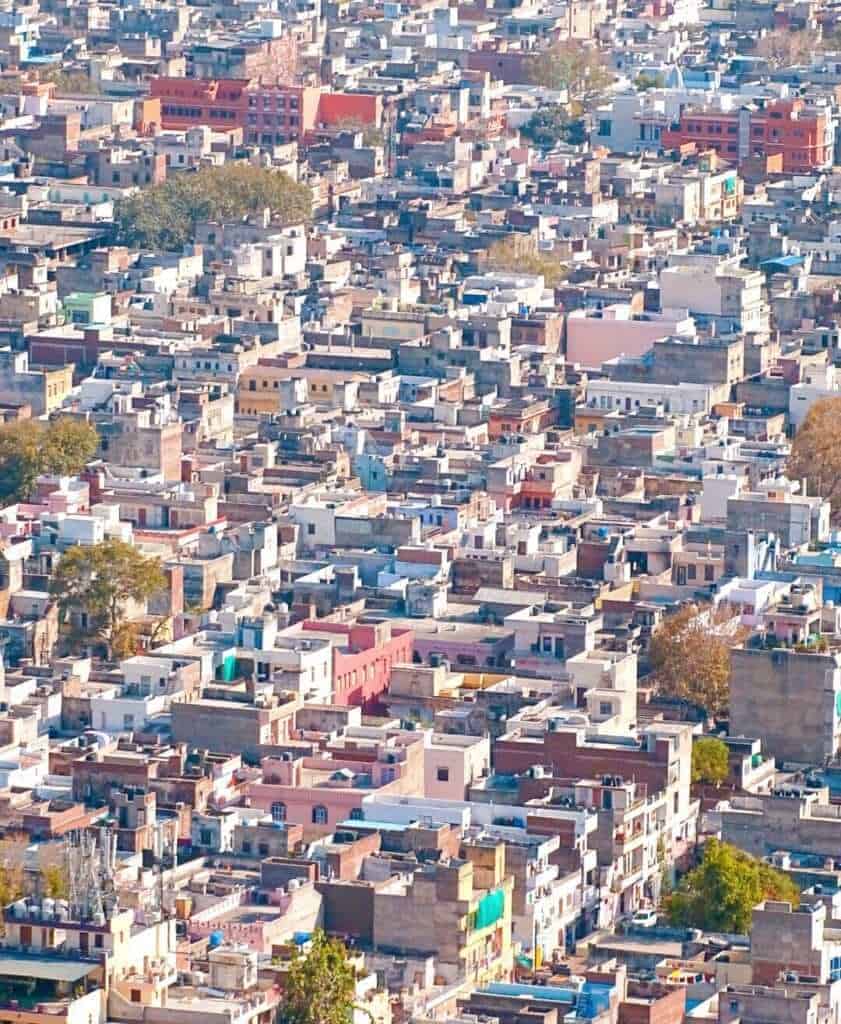 Entrance to Nahargarh Fort is 200 rupees and you'll want to stay an hour or so.
Jal Mahal
Known as the Water Palace (I wonder why?), Jal Mahal is a pretty place to stop for photos. Since it's been leaking for several decades, you can't go inside.

There's not much to explore or 'do' here but it's a very scenic and peaceful place. The waters of the man-made lake are calm; flowers and green bushes nicely frame the Palace, and birds flit across the clear sky. It's a free stop en route between the forts and the city, so you've no reason not to check it out.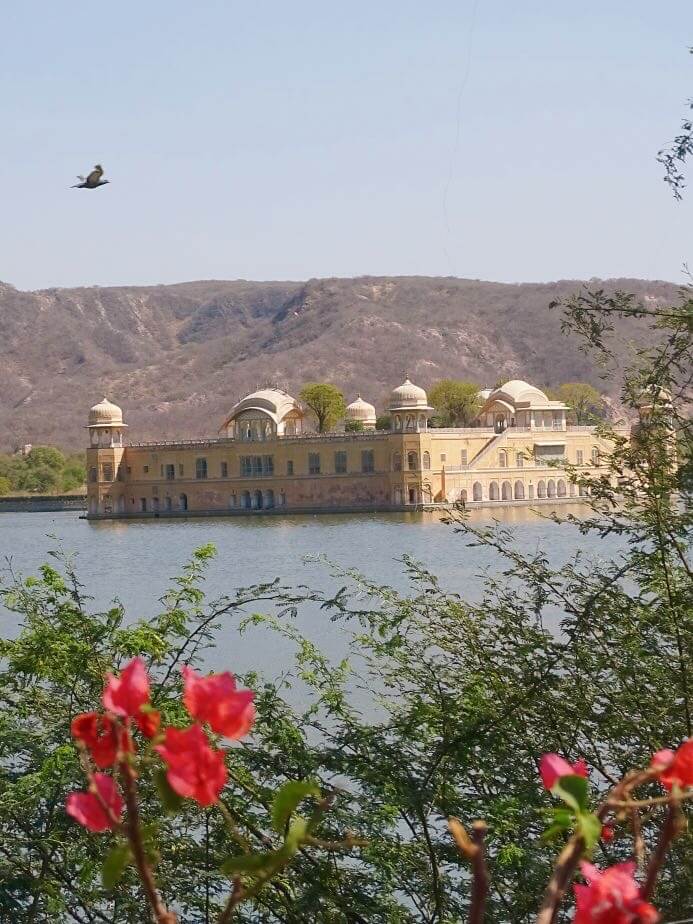 Jal Mahal is nice any time of day – sunrise, sunset, daytime or at night. Visit either on the way to the forts or on the journey back home. Perfect for any day of your 72 hour Jaipur itinerary.
Day 2 – the Pink City!
The first day of this 3 day Jaipur itinerary will hopefully let you enjoy some of the best bits without tackling the busy city centre. On my second day in Jaipur, I headed to some of the city centre spots I missed during my 2015 trip.
Hawa Mahal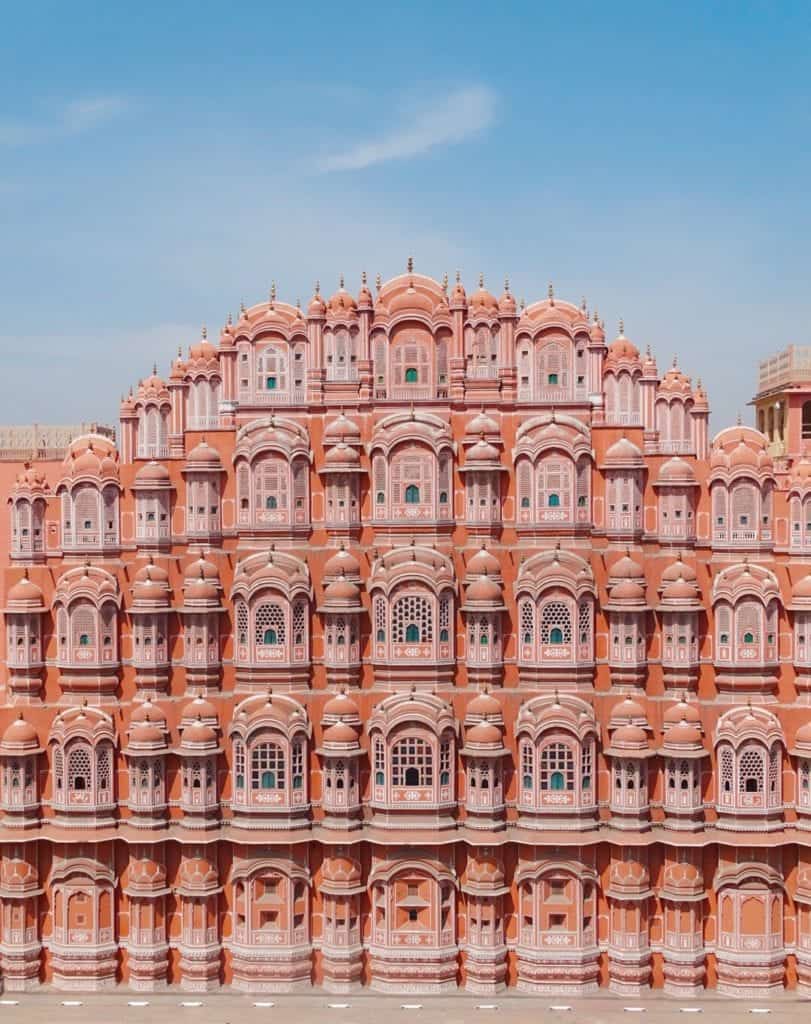 For me, the most fascinating place is all of Jaipur was Hawa Mahal. Let's face it, the (sometimes harrowing) lives of women are often the most relevant for female travellers to learn about.

Hawa Mahal is a place that you can engage with as much as you desire. Many people see it from the ground, snap some Instagrammable shots and leave, unaware of its history and bizarre purpose. If you're interested, I'd recommend you…
See it from the inside
While the most impressive view of Hawa Mahal is free from the front, I'm happy I paid the 200 rupees to go inside. I also paid another 100 for an audio guide, something that I'd recommend as there's lot to learn here.
Hawa Mahal was built, not for aesthetics, but as a place for women to reside, unseen. During the 1700s when the palace was built, it was not the done thing for women to see seen in public without their husbands. This practice was called purdah and still exists in some Muslim and Hindu societies.

Many women wore veils or even avoided going outside at all. While the working class couldn't avoid being seen, the elite had the time and money to build decadent palaces to hide women away. Hawa Maha was exactly that.

Inside Hawa Mahal, you can look through the same multi-coloured windows that the women of the palace would have done. These were cleverly designed so that those inside could see out, but those outside could not see in.

Performance and ceremonies would have been held on the streets for them to watch, while they lived in total luxury inside. I don't think these women would have been treated badly but they'd certainly had had no freedom nor choice.
The City Palace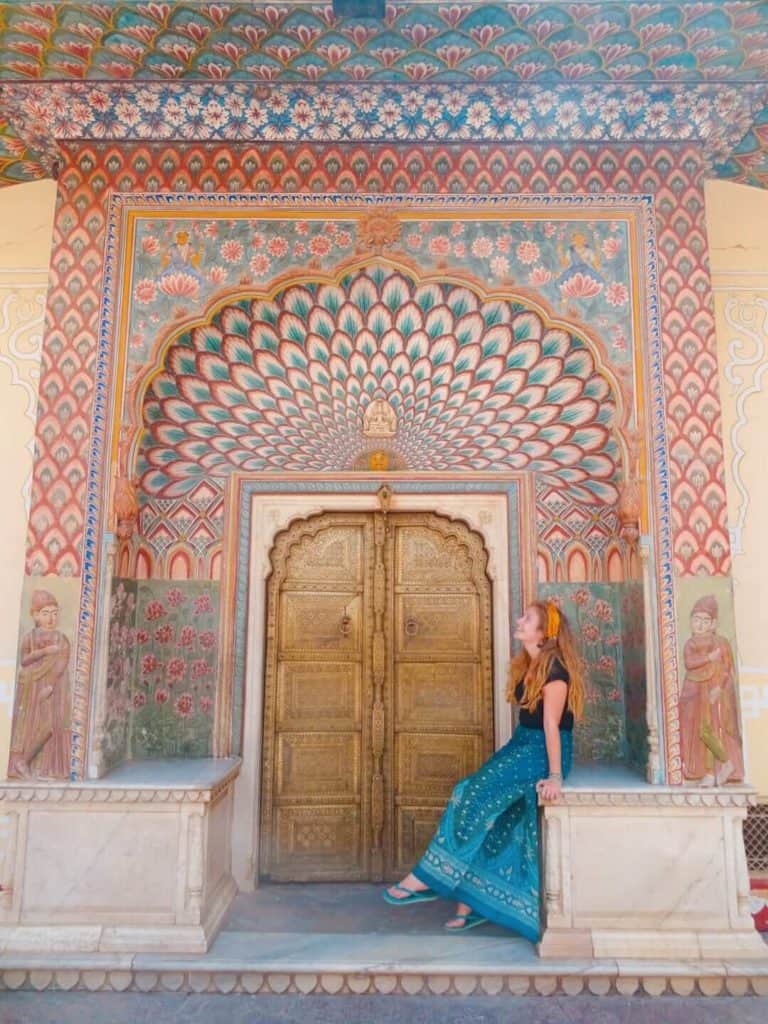 Another must-visit during 3 days in Jaipur is the City Palace. I have to admit I have mixed feelings about this place because it was so expensive to get in, 700 rupees. Outrageous!

There's not actually that much to see and do inside. You can opt to pay an additional 3,000 rupees to go inside some other parts of the palace which is just ridiculous, although I think a lot of (richer) bloggers and Instagrammers do it.
Read next: The cost of travelling in India
I was only there about an hour and much preferred Hawa Mahal, though I can't deny the facades and gates were stunning. The Lotus, Rose, Peacock and Wave gates dedicated to Vishnu, Shiva, Devi and Ganesha are so beautiful and detailed; a real work of art.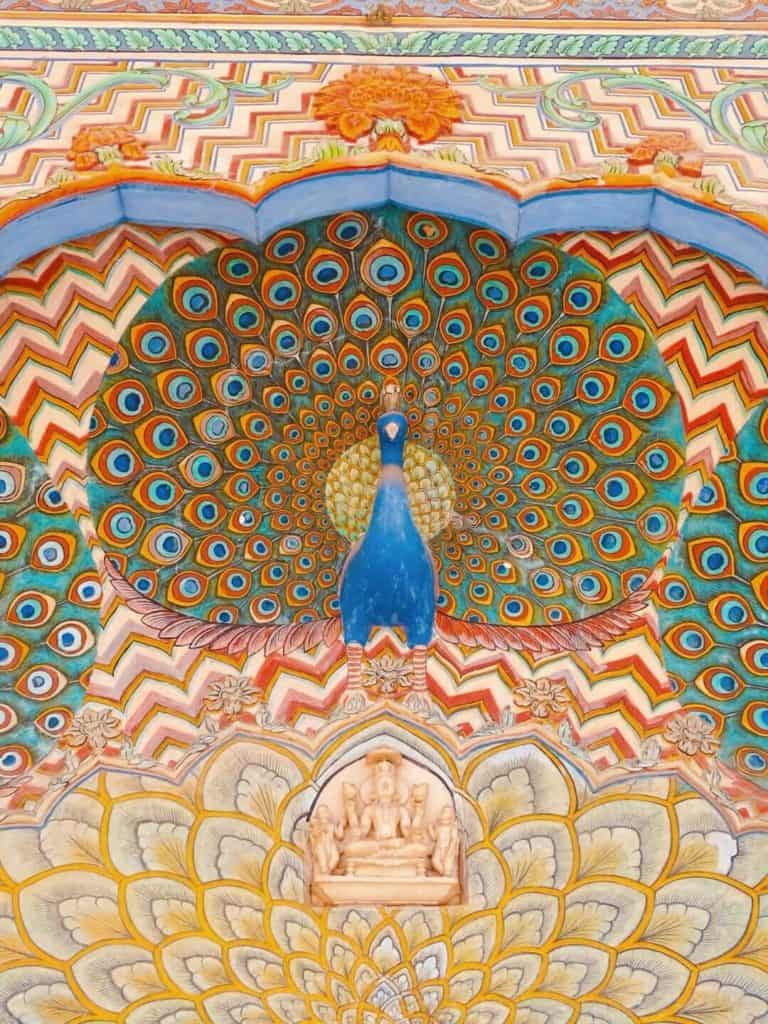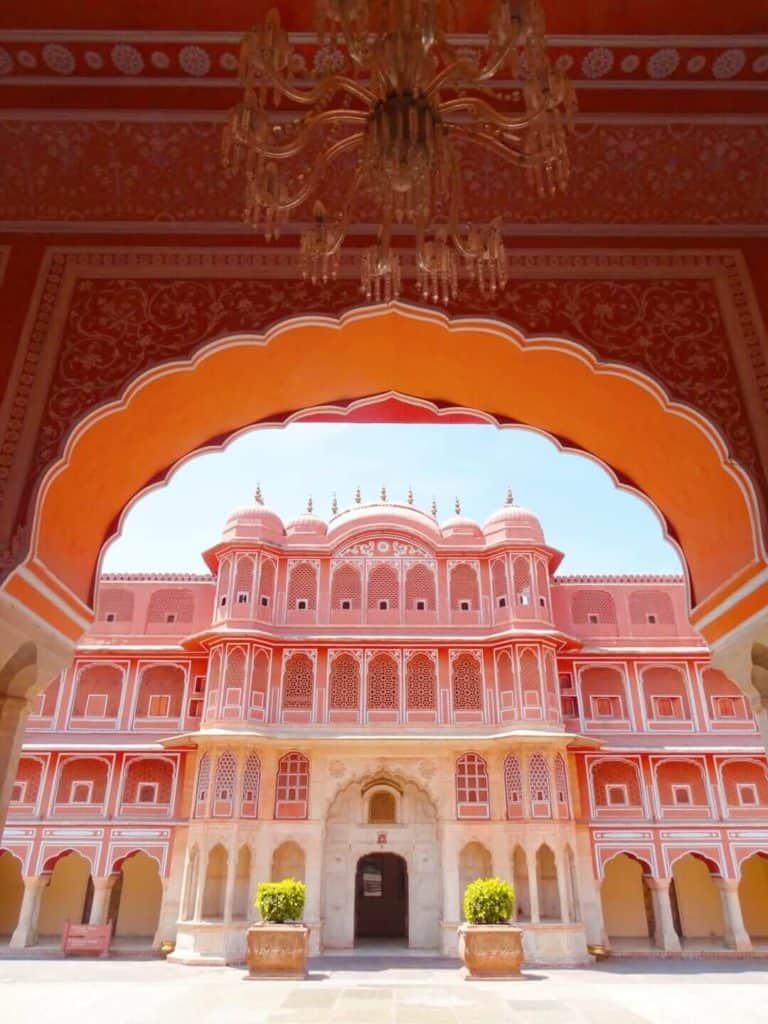 I'd have been disappointed to not see the City Palace so I'm glad I went, but I just feel it was a rip off for what you get. I guess they know we all want our photo memories!
Albert Hall Museum
I didn't make it to Albert Hall Museum but it would may be worth adding to your Jaipur itinerary if you have time. It was originally built as a concert hall, based on the architecture of the Victoria and Albert Museum in London. Nowadays it's full of relics including pottery, paintings, armour and jewellery.
Evening – a very decadent cinema!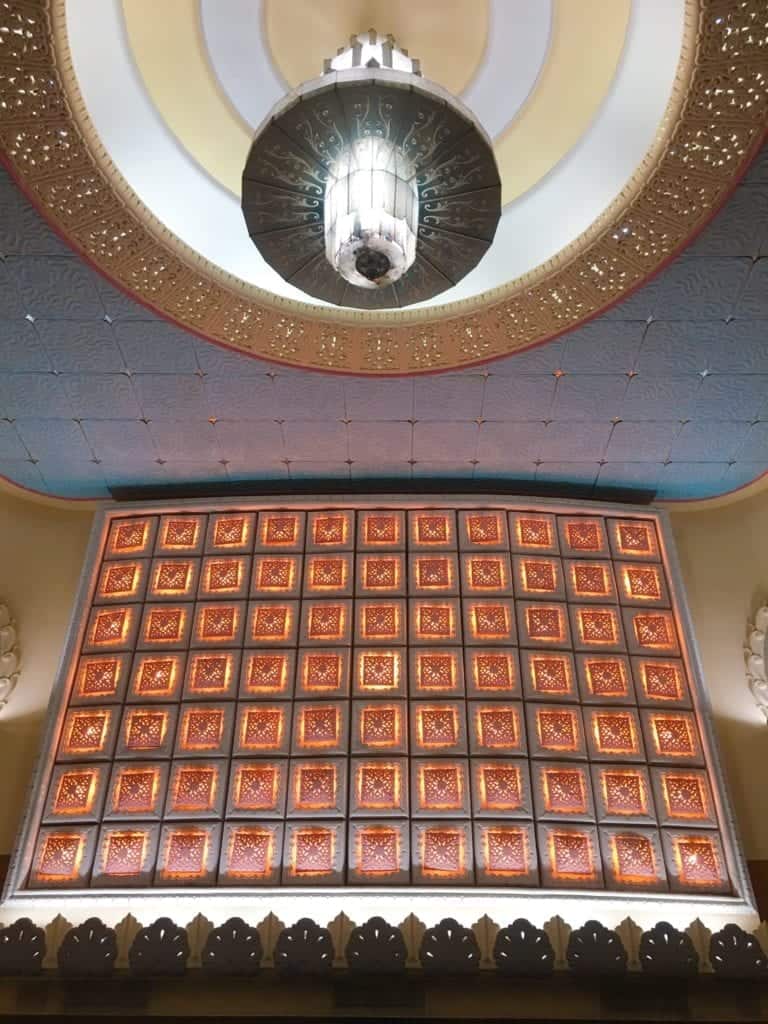 Whichever evening of your trip you visit, make sure you don't miss Raj Mandir Cinema. It's not just a cinema but a tourist attraction that locals and tourists flock to.

The highlight was the decadent interior because I couldn't actually understand the Hindi film playing, plus the only drink they sold was Mountain Dew…
Day 3 in Jaipur
By my third day in Jaipur, I was feeling hot and tired from all the sightseeing and burning April temperatures. This was my least busy day, but I did squeeze in a productive morning photoshoot. If you've got time for a 3 day Jaipur itinerary, consider this for the final day…
Patrika Gate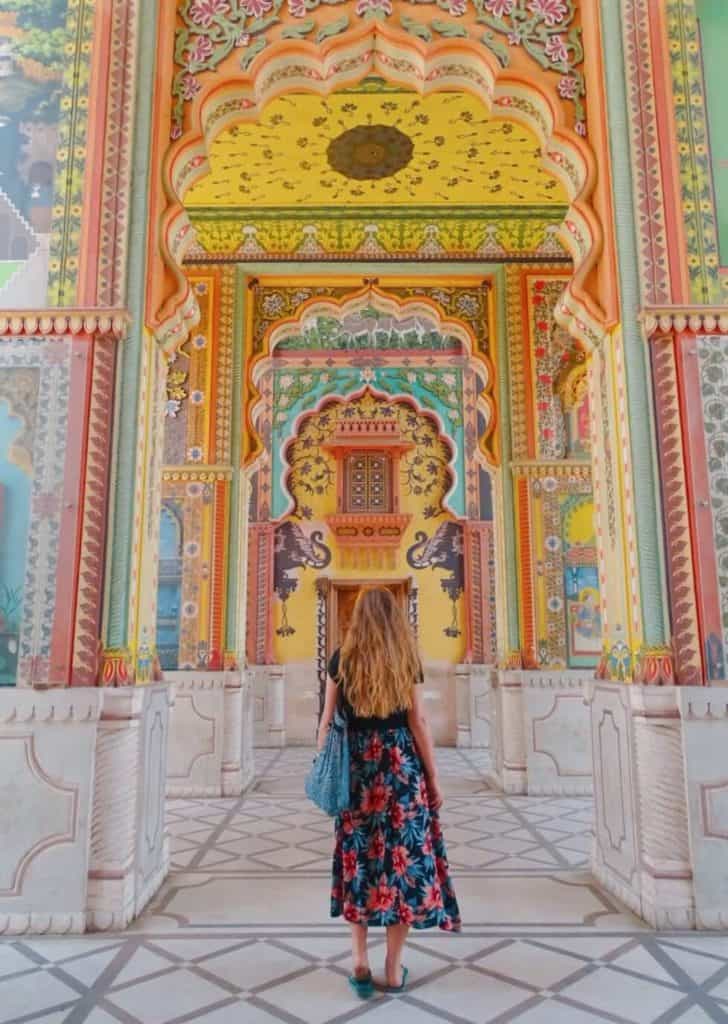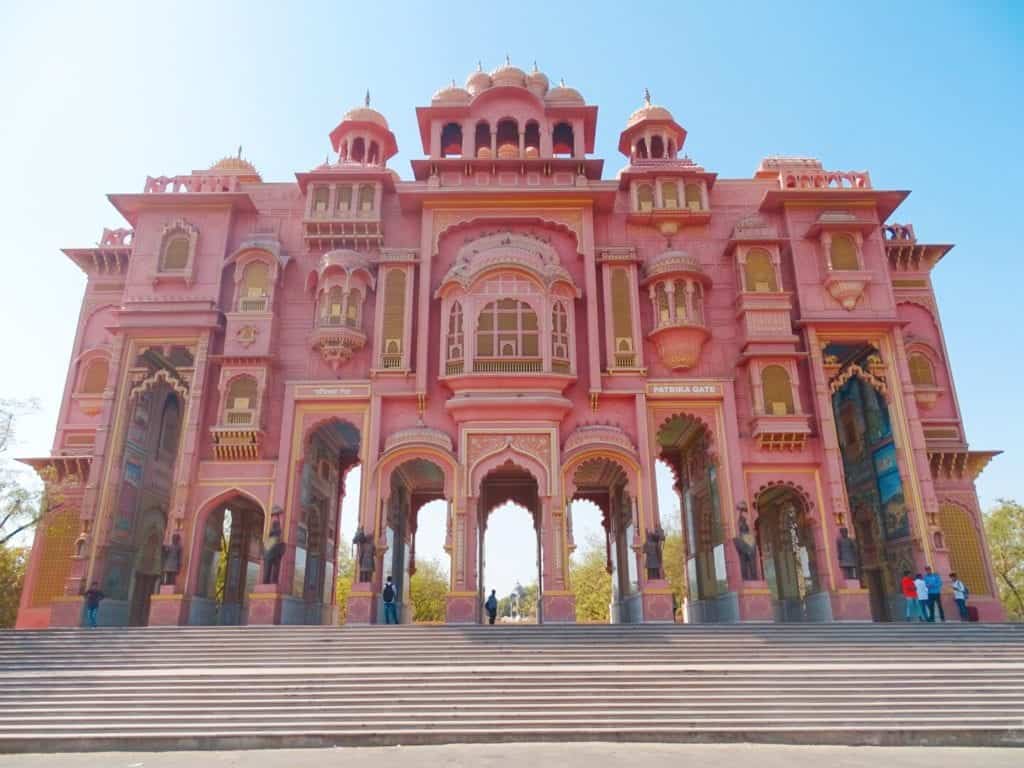 There are countless gates in Jaipur and Patrika Gate is just one of them. It's a little out of town, towards the airport. You don't need to spend long looking around, meaning the drive there and back will be the most time-consuming part. I'd say it's worth it especially if you like taking colourful photos. The vibrant columns and pillars are really something else.

It's easy to find on the side of the main road with parking so your tuk-tuk/taxi/scooter driver can wait. Entrance is free and you should factor 30 minutes for looking around and taking photos.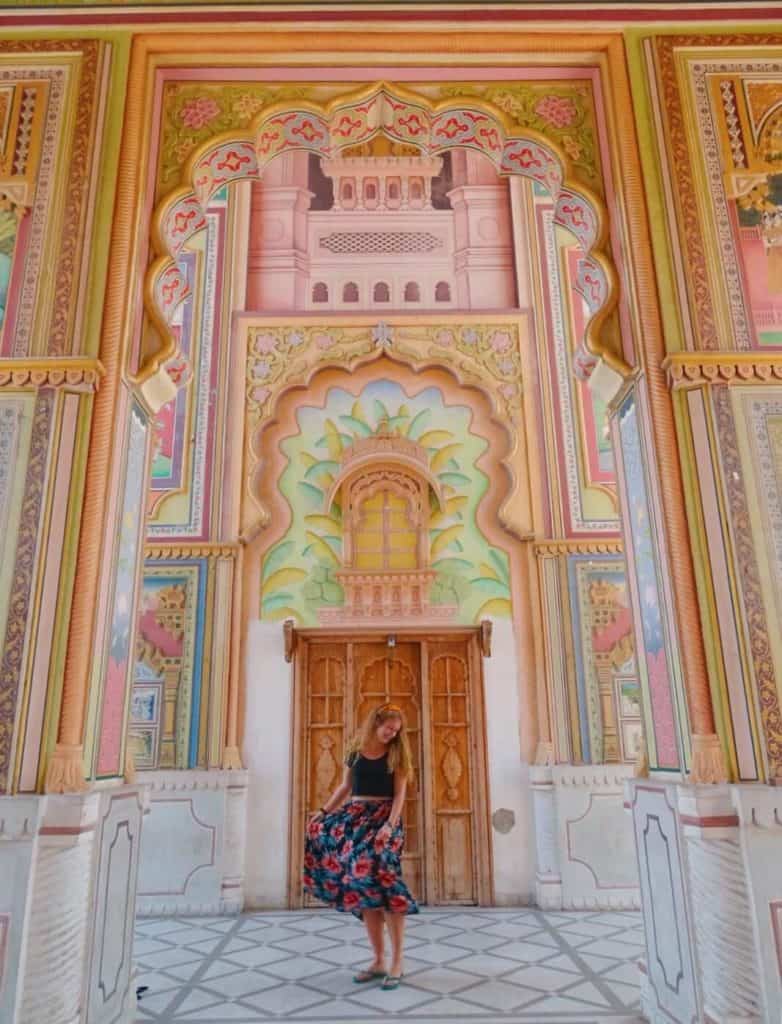 Have an indulgent last afternoon
After a solid 2 and a half days of culture, photos and journies, I was exhausted. I finished my 3 days in Jaipur with a leisurely lunch at Curious Life Coffee Roasters and felt no shame.

The brunches here are like any at home but a fraction of the price, and the coffee was hands-down the best I've had in India. Also, the aircon was just what I needed due to the scorching temperatures outside.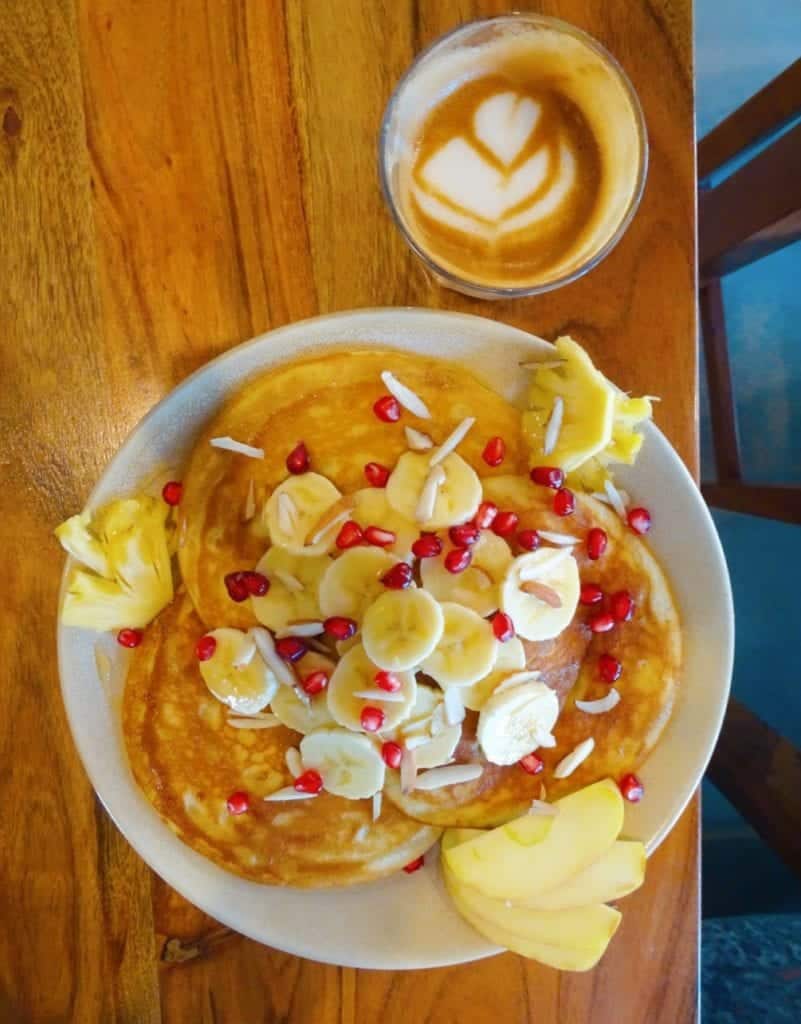 The one thing I feel I missed during my 3 days in Jaipur was the shopping and colourful local markets. So if you have the energy, head to the city centre and haggle hard during your final afternoon.
Where to stay in Jaipur
During my Jaipur itinerary, I stayed in The Hosteller in Jaipur which I can recommend it as a good base. There aren't many nearby attractions but, as Jaipur doesn't have an obvious city centre and you usually travel by vehicle anyway, this didn't really matter.

The dorm rooms are basic and could probably use an update, but the rooftop terrace is great. From up here, you get a great view of Jaipur as you lounge on comfy sofas, cushions and even a swing!

Book on Hostelworld – dorms from £4 ad privates from £20.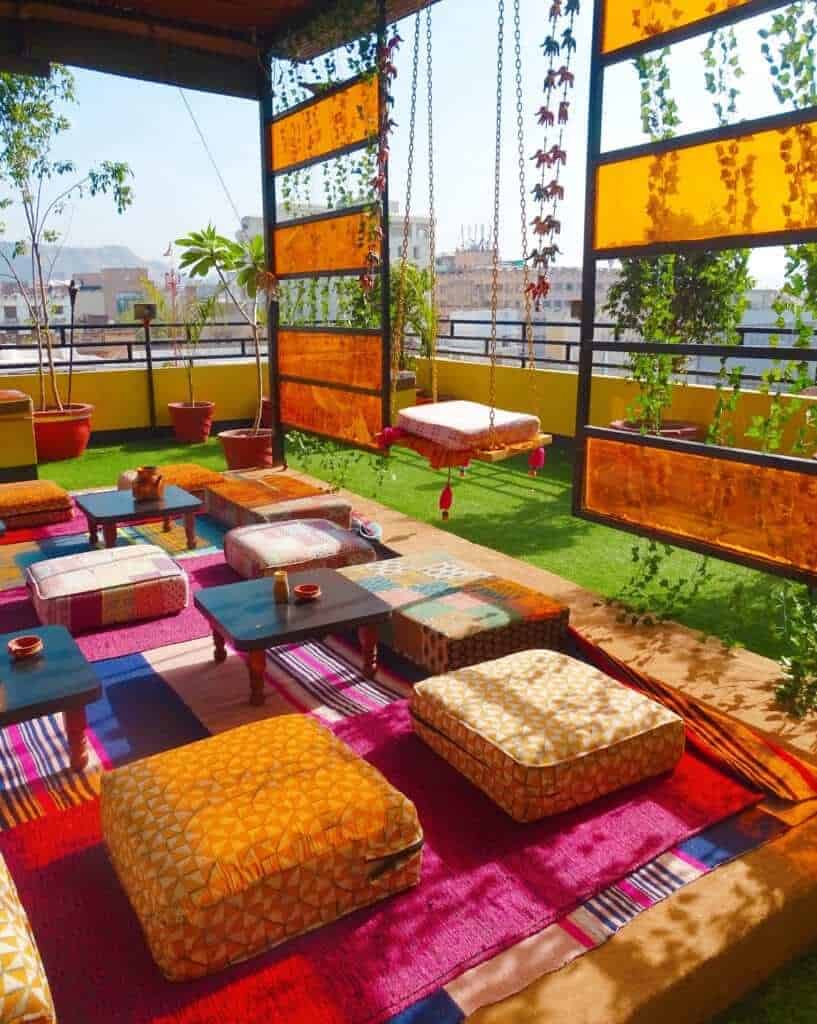 The food at The Hosteller was very good, and there's also an icy-cold lounge room where I worked on my laptop. They hold chai masala-making workshops each day and other events including movie nights.

Like most hostels in India, they run daily tours but I never experienced enough people signing up for them to run. But with just 3 days in Jaipur and set ideas of what I wanted to squeeze in, I was happy to do the sightseeing myself.
Hotel – Khandela Haveli
I recently return to Jaipur and stayed at the lovely Khandela Haveli hotel with a swimming pool and rooftop restaurant located on a quiet street away from the hustle and bustle. It was a lovely, relaxing base to explore the city from. Book from £31 a night.
Browse Jaipur accommodation on Booking.com and Hostelworld.
Check out my other India posts:
Thanks for reading my 3 day Jaipur itinerary!
See you next time for more adventures,
Rose
For more travel content, follow me on Instagram, Facebook, Twitter and YouTube.
Ps. Liked my guide to spending 3 days in Jaipur? Pin it for later!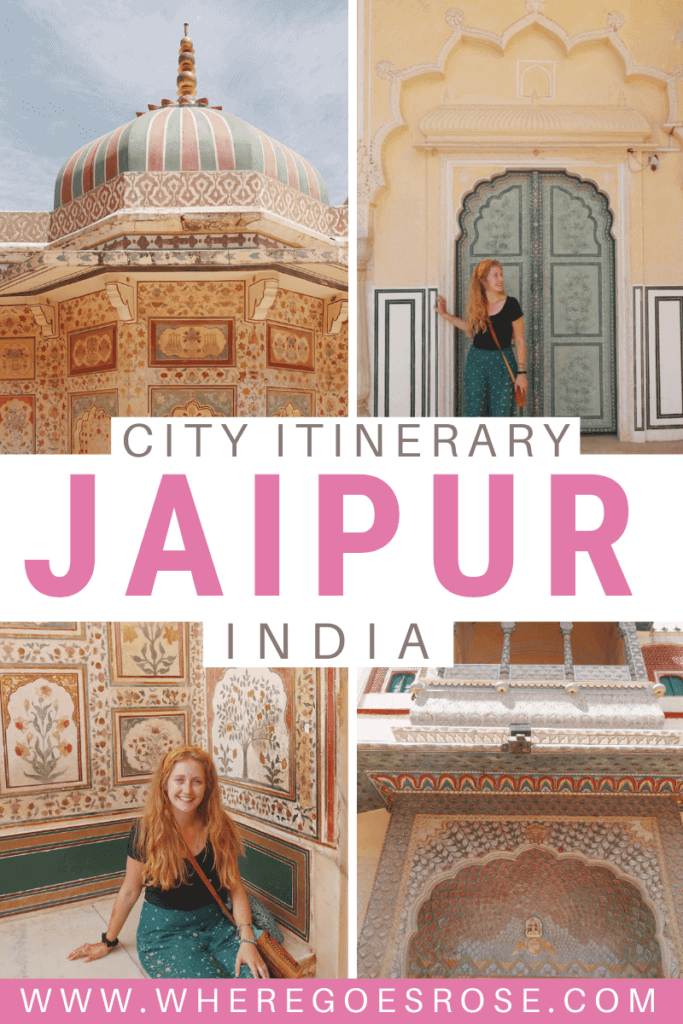 VISITING INDIA?

These are my trusted resources:

Getting around by air – it's easy to get between cities by flight. I use Skyscanner and search by whole month to find the best value dates.

Buses – buses are comfy and efficient. Use 12Go to book.

Trains – these are a good option for long journeys because you have a bed rather than a seat. Use 12Go to book.

For hotels, I use Booking.com – they also have self-catering apartments. You can filter by review score and price to find the best-rated budget places. For hostels, I use Hostelworld.

Browse tours and activities on GetYourGuide. I also check Viator and Klook in case they have a better price.

For food tours with passionate local chefs and foodies, check out EatWith.

Pack the latest copy of India Lonely Planet.

Need travel insurance? I use True Traveller (for UK & Europe residents) since it's affordable but covers everything you'd need including various activities, valuables and pre-existing conditions. Unlike some companies, they insure you if you're already travelling / don't yet have your flight home booked. Get a quote.

For travel insurance for other nationalities, I recommend Hey Mundo and for long-term digital nomad travellers, I suggest Safety Wing.

Check out my resources page for more travel discounts and tips!