I had such a fantastic 3 days in Vienna. The time whizzed by and I could have totally stayed forever. If you're planning a visit to Austria's capital, let me share my Vienna 3 day itinerary to help you make the most of your trip.

I was expecting really beautiful, ornate places from Vienna but I didn't realise it had such a cool and quirky side to it with loads of impressive Vienna street art and hipster bars down by the canal.

The last time I visited Austria was actually the first time I went abroad EVER on a family holiday when I was 14. My memories of it obviously aren't the strongest but I definitely rekindled my love for the country this time around.
Vienna itinerary – day 1
So you can enjoy the city as much as I did, I've put together this 3 days in Vienna itinerary including sightseeing, cafes, best meals and more. Enjoy your 3 days in Vienna!
Morning – shopping at the Naschmarkt
Day 1 afternoon – Schönbrunn Palace
While we just spent a couple of hours at Schönbrunn Palace, you could invest a whole day. As well as admiring the stunning building itself, you can climb the hill to the Gloriette structure, visit the Palm House, explore the labyrinth maze or go to the zoo.

We had our sights set on the apple strudel show which happens once hourly but sadly we missed the last one of the day (4pm) and salvaged the situation by eating it at the cafe instead. Some things like going inside the Palace cost extra but you can still go and enjoy the free bits like we did.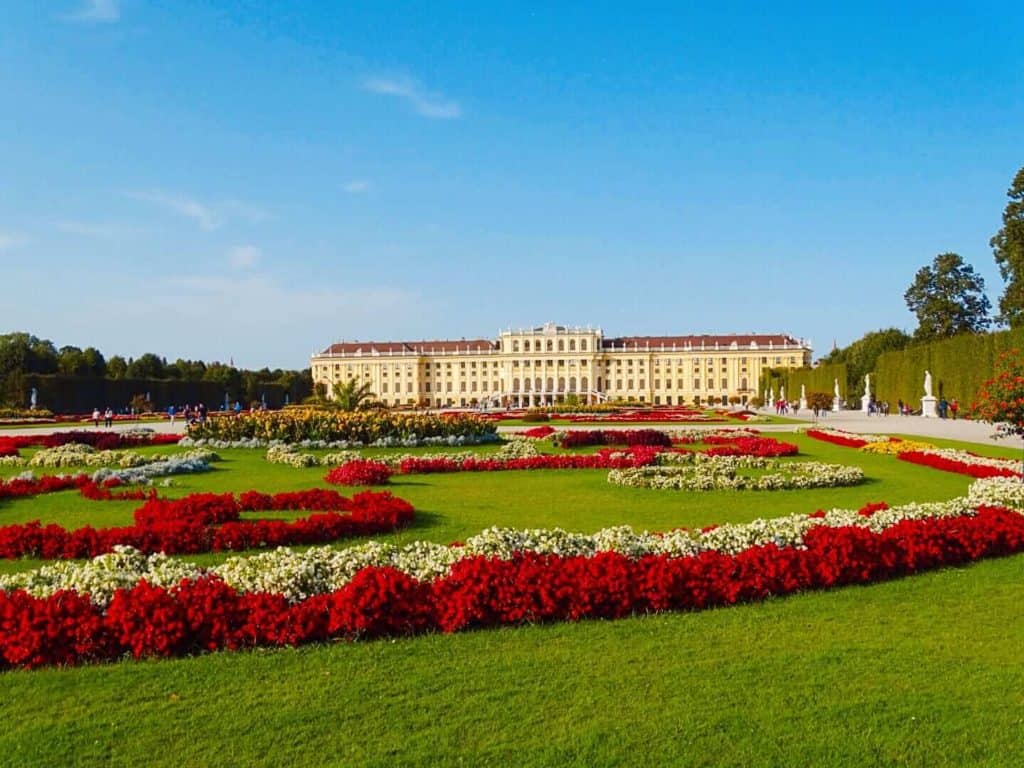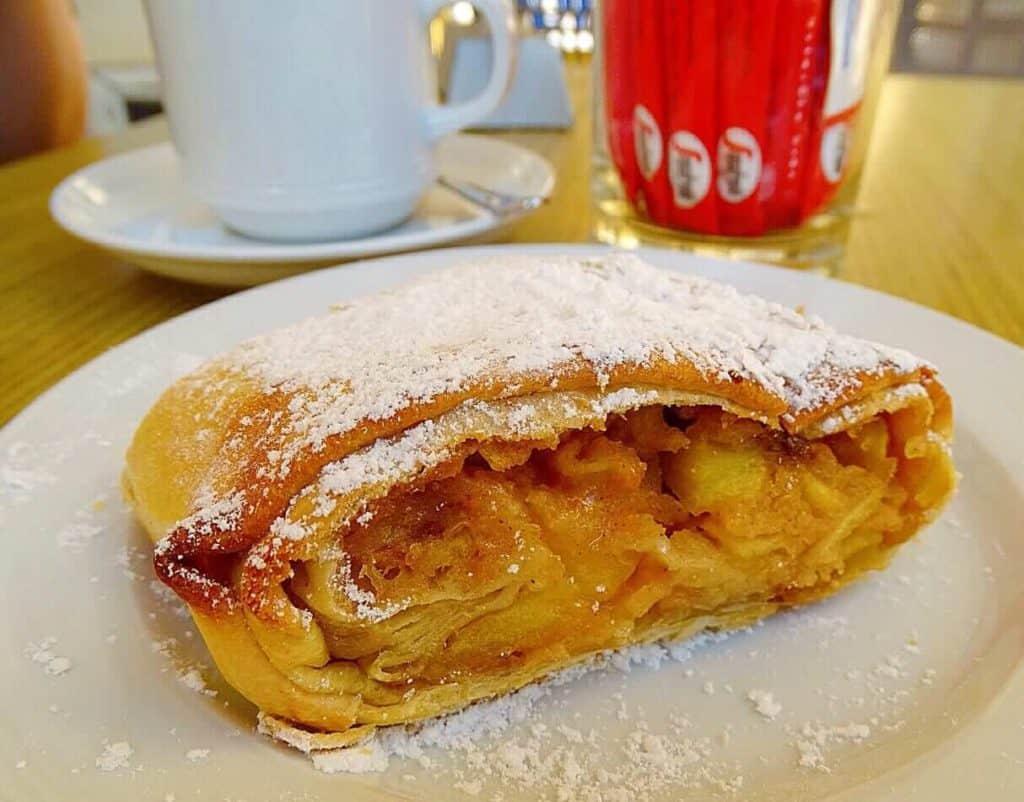 Sunset drinks during 3 days in Vienna
If there's one bar I'd recommend visiting during your 3 days in Vienna it's Das Loft on the 18th floor of the Sofitel Hotel. We worried we would be out of place at the fancy bar and restaurant in our casual day clothes but it was fine.

Prices weren't too insane. The cocktails were expensive at €15 but a glass of wine was €6 and a beer €5 which was well worth it when you consider the view you're getting.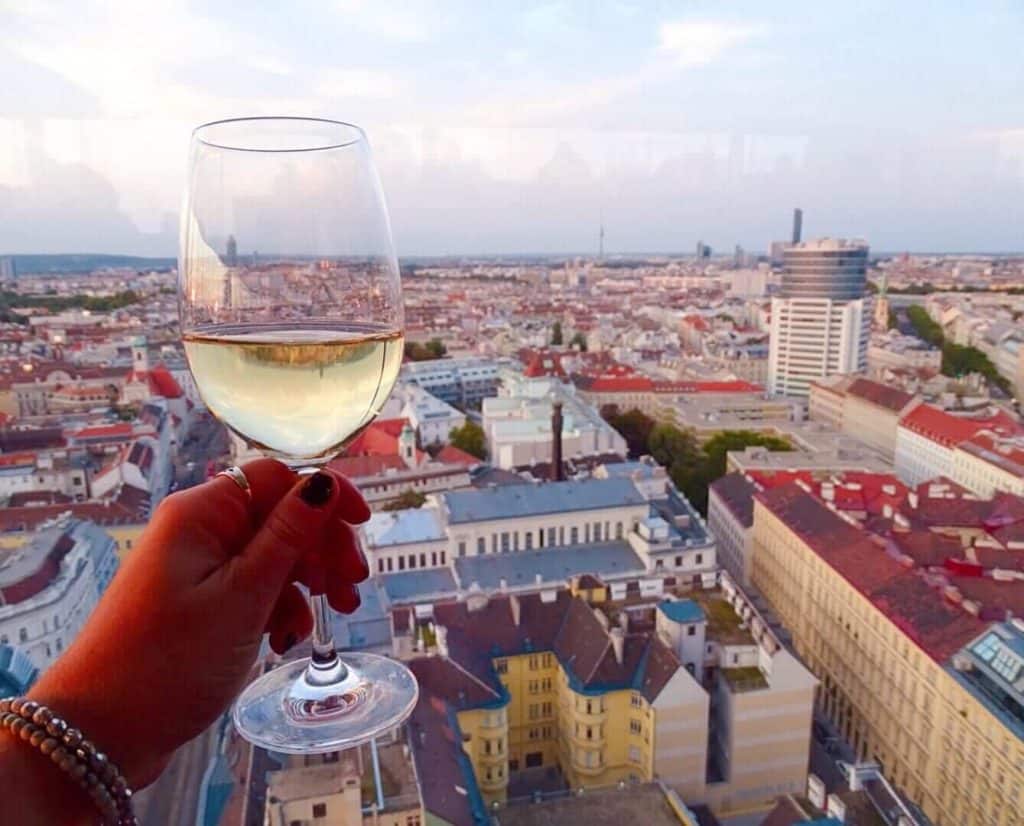 Where to eat during 3 days in Vienna
Vienna is full of choice with traditional Austrian restaurants in all levels of fanciness from XXL Brünner Stadl for cheap eats and lots of more upmarket restaurants in Vienna should you want them.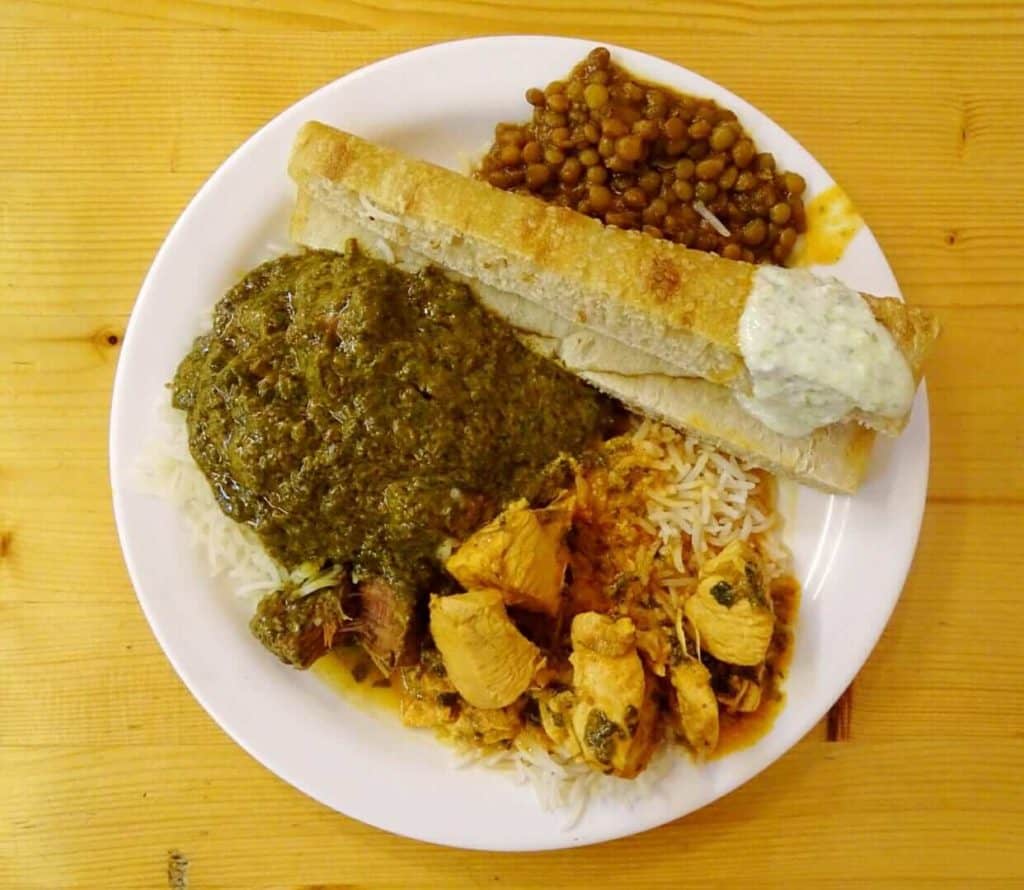 There are plenty of places for vegetarians too (though you may not end up with traditional Austrian food).

We headed to a place I'd read about online, Der Wiener Deewan for all-you-can-eat, pay-what-you-want curry. What a cool idea! It was a chilled soup kitchen vibe where you served yourself ladles of veggie or meat curry. I ended up with loads of my faves like palak paneer which is a spinach-based curry I loved in India.
Getting to Der Wiener Deewan: The closest station is Schottentor. However, if you're following my Vienna itinerary step by step, you can walk from Das Loft to Der Wiener Deewan in 15 minutes.
Vienna itinerary – day 2
Keen to fill our Vienna 3 day itinerary, we got up early to explore the city centre. Of course, that started with coffee!
Day 2 morning – get your caffeine fix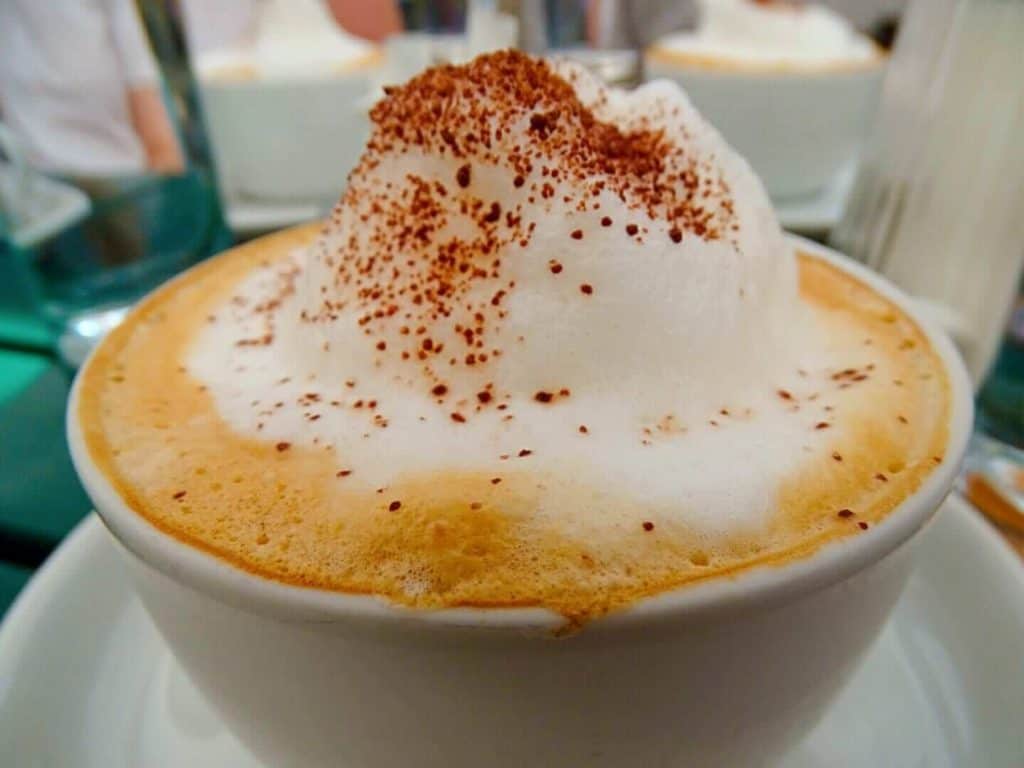 The Hofburg
If you visit two palaces in Vienna make them Schönbrunn and Hofburg. Unlike Schönbrunn which you'll want to watch the S-Bahn to, Hofburg is right in the centre of town which makes it easy to include in your walking tour.

You can choose to wander the grounds for free or pay to go inside to the Imperial Apartments and museum. Either way, you'll be impressed by the baroque architecture dating back to the 13th century.
St. Stephen's Cathedral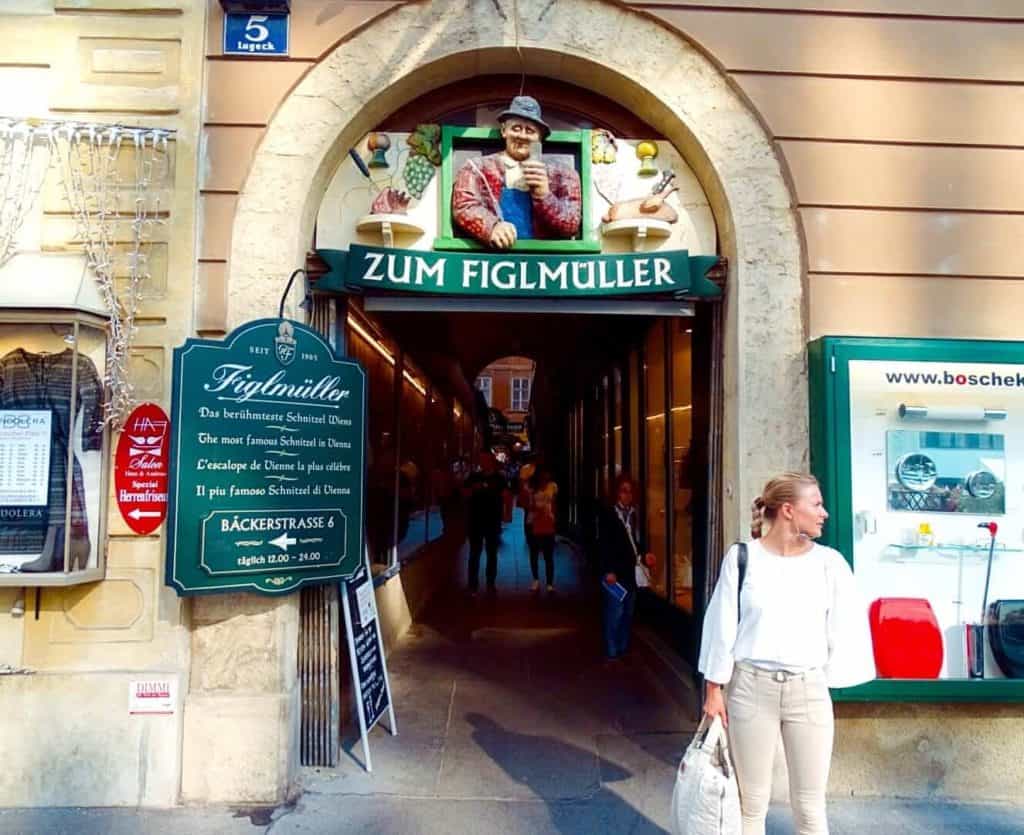 Day 2 Vienna itinerary lunch
There are so many places to eat in central Vienna whether you fancy a sit-down meal or a quick bite between sightseeing.

I took the latter option and had a quick schnitzel from a takeaway stall outside the Hofburg Palace. It wasn't the fanciest meal of my Vienna trip but I wasn't complaining.

For highly-rated schnitzel in Vienna, you could try Plachuttas Gasthaus zur Oper which claims to serve the best in the city or Figmüller which has been serving its original recipe for 110 years!
Day 2 afternoon tea break – Cafe Diglas
My family are pros at stopping for tea and cake and we outdid ourselves by stumbling across many of the best Vienna coffee houses including the lovely Cafe Diglas on Wollzeile street.

The pretty pink outside is a prelude to the classic style inside. If you don't believe me, check out the extravagant lampshade above our table and the chandelier made out of teacups. You should also pay a trip to the bathroom where the clear doors turn frosted at the flick of the lock!
Day 2 late afternoon – Hundertwasser Village
Day 2 evening – sunset on the Prater Ferris wheel
No 3 day Vienna itinerary would be complete without a spin on the Prater Ferris wheel. Just a 15-minute walk from the Hundertwasser Village is this permanent fairground with rides and a Madame Tussauds.

We were mainly there for the Ferris wheel which is the world's oldest. It was a bit pricey at €10 for a 20-minute spin (and there was a pretty long queue) but the views of the city were worth it.

Looking for Vienna's best city views? I'd say the Prater Ferris wheel, St. Stephen's Cathedral Tower and the Gloriette panorama at Schönbrunn Palace.
Day 2 Vienna itinerary – dinner
We ate dinner at Swing Kitchen. Feeling like we'd walked a marathon that day, we crashed at the Opernhaus branch of Vienna's vegan burger chain.

I went for a 'cheese' burger which was made with a bean patty, lots of salad and a soft roll. At €8 for a burger, chips and drink it was a bargain.
Evening drinks by the canal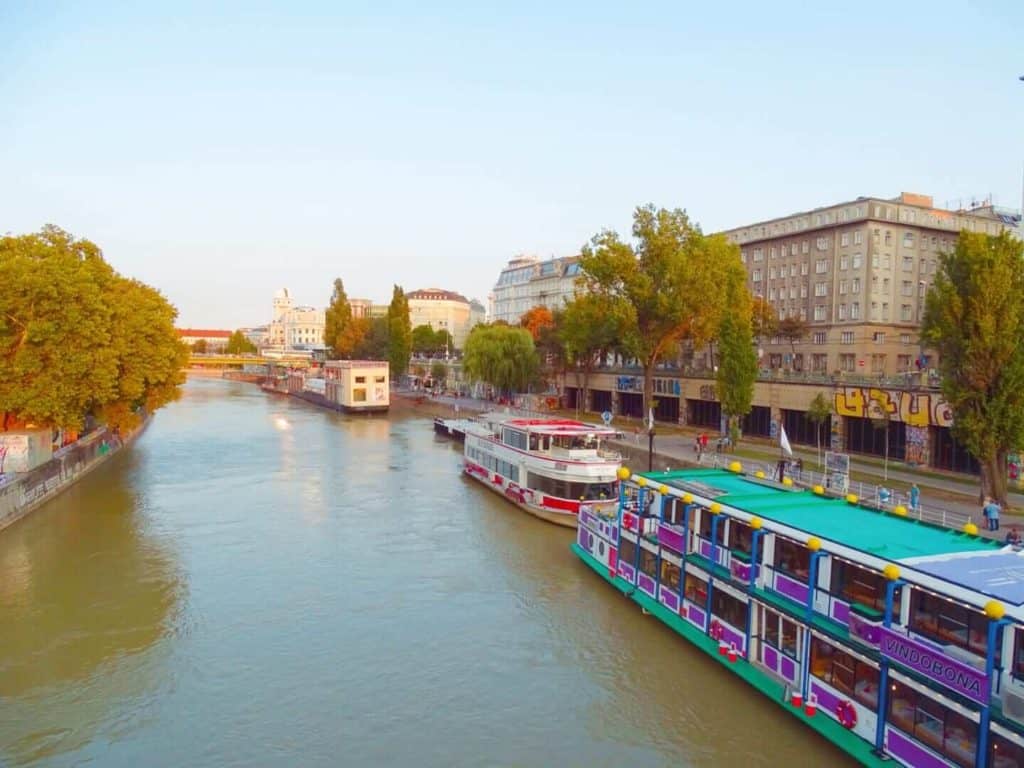 Vienna itinerary – day 3
With our 3 days in Vienna about to draw to a close, we made a solid effort to see as much as possible before our flight. Whether you have a full day or a half-day, here are some options for sightseeing before you go.
Street art tour
Day 3 Vienna itinerary – lunch at Erich
We finished our street art tour at Erich which has awesome breakfasts, tacos, skewers and cheese melts. I couldn't decide between skewers and ended up with the platter of one of each of them, plus two tasty bruschettas.

Joni tucked into a sweet potato bowl with brown rice and spinach and we both had our fave cocktails, Hugos. Gutted I can't find these in England!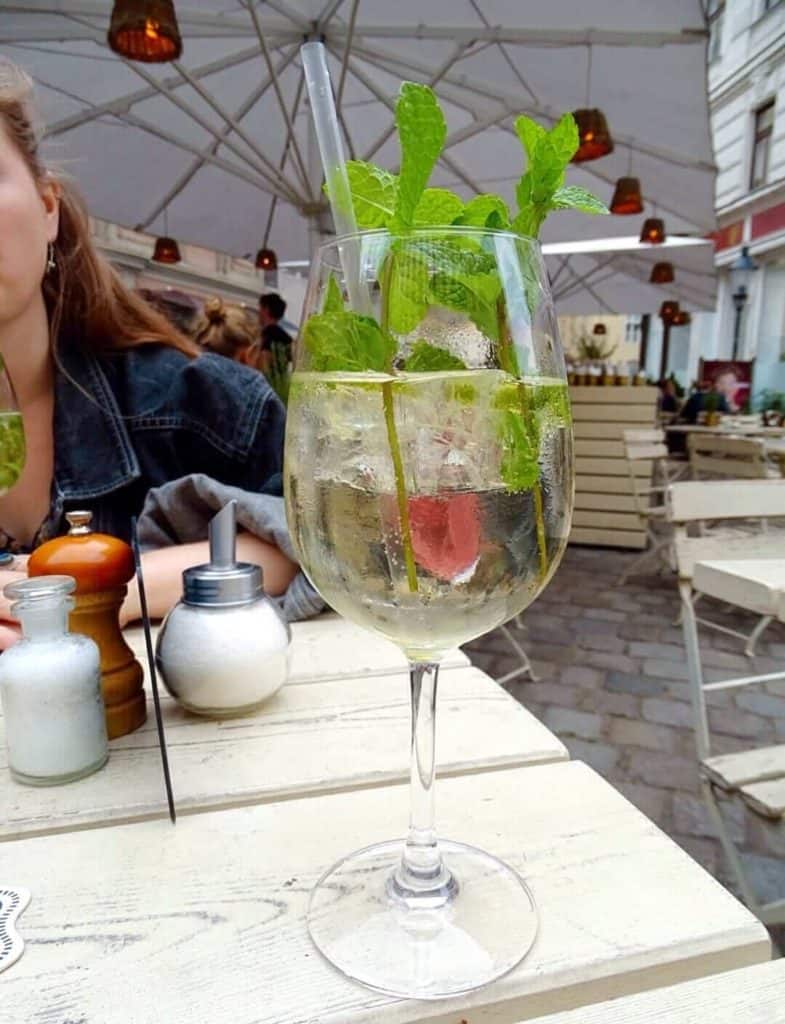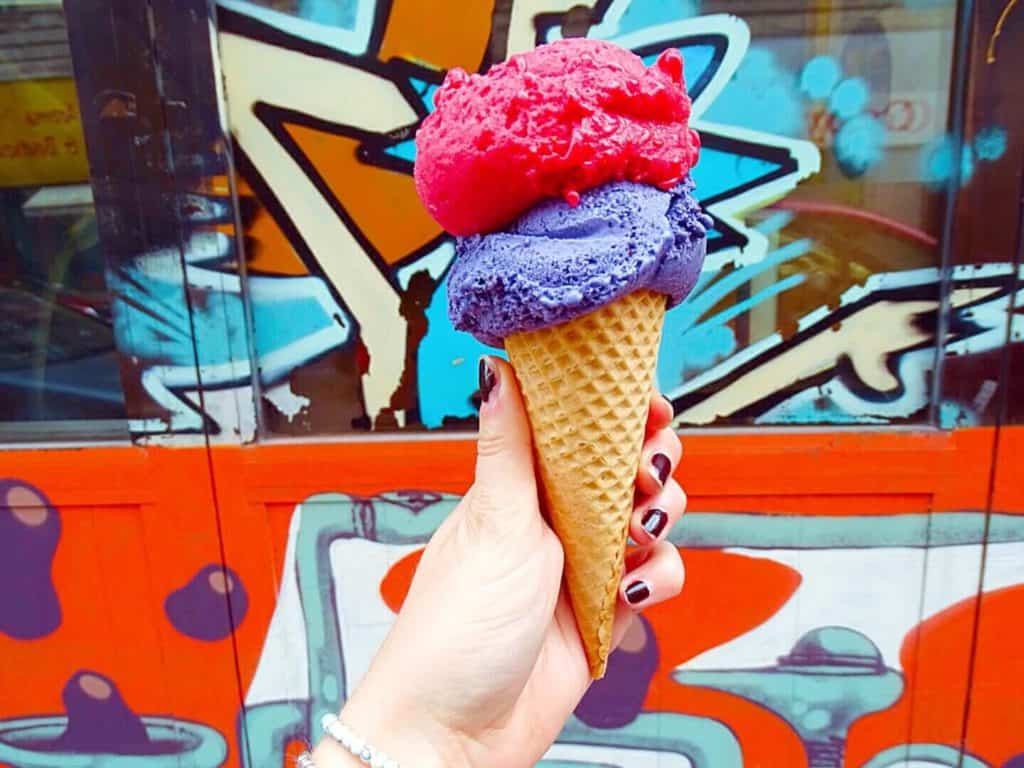 Day 3 Vienna itinerary – afternoon at Belvedere Palace
Belvedere Palace is a gorgeous set of Baroque palaces well worth adding to your Vienna itinerary. The Austrian Gallery Belvedere is home to the famous painting, The Kiss by Gustav Klimt which shows two life-size gold figures in an embrace.
Apparently, it was deemed risque by a Victorian audience (even though the couple are fully dressed) but is now worth $135 million. The €16 entrance fee doesn't seem so bad now, does it?

Belvedere is open 10am-6pm, 7 days a week and you can eat delicious strudels and sacher torte afterwards in the cafe.

To learn about the art, take a world-class art tour of the grounds, palaces and museum with a qualified art historian.
Day trips during 3 days in Vienna
Photos from my Vienna 3 day itinerary
Some of my favourite moments in Vienna were stumbling across places I'd not been looking for (isn't that the most fun anywhere?) from cathedrals to street art and shopfronts. I'll finish this blog with a few random sights we came across whilst wandering…