This post may contain affiliate links to things like tours, hotels, Amazon associates and products. These help me earn a small commission at no additional charge to you.
It was morning. Apparently. It didn't feel like morning…
I'd just woken up on the floor of a bus and it was raining. Hard. The bus driver was shouting 'Welcome to Sapa!' in a voice far too cheery for 6am. I'm glad this event occurred at the beginning of my Vietnam trip when I was fresh-faced and full of energy, excited for a busy Sapa itinerary.
At a point when my companions (who had been travelling for three months) were feeling the effects of long-term travel, I was full of beans and not particularly perturbed by the Sapa night bus. Flash forward three weeks and I would have been groaning the whole way!
Related reads: my North Vietnam itinerary and my complete Vietnam itinerary (north, south and central)
Three days in Sapa itinerary
We'd boarded the Sapa night bus the same day we'd returned from our trip to Ha Long Bay. Once we were on the Sapa Express bus, we settled into our beds and tried to get some shut-eye.

The journey from Hanoi to Sapa only takes about five hours meaning we actually arrived at 4am but were left on the bus to sleep until a little after 6am. At this point, we were awoken and taken to our next stop in the pouring rain.
Little did we know, it was going to rain a LOT in Sapa. Nestled in the misty mountains, this rice terrace region is quite different from the rest of hot, humid Vietnam. Apparently it's even been known to snow in the winter, something I can't imagine ever happening in Vietnam.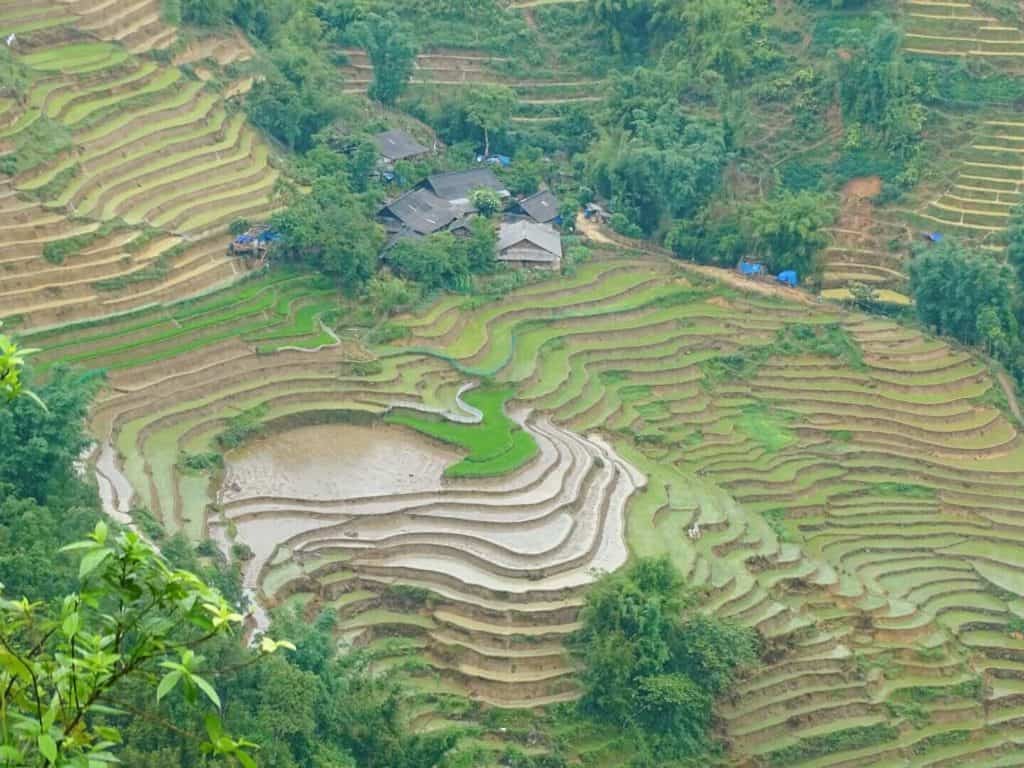 How to plan a Sapa itinerary
There are plenty of options when it comes to getting around Vietnam. These are a few of your options for getting to and visiting Sapa:
Independent travel: Plenty of buses and trains run from Hanoi to Sapa so you can easily book one for a DIY trip. You'll find lots of hotels and guesthouses once you arrive, plus treks are easy to arrange. Book the overnight Sapa train here.

Private accommodation: for small groups, it may be more cost-effective to book a private car to Sapa.

Organised tours: An easier option is to book on a return trip whilst in Hanoi. All your accommodation will be included as well as your meals, transport, treks and guides.

I'd recommend:
It depends on your travel style, really. While I don't tend to like organised tours, this one was fairly loose with lots of free time, plus it was fun to not know what was coming up next.
Day 1 – getting VERY muddy on our first trek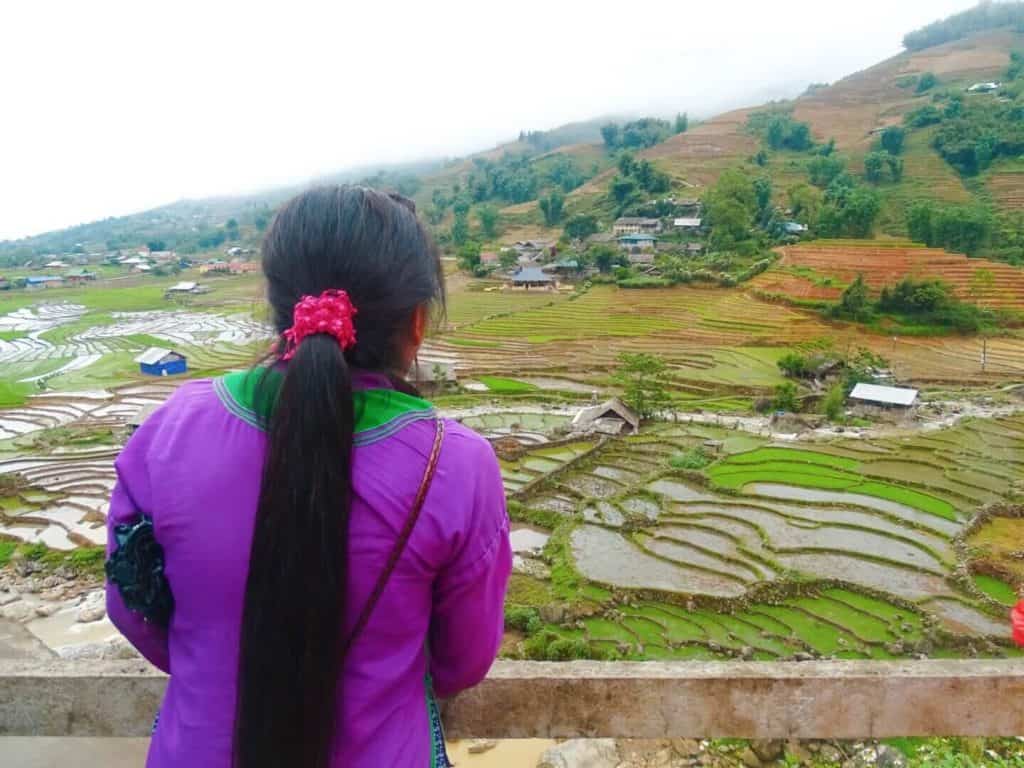 Day 1 was undoubtedly the busiest of the tour – and the one where we'd had the least sleep! Good thing I was in energetic, beginning-of-trip mode, right?

From the night bus, we were taken to the hotel where we'd spend the last night of the trip. We ate breakfast and were advised to leave our big backpacks in storage. We'd be staying in a homestay in one of the local villages that night so we just needed to bring a day bag and a change of clothes. Oh, and cameras, chargers etc – it doesn't take long for a day bag to get heavy, does it?
Luckily neither of our bags were as heavy as our new friends, Sam and Kane's! This British couple were just on the road for a couple of weeks so didn't have much luggage or a smaller day bag, so they just brought ALL their stuff on the trek. This was a harrowing notion to me as I absolutely HATE carrying anything heavier than necessary!
Our first trek through the misty rice terraces of Sapa was beautiful but HILARIOUS. As it was raining, the mud was slippery and I spent most of the time crashing through the undergrowth on my bum. If you don't believe me, check out this photo (I considered trying to edit it but decided to embrace the realness):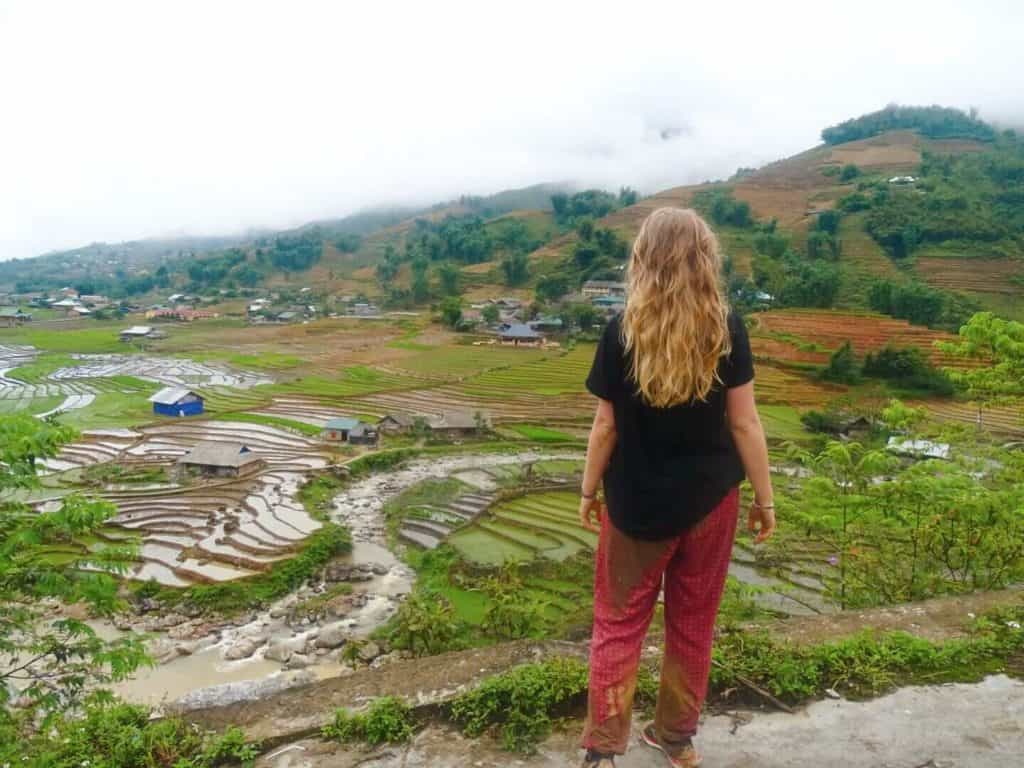 In our tour party was the sweetest local girl aged about 12 who told us she helps out on the tours when she's not at school. She quickly became my favourite – partly for necessity as she knew every step by heart, held my hand and told me where to put my feet.

On one occasion, she left me unattended for two minutes and I managed to fall into a weird split-like position I didn't even realise I could do and get stuck halfway up a hill… Afterwards, she weaved a branch into the shape of a heart and gave it to me which I think was her personal way of commiserating my clumsiness.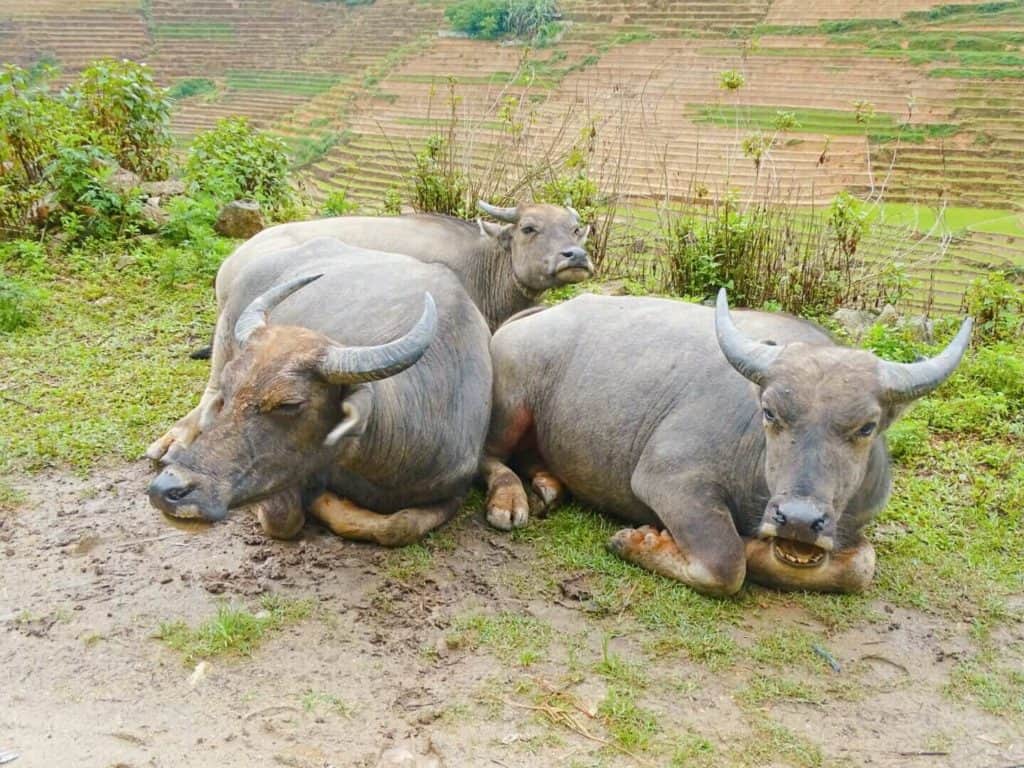 Learning about the locals
After lunch we left the rice terraces behind – but not that far behind as the village we'd be staying in was virtually surrounded by them. This was the highlight of our Sapa itinerary!

We learnt that there are many tribal groups in the Sapa region known for their distinctive colourful dress and rural ways of life. Our tour guide told us that they all speak different languages which don't remotely resemble each other, so the only time they'll speak the national language of Vietnamese is as a common language when communicating with other groups.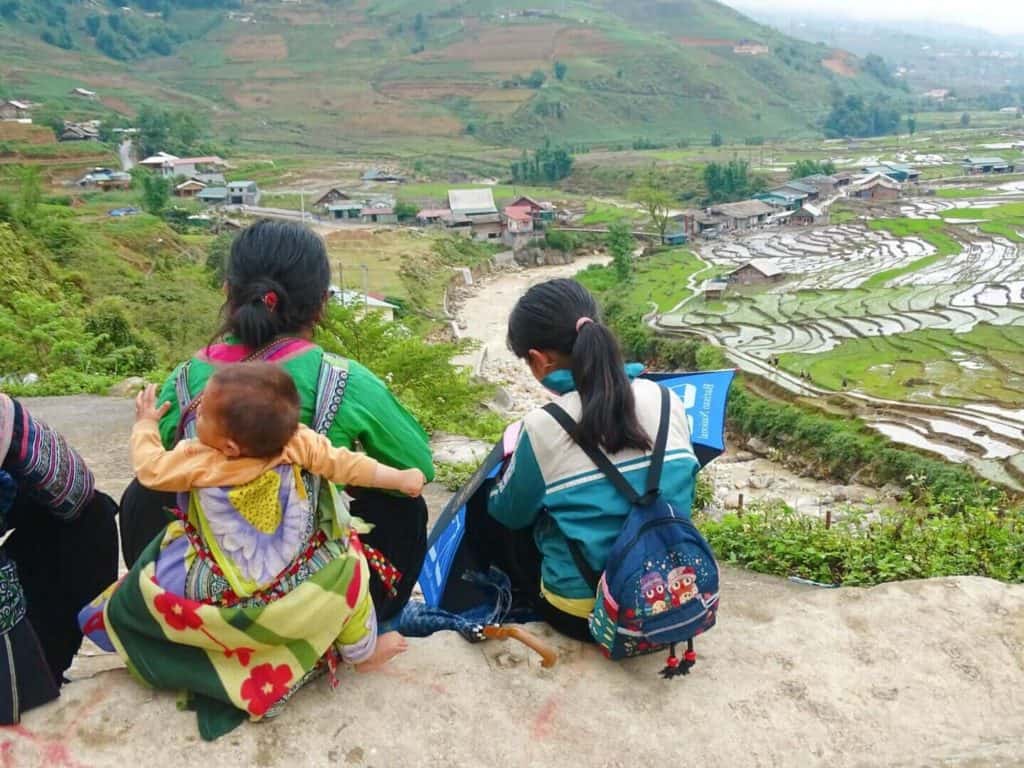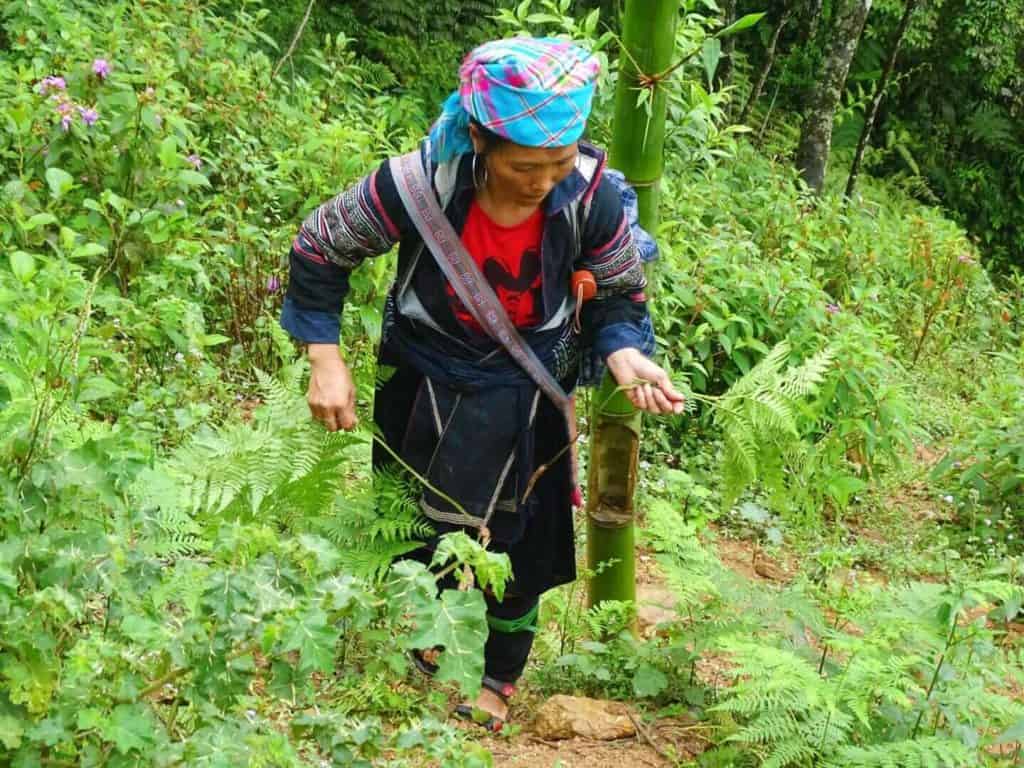 Our tour group was split up amongst the homestays in the village, which we learnt was the native home of the Black Hmong people. We found ourselves at a homestay on the edge of the village where our first sight was this adorable five-year-old perched on her dad's scooter!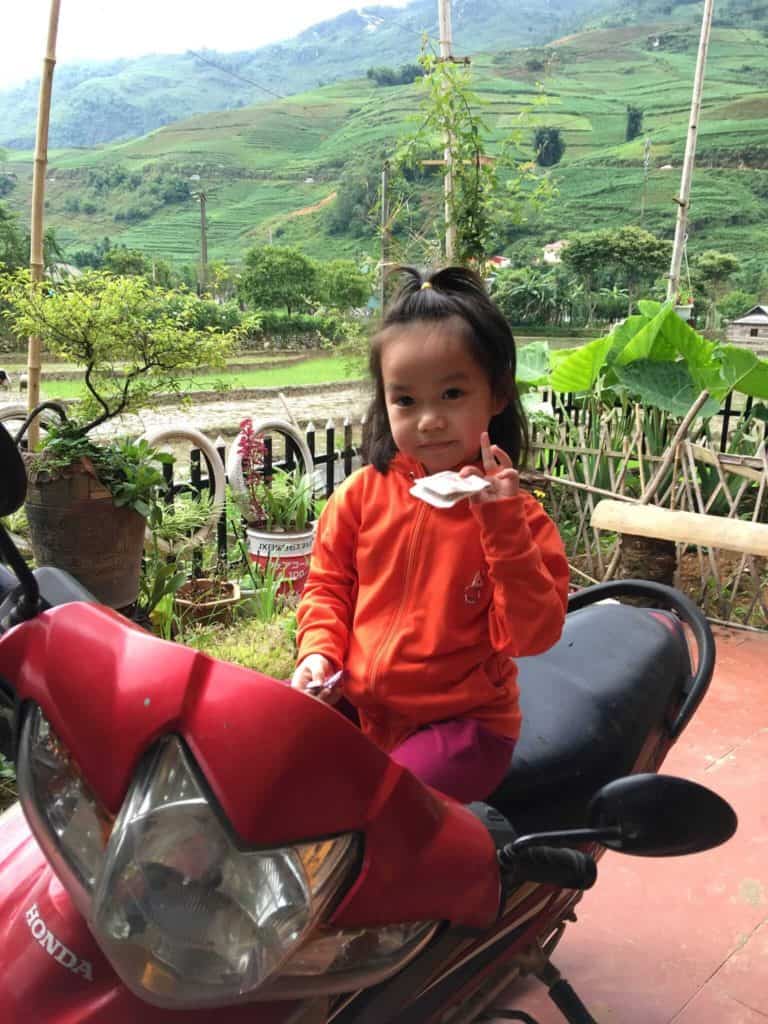 The homestay wasn't the most basic place I've ever stayed, probably due to how touristic Sapa has become in the last few years. There was WiFi and the upstairs resembled a dorm with lockers and chargers by the beds. Saying that, it was still a local home and we ate a traditional dinner with the other guests on a big shared table in their living room.
The trekking hadn't been insanely tough but Josh, Sam, Kane and I were very pleased to chill out in the relaxing surroundings of our little village. We drunk coffee, then beer, in an otherwise abandoned cafe looking out over the rice terraces as golden hour commenced.

The presence of many tourists passing through this area of Vietnam was obvious, but whenever I glanced out towards the fields, I could feel the magic of the region and imagine I was the only one to have ever experienced it…
Or maybe I'd just had one too many beers – who knows!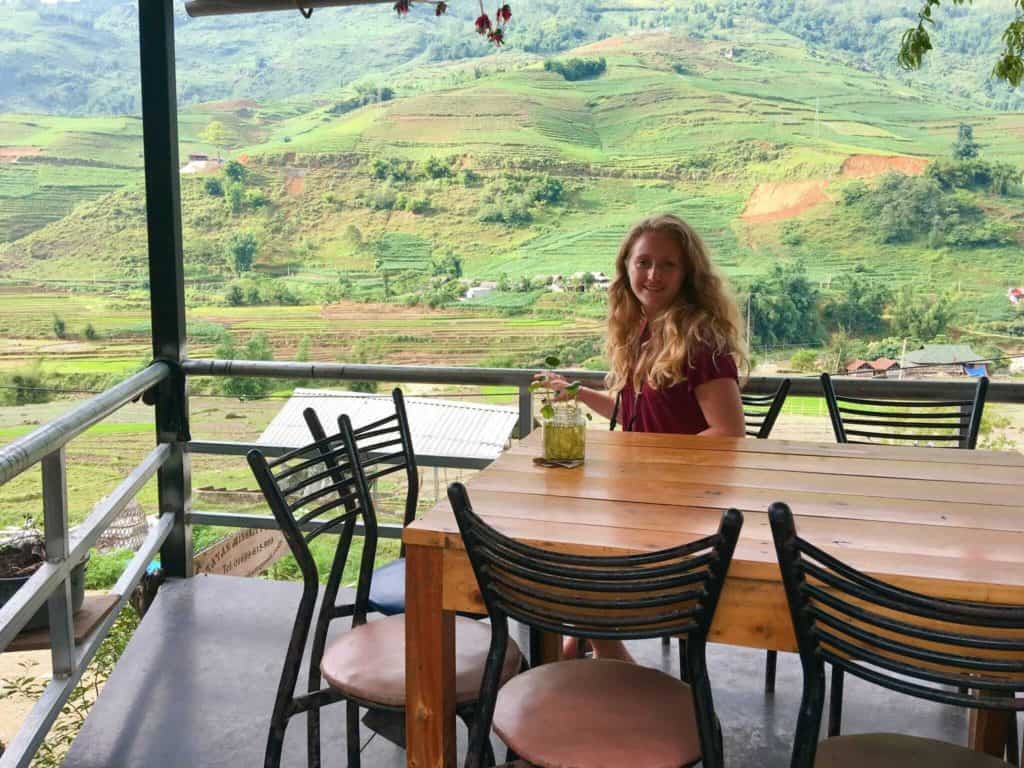 Day 2 – local life and trekking back to Sapa town
After a night in our homestay (we slept on thick mattresses on the floor which were as comfy as regular beds), we continued our Sapa itinerary with a second trek.

This was much shorter than the first day and pretty easy. I think it would be an overstatement to say I spent three days trekking in Sapa as you could probably have combined them all into one day without too much difficulty.

Unless you pick a tour specifically geared towards a challenge, most Sapa tours are about seeing the scenery and yes, they're also about stopping at craft stores and markets where you're encouraged to buy the goods. That's tourism for you!
The best part of the day for me was seeing the local life in the countryside. Every horizon was dotted with rice hats and colourful splashes of clothing as people farmed the rice. One of my favourite scenes was this young boy riding his buffalo. Casual, you know 😉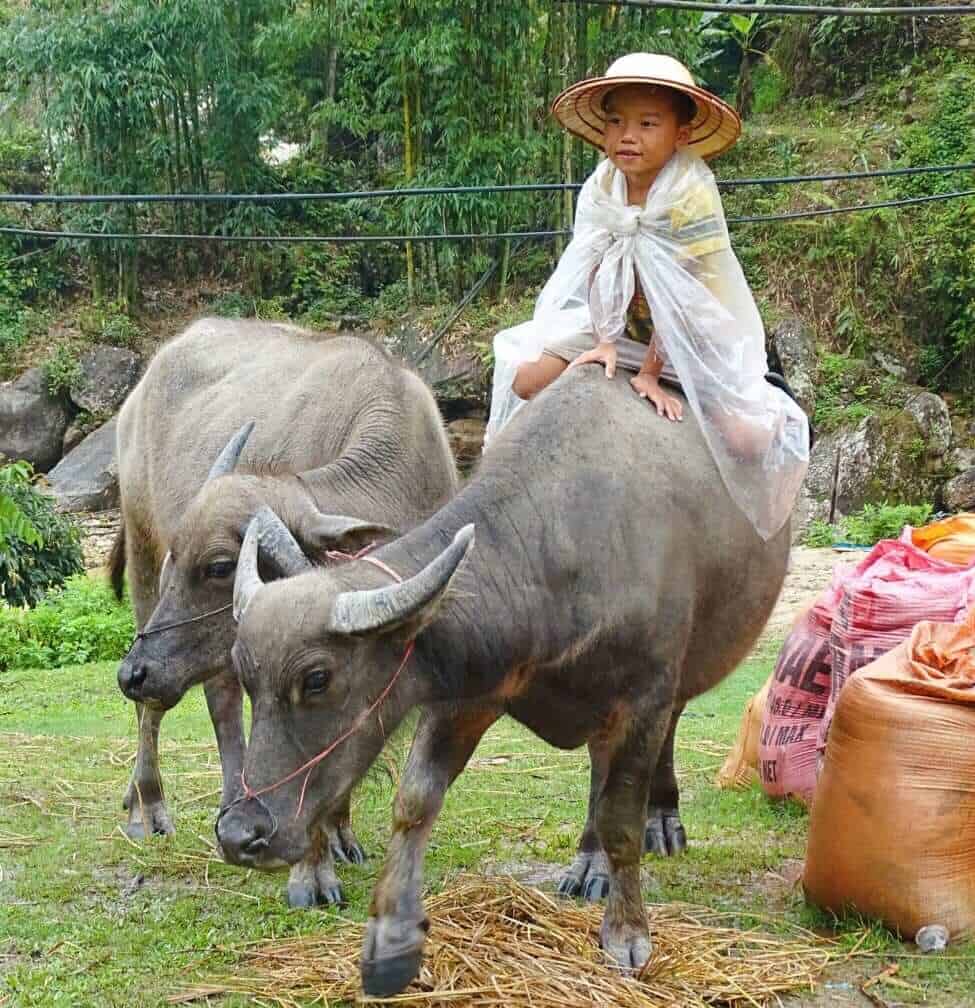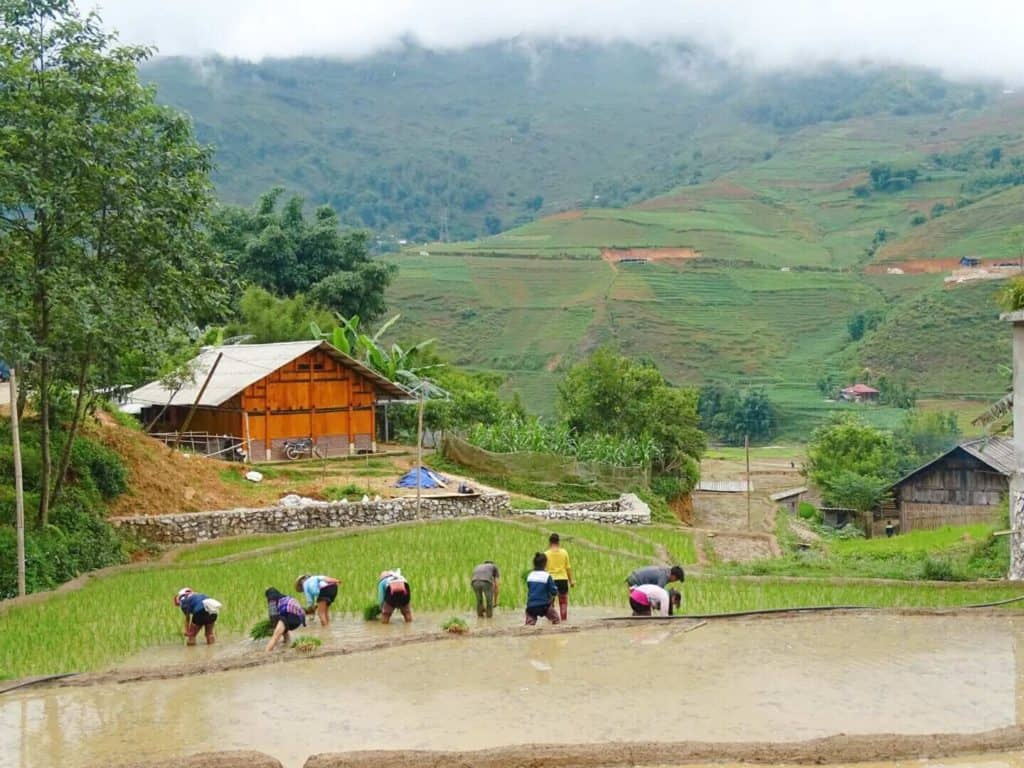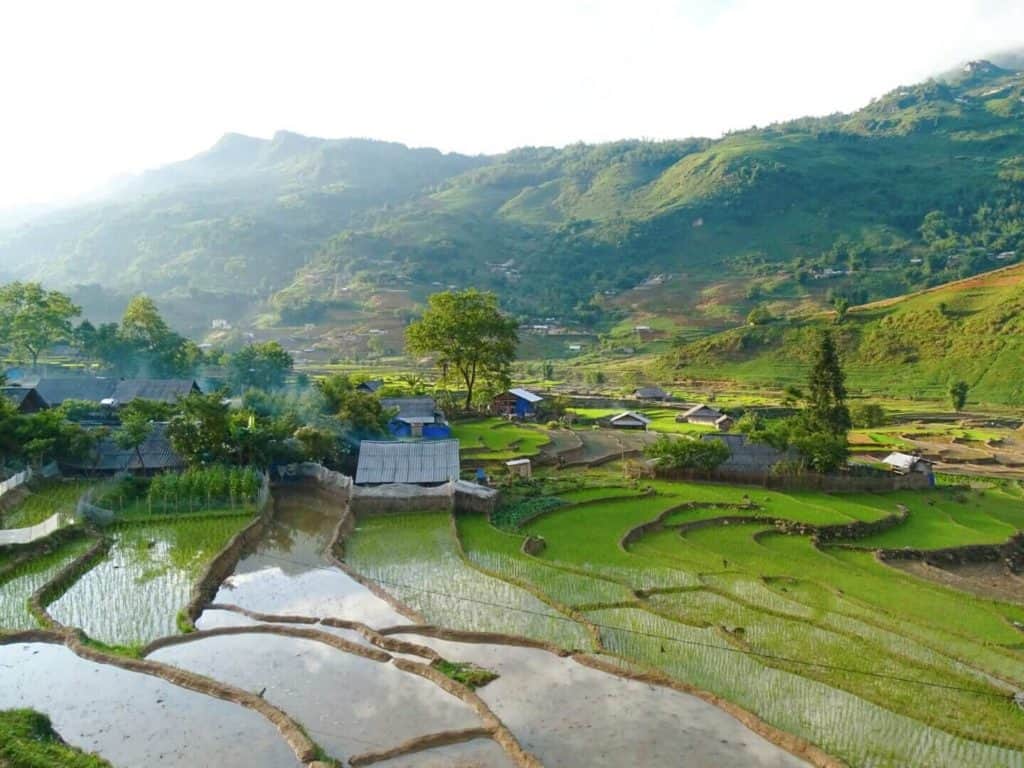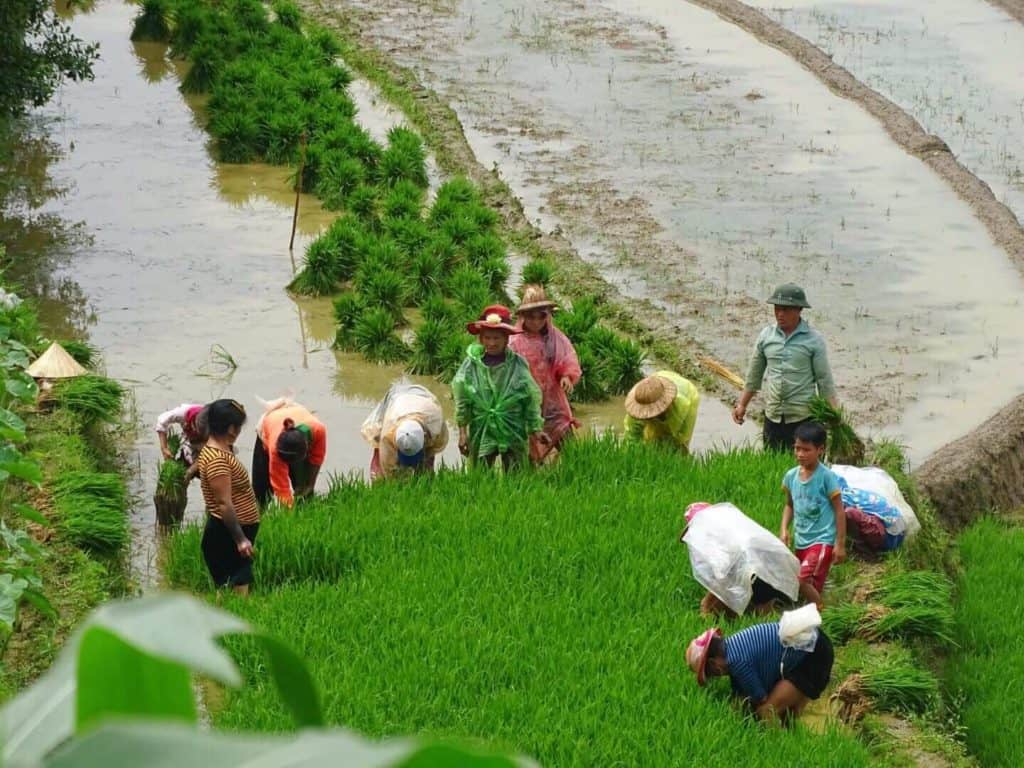 Exploring Sapa town
Day 2 of our Sapa itinerary ended back at the hotel in Sapa town where we'd left our luggage the previous day. Even though the homestay hadn't been overly basic (we'd still had hot showers and electricity), it felt good to sleep in a hotel bed.

In three years of travelling, I can probably count the times I've stayed in a hotel on one hand so it's not hard for me to feel pampered!

As we'd arrived just after lunch, we had free time to explore Sapa town in the afternoon. We headed to the museum to learn a bit more about the history of Sapa and tribal groups in the area, then had a less cultural pitstop of coffee and cake at a cafe.
I didn't fall in love with Sapa town which was more about Italian pizzerias and haggling over massage prices than it was the dreamy, surrounding scenery. Still, at least it provides a necessary base while you explore the amazing sights around it.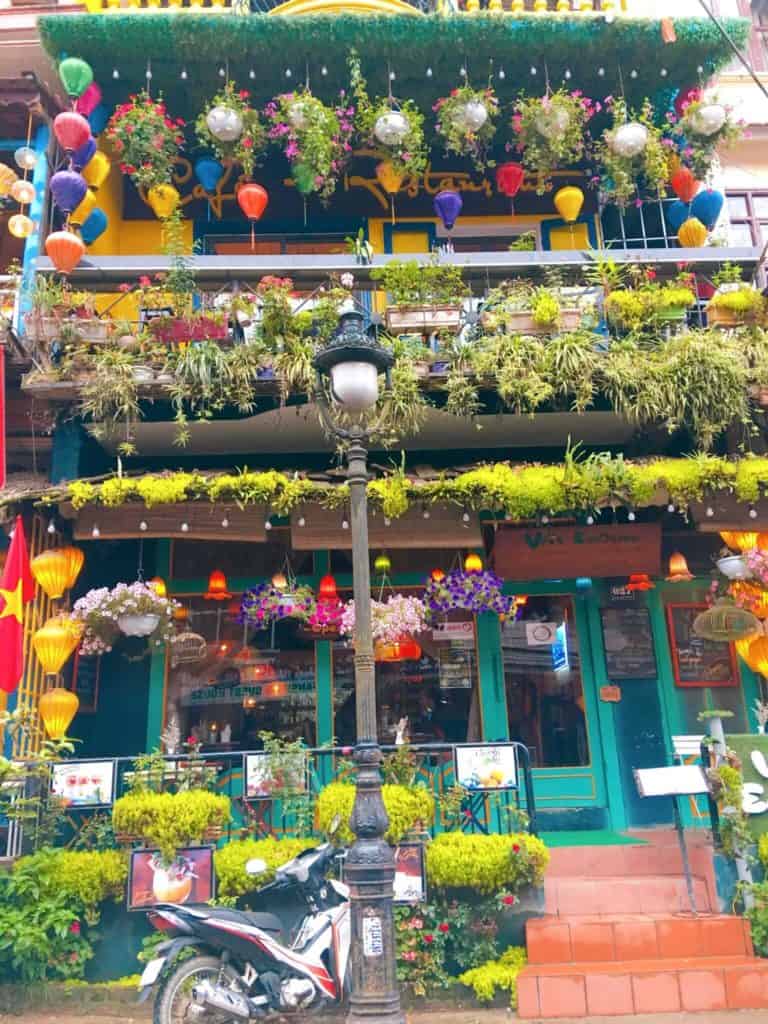 Day 3 – Cat Cat Water Village and back to Hanoi
For the final morning of our 3 day Sapa itinerary we experienced some truly dreamy scenery as we walked from Sapa town to Cat Cat village.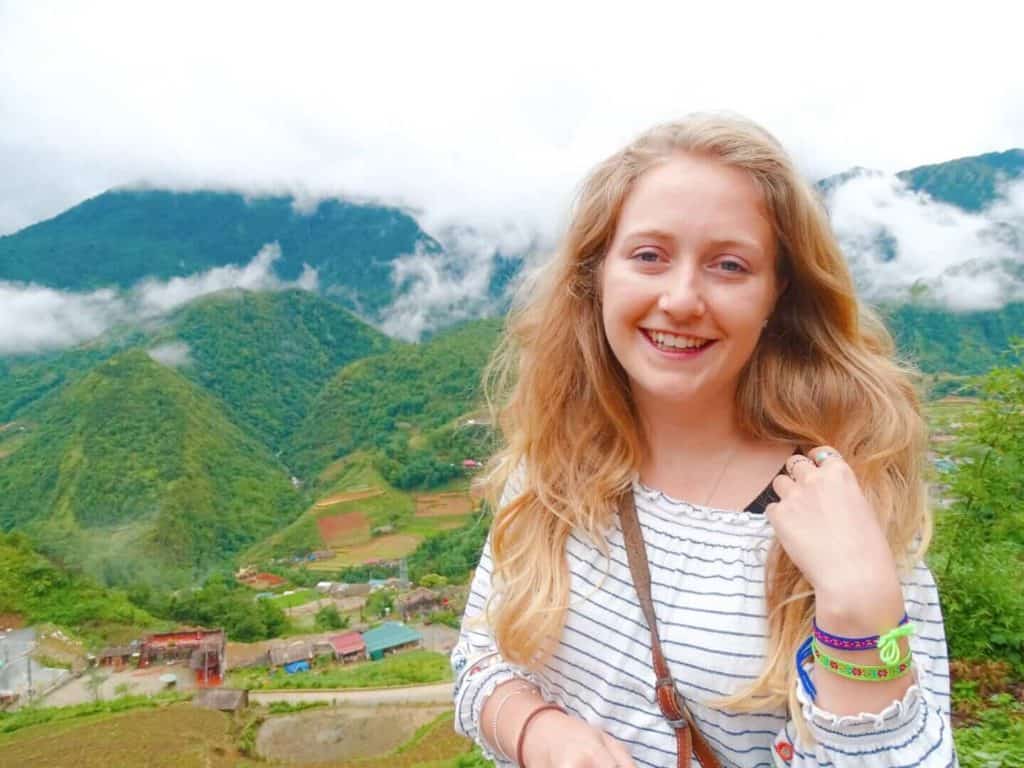 The misty mountain views were the highlight! The village was intriguing with a water wheel and lots of bridges but honestly, I found the whole thing over touristy and just awkward as we were constantly being marched by row upon row of handicrafts and urged to buy.

I probably could have skipped out on the whole thing and not regretted it. That's just me being honest – I don't want to sugarcoat every travel experience I have for this blog.

I'd already learnt that my favourite part of Sapa was the majestic mountains. Saying that, I probably wouldn't be in Sapa at all without the tourist industry. I'm a tourist too, I know.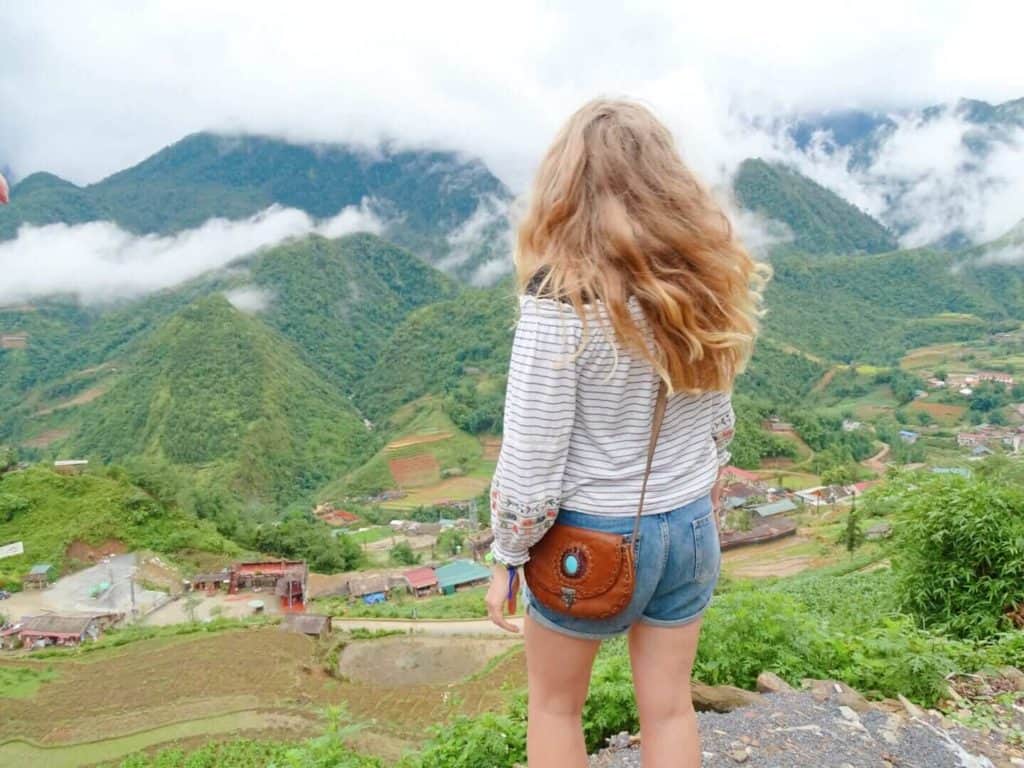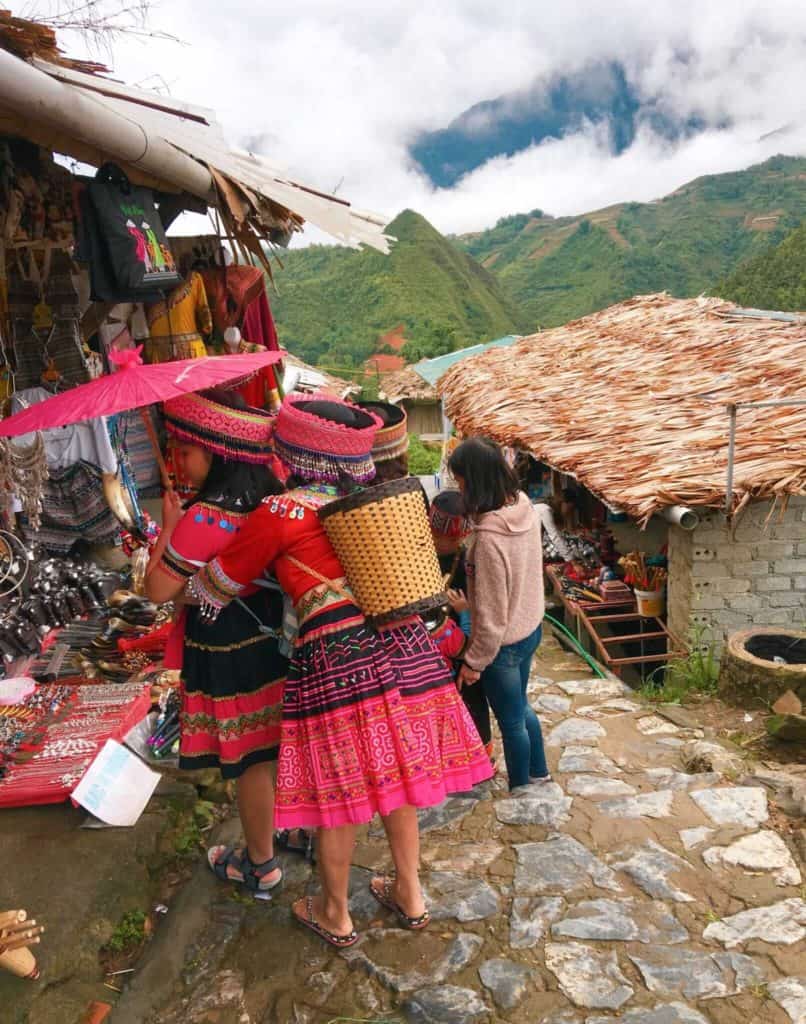 At the end of our Sapa 3 day itinerary, we boarded the bus back to Hanoi. It was the same one we'd arrived in and we had bunk beds to relax in even though it was the middle of the day.

While I was sad to leave Sapa, I was excited as our adventures moving down the coast started the following morning. We had just one evening in Hanoi where I (still on early trip mode!) encouraged an outing to Vietnam's only jazz club followed by an early start to see Hanoi's colourful mosaic wall.

Finding these Hanoi hidden gems was pretty much my last energetic stint before our action-packed schedule and a bout of sunstroke hit me in Ninh Binh!
Booking a Sapa tour
As you can tell, I loved getting deep into the countryside and meeting the local people during my Sapa trip.

If you're keen to do the same, book a tour that includes a homestay. This will be in one of the local villages which means you'll definitely spend a considerable amount of time based in the countryside and see it on at least two consecutive days as you travel there and back. Spending the whole time based in Sapa town may not allow for this.
Thanks for reading!
Check out my other Vietnam posts:
See you next time for more adventures,
Rose
Ps. Liked my Sapa itinerary for 3 days? Pin this for later!