This post may contain affiliate links to things like tours, hotels, Amazon associates and products. These help me earn a small commission at no additional charge to you.
Dublin is a must on any Eurotrip. Whether it's your first or 15th visit, you won't run out of things to do – or drink.
The word 'lively' comes to mind when thinking back on my two days in Dublin, Ireland. The Irish are friendly, chatty and love a good pint. On returning home I had to go for a giant 12-hour sleep to recover from my nights singing to live music in pubs… I also had to go on a diet after all the Guinness and hearty pies, pancakes and stews. I'd do it all over again, though.

The most famous area of the city is Temple Bar. Before arriving I was a bit confused because so many restaurants and hostels described themselves as being in Temple Bar. I was like… how big is this bar??

Turns out Temple Bar is the area. But to add to the confusion, there's also an actual bar called The Temple Bar. I spent two nights in here and it's a great atmosphere, even if you can find cheaper and less touristy options elsewhere.
Day 1 exploring Dublin
Fill your first morning with some of the city's sights which are all within walking distance of the city centre. I'd recommend these stops:
Trinity College
It doesn't take long to wander around Ireland's most famous university, Trinity College. I spent less than 20 minutes in total but there are guided tours if you want to learn a little history and stay longer.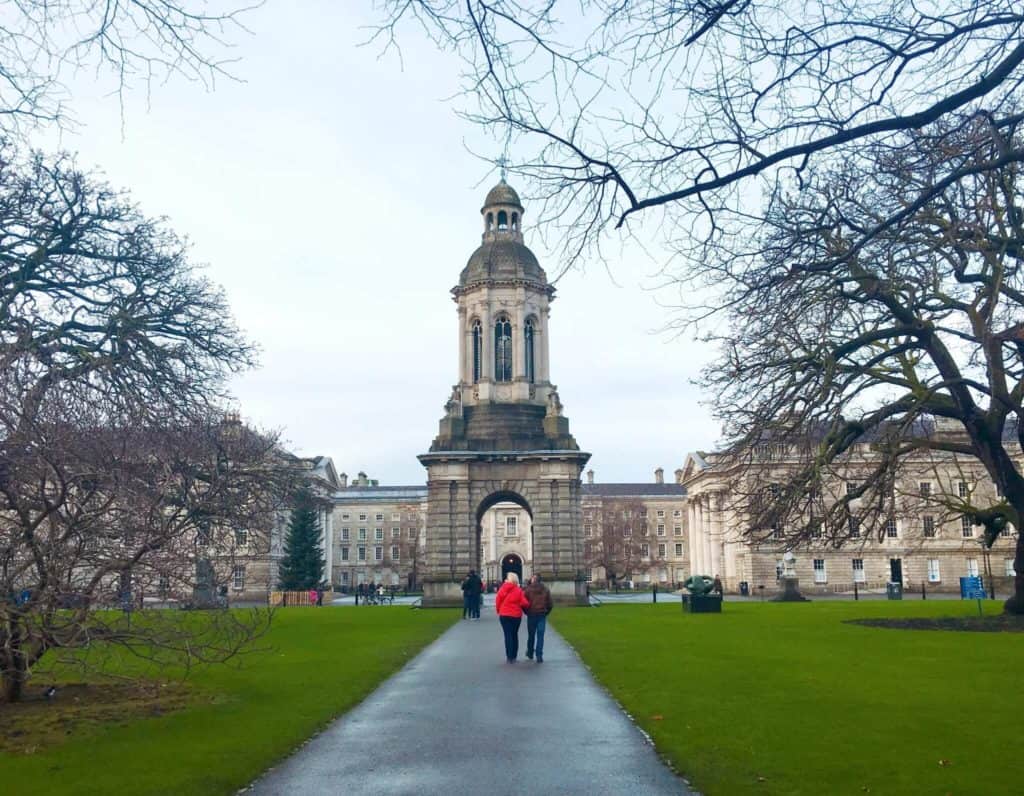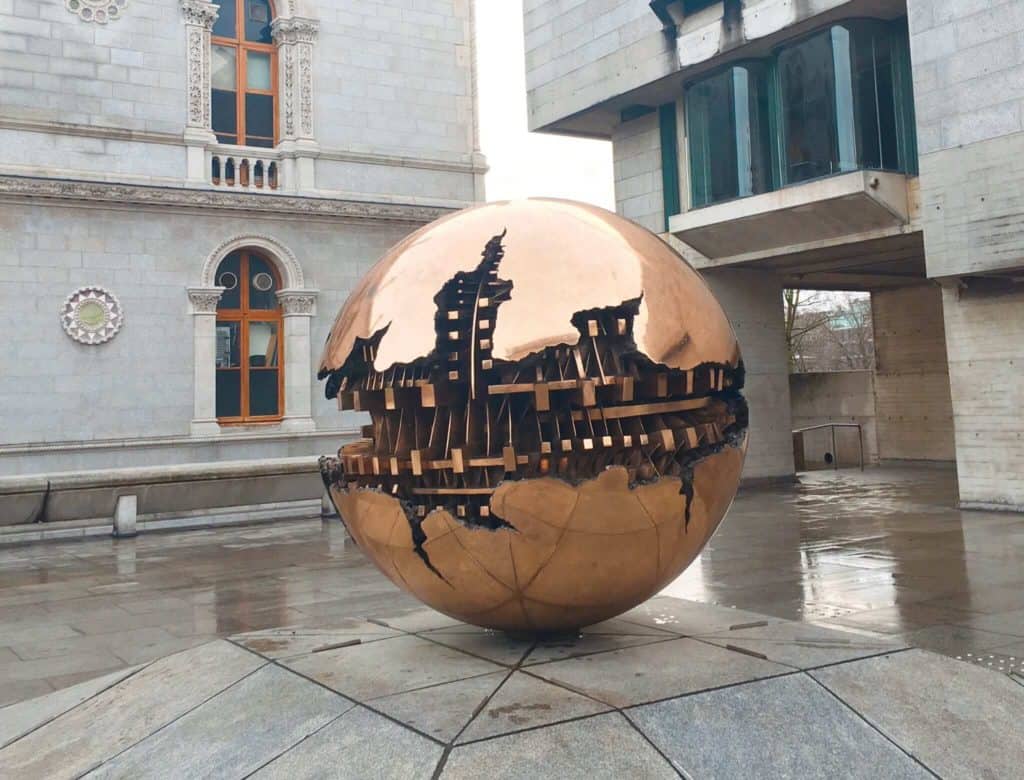 The Book of Kells in Trinity's Old Library
Don't leave Trinity before seeing Ireland's most famous artefact, the Book of Kells, which contains the gospels of Jesus' life and was written in the 9th Century.

Yep, when that book was written, Vikings ruled Britain and we wouldn't even be hearing the word 'Australia' for 1,000 years. There are only four books in the world older than the Book of Kells and two of those are carved into gold! It's €13 to enter the exhibition and see it but well worth it if you're a history fan.
The colourful doors of Merrion Square
Walk 10 minutes from Trinity College and you'll find tens of colourful Dublin doorways set around leafy Merrion Square. Your Instagram feed will be happy for weeks.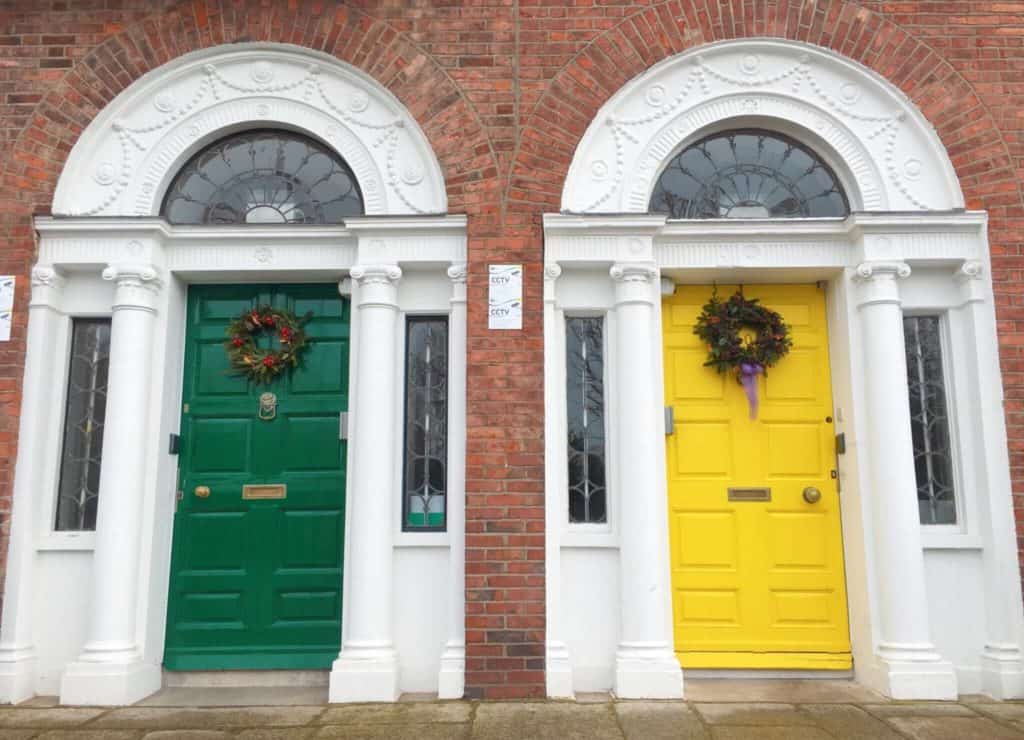 Lunch – Gallagher's Boxty House
For a proper Irish feed it doesn't get much better than a boxty – or a potato flour pancake to you and me. These come with different fillings but mine was stuffed with corned beef, cabbage and a cream sauce. Boxty House is in Temple Bar so you can combine lunch with a wander of the cobbled streets.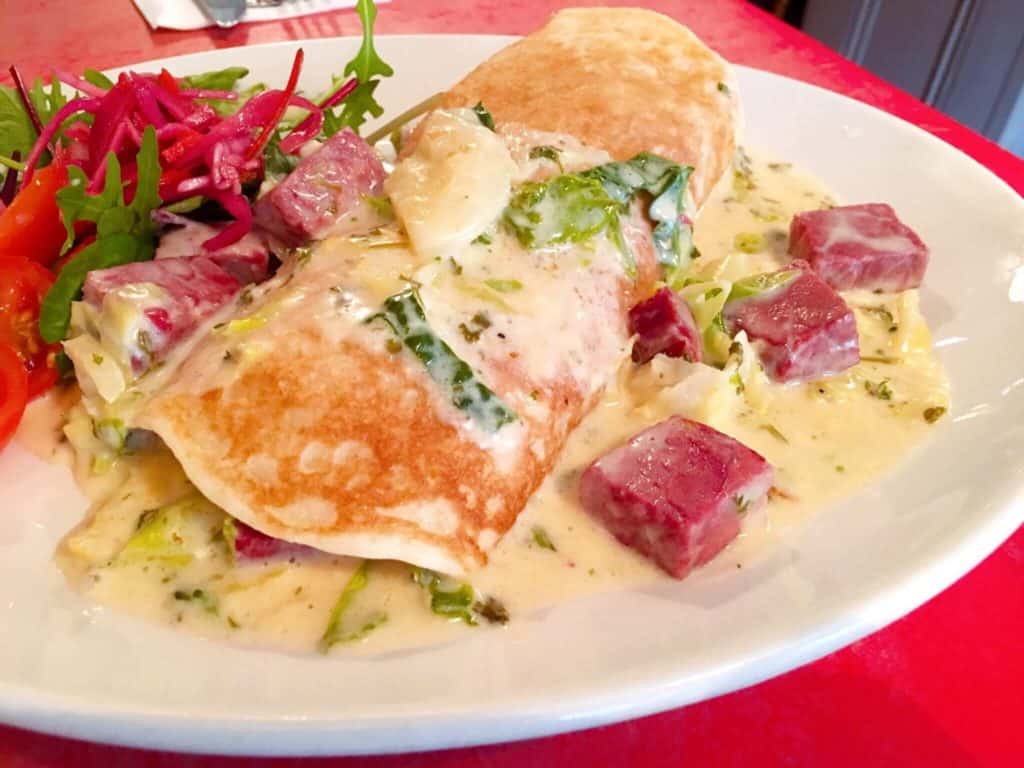 Tip – dine off the brunch menu if visiting before 3pm as the prices are considerably cheaper than the main menu.

Walk off your lunch around Temple Bar and see the sights. Just two minutes away you'll find Ha'Penny Bridge and the river.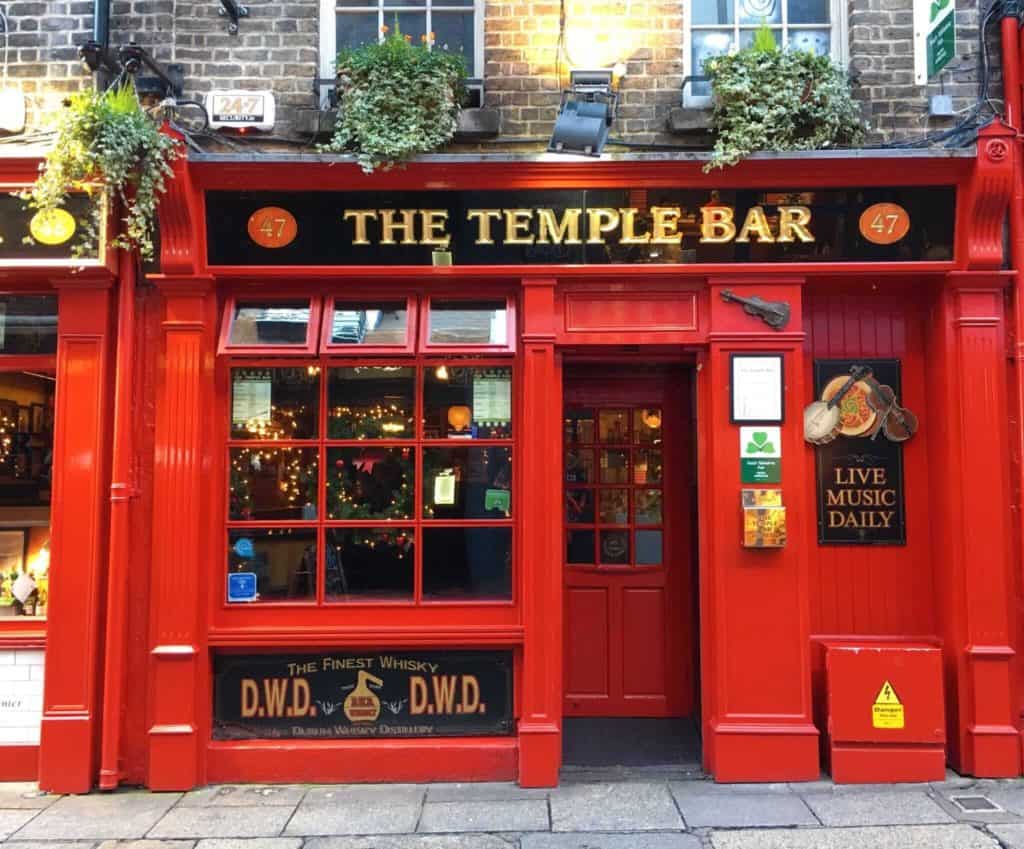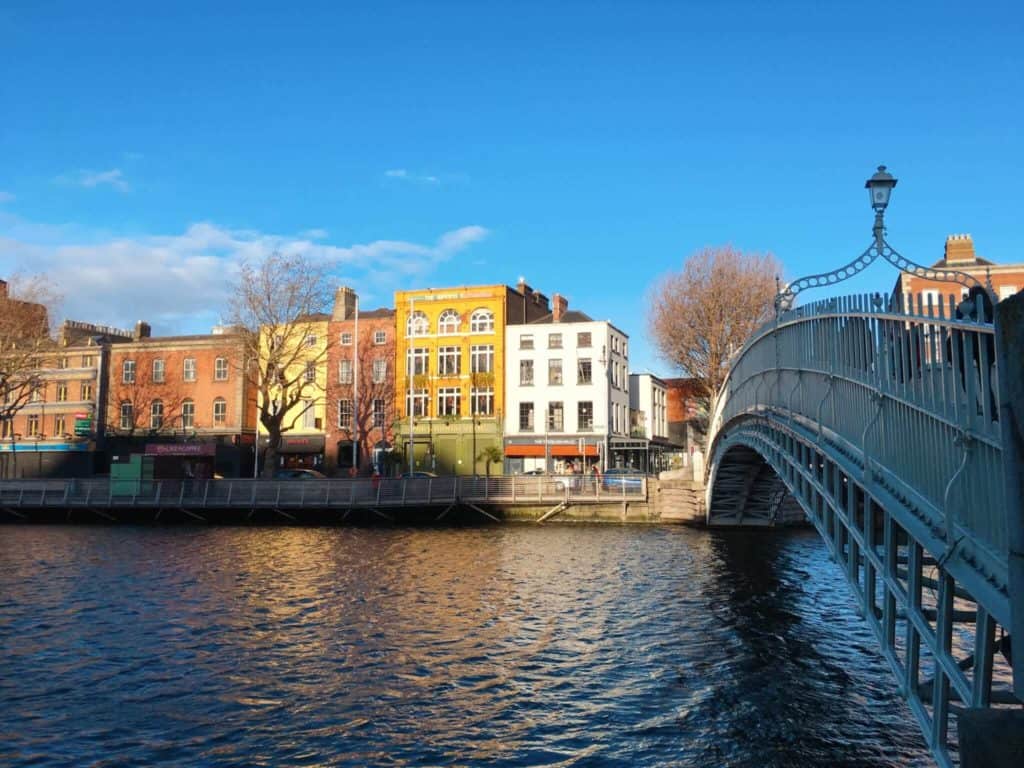 Afternoon – Guinness Storehouse
Honestly, I'm not the biggest Guinness fan but it's still worth taking a trip to Ireland's most visited attraction, the Guinness Storehouse. You'll have some tasters, enjoy a pint at the top and master the art of pouring one.

I liked the lights display visualising the fact that there are 30 million bubbles in each pint.
Top tip – book online to save 30% on tickets on the door.
Evening
Your options include checking out some of the city's restaurants (see my list below) or heading back to Temple Bar to experience the Irish nightlife. The Quays Bar and The Temple Bar are two of the liveliest spots but you'll find plenty of others too.
Day 2 in Dublin
Howth Cliff Walk
Catch the 31a bus from Dublin's Busáras Bus Station to Howth Railway Station (a 35-minute ride, €3.30 each way). From there you can explore the quaint town of Howth and also walk the 6km loop track around the peninsula. It's a beautiful walk which takes around two hours. If you don't fancy the whole thing, you can take part of it and walk back on yourself.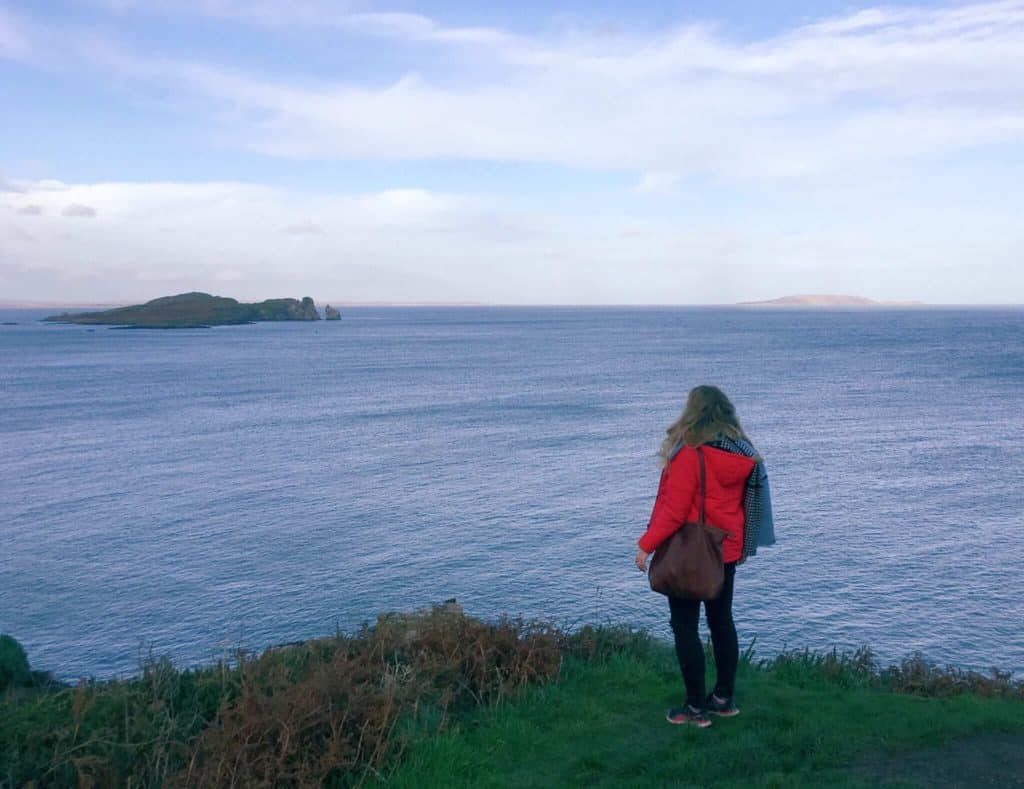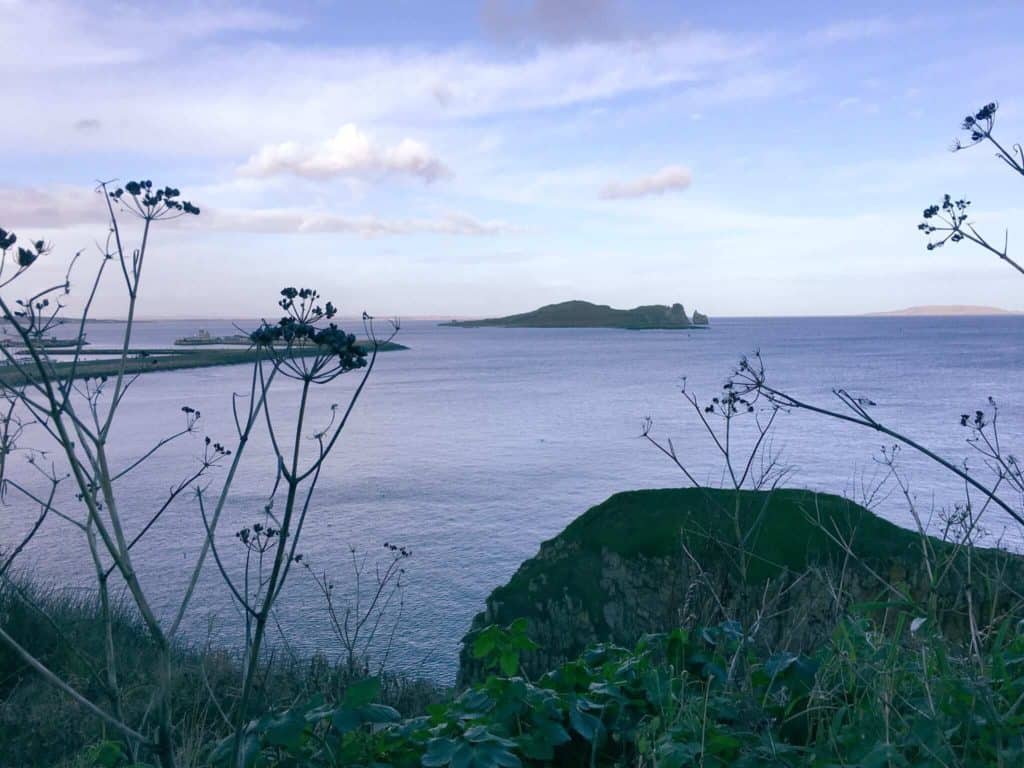 Afternoon
Grab a lunch or a late brunch in either Howth or back in the city centre. If it's sunny why not head for a picnic in…
St Stephen's Green
Did you know there's a 22-acre park right in the middle of Dublin? It's full of flowers and features the same Victorian design it's had for many years.

Fun fact – when Irish republicans were at war over British rule, they fought in Stephen's Green but ceased fire once a day so the groundsman could feed the ducks!
The Little Museum
The best place to learn about Dublin. You can wander the bottom and top floors by yourself but to visit the middle floor which contains the most Irish history, you have to join the hourly tour (included in the €10 entrance fee). This was great as the chatty museum director gave us a funny and factual view of his city and its past. I didn't book my tour in advance but you can get them on the website in case they sell out.

The most interesting fact I learnt was that in Ireland's days of hardship, a census showed that over 800 people lived in just 15 houses. Crazy!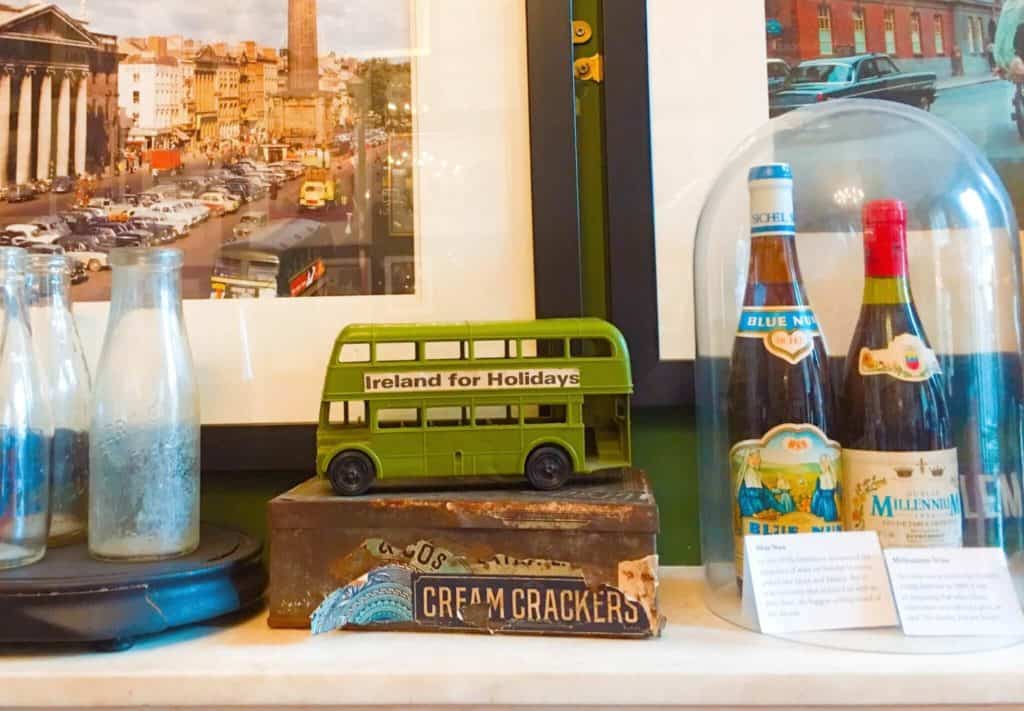 Evening
If you want to escape to a slightly more local spot on your last evening and don't mind travelling outside the city centre, check out:
Johnnie Fox's Pub

, Glencullen – perched on top of a mountain, this is the highest pub in Ireland and a real experience with local music and first-class pub grub. For €10 you can get a return shuttle bus from the city centre
The Blue Light, Sandyford – a real little Irish pub with views over the city
The Exchequer – upstairs is the place to be for catching up-and-coming comedians.
Where to eat in Dublin
First, let me say I loved the Irish food. The traditional dishes are meaty and heavy like this pie I tucked into in Galway. There's plenty of world cuisine if that's not your bag and a focus on fresh, high-quality ingredients – and veggies and vegans will be well fed, too.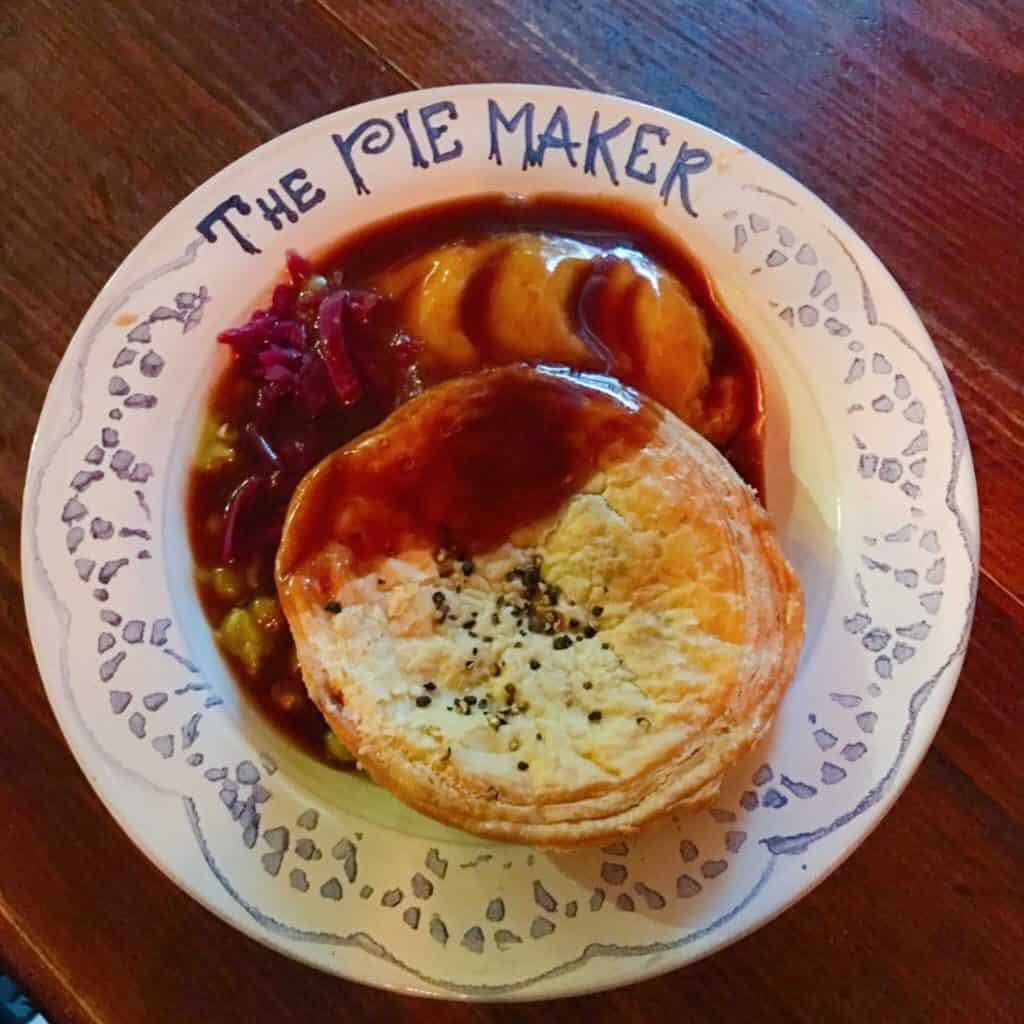 Even though I didn't get around to dining at all these Dublin eating holes myself, I have two lovely Irish friends who have lived in Dublin for 30 years and recommended me the best gastronomic spots for this blog. Check out:
Cheap eats
Fish Shop – award-winning and you can get mussels and chips for €12. What more could you want?
Green Bench Cafe – barbeque pork sandwiches for just €6, plus breakfasts, barista coffee and giant scones. SOLD.
Skinflint – the best pizzas in Temple Bar for around €12, as well as salads and small plates.
Splash out
Cleaver East – fancy brunch and bottomless mimosas. You'll also get a similar deal around the corner at Beef & Lobster which is run by the same people. All the mimosas you can drink are €18 plus the price of your brunch dish (€10-20).
The Winding Stair – a creative hangout popular with writers, artists and musicians, this bookshop and restaurant is about hearty home cooking and views of Ha'penny Bridge.
L'Gueuleton – fine French dining. Prices for dinner are about €25 per main but if you want to treat yourself this is the place to do it for the quality ingredients.
Top tips – brunch in Dublin is a big deal and very affordable. Usually, there's a separate menu and even at more upmarket places (like the three above) dishes are half the price of those on the dinner menu. I ended up eating my big meals in the daytime and having cheap, snacky things in the evenings.
Where to find the best coffee
3fE – known as one of Ireland's leading coffee roasteries, 3fE was set up by an ex-investment banker gone caffeine mad. You can sample a tasting menu of all the house blends if you're unsure which to pick.
Kaph – a minimalist cafe with great coffee and cakes even for those who are gluten-free/vegan.
Frank and Honest – probably the only time I'll recommend a convenience store to you! You'll find this gourmet coffee chain inside Centura stores and not only are the beans ethically sourced from Brazil and Colombia, they even serve my favourite matcha lattes.
Where to stay
Save: I stayed at Kinlay House Hostel which wasn't particularly special but did the job with comfy beds and a buffet breakfast, plus for €15 a night you couldn't be better located (just a two-minute walk from Temple Bar).
Splurge: Right in the centre of town, you'll find Trinity City Hotel just five minutes from the famous college. Stylish rooms from £110 per night.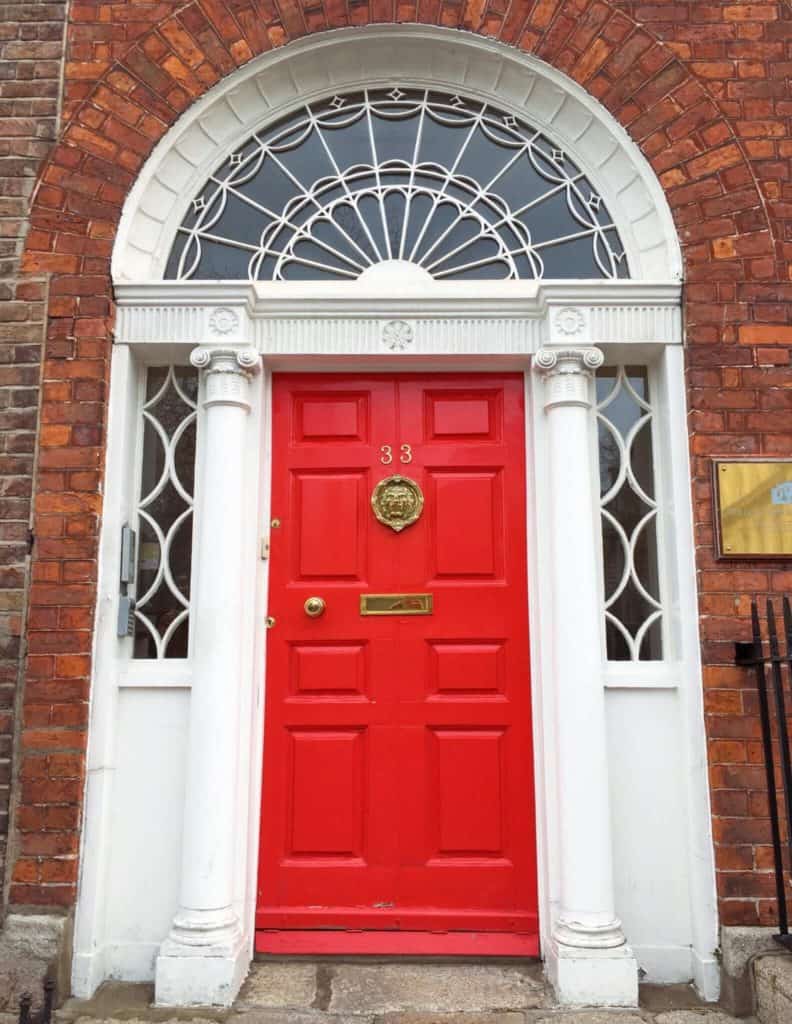 Getting around
I saw Dublin by foot and paid in cash for the odd bus journey. Alternatively, you can take the Hop-on Hop-Off bus. Get the 48-hour pass for €20 which includes your journey from the airport.
Getting there/away
Dublin airport flies all over – my flights to London were only £40 return.

The Airlink Express, aircoach, 700 and 747 buses all travel between the city and the airport, taking 30 minutes and costing €7 each way.
Where next?
If you're not jetting off home, you might head to Galway or Cork. Or why not take a trip to the Cliffs of Moher? It's easier to visit from Galway but if you're short on time, take a day tour from Dublin.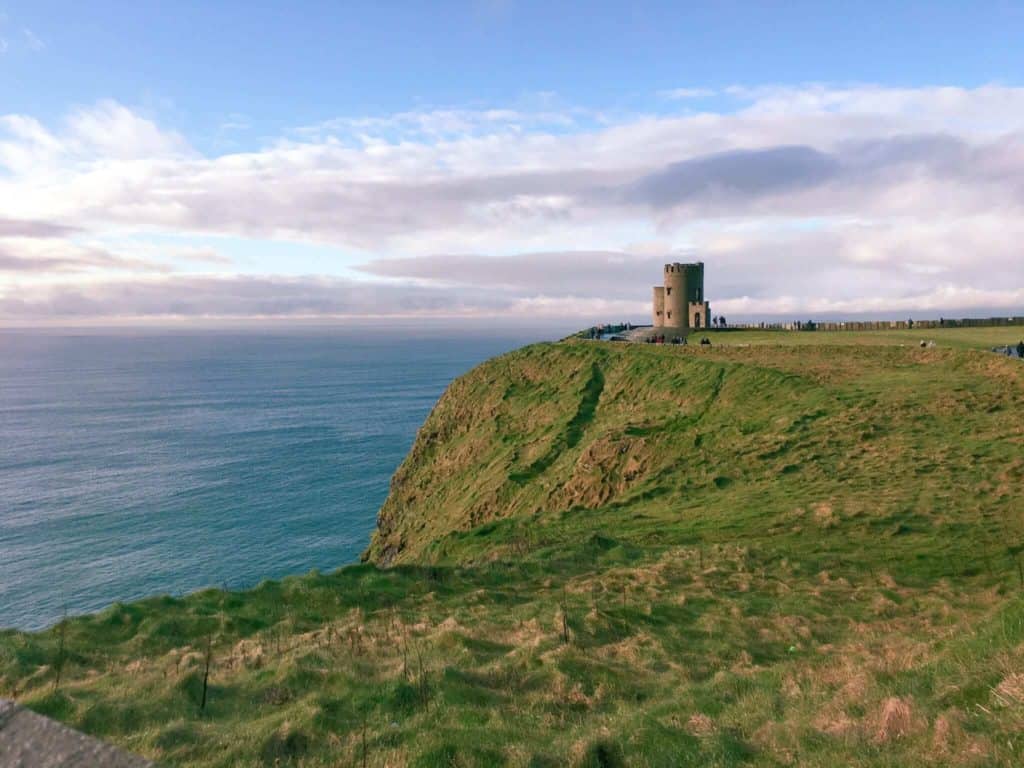 Thanks for reading!
If you liked it, please share it 🙂
Check out my other Ireland blog posts:
See you next time for more adventures,
Rose
Pin this blog for later!