This post may contain affiliate links to things like tours, hotels, Amazon associates and products. These help me earn a small commission at no additional charge to you.
Hidden gems in Hanoi
So if you're keen to see more than the main museums and temples of Vietnam's capital during your Vietnam itinerary, consider visiting these Hanoi hidden gems. I hope there's something here for everyone!
1. Hanoi Mosaic Wall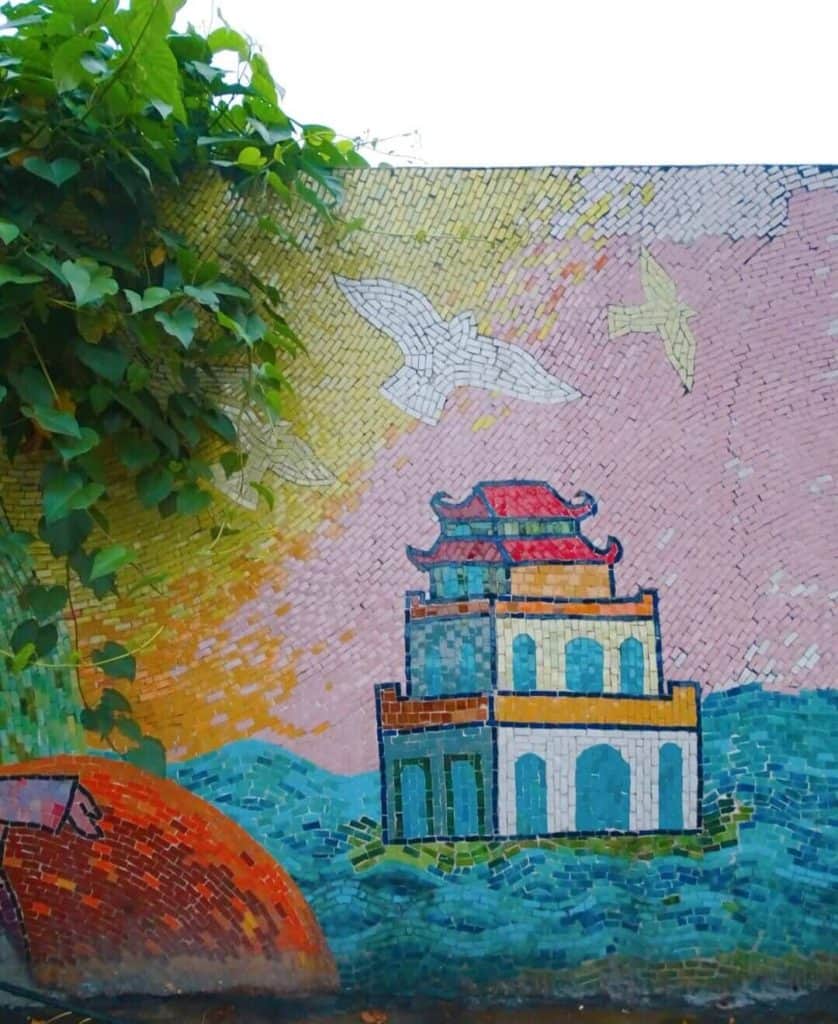 The Hanoi hidden gem that's biggest in size might receive the smallest amount of attention. The Ceramic Mosaic Wall is 6km long – enormous! I couldn't run that far let alone pave every inch of wall with tiny mosaic pieces. I can't imagine how many people were involved but I do know that it took three years, from 2007 to 2010.

It was created to celebrate the millennial anniversary of Hanoi, otherwise known as its 1,000th birthday. The images depict everything from famous Hanoian landmarks to local people, religion, myth, and cartoons for the city's children.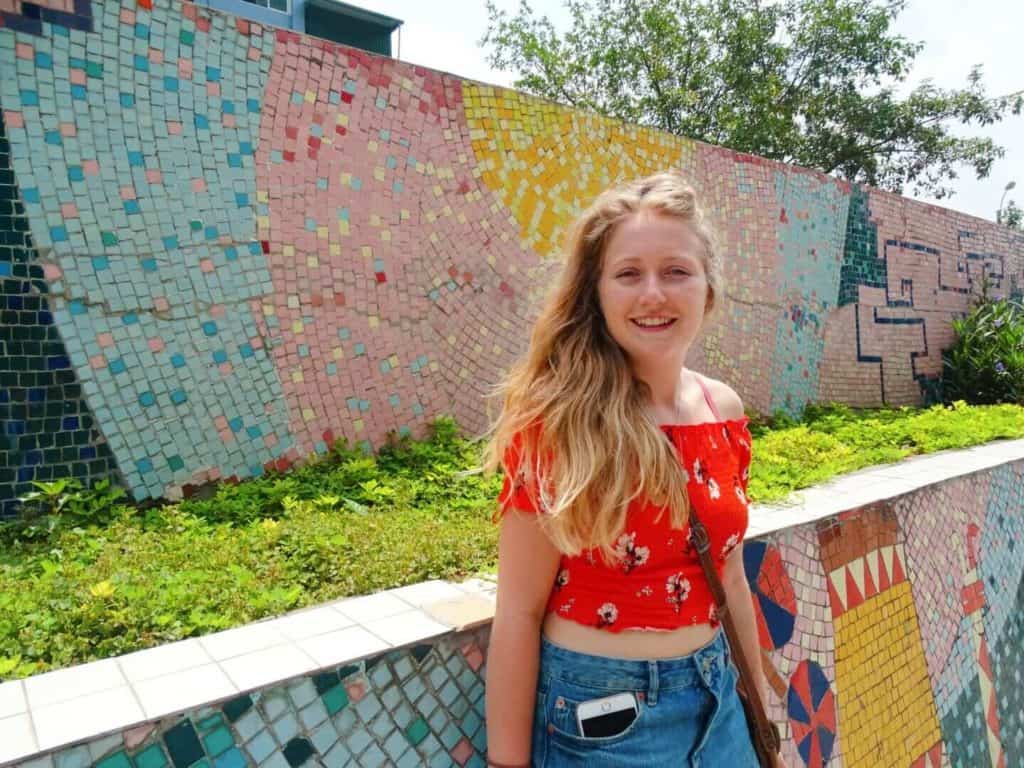 The only downside to the Mosaic Wall is that much of it runs along the highway. As you're right up against it, it's hard to step back (unless you want to brave the traffic!) and take a photo or view the bigger picture.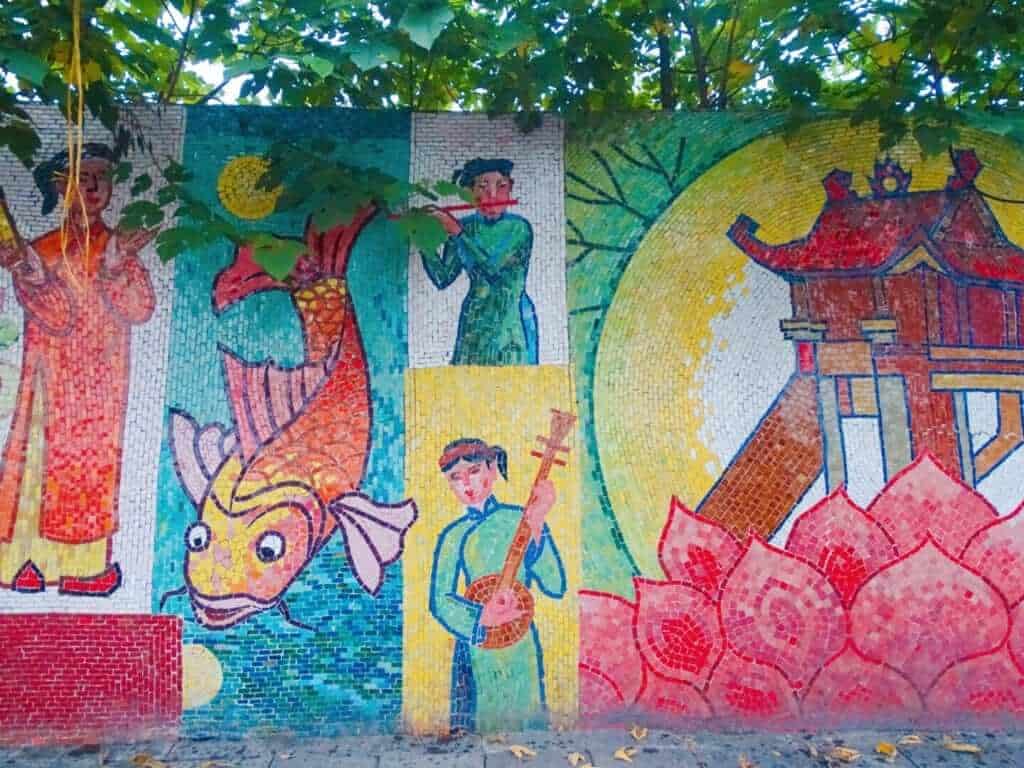 The best spot I found was by total accident whilst visiting another of Hanoi's hidden gems (which I'll mention below). Outside the entrance to Long Bein Market there are plenty of detailed designs and a bit more room. Find the art to the right (if you're facing it) or head to the location pinned here.
2. Binh Minh Jazz Club
Jazz in Vietnam? This quirky activity should be on every traveller's Southeast Asia bucket list.

I've never been a fan of jazz before. That all changed the night we ran into Binh Minh Jazz Club to escape the rain. This low-light, smokey bar is frequented almost every night by Quyen Van Minh, the man who bought jazz to Vietnam. I'm not sure if he ever takes a night off – if he does, I feel sorry for whoever visits that evening!

After hearing the American greats on the radio, Quyen Van Minh was left inspired to practice the music himself. Since then, he's performed with many of the greats himself and displays the signed photos to prove it.
As someone who doesn't know her jazz, I was totally captivated with the energy, enthusiasm and sheer talent of the performances. A few times Quyen paused to drag from a cigarette but no one cared because he was so damn cool! He could have made us wait 20 minutes mid-song – we were hanging off his every note!
3. Train Street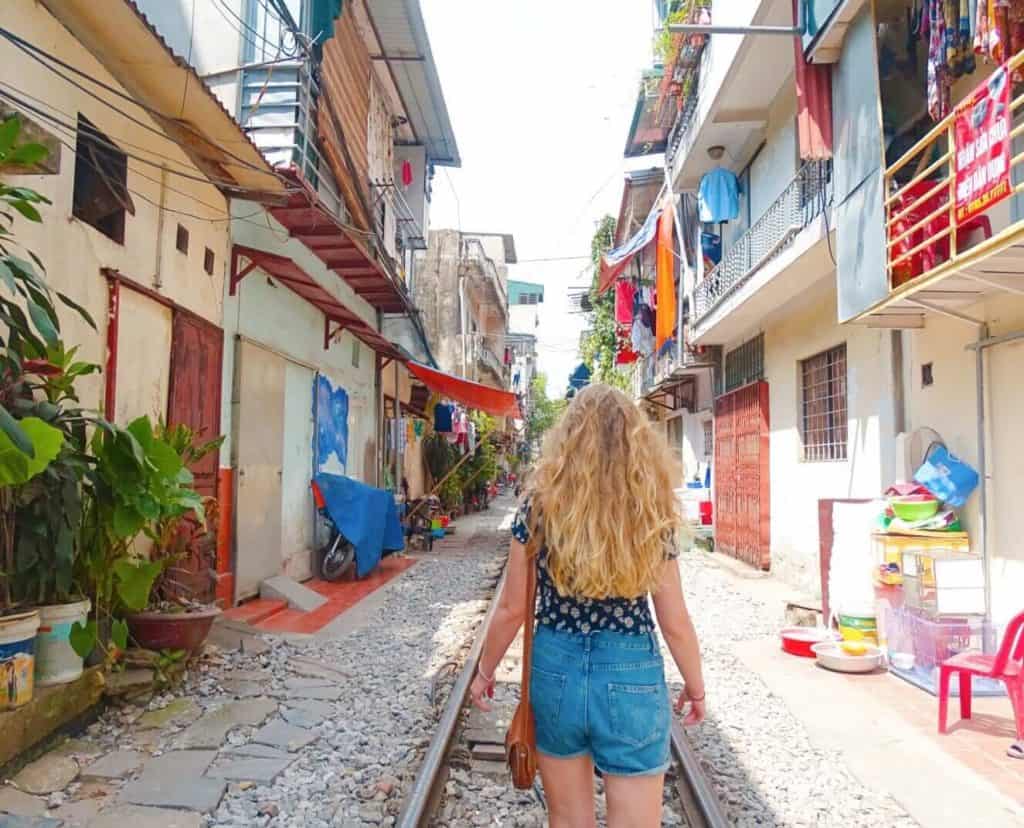 I'm almost sure not whether to class this as a Hanoi hidden gem anymore (probably due to blogs like mine calling it a 'hidden gem' – sorry world). Since you can still see so much local life on the tracks, I decided it's still worthy of a mention.

Train Street is truly one of the craziest places I've been as the railway is far from out of use. A few times a day, the train comes roaring through the city, sending locals and tourists sprawling flat against the walls and rocking the buildings around it (I slept in a room on the tracks for two weeks so I would know!).
Read next: A guide to visiting Train Street Hanoi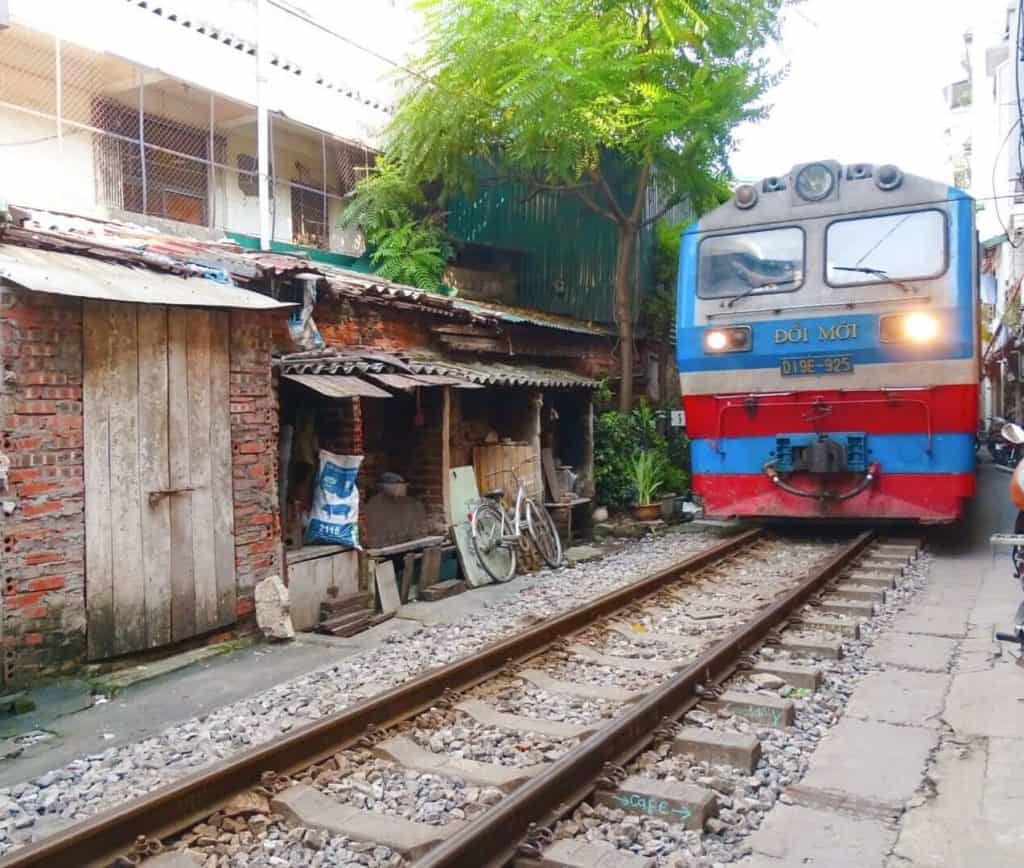 You can drink coffee at a number of cafes whilst watching the train pass or opt to explore at other times of day. The second option is better for ditching the crowds and observing the locals cook, wash, socialise and go about their days.
4. The grand houses of Phan Dinh Phung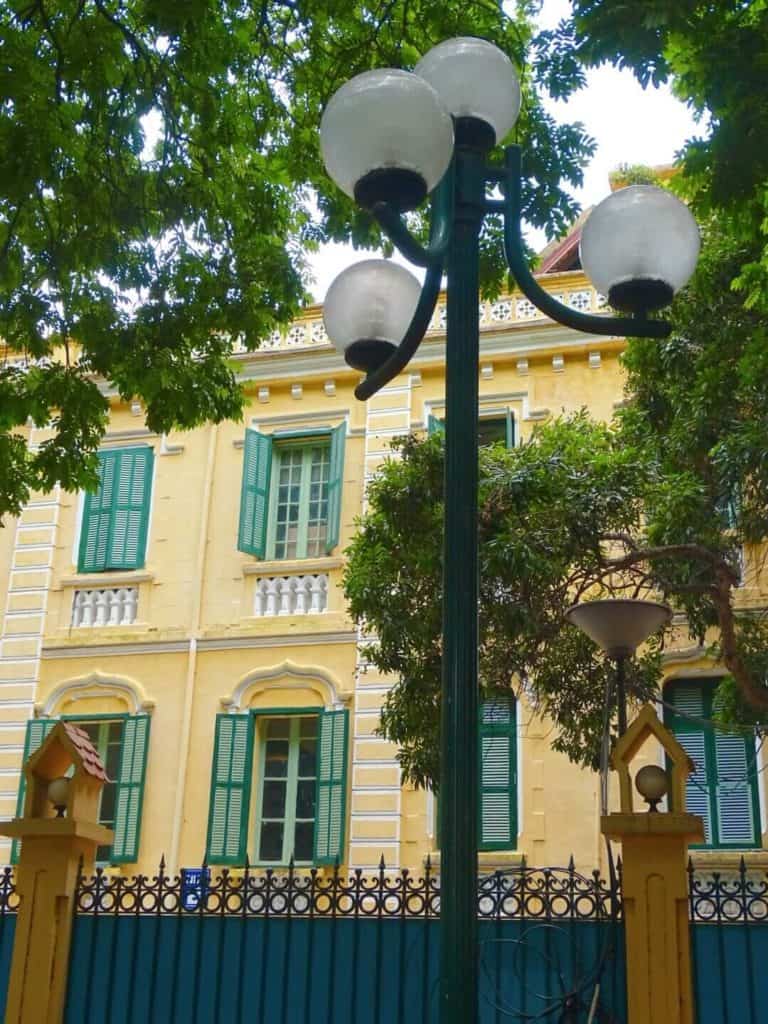 Phan Dinh Phung is one of Hanoi's grandest streets yet it remains a lesser-known attraction in Hanoi.

The impressive houses are shaded by greenery and set aside from city's other attractions, hence why it's overlooked. If you have time, take a stroll and admire the old French mansions, many peppered with contrasting pagoda entrances.

You'll notice Phan Dinh Phung is flanked by police booths. Apparently, the area was once a military compound protecting the nearby Imperial Palace of Thang Long, but its since been opened to the public. One police officer told me to stop taking photos (after I'd already taken a million) but quite halfheartedly and without explaining why. If the Instagram tag is anything to go by, plenty of people take pictures all over Phan Dinh Phung so just assess the situation when you visit.

To find the gorgeous houses, start by locating the sunny yellow Cua Bac Church.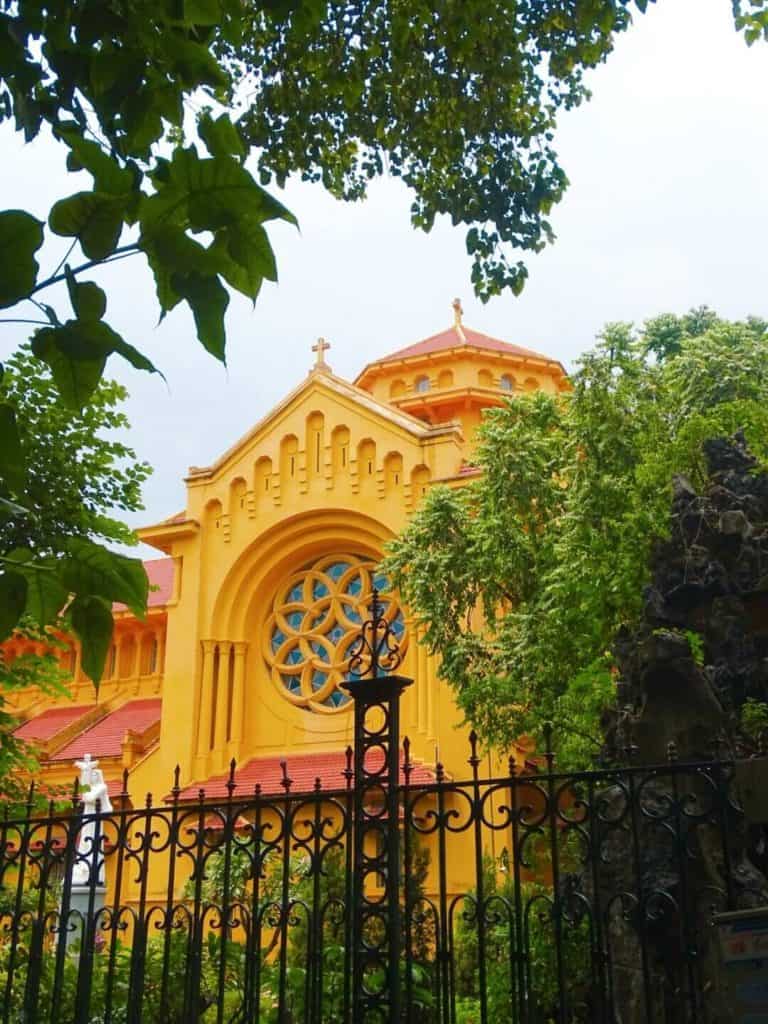 With your back to it, turn right. Don't do what I did – turn left, not find anything of interest and leave, deeming Phan Dinh Phung a dud attraction. A few days later I drove down the street and realised all the gorgeous houses had been metres away, the other side of the cathedral. Doh!
5. Trade Shop #37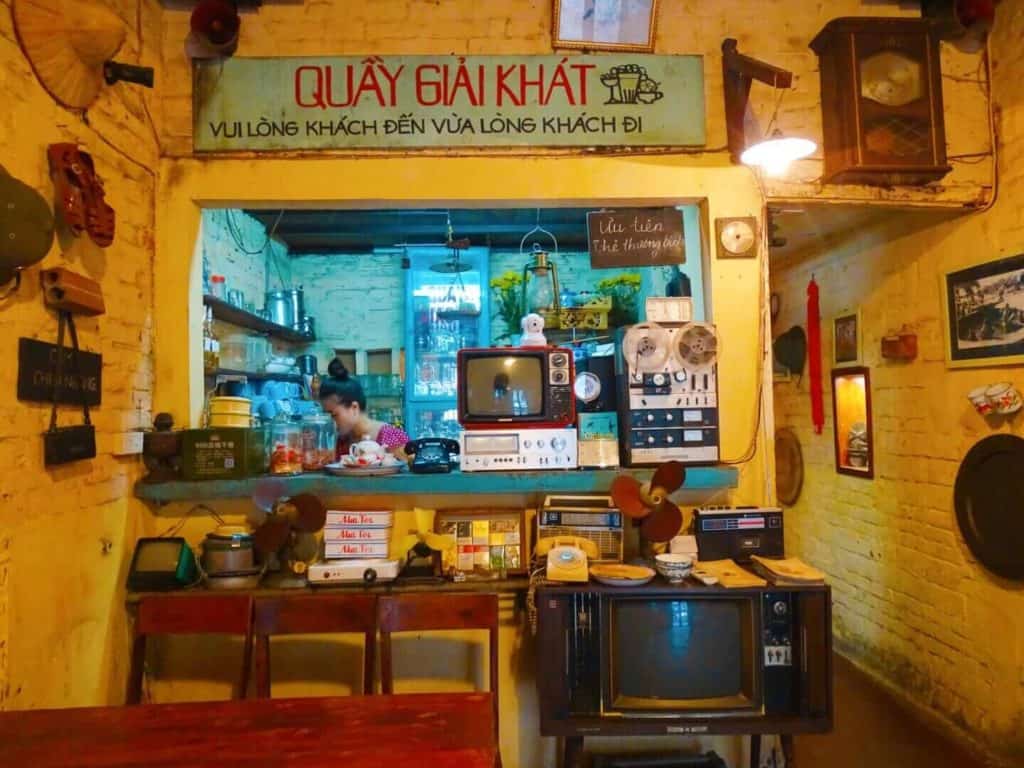 You probably already know but Where Goes Rose LOVES a quirky caf. It's not every day you end up at a Communist, military-themed hang out, is it?

(Actually, if you live in Vietnam and regularly visit coffee giant, Cong Caphe, you probably do!)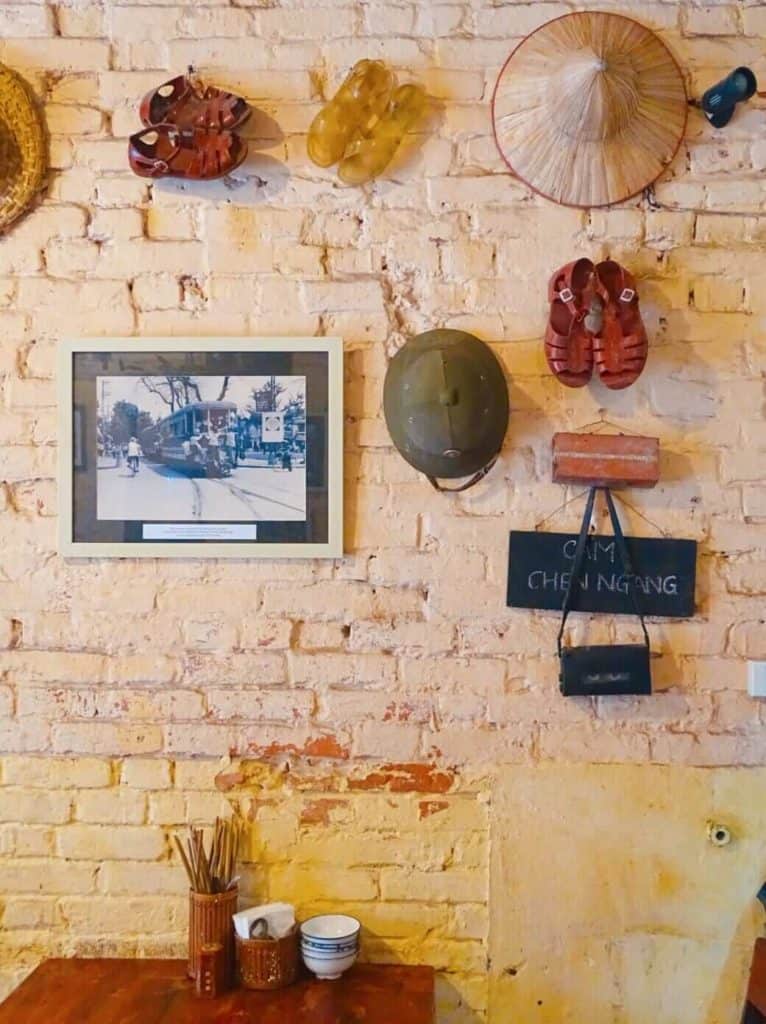 Trade Shop #37 (Vietnamese name Cửa Hàng Ăn uống Mậu dịch số 37) replicates a war era canteen. The menu resembles a ration card and the walls are adorned with 1970s military details. The only difference is that the food served is plentiful and tasty! Find it at 37 Nam Tràng on Truc Bach island.
6. Ngoc Ha
For a fantastic non-touristy thing to do in Hanoi, head to the neighbourhood of Ngoc Ha. This Hanoi hidden gem contender was recommended to me by Emily of the Wander-Lush blog. Since I've enjoyed her recommendations before, I decided to pay a visit.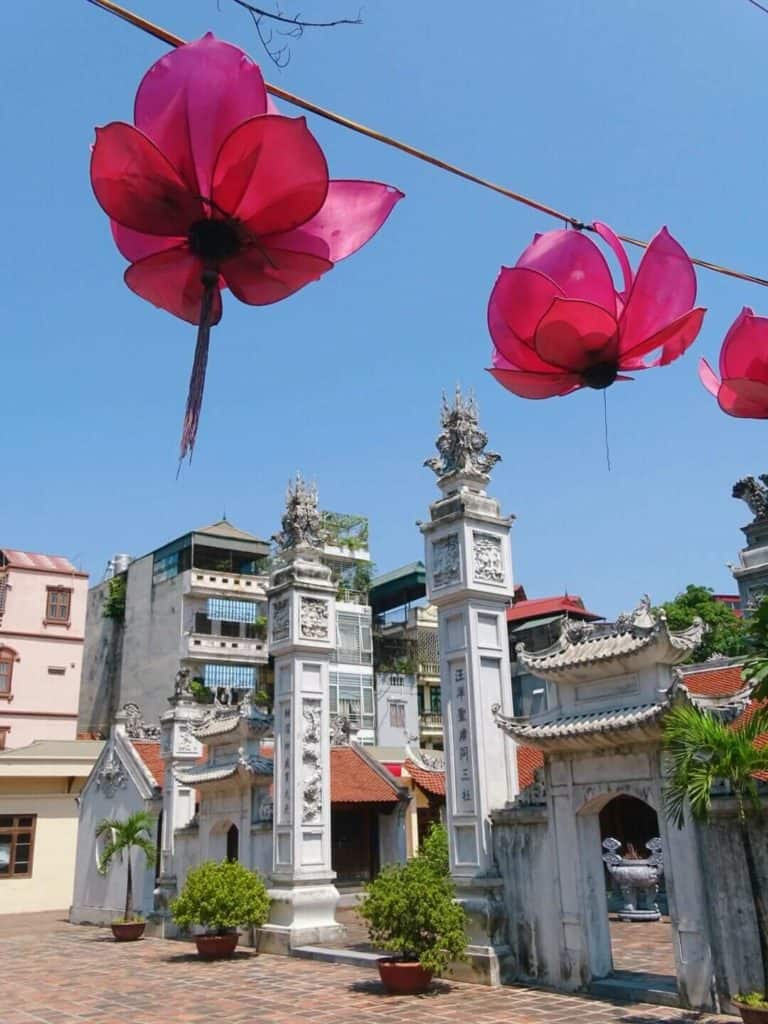 As I walked up the hectic main road, Google Maps informed me I was just one minute away. Hmn. Ngoc Ha wasn't looking like a Hanoi hidden gem, whatsoever! Perhaps this was where mine and Emily's tastes would differ?

Nope – suddenly I turned a corner and a serene, quaint paradise appeared in front of me. The highlight was this gorgeous temple and bridge, not inhabited by another soul.
Read next: Why Ngoc Ha should be on your radar when visiting Hanoi
Ngoc Ha as a neighbourhood is very interesting and local. Take a walk around the ponds, admire the towering houses and get lost in the tightly-packed alleyways. It's also a great place to meet the locals and experience daily life, free from tourist traps. Put Dinh Ngọc Ha into Google Maps and start there (right beside the temple).
7. Long Bein Morning Market
To get off the beaten path in Hanoi, you must visit a morning market. When I say 'morning market' what I really mean is 'dead of night market'. To get the best of Long Bein, you really need to visit by 5am. After this, many of the stalls are selling out and people are heading home. The purpose of Long Bein is to provide restaurants and businesses with their ingredients for the day.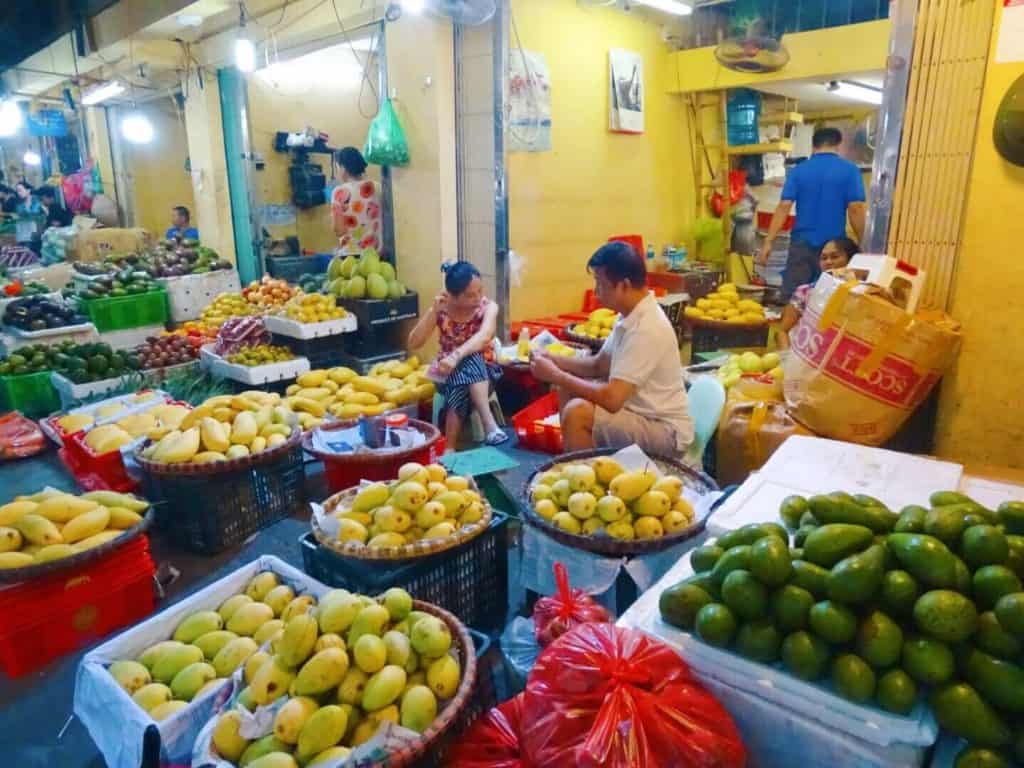 Ever seen street stalls opening up at 6am, already frying up meat and veg? Chances are they bought it at Long Bein two hours earlier. Going there once to take photos was an exhausting mission so I don't know how people work there every day! The market is hectic and tightly packed: an authentic, gritty and very real side to Hanoi. I'd recommend a visit if you have some stamina and don't mind a 4.30am wakeup call.
8. Truc Bach
The only neighbourhood I've enjoyed visiting as much as Ngoc Ha is Truc Bach. This sleepy area of houses and cafes juts out onto Truc Bach Lake (location: here) and is a great place to explore local life and take photos over the water.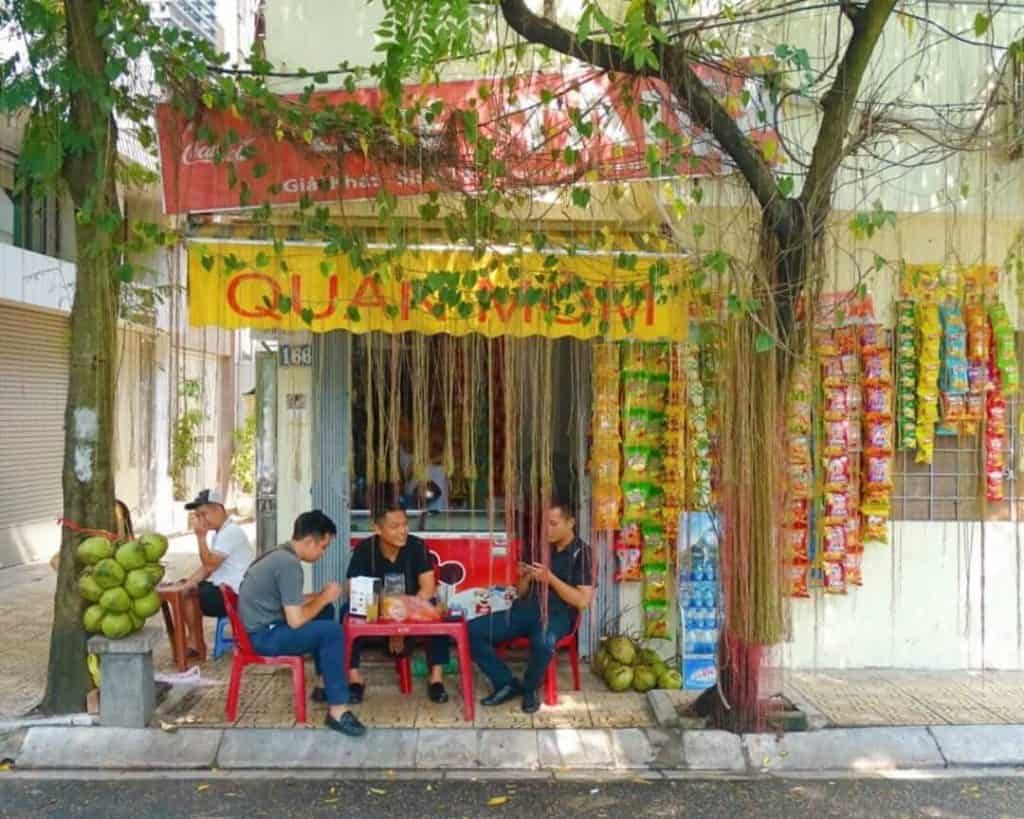 Read next: Truc Bach: photo blog + visitor's guide
This non-touristy area of Hanoi shares a location with State-run Food Shop, so you could combine visiting the two or check out some of the temples in the area.
9. Phung Hung Public Art Project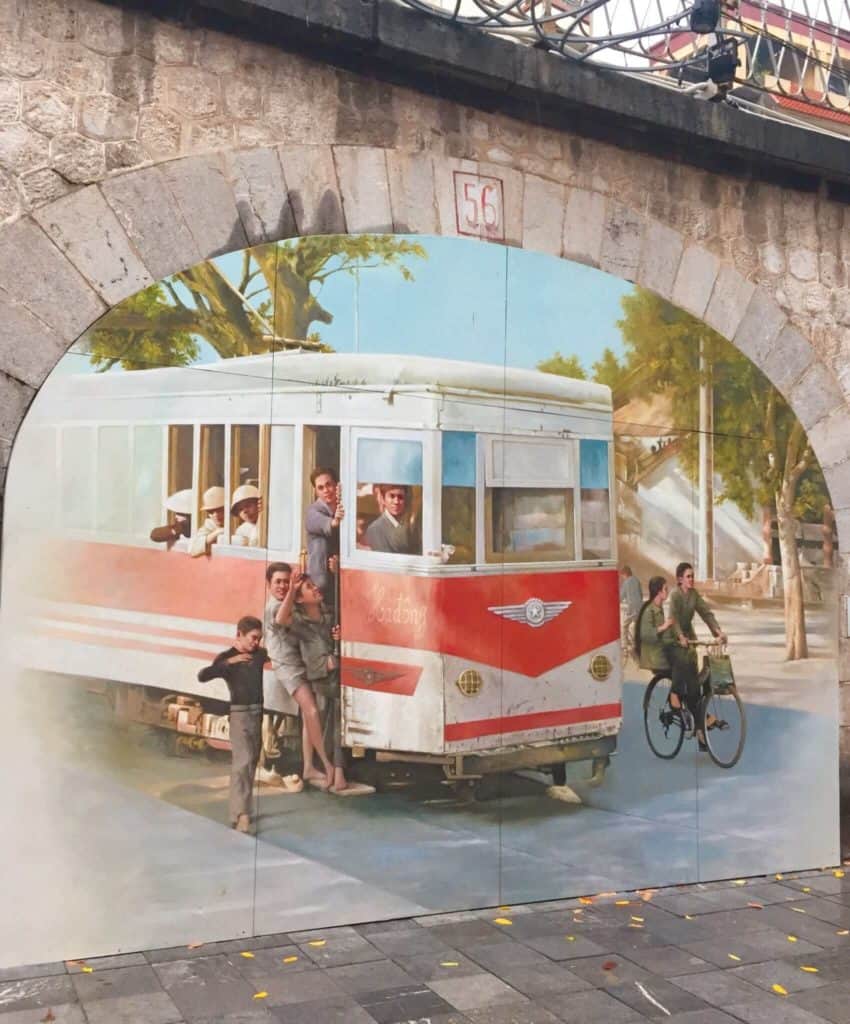 I found this incredible modern art project by accident. I'd got stranded in the rain outside Long Bein Market and after cancelling on some annoying Grab drivers who accepted my journey then ditched me, I ended up getting banned from the app. Super annoying! I was forced to walk home in the pouring rain at 6am feeling very sorry for myself.

That all faded away when I stumbled upon these beautiful murals. The Phung Hung Public Art Project jazzes up the arches alongside Long Bein Bridge thanks to a Korean/Vietnamese art collaboration.

Mural walls are very popular in Korea as I learnt when I visited Tam Thanh Mural Village in Central Vietnam so I was thrilled to discover another one. Apparently, the works celebrate 25 years of diplomatic relations between the two countries.

Aren't they crazy lifelike? Head to 29 Phùng Hưng as the Phung Hung Public Art Project itself doesn't appear to be mapped yet.
Had you heard of any/all of these Hanoi hidden gems before? Let me know if you have any others! I enjoyed the non-touristy things to do in Hanoi waaaay more than the main attractions so I hope I'll be back to find even more!
Thanks for reading!
Check out some of my other Hanoi & Vietnam posts:
See you next time for more adventures,
Rose
For more content, follow me on Instagram, Facebook, Twitter and YouTube.
Ps. Liked my guide to the hidden gems in Hanoi? Pin it for later!
Vietnam quick links

Getting around by air – it's easy to get between cities by flight. I use Skyscanner to find the best-value flights, using the 'search by month' tool to find the cheapest dates. You can also use the 'to anywhere' feature if you're flexible on where you're going.

Stay connected with E-sim data plans that don't require delivery or collection; just span the QR code.

In my opinion, Lonely Planet offer the best guidebooks. Get the latest Lonely Planet Vietnam.

For Vietnam buses and trains, I use 12GoAsia. The search feature allows you to compare prices and durations.

I use Booking.com for accommodation. They have the best range of hotels and self-catering apartments, plus you can filter by review score and price to find the best-rated budget places. For hostels, I use Hostelworld.

To save money on accommodation, I use Trusted Housesitters, a website that connects homeowners going away and travellers who can sit their homes & pets.

For activities, I use GetYourGuide as they have a huge range of affordable tours.

Need travel insurance? I use True Traveller (for UK & Europe residents) since it's affordable but covers everything you'd need including various activities, valuables and pre-existing conditions. Unlike some companies, they insure you if you're already travelling / don't yet have your flight home booked. Get a quote.

For travel insurance for other nationalities, I recommend Hey Mundo and for long-term digital nomad travellers, I suggest Safety Wing.

Check out my resources page for more travel discounts and tips!