This post may contain affiliate links to things like tours, hotels, Amazon associates and products. These help me earn a small commission at no additional charge to you.
As soon as I heard about Hue Abandoned Waterpark, flanked by a roaring dragon statue and allegedly swarming with live crocodiles, I was intrigued. In this guide, I'm going to tell you how to visit and share tips for your visit.

Despite being a little nervous at the prospect of live crocs (although I was assured they had been rehomed), I set about finding the alluring destination.

It's certainly one of the more quirky attractions in Southeast Asia: it may not be grand or ornate like the many temples and palaces in Hue but it's just as worthy of a slot in your Vietnam itinerary.
The story of the Abandoned Waterpark in Hue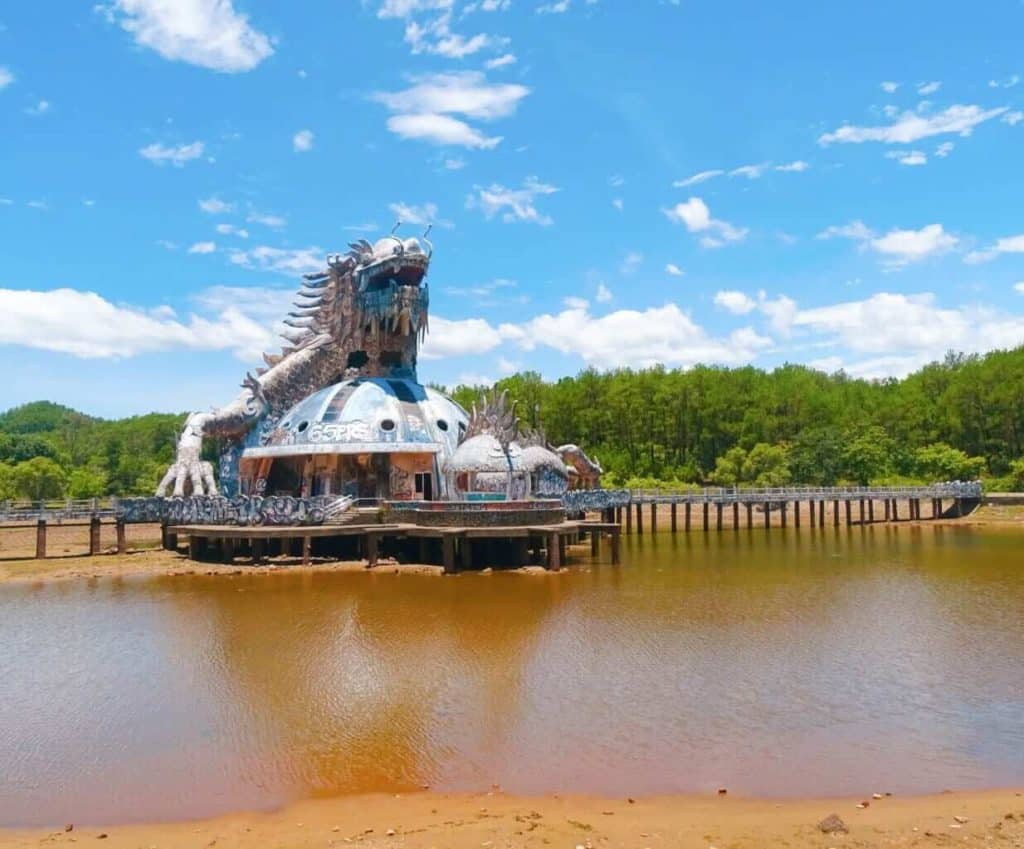 8km south of Hue city beside Thủy Tiên Lake, nothing about this mysterious, derelict site is obvious. No one knows why the waterpark was abandoned, and even the issue of getting inside isn't clear.

Construction began under the Hue Tourism Company at a cost of 70 billion dong ($3m) in 2004. The ambitious plans included amusement rides, multiple swimming pools, an aquarium and a stage with 2,500 seats hosting live shows.

Despite most of these things not coming to fruition, the park opened to the public anyway in 2004. Alas, the Abandoned Waterpark closed just two years later in 2006. No one seems to know why, and rumours circulate among superstitious locals that the site is haunted.
Related read: the abandoned airplane graveyard in Bangkok
Another company took on the site in 2013, planning to rebuild and reopen it. However, things went south again and the plans were abandoned. Poor planning or the avenged spirit of an ancient Vietnamese emperor, we don't know…
Why should you go to the Abandoned Waterpark Hue?
It's one of the weirdest and most wonderful places I've been recently. If you're like me and love a mystery, Thuy Tien Lake Abandoned Waterpark is well worth a visit.

I loved Hue's Imperial City and its gorgeous temples and tombs but, after two days, they were starting to look alike. This quirky attraction is different to everything else in town!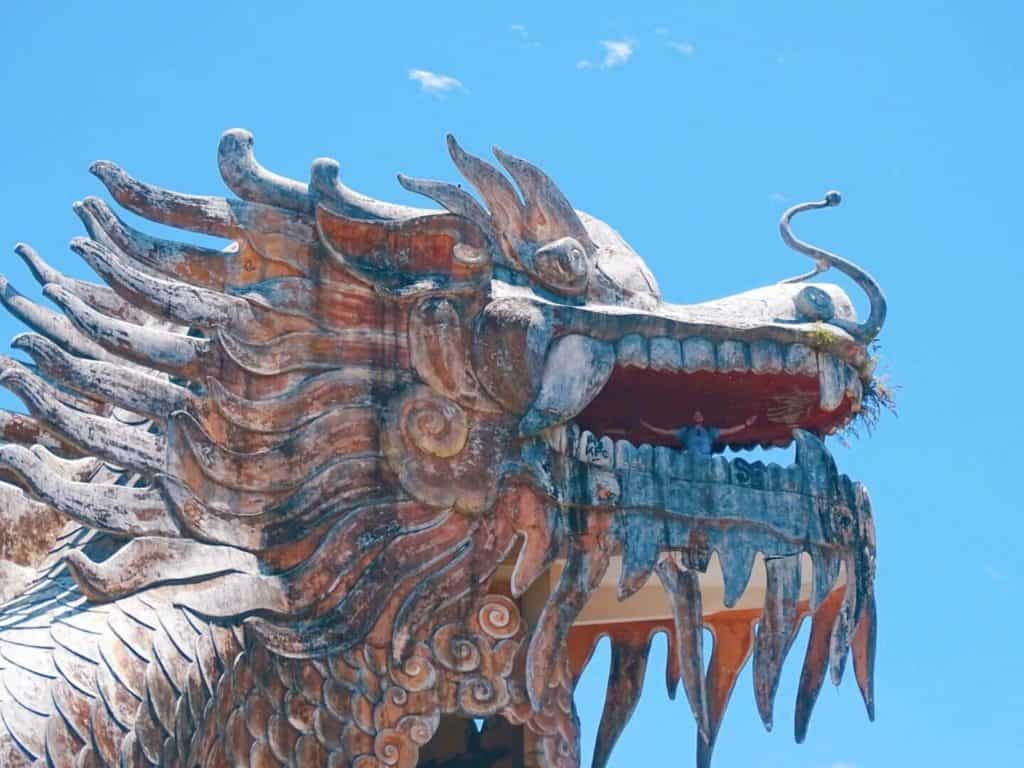 How to get to the Abandoned Waterpark Hue
For many years, it wasn't listed on Google Maps although now that has changed. Here is the abandoned waterpark's Google Pin and the official address is: Thuy Tien lake Abandoned Water Park, Hồ Thuỷ Tiên.
I've since been told that the park and its entrance are listed on Maps.me which is handy if you don't have a Vietnam SIM card and you're relying on Wi-Fi. Using Maps.me is one of my top Asia travel tips: you can download maps on Wi-Fi and they'll work when you're out and about.
By scooter: the cheapest way to get there is by driving. Hiring a scooter in Vietnam gives you complete freedom to arrive and leave at your leisure. Expect to pay 100,000 – 150,000 VND a day (around $5).

By taxi: If you're not comfortable driving, another option is to call a taxi on the Grab app. They have both scooter taxis and cars. My friend and I took the latter option and were dropped off at the entrance. We wondered if there would be any cars nearby when we left; luckily there were.
Is access prohibited?
Technically, yes. You used to be able to freely walk into Hue Abandoned Waterpark but, in 2018, it was deemed unsafe and a security guard was stationed out front to stop adventurous travellers snooping around.

Now, in Vietnam 'no' doesn't mean no. Sometimes it means 'no, unless you give me 10k dong'!

So, until a few months ago, turning up at the entrance and bribing the security guard with a few dollars was enough to get you in. When we turned up (June 2018), the guard couldn't be reasoned with and showed us a handwritten letter in English saying the site wasn't safe.
The other entrances
The good news is that there are a couple of other entrances. If the main gate is unguarded it will be locked, but you can take the little path at the left corner and it'll only take you about five minutes to walk there.

However, if the guard's there he won't let you do that!

If that's the case, turn on your heel as if you're leaving…

Find this point on Google Maps, just a short walk from the main entrance and take a LEFT (if you're facing the entrance) off the main path and into the woodland.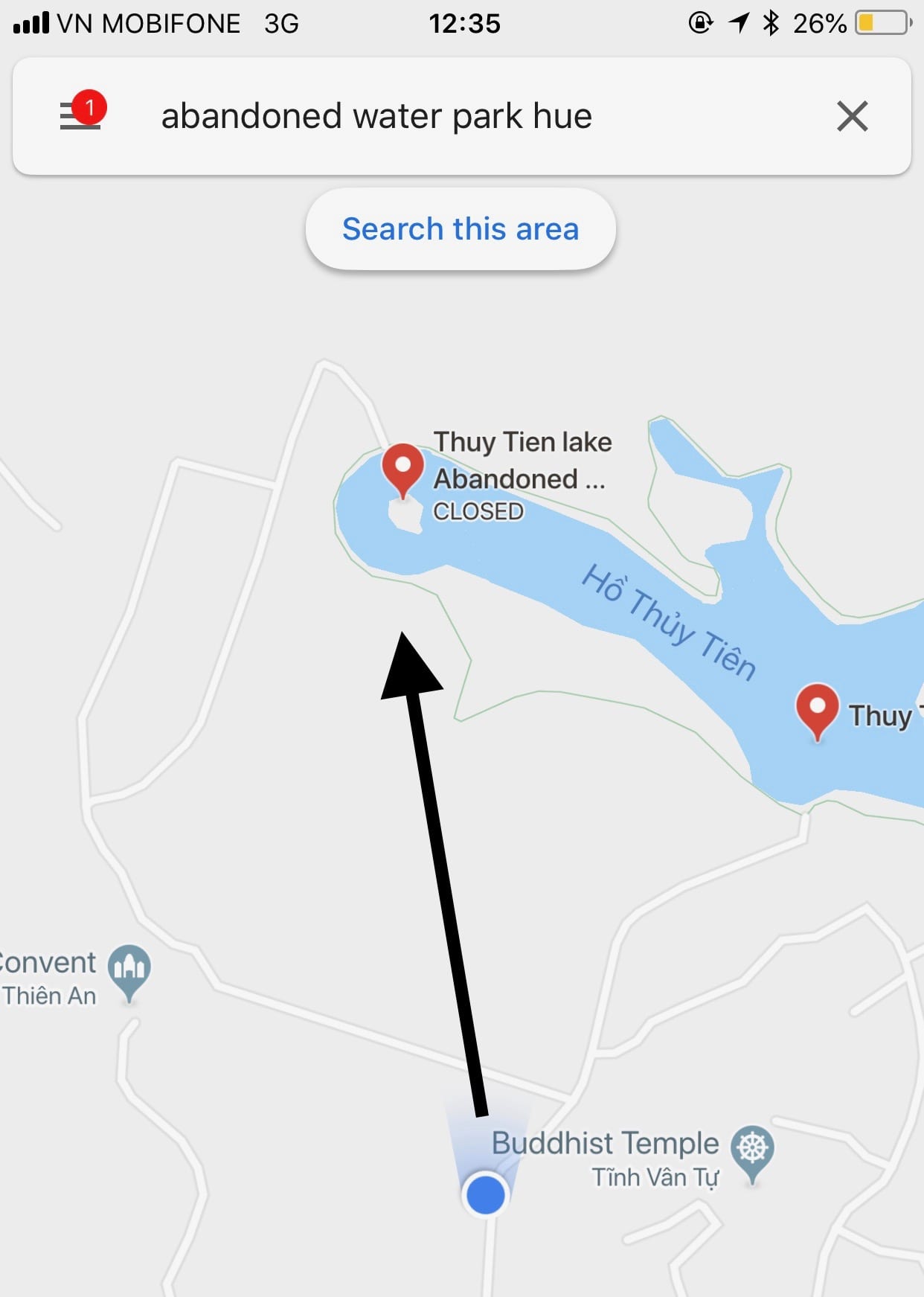 Walk through the trees following this arrow until you see the dragon looming ahead of you!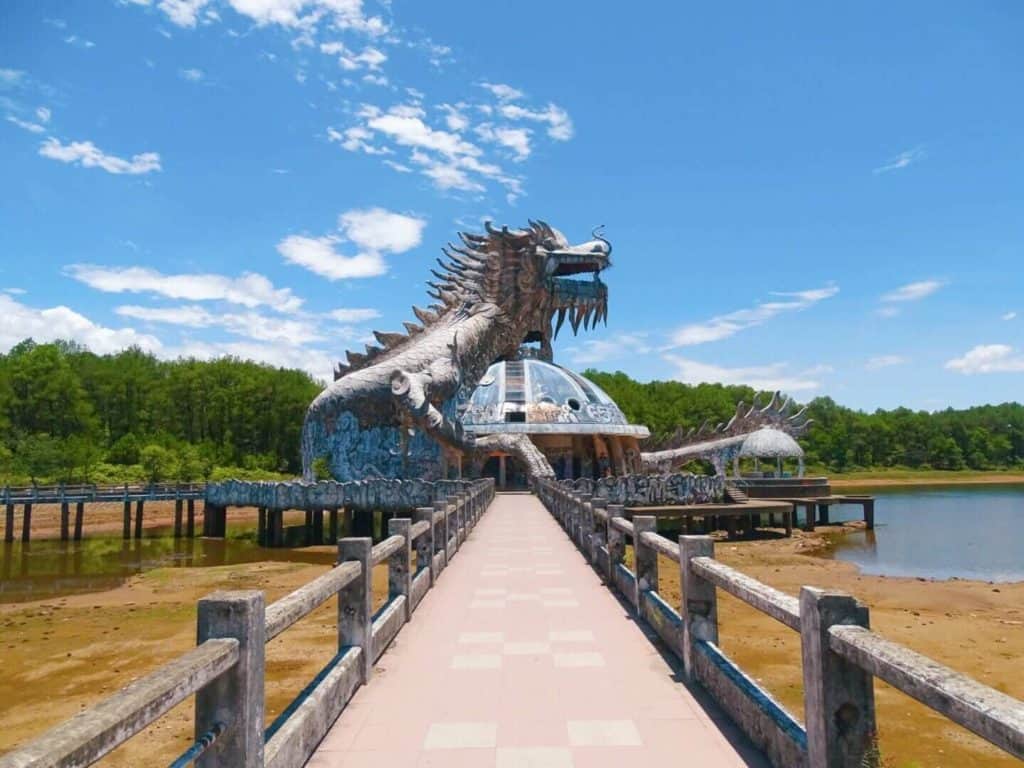 Arriving in the waterpark
Once we arrived on site, we found a couple of guys selling cold drinks. It seems that a handful of tourists make it inside every day!

A few minutes later, the security guard who had denied us entry earlier came whizzing up on his bike, presumably called by the guys selling drinks. He seemed flustered at us having made it inside but was appeased by a small donation, and left us to it with a warning not to climb anything.

Ignoring his words, we climbed up inside the dragon…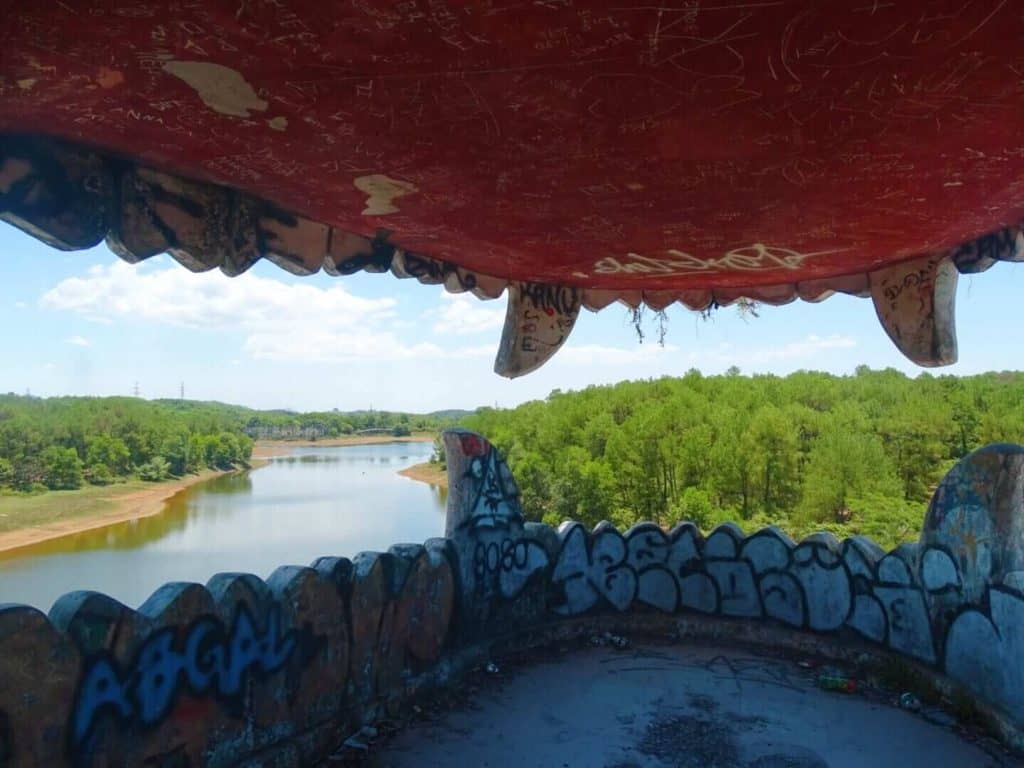 Inside the dragon
Walking through the entrance passage was an eerie experience. Glass lay on the ground from the aquarium windows and giant sharks and whales were built into the walls.

We found a concrete set of stairs that seemed sturdy enough. We tentatively climbed up inside the dragon, emerging in his mouth.

From inside the dragon's mouth, we looked out over Thien Hill (and the forest we'd just walked through) and Thuy Tien Lake.
Oh, and I can confirm there were definitely no crocs hanging around. Apparently, without any food, it was considered inhumane for them to stay there and they were rehomed by People for the Ethical Treatment for Animals (PETA). Now they live in a sanctuary elsewhere in Vietnam.

Phew – for them, and me!
Other things to see in the park
The roaring dragon is the real attraction but, once you've explored inside, take a stroll around the park. You'll find empty villas, a blue car decorated with marine details and an abandoned swimming pool with a set of colourful slides plunging into the water.

I wouldn't recommend even the most adventurous traveller to slide down them. They look stable but the water is absolutely filthy!! (and who knows if a croc got left behind?)
What else to do in Hue?
Visit the Imperial Citadel with tombs and temples dating back to 1362
Other temples sites like the Royal Temple of Tu Duc, Tu Hieu Pagoda, Minh Mang Tomb and the Tomb of Khai Dinh
Wander along the river to the Temple of Literature
Ride a colourful dragon boat down the Perfume River
See everything else to do in my Hue 2 day itinerary.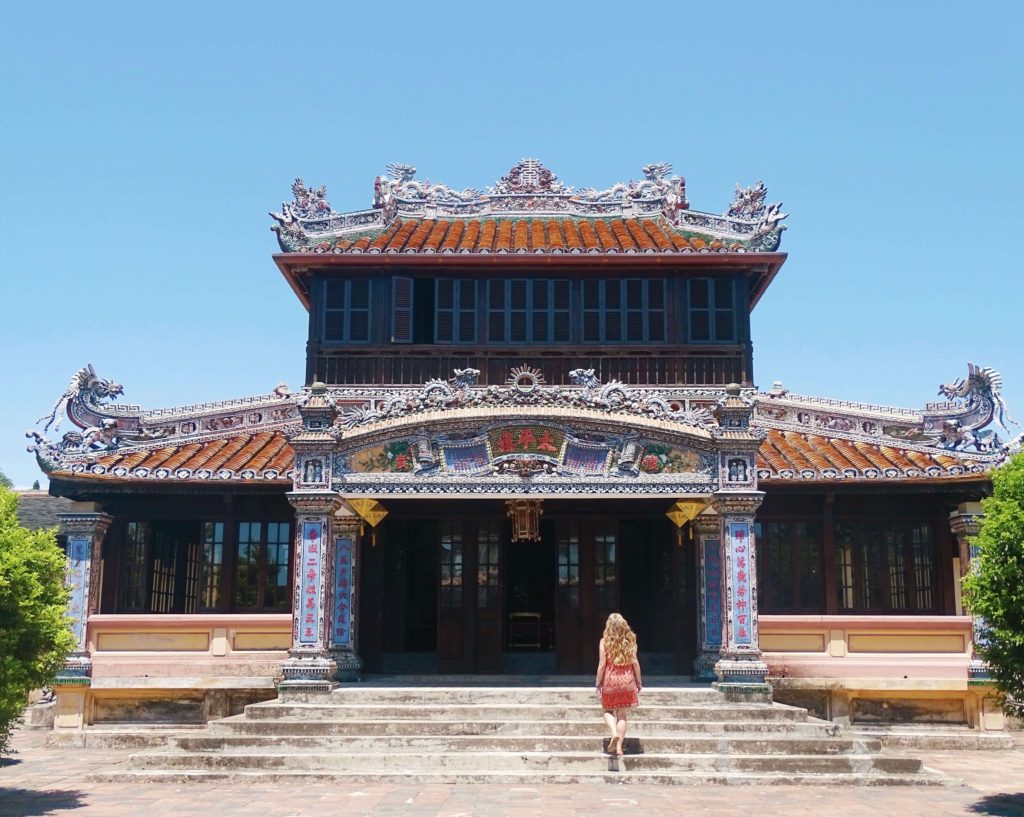 Thanks for reading!
If you're visiting Central Vietnam, I'd definitely recommend a trip to the Abandoned Waterpark Hue. I hope these instructions have helped – let me know how you get on!
Read my other Central Vietnam blogs:
See you next time for more adventures,
Rose
For more content, follow me on Instagram, Facebook, Twitter and YouTube.
Ps. Liked this guide to the Abandoned Waterpark Hue Vietnam? Pin this for later!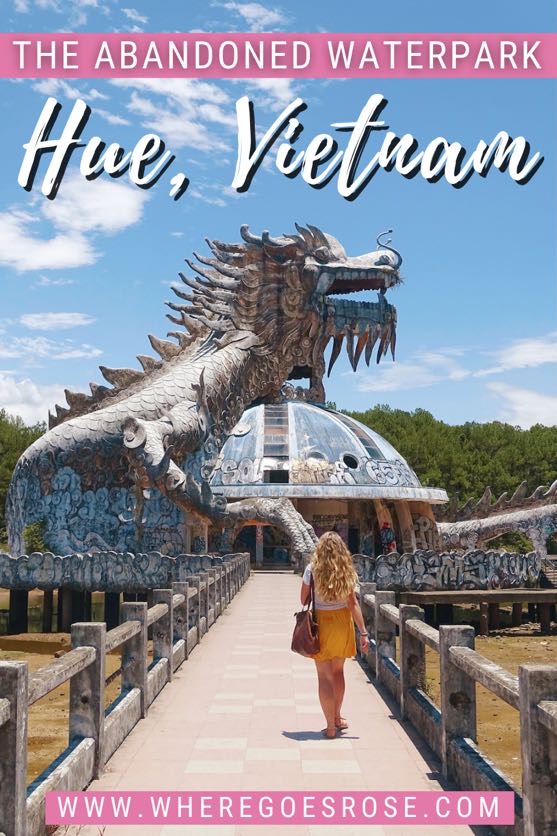 Vietnam quick links

Getting around by air – it's easy to get between cities by flight. I use Skyscanner to find the best-value flights, using the 'search by month' tool to find the cheapest dates. You can also use the 'to anywhere' feature if you're flexible on where you're going.

Stay connected with E-sim data plans that don't require delivery or collection; just span the QR code.

In my opinion, Lonely Planet offer the best guidebooks. Get the latest Lonely Planet Vietnam.

For Vietnam buses and trains, I use 12GoAsia. The search feature allows you to compare prices and durations.

I use Booking.com for accommodation. They have the best range of hotels and self-catering apartments, plus you can filter by review score and price to find the best-rated budget places. For hostels, I use Hostelworld.

To save money on accommodation, I use Trusted Housesitters, a website that connects homeowners going away and travellers who can sit their homes & pets.

For activities, I use GetYourGuide as they have a huge range of affordable tours.

Need travel insurance? I use True Traveller (for UK & Europe residents) since it's affordable but covers everything you'd need including various activities, valuables and pre-existing conditions. Unlike some companies, they insure you if you're already travelling / don't yet have your flight home booked. Get a quote.

For travel insurance for other nationalities, I recommend Hey Mundo and for long-term digital nomad travellers, I suggest Safety Wing.

Check out my resources page for more travel discounts and tips!