This post may contain affiliate links to things like tours, hotels, Amazon associates and products. These help me earn a small commission at no additional charge to you.
I landed in Nairobi after an overnight flight feeling pretty smelly and exhausted. My Africa tour was set to begin on the 16th of January so I decided to arrive in Kenya a couple of days early.

I knew the trip was going to be intense in terms of camping and lots of long journeys so, as someone who usually takes their time over travelling, a couple of days relaxing and seeing Nairobi were on the agenda. We were off out of Kenya on the first morning of our itinerary so the only time to see the city was pre-tour.
Day 1
I exited the airport feeling apprehensive. Usually, when I arrive in a new Asian country it's 'same same but different' and I have a general idea what to expect. But Africa? I'm a complete beginner.

Luckily, I quickly found my taxi driver who greeted me warmly. John was big and smiley and wearing a bright shirt. He led me to his car, easing my worries as he told me a couple of local words and explained a bit about Nairobi.
Within two minutes of setting off in his car, I'd spied a couple of zebras trotting along the scrubland on the side of the road. Nairobi has a sizeable national park, the outskirts of which border the highways – John told me the zebras must have come this way looking for food.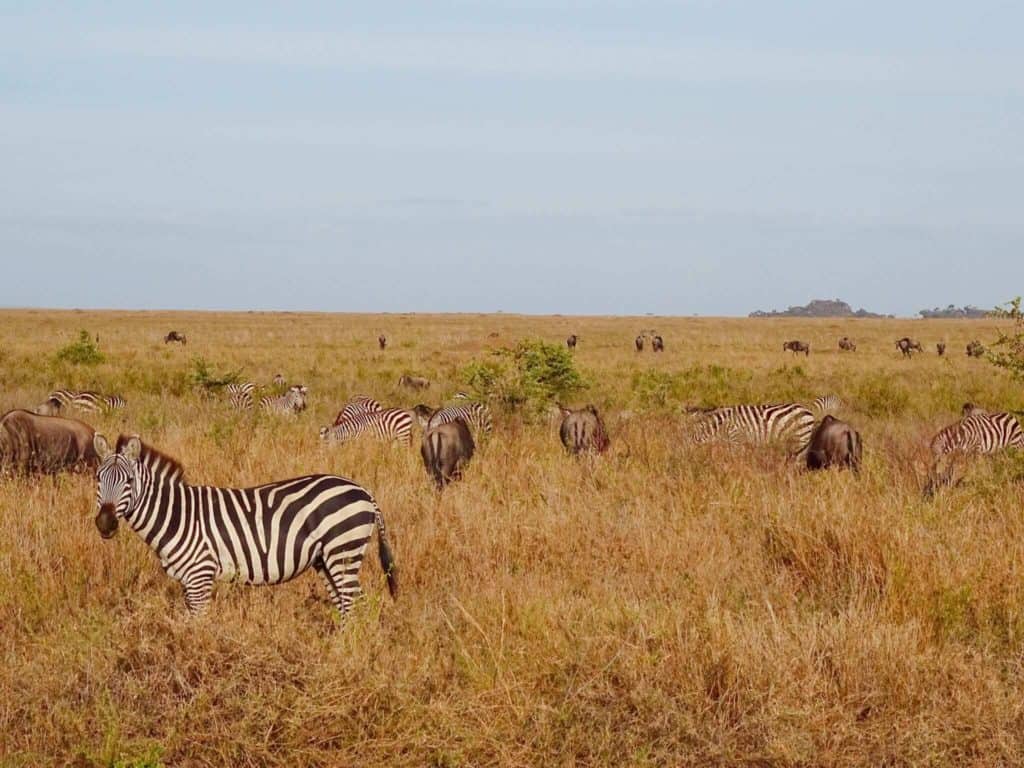 We arrived at the Wildebeest Eco Lodge which turned out to be a fantastic base. While Nairobi was hot and crowded, the lodge was a green paradise with a brilliant blue swimming pool and a shady restaurant and bar. In the grounds were lots of enormous canvas tents housing single, double and bunk beds. I was in the bunk one (obviously!) and quickly got chatting to some other backpackers.
My rationale for taking a tour was that I'd never know where to begin doing Africa alone. However, the rest of the travellers I met seemed to be doing just that. Seamus, an American guy in my room was off to Rwanda the next day and told me about an Irish and English couple he'd met who'd made the South Africa to Kenya pilgrimage by local transportation, with only a few near death experiences including a bus crash in Botswana.
Having had six months off from backpacker life, I quickly readjusted to living out of a bag. The other travellers and their recent stories instantly got me back in the travel spirit! I spent the remainder of the first day lounging by the pool (I'd had about two hours sleep on the plane) and saved the city's excursions for the following day.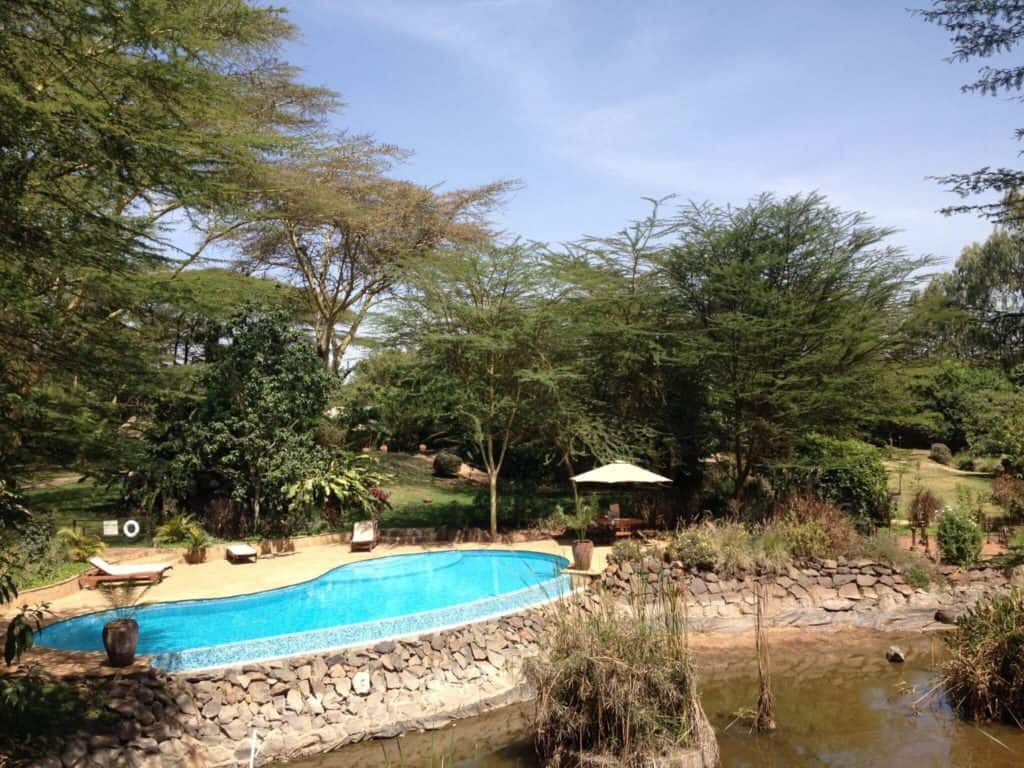 Day 2
I took a taxi tour to the David Sherlock Elephant Orphanage followed by the Giraffe Centre. If you follow me on social media you'll have seen me lusting over the Giraffe Manor – a £800-a-night country house where the animals come and put their heads through your bedroom window. Luckily the on-site conservation centre was about one-hundredth of the price so I didn't have to totally miss out.
The elephant orphanage was my first port of call. From 11am-12pm each day the staff give a talk (including the stories of the individual calves and the country's problems with poaching) while the babies roll around, play and cool down by throwing dust and dirt over themselves. They were just beautiful. Even from seeing them briefly I could tell they all had their own personalities and I loved the clumsier ones which struggled to get on their feet and finally succeeded.
I learnt that baby elephants will die if they are orphaned at less than two years old as they need their mother's milk until this age. As the ivory trade is still a huge problem in Kenya, the centre rescue infants that have lost their mothers to poachers and feed them carefully formulated milk. Watching the elephants run at full speed towards the keepers holding bottles was so endearing!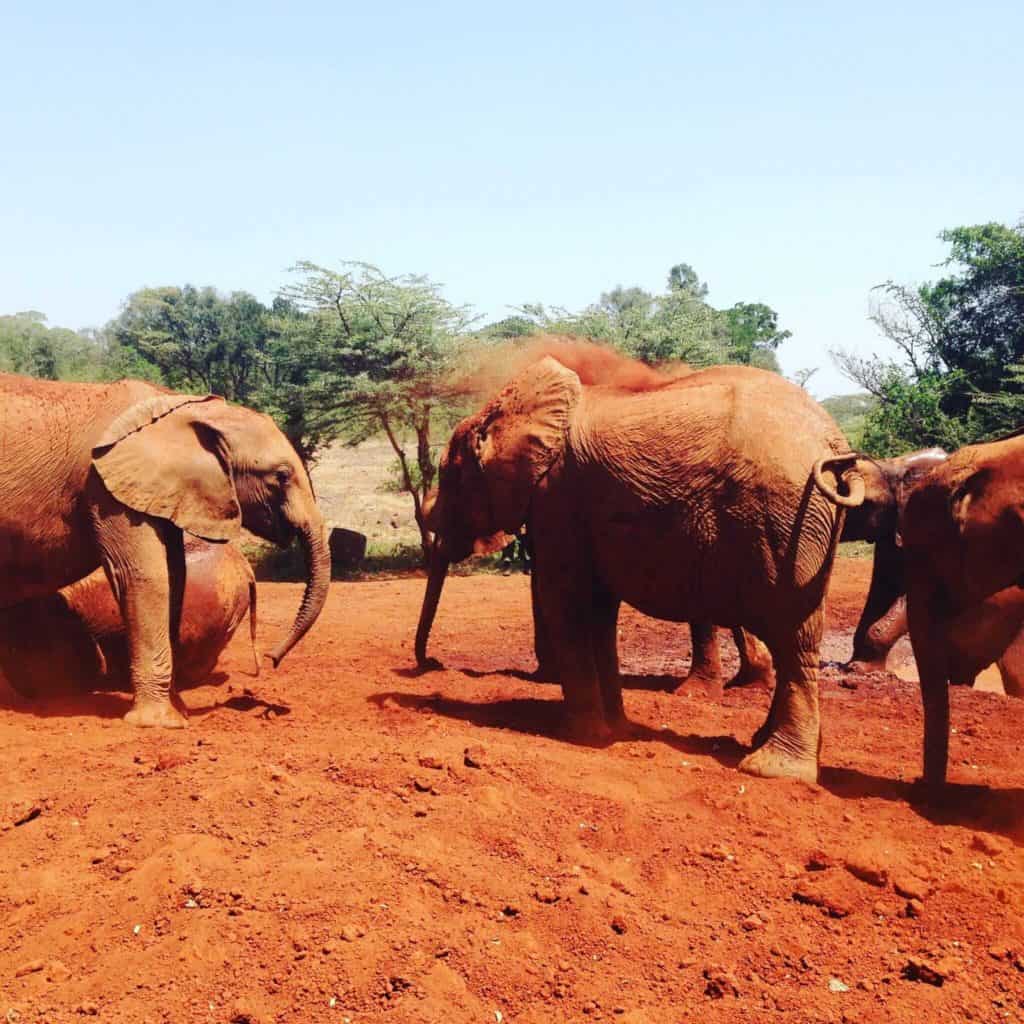 I had an equally engaging time with the giraffes. In fact, I got even more hands-on – as soon as I entered the centre I had the opportunity to hold out a hand full of food pellets and have the giraffes come and snaffle them up. Some guests took this even further and put a pellet between their teeth which resulted in a 'giraffe kiss' and a face covered in slobber!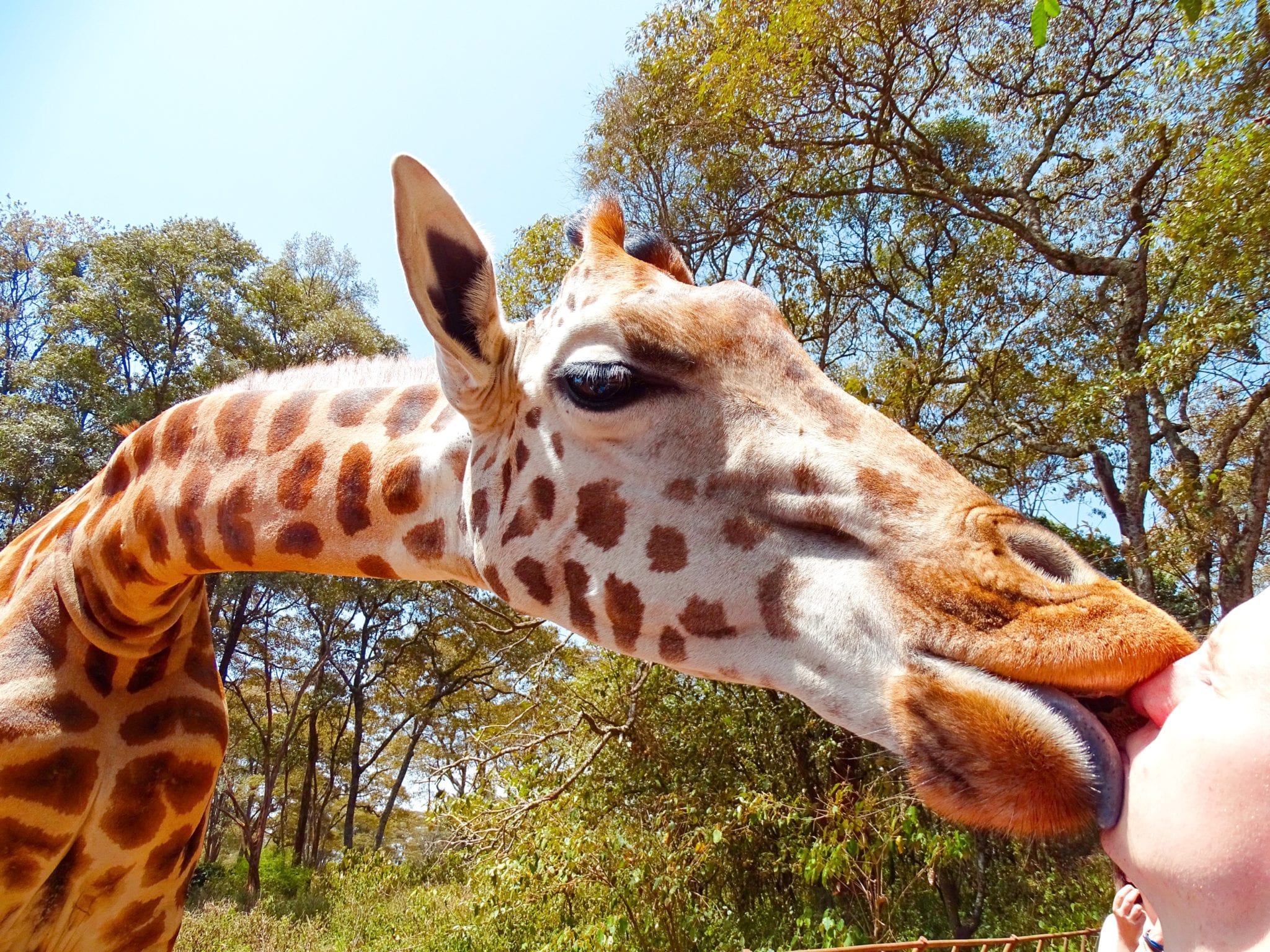 You could either feed the giraffes from the ground (which meant they were swooping down to you) or from the treehouse where you were at head level with them. I liked doing this as you got to look into their big brown eyes with lengthy eyelashes… they really are such beautiful creatures.
I hope you get the jist from my photos even though they're not the best – it's hard to get top content when you're sweaty, dusty, have giraffe saliva up your arm and you're throwing your iPhone at strangers and getting them to take a photo while the giraffe is in position!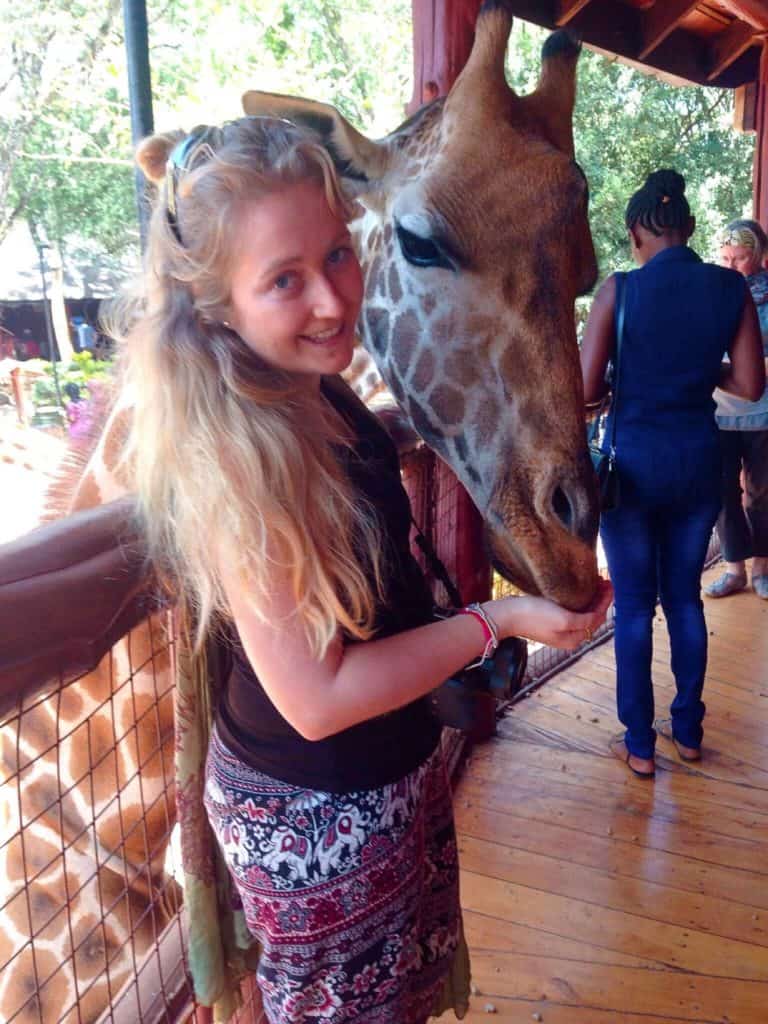 The rest of the day was spent admiring my photos and chatting with people at the hostel. American Seamus and I met an English/Singaporean pilot who lived in Italy, and the three of us enjoyed the nightly all-you-can-eat buffet. I'm not sure it was local food (which I'm still keen to try) but there were various meat, veg, pasta and salad dishes. I was stuffed.
Day 3
After checking out of the eco lodge and one final dip in the pool and passion fruit salad for breakfast, it was time to head over to my new abode, the downtown Boulevard Hotel to meet my tour. I'm totally not a hotel person – they seem so samey to me in comparison to quirky, colourful hostels and the characters you meet there for a fraction of the price. Still, any night in a bed was not to be sniffed at – after the next few weeks in a tent I'll be craving a night not on the ground.
Not gunna lie, I was feeling nervous. I've done so much travelling by this stage and been in far more nerve-wracking situations… But I still had little idea what to expect from Africa and didn't even know the people I'd be doing it with yet.
Luckily, everyone was in the same boat. Later, my new friends said they'd assumed I was super confident as I was chatting loads – but I think that's just what I do when I'm nervous!
We began by meeting our tour guide, Justus and driver, Joseph who were both local Kenyans. Our group turned out to be pretty diverse – four Brits, four Americans, two Canadians, two Germans, an Aussie, a Swiss and a Greek. We're a mix of five boys and ten girls all between the ages of 22 and 37. We ate together in the hotel restaurant before getting a relatively early night – we needed our enjoy to be up at 7am for day one of our African adventure…
Thanks for reading!
If you liked it, please share it 🙂
Check out my all my Africa overlanding diaries:
See you next time for more adventures,
Rose