This post may contain affiliate links to things like tours, hotels, Amazon associates and products. These help me earn a small commission at no additional charge to you.
Day 1 – Kenya to Tanzania
After meeting for the first time the night before at a hotel in downtown Nairobi for an orientation meeting and first dinner together, we departed Kenya on day one of our G Adventures Africa tour.
Along with our tour guide, Justus, and driver, Joseph, we'll be making it across East and South Africa as a group. Currently, there's 15 of us: ten girls and 5 guys between the ages of 22 and 37 from the UK, the US, Canada, Germany, Greece, Australia and Switzerland.
We were introduced to our big purple 'lando' bus which would be our overland vehicle for the next 40 days (apart from when on safari). It's pretty handy – there's a luggage hold in the back and storage for tents, chairs, tables and the cool box that we'll be making our meals from.

It sits 24 people but with just 15 of us there's plenty of room for most people to have a double seat to themselves and their hand luggage. This will change however – on day 20 we'll have a new batch of overlanders and will be travelling at full capacity until the tour finishes in Cape Town.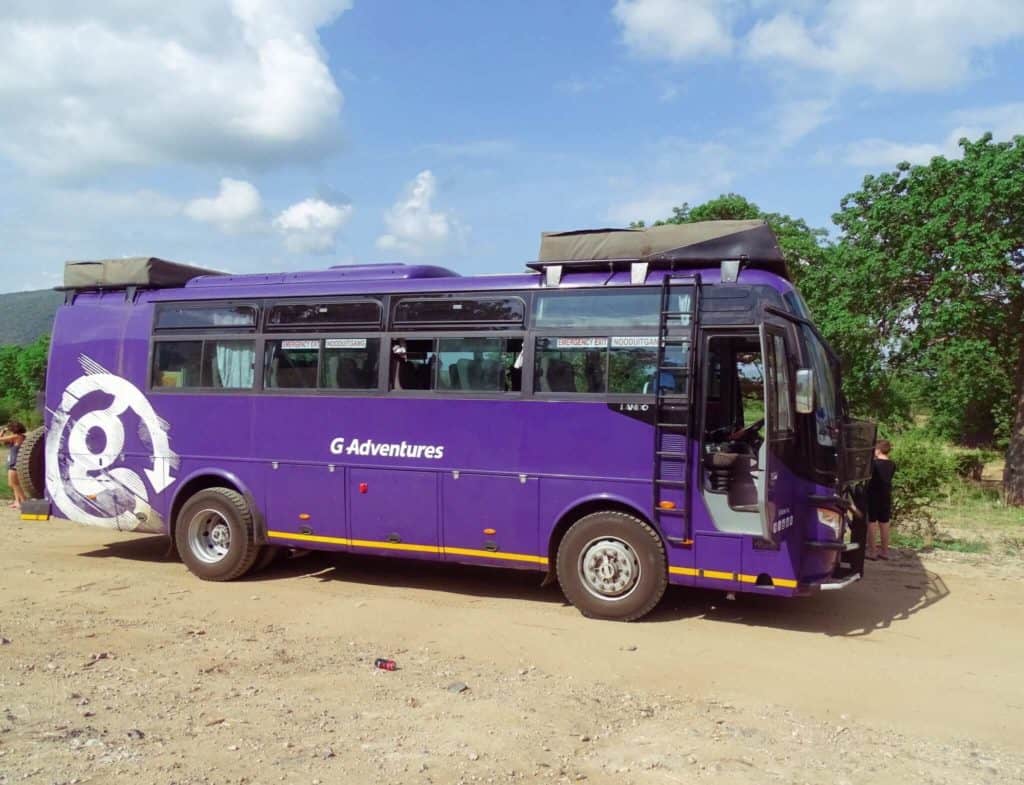 The first day was a driving day – we travelled for about four hours to the Kenyan/Tanzanian border and started to get used to the scenery. Everything was so golden and dry with wiry trees and shanty style houses peppering the landscape.

As we got further from the city we began to see the Masaai people: tribes who live across the countryside in Kenya, Tanzania and Uganda. A key characteristic of their culture is that they are nomadic and move around – for that reason their houses tend to be basic huts lined with straw.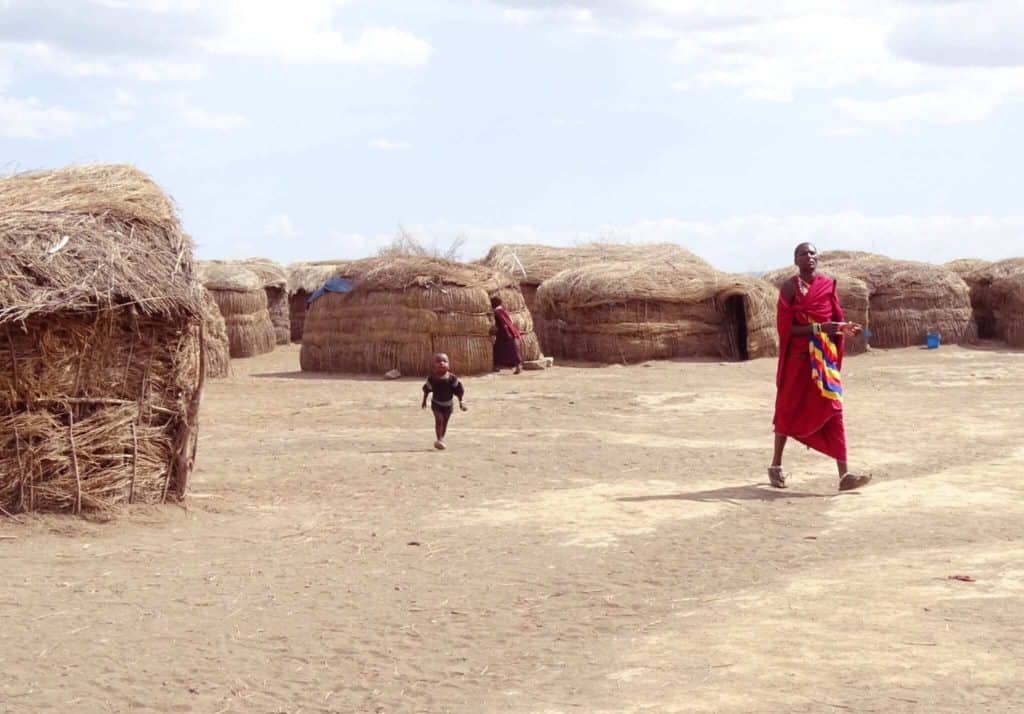 The clothes the Maasai people wore were so colourful and the women sported shaven heads and realms of dangly earrings. Often we saw them carrying baskets of goods on their heads and Justus told us that these are poorer people – richer families use donkeys to transport their possessions.
We stopped for a rest stop and made lunch together with fresh avocado, meats and bread. This was to be our standard lunch for the next 40 days.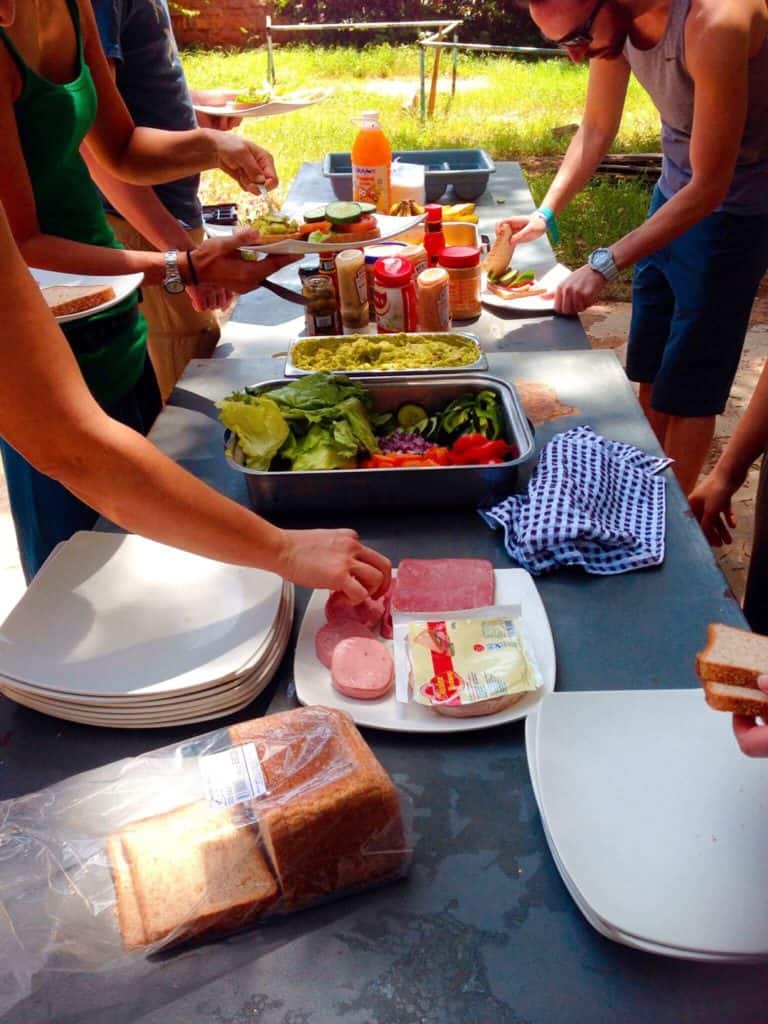 We set up camp that night at Snake Park Campsite just outside of Arusha, a city in the north of Tanzania. My tent buddy Sarah and I had a faff trying to put up our tent for the first time and had to enlist the help of Chris, a member of the group who was more skilled than us (as was every member of the group, in fact).

Despite completely failing at anything practical, our night wasn't too uncomfortable. We had thick, squashy mattresses which definitely helped.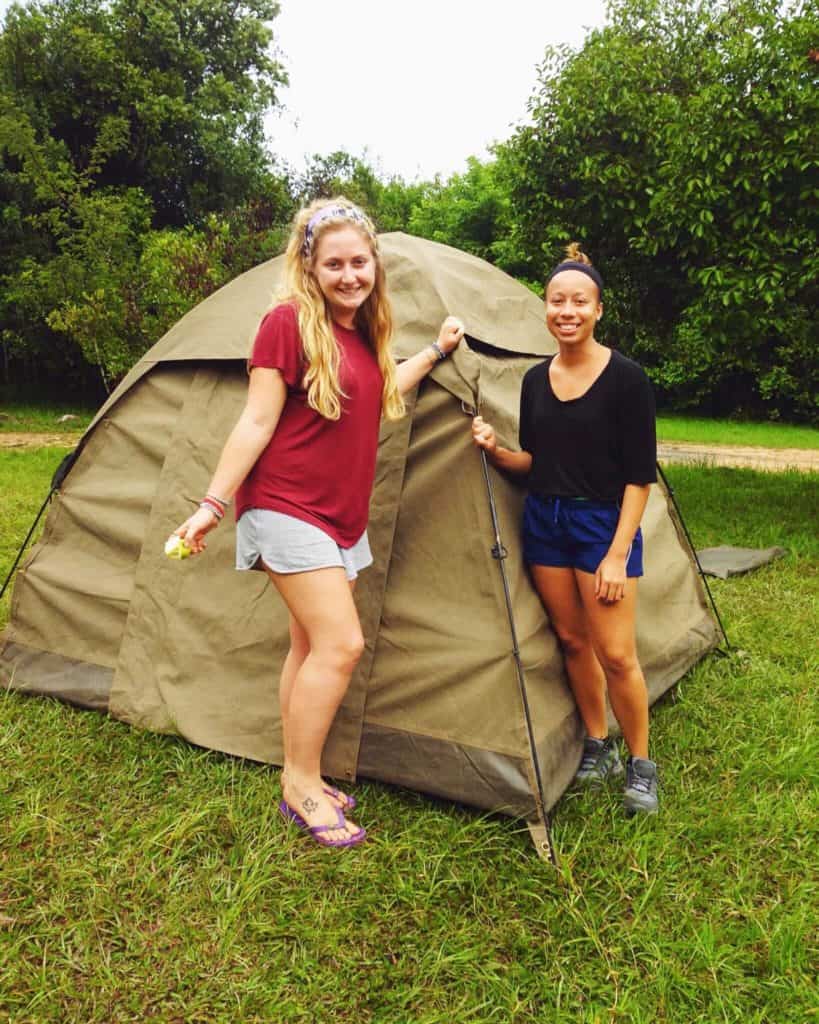 We packed overnight bags as we were off for our two-day, three-night Serengeti and Ngorongoro Crater excursion the next day. This meant good news – our tents would be provided and put up for the next two nights AND we could leave our tents erected at the Snake Park so that when we returned we'd have a third night off. We were clearly being eased in gently!
Day 2 – Serengeti National Park
We were up at 6am to have an early breakfast before we headed off on our three-day trip away. Justus prepared us a fantastic breakfast of French toast, baked beans, cereal, yoghurt, fruits and tea and coffee – I was already feeling that I was going to well fed on this trip!
Then, we hopped in our 4×4 overland vehicles. While our whole trip is with G Adventures, the Serengeti excursion was sourced through a local travel company which is why we had different tents and a few additional guides and vehicles for those days.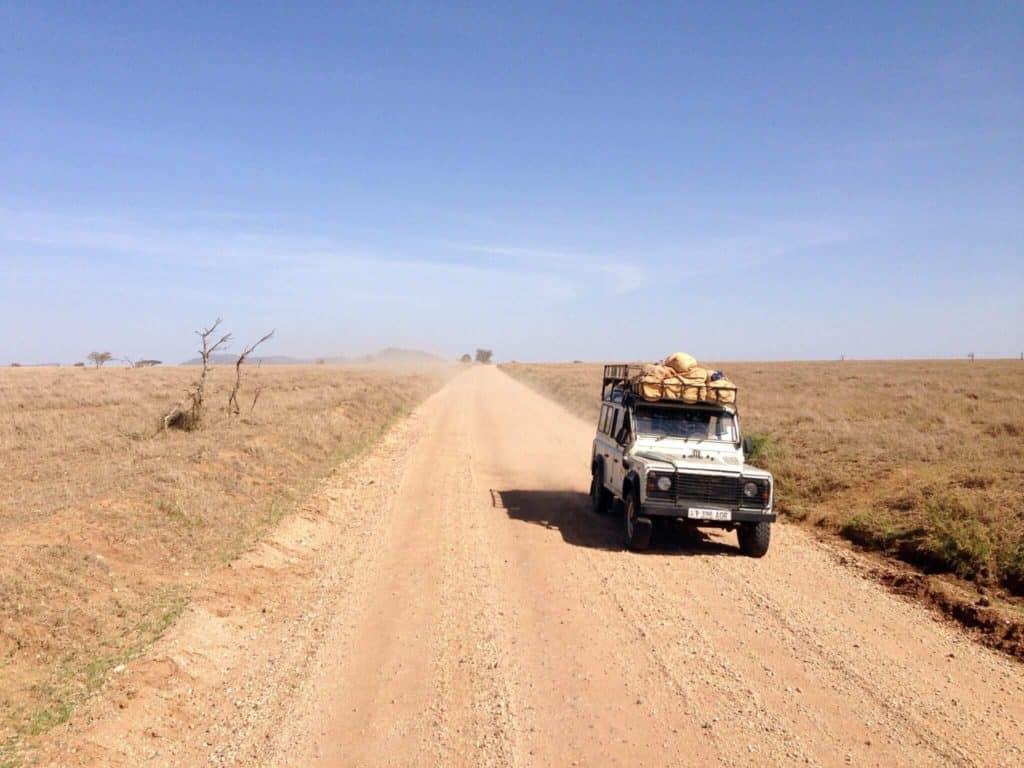 I was expecting the Serengeti to be a trip highlight and it didn't disappoint. As soon as we entered the National Park we were surrounded by wildebeest and zebras which we learnt move together in herds (apparently because wildebeest have a great ability to sniff out water while the zebras have fantastic memories to help navigate).

We were excited to see the animals – all so close to the car and inquisitive – but little did we know it was just the beginning.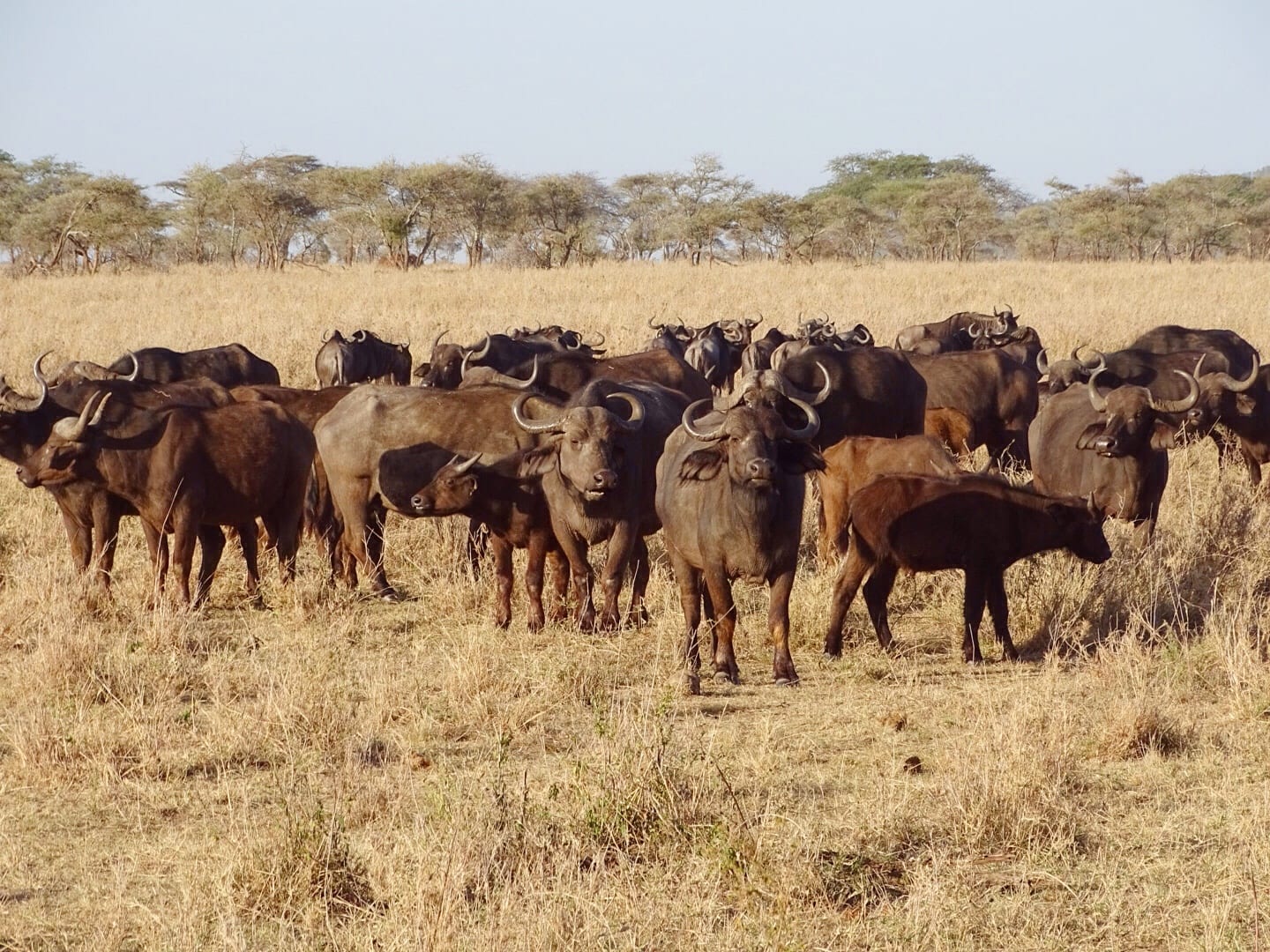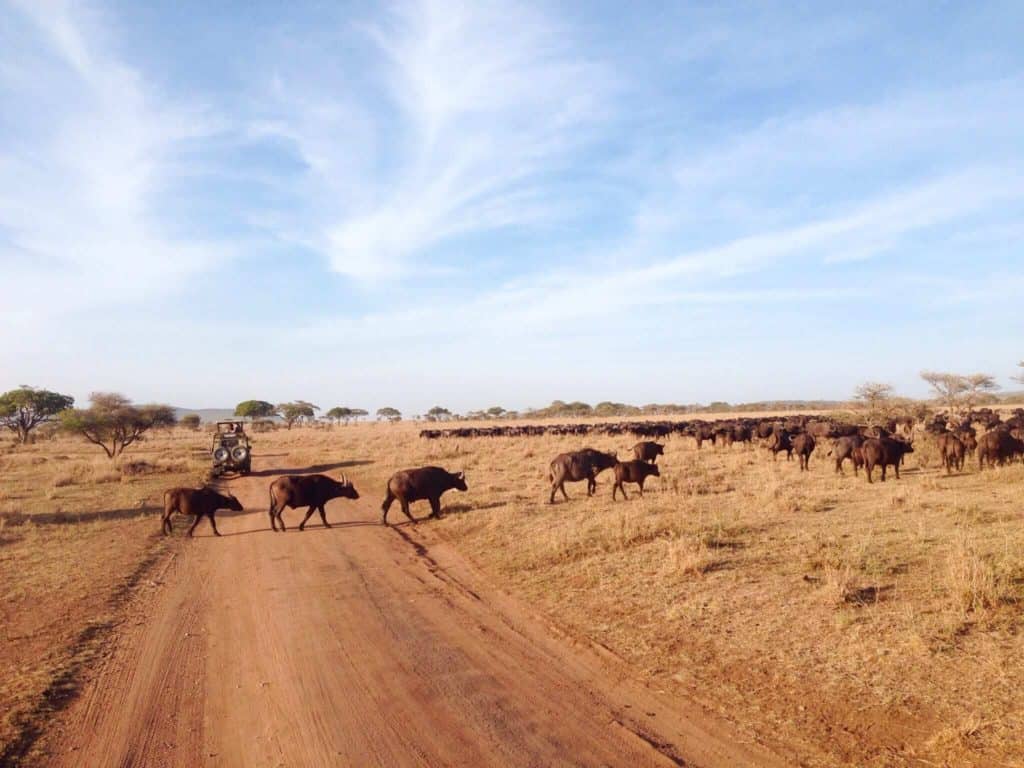 The safari drivers had a radio system to sync on wildlife 'gossip'. If any of them sighted an animal of interest they'd alert the others and put their foot down 'til they reached it.
The first call we got regarded a sleepy lioness under a tree and the second was about a leopard and her two cubs. Leopards are one of the harder big cats to spot in the park so we were super lucky – particularly to find one with two young ones in tow!

We watched as the mother leopard climbed gracefully down the tree and dragged a gazelle carcass back up to feed her babies. It was an incredible sight to see and I felt like I was holding my breath the whole time – whilst also trying to capture a clear photo as she moved between the branches.
By the end of the day we'd also glimpsed giraffes, elephants and hyenas. The roof of our 4×4 lifted off so we could stand on our seats and peer over the top. The dry and dusty roads were really bumpy so we spent most of our time clinging on tight and feeling like we were surfing to stay up.
As we approached camp, we saw a couple of hyenas prowling around. Our campsite was completely open – there were no walls or fences separating it from the wild. The flat land stretched out for miles around us which became increasingly spooky as it got dark. On my way to the bathroom block I saw a giraffe in the distance.
I didn't catch a photo of that one but here's a throwback from Nairobi…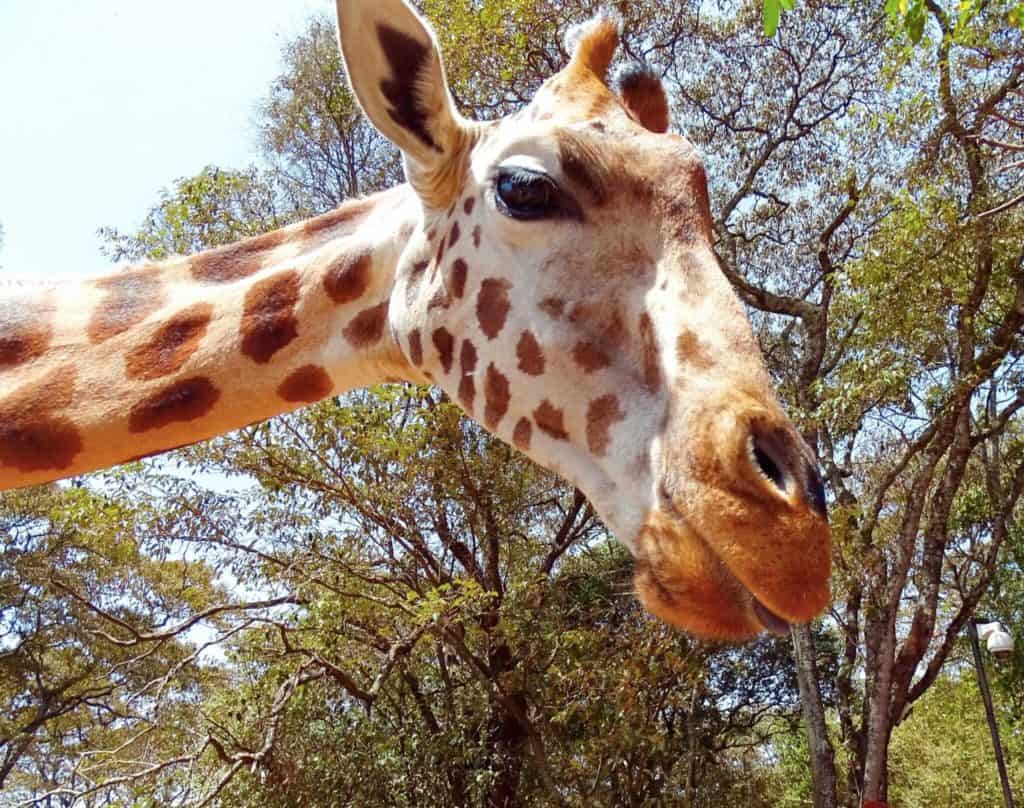 While it was an incredible experience, the campsite was more basic than the day before. There was no electricity or hot water so we had a cold shower by torchlight and a pasta dinner before turning in. We sat around a bonfire whilst Justus told us stories and wound us up (we think?) over times lions have strolled into camp. He also named some of the constellations we could see above us… I couldn't believe how bright the stars were and how many we could see.
Sarah and I vowed to wake each other up if either of us needed the toilet in the night but luckily we slept right through. Apparently, the protocol was to open your tent an inch and scan for eyes (yellow ones will belong to carnivores so are obviously the most dangerous) and if you don't see any, tentatively shine a torch around before getting out.
I slept like a baby after our long, exciting day but some of the others said they heard the distinctive calls of a nearby hyena throughout the night.
Day 3 – more Serengeti
There was the option to take a champagne breakfast hot air balloon flight the following morning. It was around £350 so only one member of our group did it. It sounded like an incredible experience but I was equally happy to hop back in our safari car and head on the hunt for more wildlife.

Our driver, Tom, had been a Serengeti guide since 1991 meaning he was one of the first in the park. He was our personal Google for the few days, giving us information about the animals and even filling us in on the Maasai tribes and their lives. He never seemed to get fed up of our endless questions (or if he did he didn't let it show).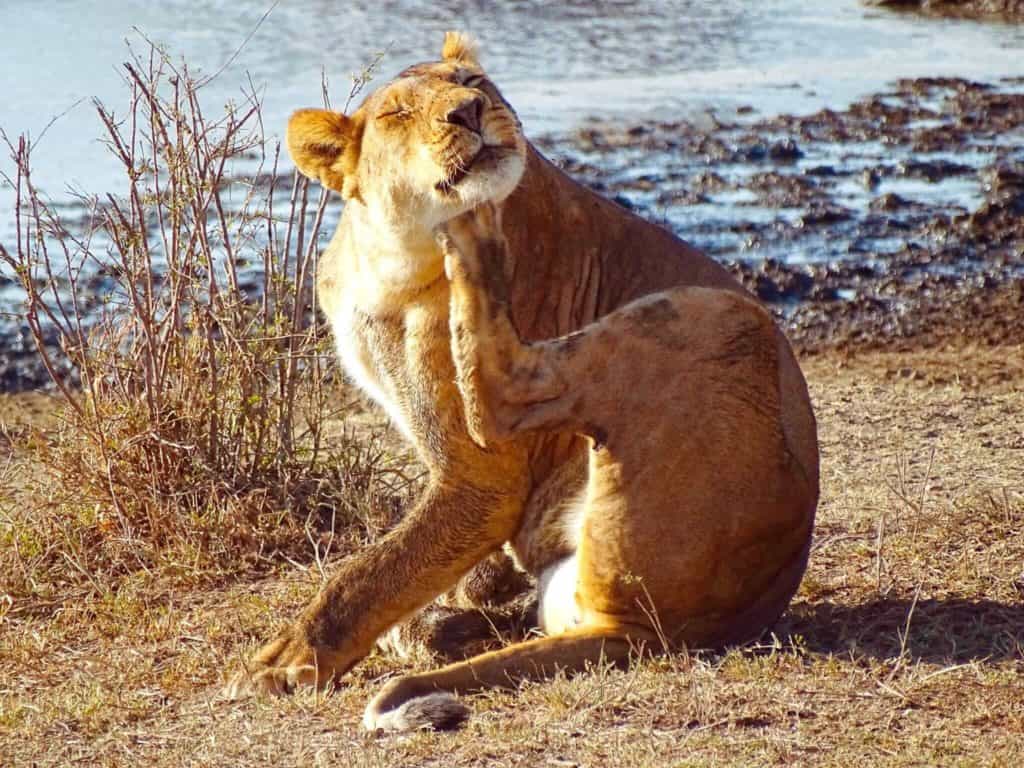 We added even more animals to our tick list during the second day including hippos and cheetahs. We must have seen about 20 female lions and my favourite moment was watching them attempt to hunt wildebeest drinking from the river. While the big cats didn't succeed, I still felt so lucky to have witnessed such an incredible display of nature!

A lioness prowled her way to the riverbank and hid behind some bushes, then while the unsuspecting wildebeest were taking a drink, splashed into the water and sent them scattering. It was the kind of thing I never dreamed I'd see apart from on TV.
I was surprised how confident the wildebeest were around the lions. It was the migration season for them so hundreds, if not thousands, were crossing the park in throngs and didn't seem to make an effort to stay out of the lions' way. Shortly after the attempted catch at the river, we watched a lioness prowl towards the horizon which was swarming with wildebeest scattering just far enough away from her to not get caught, but not running with a particular urgency.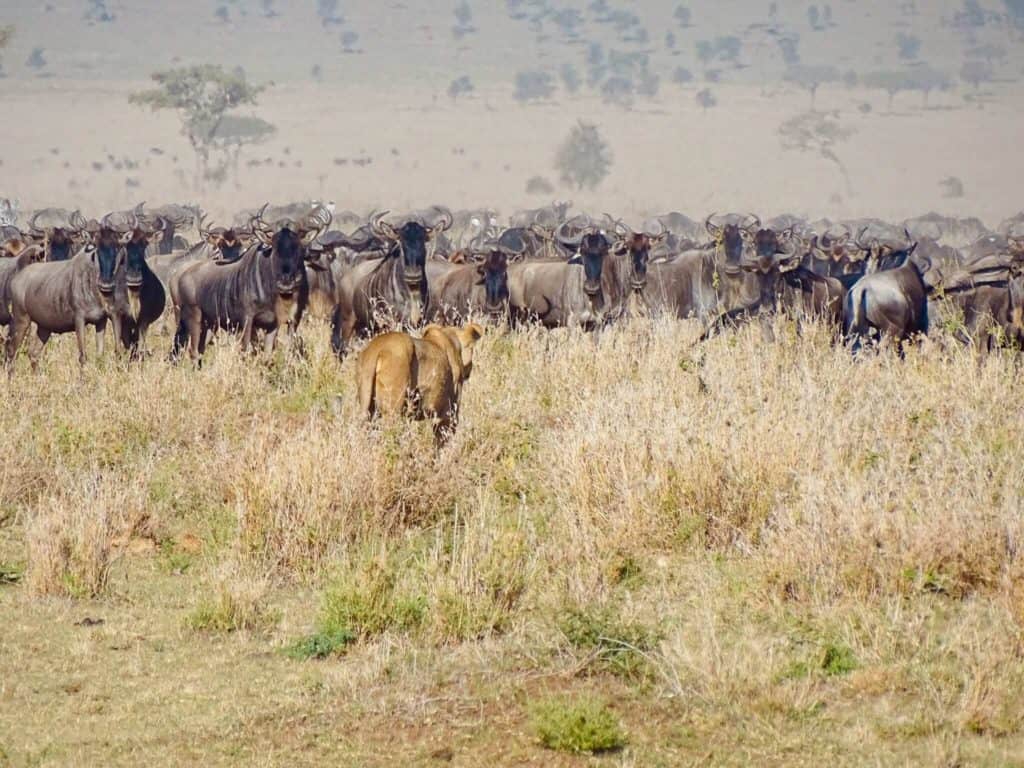 A few of us opted to visit a Maasai village in the afternoon. I had my reservations as these kinds of experiences can often be very set up, but decided to go along to make sure I didn't miss out. It was pretty much what I expected.

We began by watching a tribal dance and being invited to join in: a performance I'm not sure would have ever been carried out by locals when tourists weren't around. We then watched as the Maasai attempted to start a fire from scratch which completely failed… I imagine in reality they use matches and in the modern day, who's to blame them?
While we were invited to ask questions about their lifestyles, we were sure a lot of the information was tailored to what tourists might want to hear. Which is understandable – local lives belong to those that live them, not us. A lot of Maasai norms would shock us (the lives of girls are pretty harrowing) and who would that benefit? I was glad to have guides like Justus and Tom who can share information with us more openly and honestly.
Next, we headed to our camp for the night which was on the rim of the Ngorongoro Crater. This was similar to the previous night's: an open set up and block of cold showers. This one even had a ranger with a gun on patrol so we could really believe that potentially dangerous animals were around.
Day 4 – Ngorongoro Crater
The night was really cold so most of us struggled to sleep in our tents. There wasn't any time to be tired in the morning however as we were up at 5am to witness a spectacular sunset over camp before driving down into the crater to explore.

The Ngorongoro Crater walls make the area a unique place – the flat land in the middle is full of animals who stay in between the walls and are very easy to spot.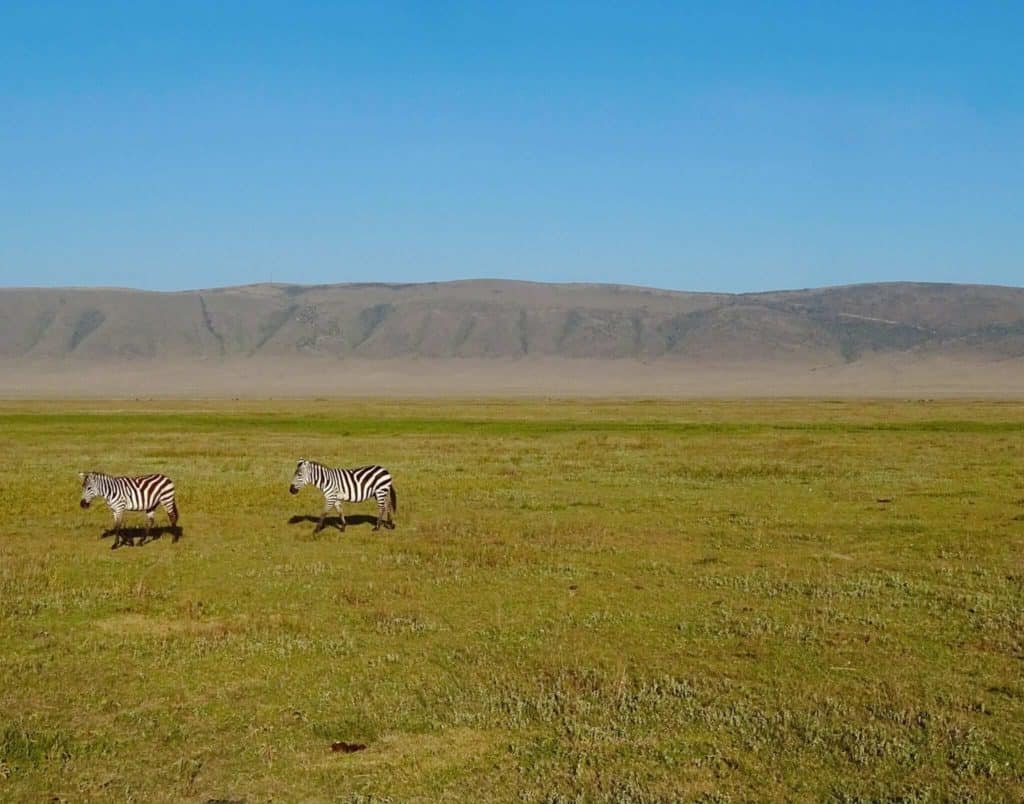 We finished the trip on a real high. Mid-morning, we were watching two lions stalk towards us and by the time they reached us they'd been joined by not one or two but SIX cubs! I couldn't believe it. The video footage is to come when I can extract it from my big camera, but it's an image I'll always keep in my mind.
In addition to lots more buffalo and zebras, we hung out for a while in front of a watering hole with hippos wallowing in the water and hyenas prowling on the banks. There was a baby hippo which they seemed to have their eye on but the parents kept it well protected.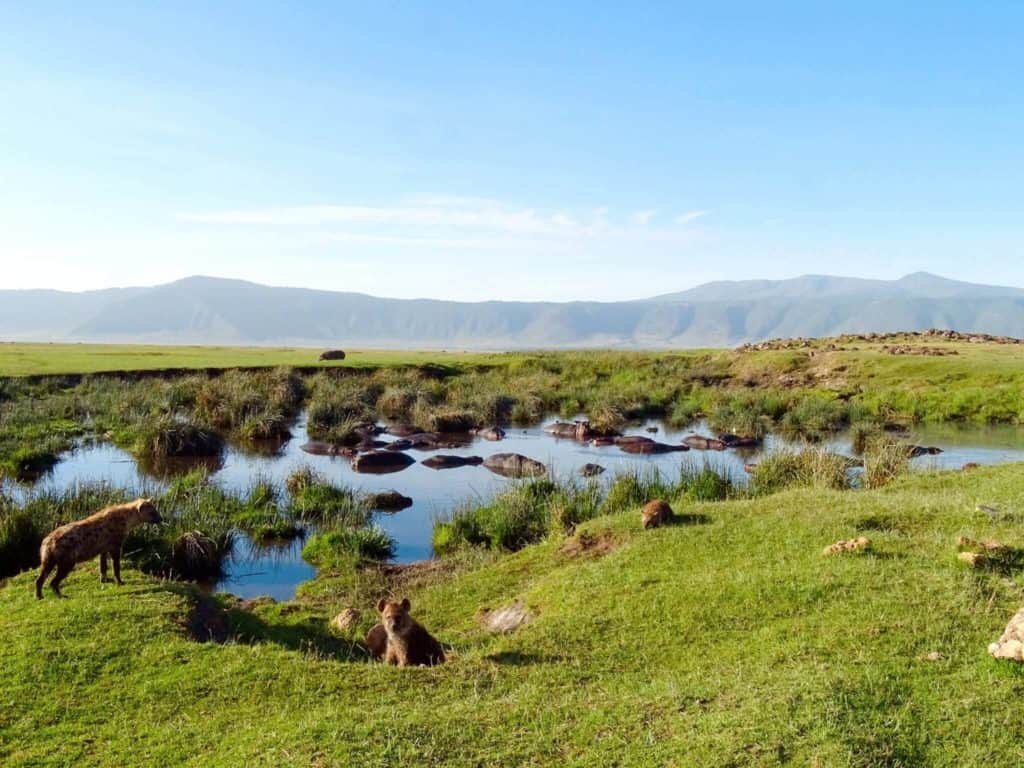 We received a call about a rhino sighting – it would have been an incredible way to complete seeing the big 5 but unfortunately, it was really far away. Some of us spotted a shape moving between some distant trees but it was tricky to get a decent view. I'm not sure if I saw it or not – hopefully Botswana will be the place we see them properly.
Once we'd finished the third game drive of the three days, it was back to the Snake Park in Arusha. We were all feeling pretty tired from the early starts and basic camping but we knew we had Zanzibar beach time just around the corner…
Thanks for reading!
Read my other Africa overloading diaries:
See you next time for more adventures,
Rose