This post may contain affiliate links to things like tours, hotels, Amazon associates and products. These help me earn a small commission at no additional charge to you.
Home to more elephants than any other country in the world, Botswana was the sixth country on our African overland tour.

If you've been following my blogs you'll know we started our G Adventures tour in Kenya, travelled through Tanzania and Malawi, crossed the border into Zambia and finally entered Zimbabwe to marvel over the majestic Victoria Falls.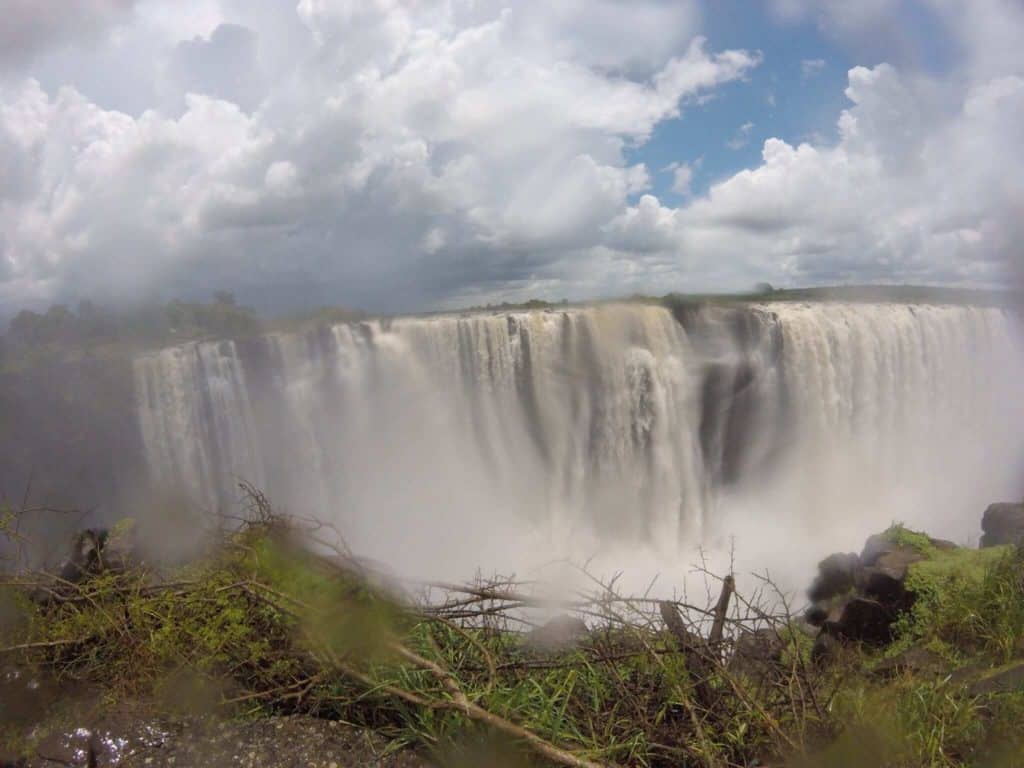 We'd chilled out in rooms (rather than tents) and had a few days off our fast-moving itinerary whilst at the Falls. After four countries and approximately 100 hours on the bus over the past 20 days, this was well received!

We said goodbye to half our group and met the next batch of passengers we'd be sharing our tents and the lando (our big purple bus) with for the following 20 days.
Chobe National Park
One of our first excursions in Botswana was Chobe National Park, a world-famous game reserve home to the big five and lots of other winged, feathered and hooved friends. We stayed nearby in Kasane and showed the newbies how camping was done – or in mine and Sarah's case, not done! Rolling our tent small enough to fit in its bag was still flooring us on a daily basis. Some of my photos would suggest we weren't trying THAT hard 😉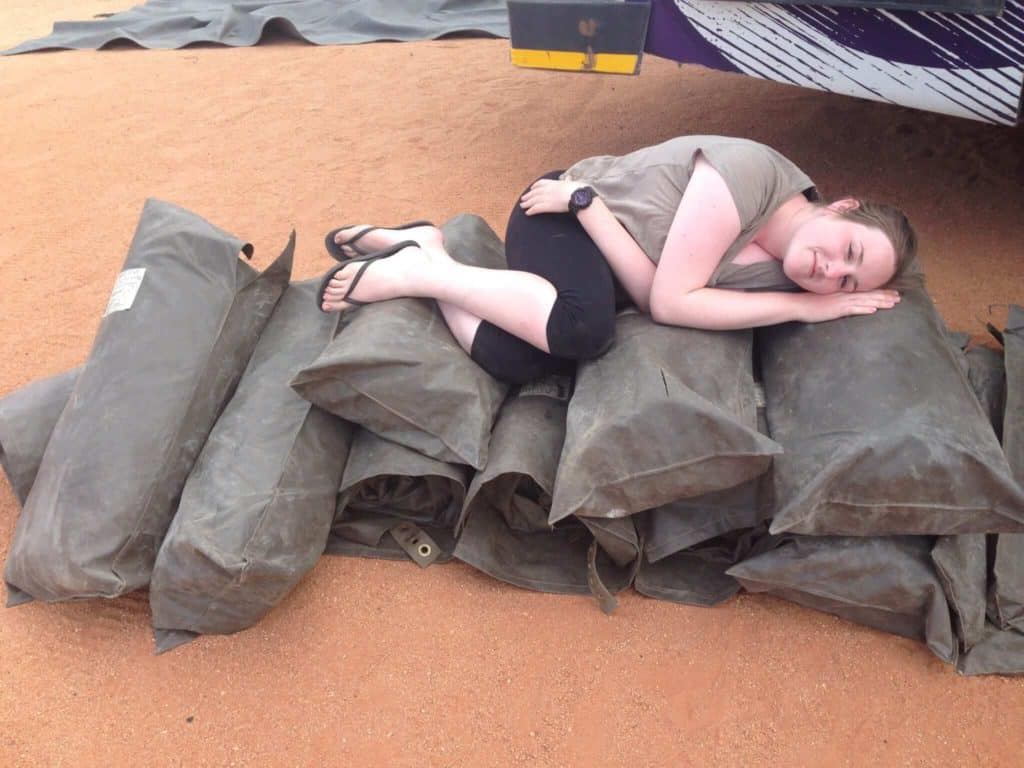 We had the option of a river safari or a land safari in Chobe. Some of us had spotted hippos from a sunset boat cruise just a few days before, so opted to explore the park by 4×4 safari car. Sod's law had it that the river safari group spotted approximately 40 elephants by the riverside whilst we only caught one solo guy hiding in a bush!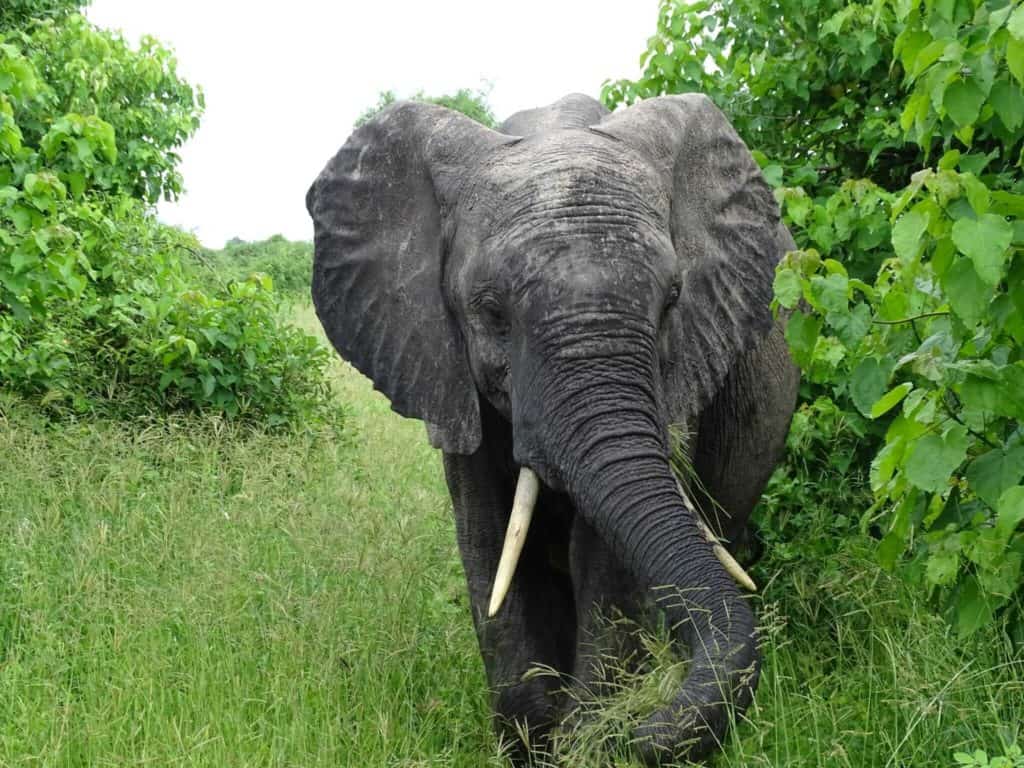 But as the age-old saying (that I just made up) goes: it's better to see one elephant than no elephants at all!
Chobe was a bit less awe-inspiring than some of the other safaris we've been on but after the unbeatable Serengeti it's hardly surprising. We still managed to spot plenty of hippos lazing in the lake, including some young ones. As babies go, we were really lucky – we saw tons of young impala, and most of the monkeys we saw had a little one clinging to them or riding around on their back.
We had our eyes peeled for elephants so when one stumbled out of the bush we squealed at our driver to stop. We also spotted a herd of buffalo plus a kudu, a type of antelope I'd not seen before.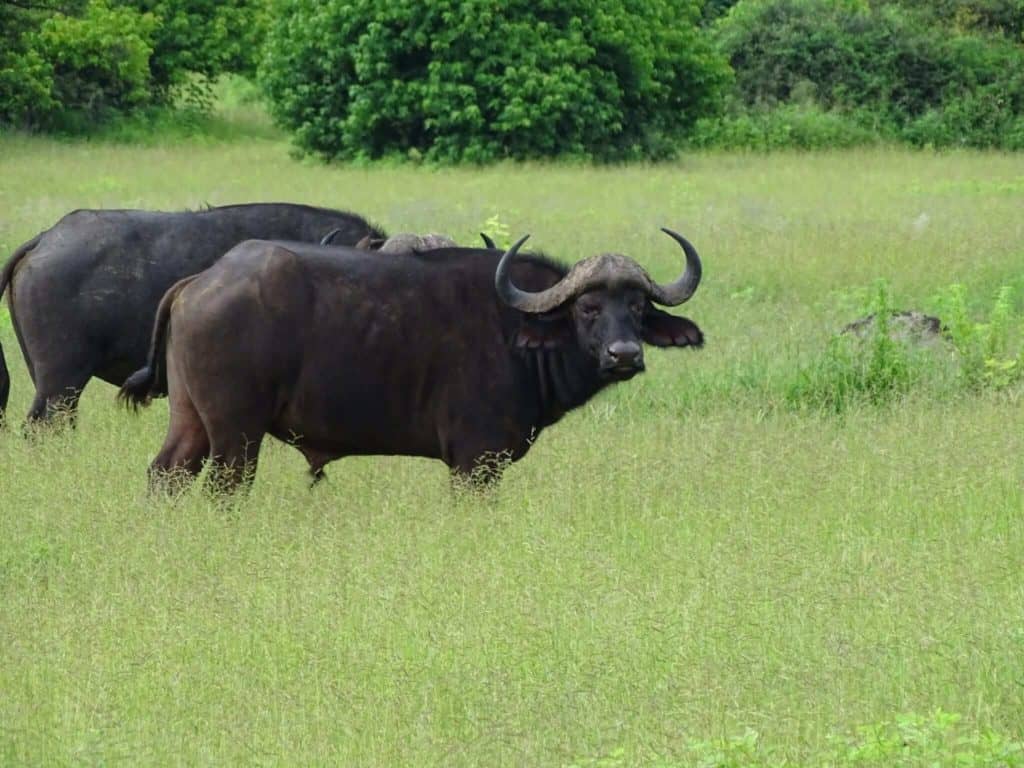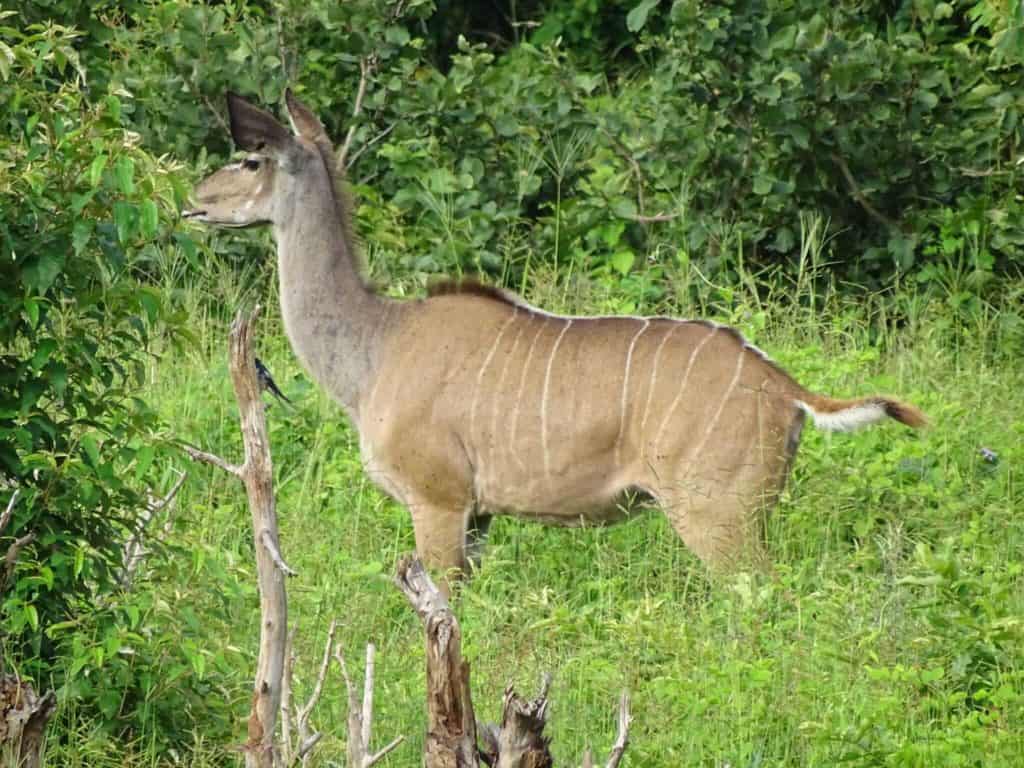 The park was so green as a result of the current rainy season: a total contrast to the dry Serengeti we'd got used to in Tanzania. It made it slightly more difficult to spot the wildlife as the many bushes, trees and long grass made for easy hiding spots. We tracked lion footprints but didn't get a visual of the big cats – luckily we have endless memories of them stalking the Serengeti plains.
After Chobe, we journeyed on towards the west of Botswana. We noted that the country was wealthier than those we'd come from. Around Malawi and Tanzania, we'd seen plenty of shanty villages on the roadside where lifestyles were extremely basic. In contrast to these countries with huge rural populations, Botswana has a tiny total number of residents: just 2 million.
Whereas its neighbour countries rely on agriculture as a way of life, Botswana's population is so small that the government import most of the country's food rather than build an industry of production and distribution.
The Okavango Delta
Our next stop was the Okavango Delta: a series of waterways and islands within marshy grasslands. People use canoes to get between the different islands but the resident animals – such as lions, elephants and giraffes – get about by swimming.
Since swimming wasn't the most practical option for us, we got into pairs and along with a local guide per canoe, punted our way to the island where we were to spend a night. If you've ever seen the punting that goes on in Oxford or Cambridge, you'll know how it works. Our guide, Boys, stood at the front of each boat and used a long stick to push against the waterbed and slowly move the canoe along.
Sarah and I sat back and admired the amazing scenery. The peaceful water in the delta was full of lily pads, insects and tiny frogs. Every now and then Boys would instruct us to stand up as he'd spotted an interesting animal (such as an impala) in the distance.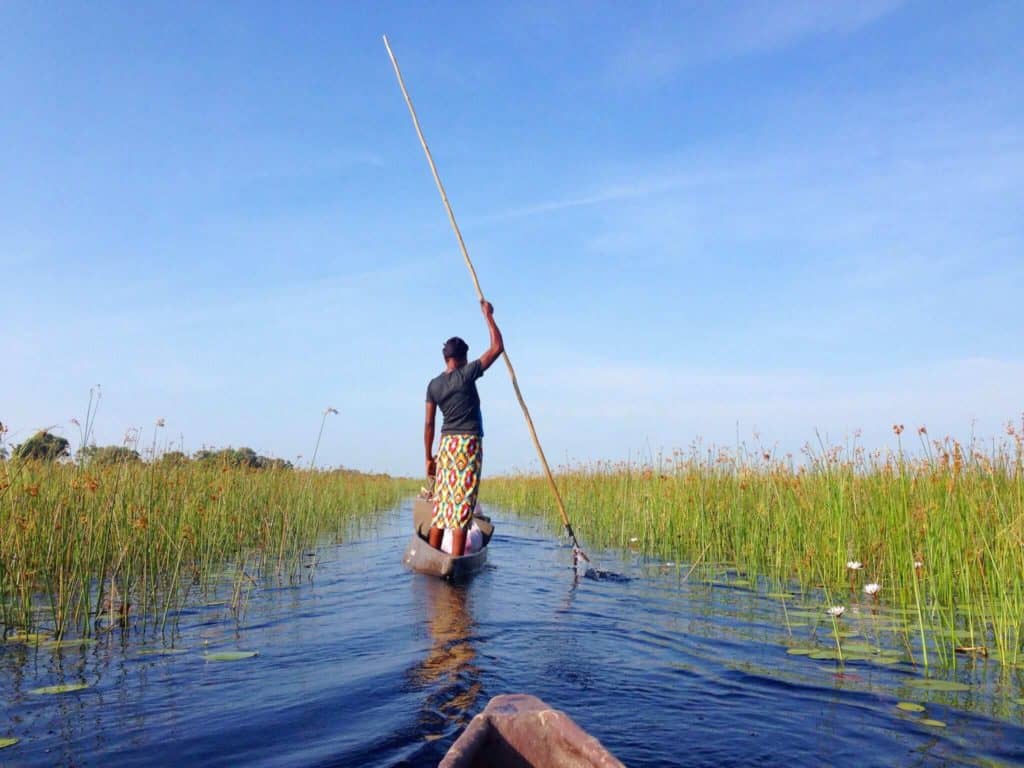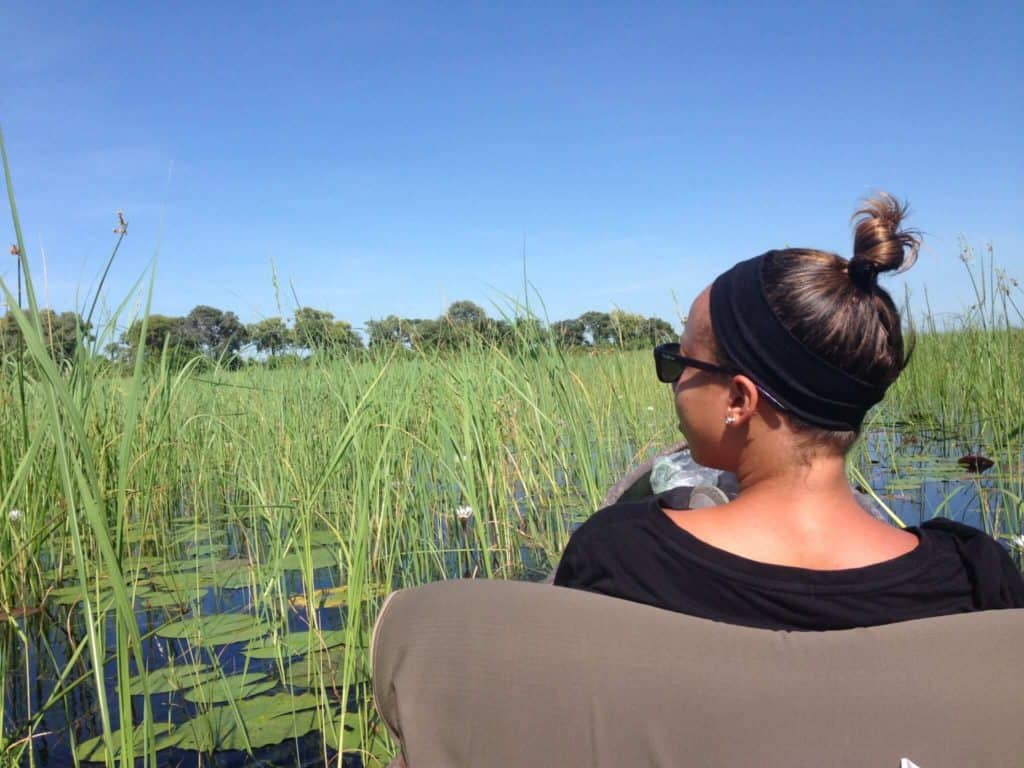 The winding river we were travelling along was lined with long grass. It looked deceiving like dry land but was actually wet and marshy. Only the locals – and probably the animals – knew which bits were walkable, so it wouldn't be the kind of place you'd want to explore alone.
We finally arrived at our humble abode for the night – a small island, shaded by trees and surrounded by marshlands. The river arrived perfectly at the head of the island meaning we could climb out of our canoes and begin putting up our tents for the night.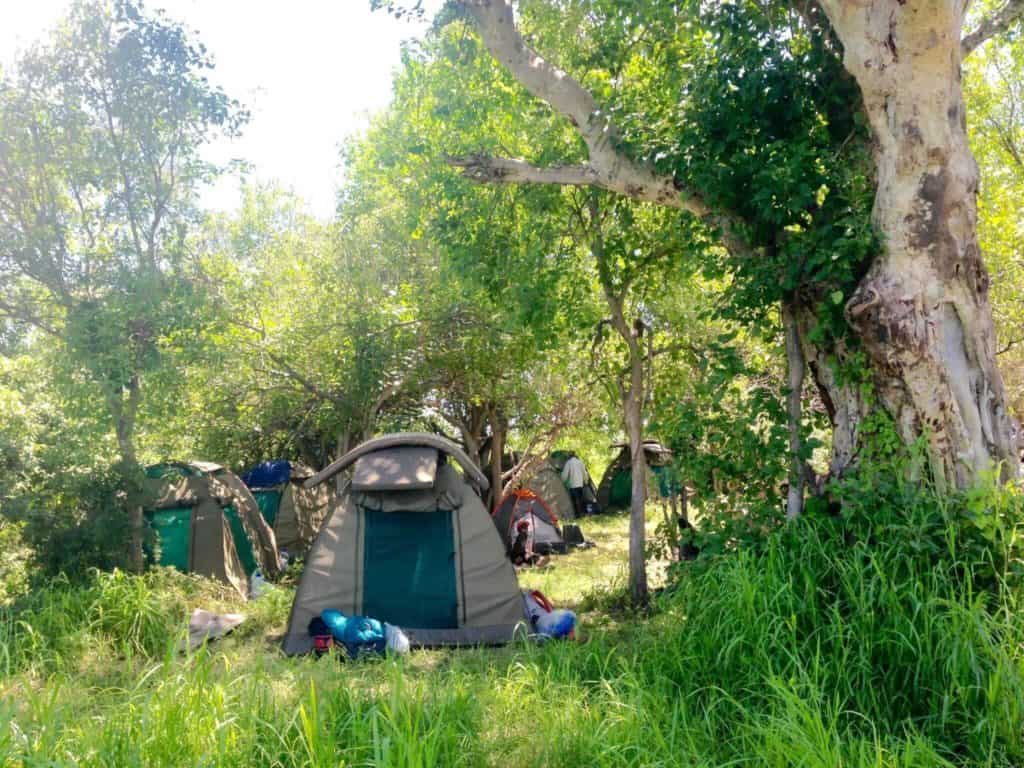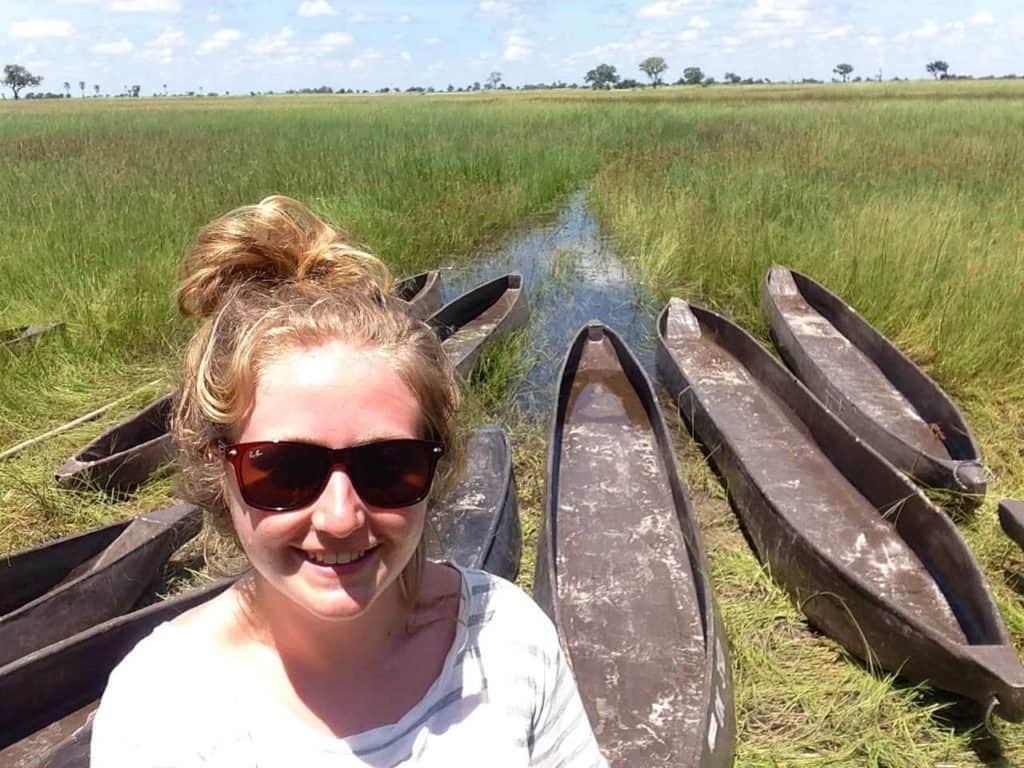 To cool off, we went for a dip in a nearby waterhole, whilst ignoring the notion of the snakes and crocs that could be lurking.
Later in the day, we headed out on a walking safari to try and catch sight of some wildlife. I'm not sure I've ever sweated so much in my life! We trekked with a guide through long, scratchy grass in the baking sun and kept our eyes peeled for animals.
We managed to spot a solo bull elephant and follow him for a while at a distance. I admit I felt a bit scared – imagine being up close to a wild elephant without even a car protecting you! Apparently, this was nothing however, as our guide told us he'd stood near the same spot watching a lion and her cubs just 100 metres away. Rather him than me!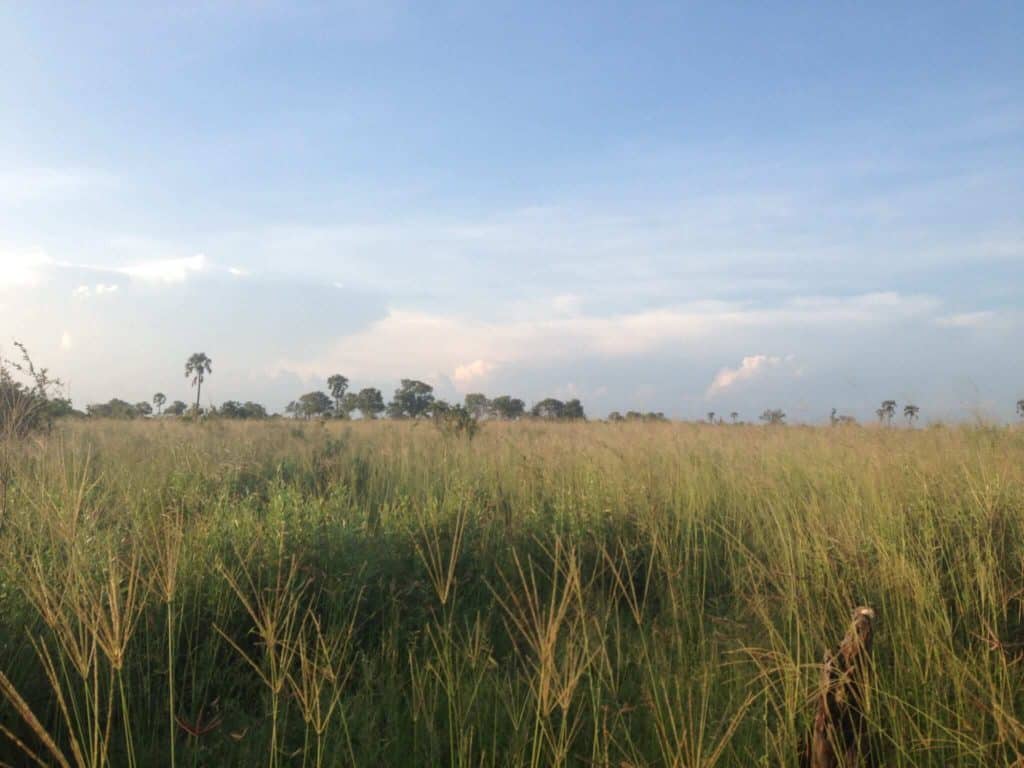 We were all pretty pleased (plus dehydrated and scratched from the long grass) to return to camp. Two and a half hours of walking meant we'd totally earned our dinner – another feast of soup, rice, veg and sausages cooked up by Justus.
A hot night was ahead in the tent. Sarah and I discovered a mosquito shut inside with us but, despite many attempted swattings, we woke up covered in bites on our bums. Luckily we had another relaxing canoe cruise to look forward to before arriving back on the mainland….
We had just one night left in Botswana before it was time to head to the next country on our itinerary, Namibia.
Ghanzi Bushmen walk
The final evening was spent at a campsite near Ghanzi where we headed on a walk with the local Bushmen. As well as being told about how the native herbs, plants and roots are used as medicine, we met some of the Bushmen themselves, who wore traditional dress (authentically or for our tour group I don't know).

I immediately befriended a baby being carried on his mother's back, and he grasped my finger for the majority of the walk, apparently fascinated by my rings and bracelets. When he eventually started crying, his mum placated him by giving him a giant green caterpillar to play with. It seemed to do the trick!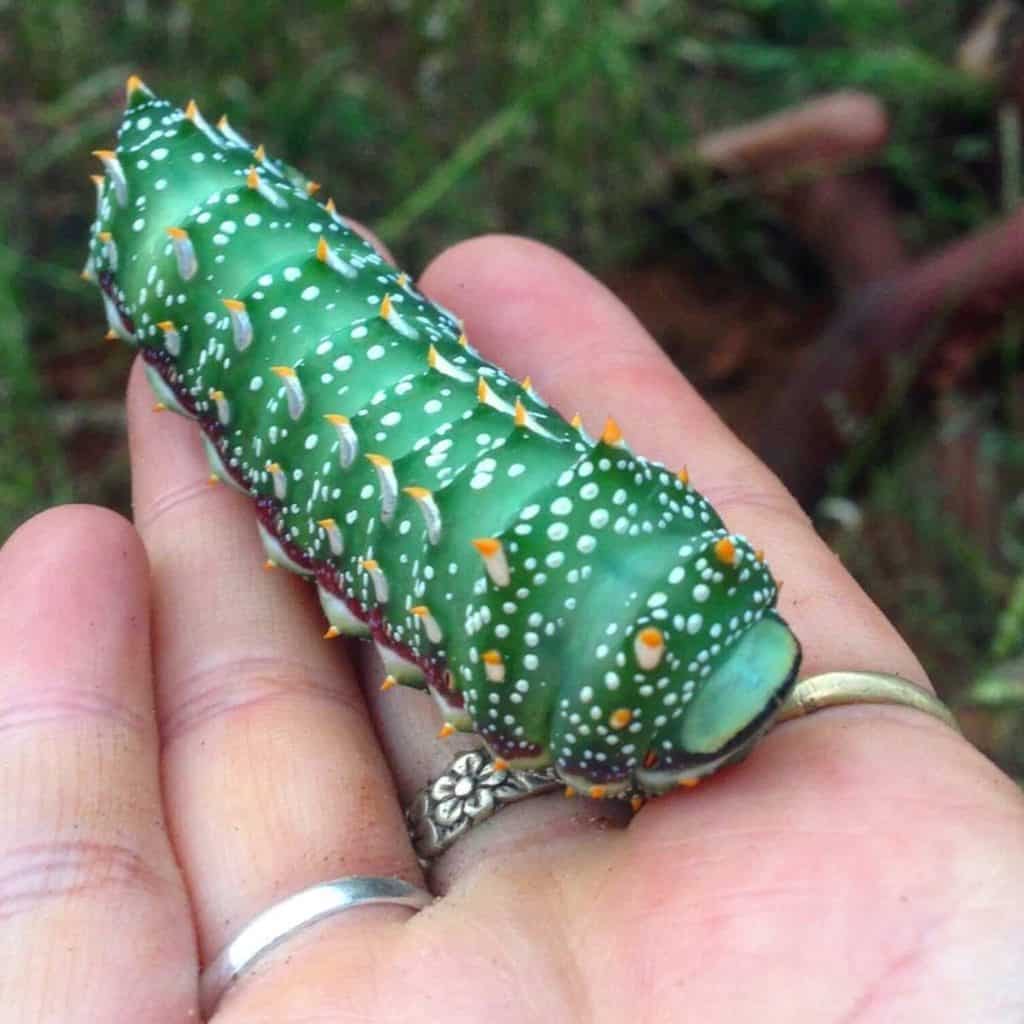 With talk of spectacular sand dunes and the Namib desert to come, I was excited to cross the border and see what adventures in Namibia had in store. Will keep you posted!
Thanks for reading!
Read my other African overloading blogs:
See you next time for more adventures,
Rose