This post may contain affiliate links to things like tours, hotels, Amazon associates and products. These help me earn a small commission at no additional charge to you.
Day 7 – arriving in Zanzibar
After a week in a tent, we were all desperate to get to Zanzibar.
Sarah and I had not taken to camping around Africa like ducks to water and more like dogs walking on their hind legs. We'd yet to put up or take down a tent without Chris having to assist and on occasion he'd been known to undo the work we'd done as it was all wrong.
Our campsites around the Serengeti and Ngorongoro Crater had been basic (think cold showers and hyenas prowling around) so everyone was ready for some r+r. We caught a ferry from Dar Es Saleem to Stone Town, Zanzibar. We were excited to check out Stone Town as it's known for its food, architecture and shopping, but that would be waiting for a couple of days as we were heading first to Nungwe Beach.
Our ordeal on the ferry was a bit of a faff as we had to have our bags searched and passports inspected. Zanzibar is part of Tanzania now but hasn't always been so has certain passport controls for visitors. I'd rather die a painful death than carry my big rucksack for more than two minutes in the heat (but I'm always travelling so welcome to life!) and it was super hot and crowded on the ferry.
However, on arrival on the island we met Jay, our Zanzibar guide, who took us to the most gloriously icy cold mini van and handed us out cold water. I could have married Jay on the spot.
As we headed towards our accommodation in Nungwe, Jay promised us we would have the best holiday EVER on Zanzibar.
On seeing the pristine white sand and bright turquoise sea, we began to trust his words. The beach was possibly the most beautiful I've ever been on!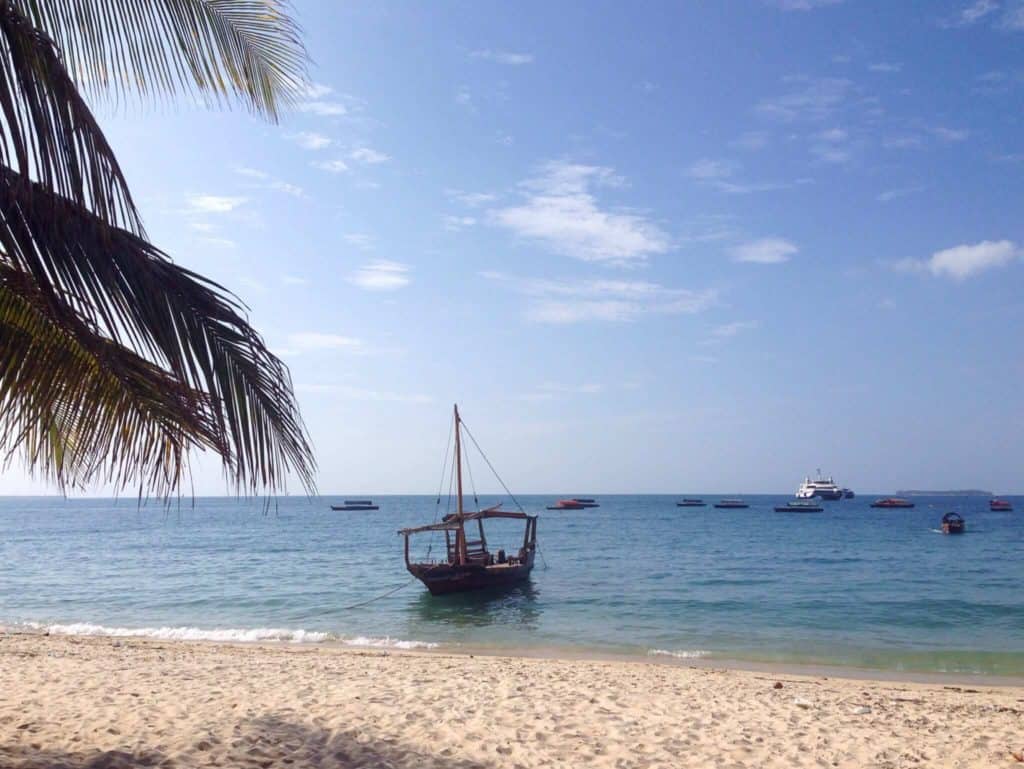 Once we'd checked in it was a long time since breakfast and Sarah and I were delusional with hunger. We decided to head out of our resort in search for cheaper food but after two minutes walking in the heat, we ended up in a weird dead end and were almost hysterical with the need to eat, so headed back to our hotel.

Our exploration hadn't been as bad as Ben, Chris and Ray's however who got lost in a field with a man hacking up a goat whilst they were trying to find a dive shop!
Despite making a song and dance and trying to initiate underground washing deals to avoid paying the expensive laundry prices (we assured everyone we just HAD to save money), for dinner Sarah and I dined on lobster and drank nine cocktails each. We were all definitely in the holiday spirit and with the amazing views and sunsets it was hard not to be.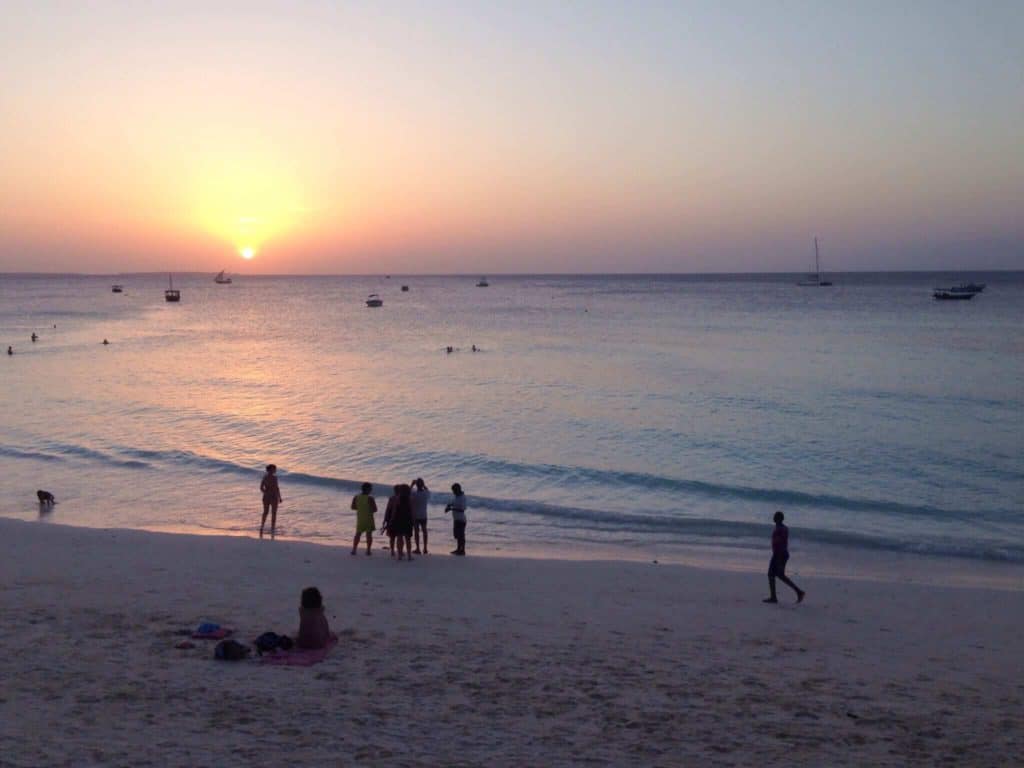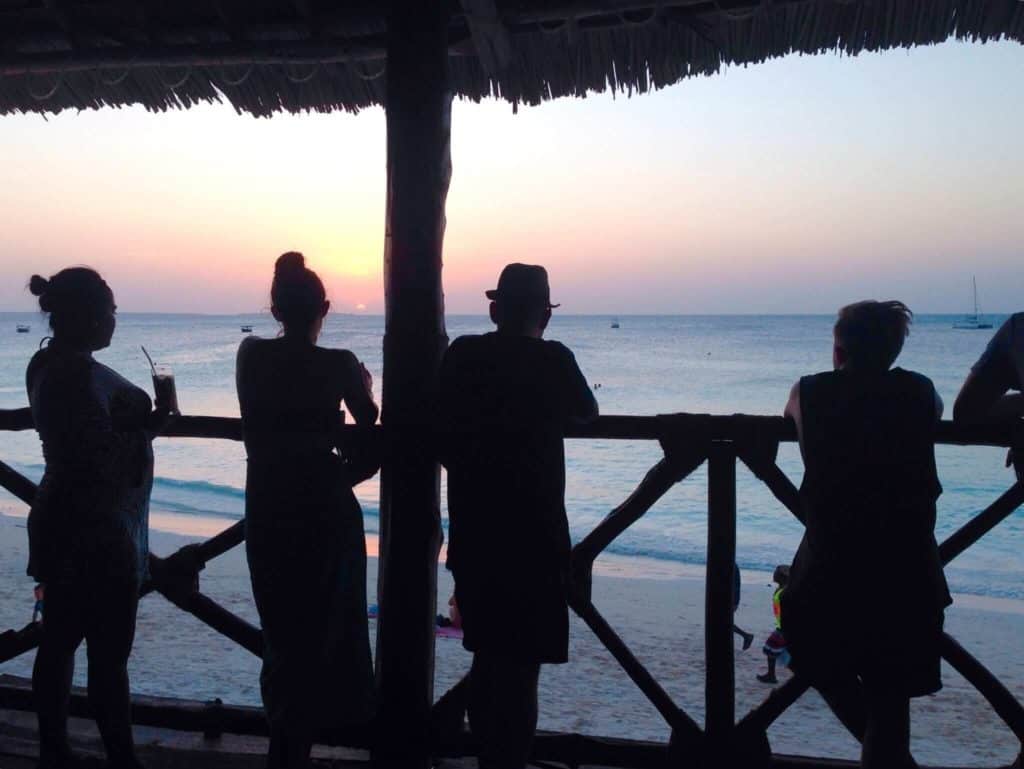 Day 8 – beach day
The next day we had the whole day to do whatever we wanted. Despite being on possibly the most picturesque island I've ever seen, I spent much of the day locked in the toilet. I managed to get on the resort's Facebook page but I couldn't find a way to message them so my only option was to leave them a review saying 'help! I'm locked in the toilet!'
I thought help would be swift but alas, it was not. Eventually, I managed to break out myself, only to find loads of people just around the corner who clearly MUST have heard and ignored my cries for help. Luckily we were about to depart on a sunset boat cruise which was enough to cheer anyone up. Bobbing along on the water drinking gin and tonic was just the way to recover from camping!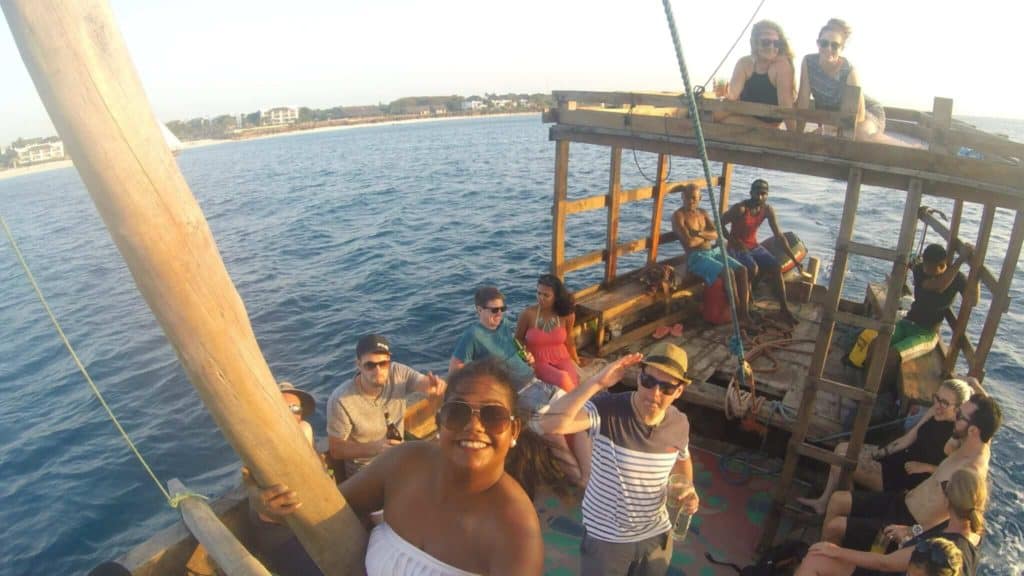 Later, whilst having dinner on the beach, I tried to play with a local cat despite everyone else's advice not to. Some would say they were right as the cat bit me which has prompted a rumour that I now have rabies. After a few more beverages the night ended in spooning and the next day began with a hangover.
Day 9 – spice tour and Stone Town
After breakfast it was time to say goodbye to the beach and hello to Stone Town – after a spice tour. We stopped off in the jungle where we were shown and got to sample nutmeg, pepper, vanilla, coffee beans, turmeric and more. My favourite was a bright red paste which came from the seeds of a pod-shaped plant. Our guide called it local 'lipstick' – I put some on and was pretty happy with the shade TBH.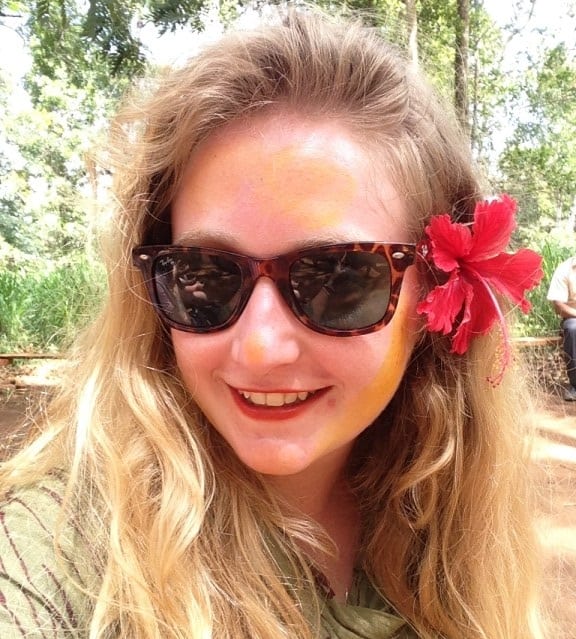 Our guide for the spice tour took me aside, covered my face with turmeric (which apparently doesn't come off for days) then made me take selfies with him and asked if I had a boyfriend. Perhaps smearing herbs over someone's face is the dating etiquette in Zanzibar? We'll never know.
We had a full afternoon in Stone Town which began after checking into our hotel. It was amazing! Sarah and I each had a four poster bed – it was a struggle to head out sightseeing rather than collapse on them.
We began at the Slave Museum which was harrowing but very important in understanding Zanzibar and its history. As a port between Africa and the East, many slaves were transported through Zanzibar, kept in sub-human conditions and sold in auctions.
Following our visit, we went for lunch at possibly the most delicious restaurant in the world. Our guide Justus and the Lonely Planet had both recommended it, and it didn't disappoint. Zanzibar is home to a lot of Indian food, of which you could help yourself to – buffet style.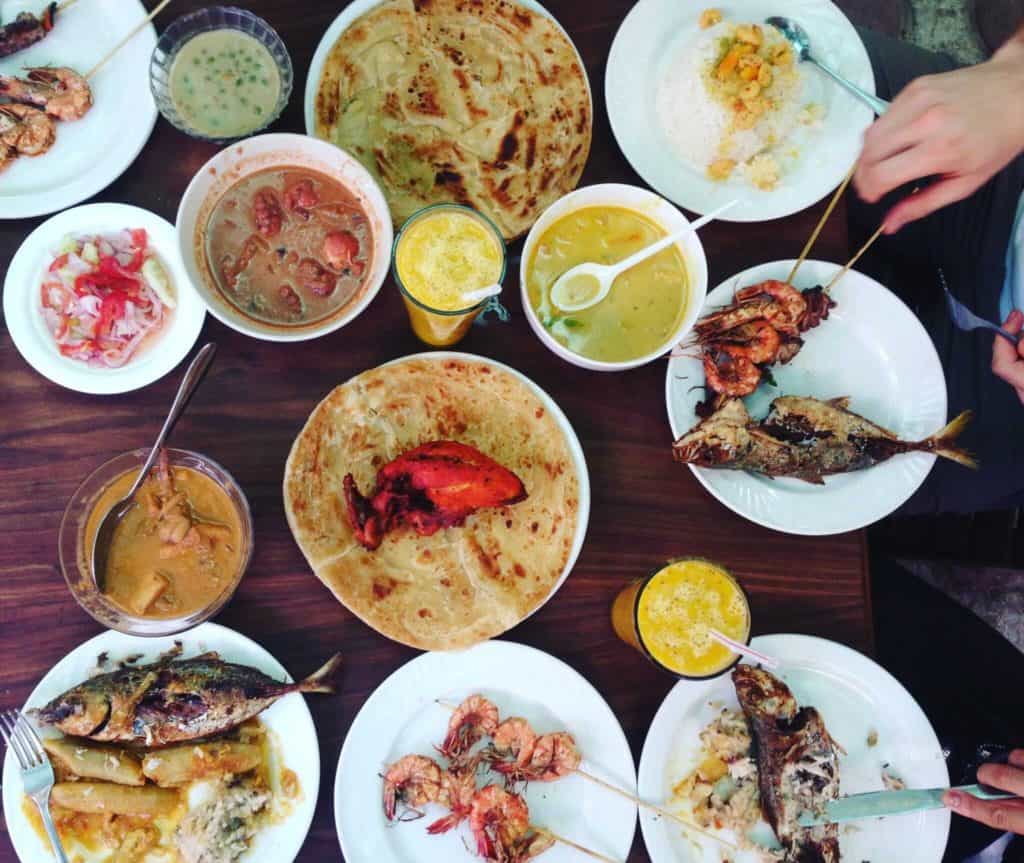 It was a hectic atmosphere up at the counter and yet again I was delirious with hunger. Sarah informed me that this was the kind of situation where she excels and began pointing at various dishes proactively. She eventually came back over with a feast for us including octopus coconut curry, fried fish, rice, tandoori chicken, roti and mango smoothies. Best day of our lives!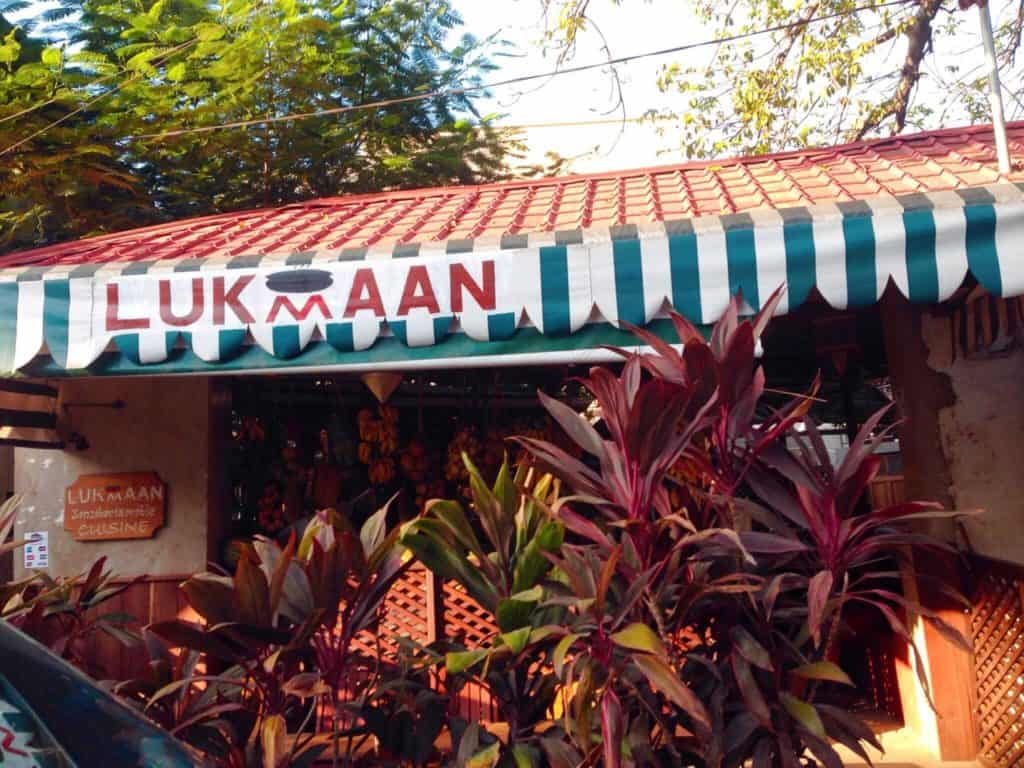 We spent the rest of the day wandering through the town. The narrow alleyways, bright shops selling trinkets, and local life were absolutely gorgeous. I loved the ornate doorways and shutters as well as the sweet kids and cats running around (I had not learnt my lesson after the previous night's feline attack).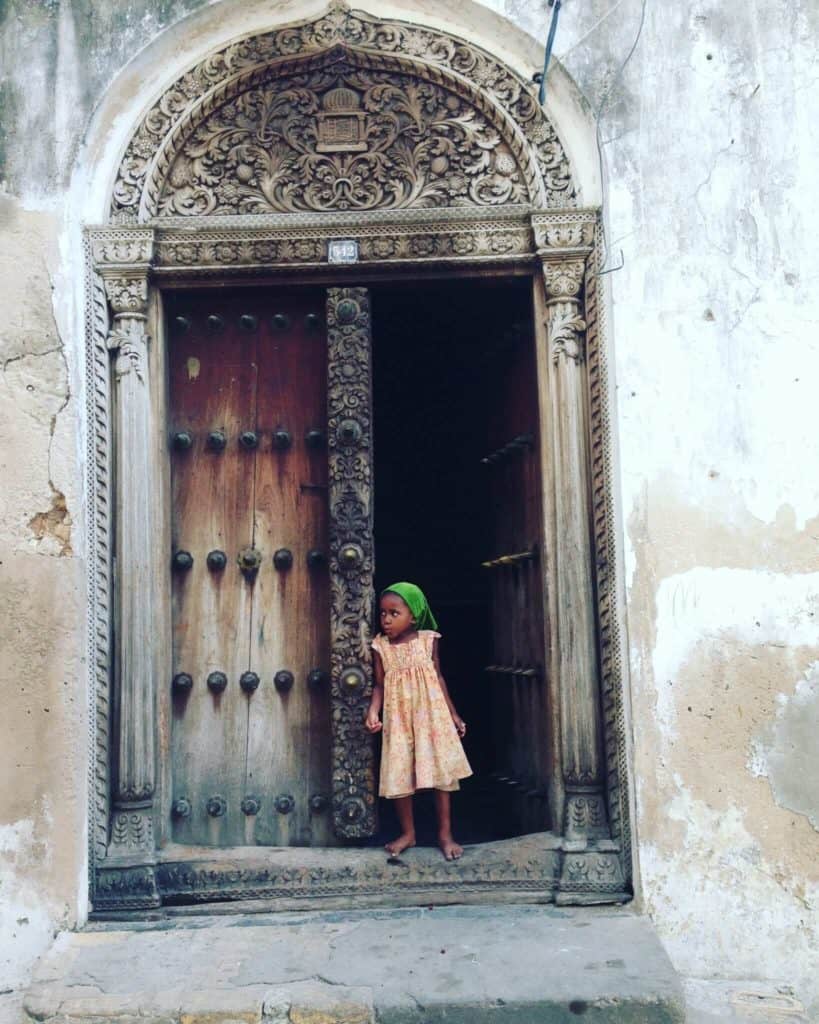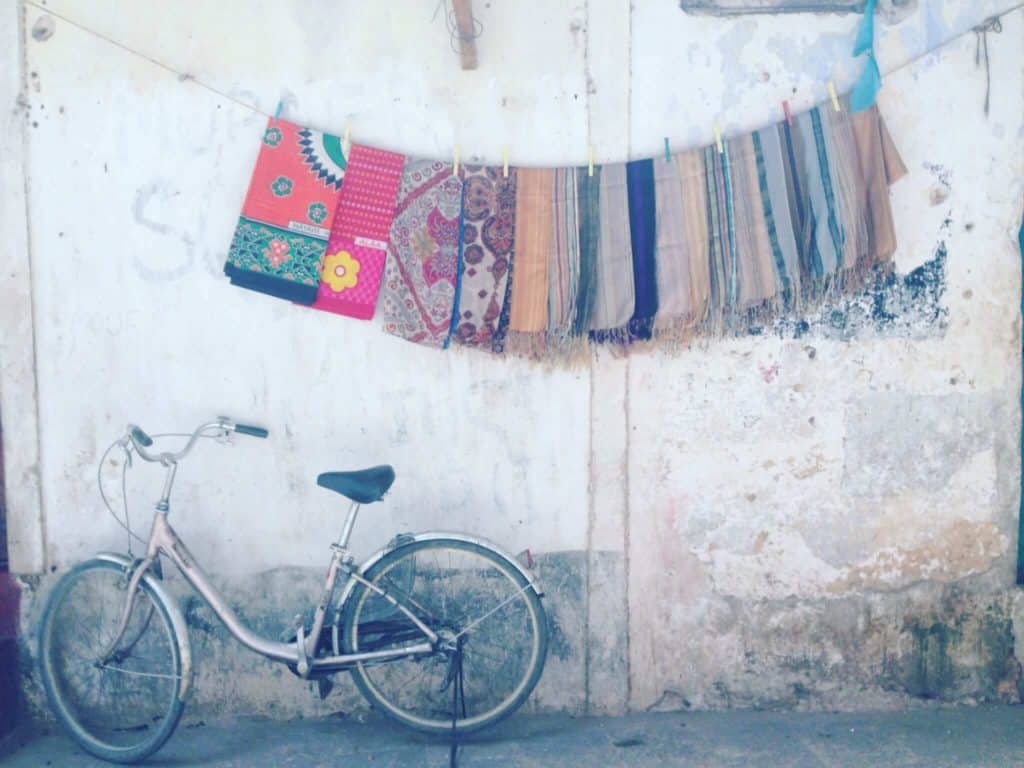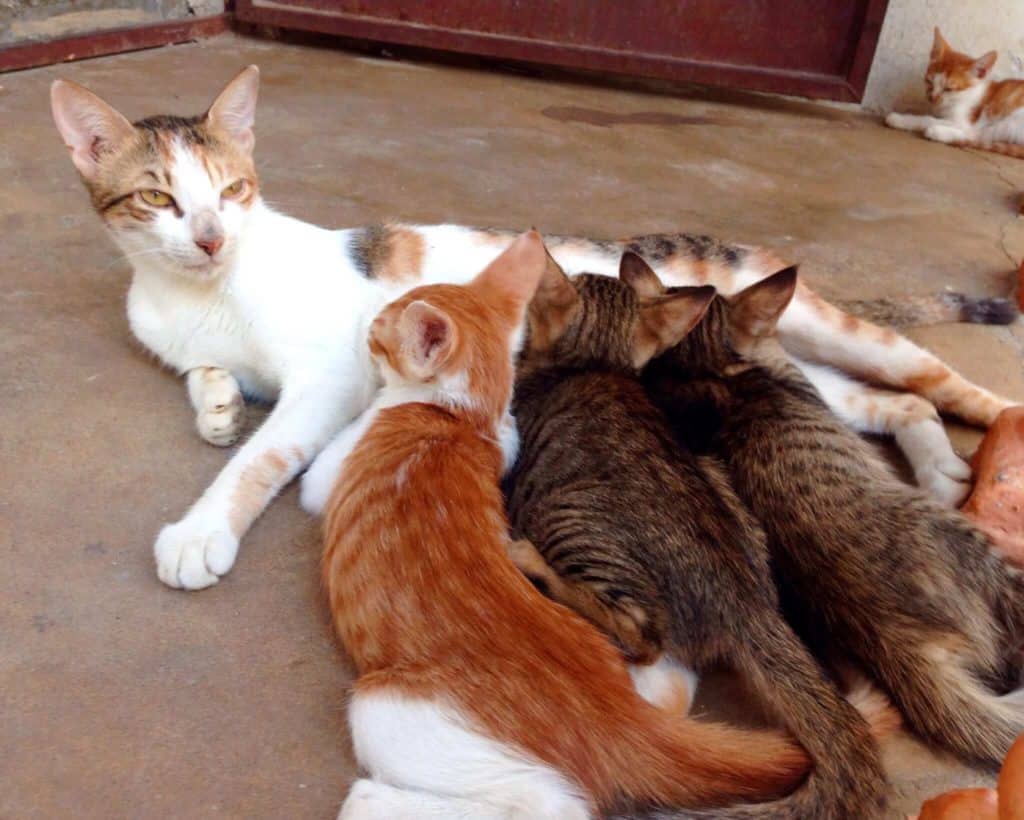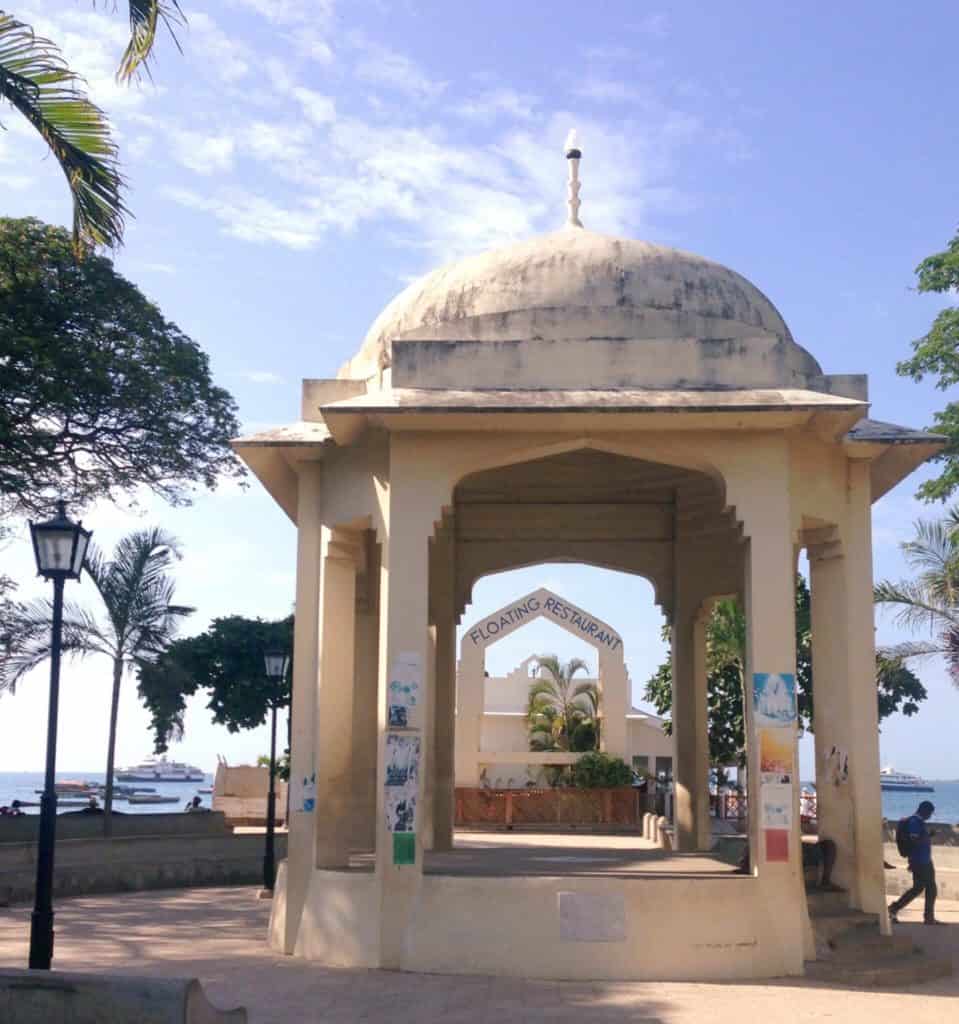 We watched the sunset on the hotel roof before going to the night market for dinner. This was a vibey place with hundreds of stalls on the seafront selling seafood, juice and 'Zanzibar pizza' (with weird, non-pizza toppings like Nutella and cheese. Together. Yes.) We opted for lobster masala on a stick which was 'interesting'.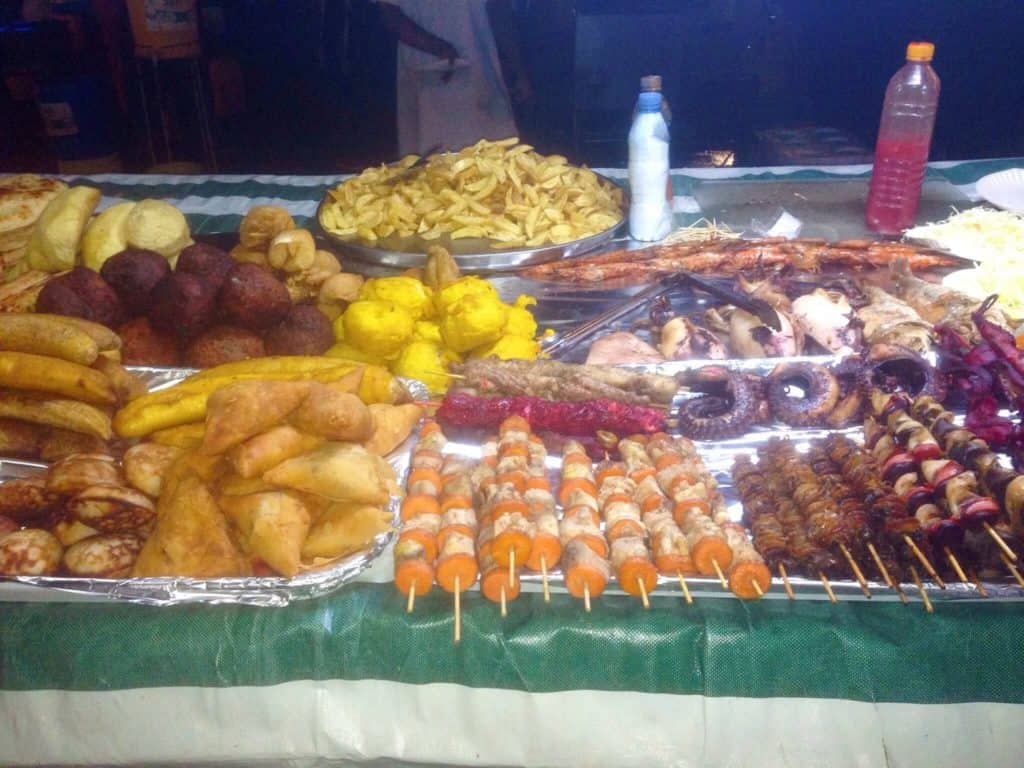 I felt like I could have wandered around Zanzibar's winding streets for days but alas, the road called. We were up at 5am the following morning to continue our travels.
Unfortunately, breakfast wasn't ready in time for us so Justus instructed us to 'grab a banana and an egg' (something no-one's instructed me to do before) and we exited the hotel to the music of Ben's screams as the eggs were apparently straight out of the pan.
After another hectic ferry passport control, we were reunited with the lando, our bright purple G Adventures bus, and we continued our journey. We had two more nights of camping in Tanzania before we crossed the border into Malawi.
Thanks for reading!
Read my other Africa overloading blogs:
See you next time for more adventures,
Rose x