This post may contain affiliate links to things like tours, hotels, Amazon associates and products. These help me earn a small commission at no additional charge to you.
I recently had a major bucket list experience in Mexico which was brand new for me: riding in a hot air balloon over Teotihuacán!

I had wanted to experience a hot air balloon ride for such a long time and recently the dream came true when I partnered with Tinggly. It was an extra cool experience because we were looking down on some of Mexico's most famous pyramids, the 2,000-year-old ruins of Teotihuacán.

But before we get into that…
MEXICO CITY QUICK LINKS

Accommodation: Booking.com / Hostelworld

Copy of Lonely Planet Mexico / Mexican Spanish Phrasebook & Dictionary

Travel insurance: True Traveller (European travellers) / Hey Mundo (other nationalities) / Safety Wing (digital nomads)
Who are Tinggly?
Tinggly are a gift company focussing on experiences and stories, not things. With the planet struggling to keep up with modern-day mass production, I can't stress enough what a cool idea this is.
Check out the Tinggly experience location map here.
Tinggly offer giftable boxes (either physical or by email) which contain a voucher for the recipient to use on their choice of experience. With options in 100+ countries and no expiry date, it's a great option for world travellers who don't yet know where they'll be and when.

If there's a traveller in your life who'd like a memorable experience and story to tell, this sounds way better than bubble bath or socks for the fourth Christmas running!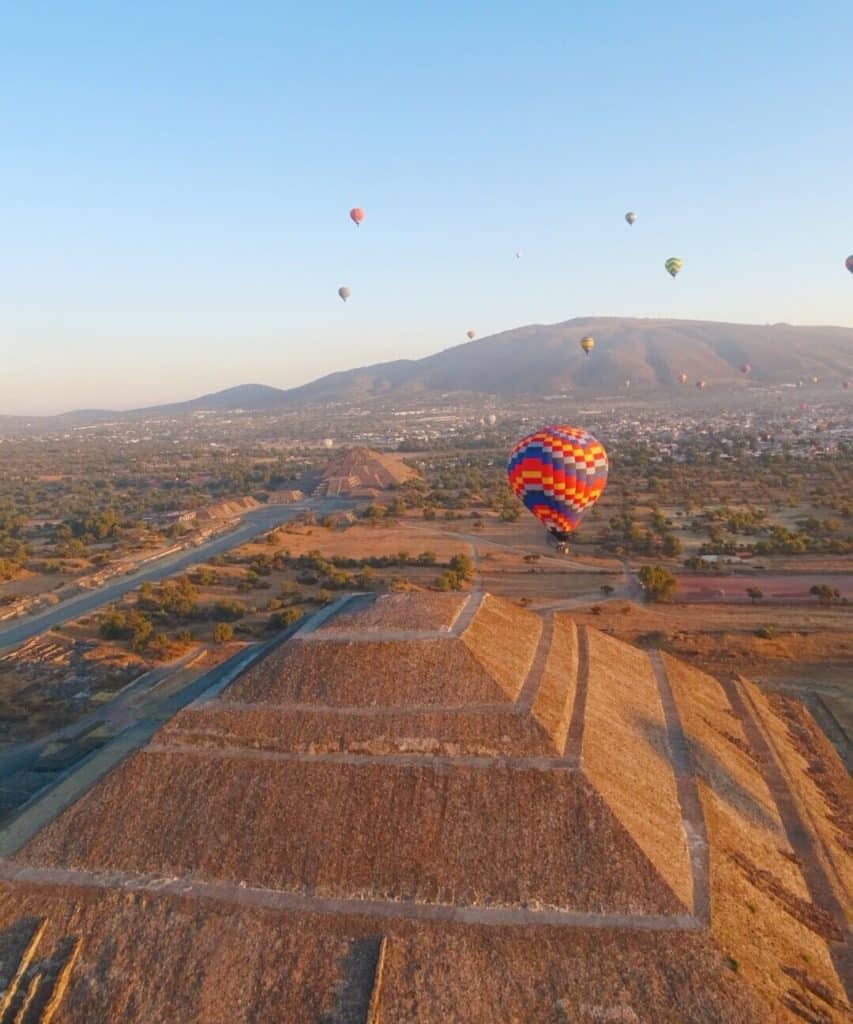 Read next: 5 day itinerary for Mexico City
Not looking for a giftbox experience? I recommend GetYourGuide for general Mexico tours:
Hot air balloon over Teotihuacán
With a Tinggly trip of my choice to take, I was keen for a bucket list experience. Since my top Mexico City tip is taking some day trips to experience a variety of landscapes, I headed straight for Teotihuacán.

Nothing sounded as memorable as cruising above ancient Mexican pyramids by hot air balloon. I can confirm it was every bit as magical as I hoped!

The Teotihuacán Pyramid complex is made up of two enormous pyramids, Pyramid of the Sun and Pyramid of the Moon. The complex dates back to the year 100 BC, making it one of the oldest remaining settlements in the Americas. In its heyday, it would have been the sixth-largest city in the world.
The chance to visit and learn about Teotihuacán is a must for travellers to Mexico City. The pyramids sit just 40 minutes by car from the capital so it's an easy half-day trip. If you take the hot air balloon trip, you'll depart early and return to the city before lunch.
What to expect during a hot air balloon over Teotihuacán
You'll need to be up early for a hot air balloon ride over the Teotihuacán Pyramids but I can confirm it's 100% worth it. We departed from the city at 5.20am and reached Teotihuacán just after 6am.

Note – For the hot air balloon over Teotihuacán, Tinggly pick up from Polanco, Reforma, Zona Rosa, and the Historic Centre of Mexico City. They don't collect from residential addresses, only hostels and hotels. This was no problem as I just had to walk three minutes from my Airbnb to the nearest hotel.

Despite feeling drowsy, everything ran smoothly and we had coffee and a light breakfast while waiting to begin our voyage. My drowsiness didn't last long when we climbed into a fired-up balloon and the adrenaline kicked in!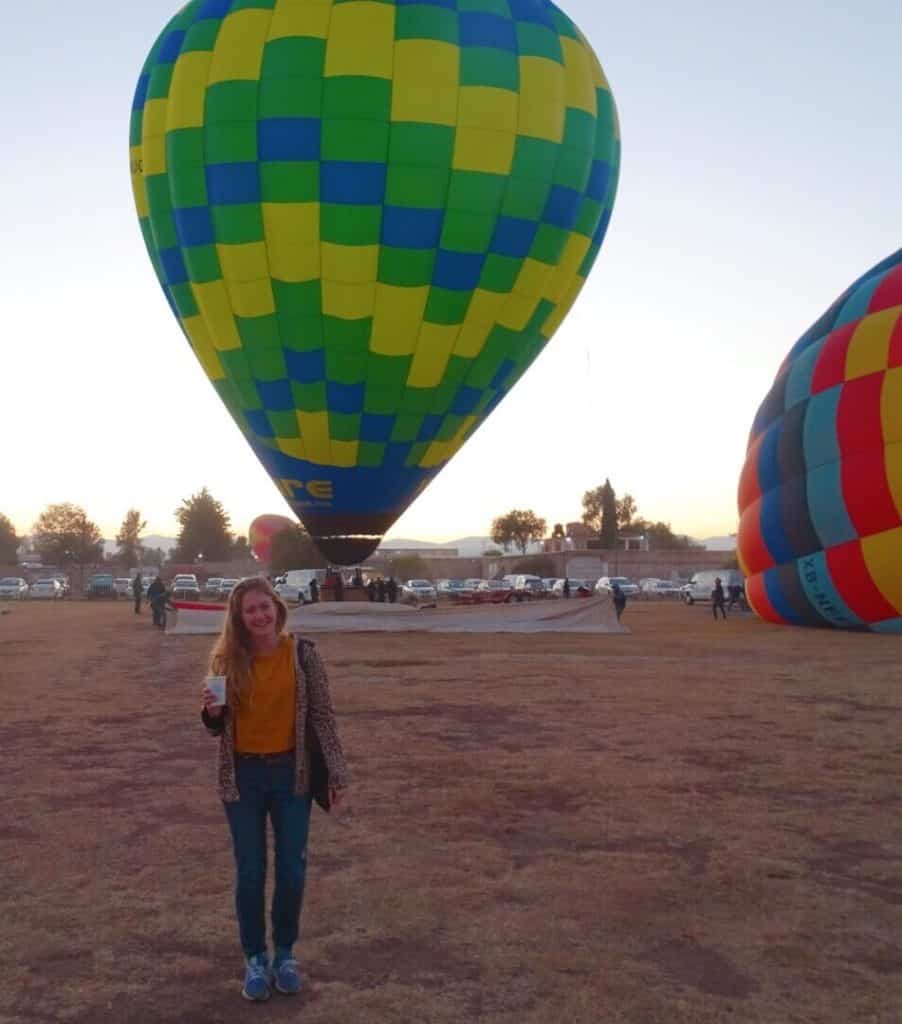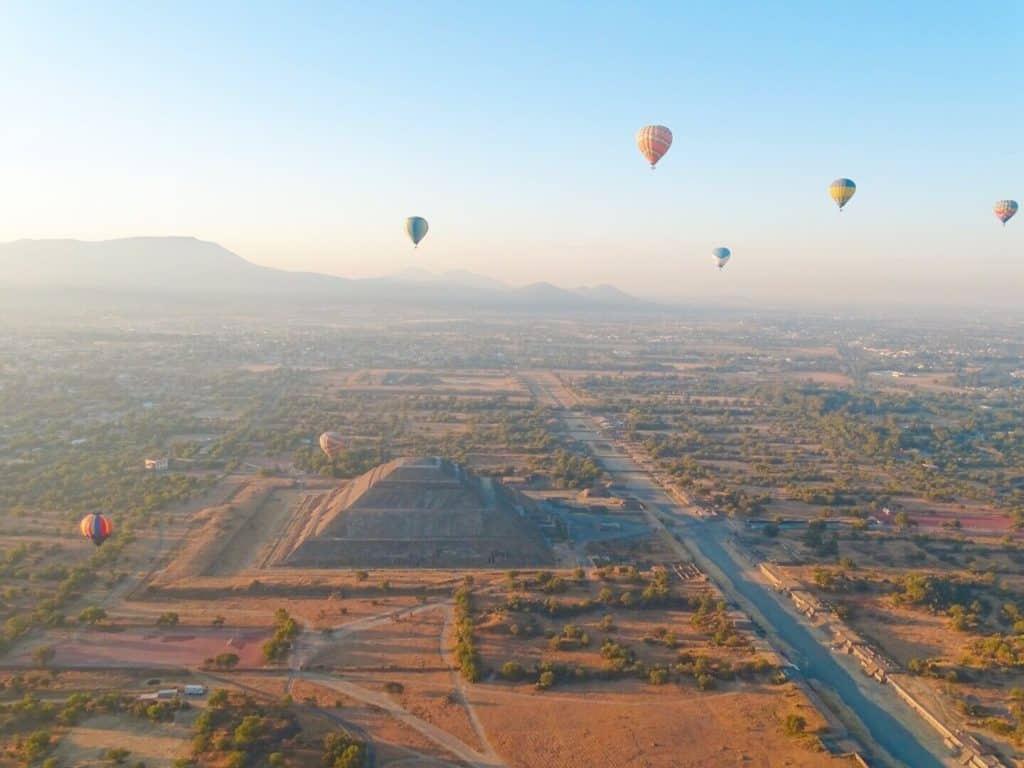 Taking off
We took off while dawn was still breaking and watched as golden light spread over the majestic pyramids.

I felt a bit nervous as I'd never travelled by air balloon before but it all felt very smooth. Coming down was more tricky as it's all dependant on the winds that day. But the team did an amazing job of pulling us down safely and not over a cactus forest. Off all the plants to land on, I imagine they would be the most painful!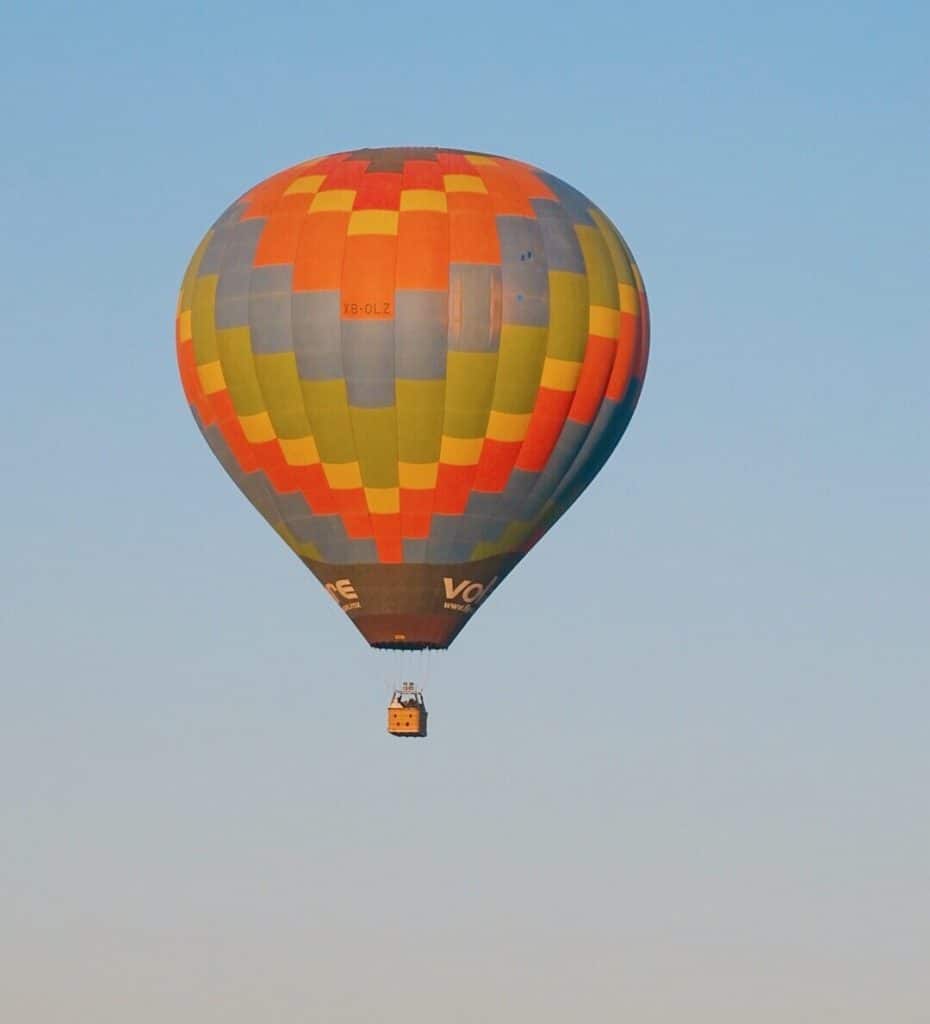 The journey itself was incredible and we had around 1 hour cruising over the pyramids. The translation of Teotihuacán is 'the birthplace of the gods' and the site was built to align with the stars. It's amazing how advanced early Mexican societies were, especially how much they knew about astrology despite not having any of the technology we do today.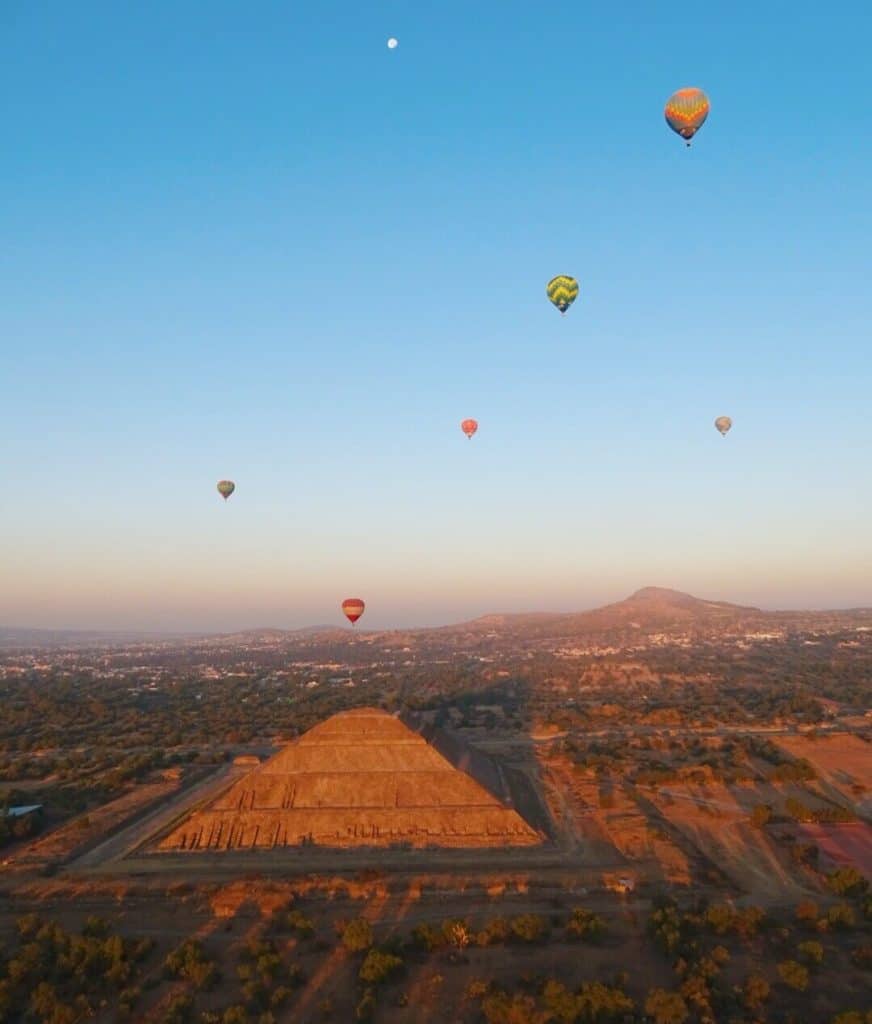 By the time the sun was fully up and the golden hour was over, we could see people walking around the pyramid site below: tiny specks from our high vantage point.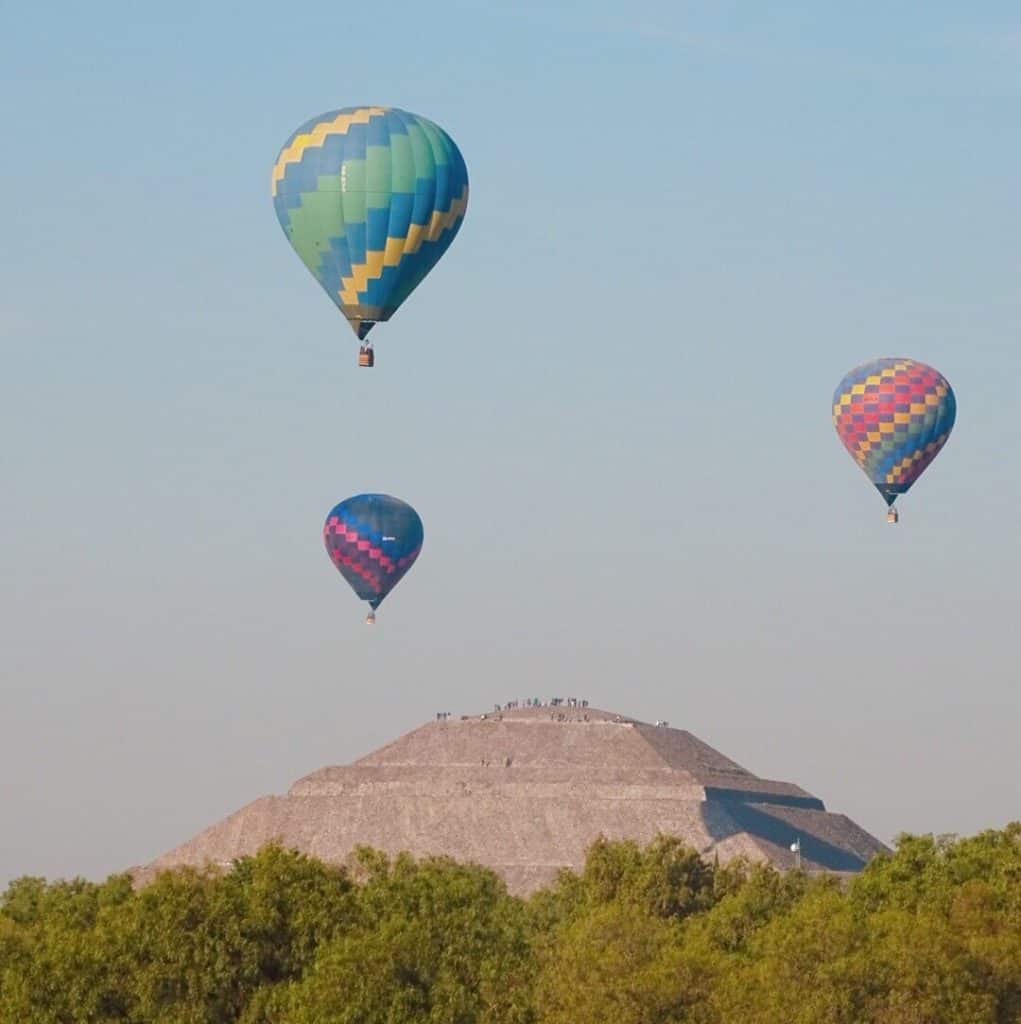 Reasons to book an experience with Tinggly
Aside from the fact that Tinggly gift boxes are perfect for travellers who want experiences and stories rather 'stuff', the Tinggly ethics are a reason I'd travel with them again.

Tinggly partners with companies who help remove harmful plastics from the environment. Purchasing one gift box cleans up 15kgs of world plastic, plus the boxes are made of 100% recycled materials.

If your recipient hasn't set off on their trip yet, or you know where they'll be over Christmas or their birthday, you can order a physical gift box containing their experience voucher. If they're already abroad and you don't have an address, you can opt for an e-voucher.

To browse all the gift boxes, click here.
Note – for the Teotihuacan hot air balloon ride, you'll need to purchase the Ultimate Collection box.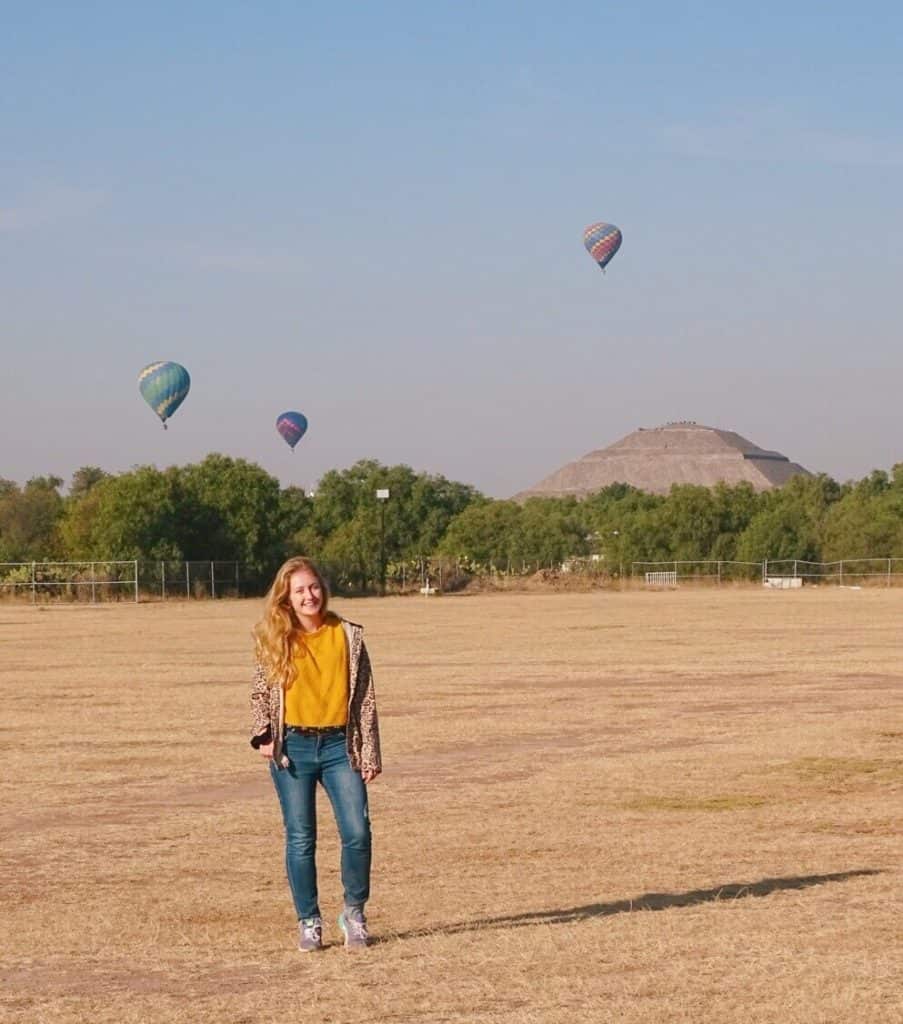 We departed Teotihuacan and arrived back in Mexico City by 11am. Perfect time for a noon nap or, in my case an oozy breakfast burger at Clara y Ema, my favourite cafe in Condesa.
Tips for a Teotihuacán hot air balloon ride
Wear warm clothing – I wore jeans, a jumper and jacket and I was still cold at 6am when the temperature was around 4 degrees
Wear closed-toe shoes, firstly as it's cold and secondly as it's more practical as you're climbing in and out of the balloon
Bring snacks if you're someone who needs a substantial breakfast
Thanks for reading!
Read my other Mexico blogs:
Note – While I was hosted by Tinggly, all experience are my own.
See you next time for more adventures,
Rose
Ps. Liked this blog? Pin it for later!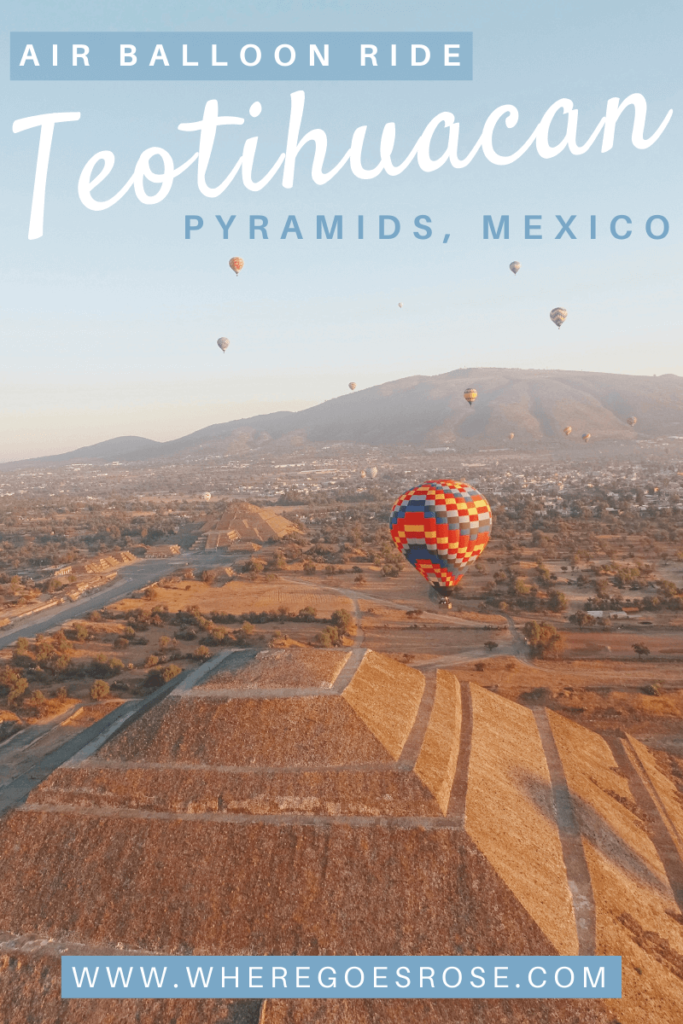 VISITING MEXICO?

Pick up the latest copy of Lonely Planet Mexico and a Mexican Spanish Phrasebook & Dictionary.

Getting around by air – the quickest (and often cheapest) way to travel between Mexican cities is by flight. I use Skyscanner to find the best-value flights, using the 'search by month' tool to find the cheapest dates. You can also use the 'to anywhere' feature if you're flexible on where you're going.

Getting around by bus (environmental option) – buses in Mexico are comfy with free snacks and an in-journey entertainment system. I use Busbud to find the best prices.

Driving in Mexico – use Rentalcars.com to compare car rentals in Mexico (and all around the world).

For hotels in Mexico, I use Booking.com – they also have self-catering apartments. You can filter by review score and price to find the best-rated budget places. For hostels, I use Hostelworld.com.

Browse Mexico tours and activities on GetYourGuide. I also check Viator as they often have unique offerings.

Need travel insurance? I use True Traveller (for UK & Europe residents) since it's affordable but covers everything you'd need including various activities, valuables and pre-existing conditions. Unlike some companies, they insure you if you're already travelling / don't yet have your flight home booked. Get a quote.

For travel insurance for other nationalities, I recommend Hey Mundo and for long-term digital nomad travellers, I suggest Safety Wing.

Check out my resources page for more travel discounts and budget tips from my 10+ years on the road!