This post may contain affiliate links to things like tours, hotels, Amazon associates and products. These help me earn a small commission at no additional charge to you.
Last week I was invited to a cooking class with Aura Cocina Mexicana, something that bought me all kinds of food-related excitement.

Despite the fact I'd been on several food tours in Mexico and generally eaten an obscene amount during my four months here, I'd yet to actually cook Mexican food for myself.

Well, sometimes I eat avocado off tostadas in my kitchen because toast isn't really a thing here. But I'm not sure this makes me chef of the year, to be honest?
Related read: the ultimate Mexico City itinerary
Foodie visiting Mexico City? Check out my Mexico City food blogs:
Who are Aura Cocina Mexicana?
Aura are a family-run cooking school founded by Graciela Montaño, a chef on Mexican channel, ONCE TV.

The other chefs, Lore and Krystal, are all family members with culinary training and together, they help guests experience Mexican cuisine from their kitchen in the Roma neighbourhood of Mexico City.

I took the Authentic Mexican cooking class but there are also salsa, street taco, vegan, breakfast and seafood classes depending on your preferences.
An intro to Mexican food
We arrived at the cooking studio in Roma where we were greeted with guava juice and an intro to Mexican cuisine.

And what intro to Mexican food could start with anything but corn?

As the Mexicans would say 'no pais sin maiz' which means there's no country without corn. I can't argue: since corn masa (dough) makes tortillas, it's the basis for pretty much every Mexican meal.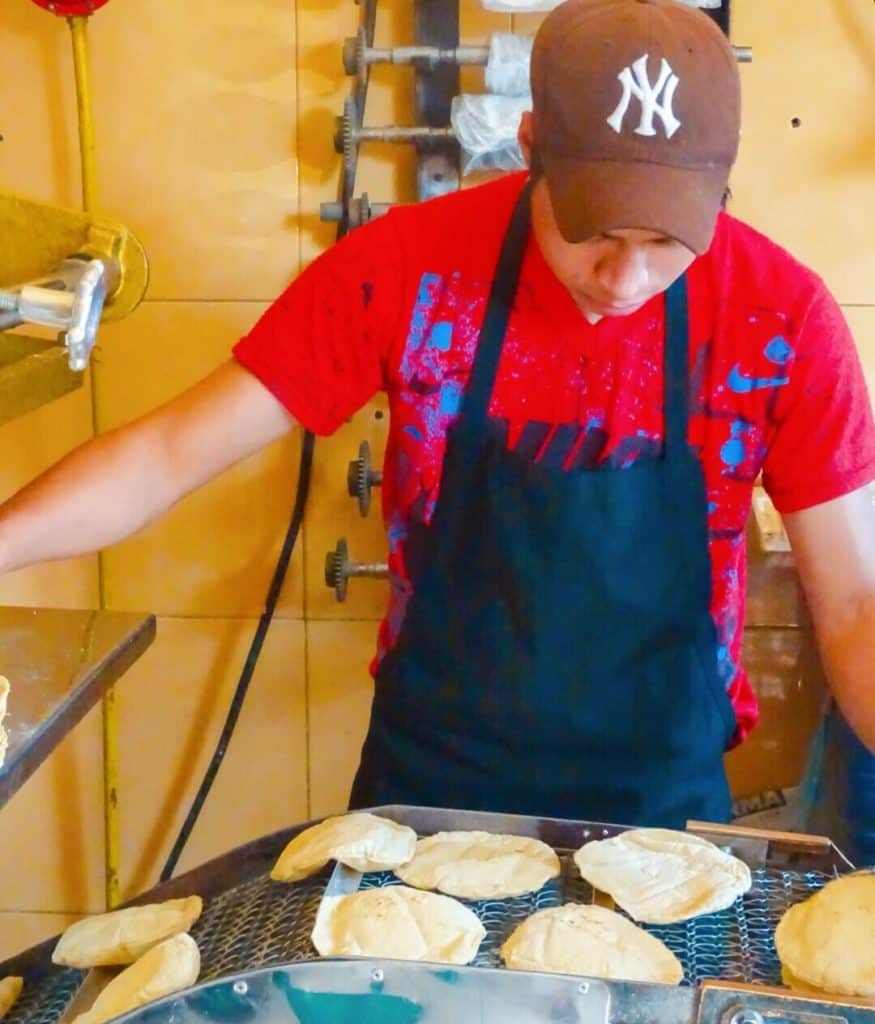 We headed across the road to a traditional family-run tortilleria where buckets of corn kernels were being ground, mixed with limestone, and separated into tortilla-shaped patties. It was amazing to see the whole process in just a few simple steps. There was nothing processed or artificial about these tacos, that's for sure!
Street snacks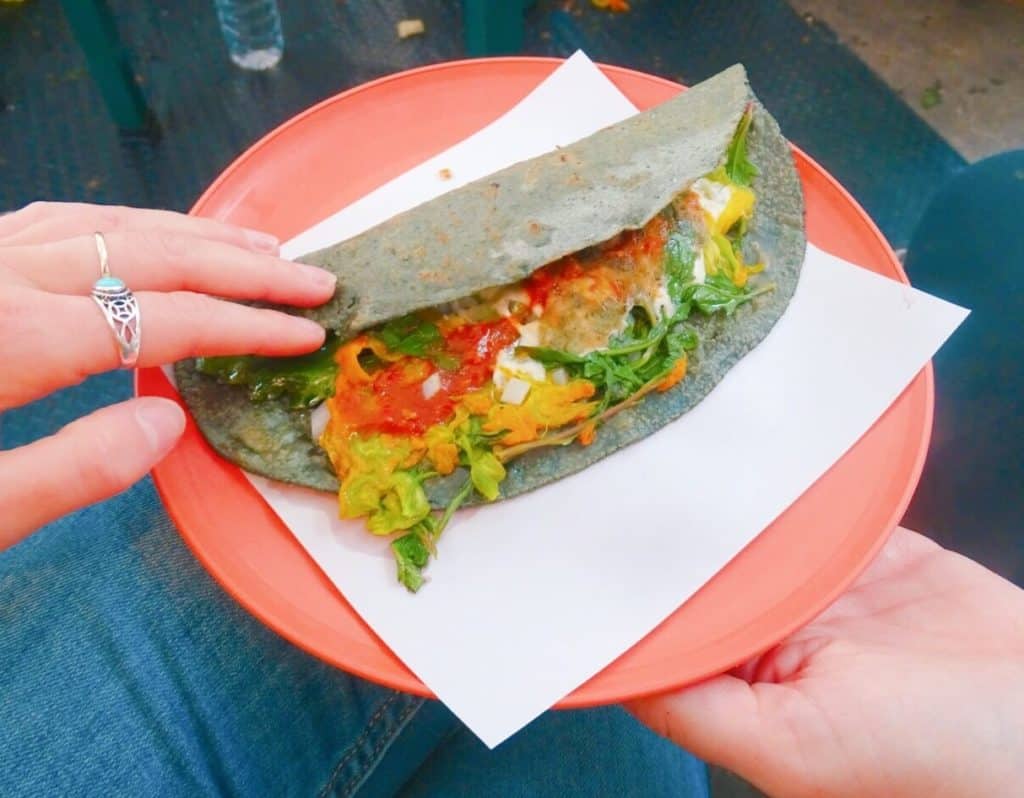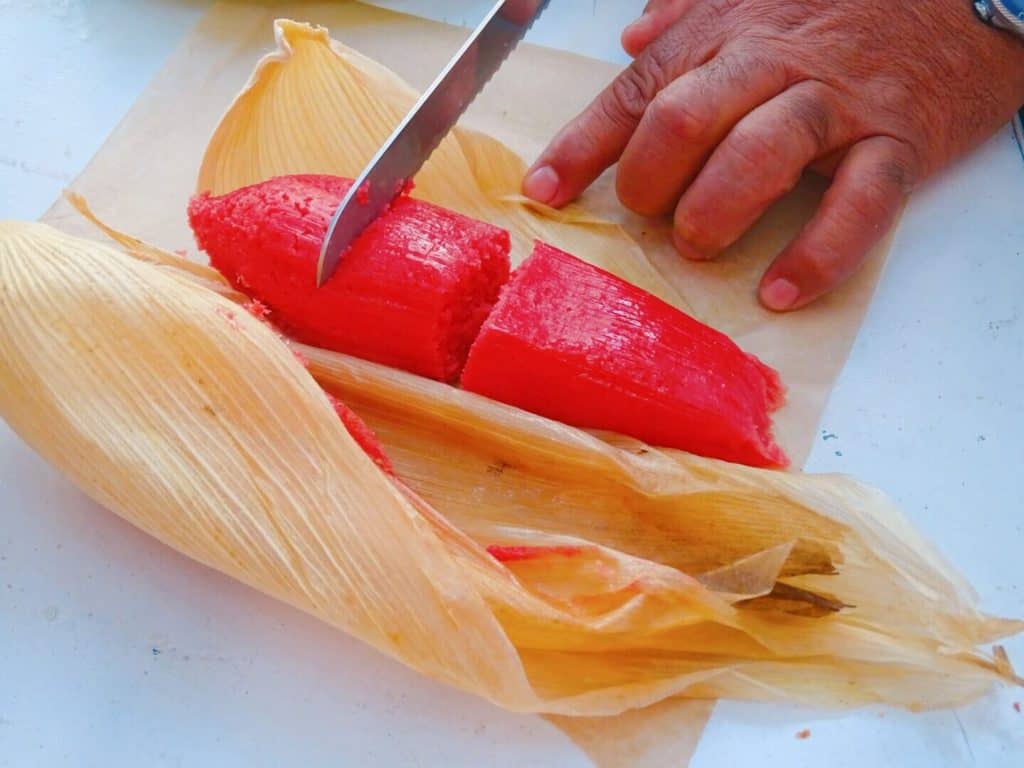 Since there were a few hours to wait before eating lunch, we stopped for a quick street snack. Blue corn quesadillas are tortillas made from blue corn, folded over and stuffed with cheese and other ingredients. We had them with Oaxaca cheese and flor de calabaza (squash flower): the ultimate combination.

We also had a quick tamale, another of my favourite Mexican foods. Tamales are steamed corn masa served inside corn husks and stuffed with meat and salsa. We had dessert-style pink ones!
A local market visit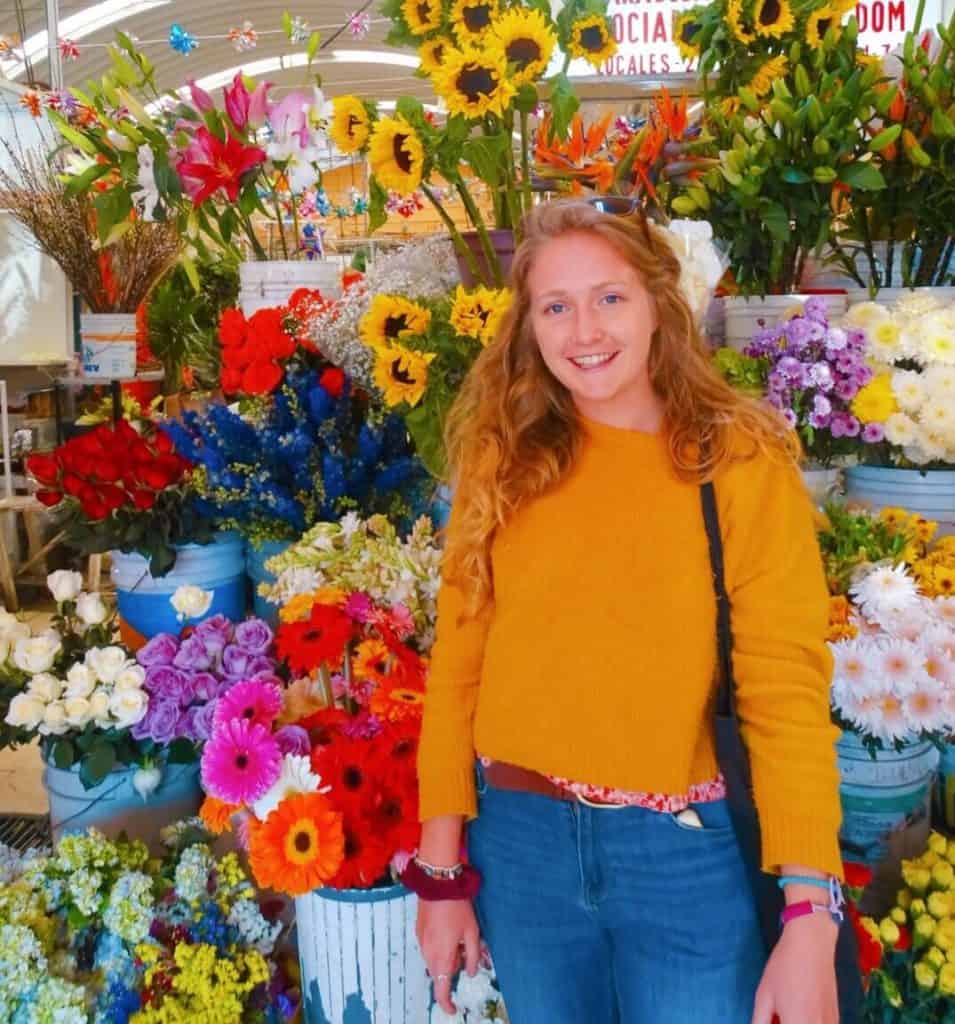 We headed to Mercado Medellin, the biggest and busiest market in Roma, to pick up ingredients for our cooking class. We learnt about different types of chilli pepper, sampled some Mexican fruits like zapote chico, and turned up the fear levels by trying local insects like flying ants and grasshoppers. Only for the brave!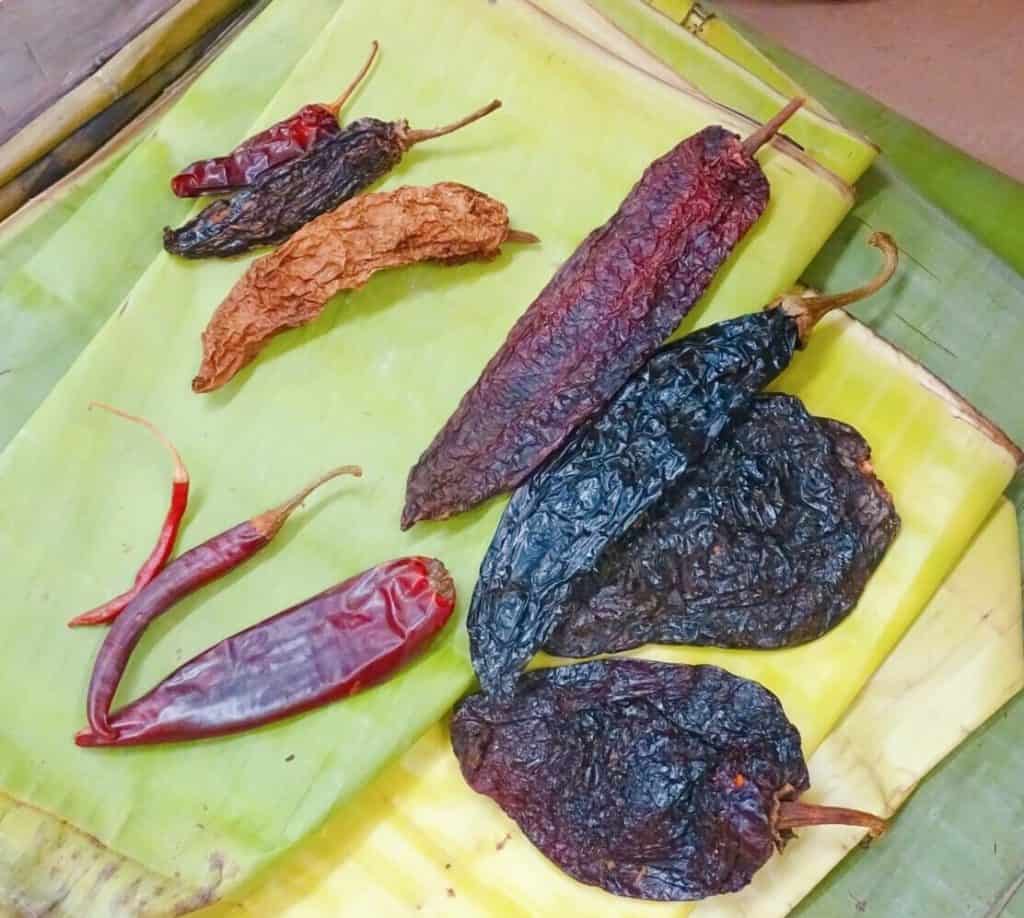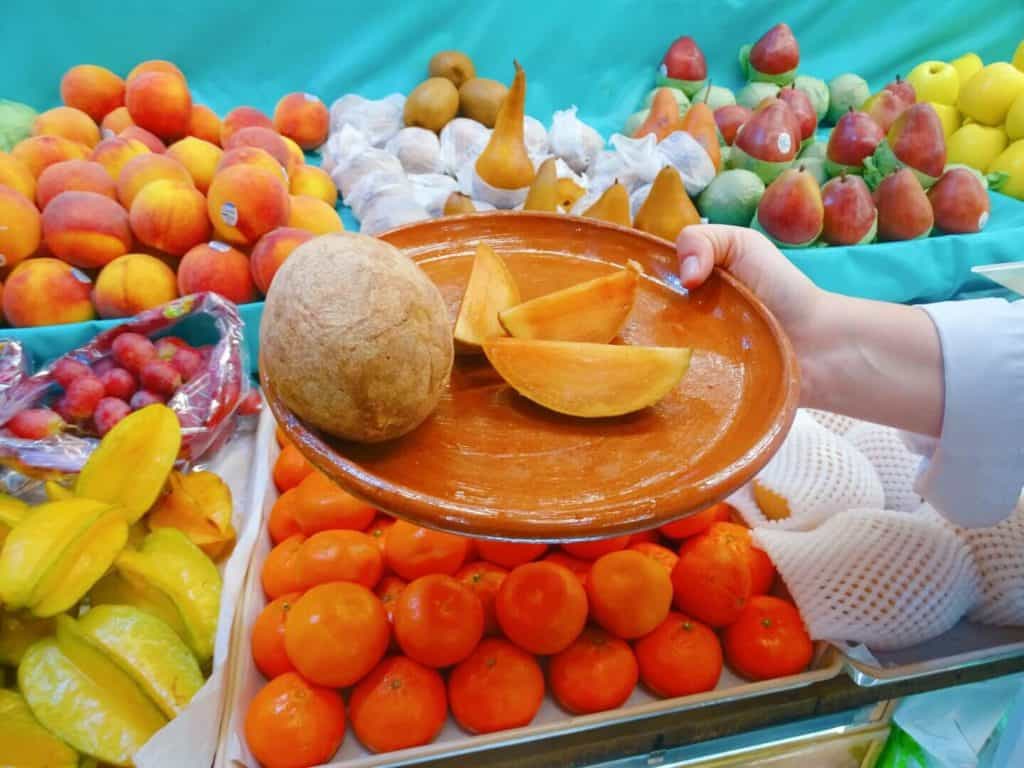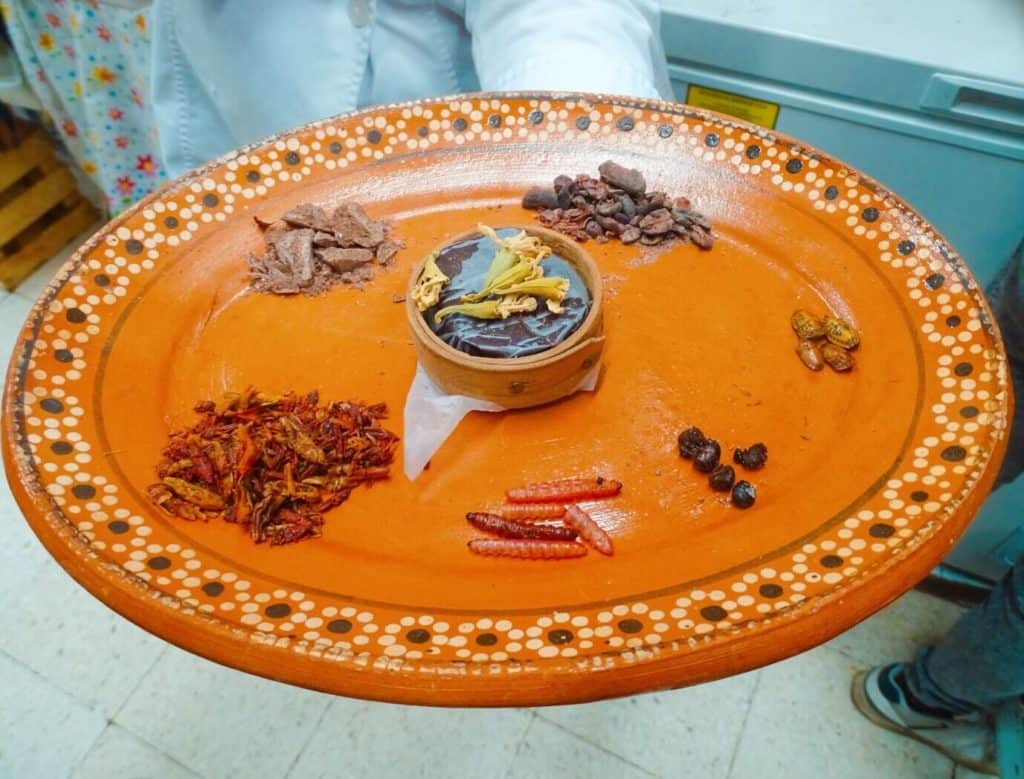 Let the cooking commence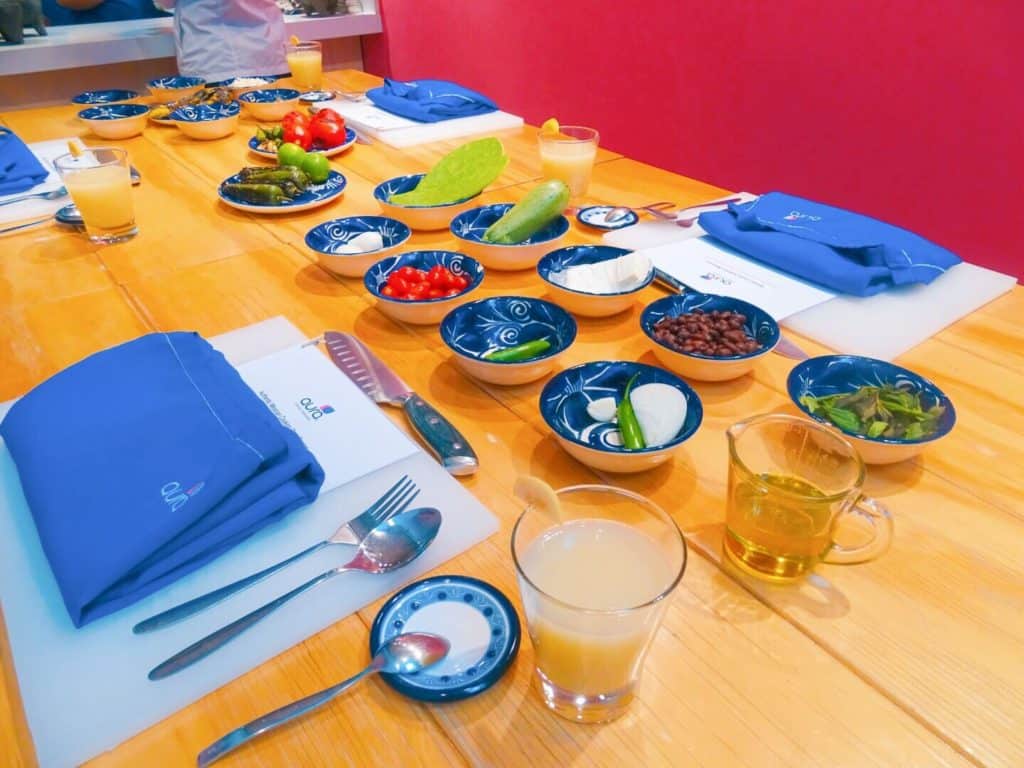 We headed back to the Aura Cocina Mexicana kitchen which was all set up ready for us to cook.

During a four-course dinner with a little (ok, a lot) of help from the team, we made…
Pre-Hispanic tamales (mextlpiques)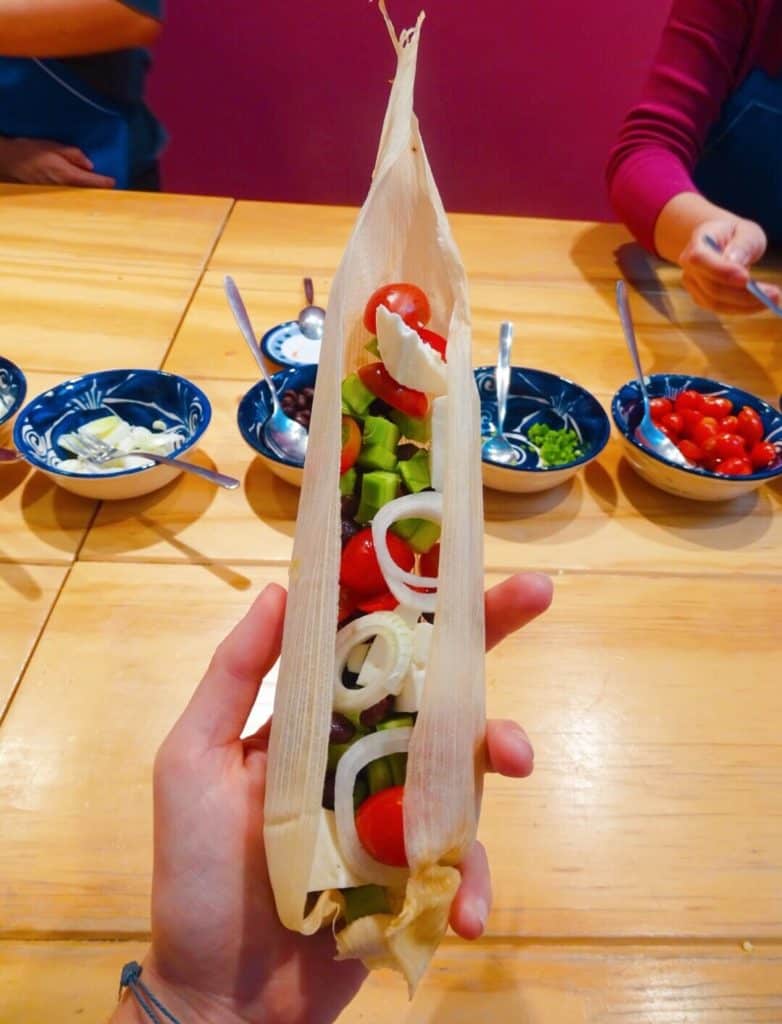 Tamales are one of the oldest Mexican foods, eaten for 5,000 years. However, we learnt that until Spaniards brought pork and other meats to Mexico City, the locals would have been predominantly vegetarian. Because Mexico City sits within a lake bed, they make also have had fish, but no red meat or poultry.

For these Mextlpiques which would once have been made with fish and cheese, we roasted vegetables and steamed them inside their husks with a little cheese. They were so healthy and tasty, plus they'd be easy to make at home.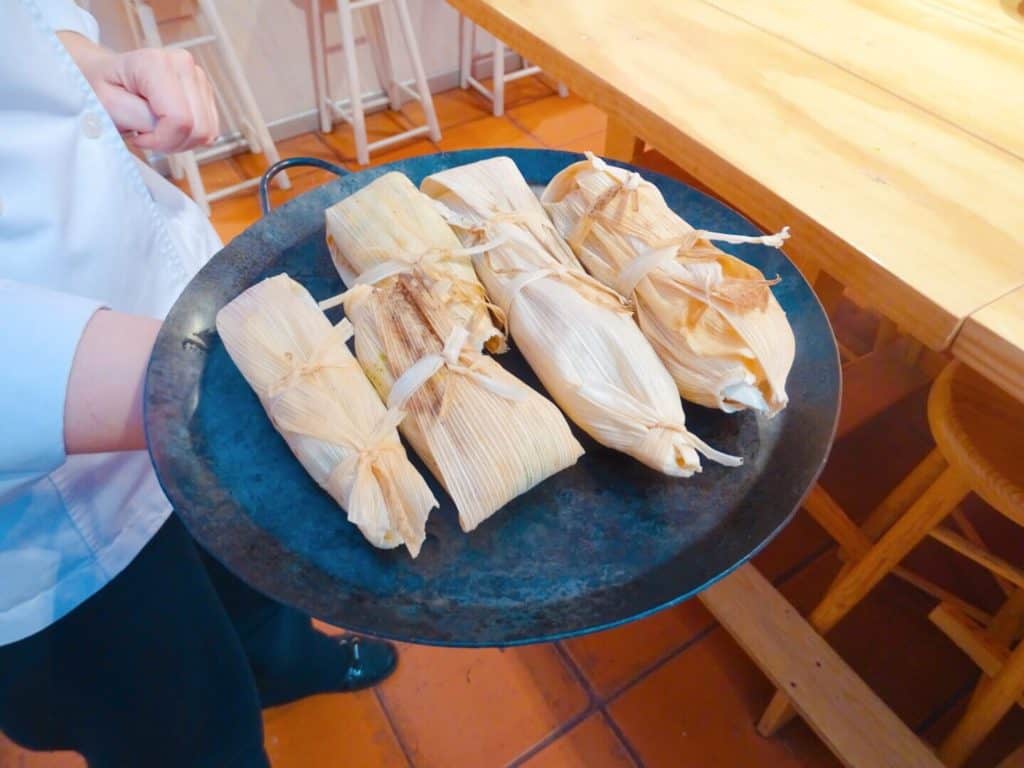 White mole
If you've watched any of my Instagram stories in recent months, you'll know how much I love mole!

Usually, it's a rich brown sauce made with chocolate and chilli, but for this class we were making white mole with peanuts, almonds, pine nuts, chilli, anise, golden almonds and chicken stock.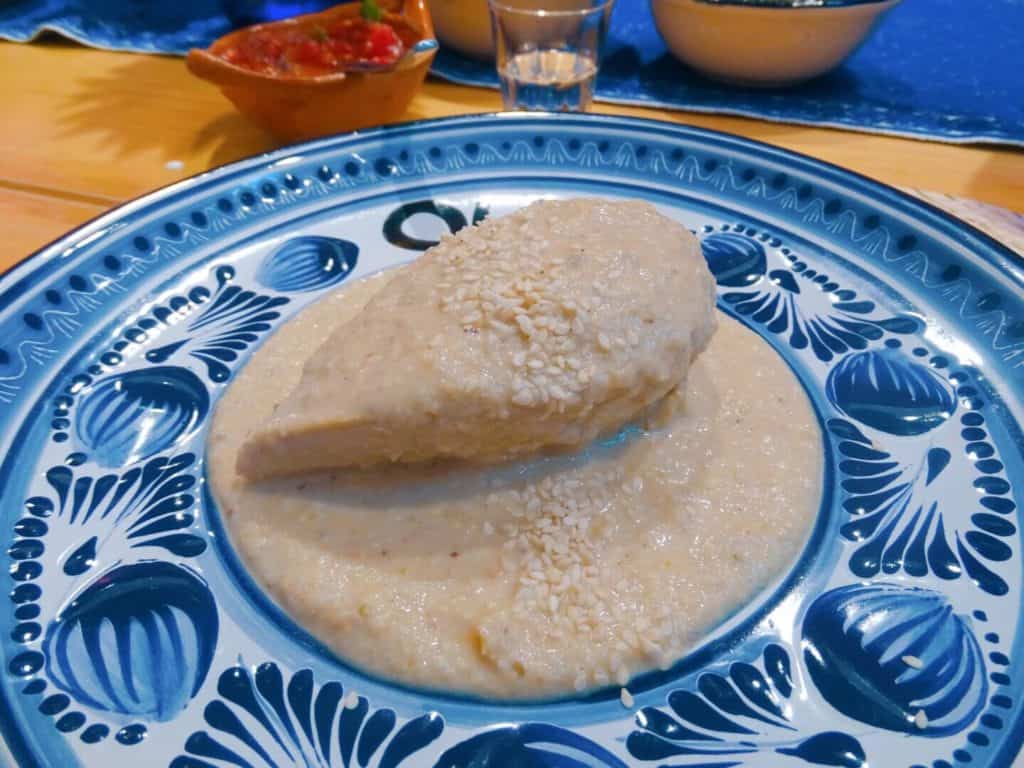 We ate it drizzled over meat from the same chicken that the stock had come from. I love that nothing was wasted during the class (especially not with me around!). Despite the lengthy process and long list of ingredients that went into the dish, it was well worth the effort.
Sopes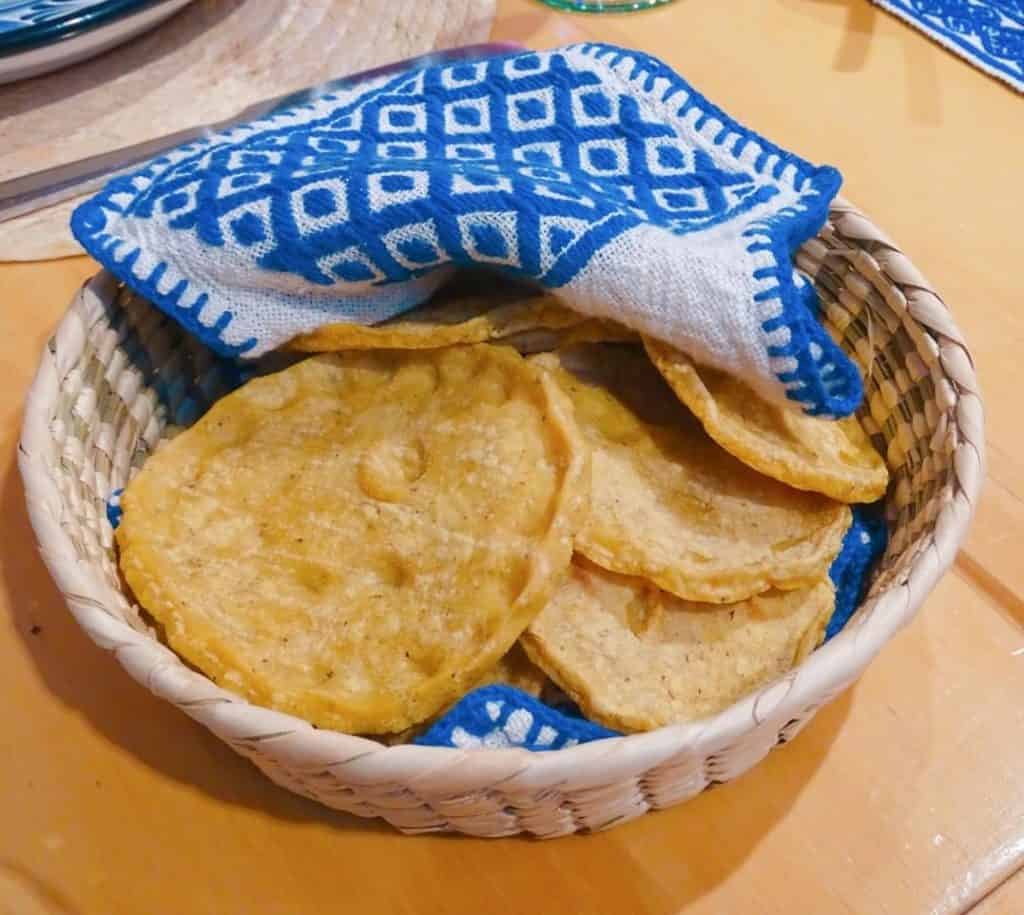 I love these little bitesize morsels which are usually served as a Mexican appetizer. They're made with corn dough, just like tacos, but are usually smaller and thicker, topped with ingredients of your choice. We went for frijoles (bean paste), cheese and lettuce, a popular Mexican combo.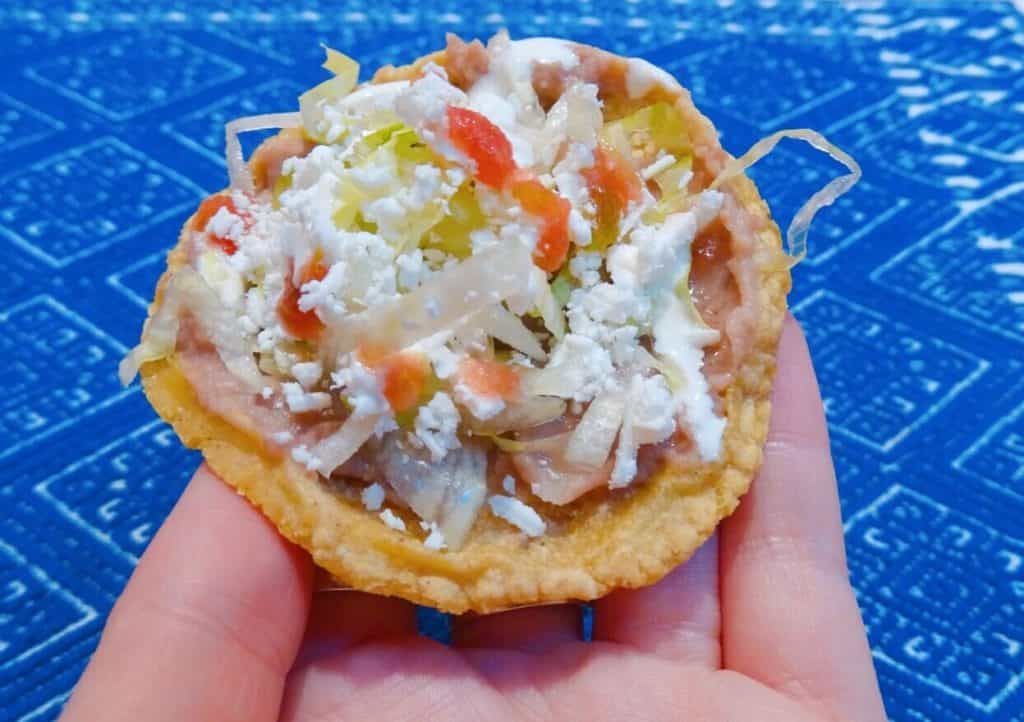 Corn cake
Who knew that corn in cake could be delicious? Not I.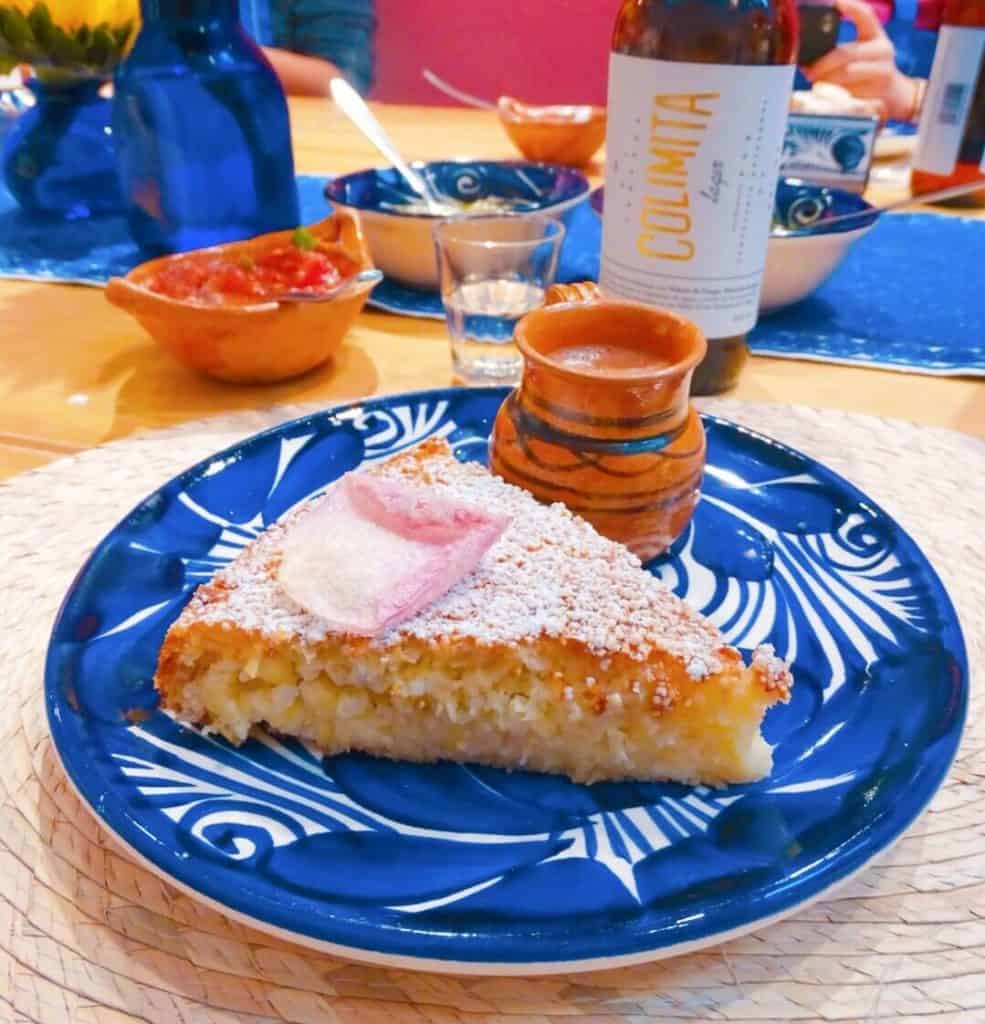 For dessert, we made fresh corn cake from corn kernels, butter, cream and sugar. It probably wasn't healthy but corn's a vegetable so I'm counting it as one of my five a day.

We ate it served with an edible petal and mug of Oaxacan hot chocolate. The perfect end to a tasty Mexican meal!

Over all, I really enjoyed the class with Aura Cocina Mexicana. I was full but not uncomfortably stuffed and I enjoyed the thoughtful touches, like a selection of sweets from Puebla served at the end from Mexican-style crockery. I also learnt a lot about Mexican cuisine which is a bonus! I'd love to go back and try the Mexican salsa or street tacos class.

Book the Authentic Mexican cooking class.
Foodie visiting Mexico City?
Check out:

– EatWith – your one-stop for Mexico food tours, cooking classes and hosted meals with local chefs and foodies.

– Viator's excellent Mexico City markets tour and Colonia Roma food tour
Thanks for reading!
While I was hosted by Aura Cocina Mexicana, all options are my own.
Check out my other Mexico blogs:
See you next time for more adventures,
Rose