This post may contain affiliate links to things like tours, hotels, Amazon associates and products. These help me earn a small commission at no additional charge to you.
During my recent trip to Thailand, I took a wonderful day trip to Ayutthaya. This UNESCO World Heritage Site has been high on my Southeast Asia bucket list for years so I couldn't wait to see it with my own eyes.

In this guide, I'll explain how to get from Bangkok to Ayutthaya and what to do in the region during a day trip.
Related read: the ultimate 2 day Bangkok itinerary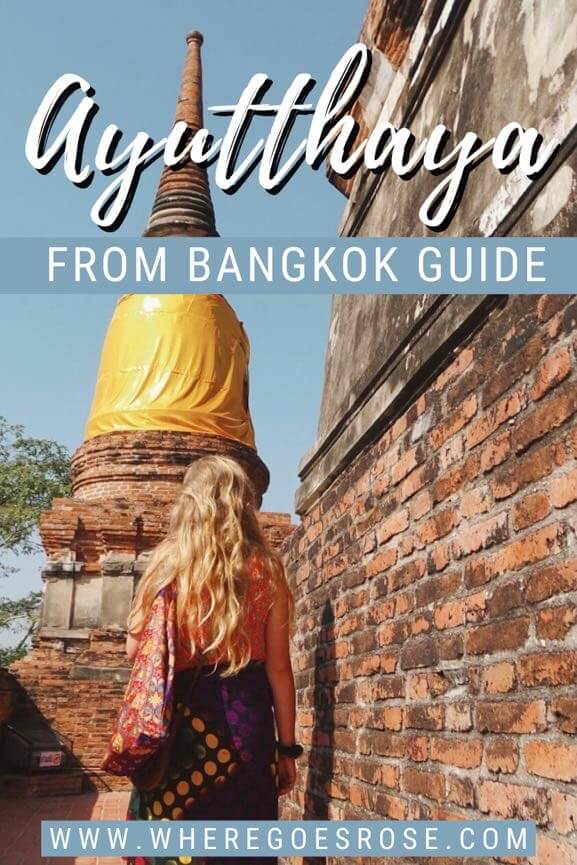 Ayutthaya intro
A fun fact about Thailand is that Bangkok hasn't always been the capital. Let me introduce Ayutthaya, an ancient historical city with a fascinating – if dark – history.

Ayutthaya was founded in 1350 and destroyed by the Burmese in the 18th century, meaning it was Thailand's capital for 500 years.
With Angkor Wat vibes, the temple site is now in various states of disrepair: some temples remain crumbled whereas others stand tall and foreboding. It's not hard to envision Ayutthaya's past splendour.
In 1767, Ayutthaya was burnt to the ground by the Burmese in a battle over land and power. The royals fled to Bangkok following their defeat and the prosperous city was left to ruin.

While it was never rebuilt, it's now known as an archaeological site. Personally, I find the ruins of this once-decadent kingdom much more interesting than a modern reconstruction.
How to get from Bangkok to Ayutthaya
Since one day is enough in Ayutthaya to see the main sights, many people come for the day. It's easy to travel the 85km distance from Bangkok to Ayutthaya, making it a convenient addition to your Southeast Asia itinerary.

You can take a day trip from Bangkok to Ayutthaya by bus, train, taxi or tour.
Bangkok to Ayutthaya by train
From Bang Sue Grand Station or Hua Lamphong Station, you can catch a train from Bangkok to Ayutthaya from around 50 THB. Journies typically take between 1 hour 10 minutes – 2 hours 30 minutes. Browse and book on 12Go Asia.

There are a few seating options to choose from. Usually, 2nd Class seating has reclining chairs whereas 3rd Class seating areas have harder bench chairs. In 2nd class, there's the choice between AC and fan, but 3rd Class usually only has a fan. In hot weather, you won't regret paying a few baht extra for AC!
Ayutthaya from Bangkok by bus
From Mo Chit Station, buses depart regularly taking around 2 hours (but avoid rush hour if possible). Use 12Go Asia to book from 60 THB.
Bangkok to Ayutthaya by taxi
Finally, you could hire a taxi if you're with a group. This will take around 2 hours depending on traffic and cost around 1,700 THB each way. Use 12Go Asia to book.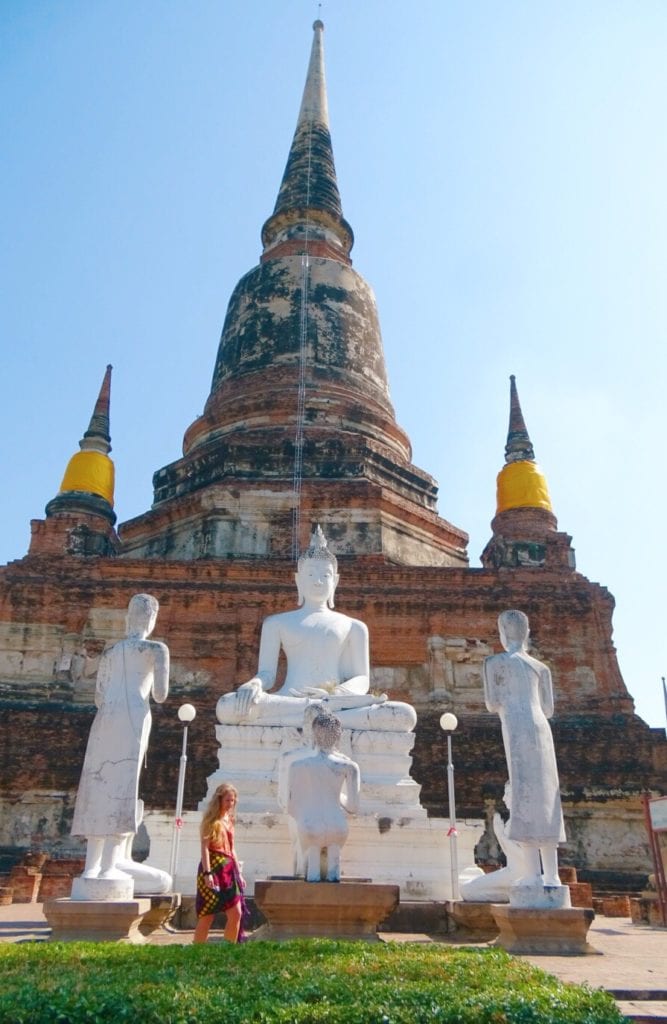 How to get around Ayutthaya
If you're taking a day trip to Ayutthaya by public transport, consider hiring a tuk-tuk and driver when you arrive. The temples since they're all quite spread out and it's hot walking in the heat.

A tuk-tuk tour should cost 300-500 THB ($10-15) for the day; feel free to haggle. You might get lucky if the driver knows some facts about the area.
Best Ayutthaya day tours from Bangkok
Visiting Ayutthaya from Bangkok is pretty easy without a tour but if you want to see all the best temples, you'll need a set of wheels.
For this reason, a tour is a great option. Many companies offer cheaper Ayutthaya day trips from Bangkok but personally, I love hanging out with the locals and eating their cuisine. If you don't fancy the gastronomy tour I took with Take Me Tour, browse other day tours from $30.
The cheapest option is a regular small group tour but you could also consider one an Ayutthaya tour from Bangkok including a river cruise, a floating market tour or, if there's a group of you, a private tour.
Things to do during a day trip to Ayutthaya
Let's get excited to see Ayutthaya, shall we?

If you're travelling from Bangkok to Ayutthaya independently, these are the places I recommend you work into your itinerary. If you're taking an organised Ayutthaya day trip from Bangkok, it's down to their itinerary but I can basically guarantee you'll visit Wat Mahathat, the famous Buddha head among the tree roots.

Note – temple spellings vary but you should be able to work it out!
Wat Yai Chai Mongkhon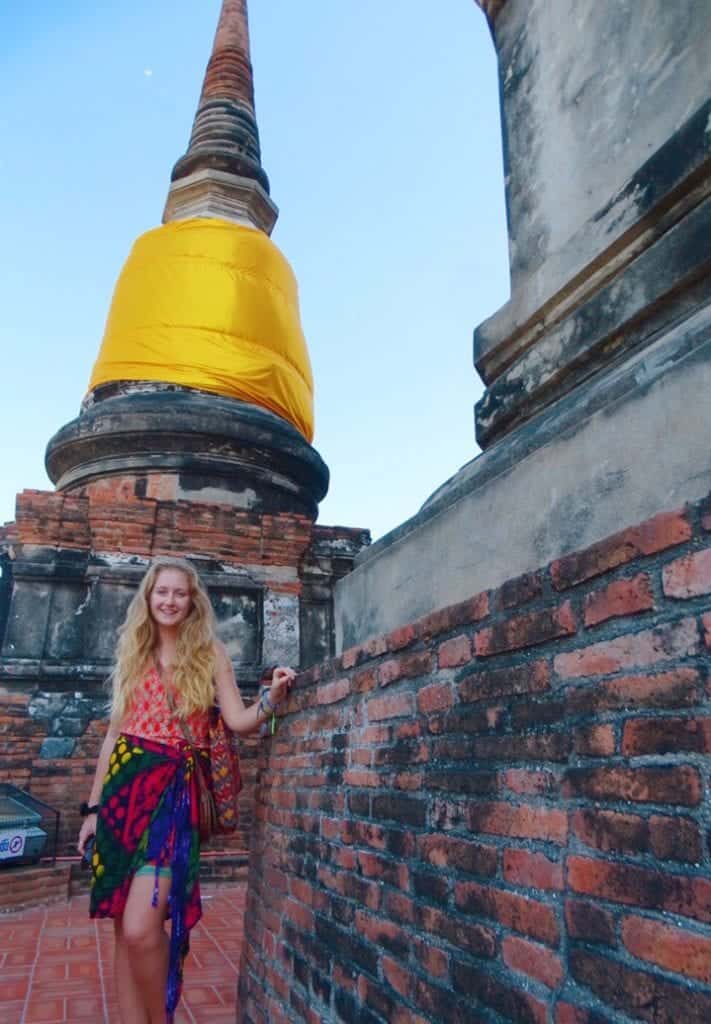 Wat Yai Chai Mongkhon is one of the biggest and most impressive temples in Ayutthaya. It's one of a few that Thai people use as a place of modern-day worship. Mai presented me with a beautiful circular garland of pink and white flowers that I could present as an offering to join the ceremonies.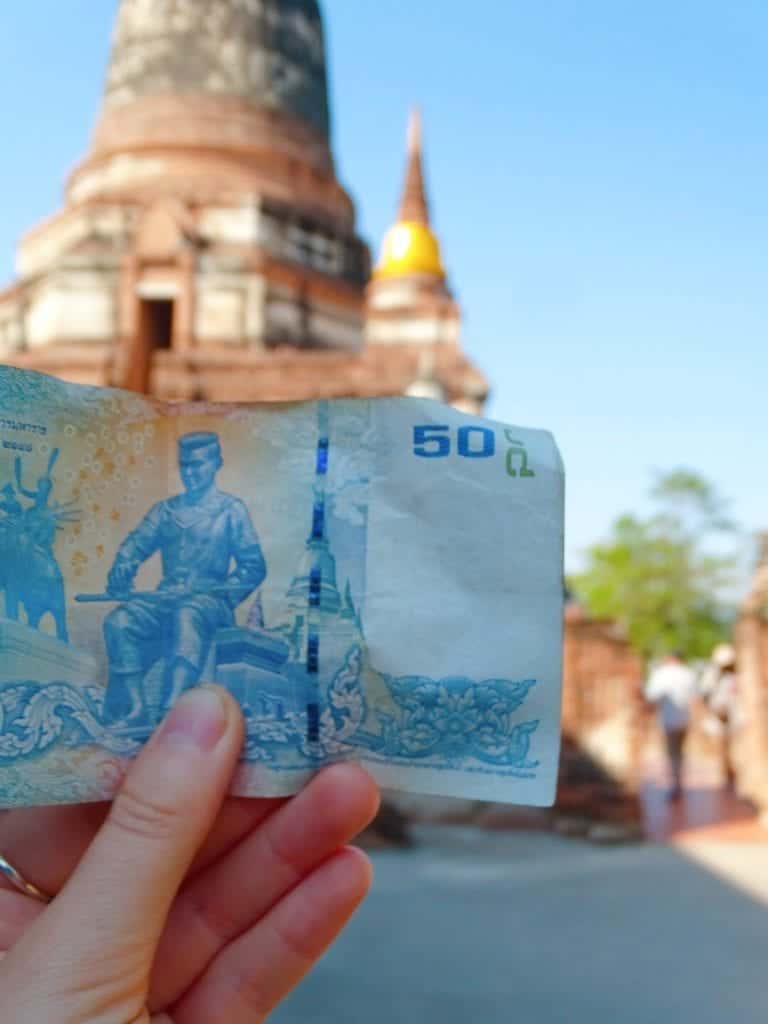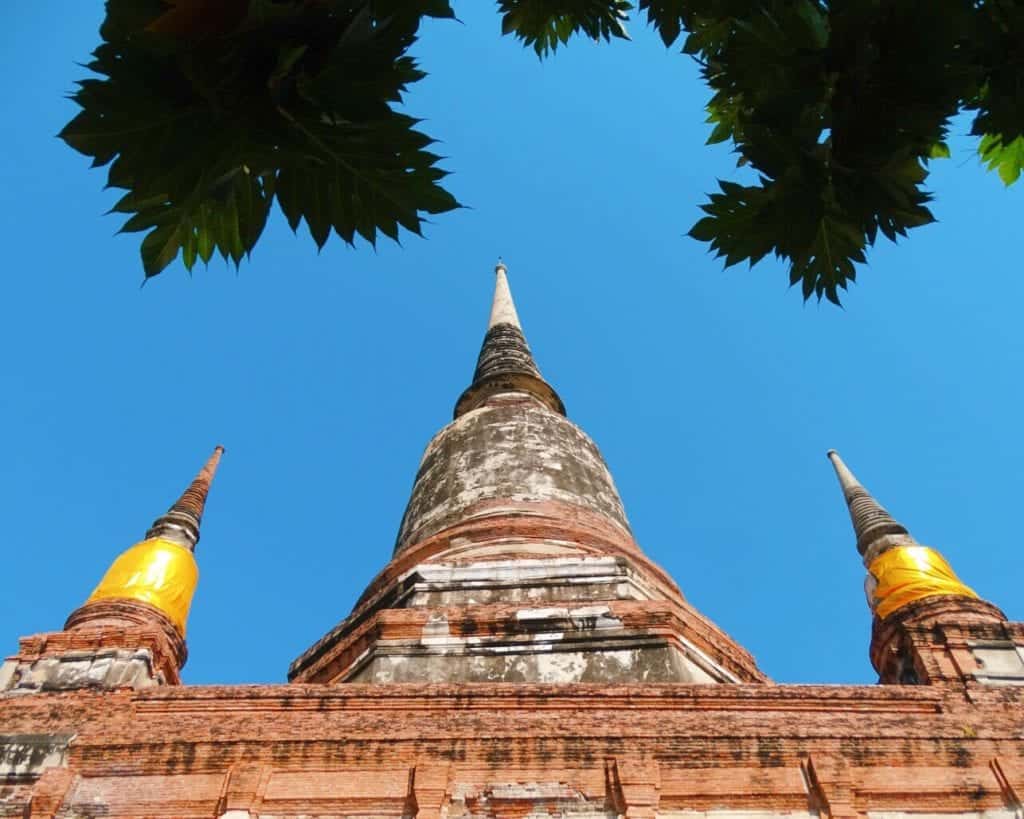 Wat Yai Chai Mongkhon was once the royal temple but, like the others, it was looted and left to ruin. In the 1950s it was revived as a monastery and is still home to practising monks today.

Entrance fee: 20 TBH.
Wat Phanan Cheong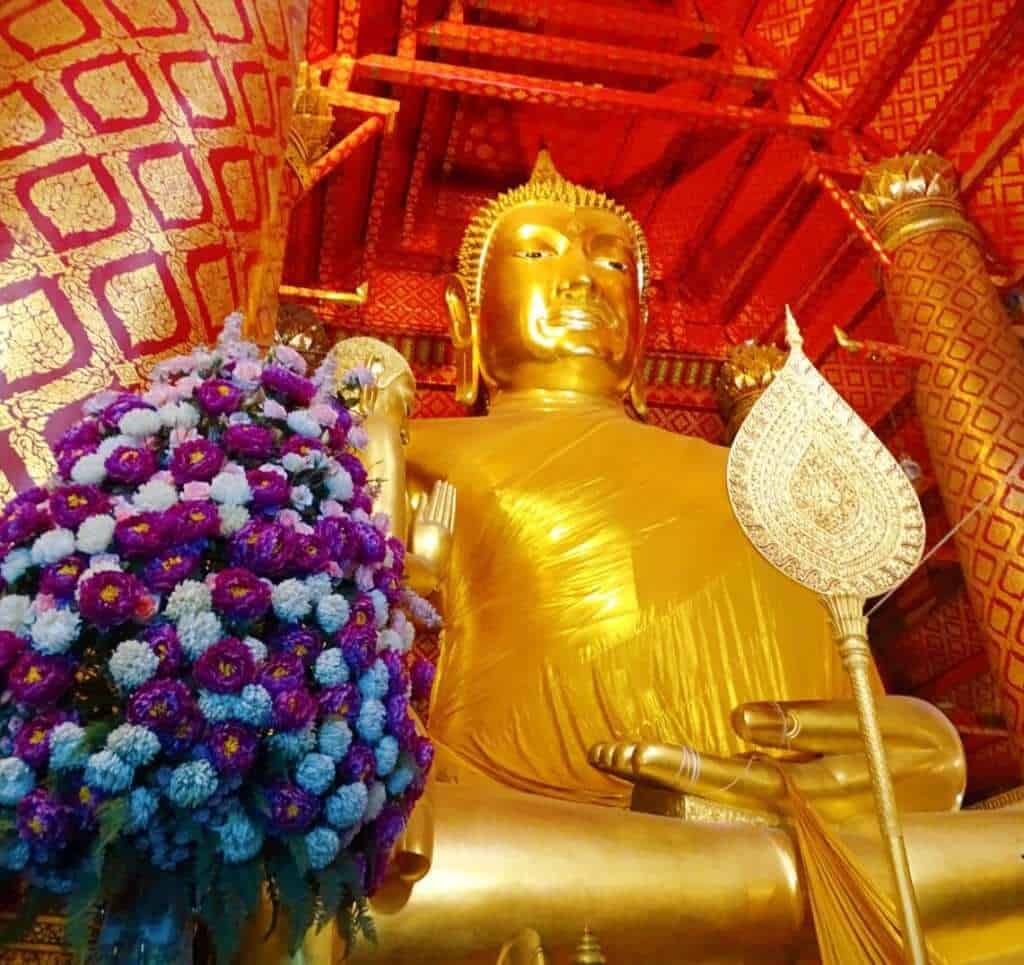 Next, we stopped next at Wat Phanan Cheong. The main draw isn't the building but the enormous gold Buddha statue – 57 feet tall, in fact!

Although it's not well known, this was once of the highlights of my day trip to Ayutthaya because we saw the locals at worship.

Wat Phanan Cheong was actually built before the rest of the Ayutthaya temples, though the Buddha appears modern and maintained. Rumour has it he cried real tears when the Burmese ransacked Ayutthaya.

Entrance price: 20 TBH.
Wat Mahathat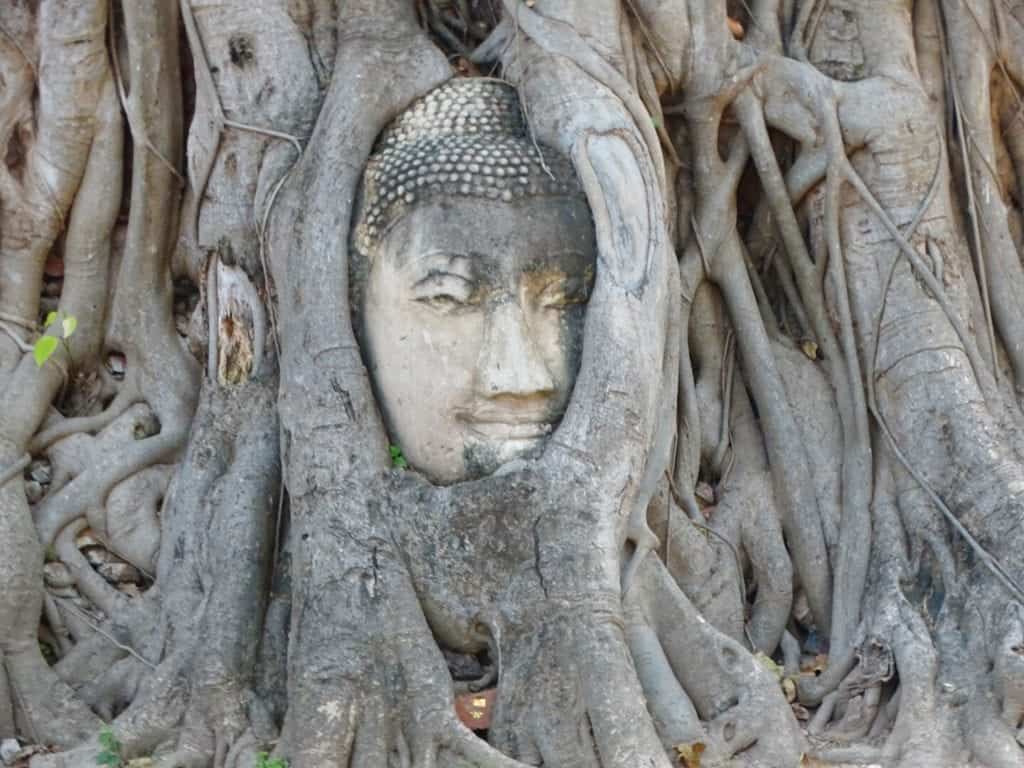 The final Ayutthaya temple we visited was my favourite. The Buddha head entwined in tree roots looks like something out of Tomb Raider – it's hard to believe it ended up there by accident!

The backstory is that when the Burmese looted Wat Mahathat, they beheaded most of the Buddha statues. Not only was this the ultimate form of sacrilege, but it was also because the statues' heads were filled with gold.

While no one knows exactly how this specific head ended up in the tree roots, it's thought that it was dropped in haste and eventually grown over.

Nowadays you can take a photo of it, but only on the condition that you're sitting down. To be taller than a Buddha is the ultimate sign of disrespect.

Entrance fee: 50 TBH.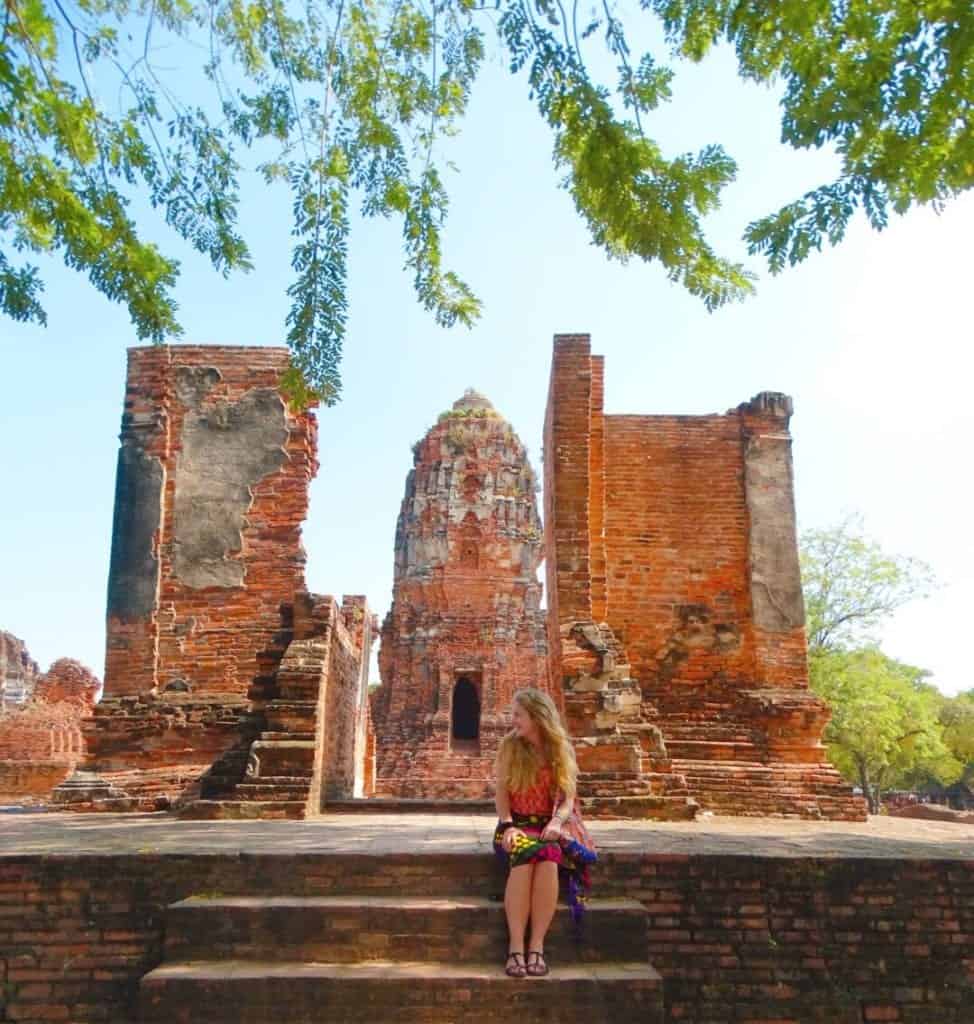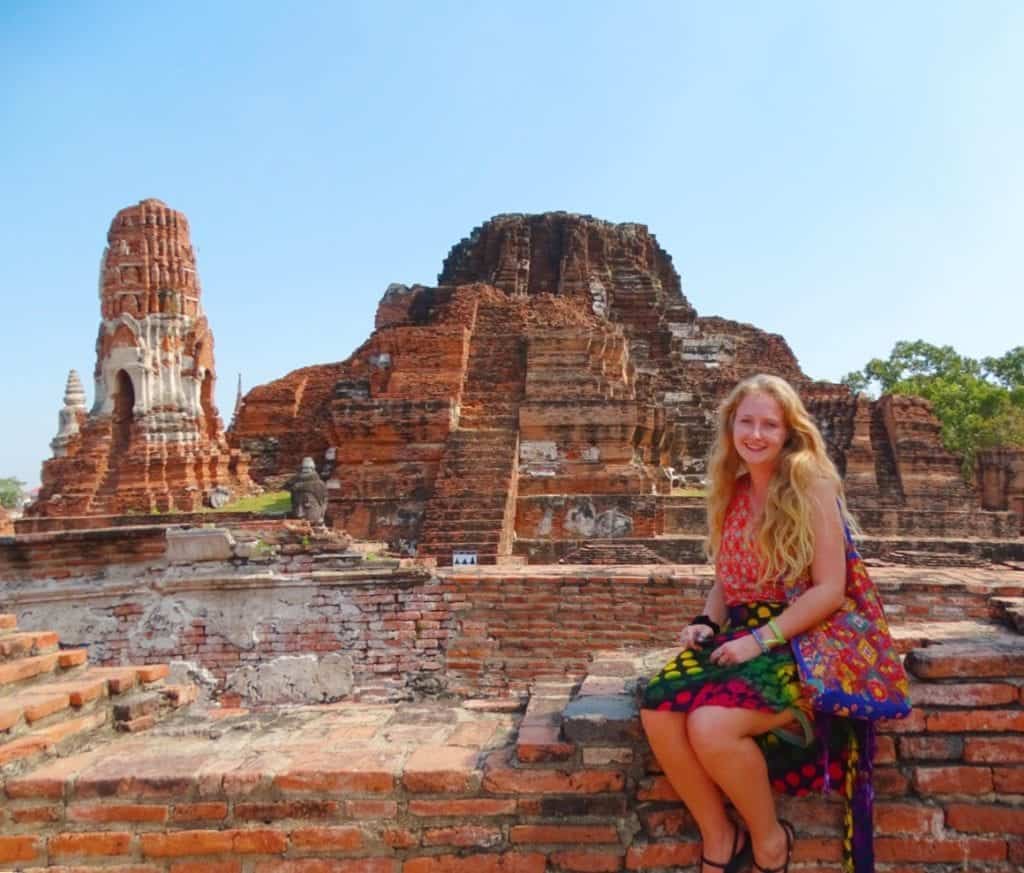 Wat Lokayasutharam (reclining Buddha)
One site I missed in Ayutthaya was the Wat Lokayasutharam, a reclining Buddha statue measuring 42 metres in length and 8 metres in height. I'll get it on my itinerary for next time.
Cost of visiting Ayutthaya from Bangkok
Aside from the cost of your transport or Ayutthaya day tour, there's no specific entrance fee for the temple site. However, individual temples have their own entrance fees, usually around 50 THB (prices listed above).

Another option is to get a temple pass for 220 THB which includes access to the six following temples:
Chai Watthanaram
Wat Phra Si Sanphet
Wat Phra Mahathat
Wat Ratchaburana
Wat Phra Ram
Wat Maheyong.
This can be brought from the entrance. However, if you're not planning to visit all of these temples, your best bet for a one day trip to Ayutthaya is buying them individually.
Tips for visiting Ayutthaya
As with visiting any other Buddhist temple site, there are a few etiquette rules to stick to. When visiting Ayutthaya, remember to:
Look but don't touch!
Don't position yourself higher than a Buddha or point directly at one. Try not to point your feet towards one either.
Bring water, sunscreen and a sun hat. There's not much shade to be found.
If you're travelling by boat, bring a book or other form of entertainment. There's bound to be traffic on the way back.
Other highlights from my Ayutthaya day trip
While visiting Ayutthaya was a massive highlight, there were more attractions than I expected dotted around Bangkok. Between leaving the temples and returning home, I also did the following things…
Tucking into a Thai lunch on Mai's shrimp farm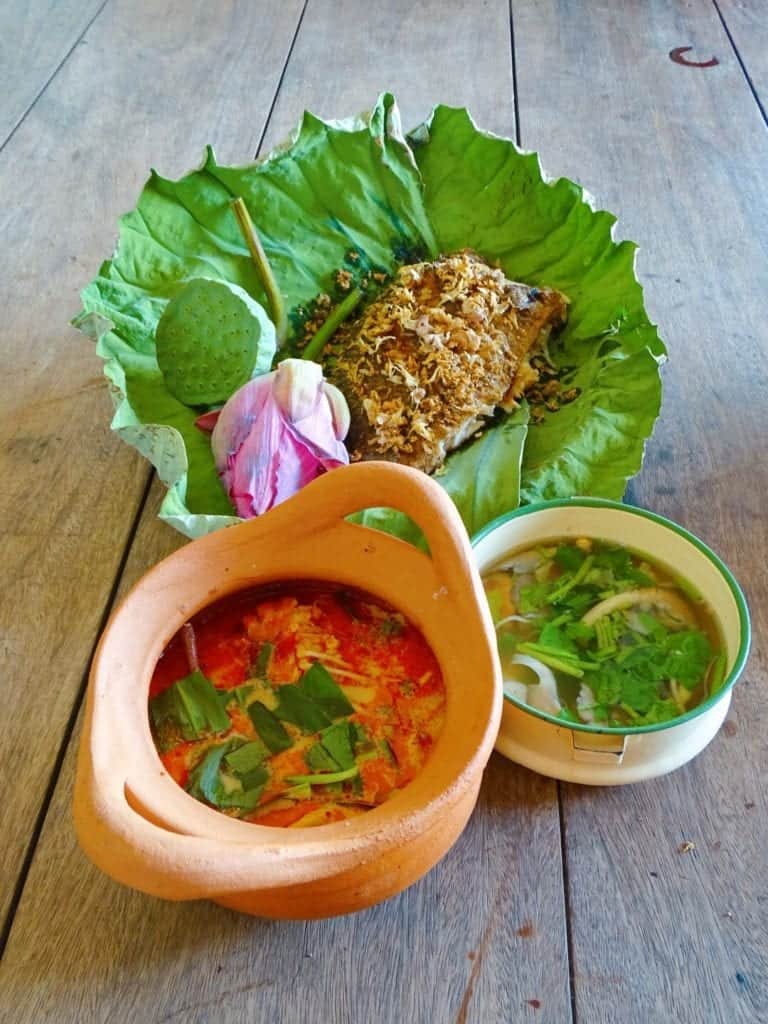 I'd been looking forward to lunch all morning, especially since learning that giant river prawn is an Ayutthaya speciality. Part of the reason I was travelling with TakeMeTour was to participate in the LocalTable campaign, an initiative celebrating authentic food in local homes.

Even if you're not dining with a local, I would of course recommend enriching your Ayutthaya itinerary with delicious local Thai food!

As soon as we pulled up at Mai's countryside farm, I knew I was in for a treat. She proudly told me everything was organic and grown or farmed onsite. The enormous shrimp that we fished were each the size of my hand!

Her husband also popped me on the sidecar of his motorbike so we could pick lotus flowers and stems to use in the meal.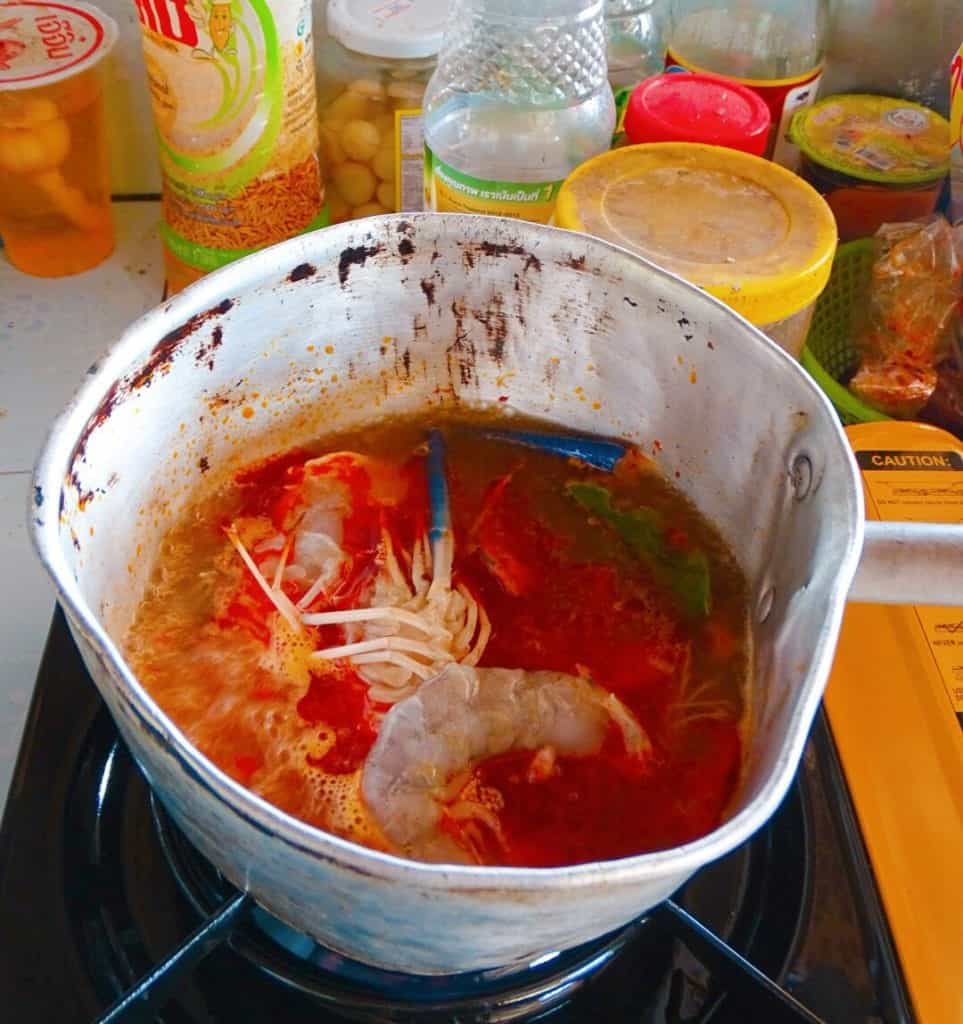 On the menu were the following:
Tom yum goong (a hot and sour Thai soup made with prawn)
A whole fried fish
Lotus stem stir fry
Shrimp and mushroom soup.
As if this wasn't enough, Mai whipped out a few extras: a bamboo stir fry and a Thai omelette. I was stuffed but bravely soldiered on 😉

After eating enough to feed a small army, we hung out on Mai's farm. She took me for a coffee across the road, where I was stunned to find a Western-style cafe hidden off the road in the middle of nowhere! It really is a crazy world sometimes.

However, the highlight for me was climbing aboard a wooden rowing boat and exploring the lake.
Stopping at a pancake house for roti sai mai
I cannot believe much I managed to eat on this day trip (okay that's a lie!). Mai and her husband took me to a well-loved pancake factory in the region where we watched staff flipping green pools of pancake batter called roti sai mai (flavoured with natural pandan) and stretching out the sugar fibre.

These tasted like candy floss and looked like a wig of my hair – can you see the resemblance? 😉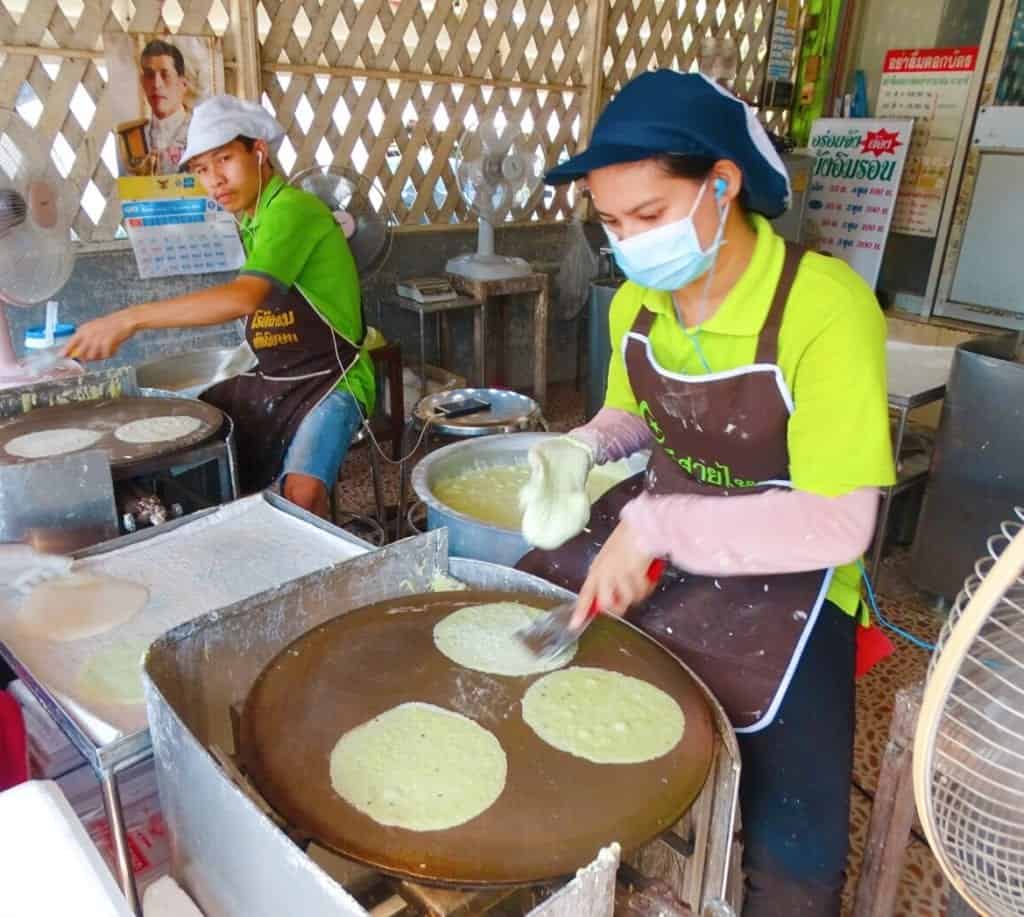 Unfortunately, it's not mapped on Google but if you travel on the TakeMeTour, they're bound to take you there. I was sent home with a takeaway bag of green pancakes stuffed with candy floss, just in case I got hungry that evening!
Wat Phai Rong Wua (Giant Buddha)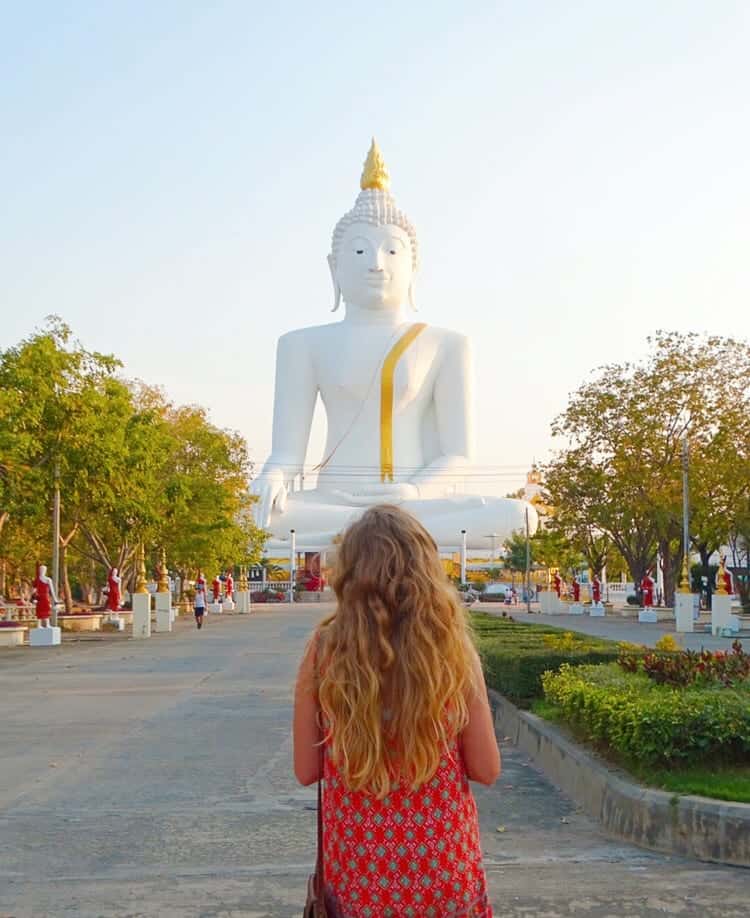 This enormous Buddha statue might not attract endless visitors due to its rural location but it's worth a visit. It's a 1-hour drive from the temples so if you have your own vehicle, it's a cool addition to an Ayutthaya itinerary.

The statue is 9 storeys (26 metres) tall and you can see it from miles away. The site is also filled with other smaller Buddha statues, a gorgeous ornate temple and one unique (and gory) attraction…
The Temple of Hell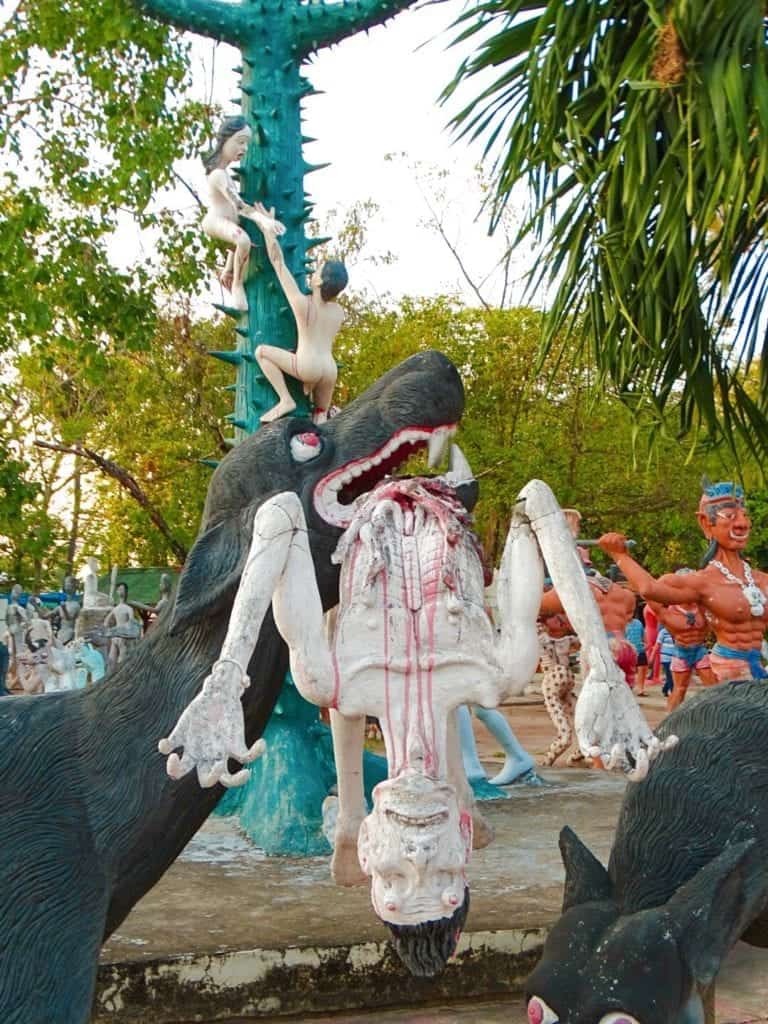 As Mai and her husband showed me around the Buddha temple site, I noticed a sign pointing to a destination I suspect is uncommon for tourists taking a Bangkok to Ayutthaya day trip: the Temple of Hell.

They seemed surprised that I wanted to explore it – I guess it's not your average tourist attraction. But I love a quirk, so in we went. I'd visited a similar place on the outskirts of Singapore and had a rough idea of what to expect.

Like when I visited the one in Singapore, my stomach began to turn. These Buddhist temples of hell have one main purpose: to demonstrate the punishments of the afterlife for those who misbehave on earth. I believe parents take their children to teach them a (traumatising) lesson.

I can't believe how graphic the statues are. They display very specific punishments: for example tongues being violently pulled out for lying, and naked climbs up a tree of thorns for those who commit adultery.

I'll be honest – the light was fading and I was feeling a little spooked out. I was happy to exit the Temple of Hell!
Sunset in a giant birds nest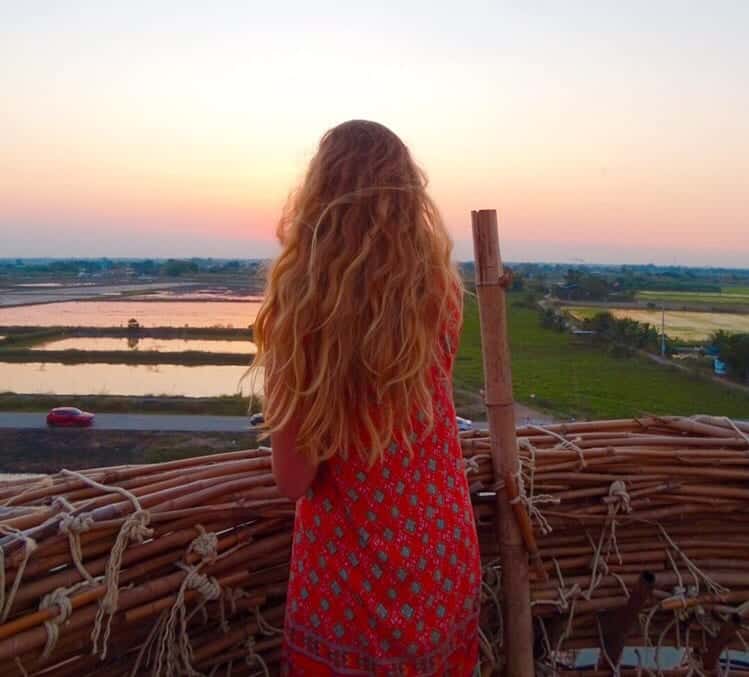 Every time I thought the tour was ending, Mai and her husband pulled another treat out the bag. The final one was a sunset visit to this awesome viewpoint in the countryside. It was essentially a bamboo tower, all crisscrossed like a birds nest to form an oval shape.

We had to climb about 12 ladders to reach the top – but the views for miles around were worth it! We could see no houses or villages, just winding waterways with a few local boats gliding down them. I knew Thailand was vast but I really felt it while looking out over the endless countryside.
FAQs
Here are a few FAQs about travelling from Bangkok to Ayutthaya. Drop any more in the comments box at the end of his post and I'll get back to you.
Is Ayutthaya worth visiting?
Yes, if you love architecture and history, Ayutthaya is worth visiting. But don't expect all the temples to be in great condition: those in Bangkok, Chiang Mai and Chiang Rai are better kept.
Is there a dress code in Ayutthaya?
There's no official dress code for Ayutthaya but it's best to be modest. Dress appropriately by covering your shoulders and knees (you'll be able to hire sarongs at the temples if you need). You can wear a dress or shorts to Ayutthaya providing they cover your knees.
Looking for a lovely place to stay in Bangkok?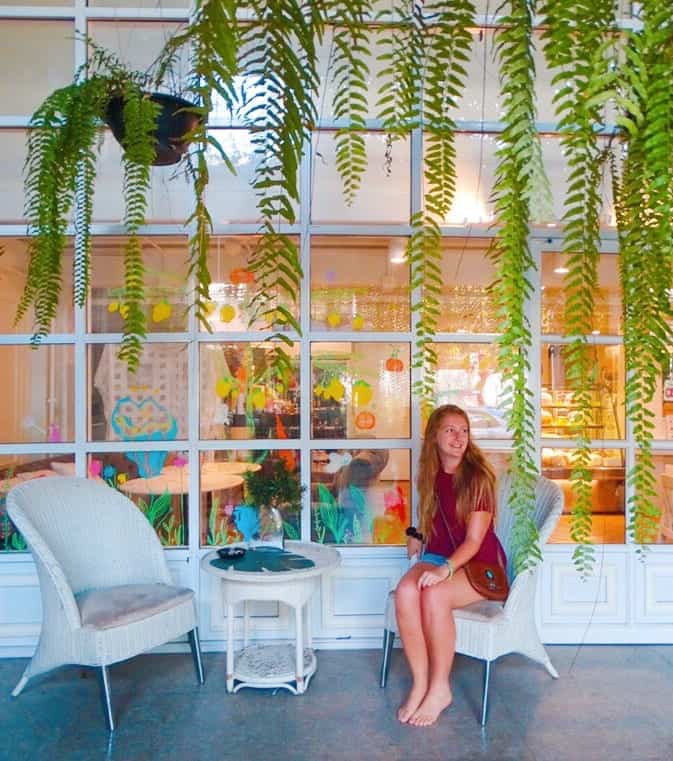 I was hosted at the boutique Spades Hotel during my time in Bangkok. After my busy day trip to Ayutthaya, I couldn't wait to collapse in my comfy bed.

In the lobby, there's a vintage clothes stand where you can pick up some bargains, and there's also an adorable cafe with cupcakes and afternoon teas. The surrounding area is atmospheric with lots of street food, plus it's a short walk to the station which connects you with the rest of Bangkok.

Check availability and prices here.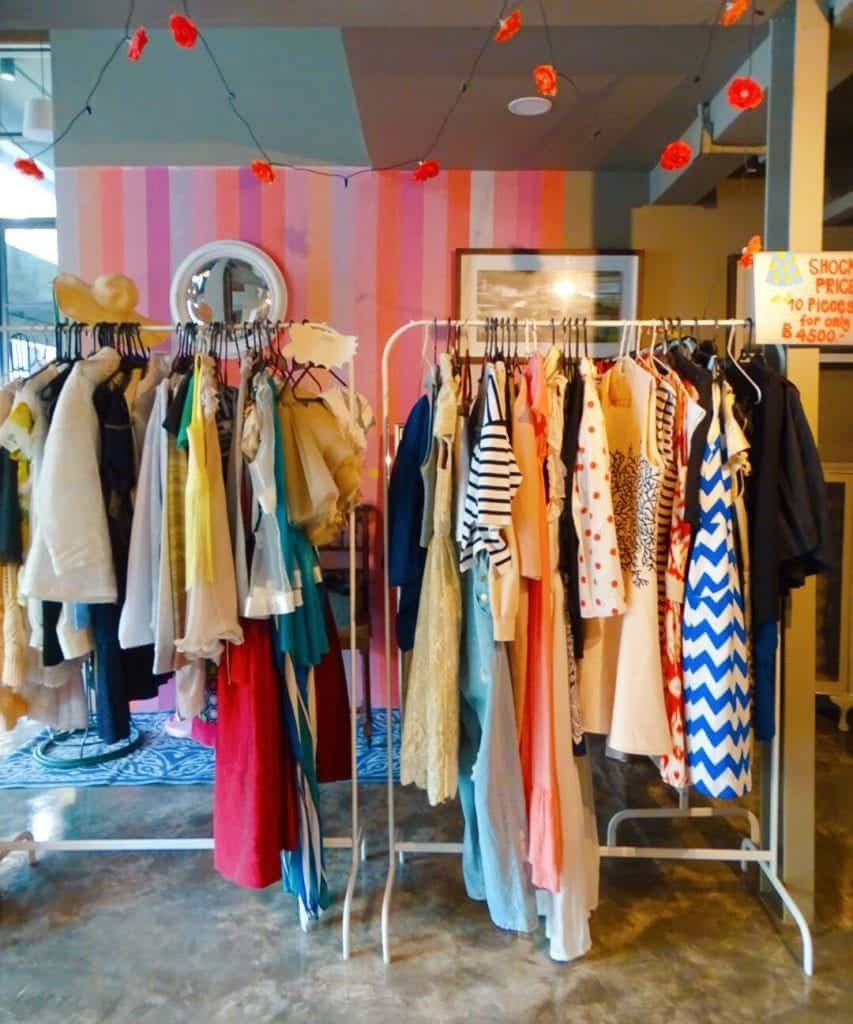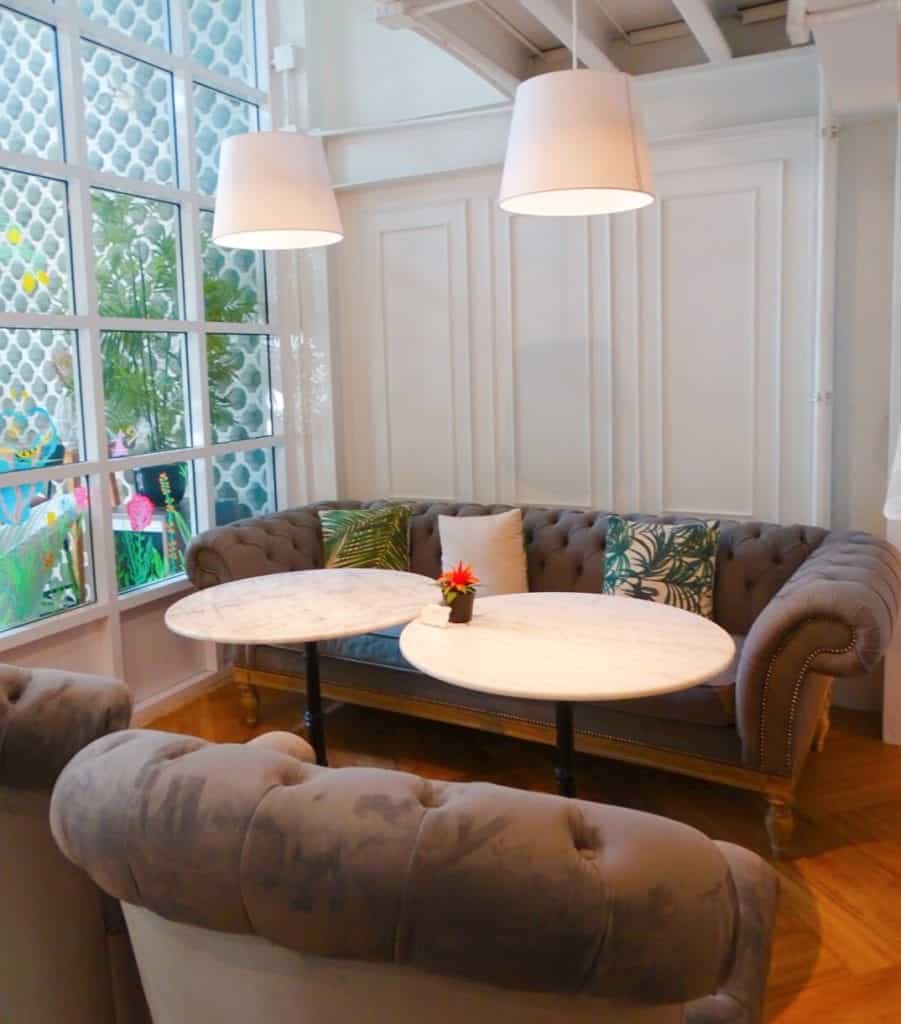 Other info for visiting Bangkok
Despite the fact it's big and it's busy, a trip to Bangkok isn't so overwhelming. Here are a few tips to make everything simpler still…
Getting there
AirAsia fly all over Southeast Asia so if you're travelling onwards from Bangkok, you'll find flights from a little as $20.
Getting from the airport
There are plenty of taxis waiting around the airport but as usual, I called a Grab. My driver couldn't speak English and I couldn't speak Thai but he communicated by speaking out loud into his Grab app which translated onto my screen. Amazing! You can expect the ride to cost around 300 TBH.

Make sure to leave enough time when going back to the airport. On the way into the city, my ride took 30 minutes but on the way out, it took almost 2 hours. It was rush hour the day before a public holiday but it's not unusual for Bangkok to be gridlocked. Luckily I made my flight!
SIM cards
The most important thing millennials need – internet! I had a pre-booked dtac sim card which was really helpful – I found the counter at Don Meaung Aiport and the staff set it up for me right away. Easy peasy.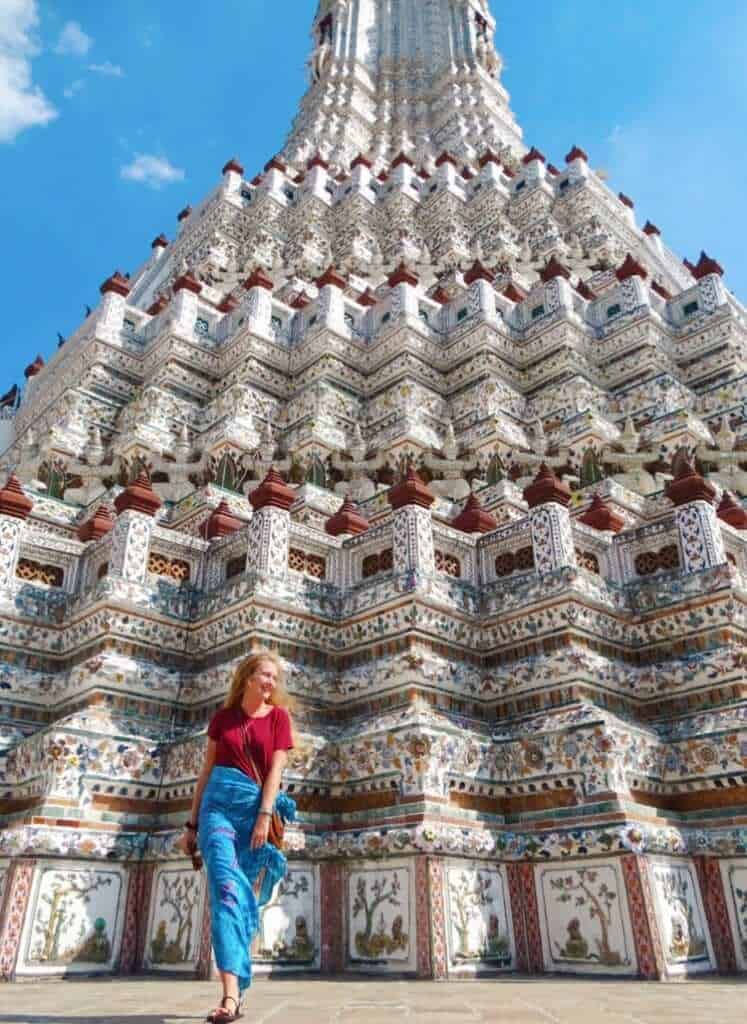 Thanks for reading my Ayutthaya day trip guide!
If you're planning on visiting Ayutthaya from Bangkok, I hope I've made it a little clearer for you.
Note: I was a guest of TakeMeTour while visiting Bangkok but as ever, all opinions are my own.
For more travel content, follow me on Instagram, Facebook, Twitter and YouTube.
Check out my other Thailand blogs:
See you next time for more adventures,
Rose
Ps. Liked this one day trip Ayutthaya? Pin it for later!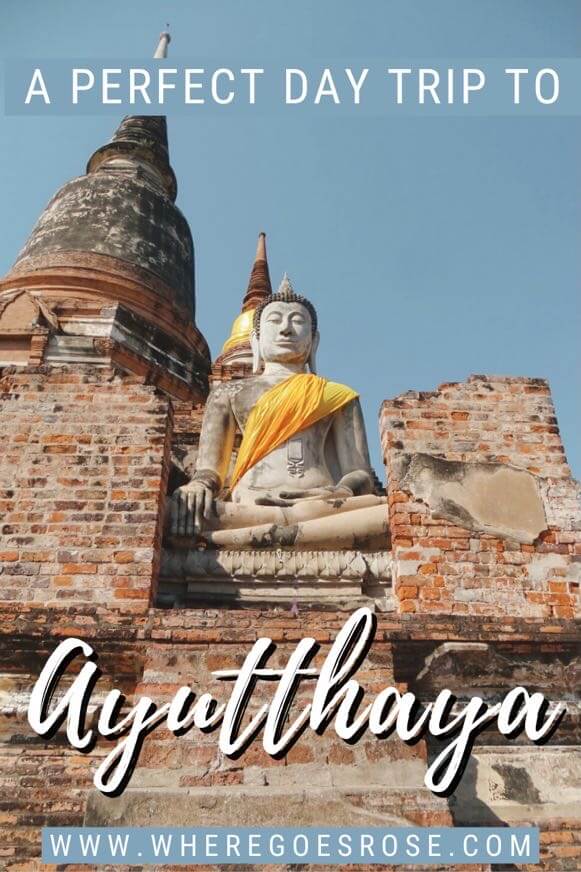 VISITING THAILAND? 

These are my trusted resources:

Getting around by air– it's easy to get between cities by flight. I use Skyscanner to find the best-value flights, using the 'search by month' tool to find the cheapest dates. You can also use the 'to anywhere' feature if you're flexible on where you're going.

Buses – buses are comfy and efficient. Use 12Go to book.

Trains – these are a good option for long journeys because you have a bed rather than a seat. Use 12Go to book.

Driving in Thailand – use Rentalcars.com to compare car rentals.

For hotels, I use Booking.com – they also have self-catering apartments. You can filter by review score and price to find the best-rated budget places. For hostels, I use Hostelworld.

To save money on accommodation, I use Trusted Housesitters, a website that connects homeowners going away and travellers who can sit their homes & pets.

Browse tours and activities on GetYourGuide. I also check Viator and Klook in case they have a better price.

For food tours with passionate local chefs and foodies, check out EatWith.

Need travel insurance? I use True Traveller (for UK & Europe residents) since it's affordable but covers everything you'd need including various activities, valuables and pre-existing conditions. Unlike some companies, they insure you if you're already travelling / don't yet have your flight home booked. Get a quote.

For travel insurance for other nationalities, I recommend Hey Mundo and for long-term digital nomad travellers, I suggest Safety Wing.

Check out my resources page for more travel discounts and tips!