This post may contain affiliate links to things like tours, hotels, Amazon associates and products. These help me earn a small commission at no additional charge to you.
Backpacking South Africa volume 2: Victoria Bay and Wilderness
My first stop on the Garden Route of Mossel Bay had been absolutely stunning, so I was wondering whether my next stops could match the beaches, coastal views and hikes. Turns out they could!

My second Baz Bus journey of the trip took me to Victoria Bay, a surfers beach near to inland town, George. The photos I'd seen online of the hostel looked incredible and turned out to be an accurate representation…

There were comfy sofas, cool artwork and a widescreen TV, plus everything was brand new, spacious and seemed to be made of glass. I felt like I was in someone's incredible private apartment rather than a backpackers hostel!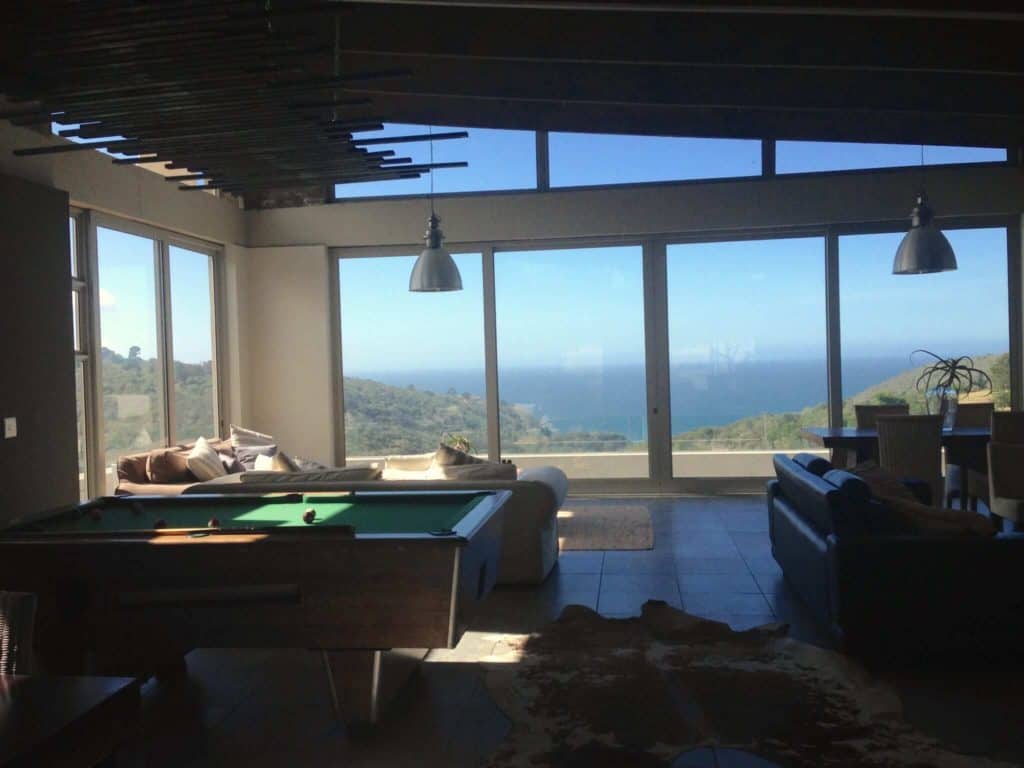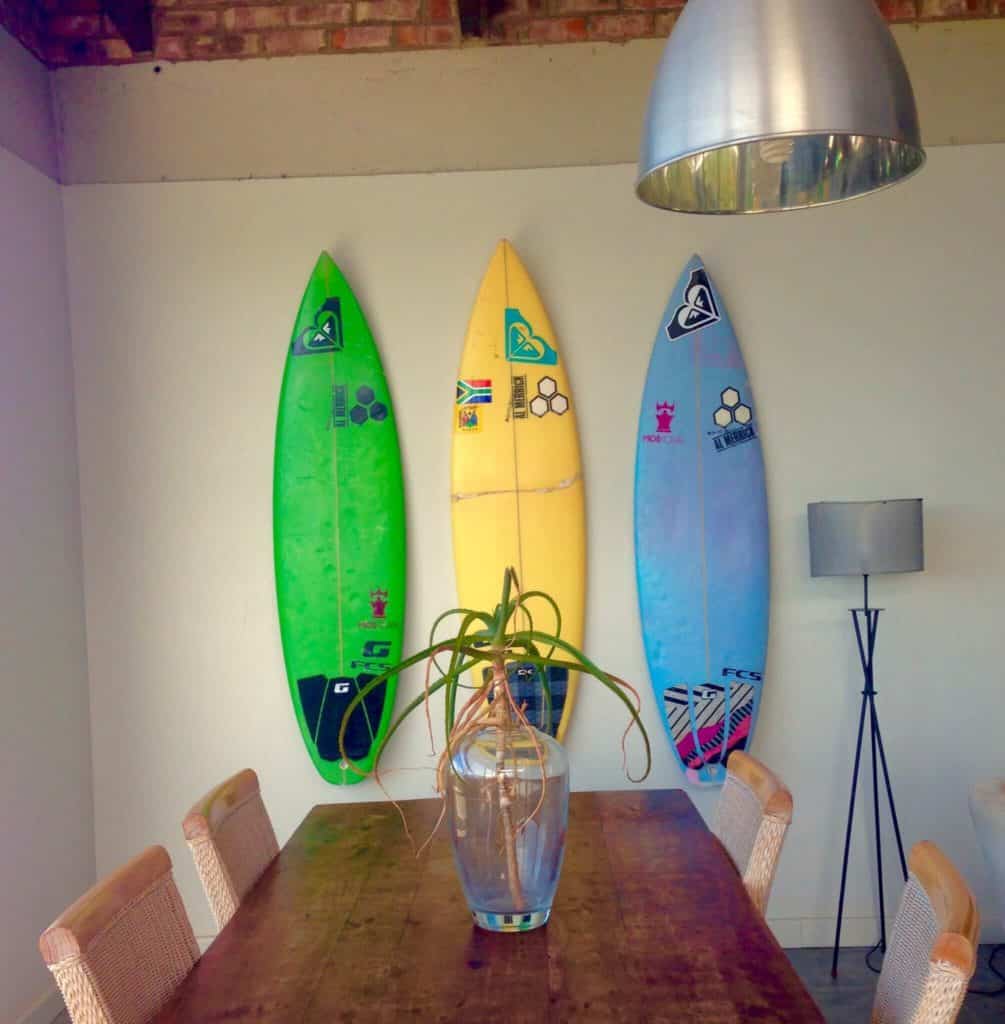 Maybe even better than the interior were the views from the balcony – Victoria Bay is by the sea somewhere down there.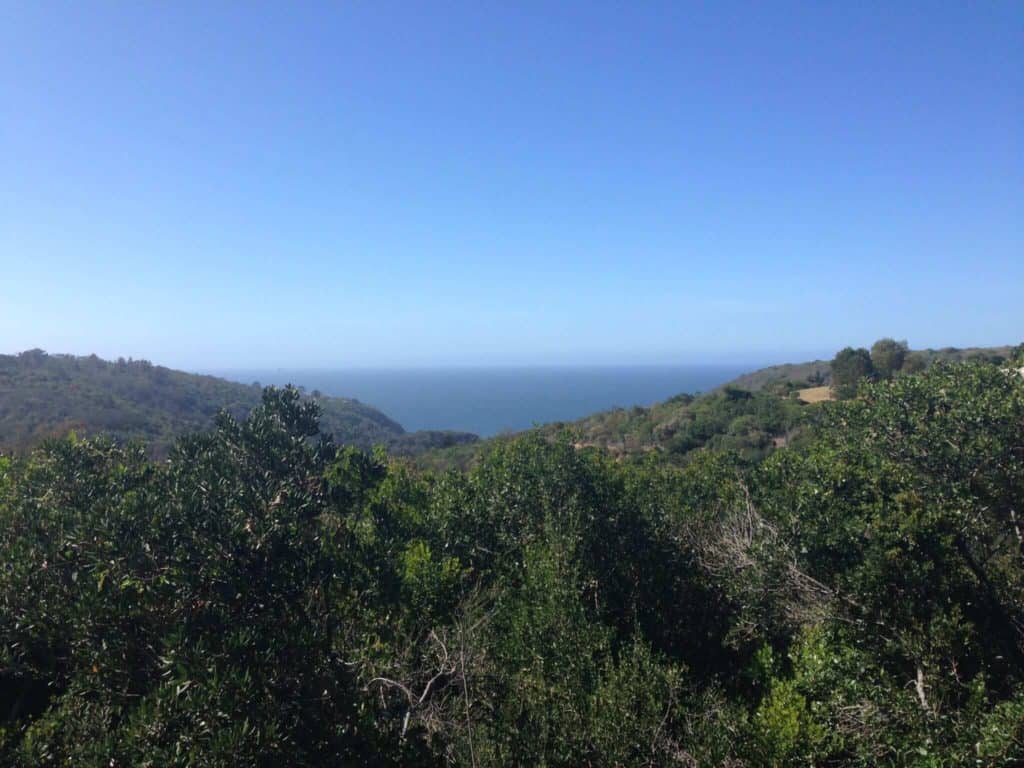 Although the hostel was flashy, I nearly died of starvation during my stay. I arrived late in the afternoon and asked the staff where I could go to either eat out or buy groceries and cook. The answer was… nowhere! Apparently at the beach, a half hour walk away, there was a cafe that shut at 5pm, and after that the nearest amenities were in George… a 15-minute drive or 2.5-hour walk away.

I was quickly learning that South Africa wasn't designed for those on foot. It would be fine if you had a car but not so fine if you were taking the Baz Bus like me. The girls at reception also weren't sure about takeaways and suggested I befriend people who would share their food.
Unsure if this was a practical solution, my stomach told me it was the only way. I chatted to a guy cooking a braai (a BBQ to you and me) who asked me 'where are you heading?'

For some reason I heard 'what are you eating?'…. not nearly the same, and he seemed surprised when I answered 'well, I'm glad you asked because I haven't actually got any food!'

Misunderstandings aside, sausages and chicken wings became mine. Thank the Lord.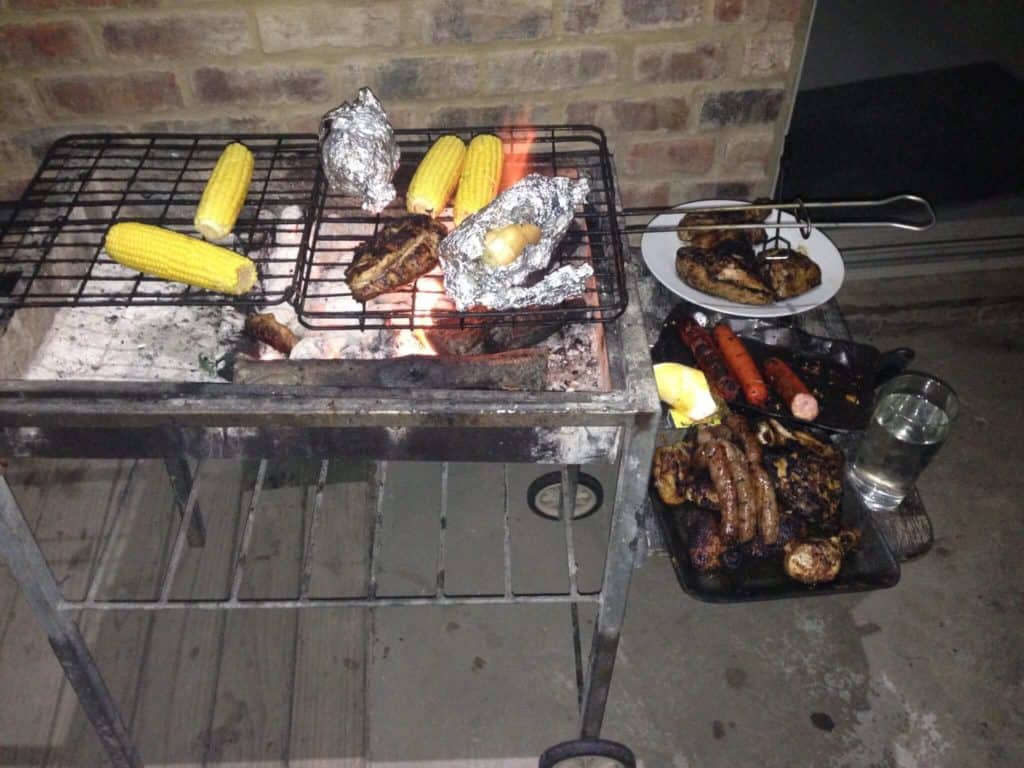 I had to survive like this for the following day and a half, and now always carry super noodles on my person.
I checked out the beach the next day. It was pretty nice, though a bit crowded, apparently because it was a long weekend for the locals. It was a 30-minute walk from the hostel up a steep hill: down on the way there, up on the way back. Thankfully, I got a lift both ways – from some guys at the hostel on the way there and the woman who owned the beach cafe on the way back, as she was finishing her shift in my hour of need.
That evening I still had no food but luckily the braai was back on. The guy cooking was a tour guide leading a trip of just two girls, a pair of Argentinian sisters. The following day they were heading to the next town, Wilderness, for some canoeing and to visit a waterfall. I was also headed to Wilderness but the Baz Bus didn't arrive 'til 3pm which meant waiting almost alllll day for a ride that would only take 15 minutes.

Instead, I ended up tagging along on their tour for the day. After being on tour around Africa for so long and then getting used to going solo again, it felt weird to be back with a guide.

The day was really fun, however. The journey to Wilderness barely felt like 5 minutes so I was glad I was able to make more of my day than I would have done waiting at the hostel. We headed for the river and hired some canoes. The sisters went together, as did me and the tour guide. He took the back seat telling me that it was easier work for me being in the front – I'm sure that meant I did more of the arm work though? Hmn…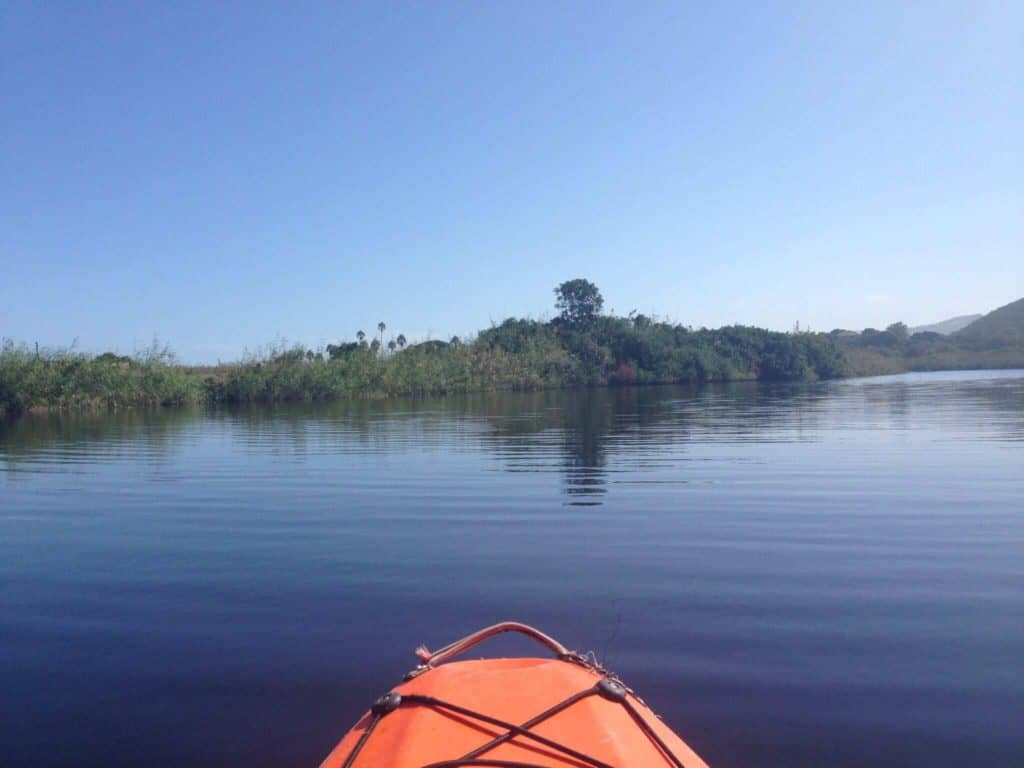 Still, it was an easy ride with gorgeous views. We were travelling in the same direction as the current so we soon worked out you didn't really need to do anything apart from let the shallow, crystal-clear water carry you. We paddled by a campsite and some incredible houses built into the cliffs – I can't get over the amazing views many of the South African properties are blessed with.

We arrived at our location and dragged our boats onto the riverbank. The next activity was a half-hour walk through the forest towards a waterfall. The walk itself was beautiful and not particularly strenuous as it was all along a boardwalk. Among gaps in the trees we could see mountains with hundreds of trees growing all over them.

When we arrived at the waterfall, swimming was on the agenda. The water was freezing and also a reddish brown colour – apparently this is just because of the tree roots that grow in it. Once I'd eased myself in, it was easy to swim up to the waterfall – and so pretty.
Next, I checked into my next hostel, Beach House Backpackers. Because the Baz Bus doesn't run every day, I had a choice of one or three nights in Wilderness and had chosen one. I didn't really mind, especially as I'd done so much in the area already that day.

The hostel was fairly quiet that evening and my arms were aching from my canoe ride against the current on the way back, so I had an early night. The hostel was actually really cosy and there was yet another balcony with incredible views. South African hostels have been impressive so far: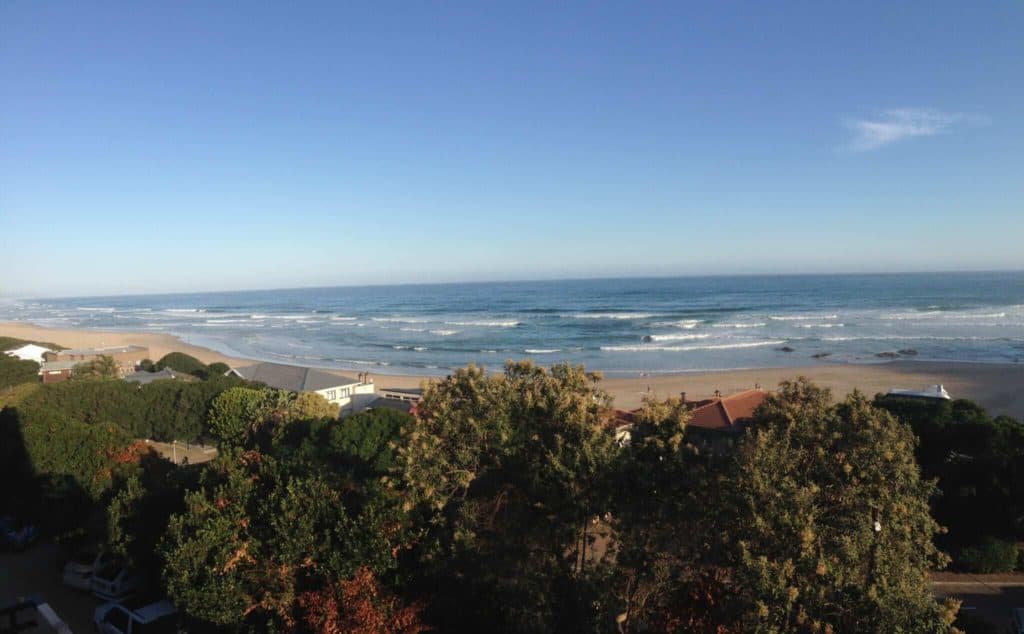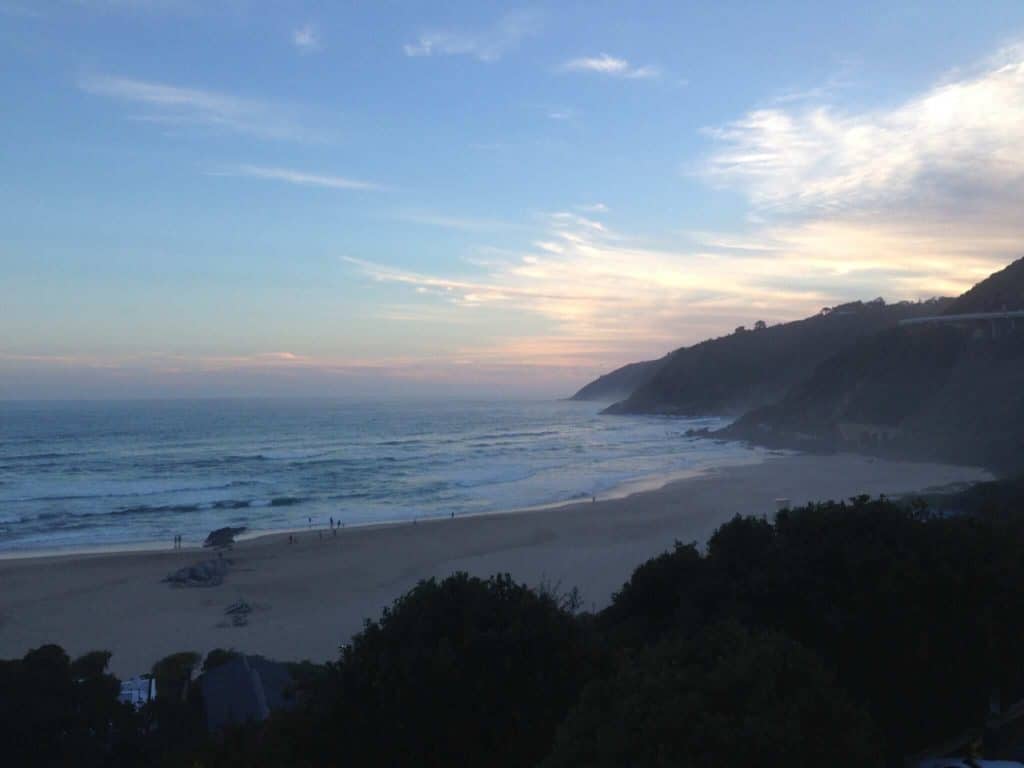 The next day the Baz Bus was picking me up just after 3pm so I still had time to do a hike. I'd been told about the hippie caves: communities of people who live in a set of nearby caves and have made them super homey. To get to the caves you had to climb up to and walk along some abandoned railway tracks along the cliff face.

Despite a stint through the world's darkest, most scary tunnel I quickly found myself there. Everything there was made of shells or driftwood from the beach – how interesting is that?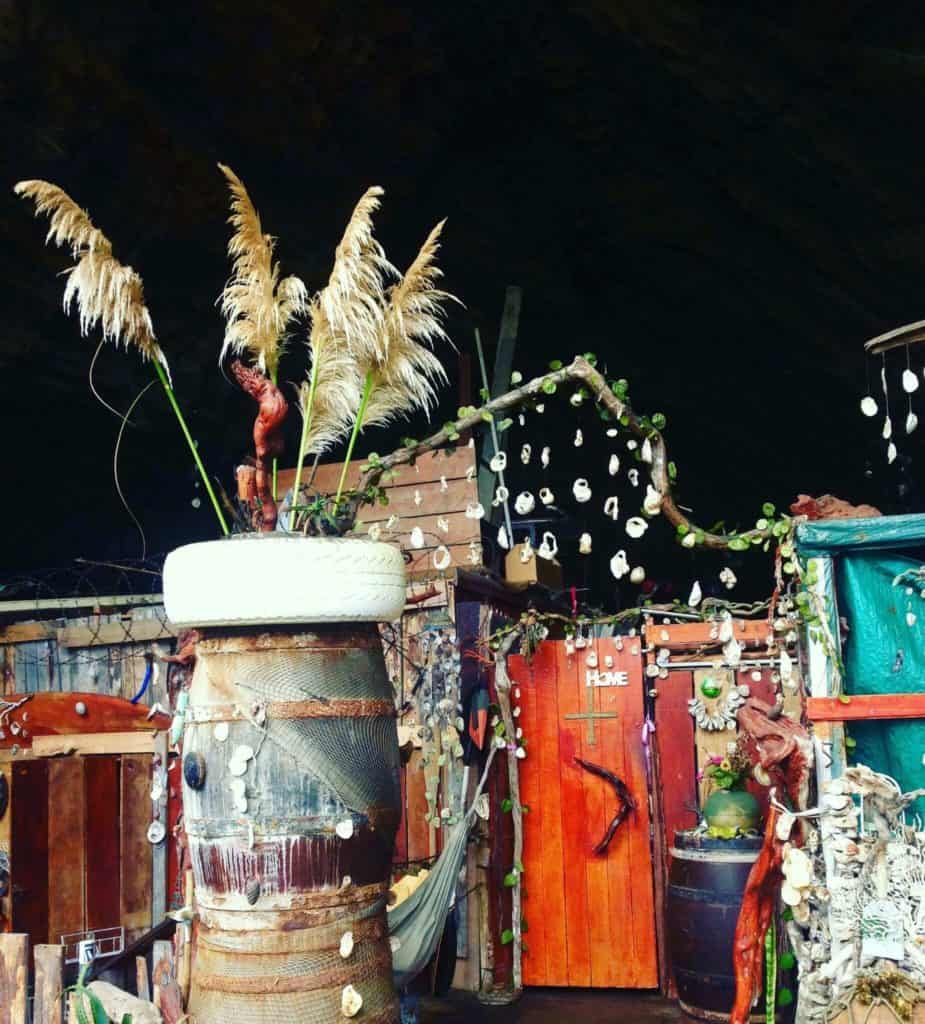 I made it a bit further along the coastal walk, over another equally scary bridge which was all made of slats and went over a section of the sea. I just made sure I didn't look down!!
The coastal walk ended back at Vic Bay where I looked down at the beach I'd lounged on the day before. Scary bridges and tunnels aside, it was a fun little exploration session before I left town.
My next stop was Knysna, a slightly larger town along the coast. More on that (and swimming with seals) in my next blog…
Thanks for reading!
Read my other South Africa backpack diaries:
See you next time for more adventures,
Rose