This post may contain affiliate links to things like tours, hotels, Amazon associates and products. These help me earn a small commission at no additional charge to you.
While the UK is undeniably a beautiful place to travel, it can be expensive. I created this guide to backpacking the UK to help you explore the best of Great Britain (England, Wales and Scotland) and Northern Ireland. So you don't break the bank doing it, I'll share a complete cost breakdown for budget travel in the UK.

Since I grew up in the United Kingdom and return between trips, I have almost 30 years of experience living and spending money (or rather trying not to!) in the UK.

There are so many fantastic places for budget travel in England, Scotland, Wales and NI such as London, Oxford, Manchester, Leeds, Liverpool, Bristol, Brighton, Cornwall, Devon (England), Cardiff, Pembrokeshire (Wales), Edinburgh, Glasgow, the Highlands (Scotland) and Belfast (Northern Ireland).
Keep reading for my itinerary for backpacking the UK!
UK BACKPACKING ESSENTIALS

Lonely Planet guidebook – Great Britain, Scotland, Wales, Ireland

Accommodation: Hostels & apartments – Booking.com / Hostels – Hostelworld.com

Activities: GetYourGuide / Viator

Getting around: Trainline / Busbud

Flights: Skyscanner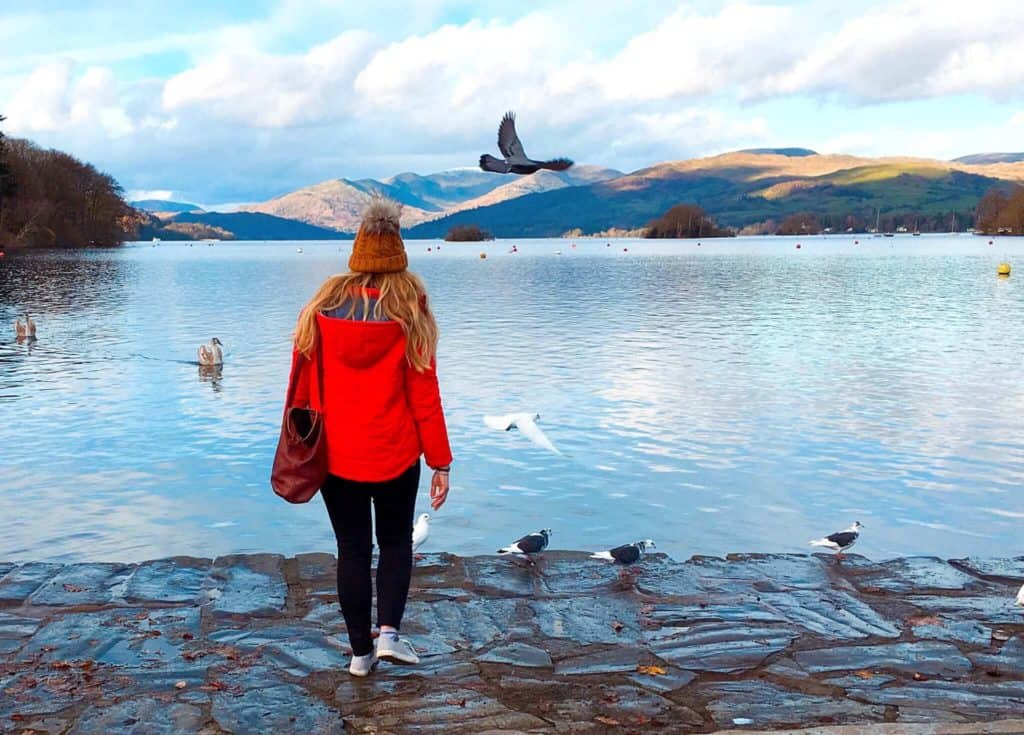 Like budget travel? Check out my budget guides to South Korea, India, Cuba and Taiwan!
Is it expensive to backpack in the UK?
Yes, the UK is expensive to travel. There are no two ways about it. The UK isn't as expensive as Scandanavia or certain parts of the US but it's up there as one of the world's more expensive regions.

Backpacking the UK on a budget is a totally different experience to travelling in Southeast Asia or South America. Luckily, I have plenty of budget tips for the UK to share. Of course, the ultimate tip is to escape the holiday hotspots in favour of hidden gems in the UK.
UK budget travel – what's the cost?
Well, how long is a piece of string? However, here's a rough estimate of how much to budget per day in the UK:
Backpacker's UK budget (staying in hostels and cooking your own meals) – £60 per day.

Mid-range UK budget travel (staying in budget Airbnbs and hotels and eating out half the time) – £100 per day.

Luxury UK travel budget (staying in nice hotels and eating out for all your meals) – £200 per day.
Backpacking the UK – cost of a visa
Depending where you're coming from, the conditions of visiting the UK will vary. Make sure you do your research and check out the current costs and requirements.
Backpacking the UK – mobile data
The best way to stay connected while travelling in the UK is to pick up a local SIM card. I use giffgaff and pay £10 for 9GB of data and unlimited calls and texts. Sign up for giffgaff and pre-order a SIM to be delivered to a UK or overseas address.
How to backpack the UK – modes of transport
If you're wondering How much should I budget per day UK?, let's get this out of the way: public transport makes it hard to travel on a budget in the UK!

Recently, I flew into Manchester via Poland as it was a quarter of the price of the train. I don't mean to encourage unnecessary air miles as I try to take public transport wherever possible. It's just tricky when UK trains are more expensive than organs on the black market (I think?).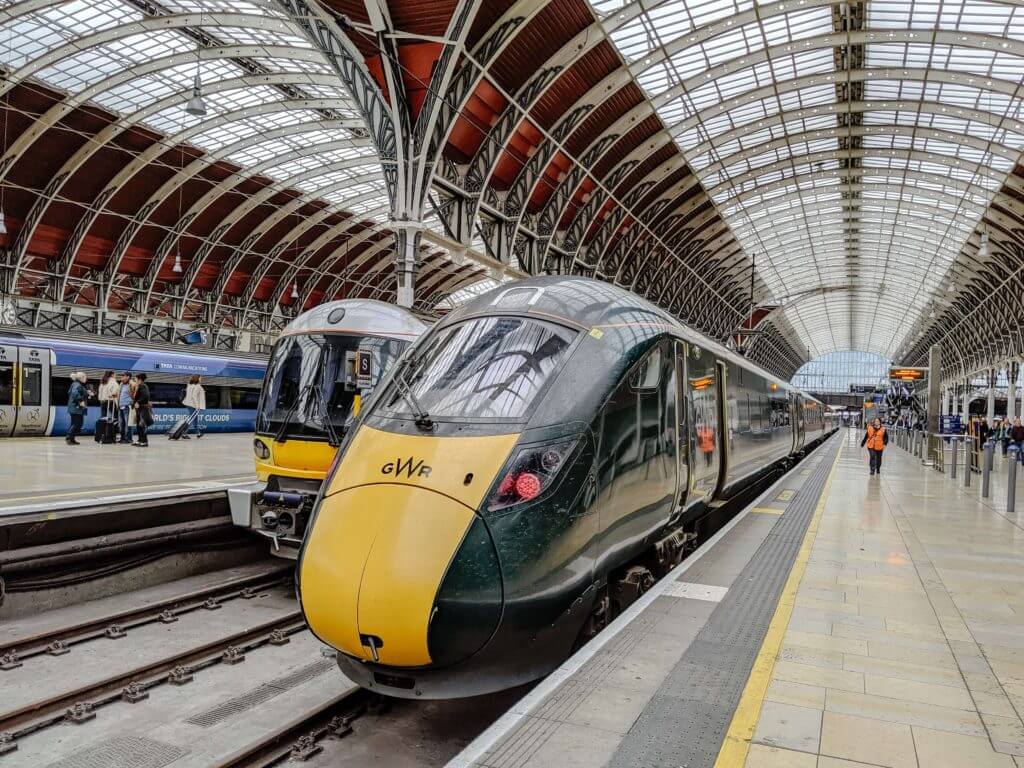 Trains in the UK
My best UK budget travel tip? Book trains in advance and be smart.
The railways in the UK are privatised which means there are lots of rival companies. Booking a ticket is a bit like playing the lottery as prices vary considerably. Here's a screenshot of a train 4 minutes later being 5 times the price: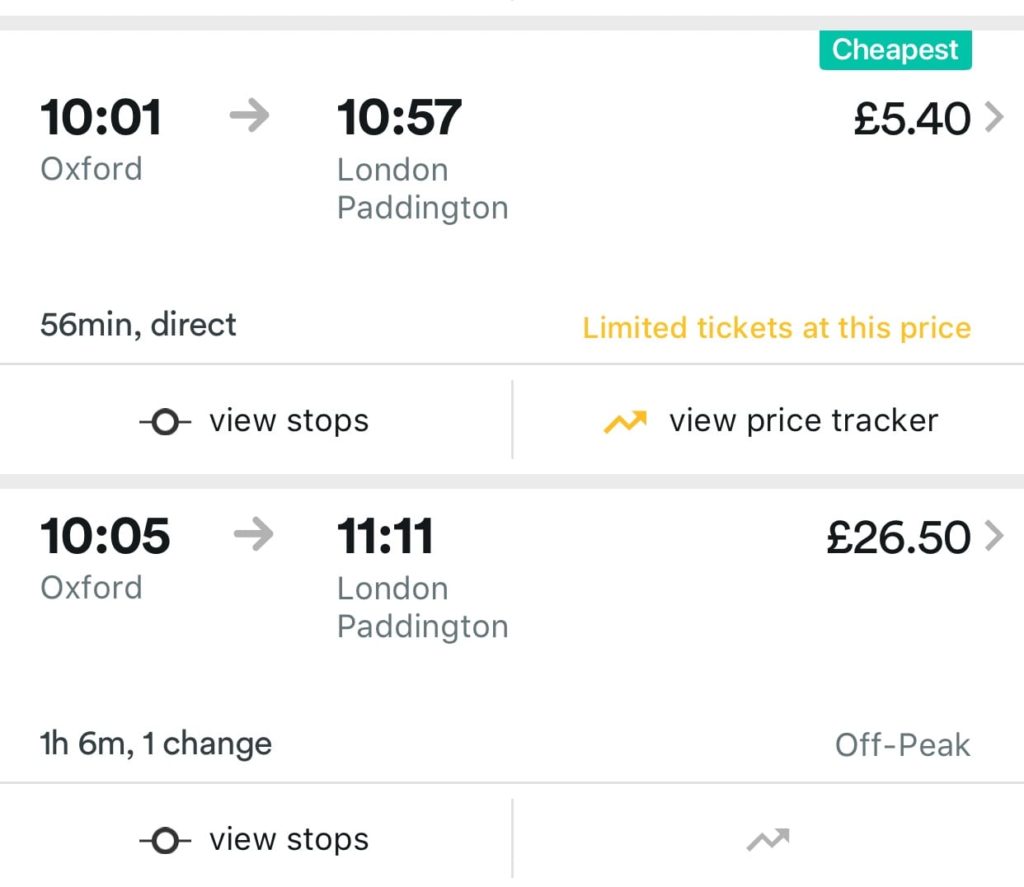 Average UK train prices START from:
Manchester – London: £35.
London – Brighton: £20.
Cardiff – London: £30.
Edinburgh – London: £60.
However, if you're backpacking in the UK with limited time, you can't deny the train is the quickest way to get around. Here are my best budget train tips:
Book your journey online to save money – it's usually a lot more expensive to buy tickets at the station on the day. Select individual times rather than open returns. You'll be restricted to the time you choose but at least you'll save money.

I use Trainline to shop for good deals and try and book your journeys a week in advance. If you're visiting Wales, check the best train deals on the Transport for Wales website.
UK budget travel hack #1: go on Trainsplit. This website books you on the individual legs of your journey to save you cash. You end up carrying eight tickets but I've saved £15 per journey before by doing it.
UK budget travel hack #2: If you're aged 16-25 and plan to make more than 2-3 journeys, it might be worth buying a Railcard. These cost £30 but save you a third on journeys so if you're making a really long one, for example London to Edinburgh, you might make it back in one trip.
UK budget travel by coach
Coach travel can be ridiculously cheap. I've made it halfway across the country on a £1 ticket while backpacking in England!
Average coach prices in the UK:
Manchester – London: £20.
Brighton – London: £15.
Cardiff – London: £20.
Edinburgh – London: £50.
If you're travelling England on a budget, use coach companies National Express and Megabus. Both have toilets, chargers and an online entertainment system. National Express are generally more reliable but the Megabus sales are best for picking up bargains. Compare prices using the Busbud website.

Super hack for budget travel in the UK: Travel overnight and you won't pay for accommodation. This is the lowest of the travel lows but I've done it plenty of times and it works!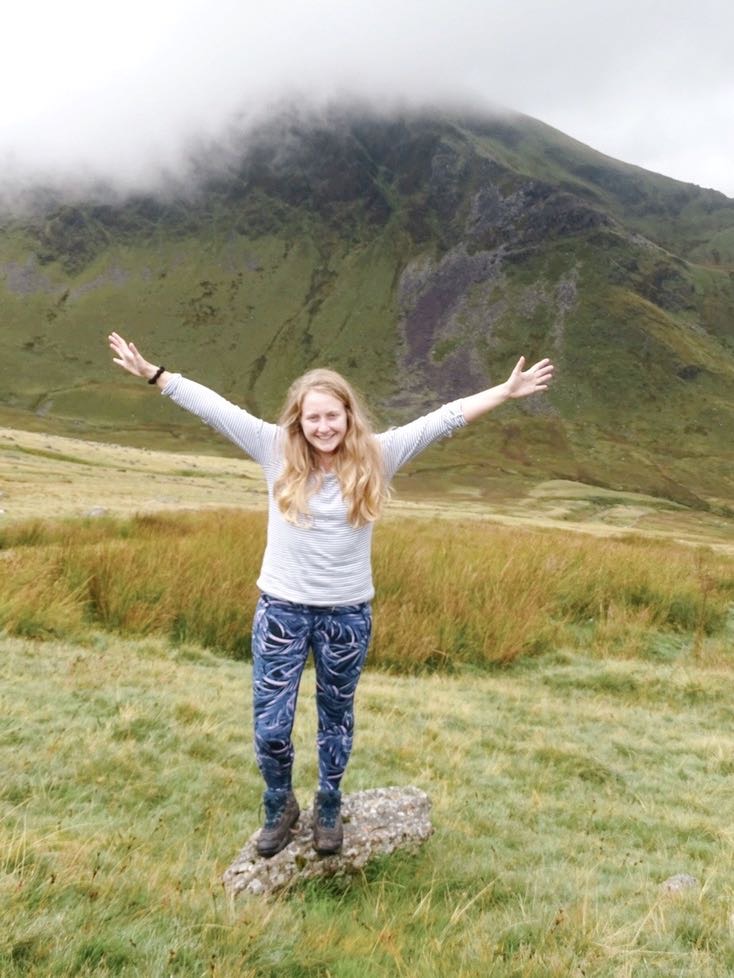 Cost of local buses
If you're backpacking the UK on a budget, you will want to catch local buses rather than taxis. You can take buses around cities as well as between towns and cities within the same county. These typically cost a few pounds per journey.
The main bus companies to look out for include Stagecoach which operates all around the country and Arriva which operates around the Midlands, North East, North West, South East of England and Wales. For these buses, you pay the driver in cash or with contactless bank card rather than booking online like the UK coaches and trains.
Cost of internal flights in the UK
Use Skyscanner to find these. You can find real bargains, like London to Scotland for £25 return. Just remember to factor in the price of getting to the airport. From Oxford, I have to catch a train to a London airport and then it becomes less of a bargain.

Skyscanner tip – use the 'search by month' tool to find the cheapest dates. You can also use the 'to anywhere' feature if you're flexible on where you're going.
Budget tip – I recently found out how you can drop-off for free at Stanstead Airport!
Cost of taxis
Metered taxis in the UK cost around £3 per mile. Black cabs in London cost considerably more and should only be used as a last resort.
Taking Uber in the UK is a great way to save money but it's only available in larger cities. Smaller cities and towns have to rely on more expensive private taxi companies. As a general rule, I'd avoid taxis if possible if you're travelling the UK on a budget. Usually, local buses are the cheapest way to get about.
UK backpacking – where to stay
If you're hoping to backpack the UK on a budget, finding affordable accommodation will be your biggest challenge.

Accommodation prices in the United Kingdom vary depending on the city and type of accommodation you choose but they're generally pretty high compared to many other countries. Staying in hostels is the cheapest option when backpacking the UK. Here are a few general costs:
Cost of hotels in the UK
Hotel rooms in the UK start at around £35 per night and head into the hundreds. If you're travelling in a pair, this will reduce the cost of travel in the UK. Hotels occasionally offer single rooms but these are rarely half the price of a double or twin room.

My best UK budget tip for solo travellers is to avoid hotels and opt for hostels or rooms in shared Airbnbs.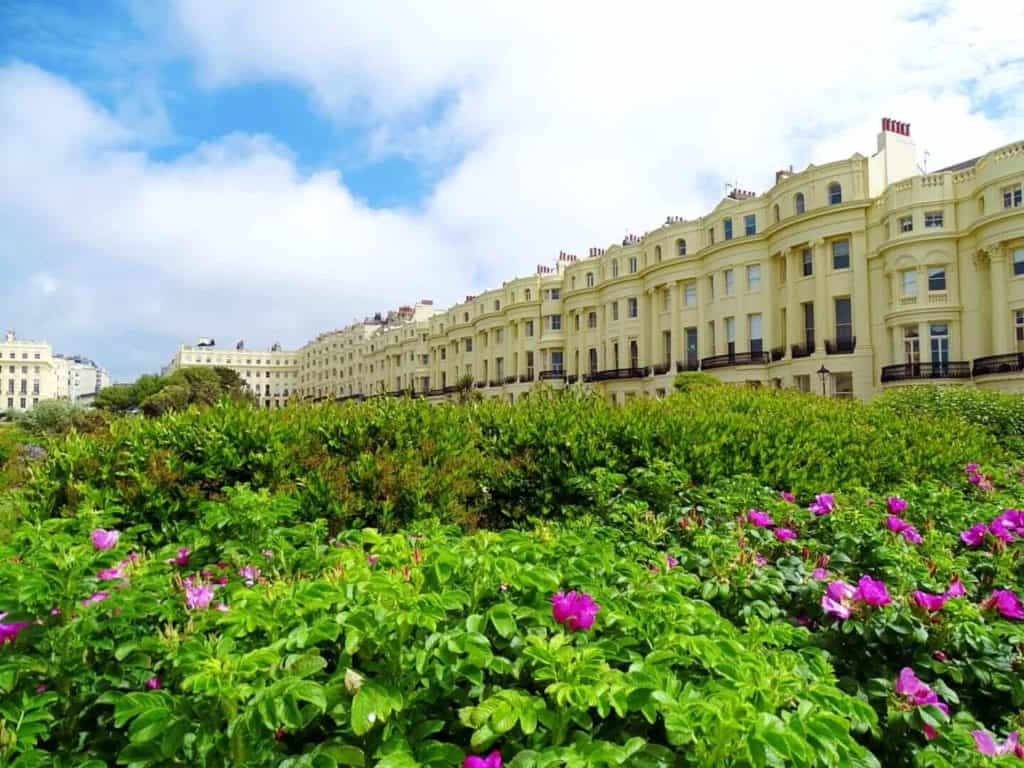 Budget hotels in major UK cities:

London – The Z Hotel Victoria // Point A Hotel Paddington // Browse all London hotels.

Oxford – The Buttery Guesthouse // browse all Oxford hotels.

Brighton – The Royal Albion Seafront Hotel // browse all Brighton hotels

Bristol – Mercure Bristol Grand Hotel // browse all Bristol hotels

Manchester – easyHotel Manchester // browse all Manchester hotels

Liverpool – The Z Hotel // browse all Liverpool hotels

Edinburgh – CoDE Co-Living – The Loft // browse all Edinburgh hotels

Glasgow – Glasgow Argyle Hotel // browse all Glasgow hotels

Belfast – Jurys Inn Belfast / browse all Belfast hotels
Cost of Airbnbs in the UK
The UK is well set up on Airbnb with loads of private apartments and rooms available. Staying in a bedroom in an owner's flat is usually cheaper than a budget hotel and only slightly more than a backpackers hostel.

Renting a whole apartment is usually more expensive than a hotel room but can be reasonable if you're backpacking the UK with a couple of other people.

Private rooms in Airbnbs start at £20 per night. Entire properties (typically small flats) start at £40 per night. Remember to check the cleaning and service fees on Airbnb; these are in addition to the first price quoted when browsing the website.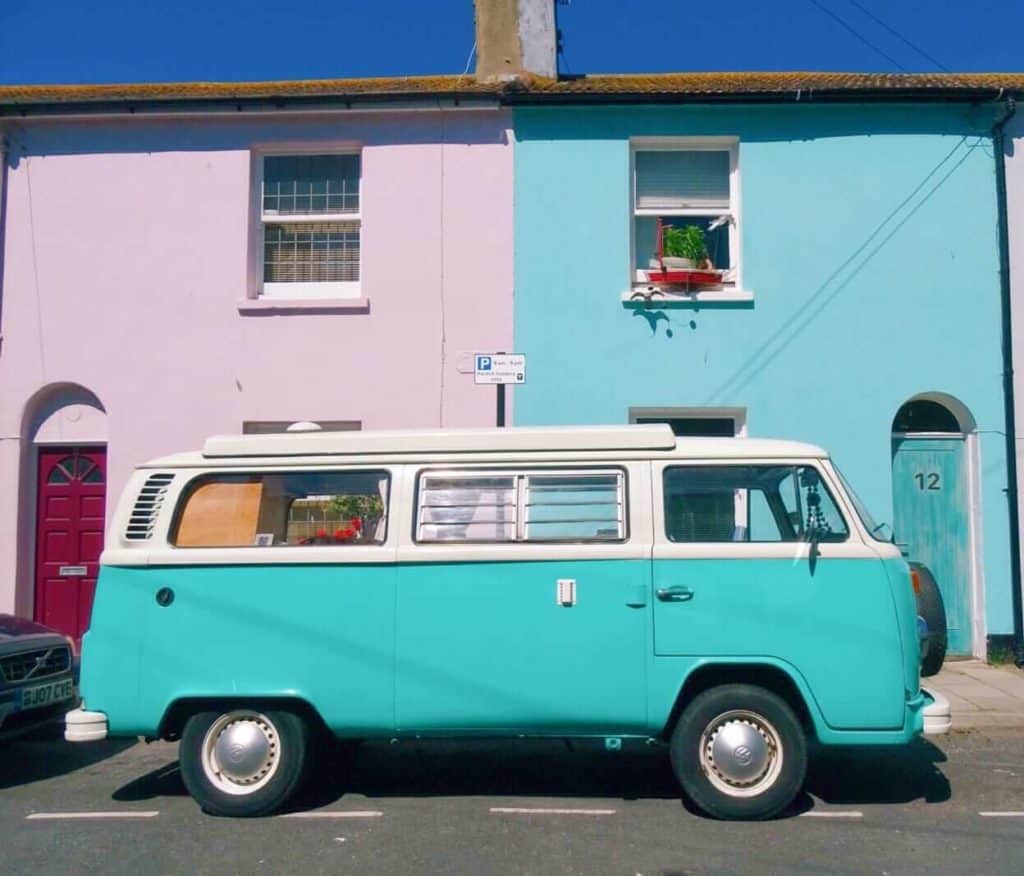 Cost of hostels when backpacking the UK
Hostels in the UK start at £15 per night and are undoubtedly the cheapest places to stay, as well as a great way to meet people while travelling solo. A few good options for UK backpacking include:
London – Safestay, Wombat's City Hostel

Manchester – Selina NQ1 Manchester
Bristol – The Bristol Wing / Full Moon Backpackers
Liverpool – YHA Albert Dock, Selina Liverpool
Cambridge – YHA Cambridge
Brighton – Happy Brighton

Edinburgh – Code Pod Hotel, Safestay Royal Mile

Glasgow – Euro Hostel Glasgow.

Even though UK accommodation is expensive, there's usually a hack. For example, many travellers love getting outdoors at Centerparks but the prices are notoriously high. Plenty of lesser-known cheaper alternatives to Centerparks exist but you just have to do your research!
Don't want to pay for accommodation? Check out Trusted Housesitters and set yourself up as a house sitter!
Backpacking the UK – tours & activities
Luckily for those backpacking in England, Wales, Scotland and Northern Ireland, there are free museums, parks and neighbourhoods to discover.

For guided tours and bucket list experiences, I would recommend GetYourGuide, a booking platform with affordable tours in almost all UK cities.
Top experiences for backpacking the UK:
Harry Potter studio tour (London)
Regents Canal, Camden and Little Venice boat tour (London)
Loch Ness & The Highlands with Hotel Pick-Up (Edinburgh)
Evening Underground Ghost Tour (Edinburgh)
The Titanic Experience with SS Nomadic Visit (Belfast)
Best places in the UK for backpacking
To travel cheaply in the UK, pick affordable destinations to start with. There are plenty of fun and beautiful places I would recommend for UK backpacking.

Planning a trip to England on a budget? Let's start with my favourite English destinations…
London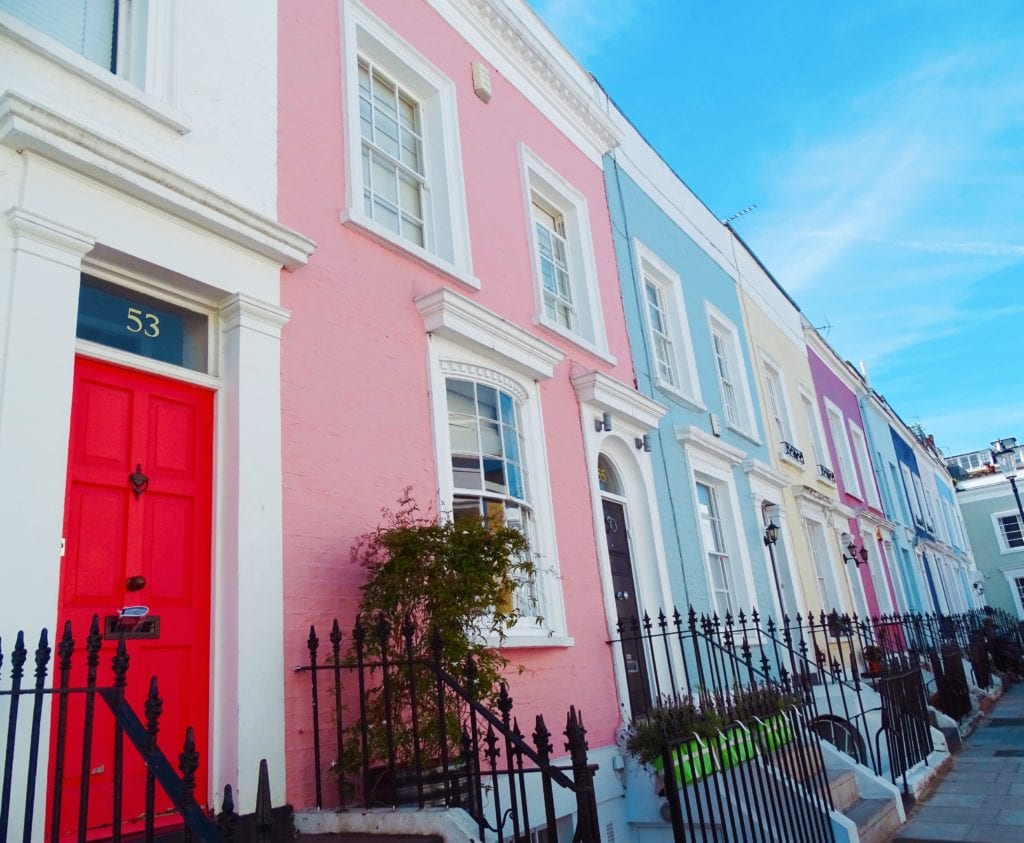 Sure, it's expensive but you can't backpack the UK and miss London!

It's not just the main attractions like the Tower of London, London Dungeons and Buckingham Palace that put London on the map but the quirky neighbourhoods like Camden with its colourful street art and alternative East London with yet more street art in Shoreditch.
Oxford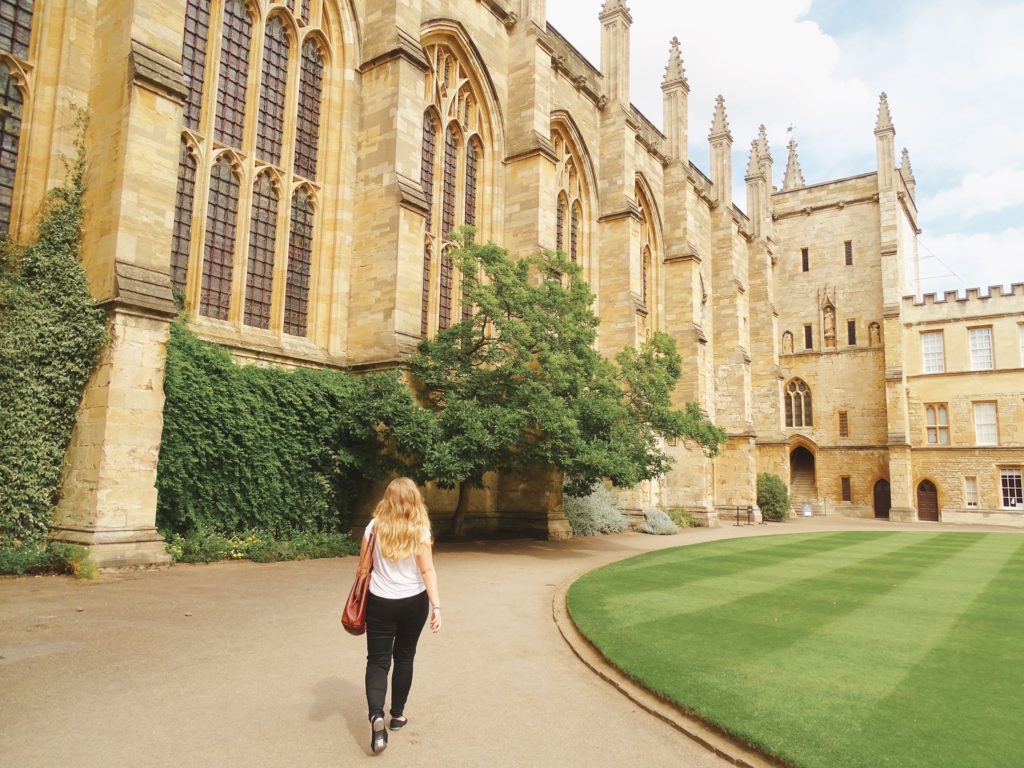 Visiting Oxford as a day trip is a great excursion from London. There's bags of history, a fantastic Covered Market for foodies and lots of impressive Oxford colleges to visit.

There are plenty of free things to do in Oxford and some excellent food markets. It's small and walkable so there's no need to pay for transport whilst there. Read all my Oxford blogs here.

Trains from London start at £5 each way (use Trainline to book) or you can get an anytime return on the Oxford Tube (bus) for £18 which is valid for 3 months. Check for other bus deals on Busbud.
Manchester
If you're backpacking England on a budget, I would suggest spending time in the north to save money. Manchester is one of my favourite UK cities. It's fun, affordable and has plenty of hipster bars and cafes.

A weekend in Manchester is the perfect amount of time to spend. The restaurant prices are way lower than London and you'll find so many cheap eats in Manchester for under £10.

Read more Manchester blogs: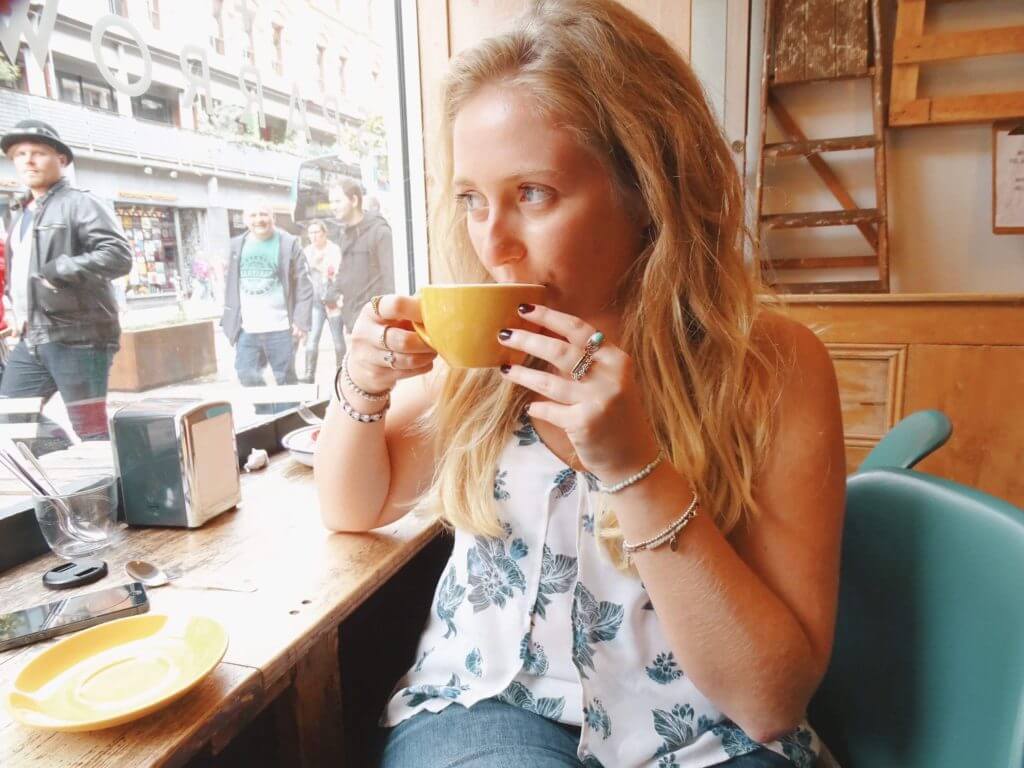 The Lake District
The Lake District isn't the cheapest place for backpacking England BUT if you're travelling in a group, you can book a self-catering accommodation in the Lake District and cook your own meals.

The various hikes, lakes and woodland walks are free. Nightlife is limited so have cosy nights in your cabin, spend quality time with your companions and take advantage of supermarket wine!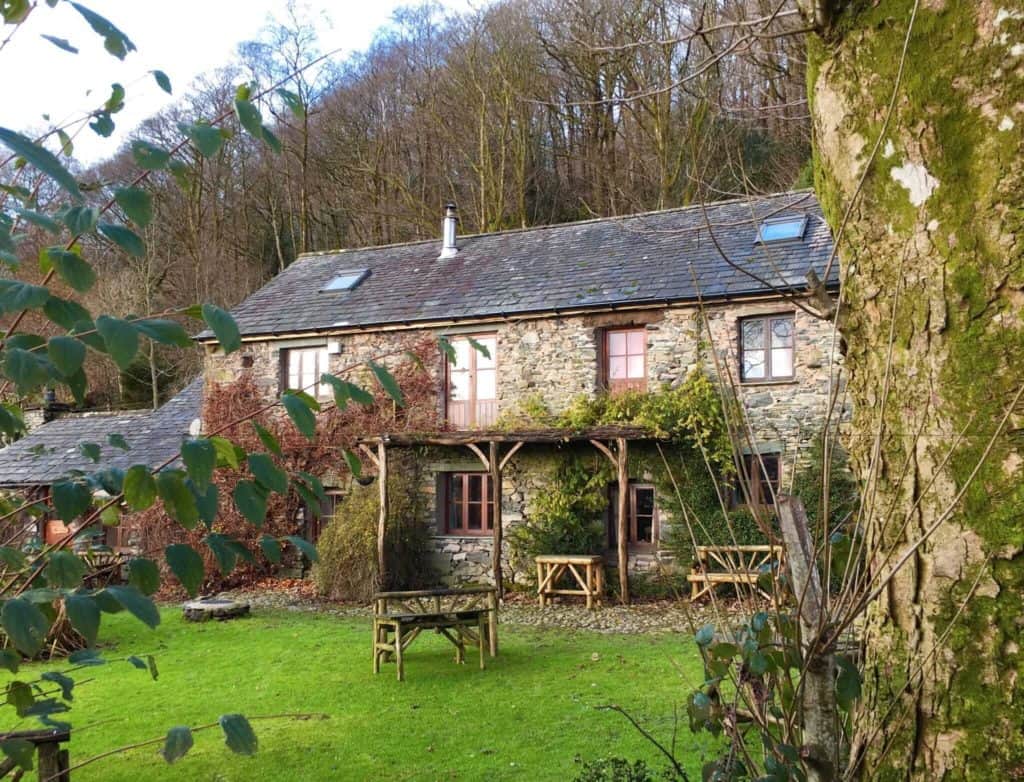 Brighton
This fun and lively city on the coast is just an hour's train ride from London. Brighton is a hippie and forward-thinking city with a beach, pier, tasty vegan food scene and plenty of LGBTQIA nightlife.

Check out my complete guide to visiting Brighton as a day trip from London.
Bristol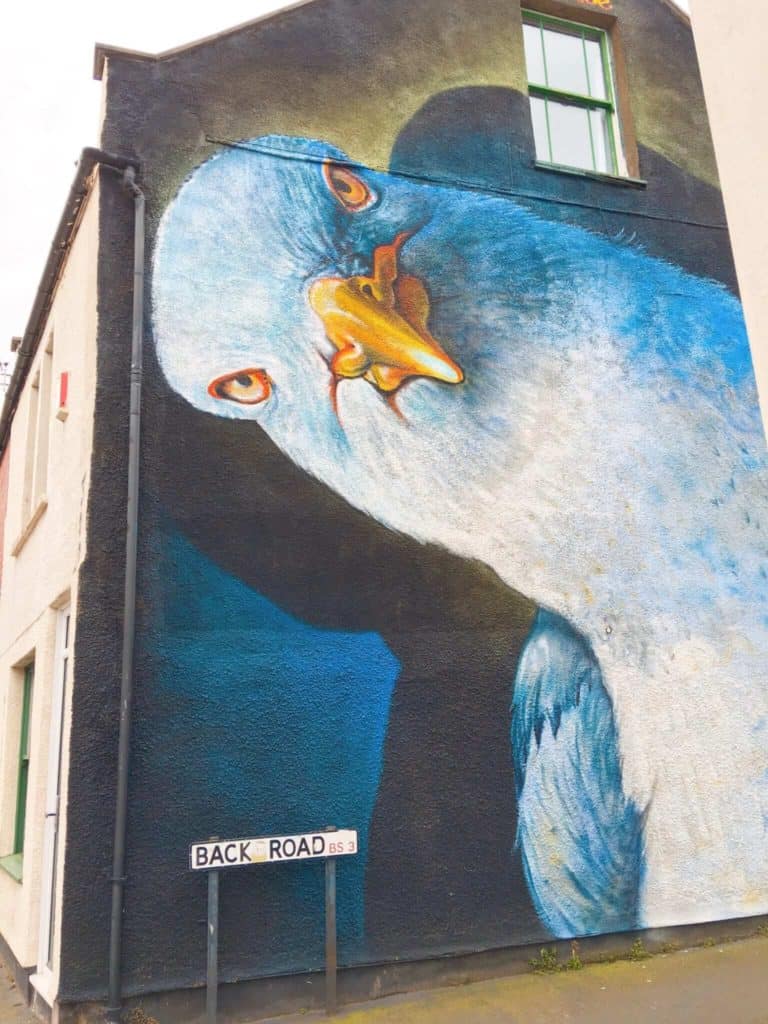 Bristol is another of my favourite UK cities with lots of quirky Bristol street art, vegan food, a lively open-air dining and drinking area beside the harbour and cool neighbourhoods like Bedminster.

A weekend in Bristol is a great amount of time and you can also catch a 15-minute train to historic city Bath as a day trip.
Liverpool
With its Beatles history, cultural galleries and dockside dining around the waterfront, there's a lot to love about this city in the north of England. The outside areas have a lively vibe in the summer but the many museums and cafes mean there are plenty of things to do in Liverpool during winter too.

With cheaper prices up north, Liverpool is one of the better places for budget travel in England.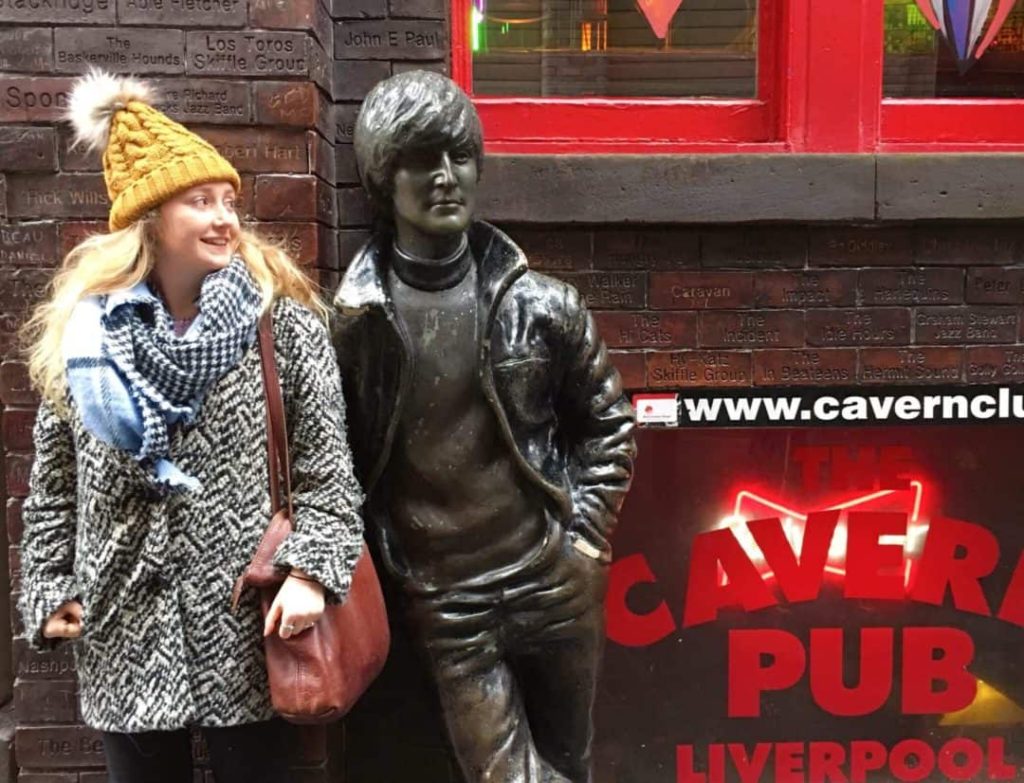 Edinburgh
The capital of Scotland is a must for backpackers especially if you visit during August for the famous Fringe Festival (although prices shoot up for accommodation).

With lots of history and several Harry Potter locations in Edinburgh, it's one of the most iconic cities in Europe. Although it's not cheap, there are several free things to do in Edinburgh.
Glasgow
I tagged Glasgow onto a trip to Edinburgh while backpacking in the UK and ended up falling in love with its quirky street art, up-and-coming areas and affordable eats. It's without doubt, one of the cheapet cities for budget travel in the UK.

When spending a weekend in Glasgow, you can explore free attractions including The Lighthouse (a modern gallery inside a period building), Pollok Country Park, The Hidden Alley, Kelvingrove Art Gallery and the Botanical Gardens.

Excellent cheap eats in Glasgow include Gnom, Potluck, Cafe Strange Brew and Bread Meats Bread. Don't miss the street art in Glasgow!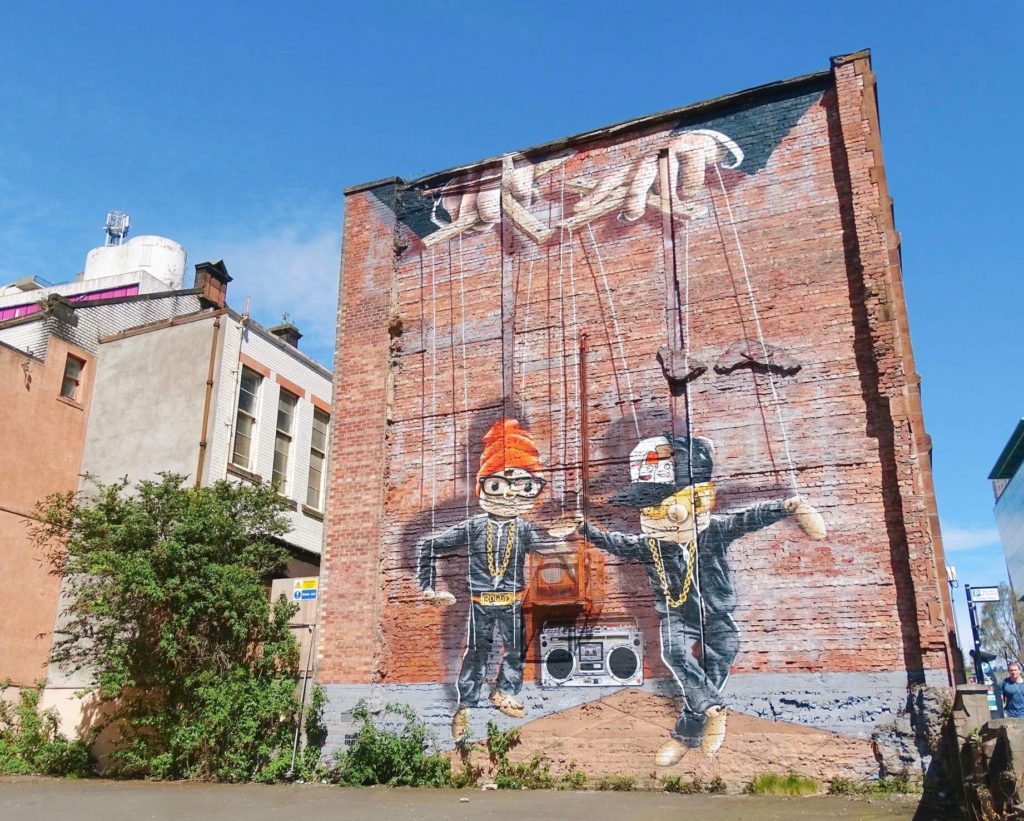 Belfast
The capital of Northern Ireland is a vibrant city that makes a great base for exploring the surrounding region. Being the birthplace of the SS Titanic puts Belfast on the map but there are so many other reasons to visit, not just the fact the prices are relatively low compared to London and cities in the south of Great Britain.

I'll share my UK backpack itinerary further down...
What to eat and drink while backpacking the UK
Some of the traditional dishes to try in the UK include fish 'n' chips, pie and mash, a Sunday roast, full English fry ups (with sausages, bacon, black pudding, toast, baked beans and fried eggs), Yorkshire puddings, scotch eggs and sausage rolls.

Make sure to have an afternoon tea with scones, cake, finger sandwiches and a pot of English breakfast tea. For breakfast, try English crumpets spread with marmite!

Regarding the costs, I have good and bad news for you. Eating out in the UK is expensive but supermarkets are really affordable.

So, let's start with the average costs of eating out…
Main dish in a mid-range restaurant: £10-20.

3-course meal and alcoholic drink: £35 – £60 at a mid-range restaurant.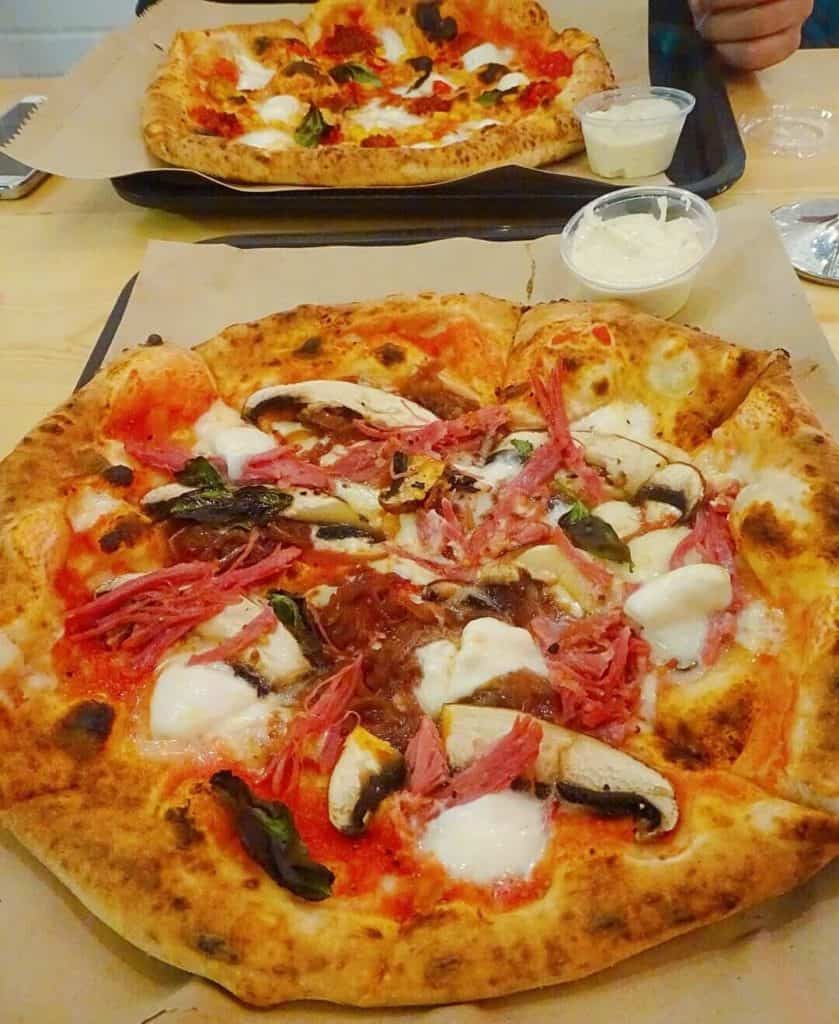 Budget UK restaurants
To eat out in the UK on a budget, there are a couple of decent chains which you'll find in most cities. None of these places will set you back more than £10 per main dish.

Pizza Express / Zizzi / ASK – these Italian restaurants are pretty similar. You'll get a decent pizza for a tenner and there are always deals on if you check their websites.

Leon – I love the concept of this place which is healthy fast food. It's more of a cafe vibe but it's open in the evenings too. I like the naked burgers with salad, and they do a solid breakfast deal of a coffee and food item for £4.

Greggs – sausage rolls and pasties for pennies. I'm not saying your waistline will get smaller, but your food bill will. Plus, they have a ton of vegan options.

Pieminister – to sample hearty English cuisine, try these hearty pies with various sides. Pies start at £5 or you can eat one with mash, mushy peas and gravy for £8.

Nando's – Brits are obsessed with having a 'cheeky Nandos' aka a Portuguese-style chicken meal with peri-peri sauces and various sides.

Wagamamas – reasonably priced Asian food with a casual canteen vibe and excellent katsu curries.
UK budget travel – do you tip?
In the UK, we leave a 10% tip in restaurants but that's about it. Occasionally, tips are already added to bills by the restaurant especially if you're dining in a large group. Double-check the bill to see whether service is included – you don't want to pay it twice.

More commonly, a restaurant bill will include only the food and drink ordered. It's at your discretion to add approximately 10%.

Unlike some countries, we don't tip bartenders. You might leave the change at the end of a cab journey and of course, you can give a tip to a tour guide if they've done a good job. But as a general rule, we don't have a huge tipping culture.
Cost of supermarkets in the UK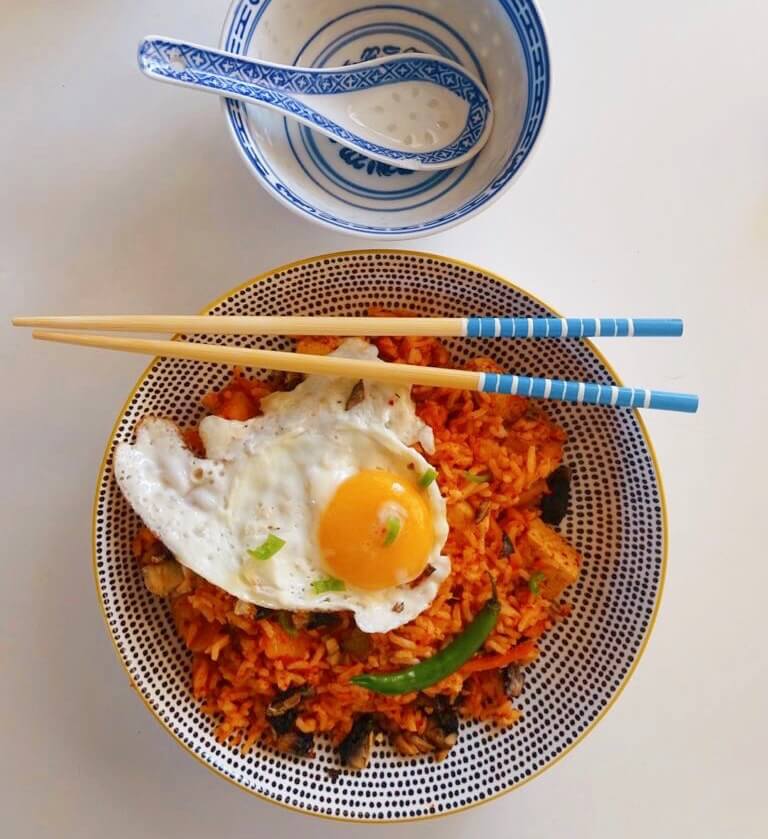 One of the great things about backpacking the UK on a budget is the quality of the supermarkets. I didn't realise until I travelled to other places how good they are.

If you're backpacking the UK and staying in self-catering accommodation, a week's supermarket shop can cost as little as £30 per person and make affordable meals throughout your trip. For that reason, my best budget tip for the UK is to eat out as little as possible.

UK supermarket costs: Pint of milk – £1, loaf of bread – £1, bag of own-brand pasta – 50p, jar of pasta sauce – £1.

To give you a feel for the prices of main supermarkets, I'm going to provide a couple of examples of things their regular shoppers might say:
M&S – 'get the butler to pick up some canapés!'
Waitrose – 'throw out the rest of the smoked salmon – it's a day out of date!'
Sainsbury's – 'I buy the Taste the Difference range at weekends and the Basics during the week'
Tesco – '£2 for a sandwich? Bargain!'
Morrison's – 'help me, I'm poor'
Iceland – 'I don't know what's worse, the risk of salmonella or Peter Andre on their TV advert!'
Stick to the cheaper ones and you can spend less than £10 a day on food. Another UK budget tip is to buy supermarket own-brand items – these are always cheaper than global brands.
Food markets in the UK
If you're expecting the food markets of Southeast Asia while backpacking in the UK, you're in for a disappointment. However, there are food markets in some UK cities. I love the many food markets in Oxford, the city where I live. There are also lots of fantastic London food markets.

A food market dish can cost as little as £5. While it's still cheaper to make a packed lunch or cook at home, they're a great option if you want something tasty without paying restaurant prices.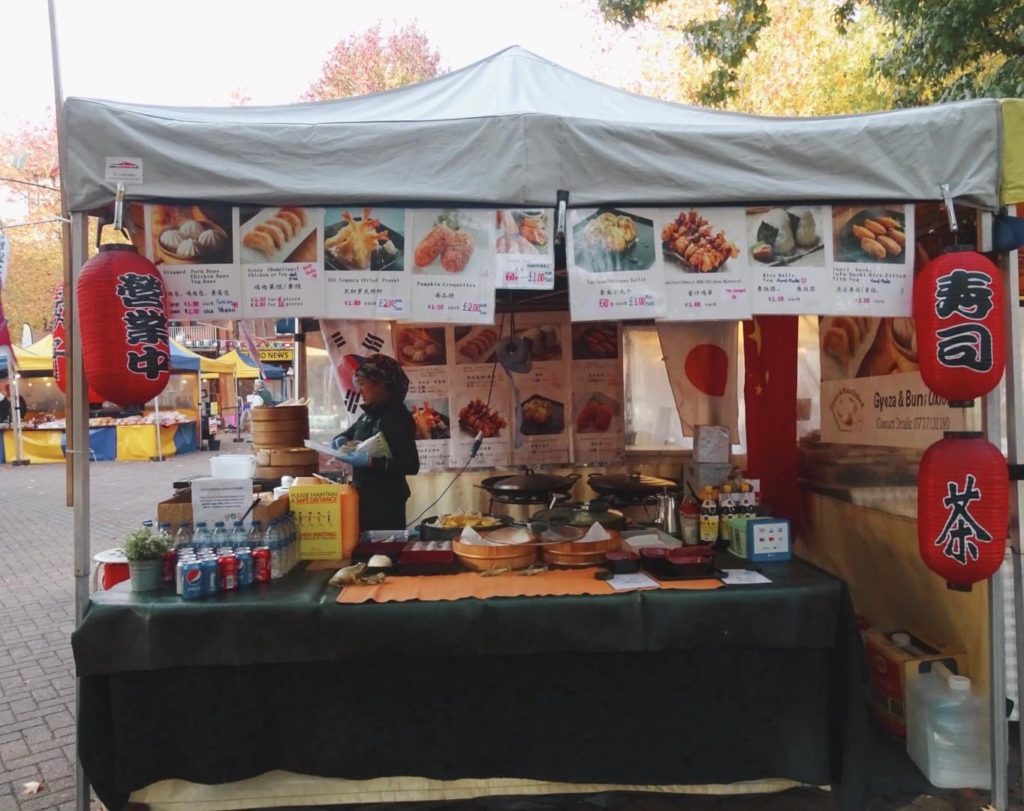 Budget eating tips for UK backpacking
1. Use hostel kitchens to cook your meals and make packed lunches for your days out.

2. Pack teabags and coffee sachets to save you buying £2.50 coffees every morning.

3. Grab a refillable water bottle. Not only are these environmentally friendly, but you won't have to spend money on bottled water.
Backpacking the UK – drinks & nightlife
There's a big pub culture in the UK but it isn't cheap to go out. People often do rounds which means, depending how many people you're with, you can drop £50+ on a night out!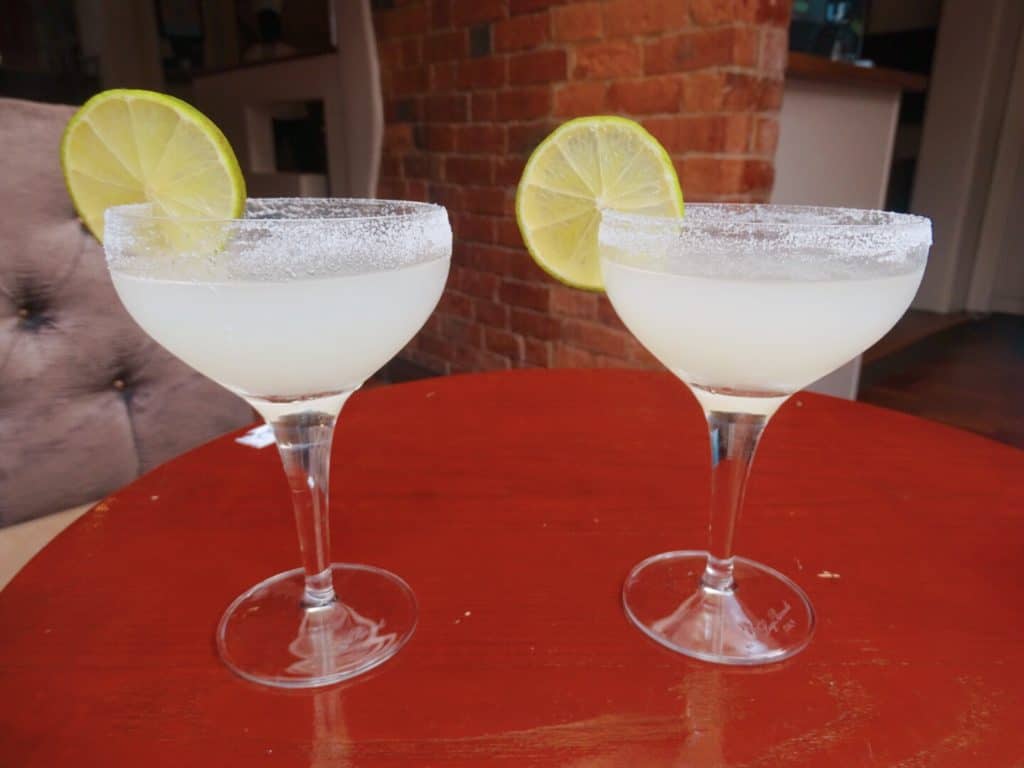 Here are a few costs to prepare you for UK budget travel:

Pint of beer in the UK: £4.5-7.

Glass of wine in the UK: £6-9.

Cocktail in the UK: £10-14.

Club entry in the UK: This usually costs £5-10. For popular clubs in London, you can spend £20.

I'm not sure if this is responsible advice but pre-drinking before going out to a bar or club is a big deal for young English people, and those backpacking in the United Kingdom! A bottle of wine that's £5 in a supermarket will be £20 in a bar so you can see why people drink at home with friends first.

A word about Wetherspoons – it's not exactly classy but this chain of pubs is damn cheap. I've had a bottle of Prosecco for £10 and full meals for £5.
Backpacking London – free things to do!
Even though London is one of the world's most expensive cities, you can't deny there are endless free activities. If you're backpacking in England, you'll enjoy the plentiful of parks and the countless museums as well as free concerts and events on weekends, especially in the summer.

Some of the best free things to do in London during your UK budget travel trip include…

Museums – the British Museum, Museum of London, Natural History Museum, Science Museum, Queen's House, Victoria & Albert, Imperial War Museum.

Markets – Leadenhall Market, Broadway Market, Maltby Street Market, Borough Market, Camden Market, Colombia Road Flower Market, Greenwich Market, Portobello Road Market, Brixton Village, Pop Brixton, Old Spitalfields Market. Check out my guide to the best London food markets.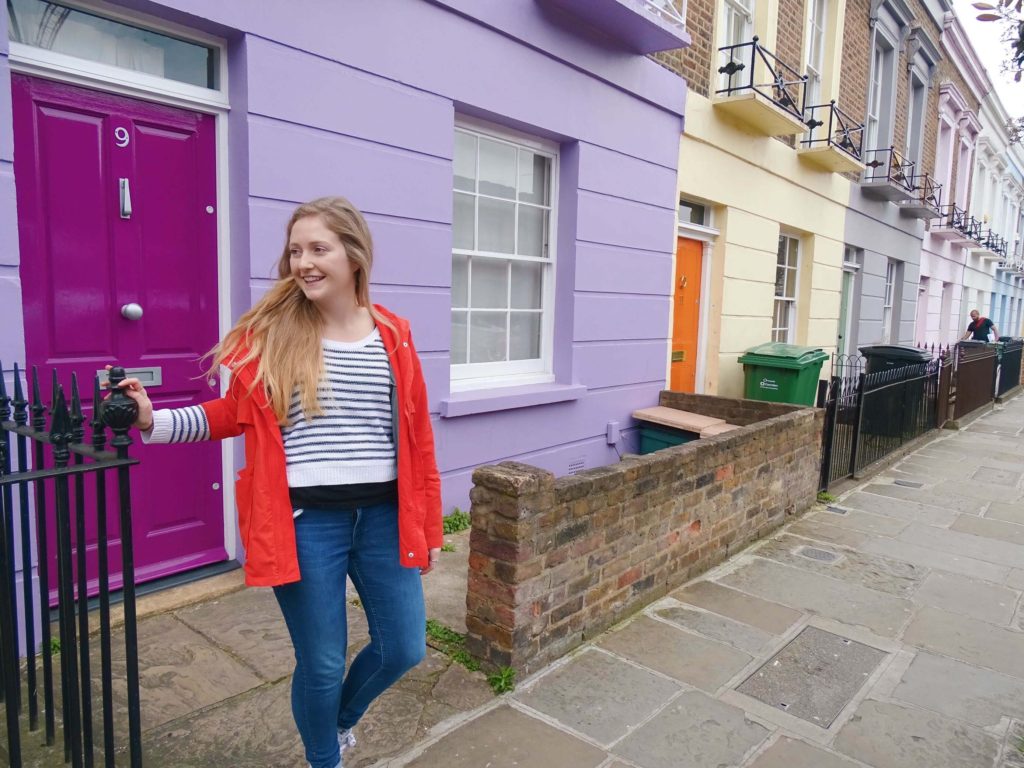 Finding Instagrammable locations in London (like these colourful houses) is free!
Galleries – Tate Britain, National Gallery, Somerset House, Saatchi Gallery, Whitechapel Gallery, National Portrait Gallery, God's Own Junkyard, open-air East London street art, Carrie Reichardt's House.
UK backpacking itinerary
Here's a month's itinerary for backpacking the UK:

Days 1-4: London, baby! With 4 days in London, you can spend a day exploring the tourist highlights like Big Ben, the Houses of Parliament, the Tower of London and the London Eye. Then, spend a day in East London finding street art and browsing cool markets.

Another day, take yourself over to Camden and walk the towpath to Little Venice where you can take a boat ride and have brunch on a barge. You could also squeeze in Notting Hill during this day. Don't miss Greenwich on day 4!

Day 5: Take a day trip, I would suggest to Oxford or Margate. Both places are 1.5 hours away on public transport.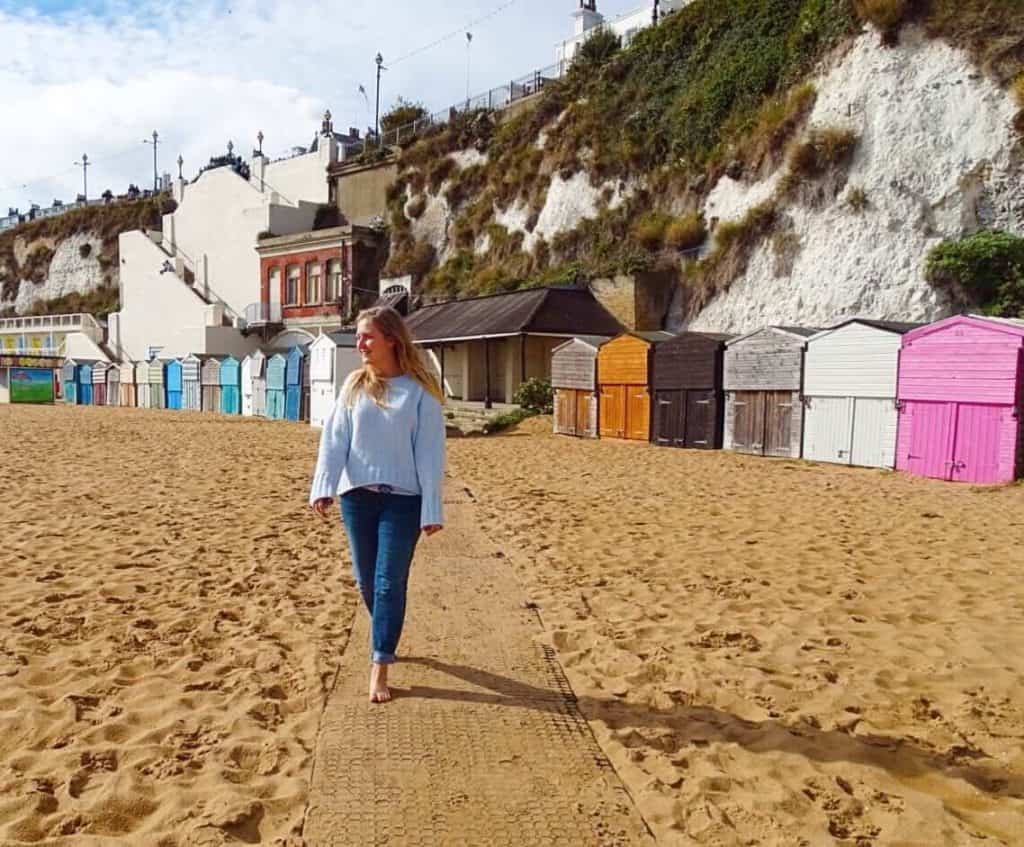 Day 6: Catch the train to Brighton and spend 1-2 nights visiting this beach town, shopping in boutiques and indulging in vegan food.

Days 7-9: Head over to Bristol. Whilst spending a few days in this quirky city, you can also take a day trip to Bath.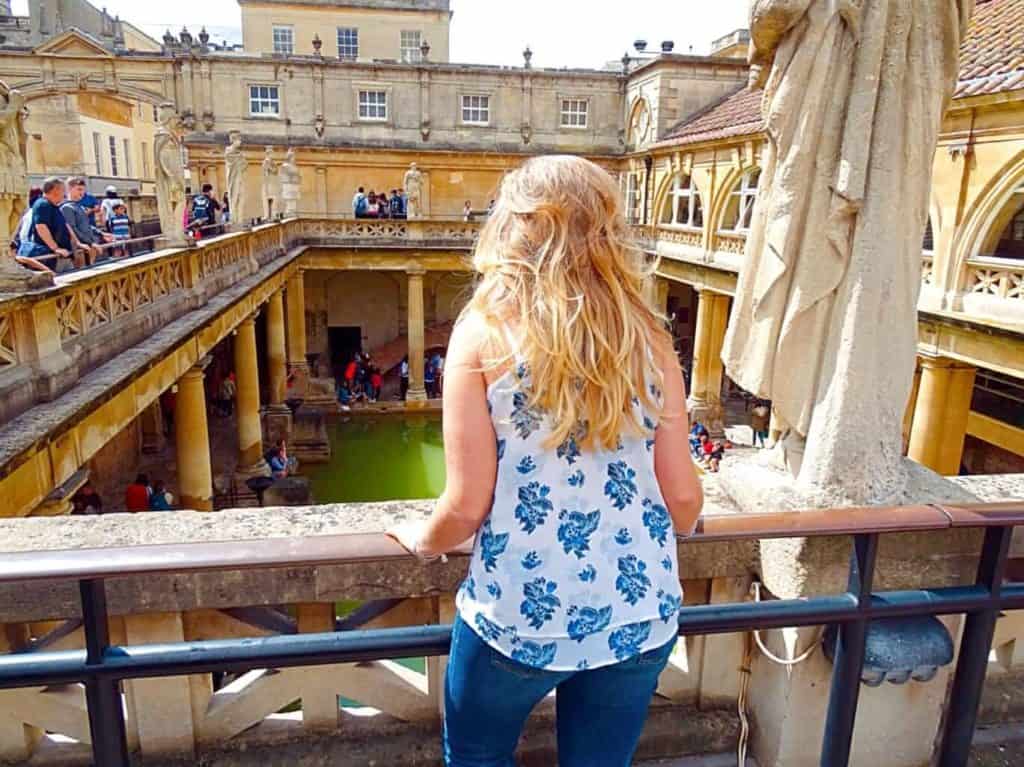 Days 10-17: Wales! With a week in Wales, you can spend a day in Cardiff, visit tourist-friendly Pembrokeshire and head up north to more remote parts of Wales.
Days 18-20: Continue your UK backpacking itinerary from North Wales back into England and arrive in Liverpool.

Tip – for getting around in Wales, hire a car with Rentalcars.com or take public transport. Book trains on the Transport for Wales website.

Days 20-22: Spend a few nights hanging out in quirky Manchester and eating fantastic food. From here, you can take a detour into the Lake District if you have time.

Days 22-27: Scotland! Here you can spend a couple of days exploring Edinburgh then head over to Glasgow. Finally, visit Inverness and take a day trip to Loch Ness.

Days 28-30: Fly to Belfast and take day trips around Northern Ireland, starting with Giant's Causeway.
Best time to backpack the UK
The UK has clear seasons: winter from December to February, spring from March to May, summer from June to August and autumn from September to November.

In the summer, temperatures can reach 30 degrees and in winter they drop to around 0. In the summer, it gets dark at 9.30pm and in the winter it can get dark by 4pm. Spring and winter are between the two, characterised by their spring flowers and red autumnal leaves.

Winter is miserable in the UK and summer is busy and expensive. I'd choose spring or autumn to dodge the crowds and stay reasonably warm! It rains all year around.
Events in the UK
If you can time your UK backpacking adventures around the following events, do!

Glastonbury Festival – while this is my favourite UK festival, it's not easy to get tickets. You have to fight it out with a billion other wannabe attendees the October before when tickets are released online and gone within minutes. Tickets are £260 but it's worth increasing your UK travel budget to try and nab one.

Glastonbury is one of the world's best festivals with its many stages, inventive and quirky sets and underground raves in rabbit holes.
Notting Hill Carnival – this neighbourhood of London is fancy and upmarket throughout the year but becomes loud and vibrant during the bank holiday weekend in August when it becomes a vibrant celebration of Caribbean culture. Everyone is welcome!

Edinburgh Fringe Festival – Unlike Glastonbury which is a camping festival, the Fringe is spread out across the city of Edinburgh comprising arts, music, culture and comedy acts. Attending the festival is free and you pay for individual shows.

St Patrick's Day – held on 17th March each year, this was once an auspicious day to celebrate the patron saint of Ireland. Now it's a day dedicated to drinking! This a very lively night out across the whole UK. Expect to buy a lot of pints for people you meet at the bar.

Bonfire Night – this is a strange day when you consider it commemorates an attempted terrorist attack on the Houses of Parliament in 1605. Nowadays, Guy Fawkes Night is celebrated on the 5th of December with bonfires and fireworks. Many people hold them in their gardens but, if you're backpacking in the UK, you can easily join public events.
UK backpacking essentials
UK budget travel quick links

Guide books – LP always get my seal of approval. Use the latest copy of Lonely Planet England.

Getting there & around by air – I use Skyscanner to find the best-value flights, using the 'search by month' tool to find the cheapest dates. You can also use the 'to anywhere' feature if you're flexible on where you're going.

Car hire – use Rentalcars.com to compare car rentals and campers in the UK (and all around the world).

Confused about visas? I use iVisa to check visa requirements and apply for visas online

For UK trains, I use Trainline. The search feature allows you to compare prices, and they show live departure times on the website.

For buses, I use busbud. It's the only site that compares UK coaches and buses. Find London to Manchester journeys for £1! 

I use Booking.com for accommodation. They have the best range of hotels and self-catering apartments, plus you can filter by review score and price to find the best-rated budget places. For hostels, I use Hostelworld.com.

To save money on accommodation, I use Trusted Housesitters, a website that connects homeowners going away and travellers who can sit their homes & pets.

Browse UK tours and activities on GetYourGuide. I also check Viator as they often have fun & unique offerings.

Need travel insurance? I use True Traveller (for UK & Europe residents) since it's affordable but covers everything you'd need including various activities, valuables and pre-existing conditions. Unlike some companies, they insure you if you're already travelling / don't yet have your flight home booked. Get a quote.

For travel insurance for other nationalities, I recommend Hey Mundo and for long-term digital nomad travellers, I suggest Safety Wing.w

Check out my resources page for more travel discounts and tips!
Read my other UK guides:
Thanks for reading my UK backpackers guide!
If you liked it, please share it
See you next time for more adventures,
Rose
For more UK backpacking tips, follow me on Instagram, Facebook, Twitter and YouTube.
Ps. Liked this guide to backpacking in the UK? Pin this for later!