This post may contain affiliate links to things like tours, hotels, Amazon associates and products. These help me earn a small commission at no additional charge to you.
When Rose is on a mission, food is usually concerned.

Finding the best banh mi in Vietnam required some research, some wandering, some conversations and some excessive carb consumption. I was up for the job! But before we find out where to eat banh mi in Vietnam, a quick intro…

Read my food around the world blogs!
What is a banh mi?
A banh mi is simply a Vietnamese baguette. They're cut lengthways and filled with delicious ingredients. These honestly vary so much between the cities and individual vendors, but pork is usually involved in one form or another.

You might also find pate, cucumber, carrot, coriander and chilli sauce. They're a classic Asian dish that foodies should add to their Southeast Asia bucket list.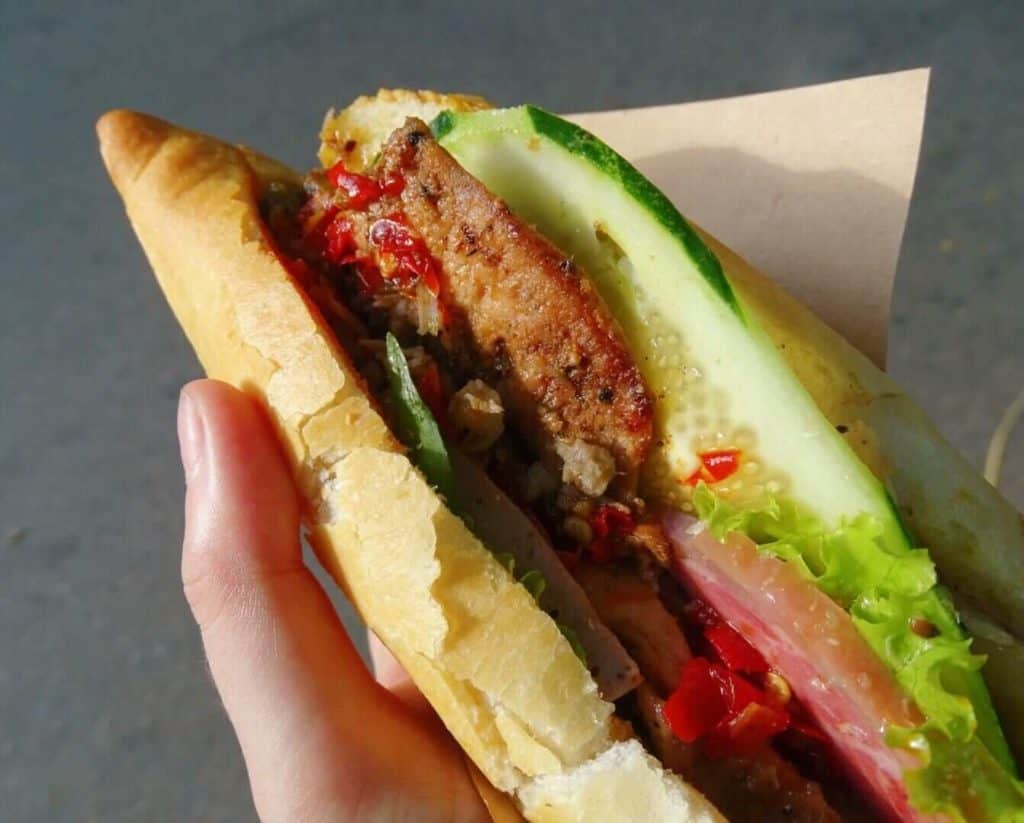 Banh mis came to Vietnam when the country was a French colony. While many of the ingredients are Vietnamese, some elements like pate come from French cuisine. Banh mis were originally food for commoners but now they're popular with everyone, even backpackers like me (so yes, basically commoners!).

Nowadays, some vendors create banh mis geared towards Western tourists with ingredients like avocado and Dairylea cheese triangles. These Western-style vendors are where veggies are most likely to find something to suit them.

You'll find banh mis served from carts on every corner, as well as official shops and even banh mi chains which pretty much resemble a Subway counter! Whatever your preference, you're likely to find a banh mi you love.
Finding the best banh mi in Vietnam
After three months in Vietnam, I've eaten a lot of banh mis. Even if you just have 2 weeks in Vietnam, I emplore you to eat them daily!

I would be curious to know the actual number though I think it might make me reconsider my lifestyle choices (well, probably not). Here are my contenders for the best banh mi in Vietnam, ordered by city…
Best banh mi in Hanoi
Despite the fact banh mis were first invented in Ho Chi Minh, you'd be forgiven for wandering Hanoi's Old Quater and assuming it was their native home. They're everywhere! It's a bit overwhelming, especially if like me, you want to find the best banh mi in Hanoi rather than just an average one.

So let me help you out by filling you in on my favourites:
Maison de Lien (the one with the elegant touches)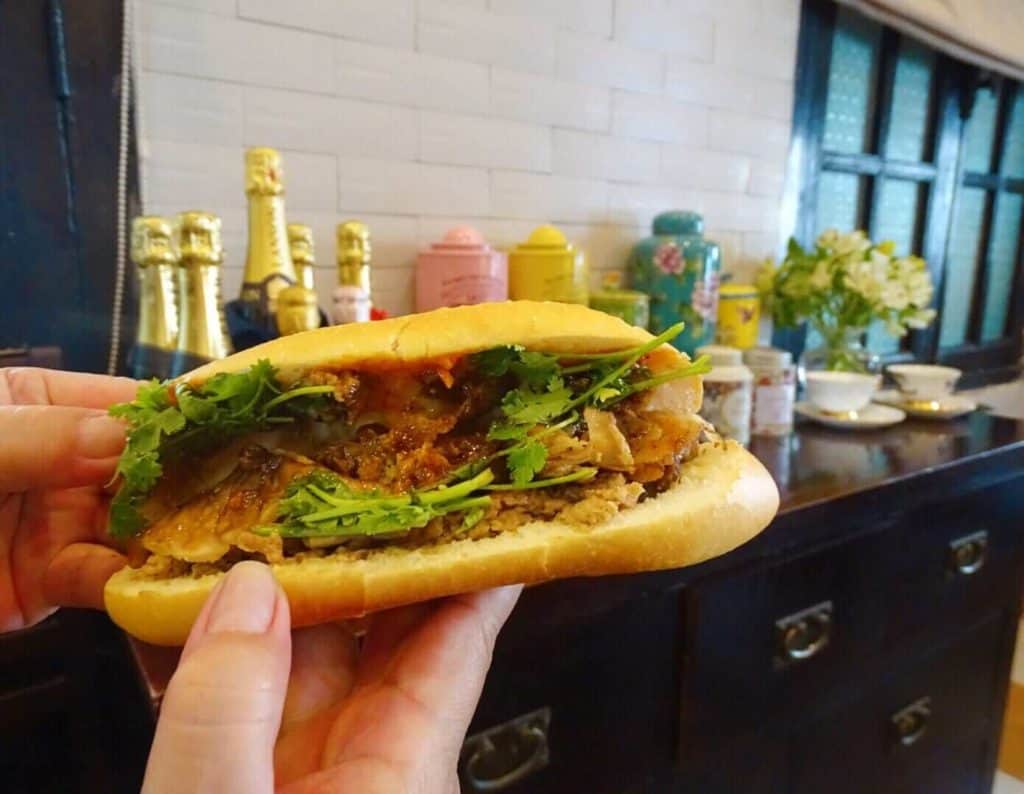 Mai from Backstreet Academy told me about Maison de Lien whilst we were out discovering the best street food in Hanoi. It's her favourite in the whole city thanks to the high quality of the ingredients, especially the fresh butter.

When I made it over to the little deli, it wasn't what I expected. Rather than the fast and hectic stands of the Old Quarter, this Hanoi hidden gem has places to sit down, a counter of deli goods and lots of elegant touches like gold teapots and vases of flowers.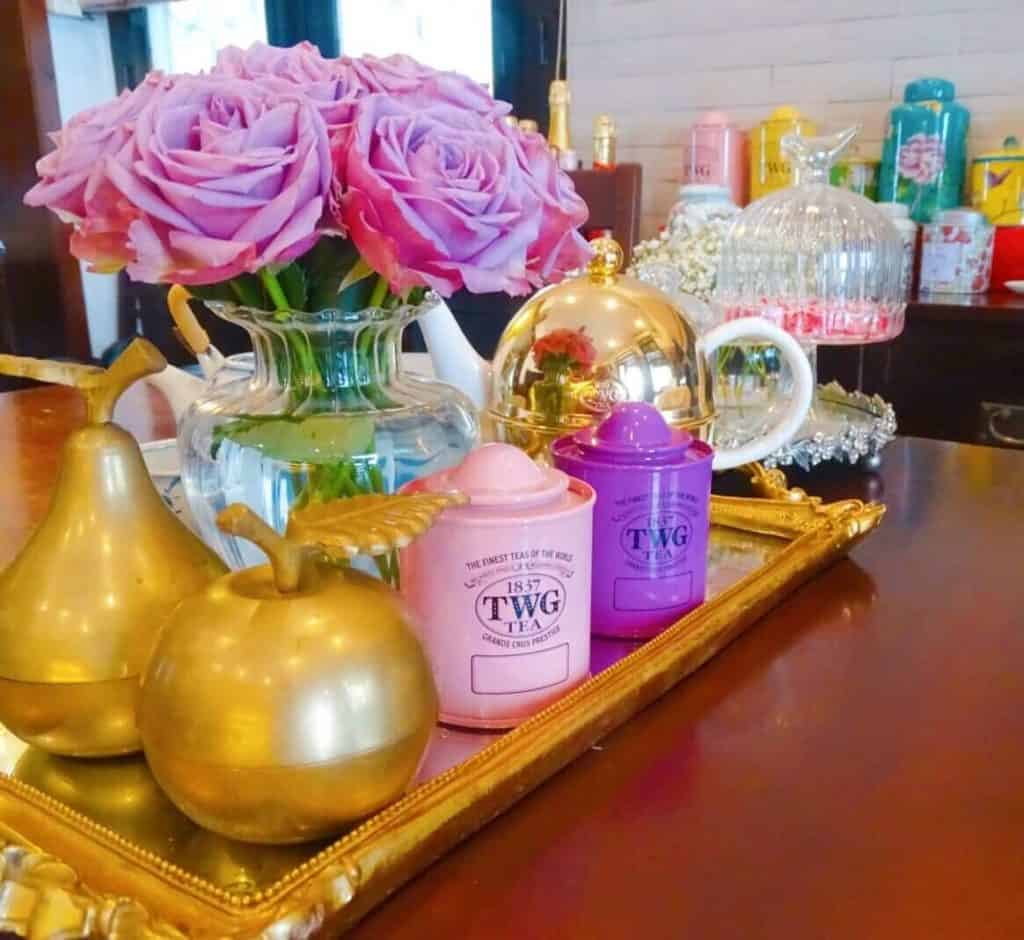 My banh mi was dinky but what it lacked in size, it made up for in flavour. It was full of meat and a delicious, smooth pate. The only greens inside were coriander, which I don't really like, so if you want a fresh, veggie banh mi, you might be in the wrong place.

With the richness of the pate, I couldn't really taste the butter Mai had mentioned but I trust it was good. All round, a strong contender for the best banh mi in Hanoi… and without a doubt the prettiest surroundings to eat it in.
Tram Banh My (the one with the chilli sauce)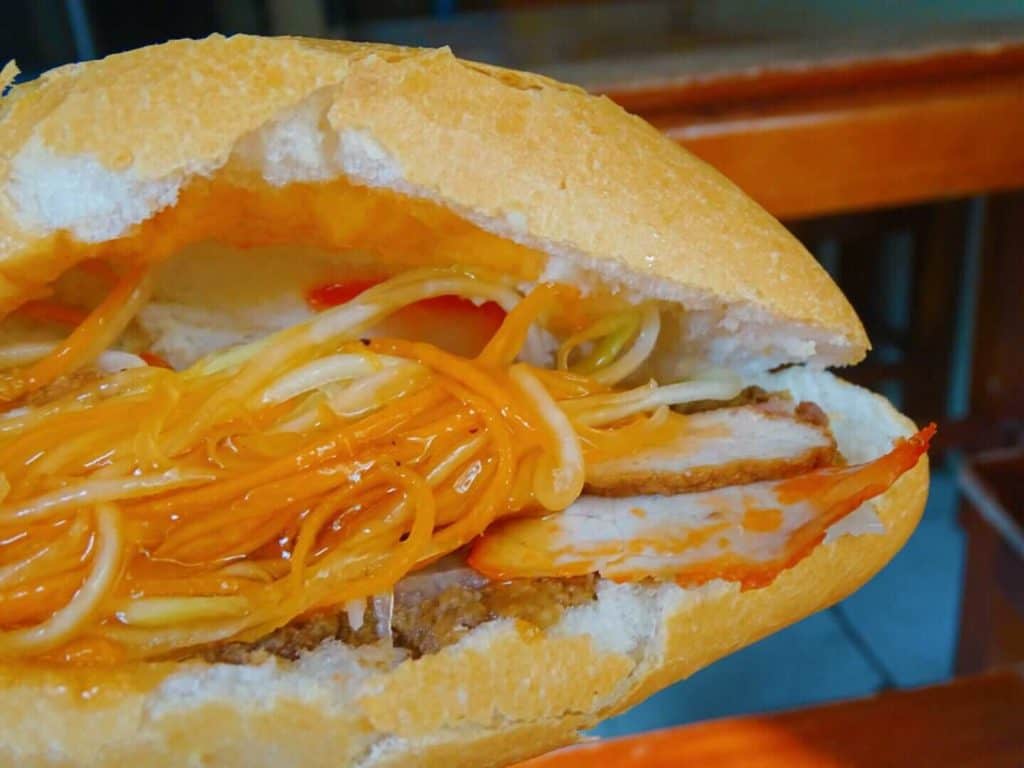 Lola and I walked past this modest restaurant and I thought 'that looks good'. The cafe was basic, messy and busy: the criteria for good street food. Later, I researched the best banh mis in Hanoi and what was mentioned? Banh My Tram. I obviously had to go back and try it for myself.

The fresh bread was the best bit here: crunchy on the outside but soft inside thanks to a thin layer of pate. There were various layers of pork, sausage and other meats but it wasn't overwhelming.

Top marks for the meat and bread but there was too much sweet chilli sauce for me. If you LOVE condiments you might be a fan. You also need to like carrot as this was served generously.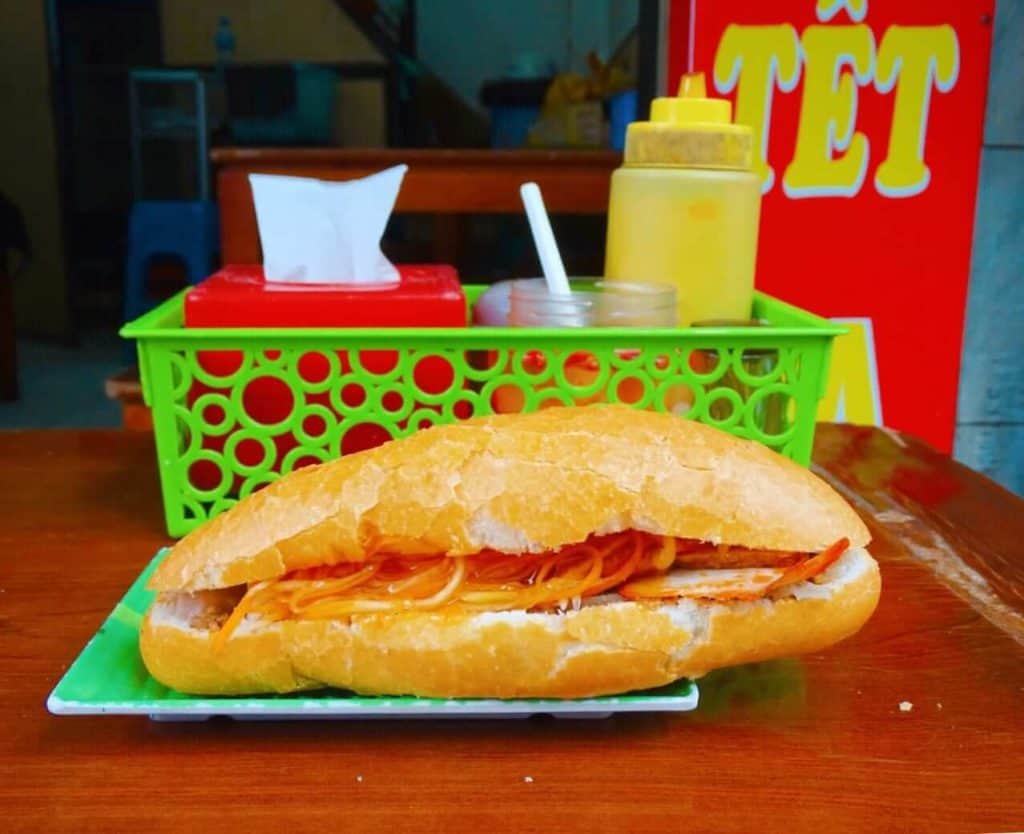 Price: 20k VND – very cheap!

Rating: 7/10 (higher if there had been less sauce).

Address: 252 Cửa Nam.
Banh Mi 25 (the one with Justin Bieber)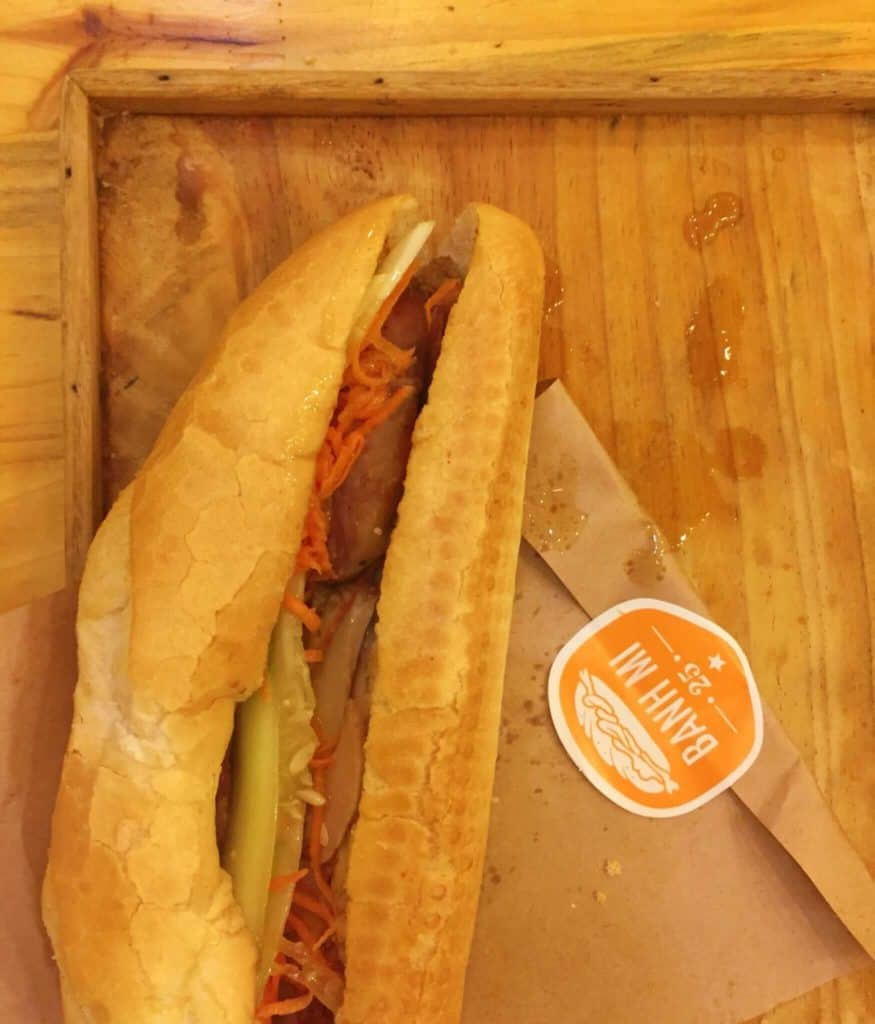 The most touristic contender for best banh mi in Hanoi! If you're confused by the title, I'll let you know Justin Bieber was not personally involved, or harmed.

But as I sat in Banh Mi 25 listening to his album and surrounded by Westerners, I thought hmnn, this isn't really an authentic Vietnamese banh mi joint.

The food is definitely made to Westerners' tastes and if you're a veggie that's a good thing because you'll have SIX options rather than none. From memory, there was a tofu one, a veggie one and a mushroom one. Chicken and beef are also available but I went for the 'everything' option (course I did!) full of pork, sauce and veggies.

I can't deny Banh Mi 25 is excellent, even if the locals don't dine there!
Nyugen
Sinh Hanoi (the one with all the pate)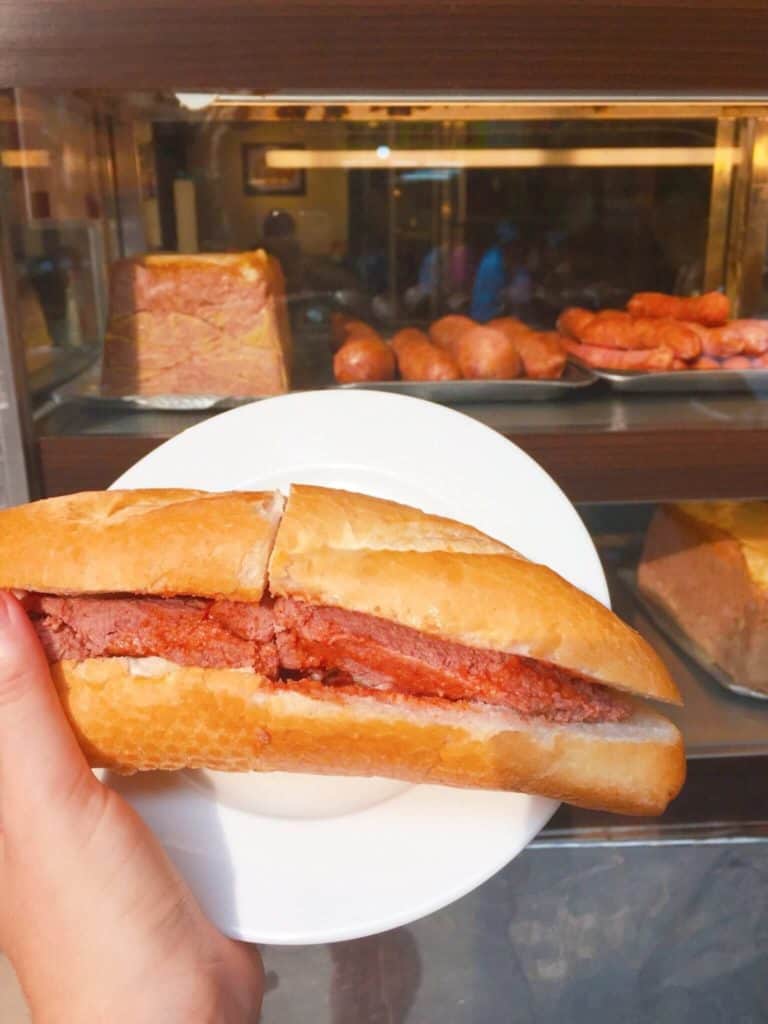 Wow, you gotta be up for some serious pate for this one! I didn't call it 'the one with all the pate' for no reason, ya know 😉

There are absolutely no vegetables in this banh mi from Nguyen Sinh Hanoi – not even a herb! Apparently, this cafe dates back to French rule, making it one of the longest-standing banh mi purveyors in Hanoi, renowned for its fine ingredients.

I can't complain – it was very rich and flavoursome. There's nothing else to rate really. I prefer dishes with more than one texture or flavour but it had no particular faults.

Price: 50k VND making it the most expensive by far. The pate was quite luxurious and it's not bad when you remind yourself it's still under £2!

Rating: 6/10. I felt like I should like it for its history but I'd have preferred some more ingredients.

Address: 17-19, Ly Quoc Su.
Best banh mi in Hoi An
As a place where tourists outnumber the locals, you might not expect the best banh mi in Vietnam to be in Hoi An. But where's demand, there's supply. Here it comes in the form of delicious carbohydrates…
Read next: where to eat street food in Hoi An
Madame Khanh – The Banh Mi Queen (the messy one)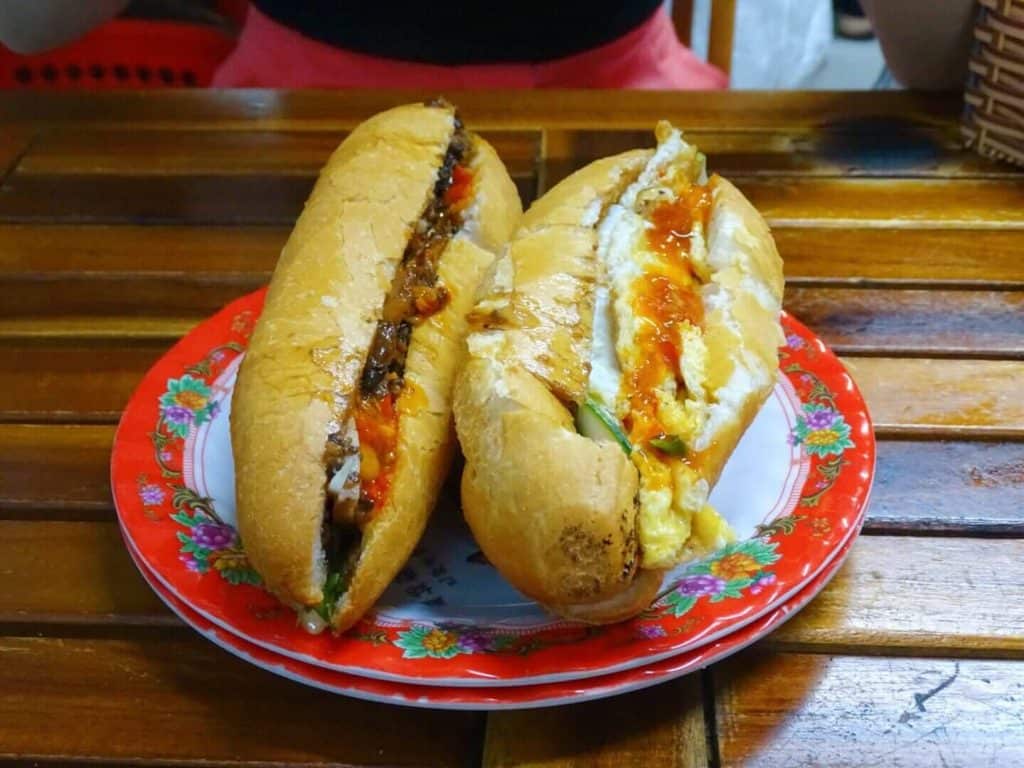 I was taken to Madame Khanh by Hoi An Food Tour as my fourth meal one evening. What a meal it was! The crusty banh mis at Madame Khanh are packed with meat, pate, veggies and sauce. There was just the right amount of everything and it was deliciously messy.

This ever-busy restaurant has been in the same hands for 50 years and each banh mi is made by sandwich perfectionist, 80-year-old Nguyễn Thị Lộc. You can find her serving the best banh mis in Hoi An (probably!) from 7am-7pm.

Price: 20k VND.

Rating: A solid 10/10.

Address: 115 Trần Cao Vân.
Phi Banh Mi (the one with all the options)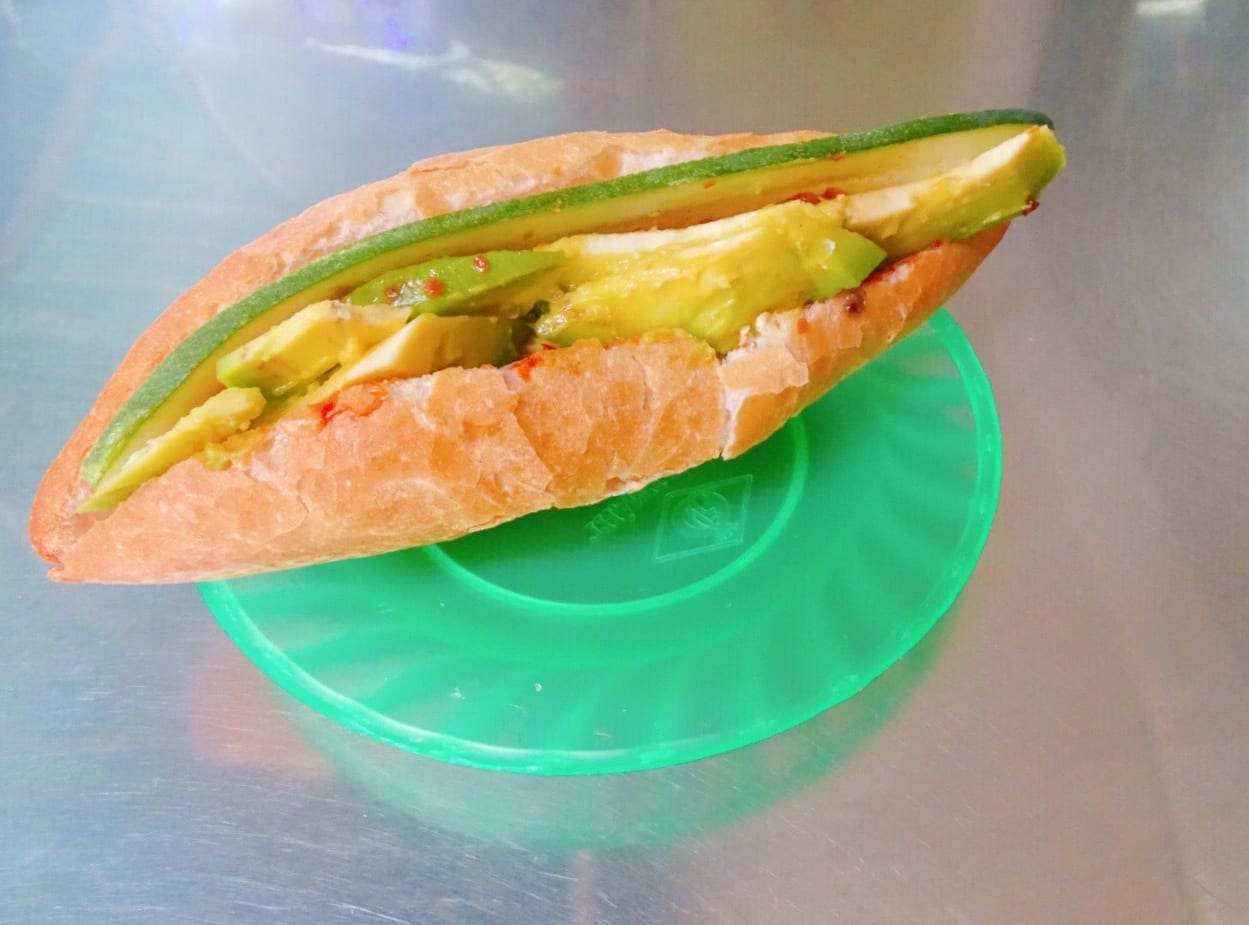 Easily the best banh mi in Hoi An for the number of options and combinations available, Phi Banh Mi is a winner. I ate there countless times during my two months in Hoi An and I liked it because you can get traditional, authentic options as well as Western ones and decent alternatives for vegans in Hoi An.

I went for avocado and cream cheese when I was craving home comforts or the 'Phi Special' packed with all the ingredients when I was really hungry.

Price: 15-35 VND making it the cheapest on the Hoi An list. The Vietnamese Banh Mi (pork and veg) is just 15k VND and prices range upwards to 35k VND for the Phi Special with pork, salad, avocado and cheese.

Rating: 9/10. I guess it's really for tourists but it's still super tasty. Can't fault it.

Address: 88 Thái Phiên.
Read next: all the best cafes in Hoi An, Vietnam
Bánh Mì Phượng (Anthony Bourdain's favourite)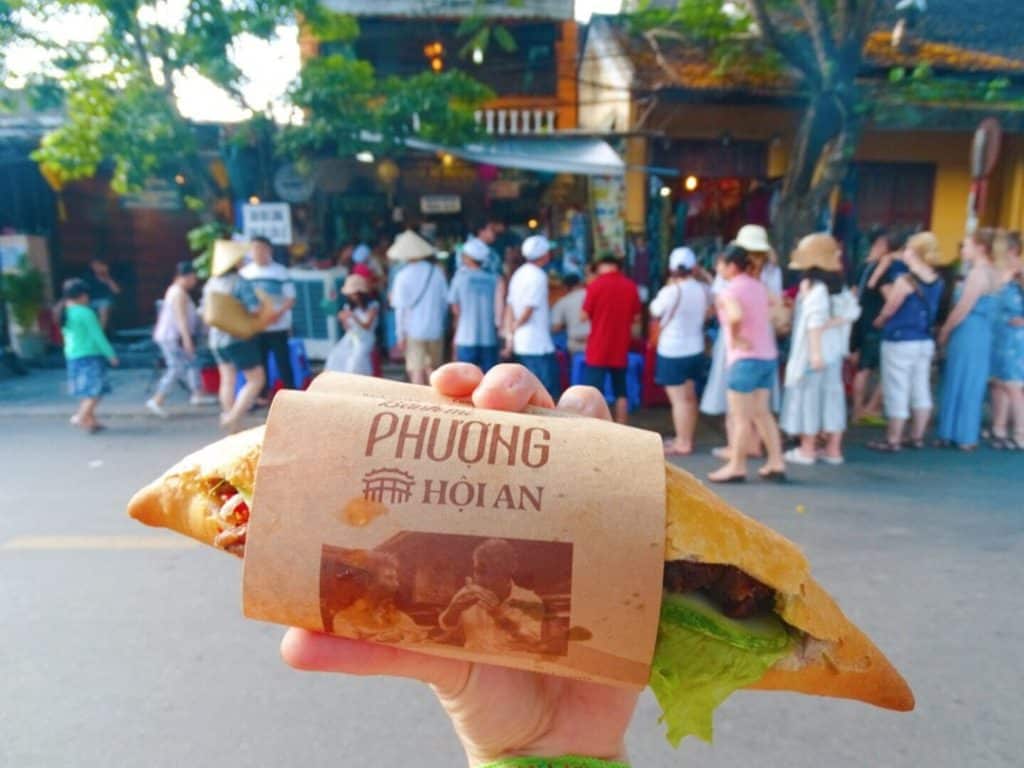 If you're looking for a well-balanced baguette and high-quality ingredients, this is a winner. I liked that it was made with grilled pork, something that feels a bit higher quality than luncheon-type ham. Cucumber and lettuce make for a healthy, fresh crunch and it was finished off with just enough chilli.

I think this could be the prototype for the perfect banh mi! I prefer a messier one with more sauce but that's really just personal preference.
Ever since Anthony Bourdain visited, this cafe has become crazy popular. I'd suggest you visit outside of main meal times to escape the queue but that's what I did and it didn't help. Better buckle up and think of your upcoming meal!

Price: 20k VND.

Rating: 8/10. A bit overhyped but still good!

Address: 2B Phan Chu Trinh.
Best banh mi in Ho Chi Minh
Vietnam's only urban hub to rival Hanoi in size is good for any type of food. I got stuck into countless dishes, and banh mis were just one of them…
Huynh Hoa Bakery (the one with ALL the meat)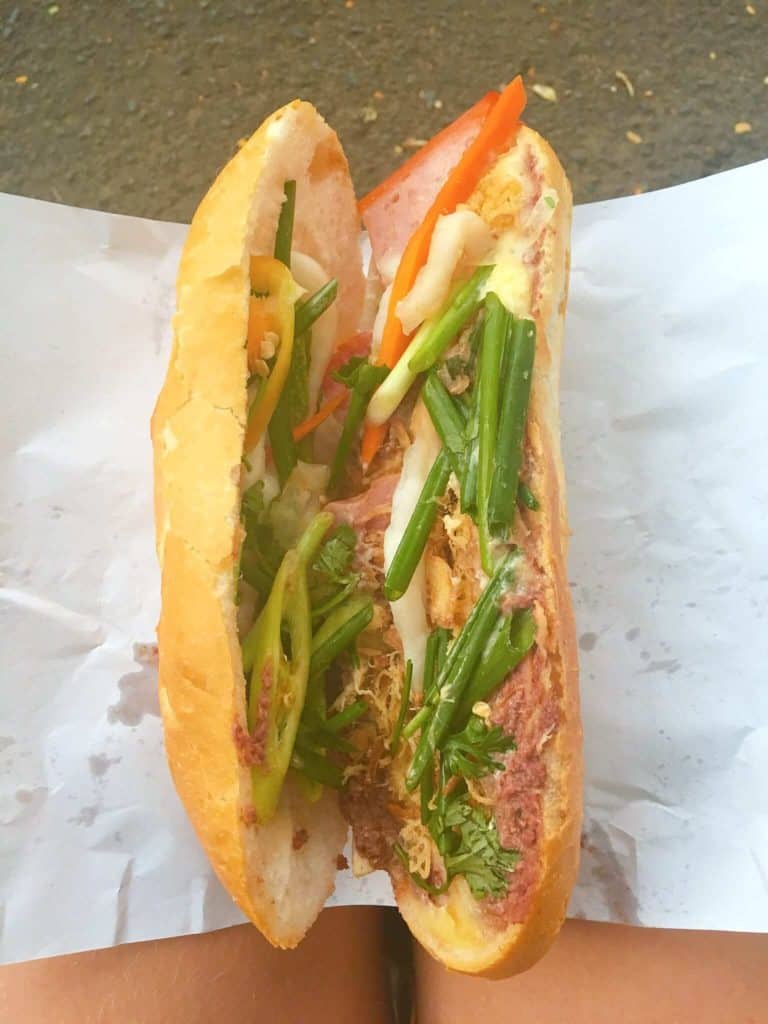 As the place I spent the least time during my Vietnam trip, I only got around to having one note-worthy banh mi in Ho Chi Minh (though I did put together a Ho Chi Minh food guide so I didn't do so badly!)

Huynh Hoa Bakery is all about the meat. It out-meated me. There was pate, ham, luncheon meat and pork floss. It was a real experience and would be great as a 'who can handle it?' type eating challenge.
The pate and creamy mayonnaise made it super messy: an automatic win where I'm concerned. It even managed to include some greens. How can two pieces of bread hold so many ingredients? I'm clueless.

Whether it's the best banh mi in Ho Chi Minh or not, I don't think you'll find that's better value or more filling.

Price: 40k VND.

Rating: 7/10 just because I couldn't finish it.

Address: 26 Lê Thị Riêng.

Other options: For the best banh mi in Saigon, people also say good things about…
(As you can tell, they're not all about the creative names in Ho Chi Minh… Let's call a banh mi a banh mi, huh?)
The over all best banh mi in Vietnam?
Drum roll, please…
Madame Khanh – the Banh Mi Queen in Hoi An
It really was banh mi royalty! The owner has dedicated her life to creating the perfect banh mi and it shows. Apparently, she keeps the letters from happy customers on her wall. I bet that's one very, very full wall.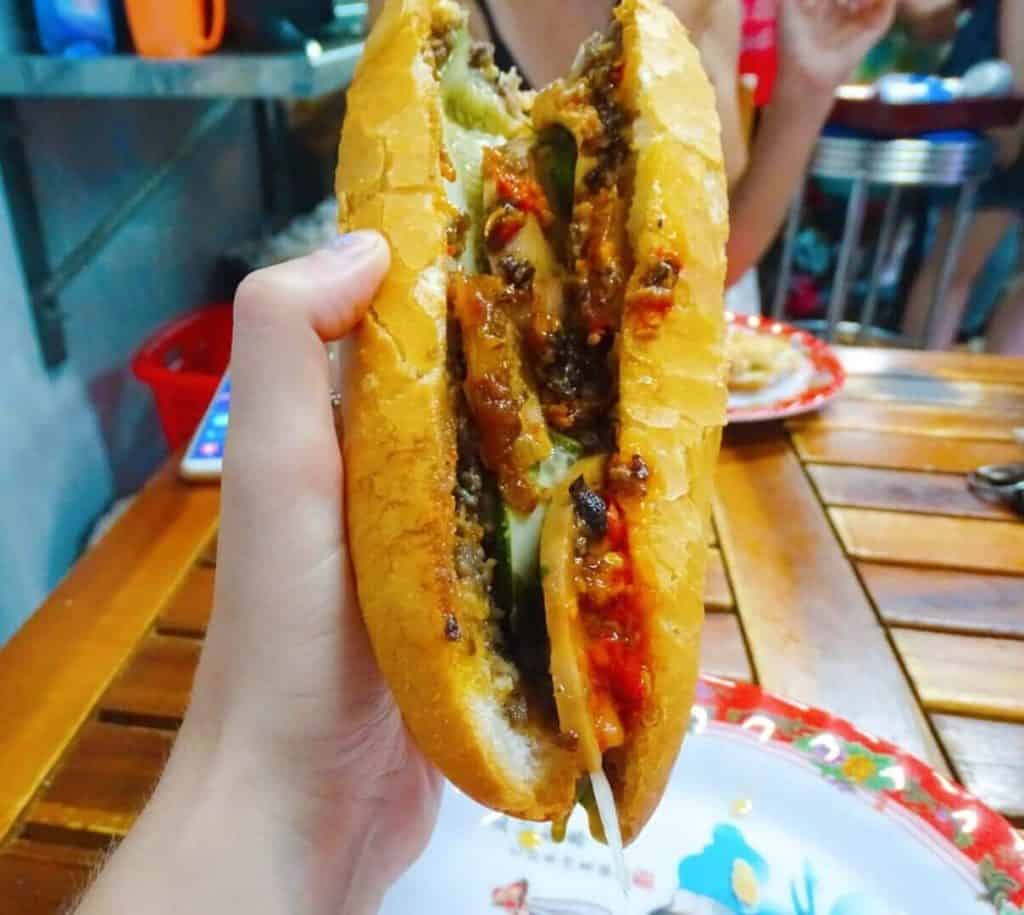 Thanks for reading!
If you liked it, please share it 🙂
Check out some of my Vietnam & foodie posts…
See you next time for more adventures,
Rose
Ps. Liked my guide to the best banh mi in Vietnam? Pin it for later!