This post may contain affiliate links to things like tours, hotels, Amazon associates and products. These help me earn a small commission at no additional charge to you.
While working from my laptop, I set myself a challenge to find the best brunch in Ubud. The food in Bali is utterly amazing and probably a reason to plan a trip alone. While the gorgeous temples, rice fields and beaches aren't bad either, the Ubud breakfast scene can compete!

You'll find both local and western food in Ubud. Typical dishes from Indonesia include moreish nasi campur, gado gado and tempeh and can be eaten for less than a dollar at busy, mouthwatering warungs and street food buffets.

Personally, I mixed it up during my 2 weeks in Bali. Even though the cafes serving brunch in Ubud usually offer Indonesian food too, I always ate at cheap and cheerful warungs with the locals. It's done well at tourist cafes but much more expensive.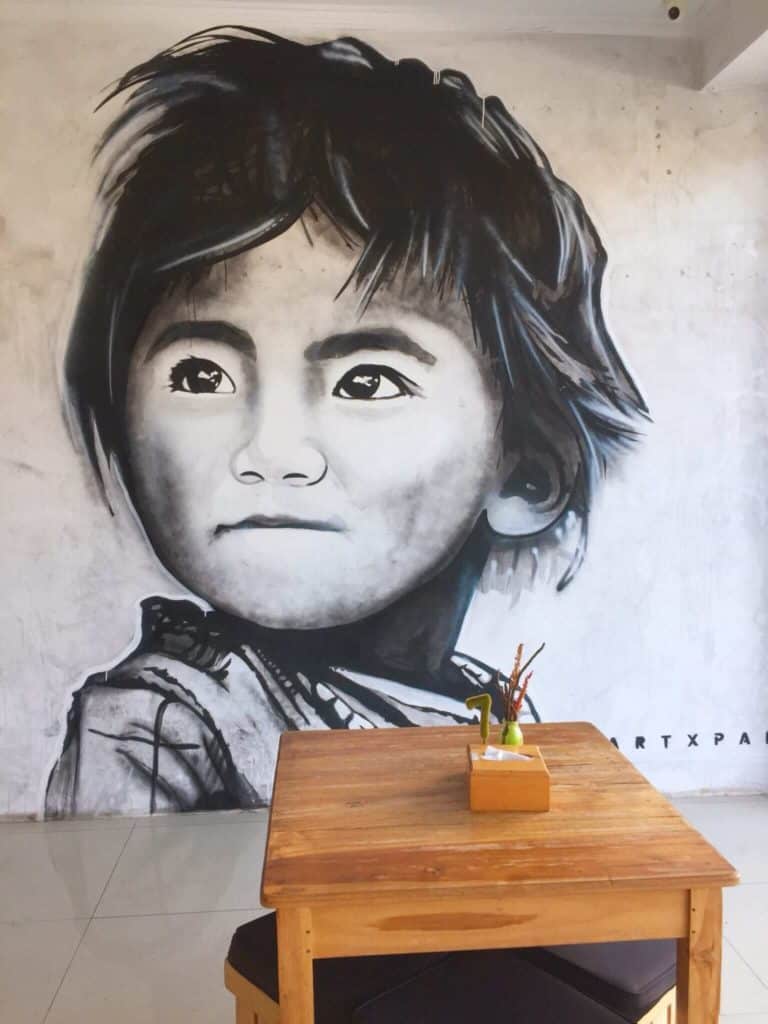 BALI ESSENTIALS

Bali SIM card (30 days, 6GB)

Copy of Lonely Planet Bali

Pre-book your airport to hotel transfer

Accommodation: Browse hotels on Booking.com // hostels on Hostelworld

Tours: GetYourGuide

Travel insurance: True Traveller (European travellers) / Hey Mundo (other nationalities) / Safety Wing (digital nomads)
When it comes to brunch and coffee, you can't beat the Ubud cafes. The smoothie bowls in Ubud may be 5 times the price of the local food but they're worth it, and a steal compared to home.

There's so much scope for beautiful, healthy brunches, salads and vegetarian food in Ubud that it's created its own food culture. The same applies to the vibrant Canggu restaurant scene.
Best brunch and breakfast in Ubud
Whilst travelling solo in Bali, I was working from my laptop. This meant I needed to discover the best breakfast in Ubud pronto for fuel and inspiration. I think I did a pretty good job – you can let me know whether you agree in the comments at the end.

So here we go, my guide to the best brunch cafes and smoothie bowls in Ubud…
Read next: Where to find the best coffee in Ubud
Zest Ubud (best vegan brunch in Ubud)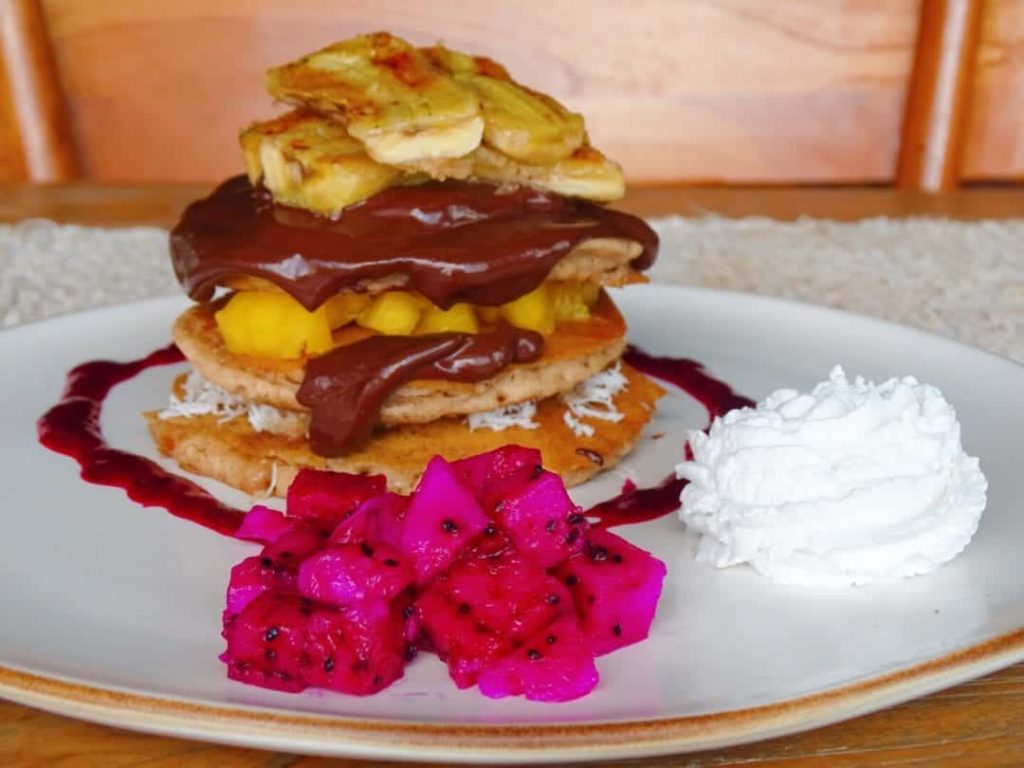 Don't miss Zest from your Ubud itinerary. Set upon the top of a hill, the breezy open-plan restaurant benefits from beautiful jungle views and a temple setting. The garden is decorated with lilypads and Buddha statues while the inside is full of abstract art and plants.

Vegans will definitely think Zest serve the best brunch in Ubud because everything is fully plant-based. I was rendered speechless by the chocolate, grilled banana, coconut and mango pancakes. Eating them brought me to a godly statue of inner peace that I believe some only find via meditation!

During my second visit, I tried the dragon fruit carpaccio alongside the black rice pudding with coconut (an Indonesian speciality). Both were uber photogenic, though no match for the pancakes.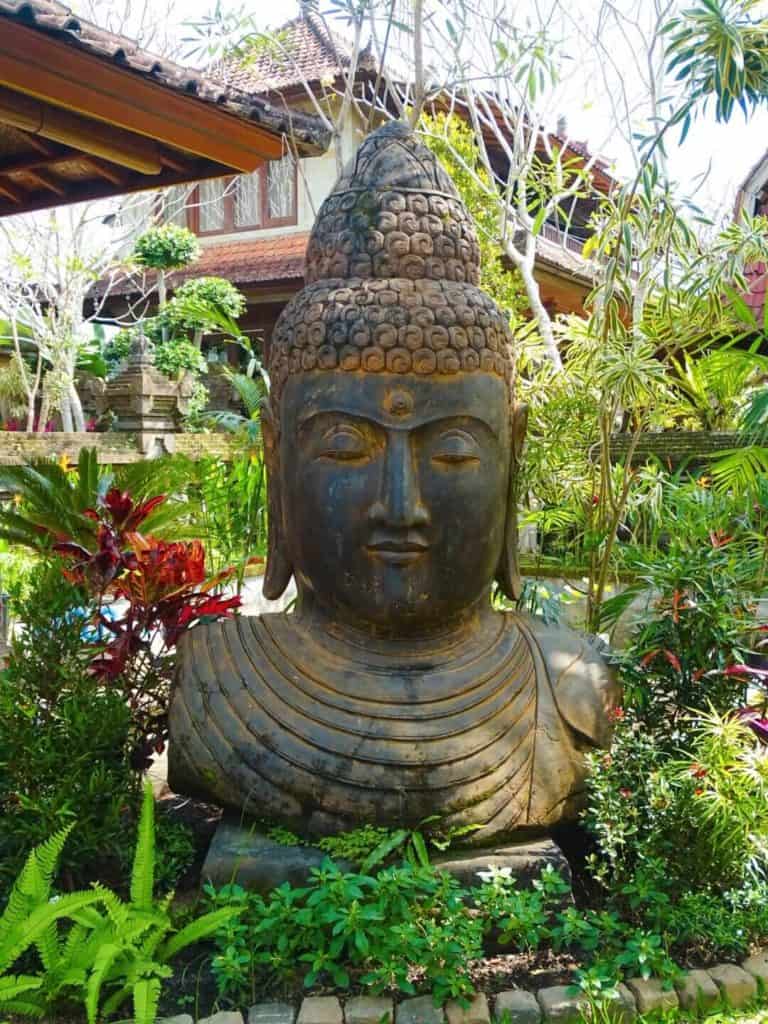 Veggie/ vegan-friendly? Entirely. Everything is plant-based and the coffees come with coconut milk.

Cowork friendly? Very. It's relaxed and breezy with enough space that you're not in earshot of people's conversations. Lots of other people were working when I visited.

Price: The decadent pancakes were 70,000 IDR ($5 at the time of writing) and the coffees are 30,000-40,000 IDR.
WAMM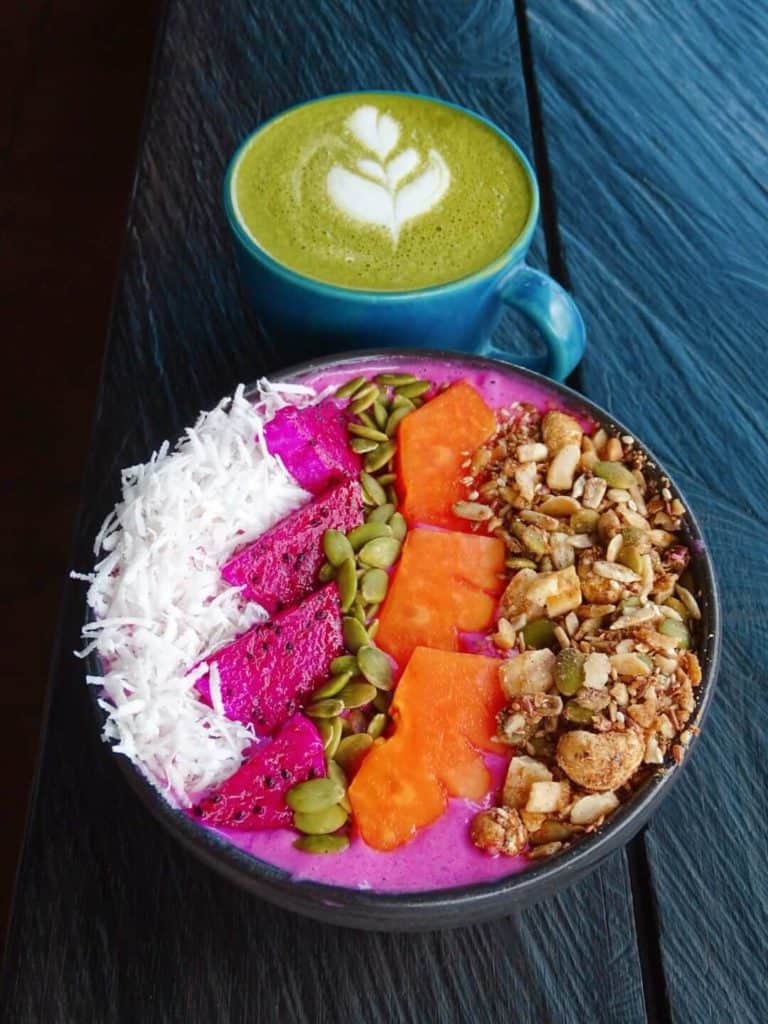 WAMM is my second favourite Ubud breakfast spot following Zest, and one of the most relaxing cowork spots in town.

Pictured above is the best smoothie bowl in Ubud (that I had anyway), packed with papaya, granola, dragon fruit, pumpkin seeds and coconut. I vowed to come back because the salads and falafel looked enormous, homemade and delicious but alas, I ran out of time.

Top Ubud cafe points also go to the matcha lattes and comfy interior. WAMM is a little bit out of Ubud centre but worth the journey.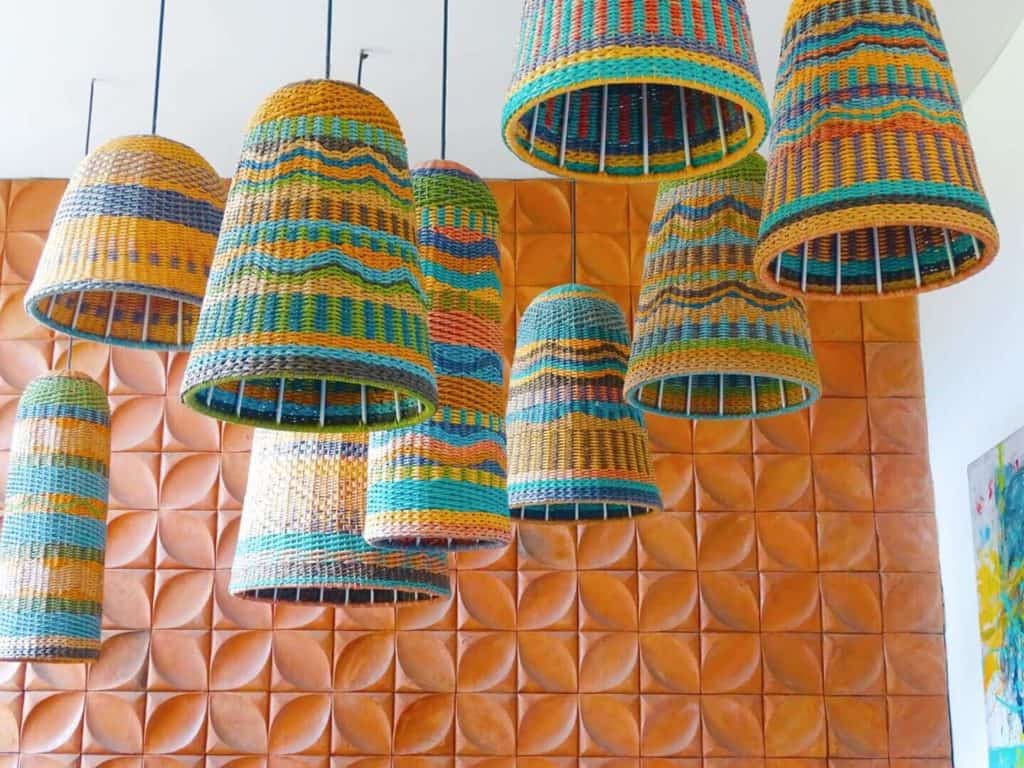 Veggie/ vegan-friendly? Yes – the falafel looked incredible!

Cowork friendly? Yep… At least half the customers were co-workers when I visited.

Price: 120,000 IDR for a smoothie bowl and coffee.
Milk & Madu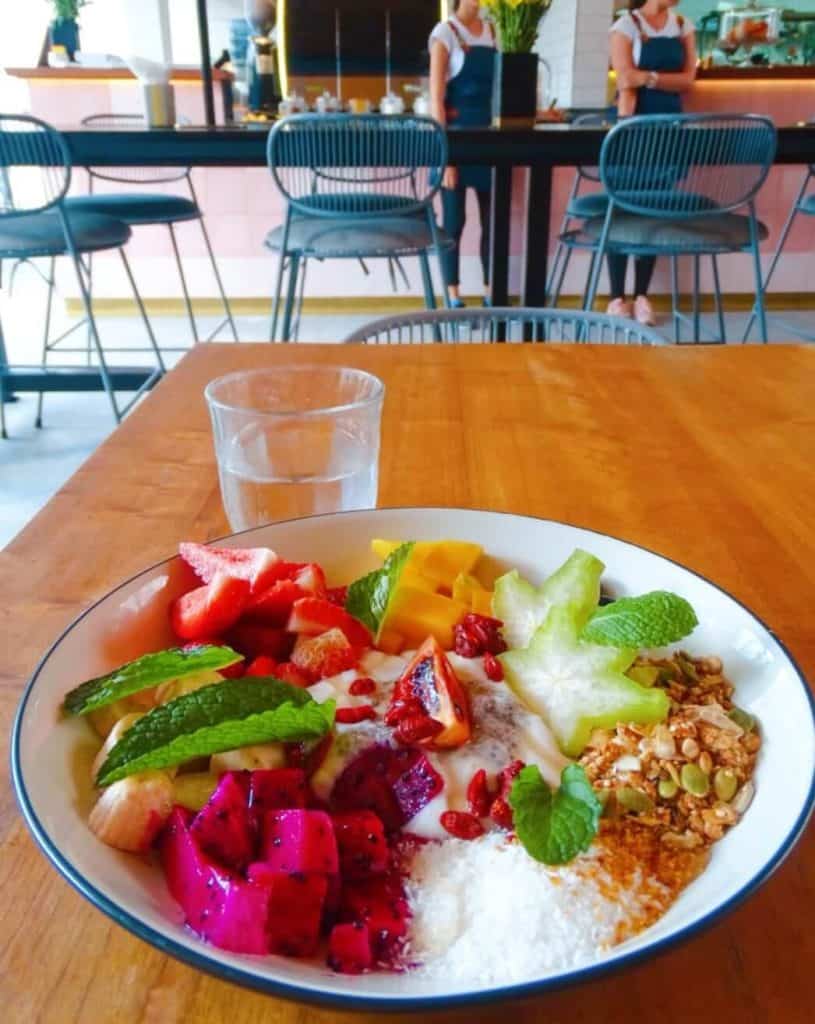 Beside the Royal Palace and in the heart of Ubud, Milk & Madu is a delicious spot for any meal of the day. It's not particularly cheap as Ubud cafes go, but if you're a brunch superfan and know exactly how you like your hollandaise, they'll get it bang-on.

The delicious Super Breaky Bowl might be the best brunch in Ubud for healthy types… oh and Instagrammers! It's full of colourful granola, strawberries, blueberries, dragon fruit, mango, banana, goji berries, yoghurt, chia seeds, honey and mint.

It was so healthy I couldn't resist going back and stuffing myself with pizza (it's 2-for-1 on Tuesday nights).
The high ceilings and glass windows at Milk & Madu make it one of the most relaxing cafes in Ubud. They also serve speciality coffees and some seriously good-looking cheesecakes.

Veggie/ vegan-friendly? Surprisingly for such a tourist joint, not massively but you'll be fine with the smoothie bowls.

Cowork friendly? I'd describe it as more of a social place but it worked fine for me – the music is fairly loud but the Wi-Fi is strong.

Price: 70,000-90,000 IDR for brunch dishes.
Yellow Flower Cafe (best hidden gem)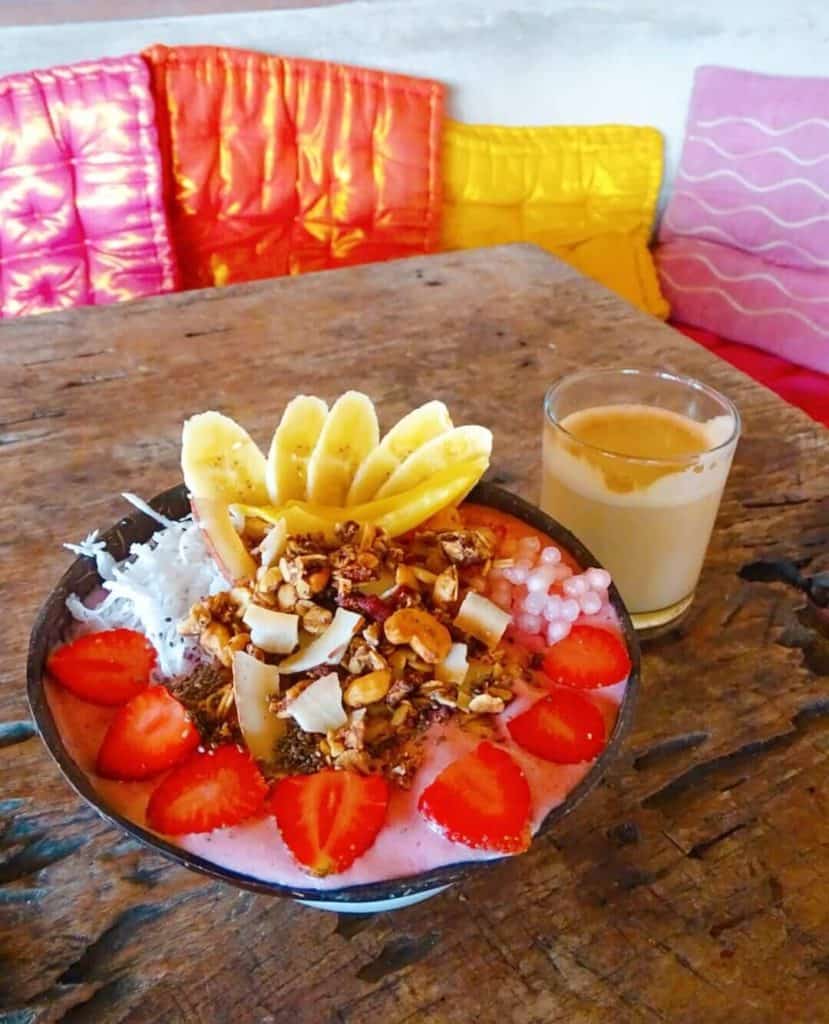 Yellow Flower Cafe serves healthy breakfast in Ubud, plus it's hidden away at the top of the Penestanan Stairs. I sampled yet another Ubud smoothie bowl which might have been the prettiest yet.

My only complaint? Why do cafes serve hot drinks in glass cups with no handle? Ouch.

Tip: Check how to get there in advance. Google Maps would suggest it's on the main road but you need to take these stairs then the second right as signposted.

Veggie/vegan-friendly? It's all they do.

Cowork friendly? Yes. It's so peaceful!

Price: I paid 110,000 IDR for a smoothie bowl and flat white – standard Ubud cafe prices.
Clear Cafe (prettiest brunch cafe in Ubud)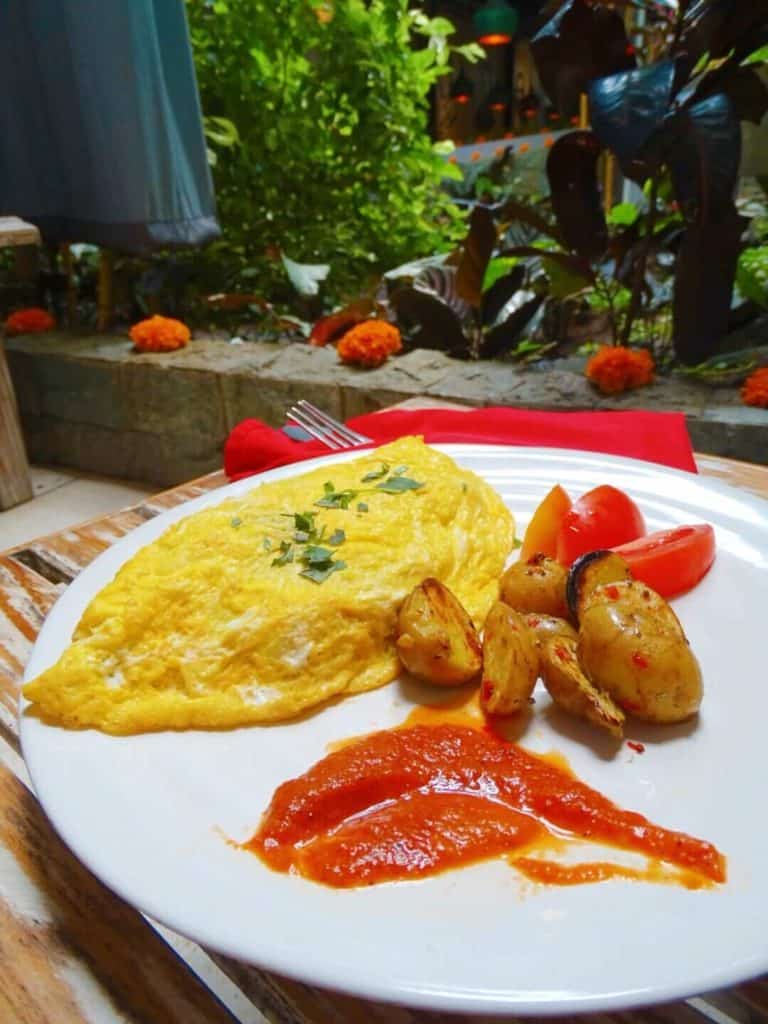 The only thing more impressive than the interior at Clear Cafe? The wide variety of brunch and breakfast dishes. Clear Cafe is a pescatarian cafe with a menu that spans 15 pages.

There are about 10 types of egg dishes, plus pancakes, muesli, oats, granola and tropical fruits. I needed some healthy nourishment so ordered a veggie omelette with tomato, spinach, mushroom and feta (you can never be too healthy for feta!). Even the simple dishes somehow manage to arrive looking picture-perfect.

For an Ubud breakfast with stunning surrounds, it's also a winner. You enter via a decadent carved door and sit on colourful floor cushions admiring Hindu-inspired wall art, or take the fireman's pole from upstairs to downstairs! The flower quote on the stairs changes regularly.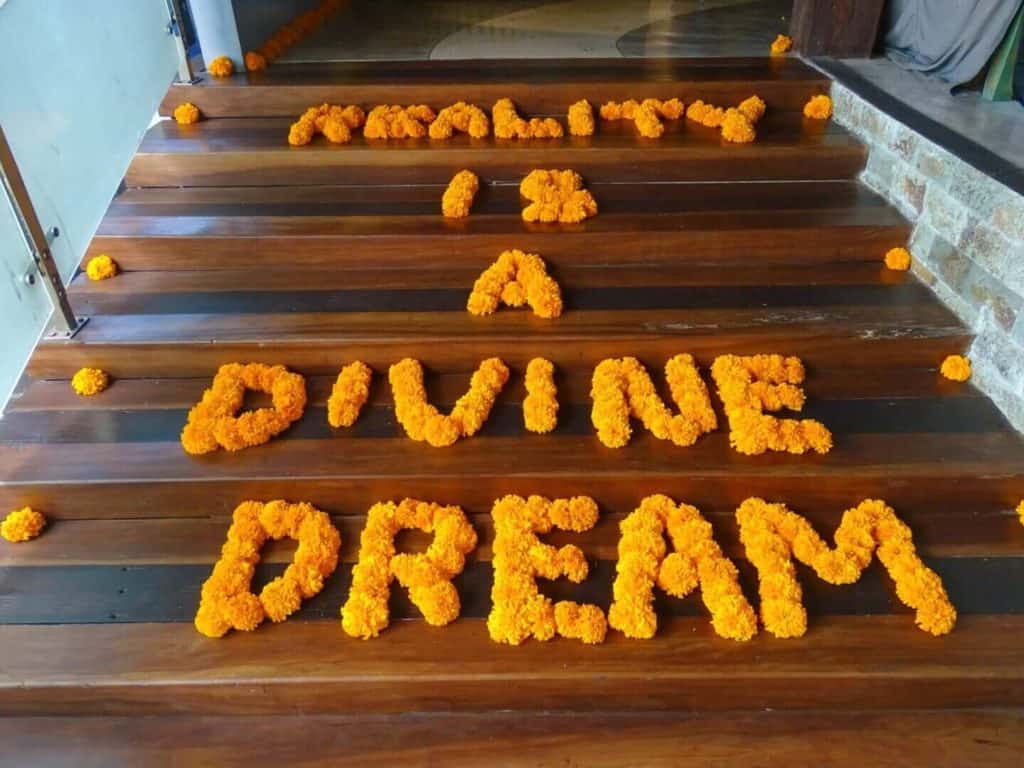 Veggie/vegan-friendly? Yes – they offer a tofu scramble rather than eggs, plus the fruit and granola bowls are vegan.

Cowork friendly? It's doable if you visit early before the lunch crowd comes in. The Wi-Fi a bit hit and miss, though.

Price: So reasonable – no breakfast dish is more than 50,000 IDR.
Atman Nourish Cafe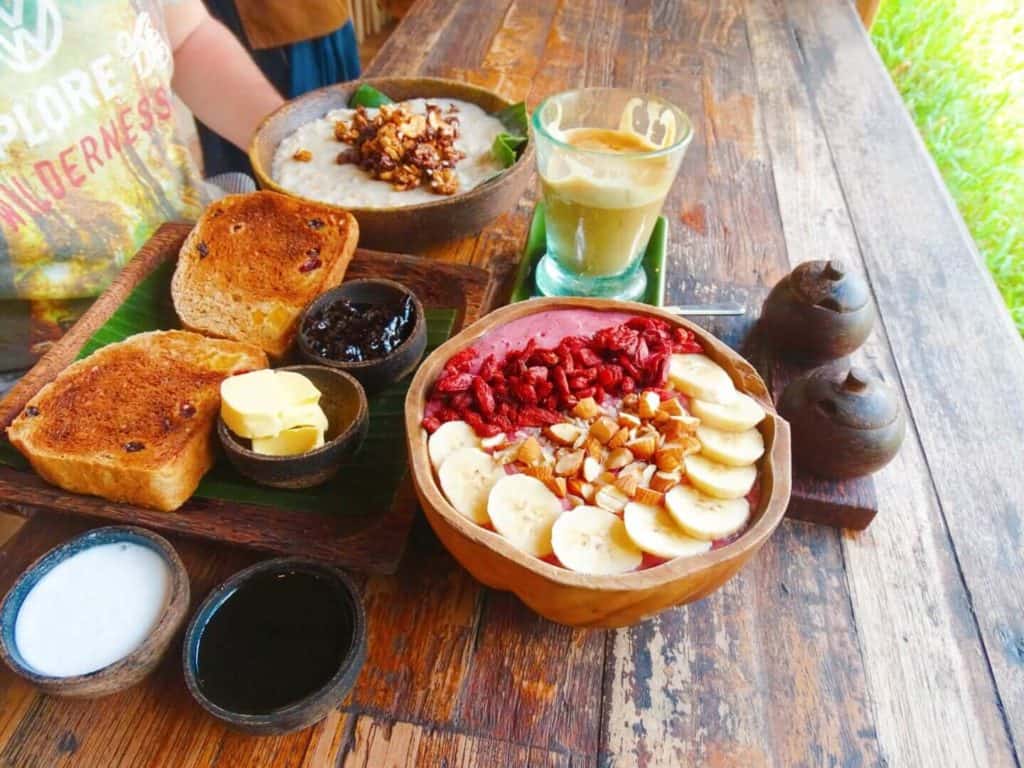 I was keen to get to Atman and it didn't disappoint. They have two spacious cafes in the heart of Ubud (Atman Nourish Kafe is cosier in my opinion with beautiful views over the fields at the back) which also sell gorgeous jewellery and environmental goods like reusable water bottles and straws.

The brunch menu is enormous with smoothie bowls, French toast, creamy porridge, eggs benedict, omelettes and even Indonesian black porridge. I liked the customisation of building your own smoothie bowls with the ingredients on offer. This theme continues with the 'breakfast sides' that you can add to your meal.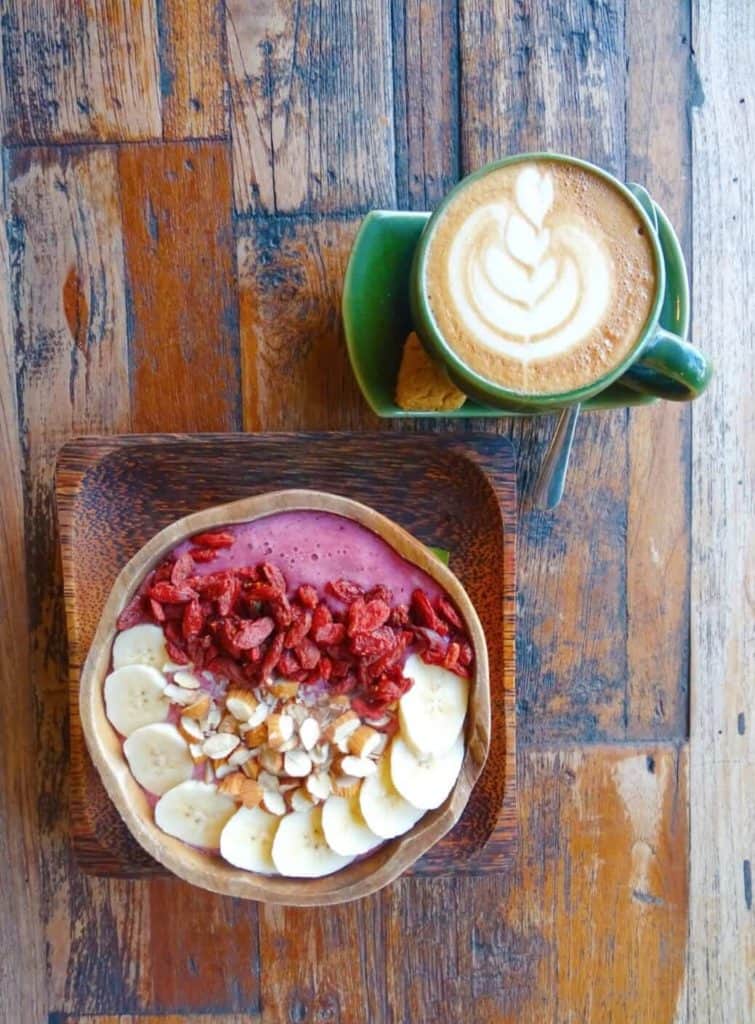 Other food – the Indonesian and general Asian food looks delicious at Atman, especially the pad Thai. I also had my eye on the collection of healthy cakes and bliss balls. Guilt-free pudding can never be bad, right?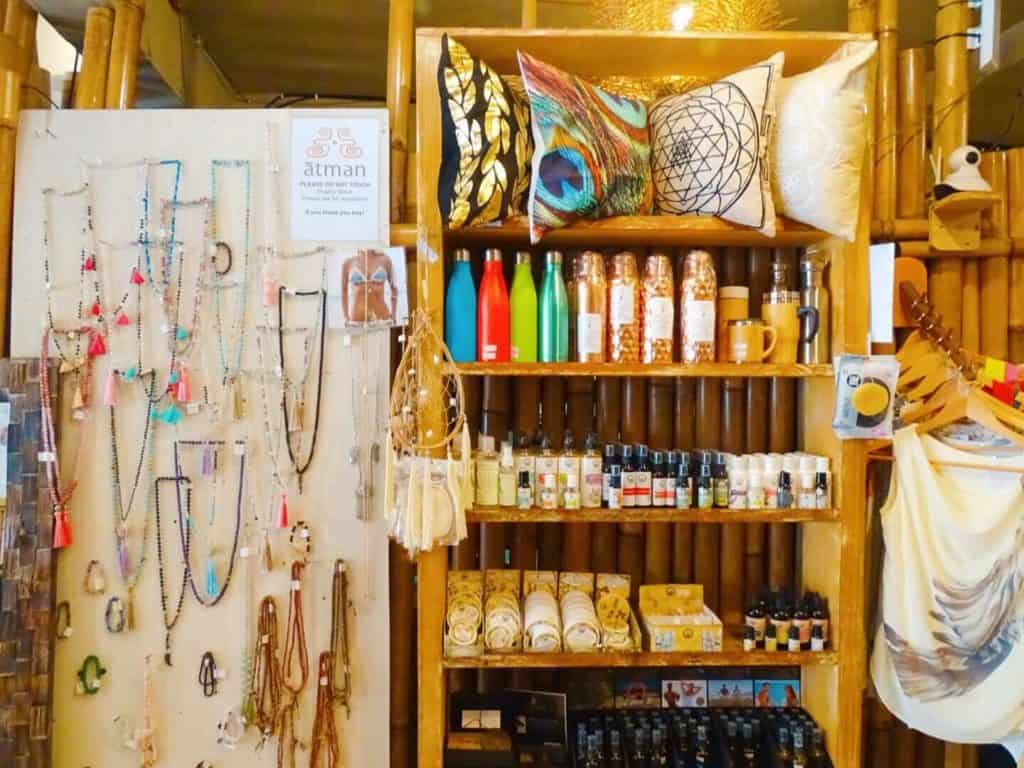 Veggie/vegan-friendly? Yep. The menu is long with lots of variety… I saw more veg than meat.

Cowork friendly? Being in the heart of Ubud, it's pretty social but I'd say it would be okay.

Price: Not bad at all – breakfast dishes start at 40,000 IDR.
Honourable Ubud breakfast mentions
The cafes I tried out that weren't quite contenders for the best breakfast in Ubud…
Bittersweet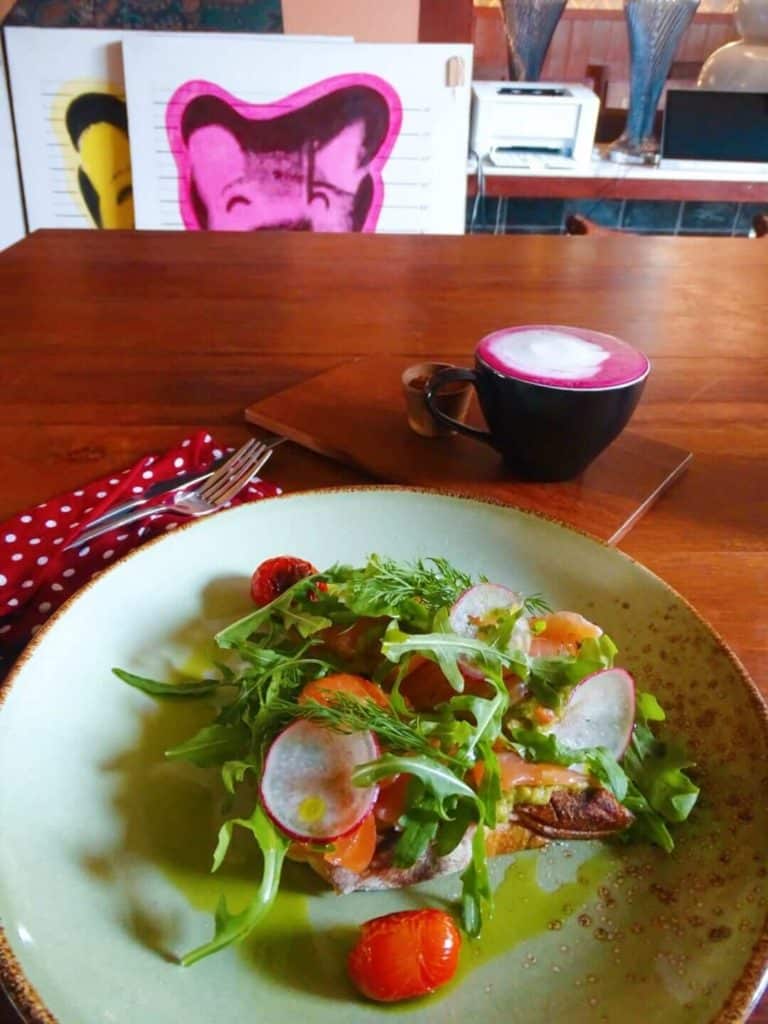 Okay, I'm sulking with Bittersweet because my avo and salmon portion was tiny and I still felt hungry after. For that reason (and due to some seriously gorgeous eclairs), I'm rating it higher for coffee and cake than brunch. I guess you could give brunch a whirl if you're not starving.

Pop in to admire the decor at least – it's very aesthetically pleasing!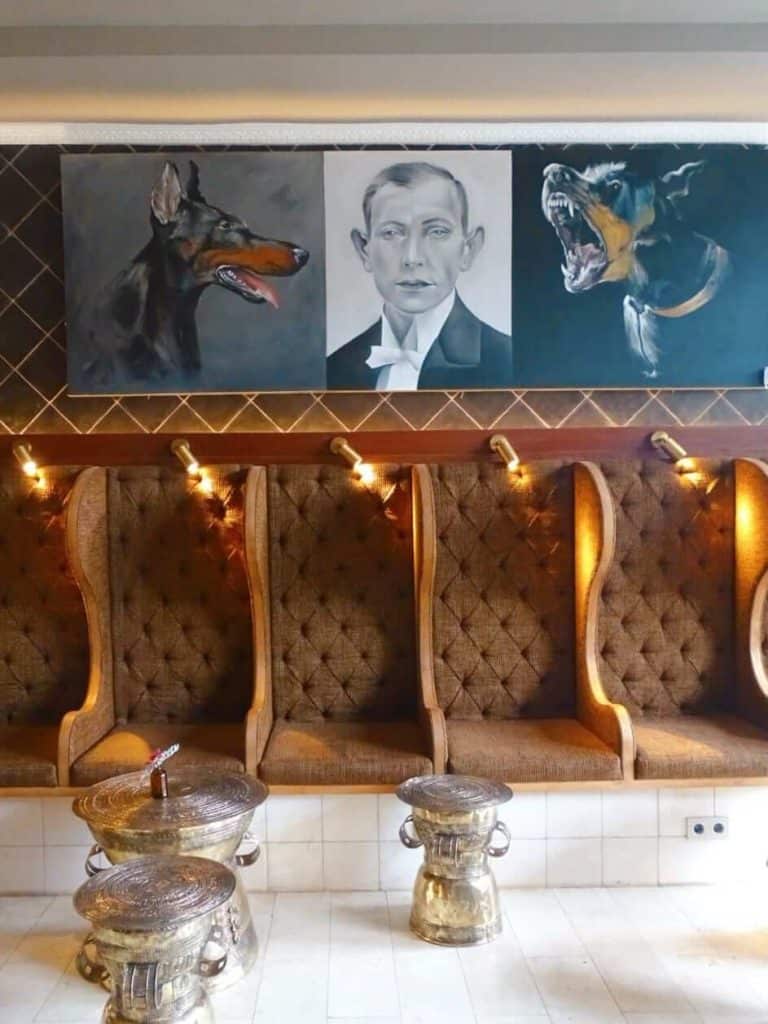 Veggie/vegan-friendly? There were veggie brunches and vegan smoothie bowls.

Cowork friendly? Yes. It's a gorgeous, inspiring place to work. Some of the little tables might be awkward for balancing your laptop and a plate of food so I opted for the long bench table at the back.

Price: 110,000 IDR for brunch and coffee.
Gangga Coffee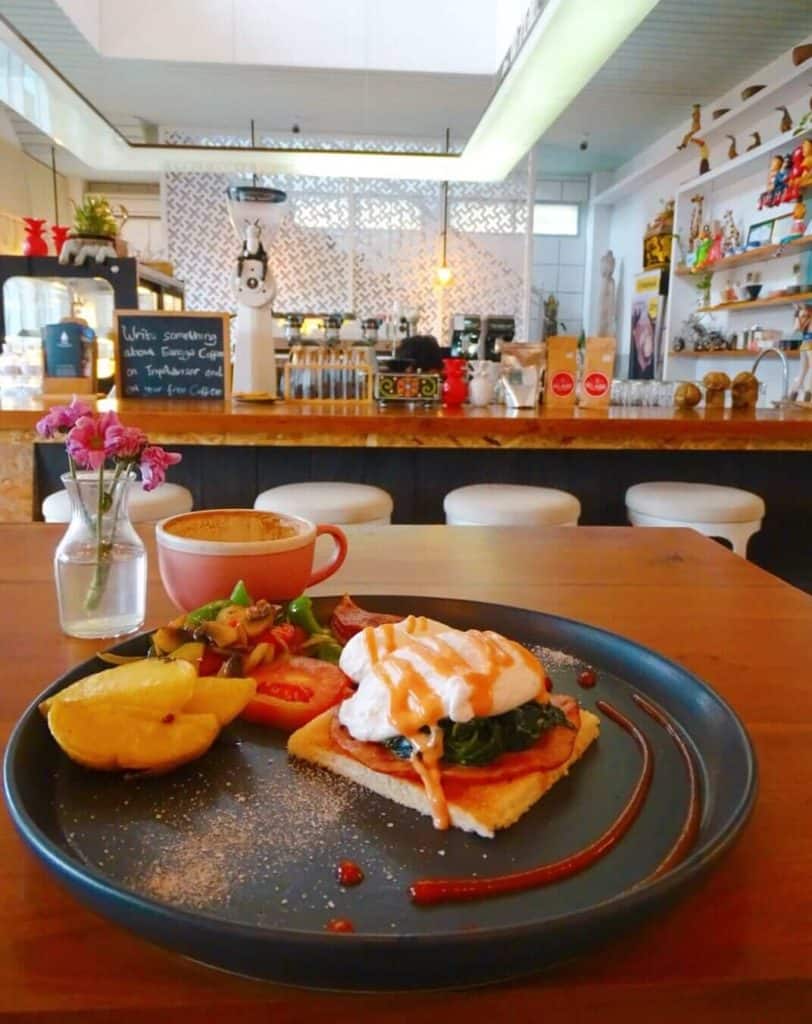 Coffee is the focus at Gangga hence why I'm featuring it mainly in my Ubud cafe guide.

Brunch connoisseurs might not be blown away… The poke bowl was made with regular rice rather than sushi rice, and the sauce on the eggs benny wasn't hollandaise. Still, it was tasty and by far the cheapest brunch in Ubud I had, apart from White Ginger.

The pancakes and waffles were only 38,000 IDR. It's also one of the prettiest cafes in Ubud with some amazing wall art.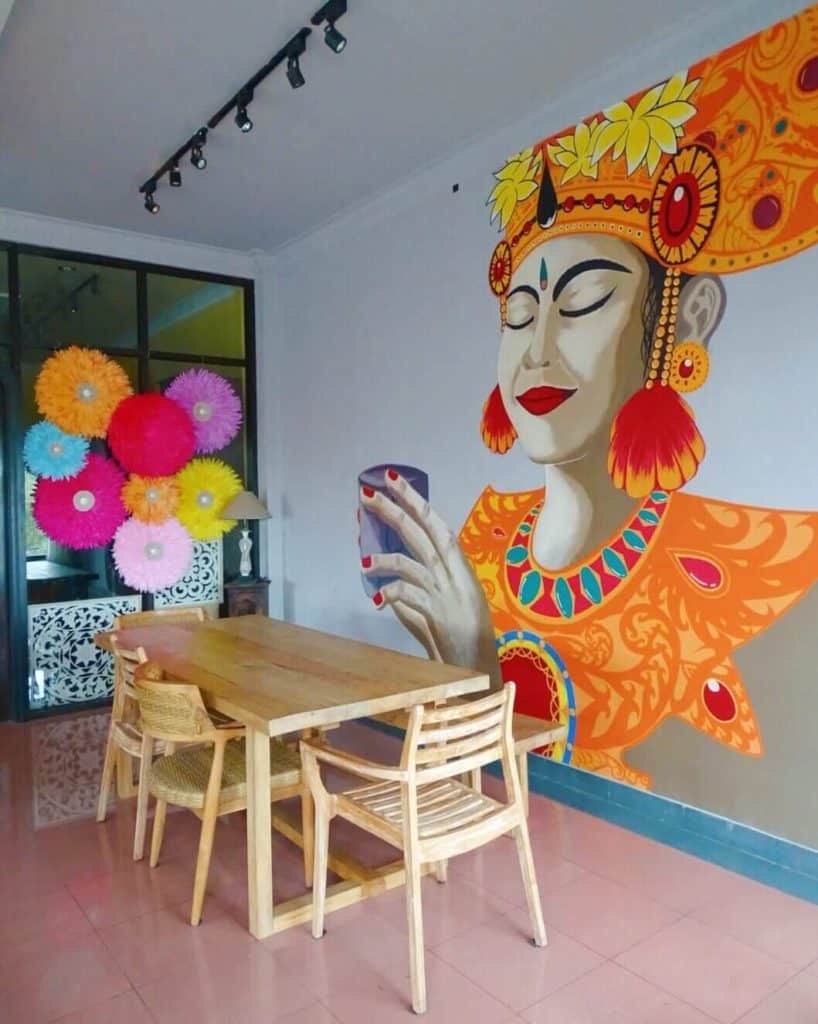 Veggie/vegan-friendly? For smoothie bowls, yes, but they're not as set up for it as many other brunch cafes in Ubud.

Cowork friendly? Generally, though the music was loud. The tables are quite close together so it's easy to get distracted by other people's conversations. Though this did turn into a good thing when I befriended my neighbours, picked up some Bali tips and gained some new Insta followers!

Price: A bargain. My eggs benedict brunch was 50,000 IDR and they don't charge tax – Ubud win!
Best smoothie bowl in Ubud?
If you're just after a famous Ubud smoothie bowl, I don't blame you. I would say the one I had at WAMM was the tastiest and the most visually appealing. However, the customisable smoothie bowls at Atman Nourish Cafe are great because you can pick whatever ingredients you like, plus the rice field views are gorgeous. My third favourite smoothie bowl in Ubud was at Yellow Flower Cafe – I couldn't fault it.
---
I hope you've enjoyed my guide to the best brunch in Ubud. Do you have any other contenders or other favourite cafes in Ubud
Thanks for reading my Ubud breakfast guide!
Check out my other Bali & Asia posts:
Ubud blogs:
Canggu blogs:
Nusa Islands:
See you next time for more adventures,
Rose
For more content, follow me on Instagram, Facebook, Twitter and YouTube.
Ps. Liked my guide to the best brunch in Ubud? Pin it for later!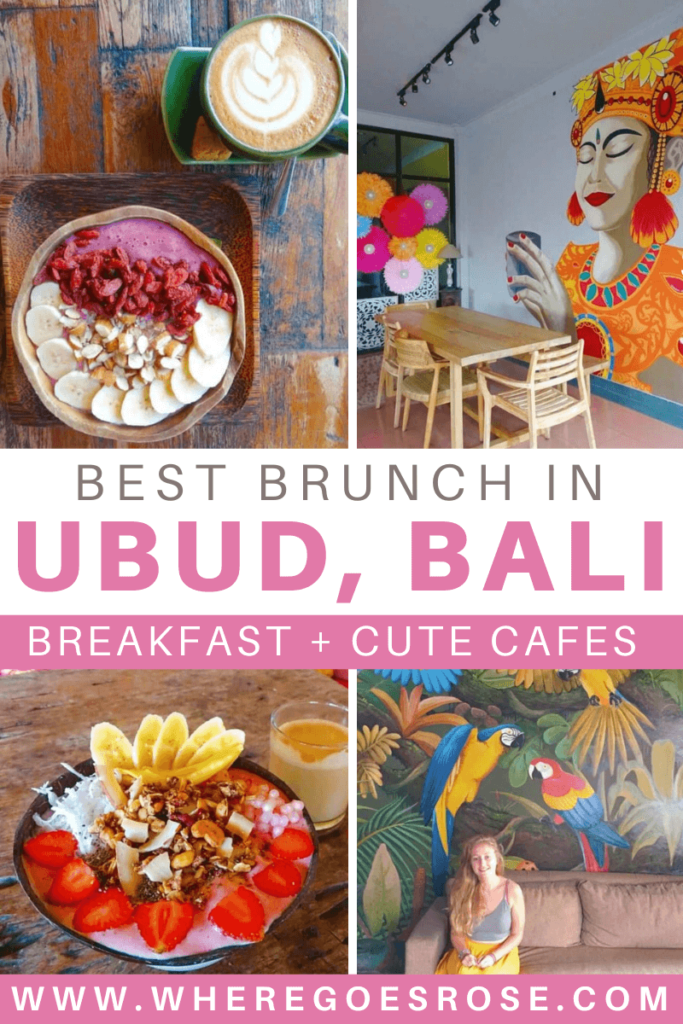 Bali useful links

Flights – I use Skyscanner to find the best-value flights, using the 'search by month' tool to find the cheapest dates. You can also use the 'to anywhere' feature if you're flexible on where you're going.

Stay connected with E-sim data plans that don't require delivery or collection; just scan the QR code.

In my opinion, Lonely Planet offer the best guidebooks. Get the latest Copy of Lonely Planet Bali.

I use Booking.com for accommodation. They have the best range of hotels and self-catering apartments, plus you can filter by review score and price to find the best-rated budget places. For hostels, I use Hostelworld.

To save money on accommodation, I use Trusted Housesitters, a website that connects homeowners going away and travellers who can sit their homes & pets.

For activities, I use GetYourGuide and Viator as they both have a huge range of affordable tours.

Need travel insurance? I use True Traveller (for UK & Europe residents) since it's affordable but covers everything you'd need including various activities, valuables and pre-existing conditions. Unlike some companies, they insure you if you're already travelling / don't yet have your flight home booked. Get a quote.

For travel insurance for other nationalities, I recommend Hey Mundo and for long-term digital nomad travellers, I suggest Safety Wing.

Check out my resources page for more travel discounts and tips!