This post may contain affiliate links to things like tours, hotels, Amazon associates and products. These help me earn a small commission at no additional charge to you.
There are some amazing places for brunch in Oxford and I've had the pleasure of working my way through them during the years, either when I've been working near Oxford while saving up to travel, or when I've been visiting home in between trips.

Whether you're looking for the perfect eggs benny or you have a sweet tooth and fancy pancakes, I have plenty of suggestions coming up…
Cafe Coco, Cowley Road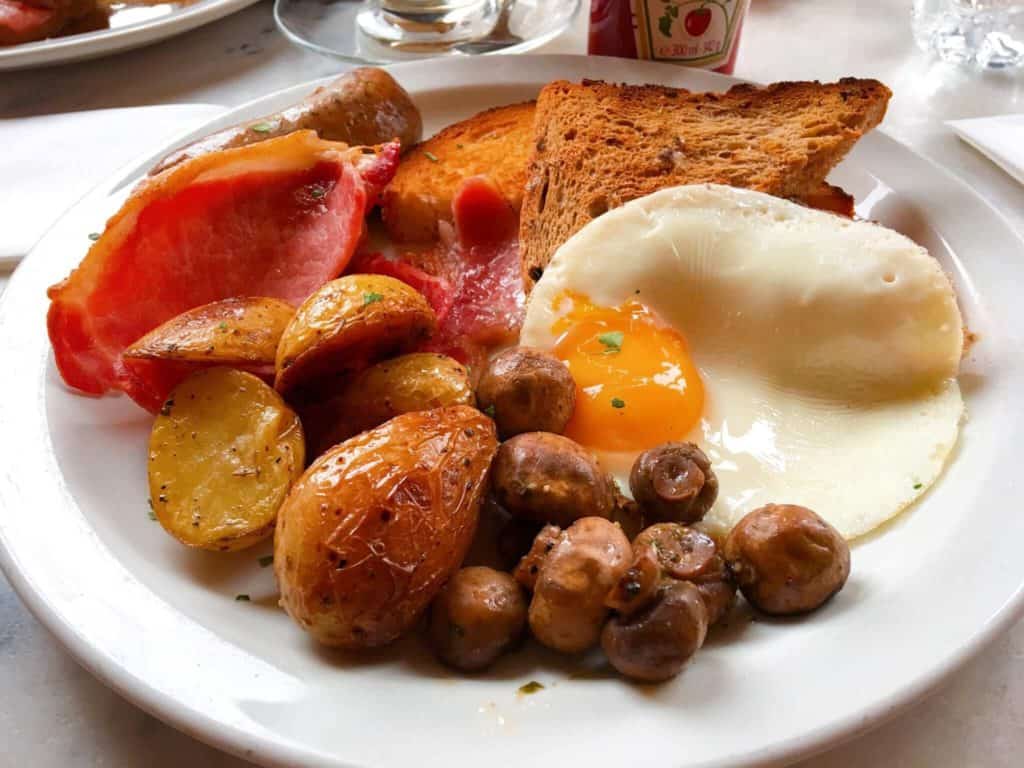 If you're looking for a quick brunch in Oxford city centre, keep scrolling. Cafe Coco is a little out of town on Cowley Road but if you don't mind a short detour, it's worth it.
Cafe Coco is filled with quirky clutter and retro artwork; I could easily spend all morning there. As a favourite local breakfast spot since 1992, you can bet the food is worth a try, too.
Indulge in the full English with bacon, Oxford sausage, egg, tomato, mushrooms and the highlight, garlic sauteed new potatoes. Just remember to upgrade (£1) to add baked beans. Personally, I don't believe it's a fry up without!
There's also a vegetarian version of the cooked breakfast, as well as other English dishes include eggy bread with cinnamon and maple syrup, breakfast sandwiches and build-your-own omelettes with ingredients like chorizo, smoked haddock, mozzarella and tzatziki.
Aside from a couple of muesli and porridge dishes, it's not a place to eat breakfast in Oxford if you're on a diet or looking for anything pretentious. But it's also not a tatty cafe: all the dishes and nicely presented and locally sourced with a focus on free-range ingredients.
Address: 23 Cowley Rd, Oxford, OX4 1HP.
GAIL'S Bakery, Little Clarendon Street
Gail's Bakery is a gorgeous little cafe on Little Clarendon Street in Jericho, frequented in the week by Oxford Uni staff (including me when I was one of them) and on the weekends… the world and his wife! It's a busy spot but that's because the cakes, coffee and brunch dishes are next level.

All the dishes on the menu are made with fresh, in-season ingredients such as ricotta, pine nuts and honey. Expect plenty of eggs, avocado and sourdough. The perfect morning meal! If you're there for coffee and baked goods, you won't be disappointed. The cake table groans under the weight of fresh, flaky pasteries.

Over all, I love the ethos of this sustainable brunch cafe in Oxford, not to mention the delicious food!

Address: 21-22 Little Clarendon Street.
The Jericho Cafe, Walton Street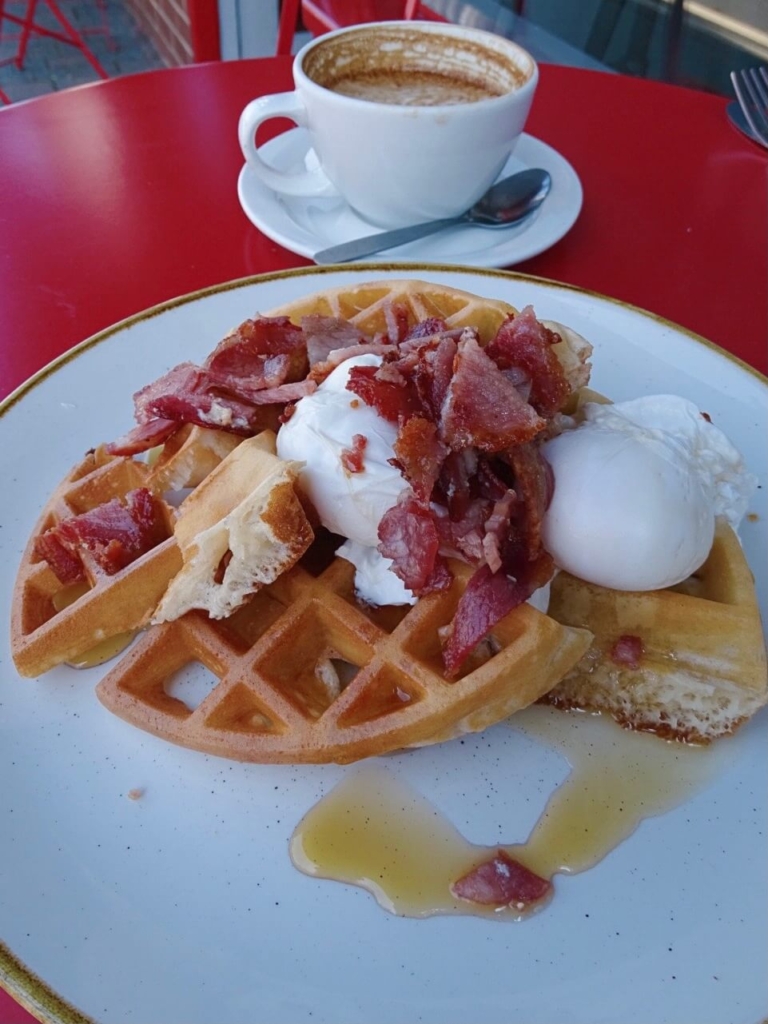 Another contender for best brunch in Oxford, Jericho Cafe is the place to be for a traditional English breakfast. They source everything locally and support other Oxford businesses.

Brunch dishes include bacon baps, English breakfasts, pancakes and Scandinavian pastries. But the waffles are the star dish: order them with bacon, egg and maple syrup or, if you have a sweet tooth, berries and syrup.

Jericho Cafe also serve teas, coffees and fresh juices. As the name might suggest, this bright red cafe is in Jericho, one of my favourite areas of Oxford for food and drink. They have inside and outside seating.

Address: 12 Walton Street, OX2 6AJ.
Related read: Things to do in Jericho, Oxford and where to eat & drink in Jericho
George Street Social (boozy brunch in Oxford)
George Street Social couldn't be more centrally located on the corner of George Street and New Inn Hall Street. With two full glass windows, it's a light and bright cafe perfect for starting your day in Oxford.

This is a contender for the best brunch in Oxford if you like modern dishes and breakfast cocktails. Top options include American pancakes with berries, French toast with cinnamon, smashed avocado, Turkish eggs and breakfast buns. Prices are reasonable with few breakfast dishes over £10.

The other thing worth mentioning: boozy. brunch. Bottomless Prosecco can be enjoyed for £25pp including any brunch dish at weekends. You have a two-hour slot for all the bubbles you can handle – great for birthdays or just celebrating not being at work…

Address: 34 New Inn Hall St, OX1 2DH.
Handle Bar Cafe & Kitchen, St. Michael's Street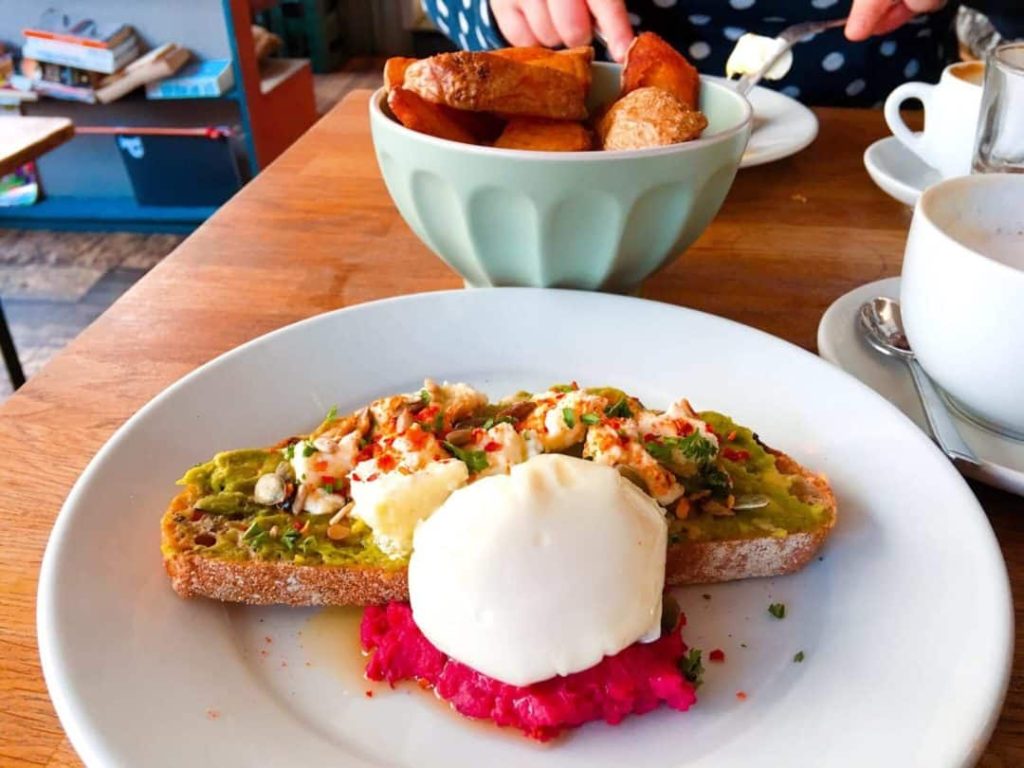 The Handle Bar is an Oxford institution and each dish on the breakfast menu is a classic. I like the coconut pancake stack with maple syrup and either bacon, bananas or berries.

There are also full English breakfasts and avo and egg-on-toast dishes. The menu may be short but there's something for everyone including those looking for vegan food in Oxford.

Grab a cosy seat and admire the quirky, bike-laden interior of this cycle shop-cum-cafe. My only complaint is that the portions are a little on the small side.

Brunch is served until 2.30pm on weekdays and 3pm at weekends. People who like Bloody Marys (not me!) say they do a mean one.

Address: 28-32, St Michael's St, OX1 2EB.
The Rickety Press / The Rusty Bicycle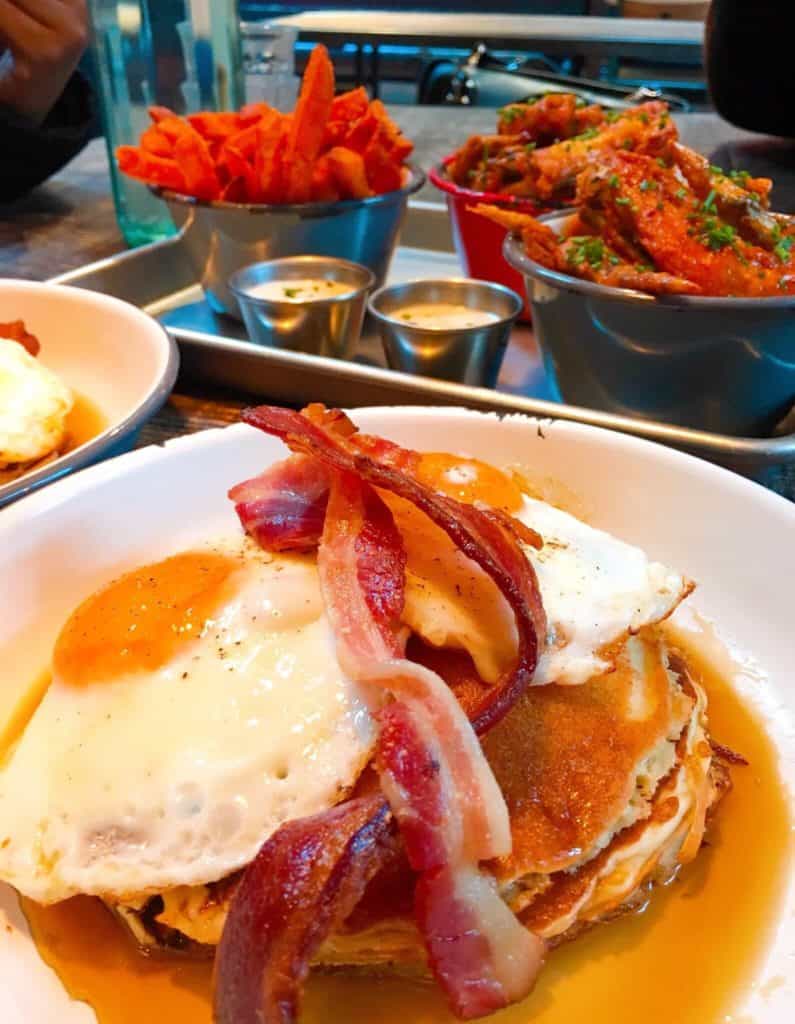 For a classic American-themed brunch in quirky British surroundings, look no further. The Rickety Press can be found on Cranham Street in Jericho while their sister restaurant, The Rusty Bicycle, is on Magdalen Road towards Cowley.

I've been to both and can vouch for their cosy, quirky interiors. The Rusty Bicycle is more of a pub while Rickety Press is an Oxford-themed bar. The food and crockery in both are American diner-style, plus they both serve excellent breakfast and brunch dishes.

Here you can tuck into American brunch classics like buttermilk pancakes, chicken and waffles, eggs benny, brekkie buns and glutinous fry-ups.

Visit on weekdays between 9am and 12pm and Saturdays and Sundays until 3pm to blow your calorie intake for the whole weekend…

Address: Find the Rickety Press at 67 Cranham St, OX2 6DE and the Rusty Bicycle at 28 Magdalen Rd, OX4 1RB.
Read next: 12 top Oxford pub gardens
Nosebag Restaurant, St Michael's Street (UPDATE – now closed)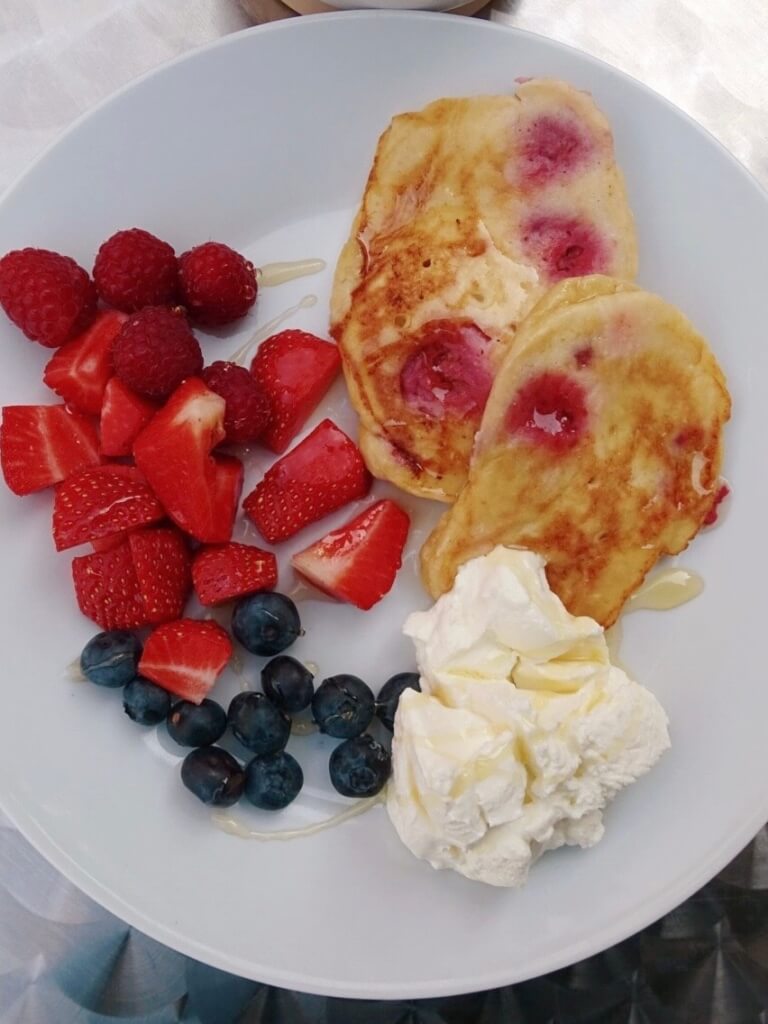 Since discovering the ricotta and raspberry pancakes at the Nosebag, my life has changed for the better.

This cosy restaurant can be found on St Michael's Street not far from Handlebar Kitchen. They serve reasonably priced breakfast and brunch from 9.30am-12pm daily.

For a hearty feed, order the English breakfast with bacon, sausage, mushrooms, grilled tomato, fried potatoes, eggs and toast. It's a bargain at £7.50! There's also a vegan version. 

Nosebag serve just a few other classics – it's not the longest menu but it'll hit the spot when you're on the hunt for quality brunch in Oxford. Wash it down with a tea or coffee made with dairy, oat, soya or coconut milk.

Grab a table upstairs by the window and look down over bustling Oxford.

Address: 6-8 St Michael's St, OX1 2DU.
Brown's Cafe, Covered Market (cheapest breakfast in Oxford)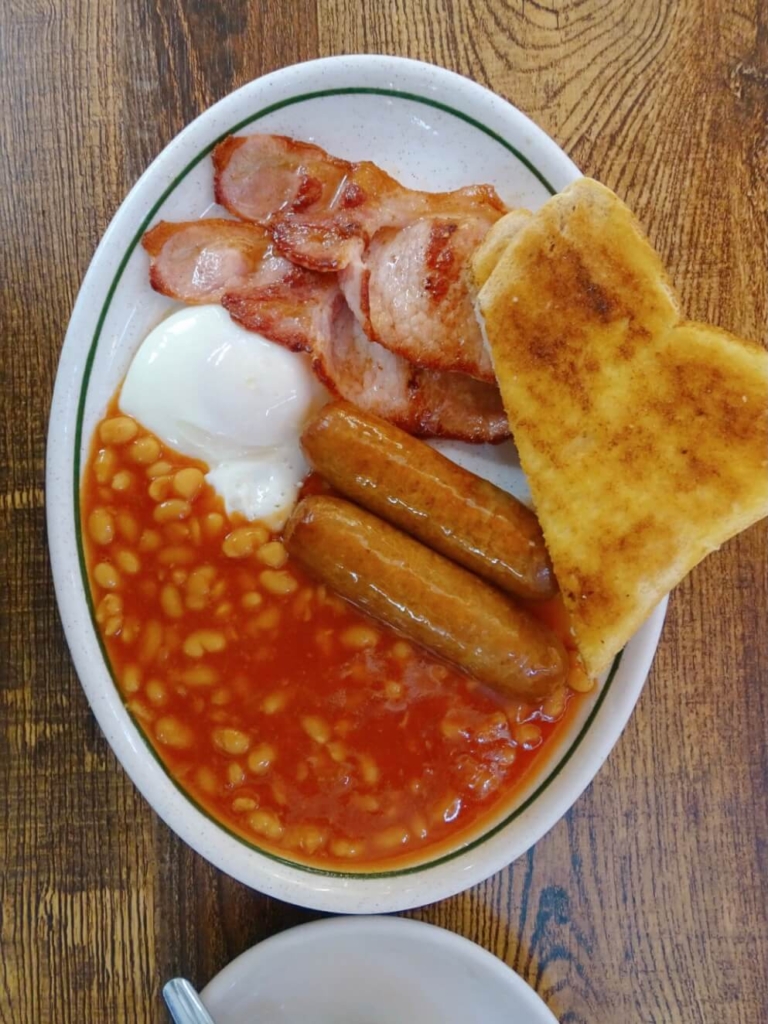 On my hunt for the best brunch in Oxford I came across Brown's Cafe (not to be confused with Browns Oxford which is a restaurant on Woodstock Road), somewhere I'd overlooked in the past.

Inside the Covered Market, one of my favourite places in Oxford for local shops and businesses, Brown's is a no-frills cafe that doesn't look much from the outside. You certainly can't order breakfast cocktails. However, this institution for students and locals make a mean English breakfast.

On Instagram, an editor at Tatler Asia claims to have flown 3,500 miles to eat this fry-up again. This officially means it's so classic, it's iconic. Or ironic? Maybe both.

Get yourself down here between 8am and 4.30pm for a hearty English breakfast for – get this – £6! I challenge you to find a cheaper breakfast in Oxford.

I would just like to add that it would be a sin to drink coffee here. Builders tea only!

Address: Oxford Covered Market, OX1 3DZ.
Vaults & Garden, Radcliffe Square (best breakfast views in Oxford!)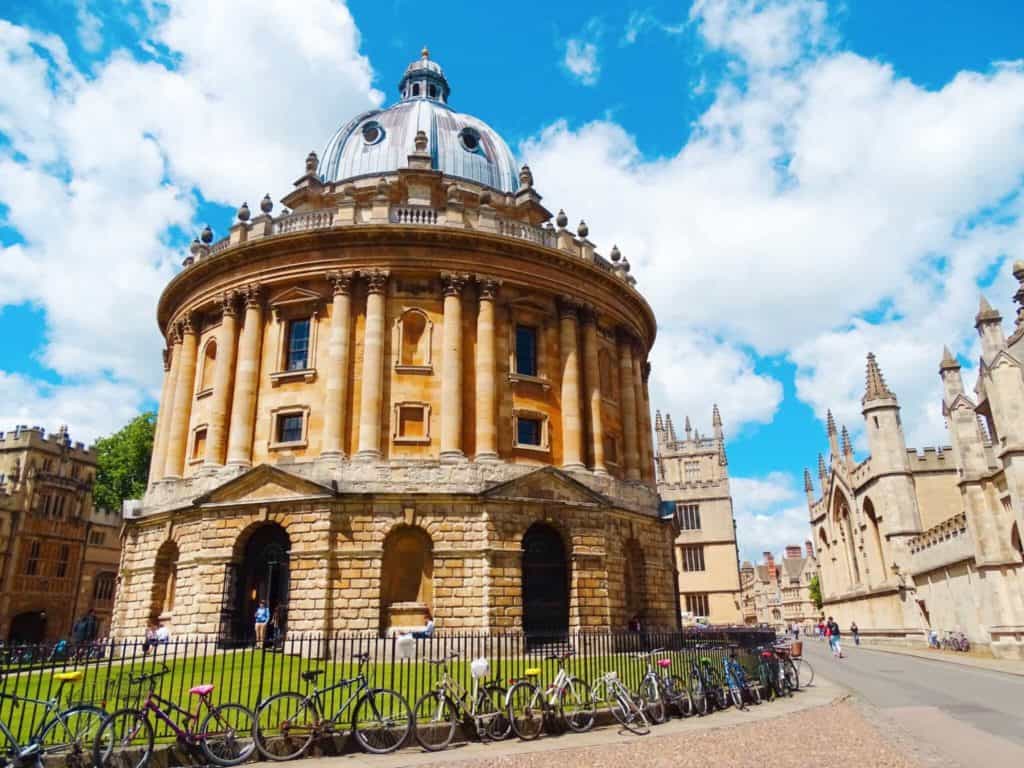 The Oxfordshire Restaurant Awards have voted Vaults & Garden Cafe the best cafe in Oxford, and Where Goes Rose has voted it the best place to eat outside in Oxford!

Set inside a refurbished room of St Mary's Church, this cafe is overflowing with character. Treat yourself to an outdoor breakfast in Oxford (weather dependant – there are also indoor seats).

Menu highlights include smoked salmon, avocado and eggs or tuck into an organic vegetarian, vegan or regular fry-up. The highlight still might be the views out over the Radcliffe Camera if you choose to dine outside.

Breakfast is served 8am to 11.30am.

Address: 1 Radcliffe Sq, OX1 4AH.
Dirty Bones, Westgate Centre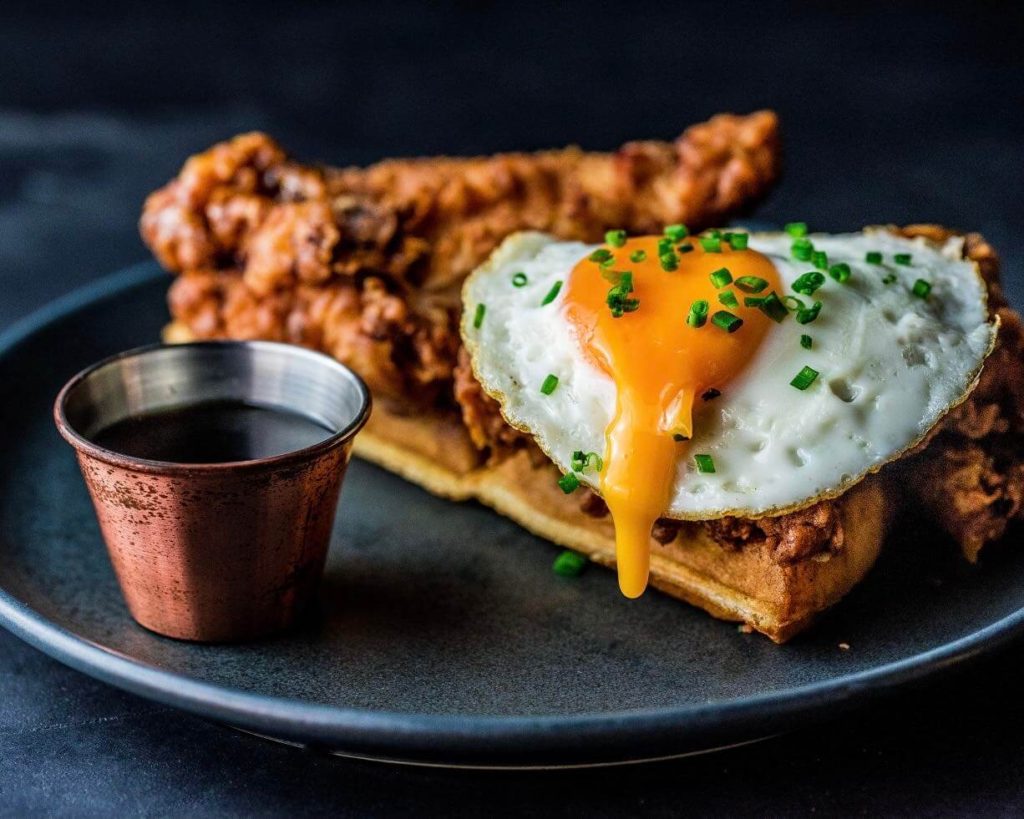 While most places in this blog are cosy and independent Oxford cafes, I'm finishing this guide with something a bit different. When I lived in London, I always loved Dirty Bones with its NYC-inspired food and amazing cocktails.

Many Oxford locals were a bit put-out by the flashy new Westgate Centre which was built a few years back but I have to confess I was excited about the brunch potential.
Chicken and waffles doused in maple dressing aren't very 'Oxford' but after a night out, they'll be just what you fancy. Various topped crumpets and buttermilk pancakes are also on the brunch menu.

There's also a lovely terrace which means outdoor brunch in Oxford is on the cards (perfect in 2021!).

Address: 304 The Westgate, Queen St, OX1 1PG.
The Breakfast Club Oxford, Westgate Centre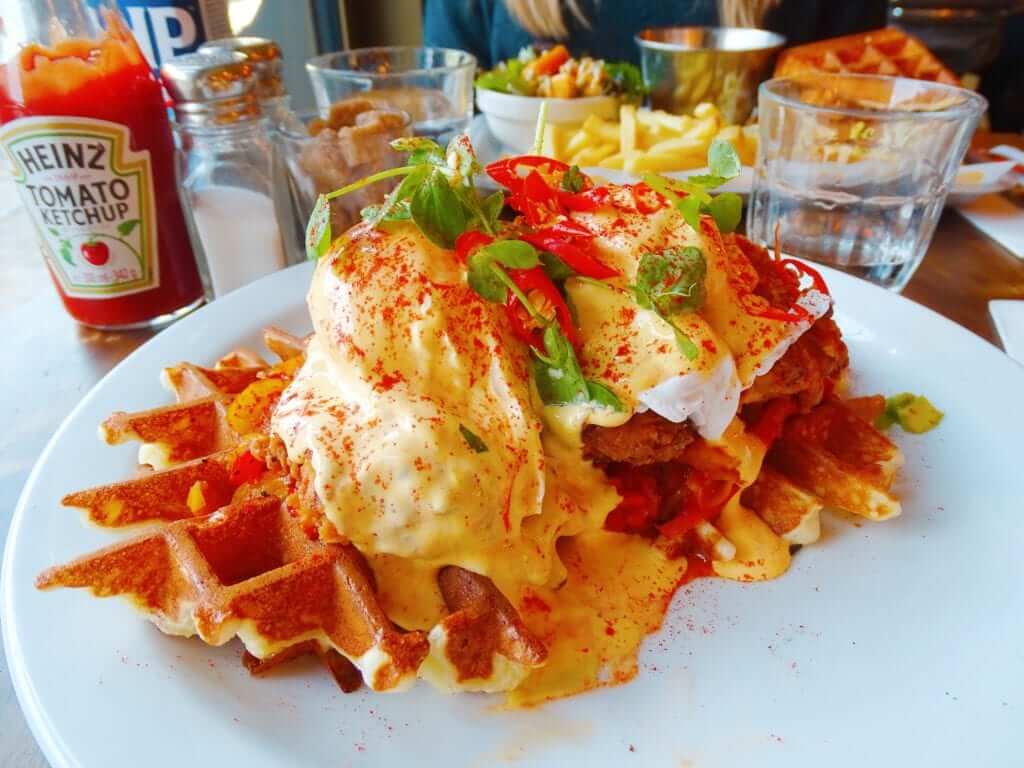 What's this, a whole restaurant dedicated to breakfast?

The Breakfast Club was another of my favourite haunts when I lived in London. Imagine my glee when I moved back to Oxford and it followed me!

From American pancake stacks to French toast, chorizo hash, fry-ups, breakfast butties, avocado & egg dishes, it's the perfect mix of English and American classics.

Breakfast Club Oxford serve food 'til 4pm from Sun-Weds and 'til 10pm from Thurs-Sun. They kindly offer 50% off to over 65s – just 35 years to wait!

Address: 303 The Westgate, Queen St, OX1 1PG.
---
Wherever you eat breakfast in Oxford, your day is guaranteed to get off to a good start. The only thing left to do is read my other Oxford blogs to plan your later meals and work out what to see and do in town:
Have you been for brunch in Oxford yet? Let me know in the comments!
For more Oxford content, follow me on Instagram, Facebook, Twitter and YouTube.
Thanks for reading!
If you liked it, please share it 🙂
See you next time for more adventures,
Rose
Ps. Pin this for later!