This post may contain affiliate links to things like tours, hotels, Amazon associates and products. These help me earn a small commission at no additional charge to you.
Rishikesh is cafe heaven!

People seem to get stuck in Rishikesh despite the fact there's not actually that much to do. Eating amazing food, sipping cold drinks and relaxing in colourful cafes with amazing views is enough for me!

In this blog, I'll talk about the best cafes in Rishikesh then move onto places for authentic Indian food.
Rishikesh cafe guide
Before I begin, it's worth mentioning that Rishikesh is a meat and alcohol-free city. Honestly, I barely noticed and didn't miss it. All the menus have 100+ tasty creative options which really proves how badly we do veggie food in the West.

Check out my food around the world archives!

Here are in, my opinion, some of the best cafes in Rishikesh!
Indian cafe fan? Check out my cafe guides to Palolem, Pondicherry and Pushkar.
Little Buddha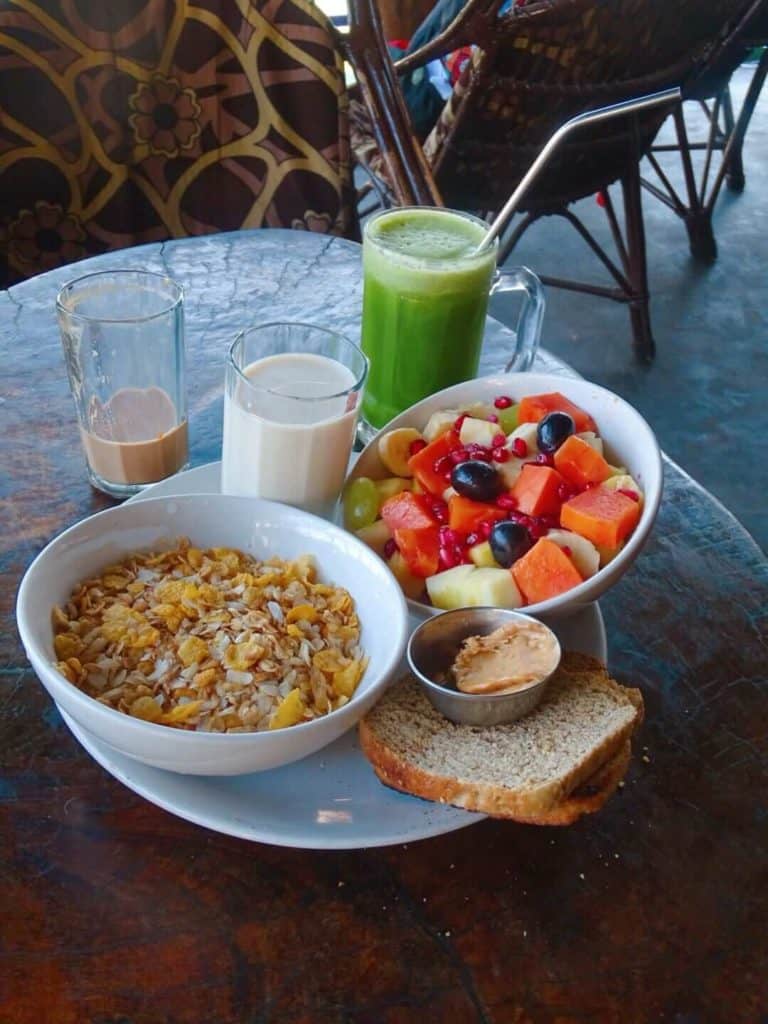 Little Buddha is the best Rishikesh cafe. It's probably the most famous and for good reason: the food is amazing and very affordable, plus the views over the Ganges are phenomenal.

My favourite dish is the yogi breakfast which costs 240 rupees for fruit, muesli, toast, peanut butter, green juice and chai tea. The dream for budget backpackers in India!

The only downside to Little Buddha is that the tables around the outside with the best views always get taken. Sitting in the middle isn't the same because the views are 60% of the Little Buddha experience.

There are a couple of Rishikesh cafes which you can sit outside and properly soak up the fresh air. These are…
Ganga Beach Cafe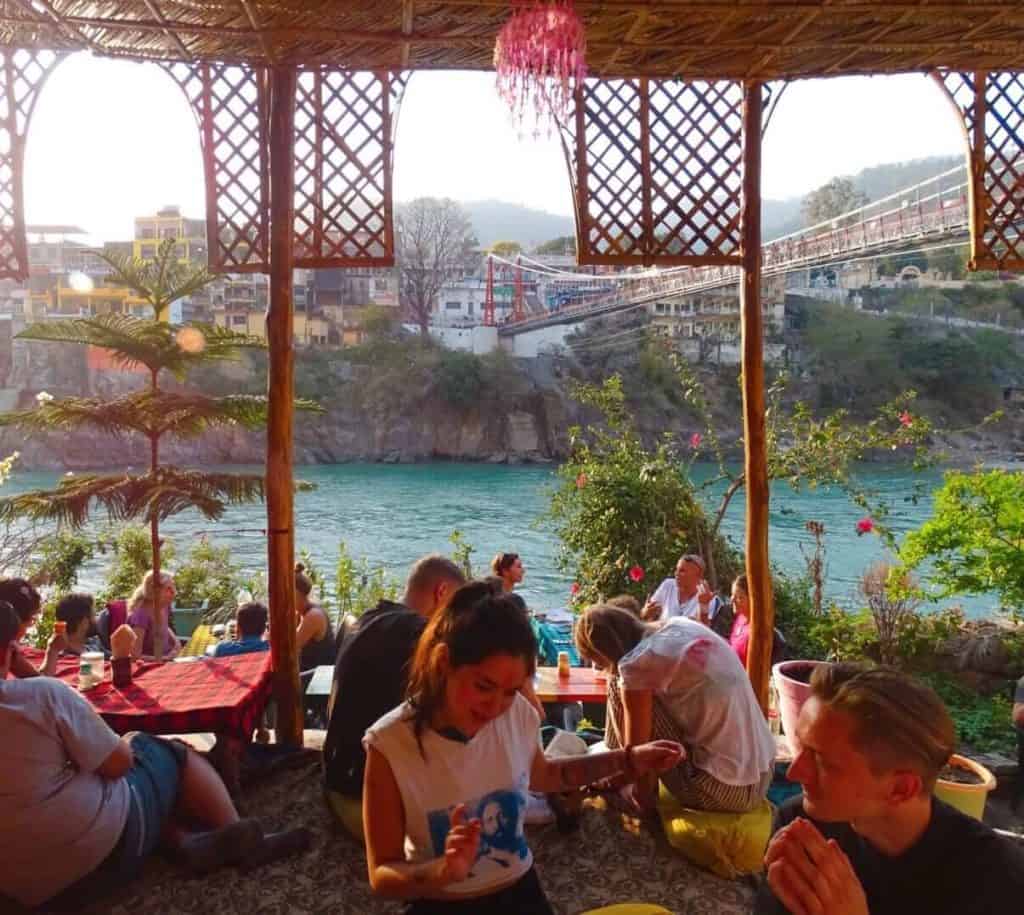 Ganga Beach Cafe is dreamy although it also does get busy. Whether you're inside or outside, you always get a view of the Ganges and Laxman Jula bridge. Unless you bag a chair at the front, you'll dine upon a pile of colourful, comfy cushions.

Tip #1 – order the thali. It was so tasty!

Tip #2 – the most beautiful time to visit Ganga Beach Cafe is sunset.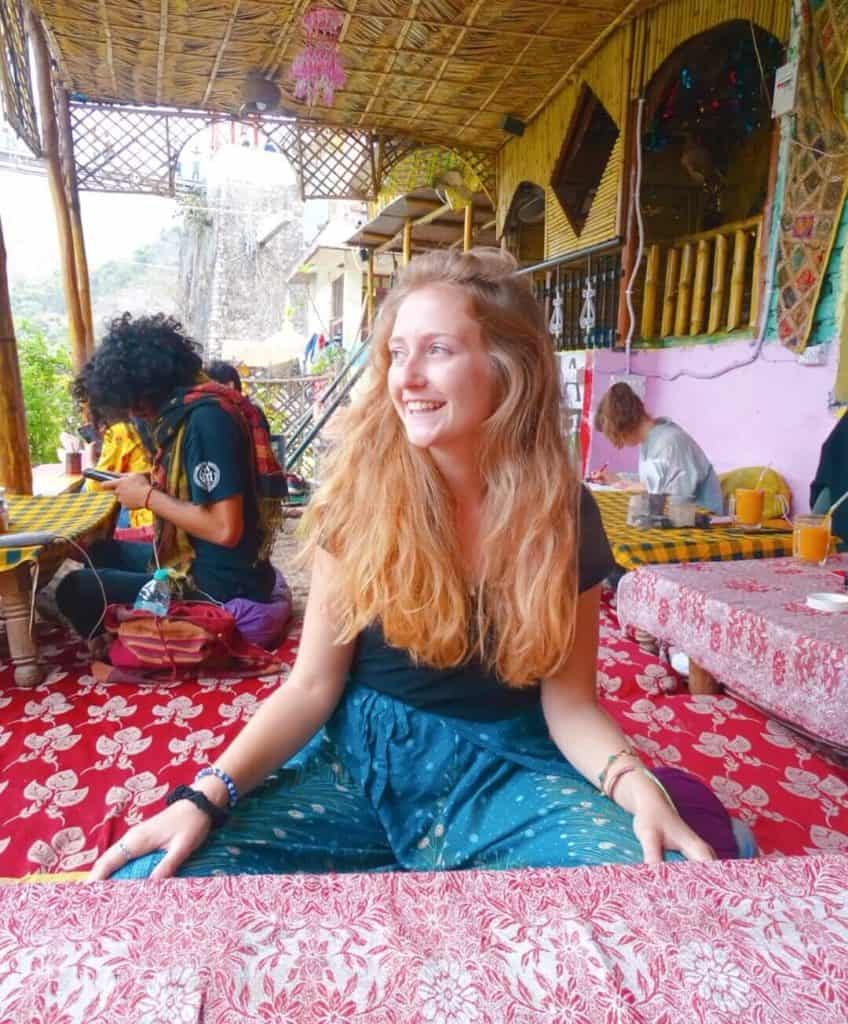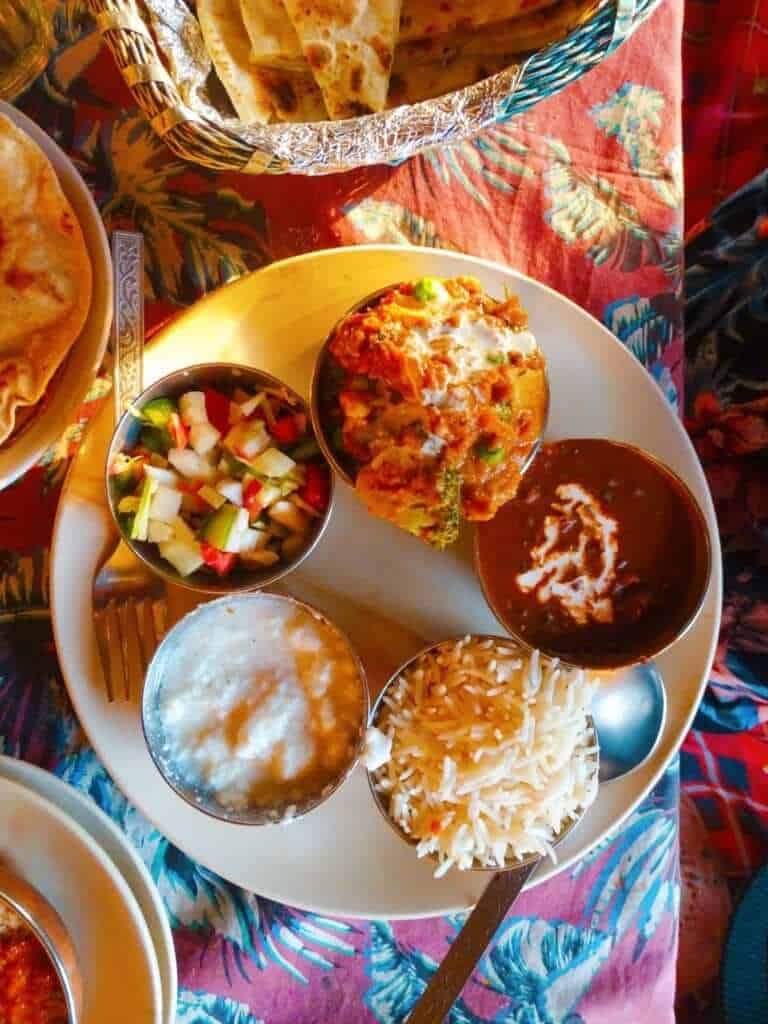 Freedom Cafe
Not far from Little Buddha and down a side street right by the water, I loved Freedom Cafe.

For such a perfect location, it was relatively quiet when I visited although I'm not sure if that's because everyone was busy preparing for Holi. We had no trouble bagging the best seat in the house. Watching sunset over the water was blissful.
Shambala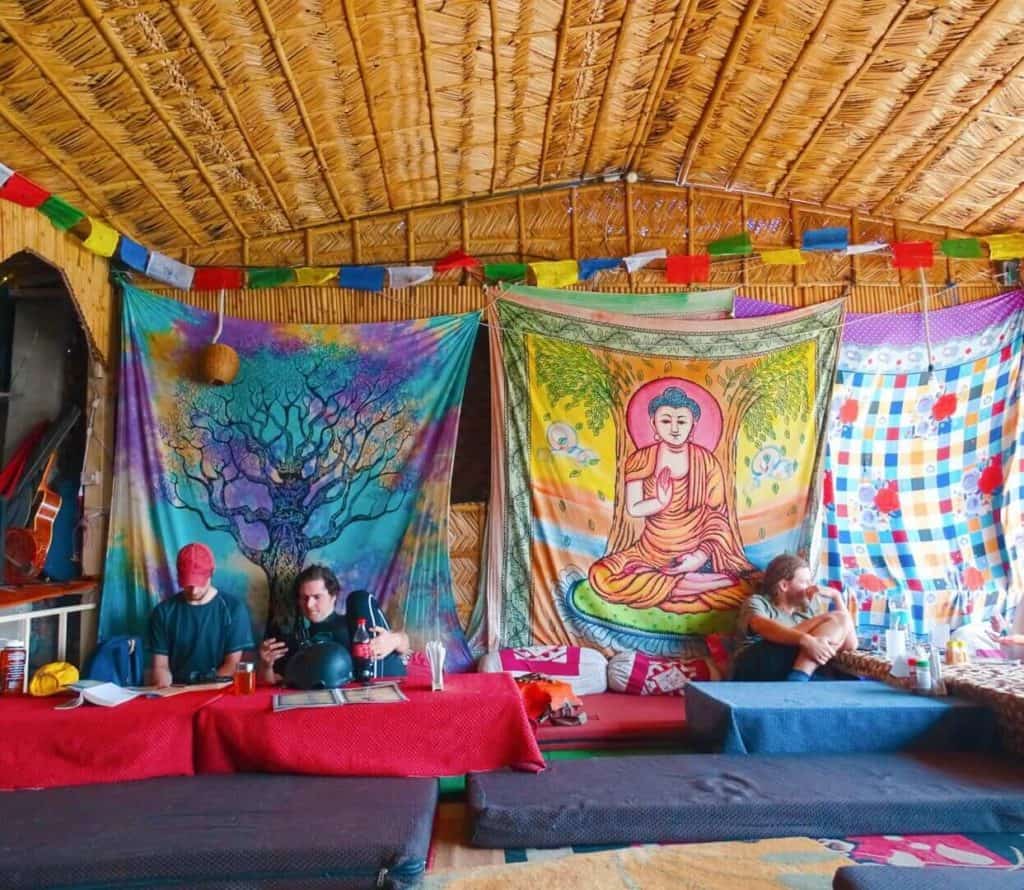 Shambala is another gorgeous cafe in Rishikesh, known for its colourful wall hangings and peaceful river views.

You'll find it on the other side of Laxman Jula, up the steps near the Beatles Cafe, Tat and Shanti Shanti. Spend a day hopping between these cafes if you have time.

Shambala is pretty cheap with veggie burgers starting at 100 rupees. Like the other Rishikesh cafes, you'll also find breakfast, soups, Indian food, Israeli food and more.

With colourful cushions and wall hangings, it's one of the best Rishikesh cafes for whiling away a day beside the Ganges.
Cafe Dream
Authentic Korean food in India? If there's anywhere to find it, it's Rishikesh!

This is not a cafe you'll find the locals dining at but I can't fault the food or atmosphere at Cafe Dream. The gimbap was really tasty and the bibimbap looked good too.
Read next: My Korea food guide based on my travels to South Korea!
Tat Cafe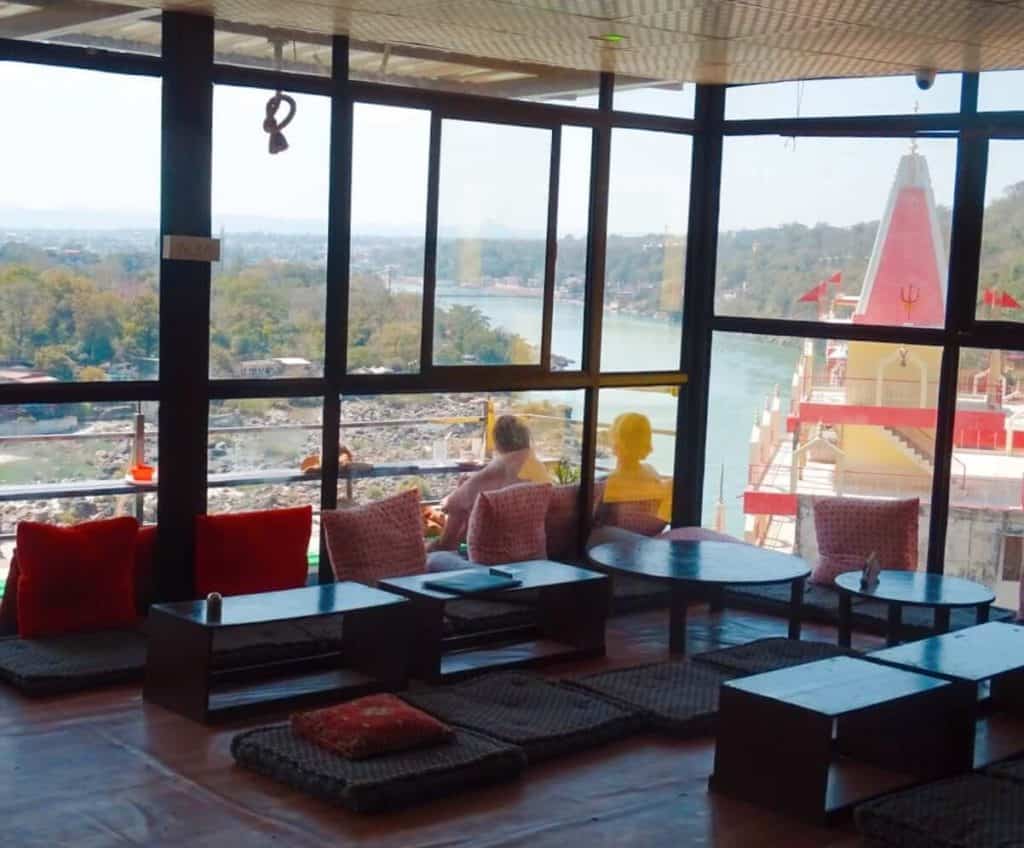 Next door to Shambala is Tat Cafe, a lovely spot run by a friendly local gentleman who chatted to me over my breakfast.

The inside is cute but the highlight was the outside bar where you can eat breakfast and forget your cares while watching the roaring Ganges.

Animal lovers will like it here because you can spot monkeys (just don't let them steal your breakfast!), curl up with the resident cat, or watch a local cow come to get his daily breakfast!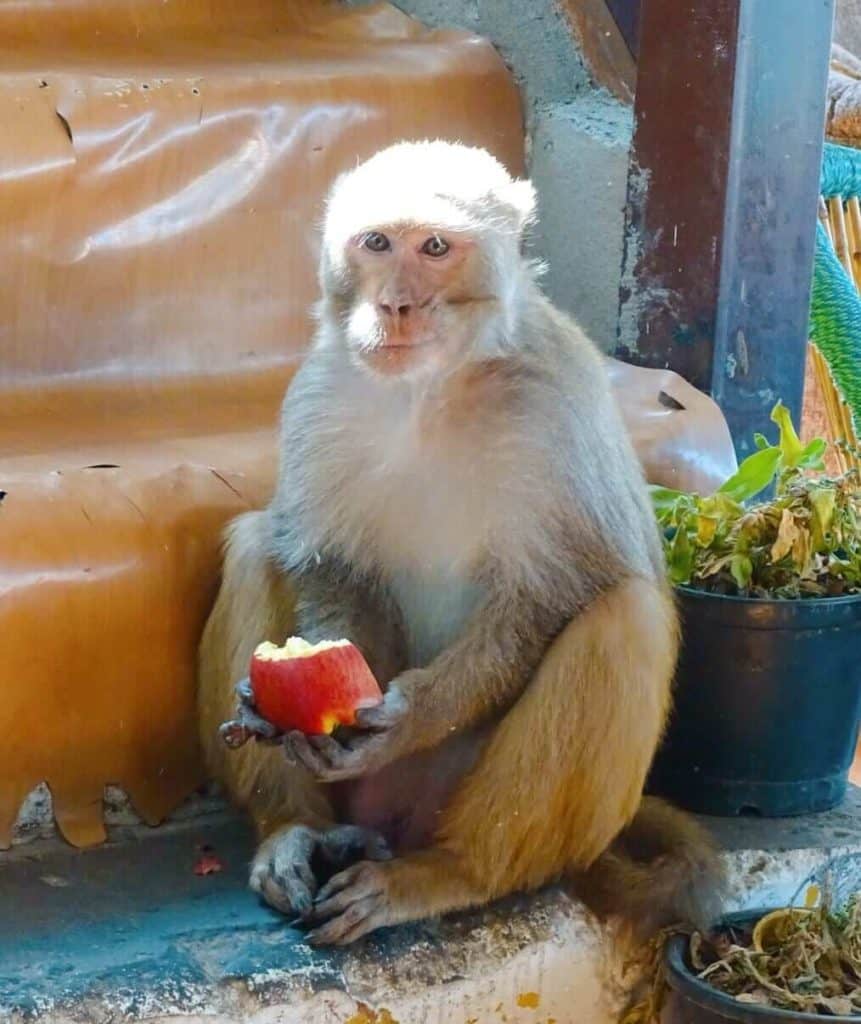 The Beatles Cafe
Well, you can't come to Rishikesh and miss the Beatles Cafe!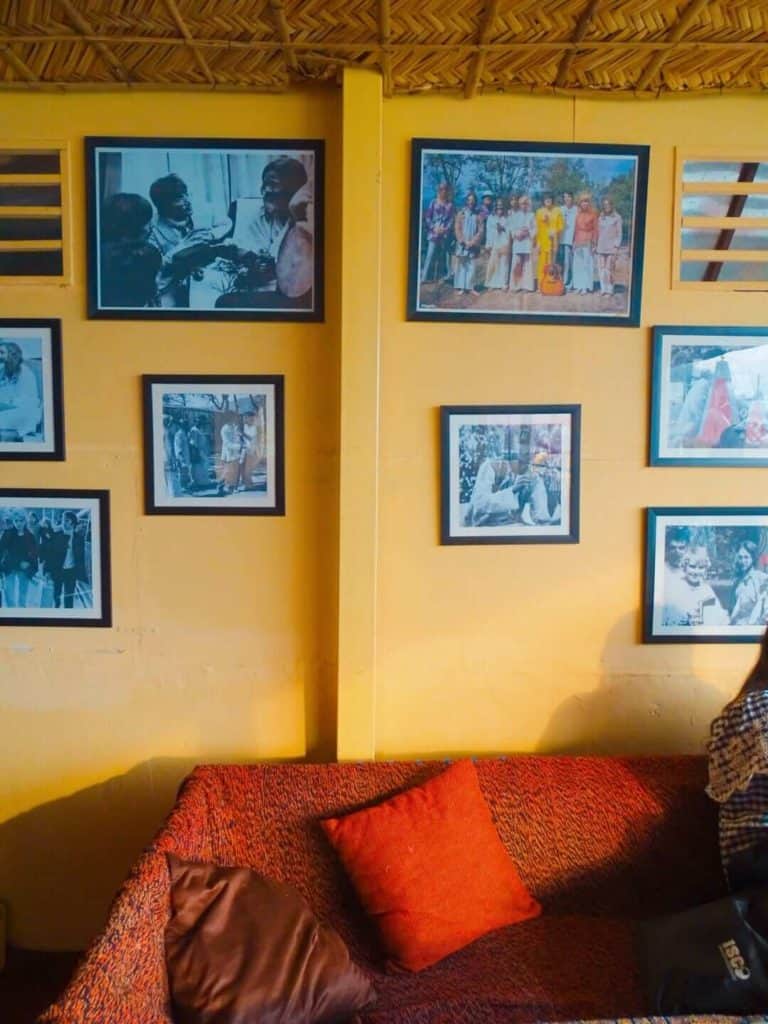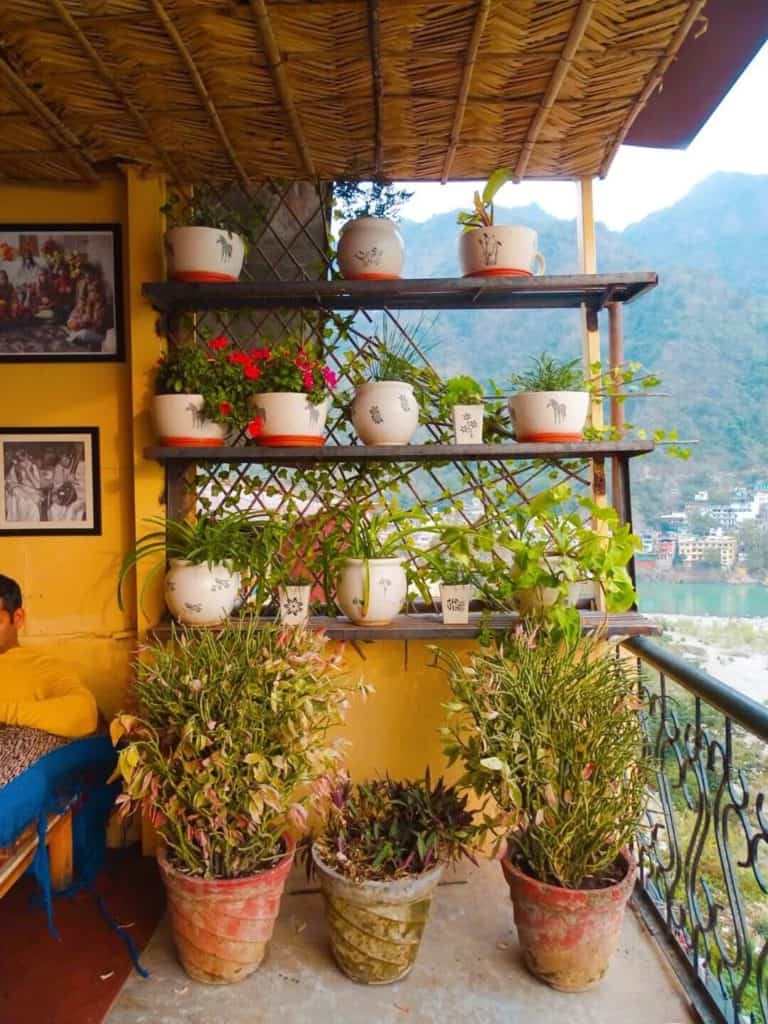 Actually, I didn't think this was the best cafe in Rishikesh but I'm glad I ticked it off. There aren't quite enough tables so it's tough to grab a seat, even though there's loads of empty space in the middle of the cafe.

The Beatles decor wasn't as impressive as I anticipated but this was all made up for by the wonderful 1960s playlist. Can't beat a bit of California Dreaming while staring out over the mountains!

I only came in for a drink but I'm assured the veggie burgers are out of this world.
Devraj Coffee Corner German Bakery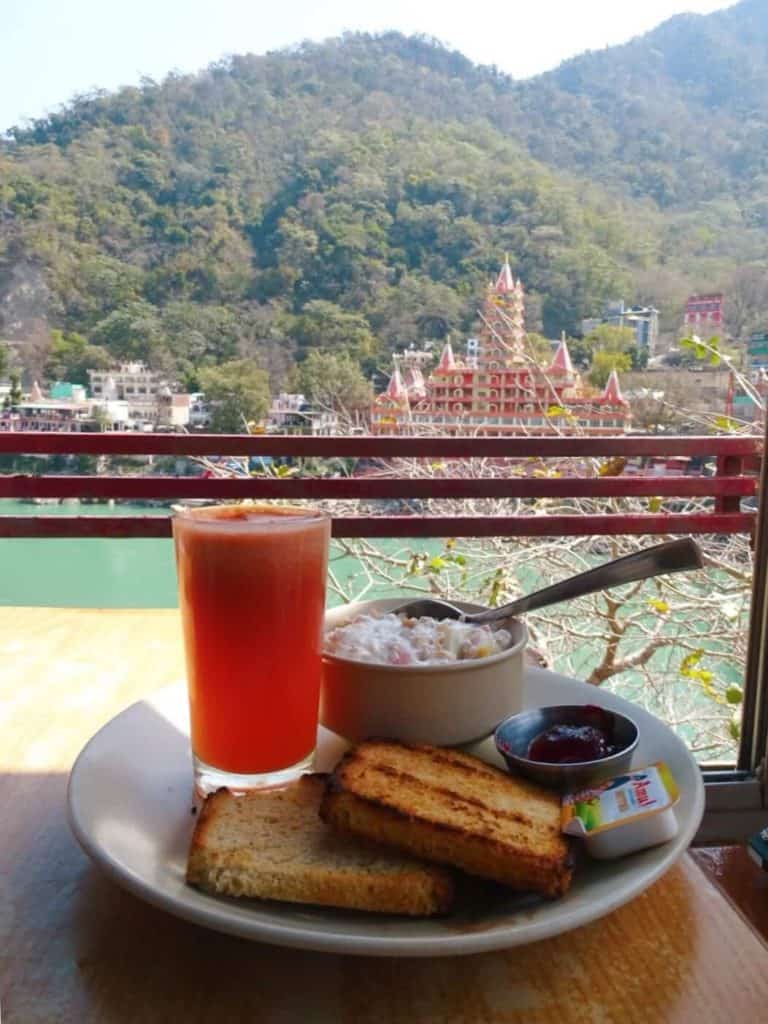 I searched long and hard for the best cafe view in Rishikesh and I think I found it. Devraj is one of many German bakeries in Rishikesh; they love them here even though most of the goods they serve seem French to me.

Bag an outward-facing table and you'll have the perfect view of Trayambakeshwar Temple, the most iconic site in Rishikesh.

Even though Devraj is open until the evening, it's an ideal breakfast spot. As well as baked goods, you can choose between the set breakfasts which are around 250 rupees including a juice and hot drink. I had a healthy breakfast which came with fruit, yoghurt, museli and toast.
Pumpernickel German Bakery
On the topic of German bakeries, there's a spot in Rishikesh that coffee lovers shouldn't miss. The general consensus from locals and long term tourists is that Pumpernickel serve the best coffee in Rishikesh. I can't argue, especially since they top it with cute animal latte art.

They do all sorts of food here but the cakes and pastries are especially good. Don't miss the rich and indulgent chocolate balls.
The Treehouse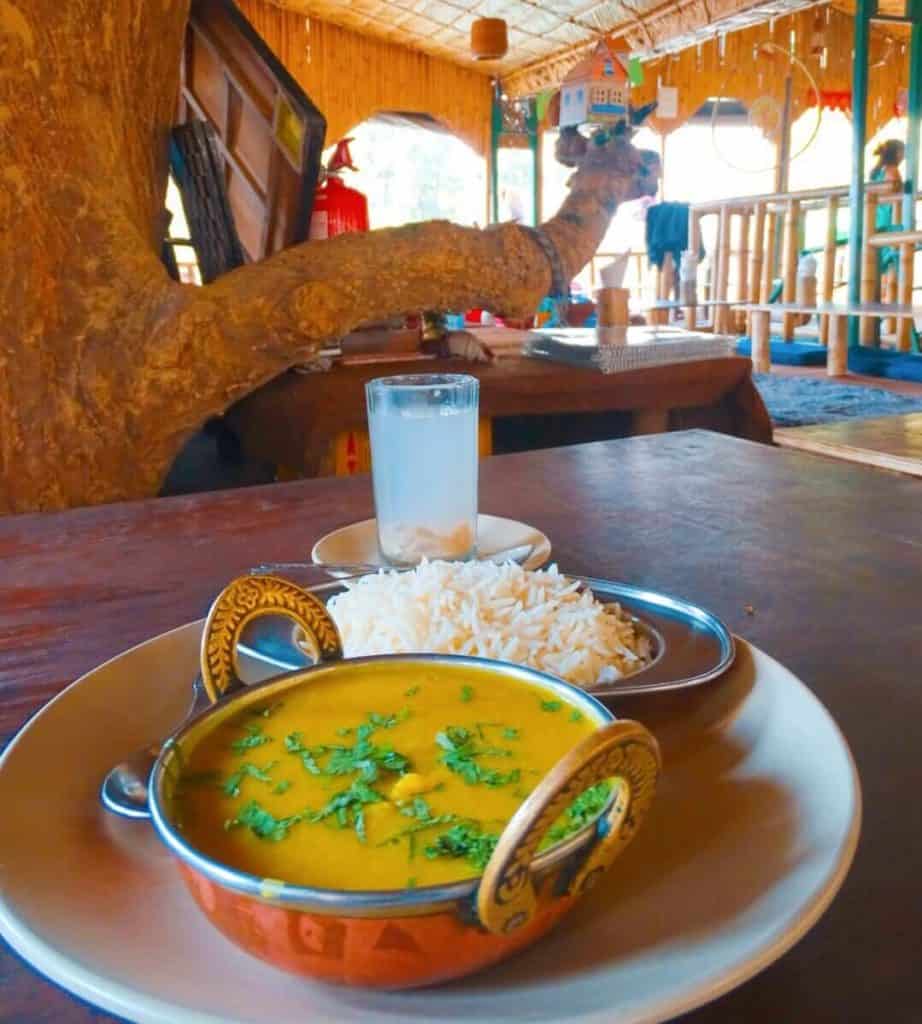 This cute cafe is well worth the walk out of town. It's on the road between Laxman Jula and Riverside Beach, so you can stop off as a rest point if heading for a beach day.

The menu is no different from any other Rishikesh cafe but the treehouse interior is totally unique. They're also one of the few Rishikesh cafes to offer daily live music which is definitely a reason to visit in the evenings. It's on until 10pm which is a late-night by Rishikesh standards!
Ganga View Cafe
This is another lovely cafe on the same road as the Treehouse but a lot nearer to the bridge. It's one of my favourite cafes in Rishikesh because the decking juts out over the Ganges so you feel at one with nature.

Rather than the hippie colourful wall hanging and cushions that are standard for the Rishikesh cafes, Ganga View Cafe is very minimalistic: white walls with illustrated leaf stencils. Very Bali.

As well as the food menu, there's a bakery and coffee shop at the front. If you're looking for decent cakes, this is a winner.
Cafe Power of Thoughts
If you want to escape the crowds and support a local family, I'd highly recommend Cafe Power of Thoughts. It's quite new and a bit of a walk from the other Rishikesh cafes but don't let that stop you.

As well as the pink interior and inspiring wall quotes, I really liked the outside area where you can sit and face the Ganges. The husband and wife who run it are so friendly and cook all the food themselves.

Everything was super tasty and I felt I did a good deed by visiting.
Shanti Shanti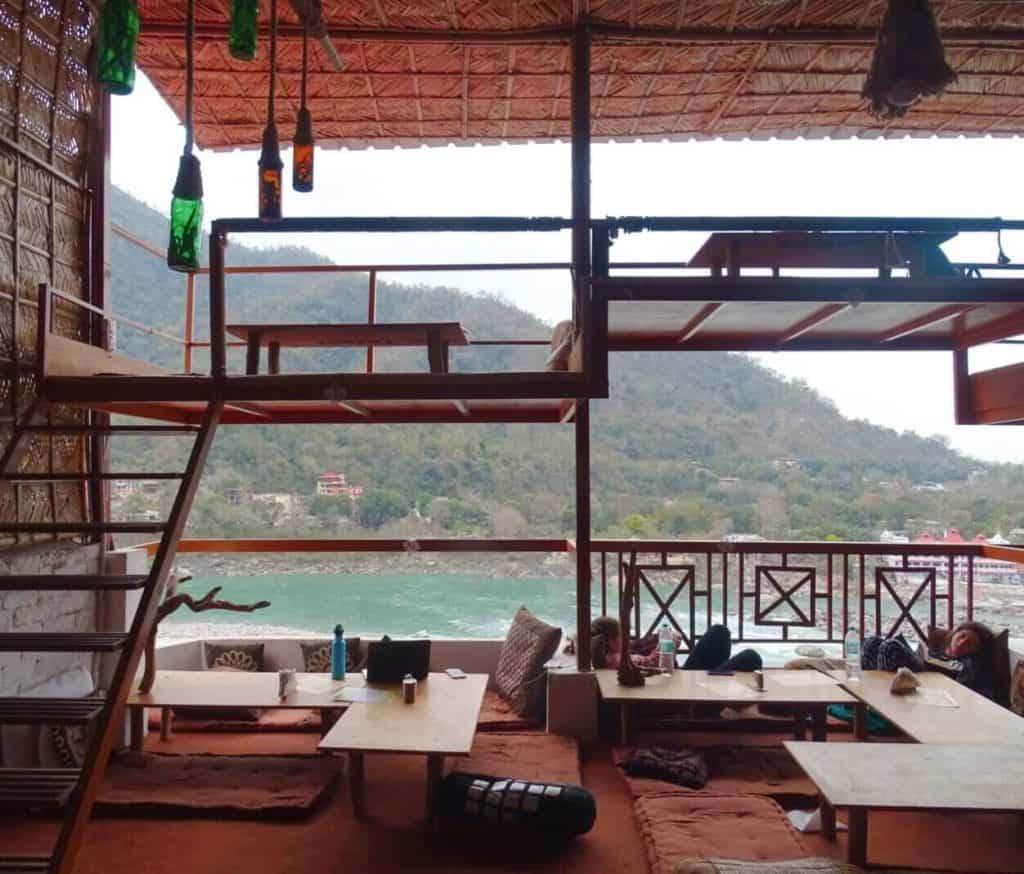 I'd been wanting to check out Shanti Shanti for ages and only made it there on my last morning in Rishikesh. It was indeed dreamy but I think more for the setting than the food.

Unlike the best Rishikesh cafes, they don't have a breakfast menu (though they will make it if you ask) and there aren't as many options as some places. But the restaurant interior is 10/10 and I loved the double-decker tables. The ideal spot for a sunset view!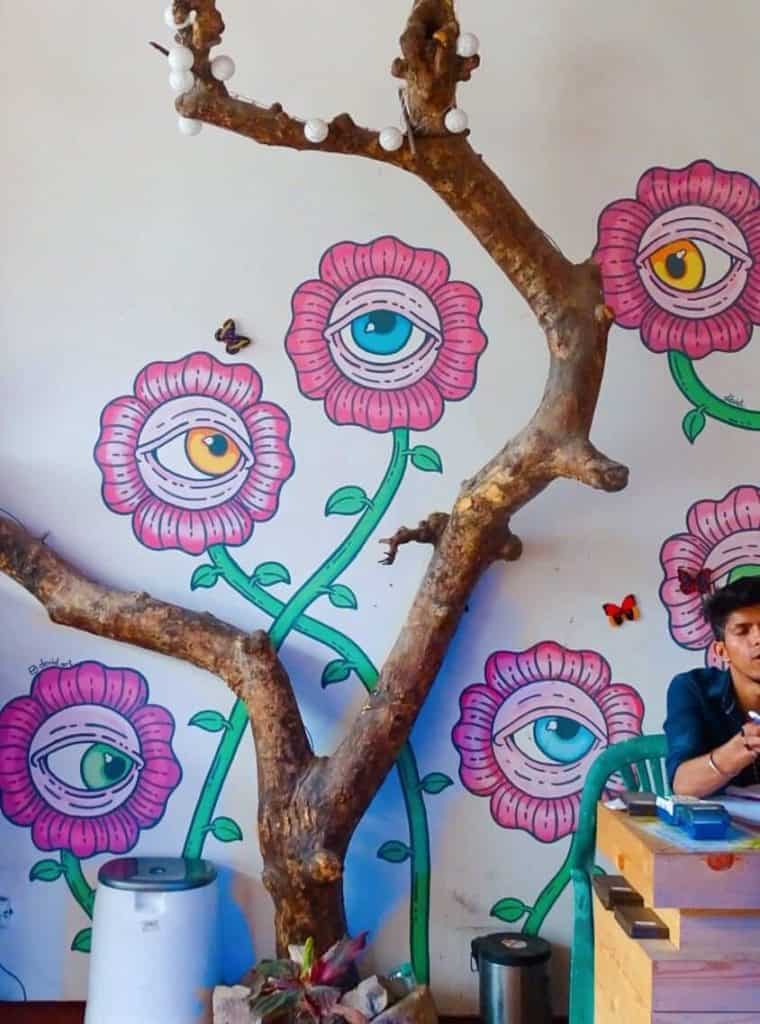 Indian restaurants in Rishikesh
However tempting it is to hang out in the Rishikesh cafes all day, I'd urge you to dig into some authentic local food which will be even cheaper than the cafe fare.
Rajasthani Restaurant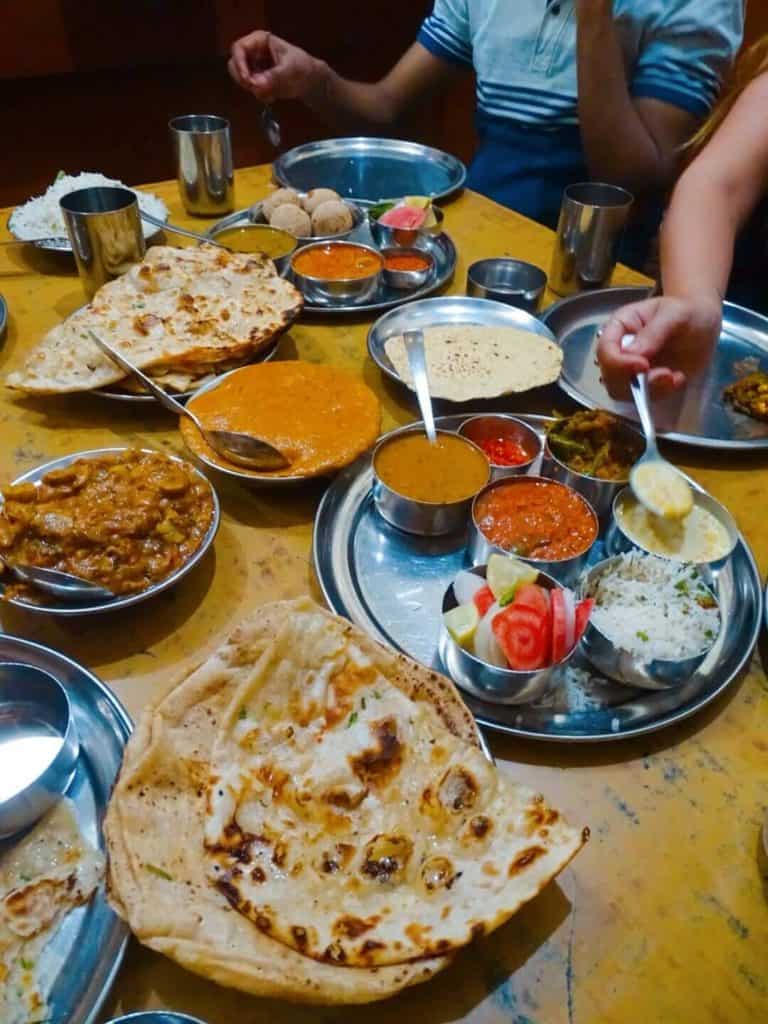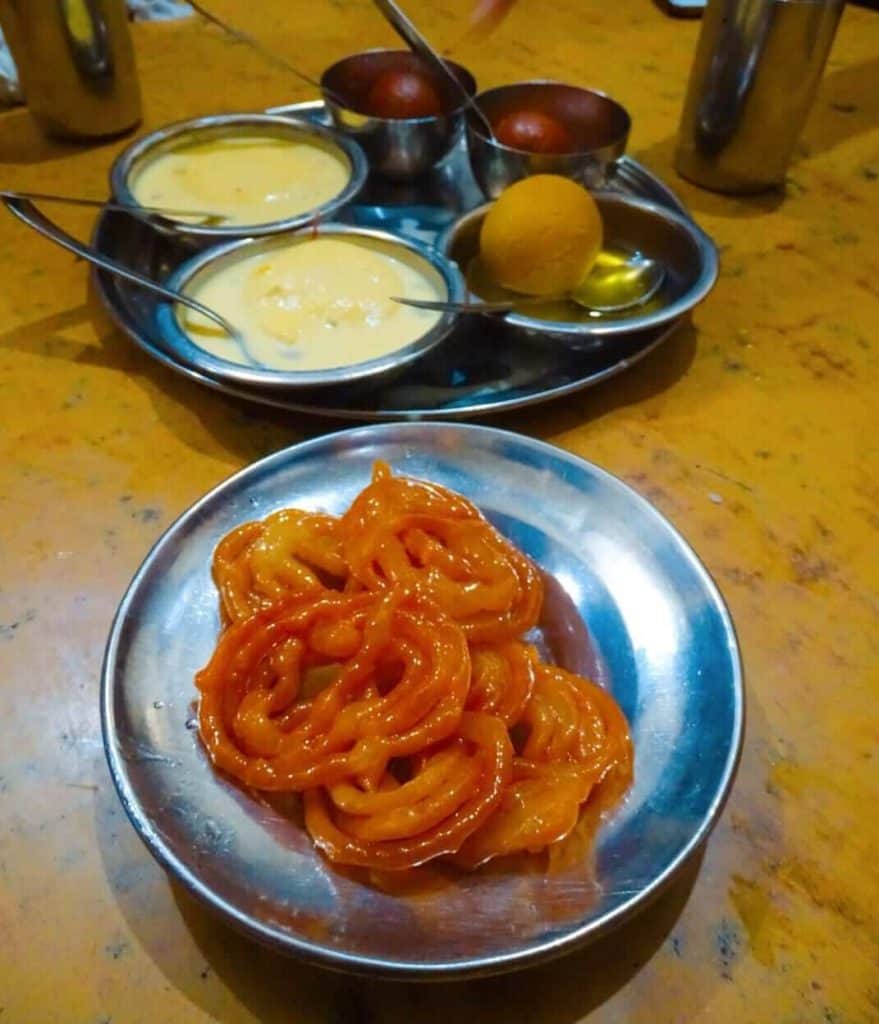 Making Indian friends is always a good idea, especially if they can tell you the best places to eat local food in Rishikesh. The hostel staff at Shiv Shakti took us on days out, one of which finished at Rajasthani Restaurant, famed for its savoury and sweet food.

We tucked into a total feast of paneer butter masala, mushroom masala, dal baati, thali, rice, naans and a selection of Indian desserts and only paid 180 rupees each. I couldn't believe how cheap it was!

This local restaurant is always packed and slightly away from the tourist area but don't let that deter you. Catch a tuk-tuk from this point pinned which will take about 15 minutes. The restaurant is very near Triveni Ghat so if you're heading to the fire show, it's the perfect dinner spot for after.

The sweet counter is the best I've ever seen – as well as the usual ones, Rajasthani makes them in the shape of apples, roses and strawberries. Too cute!
Madras Hotel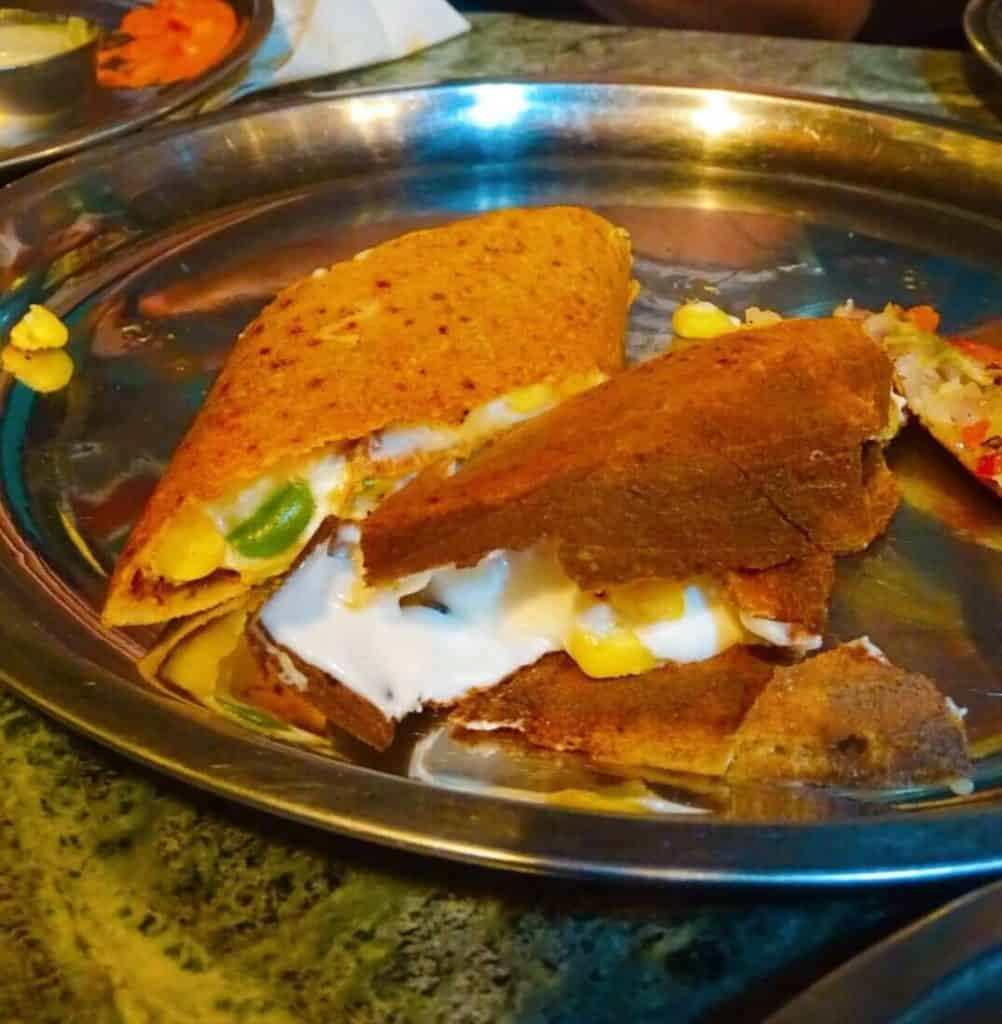 This photo really doesn't do justice to the incredible local food at Madras Hotel. This restaurant is famed for its dosas and serves over 200 varieties. Whether you like spicy, cheesy or veggie, there's something for everyone.

They also do fusion varieties including a pasta dosa. However weird that sounds, it was actually really delicious. Alternatively, you can order thin and crispy plain dosas with a selection of dips.

Madras Hotel is on the same road as Rajasthani Restaurant so it's another excellent stop on the way to or from Triveni Ghat. We paid 200 rupees each when sharing six dosas between six people, and we all had a mango lassi.
Mamta Restaurant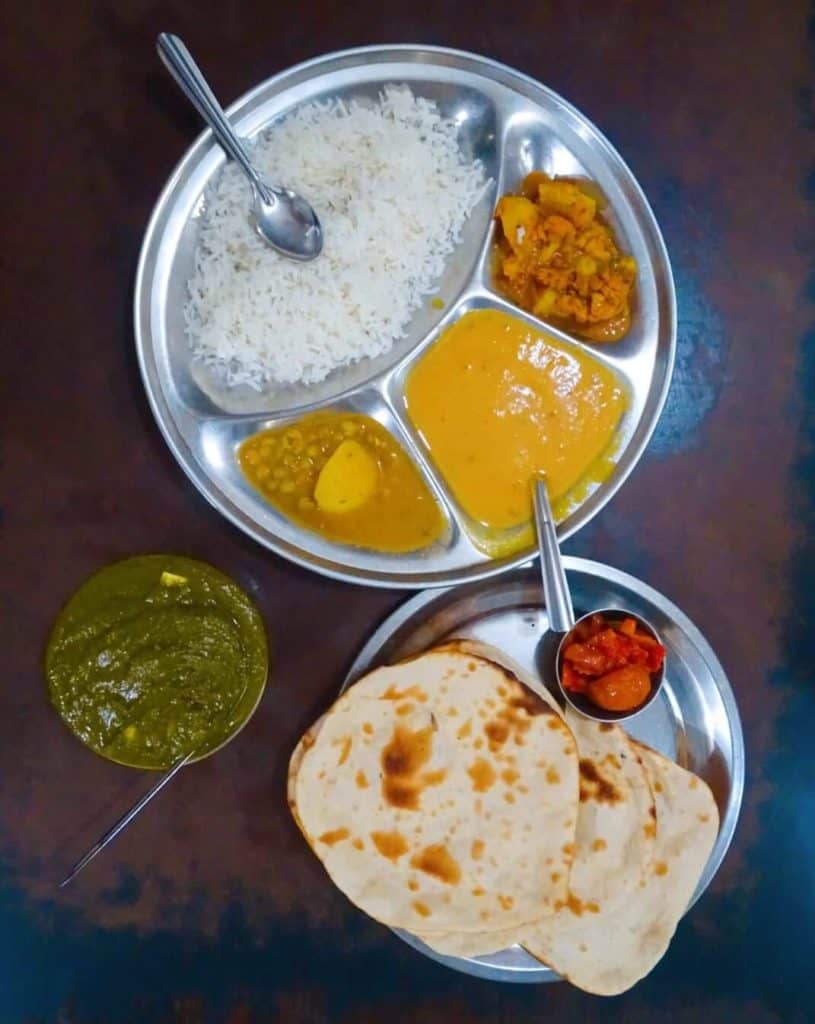 I loved this typical North Indian meal at Mamta Restaurant. My friend and I shared thali, palak paneer, chapatis and a garlic naan which was debatably too much food but oh well 😉

It was rich, tasty and very cheap (I can't remember the exact price but I think around 150 rupees each).

Along with the other local Indian restaurants in this part of Rishikesh, Mamta is open for breakfast, lunch and dinner, getting very busy and atmospheric from 7pm.

I heard that it's one of the original thali restaurants in Rishikesh: I'm not sure if this is true but it certainly tastes authentic.
Thanks for reading my Rishikesh cafe guide!
Check out my other India blogs:
See you next time for more adventures,
Rose
For more travel content, follow me on Instagram, Facebook, Twitter and YouTube.
Ps. Liked my Rishikesh cafe guide? Pin it for later!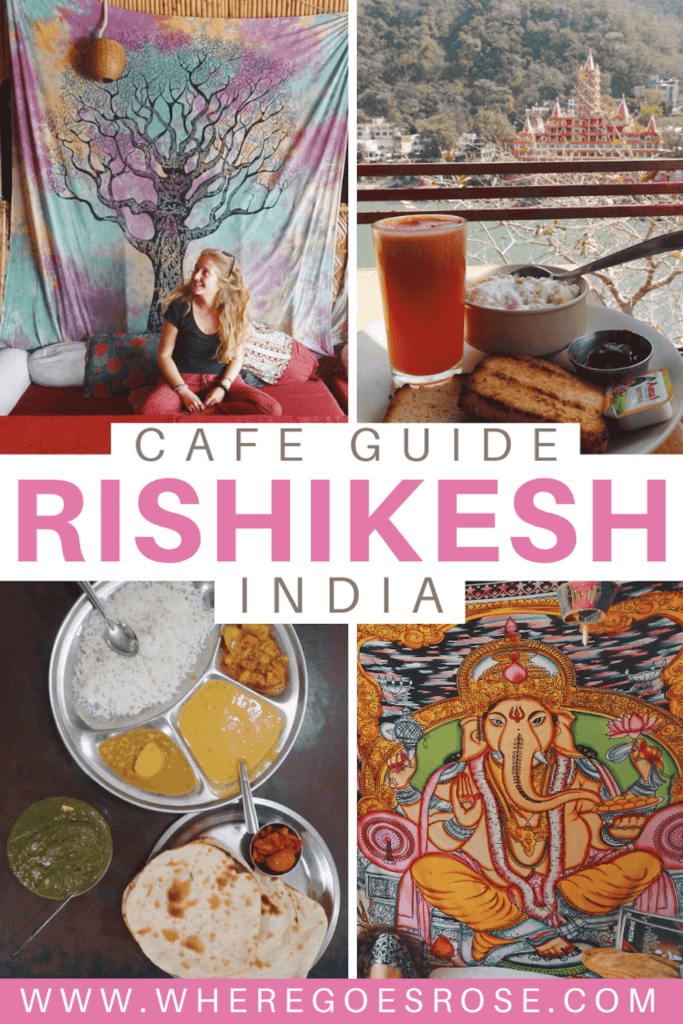 VISITING INDIA?

These are my trusted resources:

Getting around by air – it's easy to get between cities by flight. I use Skyscanner and search by whole month to find the best value dates.

Buses – buses are comfy and efficient. Use 12Go to book.

Trains – these are a good option for long journeys because you have a bed rather than a seat. Use 12Go to book.

For hotels, I use Booking.com – they also have self-catering apartments. You can filter by review score and price to find the best-rated budget places. For hostels, I use Hostelworld.

Browse tours and activities on GetYourGuide. I also check Viator and Klook in case they have a better price.

For food experiences with passionate local chefs and foodies, check out EatWith.

Pack the latest copy of India Lonely Planet.

Need travel insurance? I use True Traveller (for UK & Europe residents) since it's affordable but covers everything you'd need including various activities, valuables and pre-existing conditions. Unlike some companies, they insure you if you're already travelling / don't yet have your flight home booked. Get a quote.

For travel insurance for other nationalities, I recommend Hey Mundo and for long-term digital nomad travellers, I suggest Safety Wing.

Check out my resources page for more travel discounts and tips!