This post may contain affiliate links to things like tours, hotels, Amazon associates and products. These help me earn a small commission at no additional charge to you.
Welcome to my Prague food guide! There are so many reasons to visit the gorgeous city of Prague: the buildings are stunning, the history is fascinating and the nightlife is… messy, to say the least!

The food wasn't necessarily why I visited Prague but it certainly exceeded my expectations, as did Prague in general. I was hosted on a food tour and got to try some of the best food in Prague through the guide's excellent recommendations.p
Prague Food Tour by Eating Europe
It was my first time taking an Eating Europe tour and in fact, my first food tour in Europe. I can't even count how many I've taken in Asia during the last year so I was curious to see how they'd compare.

Price tags are obviously higher in Europe but you do get more for your money. During the Prague Walking Food Tour, we ate at cafes and restaurants rather than street food stalls. Wine and beer were also included, something that's rarely the case in Asia.

Overall, I really enjoyed the Eating Europe tour. As well as tucking into some of the best foods in Prague, we learnt about the history and culture of the Czech Republic which is always good in my book!
What to eat in Prague
I discovered many of these foods below thanks to Eating Europe and a few through wandering and grazing my way around Prague.

The Prague cuisine may be hearty, stodgy and meaty but I have to stay I liked it. The meals I ate were satisfying and warming. At least I never went to bed hungry!

Read my other Europe food posts:
Let's start with the best things to eat in Prague and move onto the top places to try them.
Svickova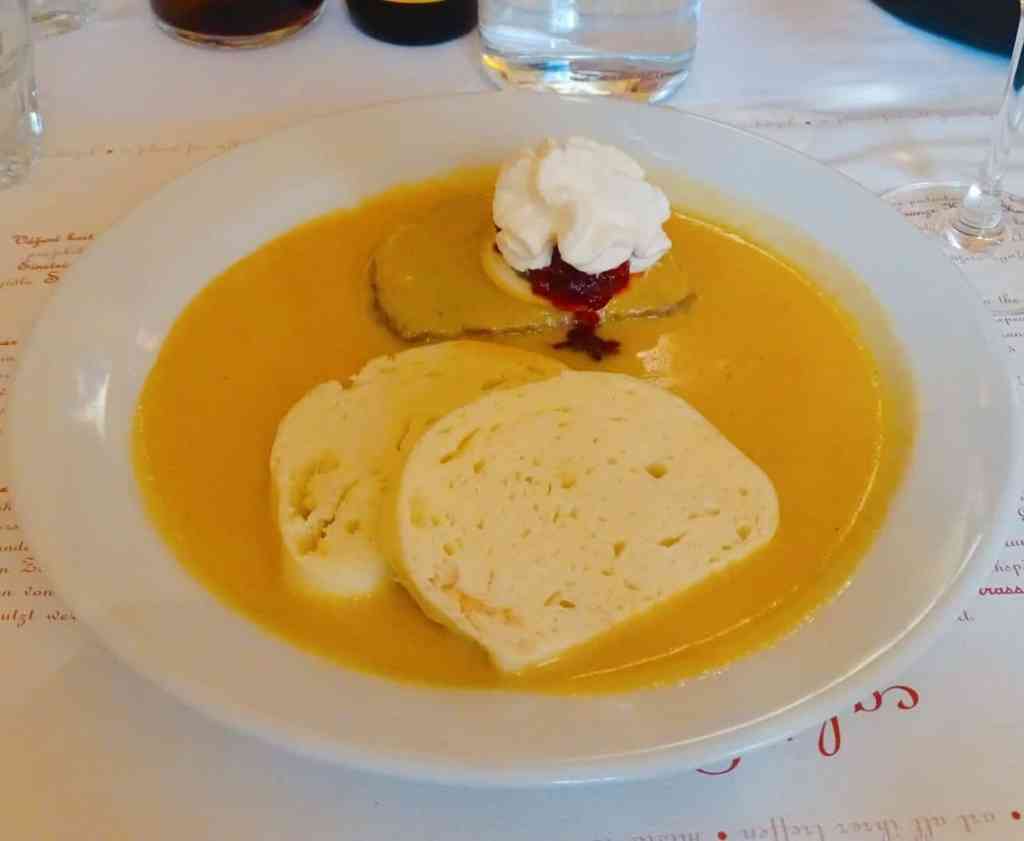 You should try svickova in Prague simply because it's the Czech national dish. I ended up eating it twice in three nights although I'm not 100% sold.

It consists of bread dumplings, braised beef, cranberry sauce, a dollop of cream and a sauce made from parsnip and other veggies. The combination of beef and cream reminded me of the Friends episode where Rachel mixes up a cottage pie and trifle. But at least I can say I tried it!

You don't need to pay a lot for svickova because you can find it everywhere from casual cafes to cheap pubs. But to guarantee a good un', head to Cafe Louvre. Their svickova was fresh, well presented and served in gorgeous surrounds.
Goulash
Goulash is a traditional food in Prague but it's not unique to the country. Both Hungary and Slovakia have it as a national dish, also having been part of the Austro-Hungarian Empire. Whoever it belongs to, it's really warming and hearty.

Goulash is a rich stew made with beef or pork and bread dumplings, usually flavoured with paprika, onion and other veggies. It's been eaten in these parts for hundreds if not thousands of years. Dig in!
Chlebičky (open sandwiches)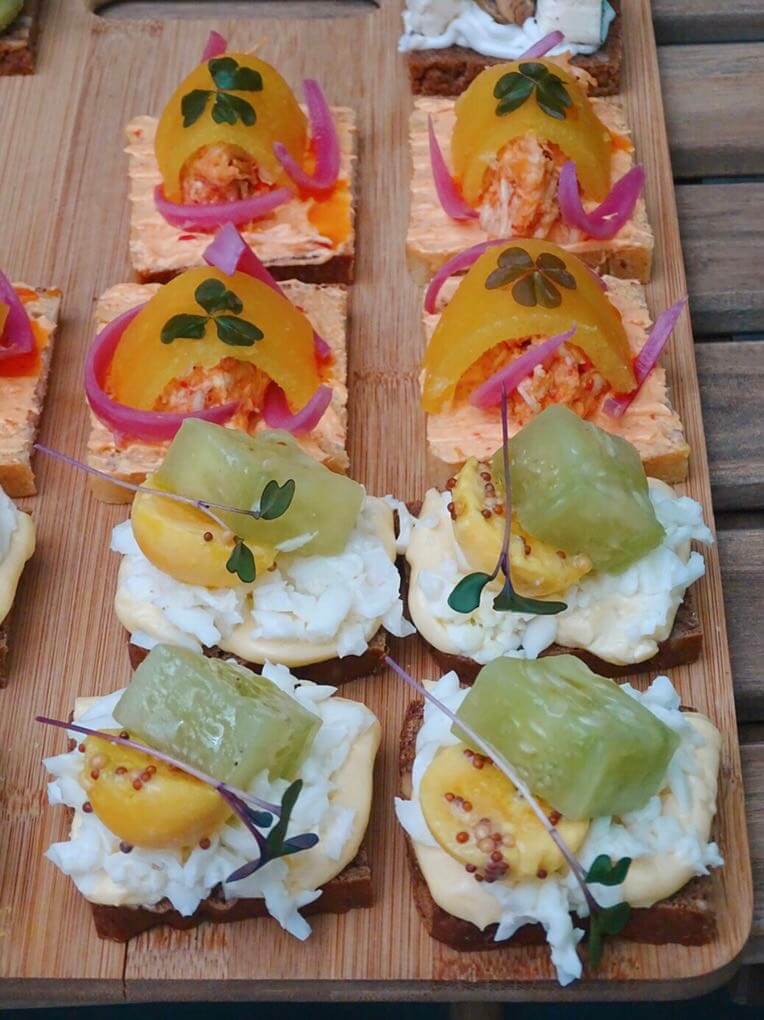 One of the best things to eat in Prague is chlebičky, otherwise known as open sandwiches. These remind me of the ones eaten in Denmark only without seafood. Our guide explained that Denmark, Holland and the Czech Republic all started serving them around 120 years ago, each claiming they'd invented them. I guess we'll never know!

There are various chlebičky toppings to choose from including chicken paprika, egg salad and ham. I could graze on them all.day.long.
Perníky (gingerbread)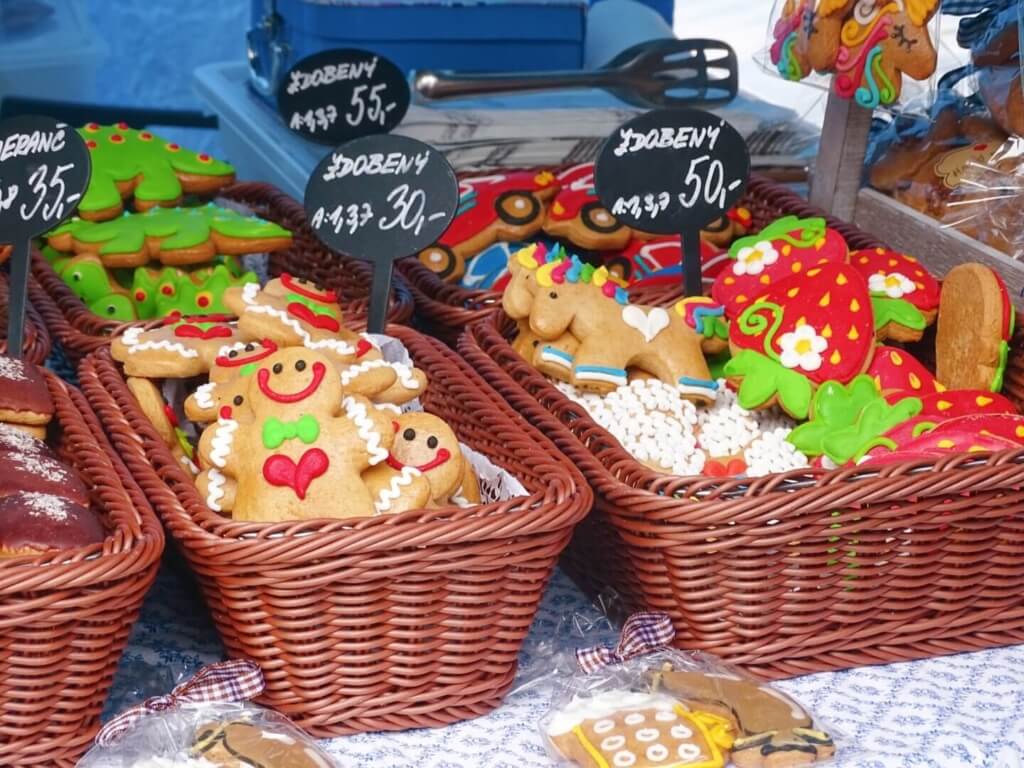 What to eat in Prague for sugar fiends? Adorable gingerbread men are found at Christmas markets worldwide but they originated from this part of Europe. Many people think of them as German but they're just as prevalent (and tasty) in the Czech Republic.

Known as perníky, these tasty biscuits are nowadays flavoured with ginger but they didn't used to be. Originally, they were eaten before a meal as a digestion aid. Now they're served as dessert and often decorated with cutesy designs from strawberries to unicorns.
Trdelník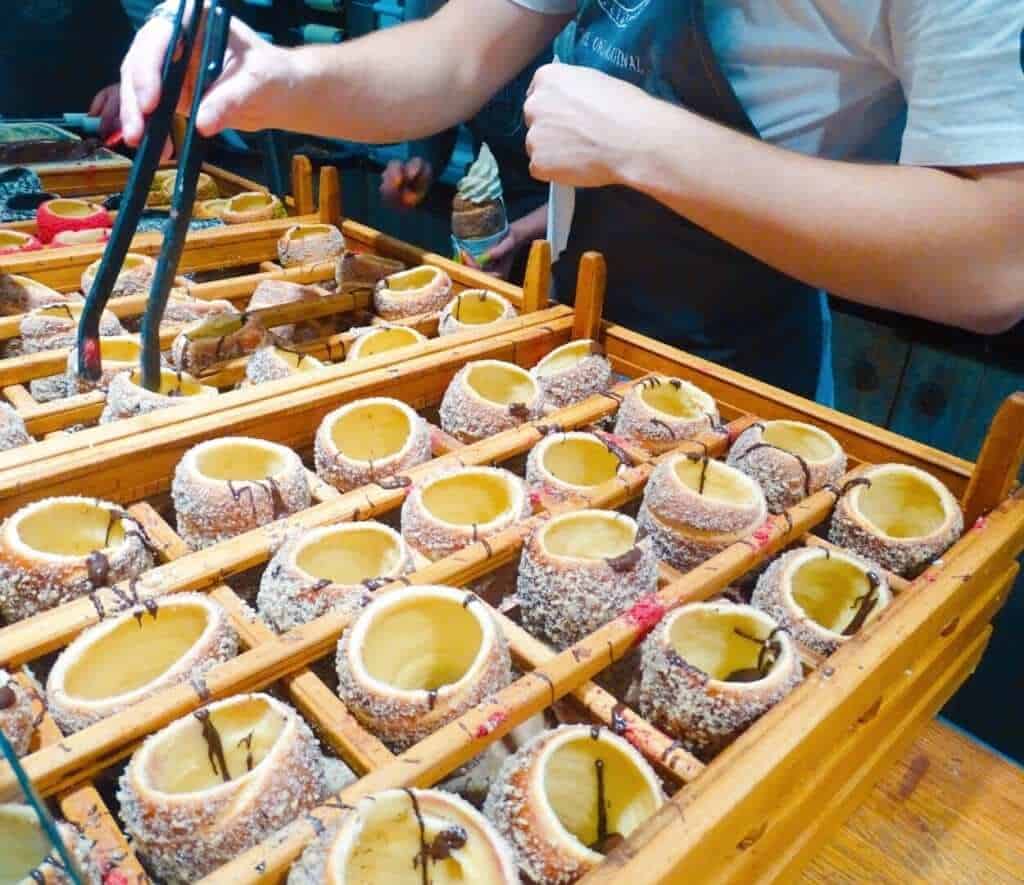 Translating as chimney cake or funnel cake, trdelník are popular around Hungary and the Czech Republic. Technically, Hungarians invented them but let's not be picky over details. Dig into as many as you can while in Prague, I say!

To make trdelník, dough is heated around a warm stick and then rolled in sugar and nuts. Typically, they're served hollow but nowadays you'll often find the insides spread with chocolate and other sweet ingredients.
Svatební koláče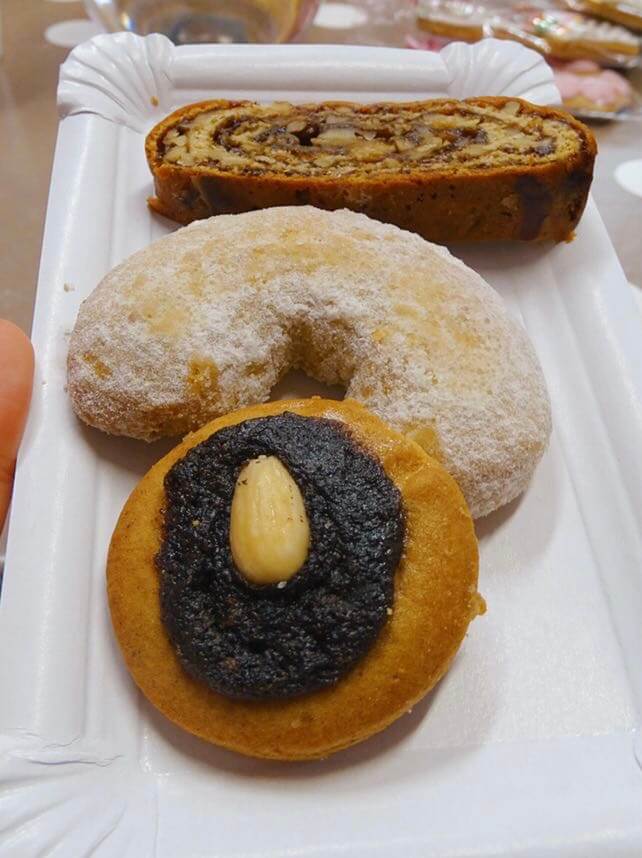 Poppyseeds for dessert? Believe it or not, this is a popular dish in the Czech Republic. You'll find sweet poppyseeds spread onto buns and cakes and even sprinkled onto potato dumplings as dessert.

Tip – koláč means cake and koláček means little cake, so look out for both words on menus if you have a sweet tooth!

Svatební koláče are known as wedding biscuits for no mysterious reason: they're commonly served at Czech weddings. They make for a tasty dessert or snack when paired with a hot beverage and can be found at cafes all over Prague and the Czech Republic.
Where to eat in Prague
There are so many cafes and restaurants in Prague from high dining to cheap-and-cheerful pubs, cosy Czech cafes and hipster coffee shops specialising in the universal flat white.

With relatively low prices, Prague is a place where you can really get stuck into the food and not pay over the odds for it.

Some of the best food in Prague is served at the establishments listed below. Enjoy!
Sisters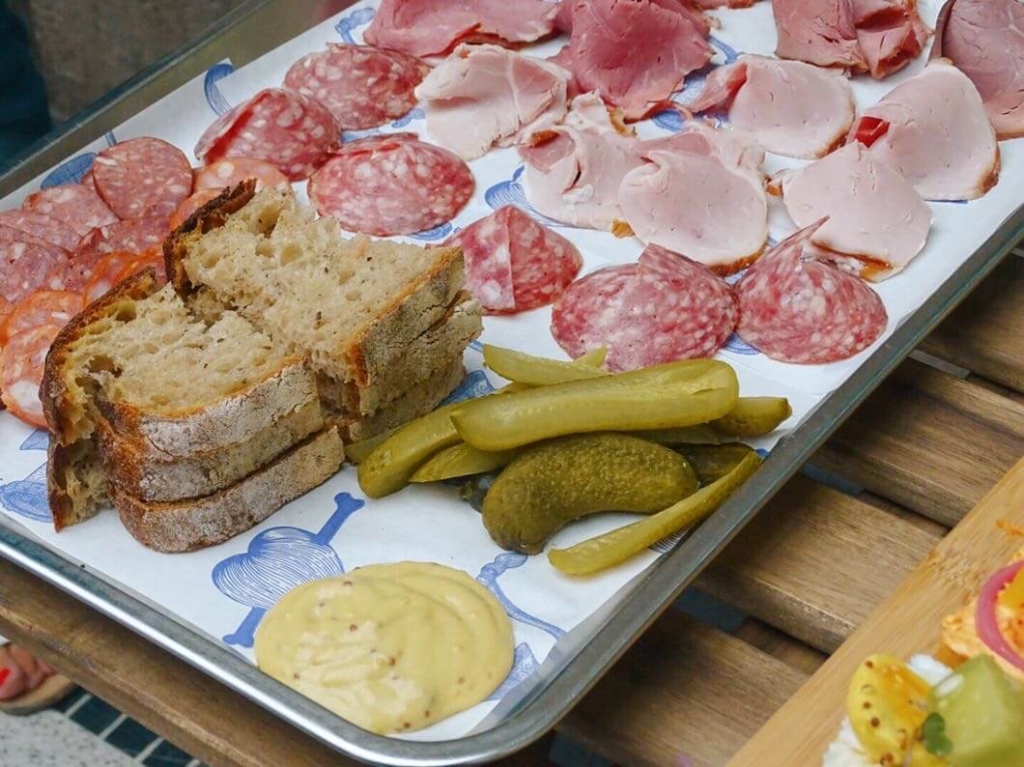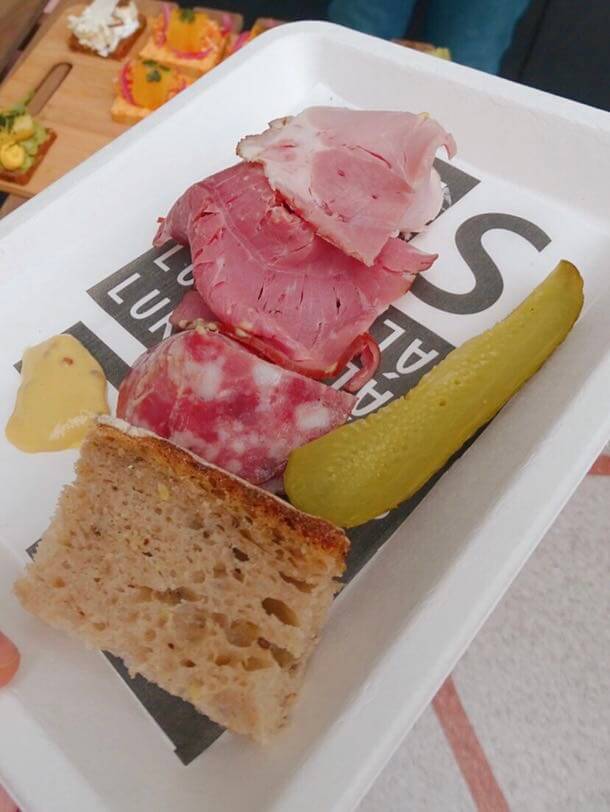 This covered street doesn't look like much but inside is one of Prague's best hidden gems, Sisters. From chlebicky open sandwiches to hams and flavoursome mustard, this is your one-stop for picnic prep.

Our Eating Europe guide purchased a spread of chlebicky and deli goods, informing us that we had to finish it as otherwise Sisters would be offended. No problem with me 😉

Check out the other cafes in the same building which also serve fresh, tasty deli goods.
Špejle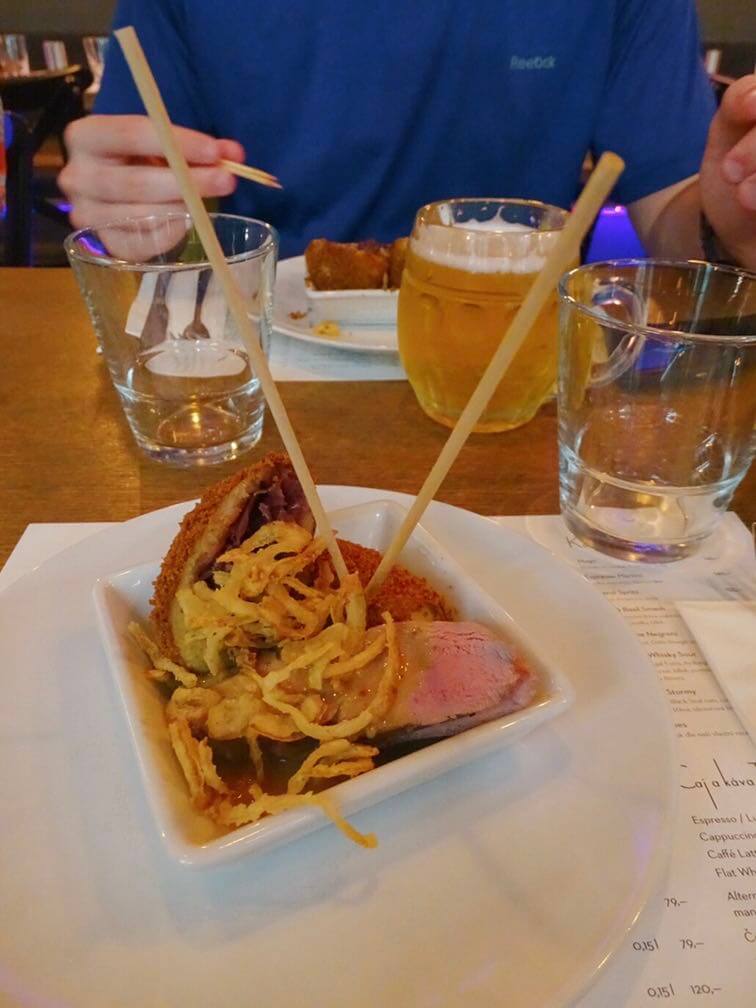 The word 'buffet' usually brings to mind a large volume of not very good food which I eat anyway to get my money's worth. This is not the case at Špejle.

At this gorgeous sit-down restaurant, you can sample some of the best food in Prague and pay for what you consume. The dishes come speared with cocktail sticks which get counted up before you leave to calculate the total of your bill.

As well as the idea being quite novel, the food is excellent. I had the roasted duck served with red cabbage-stuffed potato dumplings, crispy onions and a gingerbread dusting. Washed down with a cold Czech beer, it was heavenly.
Don't forget to Czech out (sorry I couldn't resist), the courtyard of Špejle which boasts one of Prague's greenest and most impressive buildings. Lined with real plants, it won the architect the highest award for sustainability. Go Prague!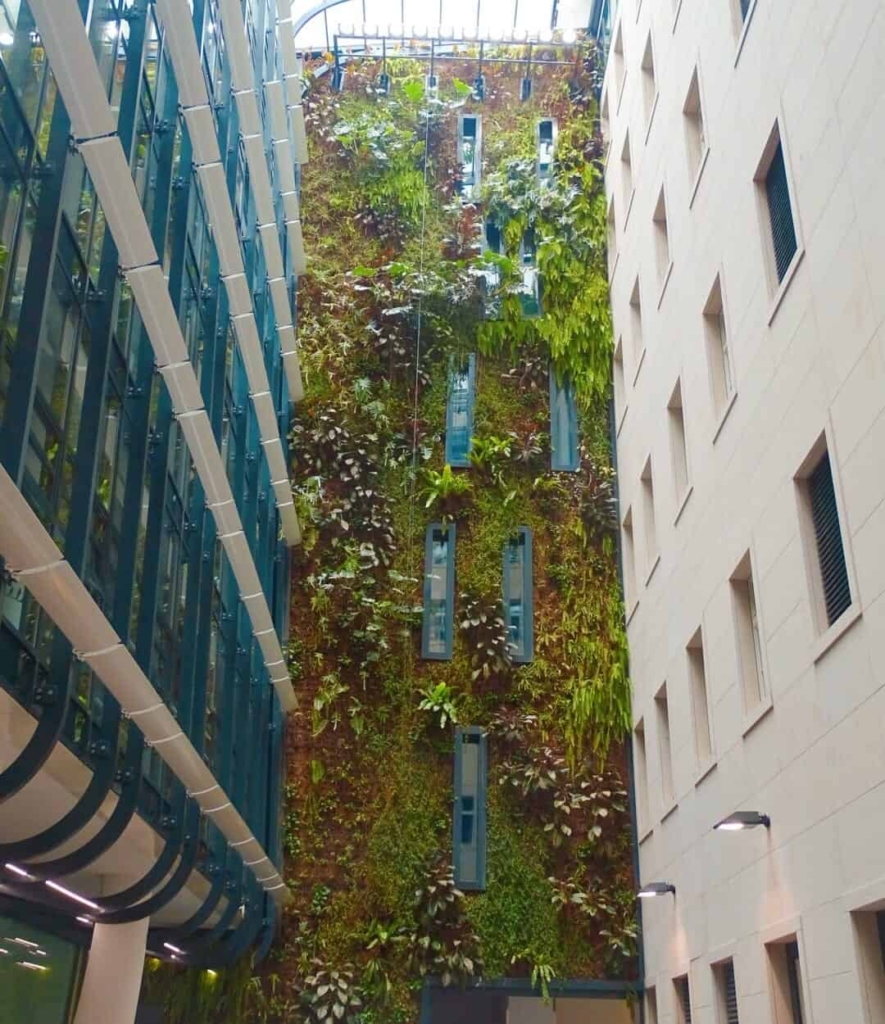 Cafe Louvre
For a glimpse into old Prague, and to say you've dined at a haunt of Albert Einstein's, take a trip to Cafe Louvre.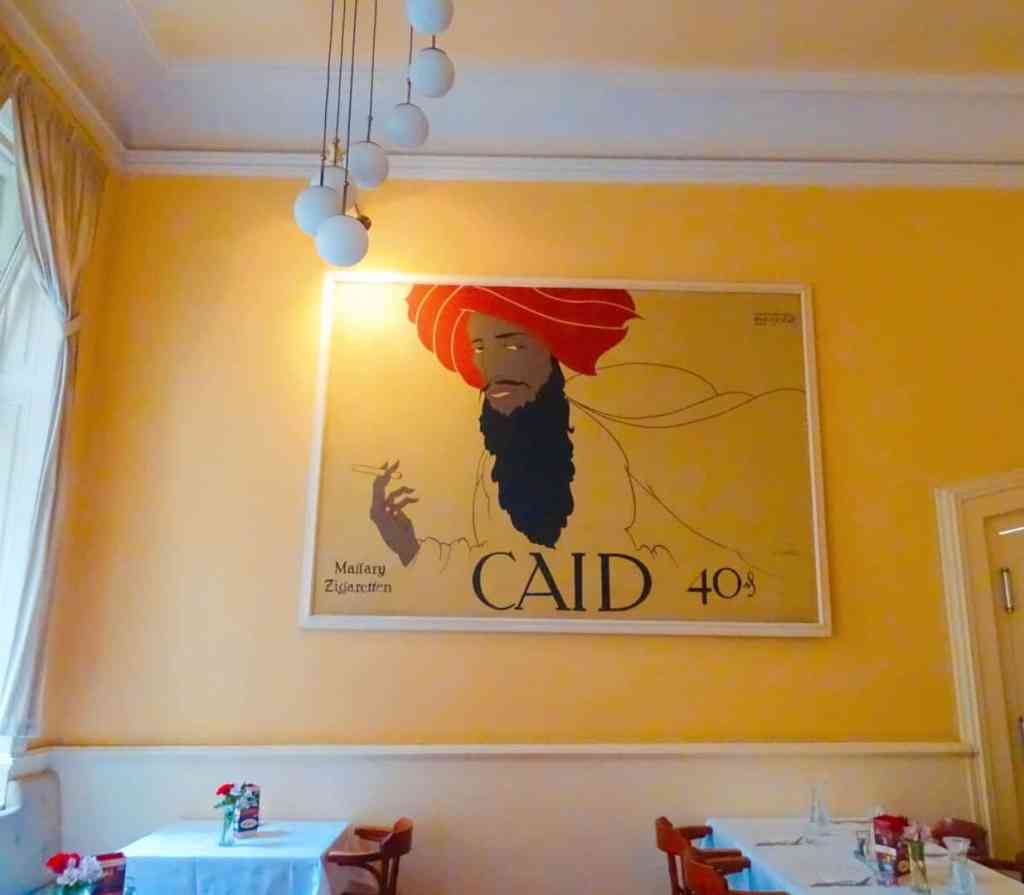 This restaurant is just gorgeous with lots of period artwork on the walls and beautifully presented food. It opened in 1902 and was a meeting place for writers, academics and creatives until it was closed by the communist Soviet government.

After sitting empty for 50 years, it finally opened its doors again. I'm glad it did because the food was excellent, especially the svickova. As I mentioned before, I wasn't the biggest fan of the Czech national dish but Cafe Louvre is certainly the best place to try it!
Naplavka Farmer's Market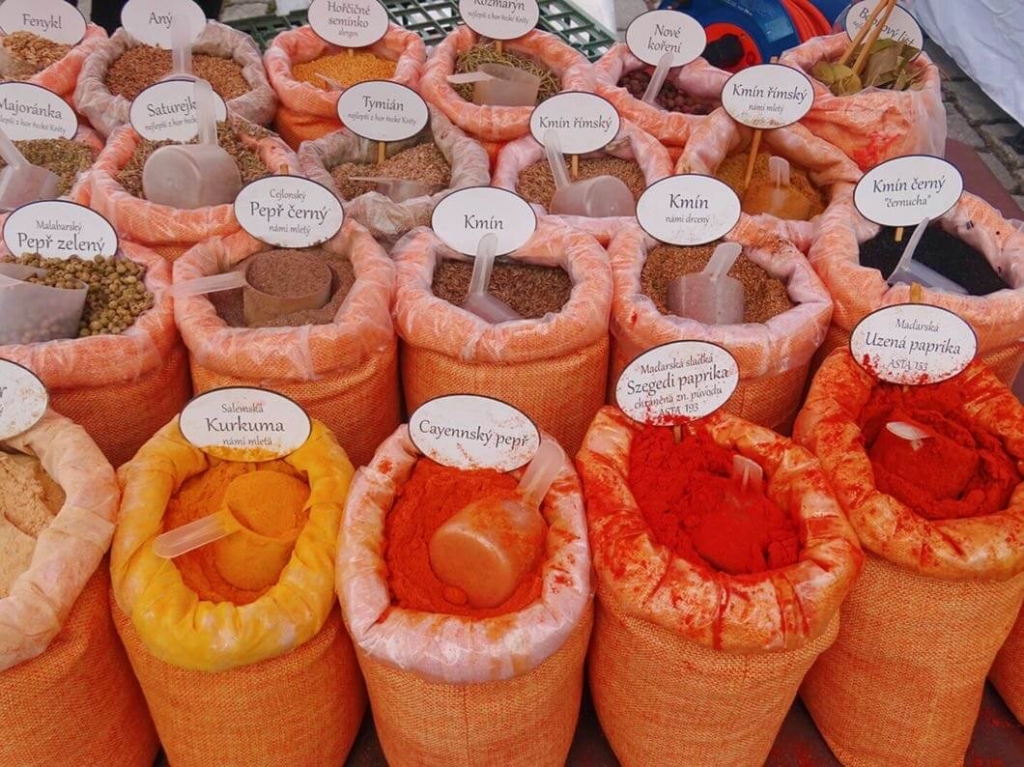 Next in my Prague food guide is somewhere I visited during my first morning in the city.

Naplavka Farmer's Market on the banks of the Vltava river was recommended to me by Kerrie, my friend who lives in Prague. Running on Saturday mornings, the buzzy atmosphere will draw you in if the tantalising aromas haven't already.

If you're travelling on a budget, never fear because some of the best food to eat in Prague is also some of the cheapest. As well as fruit, veggies and other organic produce, Naplavka serves Czech dishes, pastries, cakes and speciality coffee. The only problem is what to choose!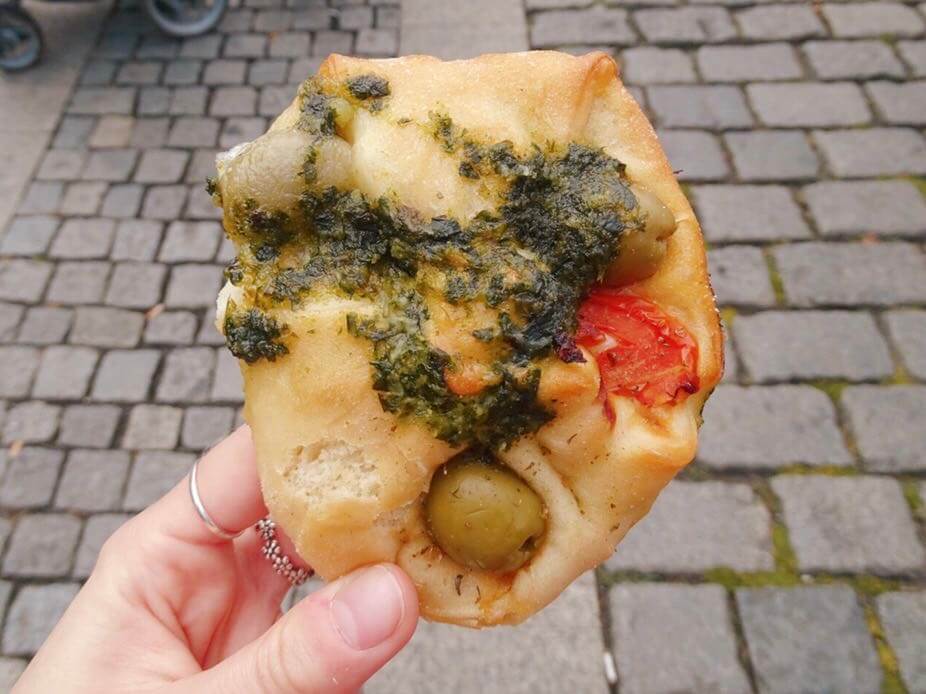 Naplavca isn't just the name of the farmer's market but the area itself which is a bit of a hidden gem (although in the last year it's started to become quite popular). In the evenings, it's really atmospheric and you can drink and dine from open-air canal boats.

For the next 3 items in my Prague food guide, let's focus on dessert…
Perníčkův sen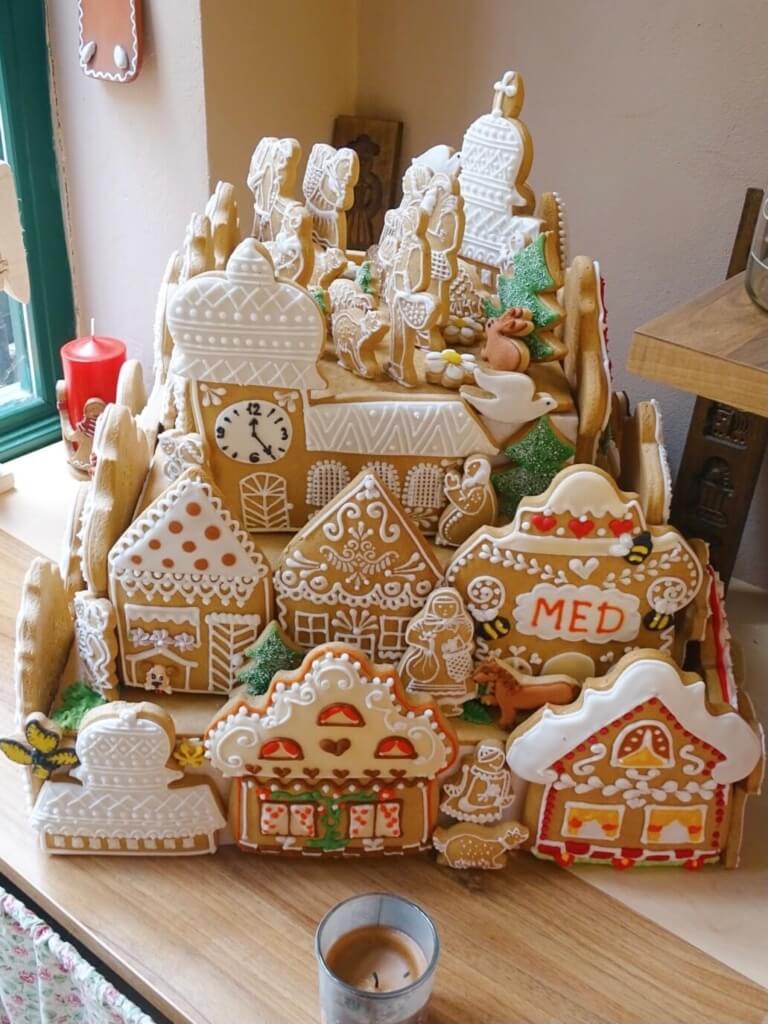 The cutest gingerbread shop in the entire world (probably) can be found in a cobbled backstreet of Prague.

At Perníčkův sen, you can sample traditional gingerbread spiced with cinnamon and anise, as well as other Czech pastries, biscuits and shortbread. Everything is made onsite by a pair of friendly local sisters. Pick up your souvenirs and snap some photos.
Creme de la Creme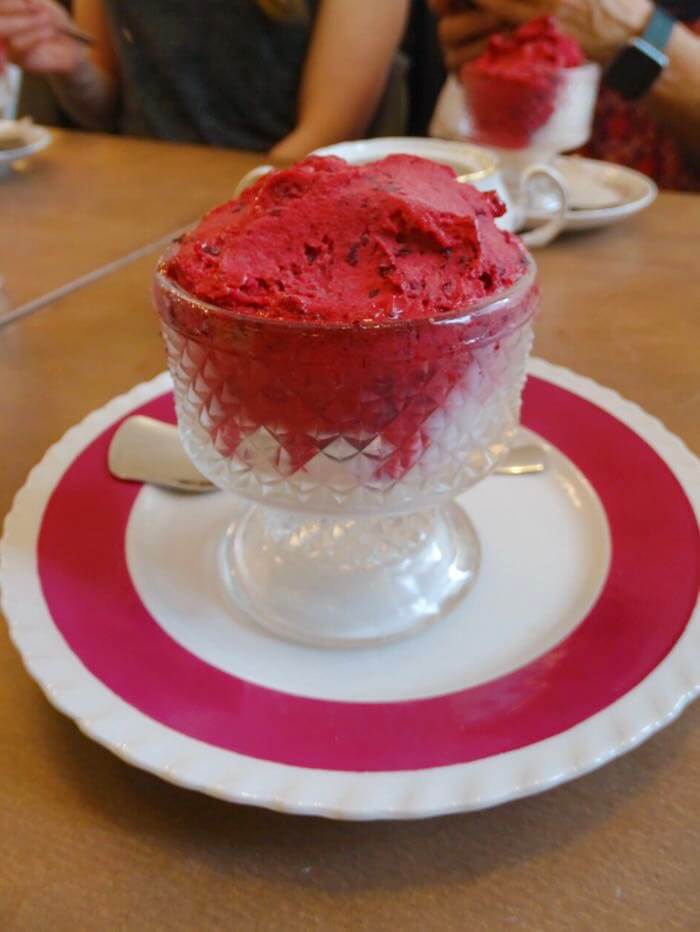 If you have a sweet tooth, you'll be in your element at Creme de la Creme. The blackcurrant ice cream was some of the best I've had, full of real fruit and more like sorbet than ice cream.

We also sampled the walnut ice cream which is another of the cafe's specialities and much creamier. The queue often winds out of the door at weekends so attempt to visit early or late, especially if you want to bag a table rather than take your ice cream away. Highly recommended!
Trdelník near Charles Bridge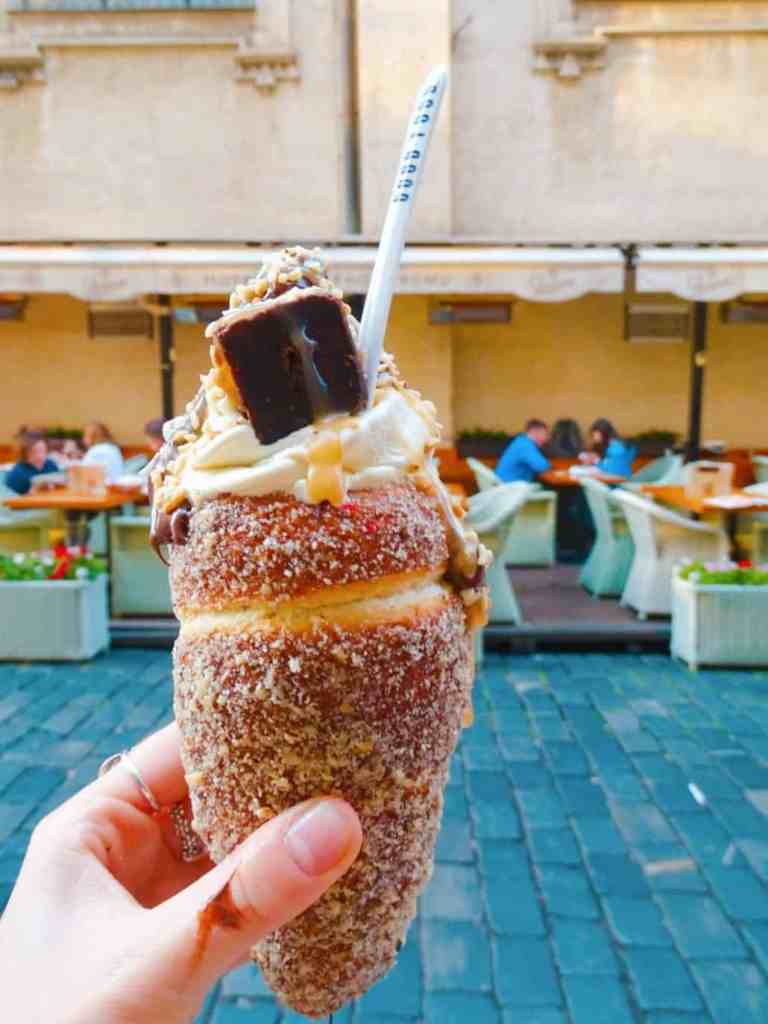 If you're looking for an authentic Czech dessert, avert your eyes now. As I mentioned, trdelník is a popular snack found in Hungary and the Czech Republic, but it's not the most authentic thing to eat in Prague. It's become something of a tourist food, especially around Charles Bridge.

Instead of being served hollow with hazelnut spread, these creations come in all manner of flavours including pistachio and red velvet. Mine had salted caramel ice cream and chocolate brownie chunks! It was actually a bit sickly but if you have a sweet tooth and/or like Instagrammable desserts, you can't do much better than this.

Head to this location to find the store.
Coffee & brunch in Prague
While I'm always down to sample the local food, I'm also a little bit obsessed with brunch and coffee – even if it's almost the same everywhere. After one too many drinks the night before, sometimes a flat white and pancake brunch is all that can save you…

I discovered a few cute brunch cafes in Prague which I've added to this Prague food guide. These are…
Kafe Francin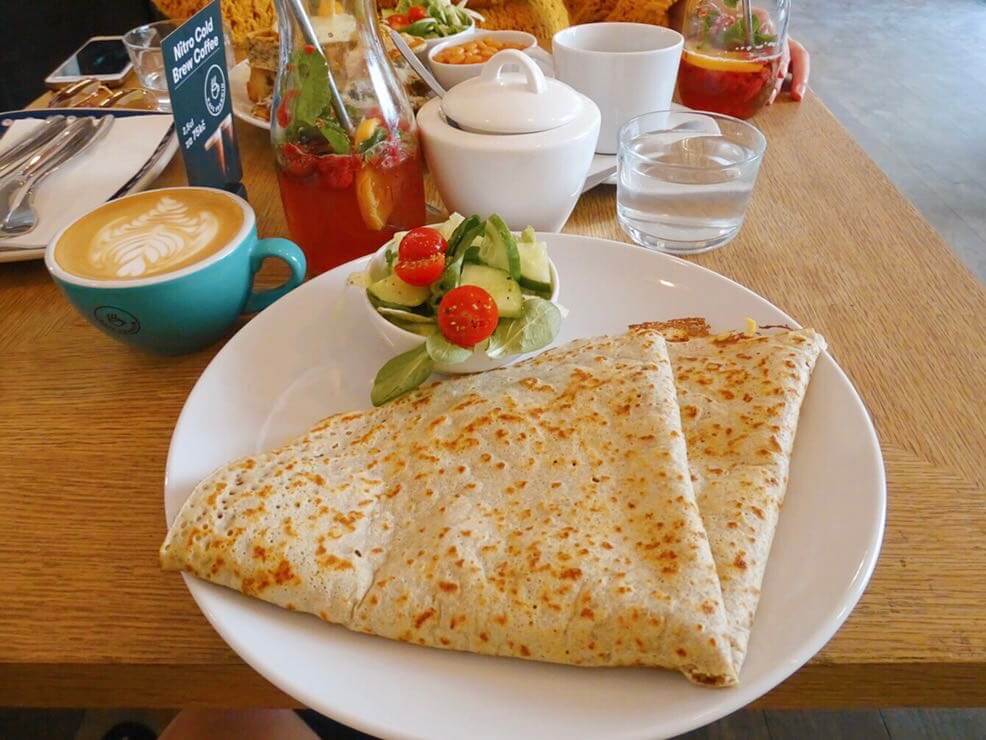 I haven't sampled every brunch in Prague but I'm confident this is one of the best.

Kerrie and I arrived in the afternoon nursing our heads after a late night and proceeded to arrange a 'hydration line up' in the form of coffee, raspberry lemonade and a glass of water each. Not only did it save the day, but the food was amazing.

Between us, we had the cheese, ham and red onion crepes and the fried egg waffles. Kafe Francin also serves English breakfasts and avocado toast.

Tip – order the raspberry lemonade. It doesn't taste of lemonade – it's more of a fizzy water with fresh raspberries. So refreshing!
Pauseteria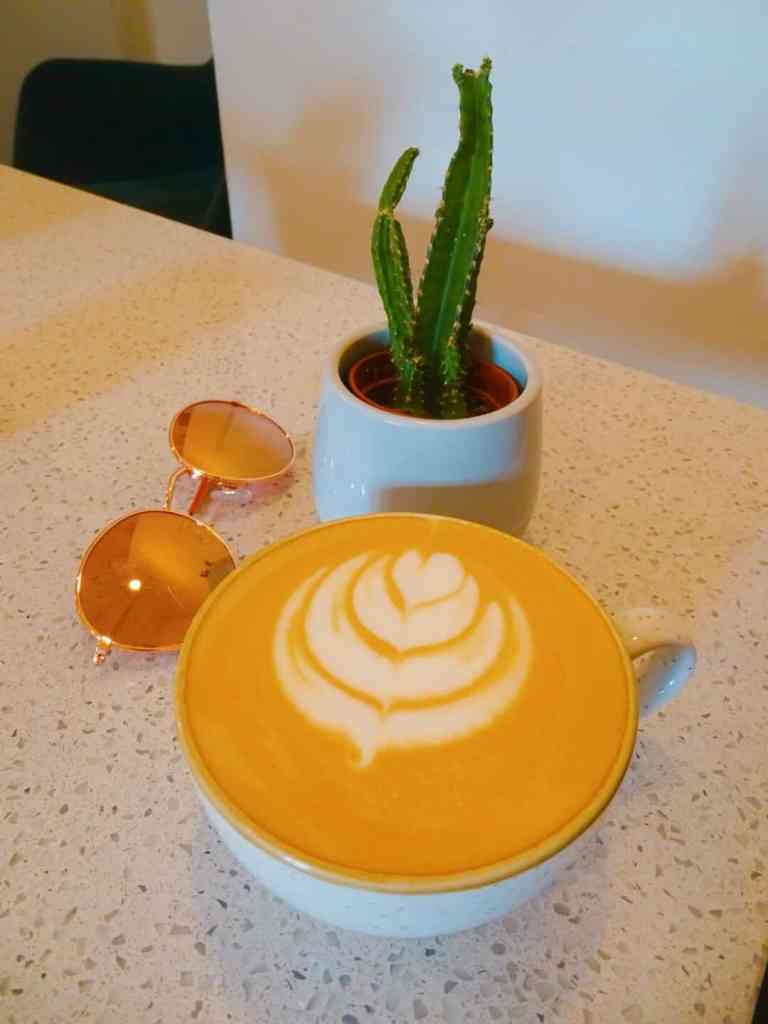 Admittedly this speciality coffee shop could be anywhere in the world and isn't very Czech, but who's complaining? Pauseteria is a cool and quirky spot near Charles Bridge.

Sip an excellent flat white, try the indulgent cake selection or tuck into all-day brunch. The decor is very hipster (think little cacti and minimalistic interior) and the prices are a little inflated but I guess that's normal for the location.
Kofarna Cafe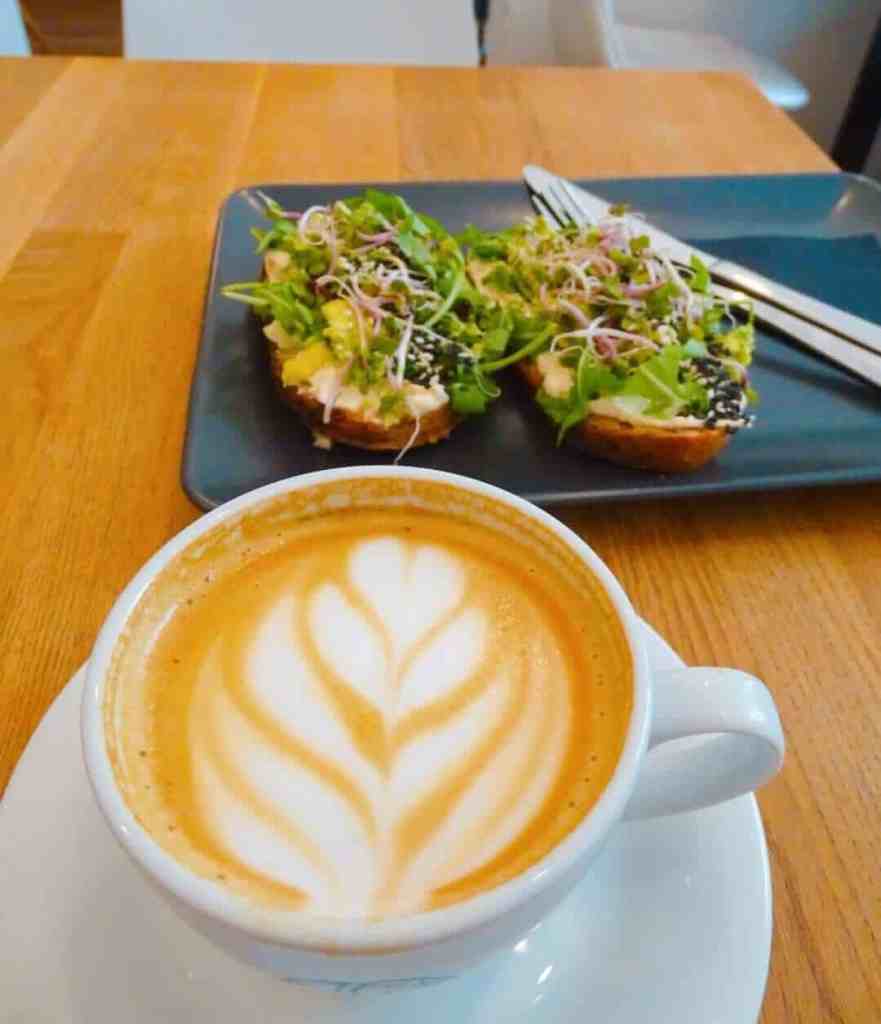 Just across the bridge on the west side of the river, Kofarna Cafe is the best place in Prague to beat the crowds and pay reasonable prices for brunch, coffee and cake.

Housed in a gorgeous pink building with tables inside and outside, there are English language menus as it seems to be a popular spot with expats as well as locals; you won't find too many tourists here. The portions are fairly light but I only paid 140 CZK for avocado and hummus toast with a cappuccino so it was considerably cheaper than Pauseteria.
Drinks and nightlife in Prague
Now you have a good idea of what to eat in Prague, let's touch on the nightlife…

With beer cheaper than water and a reputation as a messy stag 'do destination, it's hardly a surprise that Prague has a thriving bar scene. But it's not all about the stags (or 'bachelor parties' for any Americans here). There's somewhere for everyone from upmarket wine and cocktails bars to sticky-floored clubs blaring dance tunes until 5am (I would know). Options include…
Lucerna
This late-night club is 80s and 90s-themed, blasting ABBA, Madonna and other fun dance tunes. If that's the type of night you're after, I'd recommend it!
Ginger and Fred @ The Dancing House (Rooftop Bar)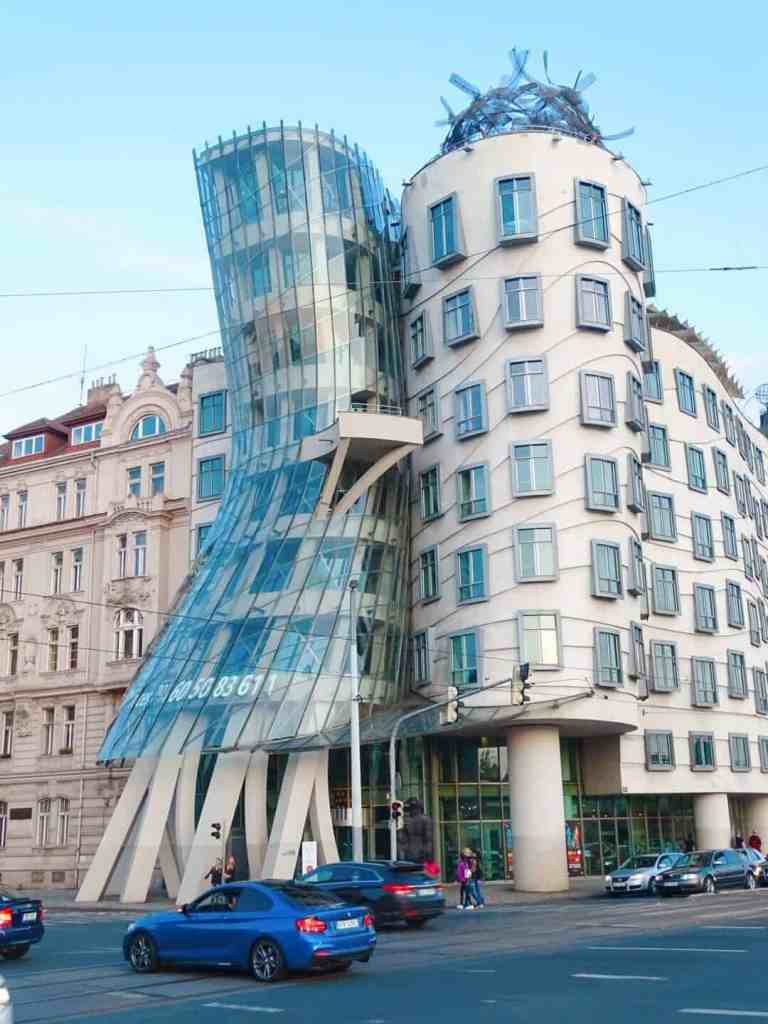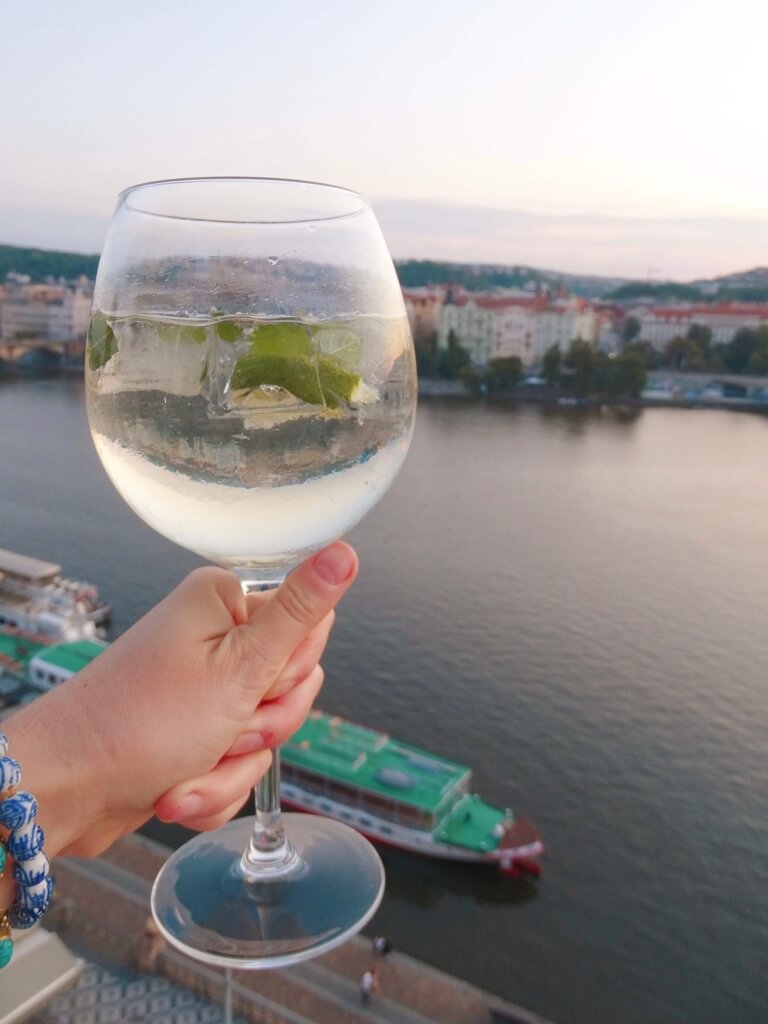 For a more sophisticated bar (let's face it, you can't get much less sophisticated than Lucerna), visit Ginger and Fred.

If you don't know the Dancing House already, definitely swing by and check it out. It's designed to look like a man and women dancing but honestly, I'm not convinced of the resemblance. Still, it's a great place to watch sunset while sipping a cocktail.

Entrance to the rooftop bar is 100 CZK if you don't buy a drink or free if you do. I paid 120 CZR for a Hugo (a cocktail made of Prosecco and elderflower cordial) so the price difference is minimal. Basically, getting a cocktail is sensible. I'll keep telling myself that!
Sample Czech beer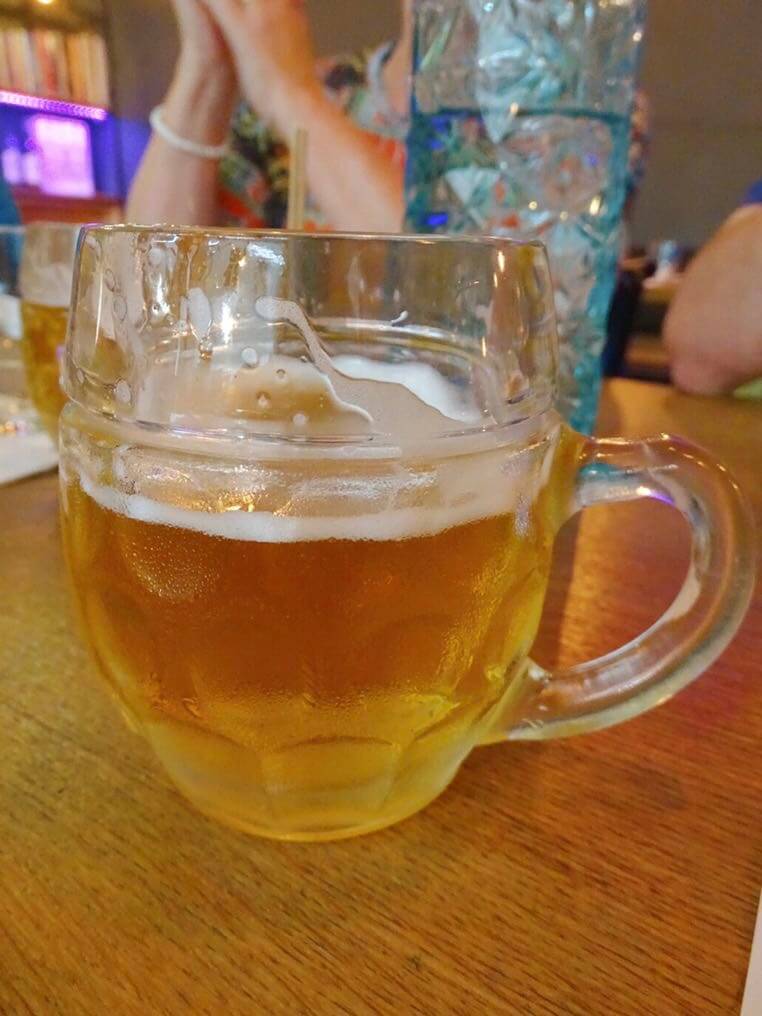 I sampled several Czech beers in Prague, all in the name of research, obviously 😉

A Pilsner is a pale ale and the most popular pint to nurse in the Czech Republic, however, our Eating Europe guide recommended also ordering types you haven't heard of. Apparently, these are likely to be from microbreweries that make the most efforts with their beers, as well as being more experimental.

If you love beer, check out Eating Europe's craft beer and food tasting tour.
Take a shot of Becherovka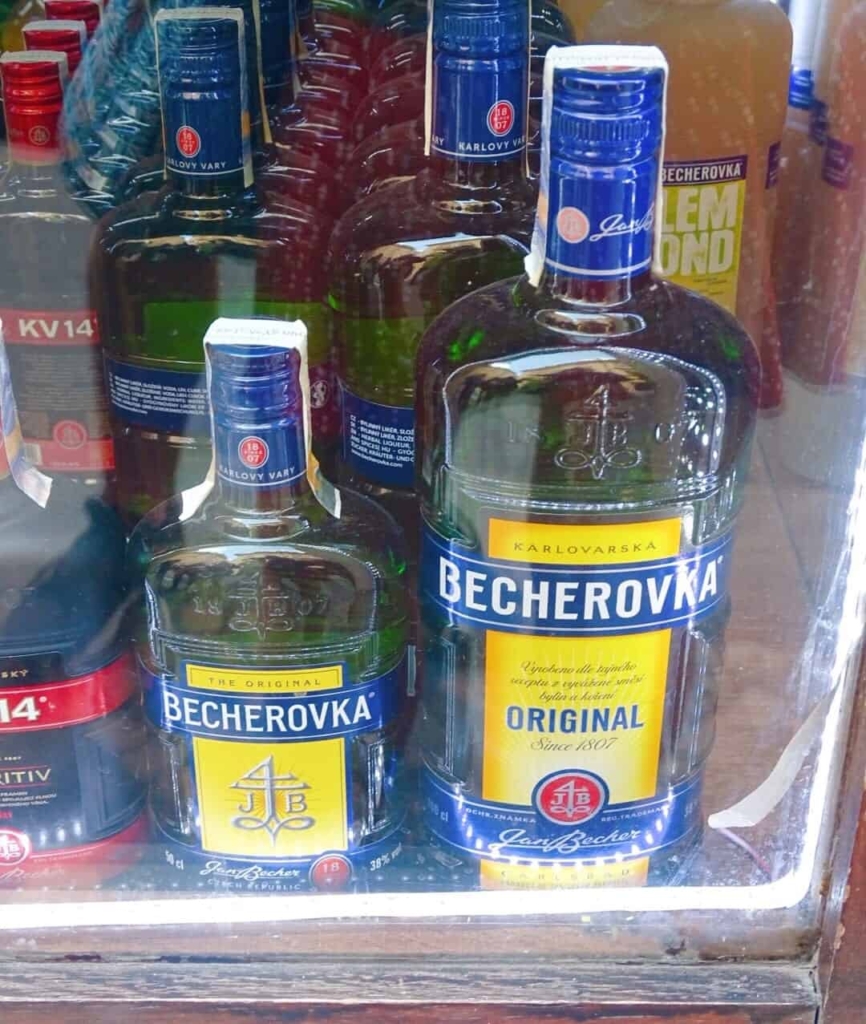 The Czech national spirit is likely to divide the masses. Becherovka is a herbal digestif although I can't say I could taste much more than my burning throat after taking a shot.

The interesting thing about Becherovka is that it's a guarded recipe only known by two people. They aren't allowed to travel together in case anything happens to them and the secret is lost forever… A world without Becherovka is apparently not one the Czechs want to live in!
Thanks for reading my Prague food guide!
I hope this blog has provided food for thought and you're ready to tuck into the best food in Prague. If you're keen to take the Eating Europe tour I did, here's the Eating Europe link again.

Check out Eating Europe's other Prague tours:
Check out my other Europe posts:
Don't miss food around the world archives!
See you next time for more adventures,
Rose
Note: While I was hosted by Eating Europe, all opinions are my own.
Ps. Liked my guide to the best food in Prague? Pin it for later!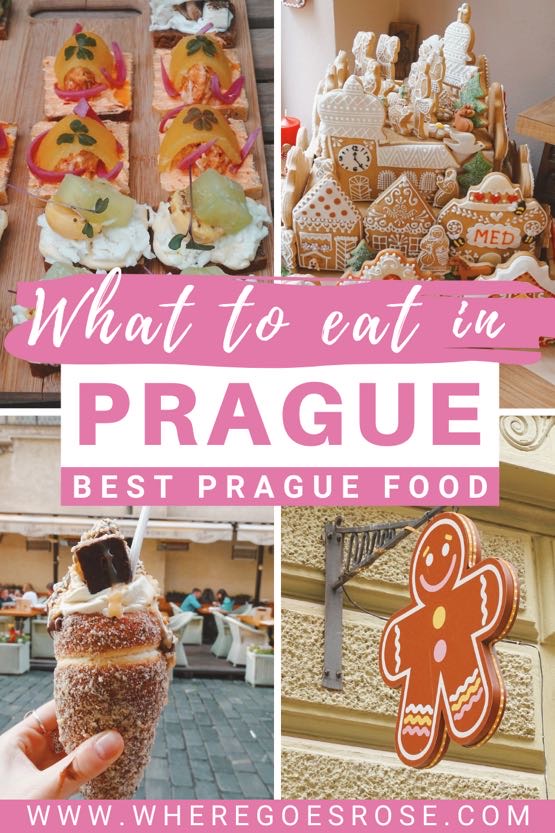 TRUSTED RESOURCES FOR VISITING THE CZECH REPUBLIC

Getting around by air – I use Skyscanner to find the best-value flights, using the 'search by month' tool to find the cheapest dates. You can also use the 'to anywhere' feature if you're flexible on where you're going.

Driving in Europe – use Rentalcars.com to compare car rentals in European countries (and all around the world).

For trains, I use RailEurope. The search feature allows you to compare prices, and they show live departure times on the website.

For buses, I use FlixBus. Find journeys between European countries from €1!

For hotels and self-catering apartments, I use Booking.com. You can filter by review score and price to find the best-rated budget places. For hostels, I use Hostelworld.com.

To save money on accommodation, I use Trusted Housesitters, a website that connects homeowners going away and travellers who can sit their homes & pets.

Browse tours and activities on GetYourGuide.

For food tours pairing travellers with passionate local chefs and foodies, check out EatWith.

Need travel insurance? I use World Nomads. They cover 150 countries and have 24-hour emergency assistance.

Check out my resources page for more travel discounts and budget tips from my 10+ years on the road!