Welcome to my Prague food guide! There are so many reasons to visit the gorgeous city of Prague: the buildings are stunning, the history is fascinating and the nightlife is… messy, to say the least!

The food wasn't necessarily why I visited Prague but it certainly exceeded my expectations, as did Prague in general. I was hosted on a food tour and got to try some of the best food in Prague through the guide's excellent recommendations.p
Svickova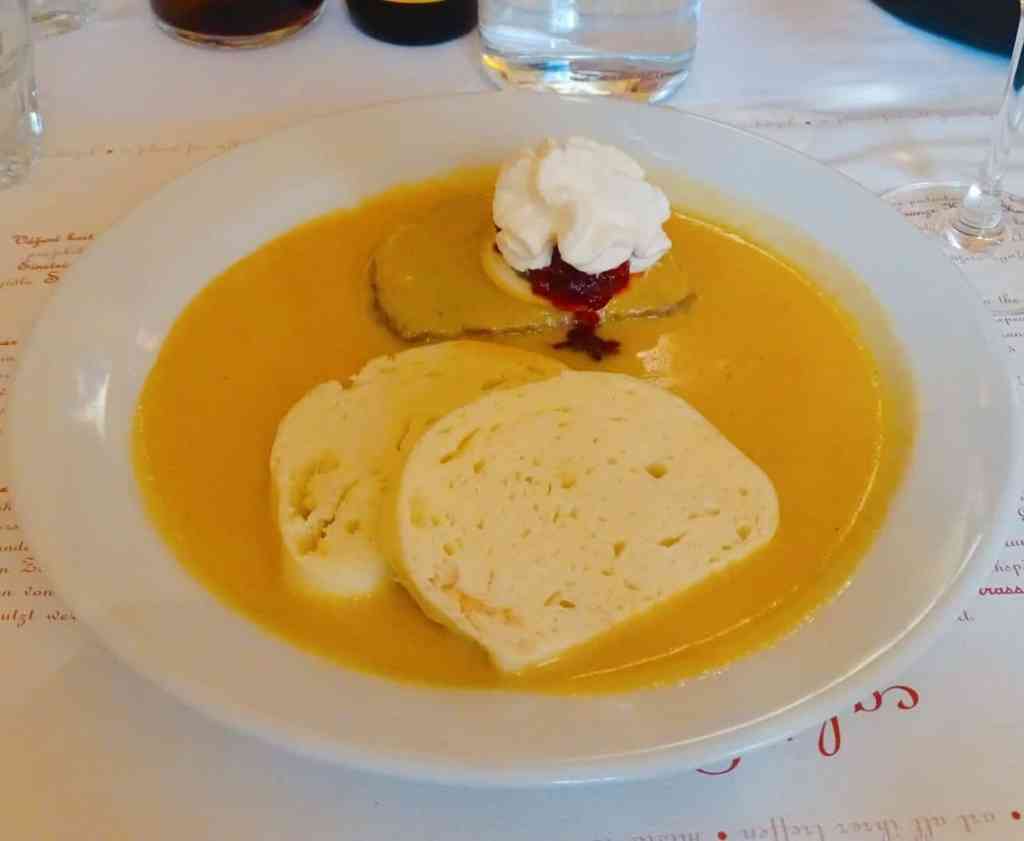 You should try svickova in Prague simply because it's the Czech national dish. I ended up eating it twice in three nights although I'm not 100% sold.

It consists of bread dumplings, braised beef, cranberry sauce, a dollop of cream and a sauce made from parsnip and other veggies. The combination of beef and cream reminded me of the Friends episode where Rachel mixes up a cottage pie and trifle. But at least I can say I tried it!

You don't need to pay a lot for svickova because you can find it everywhere from casual cafes to cheap pubs. But to guarantee a good un', head to Cafe Louvre. Their svickova was fresh, well presented and served in gorgeous surrounds.
Goulash
Goulash is a traditional food in Prague but it's not unique to the country. Both Hungary and Slovakia have it as a national dish, also having been part of the Austro-Hungarian Empire. Whoever it belongs to, it's really warming and hearty.

Goulash is a rich stew made with beef or pork and bread dumplings, usually flavoured with paprika, onion and other veggies. It's been eaten in these parts for hundreds if not thousands of years. Dig in!
Chlebičky (open sandwiches)
Perníky (gingerbread)
Trdelník
Svatební koláče
Sisters
Špejle
This restaurant is just gorgeous with lots of period artwork on the walls and beautifully presented food. It opened in 1902 and was a meeting place for writers, academics and creatives until it was closed by the communist Soviet government.

After sitting empty for 50 years, it finally opened its doors again. I'm glad it did because the food was excellent, especially the svickova. As I mentioned before, I wasn't the biggest fan of the Czech national dish but Cafe Louvre is certainly the best place to try it!
Naplavka Farmer's Market
Perníčkův sen
Creme de la Creme
Trdelník near Charles Bridge
Kafe Francin
Pauseteria
Kofarna Cafe
Drinks and nightlife in Prague
Ginger and Fred @ The Dancing House (Rooftop Bar)
Sample Czech beer
Take a shot of Becherovka
Thanks for reading my Prague food guide!