This post may contain affiliate links to things like tours, hotels, Amazon associates and products. These help me earn a small commission at no additional charge to you.
I love bringing you my food guides and thought I'd get a little more specific: the amazing street food in Chinatown, Kuala Lumpur.

There's so much quality food spread out over the sprawling city of Kuala Lumpur that it would be hard to encompass the highlights into five blogs let alone one. So rather than list places an hour away from each other, I thought I'd focus on what I really know: the eating scene around Chinatown, one of the most iconic places to visit in Kuala Lumpur.
Visiting KL? Check out my other blogs:
Also don't miss my complete Malaysia itinerary!
The street food in Chinatown Kuala Lumpur
Like the rest of Malaysia, KL has a huge Chinese population. Many families moved from China generations ago and began serving their home cuisine to make a living. Instead of being sold off and commercialised, these businesses are now run by the grandchildren of the founders, the recipes perfected over the course of several decades.

The best bit is that nothing will cost you more than a few dollars.
Foodie visiting Kuala Lumpur?

Check out the Old Markets & Beyond food tour from a Chef's Tour, one of my favourite food companies in Southeast Asia!
Madras Lane Curry Laksa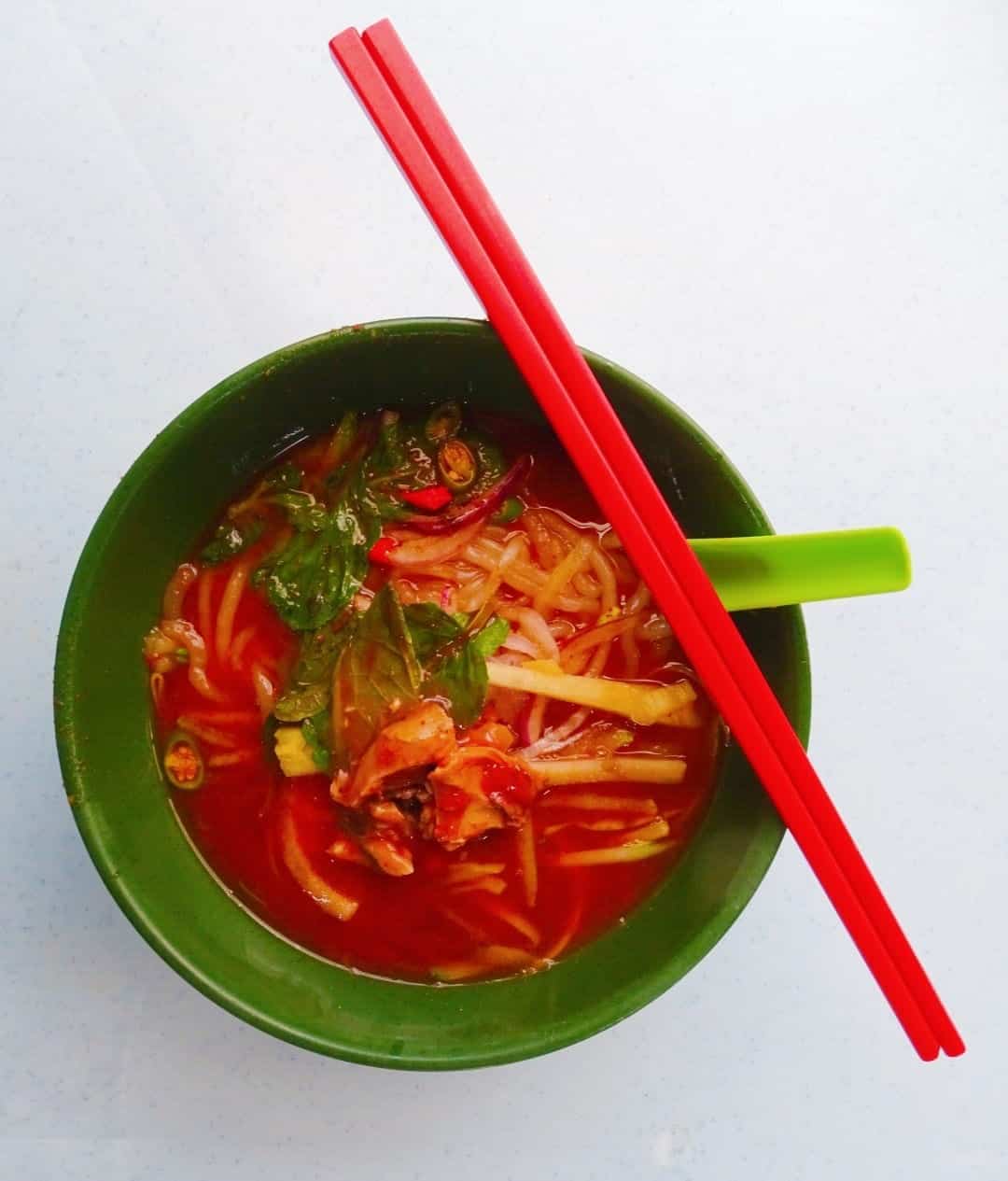 Starting with the best meal I ate in Kuala Lumpur's Chinatown, this local market stand hidden behind Petaling Street's tourist market is easily missed. Persevere because it's cheap, authentic and delicious. Madras Lane serve two types of laksa: assam laksa and curry laksa.

Assam laksa is slightly sour and flavoured with mackerel, mint, chilli, turmeric and tamarind, while curry laksa is rich and coconutty (have it with or without chicken).

Address: Madras Lane off Petaling Street. To find the stand, enter the alleyway labelled 'big mouth fish head' (appetising!) across from Sri Mahamariamman Temple. Walk down and take a right so you're at the back of the parking lot. It's beside Dong the Mun Foodcourt if that helps.

Price: 7 MYR for assam laksa / 7 or 10 for curry laksa depending if you opt for chicken.
Kedai Kopi Lai Fong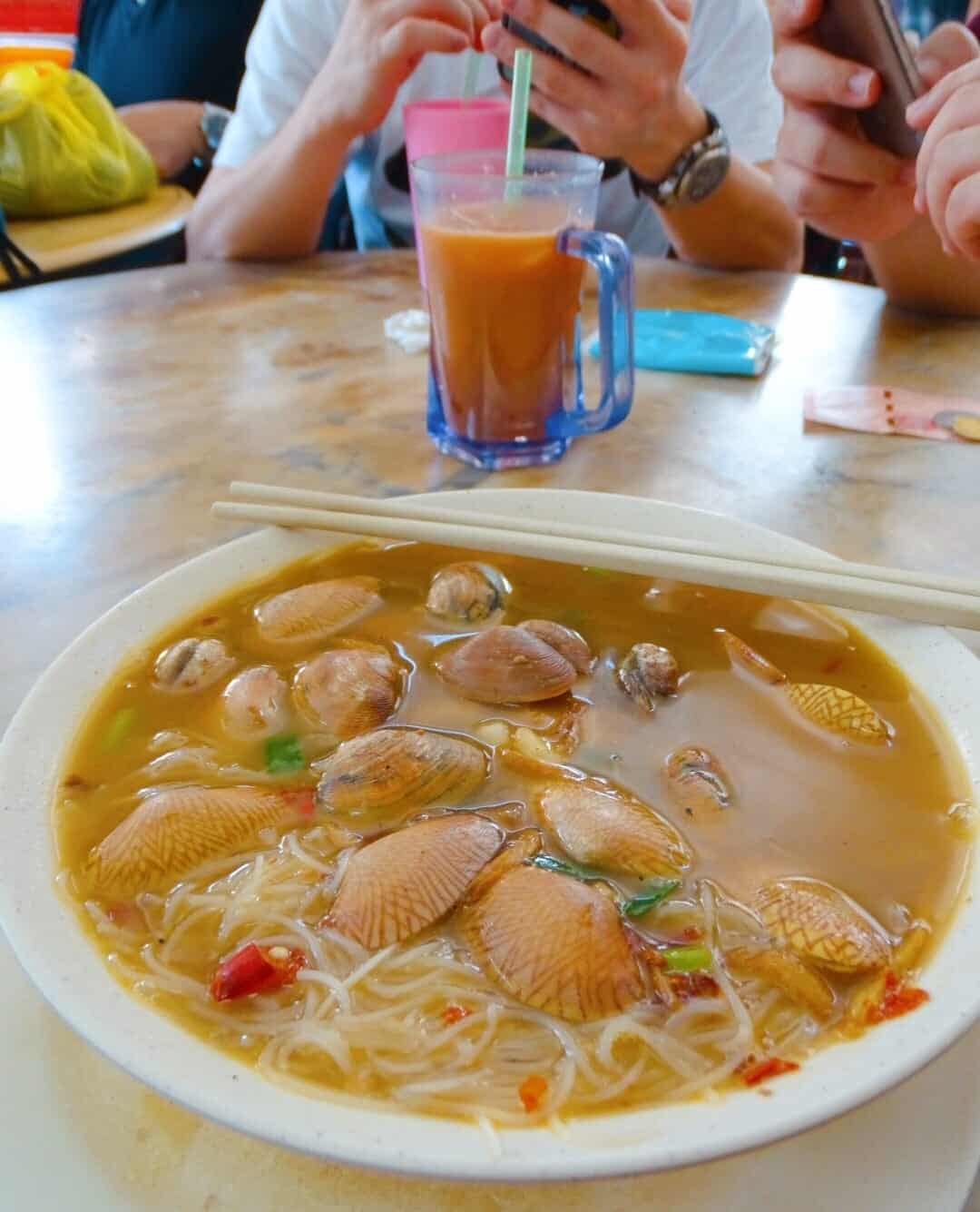 Here lies some of the best street food in Chinatown Kuala Lumpur. In typical Malaysian style, Lai Foong is a bit confusing: it looks like one restaurant but it's made up of lots of separate stalls each known for their signature dish.

I can highly recommend the lala clam noodles which were freshly prepared in a salty, flavoursome broth with a generous helping of chilli. The beef noodles looked good too.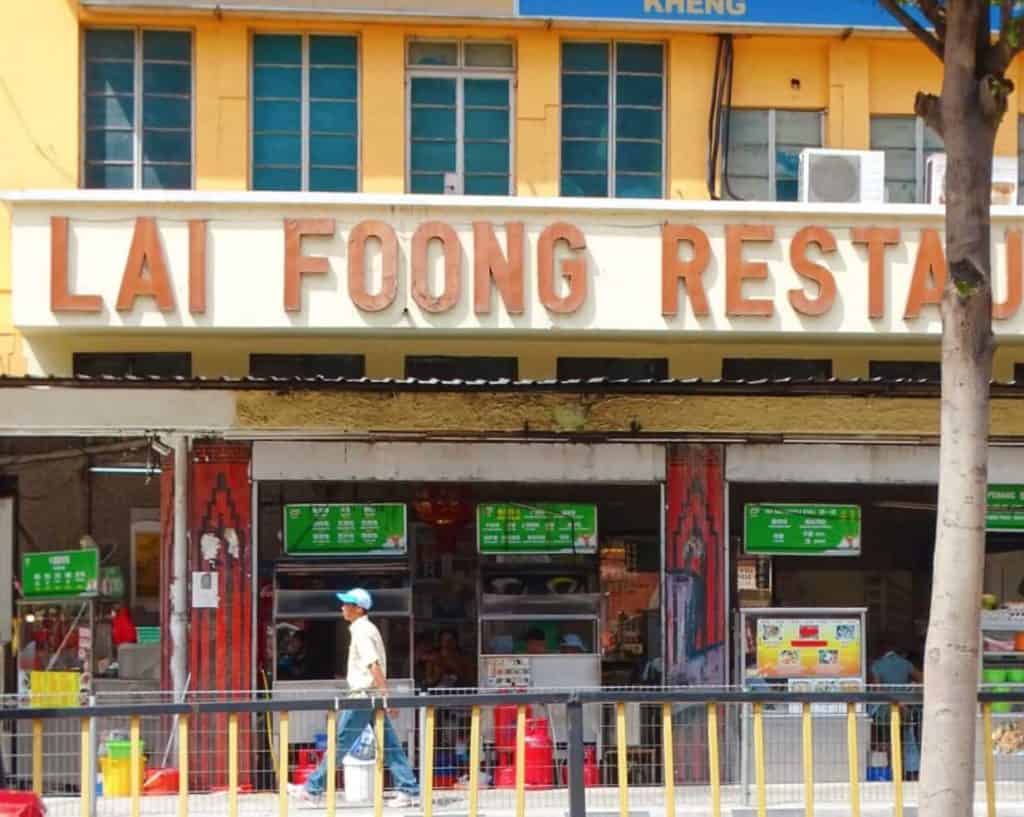 Address: 138, Jalan Tun H S Lee.

Price: 10 MYR for clam noodles.
Buffets on Jalan Tun Tan Cheng Lock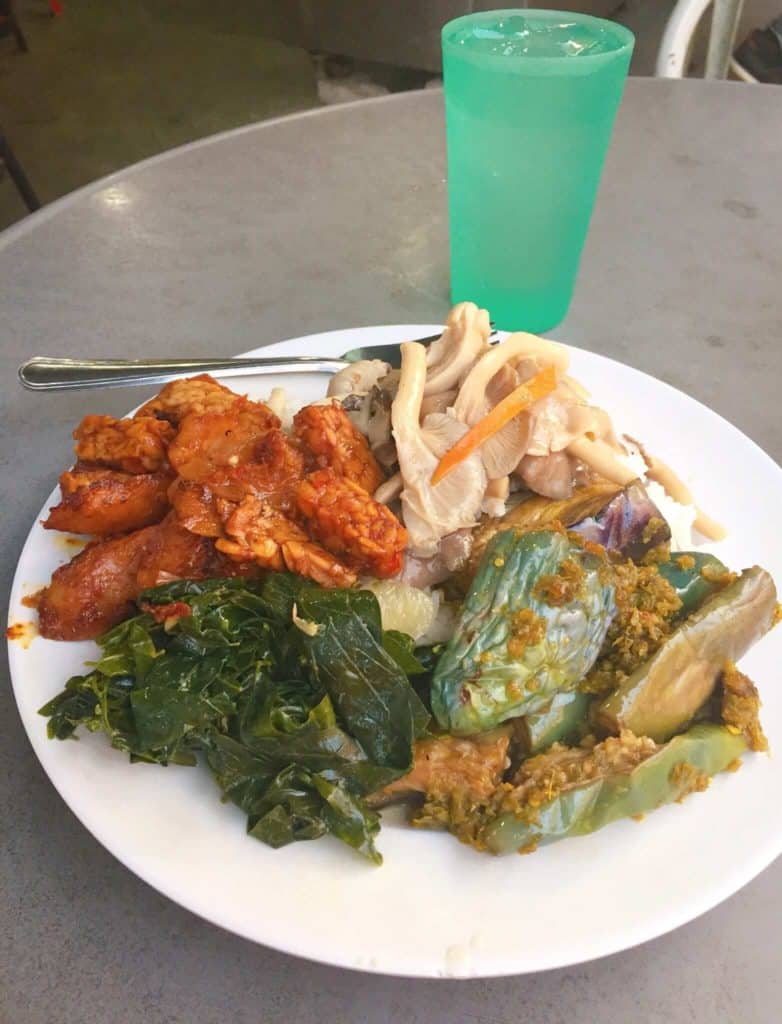 Some of the best food in Chinatown Kuala Lumpur is also some of the cheapest. I have two favourite street food buffets which are right beside each other near Petaling Street Market. You'll be handed a plate of rice which you can top with any dishes you want. There are plenty of vegetarian options as well as fried fish, chicken, curries, tempeh and even whole crabs.

Address: You won't find these restaurants on Google but I've pinned their location here. My favourite of the two neighbouring buffet restaurants is the one on the right (if facing the main road).

Price: A loaded plate is 6 MYR unless you opt for certain dishes like crab. Some of the cheapest food in Chinatown KL!
Tang City Food Court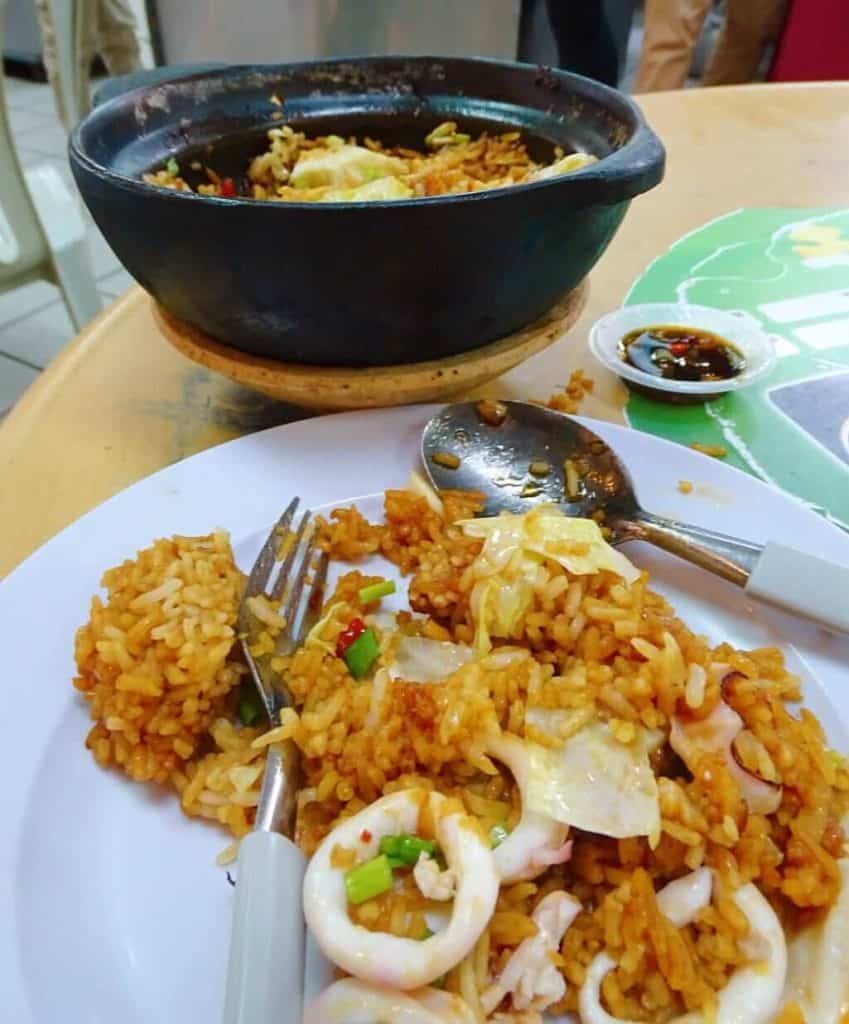 Right in the heart of Chinatown KL, Tang City is an atmospheric place to sample Chinese dishes including claypots, Hokkien noodles and more. I had a delicious squid claypot which I really enjoyed. There are beers and fresh juices to purchase too.

Address: 21-27, Jalan Hang Lekir.

Price: Slightly more touristic than some restaurants in Kuala Lumpur's Chinatown, you'll find prices slightly inflated at Tang City Food Court – but not by much! I paid 15 MYR for my meal.
Shin Kee Beef Noodles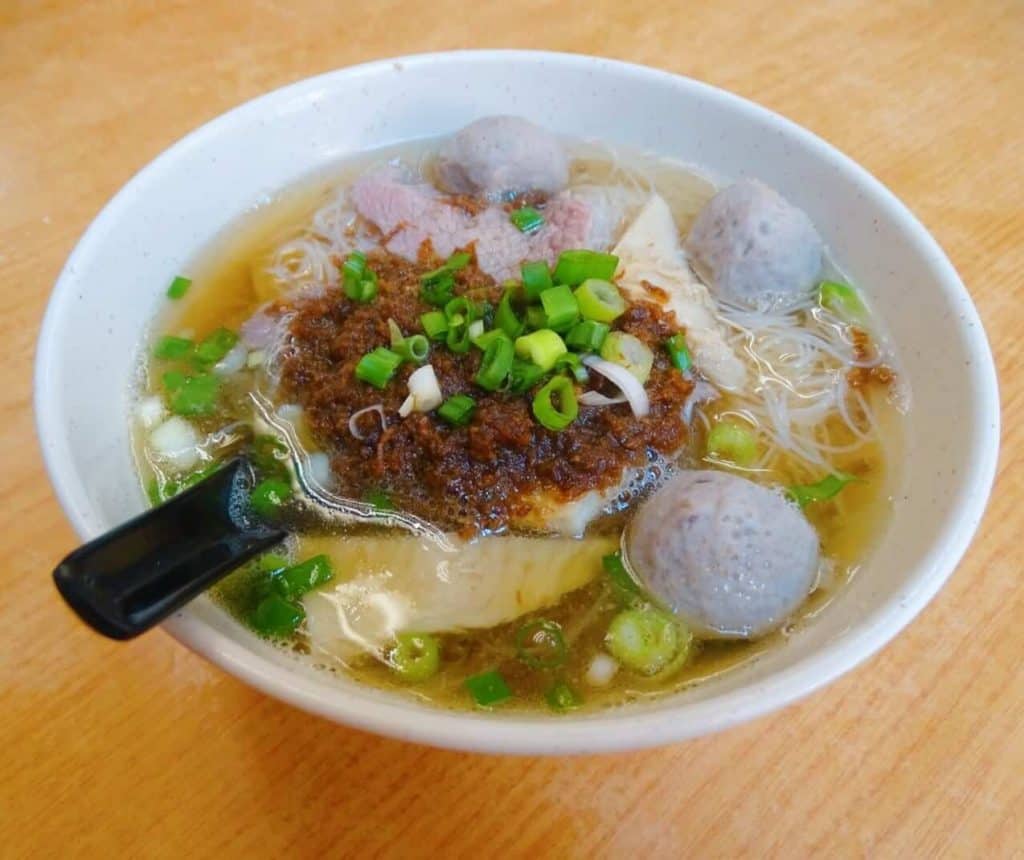 A trusted foodie follower on Instagram recommended me this restaurant in Chinatown KL. Shin Kee serve just beef noodle soup but there are a few varieties available: fresh beef noodles (slices of flavoursome beef), ground beef noodles (a rich seasoned mix) and the combo bowl with both types and all the trimmings.

I chose the third option and didn't really like it because it came complete with beef skin and grey bakso balls. For that reason, I'd recommend staying simple and going for option 1 or 2. The fresh beef (number 1) was so rich and flavoursome – you can't go wrong with that.

Once you sit down inside the small, no-frills restaurant, a lady will come by with a plastic box displaying four noodle types for you to choose from. I went for thin vermicelli noodles which went nicely with the beef. The one thing I did order right!

Address: 7a, Jalan Tun Tan Cheng Lock.

Price: 7 MYR.
Bun Choon Egg Tart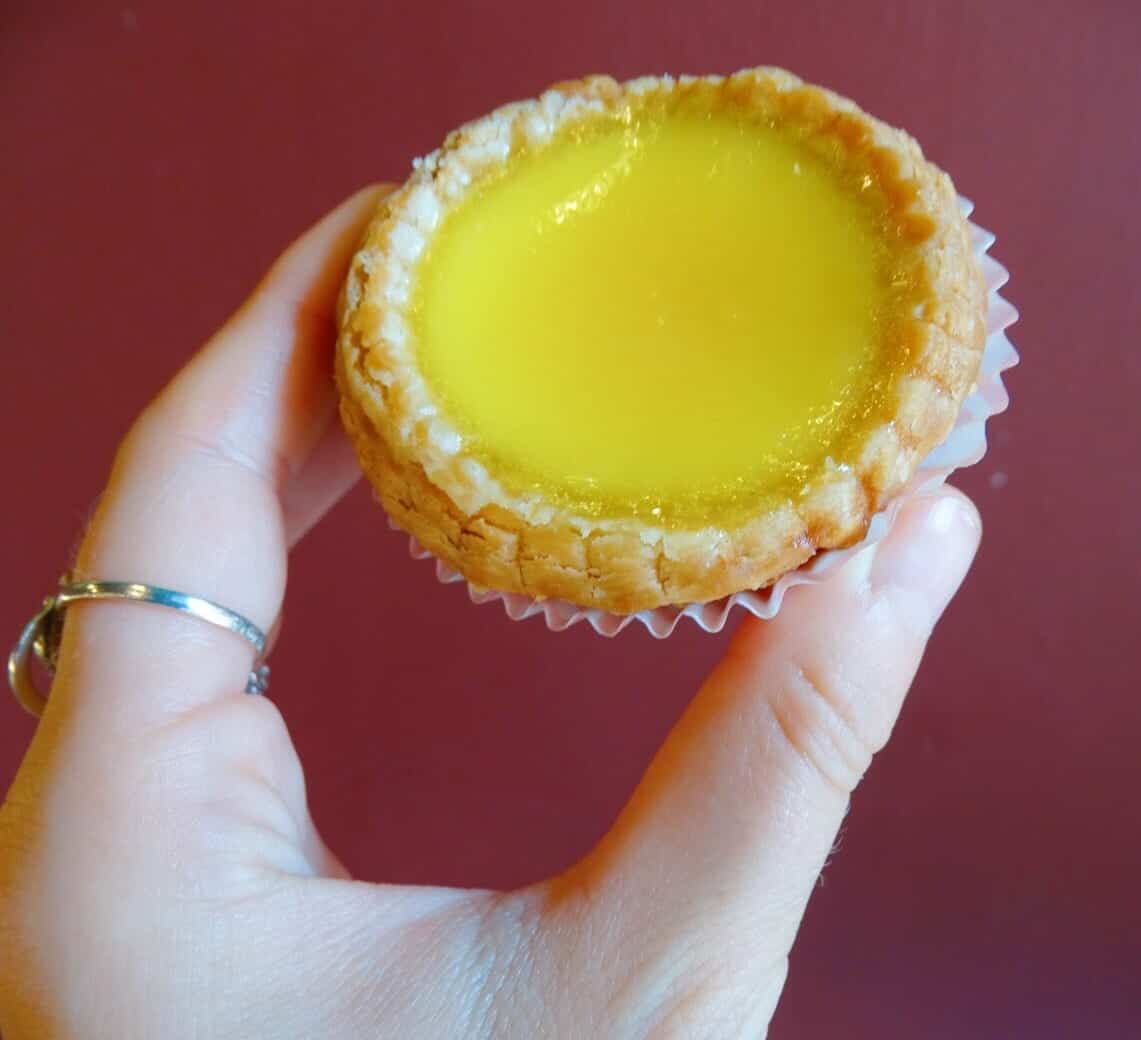 As well as fantastic savoury food in Chinatown Kuala Lumpur, you'll find plenty of authentic desserts. This modest little store on Petaling Street serves the tastiest custard tarts. The regular ones are so moreish, as are the black charcoal variety.

The two don't taste overly different so I think the charcoal is just for visuals.

Btw – the tarts aren't vegetarian as they use lard in the pastry.

Address: 153, Jalan Petaling.

Price: 1.80 MYR regular / 2 MYR charcoal.
Thanks for reading!
Kuala Lumpur posts:
Penang posts:
Melaka posts:
Ipoh posts:
Southeast Asia travel planning:
See you next time for more adventures,
Rose
For more content, follow me on Instagram, Facebook, Twitter and YouTube.
Ps. Liked my Chinatown KL food guide? Pin it for later!