This post may contain affiliate links to things like tours, hotels, Amazon associates and products. These help me earn a small commission at no additional charge to you.
I had such a great five days eating my way through the best food in Melaka.

There's so much to love about this charming little city from street art to street food. If you're wondering what and where to eat in Melaka, you're in for a treat. The food and drink scene is fantastic, hence I decided to put together a Melaka food guide so you can sample the same amazing eats I did.
Best food in Melaka
Malaysian food is one of my favourite Southeast Asian cuisines because of the sheer variety. Large Indian and Chinese populations have influenced the food in Melaka, as I found out when eating in Chinatown, Kuala Lumpur and of course the foodie capital of Penang.

Like other cities in Malaysia, there are also tons of traditional Malay dishes to try like laksa and nasi lemak.

Let's begin by running through the best dishes in Melaka that you should try during your Malaysia itinerary:

Dim sum: While these delicious steamed dumplings originate from China, they're now very popular in Malaysia. Fillings include pork, chicken, prawn and vegetables. Usually, you'll eat dim sum as a spread with lots of little plates with tea and steamed pork buns which are bigger and made from steamed bread rather than rice.

Nasi lemak: The Malaysia national dish shouldn't be missed while in Melaka or Malaysia generally. Rice is mixed with peanuts, spicy sambal, cucumber, anchovies and boiled egg. I remember trying this dish the first time I visited Melaka in 2015 and being blown away. I've eaten it so many times since then!
Wan tan pork noodles: Another Melaka favourite with Chinese origins. These egg noodles are topped with flavoursome barbecue pork and Chinese kale. You'll find this dish served cheaply all over Melaka by locals who have been making it for generations.

Banana leaf curry: Don't miss an Indian-Malay curry in Melaka's Little India. I don't know why food tastes so much better eaten without cutlery and plates but it does. In Melaka you can eat fresh veg or meat curry spooned up onto a banana leaf plate and wash it down with a mango lassi.

Assam laksa: This typical Malay dish has the ultimate balance: sour and spicy with soft fish and chewy noodles. Mackerel and tamarind give it its distinct flavour. I'll tell you where to eat in Melaka for assam laksa further down.
Chee cheong fun: I love this chewy rice batter topped with shrimp paste. This is another dish with Cantonese origins that arrived in Malaysia with Chinese immigrants in the 19th century. You can find veggie versions in Melaka if you don't eat shrimp.

Mua chee: Steamed rice balls are rolled in sweet and salty ground peanuts. This dessert is a must-try street food while visiting Melaka.
Popiah: This is a bit like a spring roll but fresh instead of fried. Popiah are stuffed with veggies like carrot and lettuce as well as peanuts and tofu. These can be found all over Malaysia including Melaka.
Where to eat in Melaka
There are so many great cafes and local restaurants in Melaka that range from hole-in-the-wall eateries run local families to modern Melaka cafes with fusion Western-Malay food. Veggies and vegans will also be well catered for as I'll mention in this Melaka food guide.

So, with no more ado, I'm going to tell you where to eat in Melaka! Hope you're hungry.
Low Yong Moh Restaurant (breakfast dim sum)
Attention dim sum fans! A real local find, this chilled canteen-style restaurant has been serving dim sum for generations. Sit down, order a sweet coffee and wait for the waiters to come around with trays of dim sum to choose from.

I couldn't believe how cheap it was: I paid 13 MYR for three dim sum plates, a steamed pork bun and coffee.

They stop serving around 12pm as apparently dim sum is traditionally a Malay breakfast food. So rather than eat breakfast in your hotel, get down to Low Yong Moh Restaurant for some of the best local food in Melaka.
Heng Huat Coffee Shop (best cheap eat)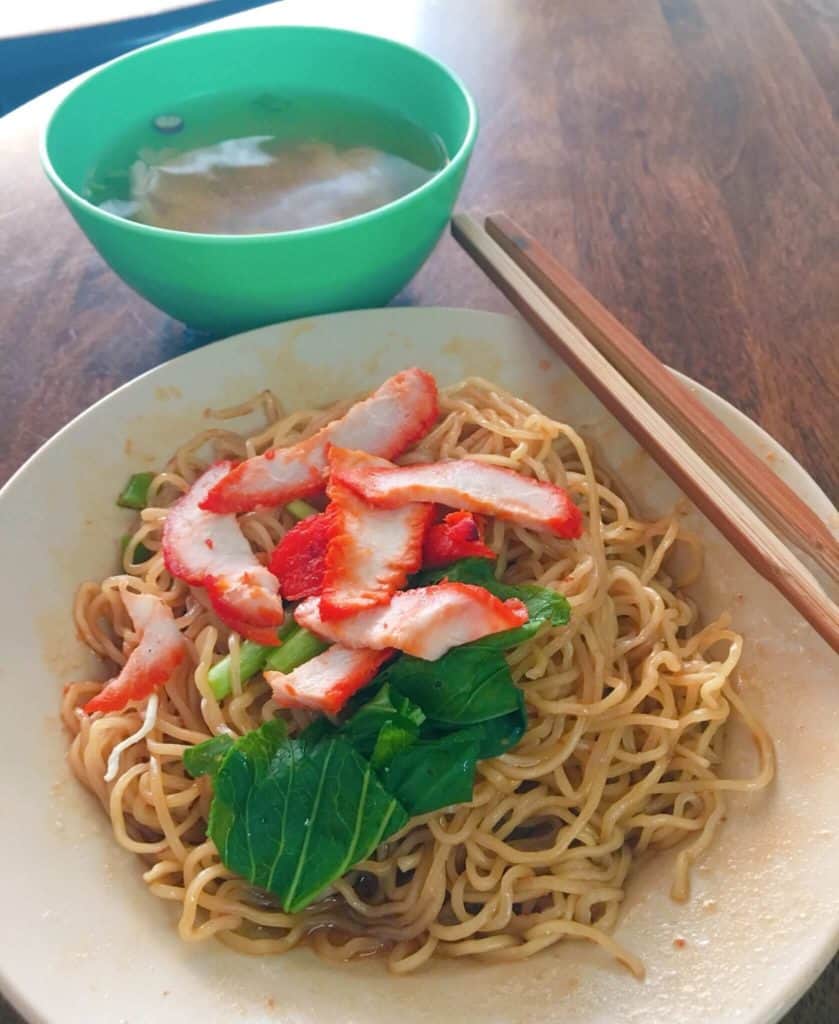 Heng Huat Coffee Shop have been serving food since 1955 and I doubt the menu has changed much since.

If you're wondering where to eat in Melaka on a budget, you can't do better than this modest cafe a few minutes walk from busy Jonker Walk. Its hidden-away location shakes off the crowds of tourists and I was the only Westerner as I tucked into wan tan pork noodles with a side of dumpling soup for only 4.5 MYR (90p).

It actually gets even cheaper because Heng Huat Coffee Shop serve the national dish, nasi lemak, for just 1.5 MYR. Mix the rice, sambal, peanuts and greens together for the cheapest of cheap eats in Melaka.
Pin Pin Hiong (Hainanese food)
Many of the foods you would probably call Malay are what the locals would call Chinese. With a large percentage of people originating from China several generations ago, Chinese cuisine is some of the best food in Melaka today.

For typical Hainanese cooking, visit Pin Pin Hiong. I could tell just from the busy crowd of locals that it would be good. I had mee suaw noodle soup and an oyster omelette because I wanted both even though I was dining solo. Well, why not?

The oyster omelette was greasy and oily… in a good way! The chicken broth of the soup was also really tasty. From the photos I'd seen, I thought it would also include prawns but mine didn't. I couldn't work out which dish on the menu did include them, and I think I confused the staff with my question. Anyway, the chicken and prawn variety looked great so get it if you can!
Geographer Cafe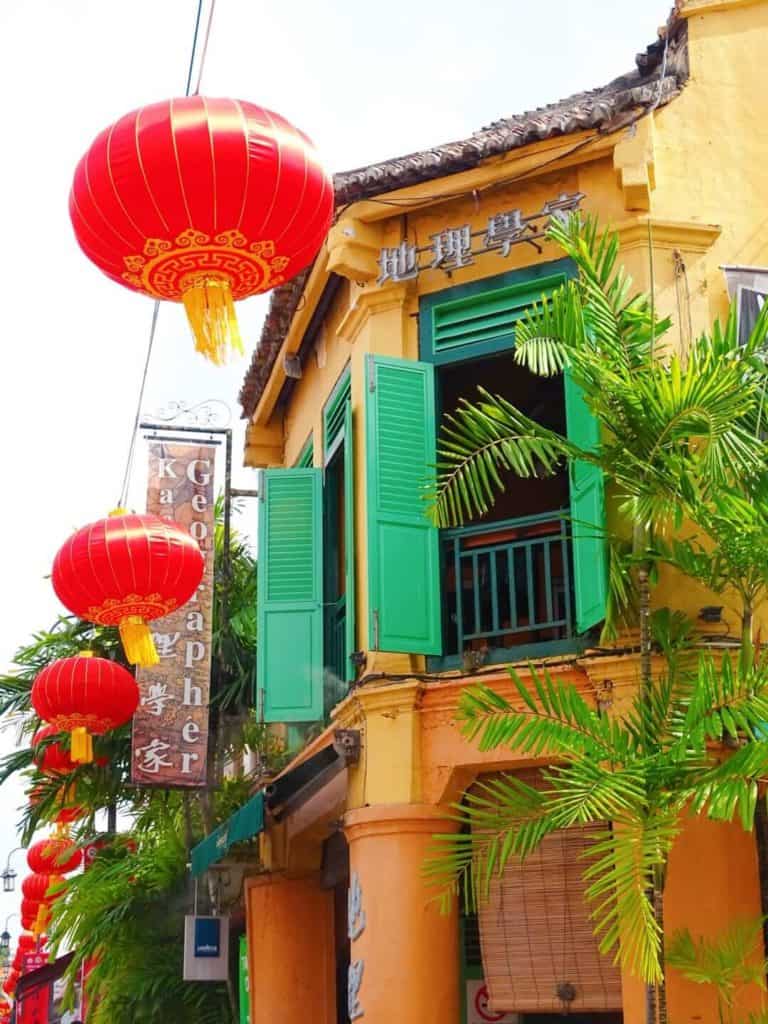 Even if you just visit for the people-watching opportunities from this sunny yellow cafe, you can't leave Melaka without a trip to Geographer Cafe.

It's a touristy joint on the main street so it's no surprise that the prices are a little inflated. The veggie nasi lemak is 10 MYR which is more than many local restaurants in Melaka but I had to remind myself it's still only £1.80.

There's a huge veggie menu at the Geographer with lots of tempeh and falafel platters. Yum!
Jonkers 88 (popular hawker-style food)
For a restaurant on a main tourist street, Jonkers 88 serves some of the best food in Melaka by retaining its authentic hawker market-style. The portions are massive and absolutely delicious.

Don't expect a 5-star setting: you pay at the counter, wait for someone to spoon up your dish, then it's time for the real challenge… Finding a seat! Grab a spot wherever you can, steaming bowl tottering on your tray.

I had the assam laksa which was just the right level of sour and spicy. The noodles were the highlight: fresh, thick and slightly chewy. Most dishes are affordable at 10 MYR.

For dessert, you should try the cendol. These shaved ice dishes are enormous and so refreshing on a hot day.
Anything at Jonker Street Night Market
If you visit Melaka between Friday and Sunday, factor the open-air night market into your plans. As well as live music and plenty of shopping opportunities, you can eat dinner… Or lots of dinners!

We tried the local favourite of carrot cake (gooey rice squares with a sweet soy sauce), popiah (veggie spring rolls in roti) and prawn sambal 'burgers' made with cooked egg. Lots of the best cheap food in Melaka is served here, so dig in!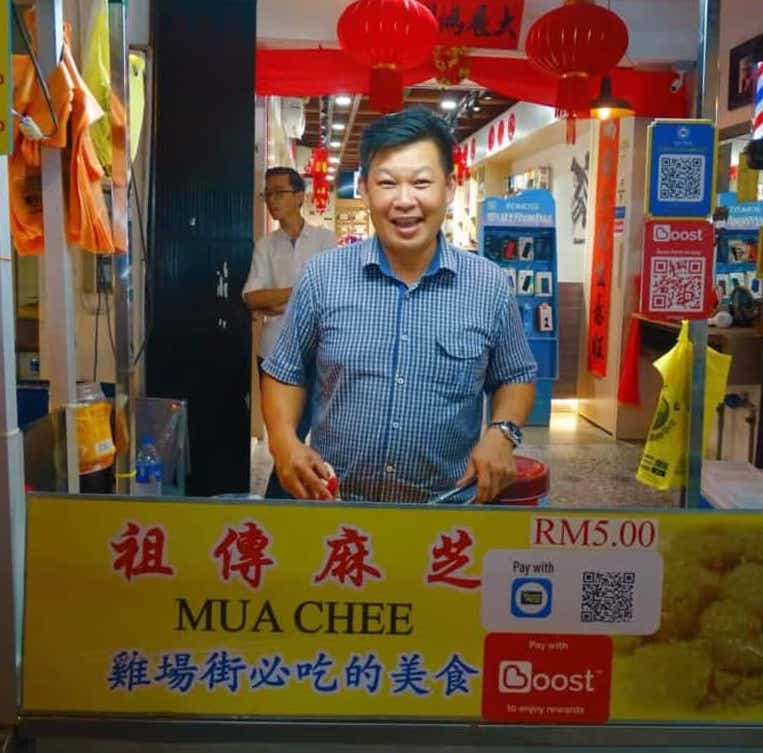 The best vegetarian restaurants in Melaka
There isn't loads of vegetarian food in Melaka but then there aren't hundreds of anything in this small city. The veggie eateries that do exist are really decent. I loved the following three…
Shui Xian Su Shi Yuan Vegetarian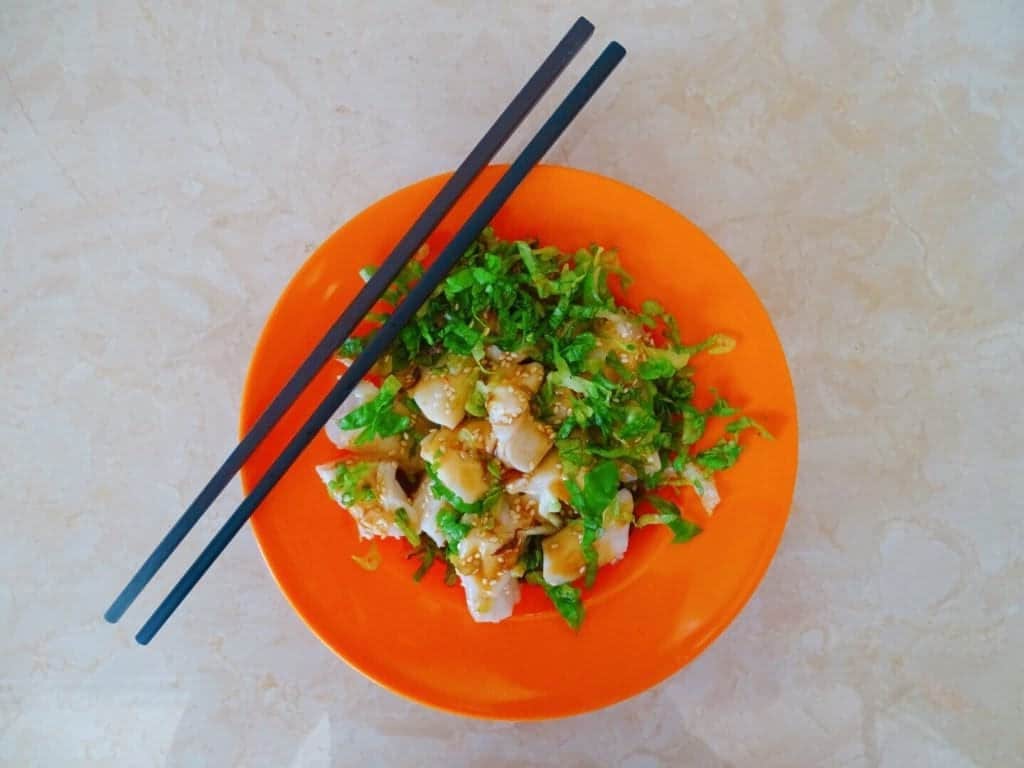 Shui Xian Su Shi Yuan is a total find and one of the best vegetarian restaurants in Melaka. It's also insanely cheap: this tasty portion of chee cheong fun cost me 3.5 MYR (less than 50p).

They serve veggie versions of all the classic Malaysian dishes like laksa and nasi lemak meaning non-meat eaters can experience the local food in Melaka.

I always find it a shame that veggies and vegans often miss out on eating Asian street food because of its meaty nature. At this local Melaka restaurant, there's no need.

Like many local Melaka restaurants, this restaurant stop serving around 2pm and are closed on Sundays.
Indian restaurants, Little India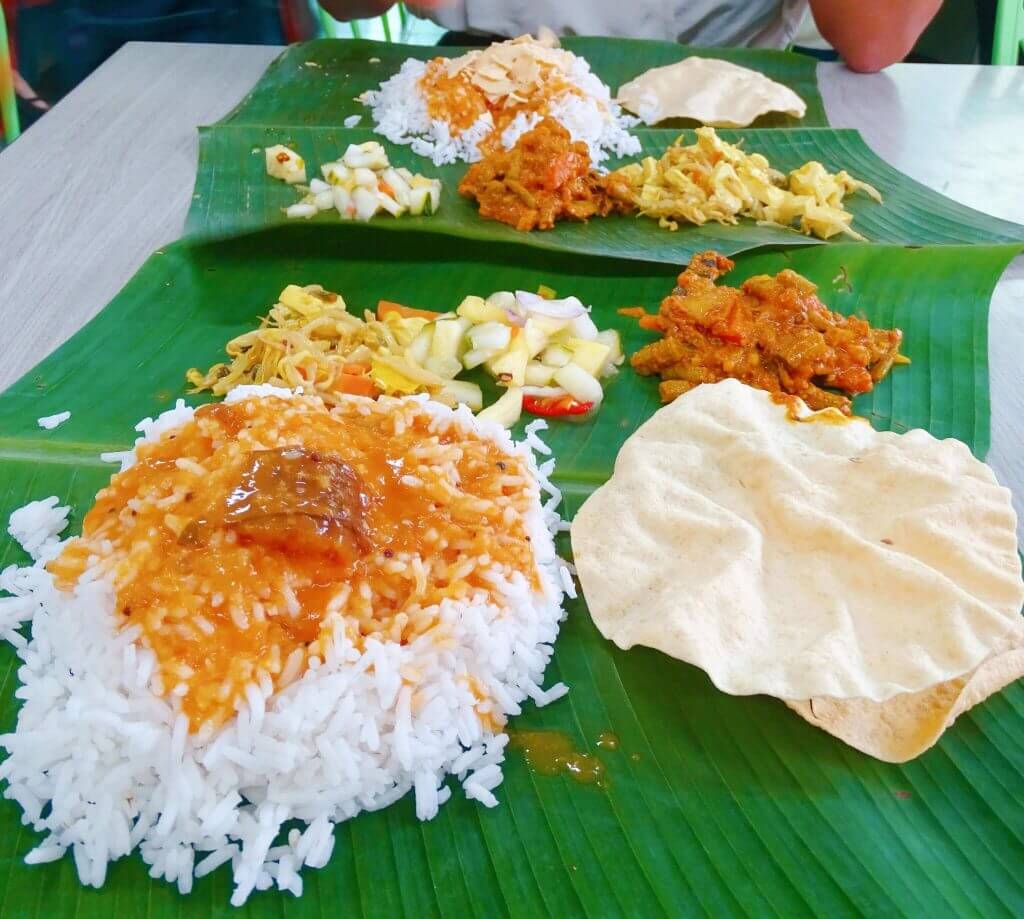 Another fantastic place to eat vegetarian food in Melaka is Little India located the other side of the river from central Melaka. You'll find so many authentic Indian restaurants in this part of town serving curries and biriyanis for a couple of dollars.

My favourite dish in this area was vegetable curry of the day, spooned out onto a banana leaf as the plate. Visit at lunchtime to benefit from the lunchtime deals which often include a soft drink and poppadoms.

Many of these Melaka restaurants will be meat and alcohol-free due to the religion of the owners. They serve some of the best food in Melaka without either so you won't miss them!
Best Indian restaurants in Melaka:
Thanks for reading my Melaka food guide
I hope you have a better idea of where to eat in Melaka and you're excited to get stuck in. Bon appetit!
Penang blogs:
Ipoh blogs:
Kuala Lumpur posts:
Southeast Asia travel planning:
See you next time for more adventures,
Rose
Follow for more Malaysia content on Instagram, Facebook, Twitter and YouTube.
Ps. Liked my guide to the best food in Melaka? Pin it for later!