When you Google search the best restaurants in Oxford, you're largely greeted with recycled lists of the same 10 places. As a lifelong local, I wanted to share some hidden gems and budget eats as well as the usual classics.

If you're wondering where to eat in Oxford, there are so many great options. Oxford Covered Market doles out creative cheap eats, more and more Asian eateries are opening their doors, and the quirky Cowley Road is easy on chain restaurants and brimming with culture from the Caribbean to Moroccan.

You won't be short of options whether you're visiting Oxford as a day trip or weekend trip.
Where to eat in Oxford
Best restaurants in Oxford
Since you can see most of Oxford on foot, you'll quickly work up an appetite during your trip. Luckily you're never far from top quality, affordable cuisine.

In no particular order, here are some of the best restaurants in Oxford:
Rickety Press / Rusty Bicycle
Prices: Reasonable with pizzas and burgers between £6-10.

Veggie friendly: There are a few cheese-less veggie pizzas and a pulled jackfruit burger that I'm keen to try.

Address: 67 Cranham Street (Jericho) for the Rickety Press and 28 Magdalen Road for the Rusty Bicycle. If you're looking for restaurants in Oxford city centre, the Rickety Press is closest to town.
Edamame, Holywell Street
Spiced Roots, Cowley Road
Oli's Thai Oxford, Magdalen Road
The Folly, Abingdon Road
Gee's Restaurant & Bar, Park Town
Zheng, Jericho
White Rabbit, Gloucester Green
Coconut Tree, St Clements
Highlights include the hoppers, bowl-shaped pancakes made from coconut milk and filled with sambal, coconut and an optional fried egg. I also loved the kottu: fried roti chopped up with spices, leeks and carrot and your choice of meat, fish or cheese. The coconut sambal served with chilli is the perfect side dish.

The cocktails are astonishing with all sorts of Sri Lankan-influenced and world cocktails with utmost attention to detail.

Prices: Dishes are between £3.50-9 but because you'll order a few, it's easy for the price to shoot up. You can order the chef's choice meal for £20.

Vegan friendly? Extremely. 13/20 of the dishes on the menu are vegan.

Address: 76 St Clement's Street.
GLUT, George Street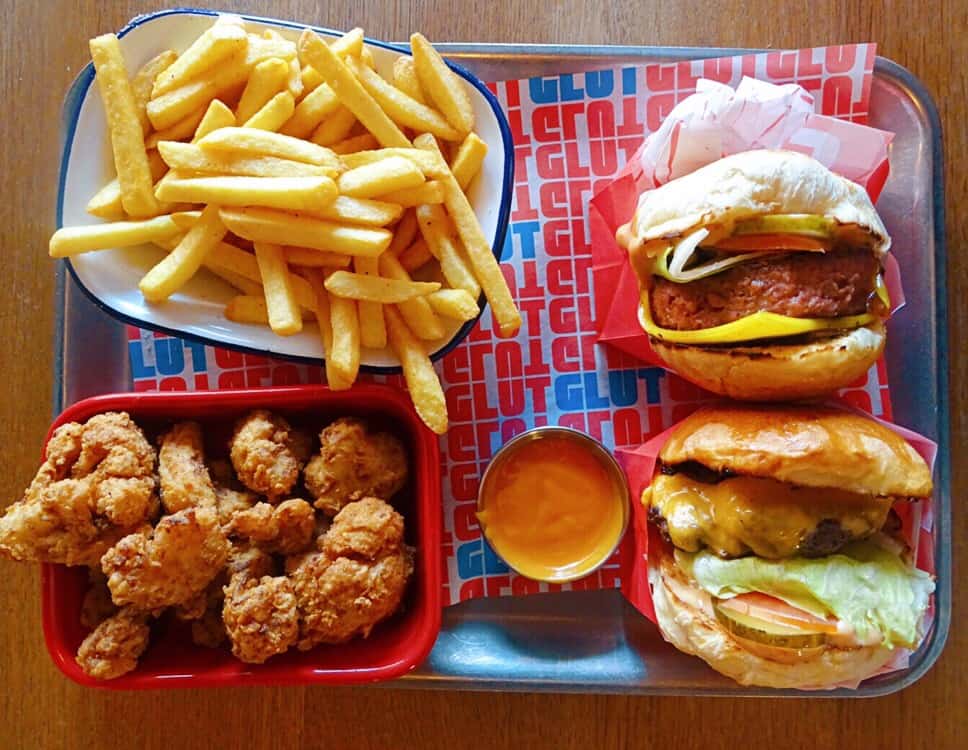 If I had to summarise GLUT in three words it would be just amazing burgers. This restaurant on Oxford's George Street sat empty for a while after several businesses came and went. It looks like the curse is over now GLUT are using the venue to serve some of the best burgers in Oxford.

For years, we've been lacking an independent burger restaurant in Oxford city centre. GLUT has definitely filled that spot, serving what they call 'sinfully good burgers'. Choose either a hamburger, cheeseburger, chicken burger, falafel or plant (Beyond Meat) burger and select to upgrade them to a 'dirty burger' which includes double cheese, pickles and burger sauce.
Shin Japanese Restaurant, Gloucester Green
Mowgli Street Food, Westgate Centre
Pierre Victoire, Little Clarendon Street
Big Society, Cowley Road
Banana Tree, George Street
Dosa Park, Frideswide Square
Alpha Bar, the Covered Market
Pieminister, Covered Market
Bbuona, Gloucester Green