This post may contain affiliate links to things like tours, hotels, Amazon associates and products. These help me earn a small commission at no additional charge to you.
Something amazing happened to me in Pushkar: my stomach started to heal. After a month of being unwell, I was finally able to enjoy Indian food again and, better yet, make the most of the many cafes and restaurants in Pushkar.

Foodies will be in heaven in Pushkar because there are quality sit-down restaurants, cute cafes and street food. The latter will be handy if you're travelling India on a low budget. I even managed to take a food tour which was a great way of sampling the Pushkar street food with a guide who knew which stands were legit.
PUSHKAR ESSENTIALS

India Lonely Planet

Accommodation: Booking.com / Hostelworld

Activities: Klook

Getting around: flight (Skyscanner) / bus / train (12Go)

Travel insurance: True Traveller (European travellers) / Hey Mundo (other nationalities) / Safety Wing (digital nomads)

Check out my food around the world archives!
Restaurants and cafes in Pushkar
In this Pushkar food guide, I'll start with some of the popular Pushkar restaurants and then move on to the Indian street foods you should try. Let's start with the best healthy breakfast in Pushkar…
Sonu Juice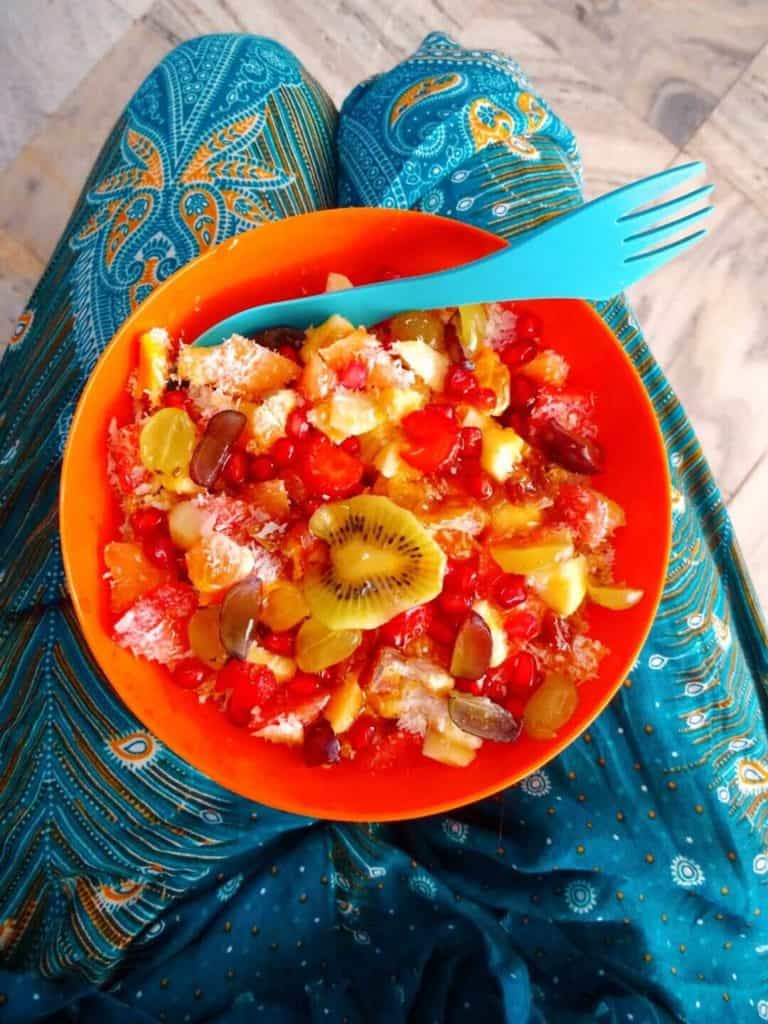 Often in India I found it challenging to find healthy meals in cafes, especially for breakfast. The locals prefer fried foods in the morning whilst us Westerners often want something lighter to start the day. This wasn't a problem thanks to Pushkar cafe, Sonu Juice.

There are actually a load of these stalls around and I'm not sure which is the original but I ate at the one linked. The healthy muesli was my go-to, packed with kiwi, grapes, pomegranate, orange, mango, papaya and coconut. The dream!
Laughing Buddha Cafe
The Laughing Buddha is famous in Pushkar, just as the Little Buddha is the most famous cafe in Rishikesh.

These hippie cafes have a lot in common: veggie menus, colourful wall hangings and blissful views. Laughing Buddha is up a flight of stairs with a pretty balcony looking out over Pushkar.

They serve healthy salads and homemade bread but I took the least healthy option with a veggie burger and fries!
Coffee Temple, U Turn Hotel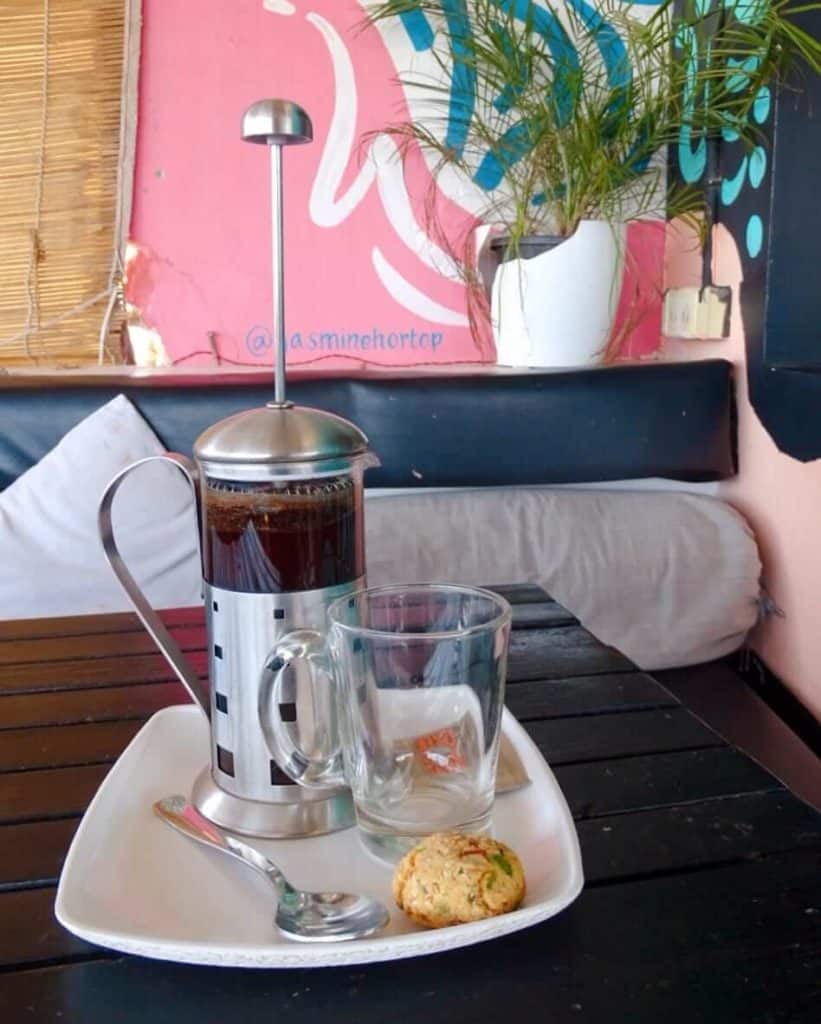 I don't know what's better, the coffee here or the amazing lakeside views. I discovered this Pushkar cafe by accident because a woman I shared a tuk-tuk with when getting off the night bus from Rishikesh got dropped off here.

U-Turn Hotel has a vintage clothes shop in the lobby and one of the nicest restaurants in Pushkar on the roof. The next day I googled 'best coffee in Pushkar' and it told me about a place called Coffee Temple which I didn't realise was the same as the rooftop restaurant.

The French press coffee was so good, as was the food. I only had a plain meal as I was prepping for my food tour but the avocado toast looked like the perfect brunch.

The other highlight was sitting on a comfy sofa that jutted out off the rooftop, looking out over the peaceful Pushkar lake. Honestly, this is the best cafe in Pushkar to just chill out.
Sixth Sense Restaurant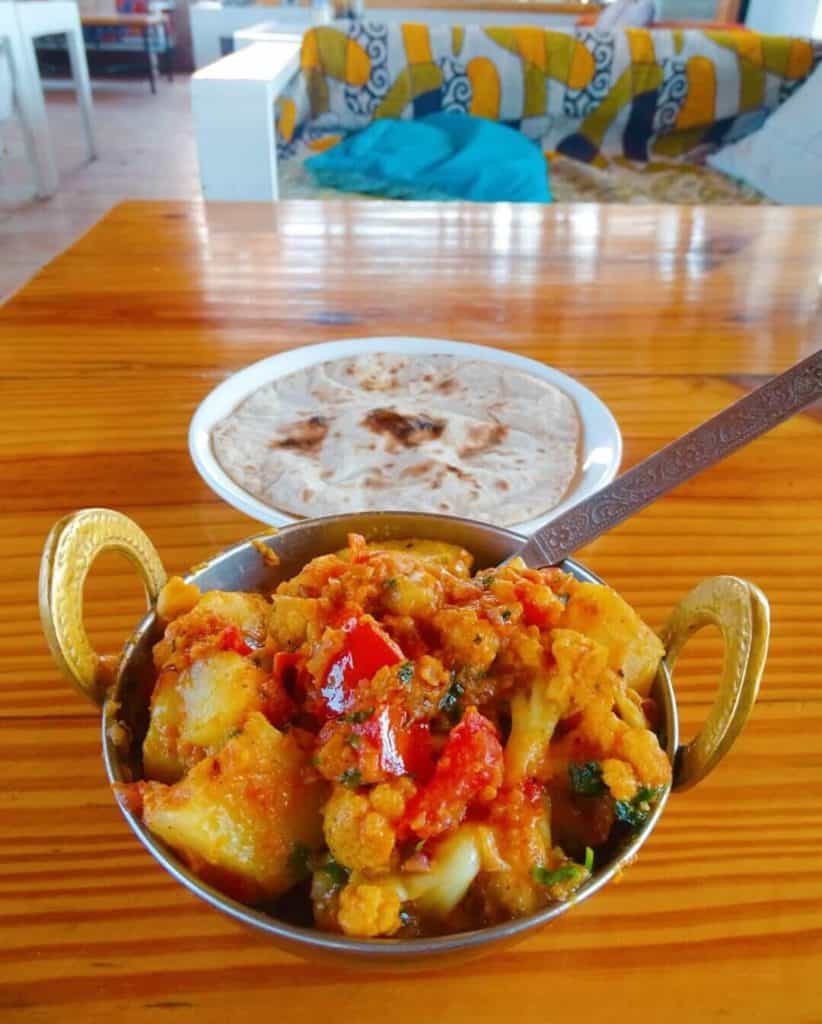 I can't lie, I only came to Sixth Sense Restaurant to nose at the inside of Inn Seventh Heaven but I was happy to find some of the best food in Pushkar inside.

I'd heard about this pretty hotel, which actually isn't even expensive to stay in, and I wanted to see it for myself.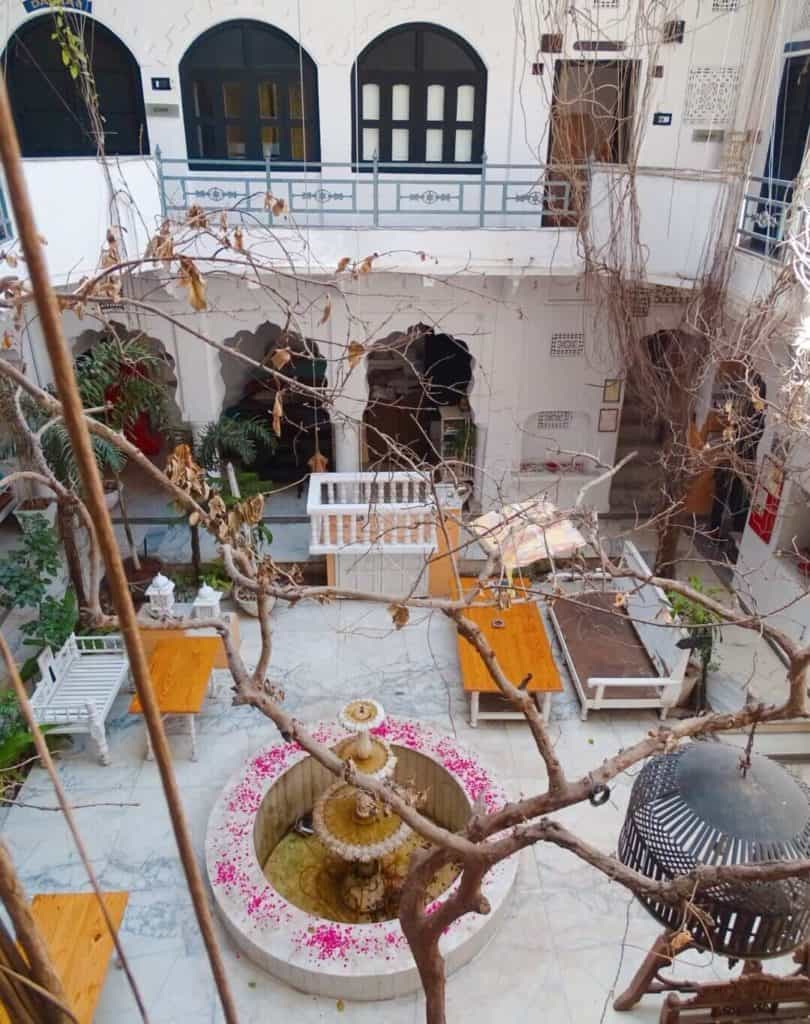 The food in this Pushkar restaurant was very tasty and only set me back 140 rupees. I was the only person in the restaurant besides the staff which was a bit odd, but I guess it's slightly hidden away. If you need to escape the busy streets, this is the ideal refuge.
Shri Venkatesh Restaurant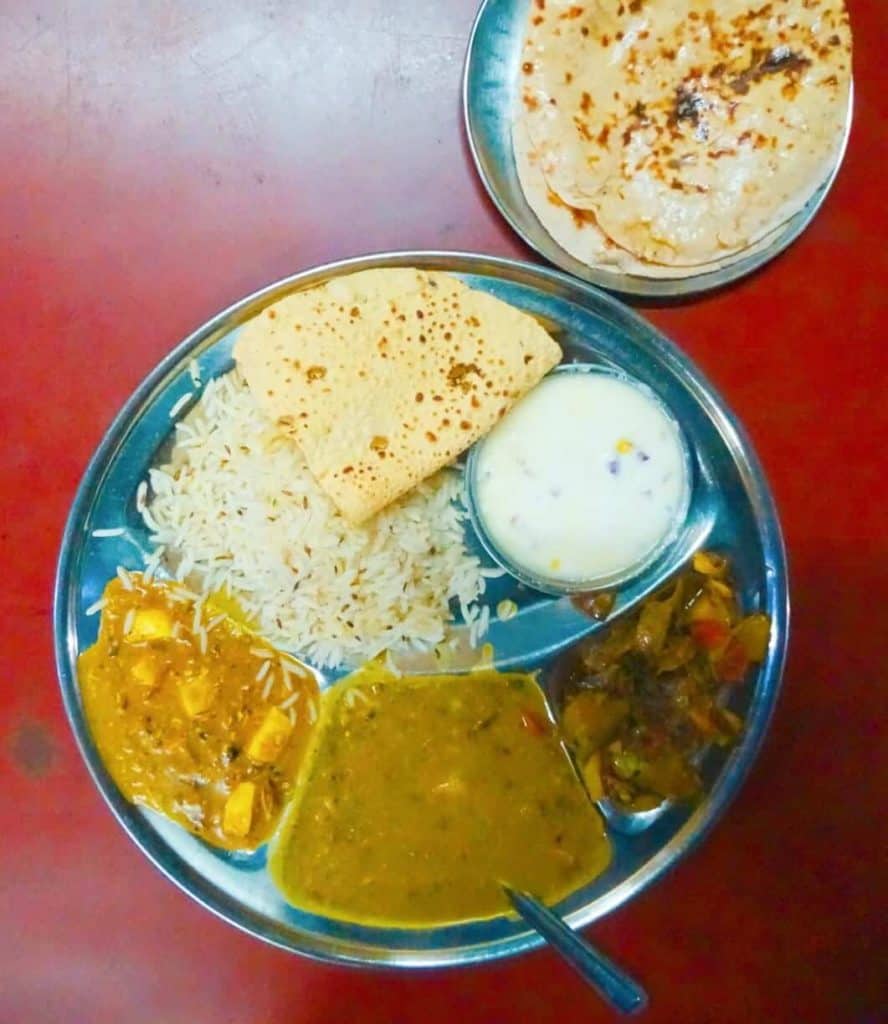 I never tire of thali in India, especially when it varies with each portion. Usually you'll get paneer, chickpeas, veggies, curd to cool your mouth down, and a chapati to mop it all up.

In Pushkar, I ate at Shri Venkatesh Restaurant where I paid 200 rupees for thali and a drink. It's a modest family-run restaurant on the main street and feels a little more authentic than some of the tourist cafes.
Nirvana Cafe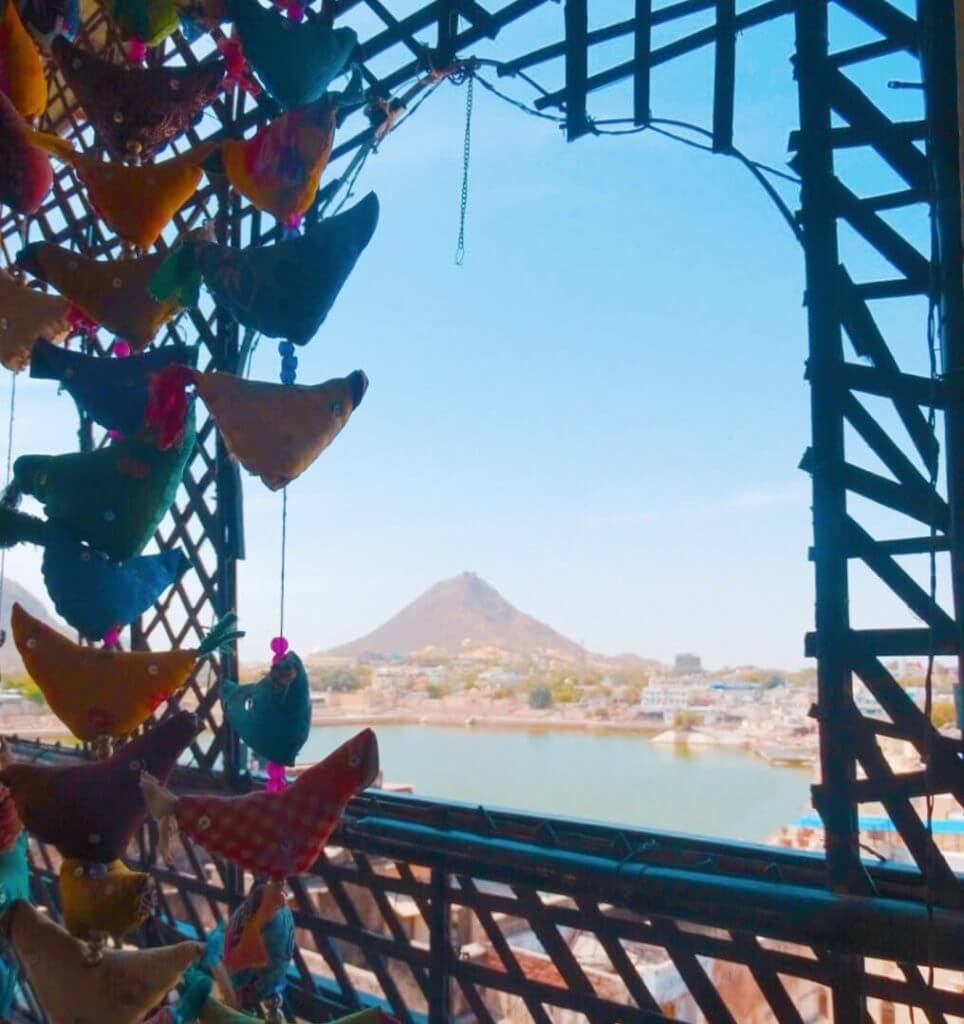 This hippie cafe in Pushkar is similar to Laughing Buddha with its Western-style dishes and quirky, colourful interior.

As the name Nirvana might suggest, there's something spiritual and freeing about this cafe. It's not the fanciest Pushkar cafe but it is a cosy place to sink into a colourful beanbag, order a herbal tea and admire the colourful wall art, murals and posters.

Walking up the stairs to Nirvana Cafe will tire you out especially in the summer heat but it's worth it for the views over Pushkar Lake. There's no air con but luckily the breeze above the city rooftops feels refreshing enough.
Street food in Pushkar
While I enjoyed all the meals mentioned above, most are quite touristy. Pushkar is quite crowded and 'discovered' these days so it's actually a little difficult to get away from the Western crowds.

The food tour offered by Moustache Hostel was really good: I paid 500 rupees and we tried 14 of the best foods in Pushkar. Whether you do an organised tour or seek these Indian street foods out for yourself, I would recommend the following…
Dahi Papdi Chaat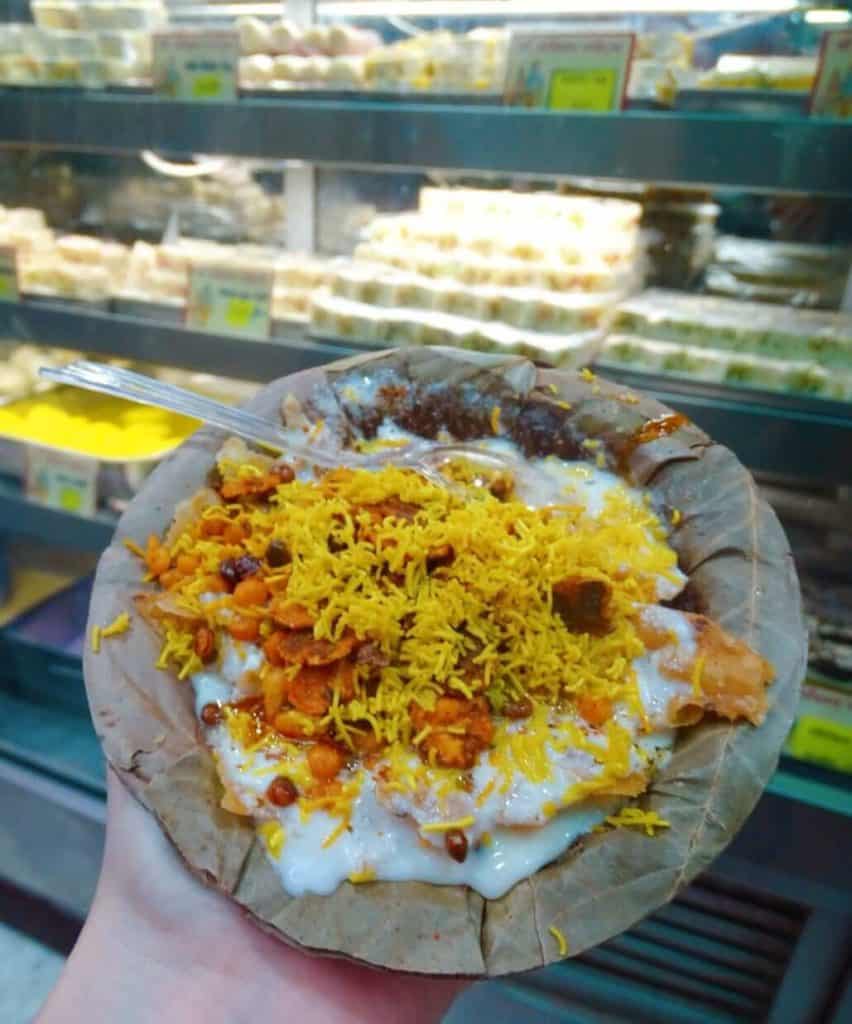 I really liked this dish (which is usually eaten as a snack) because it was sweet, tangy and refreshing: quite different to most of the hot, heavy food I eat in India.

Chaat is usually made with potato pieces and crispy bread, mixed with tamarind sauce and cooling yoghurt. This is a typical North Indian food so Pushkar is a good place to try it. We ate this in the little alleyway beside Riv Cafe.

Rating: 8/10.
Dahi puri
Don't leave India without trying puri which are little crispy shells served with chat and yoghurt.

We tried a few different types in Pushkar, one which was full of tamarind water and literally went allll down my chin and top. So very messy!

Rating: Pretty moreish but not so filling, 7/10.
Aloo tikki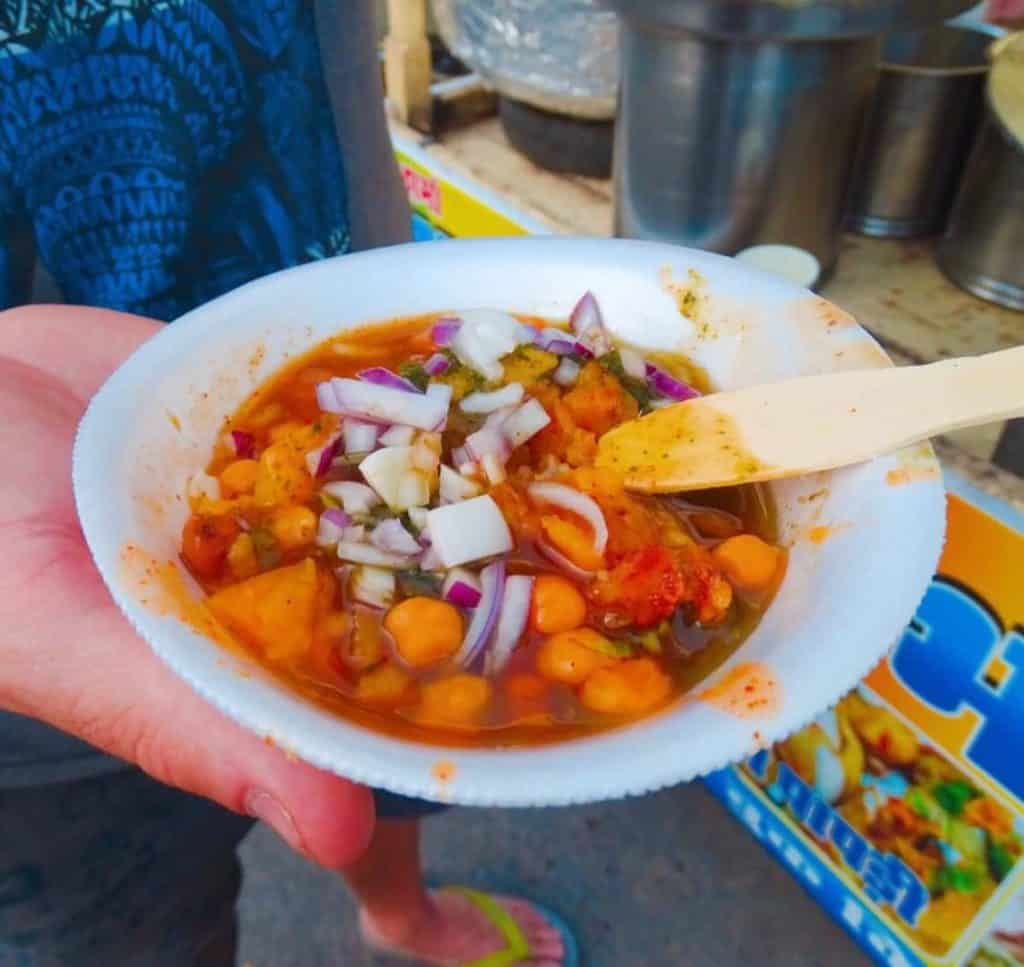 This was the best street food in Pushkar for me. Aloo means potato and tikki means cutlet, so you can probably guess that aloo tikka = potato patties. These ones were mashed up and served with chickpeas and chutney.

Rating: You could really taste the tangy chutney which made this dish so flavoursome – 10/10.
Chole and kulcha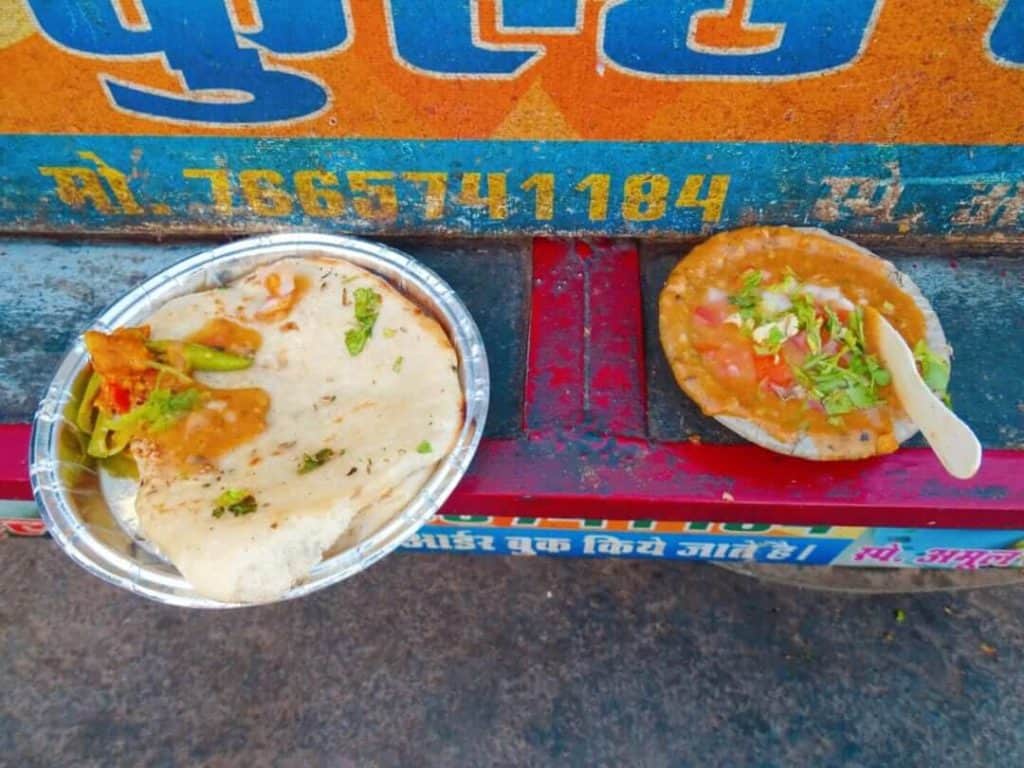 I knew kulcha already because I had it in Amritsar. It's basically an unrisen flatbread which is good but needs to be eaten with something for a bit of flavour.

Chole is similar to channa masala which is a chickpea curry and one of my favourite Indian foods. So neither of these dishes were brand new to me but they're very tasty, filling comfort foods.

Rating: 7/10.
Kachori
Kachori is a type of fried batter filled with chutney. Even though none of the local Pushkar foods we tried were probably that healthy, this one felt particularly oily. We'd had so much chutney already by this point that I was maxed out.

Rating: 5/10.
Desserts and sweets in Pushkar
In most Asian countries, I much prefer savoury food to the sweet. However much of the best food in Pushkar is served for dessert.

I was already familiar with the milky Indian sweets which are displayed in shopfronts but, in Pushkar, I got to try some new Indian desserts including…
Malpua
Oh wow, fried dough soaked in syrup. What's not to like? This is a heart attack waiting to happen but I loved it. It reminded me a bit of jalebi but softer. Find it at a street stall near Riv Cafe.

Rating: 7/10.
Sweet lassi
You can't beat a lassi when you're feeling hot in India. Mango and banana are popular variations that lots of tourists like, but I also rate the plain sweet lassis sold in Pushkar. Street stalls sell them in little clay pots which you throw away when done – a good alternative to plastic cups, I guess.
In Pushkar, I also tried a rose lassi, something my tour guide tried to pretend was specially organised for me because of my name. Lots of desserts are rose-flavoured in India and I like the perfumed flavour.

Rating: Maybe too sweet but 8/10 nonetheless!
Kalakand
If you've eaten Indian sweets before, you'll recognise the taste of Kalakand which is basically boiled, sweetened milk and a lot of sugar. It's like a liquid version of the Indian sweets, flavoured with pistachio.

We ate this at the side street near Riv Cafe, a few metres from the Dahi Papdi Chaat at the start.

Rating: Tastes like milky, creamy sugar – 7/10.
Related reads: my Rishikesh cafe guide and Pondicherry cafe guide
Thanks for reading my Pushkar restaurant guide!
Check out my other India blogs:
See you next time for more adventures,
Rose
For more travel content, follow me on Instagram, Facebook, Twitter and YouTube.
Ps. Liked my Pushkar food guide? Pin it for later!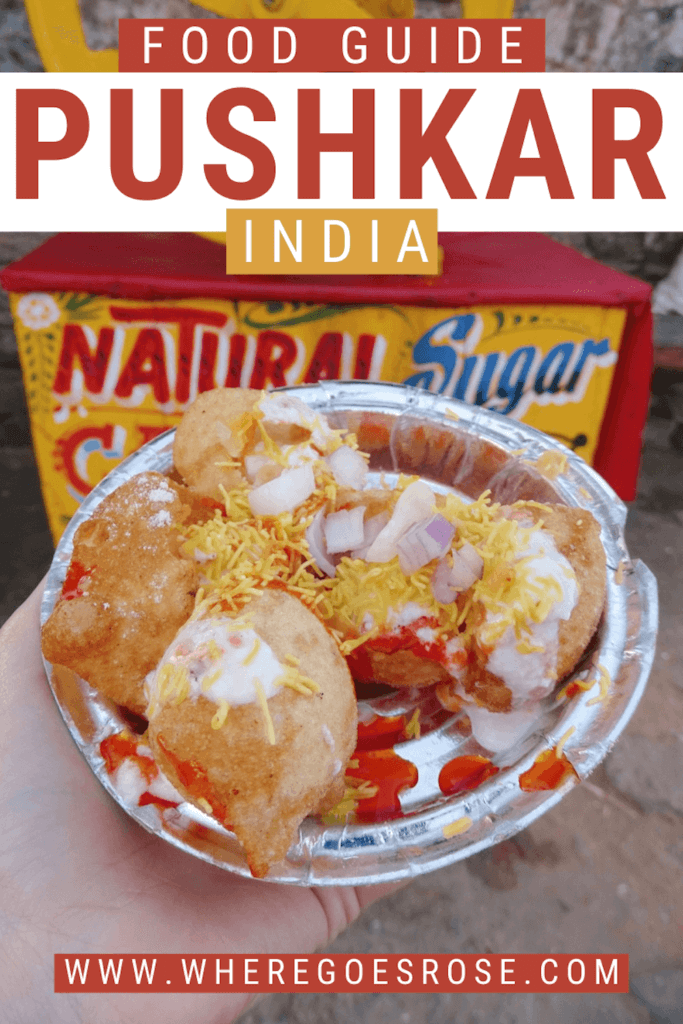 VISITING INDIA?

These are my trusted resources:

Getting around by air – it's easy to get between cities by flight. I use Skyscanner and search by whole month to find the best value dates.

Buses – buses are comfy and efficient. Use 12Go to book.

Trains – these are a good option for long journeys because you have a bed rather than a seat. Use 12Go to book.

For hotels, I use Booking.com – they also have self-catering apartments. You can filter by review score and price to find the best-rated budget places. For hostels, I use Hostelworld.

Browse tours and activities on GetYourGuide. I also check Viator and Klook in case they have a better price.

For food experiences with passionate local chefs and foodies, check out EatWith.

Pack the latest copy of India Lonely Planet.

Need travel insurance? I use True Traveller (for UK & Europe residents) since it's affordable but covers everything you'd need including various activities, valuables and pre-existing conditions. Unlike some companies, they insure you if you're already travelling / don't yet have your flight home booked. Get a quote.

For travel insurance for other nationalities, I recommend Hey Mundo and for long-term digital nomad travellers, I suggest Safety Wing.

Check out my resources page for more travel discounts and tips!