This post may contain affiliate links to things like tours, hotels, Amazon associates and products. These help me earn a small commission at no additional charge to you.
I didn't actually intend to put together a Taichung food guide. I planned to visit for 2 days and spend one exploring the Rainbow Village and one at Sun Moon Lake.

But due to some seriously bad weather, Sun Moon Lake was off the cards. Instead, I decided to spend a leisurely day wandering and finding the best food in Taichung. If I'm ever at a lose end in a new city, this is usually what I do.

I'd done some research already on where to eat in Taichung so, armed with my camera and the fact I'd only had a banana for breakfast, I headed out on a mission.
TAICHUNG ESSENTIALS

Accommodation – Booking.com / Hostelworld

Getting there – car hire / bus / train (12Go)

Activities: GetYourGuide / Viator

Guidebook: Lonely Planet Taiwan

Staying connected: unlimited 4G SIM card
Quick facts:
Taichung is a city of 3 million on the west coast of Taiwan, just down the coast from Taipei.
It's also an affordable city that won't eat up your Taiwan budget. There are also a few bustling Taichung night markets I recommend you check out.
The city is famed for inventing the country's beloved bubble tea, something I'm eternally grateful for!
The best food in Taichung
Wondering where to eat in Taichung? You won't be short of options. Traditional wet markets sell popular dishes that have been served for generations, while vibey night markets serve modern Taiwanese food, and fashionable cafes serve world cuisine and speciality coffee.

Let's dive in!
Read next: what to eat in Taiwan – 20 best Taiwanese dishes to try
Original bubble tea
Can we include drinks in a Taichung food guide? Yeah, we can.

Bubble tea is basically a dessert when you consider the amount of sugar it contains, as well as the chewy tapioca bubbles which I have grown to adore.

I've heard that Taiwanese people really love the different textures of food and, after visiting, that's something I can totally understand. The texture of bean paste desserts is equally odd but strangely satisfying.
Original Chun Shui Tang
When I found out that Chun Shui Tang was the original purveyor of bubble tea in Taiwan, I knew I had to go. There are a couple of branches Taichung (as well as a million other bubble tea cafes) but this sit-down cafe is where it all began.

It's slightly away from the centre of town meaning the streets are sleepy and relaxed: perfect for sipping back with some iced boba.

There are a lot of flavours to try at Chun Shui Tang including jasmine pearl tea, matcha with red bean and fruit tea. I went for the original bubble tea with milk and it wasn't the best I've had but that's my own fault for ordering low sugar. Also it was also full of ice (despite only ordering the standard amount) meaning it was gone in a few sips.

I'd recommend ordering less ice here and, if you want it to be delicious, just treat yourself and go full sugar!

Prices at Chun Shui Tang are pretty inflated: NT$70 for a small tea and 130 for a medium (which was giant to be fair). I guess you're also paying for the experience of drinking boba in its birthplace.
Miyahara Ice Cream
While I love sampling authentic local foods served for generations, there's nothing like an Instagrammable ice cream, amirite?

Dessert lovers wondering where to eat in Taichung should head to Miyahara, a Taichung institution known for its endless flavours of ice cream made with real fruit and cacao. The chocolate ice cream counter has 18 flavours from countries renowned for their beans, ranging from 100% to white chocolate.

Miyahara is also known for its seriously impressive interior, decked out with bookshelves and chandeliers. If you're looking for holiday gifts, this is the place to find sweets, peanut brittle and mochi, all in gorgeous packaging.

It's pretty expensive but that's to be expected. I paid NT$180 for two scoops of ice cream in a waffle cone with two toppings. The toppings alone are entire desserts ranging from flower and teddy bear-shaped biscuits, Taiwanese pineapple cakes and fresh fruit.
If you're after an authentic Taiwanese meal, Miyahara may not serve the best food in Taichung… But I personally think you should get down here for a well-deserved treat!
Traditional Taichung breakfast @ the Second Market
Balancing out Instagrammable ice creams with some of the best local food in Taichung, enter the Second Market.

I really enjoyed visiting this place because it was different to the modern night markets I'd seen so far in Taiwan. The gritty feel and sights and smells of raw meat and fish felt more like the Asian markets I'm used to, even if they can be a little overwhelming.

Before wandering deeper into the Second Market, grab yourself a traditional Taichung breakfast at the front. I joined the back of a queue and came away with a glutinous plate of fried goodies.

A typical Taichung breakfast includes a giant slab of rice batter, topped with a fried egg and slathered in a rich sauce that tasted a little like barbeque.

On the side was served what looked like a meat sausage but was actually made of rice. These are quite popular in Taiwan and you'll often find them served at night markets, cut open with a real sausage inside. Sometimes these are translated as 'little sausage in big sausage'!.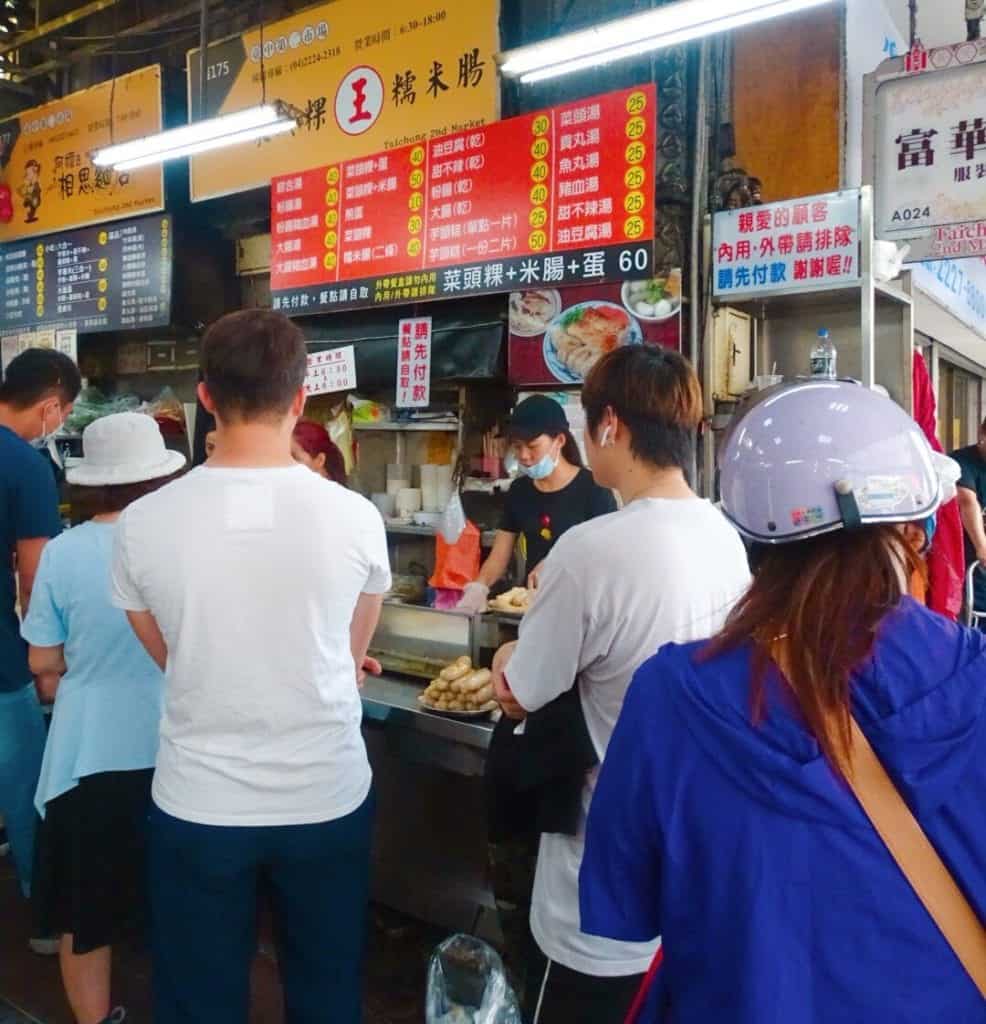 Many people were eating their Taichung breakfast with a clear soup full of herbs and what looked like fish balls and pig's blood cubes. You'll find all over Asia, they're basically like English black pudding. My meal was already enormous and very rice heavy so I definitely didn't need soup, too!

When you visit Taichung Second Market, you will need to do a bit of pointing and miming as there's no much English spoken. However, the breakfast plate is a simple meal and there aren't many combinations available so it's pretty easy. I paid NT$60 for my meal.

Sushi fans: I spied a fresh fish stand near the back that served generous cuts of tuna with soy sauce and wasabi. It looked fantastic: go, go, go.
Yizhong Street Night Market
Next in my Taichung food guide, markets! My top Taiwan tip is to eat at night markets wherever possible.

Yizhong Street was just down the road from my hostel so I ate there both nights. It reminded me of Taipei's Shilin Market because the stands merged with the permanent takeaway cafes and bubble tea shops with lots of them playing loud music. It was hard to know where the high street ended and the market began.

Yizhong is a busy Taichung night market with a party atmosphere and people of all ages out enjoying themselves. I really like that about Taiwan – it feels so safe and relaxed to be out and about at night.
Some of the best food in Taichung is served at Yizhong Night Market including Taiwanese favourites as well as Korean, Japanese, Vietnamese and Thai food. Things I tried were:
Steamed dumplings (10 for NT$30 – bargain!)
Fresh sushi (NT$10 per piece) – make sure to try the fish with teriyaki sauce
Stinky tofu! I decided to finally give it a go and, although it wasn't that bad, it also wasn't especially tasty. Best to save your money and stomach room for bubble waffles, fried chicken and the like!
Japanese food in Taichung
Where to eat in Taichung if you want a break from Taiwanese food? I can't imagine ever having enough but I was also excited to eat some authentic Japanese food in Taichung.

Also, around the Yizhong area is a multitude of Japanese restaurants. I'm not sure why they're so condensed in this area but I'm not complaining. They're a great place to try cutlet curries and ramen without the price tag of flying to Japan. Or the price tag of eating them back home for that matter.
For NT$150 (less than US$5) you'll get a giant meal that will keep you full all day. I would recommend the following two Taichung restaurants for some of the best food in Taichung, however I'm going to have to pin their locations and describe them because their names are in Chinese!
Cutlet curry (above) – this modest cafe is run by the sweetest old man who tried his best to explain everything to me in English. There are loads of combinations to choose from including pork and chicken cutlets served with rich curry sauce flavoured with ginger. It's NT$150 for a large serving of meat or 130 for a small one – I went with the latter. The Taichung restaurant is pinned here (find it next door to Bridge Cafe).
Ramen (below) – there are loads of different types of ramen at this authentic Japanese restaurant in Taichung. I went with a spicy one that wasn't particularly spicy but that says more about Taiwanese food as a whole. For NT$180, it came with a sweet iced tea. Find it pinned here next door to Boba House.
International food in Taichung
I decided to include some home comforts in my Taichung food guide, even though they're not what I usually seek out in Asia.

For international food, I can't recommend anywhere better than Getcha Hostel and Bistro. I stayed overnight here but you can visit the bistro just for food and drinks. They serve spaghetti carbonara which is as tasty as any I've had in Europe and excellent cocktails and flat whites.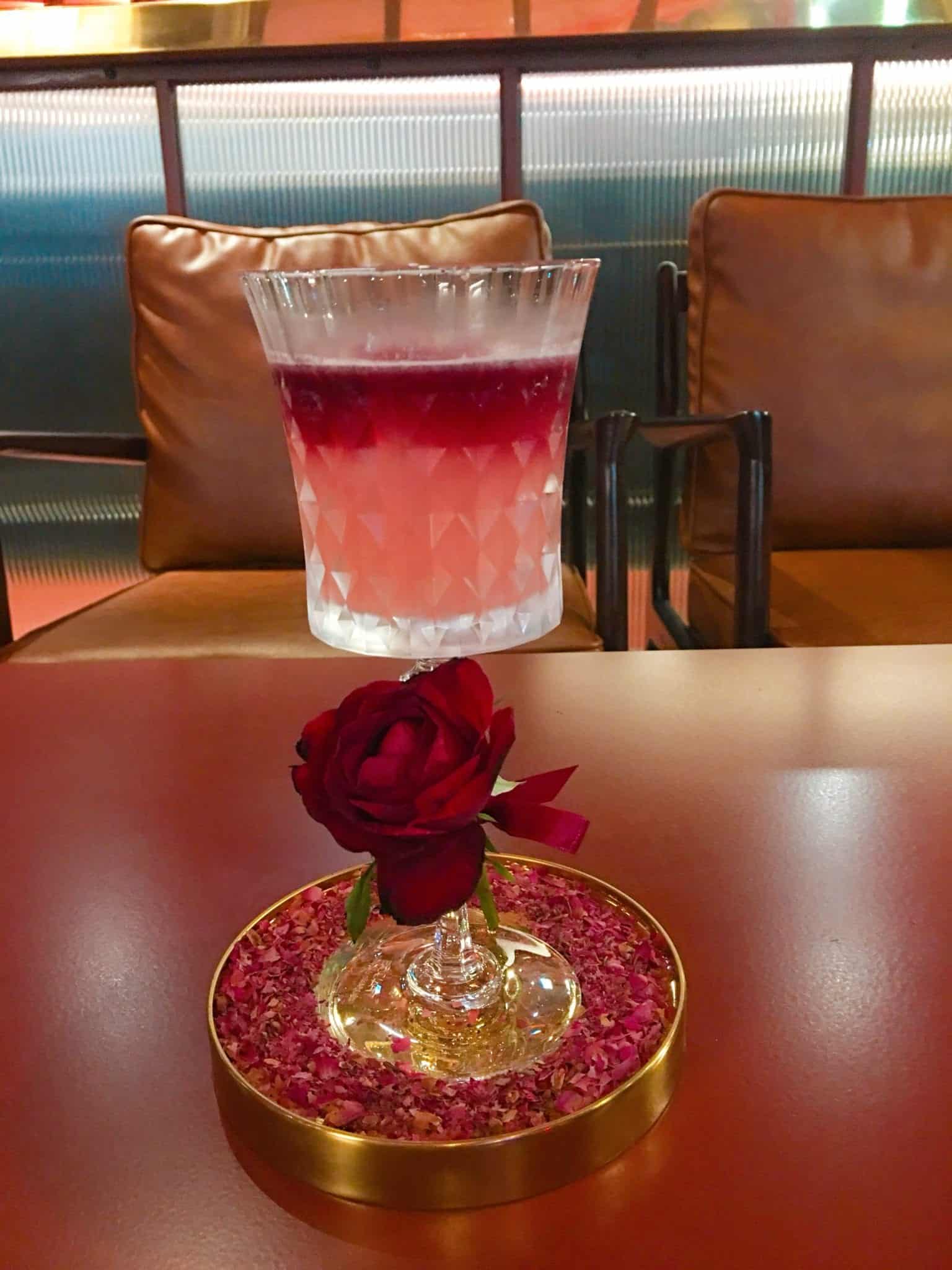 I hope you have a better idea of where to eat and drink in Taichung and these options have made you hungry. Until next time, Taichung!
Thanks for reading my Taichung food guide
Ps. I was hosted by Getcha Hostel and Bistro during my trip to Taichung but all opinions are my own.
Check out some of my other Taiwan posts:
See you next time for more adventures,
Rose
Ps. Want to try the best foods in Taichung? Pin this blog for later!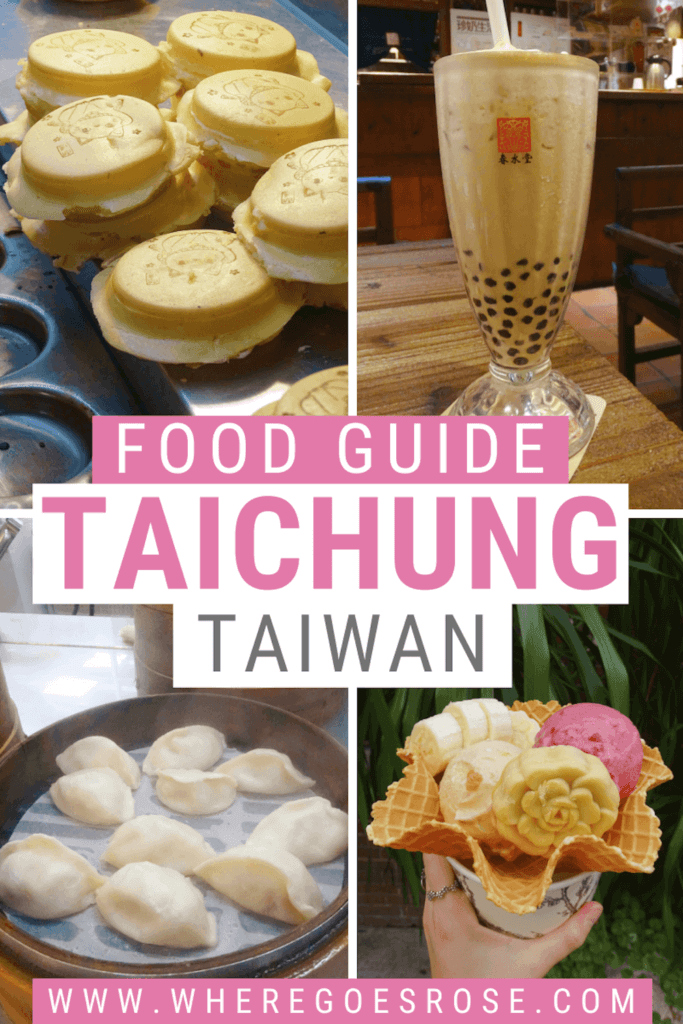 TAIWAN QUICK LINKS

Getting there – it's easy to arrive by flight. I use Skyscanner to find the best-value flights, using the 'search by month' tool to find the cheapest dates.

Stay connected with an unlimited 4G SIM card for 3, 5, 7, 10, 15 or 30 days.

In my opinion, Lonely Planet offer the best guidebooks. Get the latest Lonely Planet Taiwan.

Car hire – I recommend RentalCars.com for car hire in Taiwan and around the world.

For Taiwan High Speed Trains, use 12Go. The search feature allows you to compare prices and durations.

I use Booking.com for accommodation. They have the best range of hotels and self-catering apartments, plus you can filter by review score and price to find the best-rated budget places. For hostels, I use Hostelworld.

To save money on accommodation, I use Trusted Housesitters, a website that connects homeowners going away and travellers who can sit their homes & pets.

For activities, I use GetYourGuide and Viator as they both have a huge range of affordable tours.

Need travel insurance? I use True Traveller (for UK & Europe residents) since it's affordable but covers everything you'd need including various activities, valuables and pre-existing conditions. Unlike some companies, they insure you if you're already travelling / don't yet have your flight home booked. Get a quote.

For travel insurance for other nationalities, I recommend Hey Mundo and for long-term digital nomad travellers, I suggest Safety Wing.

Check out my resources page for more travel discounts and tips!