This post may contain affiliate links to things like tours, hotels, Amazon associates and products. These help me earn a small commission at no additional charge to you.
With over 7,000 islands in the Philippines, how on earth to choose?

Whether you're planning to go backpacking the Philippines or taking the luxury vacation of a lifetime, the first thing you'll want to know is 'which are the best islands in the Philippines to visit?'

Well, it really depends on what you're into. You might imagine beautiful beaches and crystal clear oceans when you picture the Philippines, and you wouldn't be wrong. But there's plenty of variety between the islands.

Some are popular party islands with beach bars and boat cruises, while others are quiet and local. Some have little to do but lounge on the beach (which might be exactly what you need) whereas others are known for their bountiful sea life and exceptional snorkelling and diving opportunities.

Whether you want a luxury escape or a remote adventure, you'll want to suss out the most beautiful islands before you arrive.
Read next: 101 tips for travelling in Southeast Asia
The top islands in the Philippines
Rather than pack in island after island during a two-week trip, I'd recommend picking a select few based on what you're into (for example, diving, snorkelling or partying) and making the most of them.

You'll also want to consider how much tourism the islands receive. If you're the type of traveller who likes to escape the crowds and experience local culture, avoid the most famous islands in the Philippines (*cough* Boracay).

Here's my run-down of the best islands to visit in the Philippines in no particular order (although I can't lie; number 1 is my favourite).
How to get between the Philippines islands
The Philippines is one of the harder Asian countries to travel around. There's a clear Southeast Asia backpacking route crossing land borders between Thailand, Laos, Vietnam and Cambodia. You can even reach Myanmar and Malaysia without taking a flight.

But the Philippines? Not so much. You'll probably need to take a handful of internal flights. Manila and Cebu are the big hubs but many smaller islands have airports, too. In fact, there are 70 Philippines airports.

If you have enough time, reduce your carbon footprint by using buses and ferries to reach the smaller islands. For example, you can fly to Cebu then catch a ferry to Bohol then, from there, a ferry to Siquijor.
Best Philippines islands
With no more ado, here are the most magical places to visit in the Philippines…
1. Malapascua – best Filipino island for diving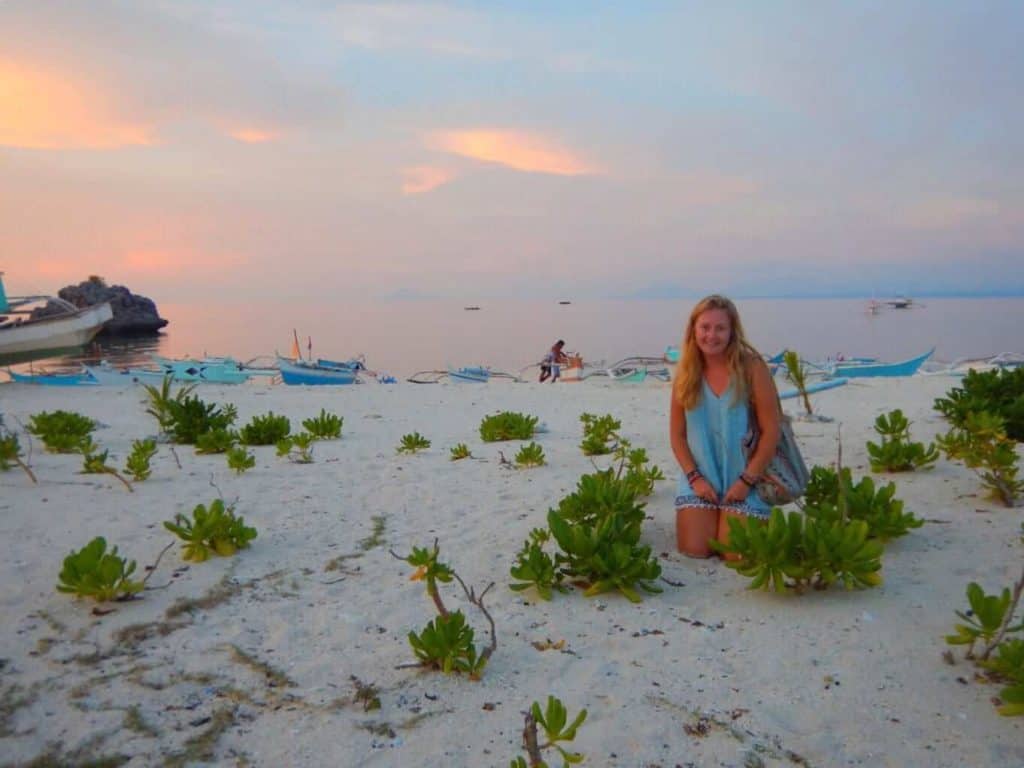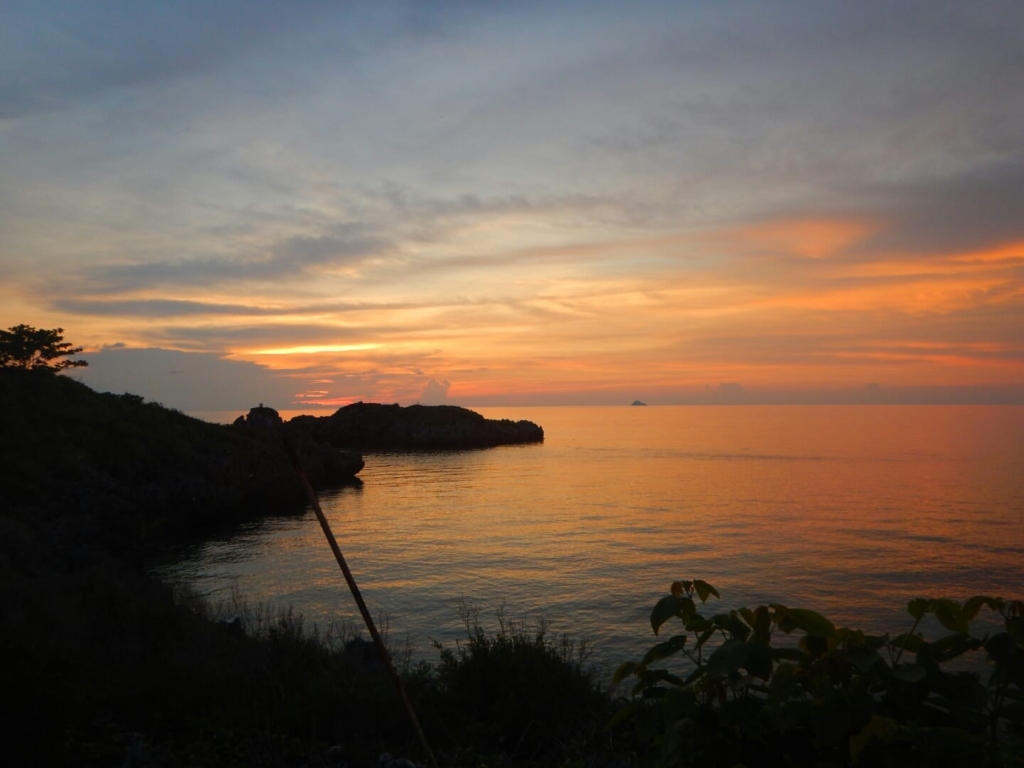 Not only is Malapascua one of the most beautiful islands in the Philippines, but it's also a diver's paradise. Although you can take your basic Open Water qualification here if you wish, it's more of an advanced destination because the real attraction is 30 metres below surface level…

Malapascua is the best place in the world to see distinctive thresher sharks as they clean and feed. These distinctive sharks with long tail fins are harmless and inquisitive, swimming right up to you.
Check out my friend's video of our shark dive:
Even if diving isn't your bag, Malapascua offers everything you'd expect from a Filipino island and a lot of local life, adding a real sense of character. The vibe is unlike any of the more developed, touristic islands. Hire a scooter and local guide in the late afternoon to catch sunset from the cliff viewpoints.

How to get to Malapascua: Catch a 4-hour bus from Cebu city to the northmost tip of Cebu island (New Maya Port) and board a boat to Malapascua. These depart when full and take 30 minutes.
2. Kalanggaman – AKA paradise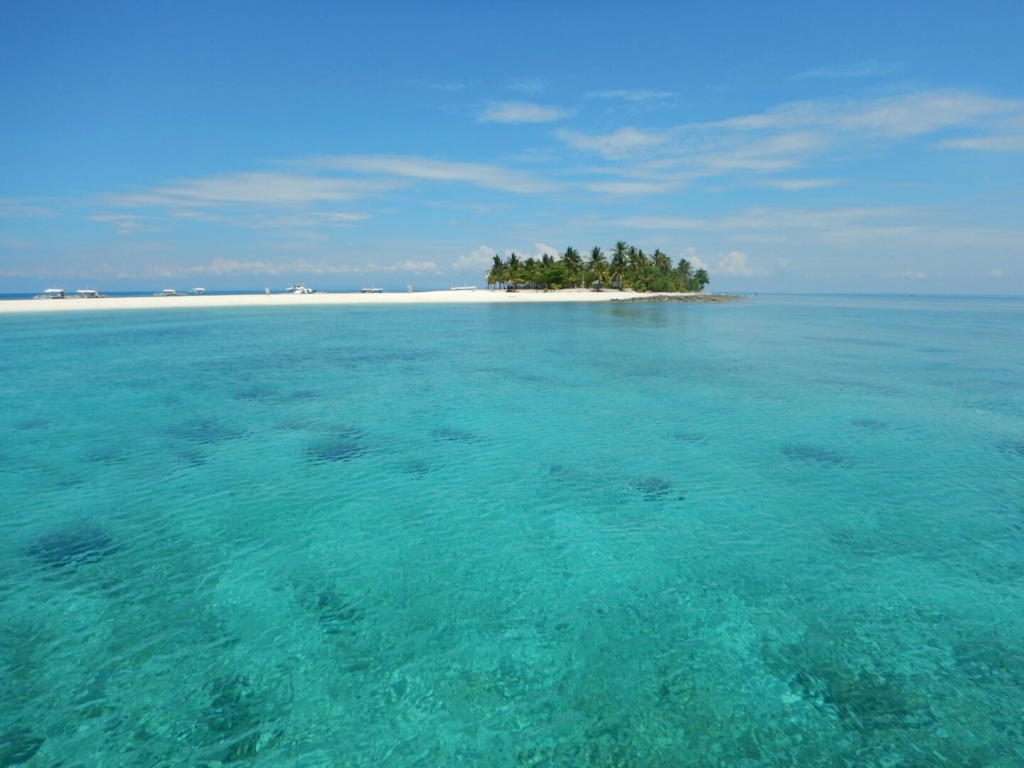 My idea of paradise? Kalanggaman. This tiny sandbar island measuring a matter of metres in length is shaped like a teardrop. In the municipality of Palompon in Leyte, it's easily visited from Malapascua.

You can snorkel offshore and spot colourful marine life around the reef. Aside from relaxing on the beach and swimming, there's little else to do on Kalanggaman but that's hardly a problem. You can bring a tent and stay overnight but note there are no facilities or electricity. That's part of the island's charm!

How to get to Kalanggaman: The easiest option is to take an organised trip from Malapascua. You'll pay around P800 including lunch for a return boat trip and another P500 as an island entrance fee but with views like this, you'd be mad not to.
3. Palawan – the most famous island in the Philippines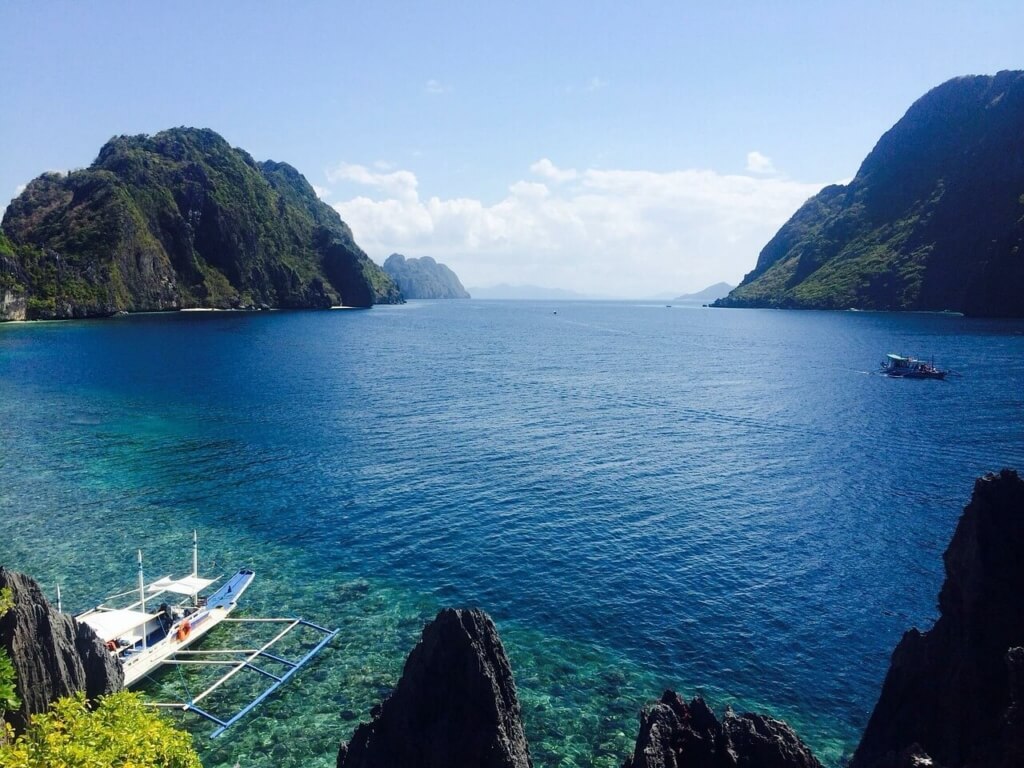 Aside from Boracay and Cebu, Palawan is one of the most famous islands in the Philippines – for good reason. If you're looking for an island with numerous points of interest, tourist infrastructure and a wide range of accommodation options, Palawan is many destinations in one.

It would take 10 hours to drive the length of Palawan with a multitude of towns, villages and beaches along the way. I'd recommend at least a week (if not two) exploring Palawan. Top stops include:

El Nido: This region of Palawan is gorgeous but very busy. Boatloads of tourists head off in their throngs and it's tricky to find a secluded spot.

Port Barton: This town made me feel like an intrepid explorer back in 2016. There was little tourism infrastructure and no ATMs or electricity after 9pm. My best memory is taking a trip on a local's boat including camping on an abandoned island, swimming with luminous plankton and snorkeling in secluded spots.

However, I hear things have changed considerably in a few short years. Still, Port Barton is nowhere near as busy or crowded as El Nido.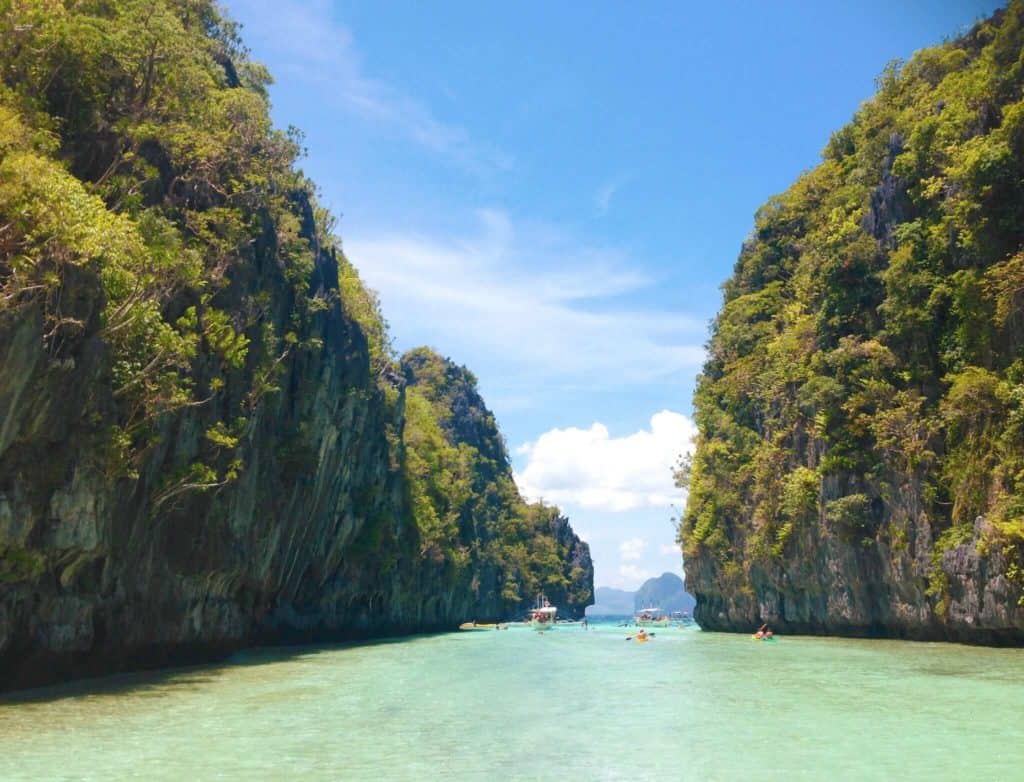 How to get to Palawan: Fly into Puerto Princesa International Airport. Although many tourists travel directly to the beach, I spent time in Puerto Princesa City visiting the famous Underground River and Iwahig Prison to gain insight into the Filipino justice system and see the inmates dance and beatbox to raise money for their rehabilitation.
4. Coron – best for diving
Sparkling waters, colourful corals and tropical fish make Coron, just north of Palawan, a strong contender for the most beautiful island in the Philippines.

Affordable boat cruises visit the various outlying islands, limestone karsts, beautiful beaches and gorgeous lakes. Snorkelling and diving are popular excursions with impressive WWII shipwrecks to see underwater. Depending on the tour you take, delicious seafood lunches are prepared while you explore, and served on the beach.

There are excellent places to eat on Coron waterfront with a variety of restaurants that grill up fresh seafood, served to your table with a variety of side dish specialties from the area.

Another reason to support Coron tourism? Operators are mandated to avoid plastic and recycle to protect the environment.

How to get to Coron: Flights from Manila take less than one hour. Base yourself in the main city of Coron where you'll find accommodation ranging from affordable guesthouses to Airbnbs and upmarket resorts.

Coron entry submitted by Noel from California and Beyond.
5. Cebu
Cebu is a province comprising 150 Filipino islands that surround the main island, home to Cebu city. The island's charm doesn't lie in this urban metropolis. Once you've landed, you'll want to escape to more tranquil locations.

Kawasan Falls, Moalboal and Oslob are some of the most beautiful places in Cebu. Snorkelling with an enormous living, breathing sardine shoal in Moalboal was one of the highlights of my backpacking trip.

A word of warning – many tourists flock to Oslob to swim with whale sharks, however this activity isn't carried out in an ethical way: the sharks are fed to encourage them to return to the same location each day, thus diminishing their migration skills and ability to find food. Please avoid.

How to get to Cebu: Fly into Mactan–Cebu International Airport. Take buses between hubs on the island and hire a scooter to reach rural attractions.
Related read: where to stay in Cebu
6. Siquijor – best Filipino island for getting off-the-beaten-track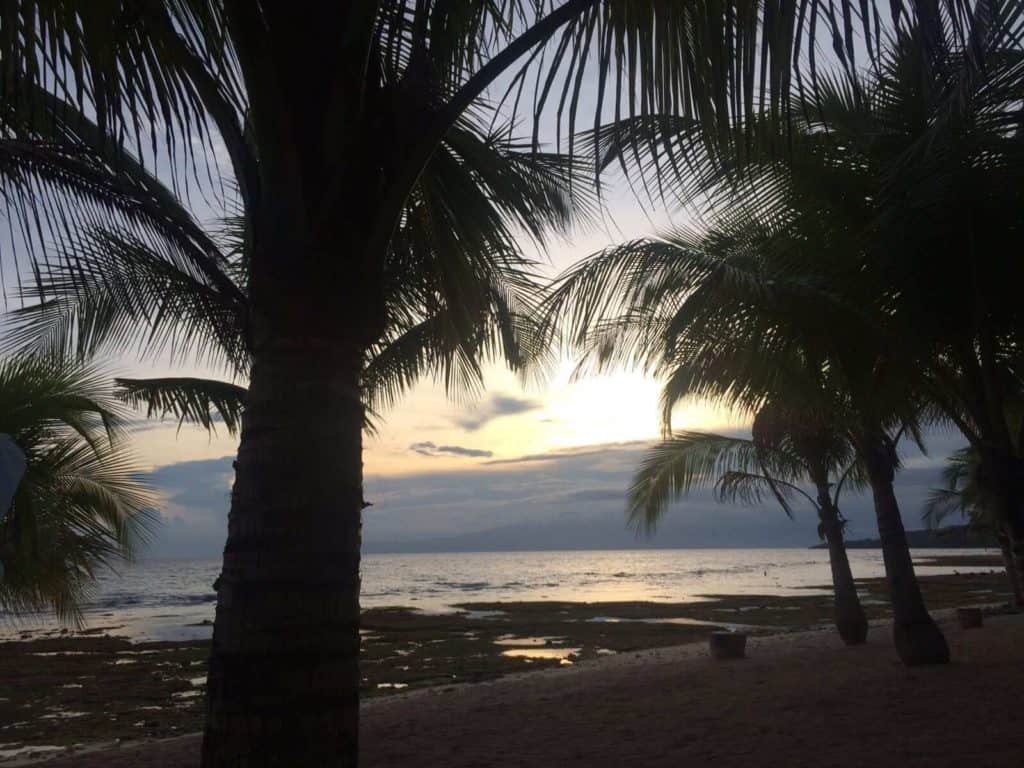 Siquijor is one of the best islands to visit in the Philippines if your objective is getting off-the-beaten-track. Shrouded in secrets, the island is home to mystical 'healers' and tales of witchcraft.

This intriguing history dates back to a time when there were no hospitals on the island, meaning locals had to rely on their own forms of treatment. An off-beat attraction for those with an open mind is to visit a local witch doctor and receive an aura-cleansing 'bulo bulo' treatment.

If that doesn't float your boat, maybe beautiful beaches and waterfalls will. Despite the local feel of the island, it's worth noting much of the coastline is owned by hotels so you may want to choose your accommodation with this in mind. Staying inland doesn't have quite the same appeal.

How to get to Siquijor: We travelled from Cebu to Bohol to Siquijor in this order. If time's tight, take a ferry from Dumaguete Port (a 1-hour flight from Cebu city).
7. Bantayan Island
Northwest of Cebu is one of the best islands in the Philippines for escaping the crowds of Bohol and Cebu.

With a name meaning watchtowers of the King, this Filipino island was once surrounded by 18 watchtowers built to ensure protection from pirates. Nowadays, the only things to be protected are the pristine beaches and corals.

If you love seafood, Bantayan Island is a dream. Tuck into the catch of the day and pay considerably less than you would on one of the more touristic islands in the Philippines.

How to get to Bantayan: Take a bus from Cebu's North Bus Terminal to Hagnaya Port where you can board a ferry to Bantayan Island. The MyBus shuttle connects North Bus Terminal with Cebu airport.
8. Apo Island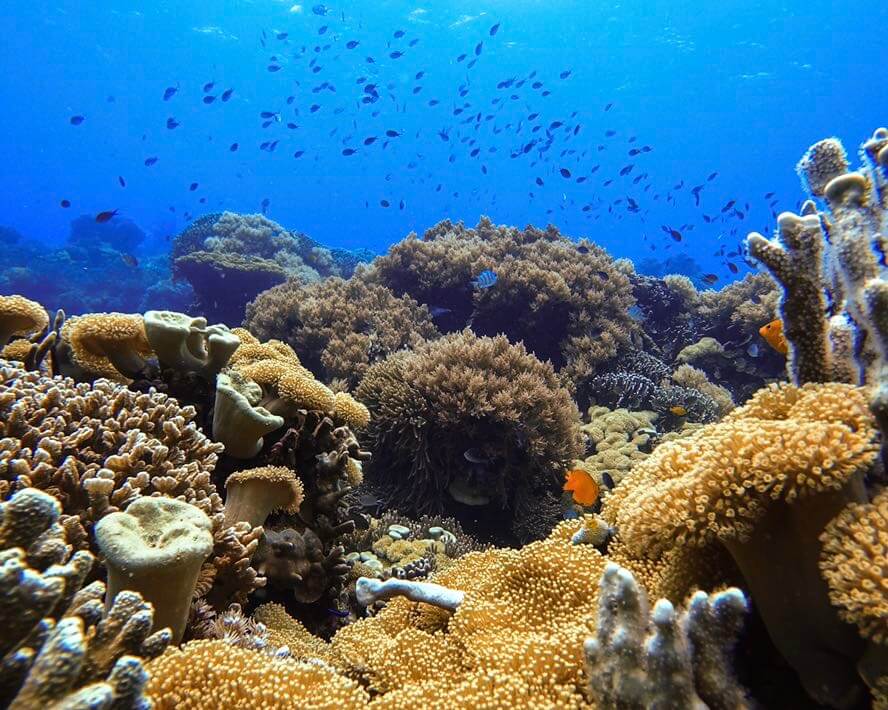 Located in the Visayas, Apo Island is considered to be one of the best Philippine islands for divers. This volcanic island is home to around 1000 Filipinos, but what's most extraordinary about Apo Island lies underwater.

Declared as a marine protected area, the waters surrounding Apo Island have become a sanctuary for sea creatures, especially endangered sea turtles. It's also home to more than 615 documented species of fish and 400 coral species.

Because of the thriving coral reef system and its proximity to Dumaguete City in Negros Oriental, Apo Island has become a popular attraction for tourists. It's a wonderful place to swim with turtles or dive within a healthy reef.

While there are resorts and restaurants on the island, most visitors prefer to visit Apo Island as a day trip.

How to get to Apo: There are many travel services that arrange day trips to Apo Island from Dumaguete City. These usually include transport by land and boat, snorkeling and lunch.
9. Bohol – best for countryside
A couple of hours south of Cebu lies Bohol. It's known as one of the Philippine's top islands: there are plenty of activities that don't involve simply lying on a beach.

See the famous Chocolate Hills, cruise down the Loboc River in a floating restaurant and meet tiny tarsier monkeys (the world's smallest primate). You can also organise day trips to surrounding Philippines islands like Panglao.

Tagbilaran is a convenient place to stay and you can easily organise tricycle tours around the island. However, you can find nicer and more beautiful bases, one of the best being Nuts Huts on the banks of the Loboc River.

How to get to Bohol: Fly to Tagbilaran airport from Manila or catch a 2.5-hour ferry from Cebu city.
10. Panglao – best for marine life
This touristic, beachy island may not be a hidden gem but it's still one of the most beautiful islands in the Philippines with plenty of activities and lively nightlife. The best place for hostels and nightlife is Alona Beach.

It's easy to organise island-hopping boat trips with opportunities for snorkelling with sea turtles and dolphin watching. Don't miss nearby Balicasag Island and Virgin Island if you like snorkelling and diving.

How to get to Panglao: Catch a tuk-tuk over the bridge from Bohol. If you choose not to stay overnight on Panglao, you can organise day rates with a local driver in Tagbilaran City who will take you to the Panglao points of interest and back to your accommodation at the end of the day.
11. Virgin Island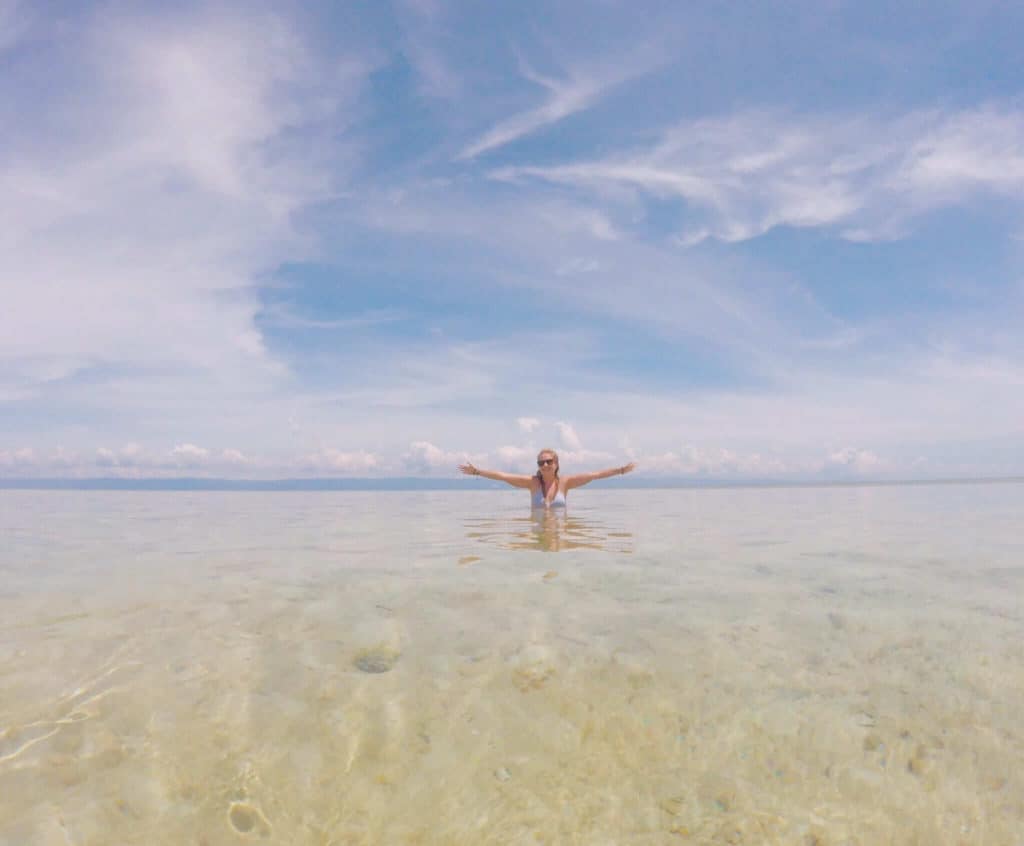 Off the coast of Panglao is this idyllic strip of white sand with no vegetation upon it. The water around the Virgin Island is so shallow you can walk around in the ocean with no waves or need to swim.

Getting to the Virgin Island: This stop is included in tours from Bohol and Panglao visiting both Balicasag Island and the Virgin Island during the same day.
12. Balicasag Island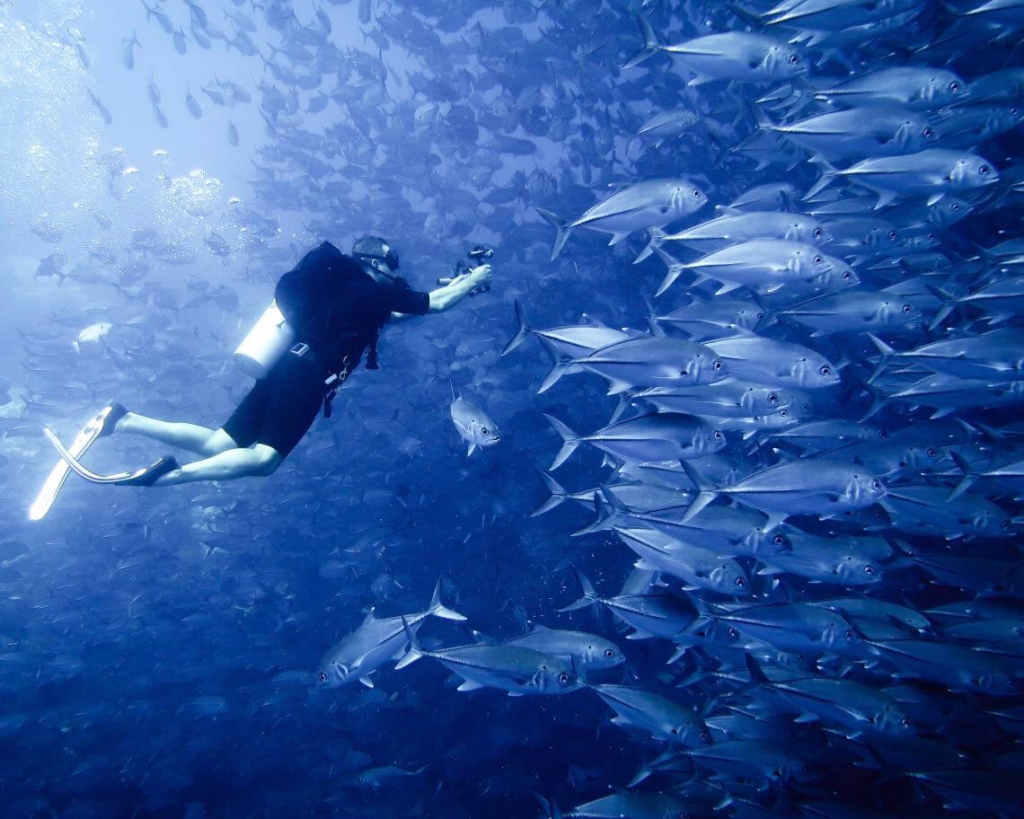 With white sandy beaches and clear aquamarine waters, Balicasag Island sounds like every other beautiful island in the Philippines. But it's not. What makes this island special is its magical underwater world.

This tiny island is a favorite destination for both local and foreign tourists visiting Bohol. Balicasag Island is best known for island hopping, snorkeling, freediving, and scuba diving activities. From green sea turtles feeding on the seagrass to millions of colorful fishes playing in the reef, you won't get bored underwater.

Aside from the vibrant corals, a massive school of silver jacks is often found hanging around the island. It's an impressive sight to behold, in itself worth the trip to Balicasag.
In recent years, Balicasag has become one of the most popular islands in the Philippines and, as a result, the government has enforced a limit on the number of visitors. This is their way of protecting the island and its ocean inhabitants from over-tourism.

To visit the island for beach bumming activities or to dive into the blue, plan well and secure a permit beforehand. Dive shops and island-hopping tour services in Panglao can arrange this for you.

How to get to Balicasag: It's a 30-minute boat ride from Alona Beach in Panglao.

Balicasag Island entry submitted by Ara from Philippines Dives.
13. Leyte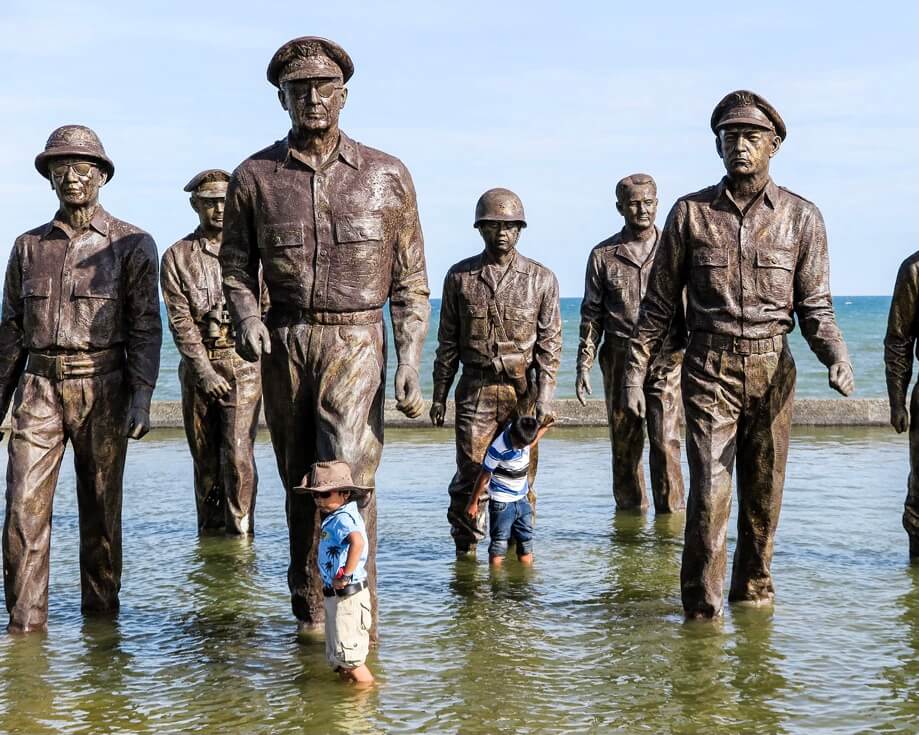 If you want to get off-the-beaten-path in the Philippines, there's no better place than Leyte Island located in the Eastern Visayas province, not far from Cebu.

Tacloban, the provincial capital, played a key role in the history of the Philippines. Learn about the MacArthur Landing, that took place when the Philippines was freed from Japanese rule in 1944 site, at the MacArthur Landing Memorial Park.

There are many sites to see in Tacloban including the Leyte Provincial Capitol building and Santo Niño Shrine & Heritage Museum (once a presidential home). Go further afield to famous San Juanico Bridge and see sights on nearby islands including Sohoton National Park on Samar Island.

Pay your respects at one of the sites remembering typhoon Yolanda (known as Haiyan internationally), one of the worst natural disasters in the Philippines' history. You can see a large cargo ship thrown ashore by the typhoon that wrecked Leyte in 2013, as well as a tribute to the victims on a graffiti wall.

When in Tacloban, eat at Ocho Seafood and Grill and visit the public market in Barangay (Quarter) 38.

Getting to Leyte: Fly to Tacloban from Manila or Cebu.

Leyte Island entry submitted by Veronika from Travel Geekery.
14. Guimaras – best for mangos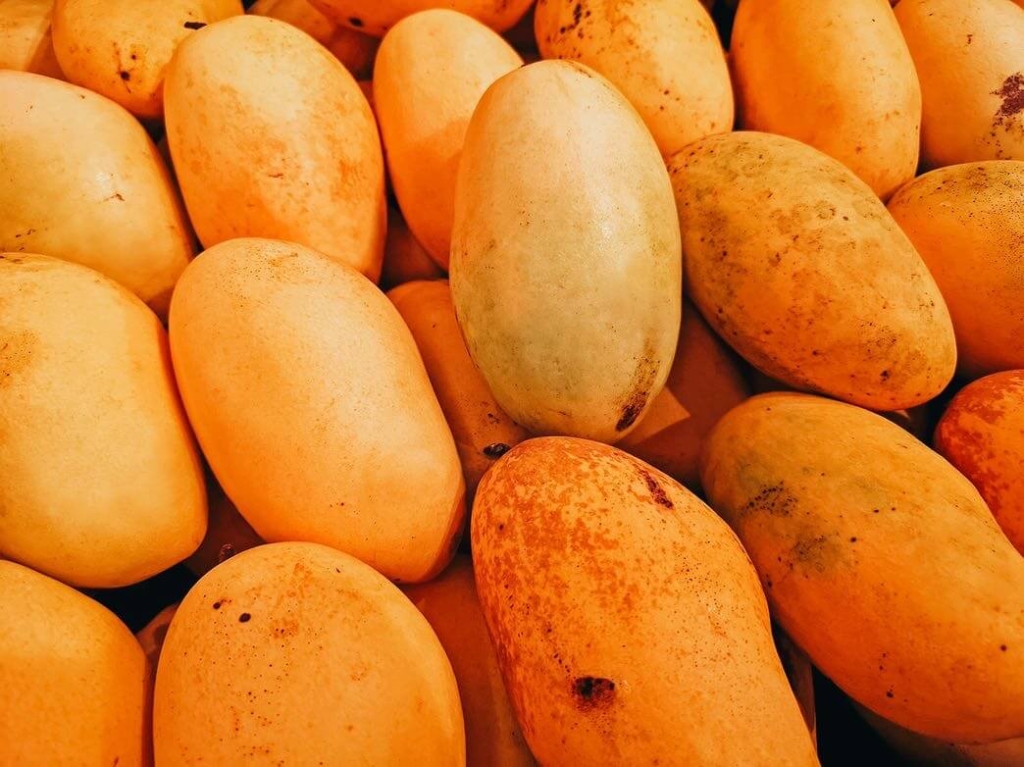 At last count, the Philippines is comprised of 7,641 islands. Many are home to beautiful beaches but not all can claim to have the best mangoes in the Philippines. That distinction goes to just one island: Guimaras.

Guimaras is an island province in the Western Visayas region, situated in the Panay Gulf between the islands of Panay and Negros. Like many islands in the Philippines, it boasts natural wonders including sandy beaches, caves and waterfalls, but what truly sets this island apart are its mangoes.

Guimaras mangoes are known to be the sweetest in the country, which is saying a lot because the Philippines is home to arguably the best mangoes in the world! Anyone who's tried them can tell you Guimaras mangoes have a robust, nectar-y sweetness, unlike any mango you've ever tasted.
So revered are Guimaras mangoes that an annual festival called the Manggahan Festival is held in their honor every May. For two weeks, the island celebrates these magnificent fruits with parades, sporting events and a 'Mango All You Can' bonanza where participants get to eat as much mango and mango goodies as they can for half an hour. The cost? Just 100 pesos, which is equivalent to about 2 USD.

Festival or no festival, be sure to try the mango pizza at The Pitstop restaurant. It's oddly delicious and a rite of passage for any first-time visitor. If mango pizza doesn't float your boat, maybe the delicious milkshakes will.

Getting to Guimaras: Take a 15-minute ferry from Iloilo City. You can fly to Iloilo City or, if visiting Boracay, board a minibus from Kalibo.

Guimaras entry submitted by JB of Will Fly For Food.
15. Mararison Island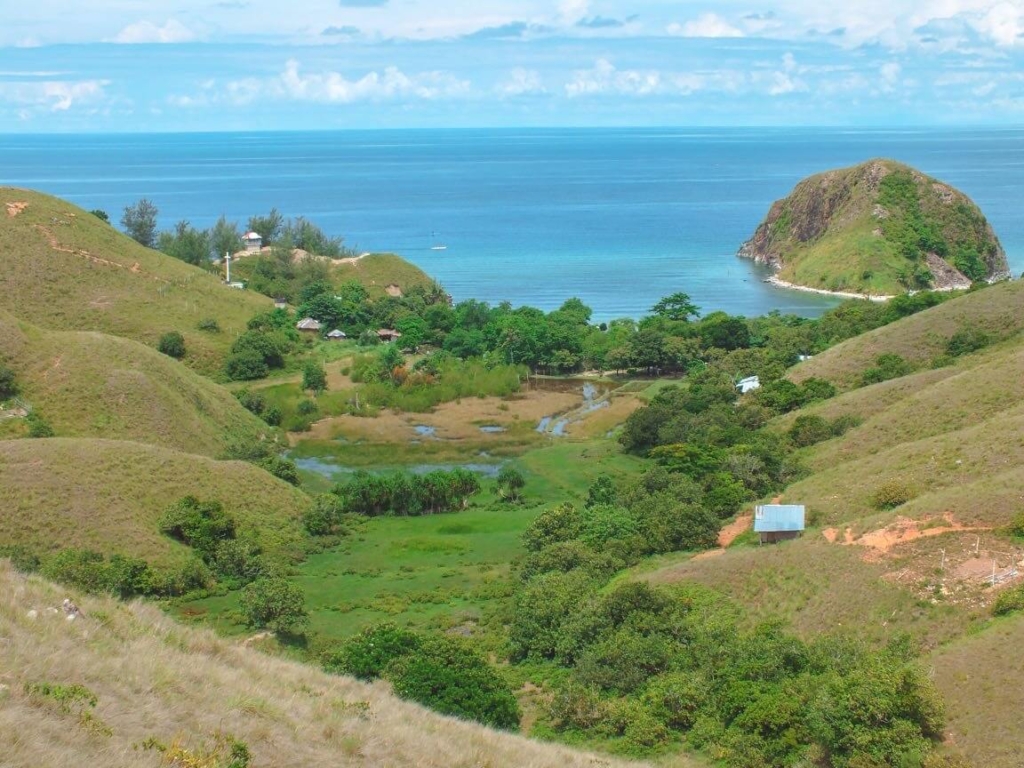 Mararison Island is a dreamy paradise just a few minutes off the coast of Culasi, Antique. Once a sleepy island with a quiet fishing village at its heart, it's since come under the tourism spotlight.

Although fishing remains the primary livelihood, tourism has changed the way the locals live. Many have become tourist guides and homestay hosts. Support them by staying in a friendly homestay for as little as 200 PHP ($4) per night.

Trek to the hills and savour breathtaking panoramic views of the sea, nearby islets and grassy rolling hills. At low tide, a tail-shaped sandbar at Kawit Beach is visible, made of fine white sand and surrounded by vibrant blue water.

A journey to this side in the Philippines kills two birds with one stone. Since the fishing trade is still thriving, tourists can savour freshly caught seafood, cooked by the locals.
Getting to Mararison Island: Catch a bus bound to Culasi from Kalibo or Caticlan costing around 120 PHP ($2.50). From Culasi Port, hire a boat for around 750 PHP ($15). The journey takes around 15 minutes.

Entry submitted by Dee from How She Wanders.
16. Boracay – best for nightlife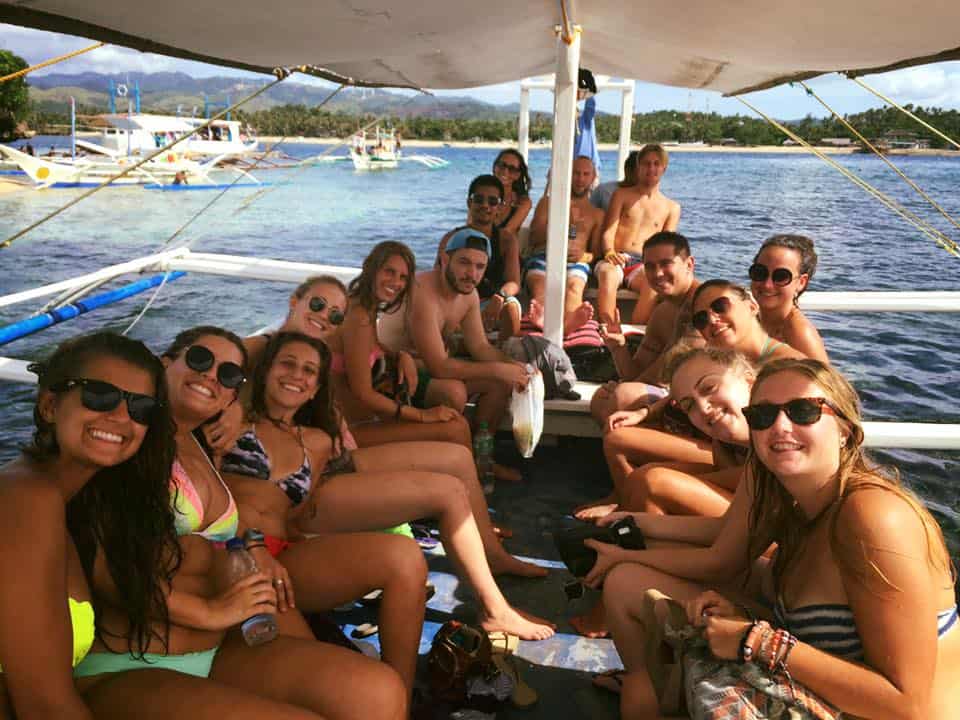 Boracay may once have been an unexplored island but that day is long gone. The sandy paradise receives huge volumes of Western and Asian tourists and is a popular place for Filipinos to spend their holidays.

After Boracay was temporarily closed due to over-tourism in 2018, many travellers and locals turn their noses up at the idea of visiting. I decided to form my own opinions and go anyway.
If you're looking for a peaceful spot, admittedly this won't be the best island in the Philippines for you. However, if you're looking to make new friends, let your hair down and enjoy the nightlife, GO. I met some fantastic people at Frendz Hostel and spent a week hitting up the beach bars and clubs.

Be sure to head to quieter Puka Beach and watch sunset at open-air Spider Bar.

Getting to Boracay: Catch a ferry from Caticlan or Kalibo. Although Caticlan is closer, the flights in and out are more expensive. The cheaper option is flying into Kalibo and purchasing a bus and boat combo ticket to Boracay via Caticlan Jetty Port.
17. Siargao – best island in the Philippines for surfing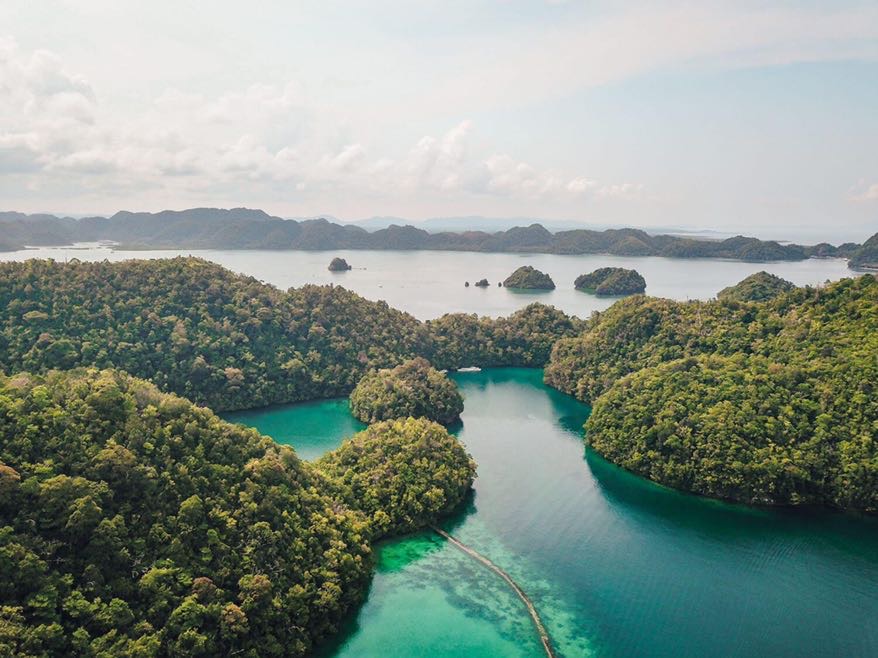 Siargao, aptly known as the 'Surfing Capital of the Philippines', is a stunning island in the Surigao del Norte province that abounds with excellent surf spots. In fact, it's credited with introducing the sport to the Philippines.

Not only is it a haven for surfers, but there's a myriad of activities and tourist destinations. Soak up breathtaking scenery, including thousands of palm trees, from the Coconut Viewpoint on the North to South Road. Next, stop by the rock pools and Tayangban Cave Pool where crystal clear blue waters await.

For a less crowded beach, unwind at Pacifico Beach on the east coast. This is a great surfing spot for the pros, but also suited to those wanting to simply relax.

Don't miss the chance to hop on a guided mangrove tour. Usually combined with the Sugba Lagoon tour, you'll sail through one of the largest mangrove forests in the country.

Getting to Siargao: Fly straight to the local airport from Manila or Cebu. Once here, consider renting a moped which is the best way to get around, or even a tuk-tuk, which you can drive yourself.

Siargao Island entry submitted by Cazzy from Dream Big Travel Far.
18. Calaguas Island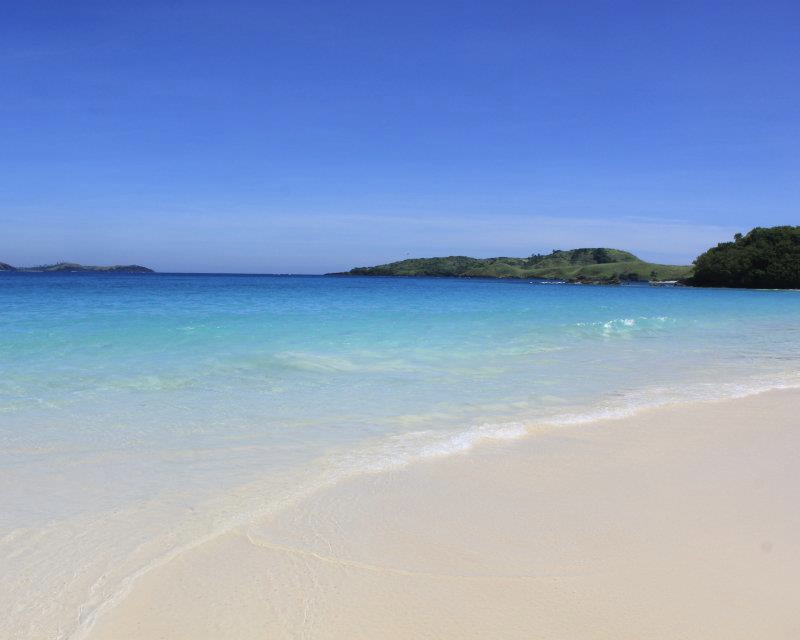 The appeal of Calaguas is its natural beauty. It's one of the best islands in the Philippines for travellers wishing to escape commercialised, touristic hotspots. But, of course, things are slowly changing.

The island is mostly free from development and the majority of visitors will sleep in a tent. However, the handful of modest huts scattered along the beachfront seem to increase each year as the island grows in popularity.

So the first point I would make to anyone considering visiting Calaguas is to go as soon as you can!

The island's activities are limited to swimming, snorkelling, beach volleyball, sandboarding and throwing a frisbee around. There isn't much to do except sit back and take in your surroundings. Is that a bad thing? Certainly not!
Aside from a couple of generators that tour guides operate, there's no electricity at night. This means there's little to do except have a few drinks on the beach, or read a book if you bring a reading light.

It's best to let a tour operator handle everything for you. They're fairly cheap and will arrange tents, food and boat travel to and from Daet for around $50-$70.

Getting to Calaguas: Take a 2-hour boat from the town of Daet. Fly into Bagasbas Airport from Manila, Cebu and other hubs.

Calaguas entry submitted by James from The Slow Traveler.
19. Luzon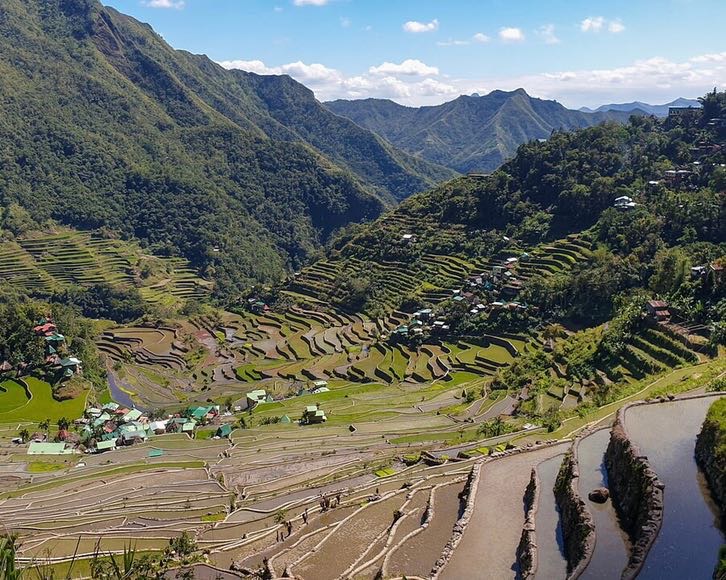 Beaches are what you picture when visualising beautiful islands in the Philippines but don't let that deter you from visiting Luzon. The biggest Filipino island (population 53 million) is home to the capital, Manila, and various other points of interest.

Board a bus from Manila to Banaue Rice Terraces (dubbed the eighth wonder of the world), hike volcanos in Tagaytay, explore the mountain town of Baguio, marvel at the hanging coffins of Sagada, climb sand dunes in La Paz and visit colonial town, Vigan, preserved as it was during Spanish rule.

These are just a few of the many attractions of Luzon. Rolling countryside, hiking opportunities and hospitable local villages make the island a captivating alternative to snorkelling and sunbathing.
20. Samal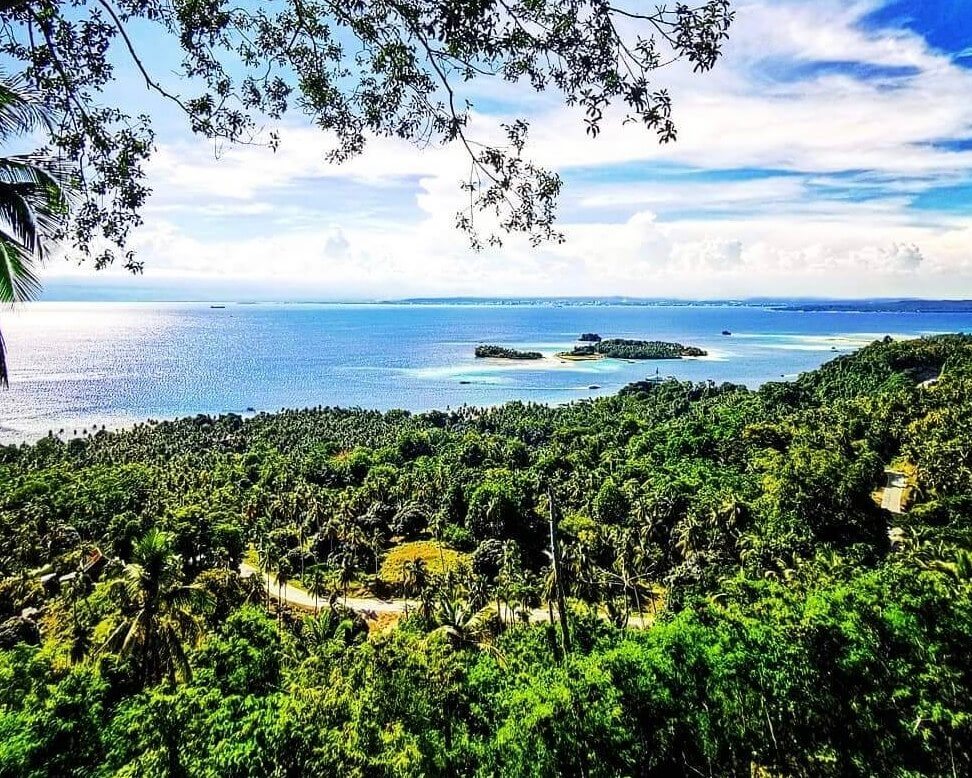 Samal Island is one of the Philippines' best-kept secrets. Located just south of Davao near the Philippines' Mindanao Island, Samal's natural beauty matches the country's most popular destinations – sans the crowds.

The main attractions include Hagimit Falls, a terrace-like waterfall where visitors can swim (under the supervision of locals) and Monfort Bat Sanctuary, home to the world's largest colony of Geoffroy's Rousette fruit bats.
Enjoy a motorbike ride across the steep hills and through dense tropical rainforests, soaking up stunning hilltop views of the island. Afterward, lie back at one of the island's many resorts and enjoy the warm water and clean white sand beaches.

How to get to Samal Island: Take a 45-minute ferry ride. Depending on the tides, this ride may be bumpy (and hence adventurous). There are some public ferries to the island but visitors booked in a resort usually have private transfers to the island included in their package.

There are plenty of resorts across all price ranges on Samal making the island perfect for both budget and luxury retreats.

Samal entry submitted by Arabella from Spicy Travel Girl.
Thanks for reading!
Read my other posts about the Philippines:
See you next time for more adventures,
Rose
Ps. Liked these beautiful islands in the Philippines? Pin this for later!