This post may contain affiliate links to things like tours, hotels, Amazon associates and products. These help me earn a small commission at no additional charge to you.
When I arrived in Yogyakarta, I wasn't sure what to expect from the eating scene. I'd really enjoyed the food in Bali, from the tourist smoothie bowls to the local nasi campur and sate ayam.
Would Javanese food be the same as Balinese food?
I suspected that, being the same country, they'd have some similarities. Since the islands have different religions and languages, I was expecting some differences too.

I often take tours with Viator so I was excited to see they ran a Javanese food tour in Yogyakarta. It sounded totally up my street so I factored it into my plans. Four meals in one evening? Something I could totally handle!
The best food in Yogyakarta
During my five days in Yogyakarta, I made it through some of the best Javanese foods which I'll share with you in this guide. I'll run through the tasty local dishes I discovered, then move on to some of the best restaurants in Yogyakarta. Here goes…
Gudeg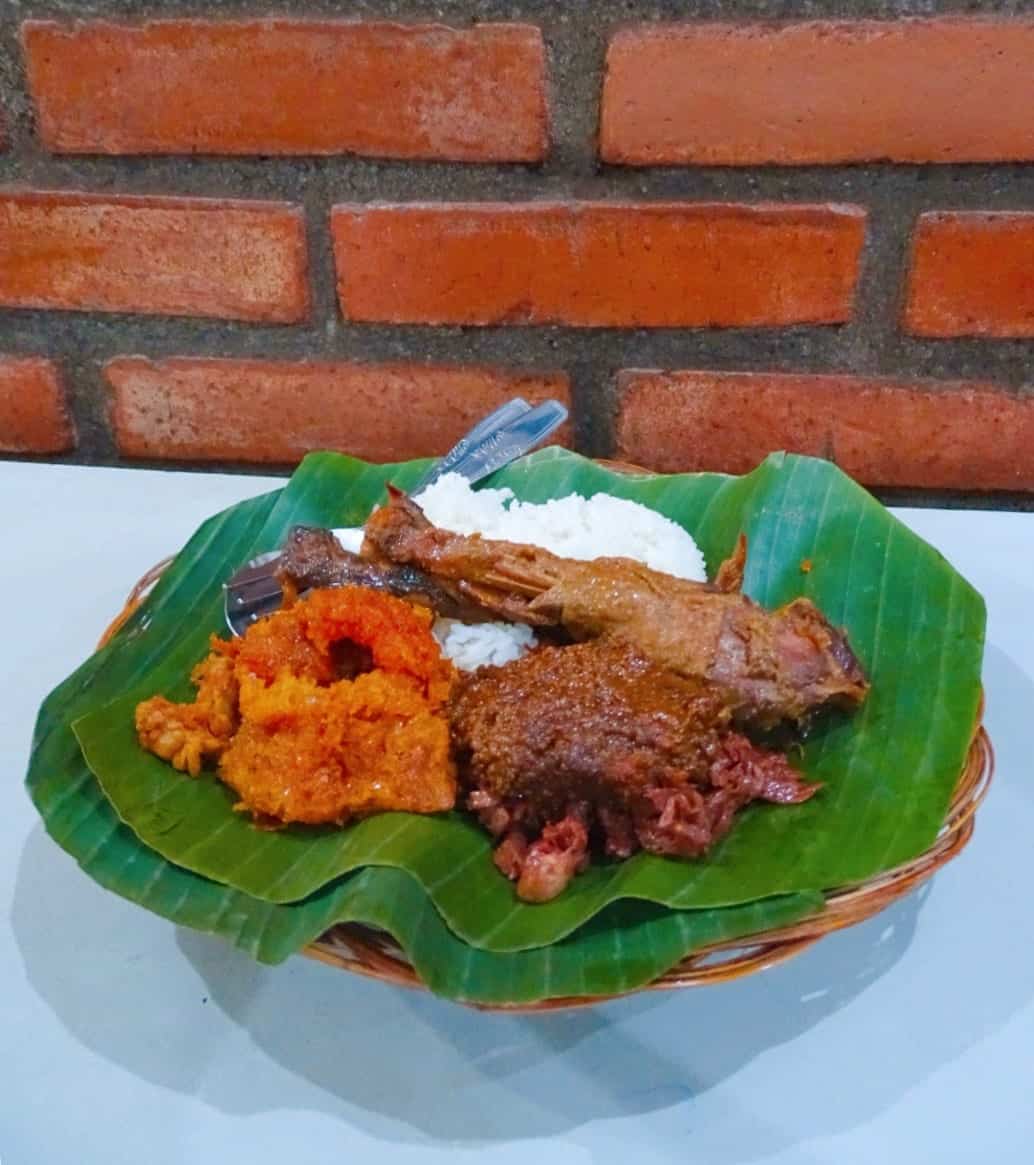 Gudeg is one of the best foods in Yogyakarta and one I'm craving now I've left. It's a vegan's dream, made from jackfruit cooked with herbs and spices. Jackfruit may have recently hit the Western food scene as a hipster meat alternative but the Javanese have been serving it for decades – way ahead of the game!
The best restaurant in Yogyakarta to try gudeg is Gudeg Yu Djem, a real institution founded by the sultan's old chef. Although she's sadly passed away, her legacy lives on and there are a few branches of the restaurant in Yogyakarta.

I tried it at the original inside the old city walls where she used to live. Here you can try nasi gudeg served with rice and a delicious dollop of guga jawa, a moreish palm sugar sambal.

To add some extras to your meal, try paha ayam (chicken), telor (egg) and krechek (orange cooked pig's skin) – my guide, Rama, ordered all three. The only one I didn't like was krechek but it's a famous Javanese food so I'm glad I gave it a go.

Address: Jl. Wijilan No. 167.
Bakmi goreng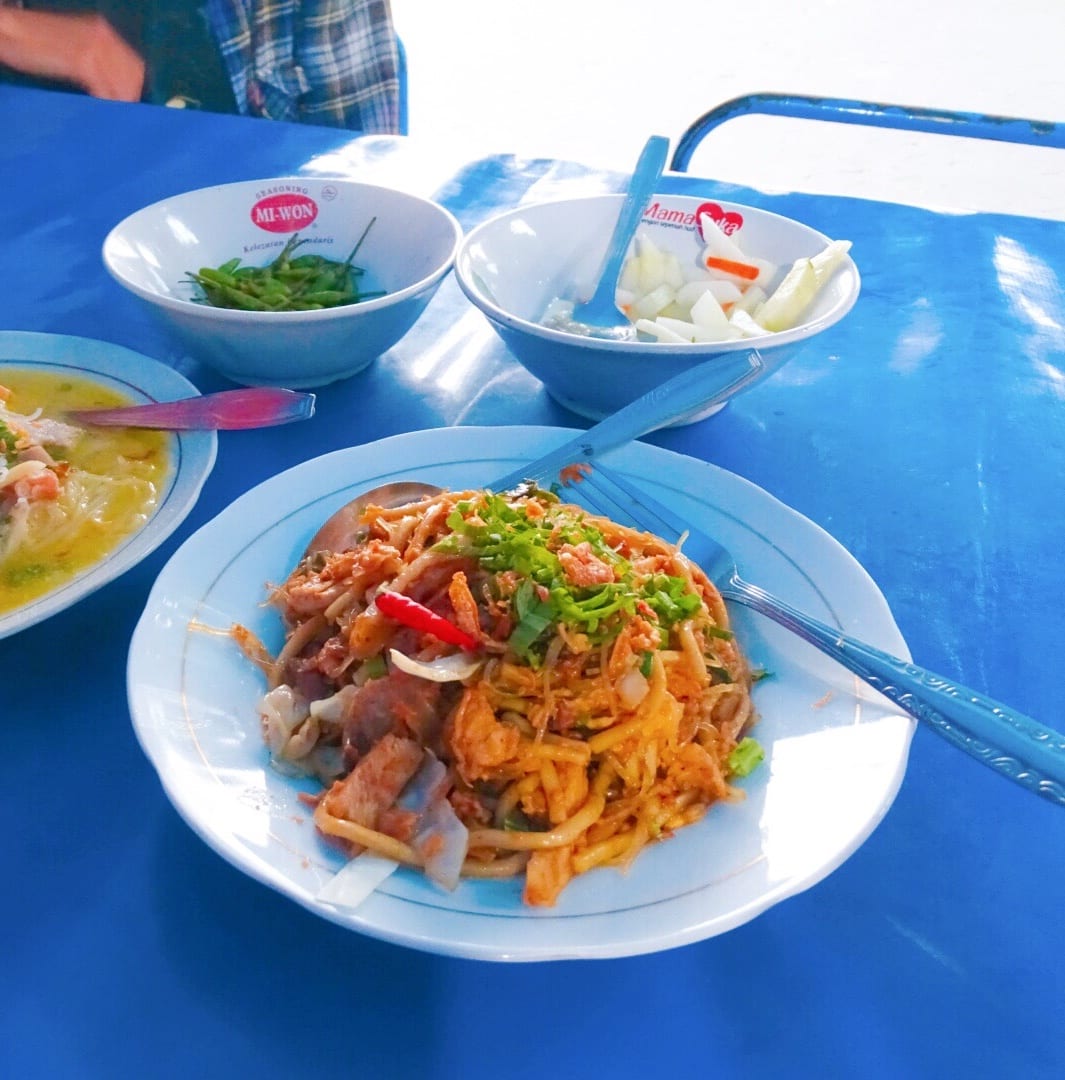 Bakmi means meat noodles and is a dish that came to Indonesia with Chinese immigrants. This dish is similar to the mie goreng fried noodles you'll eat in Bali but the difference is bakmi will always include meat. Salty, fried carbs? Gimme!
Bakmi godog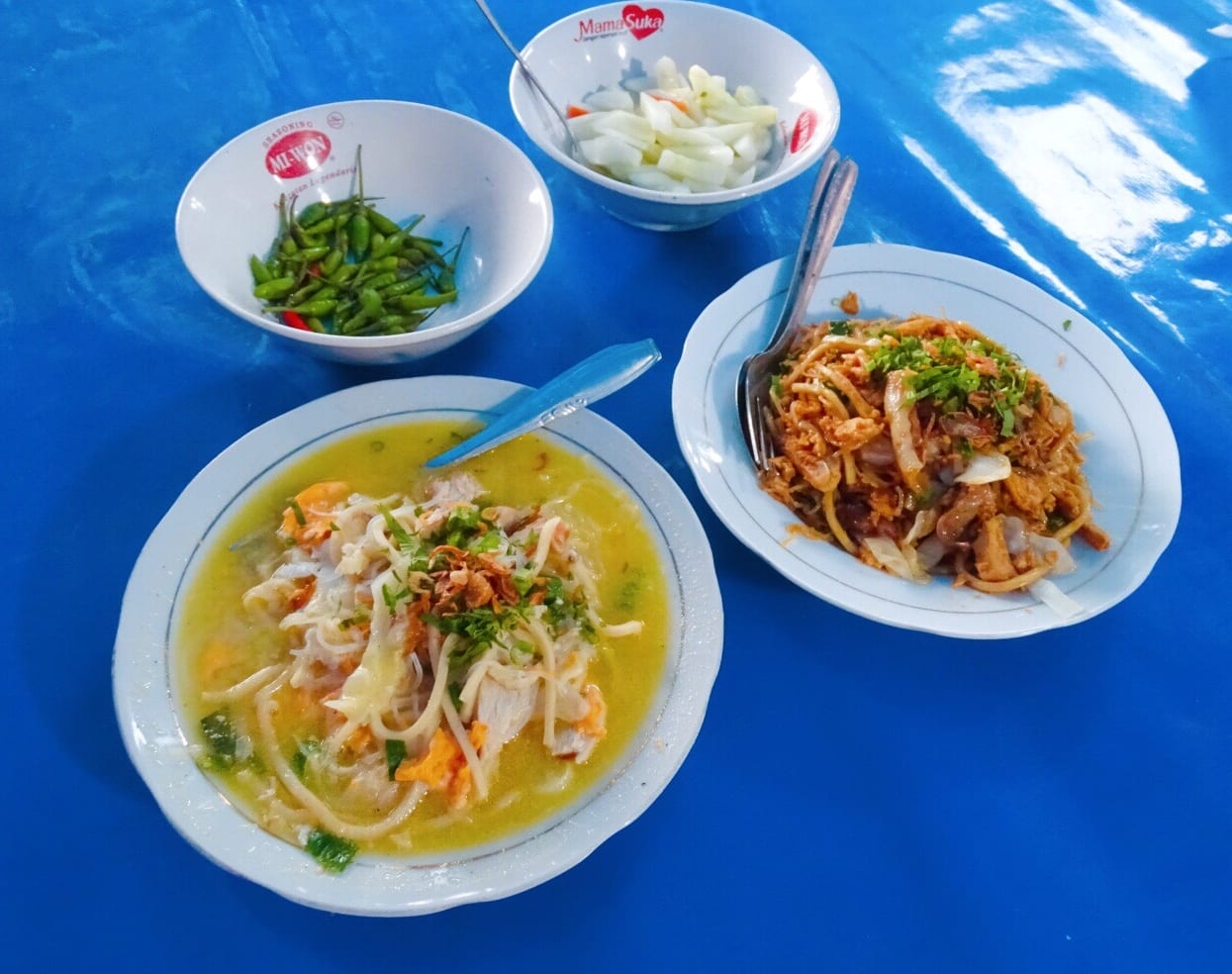 Another of the best foods in Yogyakarta is bakmi godog, a meat and noodle dish native to Yogyakarta. Rather than being fried, these noodles come in a traditional Javanese soup served with chicken and vegetables.
The best place to try bakmi goreng and bakmi godog?
There's a well-loved street food restaurant outside the Sultan's Palace. The name of this place is Special Bakmi and Nasi Goreng Pak Pale and it gets going around 5pm. Apparently by 7pm it takes two hours for your food to come – it's very popular and there are just two chefs! So my top tip is to visit between 5 and 7pm. Both dishes were great but I preferred the bakmi goreng because fried things are always the most delicious, right?

Address: JL. Pojok Tenggara Alun-Alun Utara.
Night market desserts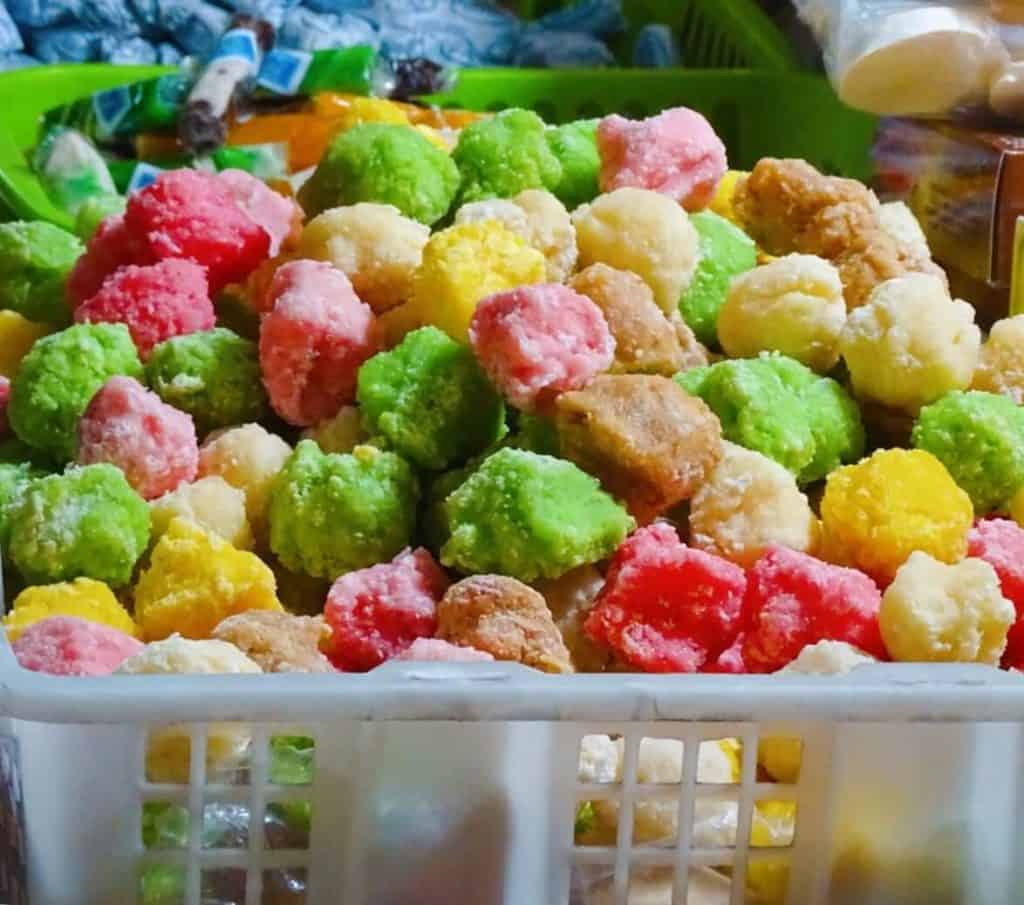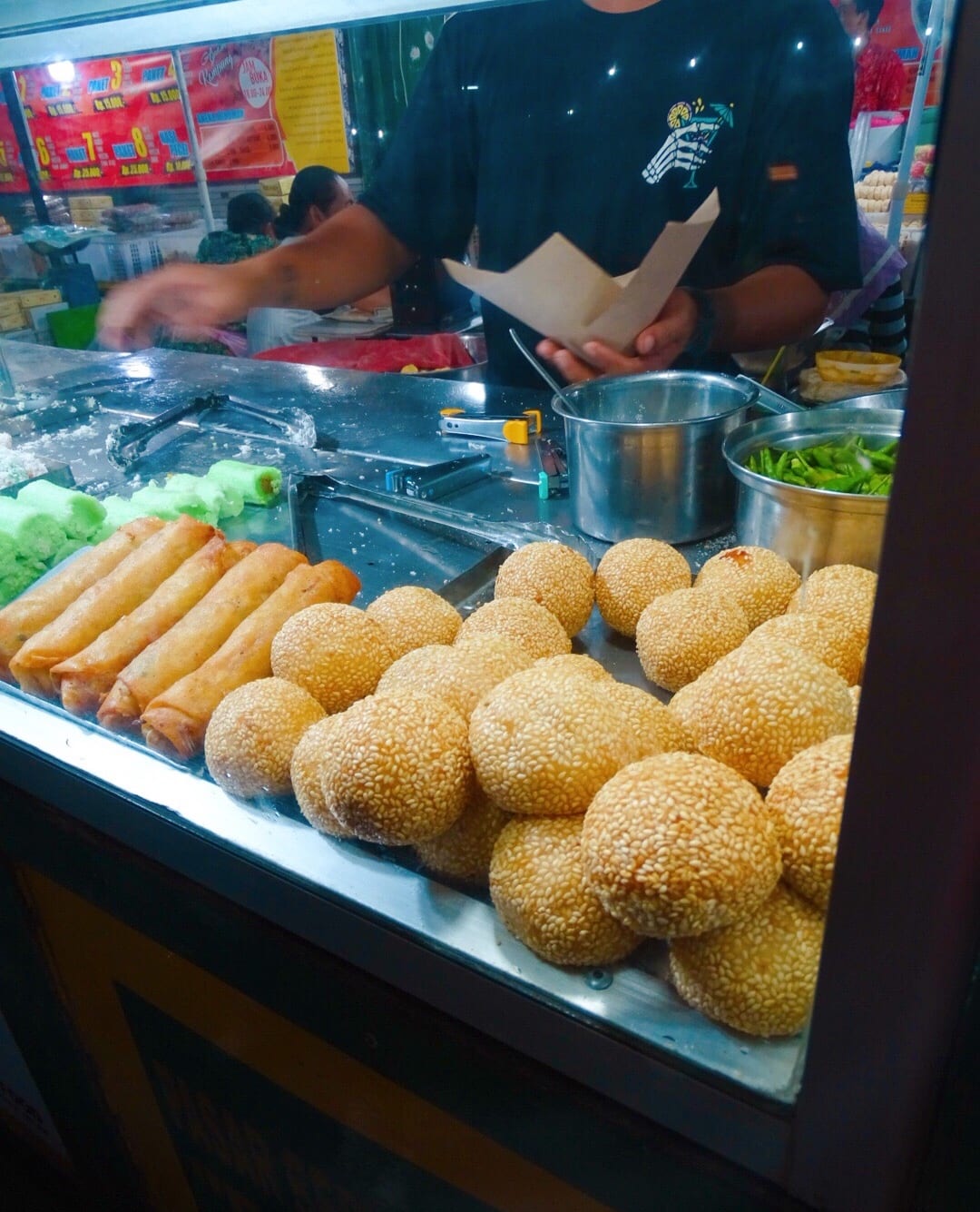 Anything you eat at the night market stands on Malioboro Street will be good but I'd especially recommend the desserts. If you want to try Javanese sweets for a bargain price, this is the place to do it. Wander Malioboro Street after sunset and you're sure to find some good ones.
Coconut is at the heart of many of the desserts, like these colourful sweets above. Try onde onde which are fried balls dotted with sesame seeds and filled with bean paste. Sounds odd but they tasted pretty good!

Anything green will likely be flavoured with pandan which is a popular plant-based Indonesian colouring rather than an addictive one.
Fish cakes at Pempek Ny Kamto
These moreish fried fish cakes are called pempek and actually originate from the city of Palembang on Sumatra island. They came to Java with the founder of this restaurant who started making her fish cakes for the appreciative people of Yogyakarta.

They were really tasty and I enjoyed dipping them in the spicy and sweet sauces that came in big glass bottles.

Address: Jl. Beskalan No.3.
Satay galore + charcoal coffee at Angkringan Kopi Jos 'Pak Agus'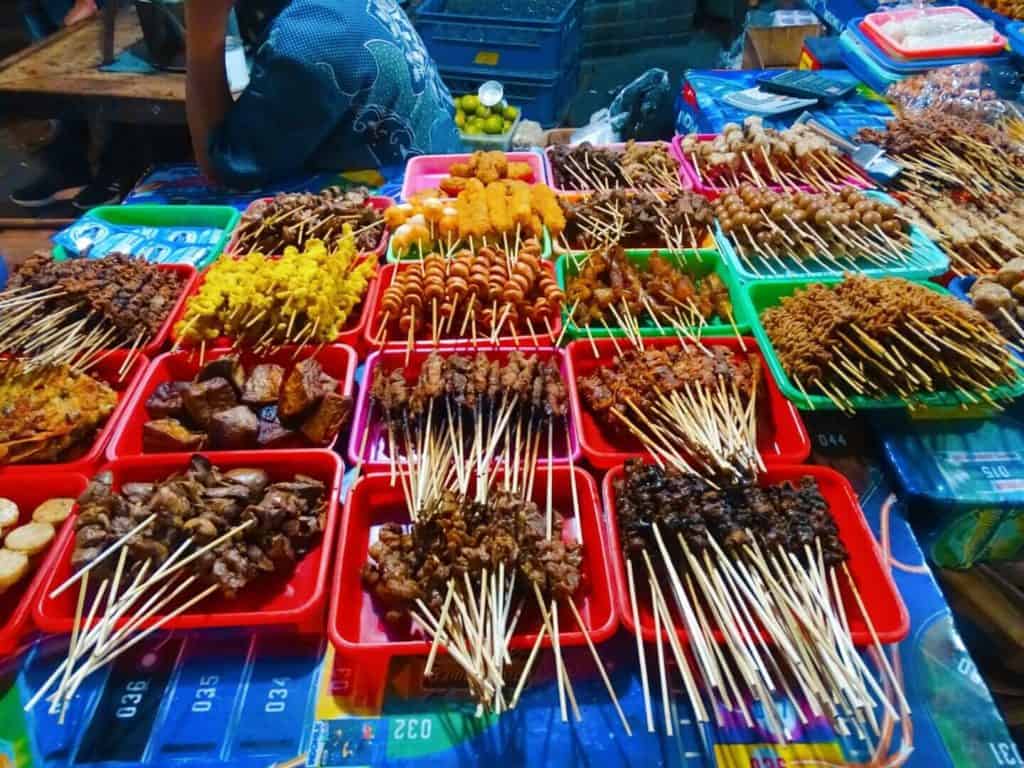 Some of the best food in Yogyakarta is served with absolutely no frills. Feast your eyes on these skewers!

From standard chicken to hearts and skin, there's something for mild-mannered to adventurous eaters. The best bit about this outdoor eatery is that it's a place to dine (on a mat on the floor!) with the locals. In the evening, live music plays while people sip their charcoal coffee.

'What coffee?' I hear you thinking! Yep, the hipsters didn't invent charcoal beverages or jackfruit dishes. Rather than charcoal powder though, the owners of this outdoor restaurant chuck glowing cubes of charcoal in your coffee!

This didn't affect the taste at all but apparently it's a Yogyakarta speciality. It's an odd one but if you like quirky eats and drinks, give it a go.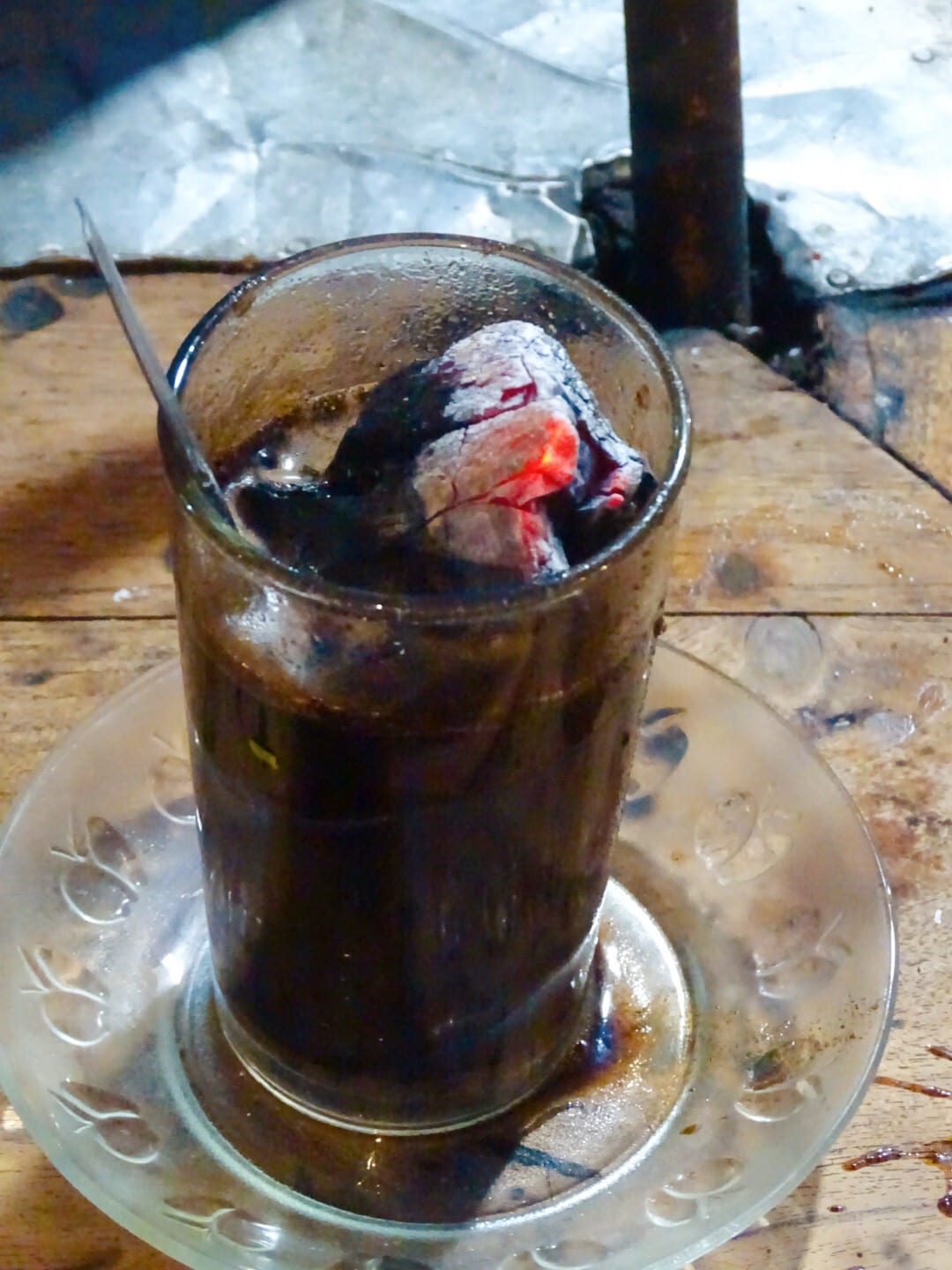 Address: Google Angkringan Kopi Jos "Pak Agus" or just follow that link. I don't think they have an official address.
Ronde (AKA ginger ball soup)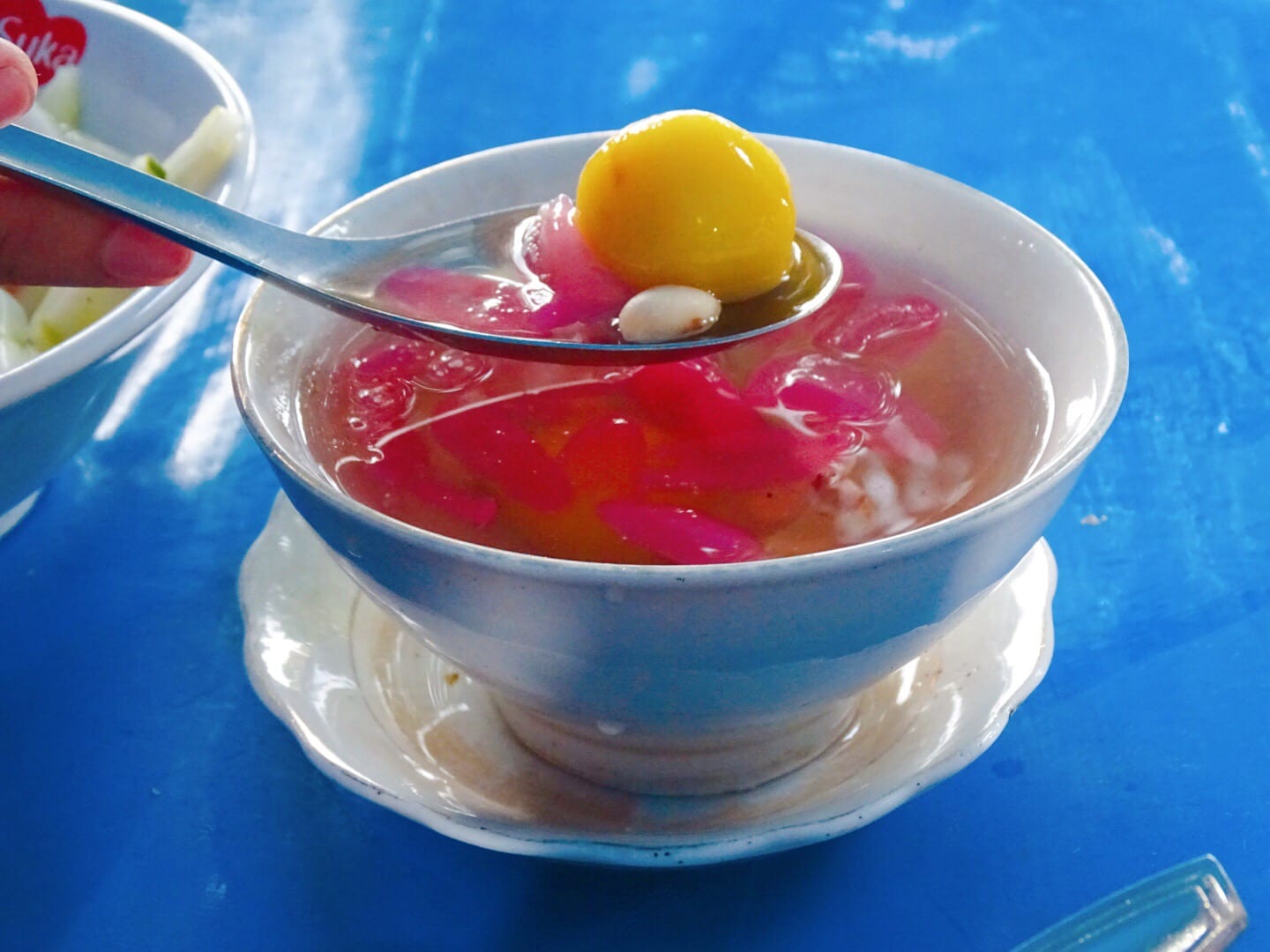 Rama ordered a portion of ronde with our noodles outside the Sultan's Palace and honestly, I wasn't expecting much. Ginger ball soup sounded slightly weird but I was pleasantly surprised.

Instead of being savoury like I expected, it was sweet. The ball had the flavour of a ginger biscuit and floated in sweet water with pink jelly and peanuts.

Like noodles, this dish came to Yogyakarta with the Chinese. You'll find it everywhere in Yogyakarta, often wheeled on roaming carts. I ate it as dessert at Special Bakmi and Nasi Goreng Pak Pale with my noodle dishes above.
The best restaurants in Yogyakarta
I've already mentioned a couple like Gudeg Yu Djem for gudeg and Pempek Ny Kamto for fish cakes but there are a few other places I discovered during my stay. One of Yogyakarta's best restaurant streets is Prawirotaman.

Yes, it's frequented by Westerners and no hidden gem, but there are some great places to eat here. If you're short of inspo, go wander Prawirotaman and you'll find something affordable and tasty.

Some of the best restaurants I visited in Yogyakarta were…
ViaVia Jogja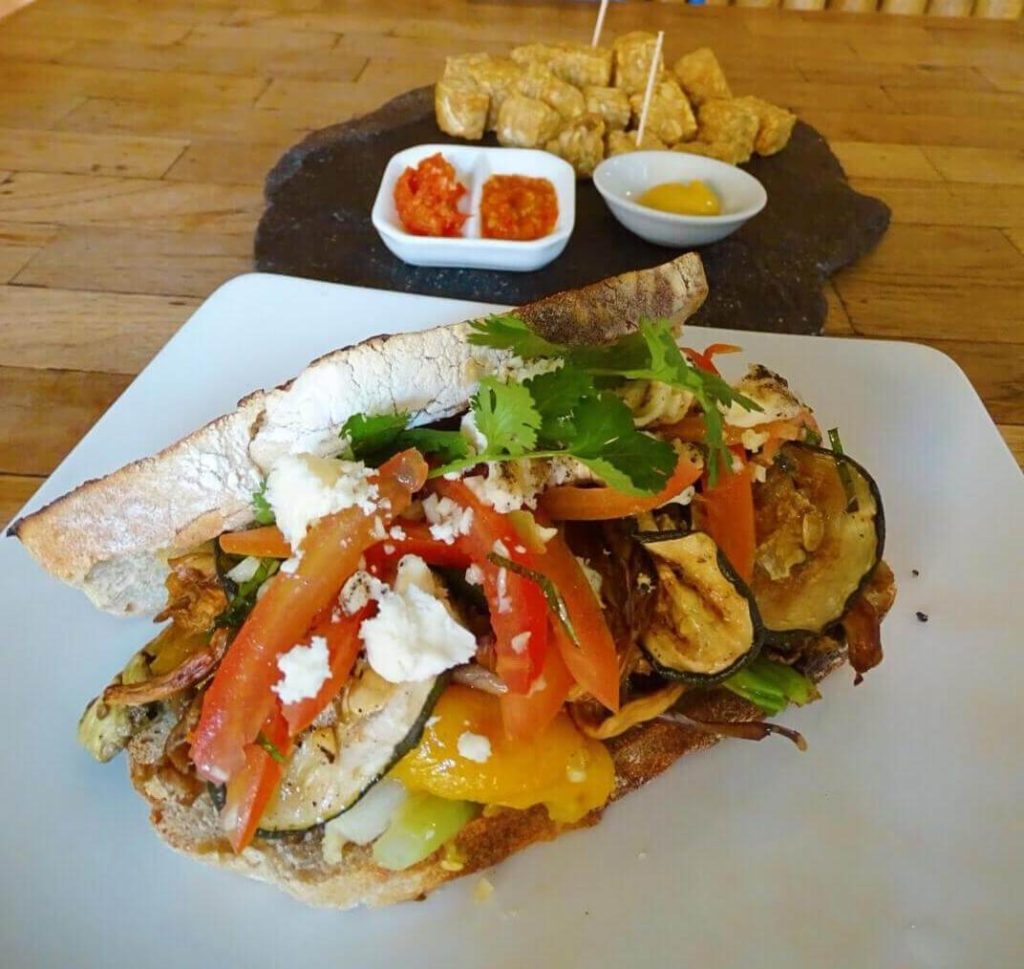 ViaVia Jogja is by far one of the best restaurants in Yogyakarta. They're an ethical enterprise with cafes as far away as Tanzania, Chile and Belgium, but this is the only one in Asia. Their changing daily specials always include a meat, fish and veggie option. Be sure to try the jackfruit curry if you visit on a Tuesday.

As you can see from the photo, they also serve delicious sandwiches, salads and burgers. The feta and veggie on sourdough was delicious and pretty healthy, too.

Address: Jl. Prawirotaman No.3.
Masalla Asian Cuisine
This is not necessarily a cultural spot for street food hunters; I can't deny I came to use the pool. But in the end, I returned for the food as Masalla Asian Cuisine have a range of authentic Indonesian dishes as well as cheap breakfasts, smoothie bowls and healthy salads.

The 'light bites' section is a good way to sample Javanese foods for less than £1. Order the sate pisang if you're curious about combining banana with chocolate and cheese…

Address: I can't find their door number on Prawirotaman but find them pinned here.
Milas Vegetarian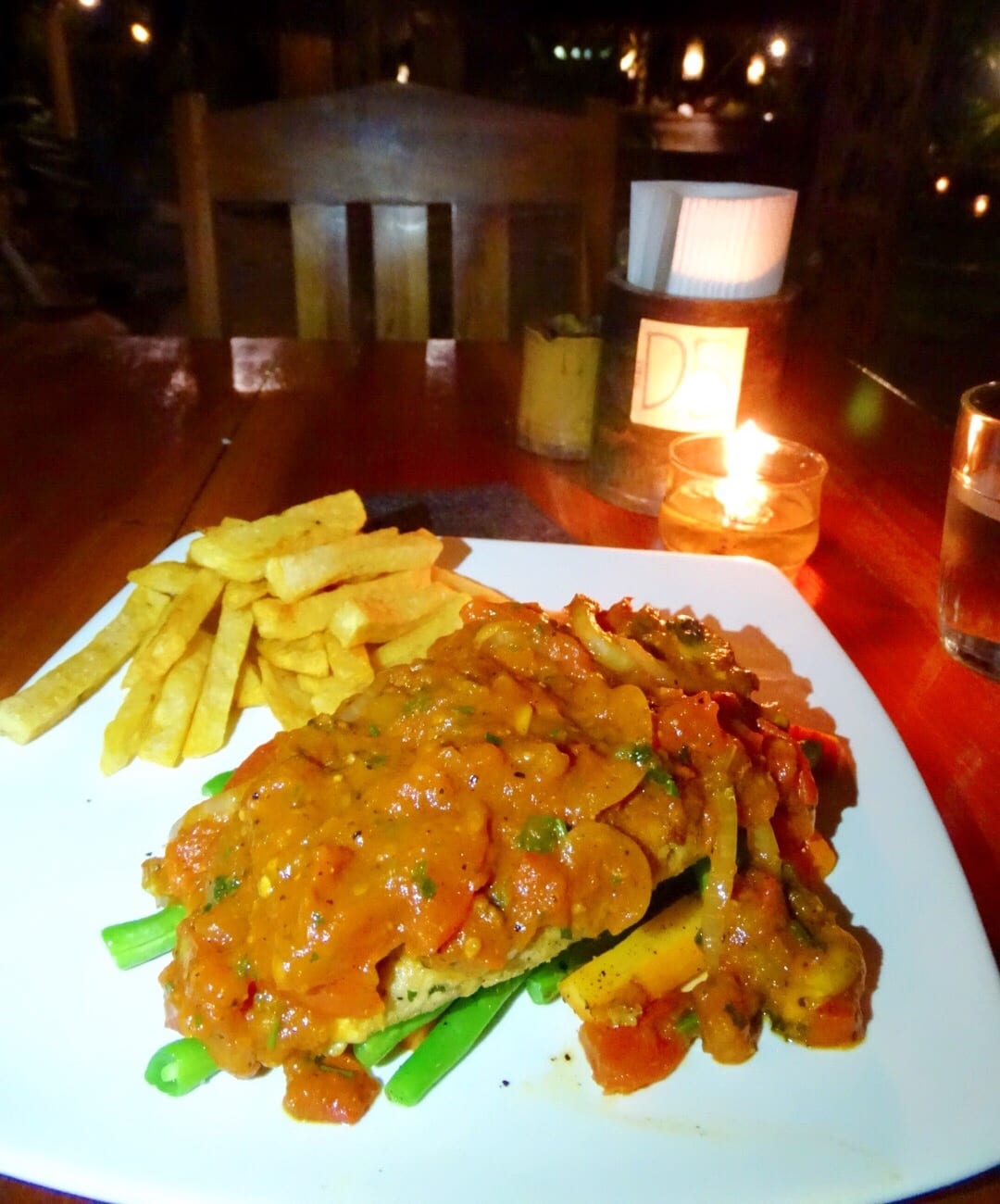 Googling the best food in Yogyakarta brought me to Milas Vegetarian which was a real find: a meat-free restaurant with ethically sourced ingredients, creative dishes and fresh smoothies and juices.

I had the tempeh steak which was enormous and very tasty. Some of the other specials like red Thai curry looked fab. The Yogya veggie restaurant is all set around a peaceful garden and had I not had a plane to catch, I could have happily visited every day.

Address: Jl. Prawirotaman 4 No. 127B.
Want to explore the Yogyakarta street food with a guide?
I don't think I'd have discovered half the yummy Javanese foods without the evening street food tour. It includes local foods, sweets non-alcoholic drinks and a rickshaw ride.
Thanks for reading my Yogyakarta food guide!
Read my other Yogyakarta posts:
See you next time for more adventures,
Rose
For more content, follow me on Instagram, Facebook, Twitter and YouTube.
Liked my guide to the best food in Yogyakarta? Pin it for later!