This post may contain affiliate links to things like tours, hotels, Amazon associates and products. These help me earn a small commission at no additional charge to you.
Of all the exciting, cultural and colourful things to do in Porto, can anything beat eating natas? Probably not. But since there are so many average offerings, I decided to find the best pastel de nata in Porto so your holiday memories won't be spoilt by soggy bottoms.

NOT ALL HEROES WEAR CAPES, we were all thinking it!
After trying to find the best banh mi in Vietnam (and succeeding!), I was steeled for my pastel de nata challenge. Using a formula that went something like 'smooth custard, served warm WITH cinnamon, flaky but firm pastry', I set out on my mission.
PORTO ESSENTIALS

Accommodation: Booking.com / Hostelworld

Getting there: flight (Skyscanner), train (Omio), bus (Flixbus)

Porto activities: GetYourGuide / Viator

Food activities: EatWith

Getting around: walk / Metro / bus / taxi

Guidebook: Lonely Planet Porto
Read next: my tried-and-tested Porto itinerary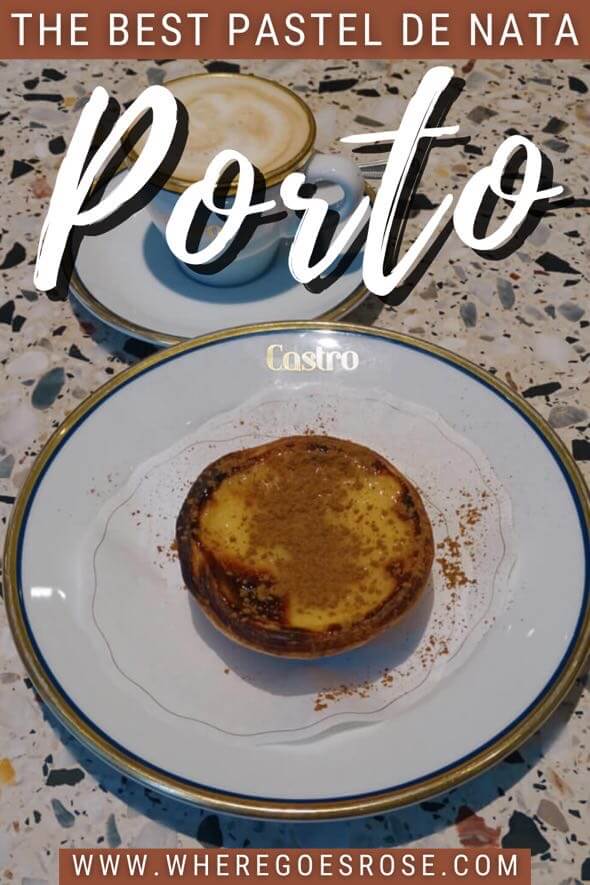 Before we begin another Where Goes Rose food guide, a bit of cultural background…
Is it pastel de nata or pastéis de nata?
This is a common question with a simple answer: pastel de nata is singular and pastéis de nata is plural. I think we all know which is better where these beauties are concerned!
Wait, what's a pastel de Belém?
To make things more confusing, you may have heard of 'pastel/pastéis de Belém' if you've been to Lisbon. How are these different?

While spending three days in Lisbon last year, I discovered that these are simply pastéis de nata served at the iconic cafe, Pastéis de Belém, where they were invented.

Because the cafe have patented the recipe, only natas made here can be called pastéis de Belém.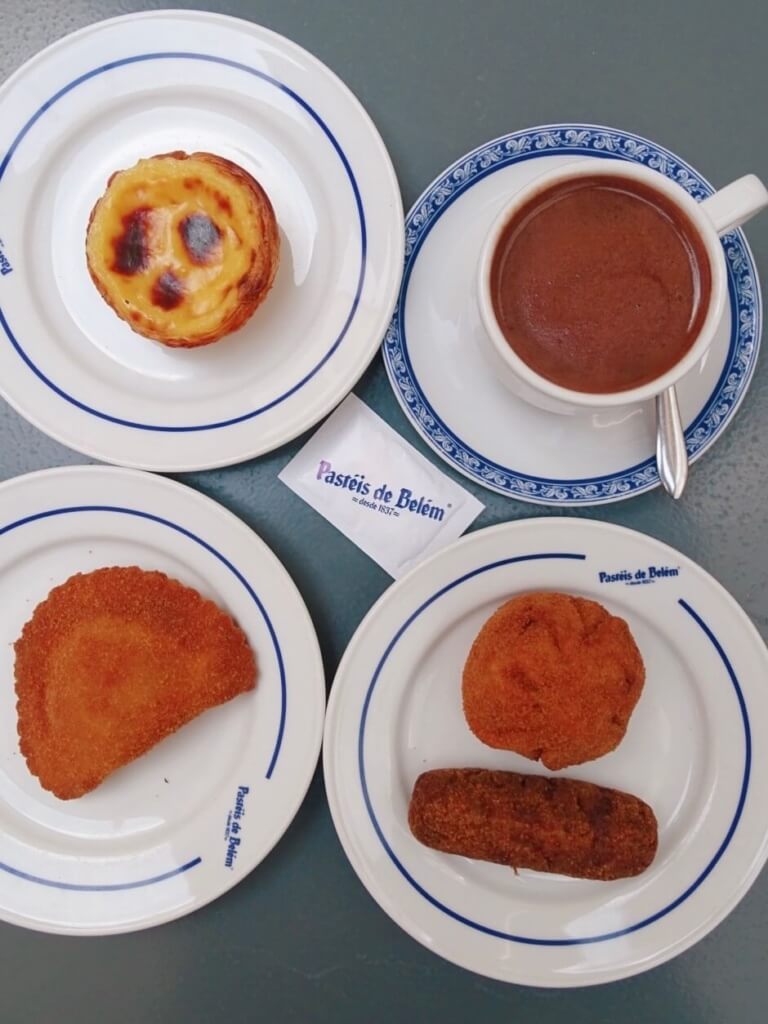 History of the pastel de nata
It began in the Belém neighbourhood of Lisbon at the cafe mentioned above. Like many Portuguese pastries (most of which involve egg custard), the recipes were closely guarded by the convents and monasteries who made them with egg whites leftover from the production of port wine and the washing of clothes.

After the Liberal Revolution in the early 1800s, monasteries were dissolved and the clergy expelled. In a bid to survive, the members of Jerónimos Monastery in Belém started selling egg custard tarts made according to traditional recipes.

These became popular with travellers to Belém and not much has changed today: the tuckshop eventually became Pastéis de Belém cafe where crowds of hungry holidaymakers queue up every day!

I guess the recipe wasn't too tough to crack because now pastelerias all over Portugal serve their own versions, to varying degrees of quality.

I've had many bad ones and plenty of delicious ones during my Porto pastel de nata quest!
The best pastel de nata in Porto
As you can tell from the story above, pastéis de nata do not originate from Porto. Does that mean you should still eat them there? YES. Are they any less amazing than the ones in Lisbon? NO.

With that out of the way, let's get eating!
Foodie in Porto? Read my complete Porto food guide with 25 must-try dishes
Manteigaria Fábrica de Pastéis de Nata – the perfect ones!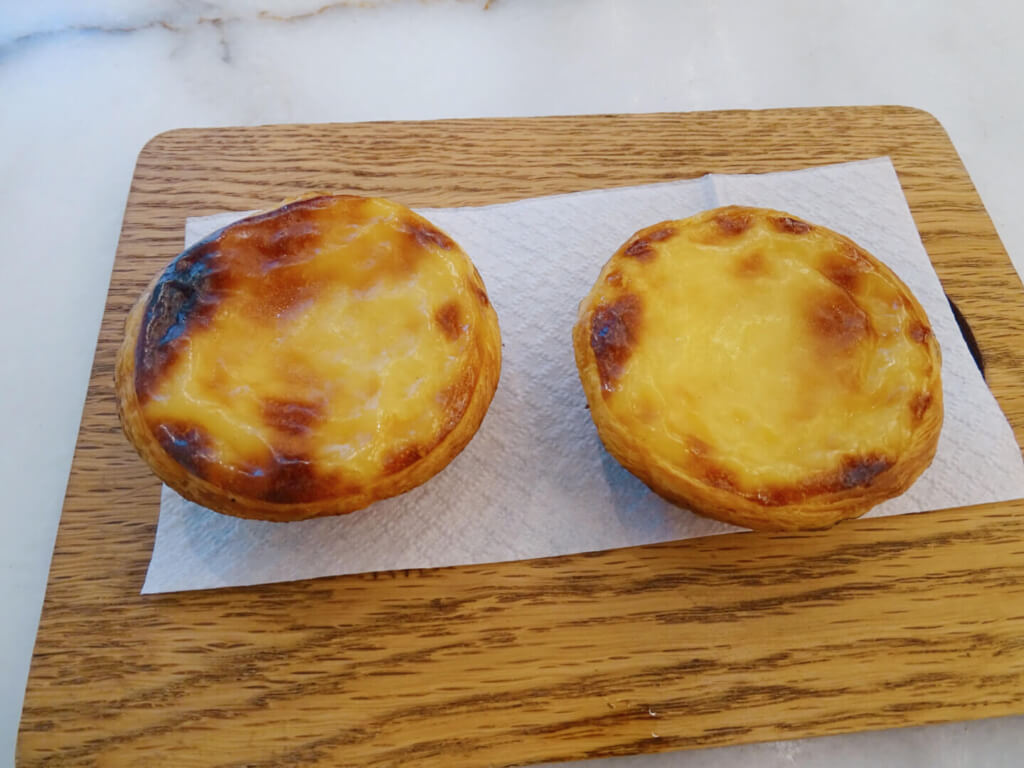 Ahh, the first pastel de nata I ate in Porto after finally escaping the UK where I'd been stranded for much of 2020 and 2021. Nothing will ever taste that sweet again!

In central Bolhão, this spacious cafe is an atmospheric place to eat pastel de nata in Porto alongside a wide range of coffees, teas and hot chocolates.

At Manteigaria, you can see the pastry chefs in the window freshly making the natas. Combined with the popularity of the cafe and the fast turnover of product, the natas are served warm and fresh. Simply blissful.
In my opinion, there's only one other place (coming up next) that can contend for the title of best pastel de nata in Porto!

Note – Make sure to visit the one inside Delta the Coffee House Experience on Rua de Alexandre Braga. It can be confusing because there's another branch on Rua dos Clérigos but it's just for takeaway. Then, there's the issue of the full name (Manteigaria Fábrica de Pastéis de Nata) which sounds similar to Fábrica da Nata, a totally different establishment.

Price: €1.10.

Address: Rua de Alexandre Braga 24, 4000-049 Porto.
Read next: the best cafes & coffee shops in Porto
Fábrica da Nata – the ones with beautiful surrounds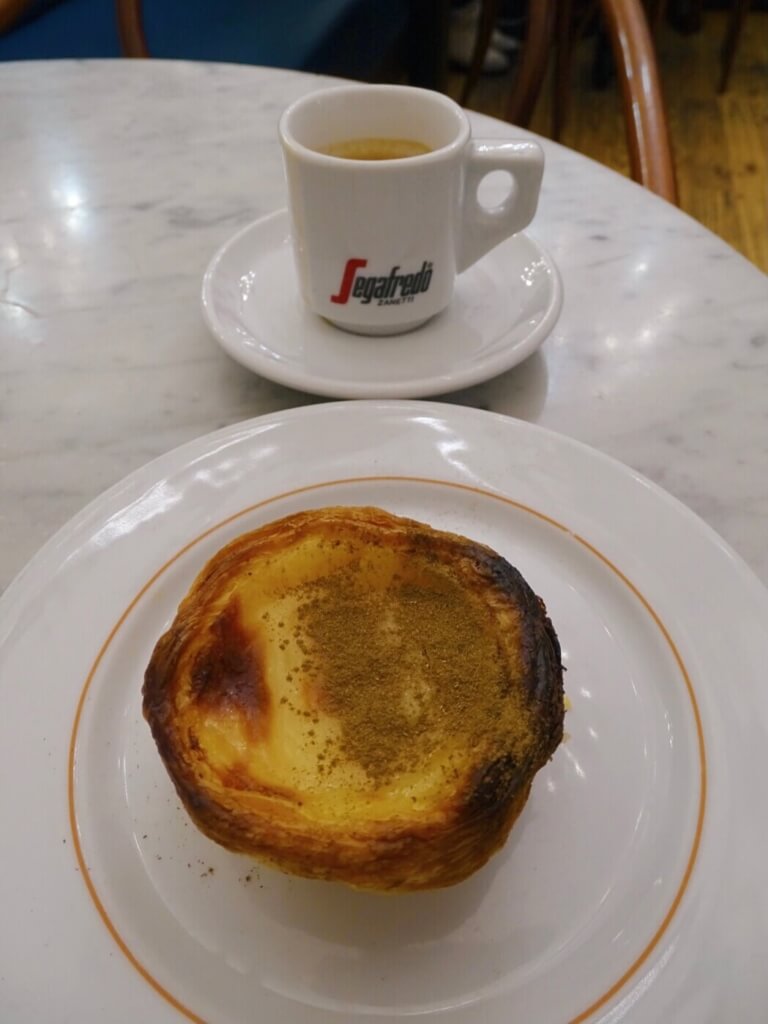 Despite its popularity, Fábrica da Nata was one of the last pastel de nata cafes in Porto I visited. By that point, I was a faithful Manteigaria customer and didn't think anywhere could rival it. But I was wrong!

The cafe on Santa Catarina (Porto's main shopping street) couldn't be more atmospheric. Downstairs, it has tiled floors and a huge mural made from typical blue azulejos. Upstairs, there are cosy booths with blue leather sofas, chandeliers and sepia photos detailing Porto's past.

It's not just tourists visiting but elderly locals who have been taking their daily pastel de nata here for decades.

But to the important stuff… the pastéis de nata themselves! Everything is perfect: the rich, creamy custard (both the texture and flavour are spot-on) and the buttery, flaky pastry which stays firm on the bottom.

This is another place where you can see the pastéis de nata being made fresh. The fast turnover of guests in this busy location means the latest batch stays warm.

Price: €1. They do a few packages like pastel de nata with port for €2.90 / pastel de nata liquor (!!) for €5.50, although they've sadly discontinued their pastel de nata and coffee combo for €1.60 (purchasing them separately now costs €2). They also make excellent orange juice, freshly squeezed in front of you.

Address: Rua de Santa Catarina 331 335, 4000-451 Porto.
Castro – an elegant hidden gem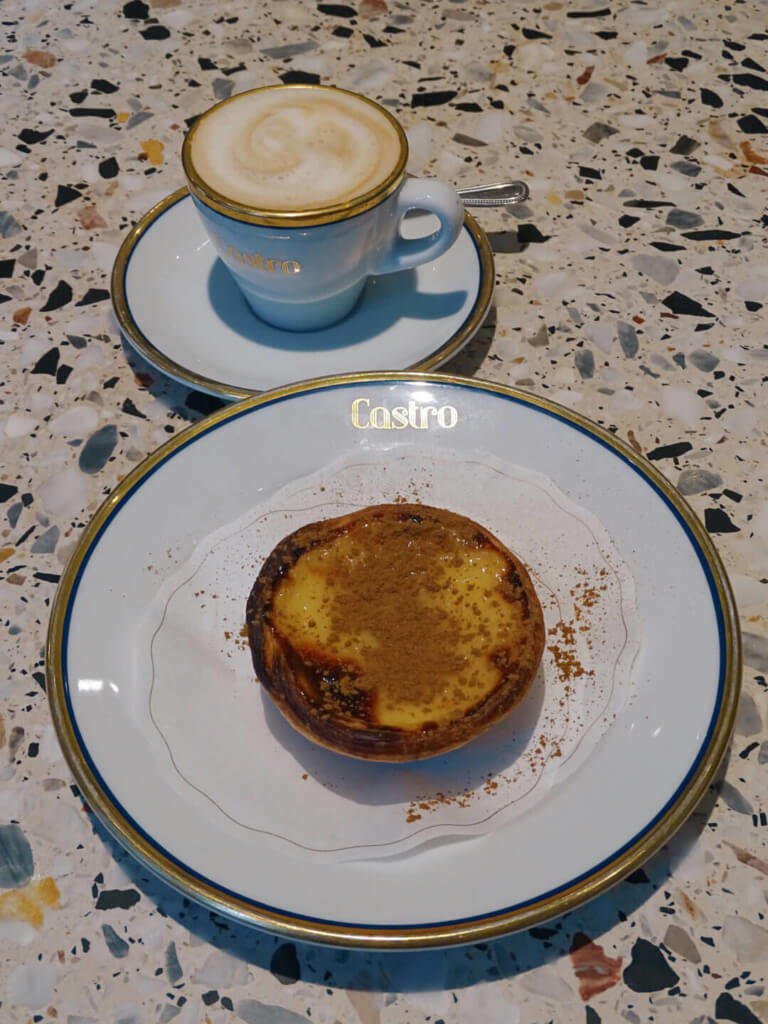 I was confident I'd discovered the two Porto pastel de nata cafes where you can see the chefs at work but, when I strolled past Castro, I realised there was at least one more.

This tiny but beautiful cafe on the way to Riberia has just a few tables and a window bar. Grab a seat because the pastéis de nata are light, sweet and simply heavenly. My only complaint was that, although my nata was clearly fresh, it wasn't warm. On the plus side, the server asked me if I wanted cinnamon and dusted it then and there.

The custard was runnier than others I've tried but that's not a bad thing. Since the pastry was so light, I was surprised it held the contents perfectly without going soggy.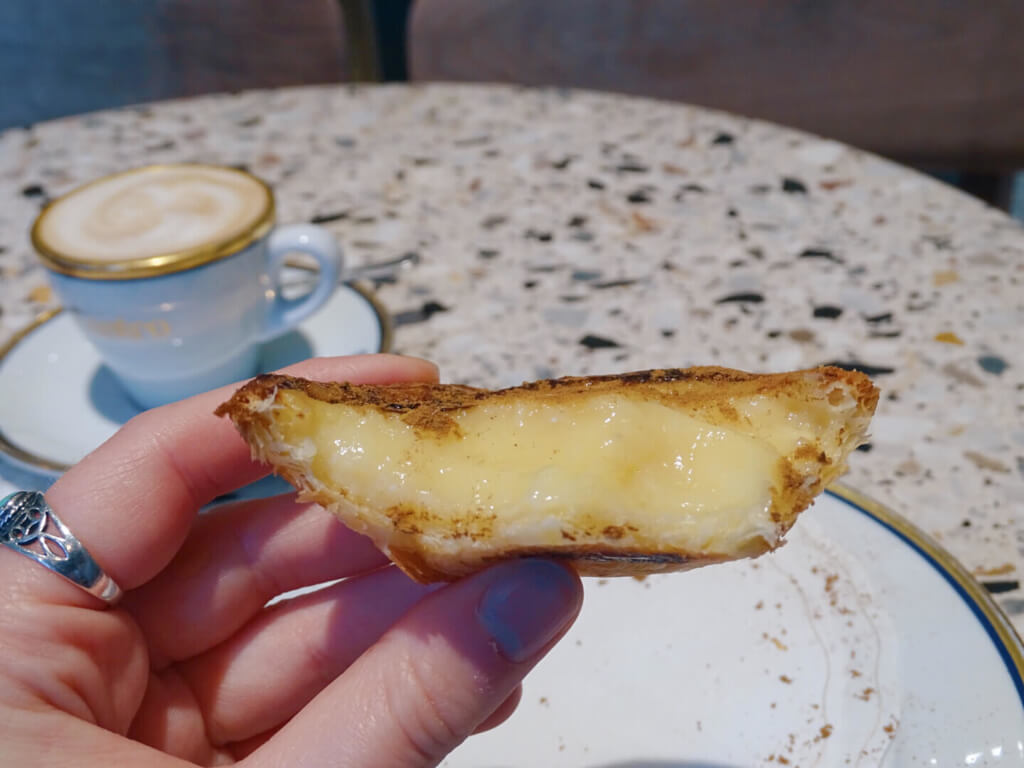 This cafe is an atmospheric place to relax. I spent a good half hour mesmerised by the chefs at work. All-in-all, a wonderful experience.

Price: €1.10.

Address: Rua de Mouzinho da Silveira 61, 4050-420 Porto.
Natas D'ouro – flavoured pastel de natas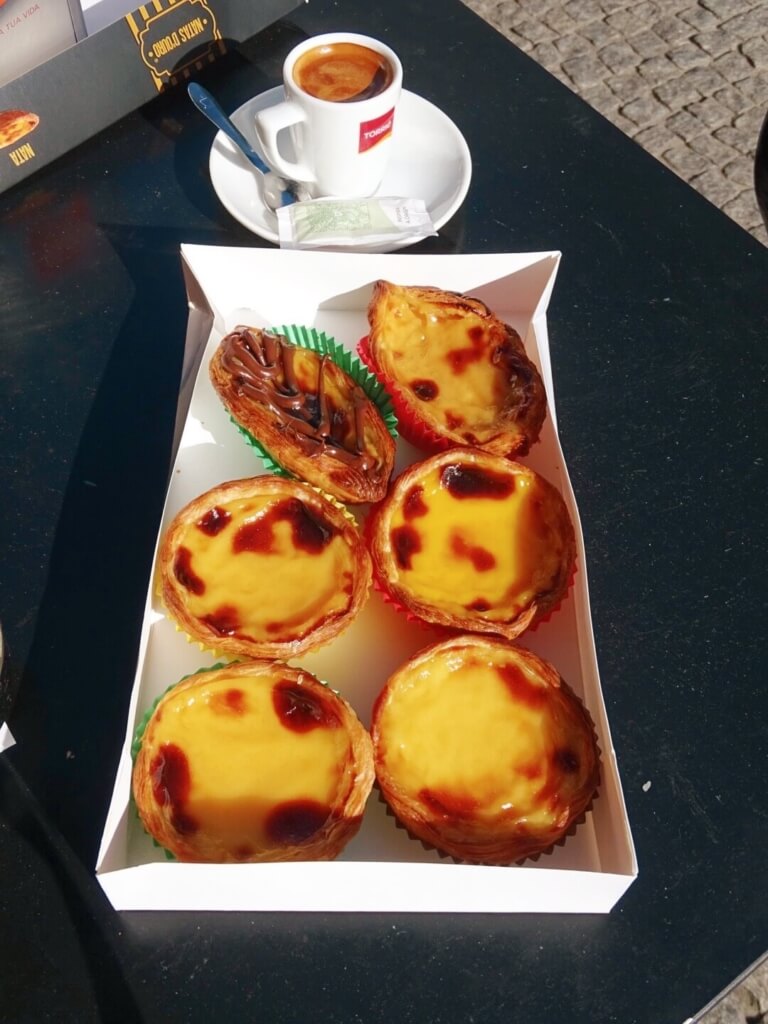 In terms of quality, Natas D'ouro can't rival the main contenders. The reason to visit is the novelty factor of the different flavours. Is that a bad thing? I don't think so. If you're making pastéis de nata in Porto, you're smart to set yourself apart.

The flavours are original, lemon, orange, port wine, caipirinha and chocolate.

I'd recommend the lemon nata. I don't love things flavoured with orange, and the port, caipirinha and chocolate ones were too sweet for my liking.

Price: €1 for the plain pastel de nata, €1.10 for flavoured ones, €5 for a box of all six flavours. I got the box with a friend and we gorged the lot.

Address: Rua de Sá da Bandeira 115, 4000-427 Porto.
Natas Lisboa – the 'just ok' one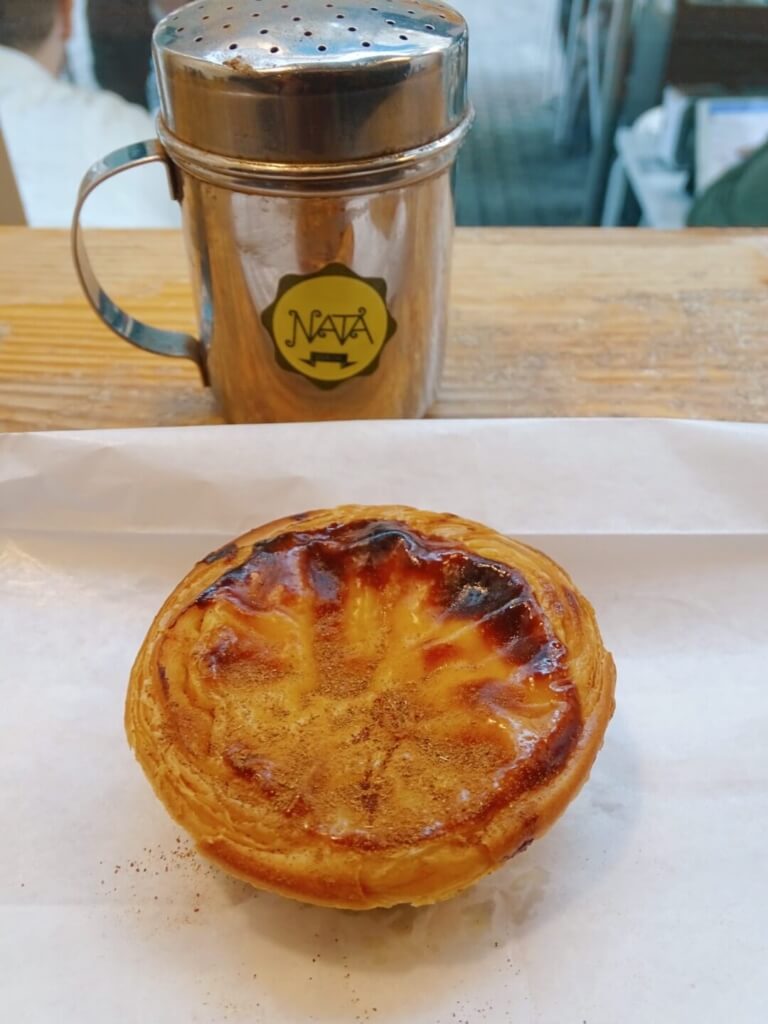 Natas Lisboa is often voted one of the top 3 natas in Porto alongside Manteigaria and Fábrica but I'm not sure. Unlike the other two, there are no pastry chefs in the window making constant fresh batches.

When I visited the Rua da Flores cafe, I was underwhelmed: the nata was cold and nothing special.

When I visited the Santa Catarina cafe, it was warm but must have been reheated as it had a soggy bottom. Also, no cinnamon was given to me and only half the tables had shakers on.

Despite this, the custard was thick and flavoursome. It's worth noting Natas Lisboa serves decent bread, sandwiches and savoury quiches and pies at affordable prices so it's a good place for lunch with a nata for dessert.

Price: €1.10.

Address: Rua de Santa Catarina 506 and Rua das Flores 291. Visit the first one to sit down inside as the Flores one is smaller, although it does have outdoor seating on one of Porto's most atmospheric streets. Neither cafe is as atmospheric as Manteigaria or Fábrica.
Confeitaria do Bolhão – the ones with history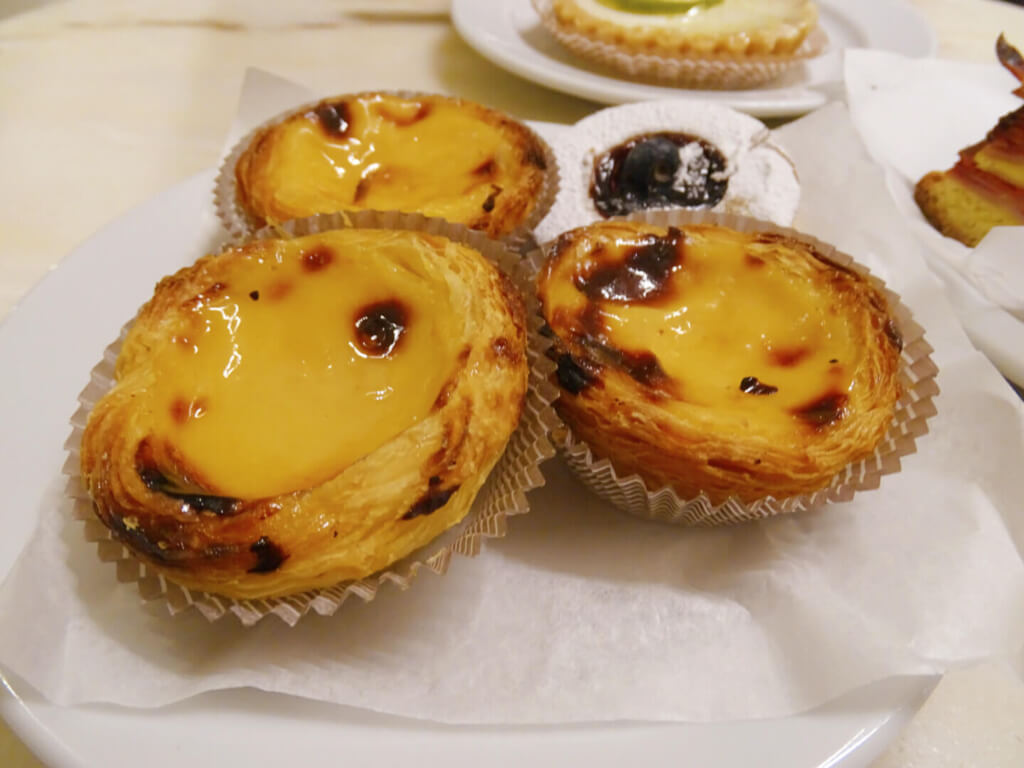 I don't have much to say here: these sweet, light, flaky offerings are easily some of the tastiest pastéis de nata in Porto.

Aside from the high quality of the nata, the highlight is the historic cafe they're served in. Despite having over 100 years of history, Confeitaria do Bolhão hasn't become an overpriced tourist trap like Cafe Majestic (where coffee and nata cost €6.50 by the way – don't go!).

The pretty cafe is only outshone by the bakery counter which is overflowing with fruit tarts, cakes, sandwiches, rissóis, marzipan fruits and every other Portuguese snack imaginable. Just wonderful!

Cost: €1. We paid €11 for 3 coffees, 3 natas, sandwiches and a bunch of other desserts. Bargain!

Address: Rua Formosa 339, 4000-252 Porto.
Confeitaria Aquarela – the one with Kinder Bueno!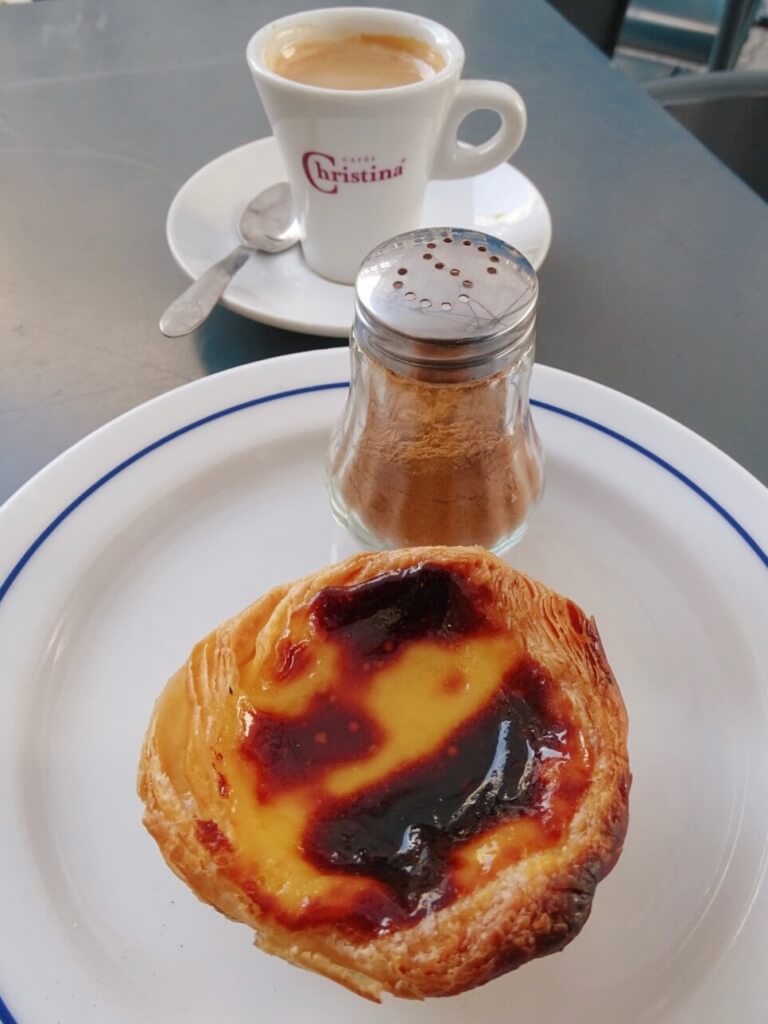 I was pleasantly surprised by this modest cafe. I like visiting these small neighbourhood bakeries where you can eat with the locals and not have to queue. At affordable Confeitaria Aquarela, you can get a nata, coffee, juice and croissant for €4.50.

As the 'deepest' pastel de nata I had in Porto, there was plenty of custard and thick pastry (perhaps to guard against a soggy bottom – it works). However, the pastry was a bit too thick which made it chewy.

The custard wasn't the most flavoursome, plus it was cold. But on the plus side, it was served on a plate with its own cinnamon shaker. Priorities!

It's not the best pastel de nata in Porto but it's a decent one away from the tourist crowds. The other thing worth noting is…
Kinder Bueno nata!
As I was walking away, I spotted these in the window and went back to buy one… All in the name of research, of course! With a whole block of Kinder Bueno inside, this is strictly for those with a VERY sweet tooth.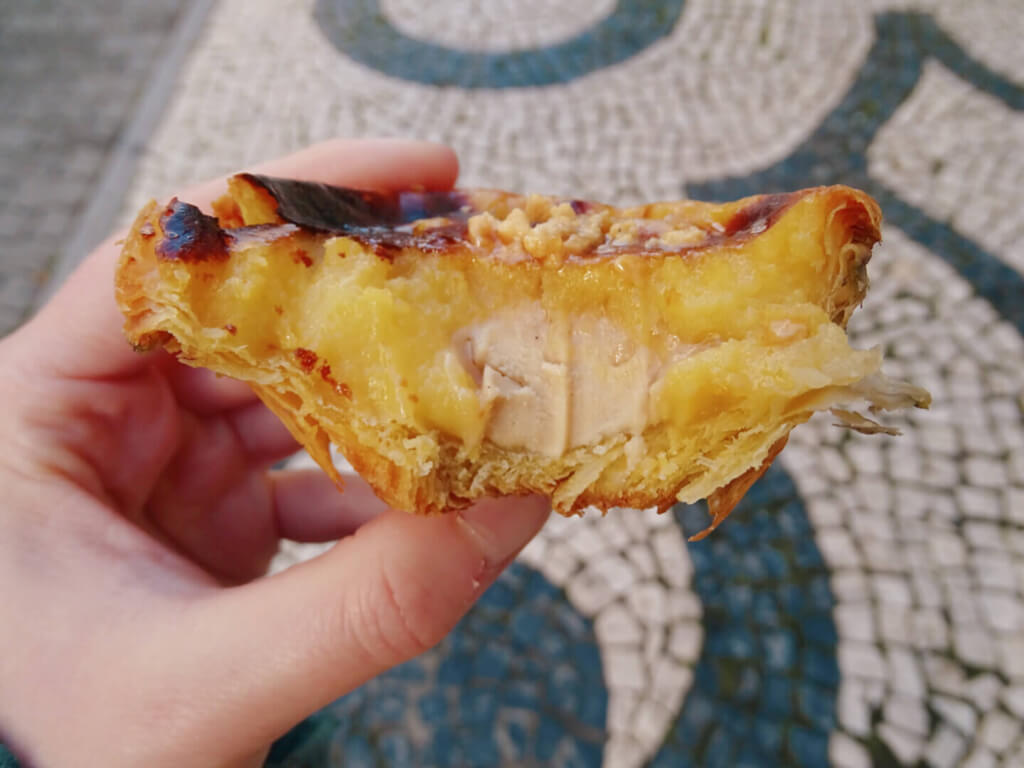 Price: €1.10 for the regular nata; €1 for the Kinder Bueno nata (but I think this is takeaway rather than eat-in price).

Address: Rua de Santa Catarina 534, 4000-124 Porto.
Want to make your own nata? Take a nata making workshop with a local chef!
Best vegan pastel de nata in Porto
The vegan natas always look slightly anaemic but some of them taste pretty good. Check out…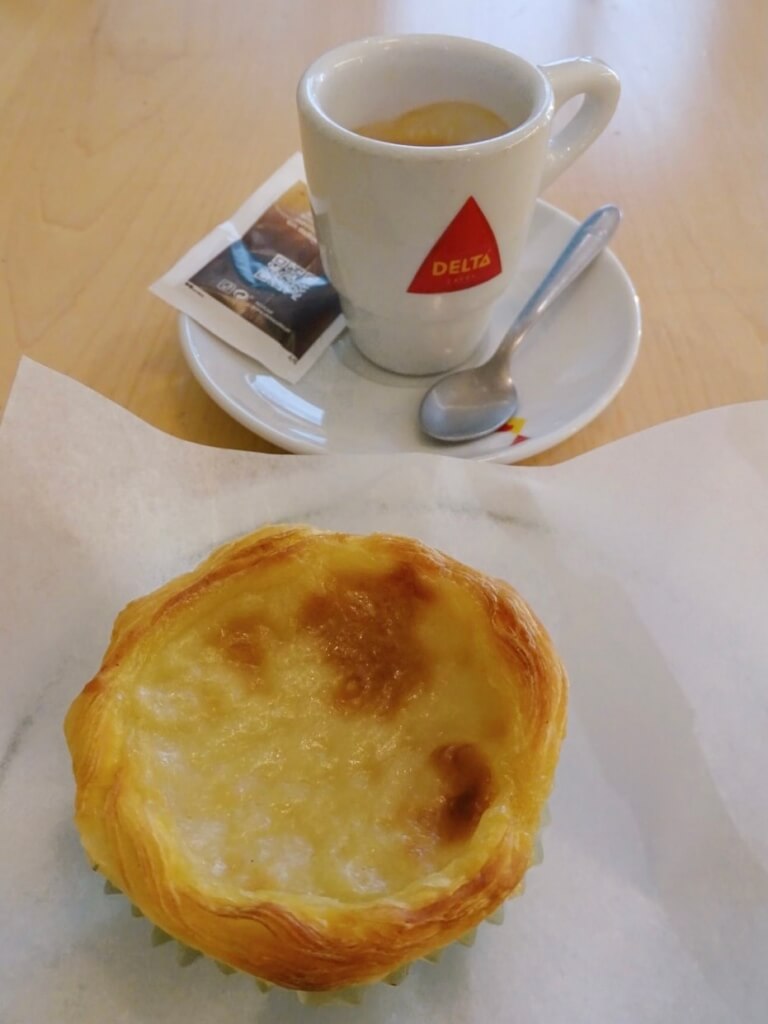 Honourable mentions
Here are the places I visited on my Porto pastel de nata quest that didn't quite make the cut. This could have just been bad luck: sometimes you arrive just before a fresh batch is ready meaning you catch the last of an old one, for example.

Don't discredit them entirely, they just weren't my favourites…
Neta 3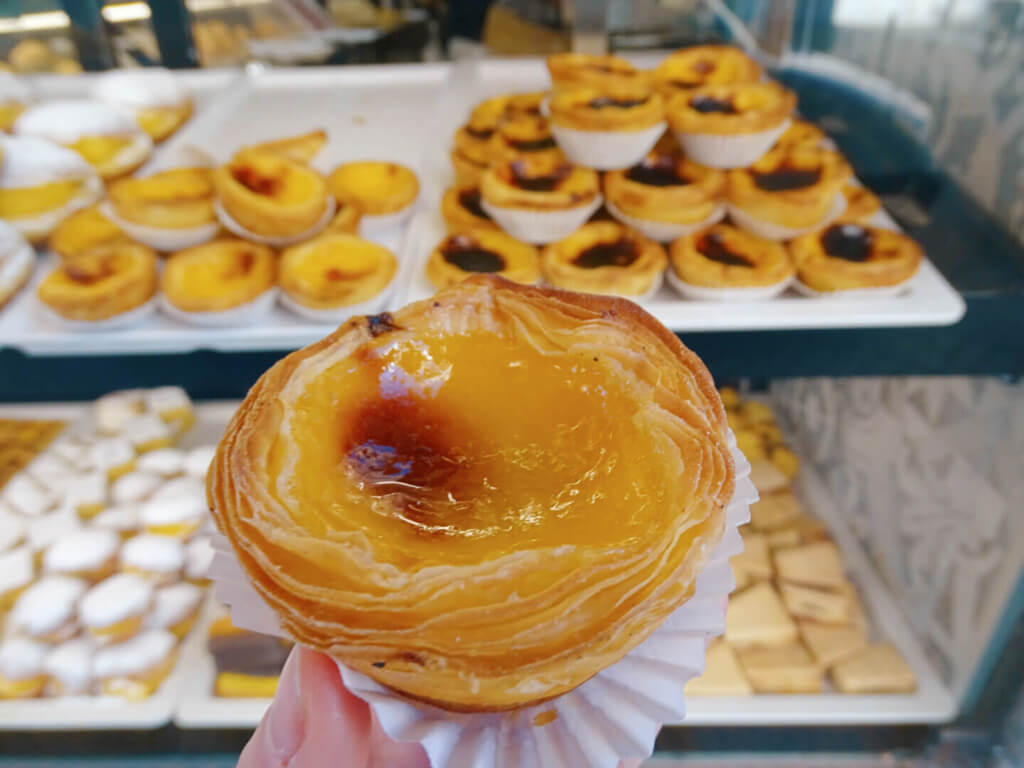 I had high hopes for this pastel de nata because it's totally off the tourist track. When I visited at 9am on a Monday, the cafe was atmospheric and packed with locals enjoying coffee and pastries. What could be a better sign?

Well, the fact that Neta 3 has been open since 1891 meaning they've had 130 years to perfect their recipes.
Eagerly, I ordered my pastel de nata and opened the paper bag to discover… an undercooked nata, only half full of custard!!

To top it off (bottom it off?) it was also suffering from a soggy bottom to make Mary Berry cringe.

What confused me was that the natas in the window were perfectly cooked and acceptably full. My friend told me his nata here was great (and he's complained about half-filled natas before) so maybe I was just unlucky.

However, after such a disappointing offering, I'm not inspired to return and can't vouch for it as the best pastel de nata in Porto. Maybe you'll have better luck…

Cost: €1.10.

Address: Rua de Augusto Rosa 186, Porto.
Padaria Ribeiro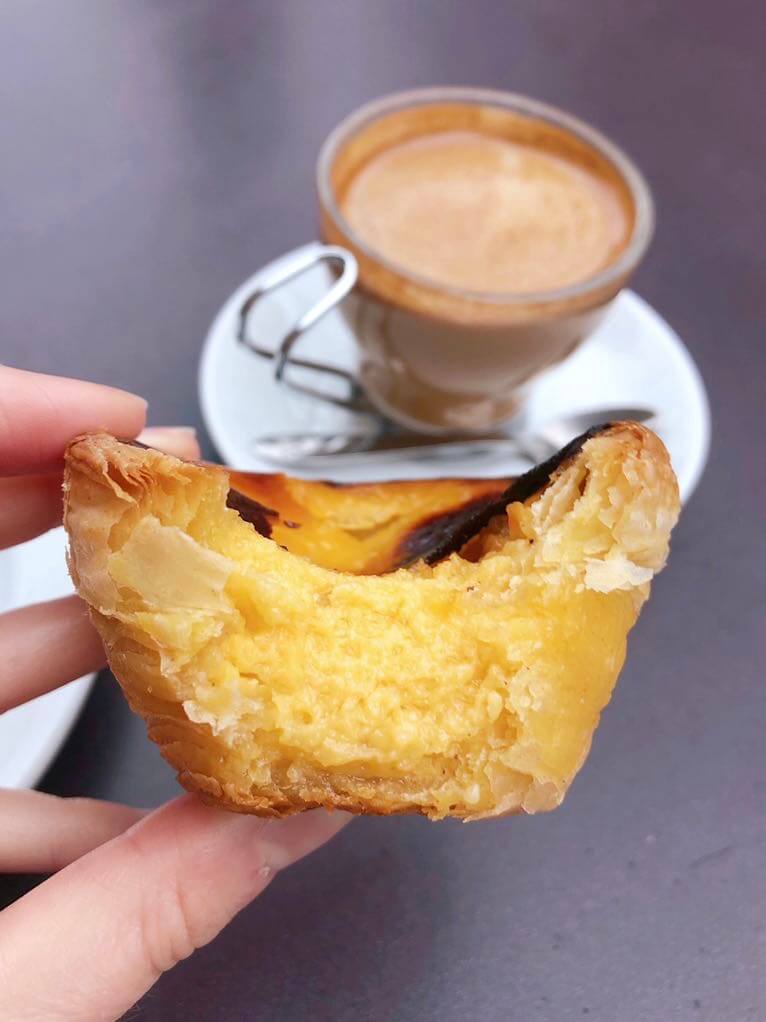 This is another honourable mention because I liked the cafe but the pastel de nata wasn't the best. In fact, it was the worst I tried while researching this article.

Padaria Ribeiro has the feel of an authentic, neighbourhood pasteleria with decades of history. As well as regular-sized baked goods, they do everything in dinky, miniature form too. As well as being very affordable, it's a good place to familiarise yourself with a wide range of Portuguese baked goods.

Sadly, the custard in the pastel de nata was lumpy. I imagine this can happen easily but I'd been spoiled with silky-smooth custard up to this point. For that reason – and the fact it was cold with no cinnamon to hand – I'm going to rank it number 11 out of 11. Visit the cafe but maybe order something else…

Cost: €1? (I forgot to check the receipt but I paid €5 for pastel de nata, carrot cake, hot chocolate and coffee. Not bad at all).

Address: Praça Guilherme Gomes Fernandes 21, 4050-526 Porto.
The overall best nata in Porto?
Drum roll…

It's a tie between Manteigaria and Fábrica da Nata. For a modern, spacious cafe, visit Manteigaria and for a cosy, traditional cafe, visit Fábrica da Nata. The natas at both are heavenly!
Thanks for reading!
Read my other Porto blogs:
More Portugal posts you might like
For more travel content, follow me on Instagram, Facebook, Twitter and YouTube.
Ps. Liked this? Pin it for later on Pinterest!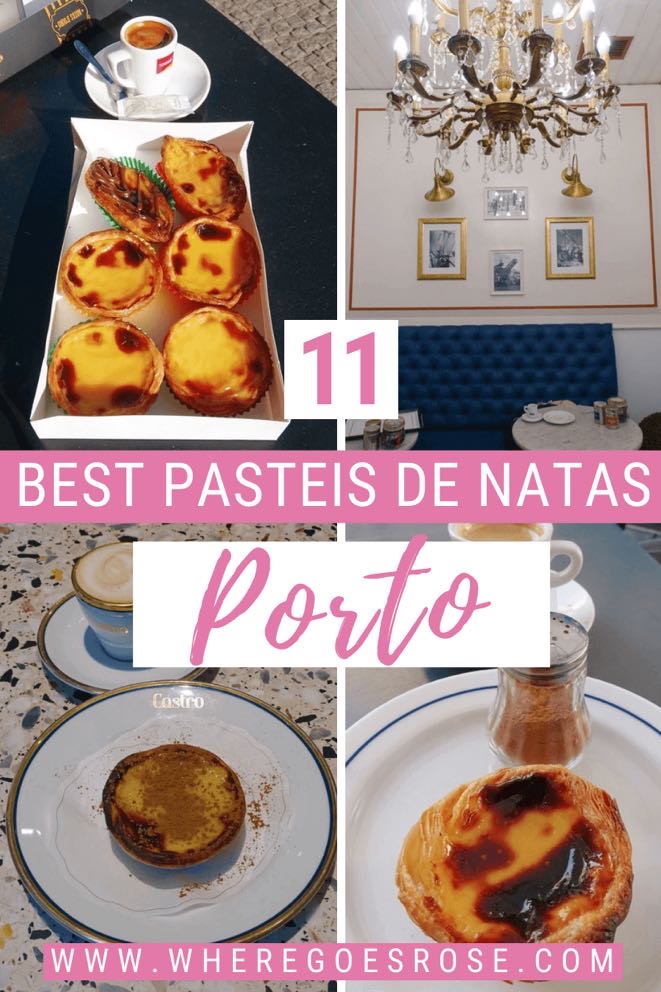 TRUSTED RESOURCES FOR VISITING PORTUGAL

Getting there by air – I use Skyscanner to find the best-value flights, using the 'search by month' tool to find the cheapest dates. You can also use the 'to anywhere' feature if you're flexible on where you're going.

Driving in Europe – use Rentalcars.com to compare car rentals in European countries (and all around the world).

For trains, I use Omio. The search feature allows you to compare prices, and they show live departure times on the website. This is also a handy tool to compare trains and buses in one search.

For buses, I use FlixBus. Find journeys between European countries from €1! 

For hotels and self-catering apartments, I use Booking.com. You can filter by review score and price to find the best-rated budget places. For hostels, I use Hostelworld.com.

Browse tours and activities on GetYourGuide and Viator.

To save money on accommodation, I use Trusted Housesitters, a website that connects homeowners going away and travellers who can sit their homes & pets.

Need travel insurance? I use True Traveller (for UK & Europe residents) since it's some of the most affordable insurance out there but still covers everything you'd need including various activities, valuables and pre-existing conditions. Unlike some companies, they insure you if you're already travelling / don't yet have your flight home booked. Get a quote.

For travel insurance for other nationalities, I recommend Hey Mundo and for long-term digital nomad travellers, I suggest Safety Wing.

Check out my resources page for more travel discounts and budget tips from my 10+ years on the road!