This post may contain affiliate links to things like tours, hotels, Amazon associates and products. These help me earn a small commission at no additional charge to you.
Wondering where to go in the Cotswolds? With its scenic walks, picturesque villages, quaint tea shops and bags of history, it's little wonder travellers flock from far and wide to soak up this little patch of heaven in Southern England. In this guide, I'm going to share all the best places to visit in the Cotswold to help you plan the perfect trip.
COTSWOLDS ESSENTIALS

Rough Guides The Cotswolds

Accommodation: Booking.com

Car hire – Rentalcars.com
Cotswolds places to visit – handy map
The Cotswolds is an area surrounded by the Cotswolds Hills. It spans Oxfordshire, Wiltshire, Worcestershire, Gloucestershire, South Warwickshire and Somerset. It reaches Bath, Cheltenham and almost to Oxford.

Driving from one end to the other would take two hours but you could spend weeks spotting all the famous attractions along the way.

Driving from London to the Cotswolds takes around two hours.
In a rush? pin this for later on Pinterest.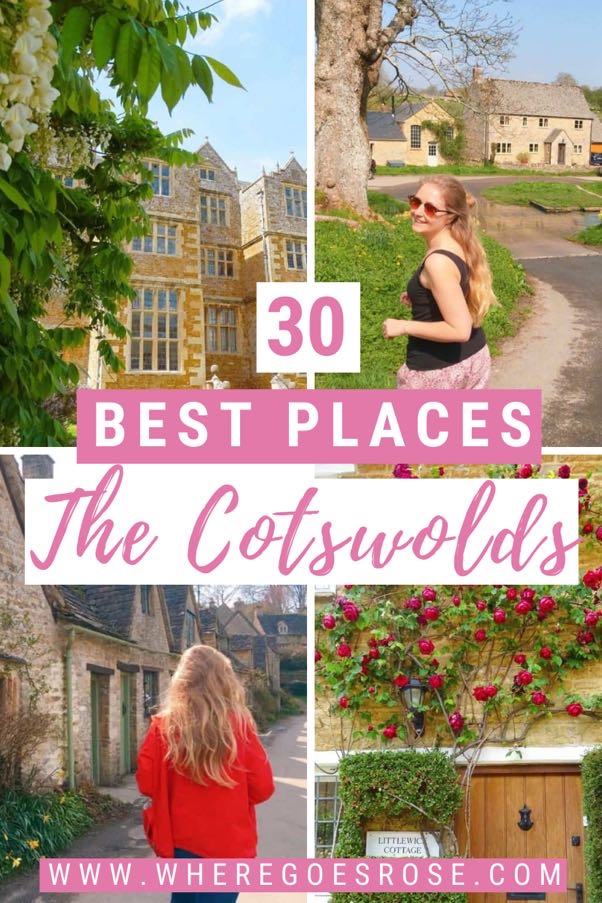 This post is designed to give you inspo about some of the beautiful places to go in the Cotswolds but if you're looking for itineraries and how to plan a trip, head over to my Cotswold weekend itinerary.

If you're on a tight schedule check out my Cotswold day trip itinerary.

For the most idyllic locations, read my guide to the 20 most beautiful villages in the Cotswolds!
Best places to go in the Cotswolds
With no further ado, here are the most beautiful places in the Cotswolds including towns, villages, stately houses, gardens, landmarks and other points of interest. From hidden UK gems to major tourist attractions, here are the highlights…
1. Arlington Row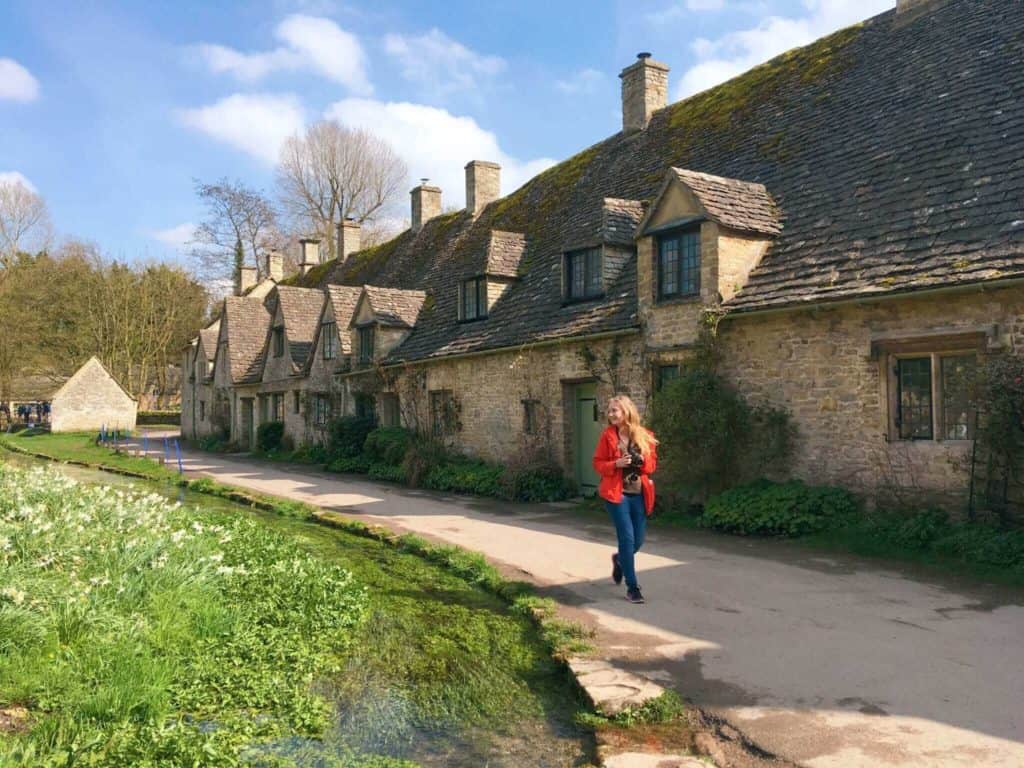 This adorable row of Cotswold cottages dates back to the 1300s. They were originally built for the storage of wool belonging to the nearby monastery but, several centuries later, were converted into homes for the weavers.

They're still lived in by locals today (who I doubt still work in weaving) apart from Number 9 which can be booked as a holiday cottage. You can book on the National trust website from £800pn (ouch!).

Fun facts about Arlington Row:
The Arlington Row houses feature in British passports alongside Big Ben and the White Cliffs of Dover. Weirdly, they're painted blue in the image. As you can see here, they're definitely not blue.
Apparently, a resident with a bright yellow sports car was pressured into getting rid of it because it was spoiling peoples' photos!
2. Bibury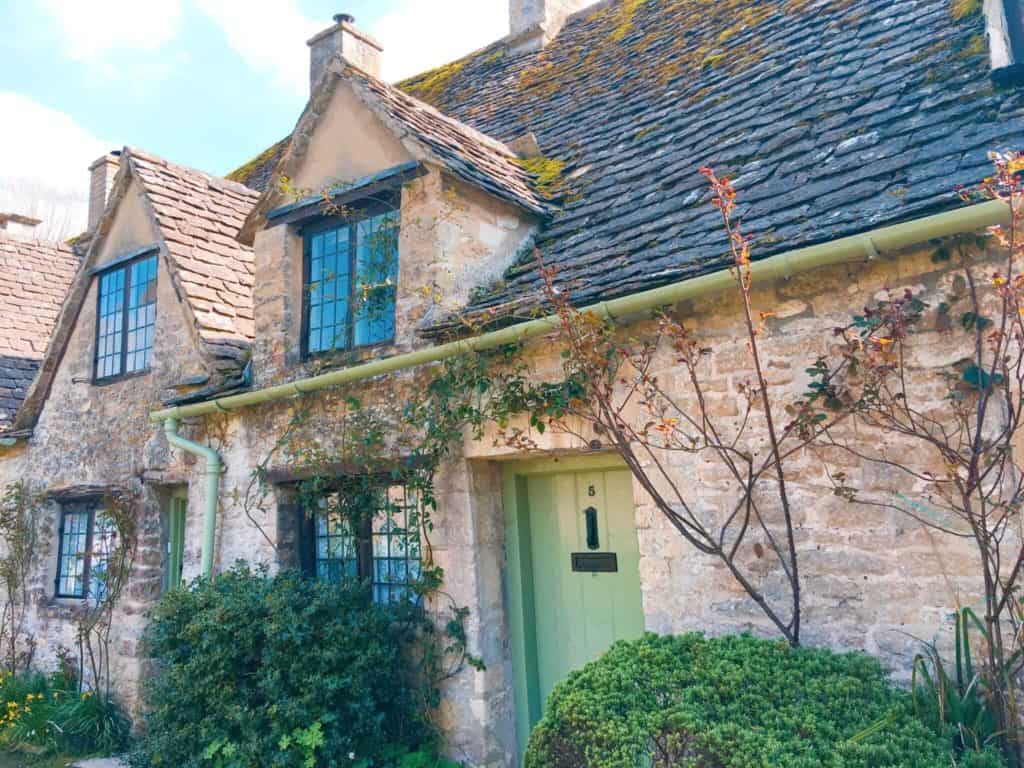 Arlington Row puts Bibury on the map but don't just snap the pretty cottages and leave. Quaint Bibury is a beautiful Cotswold destination in its own right, described by William Morris as the most beautiful village in all of England.

When in Bibury, make a stop at William Morris Tea Room filled with quirky clutter and homemade cakes. Other things to do in Bibury include crossing the River Coln by footbridge, seeing wildlife in the National Trust Wildfowl Reserve and sampling local delicacy, trout, at Bibury Trout Farm.

Staying over? Browse the best hotels in Bibury by review score.
3. Tetbury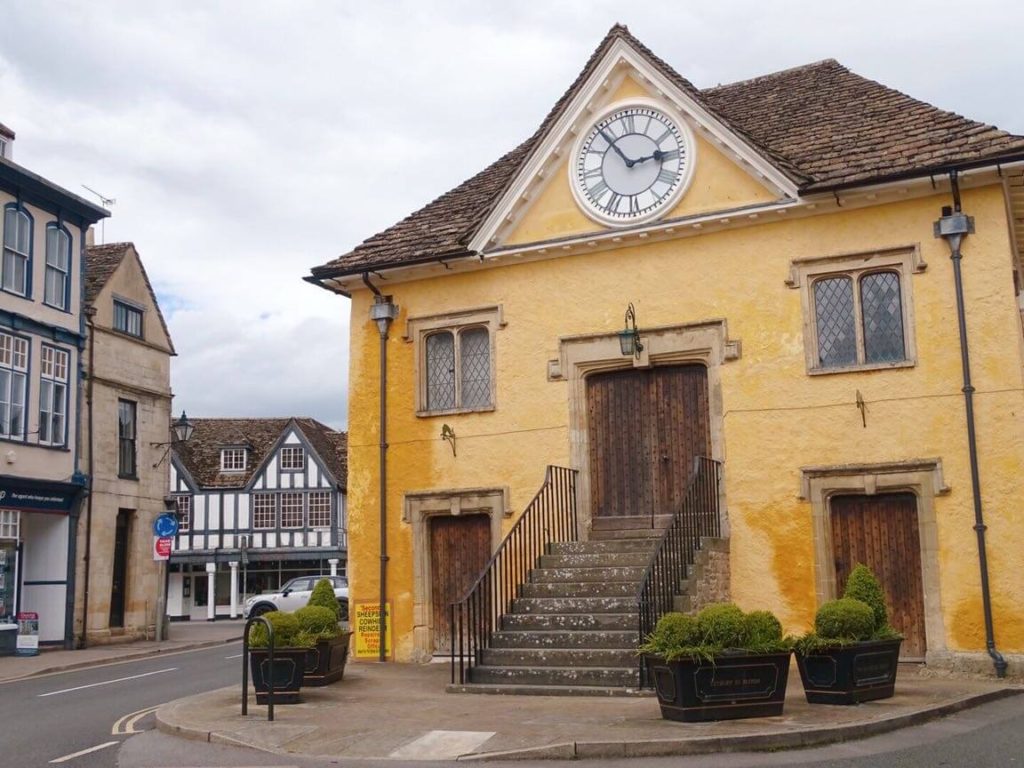 Another of the best places to visit in the Cotswolds is Tetbury, a civil parish with 1,300 years of history built on the site of an ancient hill fort.

Tetbury is known for its antique shops and bizarre emblem of a dolphin (apparently – it looks more like an evil sea monster to me!). These quirky decorations can be found dotted around the town.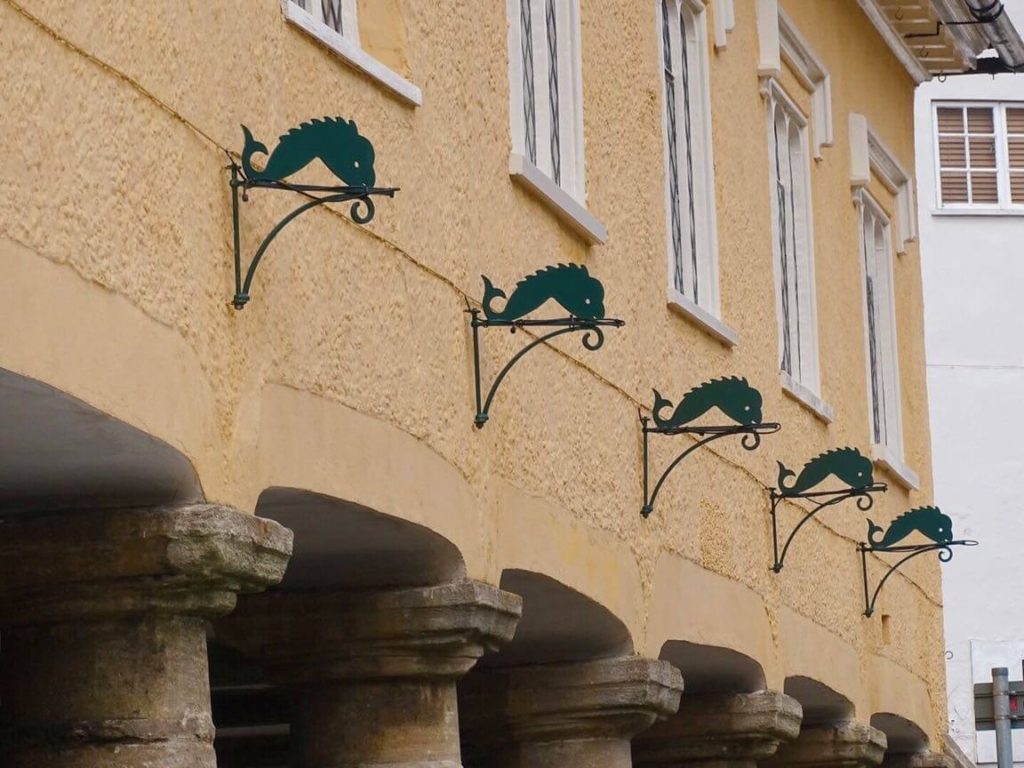 Tetbury is a short drive from Highgrove House & Gardens, the official residence of Princes Charles.
Read next: Things to do in Tetbury
4. Moreton-in-Marsh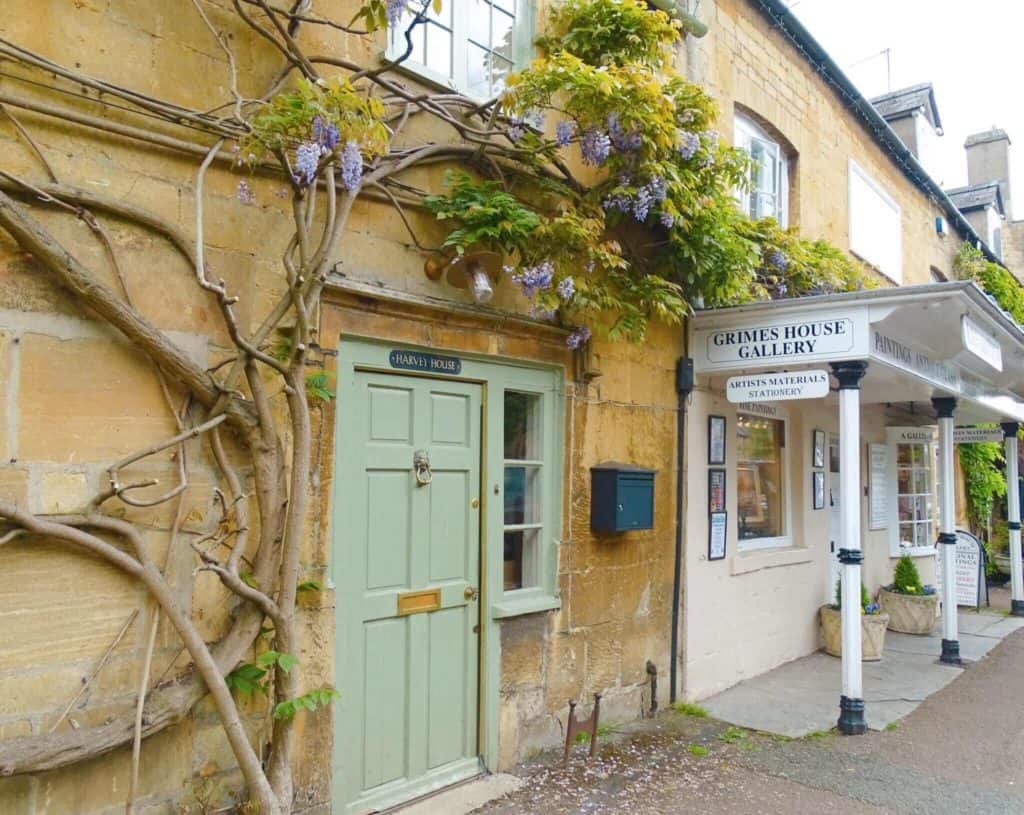 Pretty Moreton-in-Marsh is one of the best places to go in the Cotswolds because you can experience all the charm of the region yet it's never as crowded as Bourton-on-the-Water.

With over 1,000 years of history dating back to Saxon times, Moreton is brimming with history: you can still see the building where King Charles I hid during the Civil War.

Don't miss the Curfew Tower with its original clock and bell as well as Redesdale Hall holding regular antique markets.

After a couple of hours on your feet, stop at cute tea shops including The Marshmallow. You won't find anywhere more picturesque than this cafe, or anywhere with better cakes!

For a comfy place to stay, check out the White Heart Royal for £120pn.
Tip – if you don't want to drive, Moreton is one of the easiest places to reach by train. From there, you can book on a Cotswolds day tour.
5. Chipping Campden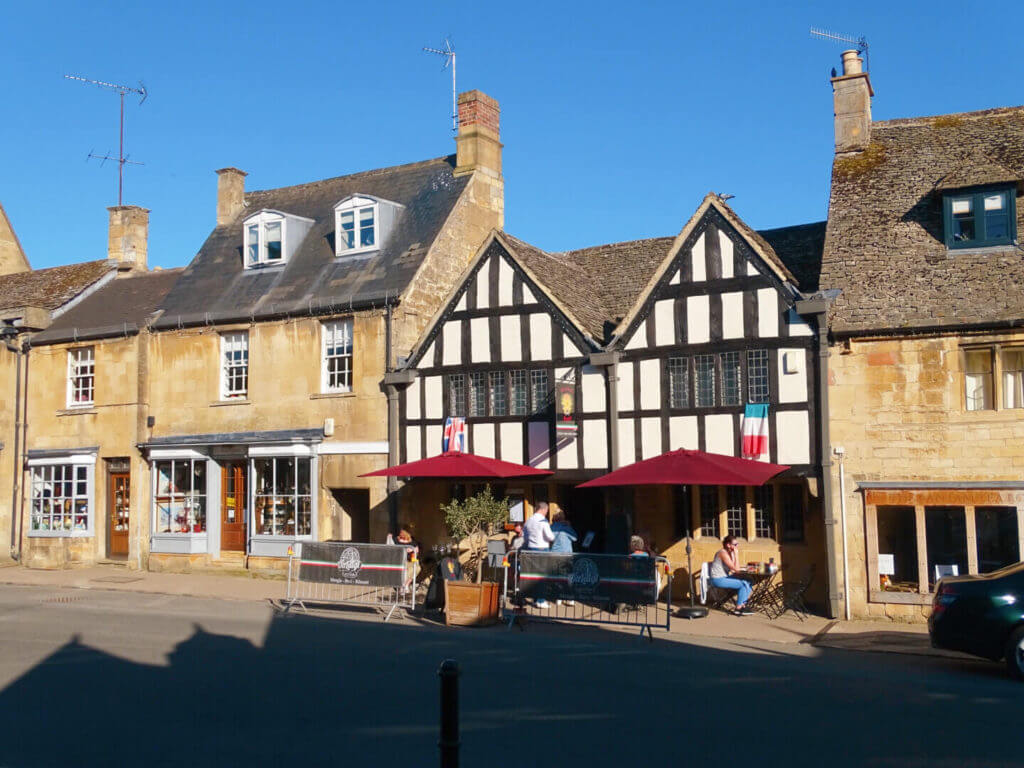 Between Moreton-in-Marsh and Broadway is Chipping Campden, a quaint market town in the Cotswolds with buckets of history and buildings made of golden Cotswold stone.

Nearby is Hidcote Manor Gardens, known as one of the UK's best 'arts and crafts gardens' with rooms of manicured hedges and landscaped gardens.

In Chipping Campden, you can learn about the history of the region through crafts and paintings at The Court Barn, and silk goods at the Silk Mill.

There are plenty of places to stay in Chipping Campden.
6. Broad Campden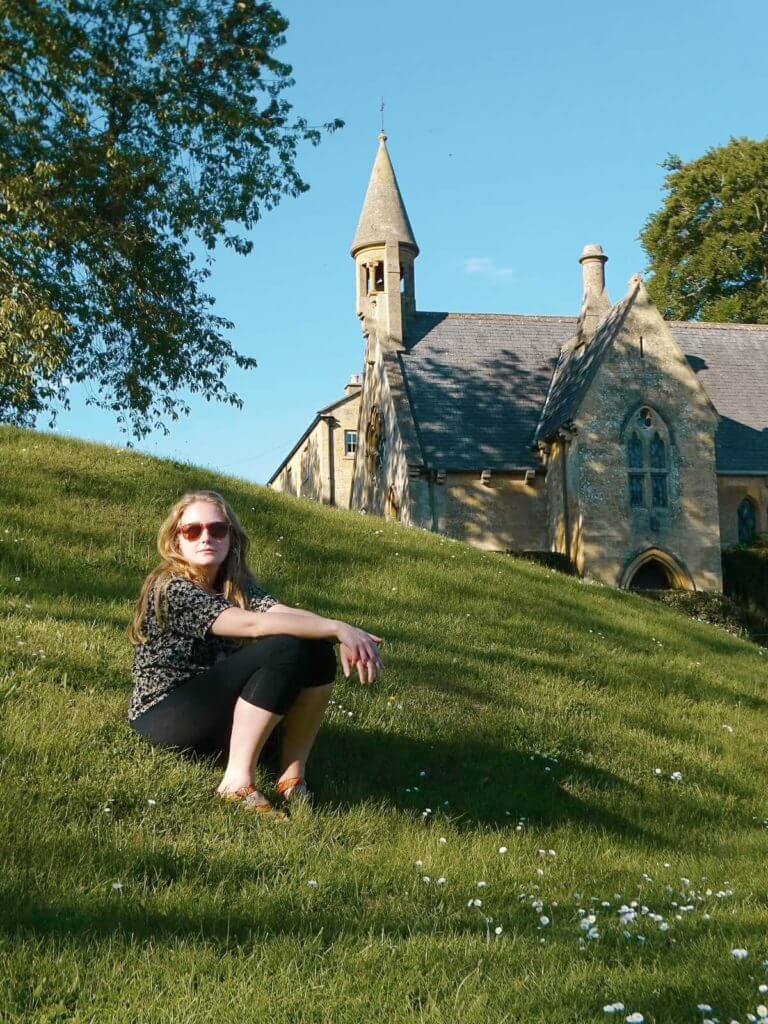 En route to Chipping Campden, you'll likely drive through Broad Campden. Although there's not much to do in this tiny settlement, it's one of the prettiest places in the Cotswolds, in my humble opinion.

Pay a visit to St Michael & All Angels Church and admire what the locals have done with their gardens. The topiary is something else!
7. Chastleton House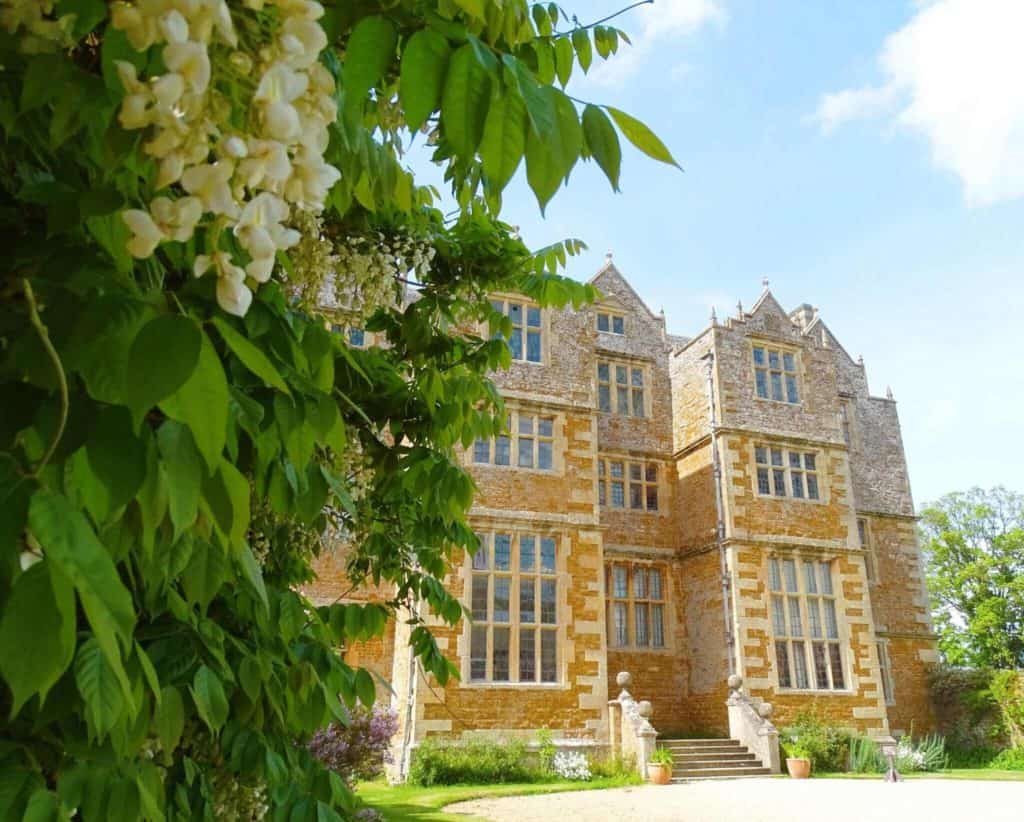 This Grade I listed building is just 10 minutes from popular Moreton-in-Marsh. You can go inside the 400-year-old house, wander the gardens or just view it from outside (which I did as I'm cheap).

It's one of the best places in the Cotswolds for a combination of grandeur and rolling countryside. House and garden entry costs £10.50 per adult.
8. Cirencester
Although it's not as idyllic as some Cotswolds spots, don't overlook Cirencester. With 20,000 residents, it's known as the 'capital of the Cotswolds'. You could consider basing here for the varied, affordable accommodation options.

Visit the many Cirencester pubs, boutique shops, galleries, the Corinium Museum, take a walk along the Thames Path, and try your hand at watersports at Cotswold Waterpark.
9. Cotswold Lavender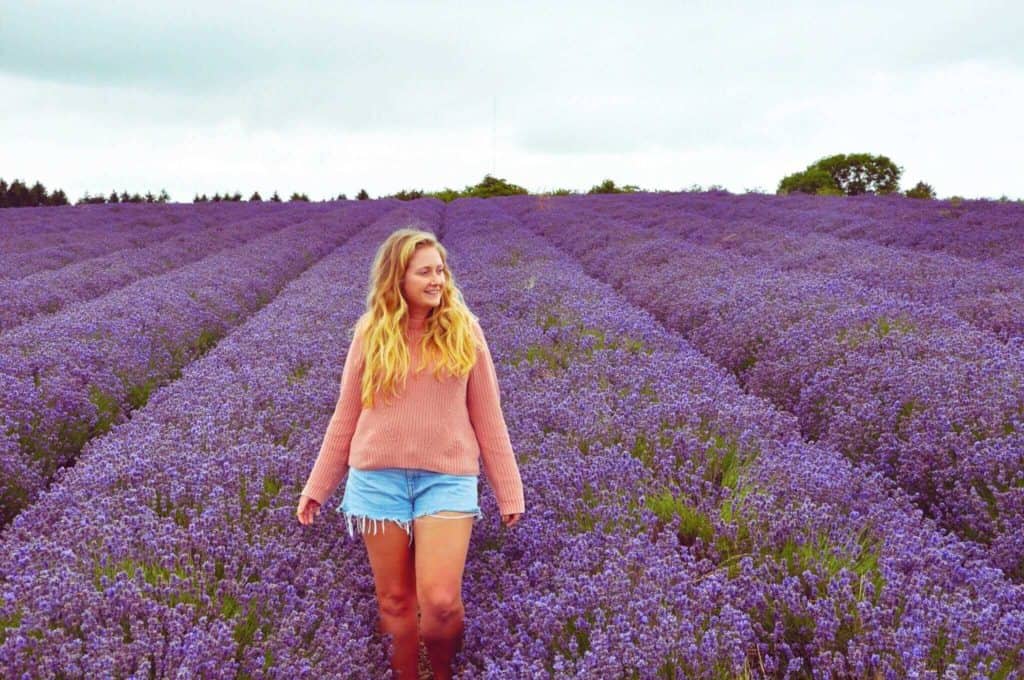 How stunning are these lavender fields? This is THE most beautiful place in the Cotswolds between June and August!

Entry to the lavender fields is £7 and you can visit between June and early August. The very best time to visit Cotswolds Lavender is early to mid-July when the lavender stretches as far as the eye can see.

There's also a cafe on-site and a gift shop where you can purchase every lavender-related product under the sun.

Afterwards, pop in at Snowshill, another gorgeous village known for Snowshill Manor and Gardens.
10. Winchcombe
This small settlement six miles from Cheltenham has a long history and several points of interest. It's thought that the body of Saxon King Offa's murdered son was hidden here, and that a note from heaven was received by the Pope alerting him to its whereabouts.

As a result, the body was enshrined in the Winchcombe Abbey which became a pilgrimage site, bringing money and notoriety to the area.
Today, you can learn about the history at Winchcombe Museum and tour the churches (St Peter's and Saint Nicholas). For food and drink, don't miss The Corner Cupboard and Food Fanatics, a luxury groceries and cafe.

Finally, stroll along Vineyard Street, one of the prettiest areas of Winchcombe. The name dates back to when tobacco plants were grown here after the decline in the wool trade.
11. Bourton-on-the-Water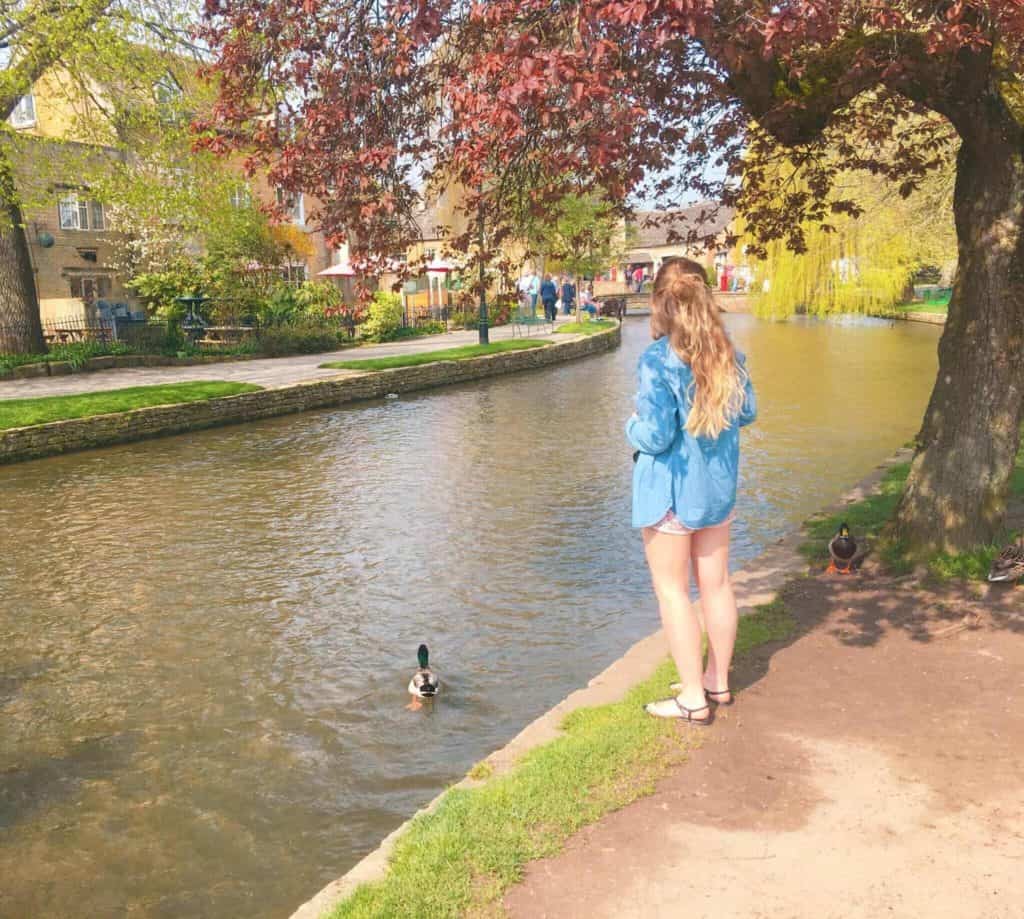 Bourton-on-the-Water is probably the most popular place to visit in the Cotswolds. I haven't personally been here in a while as it's SO crowded at weekends. Still, it's a must-see place in the Cotswolds so take my advice: swing by early then escape to quieter corners of the Cotswolds.

Walk the tiny bridges over the shallow rivers that trickle through town, then indulge in the trinket shops and cafes. I like Bakery on the Water where you can grab a tasty lunch for a fraction of the gastropub prices.

Other things to do include admiring Bourton in miniature format at the Model Village, seeing more than 500 species of bird at Birdland and having a pint at the Cotswolds Brewing Company.

For a luxurious place to stay in the centre of town, stay at the Dialhouse (£95pn). For a budget option, stay at Old Manse Hotel (£70pn).
12. Burford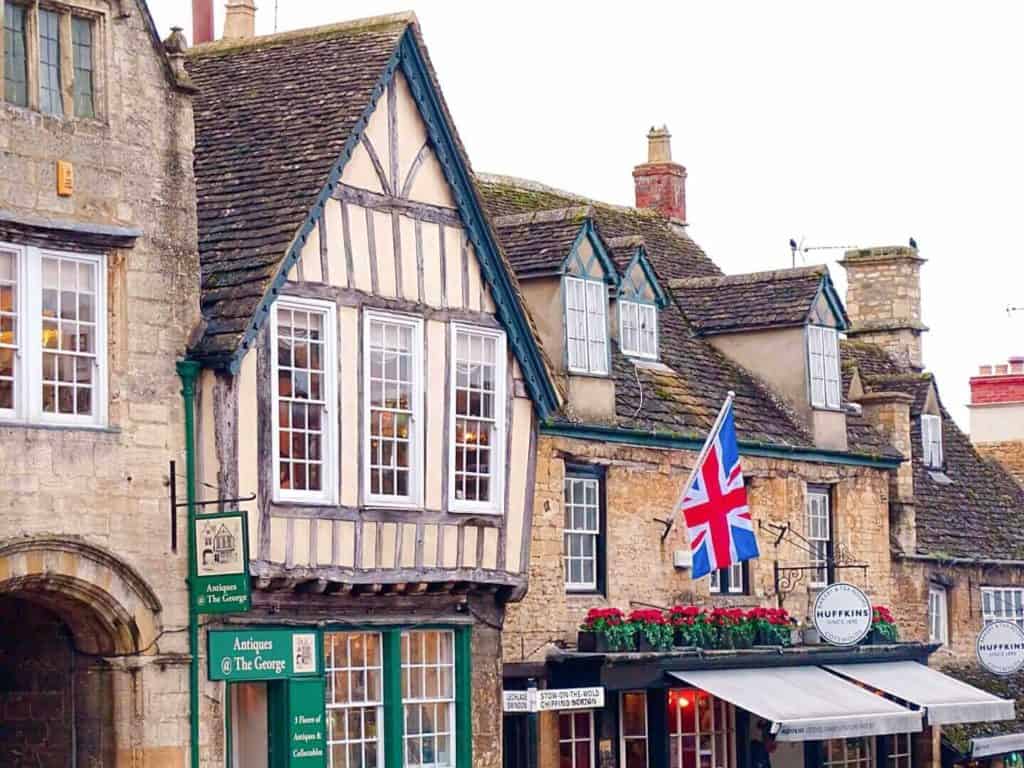 Towards the Oxfordshire side of the Cotswolds (east), pretty Burford is a real gem. A busy road runs through the main street of Burford so it isn't the most beautiful Cotswold town in terms of location – but the attractive buildings more than make up for it.

You can easily escape the traffic in the cosy cafes or go walking in the surrounding countryside. There are some fantastic walks in Oxfordshire which aren't too far from the Cotswolds.

Tip for visiting Burford: get your fill of English tea and cake at Huffkins!
Read next: things to do in Burford
13. Minster Lovell ruins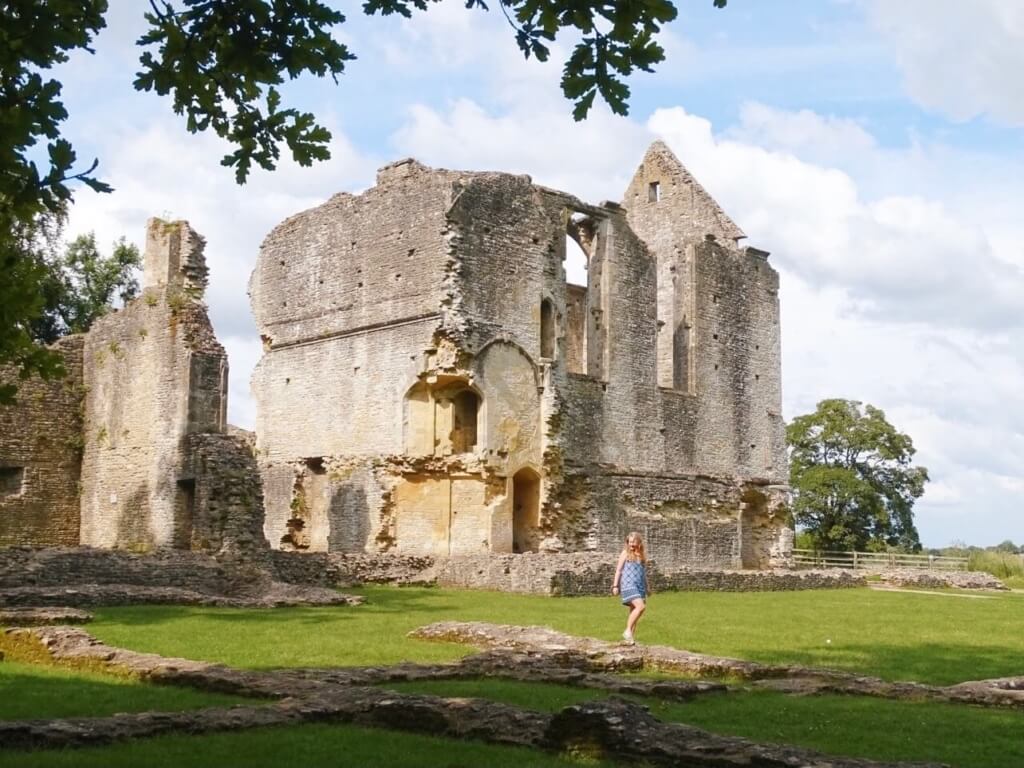 Right on the edge of the Cotswolds beside large town, Witney, is this impressive set of 15th-century ruins.

Belonging to the seventh Lord Lovell, these ancient ruins have an ominous history. Francis Lovell seemed to disappear without trace, puzzling historians, but in the 18th century, it was rumoured that an underground vault was discovered below the ruins.

Word has it that in the room was found a skeleton sat at a desk surrounded by paper and pens. No one has found the vault since it was mentioned in 18th-century documents, so his fate remains a mystery!

The ruins are free to visit. There's parking at the end of the lane leading to the ruins. Pretty Minster Lovell village is also worth a wander.
14. Lacock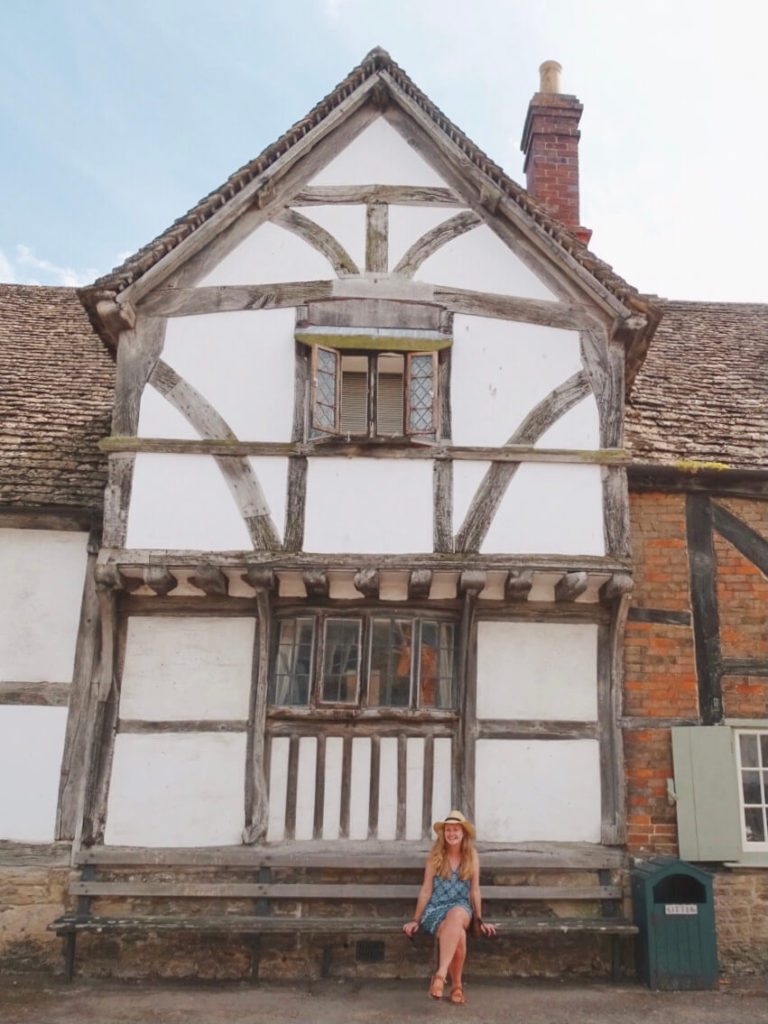 The tiny village of Lacock in the southern Cotswolds is regularly used as a filming location for period dramas because it's so quaint and picturesque with almost nothing pointing to the modern-day. Clear away the cars and you really could be in the 1800s!

Lacock has a few Cotswold must-sees for TV and movie buffs. Spot scenes from Downtown Abbey and the Other Boleyn Girl, as well as Harry Potter's parent's house from a flashback scene in The Philosopher's Stone.
15. Lacock Abbey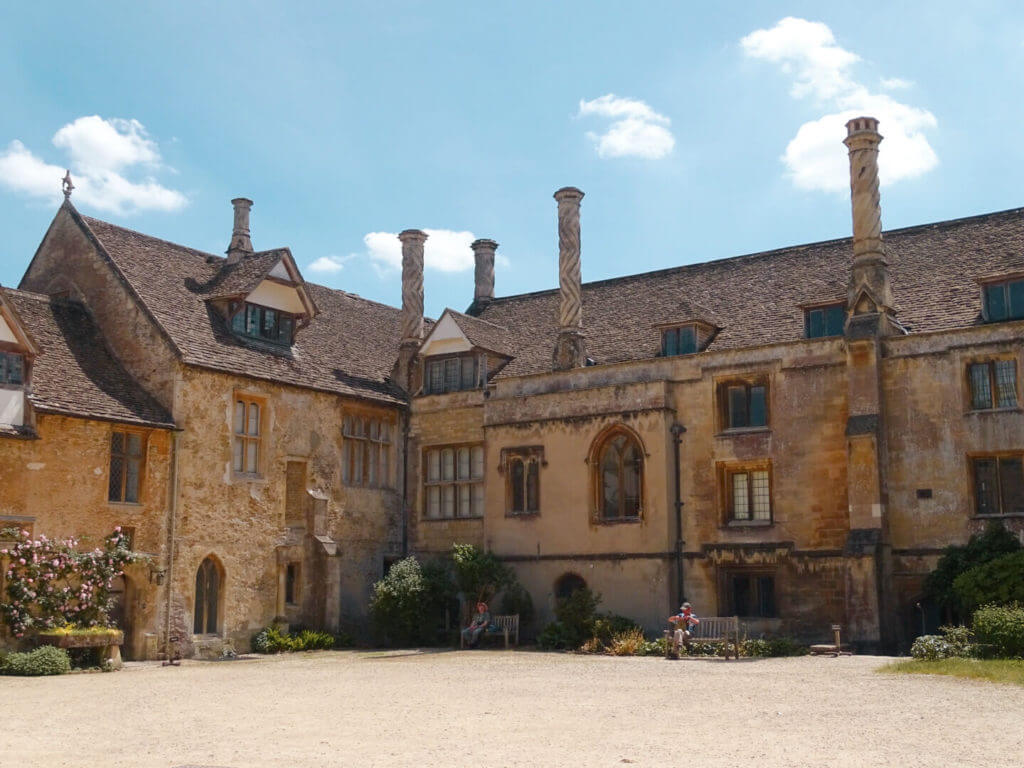 While Lacock village is indeed beautiful, it's Lacock Abbey that draws the crowds. With more than 800 years of history, it's a fantastic place in the Cotswolds for history buffs.

Founded in the 13th century by the Countess of Salisbury as a nunnery, it was also once the home of William Henry Fox Talbot who helped invent parts of the photography process. Now you can visit an exhibition on photography and its history or simply stroll the grand grounds.

If you're into Harry Potter, there's an extra reason to visit Lacock Abbey. There are several Harry Potter filming locations at Lacock Abbey. Don't miss the grand cloisters (shaded corridors with large windows looking onto grassy quads) and enclave rooms that served as Snape's Potions classroom and Quirrell's Defense Against the Dark Arts classroom.

Entry to Lacock Abbey is £10 or free for National Trust members.
16. Stow-on-the-Wold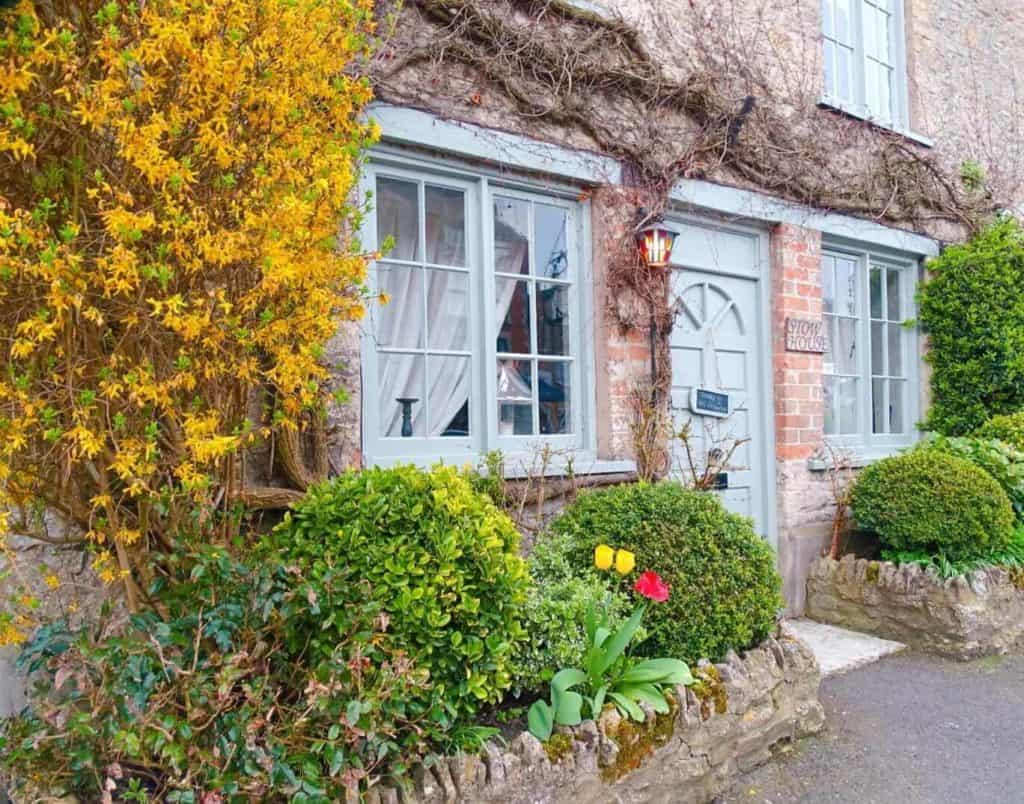 Stow-on-the-Wold is another Cotswold town with gorgeous tearooms and country pubs.

This medieval settlement has an atmospheric Market Square with original stocks and an ancient cross, while St Edward's Church has become quite the photo spot due to the tree roots growing around the doors.

While visiting Stow, don't miss the many tearooms. The Old Bakery Tearoom and Lucy's Tearoom are both known for their freshly-baked cakes and traditional English dishes. While in Stow, you can also browse the many antique shops as well as Fosse Gallery.

Stay in the Porch House, the oldest inn in Britain, for £105pn.
17. Broadway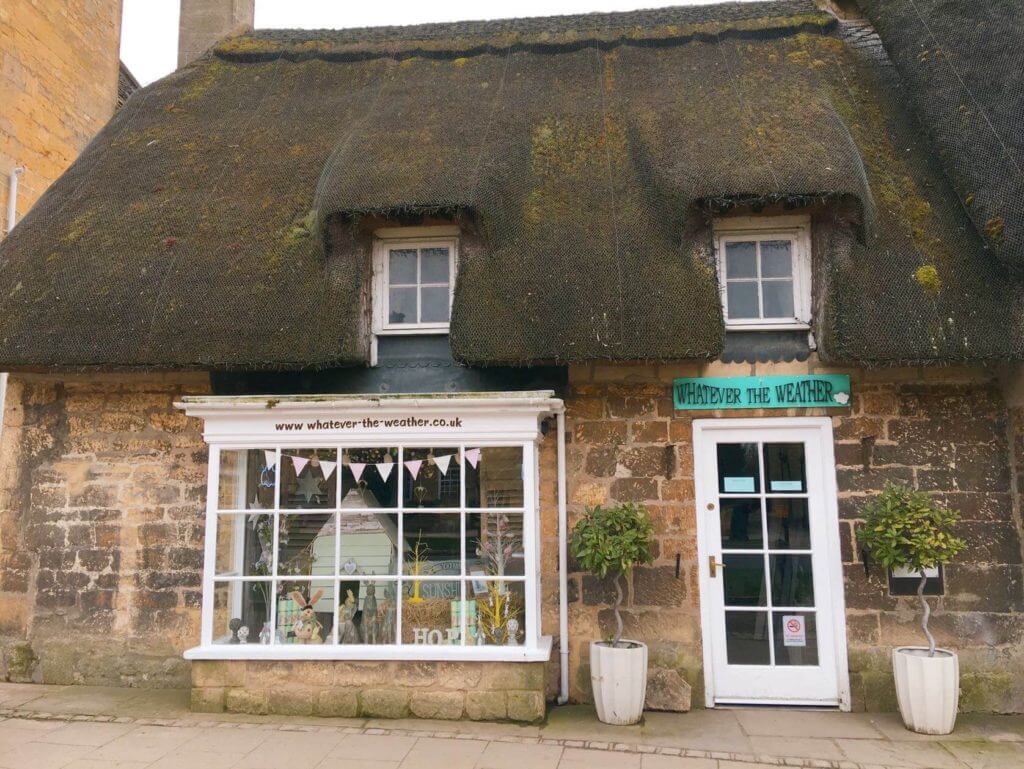 Broadway is one of the bigger villages in the Cotswolds, located within Worcestershire. It has 2,500 residents and plenty of pubs, shops and cafes.

Browse the art galleries, visit a few antique shops and stop for a decadent meal at Russels of Broadway. If you're travelling Britain on a budget and fancy hearty local cuisine, grab lunch at Russell's Fish & Chips instead.

Check out the Lodge Broadway, one of the best places to stay in the Cotswolds.
18. Broadway Tower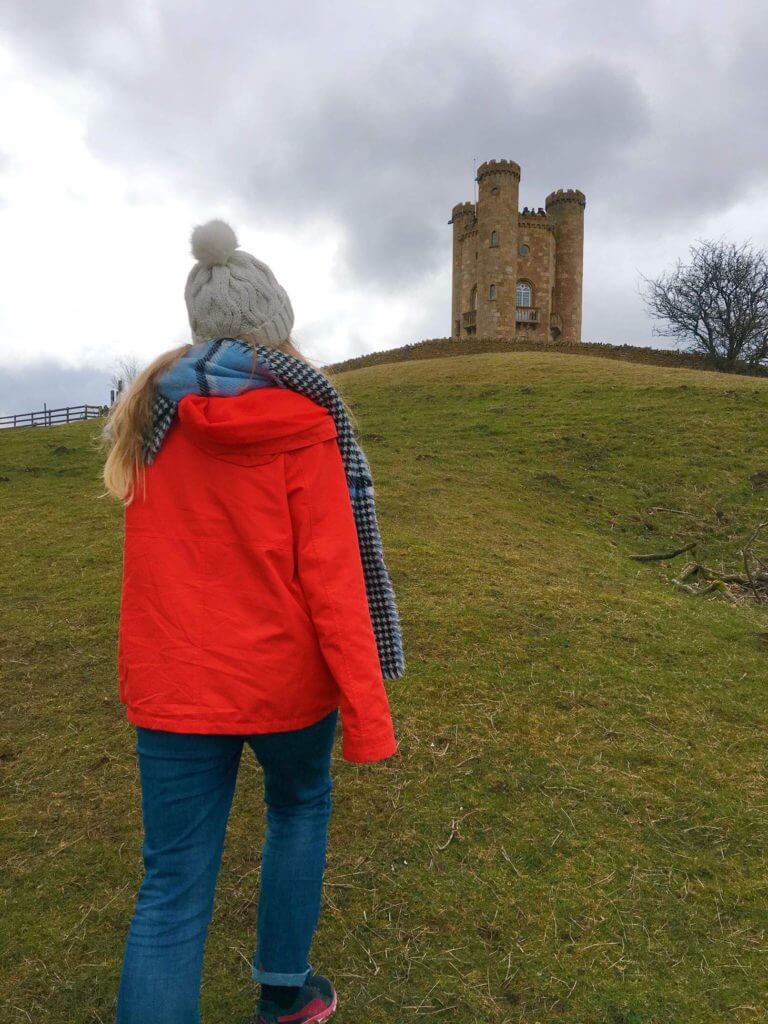 Just five minutes' drive from Broadway lies Broadway Tower. The bird's-eye view from the top is unrivalled at 312 metres above sea level.

There's also a cosy cafe once you've climbed the tower and explored the surrounding countryside. Another thing to do is discover the past during a bunker tour of Broadway Tower.
19. Upper Slaughter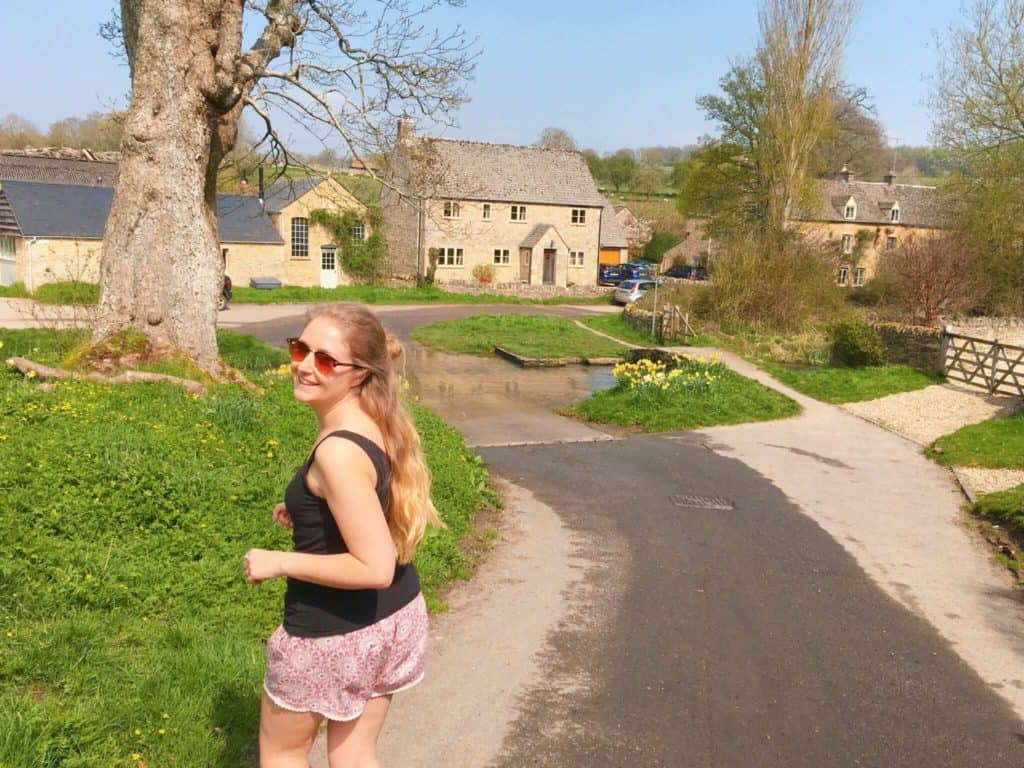 Not far from Stow-on-the-Wold is a village called Upper Slaughter. For the ultimate picnic spot, nab the bench at the top of the hill.

It's one of the quieter places to go in the Cotswolds, perfect for escaping the weekend crowds. For me, it brings back childhood memories of paddling in the brook at the bottom.
Read next: things to do in Upper Slaughter
20. Lower Slaughter
Down the hill from Upper Slaughter is creatively named Lower Slaughter. Both the slaughters names' originate from the word slough which means 'muddy place'. Luckily on a sunny day, there's no mud to be seen, just a picturesque Cotswold village with pretty bridges crossing the steam.

There's more to do in Lower Slaughter than Upper including drinking in the garden of the Slaughters Country Inn. The streams and bridges create a Bourton-on-the-Water vibe but with fewer crowds – phew!
21. Kingham
If you visit the Cotswolds by public transport, Kingham is one of your best points of interest. The train from Paddington takes just 1.5 hours.

Kingham is a pretty village surrounded by lovely countryside. One of the highlights for foodies is the White Rabbit, a Michelin-starred pub serving gourmet European cuisine.
22. Daylesford Organic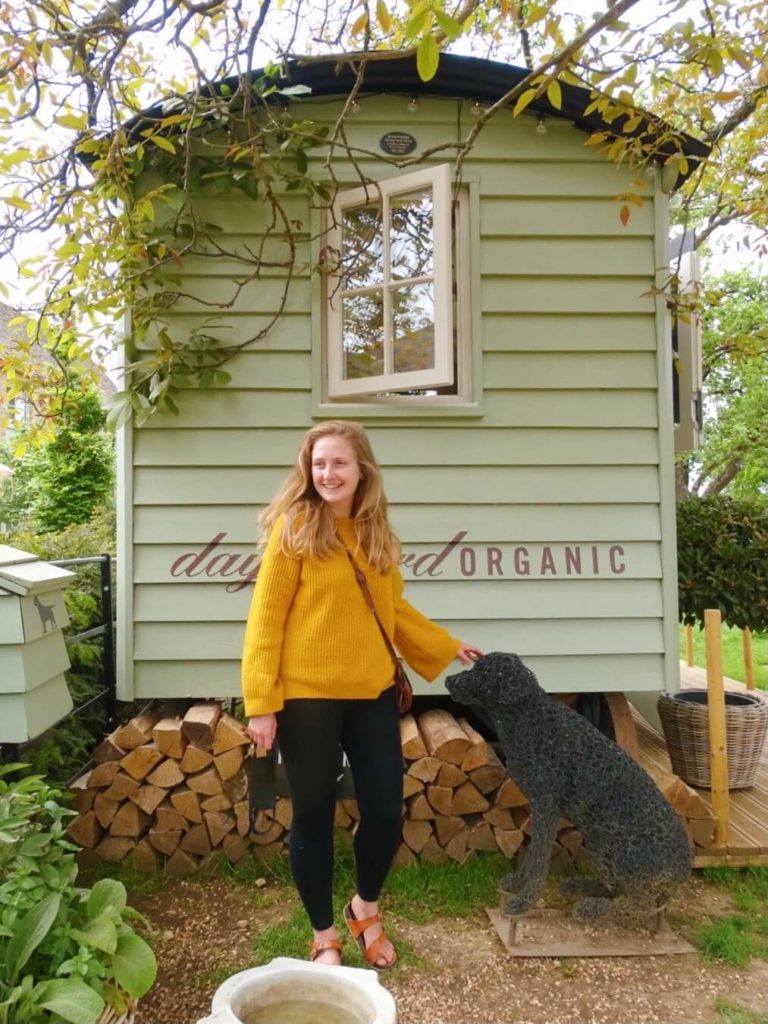 Just outside of Kingham is this garden centre and organic kitchen. Even though spending a day at a garden centre wouldn't usually be my cup of tea, visiting Daylesford is a real experience.

Not only are there various fancy shops to browse, but there's a coffee and Prosecco bar, a dining area, cookery school and floristry events.

Even though the prices may make you wince (£7 yoghurt, anyone?), it's an entertaining place to visit. Locals come dressed to the nines to sip Prosecco and browse the goods on offer.
23. Castle Combe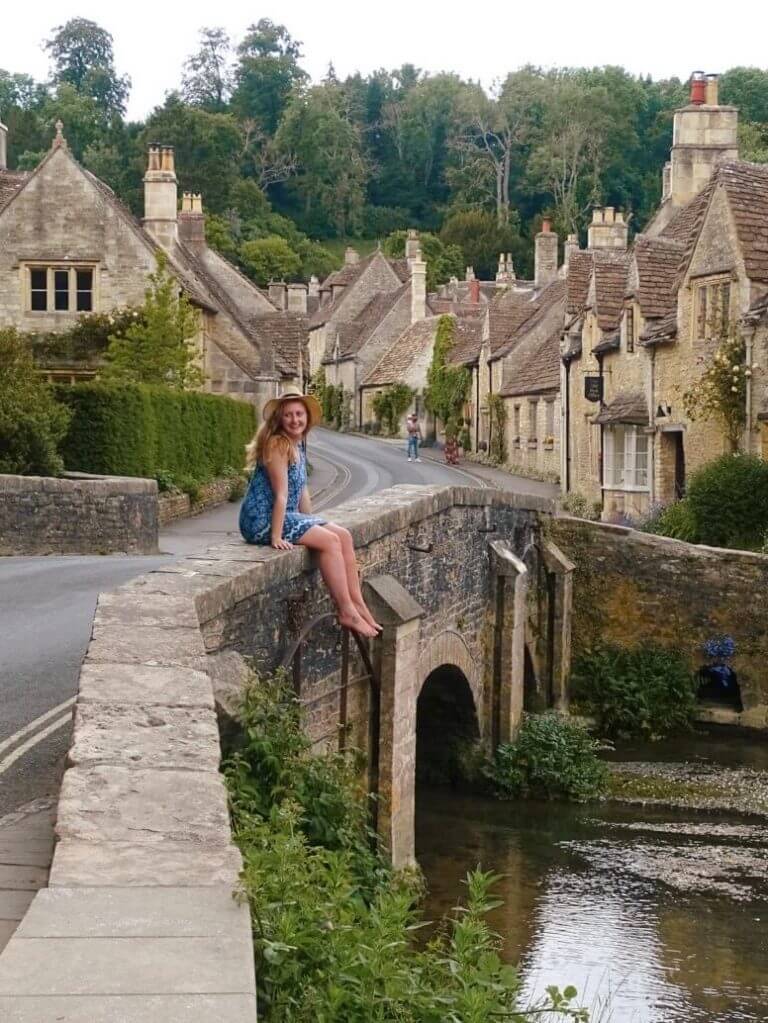 Down in the county of Wiltshire, you'll find another of the most beautiful places to visit in the Cotswolds. Castle Combe is so picturesque it hardly looks real.

The old-fashioned houses and little bridges built for horses and carts have hardly changed in centuries. There are just over 300 locals so during summer weekends the tourists outnumber them.

Aside from wandering the peaceful streets, other things to do in Castle Combe include eating and drinking at the country pubs and cafes. Visit Michelin starred restaurant, the Bybrook, enjoy tea and cake at the Old Stables or go for decadent afternoon tea at Rectory Tearoom.
24. Painswick (the 'Queen of the Cotswolds')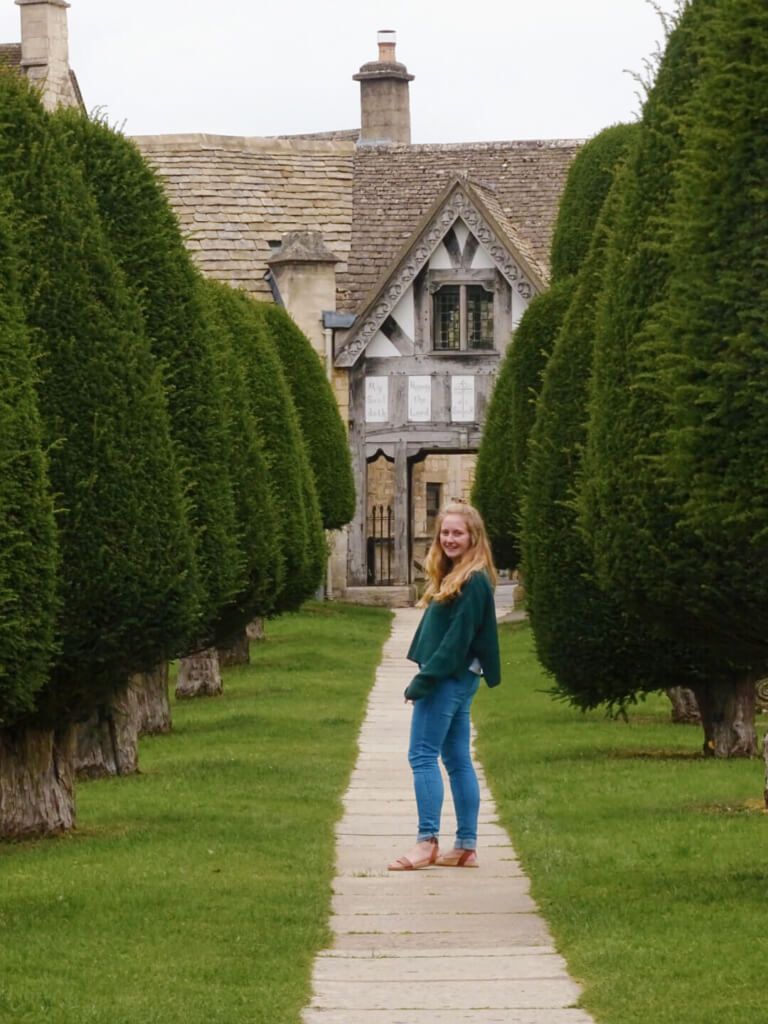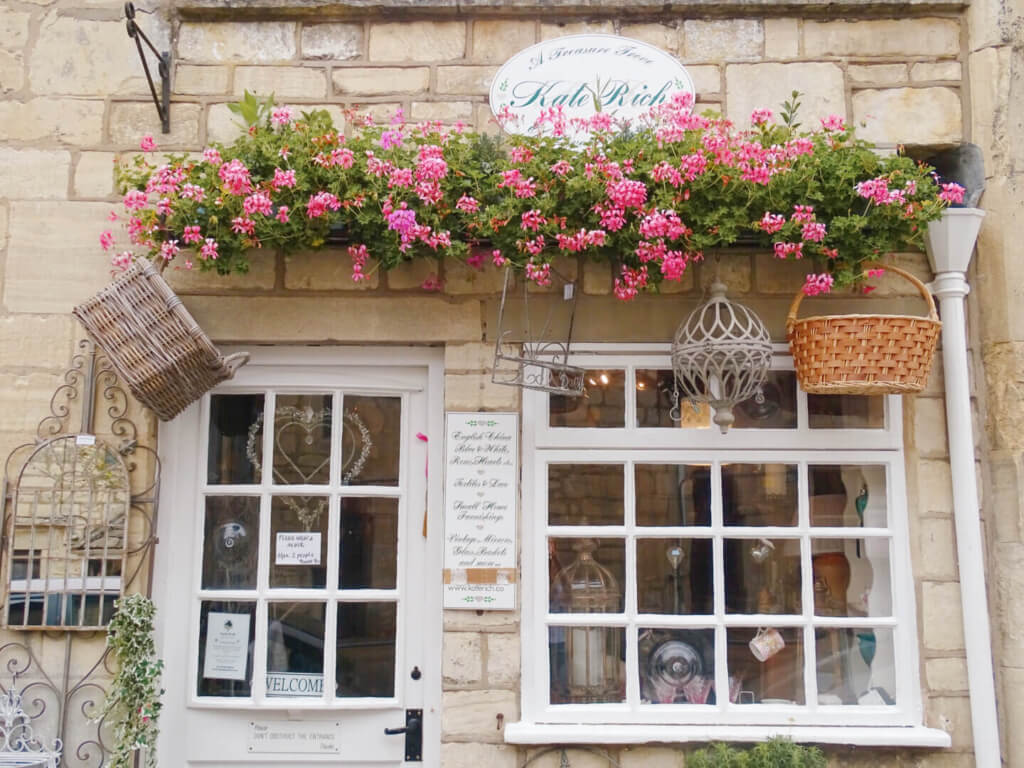 Located on the west side of the Cotswolds near Stroud is Painswick, often called 'the Queen of the Cotswolds' due to its traditional architecture and picturesque scenery.

Visit St Mary's Church and wander the paths lined with yew trees. Rumour has it that 99 yew trees were planted but the locals believed the devil would destroy the 100th if ever it was planted.

The church officials went ahead and – indeed – a few years later, one tree toppled due to floods. Whether it was down to the curse or a coincidence, we can't be sure!

There's not a huge amount to do in Painswick but wandering the streets and admiring the scenery is enough. Check out the Loovre Gallery inside a refurbished public toilet!

Hikers visiting the Cotswolds can make the most of the many walks near Painswick, one of which I'll mention in a moment.
25. Rococo Gardens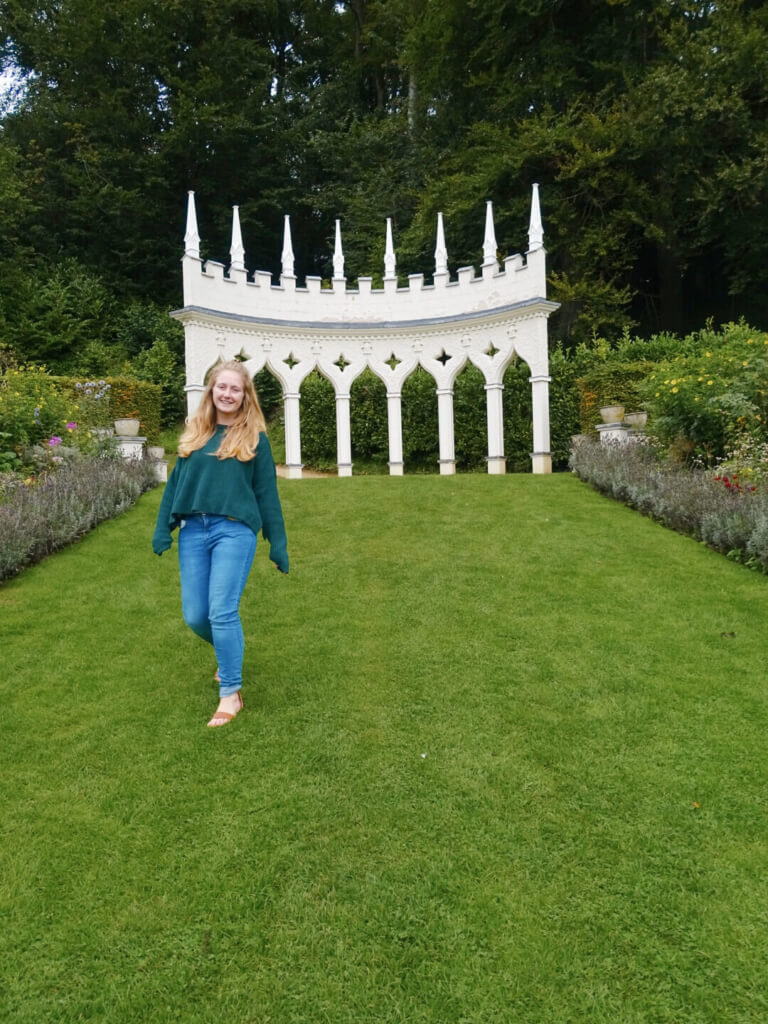 Fans of historical gardens will enjoy visiting the Rococo Garden near Painswick, an impressive 18th-century garden with distinctive ornamental buildings.

The surroundings are so visually appealing, it's even been voted one of the best 50 wedding venues in the UK… If you have a small fortune to splash, of course!

Seasonal events take place at the Rococo Gardens including art exhibitions for adults and discovery trails for children. There's a fancy gift shop selling all kinds of flower-themed bath products and goodies, and a cafe with a huge range of teas and cakes.

Entrance is £9.30 for adults and £4.25 for children.
26. Slad Valley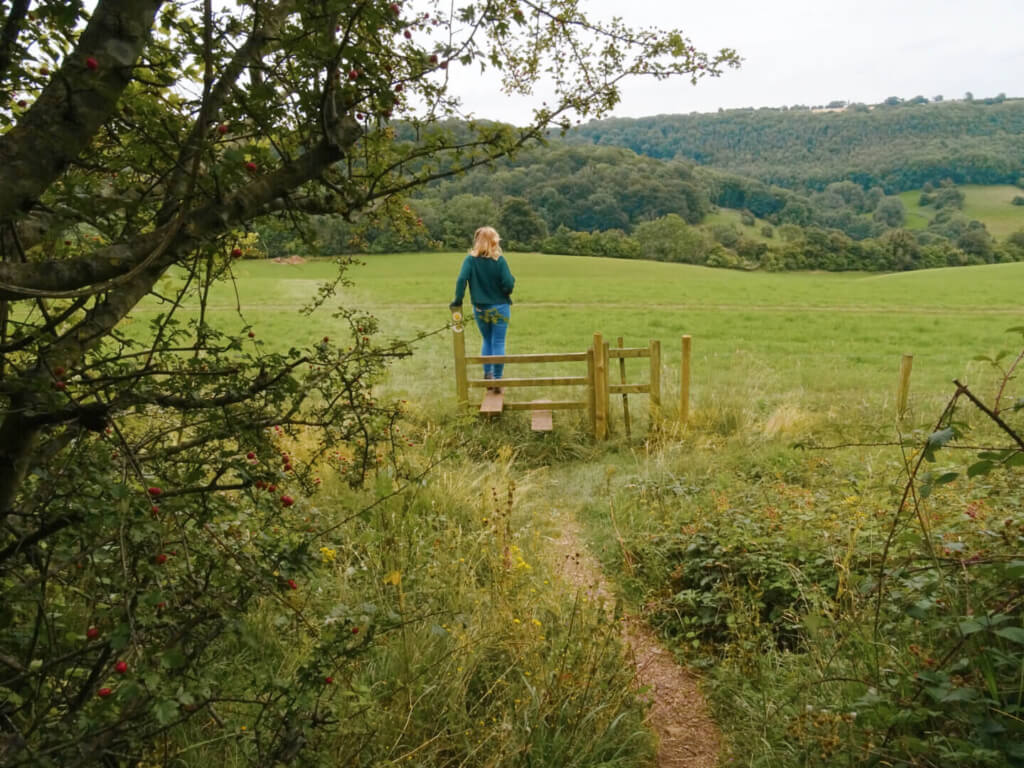 After visiting Painswick, take a 10-minute drive to the majestic Slad Valley. Of all the places in the Cotswolds I've visited, it boasts the most impressive scenery.

This area in the west Cotswolds is intertwined with local author, Laurie Lee, who set his famous novel, Cider with Rosie in the region.

Take a hike in the sweeping valley between Painswick and Stroud, along the Laurie Lee trail. Follow signposts engraved with chapters of his book.

Finally, stop in Slad village for a pint at the Woolpack Inn. There's a stained glass window dedicated to Lee and you can even see the chair where he used to sit.
27. Sheepscombe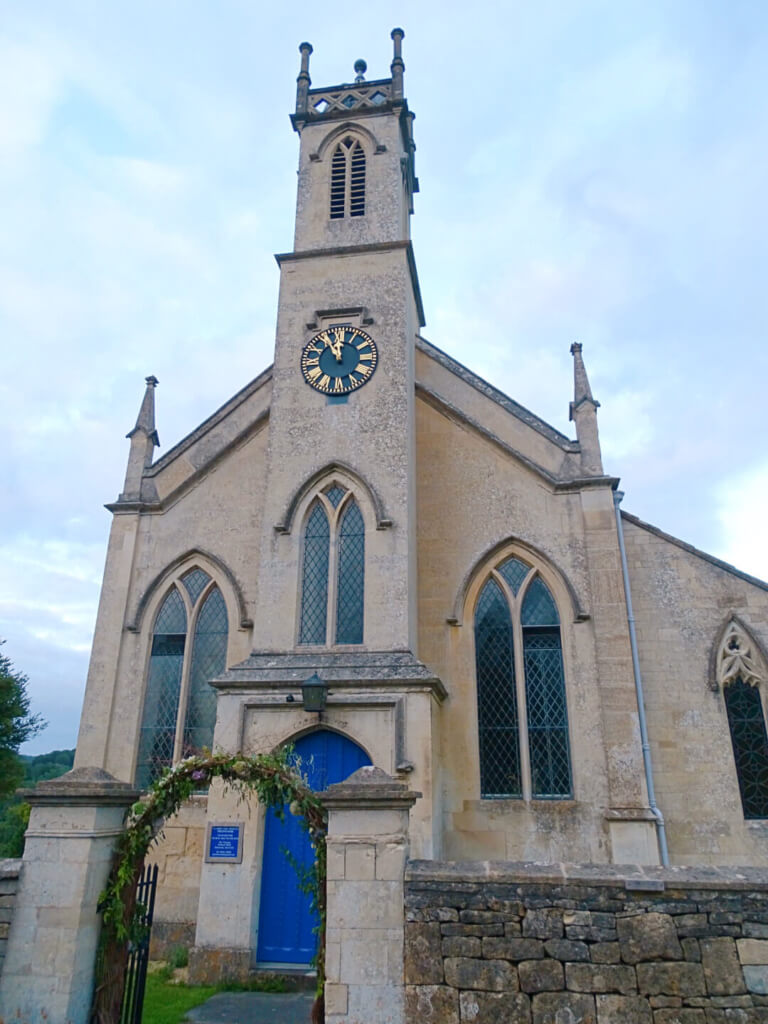 It may not be the biggest or most exciting place in the Cotswolds but if you visit the Slad Valley, take a quick drive through Sheepscombe before heading home.

This hilly village set on several levels is full of beautiful Cotswold cottages. At the heart of the village is St. John the Apostle Church and a small war memorial.

As well as being only 1.5 miles from Painswick, it's 6 miles from both Stroud and Gloucester.
27. Gloucester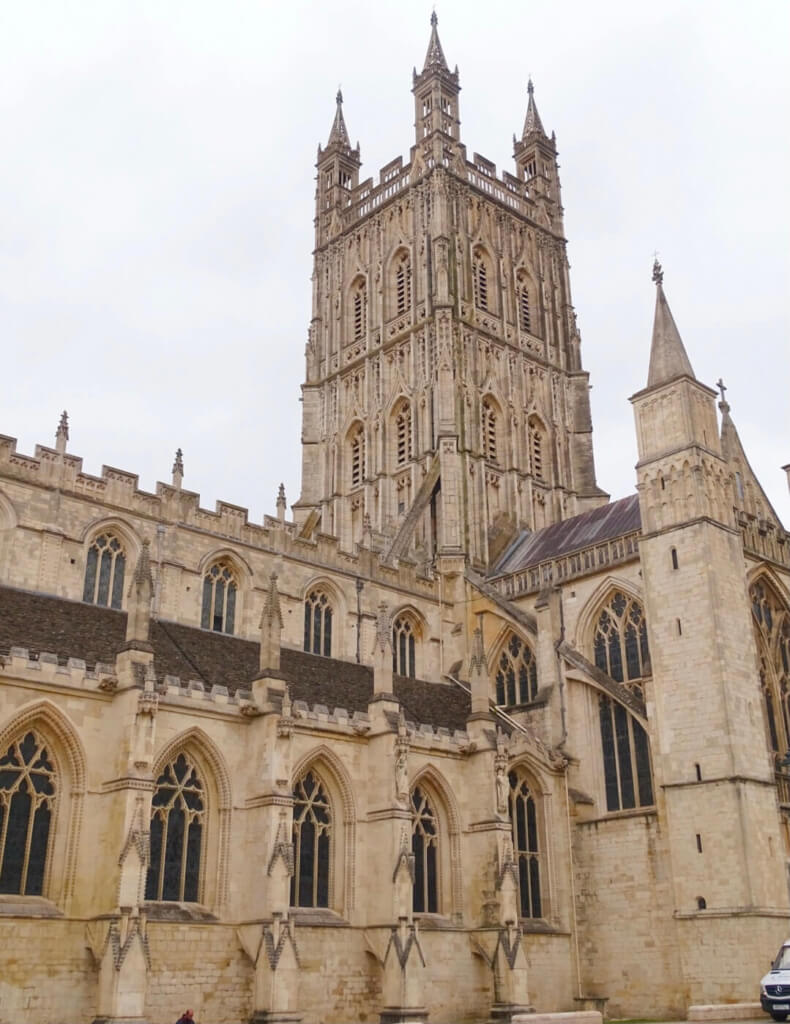 Although the city of Gloucester is just outside of the Cotswolds, many parts of Gloucestershire fall within the region so you may pass through as a pitstop.

By far the most impressive feature of Gloucester is the majestic Gloucester Cathedral. With 1,300 years of history and some impressive Harry Potter filming locations, it'll blow you away.

Gloucester city centre isn't so impressive and parts feel quite rundown. I prefer nearby Cheltenham. However, one worthwhile area to visit is Gloucester Docks where there are lots of restaurants and cafes with impressive views.
29. Stroud
At the meeting point of the Five Valleys lies Stroud, a pleasant market town surrounded by quaint Cotswold villages. Alongside scenery and walking opportunities, there are a few fun things to do in Stroud.

Follow the historical trail spotting monuments around the town, purchase fresh produce at the Shambles Market, or take a 3.5-mile walk in nearby Woodchester Park (run by the National Trust).
30. Cotswolds walks and hikes
If you're looking for gorgeous places to visit in the Cotswolds, don't overlook the rolling countryside. There are plenty of walking trails in the Cotswolds, a few of the best being:
The Cotswold Way – this 100-mile route from Bath to Chipping Campden takes 10 days. Maybe it's not the one for a weekend trip but I hear it's glorious with countless tearooms and country pubs along the way.
Rollright Stones Walk – this 8km hike along a section of the Shakespeare Way departs Chipping Norton and arrives at these mysterious stones within a sweeping valley.
Windrush Way – this 13.5 mile circular trail can be done in a day if you're feeling energetic. Pass Sudeley Castle and Westfield House on your journey from Winchcombe to Bourton-on-the-Water.
Don't miss my pretty Cotswold villages blog and my tried-and-tested Cotswolds weekend itinerary!
Thanks for checking out these Cotswolds places to visit!
I hope these beautiful places in the Cotswolds have provided you with some travel inspo! They're all gorgeous spots so whichever you pick, you're going to have a fantastic time. If you have any questions, shoot me them in the comments.
For more travel content, follow me on Instagram, Facebook, Twitter and YouTube.
If you're looking for England inspo, check out some of my other posts:
See you next time for more adventures,
Rose
TRUSTED RESOURCES FOR VISITING THE UK

Getting there & around by air – I use Skyscanner to find the best-value flights, using the 'search by month' tool to find the cheapest dates. You can also use the 'to anywhere' feature if you're flexible on where you're going.

Car hire – use Rentalcars.com to compare car rentals and campers in the UK (and all around the world).

For UK trains, I use Trainline. The search feature allows you to compare prices with other modes of transport.

For buses, I use busbud. It's the only site that compares UK coaches and buses. Find London to Manchester journeys for £1! 

For hotels and self-catering apartments, I use Booking.com. You can filter by review score and price to find the best-rated budget places. For hostels, I use Hostelworld.com.

Browse UK tours and activities on GetYourGuide.

Pack the latest copy of Lonely Planet UK.

Need travel insurance? I use True Traveller (for Europe residents) since it's affordable but covers everything you'd need including various activities, valuables and pre-existing conditions. Unlike some companies, they insure you if you're already travelling / don't yet have your flight home booked. Get a quote.

For travel insurance for other nationalities, I recommend Hey Mundo and for long-term digital nomad travellers, I suggest Safety Wing.

See all my suggestions on my resources page.