This post may contain affiliate links to things like tours, hotels, Amazon associates and products. These help me earn a small commission at no additional charge to you.
There's so much delicious South Korean food to try and I'm going to tell you all about it during this South Korea food guide.

When I first arrived, I wasn't sure what to eat in South Korea. Initially, I didn't find it as flavoursome as other Asian cuisines but that soon changed. With spicy flavours and some unusual textures (oh, and a lot of meat), South Korean food takes some getting used to. But once you have, you'll love it!
Like food around the world? Don't miss my Taiwan food guide & my Mexico food guide!
South Korea food guide
There are endless options when it comes to South Korean food. Whether you dine at fancy restaurants or street food markets, you'll find fantastic food at every turn.

I was hoping to find more food markets to keep the costs down in South Korea however these were more prominent in Seoul than the rest of the country. If you're on a tight Korea budget, my Seoul street food guide should help you out. Make sure to check out Kwangjang Market and Myeondong Night Market in Seoul, as well as the street food stands in Hongdae.

A street food dinner can cost as little as 1,800 won ($2) while restaurant meals start at 5,000 won ($4). Saying that, you won't have the most varied diet if you stick to that budget. You can pay a lot for food in South Korea. It simply isn't the cheapest country to eat but you can find bargains if you look.
If you fancy a food tour or cooking class in Korea, I recommend GetYourGuide:
Best South Korean foods to try
You'll need time to try all the best Korean foods. I had 3 weeks and tried something new almost every day. If you just have a week, I'd suggest eating tasty South Korean food for breakfast, lunch and dinner. If you complete that challenge, get in touch so we can be friends!
Here's what to eat in South Korea…
1. Bibimbap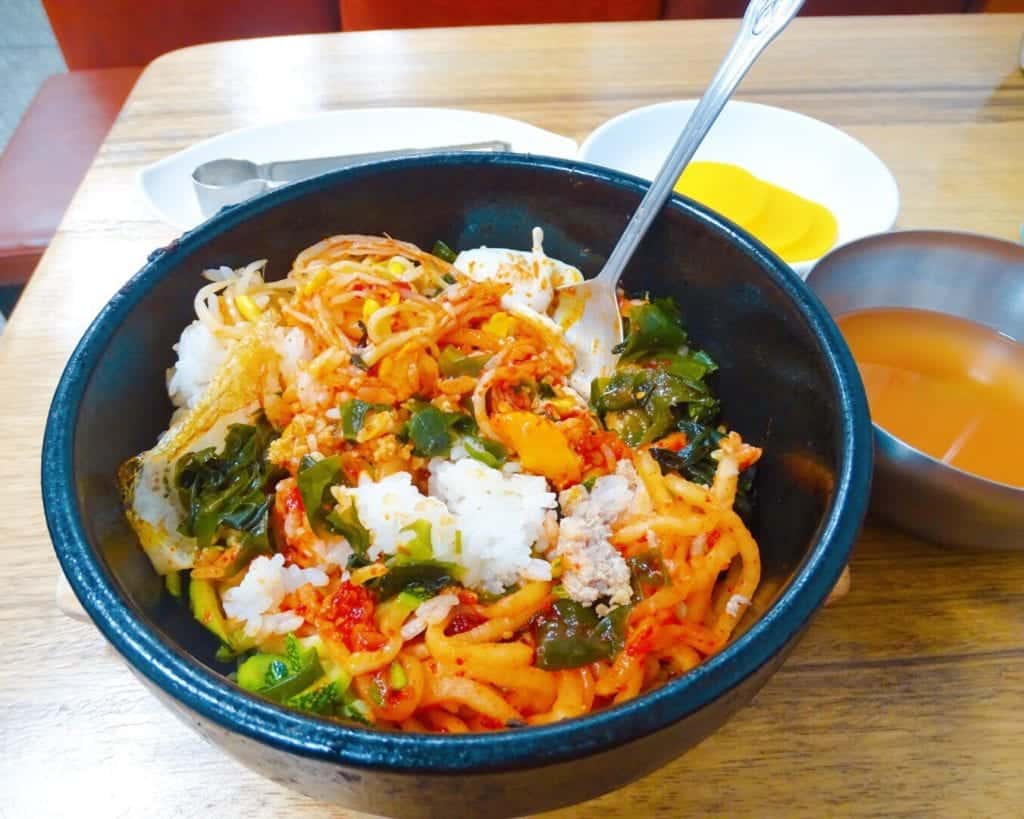 Bap means rice in Korean and bibim means 'to mix'. Got any idea what bibimbap is yet?

This tasty mixed rice bowl is usually topped with veggies, an egg, hot pepper sauce and sliced steak. Mix it all together with chopsticks for a messy, flavoursome and relatively healthy meal.

A fun Korean food fact I recently learnt is that rice was once used as currency. Now you know why bibimbap is so important to the locals!

Bibimbap usually comes with a side of soy sauce, kimchi or pickled ginger. The good news is that bibimbap is one of the most affordable South Korean foods to try, commonly served in restaurants for 5,000 won ($4). If you're travelling on a budget, I'd suggest becoming an avid fan.

If possible, you should eat bibimbap in Jeonju. This small city 2 hours from Seoul is the birthplace of the dish. The best place to try it is Family House where it comes served with not one but 12 sides for 12,000 won. You can eat these individually or mix them into your bibimbap. Read about what to do in Jeonju here.

My rating: 10/10!
2. Fish cakes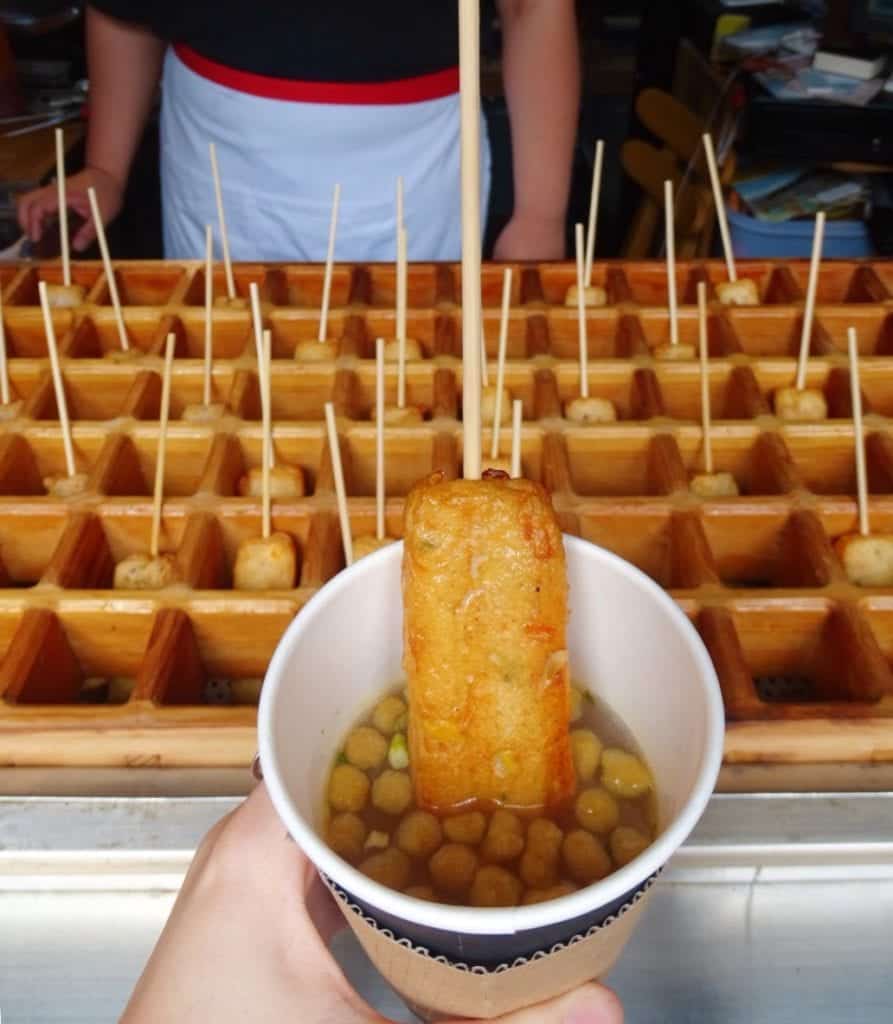 Called eomuk or odeng in Korean, these fishcakes are a favourite Korean food with locals. I can't say I was fully sold. They had a chewy, processed texture and not a whole load of flavour but maybe that's just the difference between Western and Eastern palates.

While I tend to associate processed foods with preservatives and E numbers, fish cakes are actually made fresh and mixed only with potato starch and vinegar. You'll commonly find them served in soup or on skewers at street food markets. I imagine they go well with a tangy dip like sweet chilli sauce.

I heard good things about Goraesa in Busan's Bujeon Market and went inside for a browse. Here you can find fish cakes with all number of ingredients like chives and chilli flakes. They're served snack-style so pop in if you're feeling peckish.

My rating: 5/10.
3. Gimbap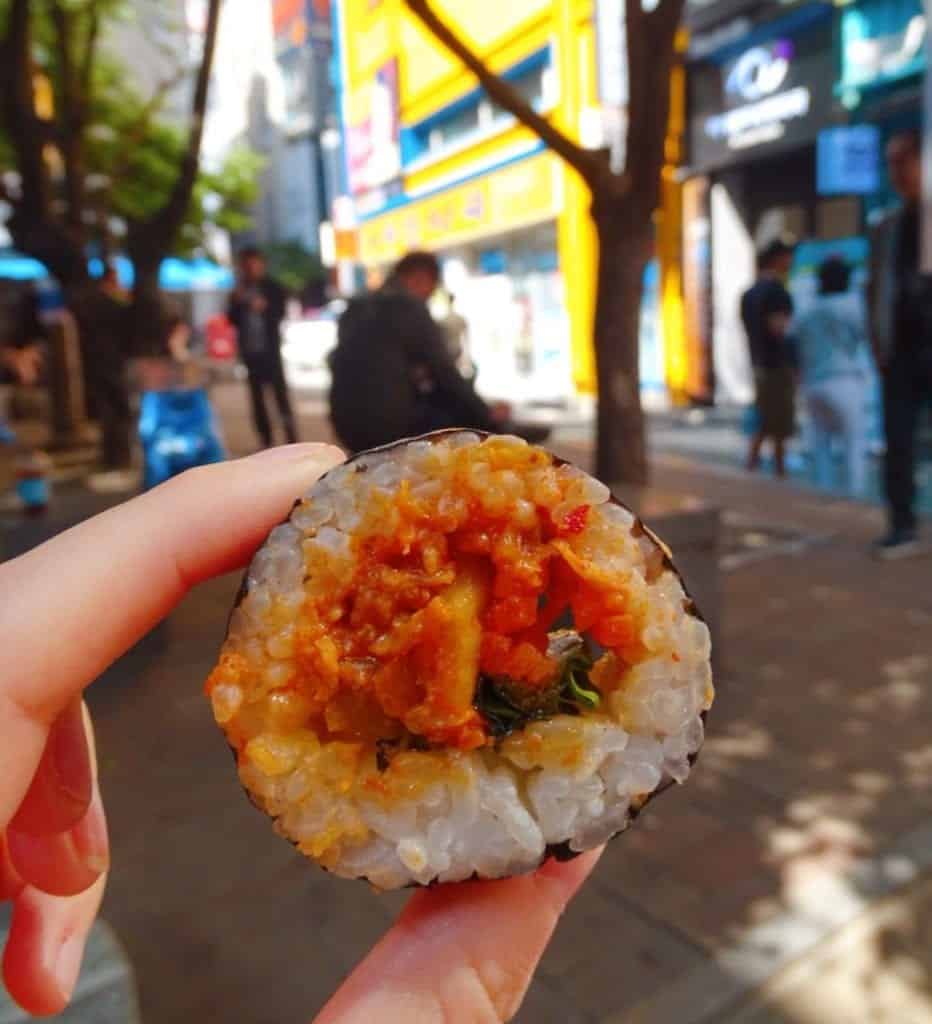 Confession: prior to my trip to South Korea I'd always referred to this dish as Korean sushi which is apparently a heinous offence. Its actual name is gimbap (pronounced kimbap) and it's a seafood free zone. Instead, you'll find these seaweed rolls filled with vegetables, ham, tuna, cheese and/or kimchi.

I really enjoy gimbap with kimchi but otherwise found it a bit bland. Gimbap is served everywhere from restaurants to food markets and even 7Eleven stores. Convenient and pretty tasty, too.

My rating: 7/10.
4. Haemul pajeon
I'd seen this seafood pancake served as street food and wondered what it was. After a call out to my Insta followers, my question was quickly answered. Haemul pajeon is a type of pancake made with fried batter, green onion and squid.

I actually had a strange reaction to my haemul pajeon serving, despite never having had a food allergy before or after. My throat and tongue felt very tight and uncomfortable for about 30 minutes and I started to panic, but luckily it went away. I decided not to sample haemul pajeon again which is a shame as it was so tasty!

My rating: 6/10.
5. Raindrop cake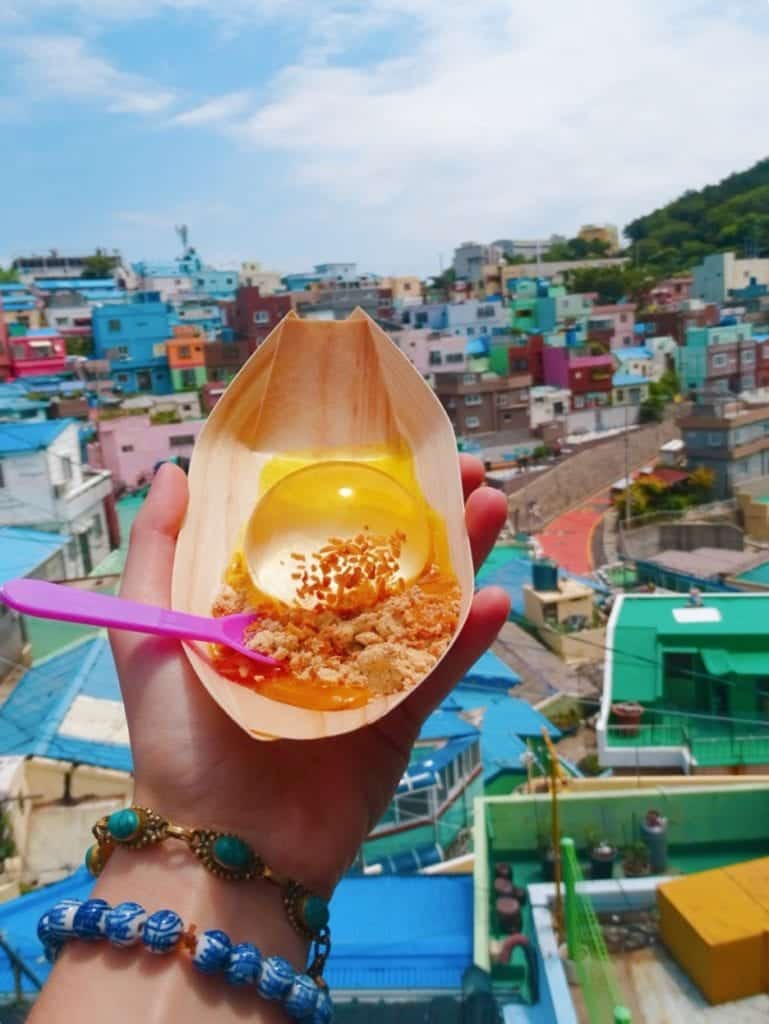 I'd been curious about raindrop cake for ages and picked up the first one I saw in South Korea. If you're unfamiliar, these clear desserts resemble giant raindrops.

Unfortunately the clear 'cake' didn't have a flavour but at least the mango sauce and ground peanut mix was sweet and satisfying. How could you go wrong with those flavours?

Apparently raindrop cakes were first invented in Japan around 2014 and soon became popular with young South Korean people, too. I bet the older generation turn their noses up, but 'grammers and photographers might want to give them a go.

My rating: 4/10.
6. Hotteok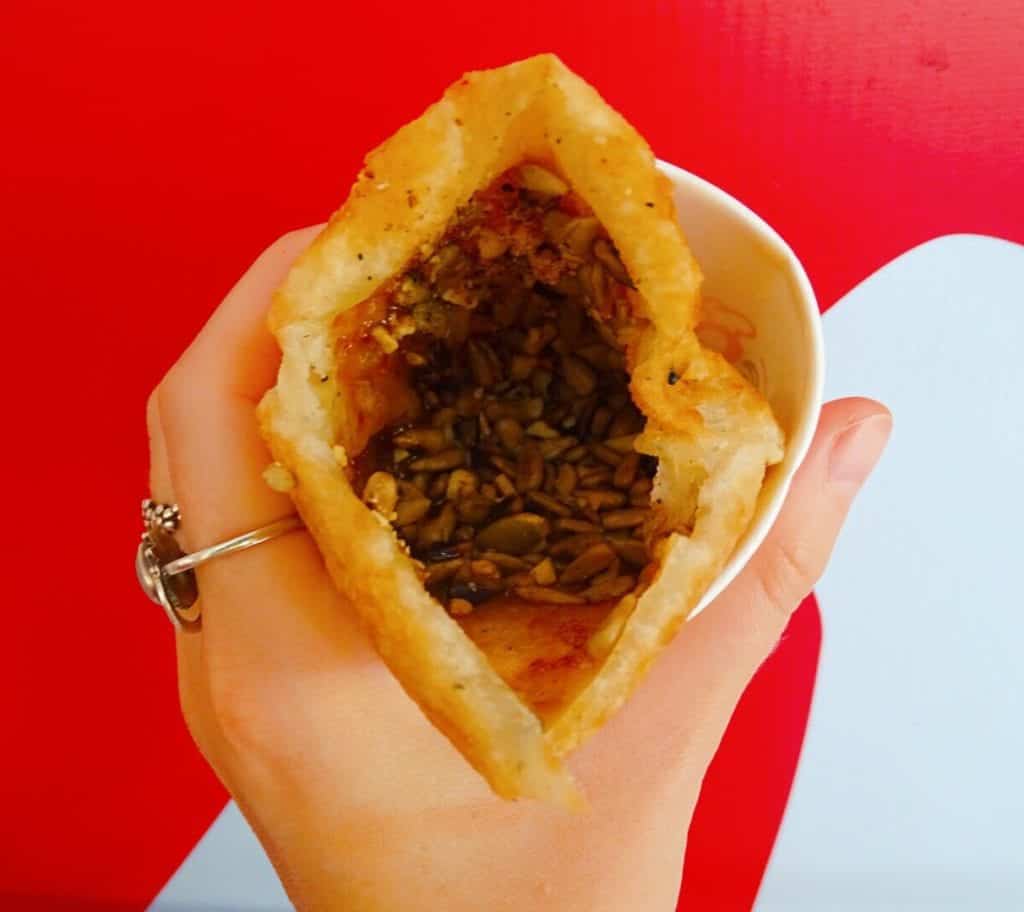 For a sweet South Korean food that's tastier than raindrop cake, sample hotteok. These little envelopes of fried dough are stuffed with honey, nuts and seeds and served for less than 1,000 won ($1).

They're an easy and cheap South Korean food to snack on and probably the reason I felt so unhealthy by the end of my trip. Find them at food markets and street stalls.

My rating: 10/10.
7. Kimchi
It's impossible to talk about Korean food without mentioning kimchi, hence it's come up a few times already in this guide. Kimchi is the lifeblood of Korea: a fermented vegetable side dish so popular that most households have a special kimchi fridge.

I'll admit that when I arrived in South Korea I didn't see the fuss; I'd tried it a few times at home and wasn't wowed. This totally changed in South Korea. By the end of my trip, I was eating it off a spoon and craving it daily!

Kimchi is usually made with pickled cabbage or radish but you can use other vegetables, too. As you'll soon find out, Koreans will pickle almost anything.

My rating: 10/10.
8. Ssambap
Ssambap isn't a type of Korean food or even a specific dish: it's a dining style that I highly recommend you try in South Korea.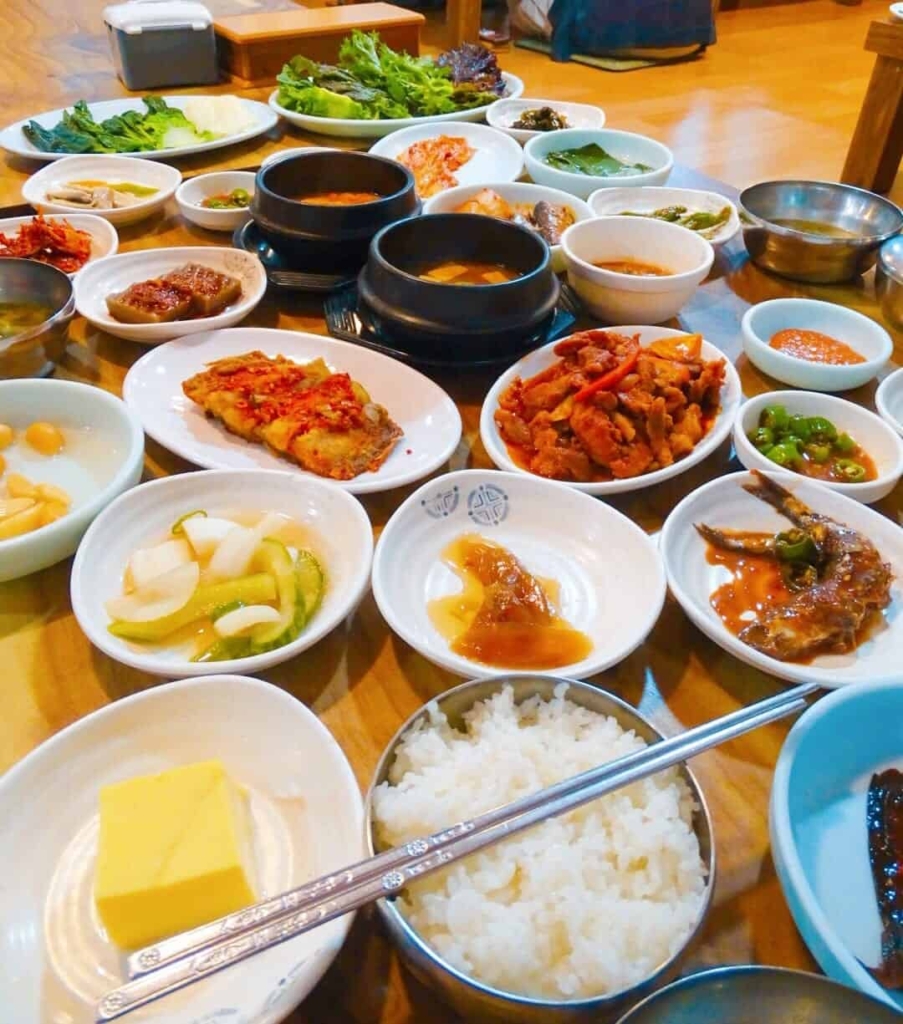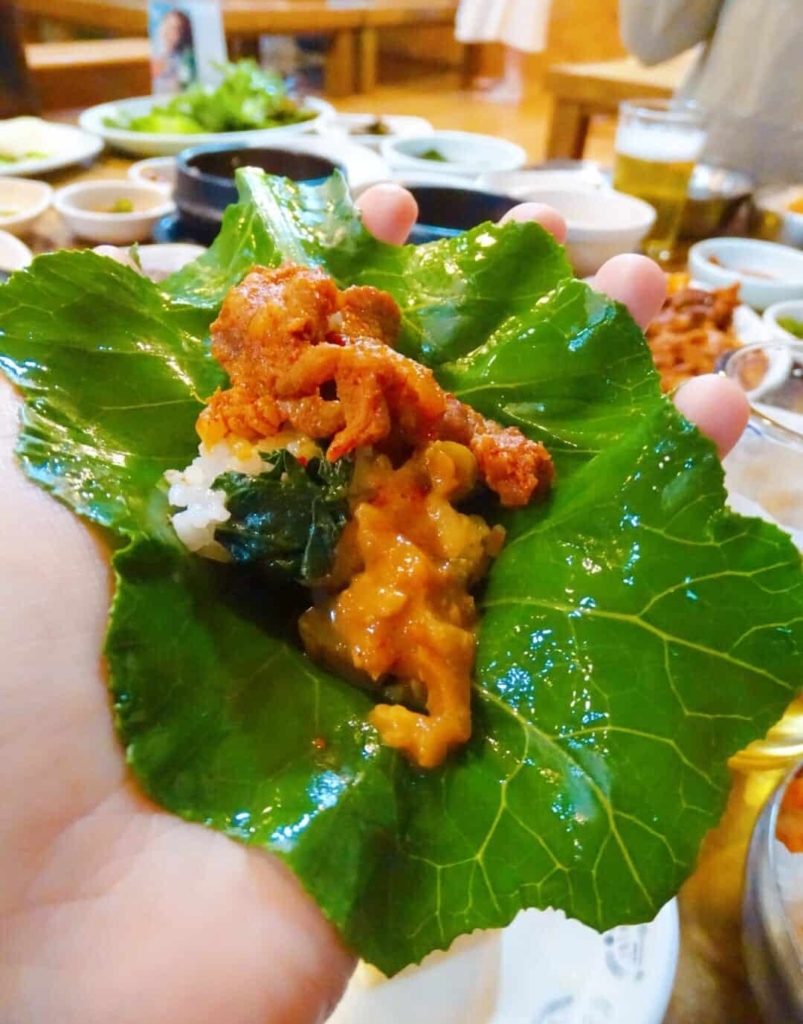 Ssam means wrapped, therefore ssambap is a collection of bite-sized dishes wrapped in large green leaves: a waste-free (and washing up-free) eating style!

For me, some of the best food in South Korea was in Gyeongju, a city on the south-east coast not far from Busan. Along with 2 friends from my hostel, I was served a meal with at least 30 small plates which we wrapped in leaves at the table.

Some sides were delicious, like spicy chicken and fish, while others were a bit unusual for my tastes, for example savoury jelly and whole garlic cloves. Either way, I'd highly recommend you indulge in a ssambap meal if you can find one.

My rating: 8/10.
9. Hwangnam
The next South Korean food you should try is a tasty dessert only found in Gyeongju, the city I also tried ssambap. If you're paying a visit to Gyeongju (which I'd also recommend for the ancient history), don't leave without trying a Hwangnam or five.

Hwangnam is also called Gyeongju bread. The sweet doughy pastry is stuffed with red bean paste, a filling that's popular all over Southeast Asia.

Lots of stores in Gyeongju sell and make hwangnam so you won't have to search high and low. I accidentally strolled into a wholesale store where they only sold large boxes of hwangnam but luckily the owner gave me one to try for free. The Koreans are so sweet like that.

My rating: 7/10.
10. Bingsu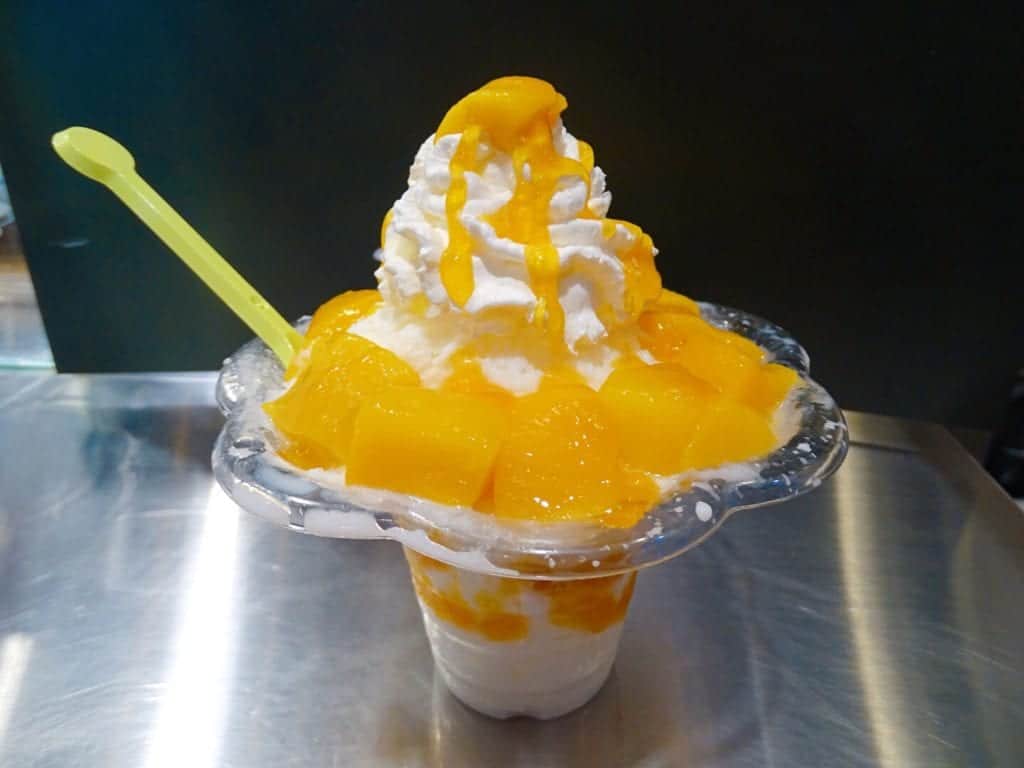 What to eat in Korea for sugar lovers? Bingsu, of course!

Bingsu is a shaved ice dish popular with young people, often topped with red bean paste, condensed milk and fruit, though modern variations include Oreo. It usually comes in large servings so you might want to share this Korean dish (although no judgement if you choose to shovel it down solo like I did).

I found a cheap and cheerful mango bingsu in a busy alleyway across from H&M in Seoul's Hongdae neighbourhood for 3,000 won. Layers of fresh fruit were piled on top of shaved ice and topped with cream and syrup. So tasty!

My rating: 8/10.
11. Tteokbokki
Tteokbokki may be a pain to pronounce but it's one of the tastiest (and spiciest!) South Korean dishes. At first, I was put off by the appearance of this vivid red street food but I was encouraged to try it by the locals.

I wasn't sold the first time around but I gave it another go and became hooked on this fiery Korean dish.

Fish cakes, glutinous rice cubes and sometimes boiled eggs are doused in a thick, sticky hot chilli sauce. It'll leave your mouth on fire so bring a cool, creamy drink. Tteokbokki is one of the cheapest Korean foods if you're travelling on a budget. I usually paid 1,800 won for a serving big enough to keep me full 'til the next morning.

My rating: 8/10.
12. Korean fried chicken
In Taiwan, they call their fried chicken TFC but unfortunately this acronym doesn't really work for Korean fried chicken. However, this Korean dish is way better than anything the colonel could cook up!

Fried chicken is not an age-old Korean dish passed through the generations but a modern food eaten by young people, often washed down with a beer. In fact, there are whole restaurants dedicated to chimaek, the name for chicken and beer served together. Korean fried chicken is usually glazed with sticky ginger and hot chilli sauces and it's so good.

While fried chicken is a cheap convenience food in the West, it's a fashionable choice in South Korea and can actually be quite expensive. In popular Seoul neighbourhoods, it's not uncommon to pay $25 upwards at a chimaek restaurant.

My rating: 7/10.
13. Korean bbq
Moving on to the most famous South Korean food after bibimbap, let's chat Korean barbeques. You find them all around the world these days but I highly doubt any are as good as those in South Korea.

A Korean barbecue is a meal you cook yourself on a hot plate at your table. Choose between flavoursome cuts of red meat as well as fresh veggies like squash, mushrooms and okra, and let them sizzle until cooked. At buffet-style barbecue restaurants, you can help yourself to unlimited sides like dumplings and salad.

The only downside to Korean barbecue meals? They're not solo traveller friendly as most restaurants will serve a minimum of 2 people. Luckily I asked at a few places and found a barbecue restaurant that charged me a third more but oh well – at least I got my Korean barbecue!

My rating: 7/10.
14. Dak galbi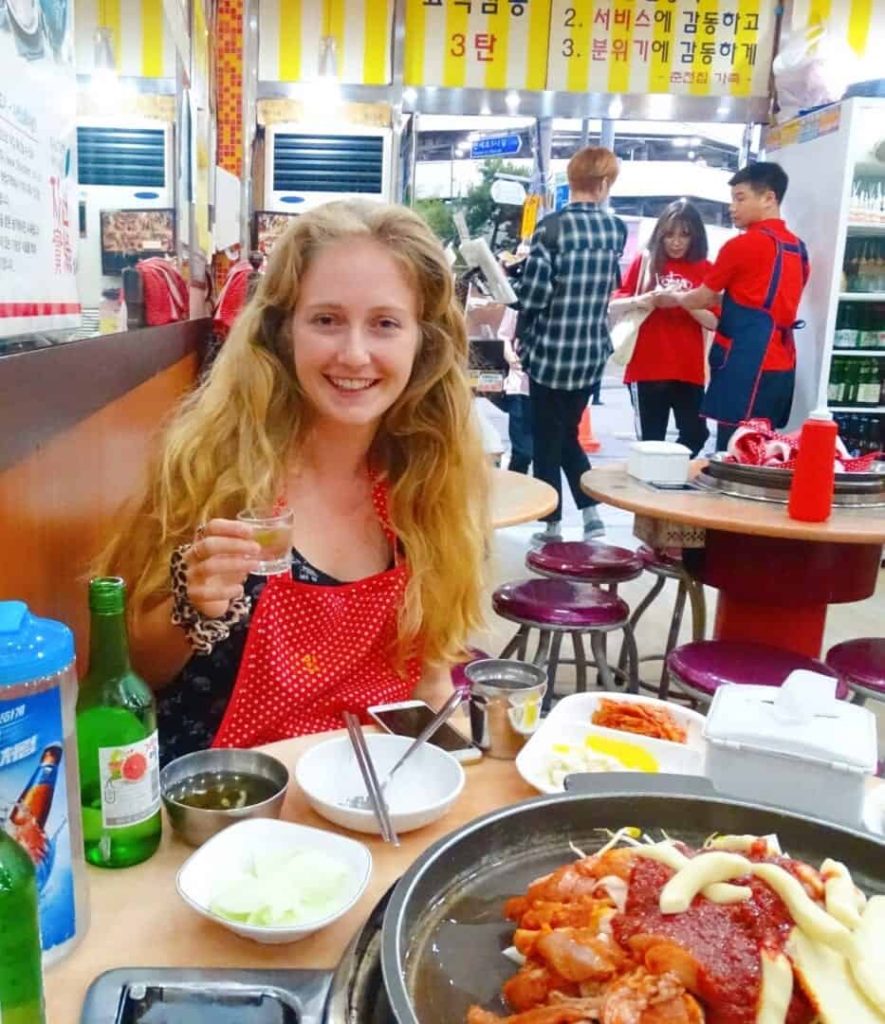 Dak galbi is what to eat in Korea if you prefer white meat to red. It's not dissimilar to Korean barbeques: a hot plate meal commonly eaten by large groups in dedicated restaurants. However, I actually prefer dak galbi thanks to the ingredients used.

Chicken and veggies are thrown on to cook, then tteokbokki-style rice cubes and a generous portion of cheese are added, alongside a sizeable dollop of hot pepper sauce. I dined with a hostel group at a dak galbi restaurant in Seoul where unlimited soju was included for 25,000 won ($20).

My rating: 9/10.
15. Cheesy hotdogs
Um, hello deep-fried cheese! Unlike many Asian countries where dairy is sparse, South Korea is a land overflowing with cheese. If there's anything I'd like a land to be overflowing with, it's cheese please.

Like a few other dishes mentioned in this blog, cheesy hot dogs are modern snacks rather than traditional South Korean food. When I think of Asian street food, I tend to think of the older generation serving their well-loved recipes. However, that's not always the case in East Asian countries like South Korea and Taiwan.

Deep-fried cheesy hotdogs are served on sticks and sometimes studded with potato chunks. Can you imagine anything tastier and more calorific? Me neither.

My rating: 7/10.
16. Giant ice creams
Soft serve ice cream is a win anywhere but it's especially good in South Korea. In Seoul you'll notice these enormous ice creams which, quite frankly, are a menace to eat. But hey, they look good and taste good – if that doesn't make them one of the best South Korean foods, I don't know what does! Find them for as little as 800 won.

My rating: 7/10.
17. Bubble tea
Bubble tea originated in Taiwan but, if you're not travelling there anytime soon, get your fix in South Korea. It's really popular in Seoul with long queues tailing around the corner at busy counters in Hongdae.

I love this sweet drink which is made with icy milk tea and tapioca pearls also known as boba. For an extra sweet and tasty option, head to a Tiger Sugar store and pick up a black sugar bubble tea. You won't regret it.

My rating: 10/10.
18. Chip sticks
You might have seen chip sticks served in other countries around the world but they actually originated in South Korea. Personally I think they're genius! Thick-cut potato slices are skewered, deep-fried and dusted with a spicy or cheesy flavoured powder. They're quite greasy but extremely moreish.

My rating: 6/10.
19. Egg bread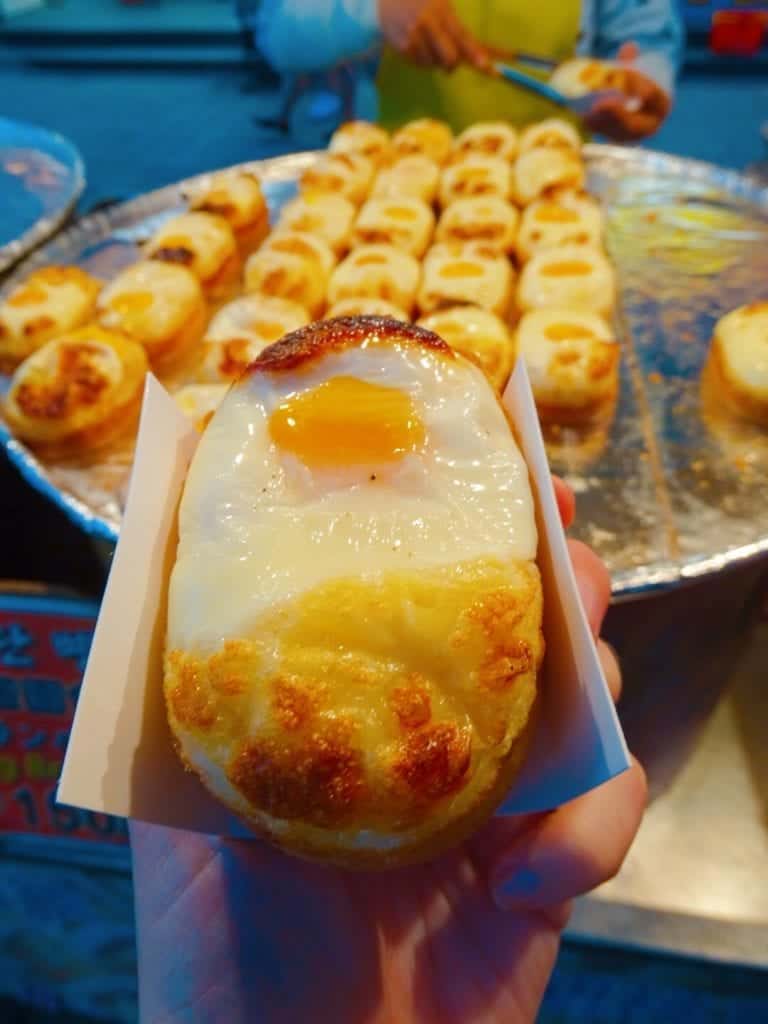 A simple yet delicious South Korean food is egg bread. Exactly what it says on the tin, an egg is baked onto sweetened bread and served immediately.

This Korean dish is cheap as chips and found at street food stalls everywhere. It may not be the most exciting Korean food but it makes a great snack so why not eat one as part of a street market dinner? I love trying lots of little things as opposed to one main dish.

My rating: 6/10.
20. Anything poop-shaped
I'm all for embracing modern South Korean culture so it would be rude to ignore the country's penchant for anything poop-shaped.

In Seoul, you'll find poop cafes, market foods and even mosaic statues in the street! Don't ask me where the obsession came from. I think it was possibly inspired by the friendly IOS poop emoji. If you're feeling inclined, pick up a poop-shaped waffle or sweet treat. Fear not, the only brown ingredient is chocolate.

My rating: 4/10.

That's a wrap! I hope you have a better idea of what to eat in Korea!
Korea essentials
These are the items that came with me to Korea and I would recommend using during your trip.
Follow for more Korea content on Instagram, Facebook, Twitter and YouTube.
Thanks for reading my South Korea food guide!
Check out my other South Korea blogs:
See you next time for more adventures,
Rose
Ps. Liked this guide to the best food in South Korea? Pin it for later!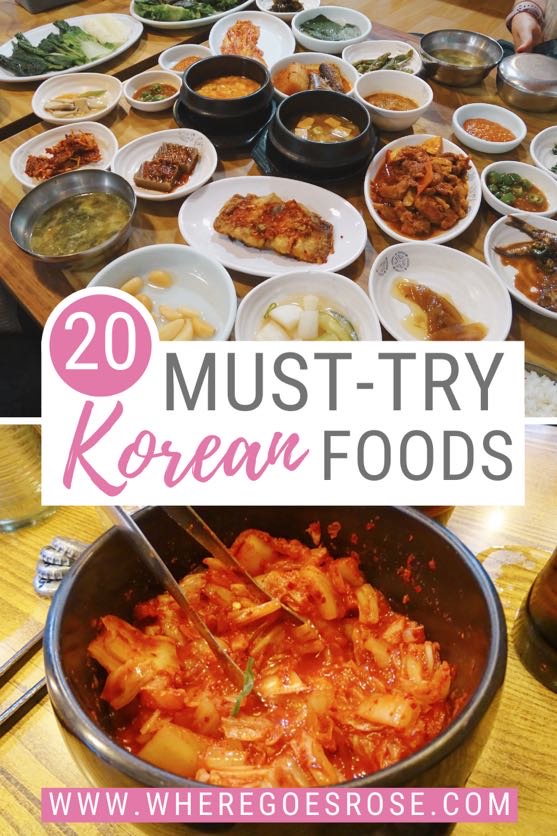 VISITING SOUTH KOREA?
These are my trusted resources:

Getting around by air – I use Skyscanner to find the best-value flights, using the 'search by month' tool to find the cheapest dates. You can also use the 'to anywhere' feature if you're flexible on where you're going.

Buses – buses are comfy and efficient. It's tricky for foreigners to book online so it's best to turn up on the day.

Trains – use Trip.com, partner of Korail (the official railway network of Korea) to book your tickets in advance. The website accepts international payment options, unlike Korean rail websites. Click the three stripes in the top right corner then the flag to change it to English.

Driving in Korea – use Rentalcars.com to compare car rentals. Hiring a car will be especially useful on Jeju Island.

For hotels in Korea, I use Booking.com – they also have self-catering apartments. You can filter by review score and price to find the best-rated budget places. For hostels, I use Hostelworld.

Browse South Korea tours and activities on GetYourGuide. I also check Viator and Klook in case they have a better price.

For food tours with passionate local chefs and foodies, check out EatWith.

Need travel insurance? I use True Traveller (for UK & Europe residents) since it's affordable but covers everything you'd need including various activities, valuables and pre-existing conditions. Unlike some companies, they insure you if you're already travelling / don't yet have your flight home booked. Get a quote.

For travel insurance for other nationalities, I recommend Hey Mundo and for long-term digital nomad travellers, I suggest Safety Wing.

Check out my resources page for more travel discounts and tips!