This post may contain affiliate links to things like tours, hotels, Amazon associates and products. These help me earn a small commission at no additional charge to you.
Street food, London and blogging are some of my all-time favourite things. A blog on the best London street food markets was inevitable!
Best London street food markets
Whether I'm at home in England or abroad, I love the atmosphere, tastes and smells of food markets. Not only is street food some of the cheapest food in London, its very nature means it's fresh and in demand. Those backpacking England on a budget will want to eat lots!

Until I get to the next one, the blog you're about to read is currently a list of the nine best London food markets. That's nine times I've rocked up to a food market, camera in hand and stomach empty, prepped to eat my heart out in the name of blogging. But let's face it, I'd probably do it even if no one reading. Here goes…
Foodie visiting London? Check out EatWith, a platform pairing travellers with passionate local chefs and foodies.
Maltby Street Market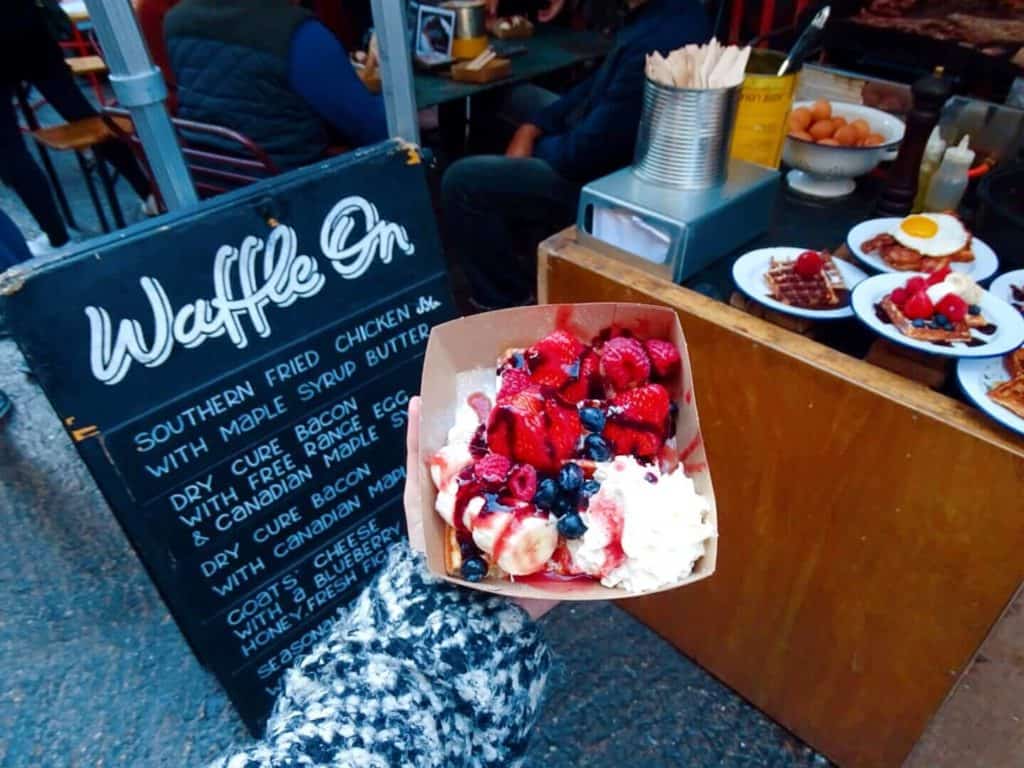 This is my probably my favourite street food market in London. It's smaller than some of the others but I like the local, authentic feel. I got to chat with the vendors about their food and backstory, plus there weren't many long queues.
Top picks
Waffle On – topping options include fried chicken; whipped cream and berries; fig and goat's cheese; and egg, bacon and maple syrup. I hope those semicolons have succeeded in cancelling out visions of chicken and whipped cream together. Please no.
Happy Biltong – I bought back all my South Africa memories by sampling this tasty biltong (dried meat if ya didn't know) and took home a large packet.
Comptoir Gourmand – This giant vat of French tartiflette (cheese, potato, cream and bacon) almost made me regret having chosen waffles and that's saying something as those waffles were gooood.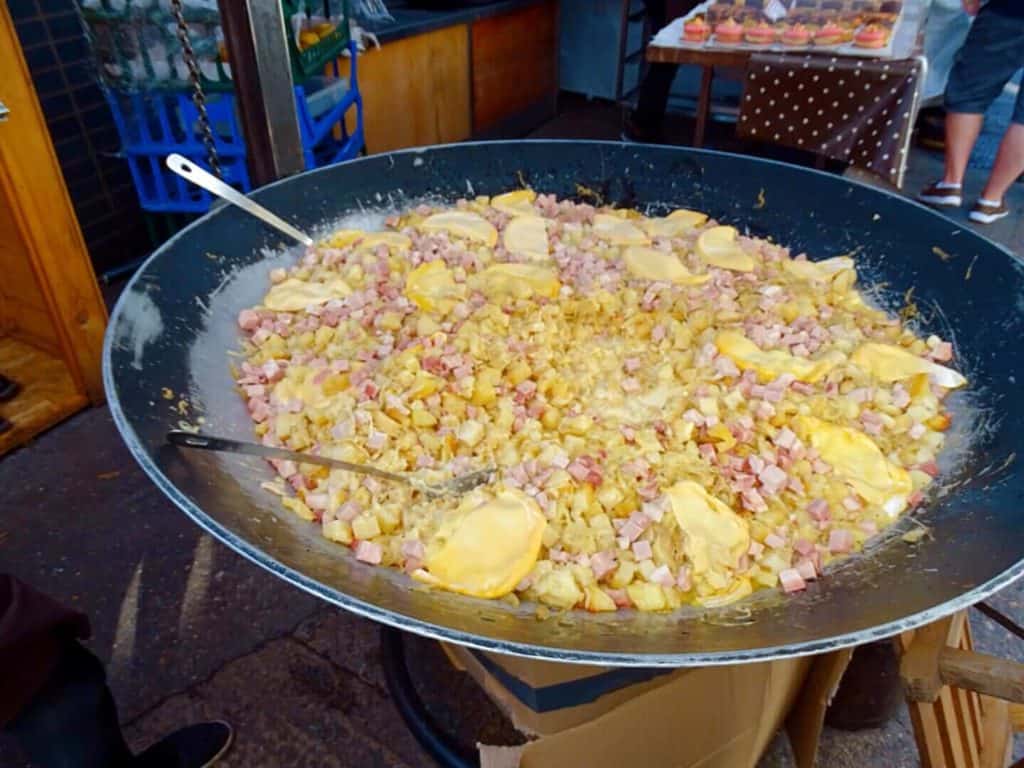 Getting to Maltby Street food market: Catch the tube to Bermondsey and walk for 10 minutes. Maltby Street is an enlarged alleyway nestled off the wider main streets.

When: Saturday 9am-4pm and Sunday 11am-4pm.
Borough Market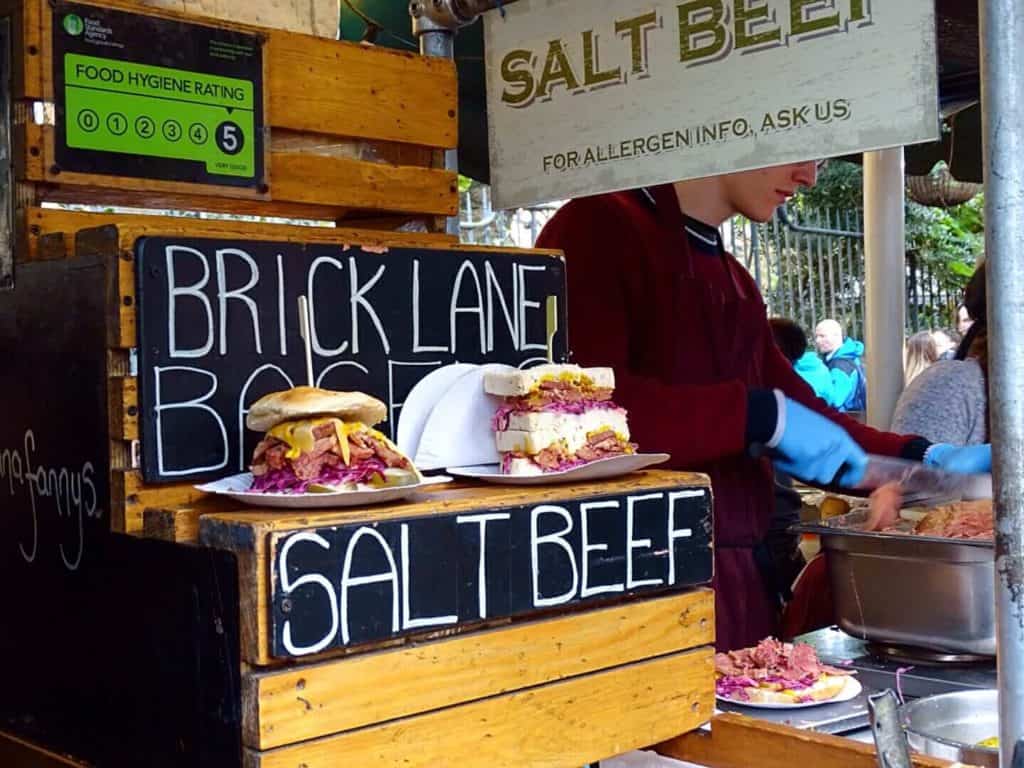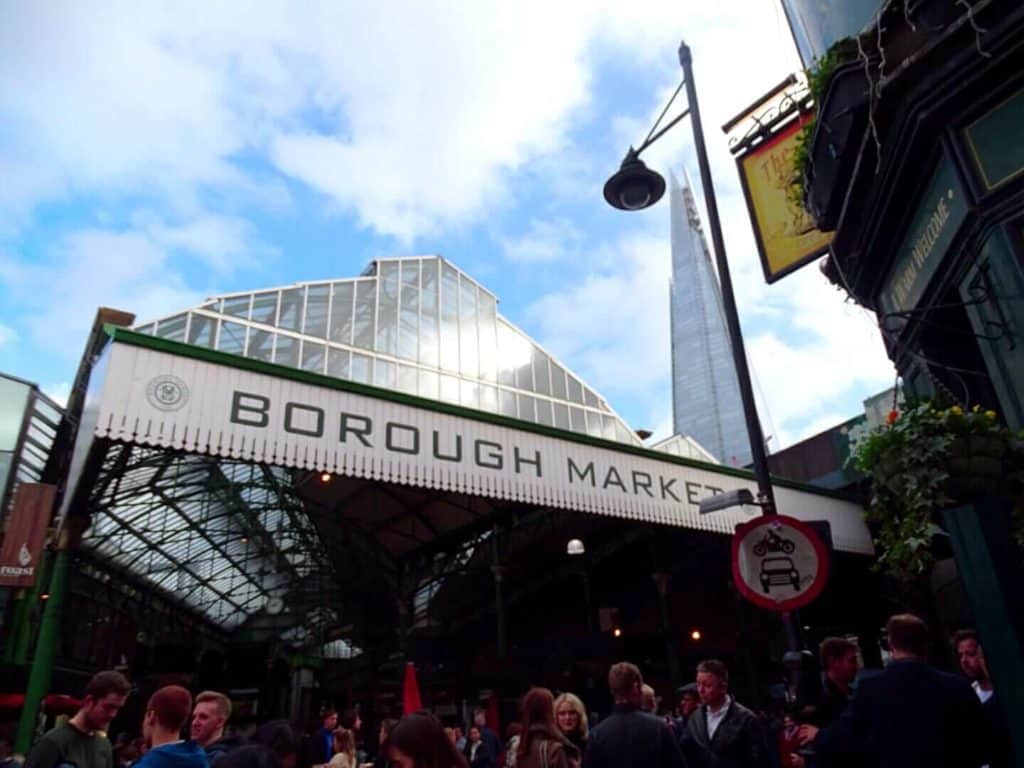 If you're doing a food crawl, Borough Market is just a 15-minute walk from Maltby Street. Now, I'm not saying you should gorge yourself at two of the best London food markets in one morning… actually I am saying that. Do it do it do it.

Even though Borough Market was totally crowded during the Saturday lunchtime I visited (no Maltby local feel!), there are so many awesome London businesses here.
Top picks
Horn Ok Please – I'm guessing this name has a lot to do with hectic Indian driving standards. The food is just as authentic to India – veggie, spicy and delicious. I had aloo tikka chat: sweet potato patties with chickpeas, yoghurt, spices and pomegranate.
Brick Lane Beigel Bake – having tried the salt beef variety at the original Jewish bakery I can vouch for these bagels biiiig time.
Scotchtails – food regret kicked in again after my curry. I'd have never thought of ordering a scotch egg but I reconsidered after seeing the giant queue of happy punters clutching eggs baked in enormous sausage and breadcrumb balls. Next time! 2022 update – now closed.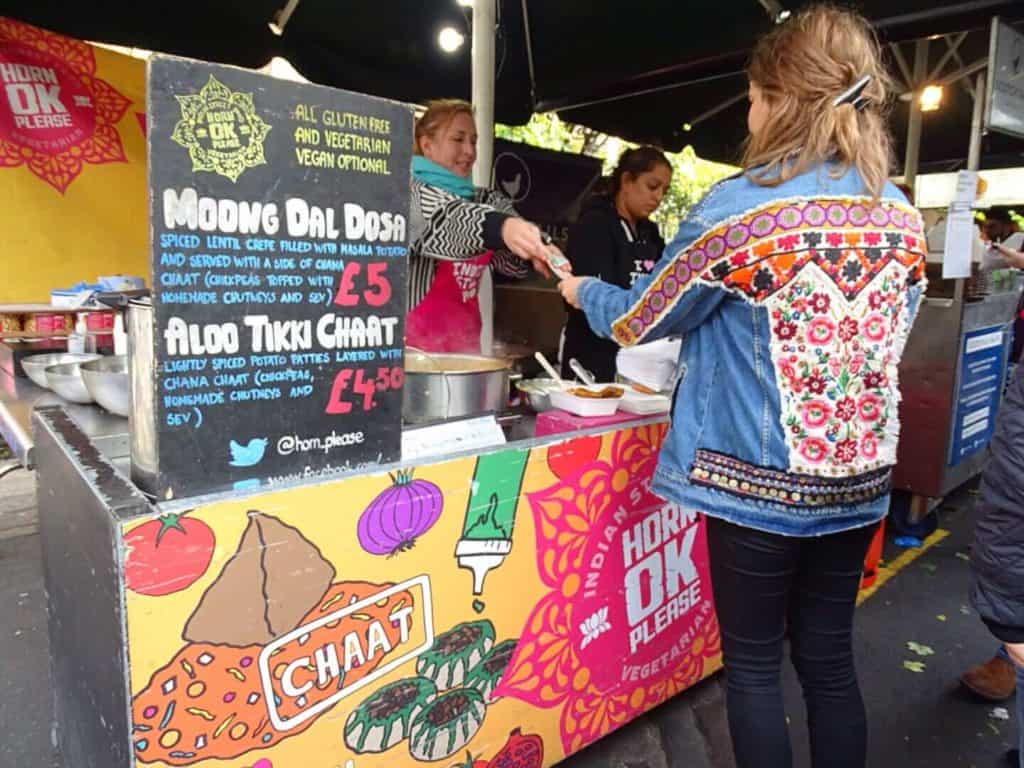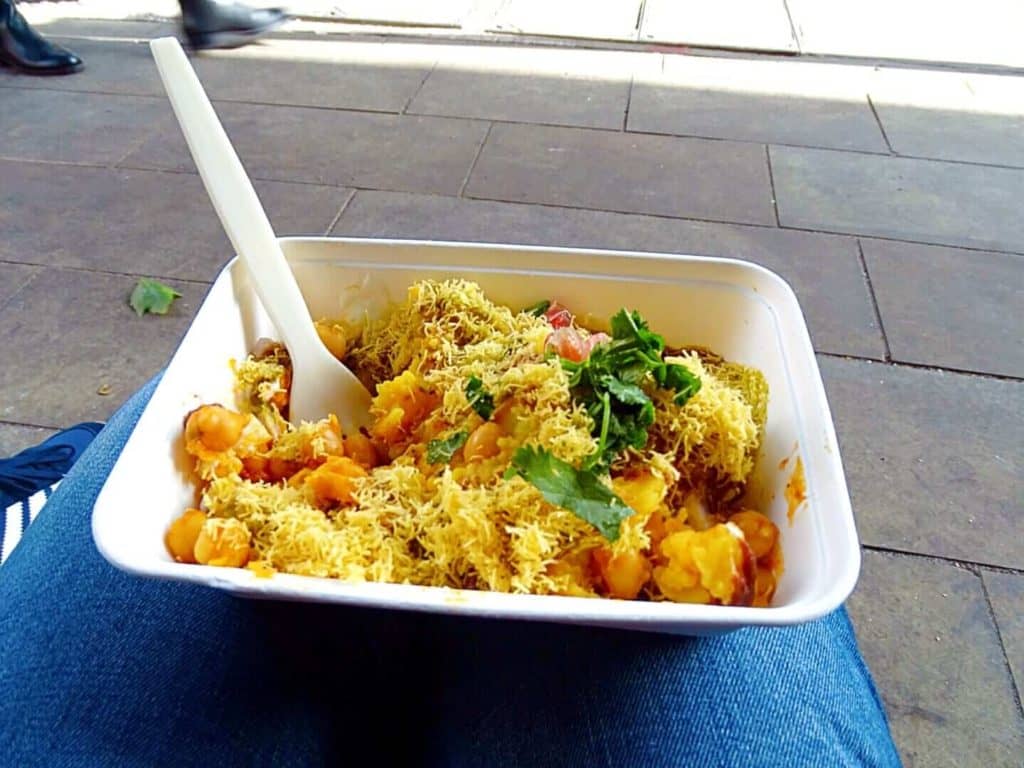 Getting to Borough Market: Don't do the sensible thing and go to Borough station – the market is actually right beside London Bridge underground.

When: Most of the year the market is open Mon-Sat but check the full details at Borough Market website.
If you'd rather explore Borough Market with a guide, book a 10 dish tasting tour of Borough Market and the surrounding area.
KERB Camden Market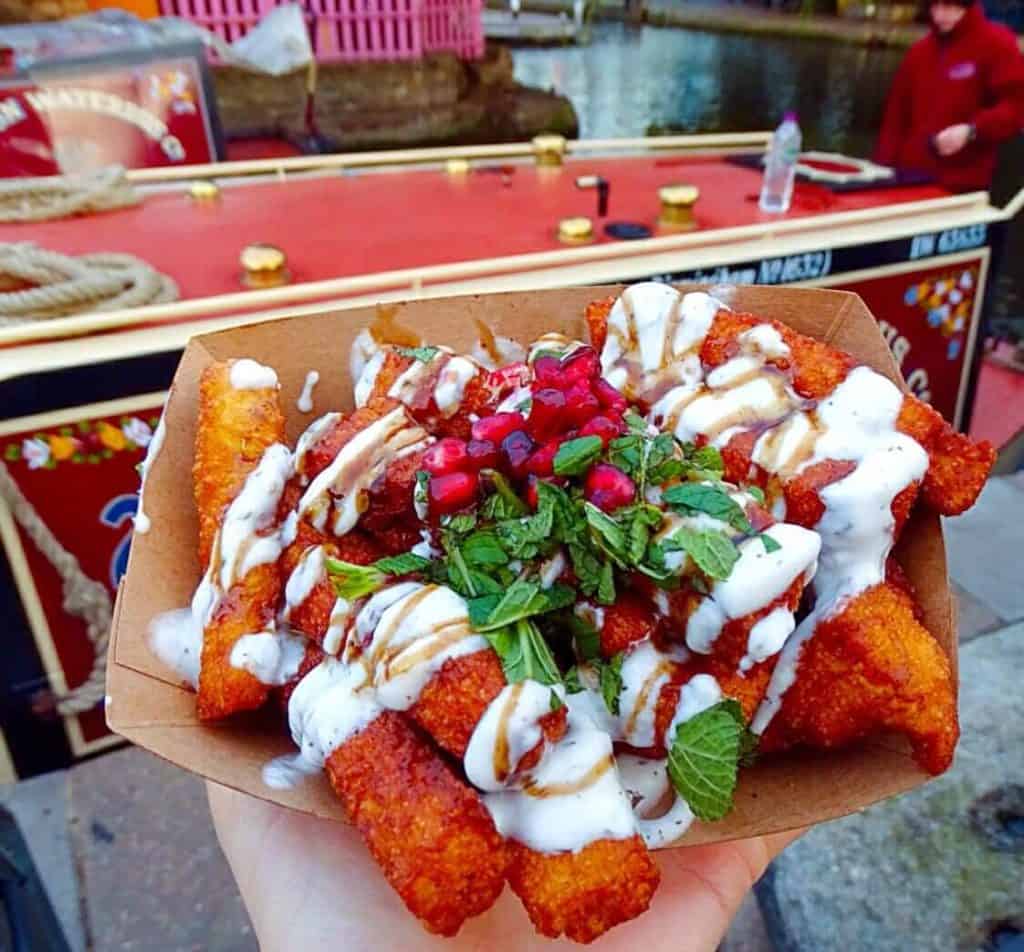 KERB is an outdoor section of Camden Market by the canal locks. The whole of Camden Market is full of good food so go to whichever bit you like… but if you want halloumi fries, go to KERB. I sniff out halloumi like wild animals sniff out watering holes so you can guarantee I found myself there pretty quickly.
Top picks
Oli Baba's halloumi fries OBVS. Not even fries topped with halloumi… these bad boys are ACTUAL FRIES MADE OF HALLOUMI loaded with tzatziki, mint and pomegranate seeds. They did not disappoint.
Mother Clucker – probably the best buttermilk fried chicken and cajun fries you ever did try!
Lords of Poke – Have you tried Hawaiian poke yet? If not, build your own bowl here with ingredients like salmon, avocado and edamame.
Getting to KERB: Camden Market is right by Camden Town underground station. To find KERB, walk through the inside market to the open-air area by the canal.

When: Seven days a week. Mon-Thurs, 11am-6pm; Fri-Sat, 11am-7pm.
Portobello Market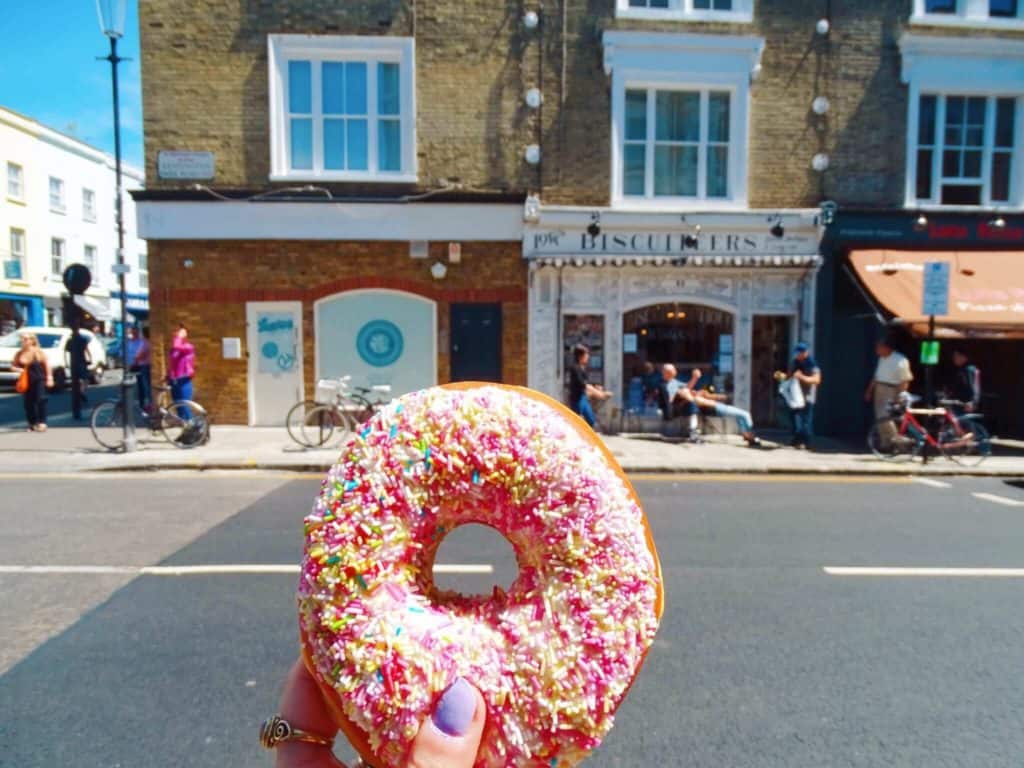 As one of London's most popular tourist streets, of course there's fantastic food on Portobello Road!

For a London market traditionally all about antiques and bric-a-brac, the food at Portobello Market is decent. It's not the best London street food market; it's more of a farmers market vibe with loads of fresh bread, baked goods, gourmet chocolate, cheese and olives. If that's what you're in the mood for, you'll be in your element.
Top picks
Jamon Jamon paella is cooked up in an enormous vat and is so tasty.
Falafel – the vendors always seem to be changing but every time I'm here, so is lots of amazing falafel.
Doughnut stands – there are plenty of these and they are seriously good.
Getting to Portobello Market: From Notting Hill underground station, follow signs to Portobello Road.

When: Friday & Saturday are your best bet for food with Sunday being more about antiques. Some food stalls serve on weekdays – check here for the full listing.
Greenwich Market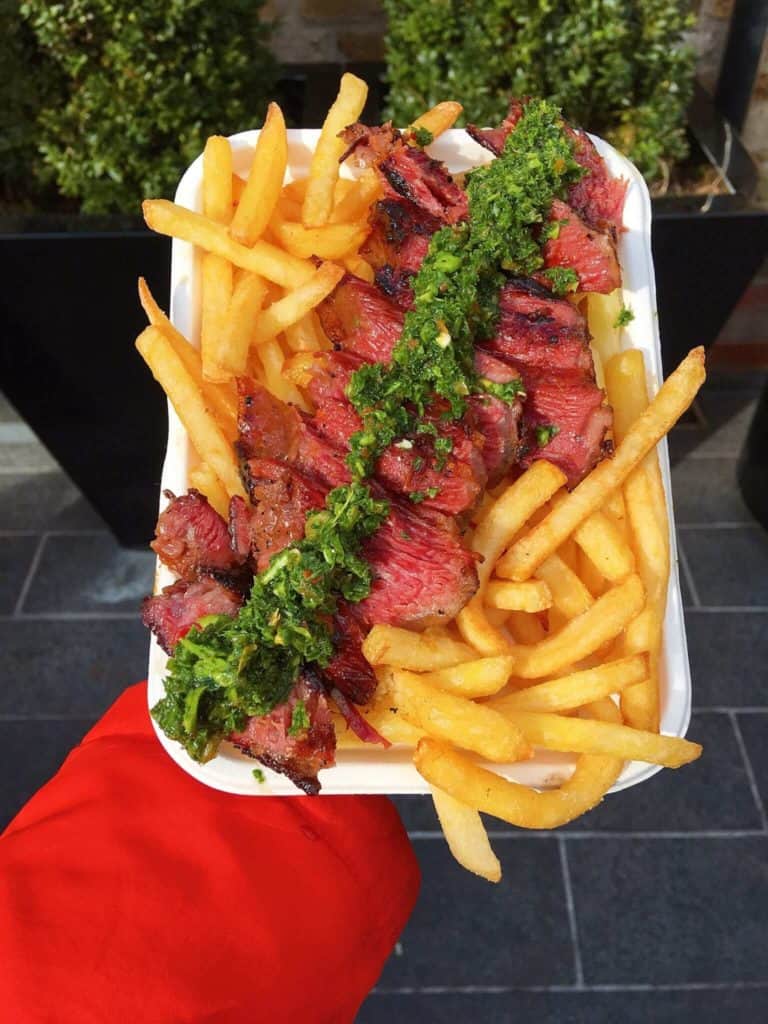 The perfect add-on to a lovely day in this part of town, Greenwich Market has everything including more upmarket treats like sushi and macaroons.

Top picks:
Chuckling Wings – for mouth-watering Asian-style chicken wings and brilliant burgers, this is some of the best fried chicken in London.
Casa Cannoli – the Sicilian-born owners know what makes a good cannoli including pistachios from the foot of Mount Etna and hazelnuts from Northern Italy. Just bliss!
Read next: 14 free things to do in Greenwich
Getting to Greenwich Market: The nearest station is Cutty Sark for Maritime Greenwich (on the DLR) right beside the market.

When: Seven days a week, 10am-5.30pm
Brick Lane Food Hall
This area of London is famous for its curries so obviously I went there and ate the latest trendy dessert, bubble waffles. The stomach wants what it wants.

Head to Brick Lane Food Hall at the Boiler House for all kinds of weekend yumminess. Food-wise, there's a bit of everything. It's definitely a London street food market rather than a farmers market thanks to the ready-prepared, snackable dishes.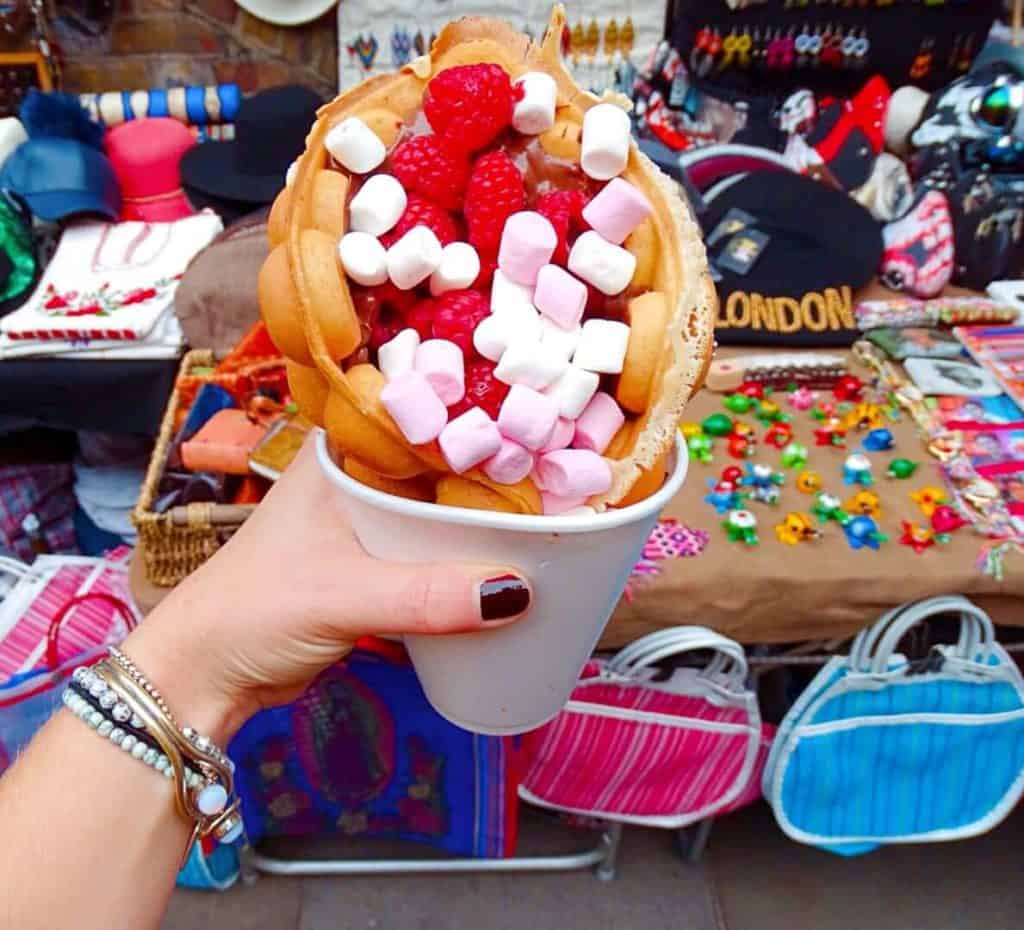 Getting to Brick Lane Food Hall – Shoreditch High Street, Liverpool Street and Aldgate East stations are all nearby.

When – Saturdays 11am-6pm; Sundays 10am-5pm.
Explore Brick Lane Market, Spitalfields and Middlesex Street Market on a small group East London markets tour.
Brixton Village
We Are Brixton Village & Market Row is one of the best London food markets. The series of indoor streets with lots of permanent eateries serve world cuisine, plus it was the birthplace of some fantastic popular businesses like Franco Manca and Honest Burger.
Top pick
Federation Coffee – this place does great coffee and I can also vouch for the salmon and avo sourdough brunch.
Getting to Brixton Village: This London food market is just around the corner from Brixton underground station.
When: Check the individual vendors' opening times but basically seven days a week 'til 5 or 6ish.
Old Spitalfields Market
Spitalfields is less of a street food market in London; it's more about bars and restaurants, as well as clothes and trinkets. I prefer some of the other London street food markets as there is a bit of a chain focus here.

Saying that, they're nice ones like Leon which officially became a chain by opening the third branch of their healthy fast food restaurant in Spitalfields.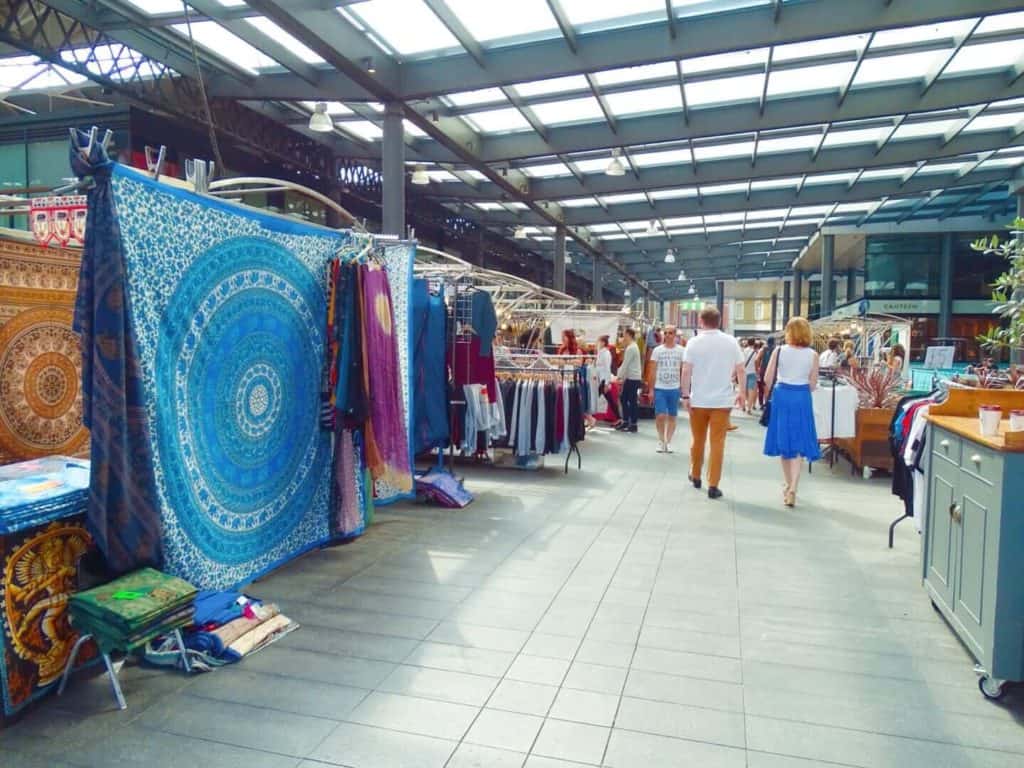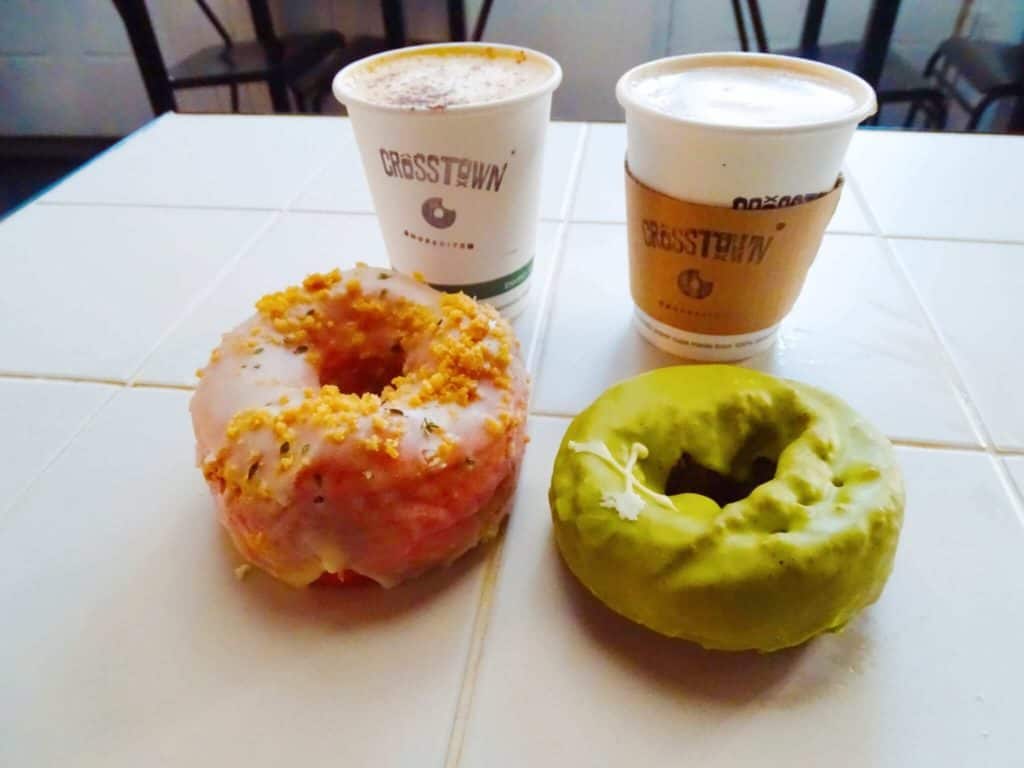 You will find a couple of street food stands like the Duck Truck and a Crosstown Doughnuts truck. Yum to both.

Getting to Spitalfields Market: Shoreditch High Street and Aldgate East are the nearest stations.

When: Monday-Friday, 10am-5pm; Saturday 11am-5pm and Sunday 9am-5pm.
BOXPARK
Shoreditch is known for being quirky and hipster so pop-up businesses serving food from inside a recycled shipping container is nothing to be surprised about, surely?
BOXPARK is a London street food market that goes big. There are loads of OTT food offerings like monster burgers and freak shakes. Not for the faint-hearted.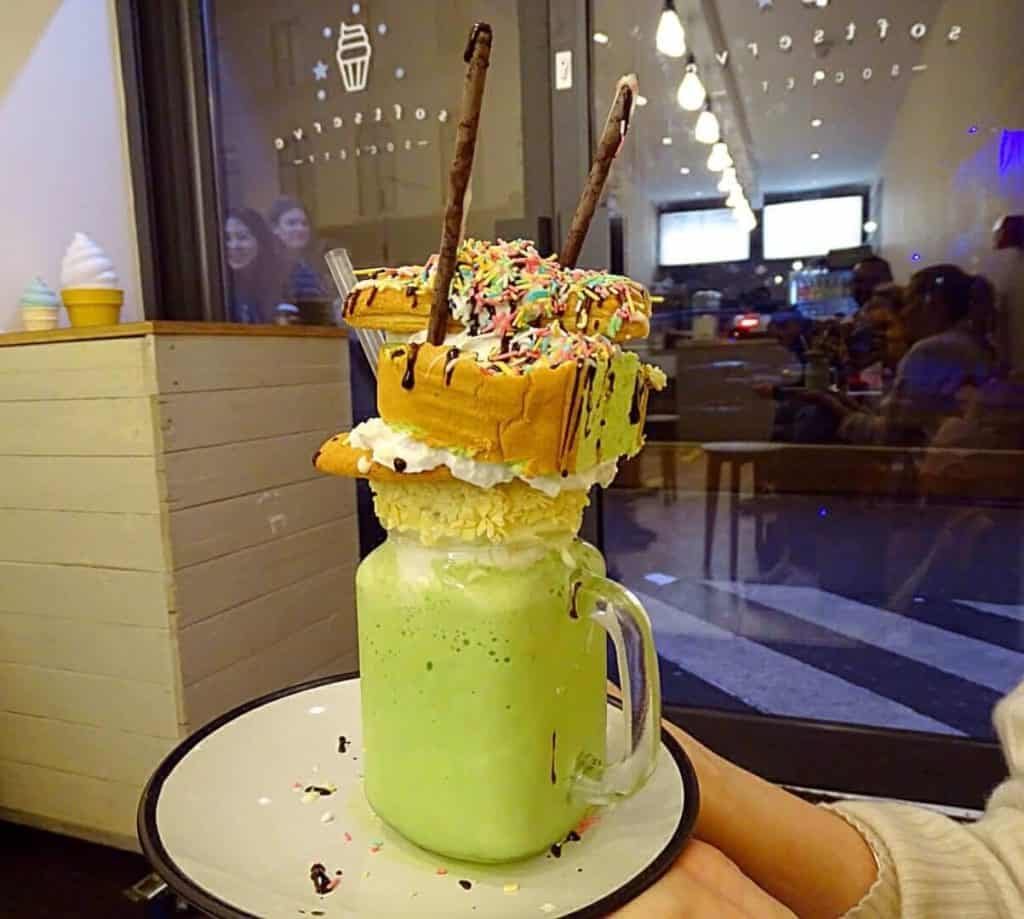 Top picks
Soft Serve Society – this insane freakshake is probably going to manifest itself in some form of diabetes in later life. Bothered? Not really.
What the Pitta! – fresh, tasty Greek food like kebabs and houmous.
Black Bear Burger – just ridiculously juicy burgers including a brunch one filled with fried egg and Bloody Mary sauce.
Getting there: BOXPARK is beside Shoreditch High Street station.

When: Monday-Saturday, 9am-11pm and Sunday 9am-10pm.
Thanks for reading my London food market blog!
For more travel content, follow me on Instagram, Facebook, Twitter and YouTube.
If you liked it, please share it!
Do you have any other favourite London food markets? Let me know in the comments.
Check out my other London posts:
See you next time for more adventures,
Rose
Ps. Liked these street food markets in London? Pin this for later!