This post may contain affiliate links to things like tours, hotels, Amazon associates and products. These help me earn a small commission at no additional charge to you.
Getting out of the city is a must for any visit to Sydney. A weekend Blue Mountains trip provides incredible scenery, fresh air, cosy villages and well-deserved quality time with your loved ones (which totally includes yourself by the way!). In this guide, I'm going to share my tried-and-tested 2 day Blue Mountains itinerary.
During our Blue Mountains weekend away from Sydney, we travelled up to Katoomba on Friday night and returned on Sunday after a leisurely brunch.

We didn't begin our Blue Mountains itinerary 'til midday on Saturday so you could travel up early in the morning and head back to Sydney after you've finished your hike. It would be a long day but easily doable.

For a day trip, follow my Saturday itinerary. For a long weekend in the Blue Mountains, do as I did (this is best as it includes my Blue Mountains eating guide!)
Getting to the Blue Mountains
Public transport: Catch a train from Sydney Central Station to Katoomba, a small town in the heart of the Blue Mountains. I couldn't believe how cheap it was compared to extortionate English trains – $6.69 (£3.70!) each way with an Opal Card.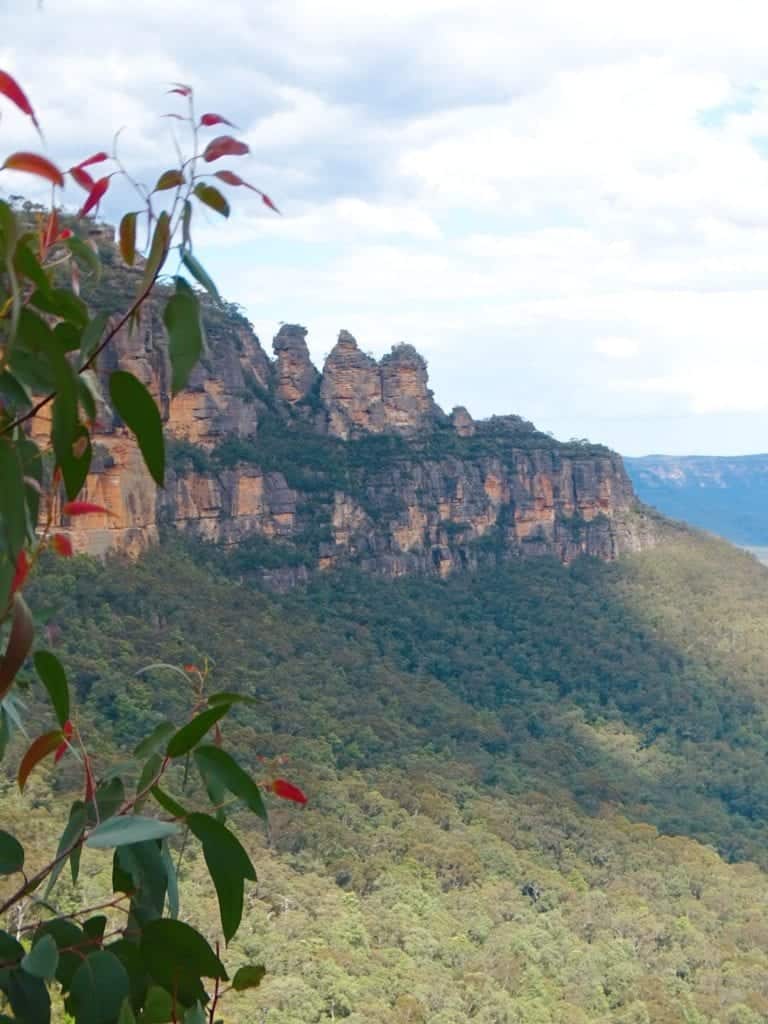 Where to stay during a weekend away in the Blue Mountains
If your Blue Mountains itinerary includes an overnight stay, there are lots of options in Katoomba, ranging from hotel to hostels.

Airbnb – we stayed in a cosy Airbnb. There are lots of these on offer in the Blue Mountains.

Hostels – there are a few options in Katoomba. Blue Mountains Backpacker Hostel and Blue Mountains YHA are both conveniently located in town with good reviews. These are both around AUD$18 a night.

Hotels – if you want to treat yourself after a day hiking, check out La Maison Boutique Hotel complete with a hot tub, jacuzzi and comfy rooms with TV & DVD players. For a cosy home rather than a hotel, check out Shelton-Lea Bed & Breakfast for period features and an open fire.
Best season for a weekend in the Blue Mountains
If you're wondering when to time your weekend in the Blue Mountains, this is a run down of the weather for each season:

September to November: This season is spring and comfortable for trekking. Bring a sweater or light jacket for mornings and evenings.

December to February: This is summer and a good time for your Blue Mountains itinerary. Average temperatures are 26-30 degrees. It's best to book accommodation ahead as it can be busy.

March to May: It starts to get very cooler in the Blue Mountains with some rain. But it's a good time for visiting as accommodation prices drop.

June to August: This is winter and sees temperatures as low as 10 degrees with rain and occasional snow. If you wrap up warm, you can take advantage of cheaper accommodation and have viewpoints to yourself.
Blue Mountains weekend itinerary
You could easily spend a whole week in the Blue Mountains: there are so many hikes, from short walks to lengthy woodland treks. Since this Blue Mountains itineray is for 2 days, I'll just share a few nearby Katoomba.

We ended up going to the touristy viewpoints on Saturday morning and doing a proper hike in the afternoon. This was a good way to see the Blue Mountains in my opinion: even though our first stops were busy, you wouldn't want to miss the most iconic views they offer.
Saturday itinerary for the Blue Mountains
For visiting the Blue Mountains on a budget and paying nada for tours and guides, follow the below Blue Mountains itinerary. We travelled up Friday night so this itinerary starts bright and early Saturday morning!
Start at Echo Point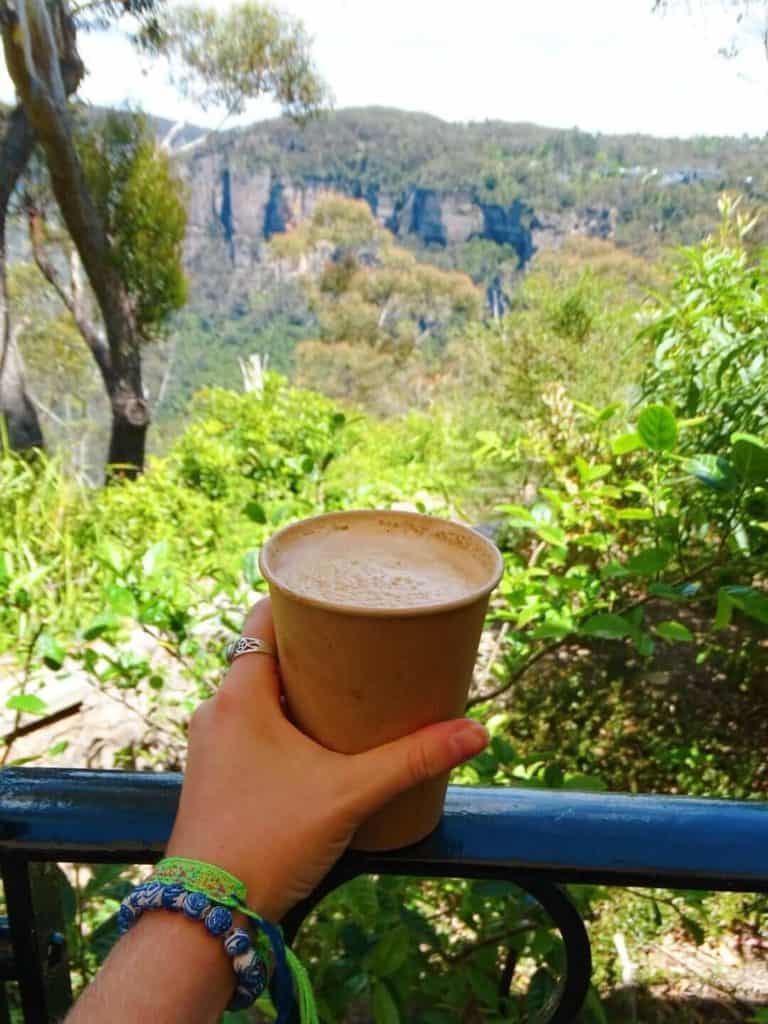 From Katoomba town, you can easily walk over to the start point of the Blue Mountains in 20 minutes. Alternatively, you can catch a local bus, or park at the carpark. Just set Echo Point into Google Maps or your satnav.

Not far from Echo Point carpark is Echo Falls Plaza where you can use the bathroom and grab a coffee before your hike. The cafe terrace is absolutely stunning with rolling views over the forest canopy.

If visiting the Blue Mountains on a budget you could obviously consider not buying $5 coffee and making your own… nah!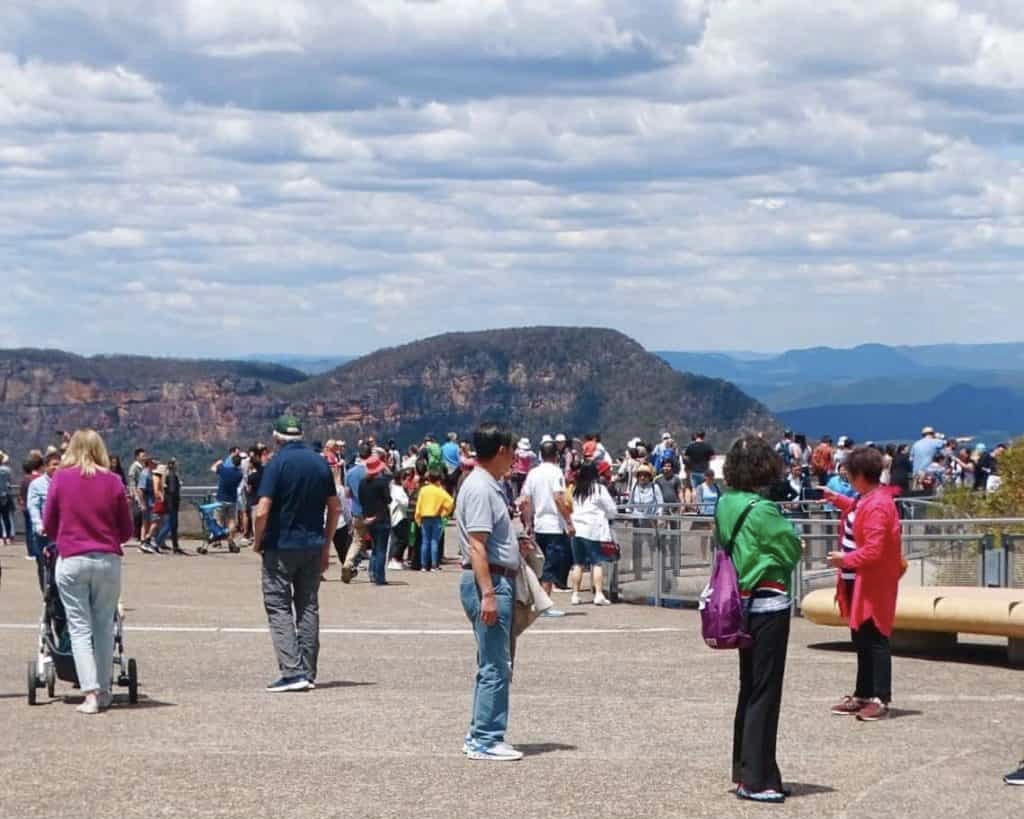 As it turned out, coffee was the highlight because Echo Point itself was not what I expected. Unless you visit super early, it's totally packed out with bus loads of visitors and you can barely move for selfie sticks. Best continue off the beaten track…
Spooners Lookout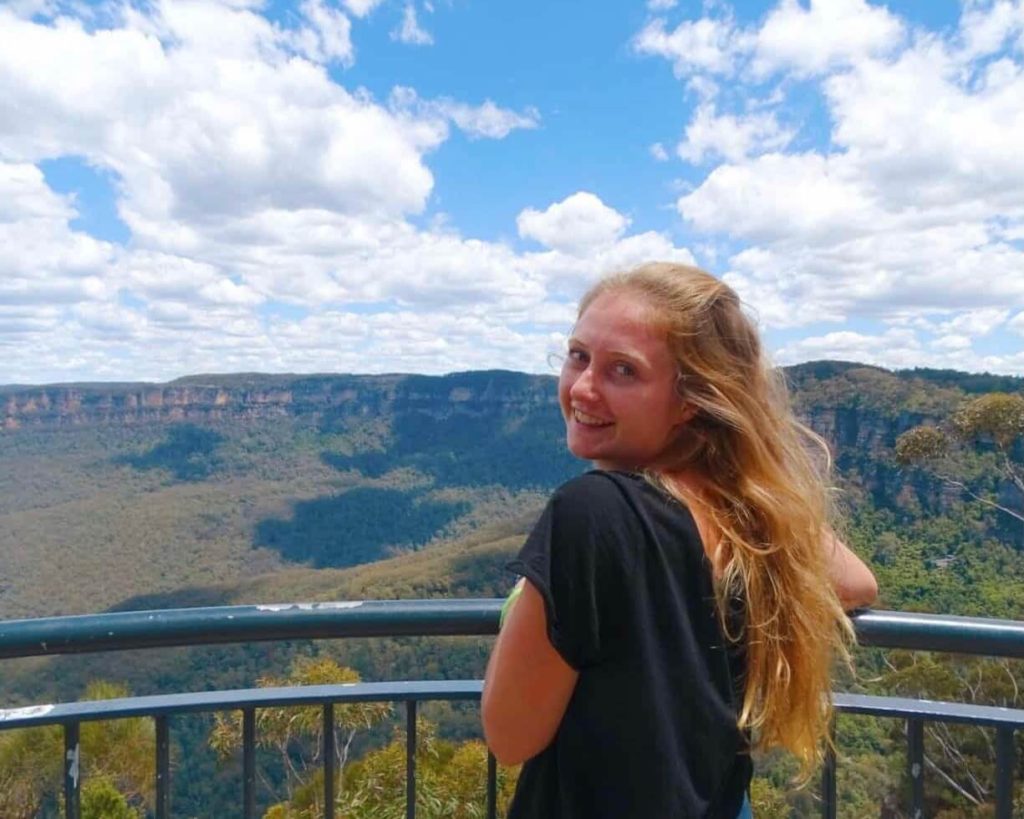 The next stop on our Blue Mountains itinerary was Spooners Lookout. While there are few viewpoints near Katoomba that you'll have totally to yourself, it's easy to escape the crowds as you move away from the tour bus stops. Spooners Lookout may only be a five-minute walk away but it was much less crowded. We laughed at the view of Echo Point directly across from us!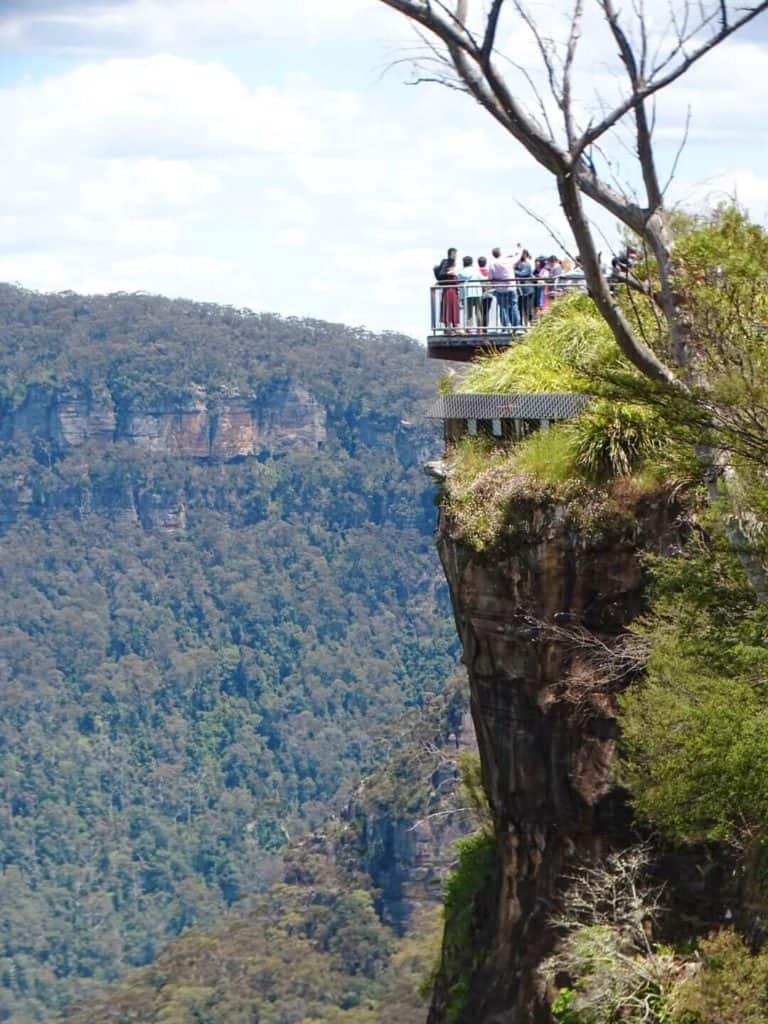 Now you see why we ditched it, right?!
Honeymoon Point / Three Sisters Lookout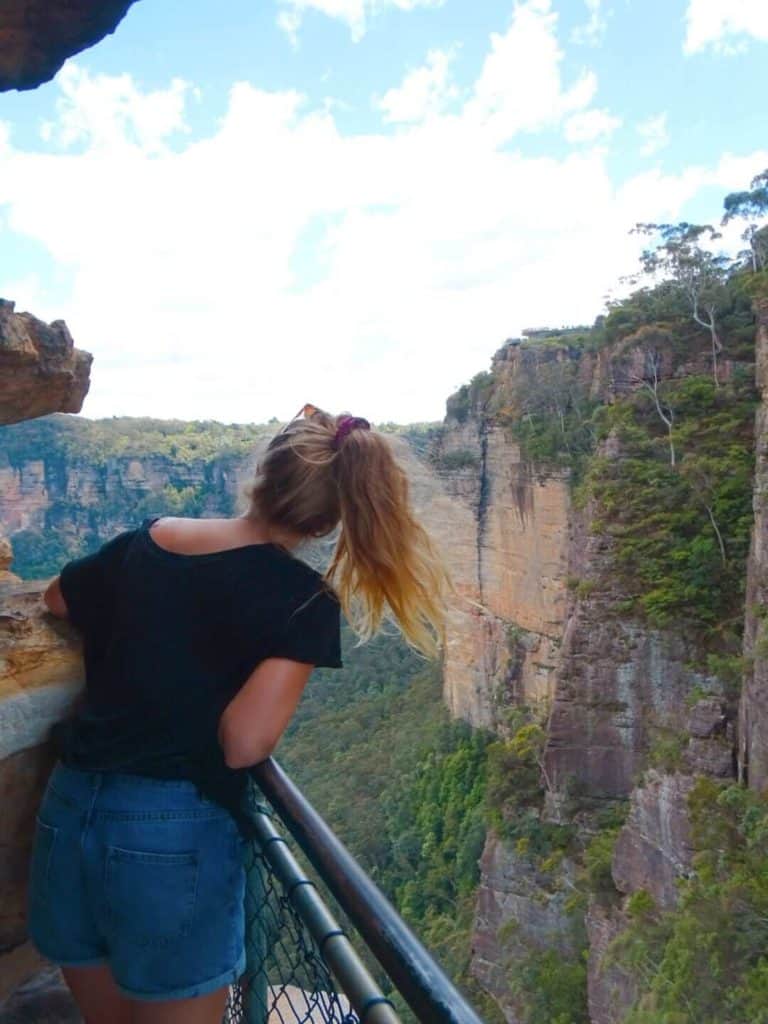 When you Google the Blue Mountains, the Three Sisters will be the first image you see. These unusual rock formations are named after a Dreamtime legend of three sisters named Meehni, Wimlah and Gunnedoo. In the legend, the young girls fell in love with men from another tribe but the relationships were expressly forbidden. To protect the sisters from harm, they were turned to stone!

While I feel like being turned to stone would be more permanent than having a bad boyfriend, I can't deny these structures are stunning! You see them best from Echo Point but it's also a good idea to climb up to them (via the track) and admire the beautiful valley views.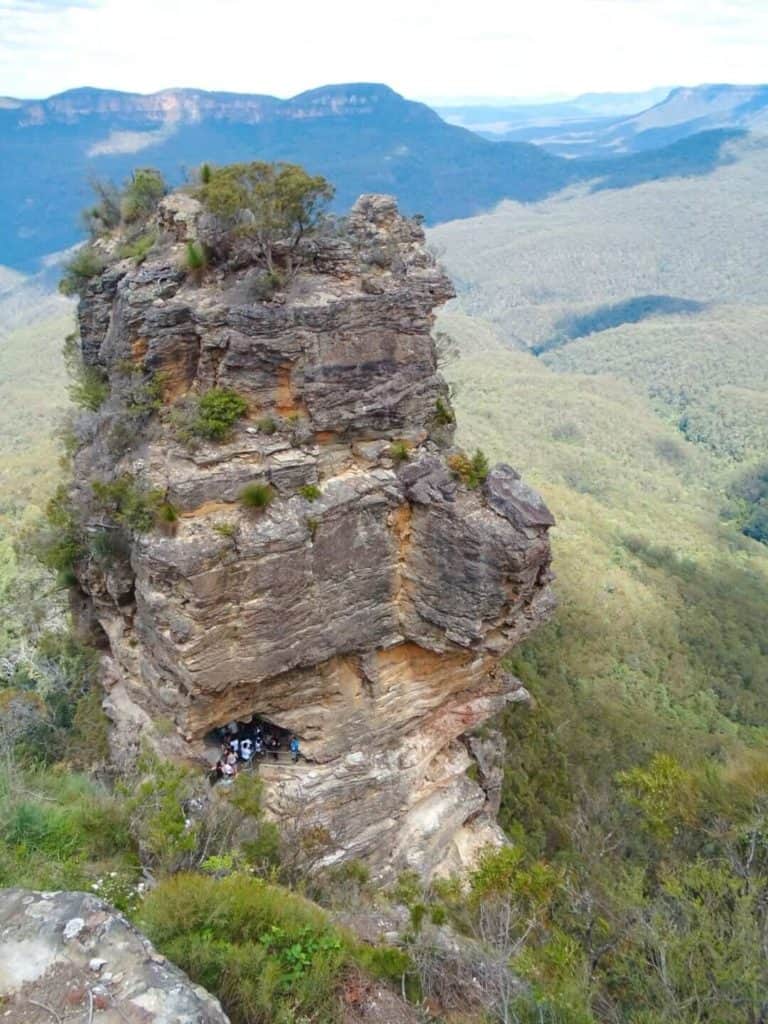 A small bridge takes you out to Honeymoon Point, an enclave that goes inside one of the Three Sisters. This is a pretty spot for photos.
Lady Darley Lookout
After we'd seen the stops around Echo Point, we continued on with our Saturday adventures. We headed back to Echo Point Lookout and took the downhill track to the rest of the Blue Mountain's viewpoints and attractions.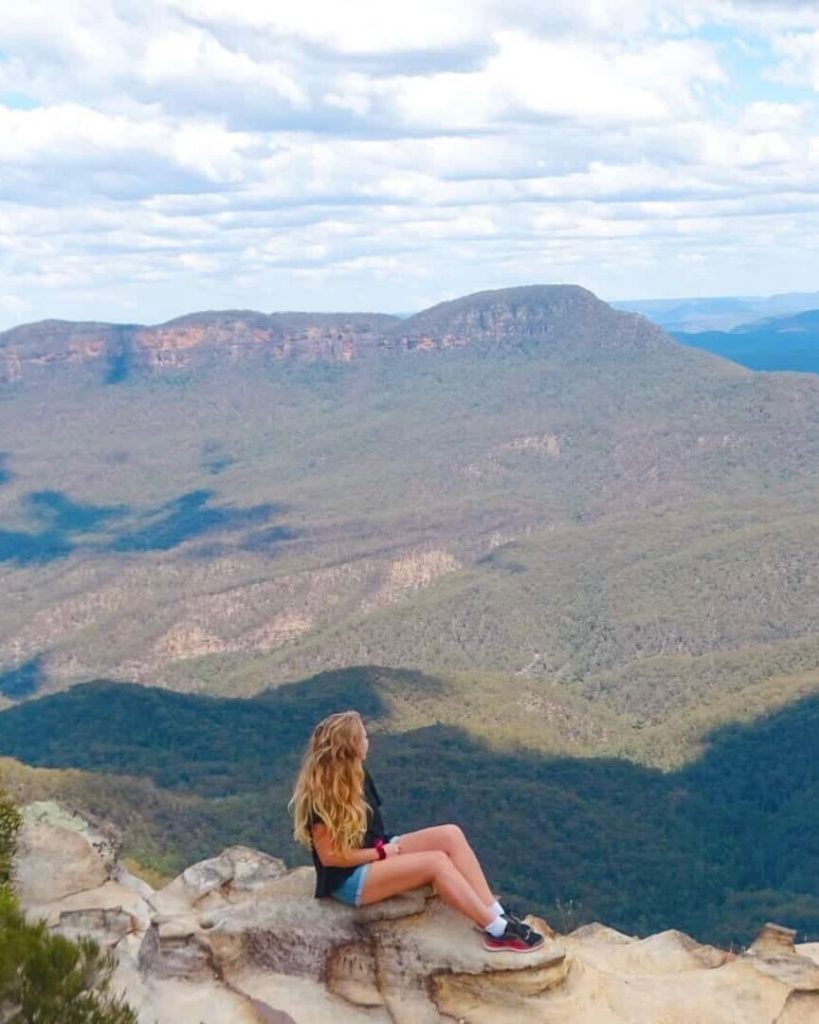 By this point, we were seeing stunning views from every angle but one spot that stood out was Lady Darley Lookout. It offers some of the best panoramic views for miles around! Definitely a highlight of my Blue Mountains weekend.
Katoomba Cascades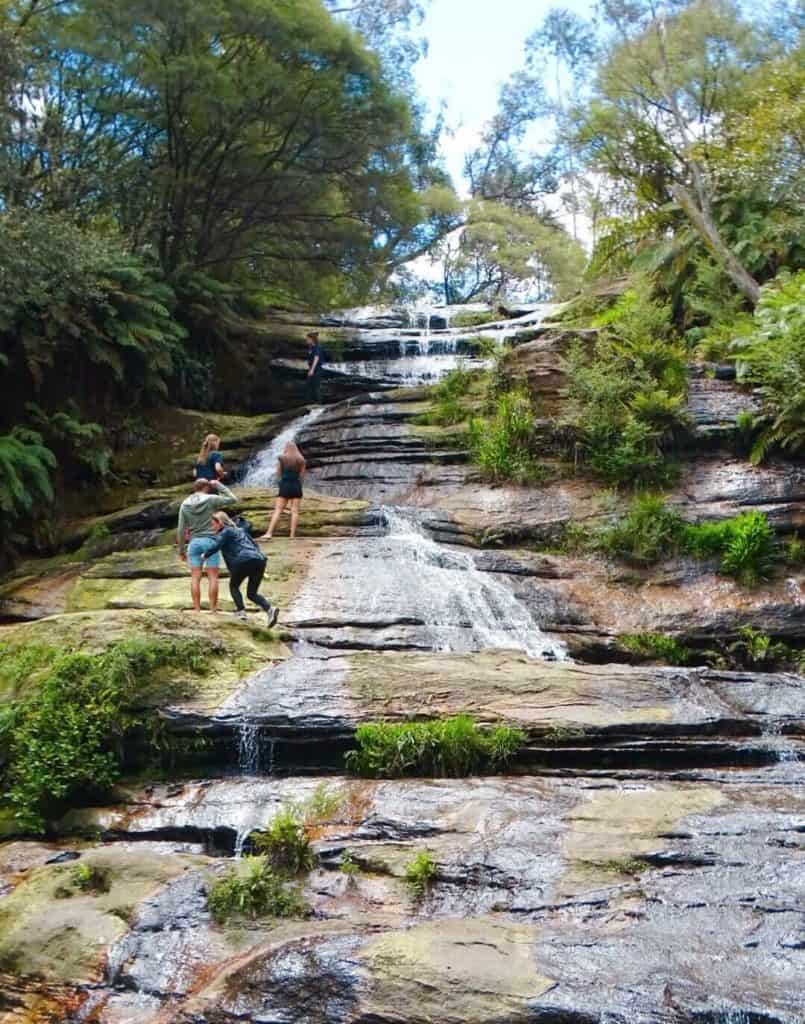 Katoomba Cascades are a popular place to add to any Blue Mountain itinerary. I feel like they'd be a peaceful spot if it weren't for the crowds… Visit early or late and you might have them to yourself!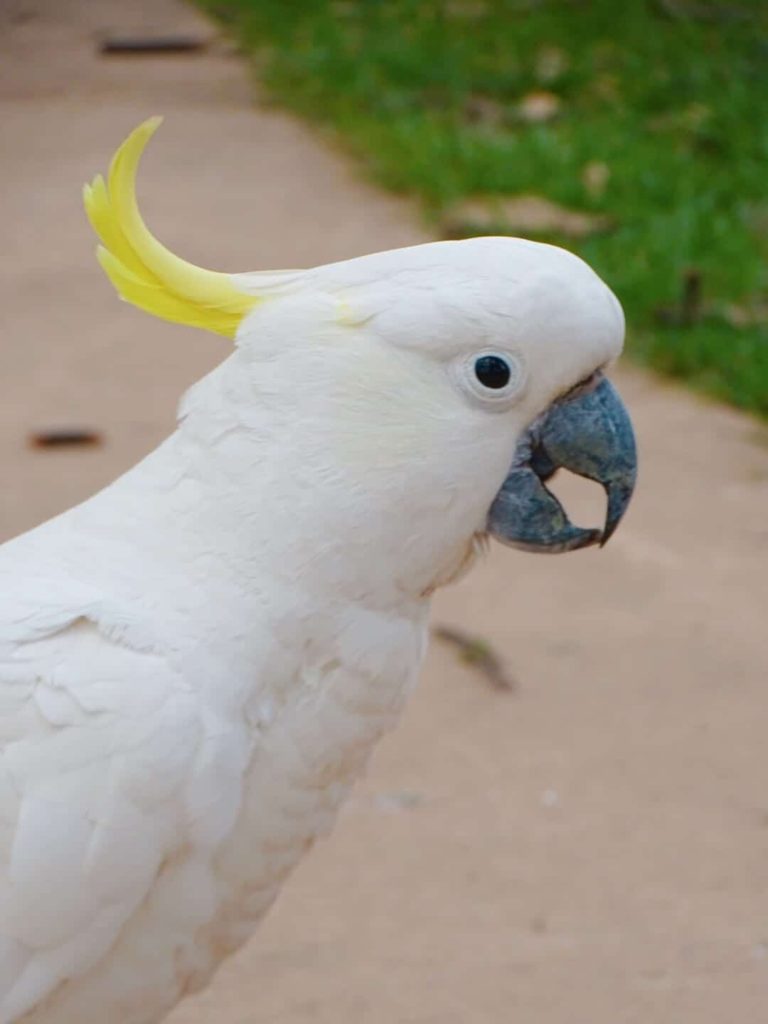 Katoomba Falls
Not far from Katoomba Cascades are Katoomba Falls which are bigger and more impressive.

We viewed them in all their glory from Queen Victoria Lookout but you can actually climb onto them (though I'm not sure you're meant to) like these people in this photo have done.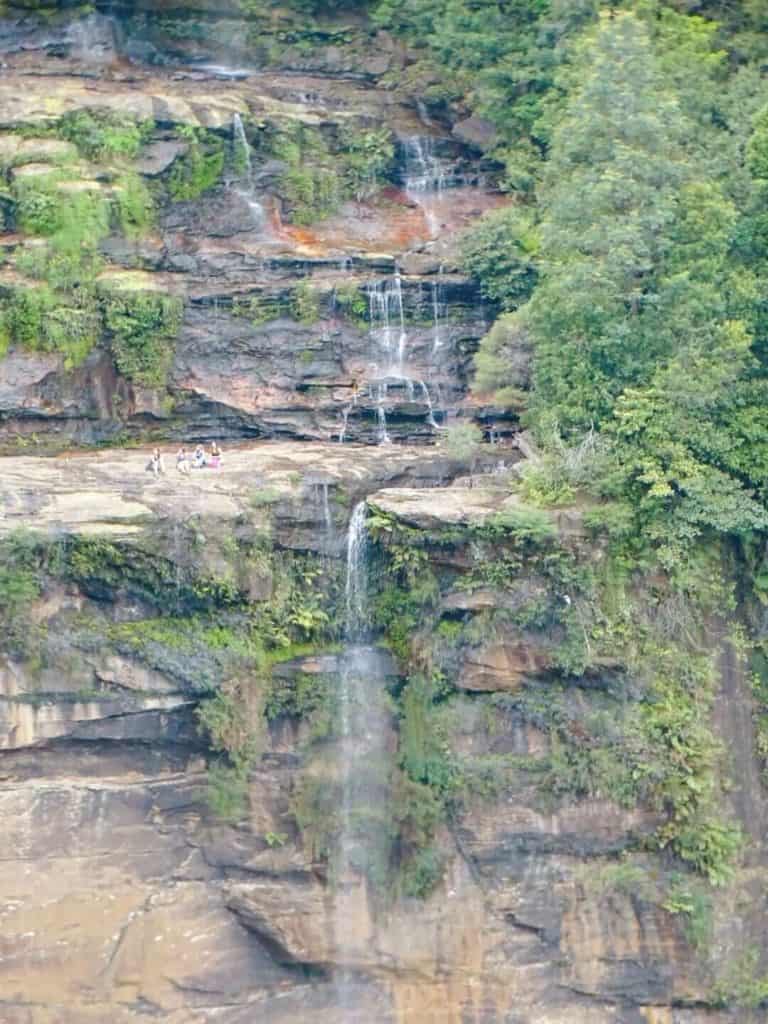 Furber Steps
Next, we headed away from the cascades and falls and headed down the Furber Steps which lead you into the gorgeous Aussie woodland. The best bit is that if you're feeling lazy you don't have to climb back up them because there's a cable car at the bottom!
Queen Victoria Lookout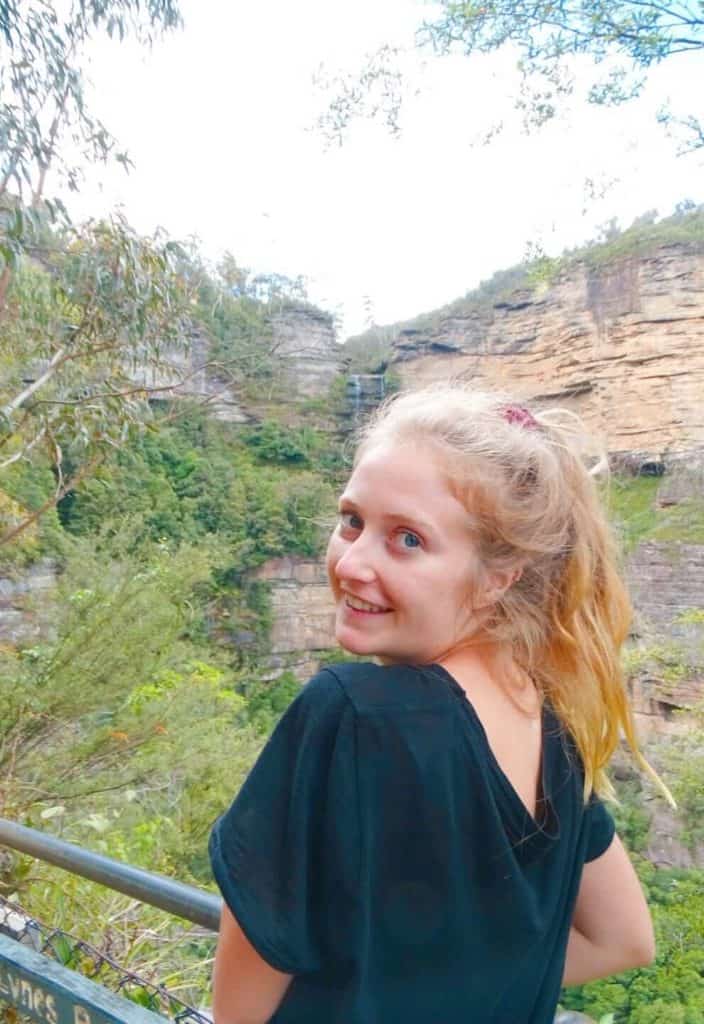 One of my favourite stops along the Furber Steps was Queen Victoria Lookout. There are actually a few places with this name in the Blue Mountains but the right one is pinned above. From here, you get one of the best views of Katoomba Falls.
Federal Pass Walking Track (2 hours and lots of stairs!)
If travelling the Blue Mountains on a budget, you have a decision to make here. After 20 minutes downhill on the Furber Steps you'll reach the Blue Mountains Cable Car Lower Station. Choose either:
Catch the cable car back up the hill (not free option)
Continue on the Federal Pass Walking Track linking back up to the Three Sisters / Honeymoon Lookout via the Giant Stairway (free option!)
We did the latter which was a solid workout and one of the only times we got off-the-beaten-track and ditched the crowds. I'd recommend it if you can handle 30+ minutes of stairs towards the end.
The Giant Stairway
I groaned as we started the Giant Stairway as I know it would be tough. I can't lie, it really got my heart rate up and I had to stop a few times, but it actually wasn't terrible. The views as we got higher made it completely worthwhile!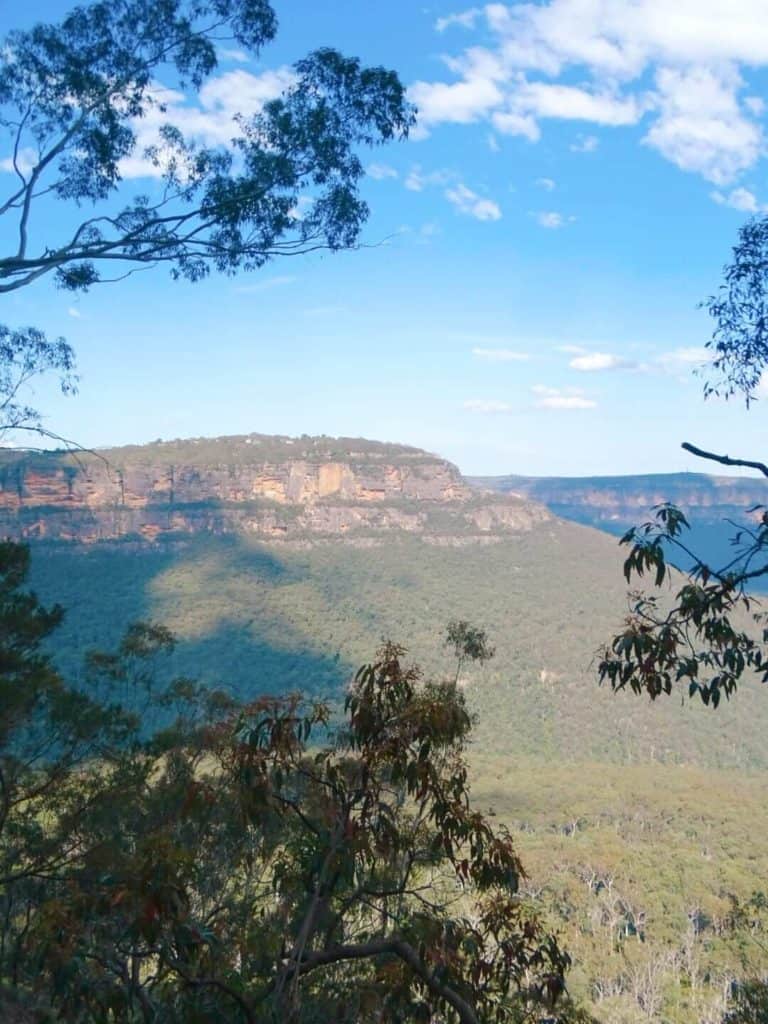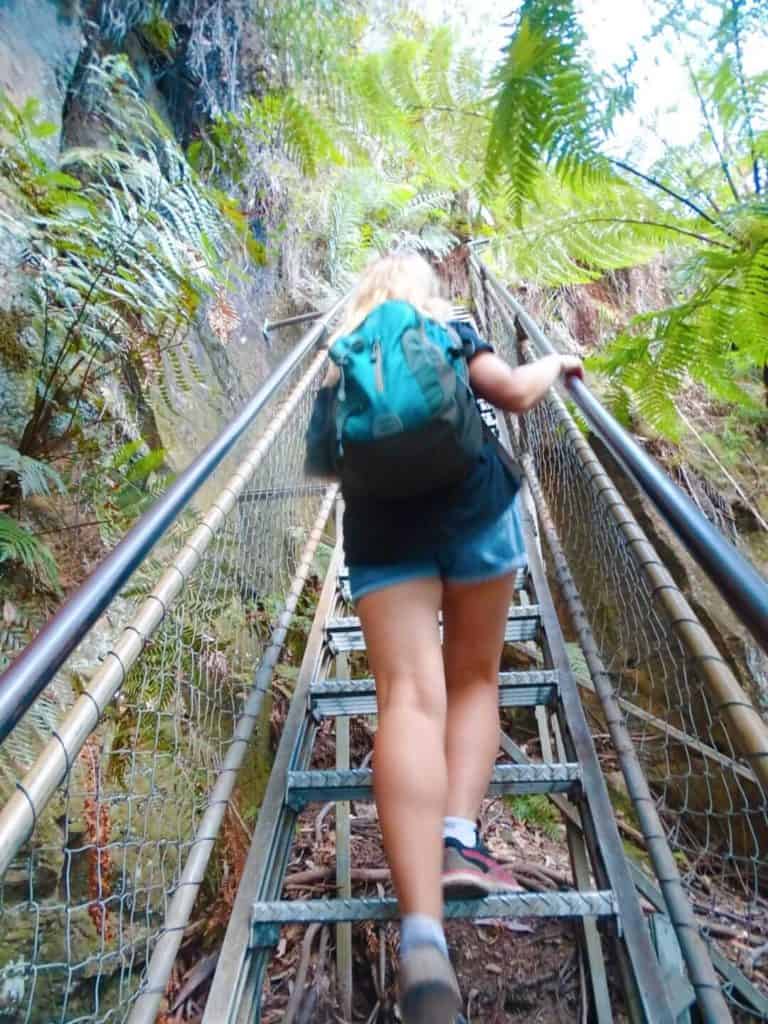 The Giant Stairway ends back at the Three Sisters Lookout meaning we'd come full circle. We headed back to Echo Falls Plaza and had a well-deserved cider where we'd had coffee several hours before.
Saturday night dinner – The Station Bar & Woodfired Pizza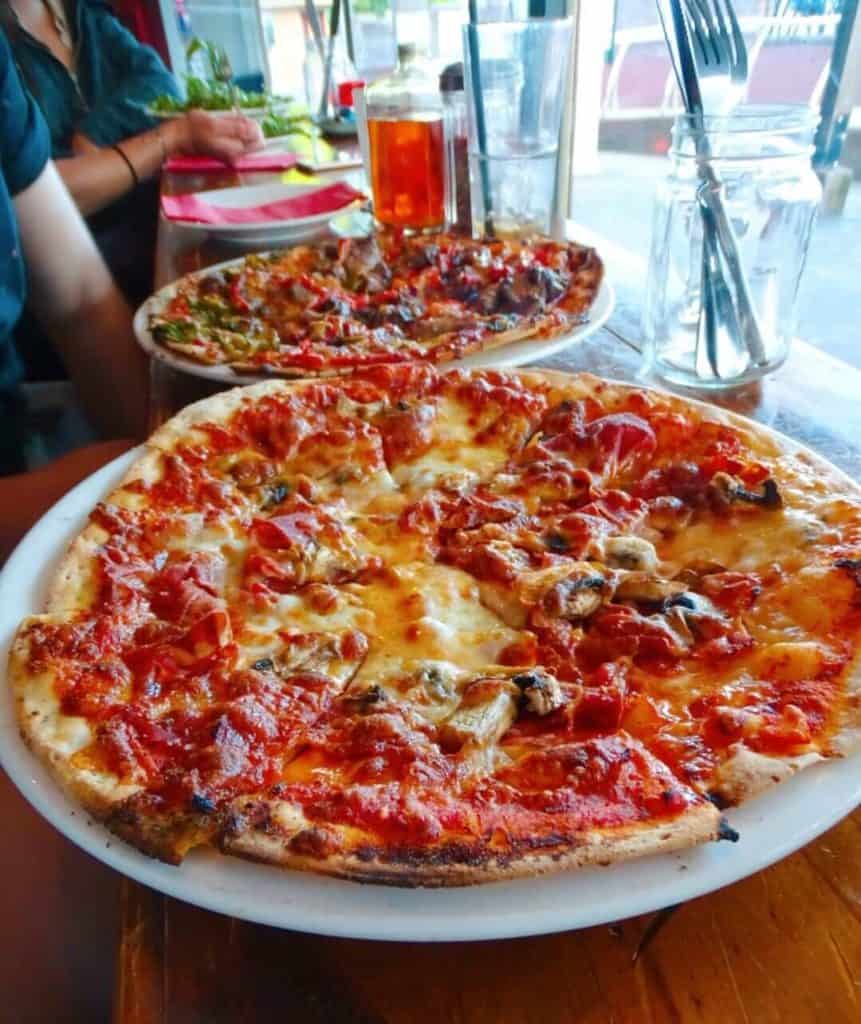 After an afternoon cider, we indulged with these amazing pizzas at The Station Bar + Woodfired Pizza. There are a ridiculous amount of topping options from veggie and meat classics to chicken tikka, seafood and kangaroo. Most are around $20, not bad!
Blue Mountains weekend itinerary – Sunday
While there are several other hikes in the Blue Mountains you can go on, we decided to have a leisurely day after our mammoth hike the day before. Even though there's not loads to do if you're based in Katoomba, here are a few worthwhile activities for Sunday in the Blue Mountains…
Sunday breakfast – Cafe Pomegranate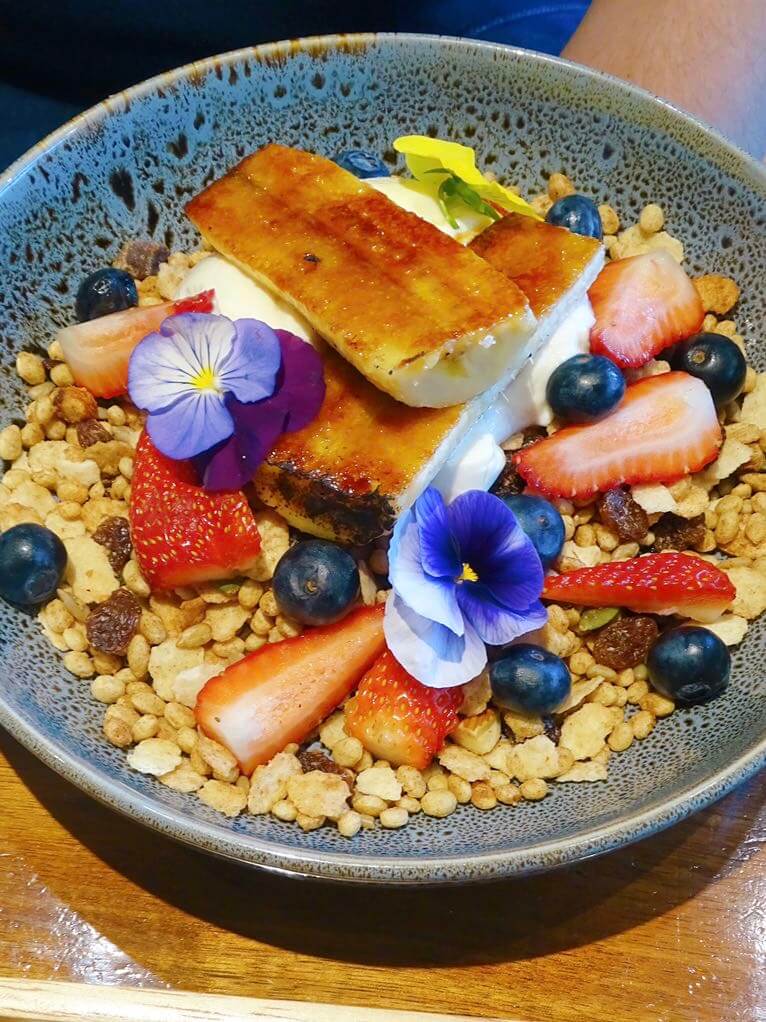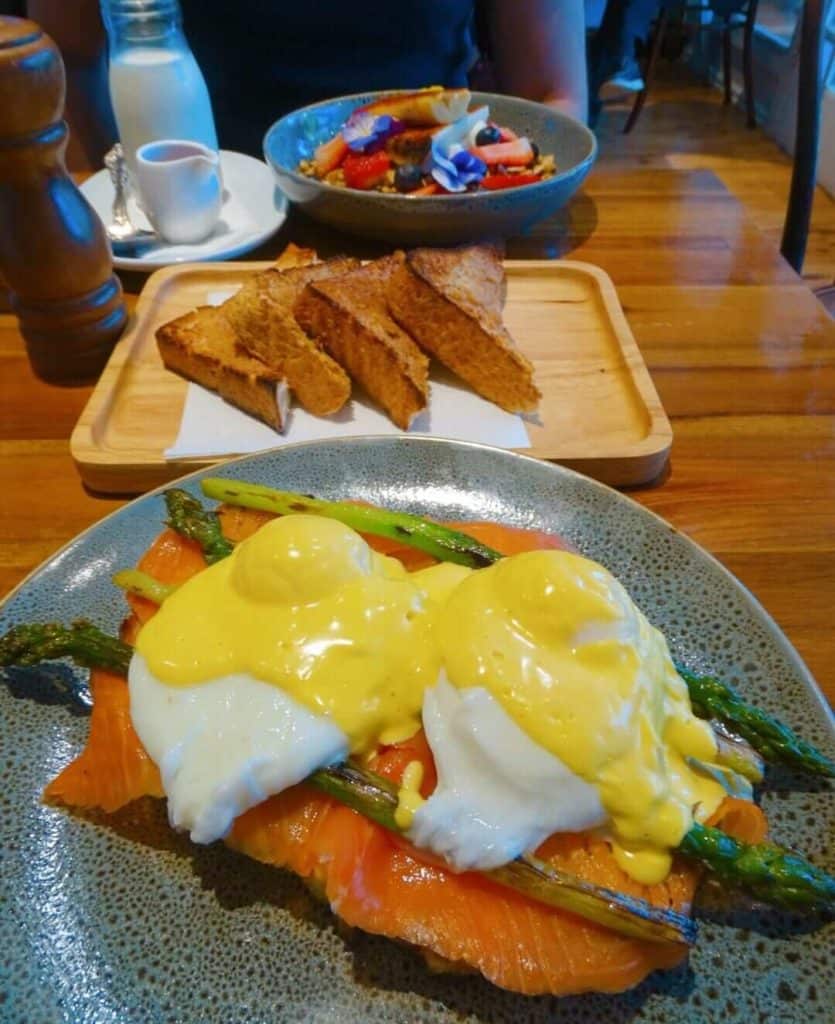 No weekend in the Blue Mountains would be complete without a tasty brunch!

For such a small town, there's a high ratio of brunch cafes in Katoomba. None of the shops seem particularly functional or useful – they're all for the constant flow of hiked-out tourists and weekend visitors. No complaints from me!

While there are plenty of cosy cafes, you can't do better than Cafe Pomegranate. They serve all your egg and avo classics plus some fancy cereals scattered with edible flowers. The Aussies don't do brunch by halves as I was quickly finding out.
Katoomba's Street Art Walk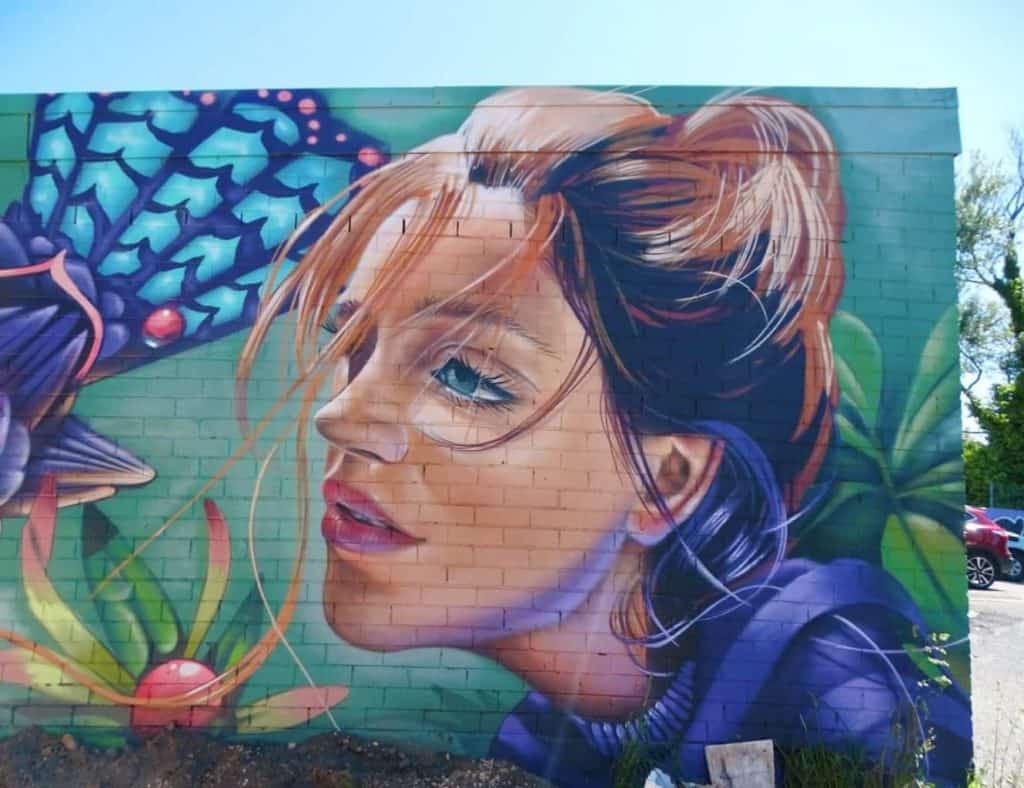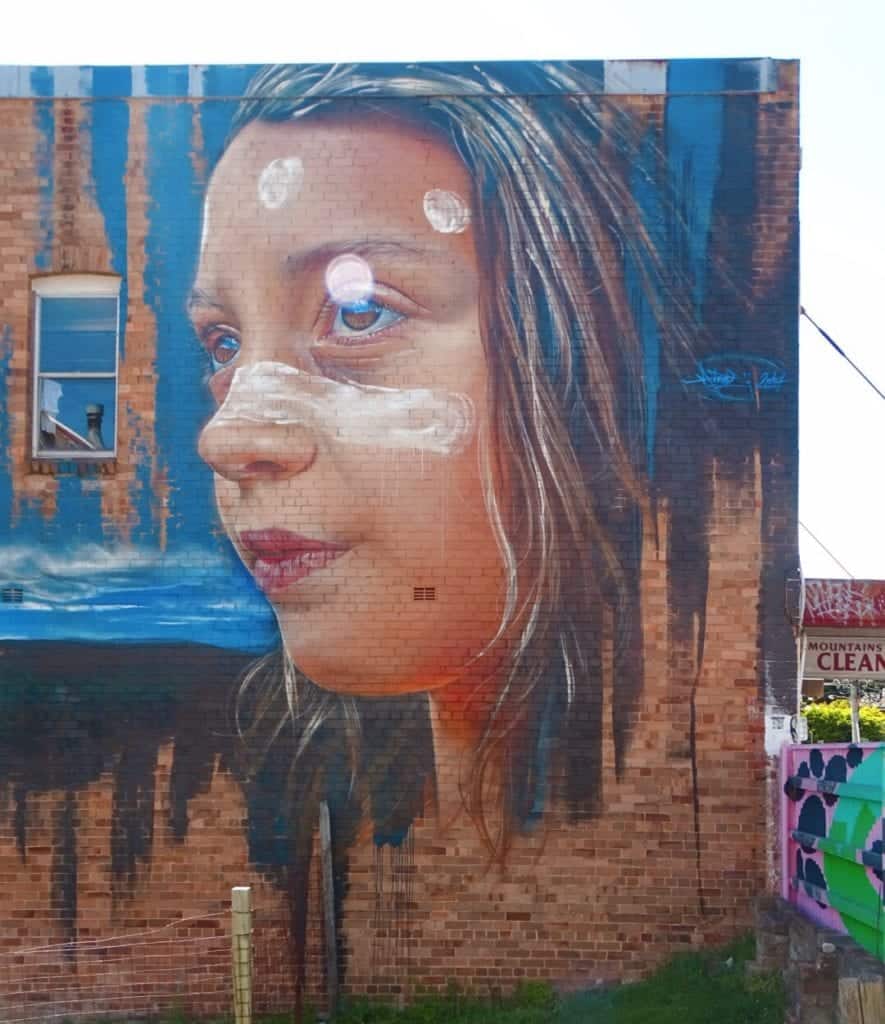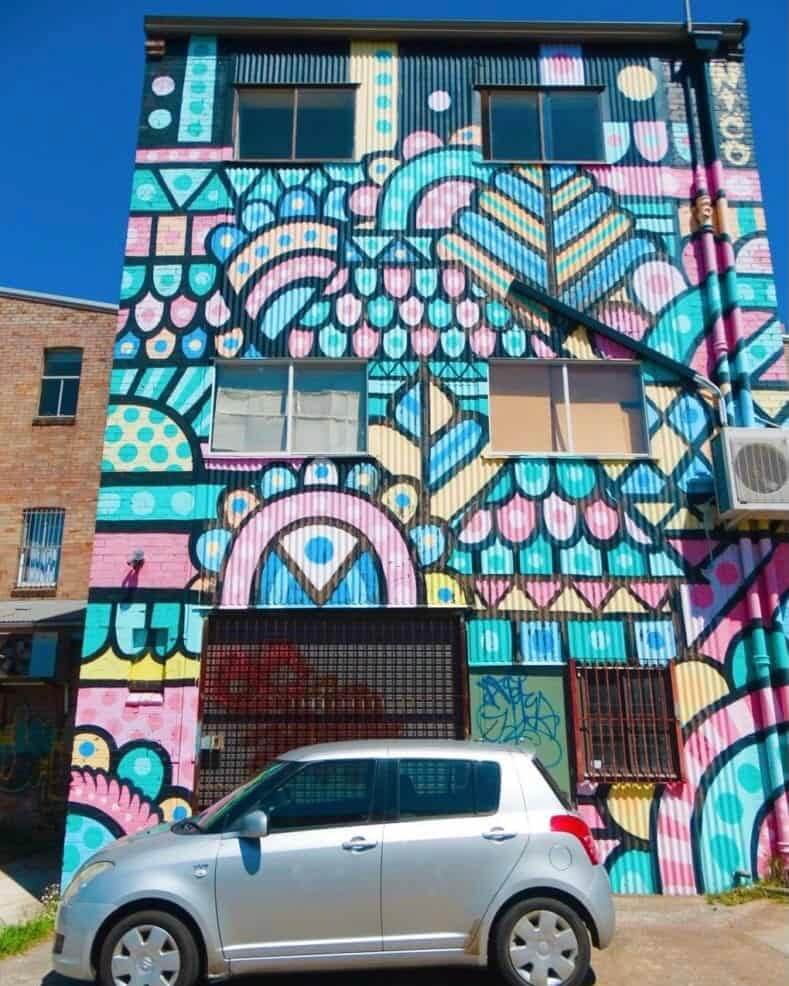 Add Katoomba's Street Art Walk to your itinerary for the Blue Mountains! It's not what people typically come to the Blue Mountains for but I absolutely loved it. Find it beside Aldi. It's not very big so you'll only need 15 minutes to look around and snap some photos.
Thanks for reading my weekend Blue Mountains itinerary
Check out my other Sydney posts:
Rose
Ps. Liked this weekend Blue Mountains itinerary for 2 days? Pin it for later!