This post may contain affiliate links to things like tours, hotels, Amazon associates and products. These help me earn a small commission at no additional charge to you.
When in Cape Town, don't miss the Malay quarter!

Before I even arrived in Africa I'd seen photos and videos of Bo Kaap – such as Jonas Blue's Perfect Strangers music video – and was hooked.
This whole video is filmed in Cape Town and does such a good job of catching the city's best bits (of which there are many). There are actually a ton of music videos filmed in Cape Town that you wouldn't have expected.

ANYWAY, because of my wanderlust for all things cool and colourful (and Instagrammable – yep you got me), Bo Kaap was one of the first place I headed to check out in Cape Town. I've been plenty of times since – most recently on a walking tour with Cape Town Free City Walking Tours.

I'm a big fan of these tours – the concept is that the guides always work their hardest to entertain and amuse as it's purely tips that they're relying on. And they definitely do – I've been on a couple now and they've been some of the most interesting and informative tours I've experienced.

Bo Kaap is a very visual place but it's also alive with history so it was good to get a bit of learning in. The area was originally the place that recently-freed Malaysian and Indonesian slaves settled in and would have been a fairly poor and undesirable area of the city. Now it's all turned around – look how amazing these houses are!
Why all the colour?
I'd been told that the reason for the colourful houses was the owners' celebration of freedom as they were released from slavery. However, our guide told us that this was actually just a rumour, of which there plenty. Another one involves a doctor who painted his house red to make it known that it was a hospital, and other tradesmen followed suit, picking a colour that represented their business.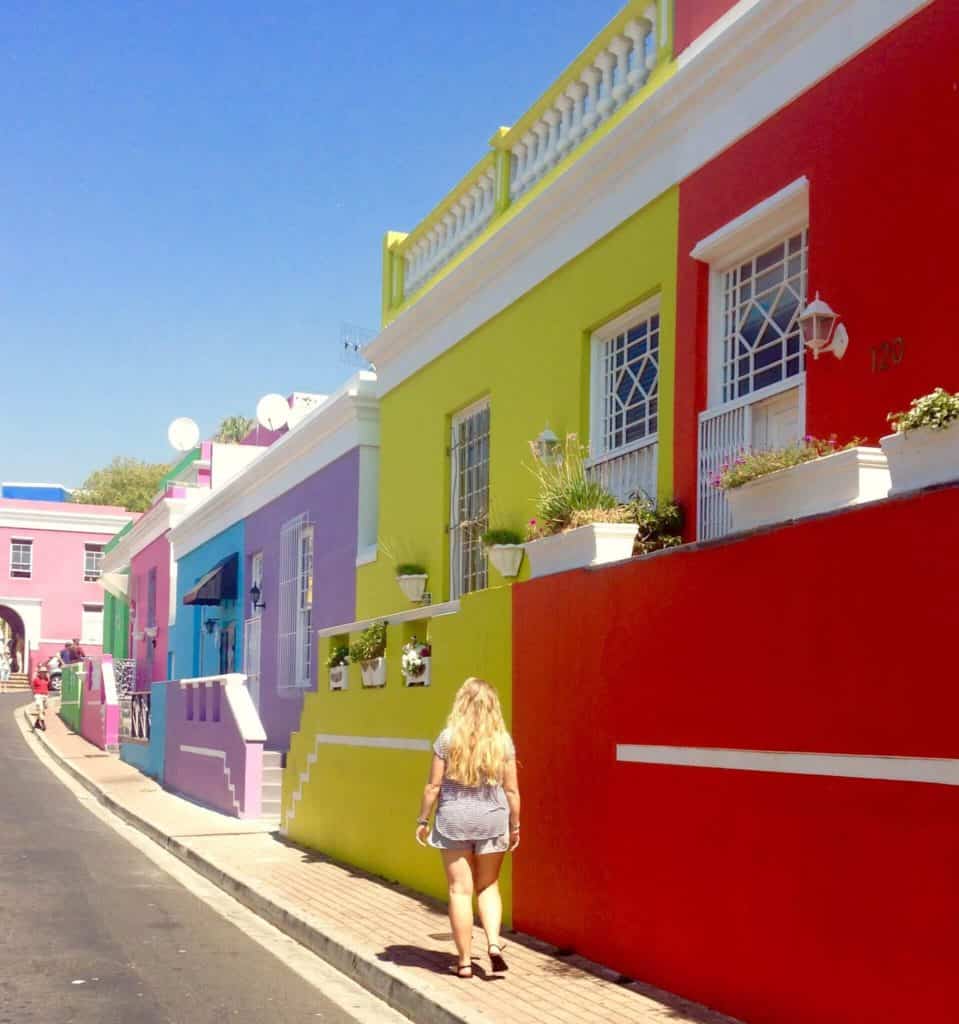 We were told this also wasn't true. In fact, the houses were all white at one point and it was during an eventful Eid celebration that they were painted and ending up staying that way.
The culture
The area is still 90% Muslim, with other cultures making up the other 10%. The reason for this is that the houses have stayed with the same families for decades – in Bo Kaap, you live and die with the same neighbours, our tour guide proudly told us. Which is actually pretty crazy – I think I've had about 50 changing neighbours in the various houses I've lived in already (and I can't say I really knew any of them).

There's one tradition that hasn't lived on in Bo Kaap. The area has always been a very sociable one with residents relaxing outside their houses in the warm weather and sharing conversation and food with friends. Back in the day, male and female visitors would have to sit on opposite sides on the porches whilst socialising – whereas today, they can sit either side and next to one another.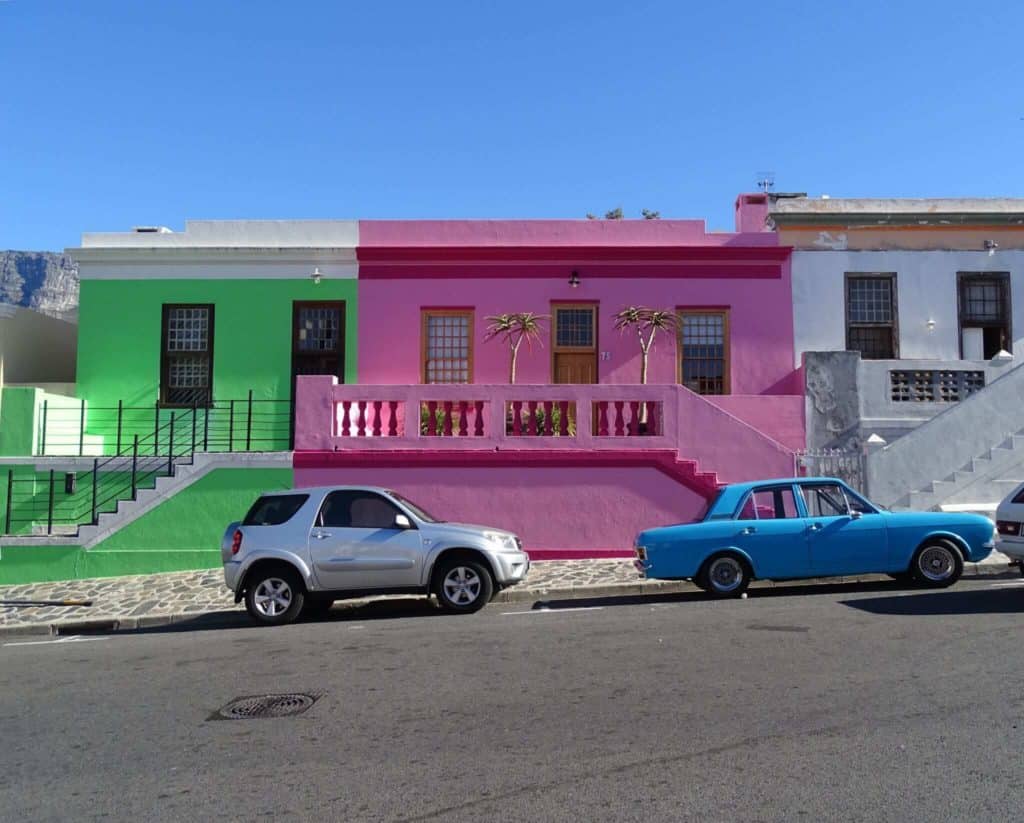 At the end of the street in the photo below, you can see the area's only mosque. When Bo Kaap was first founded, being Muslim was illegal and the residents were forced into a life of Christianity. Our guide told us the story of an Indonesian prince who had memorised the Quran word for word and wrote out South Africa's first copy meaning that the residents could revive their religion once sanctions were lifted.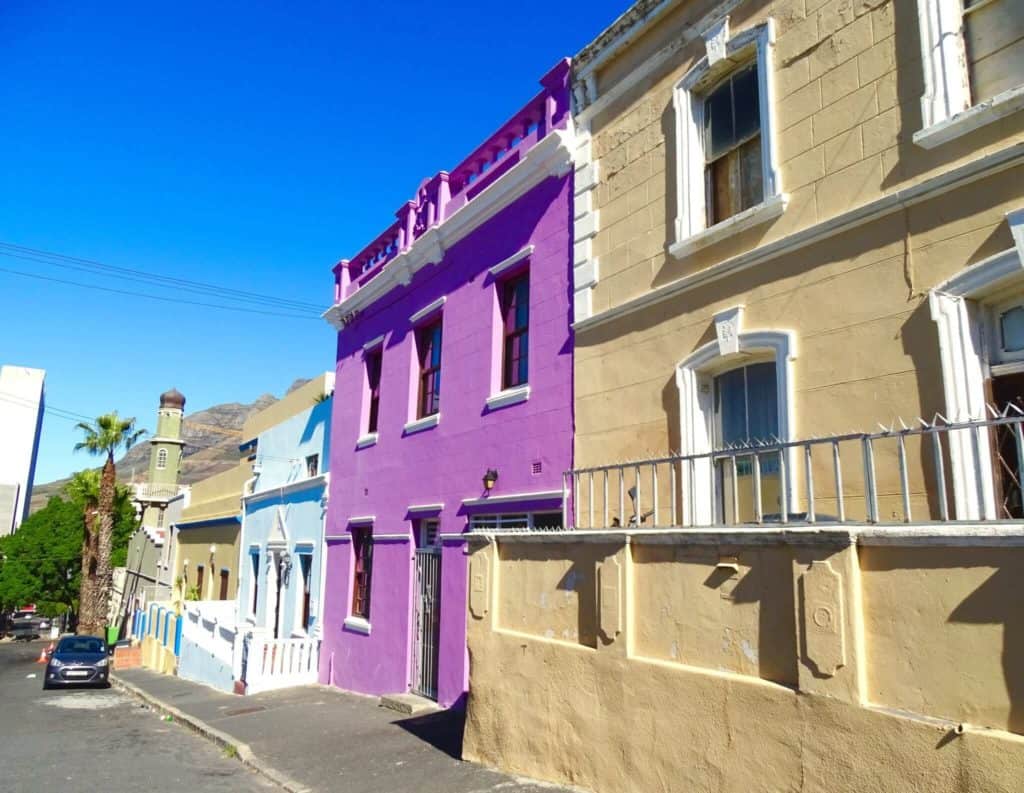 The history
For what was once considered a bad area suitable only for slaves, in the modern day it couldn't be more desirable. Bo Kaap is central to town with the added benefit of having Table Mountain as a backdrop.

But it's unlikely the stunning views were why the residents stayed put in Bo Kaap after they were freed. As they had been forced to work for free, they had little or no money of their own and didn't have the luxury of returning to their original homes in Asia. Hence, their new communities formed and have become an integral part of the city's culture.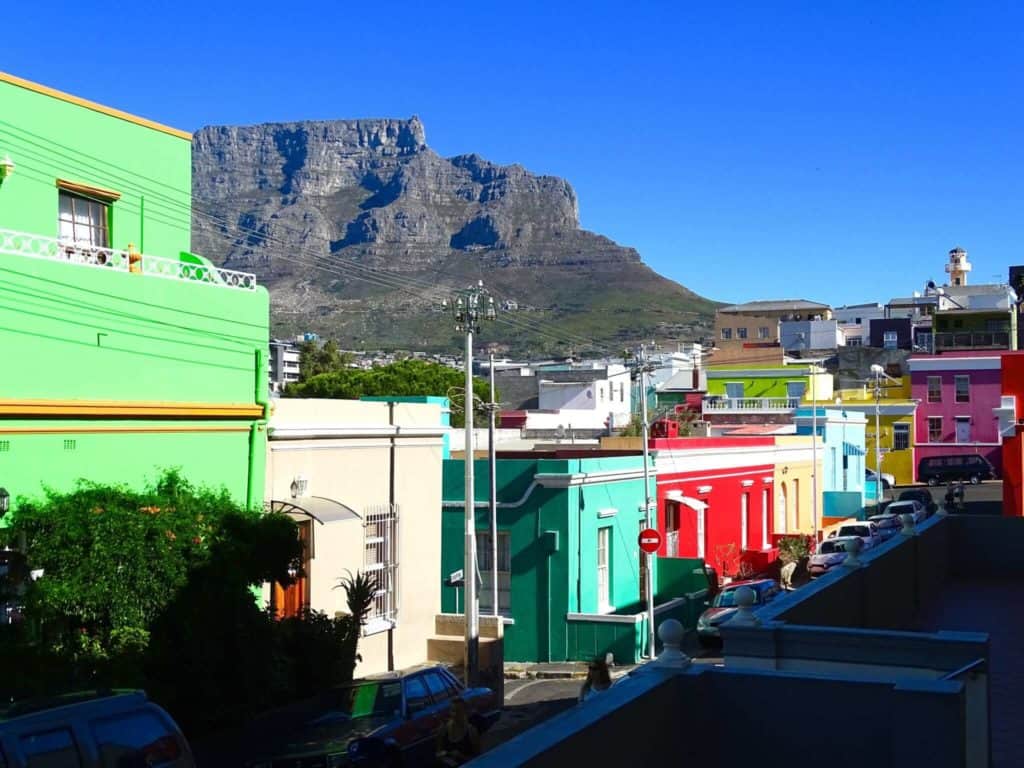 Interestingly, Table Mountain is more than just a pretty backdrop. Many of the houses in Bo Kaap were originally made of rocks and clay from the hillside itself.

Better than sections of the Great Wall of China being glued together with glutinous rice, I suppose!

I have an insane amount of photos from my walk around Bo Kaap, so let's go with a bit of a gallery getting down to the important stuff – food!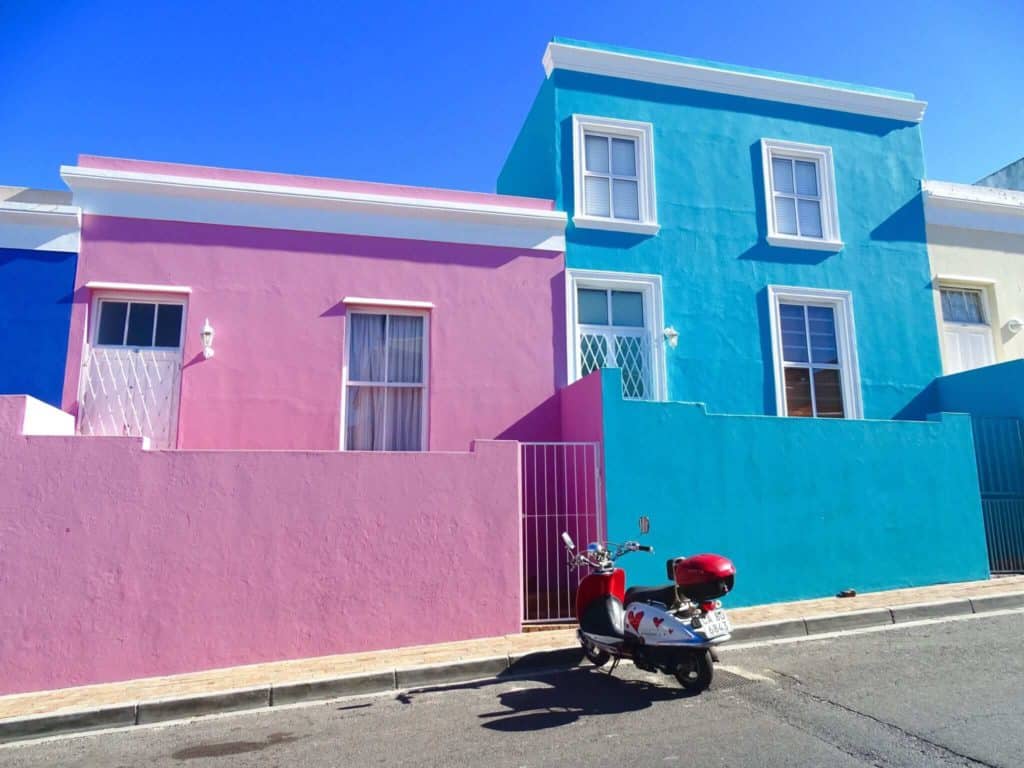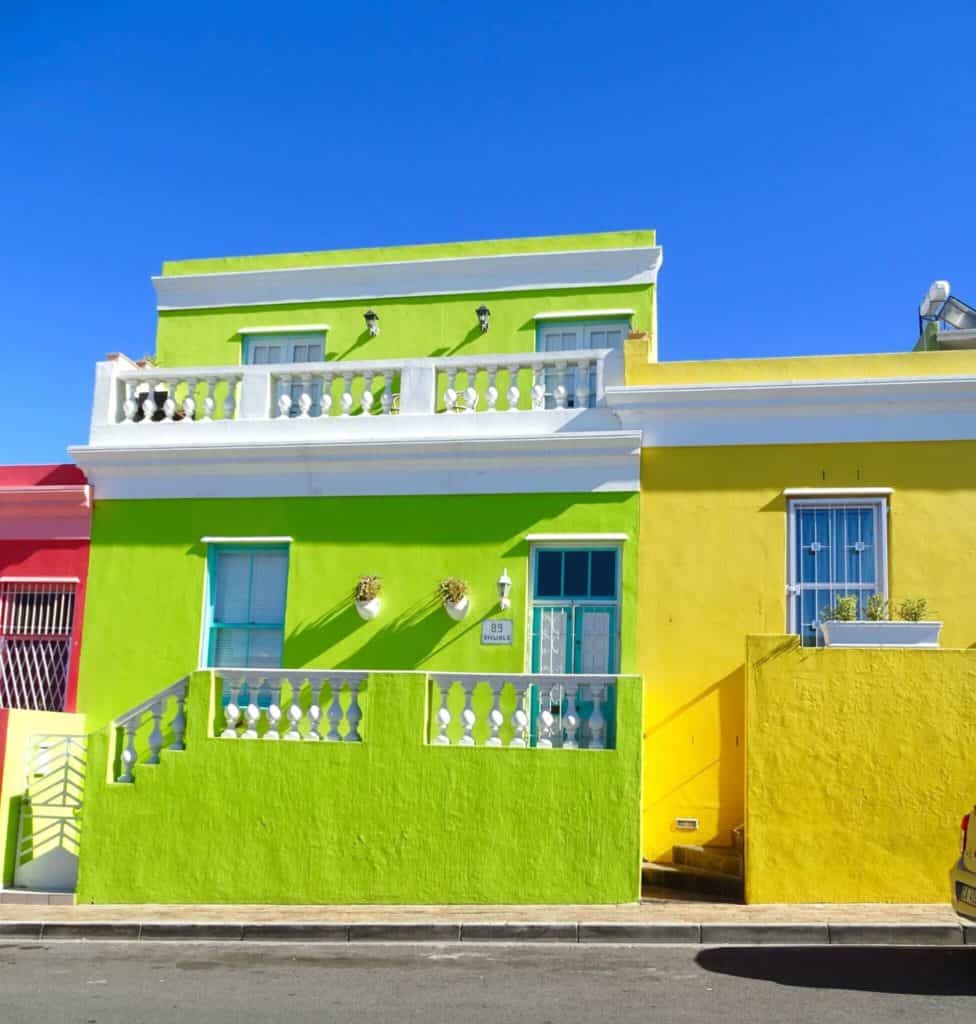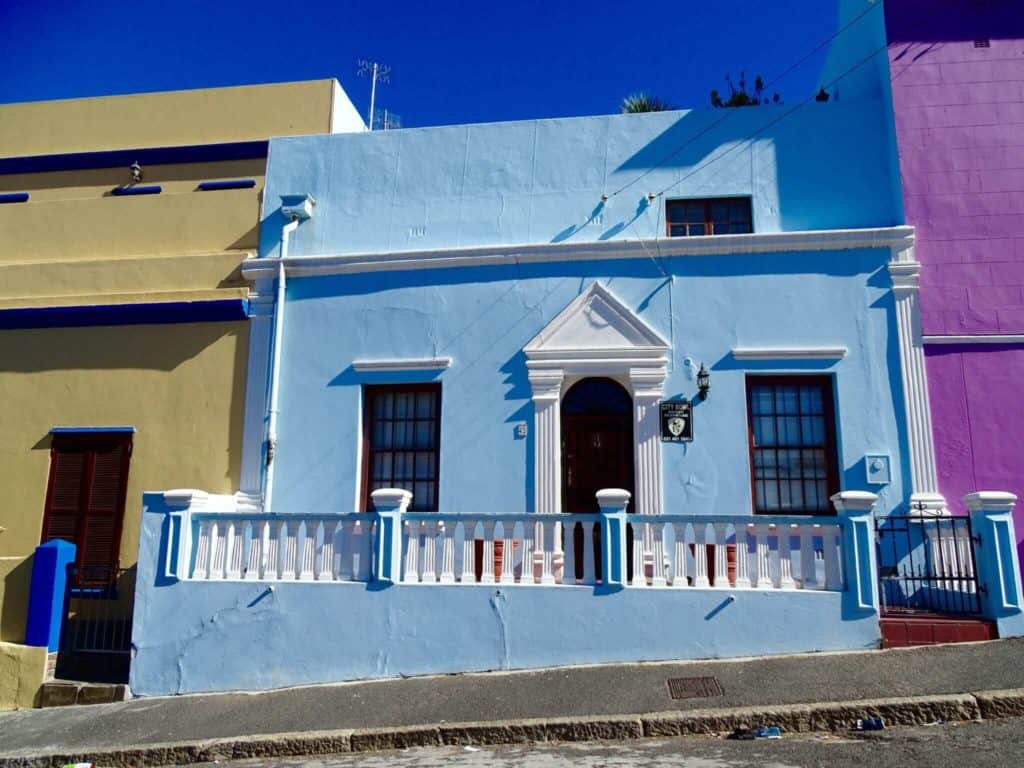 Eating
If you get hungry from all the walking and photography you're bound to do in Bo Kaap, there are a couple of good local restaurants such as Biesmiellah and Bo Kaap Kombuis. You'll find all kinds of Malay/Indonesian curries, rotis and rice dishes – but if you're looking for something a little more specific to South Africa, try:
Bobotie – spiced, minced meat cooked with apricot and an egg topping
Bunny chow – a hollowed-out loaf of bread filled with curry. SO YUM.
Koeksisters – a sweet treat made of warm, soft dough coated with a sweet glaze and topped with grated coconut, Honestly, I could eat about 20 of these in one sitting! Find these at Rose's Cornershop (not just saying that because of the fab name) which you can't miss due to its bright exterior.
If you're really feeling intrigued by the cuisine, why not try a Bo Kaap cooking course? I had the best time making Cape Malay curry, samosas and roti with local chef, Faldella, at Cooking With Love school. Read about in my Bo Kaap cooking class review for more details.
Thanks for reading!
If you liked it, please share it 🙂
Check out my other Cape Town & Africa posts:
See you next time for more adventures,
Rose x
Ps. Liked this guide to visiting Bo Kaap Cape Town? Pin it for later!