This post may contain affiliate links to things like tours, hotels, Amazon associates and products. These help me earn a small commission at no additional charge to you.
Visiting Borobudur temple
Borobudur is one of Indonesia's eight UNESCO Heritage Sites, and nearby Prambanan temple is another. Of those eight, four are classed as 'natural attractions' meaning these two make up 50% of all Indonesia's cultural ones.

Even if you have a limited amount of time, it's easy to squeeze the temples into your Yogyakarta itinerary.
Borobudur intro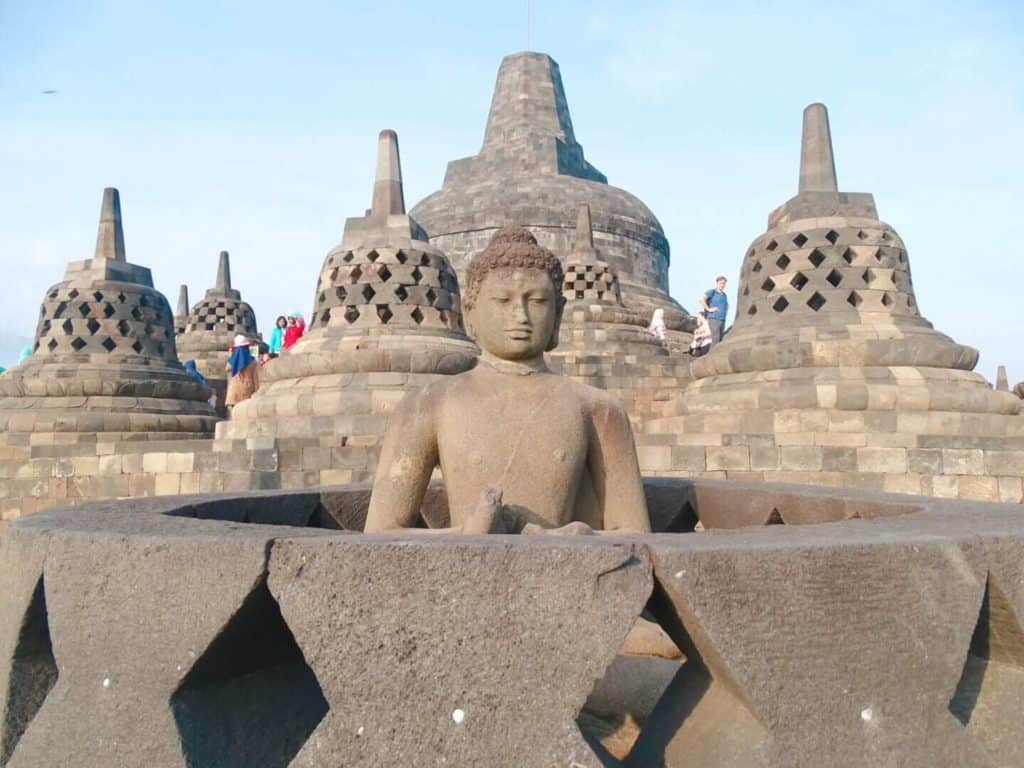 There are no less than 504 Buddha statues dotted around this massive temple structure.

Borobudur was designed to look like a flowering lotus from the skies, something you'll have to believe as drones at the site are banned – thank God. Side note but I absolutely hate drones. They're so loud and irritating and why do users think their experience is more important than everyone else's?

Back on topic, Borobudur dates back to the 9th century when Buddhists lived on Java. There were plenty of Hindus then too but nowadays the official religion is Islam.

Borobudur is the most visited attraction in all of Indonesia as well as the most popular Yogyakarta day trip, a fact you'll certainly believe when you visit!
How to visit Borobudur at sunrise
The best way to see sunrise at Borobudur Temple is by taking an organised Borobudur sunrise tour from Yogyakarta. Although a public bus does service the temple site, it doesn't arrive early enough to see sunrise.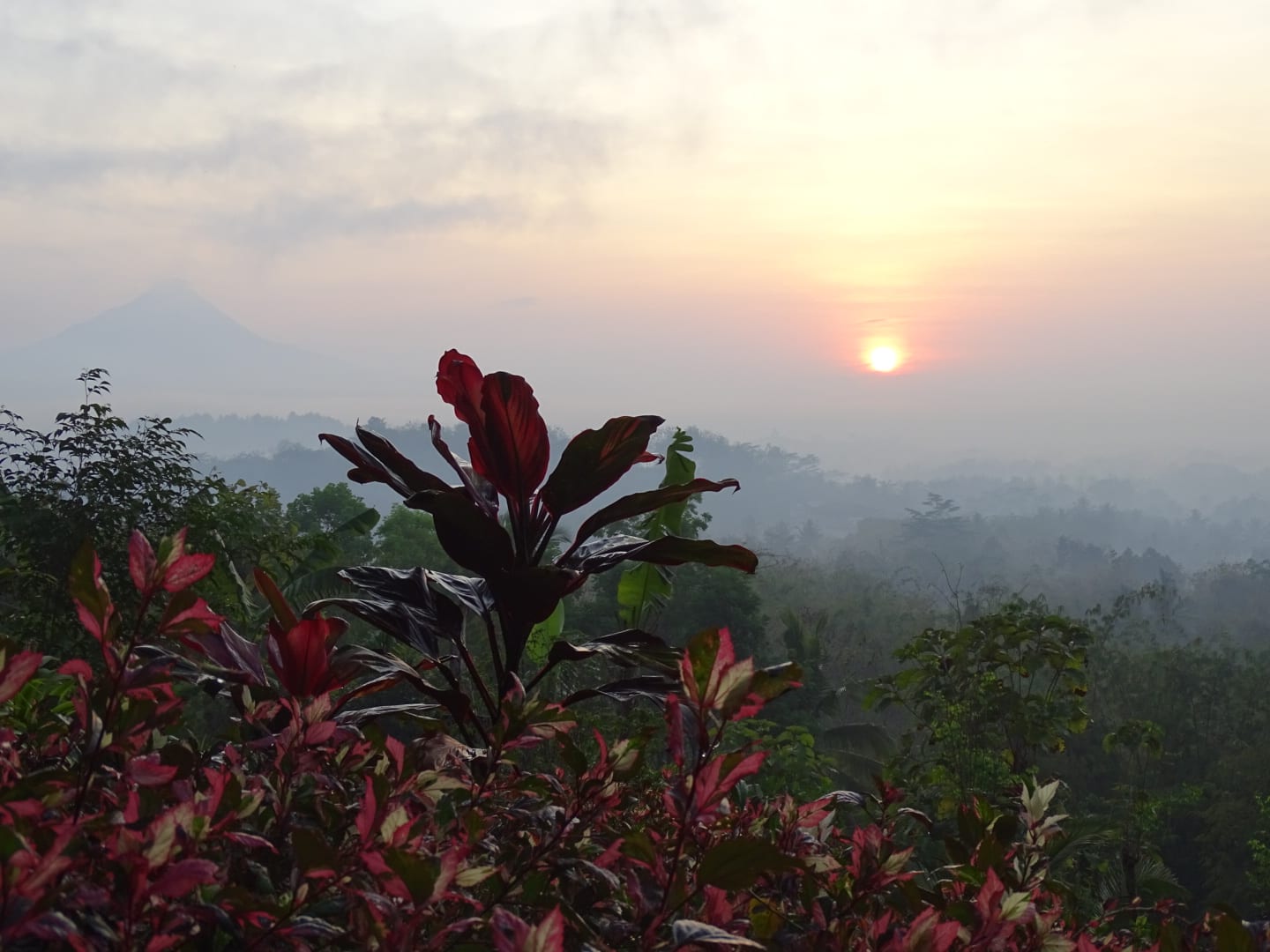 Is sunrise at Borodbur worth it?
Although it was exhausting, for me it was worth visiting Borobudur Temple for sunrise. Getting there for 5.30am means leaving Yogyakarta at 3.30am… I felt okay at the time but truly dreadful in the afternoon!

Despite that, watching the sun rise over the ancient stupors in a misty valley was nothing short of magic.
The two Borobudur sunrise options (inc ticket prices)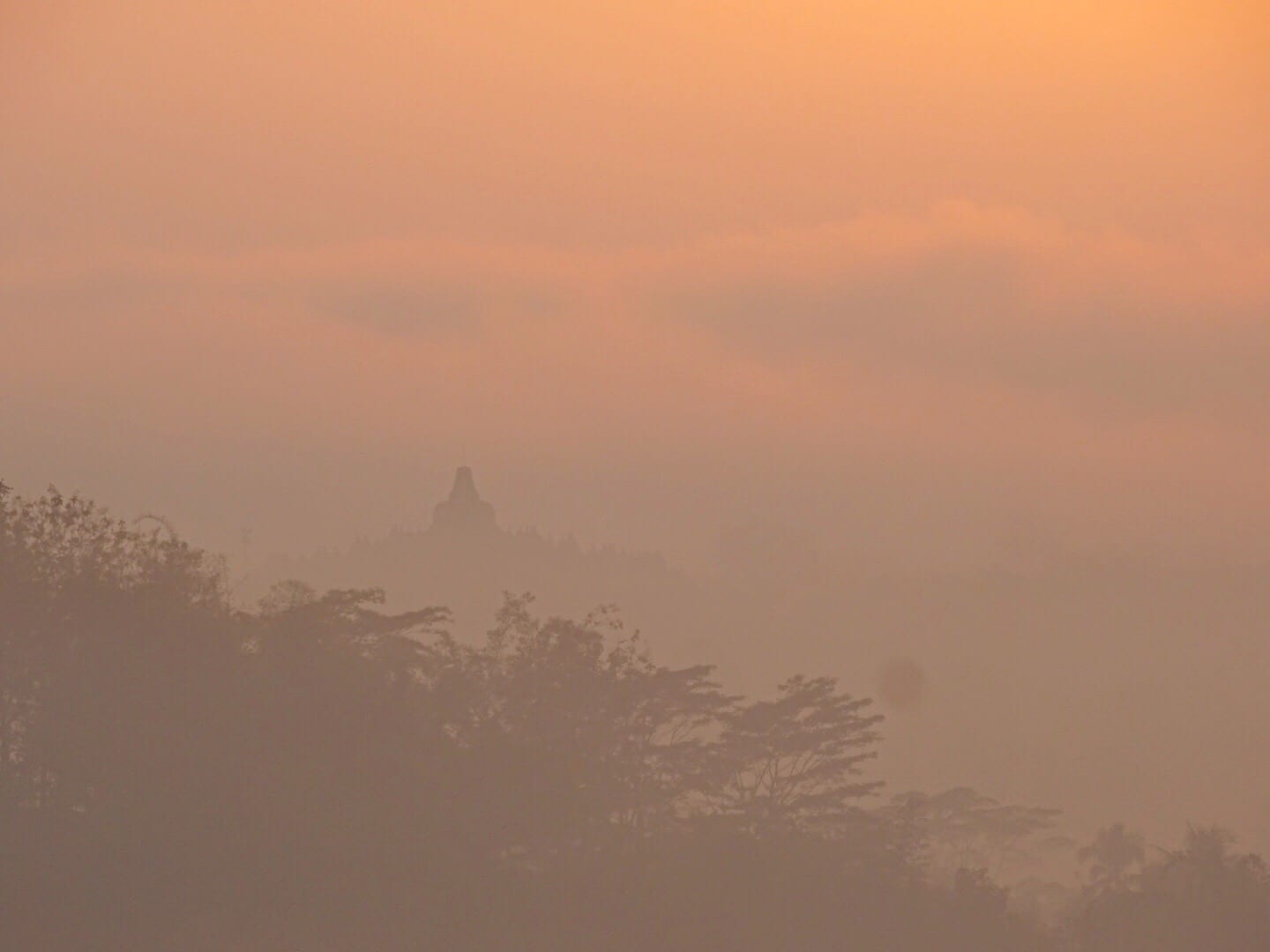 When our tour guide gave us a choice between watching the Borobudur sunrise from a hilltop or from inside a hotel, I went for the first option as it sounded more adventurous.

The Manohara Resort option just means you're already inside the temple for sunrise. The site officially opens at 6am but you can pay an increased fee to see sunrise inside Manohara (located inside Borobudur temple site) at 4.30am.

I saw photos and it does look gorgeous. I don't think you can go wrong with either to be honest.

If you choose the Setumbu Hill option, you'll see Borobudur from further away but it's still spectacular. If you're on a budget, this is the cheaper option as you'll purchase a regular entry ticket at 6am when the site opens. You won't capture the stupas at sunrise but you can go inside afterwards to get your photos in early daylight.

You'll pay 30k IDR ($2) for sunrise at Setumbu Hill. Bargain!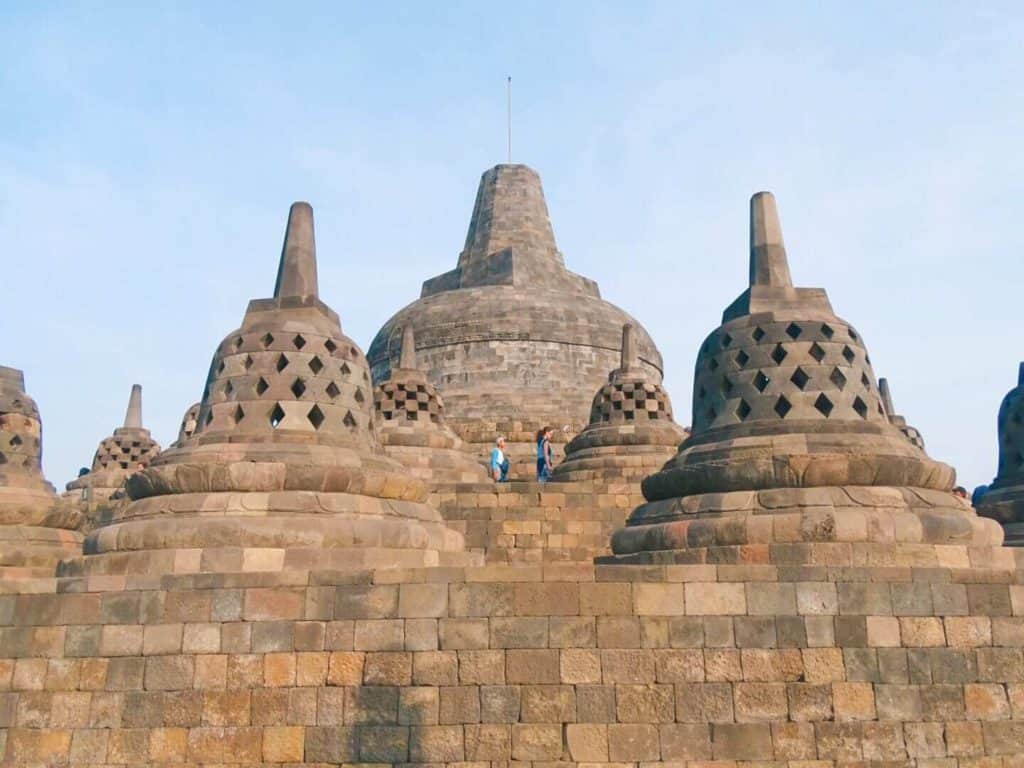 Can you visit Borobudur by public transport?
Yes, you can visit Borobudur by public bus but you wouldn't get there for sunrise.

It departs from Jombor Bus Terminal which is a bit out of town so you'll need to catch the Trans Jogja 2B bus there for only Rp. 4,000. Once you reach Jombor Bus Terminal, it's another Rp. 25,000 on a local bus to Candi Borobudur.
Borobudur entrance fees
Entry to Borobudur in 2022 costs 350,000 IDR ($25 USD).

These are the official entry fees however there's a different set of fees if you choose to watch sunrise from Manohara Resort which costs 500,000 IDR ($35)

The temple site is officially open from 6am-5pm so, once you've seen sunrise over Borobudur from the hill, you can enter the site when it opens. Then you have all day – not that you need that long. I spent around 2 hours inside.
Do you need your passport?
I read online that you did but actually, no one checked my passport. You should be fine without it but you could bring it to be safe.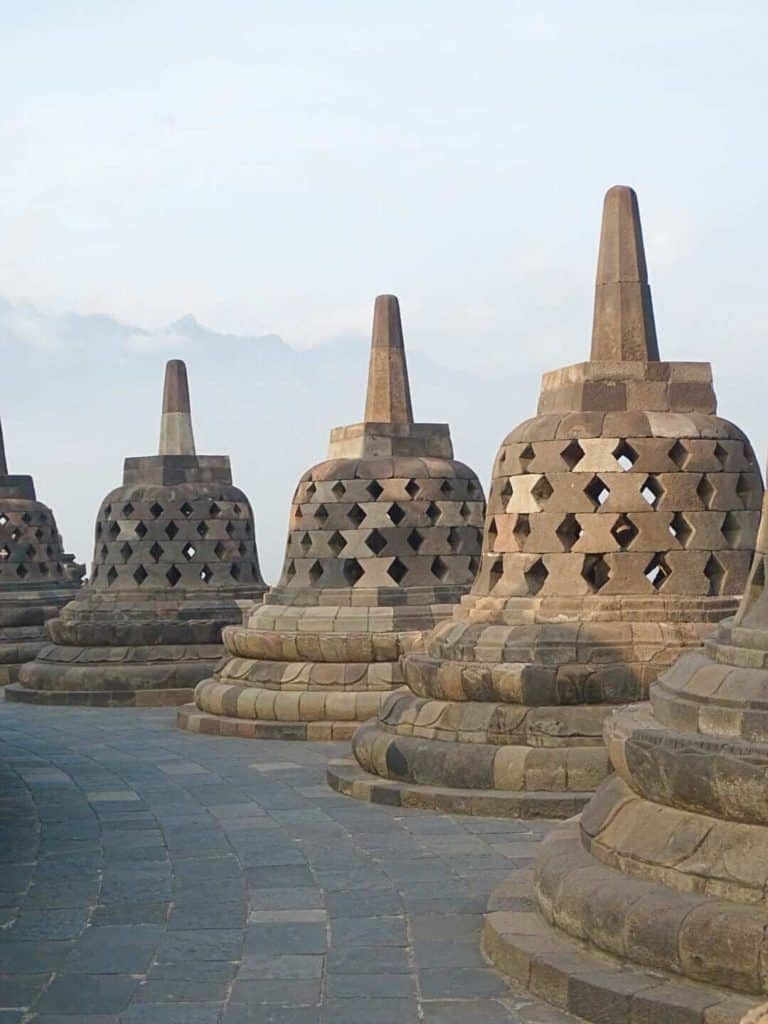 What to wear
The dress code when visiting Prambanan is relaxed and you can wear whatever you want. No one will make you cover up but it's polite to look respectful. Knees and shoulders are the ones to cover.

At Borobudur, covering your knees is enforced but if you don't have anything to cover up with, you'll be lent a sarong. I actually had my own but theirs were nicer with a silhouette of Borobudur on the fabric.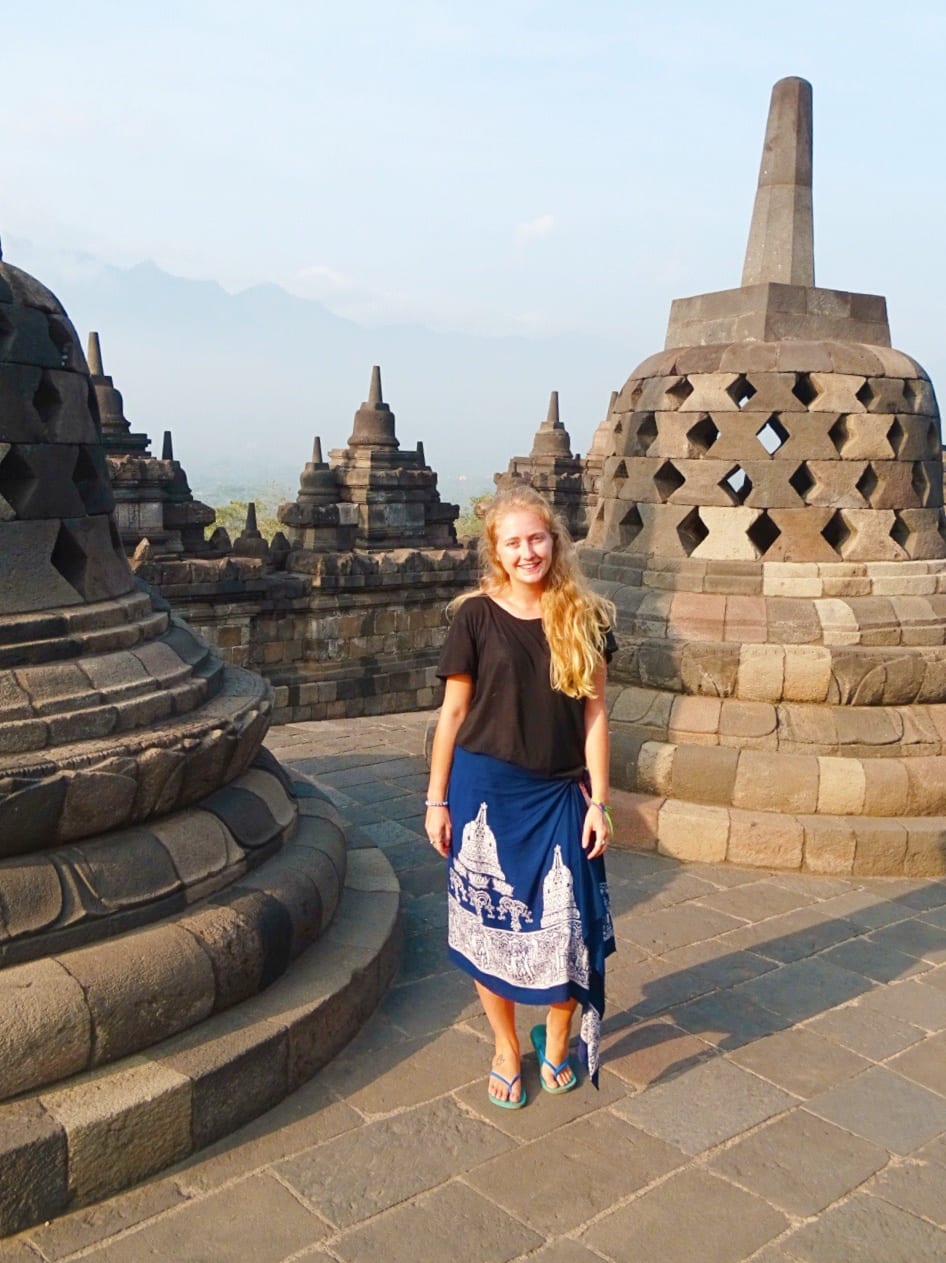 Tip – check Borobudur sunrise times!
The time of year might influence your plans. There are times when the sun rises at 5.50am so you can afford to get up a little later. You can also purchase a regular entry ticket and catch the last of sunrise from inside the temple site without paying the premium price for the Manohara Resort Borobudur sunrise ticket.

At other times of the year when the sun rises earlier, you'll only be able to see sunrise inside Borobudur with the premium ticket. Of course, there's also the Setumbu Hill viewpoint year-round.

Here are the Borobudur sunrise times around the year.
Visiting Prambanan Temple during the same day
If you just have time for one, I'd definitely recommend Borobudur. For me there was no contest.

Saying that, it's easy to do both especially if you take an organised day tour to Borobudur and Prambanan. It's worth noting this isn't currently a sunrise Borobudur tour; it departs later in the day at a time of your choosing.

Ask at your accommodation – they may be able to offer a sunrise tour to both not listed online!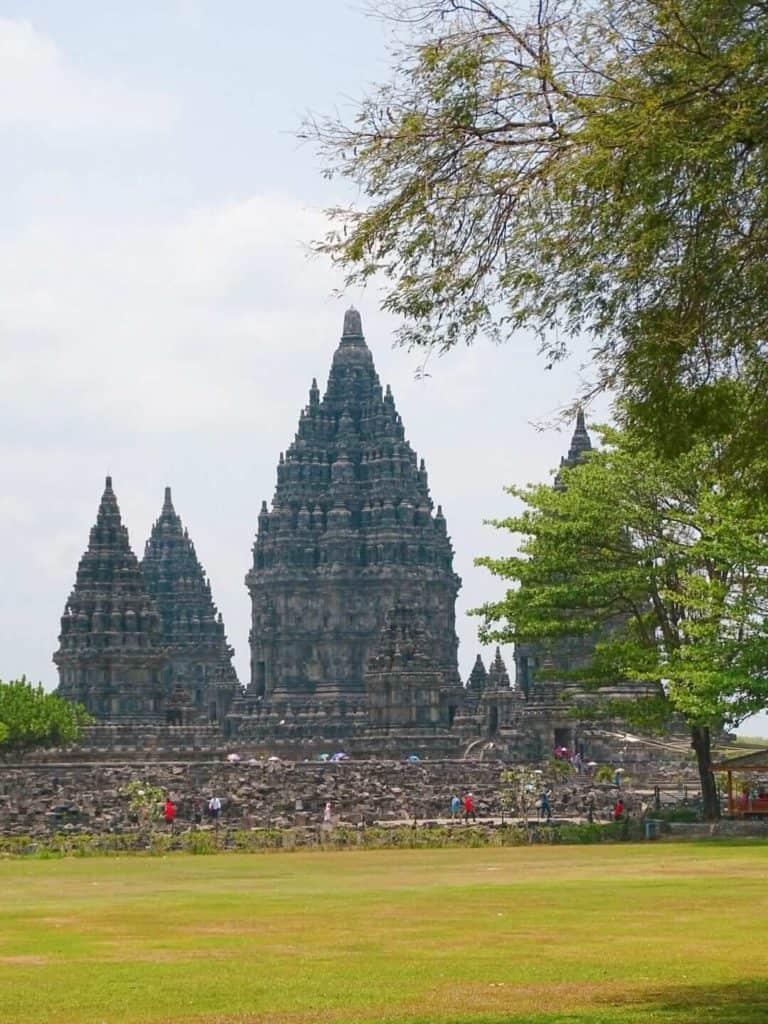 Prambanan has a few things in common with Borobudur: it's yet another UNESCO site and it also dates back to the 9th century.

There's one massive difference, however, which is that it's a Hindu temple rather than a Buddhist one. You'll notice the very different style and the statues of Vishnu and Shiva rather than the Buddha.
Buy your entry ticket including a guided tour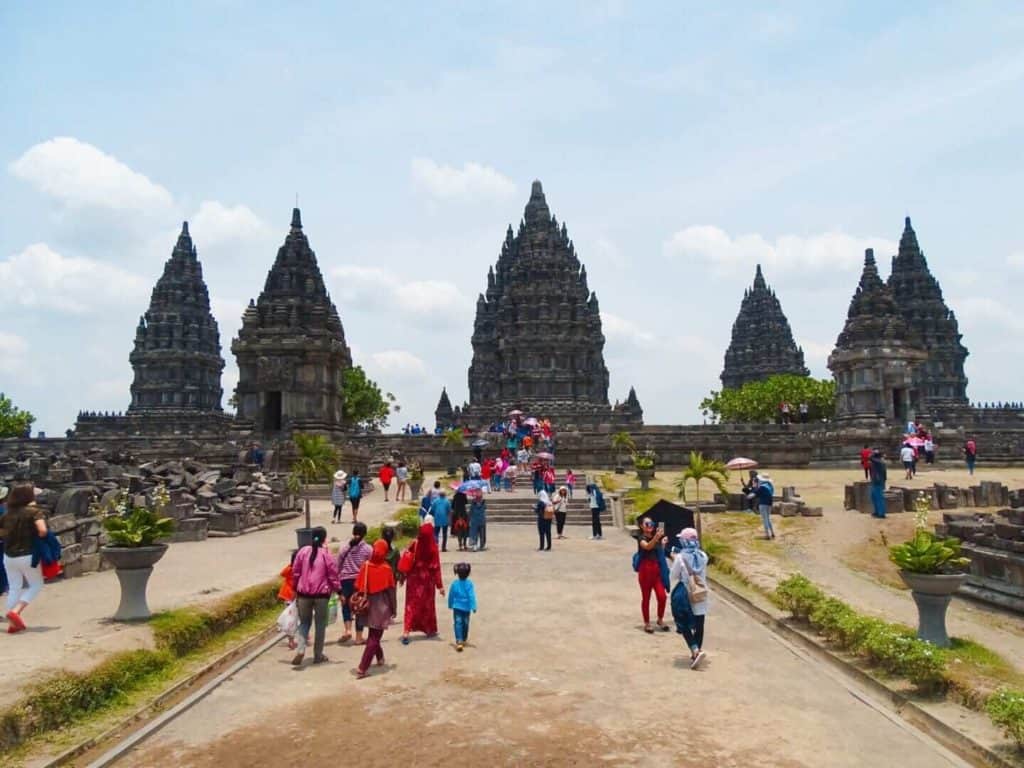 Prepare for the fact that a lot of Indonesian students will want to practice their English with you at Prambanan. Many of them travel by bus from other towns, especially on Saturdays.

Two lovely girls ended up showing me around and I was happy to chat with them, but you shouldn't feel bad saying no thank you. Unless you look like a local, you'll have to keep repeating that phrase as the selfie sticks come out. You're likely to be the subject of a lot of attention at both temples. I can't lie, it was a little overwhelming.

Tip for visiting Prambanan: Your exit will take at least 30 minutes through the world's longest array of market gift shops. If you have a vehicle waiting for you, this is particularly useful to know. Luckily I left enough time!
Getting to Prambanan by public bus
If you'd rather save money and visit independently, take the green 1A bus from Malioboro Street to Prambanan. It only costs Rp. 4,000 which is about 20p. Crazy cheap! This is the option I'd have taken had I not wanted to visit both Borobudur and Prambanan during one day.
Can you visit Borobudur and Prambanan in the same day by public transport?
In short, no. Also, you definitely wouldn't see sunrise at Borobudur!

Reaching Prambanan by public transport is easy, and it's also not too difficult to get to Borobudur by bus from Yogyakarta. But no public transport runs between the two, so a day tour is the best option.
Thanks for reading!
I hope you have a better idea of how to visit Borobudur from Yogyakarta and what to see and do there. It's truly a magical place so don't miss it!
Check out my other Yogyakarta blogs:
See you next time for more adventures,
Rose
For more content, follow me on Instagram, Facebook, Twitter and YouTube.
Liked this? Pin it for later!