This post may contain affiliate links to things like tours, hotels, Amazon associates and products. These help me earn a small commission at no additional charge to you.
This blog is about the best Bratislava restaurants, cafes and street food markets. We'll also run through what to eat in Bratislava so you can sample all the tastiest local dishes.
I'll admit I'd never really thought of Slovakia as a tourist destination. But as I planned my Eastern Europe trip from the Czech Republic through to Romania, I realised that not only was Slovakia en route, but it looked pretty cool.

As a foodie, the chance to try Slovakian food, a brand-new cuisine, was also a tempting reason to visit. As soon as I confirmed my trip, I started researching the best places to eat in Bratislava. Food is always the first thing I research when planning a trip and I doubt that will change soon!
BRATISLAVA ESSENTIALS

Tours & activities: GetYourGuide / Viator

Accommodation: Booking.com / Hostelworld

Getting there: air (Skyscanner) / bus (Flixbus), train (RailEurope)

Getting around: foot / bus / tram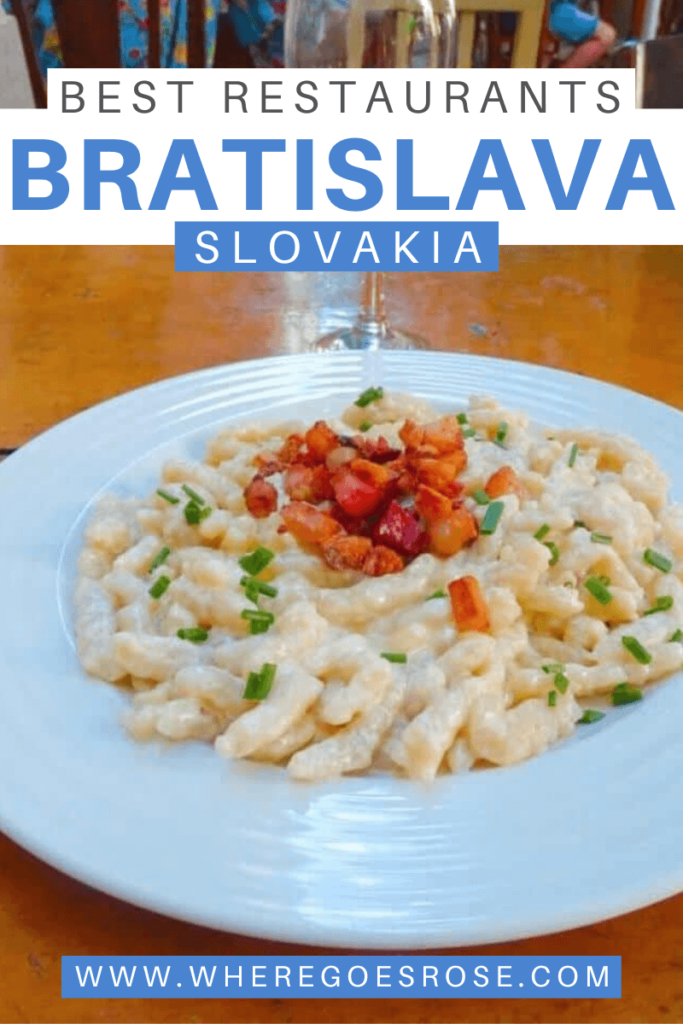 Read next: the ultimate 1 day itinerary for Bratislava
What to eat in Bratislava
Many of the popular Slovakian dishes stem from a few key ingredients. I've seen this in other places, like Vietnam where many of the dishes are made from rice and pork in different forms.

Here in Slovakia, I discovered that cheese and dumplings were at the heart of most tasty local meals. If you know me, this is my own personal heaven!

If you're wondering what to eat in Bratislava, try these typical dishes. Afterwards, we'll cover where to eat including my favourite Bratislava restaurants.
Want to explore with a local guide? Take a traditional food tour with a local expert.
Bryndzové halušky (sheep's cheese gnocchi)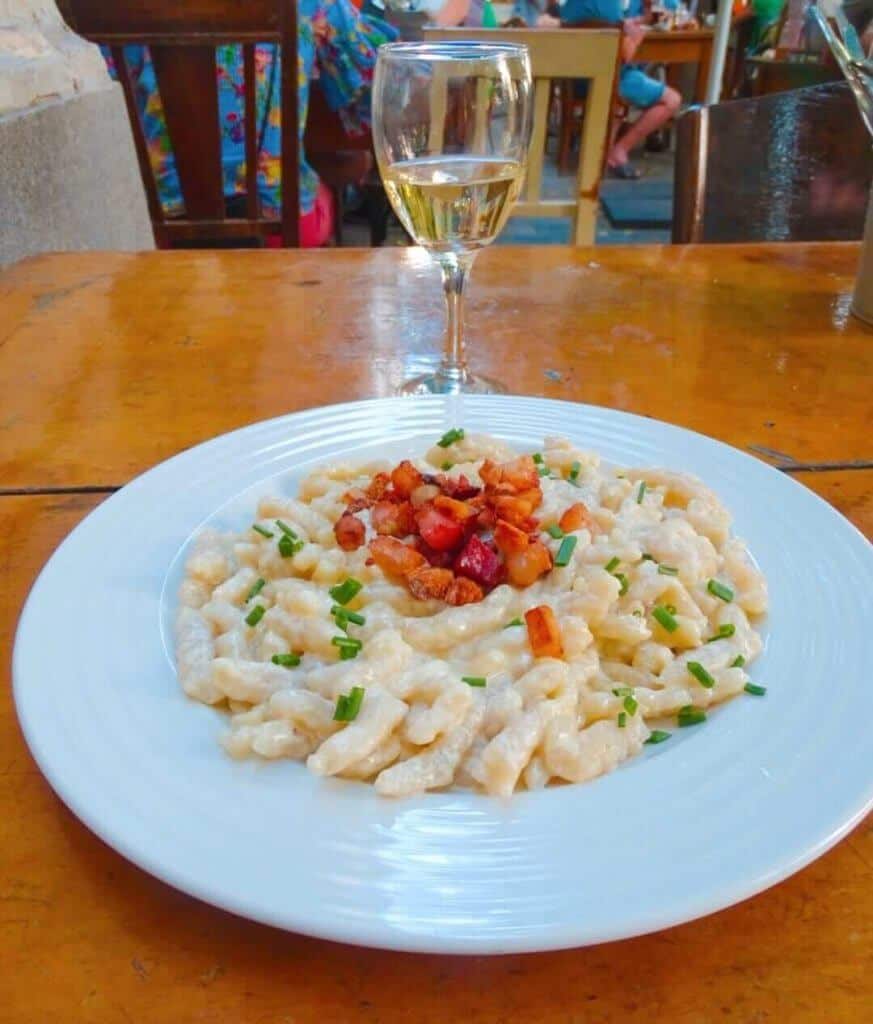 Thought gnocchi was Italian? When I first saw bryndzové halušky on Bratislava restaurant menus, I wondered if it was an Italian dish that the Slovakians had come to love.

I was wrong: this is typical in Slovakia. In fact, it's the country's national dish. These potato dumplings are smaller than Italian gnocchi but they taste virtually the same.

Sheep's cheese is the most famous type of cheese in countries including Slovakia, Romania and Bulgaria. It's crumbly with a rich salty, taste milder than feta.

Bryndzové halušky is served in a cream sauce and topped with chives and crispy fried bacon. There's absolutely nothing healthy about this dish but it's truly delicious!
Kapustnica (cabbage soup)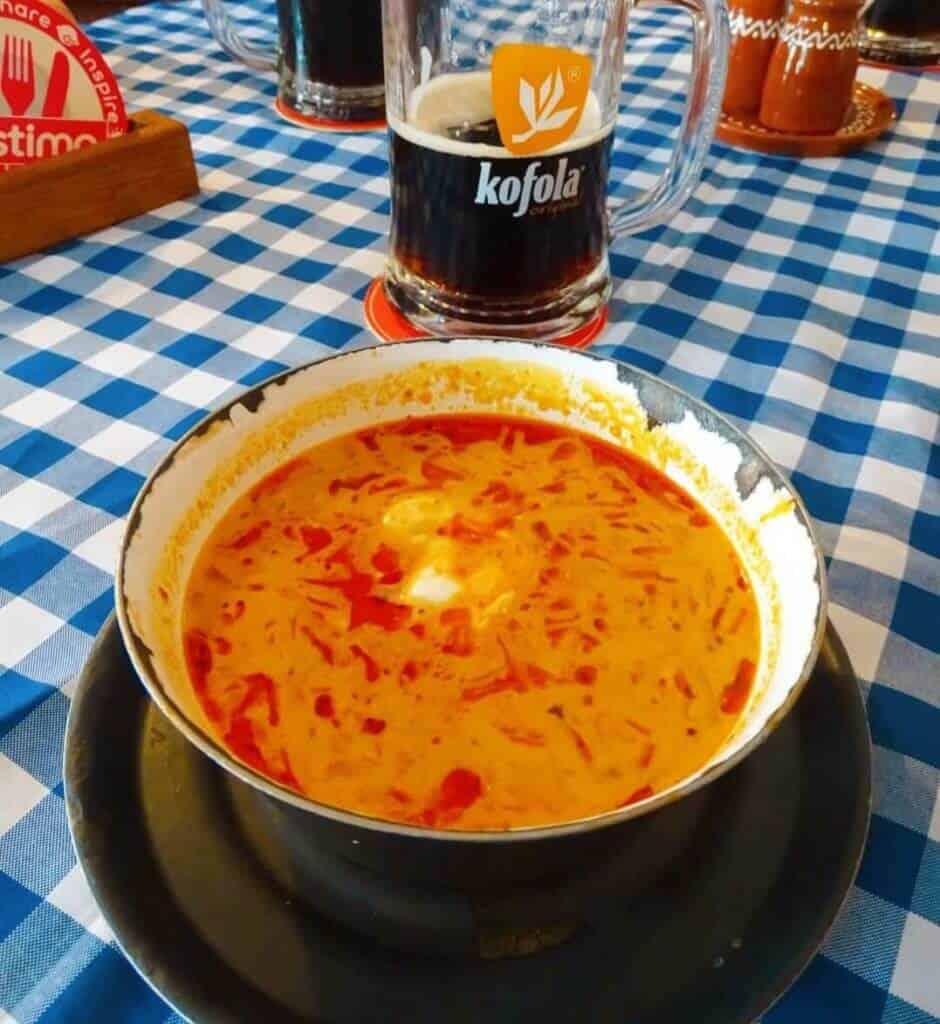 For the second dish in my Bratislava food guide, I'm introducing cabbage soup. This is a dish that doesn't sound overly delicious – in fact, it sounds pretty grim.

However, I'd advise you to cast all notions of watery cabbage soup from your mind. In Slovakia, this dish is rich, buttery and packed with flavoursome chorizo. Heaven!

I ate this dish as a starter at Slovak Pub, one of the best restaurants in Bratislava, but it really could have been a main meal.
Goulash
Who doesn't love a hearty goulash? The answer might be anyone who's spent considerable time in Eastern Europe and has eaten far too many!

Goulash is typically a Hungarian dish but you'll also find it in Romania, the Czech Republic and Slovakia.

Goulash is a hearty stew served with meat (usually beef), potatoes and vegetables. In Slovakia, you'll often find it with a side of bready dumplings or, better yet, served inside an edible bowl.
Bryndzové pirohy (potato dumplings)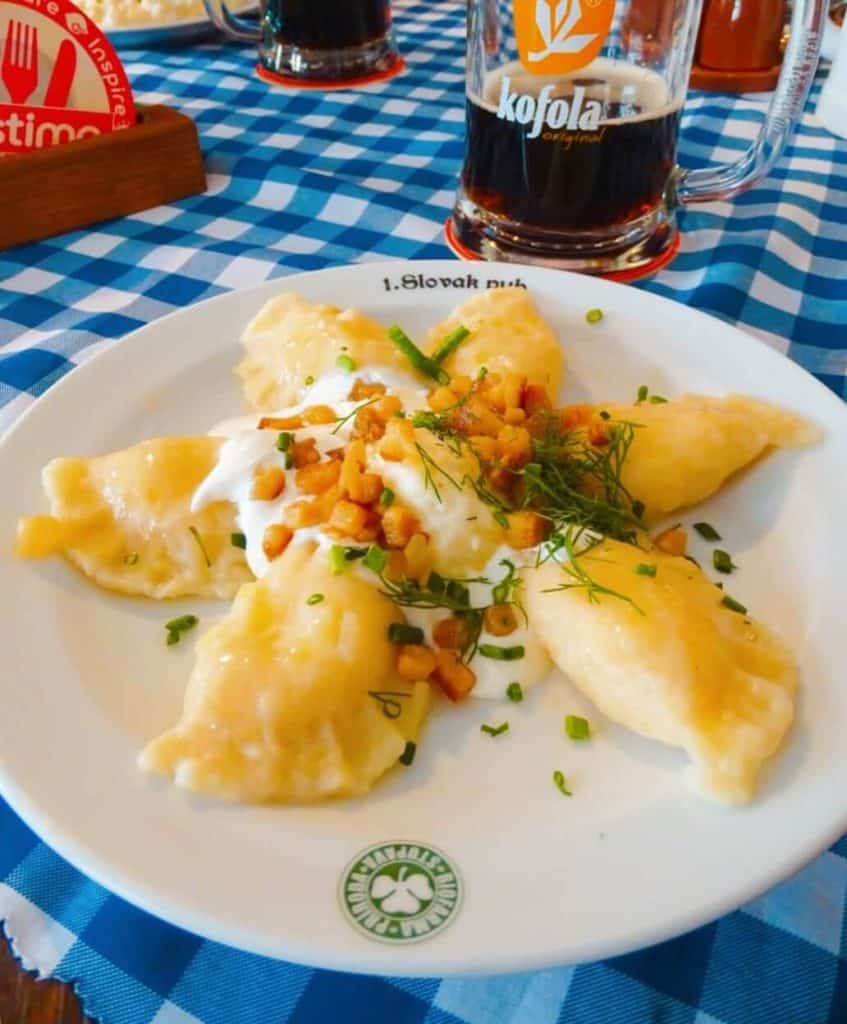 If you recognise the word bryndzové from the first entry in this blog, you'll know that this dish involves more sheep's cheese.

I found these potato dumplings even richer and more indulgent than bryndzové halušky because they're stuffed with generous portions of sheep's cheese. They're also drizzled with sour cream and bacon like much of the food in Slovakia.

They could serve as a main dish but I'll salute you if you eat them as a starter.
Bratislavský rožok (poppyseed pastry)
After a hearty dinner of bryndzové halušky, I made the ambitious decision to peruse the Slovakian dessert counter.

I came away with a crescent-shaped pastry stuffed with a sweet poppy seed mix, something I'd also tried in Prague a few days previously.

You'll find these in bakeries and even corner shops for less than a Euro, making them one of the cheapest Slovakian foods to try.
Smažený syr (fried cheese)
Are you surprised to hear there's another popular Slovak food made with cheese?

Smažený syr translates as fried cheese and is popular both in the Czech Republic and Slovakia. These countries used to be one under the name Czechoslovakia and share 90% of the same language. A few foods overlap but actually, I was surprised that the cuisine was so different.

Smažený syr is served in oozy battered squares on bed of French fries with a dollop of sour cream. How amazing and indulgent does that sound?
Slovenske palacinky (Slovakian pancakes)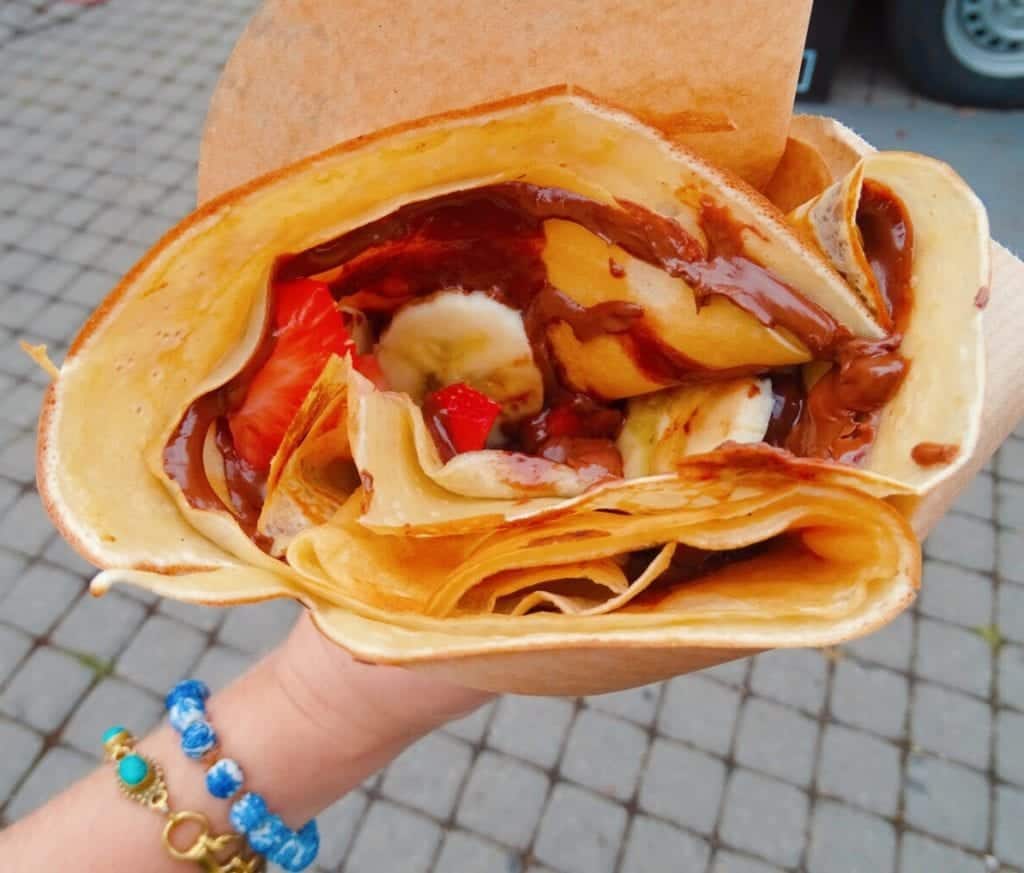 As Shakespeare once said (well, more or less), a pancake by any other name would taste as sweet.

He was right! Slovenske palacinky translates as Slovakian pancakes which are more like crepes than thick breakfast pancakes. Sure, these can be found around the world but why not indulge while in Slovakia? When in Bratislava, I say.
Poppyseed pasta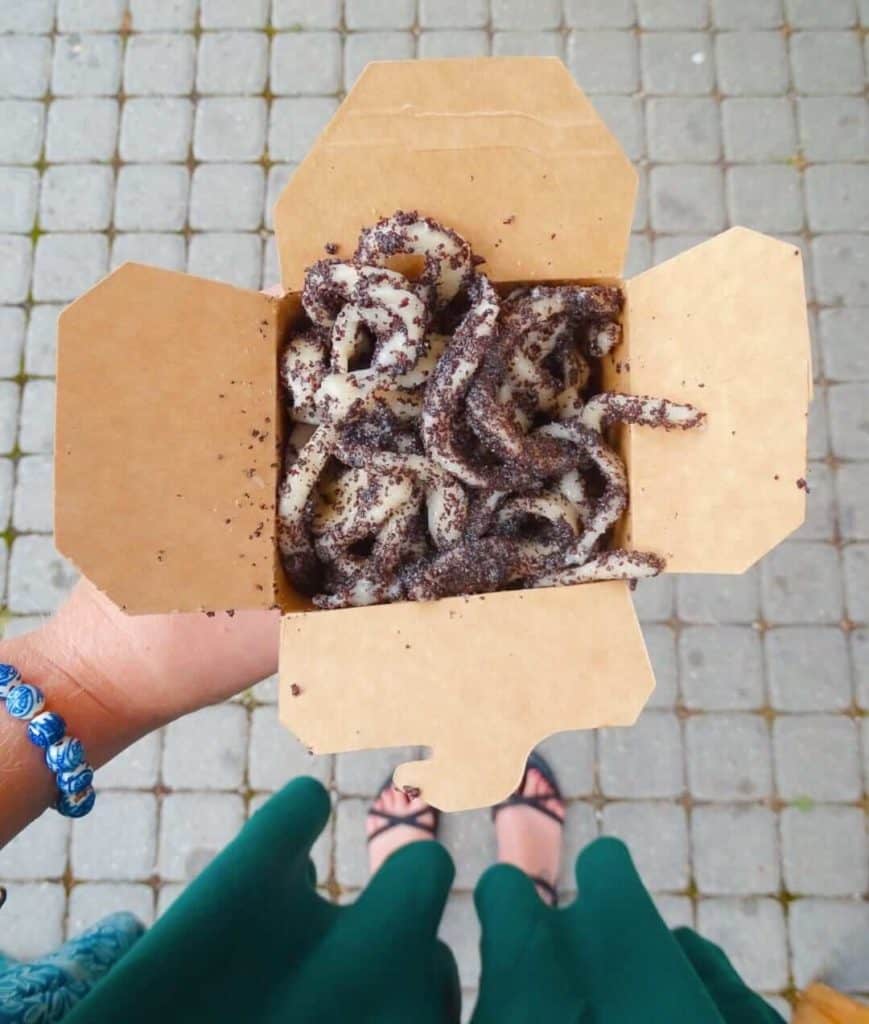 Wondering what to eat in Bratislava that isn't slathered in cheese and bacon? As I mentioned before, poppy seeds are popular in Slovakian cuisine. In recent times, traditional ingredients have been used to flavour more modern foods.

Poppyseed pasta isn't a traditional Slovakian food but a modern dish combining Italian food with old-fashioned Slovak ingredients. The result was pretty tasty although I've never sampled sweet pasta before. It was carby and moreish so I think I could get used to it.

I ate this dish at a hipster food market beside St James's Church. Swing by for food, live music and poppy seed pasta.
Trdelník
Another Eastern European staple, chimney cake should be eaten wherever you go. Trdelník originated in Hungary but that's no reason not to indulge while in Slovakia.

Heated dough wrapped into a circle shape can be eaten with chocolate, nuts, cream or fruit.
Bratislava food experiences
I love food tours when travelling solo because you get to share lots of things without getting full / having to pay for them all! Here are a few recommended food experiences in Bratislava:
Best restaurants in Bratislava
If you're like me and only have time to visit one city in Slovakia, it's likely to be Bratislava. There are plenty of overpriced, touristy restaurants in the city centre that serve bryndzové halušky alongside burgers and pizza. Do yourself a favour and skip these.

For well-priced, authentic food in Slovakia, check out these best restaurants in Bratislava Old Town…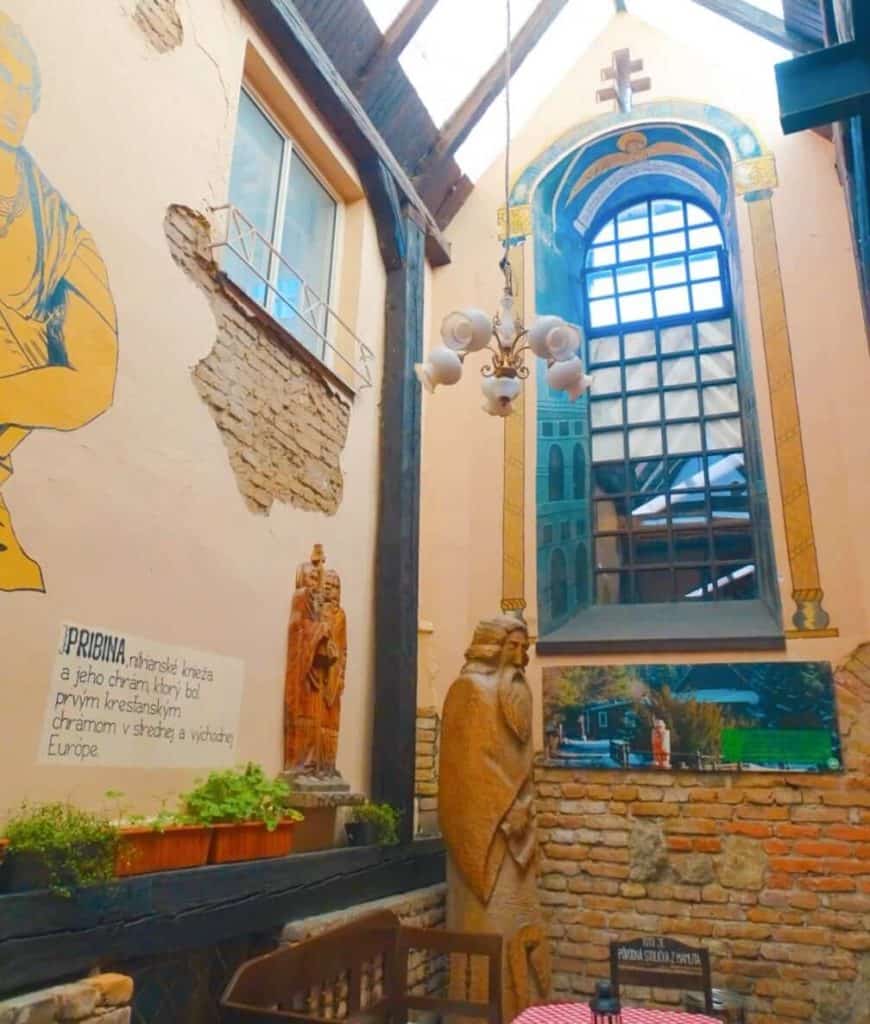 Slovak Pub
Here you'll find some of the best food in Bratislava. Yes, Slovak Pub is touristy but for good reason: the food is cheap, the prices reasonable and the decor quirky and welcoming.

Must-try dishes include the bryndzové halušky and spicy cabbage soup with chorizo. Alternatively, you can order a sharing platter with 3 dishes (or just eat them to yourself, naturally).
Flagship Restaurant Bratislava
If you're wondering where to eat in Bratislava, you can't do better than Flagship Restaurant. Far away enough from the city centre to escape the higher prices, this enormous restaurant in Bratislava Old Town is very impressive, resembling the belly of a giant ship.

There's a changing daily menu from €5.90 which is a total bargain for some of the best Slovakian food in Bratislava.
Cafe Verne
A born and bred local told me to check out Cafe Verne so I wasn't going to miss the opportunity. This typical restaurant is one of the best places to eat in Bratislava partly due to its outside tables overlooking a public garden.

I had my first portion of bryndzové halušky here with €1 wine. It was here I decided that Bratislava and I were going to get along quite nicely.
Cute cafes in Bratislava
As well as searching for restaurants in Bratislava, I was also looking for quality coffee. Although when aren't I? Check out these cute cafes…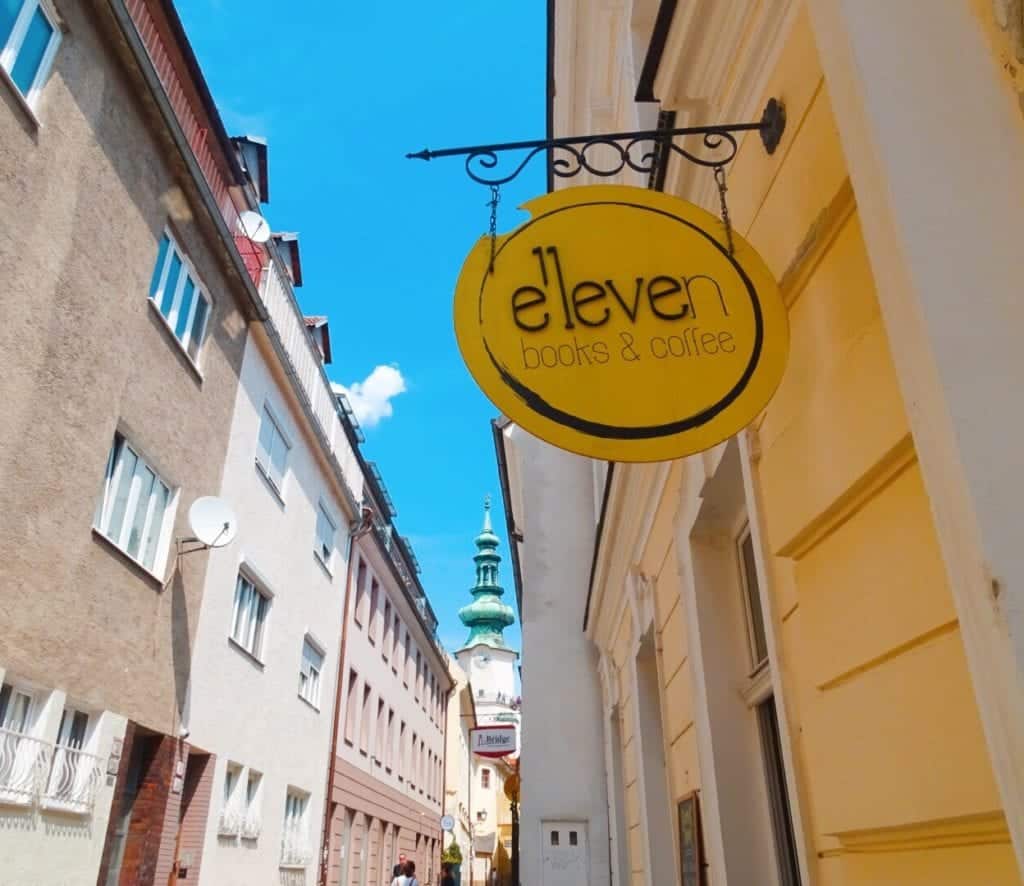 Urban House
While I wouldn't usually recommend dining on the most touristic street of a city, Urban House is surprisingly one of the best places to eat in Bratislava thanks to quirky interior, outdoor seating and excellent coffee and brunch menu.

It may not serve traditional Slovakian but who can resist avo toast and a flat white? Not I.
Lab.cafe
One thing I love about Bratislava? The coffee shops serve alcohol. Fancy having your morning croissant with wine instead of coffee? Bring it. Slovakia doesn't judge.

Lab.cafe is a colourful spot overlooking a sunny square with big tables that are great for co-working. The lemonades, hot chocolates and cakes look great also.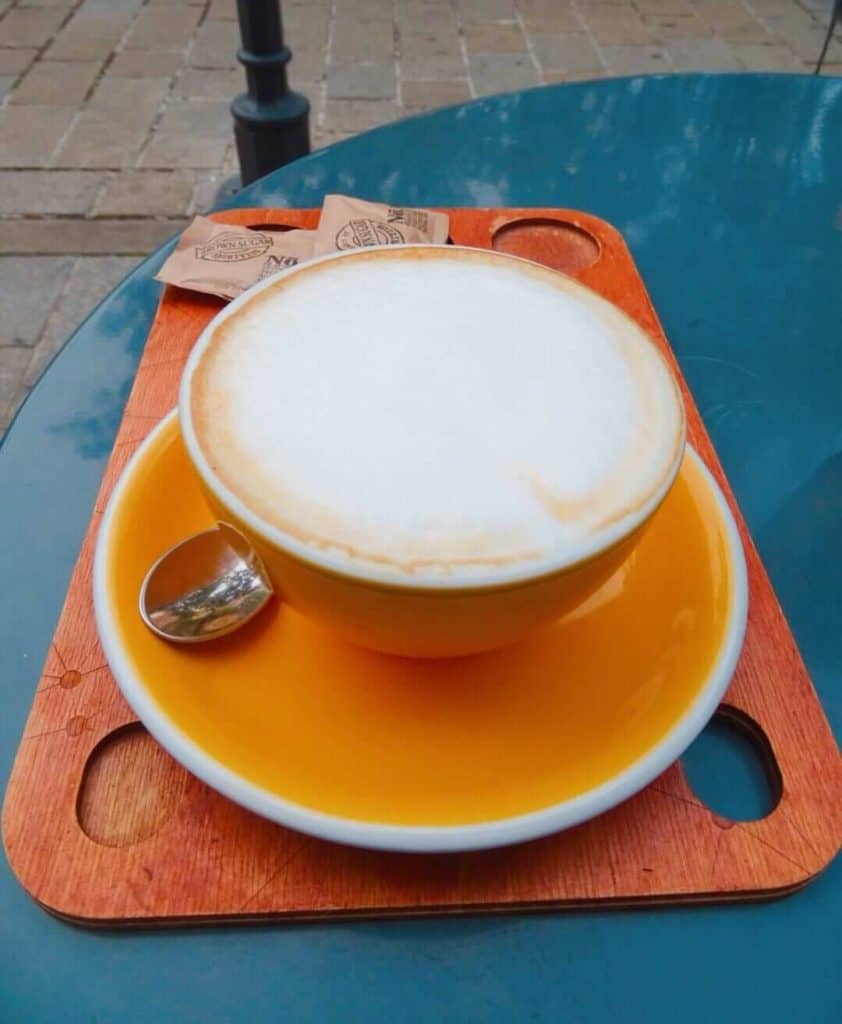 Pollito Cheesecake
A whole cafe dedicated to cheesecake? Foodies visiting Bratislava need to visit Pollito Cheesecake pronto.

This cafe serves so many different types of cheesecake alongside quality coffee. The interior is very stylish and elegant, plus the prices aren't bad either.
Slovakian drinks to try
Now we've covered the best restaurants in Bratislava, here are some typical Slovakian drinks to wash it down with. I've never seen these elsewhere so I'd highly recommend seeking them out…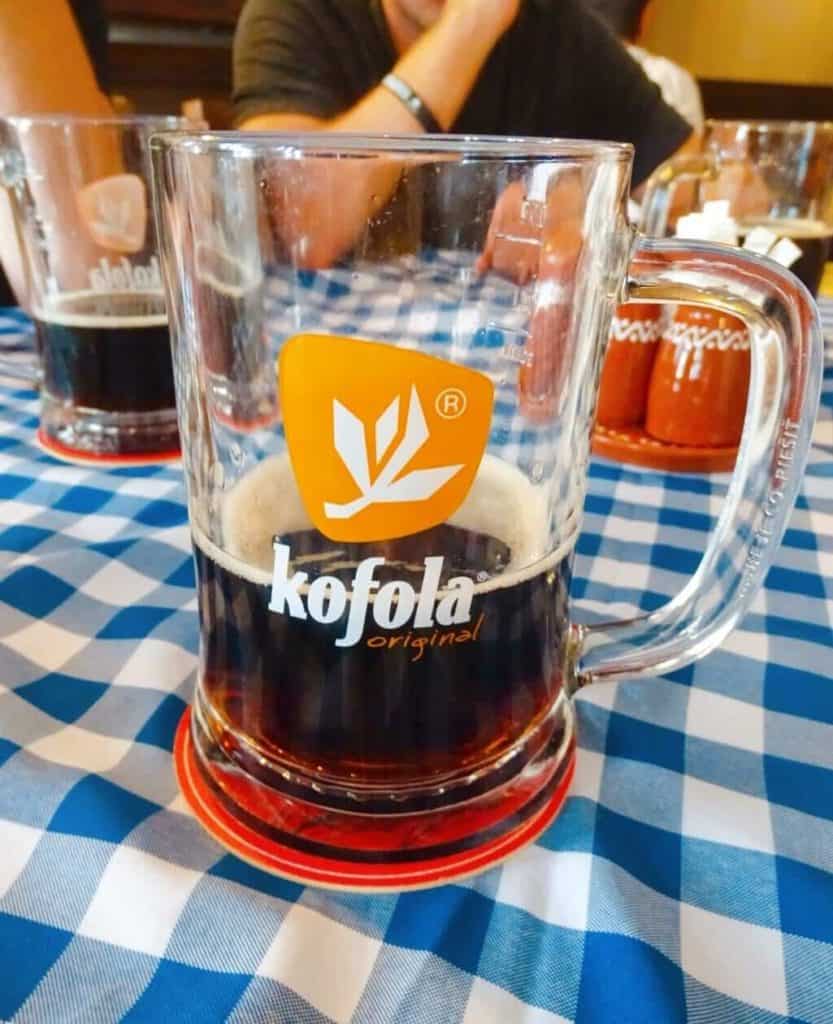 Kofola
When the Soviet government banned Western brands in what was once Czechoslovakia, the locals got savvy. They tried to crack the secret Coca-Cola recipe and didn't do a bad job.

Kofola is a cola-flavoured fizzy drink that Czech and Slovakian people still choose to drink even though Coke is widely available again. Kofola is flatter and sweeter than Coke and has a spiced flavour that made me think of Christmas.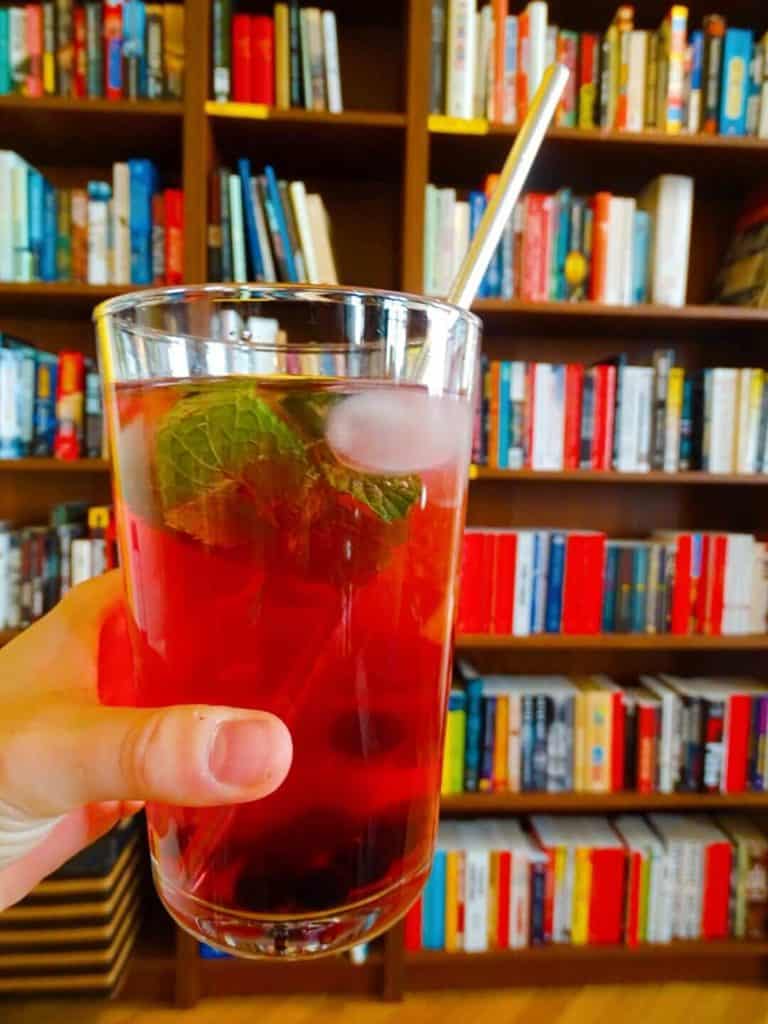 Lemonade
Plot twist – it's not about lemons. Lemonade in Eastern Europe generally refers to fizzy fruit waters that are carbonated and homemade by the venue serving them. This raspberry lemonade at Eleven Books and Coffee was filled with mint, pomegranate and blueberry.
Slovak beer
Slovakia is officially Europe's cheapest country for beer drinkers so it would be rude not to down a couple during your stay. I'm not a huge beer drinker myself so check out this beer guide from I Heart Slovakia.
Borovička
The Slovakian national drink. This juniper-flavoured spritz isn't a refreshing cocktail but a stiff spirit. It's rumoured to be great for digestion and metabolism. Worth a try, right?
Thanks for reading my Bratislava food guide!
I hope you have a better understanding of the food in Slovakia and where to eat it in Bratislava. Now time to go home and work it all off…
Check out some of my other Eastern Europe posts:
See you next time for more adventures,
Rose
Ps. Liked these best Slovakian foods to try? Pin this for later!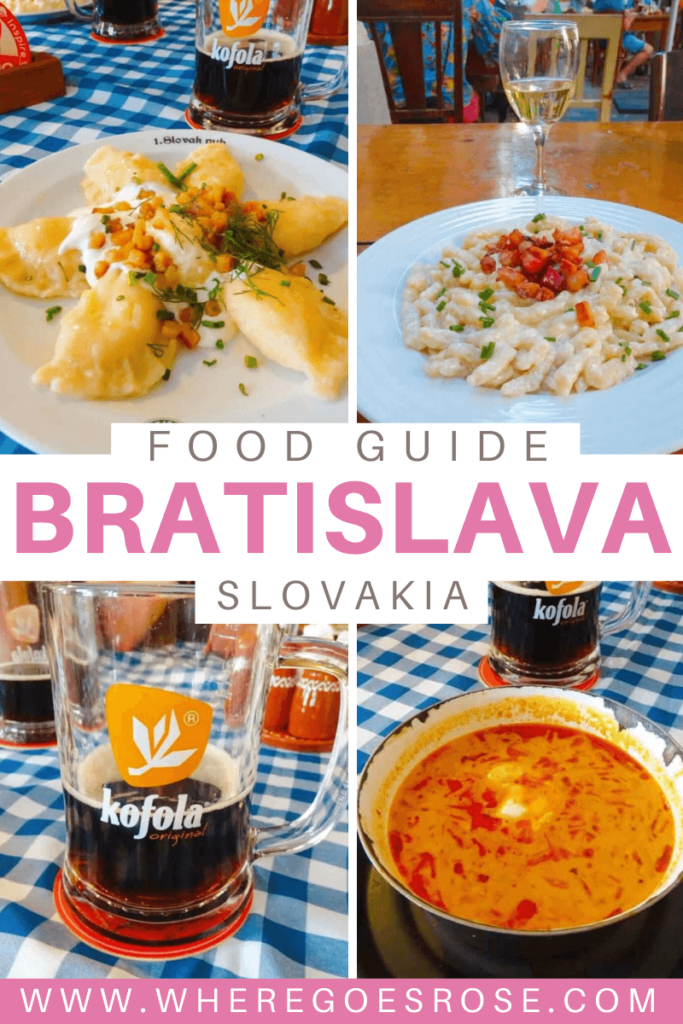 TRUSTED RESOURCES FOR VISITING SLOVAKIA

Getting around by air – I use Skyscanner to find the best-value flights, using the 'search by month' tool to find the cheapest dates. You can also use the 'to anywhere' feature if you're flexible on where you're going.

Driving in Europe – use Rentalcars.com to compare car rentals in European countries (and all around the world).

For trains, I use RailEurope. The search feature allows you to compare prices, and they show live departure times on the website.

For buses, I use FlixBus. Find journeys between European countries from €1! 

Use Omio to compare trains and buses in one search. It's so handy!

For hotels and self-catering apartments, I use Booking.com. You can filter by review score and price to find the best-rated budget places. For hostels, I use Hostelworld.com.

To save money on accommodation, I use Trusted Housesitters, a website that connects homeowners going away and travellers who can sit their homes & pets.

For tours and activities, I use GetYourGuide. They're always great value with friendly guides.

For food tours pairing travellers with passionate local chefs and foodies, check out EatWith.

Need travel insurance? I use True Traveller (for UK & Europe residents) since it's affordable but covers everything you'd need including various activities, valuables and pre-existing conditions. Unlike some companies, they insure you if you're already travelling / don't yet have your flight home booked. Get a quote.

For travel insurance for other nationalities, I recommend Hey Mundo and for long-term digital nomad travellers, I suggest Safety Wing.

Check out my resources page for more travel discounts and budget tips from my 10+ years on the road!