This post may contain affiliate links to things like tours, hotels, Amazon associates and products. These help me earn a small commission at no additional charge to you.
Planning a trip to India? In this guide, I'll share the cost of travelling India and my tips for backpacking India on a budget. Since I've now visited India twice and spent 3 months there in total, I'm qualified to share my India travel budget so you can plan yours, too!
INDIA BUDGET TRAVEL ESSENTIALS

India Lonely Planet

Accommodation: Booking.com / Hostelworld

Activities: GetYourGuide

Getting around: flight (Skyscanner) / bus / train (12Go)

Travel insurance: True Traveller (European travellers) / Hey Mundo (other nationalities) / Safety Wing (digital nomads)

Must-read: My budget travel archives
Pin this for later!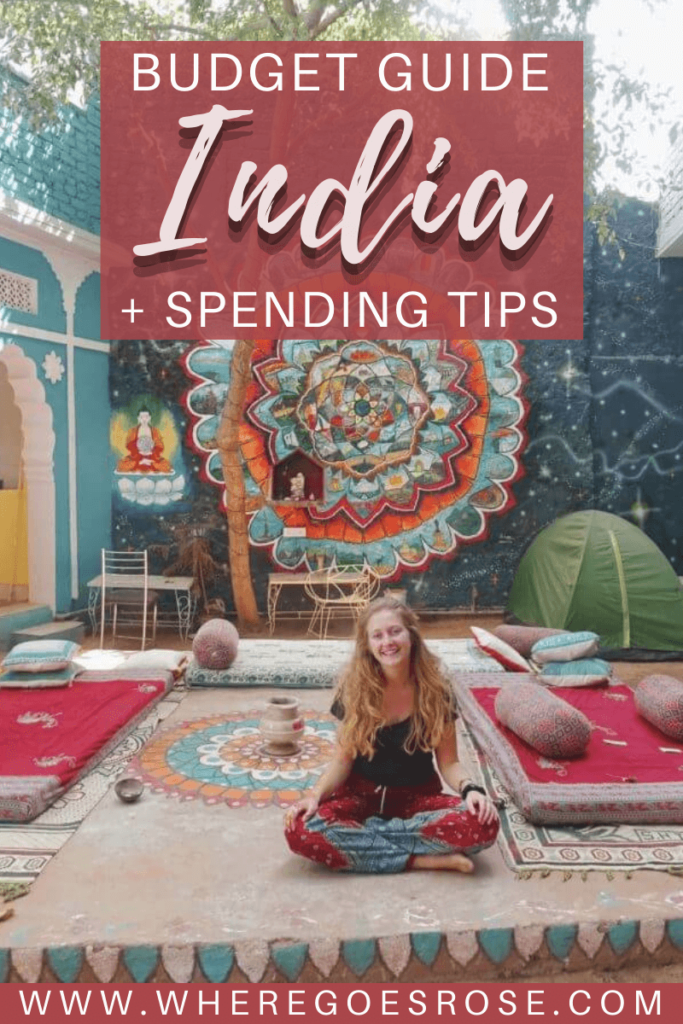 There's so much I love about India. From delicious food to friendly locals and diverse destinations, there's so much to see and do. With snowy Himalayas, balmy beaches and busy megacities, there are fantastic places in India to travel solo as well as ideal locations for couples and families.

But how much does a trip to India cost?

While overseas tourists may indeed find India affordable, it depends on your travel style. Many foreign travellers and Indian locals travel the country in style so there are plenty of opportunities to splash out if your India trip budget allows. Like anywhere, upmarket accommodation and activites can cause your travel budget for India to swell!
Cost of travelling India on a budget
Having spent a month in India in 2015, I already knew how cheap it can be. However, that first trip was a while ago so I couldn't remember exactly what I'd spent or the cost breakdowns. During my recent trip, I noted down my spending to put together this budget India travel guide.

If you've been to other Asian countries like Vietnam or Thailand, you'll find it easy to travel India on a budget. In my experience, India is slightly cheaper than these Southeast Asian countries. It's also much cheaper than the East Asian countries. India travel is a fraction of the cost of travel in Korea or Japan, for example.
My total travel budget for India
Drumroll, here's my grand total:
Note – all prices in this blog will be in USD ($) or Indian rupees (Rs.)
$1,500 in 2 months! That's $769 per month or $25 per day.

This total doesn't include flights or visas but it's still pretty affordable, right? Although my budget travels in Taiwan can almost compete as I spent a similar amount, I did more activities in India so it was better value overall. Even if you're on a low budget, you can still do and see some amazing things in India. And eat like a king/queen, of course!
Things that make backpacking India cheap
Food and drink – if you eat at local restaurants, you can keep your India travel budget incredibly low. It's easy to eat fantastic Indian food for as little as 50 rupees (50c) a meal.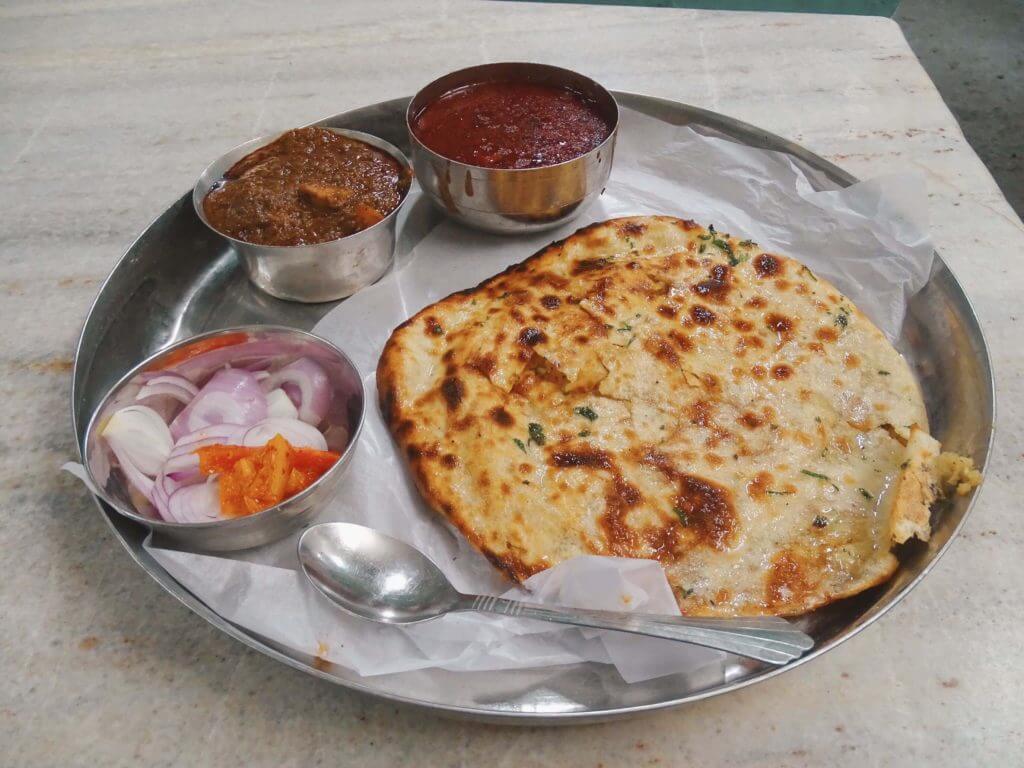 Transport – there's fantastic public transport in India from local buses to the vast train network. The best thing about the Indian railway system is its different tiers. You can travel in AC First Class to put your feet up with air-con and lots of room to yourself, or you can travel in Sleeper Class or Unreserved Seating and pay $20 to go half the way across the country!

Whatever your India budget, the trains will accommodate it. Use 12go to book tickets.

Hotels and guesthouses – the accommodation in India is some of the cheapest I've stayed in. You can set your travel budget for India as low as $200 a month and you'll still find comfortable accommodation. If you're travelling as a pair and splitting rooms, it's even cheaper.

Even if you're a solo traveller in India, you can get great deals on private rooms, plus there are countless colourful and friendly hostels all over India.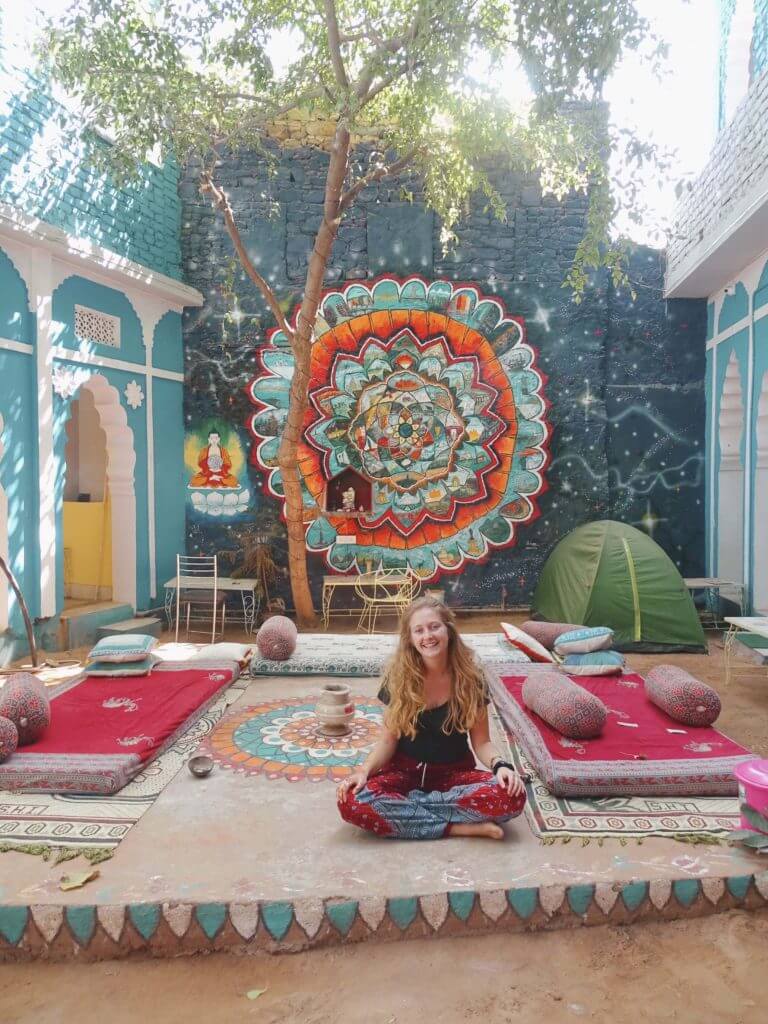 Not sure what to pack and wear? Check out my India female packing list
Things that aren't cheap about backpacking India
Not much! Sure there are a few scams in areas where locals need money (like anyone in the world) but it's rare and won't eat into your India travel budget. Just remember to haggle when shopping or you may pay inflated prices on goods!

Prices for foreigners – let's be honest, often when we travel we're getting charged an informal foreigner tax. In India, it's a bit more official: attractions often display one price for foreigners and another for locals (often it's several times the price).

I don't have a problem with this – I believe locals should be able to experience their cultural heritage. We, on the other hand, shouldn't be budget travelling in India if we can't afford to support the country we're seeing!
India travel budget – food and drink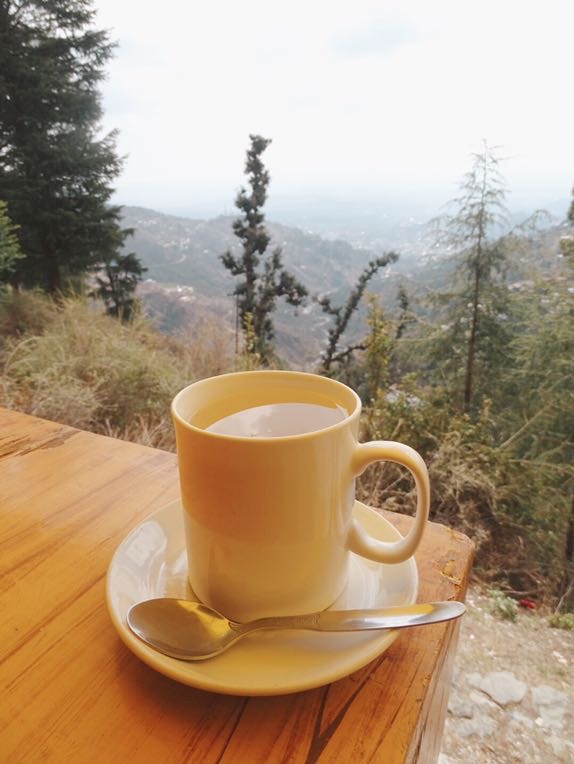 The cost of travel in India is remarkably low when you eat like the locals do. Saying that, there are all types of restaurants in India from fine dining, Western chains in the bigger cities and, if you make a wrong move, some tourist trap restaurants where you won't get the best food or prices.

Average food and drink prices in India:
Chicken biryani – 80 Rs.
Cup of masala chai – 10 Rs.
Thali meal (platter of small dishes) – 100 Rs.
Pav bhaji (curry, bread and dips) at a street stall – 50 Rs.
Kulcha (naan stuffed with potato and spices) and chai – 75 Rs.
Lassi (cold yoghurt drink) – 30 Rs.
Takeaway pizza like Dominoes – 280 Rs. (don't judge – try the paneer makhani pizza!)
Brunch and coffee in a modern cafe – 350 Rs.
Curry and soft drink at touristy restaurant – 350 Rs.
To eat Indian street food without getting sick, look out for busy places with locals eating and a fast turnover of food. I mostly eat vegetarian food while travelling in India as it seems safer, although I became obsessed with chicken biriyani while visiting Pondicherry and never had any problems.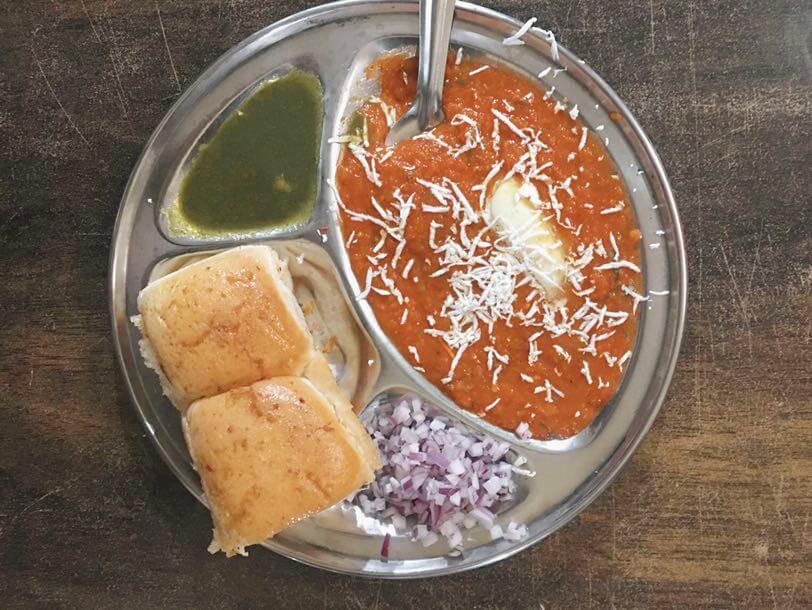 Cost of India visa
This depends where you're from and whether you can get an e-visa. As a Brit, I paid $85 for my 6 month India visa onine but as of 2022, e-visa is currently closed for UK citizens. Be sure to do your research in advance. It's pricey as visas go but a necessity if you want to backpack India.
Cost of travelling India – accommodation
Accommodation will be your biggest expense during budget travel in India. If you're backpacking India as a pair, you can save money by splitting double or twin rooms. But even as a solo traveller, the price of private rooms is affordable. I generally stayed in hostels as it's the most social way to meet people while travelling solo.
Hostels (shared dorm) – $3-7 per night. You don't have to slum it to stay in hostels in India: they may not be luxurious, but they're always colourful, friendly places with all your amenities.

Private room in a hostel – $10-20 per night. These are similar in price to a budget hotel room so it depends whether you'd rather privacy or a social atmosphere. If I want alone time, I still pick a private hostel room as I know there will be a community around if I do want to socialise later.

Budget hotel room – $12-20 per night. These will usually be fairly basic but have everything you need.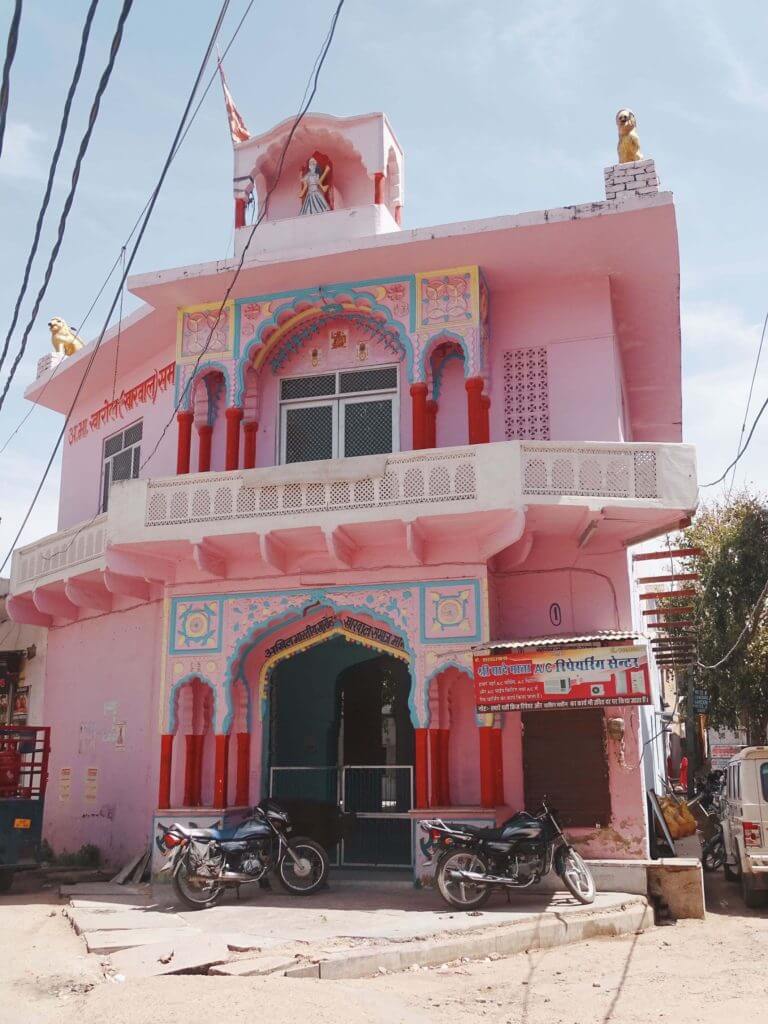 Mid-range hotel in India: $20+ per night. Although incredibly expensive hotels in India exist, it's a great place to splash out if you have some money left over at the end of your trip. You can stay in a 5-star hotel from $80 per night!

India budget travel tip – look out for guesthouses and homestays. Not only will they reduce the cost of travelling in India but they're friendly places to meet locals and learn about Indian culture.
Best hostels for backpacking India
Rishikesh – I spent almost a month at Shiv Shakti Hostel and the staff were so friendly, often taking us on day trips and offering fantastic local advice. Book from $3.

New Delhi – Moustache Delhi from $5 (the Moustache chain is always a fun and colourful base!) // J House / Joey's Hostel.

Jaipur – Moustache Jaipur from $3 including rooftop pool access.

Pushkar – Madpackers from $3 with rooftop cafe and yoga classes. For an upgrade, stay at Inn Seventh Heaven from $15.

Udaipur – Zostel from $5 with rooftop cafe and beautiful views over the lake.

Mcleod Ganj, Dharamsala – Ram Yoga House from $12 – I can't recommend this lovely budget hotel enough! The private bedrooms have balconies looking out over the Himalayas.

Mumbai – Namastey Mumbai Backpackers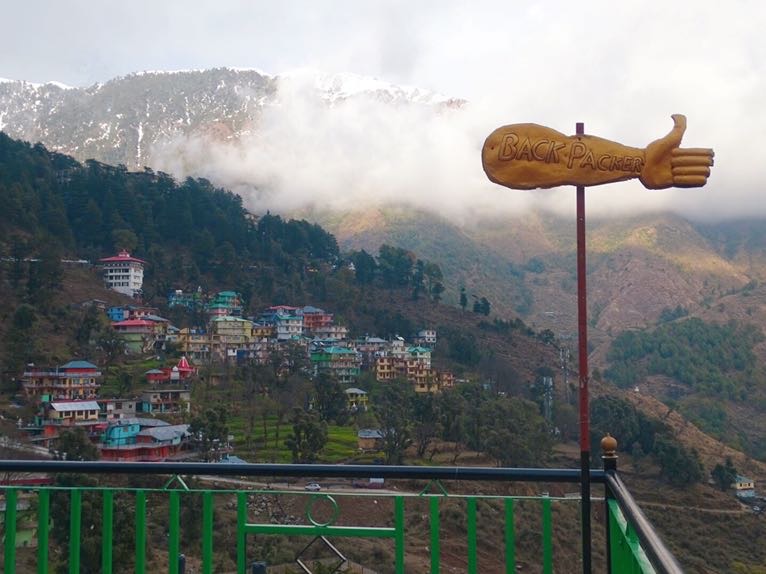 Cost of India travel – flights
There are plenty of budget airlines flying around India, as well as in and out. Overall, international flights to and from India are fairly affordable.

Prices of one-way flights (not including luggage):

London to India – From $350 (£250). The cheapest flights are into New Delhi, Marmagao, Bengaluru, Kochi and Mumbai.

Bangkok to India (where I flew from) – from $70. The cheapest flights are into Delhi, Kolkata, Chennai and Amristar.

New York to India – from $550 (cheapest flights are into Delhi and Mumbai)

Australia to India – from $500 (cheapest flights are into Delhi, Bengaluru and Chennai).
Cost of getting from Indian airports to city centres
It depends which city you're arriving into but here are some averages to help you plan your India budget trip:

Delhi airport to city centre: 400-500 Rs. by standard taxi which takes 30 minutes. From 250 Rs. by Uber or Ola. You can also get the bus to travel from New Delhi airport to the city centre for a couple of rupees.

Mumbai airport to city centre: 500-700 Rs. by standard taxi. Be warned, Mumbai traffic is notoriously crazy so the ride can take 1-2 hours.

India budget travel tip – always check Uber and Ola apps when taking a budget trip in India. They're almost always cheaper than pre-paid airport cabs.
Cost of India travel – flying internally
While I usually avoid internal flights for environmental reasons, it's tempting in India when you consider the vast size of the country and the affordability of internal flights.

Prices of one-way flights (not including luggage):

Delhi to Mumbai – from $40.

Delhi to Varanasi – from $30.

From Delhi to Hyderabad – from $50

Delhi to Bengaluru – from $50

Delhi to Kolkata – from $60.

Budget India travel tip – check local websites such as Indigo. I usually use Skyscanner and find you can't beat the prices but I did have good luck finding bargains on Indigo.
India budget travel – cost of India trains
Although the railway network can seem daunting during your first trip to India, it's the most cost-effective way to get about.

If you want to travel India on a budget, it's best to use 12go.asia. The old process was complicated: you had to register with IRCTC (the Indian Railways website), scan your passport and receive verification by SMS (on an Indian mobile number) or email which took forever. There were also complications when paying with a foreign bank card.

Now, you can use 12go.asia to search trains and buses in India and book them with ease. Woohoo!

Search journeys with 12go.asia here.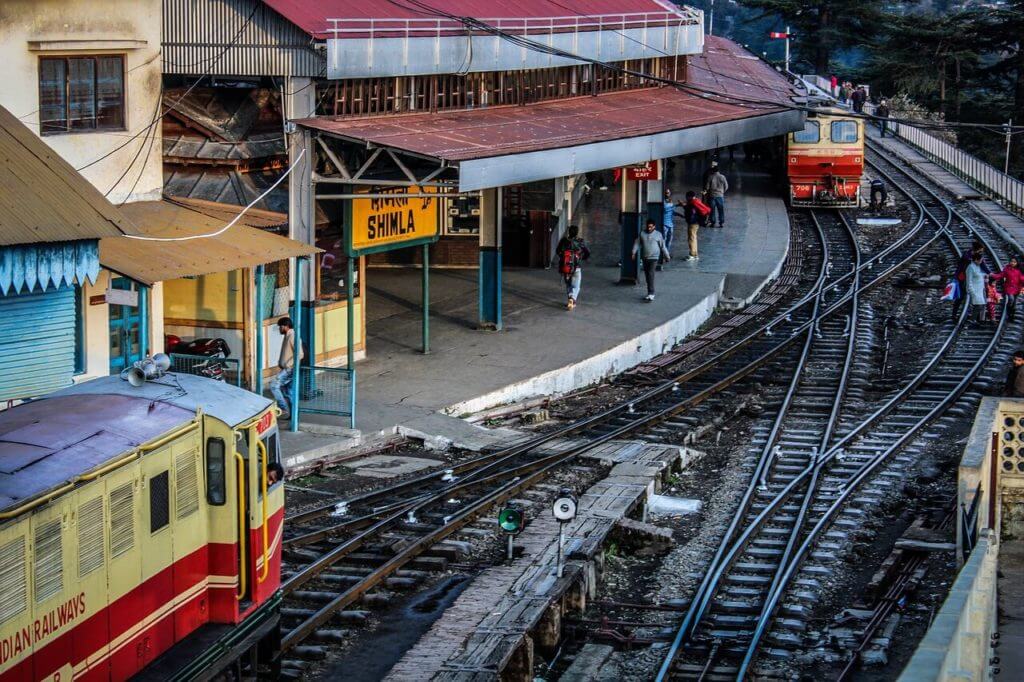 Average train prices in India
Delhi to Mumbai: AC First Class Sleeper, $60; AC 2-Tier Sleeper, $40; AC 3-Tier Sleeper, $30

Delhi to Agra: AC First Class Sleeper, $20; AC 2-Tier Sleeper, $15; AC 3-Tier Sleeper, $10

Delhi to Jaipur: AC First Class Sleeper, $30; AC 2-Tier Sleeper, $25; AC 3-Tier Sleeper, $20
Different types of train class
Understanding and booking cheap train tickets will reduce the cost of travelling in India. These are the main Indian railway seating classes:

AC First Class Sleeper – the most expensive class of sleeping cabins. The cabins are spacious with lockable doors.

AC 2-Tier Sleeper – the second most expensive sleeper class. The doors don't usually lock from the inside.

AC 3-Tier Sleeper – more open-plan sleeping facilities with more of a cramped feel and less privacy.

Sleeper Class (SL) – the cheapest sleeper class. Not recommended unless you are really travelling India on a budget!

AC Chair Car – for short, daytime journeys, this is the best class of seating. You sit up in rows rather than having a bed.

Second Seating AC (2S) – this less comfortable version of AC Chair Car is a happy medium for budget India travel.

Unreserved General Class (UR) – the cheapest ticket of all. You can't book in advance and will end up standing. Very local and busy.
India travel budget – buses
While the Indian railway is the most popular way to travel in certain regions, there are also places in India – such as hilly Himachal Pradesh – where there are no trains whatsoever. Luckily, it's not a problem while budget travelling in India because there's also a decent bus network.

The best way for tourists to travel India on a budget is to book in advance on Red Bus. Booking a bus ticket is simpler than booking a train ticket. Day journeys will have regular seats whereas overnight journeys will often have beds instead.
Average bus prices in India:
Amritsar to Dharamsala (4 hours): 600 Rs.
Delhi to Jaipur (6 hours): 750 Rs.
Delhi to Rishikesh (6 hours): 600 Rs.
How to get around cities in India on a budget
India is a cheap place to explore when you're settled in a city for a few days. Here's how to get about cheaply:

Taxis – it's been said that the taxis in India are the second-cheapest in the world, averaging €1.29 per 5km. You can use TaxiCalculator to predict journey prices ahead of time – this may also help when it comes to haggling! Apps Uber and Ola have the cheapest fares and you won't get charged a 'tourist price'.

Rickshaws – these can be an affordable way of getting around cities. Sometimes when I was out without mobile data and couldn't call a cab, I hopped in a rickshaw. I can't promise my haggling was up to scratch but I usually paid 300 Rs. for a 30-minute ride.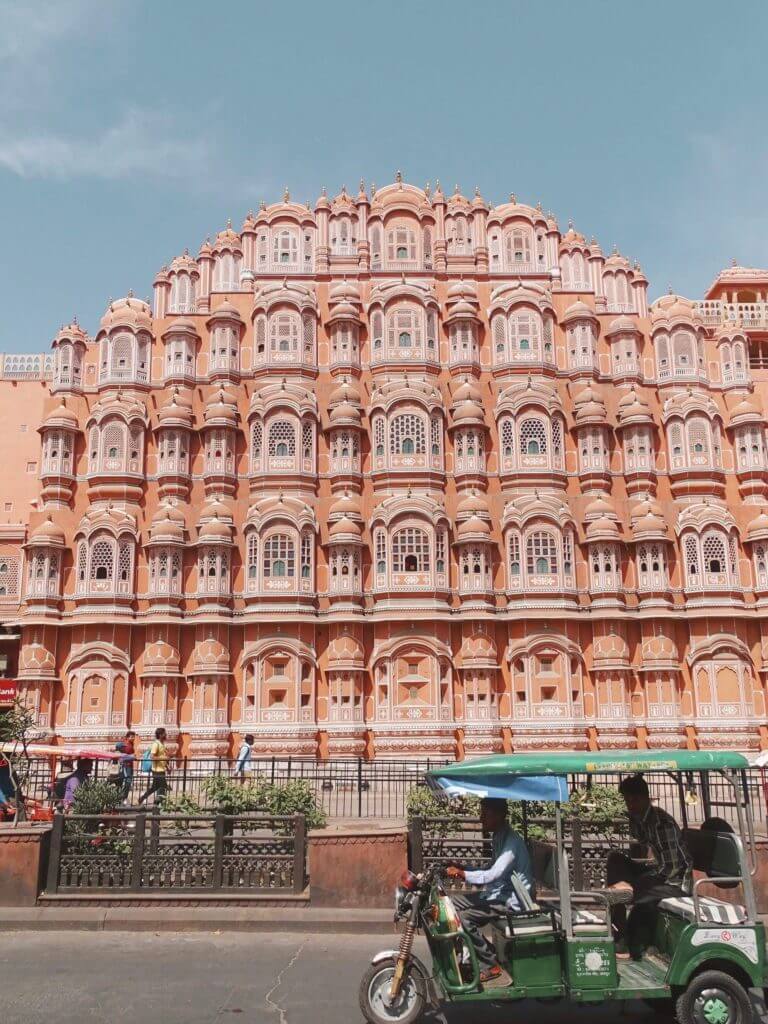 Scooter hire – hiring a motorbike isn't as popular in India as in Southeast Asia but there are a few places where it's an option. In Rishikesh, a group of us explored the countryside by bike and, in Tamil Nadu, many travellers hired a bike to visit Auroville from Pondicherry.

Expect to pay around 300 Rs per day for scooter hire. Remember to wear a helmet, firstly for safety but secondly, because the police may use it as an excuse to fine you otherwise.

Intercity buses – for budget travel in India, don't overlook local buses. These will be busier and more cramped than the tourist buses mentioned earlier. Instead of booking a seat or bed, you'll leap on and rub shoulders with the other passengers. While the cost of travel in India by local bus varies, I recently paid 9 Rs (12c) for a 30-minute journey.
Cost of day tours
In cities like Jaipur where there are lots of palaces and must-see attractions, sometimes it's more cost-effective to see them during a tour. Factor the following into your India travel budget:

Taxi/rickshaw day tours – In Jaipur, I paid 500 Rs. for a full-day rickshaw tour with a driver. I believe the same tour by aircon taxi would cost 1,000-1,500 Rs. and can be split between however many people are in the car.

Note – when you take a private day tour, there are often hidden costs. As well as drivers expecting large tips, they may expect you to buy them lunch or even clothes, plus they'll often stop at their friend's shops and pressure you to buy. If you're not interested, just be firm and say no.

For tours that feel more official, GetYourGuide have my seal of approval. Their India tours start from $10 and you can check reviews from past guests.
Budget India travel – entry fees
While not excessively expensive, entry fees can add up in India, especially when you consider you'll largely be paying foreigner prices rather than local ones.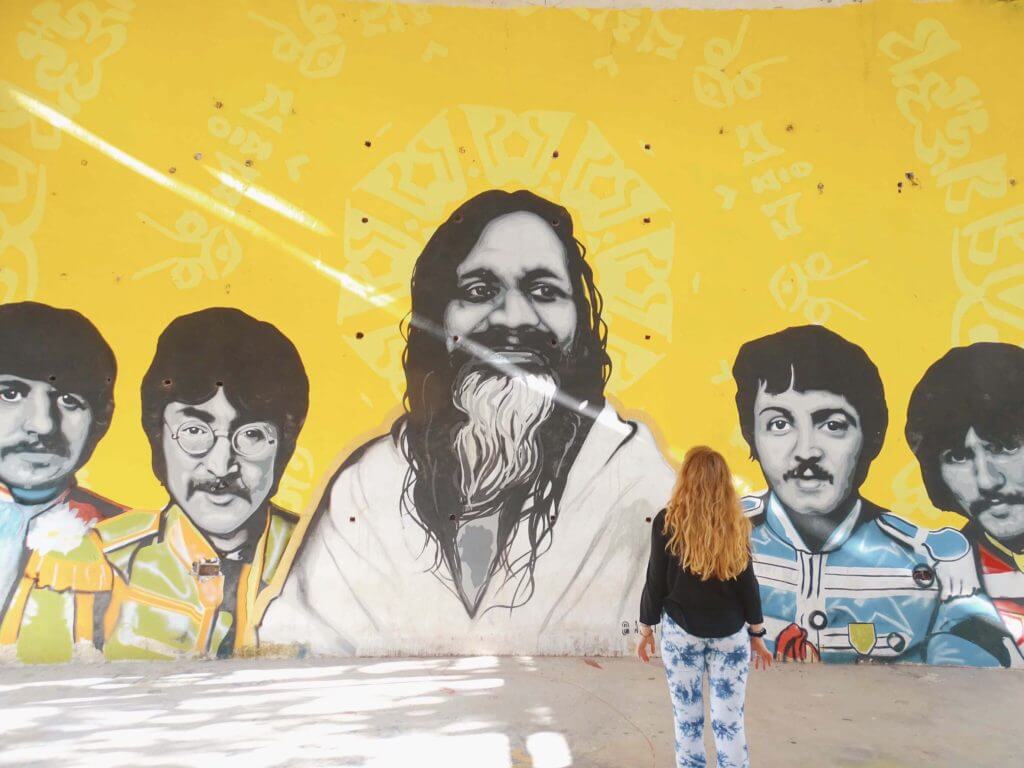 Here are a few things I paid for to give you an idea of India prices:
Hiring tour guides – this is a good option when visiting historical sites as you learn about the history of the place and also fund jobs for locals. At Jaipur's Amber Fort, the official price was 300 Rs. but a local guy charged me 100 Rs. as he was a trainee.

Jaipur City Palace entry fee – 800 Rs (expensive!)

Nahargarh Fort, Jaipur entry fee – 200 Rs.

Hawa Mahal, Jaipur entry fee – 200 Rs. and another 100 Rs. for an audio guide.

Beatles Ashram, Rishikesh entry fee – 600 Rs. (150 Rs. for locals).
Related: skip-the-line ticket inc entry to Jaipur's top 8 attractions ($8)
India budget – shopping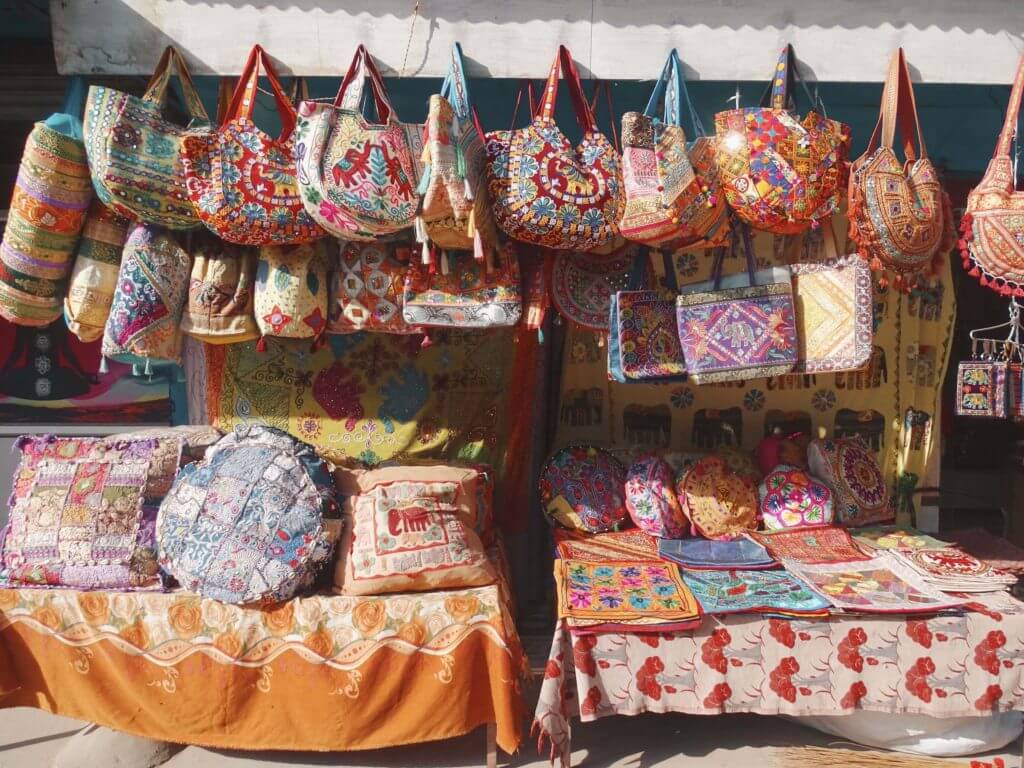 India is a fantastic place to shop. Not only are goods affordable, but you'll support local livelihoods and take home some beautiful garments and items. Indian fabrics, clothing, bags and jewellery are so colourful and eye-catching. It's shame I wasn't planning a trip home anytime soon because I couldn't buy much without carrying it around in my backpack for the next year.

Here are some average costs in India for shopping:
Colourful silk headband – 50 Rs.
Women's top – 150 Rs.

Embroidered bag – 200 Rs

Embroidered leather water bottle holder – 300 Rs.
India backpacking – tours and activities
Perhaps because it has a reputation for being less safe than places like Europe and Southeast Asia, I found while backpacking in India that most hostels ran group tours and activities where guests buddy up and do things together.

From shared dinners to chai-making workshops and walking tours, there was always something fun going on. I loved taking these types of tours while backpacking in India because it was fun to learn from the locals and see India through their eyes.

Here are a few India travel costs for tours and activities:

Food tour with 13 street snacks (organised by my hostel) – 500 Rs.

Half-day sunrise temple and trekking tour inc breakfast – 800 Rs.

Browse GetYourGuide India tours in major cities (they run food tours, sightseeing day trips and multi-day trips).
Tiger safaris in India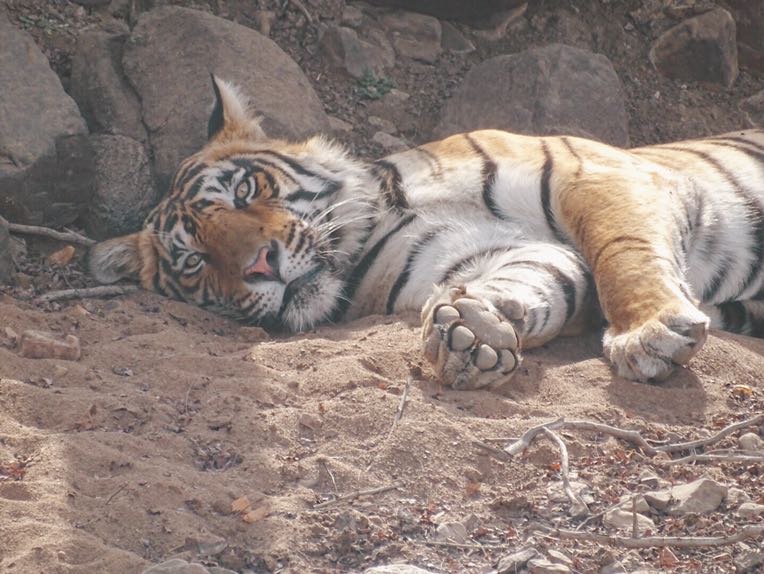 One of my highlights of backpacking India was seeing wild tigers in Rajasthan's Ranthambore National Park. If this sounds up your street, this is what I spent on the experience:
Tiger safaris by shared tour – a 6 seater costs 1,714 Rs. per safari; a 22 seater costs 1,375 Rs.
Train from Pushkar to Sawai Madhopur station – $11
Train to Jaipur from Sawai Madhopur station – $4
Overall, I spent $100 on 2 safaris and 2 nights in a hotel inc. 3 meals a day (there were no restaurants nearby). This may seem a lot for a low budget India trip but it was so worth it to see tigers!
Price of yoga in India
Practising yoga is really popular but, for budget travellers in India, you may have to stretch the purse strings slightly since it's often priced with tourists in mind. Saying that, India is one of the cheapest places in the world to take a yoga teacher training course which can be a great investment for the future. Check out my Rishikesh travel guide for details on yoga, meditation and ashram stays there.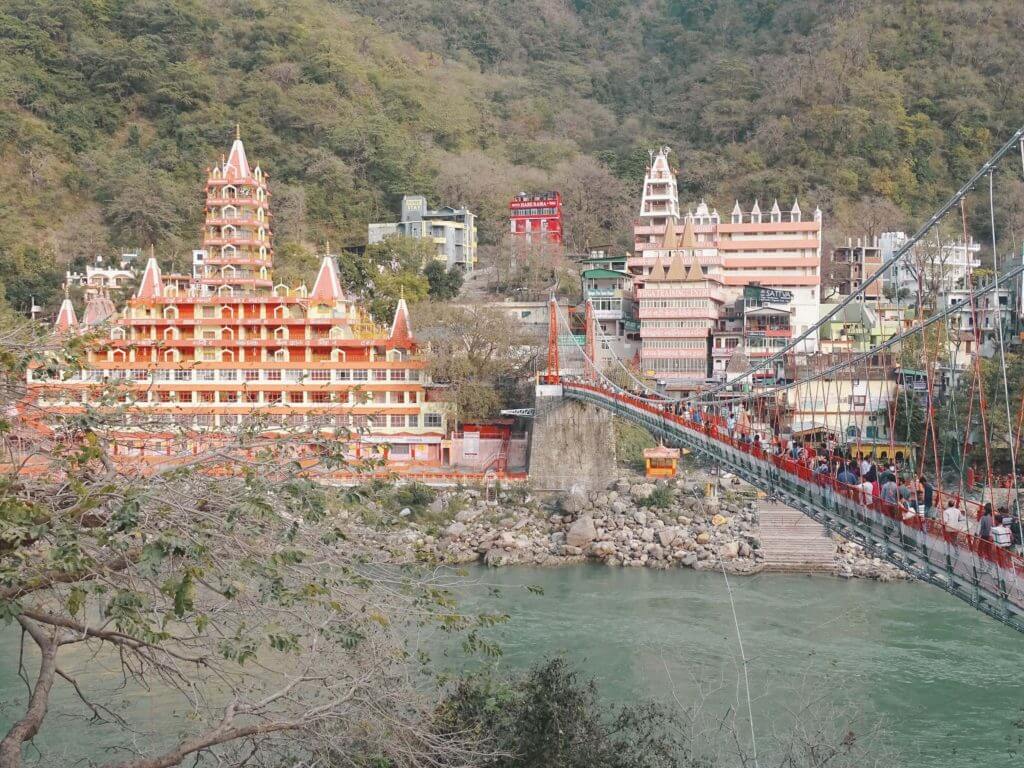 Add these costs to your travel budget for India:
10 session yoga class pack – 2,000 Rs.

1-hour sound healing session – 700 Rs.

200-hour yoga teacher training course – $1,300

12-day sound healing teacher training course – $1,500.
Cost of attending Holi festival in India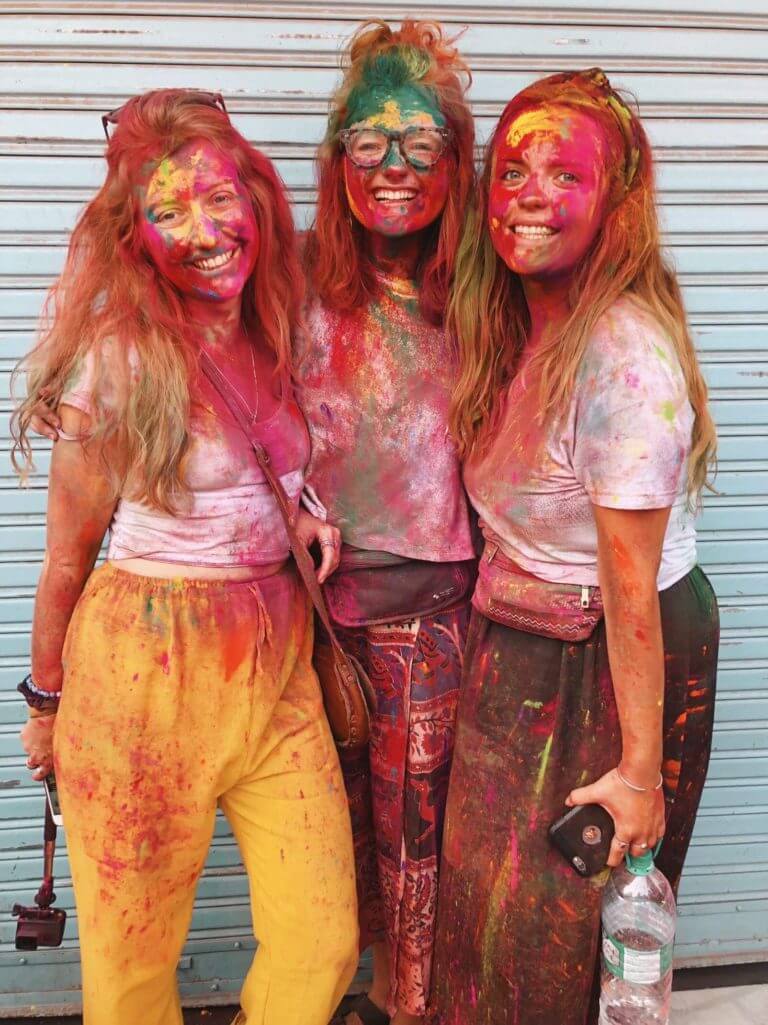 Attending Holi festival as a foreigner costs… drum roll, please… Nothing!

I felt perfectly safe as a female traveller at Holi Festival and didn't spend a single rupee all morning. The meaning behind the festival is tied to welcoming in the new year and washing away the old one. As well as having a wholesome meaning, it's a hospitable festival with plenty of free food being handed around.

The only thing to know when travelling India on a budget is that your clothes will be ruined! The colourful Holi paint never washes out so you should wear your worst clothes OR buy cheap ones for the festival. I picked up some cheap white and yellow clothes so the paint would show up, but donated them to charity afterwards.
India budget – data and SIM cards
It was harder than I expected to get a local SIM card while backpacking in India. I assumed I'd be able to buy one in any shop like I usually do in Southeast Asia.

However, as my hostel owner in Amritsar told me, you need an Indian address and contact number to register for an Indian SIM. Luckily, he sorted one out for me but another option is to get an Indian SIM at Delhi and Mumbai airports. Also at local markets, you'll be able to find something less official if you keep your eyes peeled.

Commonly, once you have a SIM and can top it up, you'll pay around 400 Rs. for a monthly package that allows you 1GB of data per day. Not a huge addition to your India trip budget!
Cheapest places for backpacking India
The most expensive places to travel in India are those where the attractions are spread around in the countryside and you're relying on hackling over rickshaws or organising taxi day tours. The best way to reduce the cost of travelling in India is to a) visit big cities with Uber or Ola and b) visit smaller Indian cities and towns where you can explore on foot.
Best places for an India budget trip
Delhi – there's a world to do in Delhi and an affordable Metro. Tickets range from 20-50 Rs. per journey. There are plenty of free things to do in Delhi including meditating at the famous Lotus Temple, visiting India Gate and exploring Hauz Khas complex.

Pushkar – is small enough to explore all the main things to do in Pushkar on foot and you can even climb to Savitri Mata Temple for fantastic views at the top of the hill. There's delicious food in Pushkar including endless cheap street food and some of the best falafel you'll ever eat!
Dharamsala/Mcleod Ganj – up in the mountains, there are lots of cheap things to do like hiking and meditation, plus everywhere is walkable. It's not a place with big must-sees and entrance fees which helped keep my travel budget for India low. Check out my Dhramasala travel guide for everything to see and do.
Udaipur – I spent a few idyllic days exploring Udaipur also known as the City of Palaces. Even if you sit on the hostel rooftop and sip chai watching the world go by, it will be a wonderful trip! There are plenty of budget hostels and hotels in Udaipur like Zostel.

Goa – beaches and cheap drinks make Goa a fantastic budget destination in India!

Amristar – in the state of Punjab, this was one of my favourite India backpacking destinations. One of the best things to do in Amristar is visit Sikh pilgrimage site, The Golden Temple. Not only is entry free but they also serve a free meal to 100,000 daily visitors as caring for the community is an important part of Sikhism. My best budget tip for Amristar is to organise a group tour when visiting the Wagah Border for the famous daily dance show.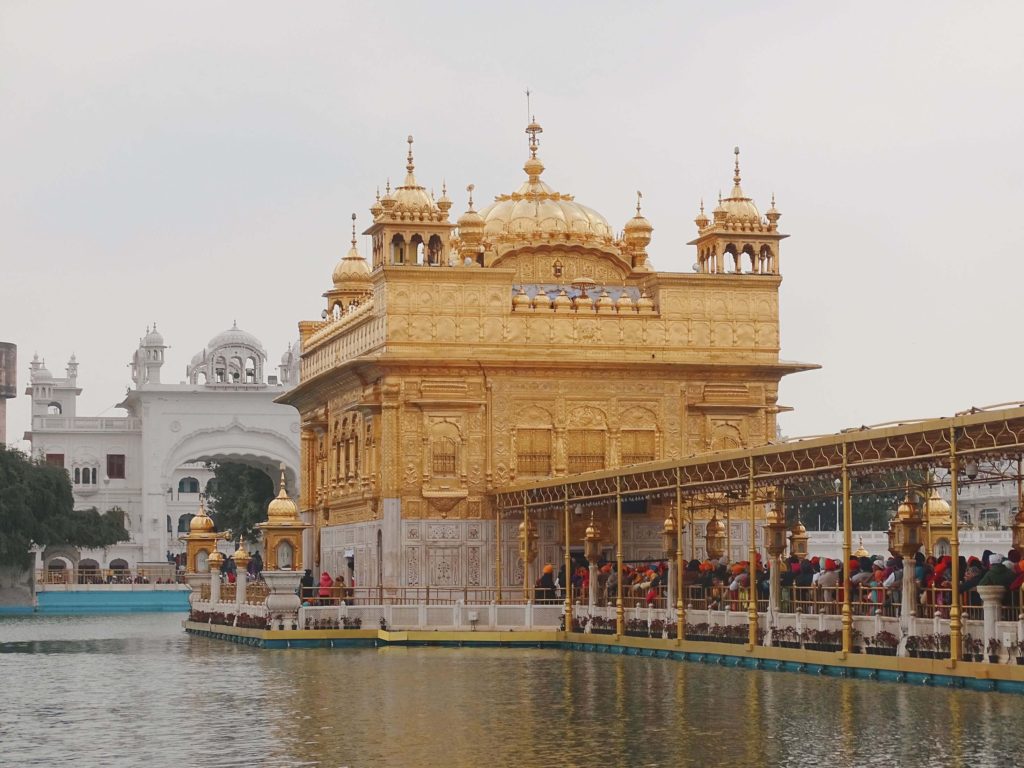 India backpacking itinerary
While it's way too difficult to put together a quick India itinerary because the country is so enormous, here are a couple of route suggestions for budget backpacking in India based on my past travels.
2 week Rajasthan backpacking itinerary
Day 1 – Fly into New Delhi and spend 2 days in the city.

Day 3 – Catch a train to Agra to see the Taj Mahal. I'd suggest 1-2 days in Agra.

Day 5 – Spend 3 days in Jaipur exploring spectacular palaces.

Day 8 – Spend two days in Udaipur. Explore the palaces and take a boat ride across the lake.

Day 10 – Move onto Jodhpur, known as the Blue City, and take a flying fox zipwire across the valley from the fort.

Day 12 – catch an overnight train to Jaisalmer where you can explore the desert and camp under the stars.

All these places can be accessed by train which will keep your budget low especially if you travel in the lower train classes.
Read next: detailed Rajasthan itinerary
10 day northwest India backpacking itinerary
Day 1 – Fly into Amritsar and visit the Golden Temple and Wagah Border show.

Day 3 – catch a bus up to Dharmshala and base in the town of Mcleod Ganj. Here you can visit the Tibet Museum, meditate and do some hiking.

Day 6 – catch a night bus to Rishikesh where you can spend several days exploring the countryside, visiting the Beatles Ashram, practising yoga and enjoying the vibe in the many Rishikesh cafes.

All these places can be accessed by bus.

There are so many other India backpacking itineraries including from Mumbai to Hampi and down to Goa, and from Chennai to Pondicherry, as well as backpacking around Kerala and the southwest. You could spend a lifetime and not see it all!
Cost of India travel – tips and charges
Should you tip in India? Yes! It's a great way to support local livelihoods. Around 5-15% is an appropriate amount to tip in India. You can leave this in restaurants or give it to tour guides. You'll rarely be expected to tip taxi drivers unless it's an organised taxi tour when they often expect another 25% or so on top of the price of the tour.

A final thing to note while backpacking India is that tips are occasionally expected when someone's helped you out. Whether that's showing you the way or giving you an offering at a temple, sometimes what seems like a favour or friendliness turns into the demand for a tip. Although you don't have to, I would usually give 20 or so rupees.
Thanks for reading my India backpacking guide!
Check out my other country budget guides:
I hope you have a wonderful time in India and this blog has helped you plan your India trip budget. It's such a fantastic country where your money goes far!
For more travel content, follow me on Instagram, Facebook, Twitter and YouTube.
See you next time,
Rose
Ps. Want to remember these India travel costs? Pin this for later!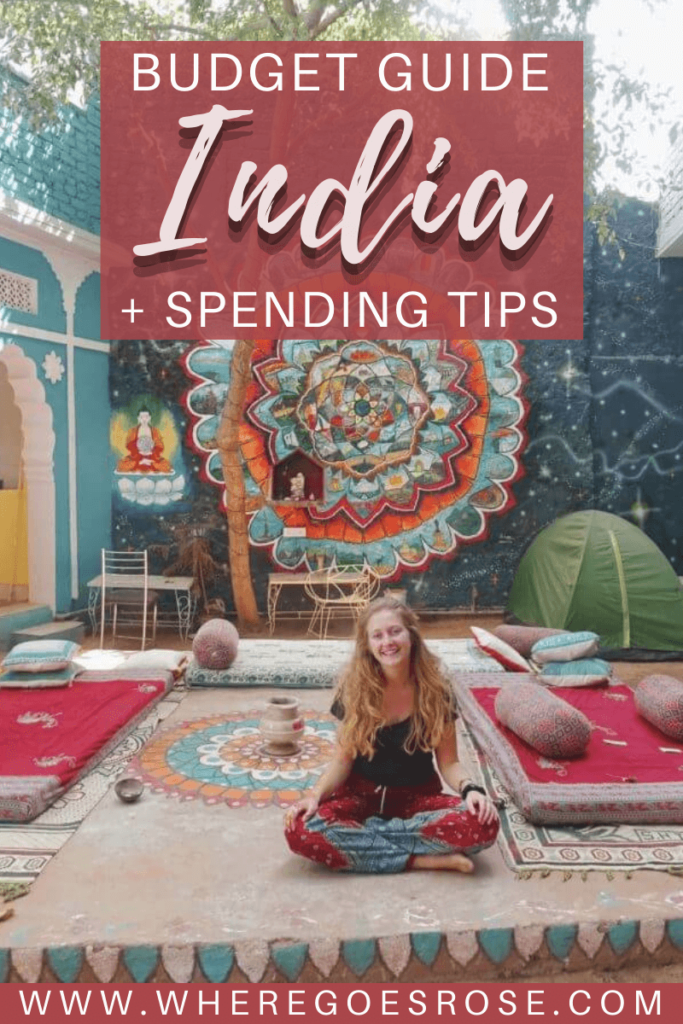 VISITING INDIA?

These are my trusted resources:

Getting around by air – it's easy to get between cities by flight. I use Skyscanner and search by whole month to find the best value dates.

Buses – buses are comfy and efficient. Use 12Go to book.

Trains – these are a good option for long journeys because you have a bed rather than a seat. Use 12Go to book.

For hotels, I use Booking.com – they also have self-catering apartments. You can filter by review score and price to find the best-rated budget places. For hostels, I use Hostelworld.

Browse tours and activities on GetYourGuide. I also check Viator and Klook in case they have a better price.

For food experiences with passionate local chefs and foodies, check out EatWith.

Pack the latest copy of India Lonely Planet.

Need travel insurance? I use True Traveller (for UK & Europe residents) since it's affordable but covers everything you'd need including various activities, valuables and pre-existing conditions. Unlike some companies, they insure you if you're already travelling / don't yet have your flight home booked. Get a quote.

For travel insurance for other nationalities, I recommend Hey Mundo and for long-term digital nomad travellers, I suggest Safety Wing.

Check out my resources page for more travel discounts and tips!