This post may contain affiliate links to things like tours, hotels, Amazon associates and products. These help me earn a small commission at no additional charge to you.
As South Korea's second-biggest city, there are loads of cool Busan attractions from city beaches to malls, street food markets and jimjilbang naked spas. There are also plenty of Busan day trips to keep you busy should you run out of things to see and do.

From hikes to temples and nearby towns and cities, I'll share them all.
What I love most about South Korea is how well cities and nature come together. Unlike many word cities where you'd have to travel for hours to escape the crowds and reach decent hiking spots, it's easy in South Korea.

Public transport is excellent and most countryside attractions are well linked to nearby cities by bus or train.

On the downside, everyone can reach them! I can't promise you'll have hiking trails entirely to yourself. But as long as you don't mind sharing the viewpoints, it's not a problem.
Where is Busan?
Busan is located on the south-east coast of South Korea, about as far Seoul as you can get. With a population of 3.5 million, it's considerably smaller than Seoul's 10 million yet it still feels big and busy to visit.
Getting to Busan
By air: Gimhae Airport has a domestic and international terminal flying all over South Korea and other Asian countries. I use Skyscanner to find the best value flights and search by whole month to get the cheapest flights.

By bus: One of the best ways to get around in South Korea is by bus. These are easily booked by turning up at the bus station on the day. Buses run from Busan to Daegu, Gyeongju and other cities.

Train: Getting around by train in South Korea is also easy. From Busan Station, you can catch services around the country. Use Trip.com, partner of Korail – the official railway network of Korea – to book your tickets in advance (click the flag in the top right corner to switch to English).
Nearby day trips from Busan
I'll start off by telling you about the nearby Busan day trips. Most of these are still within the Busan region, taking around hour to reach. You could visit as a half-day trip from Busan or set aside a day and explore at a leisurely pace. All these day trips can be reached by public transport.
Here are the top places to go outside of Busan…
Busan day trip #1 – Igidae Coastal Walk
Glance at a map of Busan and you'll notice a long stretch of greenery running along the coast. This is Igidae Park home to Igidae Coastal Walk. This free hike is great for those visiting South Korea on a budget trip.

Rather than a hard hike, this is more of a scenic stroll with impressive views out over the Sea of Japan. Apparently, on a clear day, you can glimpse Japan in the distance. I could only see the Busan skyline but this was impressive enough!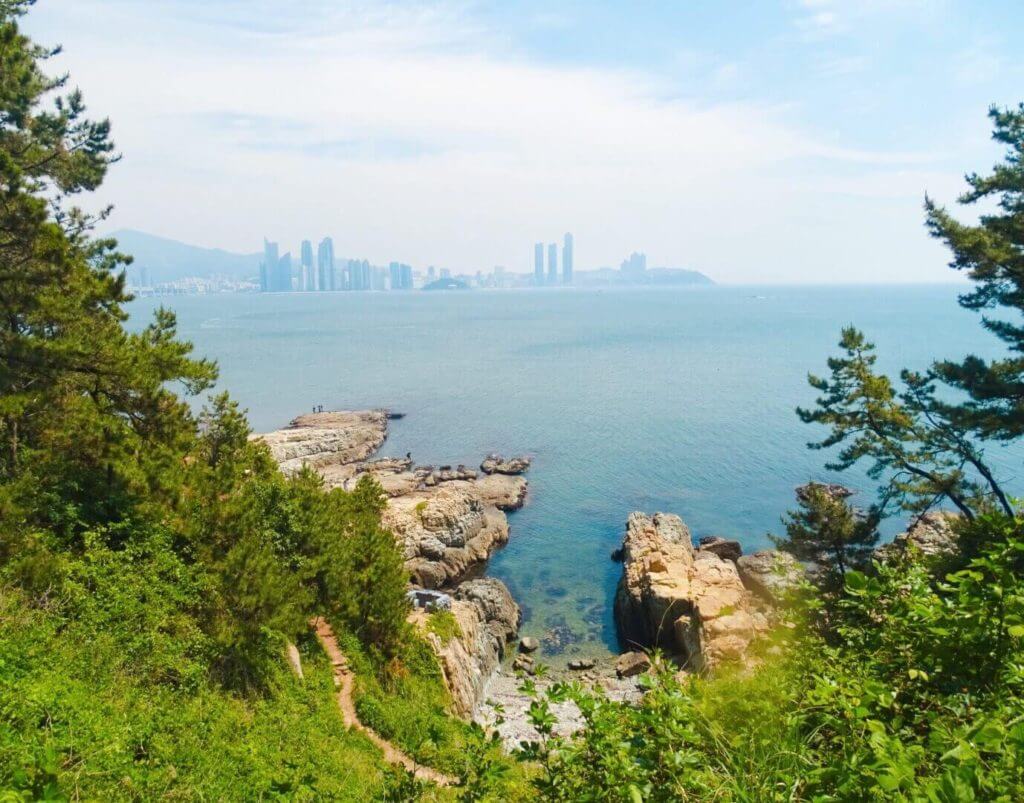 The Igidae Coastal Walk runs for 5 kilometres and takes around 2 hours to walk. For that reason, it's not a full Busan day trip. But if you take a picnic and stop to explore Oryukdo Skywalk at the southern tip, it can take longer.

You can walk Igidae Coastal Walk in either direction since it has two beginning or finish points rather than a circular route.

While Igidae Coastal Walk isn't a hard hike, it's not a paved road either. There are uphill parts where you'll need to scramble over rocks and tree branches. But overall, anyone with a basic level of fitness can do it.

You don't need any special hiking gear – trainers and casual clothes will do. Pack suncream and water as there aren't any shops or refreshments along the track.

Oryukdo Skywalk: Whichever way you take the coastal walk, don't miss the skywalk. This glass corridor extends off the cliff edge so you can walk out over the ocean and glance down (if ya dare). The only downside is that you're forced to wear slippers that resemble plastic bags over your feet. No Insta shots here!
Getting to Igidae Coastal Walk
To begin at Oryukdo Skywalk, you can catch a local bus. Many including the 131 travel directly to the skywalk from Kyungsung University in Nam-gu neighbourhood taking just 12 minutes.

From other parts of Busan, catch a bus to the University and change. Nam-gu is a lively part of Busan so you can stop here for lunch before or after the hike.
Busan day trip #2 – Taejongdae Resort Park
Another of the best Busan day trips for hikers is Taejongdae Resort Park. This can be found at the tip of Yeongdo island off the coast of Busan. Yeongdo Island is connected to the mainland in three places making it easy to drive or catch a bus to the island.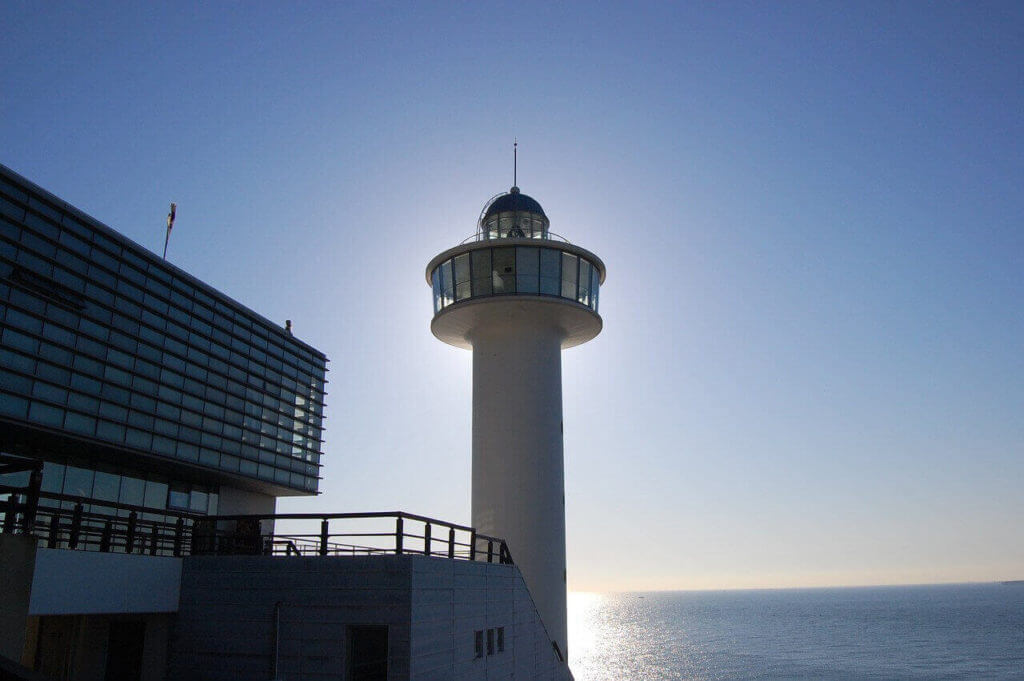 Depending where you're coming from in Busan, it can take 1.5 hours to reach Taejongdae Resort Park by public transport. I would advise setting aside a whole day to enjoy Taejongdae properly.

However, if you're short of time, you could visit during the morning and explore Nampo-dong in the afternoon. This is a commercial and shopping district close to Yeongdo Island known for attractions including Jagalachi Fish Market, Biff Square and the Lotte Building.

Taejongdae Resort Park is a spot of natural beauty in otherwise busy Busan, known for its dense forest and scenic Buddhist temples. A morning or afternoon hiking between them is time well spent. There are also a few lookout points worth checking out. Busan loves its ocean views!
Things to do
Taejongdae Observation Deck – this three-story glass building built jutting over the cliff edge offers brilliant views out over the ocean. You can also see Tea Kettle Island, named as such because of the lighthouse that looks like a handle.
Yeongdo Lighthouse – this iconic beacon just 2 minutes from the observation deck can be climbed for more spectacular views. Beside it sits the Light Beyond Limitation built by a Korean modern artist.
Taejongsa Temple – not far from these other sites is a peaceful Buddhist temple site containing holy statues and figs donated from Sri Lanka. In early July, they host an annual hydrangea festival.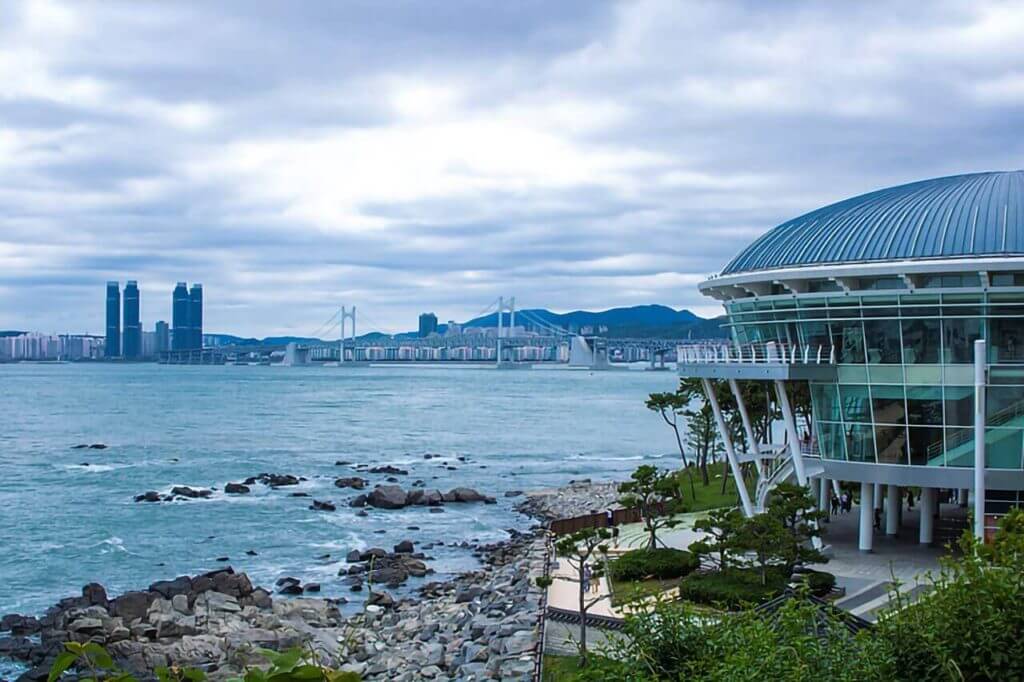 A mini-train takes a 5km loop around the park for those who don't fancy walking. However there are a few extra stops that the train misses so if you're feeling energetic, you'd be wise to travel on foot and find other gems within the park.

Getting to Taejongdae Resort Park: Most buses drop off just before the entrance to the park. After getting off, follow the road in the same direction to the information centre and start of the walking trail and train loop. If in doubt, just follow the other passengers wearing activewear who get off the bus.

Useful information: The park is open from 5am to midnight and entrance is free.
Busan day trip #3 – Haedong Yonggung (Temple by the Sea)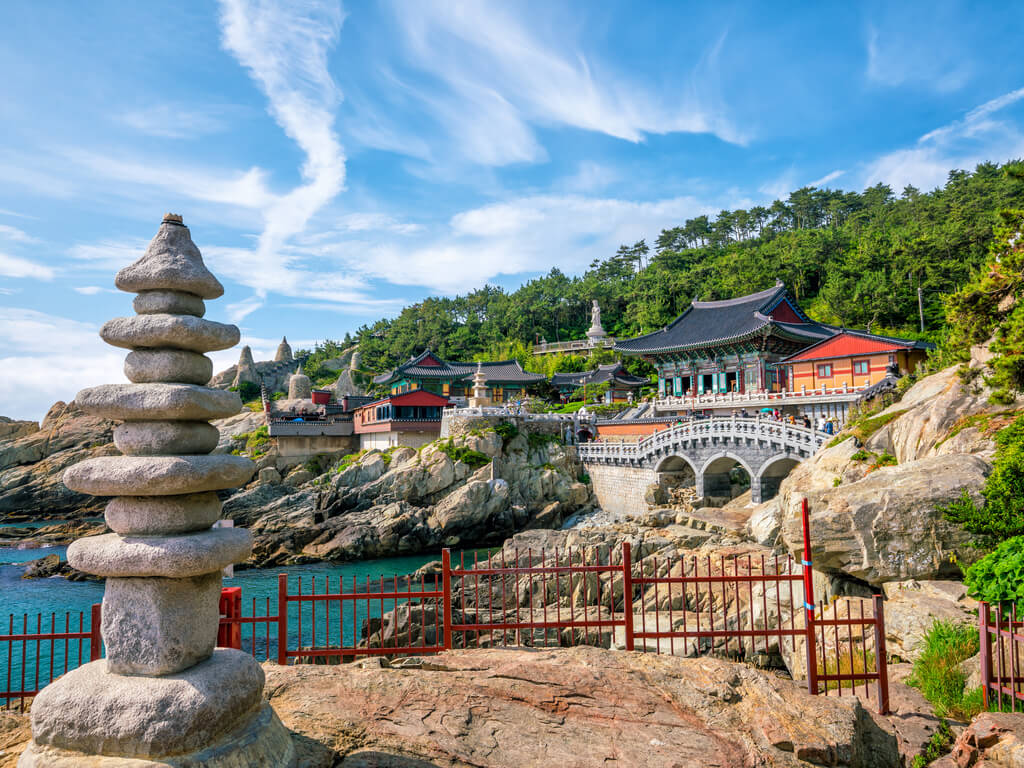 A final closeby Busan excursion is Haedong Yonggung. If you're not sure what this Busan day trip might entail, the English name will give everything away: the Temple by the Sea.

This Buddhist temple dating back to 1376 is unusual in South Korea because most of its kind are built amongst nature or upon hilltops. But in typical Busan style, it offers striking views out over the ocean from its craggy cliffside location.
Its location dates back to days of extreme drought which led to locals turning their backs on Buddhism. Naong Hyegeun, an important figure within the Goryeo Dynasty received a vision telling him this location was auspicious and should be the new home to a temple where locals could pray for a life without suffering. It seems to have done the trick!

Haedong Yonggung is in the area of Gijang-gun, around 13km from central Busan. The bus will drop you just a short walk away and you can stroll the temple site and soak up the views, or alternatively, you also can make a day of it by hiking in the temple's surrounds. Follow signs from the temple to Songjeong Beach for a pleasant hike through the forest.

The best time to visit Haedong Yonggung is during the Buddha's birthday celebrations in May when the site is decorated with paper lanterns. Sunset is a particularly atmospheric moment to visit with the sun sinking behind the sea.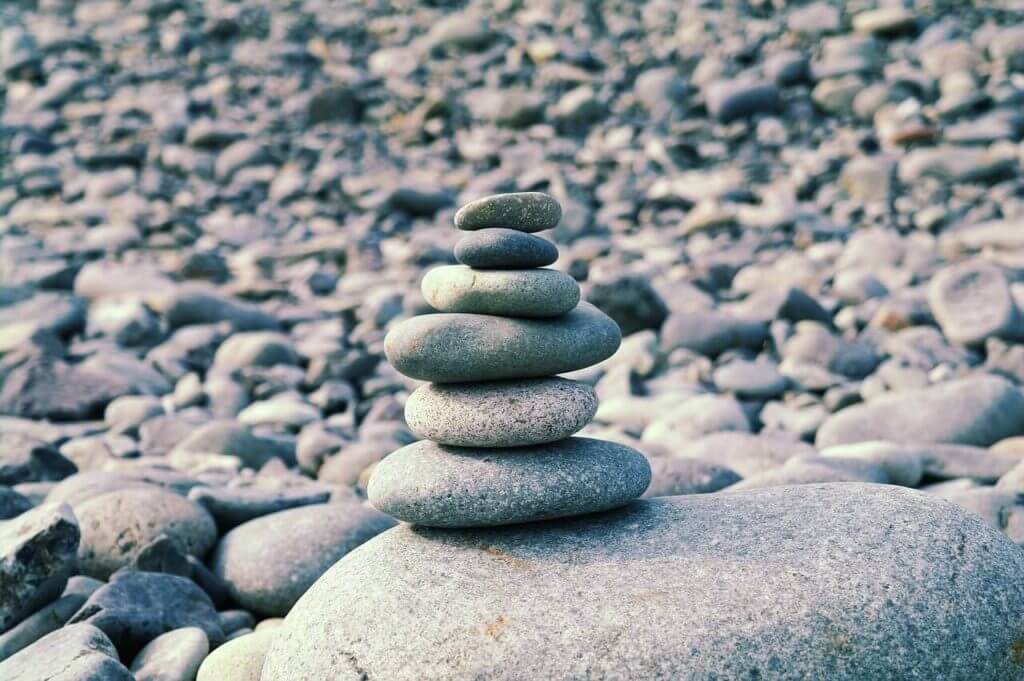 Getting to Haedong Yonggung
If taking a day or half-day trip from Busan, the best place to depart from is Haeundae which you will probably have heard of due to the famous beach there. This area in northeast Busan is considerably closer to the Temple By the Sea than the central city.

From exit 7 of Haeundae Station, you can board the 181 bus which takes just under an hour to reach the temple. Depending where in Busan you're staying, it may take another hour to get over to Haeundae so leave enough time for this Busan day trip.
Further afield day trips from Busan
If you don't mind a longer journey and fancy checking out a whole new city from Busan, there are a couple of options I'd recommend.

I stayed for a couple of nights in Daegu and Gyeongju but they can be visited as day trips from Busan. If you're short of time in South Korea, it's a good idea to use Busan as a base to explore more of South Korea, especially since public transport is speedy and efficient.
Tip – to secure your train seats, use Trip.com to book. For buses, just show up at the station.
Busan day trip #4 – Gyeongju
As the historic capital of South Korea, Gyeongju is a must-visit for history lovers. Before visiting this city of 250,000 on the southeast coast of Korea, I knew nothing about the Silla kingdom which ruled Korea for almost 1,000 years.

Gyeongju is a great place to learn about Korean history and see ancient temples as well as man-made tombs containing bodies of the Silla kings buried with gold, jewels and other elaborate treasures.
Related activity: guided Gyeongju day trip from Busan
Things to do in Gyeongju
Wolji Pond at Donggung Palace: This ancient palace was built as part of the Silla dynasty. Spend an hour or so wandering around the scenic pond, admiring temples floating on islands in the water.

Nighttime is an atmospheric time to visit so consider leaving this activity until the end of your day trip from Busan. Entrance is 2000 won.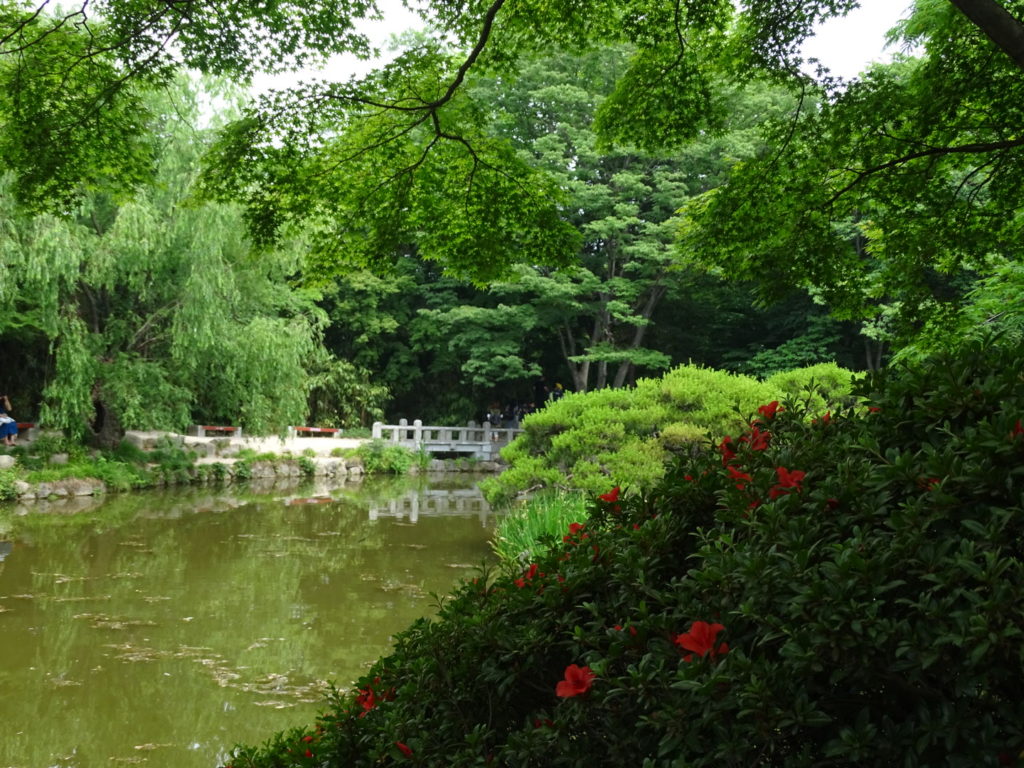 Bulguksa Temple: This large UNESCO Heritage temple can be reached in 30 minutes by bus (catch number 10 or 11 from Gyeongju Train Station or Gyeongju Bus Terminal). It's worth squeezing into your day trip because you can browse colourful temples, take photos under hundreds of paper lanterns and even hike up to the giant Buddha statue at Seokguram Grotto. Entrance is 6000 won.

Daereungwon Royal Tomb: Probably the quirkiest place in Gyeongju is this collection of manmade tombs resembling giant bumps in the soil. Only excavated in the 1970s, they were found stuffed full with artifacts including gold, jewels and remains of ancient kings and their servants. Spend an hour walking around the green park and heading inside an excavated tomb.
Getting to Gyeongju
From Busan by bus: Buses depart from Nopo Bus Station hourly and take around 1 hour to reach Gyeongju. The bus terminal is a 20-minute walk from town or you can a 10-minute bus.

Bus tickets from Busan to Gyeongju start at 5000 won.

Getting to Gyeongju from Busan by train: If you'd rather catch a train, the KTX departs from Busan Station and only takes 35 minutes to arrive at Singyeongju Station. From here, you can catch one of many buses to Gyeongju in 20 minutes.

Train tickets from Busan to Gyeongju start at 12,000 won. Use Trip.com to book.
Busan day trip #5 – Daegu
Another easy day trip is to Daegu, a city located north of Busan. Unlike coastal Busan, it's located inland but there are still some impressive hikes and reasons to visit. I didn't enjoy Daegu as much as Gyeongju as it's quite a modern city but the commercial city centre can no way rival Busan's. The reason to visit Daegu is really for the hikes.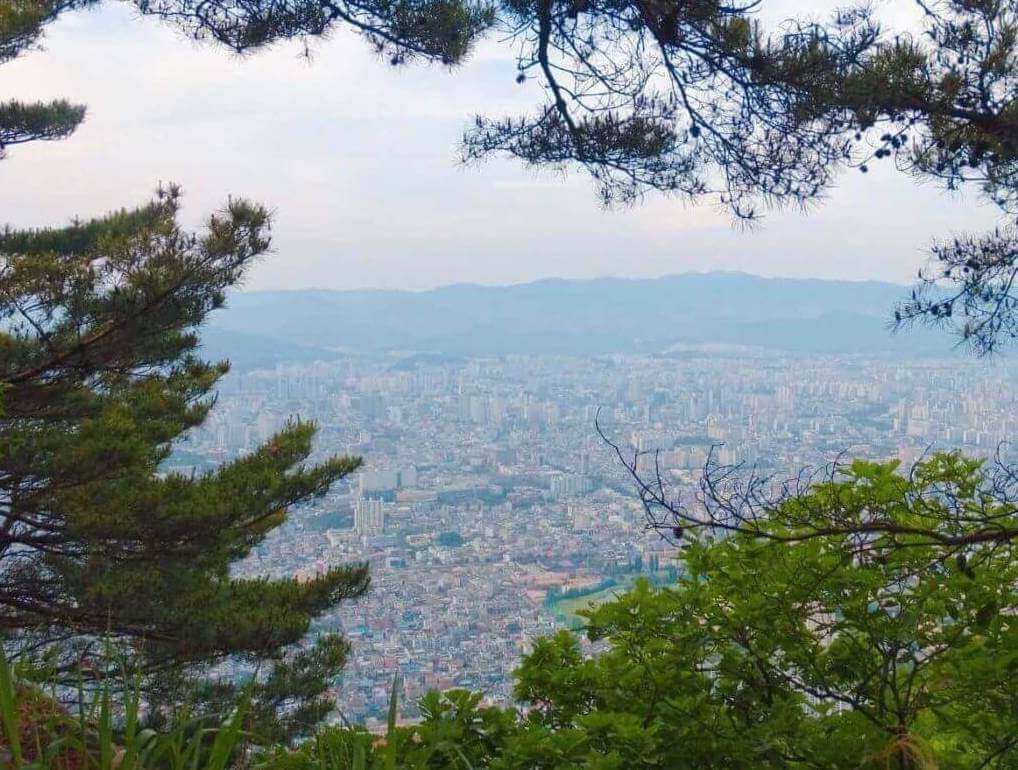 Things to do in Daegu:
Apsan Park: Hikers visiting Daegu can trek in Apsan Park, located along the side of a mountain. While it's a steep hike of 45 minutes, it's worth it when you see the views over the city and countryside from the top. Alternatively, you can catch the cable car for 10,500 won. Despite not being a particularly strong hiker, I enjoyed the natural surroundings of the hike and didn't find it too difficult.

Catch the 300 or 410 bus from Daegu centre to begin.

Gatbawi Buddha statue at Palgongsan: For another hiking adventure in Daegu, catch the 401 bus to Palgongsan mountain where you can complete an hour hike to the Gatbawi Buddha statue. This is an atmospheric spot surrounded by nature and of importance to Korean people who you will see praying there. You can also hike along The Ridge afterwards and soak up the greenery and panoramic views.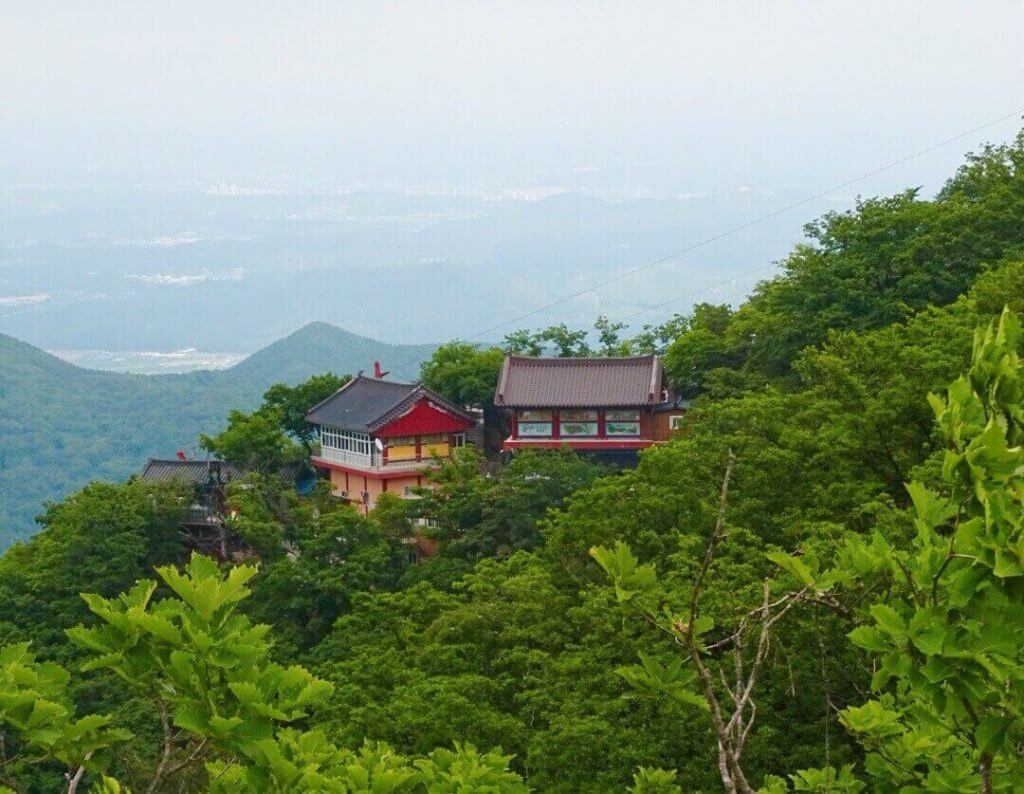 Getting from Busan to Daegu: You can catch the train from Busan Station in 48 minutes, arriving into Dongdaegu Station in Daegu. Use Trip.com to book.

For Busan day trips, I recommend GetYourGuide…
Busan day trip #7 – Oedo Island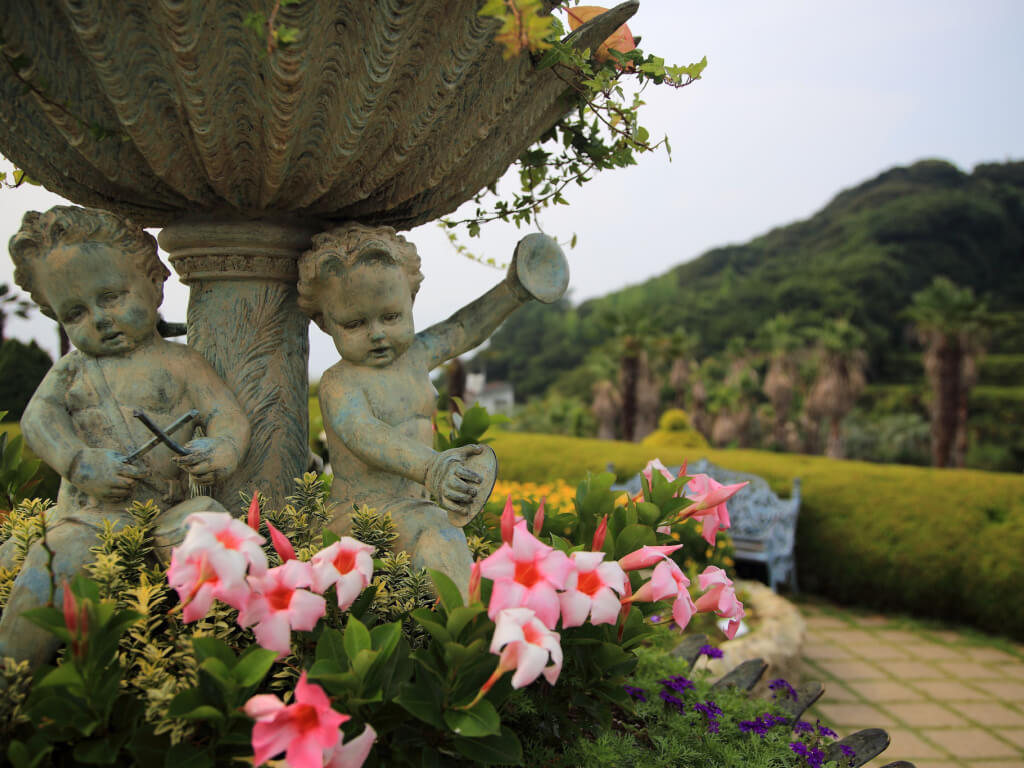 Although you probably didn't come to Asia to visit a European-style garden, this intriguing island off the southern coast of South Korea needs to be seen to be believed. Over 3000 plant species can be found at this family-owned oasis within Hallyeohaesang National Park.
Oedo Island is best visited in spring when colourful flowers overflow their beds. The secret's out on Oedo so don't expect to have the petite island to yourself. Entry is 11k won.
How to get from Busan to Odeo Island: catch a 1.5-hour bus to Jangseungpo Port and board a ferry or, the easier option, take a guided day tour.
Busan day trip #8 – Tongyeong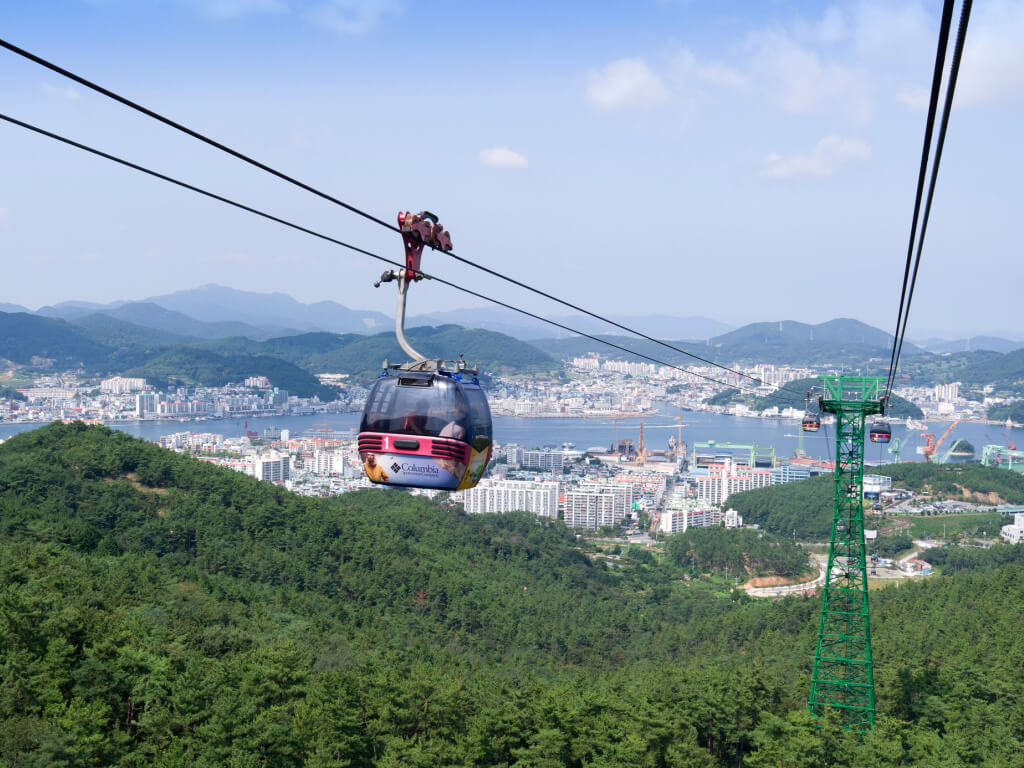 This port city 62km from Busan makes for an easy day trip and, better yet, a rewarding one for history buffs. The UNESCO city has a rich maritime past plus seaside holiday potential with its coastal views, abundant islands and fresh seafood.

Things to do in Tongyeong include:
Ride the longest cable car in South Korea
Soar down the Skyline Luge in a toboggan
Shop and eat at Visit Joongang Market
Snap colourful murals at Donpirang Village
Sample fresh seafood
Spy the famous Admiral Yi Sun-sin statue in the park of the same name.
How to take a day trip from Busan to Tongyeong: take a bus in around 1.5 hours or opt for a guided day tour with a knowledgeable local guide.
Thanks for reading!
I hope these day trips provide you with travel inspo during your trip to Busan 🙂
Read my other Korea posts:
See you next time,
Rose
For more travel content, follow me on Instagram, Facebook, Twitter and YouTube.
Ps. Liked these Busan day trips? Pin this for later!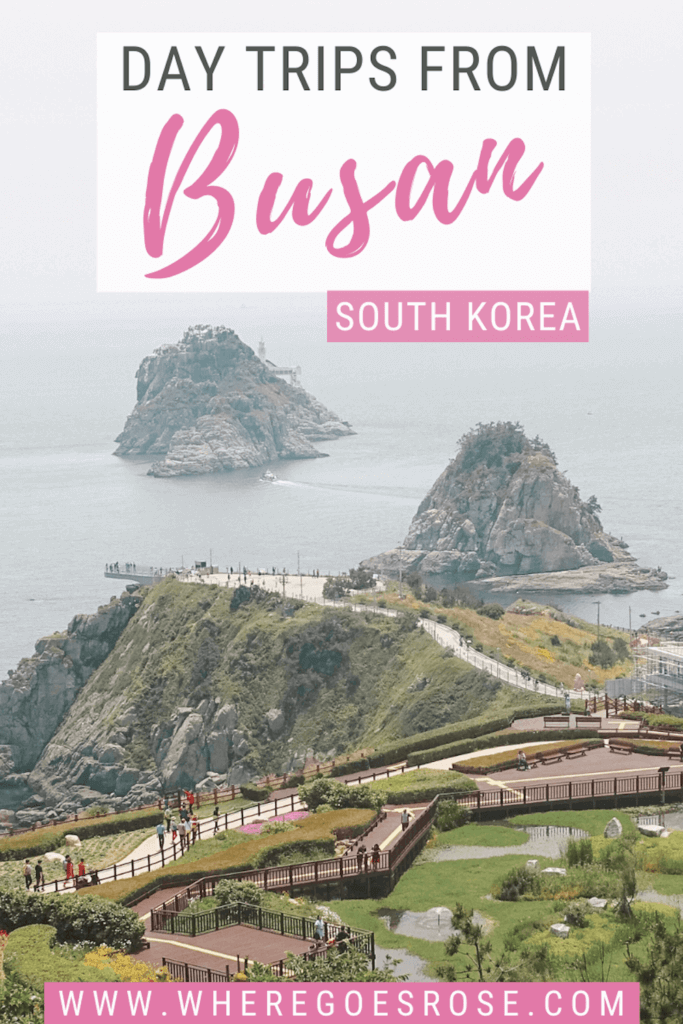 VISITING SOUTH KOREA?

These are my trusted resources:

Getting around by air – I use Skyscanner to find the best-value flights, using the 'search by month' tool to find the cheapest dates. You can also use the 'to anywhere' feature if you're flexible on where you're going.

Buses – buses are comfy and efficient. It's tricky for foreigners to book online so it's best to turn up on the day.

Trains – use Trip.com, partner of Korail (the official railway network of Korea) to book your tickets in advance. The website accepts international payment options, unlike Korean rail websites. Click the flag in the top right corner to switch to English

Driving in Korea – use Rentalcars.com to compare car rentals. Hiring a car will be especially useful on Jeju Island.

For hotels in Korea, I use Booking.com – they also have self-catering apartments. You can filter by review score and price to find the best-rated budget places. For hostels, I use Hostelworld.

Browse South Korea tours and activities on GetYourGuide. I also check Viator and Klook in case they have a better price.

For food tours with passionate local chefs and foodies, check out EatWith.

Need travel insurance? I use True Traveller (for UK & Europe residents) since it's affordable but covers everything you'd need including various activities, valuables and pre-existing conditions. Unlike some companies, they insure you if you're already travelling / don't yet have your flight home booked. Get a quote.

For travel insurance for other nationalities, I recommend Hey Mundo and for long-term digital nomad travellers, I suggest Safety Wing.

Check out my resources page for more travel discounts and tips!