This post may contain affiliate links to things like tours, hotels, Amazon associates and products. These help me earn a small commission at no additional charge to you.
Coyoacan is one of Mexico City's most famous neighbourhoods, put on everyone's Mexico bucket list by late artist Frida Kahlo. But that's not all it's good for: there are fantastic restaurants in Coyoacan as well as vibey food markets and cosy Coyoacan cafes serving quality coffee.

Get ready for my complete Coyoacan food guide!
MEXICO CITY QUICK LINKS

Accommodation: Booking.com / Hostelworld

Activities: GetYourGuide

Copy of Lonely Planet Mexico

Food tours: Eatwith

Getting around: Metro / Uber

Must-read: Ultimate Mexico City itinerary & Mexico City travel tips
Coyoacan food guide
If you're coming to check out this lovely area of Mexico City, whether for a day or longer, you'll want to discover the best food in Coyoacan to fuel your adventures.

Whether you want to Mexican food, world cuisine or tasty coffee, there are upmarket Coyoacan restaurants with higher prices as well as street food for those travelling on a budget.
Check out my other Mexico food and drink guides:
Wondering where to eat in Coyoacan, Mexico City? Pin this for later!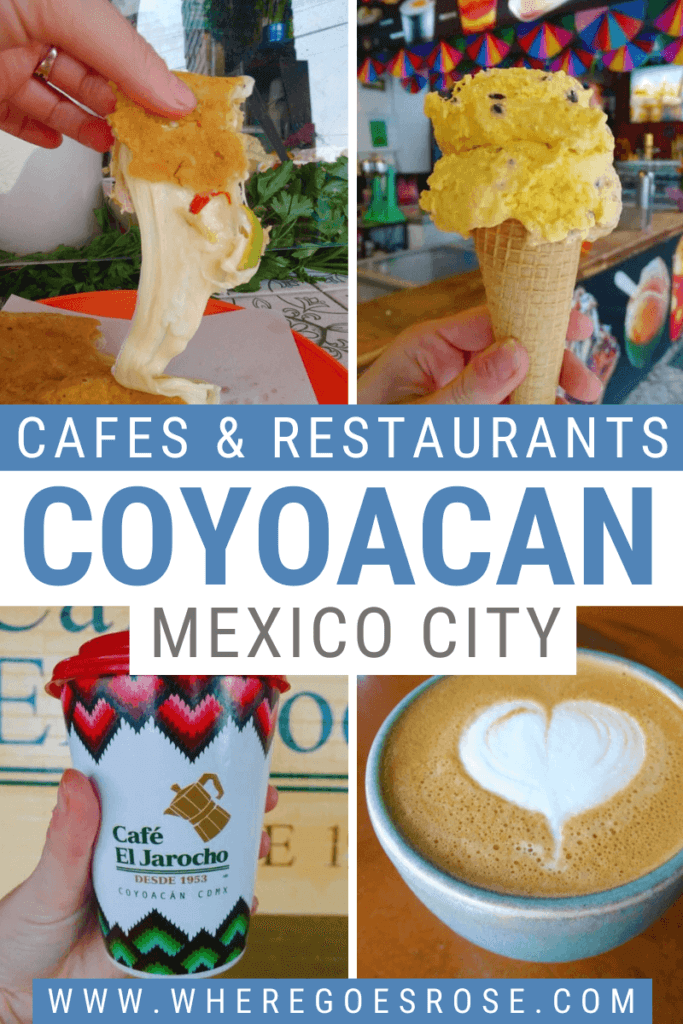 Related read: 20 things to do in Coyoacan, Mexico City
The best restaurants in Coyoacan, Mexico City
I spent 10 days living in and eating the best food in Coyoacan, all in the name of research of course!

So you don't spend your valuable vacation time researching the best restaurants in Coyoacan, I've compiled this complete guide of food markets, cafes, sit-down restaurants and cafes as well the best coffee in Coyoacan.
Tostadas Coyoacan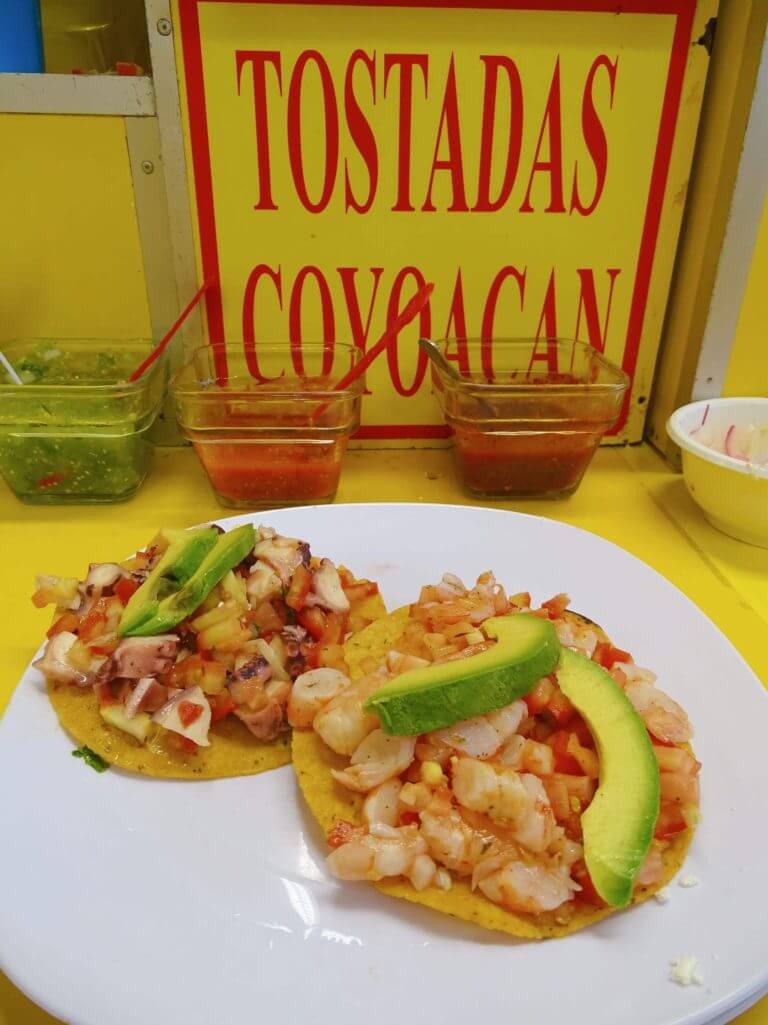 I hate to start with the obvious but no self-respecting Coyoacan food guide could miss this local institution.

There are no prizes for guessing what Tostadas Coyoacan serve! Tostadas are one of my favourite Mexican dishes: crispy fried corn tortillas, piled high with toppings of your choosing.

At this casual market stand inside Mercado de Coyoacan, there are almost too many flavours to choose from. Chicken and mole was my favourite combo, although shrimp & avocado was also delicious.

You'll pay 30-40 pesos per tostada making this one of the cheapest and tastiest places to eat in Coyoacan, Mexico City.

Opening times: 11am-6pm.
Cafe de Mama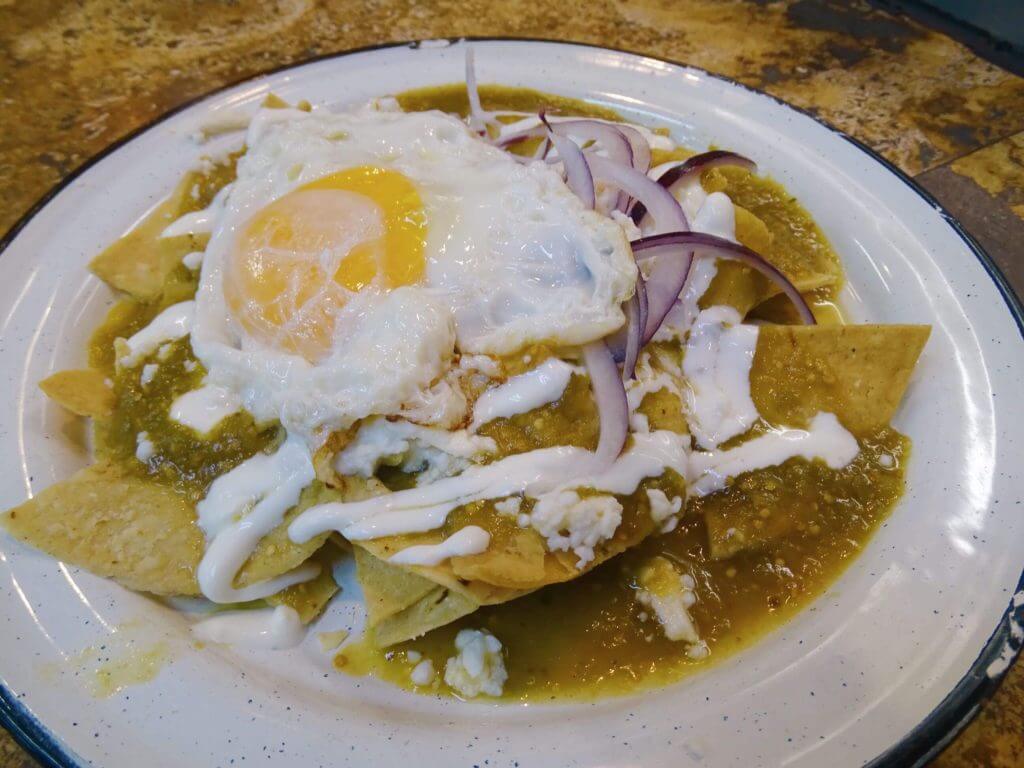 This second contender for best restaurant in Coyoacan is metres from Tostadas Coyoacan, still within Coyoacan Market. Cafe de Mama is a homey sit-down restaurant known for their hearty breakfasts, fresh juices and coffee.

Be sure to order the chilaquiles. If you don't know this dish yet, get ready for your life to change for the better. Chilaquiles are tortilla chips topped with salsa roja or verde (red or green), onions, cheese and egg or chicken depending how you order.

Opening times: 8am-6pm daily.
Tortas don Coyote Coyoacan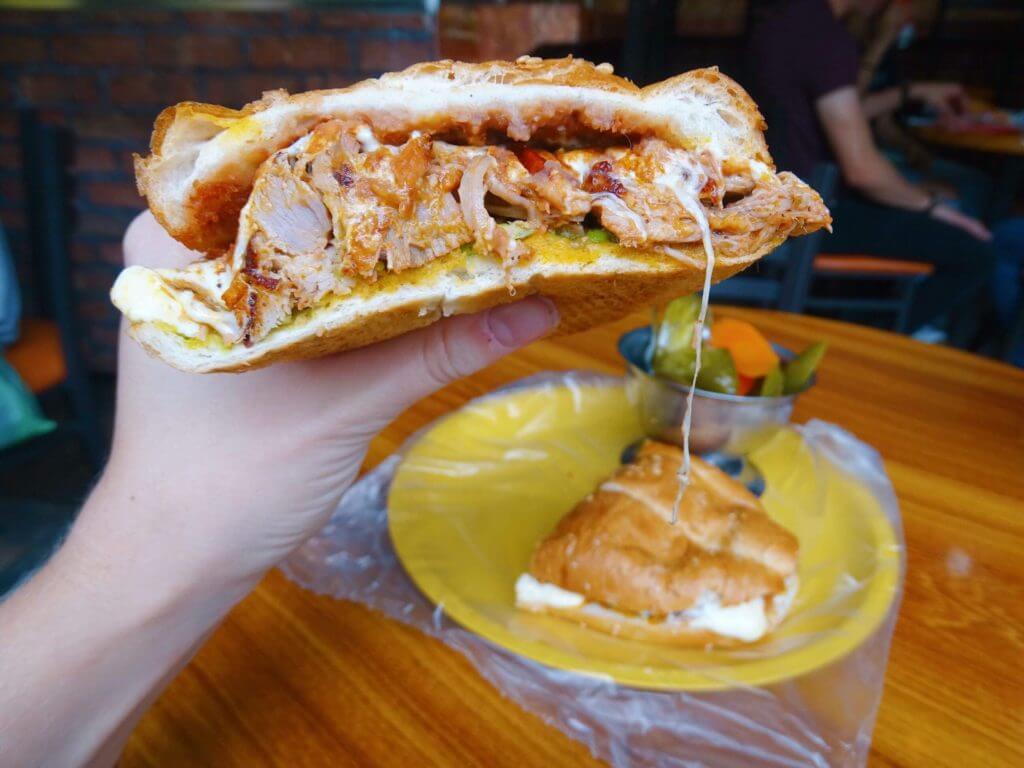 More of the best food in Coyoacan is served at modest cafe, Tortas don Coyotes. They exclusively serve tortas: giant Mexican sandwiches packed with ingredients. I knew I was onto a good thing when this oozy, meaty sandwich arrived at my table.

There are plenty of options at this relaxed Coyoacan restaurant but I would recommend the cochinita pibil, slow-cooked pork originating from the Yucatán Peninsular. For 80 pesos ($4), you can't beat this for a quick and tasty lunch in Coyoacan.

Address: Felipe Carrillo Puerto 31 Loc 5-6, Coyoacán.

Opening times: 10am-9.45pm.
Ecos del Mundo
This is one of the best restaurants in Coyoacan for veggies and vegans. They serve classic Mexican dishes as well as world cuisine. Tuck into spicy curries, noodle dishes, veggie burgers, couscous, sandwiches and salads.

With organic ingredients, homemade bread and fresh juices, Ecos del Mundo is a Coyoacan hidden gem, nestled away from the central square on Higuera.

Although they serve decent coffee, it's worth crossing the road for the best coffee shop in Coyoacan (keep reading to find out which!)…

Expect to pay around 120 pesos for a main and drink.

Address: Higuera 25, La Concepción, Coyoacán.

Opening times: 10am-8pm daily.
Antojitos Mexicanos Market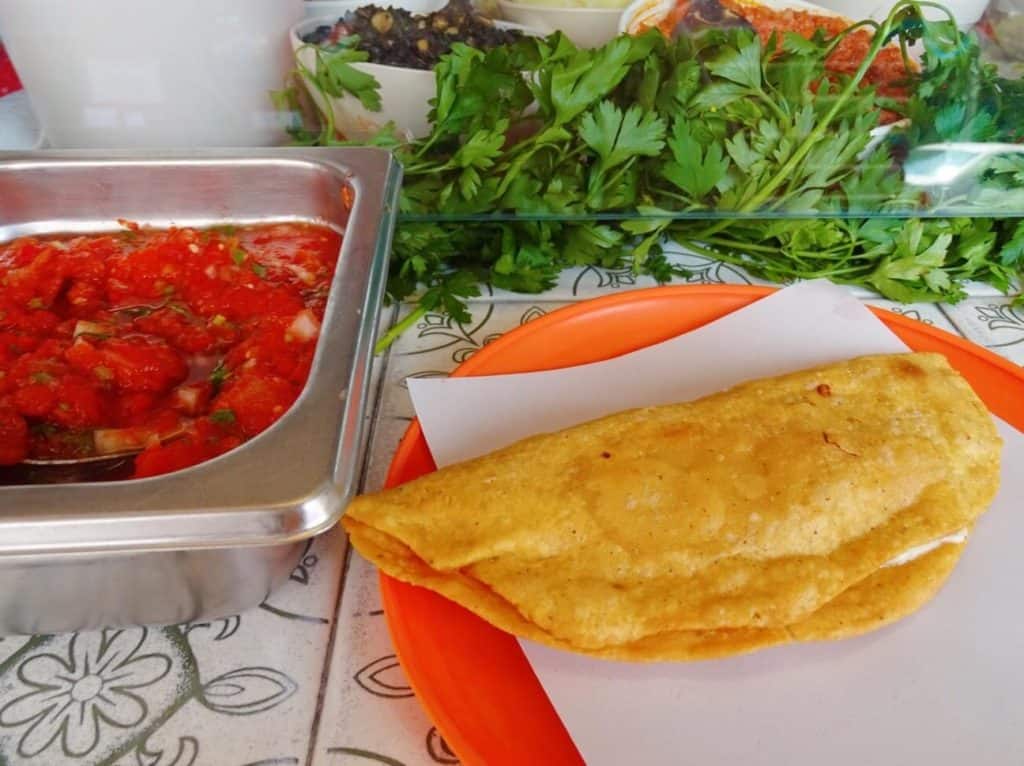 For a cheap and cheerful place to eat in Coyoacan, look no further than this authentic market. It's no means as big or busy as Mercado de Coyoacan but I liked the local vibe, as well as the prices. These cheesy quesadillas only set me back 30 pesos.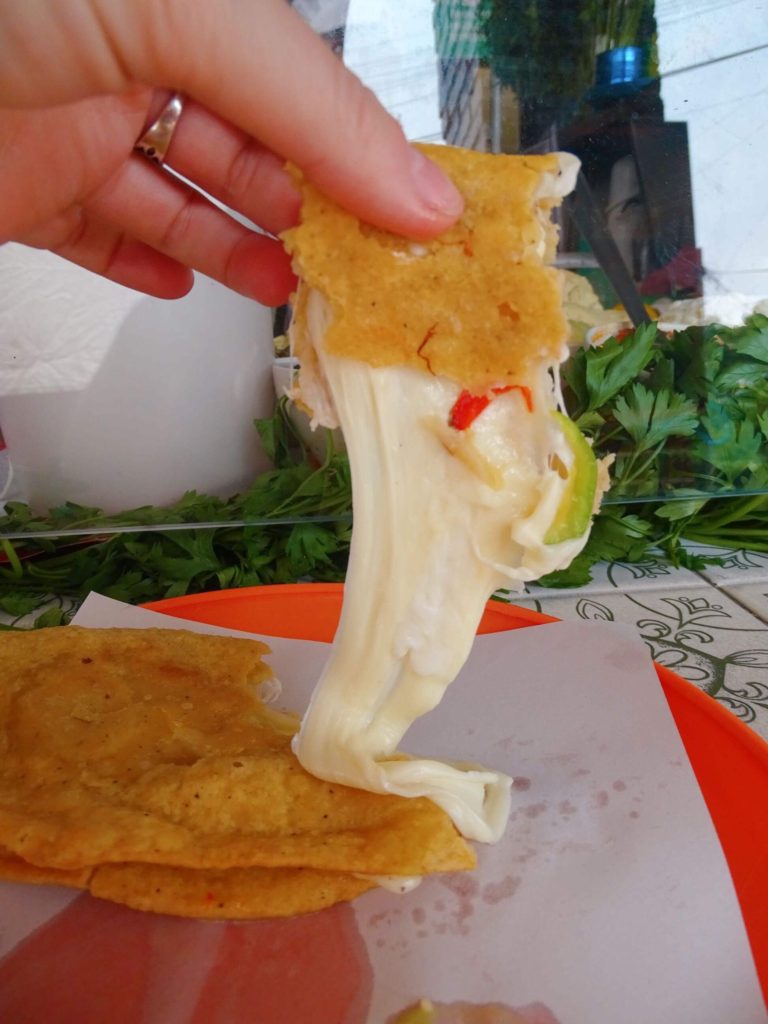 Mercado de Antojitos doesn't feel at all touristy which is part of its charm. There are about 15 stalls where you can grab a seat and tuck into some of the tastiest food in Coyoacan.

Address: Antojitos Mexicanos Market, Higuera 10, La Concepción, Coyoacán.
Meson Antigua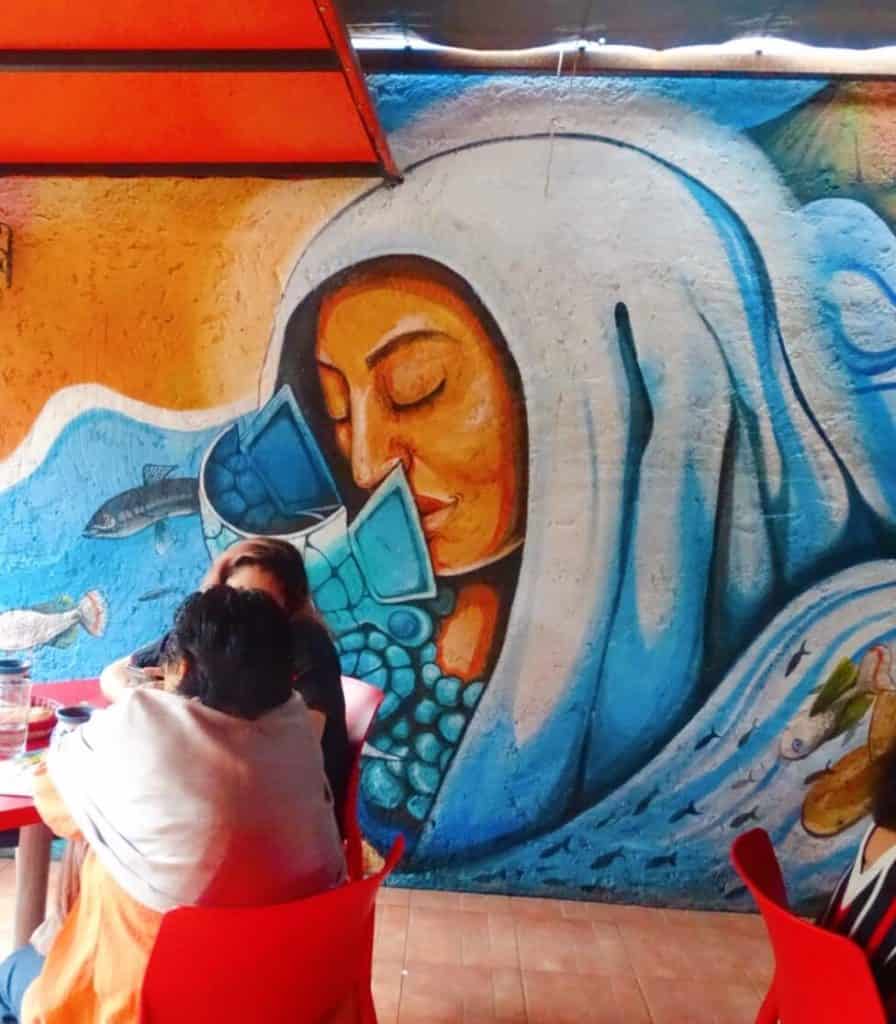 Another fantastic restaurant in Coyoacan is Meson Antigua, a 20-minute walk from the centre beside Plaza de la Conchita. This colourful restaurant is decorated with papel picado (paper flags) and beautiful wall murals.
I was introduced to this Coyoacan restaurant by my Airbnb host, a local with 30 years experience in the area.
Meson Antigua serve classic Mexican classics like tortilla soup, tacos and chilaquiles as well as fish, meat and veggie dishes. They also serve coffee and cake if you choose to drop by for an afternoon snack.

Prices are affordable with main dishes starting from 80 pesos.
Address: Jardín Sta Catarina 6, Santa Catarina, Coyoacán.
Opening times: 8am-11pm daily.

2022 note – I notice that the recent reviews aren't so good. Best to check TripAdvisor before you go!
Pizza del Perro Negro
Much as we all love Mexican food, you can't beat a good pizza. Pizza del Perro Negro is a Mexico City favourite with branches in Roma, Centro and San Rafael. The Coyoacan restaurant is just seconds from Coyoacan Market and a 5-minute walk from the Frida Kahlo Museum.

While they also serve classic pizzas, the attraction of Pizza del Perro Negro is surely the quirky, adventurous toppings. From mac 'n' cheese to chilaquiles, nachos and chile rellenos pizza, it's got to be seen to be believed! It's the kind of place I'd want to dare my friends into who could eat the craziest one…

Pizza slices start from 65 pesos and whole pizzas start from 140 pesos.

Address: Calle Xicoténcatl 319, Del Carmen, Coyoacán.

Opening times: 11am-9pm daily.
Want pizza but worried about the strange toppings? Head to Cancino instead. There are a few branches of this pizza restaurant in Roma and other areas of Mexico City and they're consistently delicious!
Dessert restaurants in Coyoacan
It's time to throw some sugar into my Coyoacan food guide. These are my top picks for dessert in Coyoacan…
Churreria General de la Republica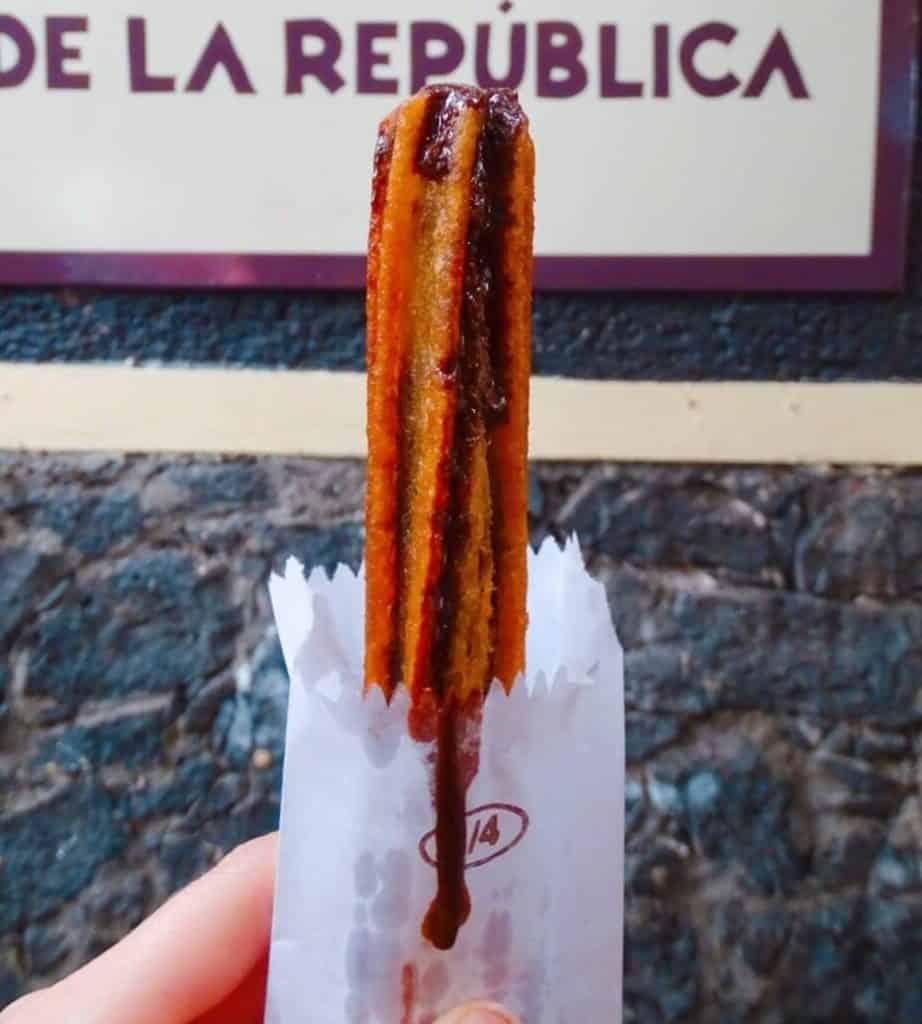 There are tasty churros all over Mexico City and Coyoacan is no exception. One of the best places to try them is Churreria General de la Republica, a cosy kiosk and cafe in Coyoacan.

Try classic churros served with sugar and cinnamon or upgrade to churros rellenos (stuffed churros) oozing ingredients like chocolate, blackberry, strawberry, caramel, and cinnamon-apple.

Classic churros are 25 pesos for four, and stuffed churros are 18 pesos a piece.

Address: Av Francisco Sosa 1, Del Carmen, Coyoacán.

Opening times: 9am-midnight.
Paletas y Helados La Gloria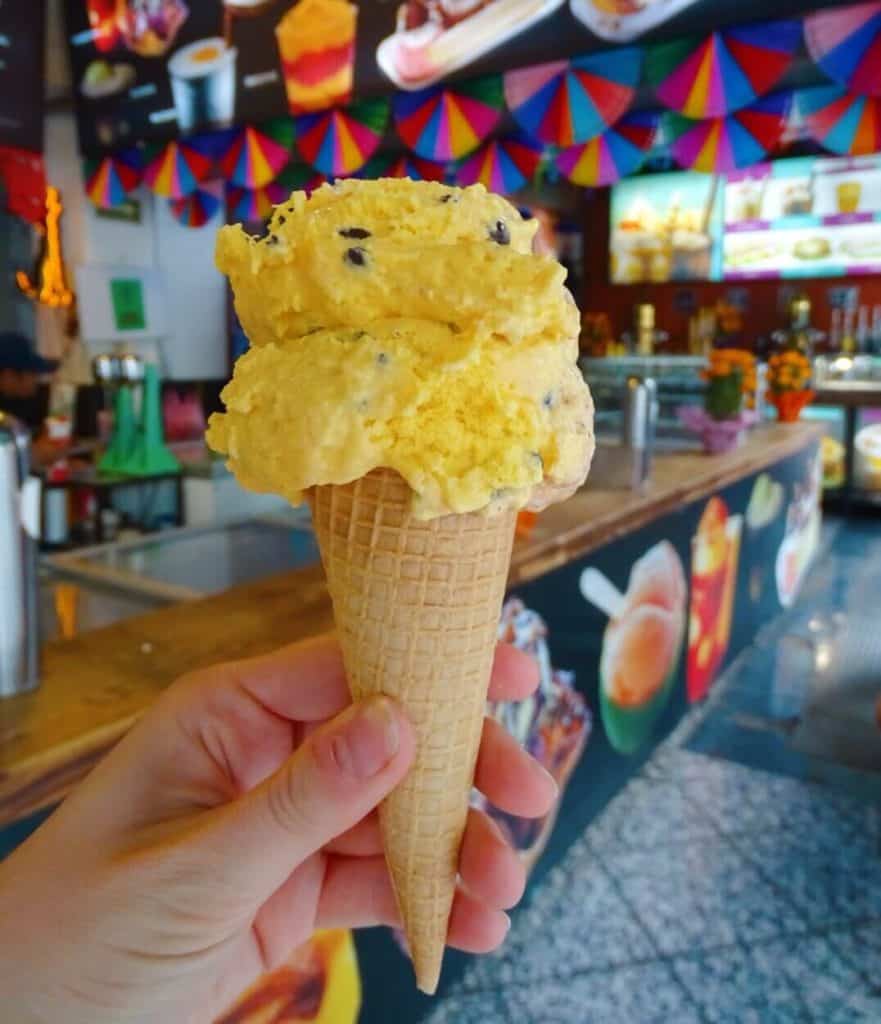 Don't leave Coyoacan without eating ice cream beside Plaza Hidalgo. This famous deli takes up four shopfronts, serving every ice cream flavour you could possibly dream up!

In case you're wondering about the difference between paletas and helados…

Types of Mexican ice cream:
Helado – ice cream usually made with diary
Nieve – a frozen ice treat without dairy, more like gelato
Paleta – popsicles made with frozen fruit.
Eat your helado or paleta while wandering Plaza Hidalgo's gardens and popping into Mercado Artesanal Mexicano (Mexican Artisan Market) and shopping for souvenirs.

Address: Ignacio Allende 15, Del Carmen, Coyoacán.
Street food in Coyoacan
If you're in rush or on a budget, ditch the restaurants and cafes in Coyoacan! One of the most authentic ways to eat in Coyoacan is on the streets.

Around Plaza Hidalgo and running along the street leading to the Frida Kahlo Museum are plenty of food stands. Look out for:
Spicy potato chips – I can't get enough of these potato chips drizzled in Valentina (Mexican hot sauce).
Elotes and esquites – elotes are grilled corn on the cob, and esquites are corn kernels served in a cup with cheese, mayo and chili.
Tacos – dur!
Best cafes and coffee shops in Coyoacan
As well as fantastic restaurants in Coyoacan, these are also some lovely Coyoacan cafes and coffee shops. A few are local institutions with decades of history while others are third wave (aka hipster) coffee shops.

Drink the best coffee in Coyoacan at…
Cafe Negro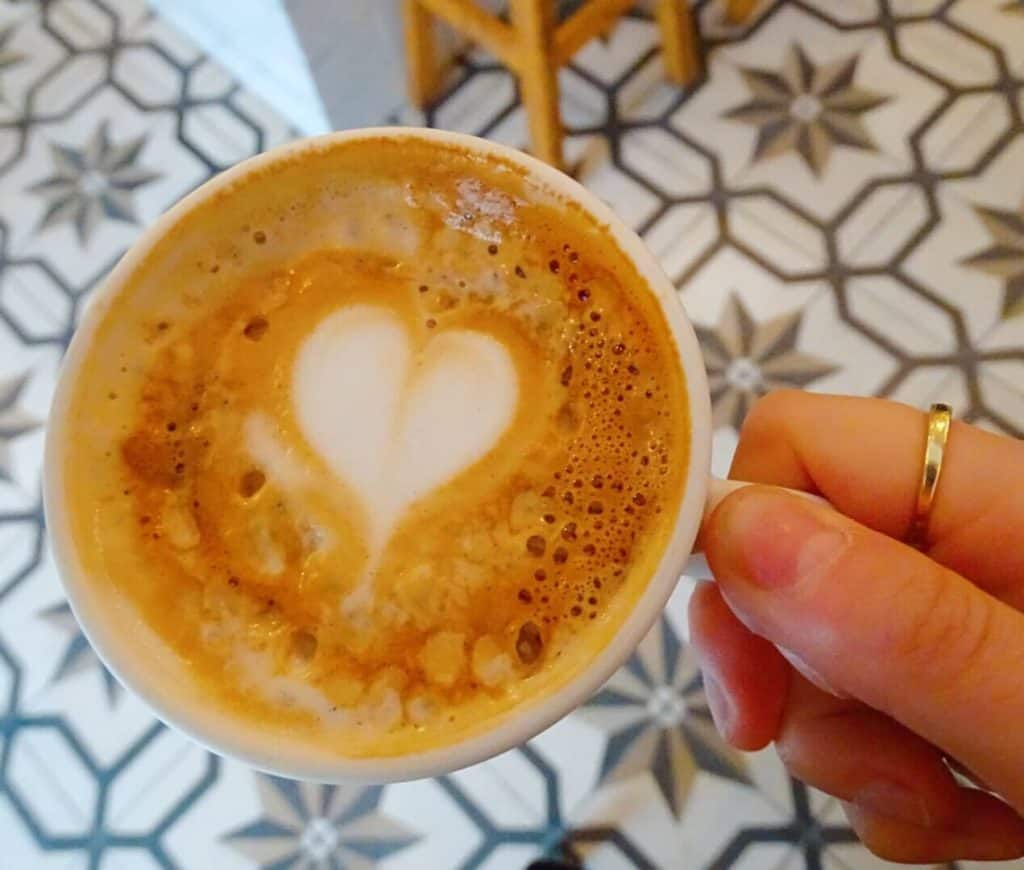 This is one of my favourite cafes in Coyoacan for strong coffee and even stronger Wi-Fi. As a digital nomad in Mexico City, these are my lifeblood!

Cafe Negro roast their own beans to make their espressos, mochas, cappuccinos and flat whites. They also serve matcha lattes, hot chocolates, juices and freshly baked croissants.

As well as some of the best coffee in Coyoacan, the food is fantastic (although not typically Mexican). Tuck into fresh, healthy sandwiches and salads with lots of veggies, cheese and luxury items like figs. Most of the lunch items are around 100 pesos and the coffees start from 40 pesos.

Address: Centenario 16, Del Carmen, Coyoacán.

Opening times: 8am-11pm.
Tierra Garat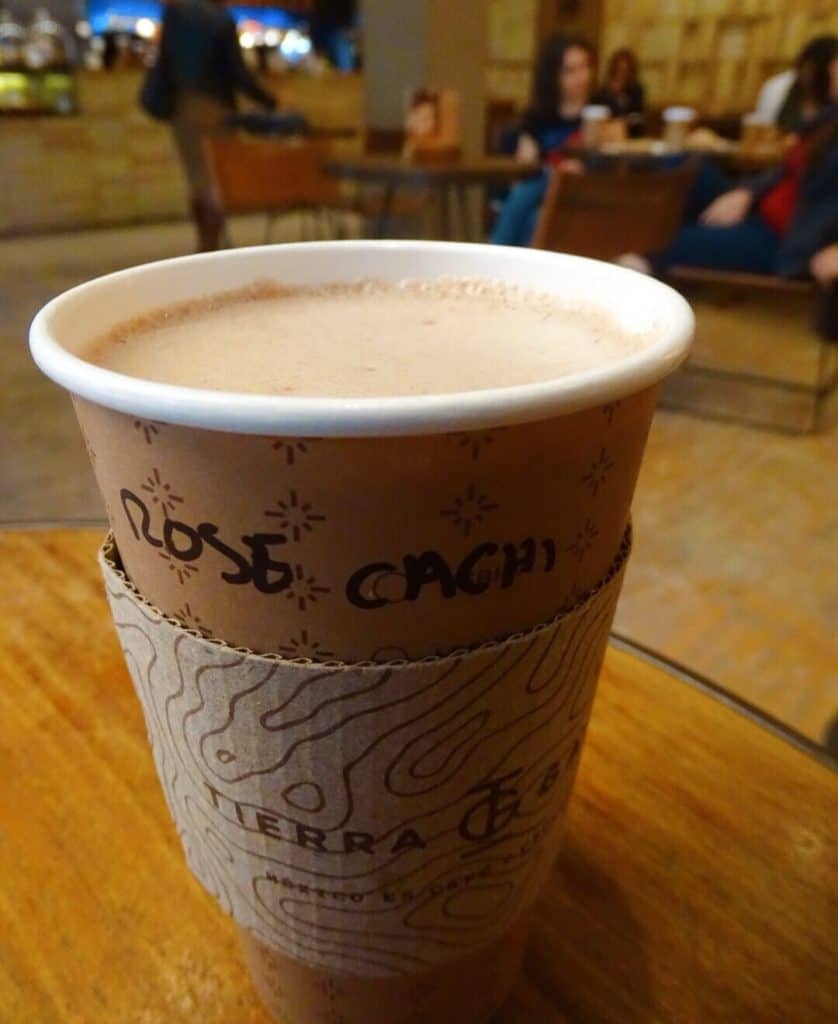 Tierra Garat has branches all over Mexico City, specialising in coffee and chocolate. Since chocolate originated in Mexico and was known by the Aztecs as the 'food of the gods' and even used as currency, there's no place better to drink it.

Tierra Garat roast their own chocolate and coffee beans, serving unique beverages like hot chocolate with vanilla, cardamom and chilli. I haven't tried much of the menu because I'm hooked on the chilli hot chocolate. I'll probably never order anything else!

Although you can visit Tierra Garat in other areas of CDMX, it's still one of my favourite cafes in Coyoacan whenever I come to town.

Address: Av Miguel Hidalgo 102a, La Concepción, Coyoacán.

Opening times: 8am-8pm.
Cafe El Jarocho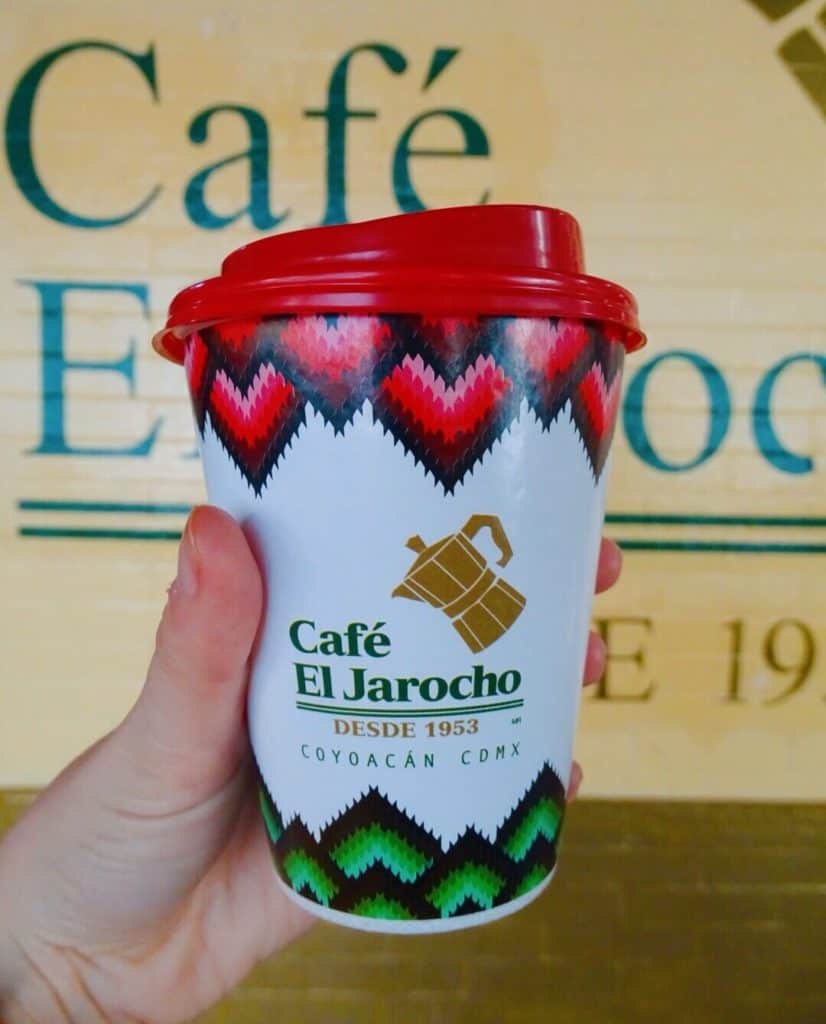 The most famous coffee shop in Coyoacan is Cafe El Jarocho. It's kind of the Starbucks of the area but much better since it's a Mexican-owned institution predating the global chain.

Almost 70 years ago, the owners opened shop serving nuts, seeds and coffee beans from their hometown of Veracruz, a key area of Mexican coffee production.

While I wouldn't say it's the best coffee in Coyoacan, it's worth a visit. There's always a queue but it moves fast. It's predominantly a takeaway joint so grab a cup and sip it on a bench beside Plaza Hidalgo. Order the café de olla (cinnamon-spiced coffee).

There are a few counters in Coyoacan but I've always been to the one on Cuauhtémoc.

Address: Cuauhtémoc E, FYG ESQ, Ignacio Allende 134, Del Carmen, Coyoacán.

Opening times: 6.30am-10.30pm.
Cafe Avellaneda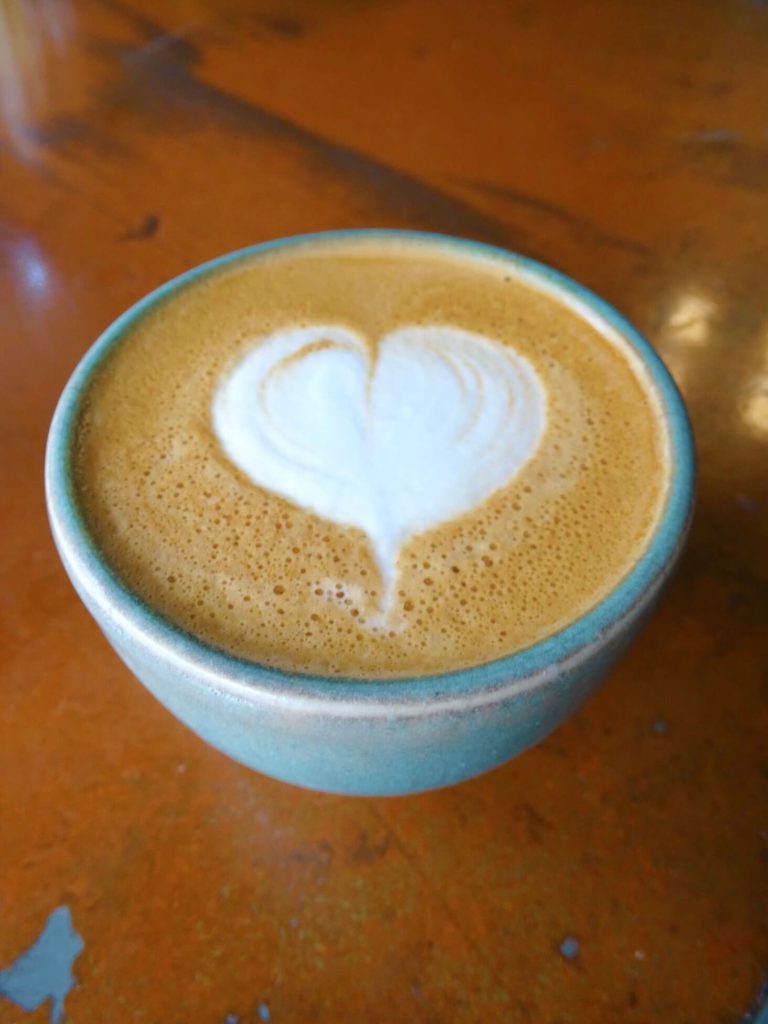 This is the cafe across the road from Eco del Mundo that I mentioned earlier. Cafe Avellaneda always gets mentioned as one of the top Coyoacan coffee shops and I can't argue.

Not only is the coffee excellent but so is their conscience: they donate money from every sale to rural coffee farmers and allow them to sell beans at the price they think they deserve.

This Coyoacan cafe is tiny with just a few seats. Visit early or get your coffee to go.

Address: Higuera 40-A, La Concepción, Coyoacán.

Opening times: 9am-9pm daily.
Food experiences in Coyoacan
Day of the Dead dinner party: Not visiting Mexico for Day of the Dead? Never fear. This Coyoacan Dia de Muertos tour ($65) runs year-round and includes an atmospheric dinner party under papel picado paper flags. Sample esquites, mole, pan de muerto, and mezcal while learning about Mexico's oldest cultural festival.

Free street food walking tour – learn about the history of Coyoacan and its delectable cuisine with a local guide. The food isn't free but the tour is!
Eating sustainably in Mexico
Unfortunately, a lot of plastic is used when it comes to street food in Mexico. I travel with the following items to reduce waste:
Hope you enjoy these Coyoacan restaurants & cafes!
I hope you have a good idea of where to eat in Coyoacan. Check out my Coyoacan travel guide for everything to see and do!
Read my other Mexico City blogs:
Browse my Mexico archives for other destinations including San Miguel de Allende, Oaxaca, Guadalajara, Queretaro and more. Foodies can check out my food around the world archives!
For more travel content, follow me on Instagram, Facebook, Twitter and YouTube.
Liked these restaurants and cafes in Coyoacan? Pin this for later!