This post may contain affiliate links to things like tours, hotels, Amazon associates and products. These help me earn a small commission at no additional charge to you.
The north of Ubud is such a special place.

I'm loving my homestay in the south of town but if I was picking Ubud accommodation based on location alone, I'd definitely stay in the north. The green region is home to the Campuhan Ridge Walk and most of my favourite cafes.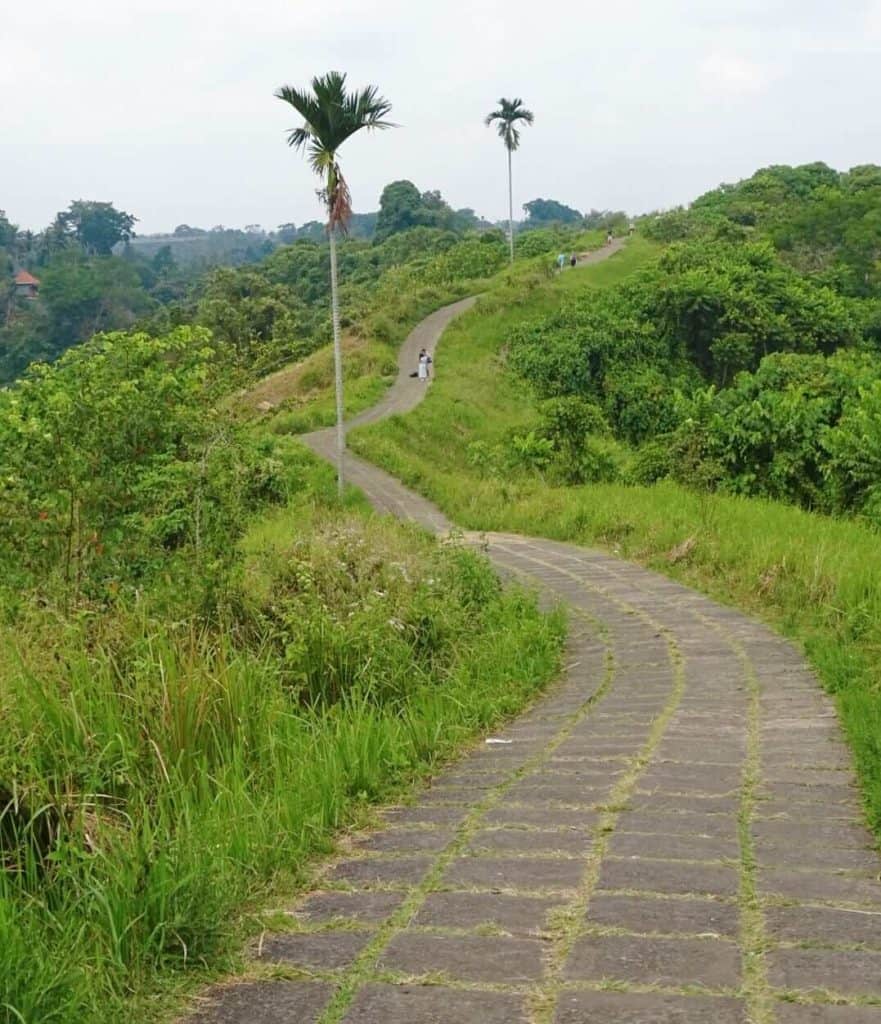 Having seen some beautiful photos online, I wanted to head further still to the rice fields outside Ubud. As it was a bit of a trek from my place, I decided to visit two rice field cafes during the same day to save myself the journey another time and eat a lot of amazing food in one day.
Cafes in Ubud rice fields
Both my chosen cafes are nestled in the rice terraces, a 10-minute walk or a moment's scooter ride from the last of Ubud's buildings. Whether you check out these particular cafes or not, you should definitely get up to this leafy region at some point!

To access the fields, take the uphill turning just after Pura Dalem Ubud on Jl. Raya Ubud. You'll soon start to appreciate the stunning wavy horizons of the rice terraces. Travel straight to reach these beautiful countryside cafes…
Sari Organik – 2023 UPDATE, NOW CLOSED
This perfect cafe has been on my radar ever since I arrived in Ubud. They serve breakfast, lunch and dinner in the form of authentic Indonesian fare. I tucked into funky green mango pancakes (which tasted delicious by the way) and learnt these are a speciality in Indonesia called dadar gulung.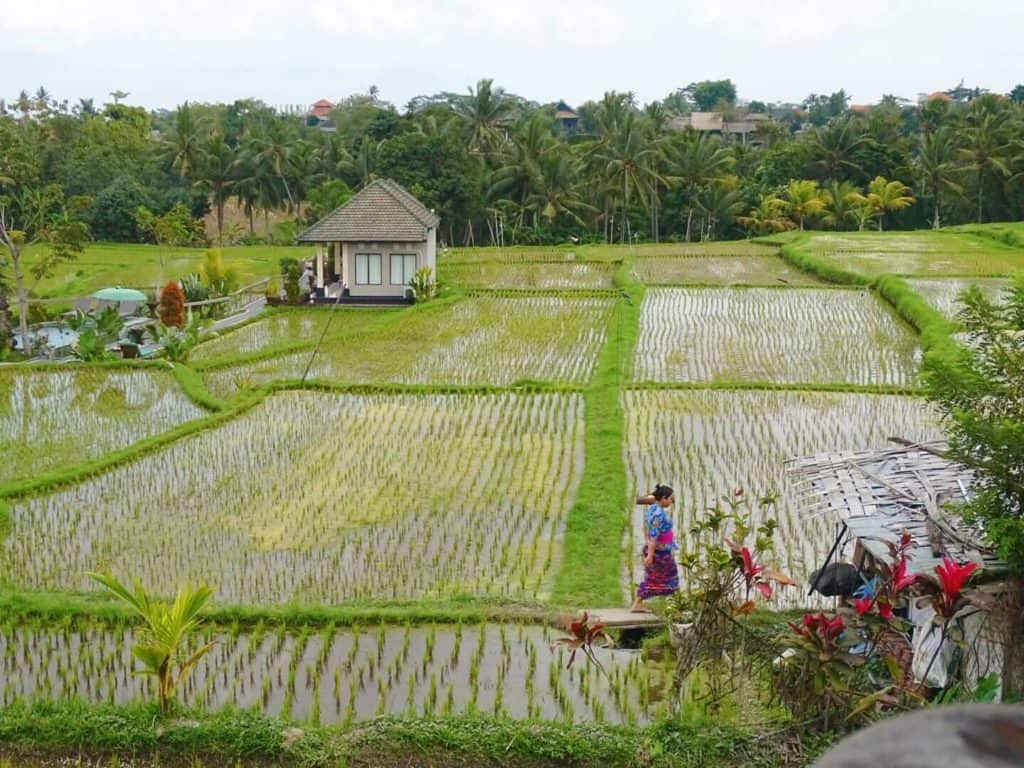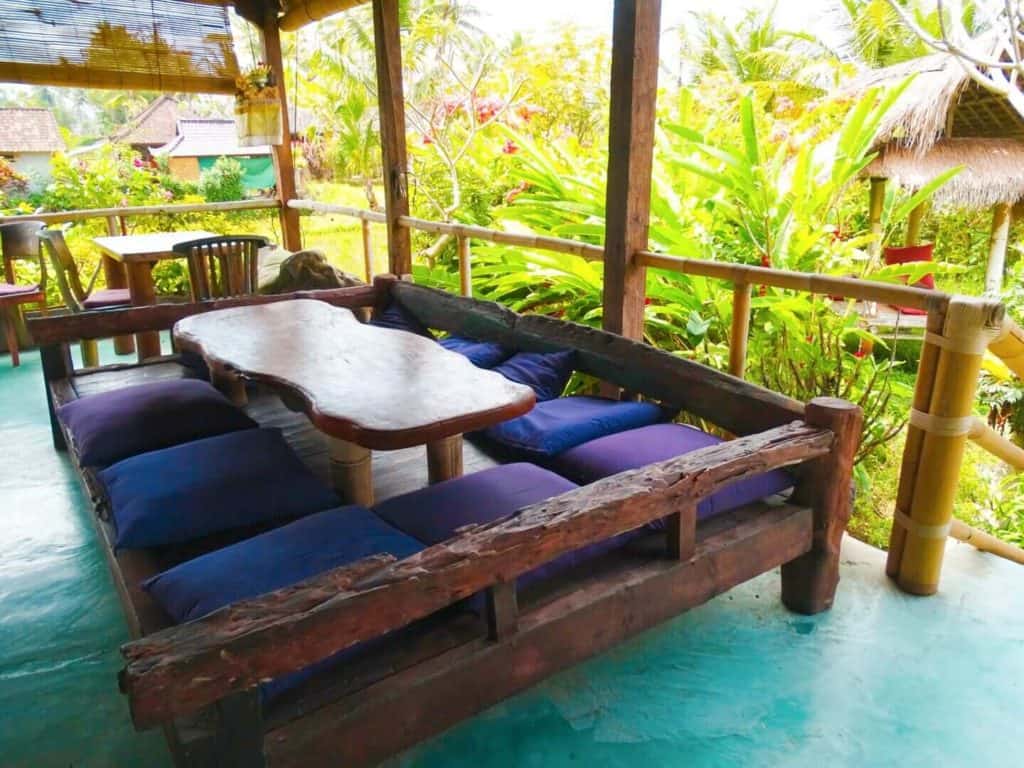 Price: 30,000 IDR for pancakes and 15k IDR for Bali coffee.

Address: Jl. Subak Sok Wayah. I'm not sure this winding path through the rice terraces has numbers so I think it's best to pin it on Google before travelling there.
Ps. it's a Wi-Fi free zone at Sari!
I came to work so this wasn't super convenient, but you just can't feel down when looking out over these views!
Cafe Pomegranate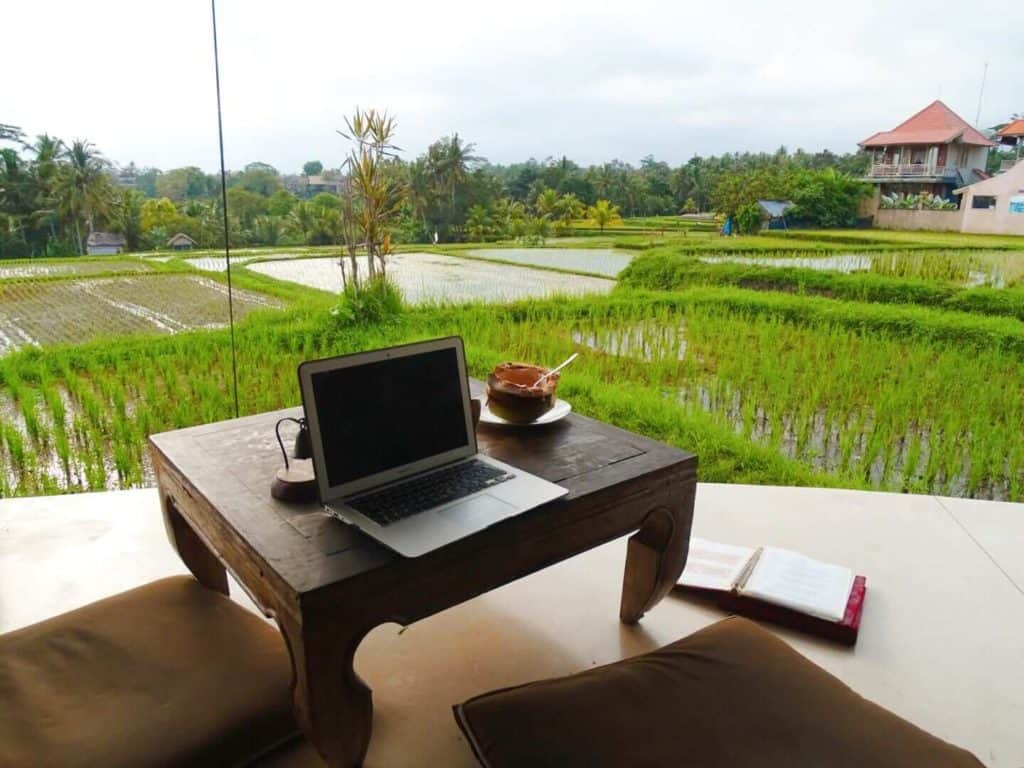 After feasting on carbs I went for an energetic walk… for three minutes before feasting on more carbs topped with cheese.Cafe Pomegranate is just as gorgeous as Sari Organik.

They serve pizza, dips with pitta, salads, noodle dishes and Japanese food. Nothing very Indonesian but it's all tasty. I hadn't eaten Western food in some time so my cheese coma was all the more extreme.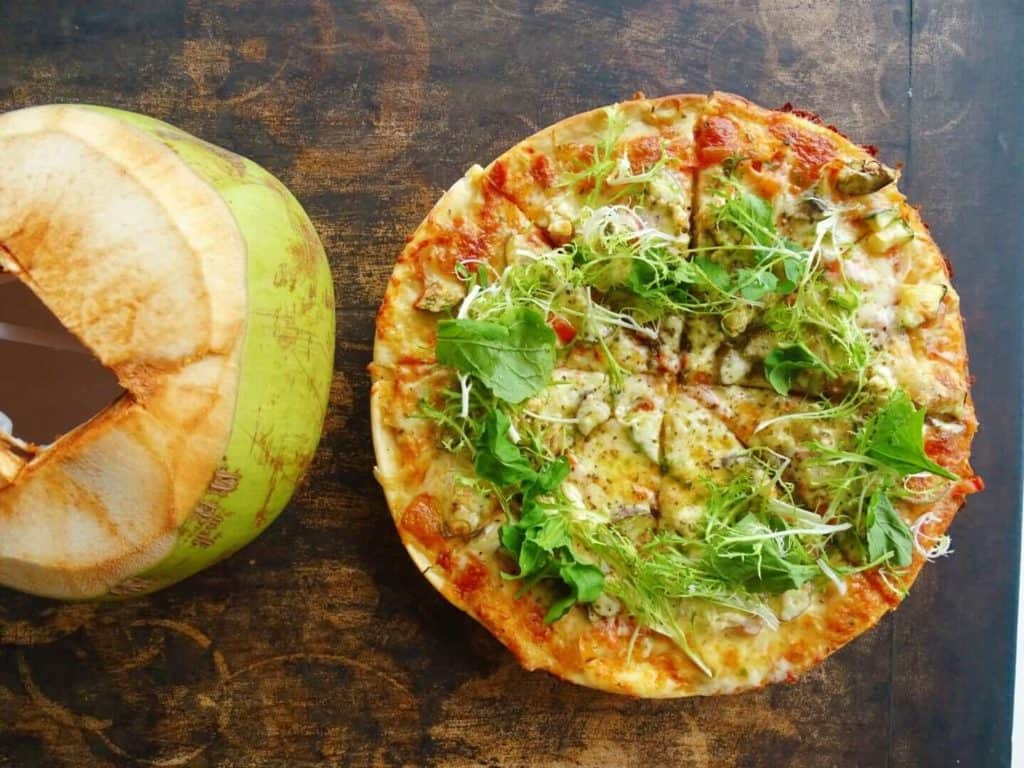 Apparently, Cafe Pomegranate handmake their pizzadough on site, something I could believe after devouring one!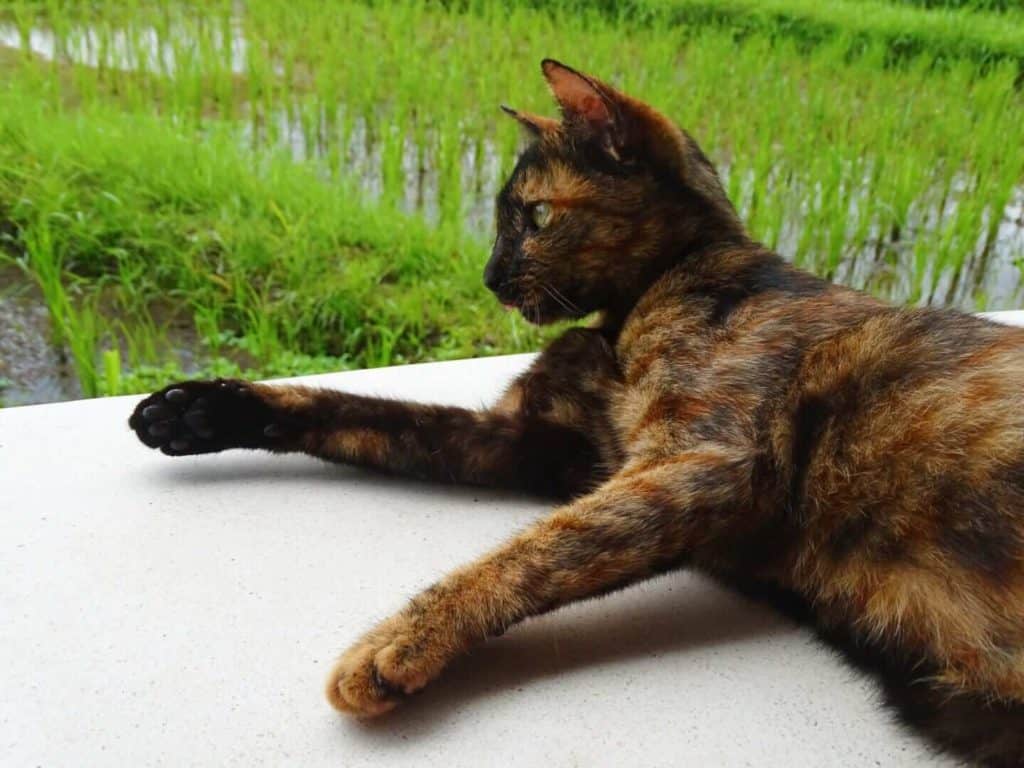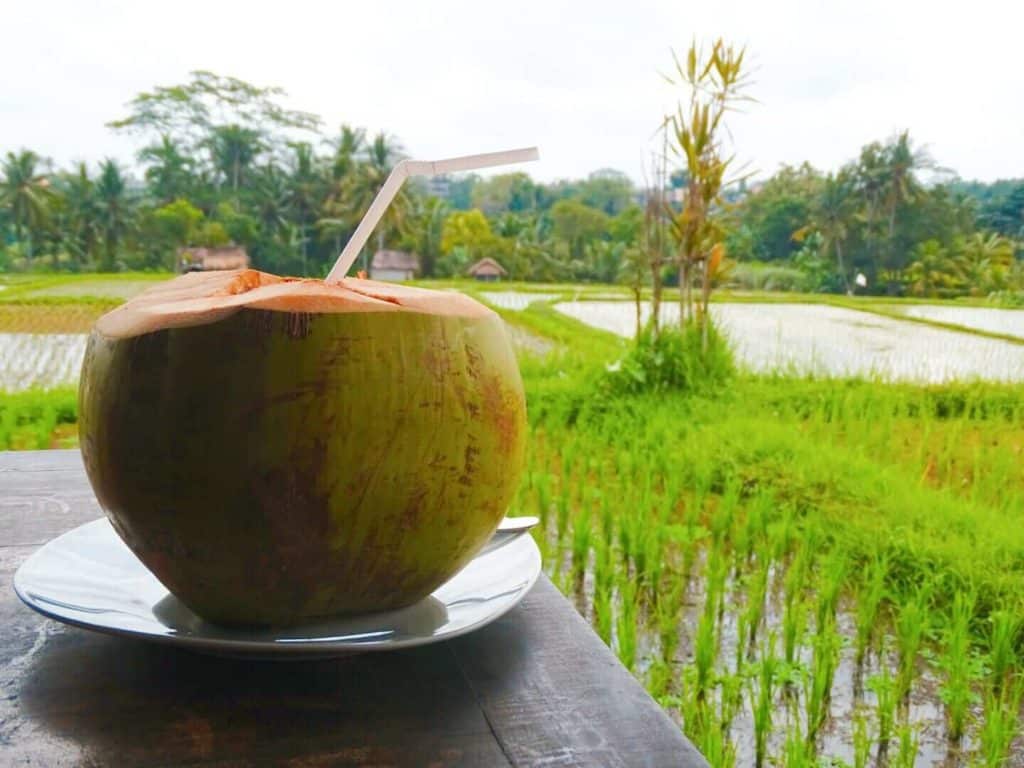 Price: 60,000 IDfor a veggie pizza and 30,000 for a whole coconut.

Address: Also Jl. Subak Sok Wayah. You'll reach it from the main road a few minutes before Sari.
Sari Organik or Cafe Pomegranate: which to choose?
Views – they're pretty similar. At Sari, you're slightly higher up so enjoy a bit more of a vantage point, though there's not much in it.

Food – this depends whether you want Indonesian or Western. Go with Sari for Indonesian and Pomegranate if you're in need of a pizza! It's worth mentioning that Sari serves breakfast whilst Pomegranate doesn't.

Wi-Fi – this is an easy one as Sari doesn't have any. Pick Pomegranate if you want to get online.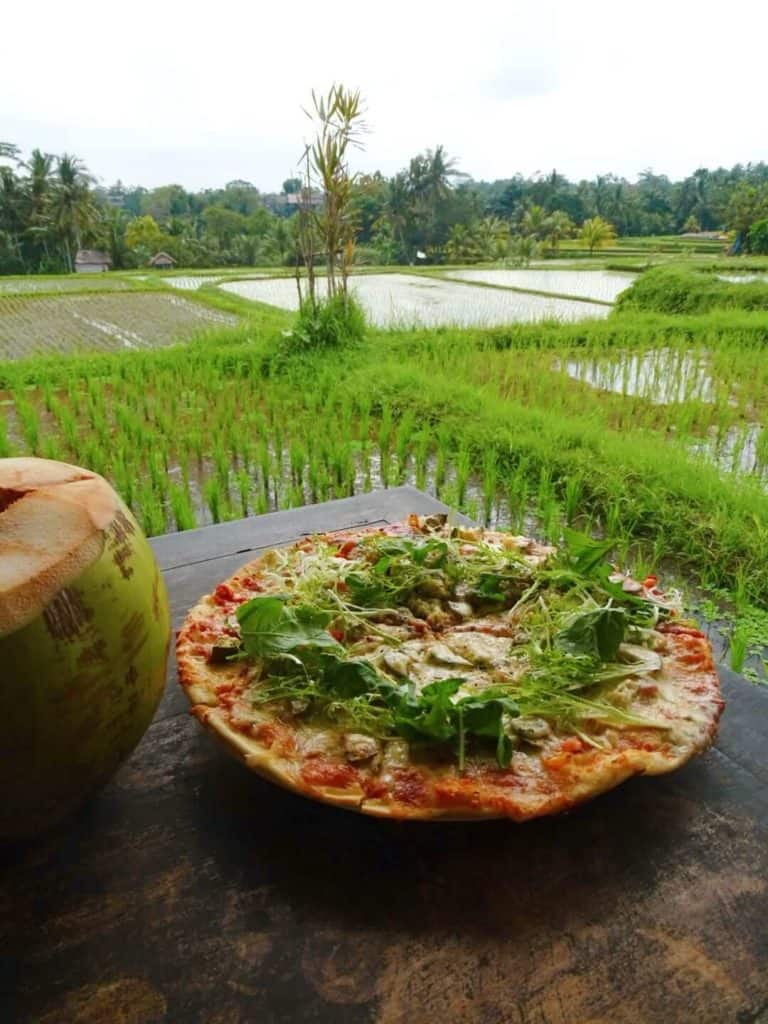 The environment – Sari only use bamboo straws so they're the hands-down winner. I forgot mine and couldn't drink my coconut without a plastic one at Pomegranate 🙁

For staying all day – as the queen of ordering one thing and staying five hours, I'm team Pomegranate. I loved how non-rushed I felt while lounging on a cushioned floor chair from 1pm to 6pm. At Sari I'd bagged a desirable outward-facing table and felt like I should be moving on after eating.

Price – Pomegranate charge 15% service while Sari charge 5%, something that really makes a difference!

The deciding factor – there are pros and cons to both but if you're a cat person, grab your bag and run to Cafe Pomegranate! Find them lounging on the cushions and living their best 9 lives.
Why not do both?
Since Sari serve breakfast, it makes sense to start there. I arrived when they opened at 10am and hung out until 1pm when I wandered over to Pomegranate for lunch and afternoon hangs.

Food, views, blogging and cats – another day in Ubud paradise!

Definitely come and hang out in the rice fields whilst you're here 🙂
Thanks for reading!
Check out some of my other Bali posts:
See you next time for more adventures,
Rose
Ps. Pin this for later!