This post may contain affiliate links to things like tours, hotels, Amazon associates and products. These help me earn a small commission at no additional charge to you.
I came to Camden mainly for the food but ended up getting sucked into the street art Camden, too. If you know me, you'll know this was inevitable!
Read next: The ultimate guide to visiting Camden
CAMDEN ESSENTIALS

Copy of Lonely Planet Pocket London

Getting to London: Trainline / busbud

Getting around: Tube / Bus

Where to stay: Booking.com / Hostelworld

Activities: GetYourGuide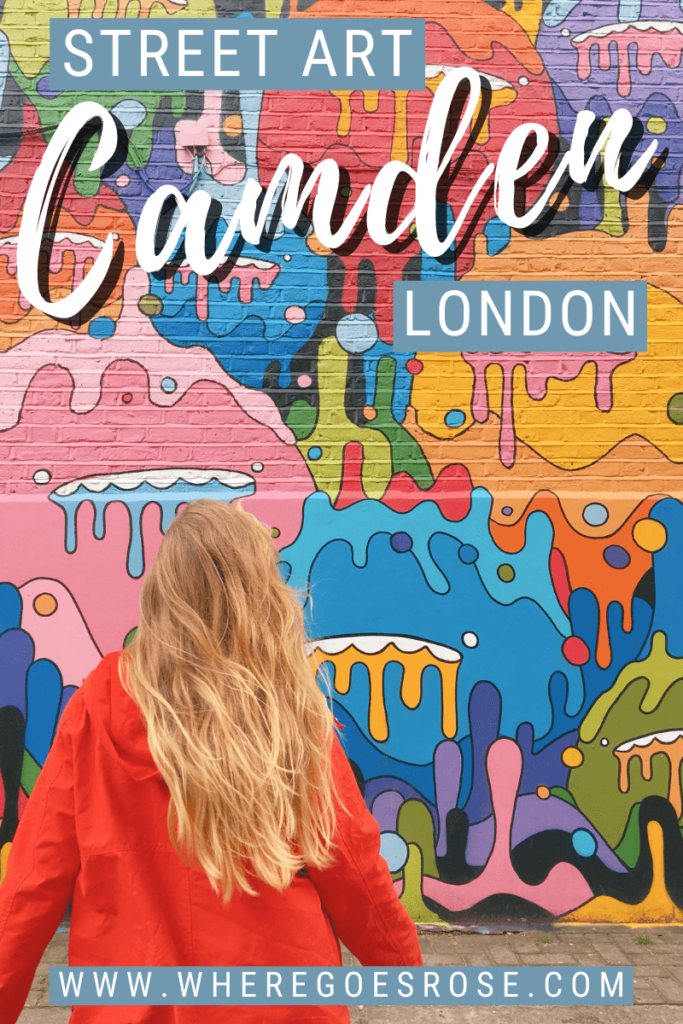 Camden is a cool and vibrant area of London. The market sells all kinds of food, jewellery and clothes and the colourful homes are to-die-for. But it's the hippie, alternative vibe that always draws me back: you never know who you'll meet and where the day will take you!

Finding street art is a free thing to do while travelling the UK on a budget. Sure, London is the most expensive city in England but there are so many quirky neighbourhoods that you can still do plenty of free things. Spotting urban art is one of them.
Street art in Camden
Camden is home to some of the best street art in London. I didn't go with a hit-list of pieces to find but instead kept my eyes peeled for colourful corners. Camden may not be as famous as Shoreditch for urban art but that needs to change!
Read next: a self-guided Brick Lane street art tour
Quick Camden street art history
The history of street art in Camden goes back to the 1980s when urban art started to become popular in the UK. It was influenced by street art in New York and was used to spread messages and ignite social change. It even started being used in advertising.

The scene evolved as UK artists like Banksy, Inkie and Stik started creating street art in Bristol, Manchester, London and further afield.

Street art began to be used to gentrify rundown, industrial areas. This helped parts of London like Camden and Shoreditch become the colourful, alternative neighbourhoods that they are today. This is just my personal opinion but places with street art always seem to attract forward-thinking, progressive people!
Here are my best Camden street art finds and their locations so you can seek them out for yourself.

Keep your eyes peeled for the artist 'tags' (the way they sign their name and credit their art). Remember to share their social profiles if you post your photos online to credit their skill and hard work!
Kentish Town Road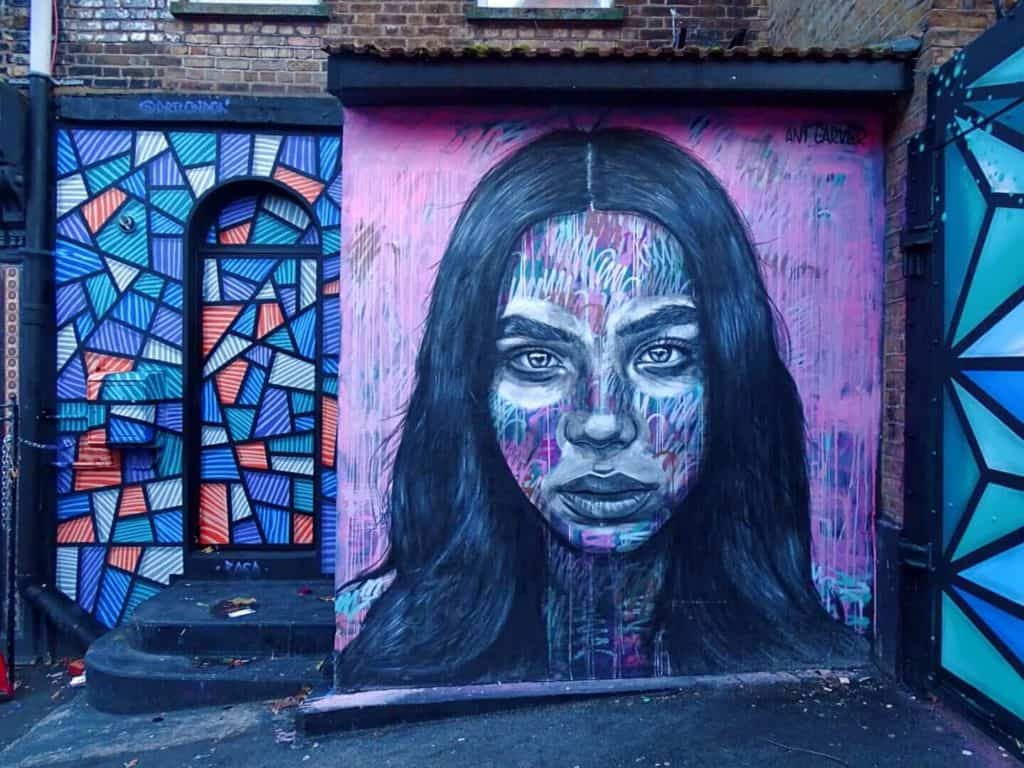 This location is one of my favourites but it's easy to miss if you're not looking. Exit Camden station and choose the turning to Kentish Town Road, then you'll find an enclave area as you pass Trinity United Reformed Church. Enter inside to spy some of the coolest street art in Camden!

The girl looks so lifelike and thoughtful, and I also love the colourful mosaic pattern beside her.
Exact Google location: here.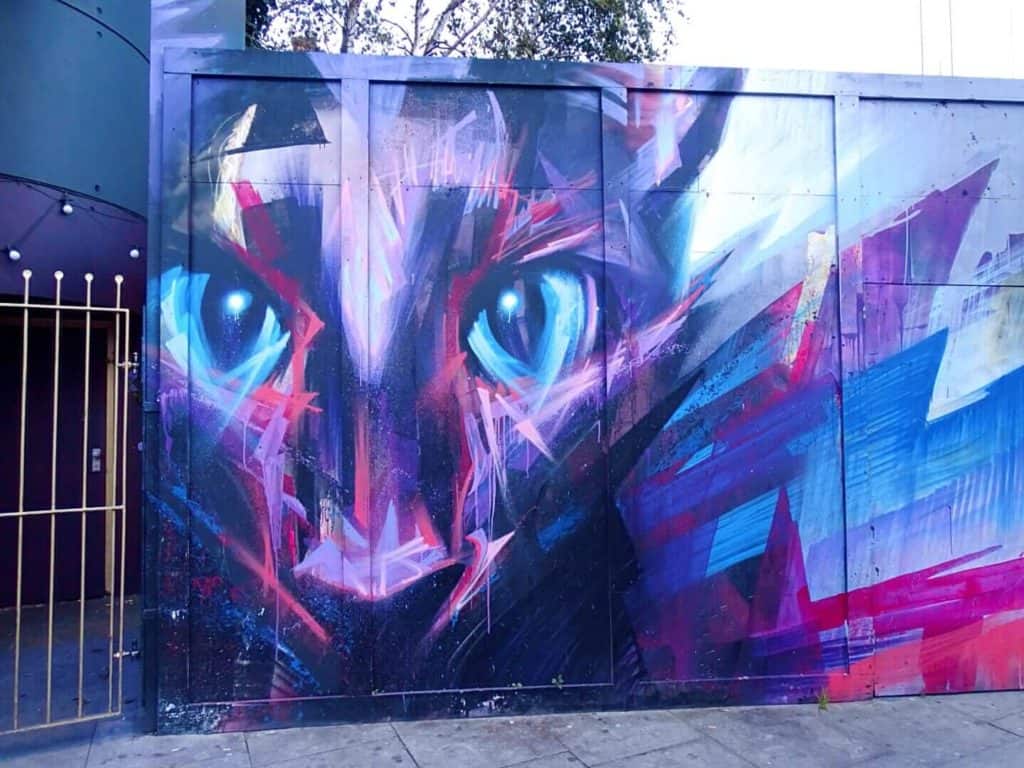 Back out of the enclave and on the main road, you can't miss this cool cat wall made up of shades of blue, pink and purple.
Bayham Street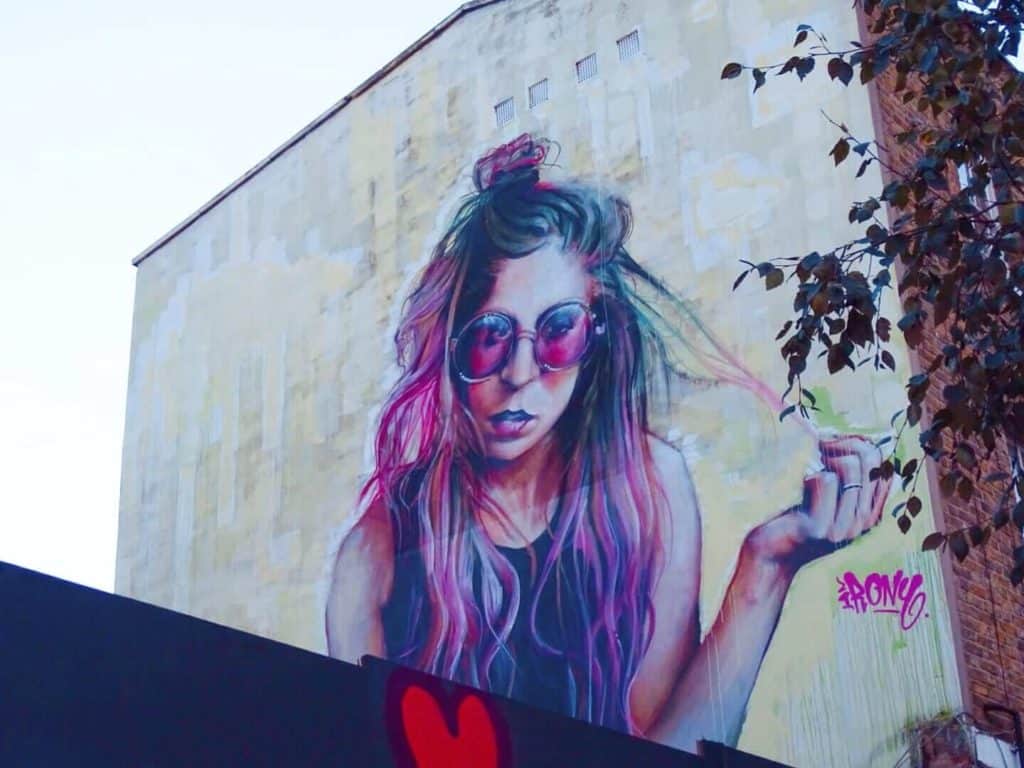 Close to Camden Town station, take the turning onto Bayham Street and you'll quickly spy this work of art. I don't know about you but this sassy gal is giving me major pink hair envy.
Buck Street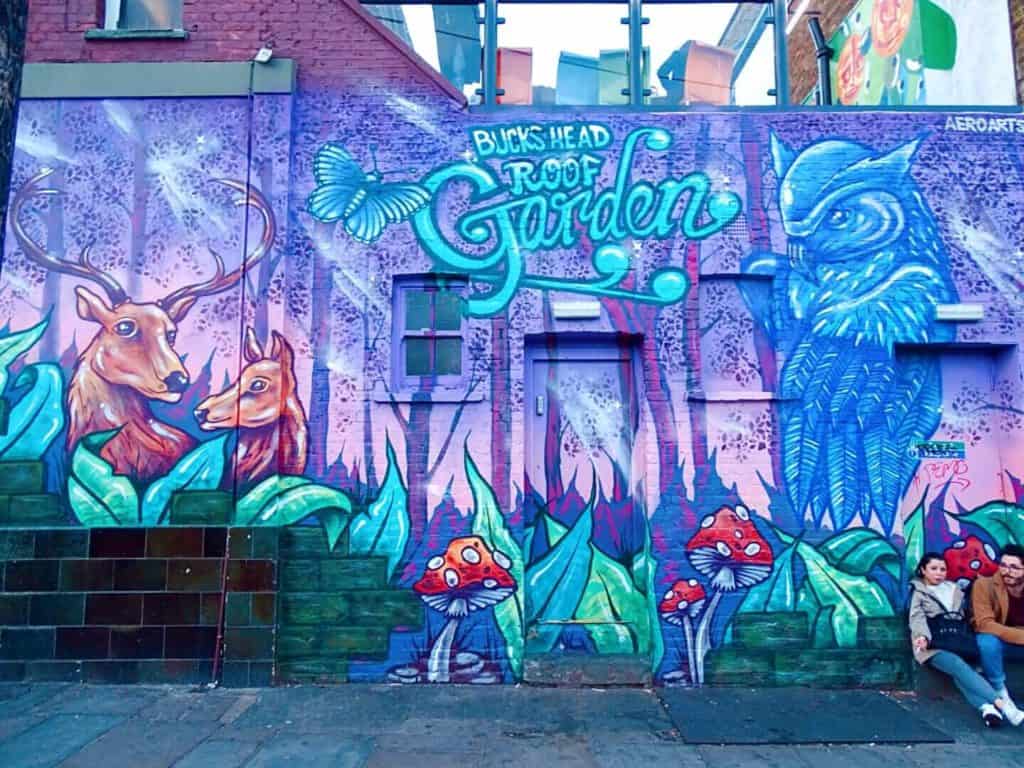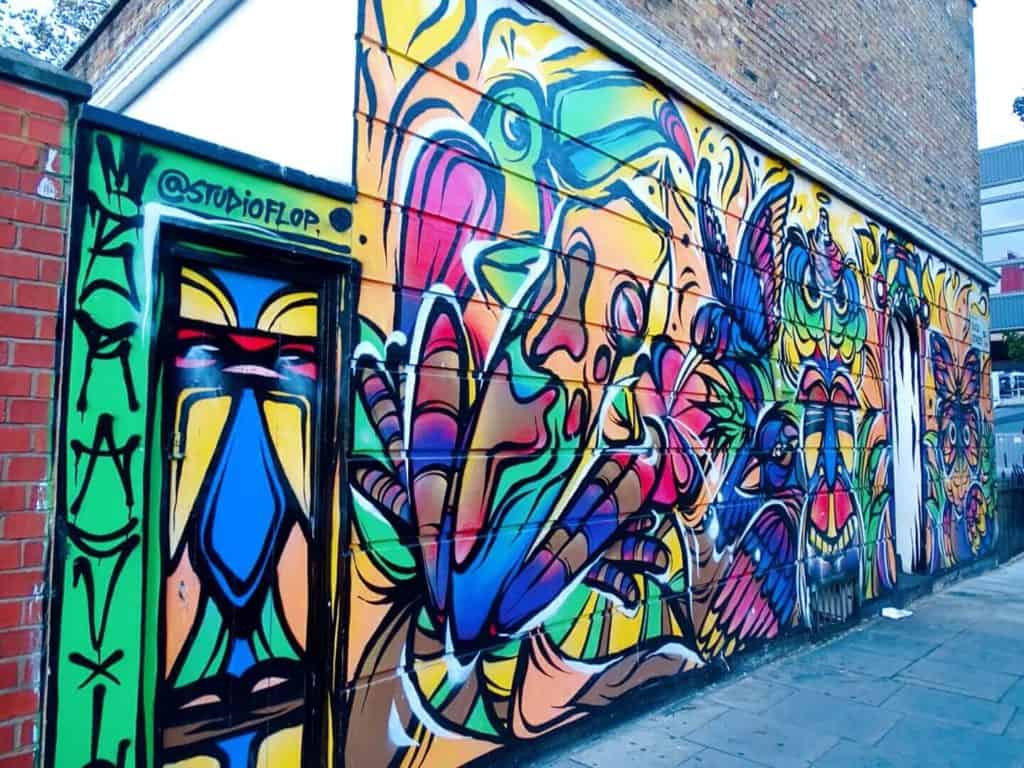 This street is a winner. The Bucks Head Roof Garden paintings can be found on the corner of Buck Street and Camden High Street (click here for the Google location) beside the outdoor clothes section of Camden Market.

Follow the street along towards Kentish Town Road and you'll notice lots more brightly coloured murals.
Hawley Street & Hawley Mews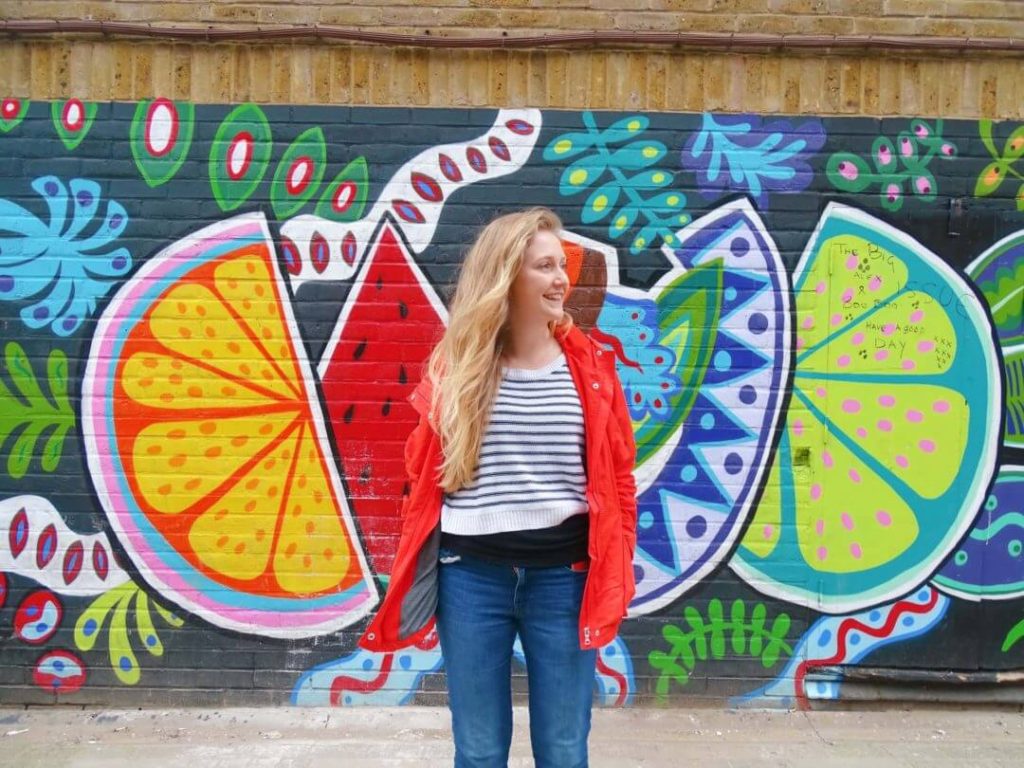 How cool and colourful are these urban murals? As one of the most colourful and popular streets in London, Hawley is a must for street art hunters.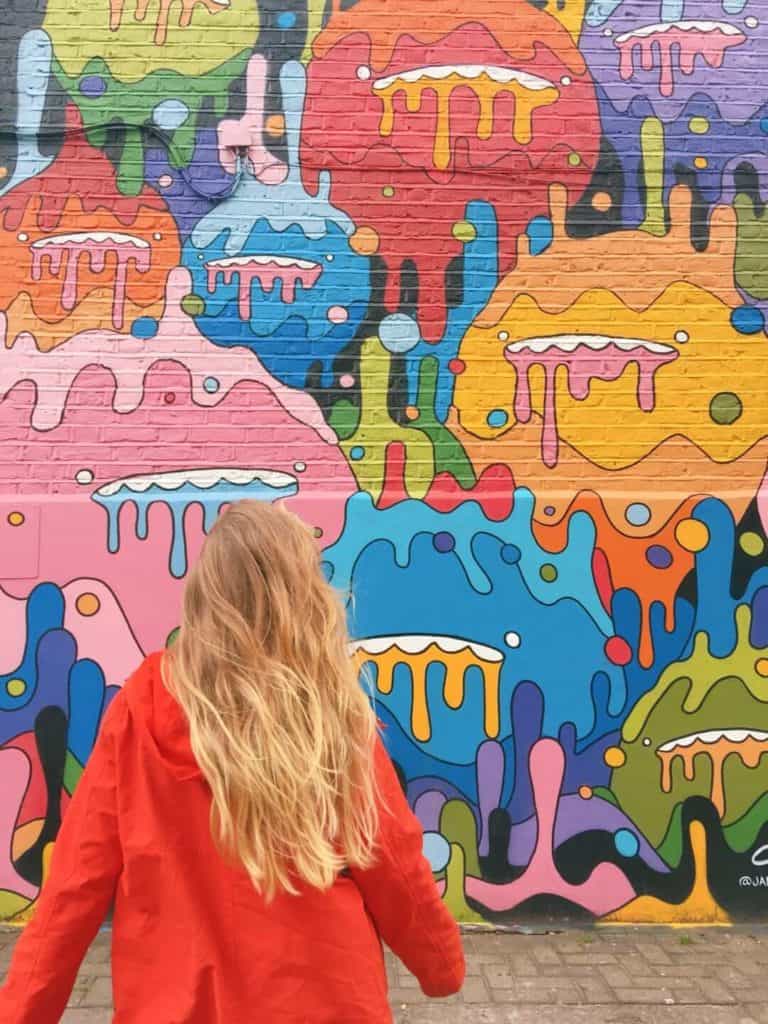 Across the bridge from the pieces above and just off Chalk Farm Road, you'll find Hawley Street. There's so much here including Hawley Mews which is a small alleyway packed with art. The designs have already changed since the Google street view images were taken so I can't promise your visit will be the same as mine but that's half the fun.
Castlehaven Road
There's some colourful Camden street art along Castlehaven Road so I'd recommend heading there to check it out.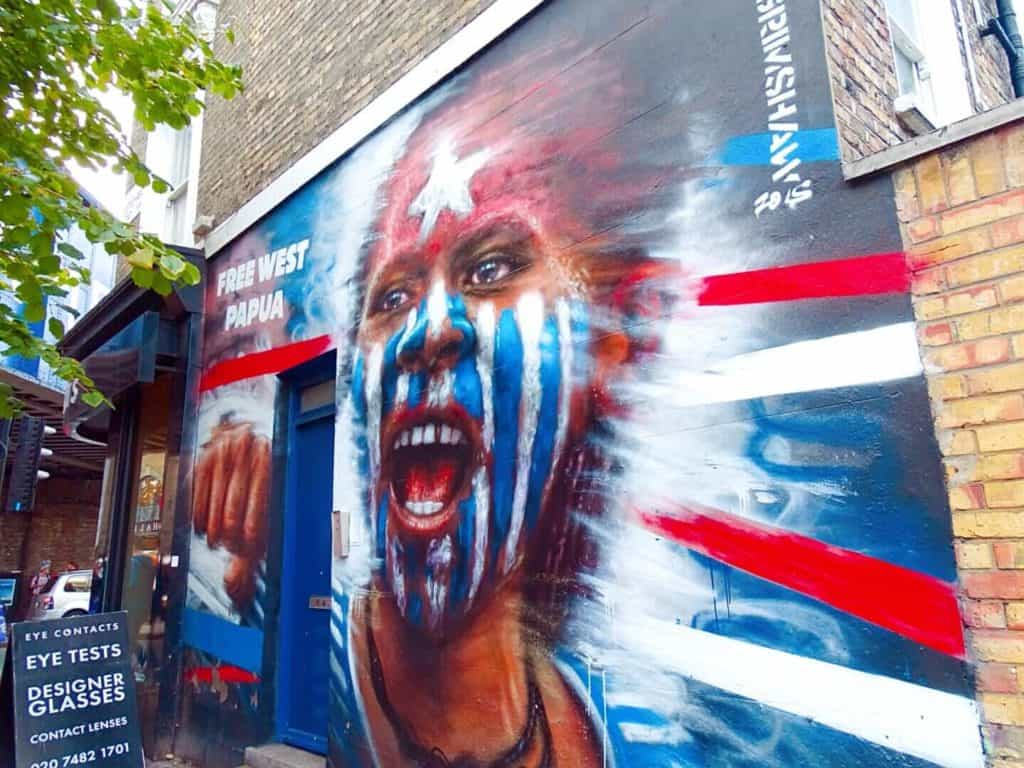 This top image is a striking one from the Free West Papua Campaign. You'll find this piece and the below Banksy Love Heart on the corner where Castlehaven and Chalk Farm Road meet – see here.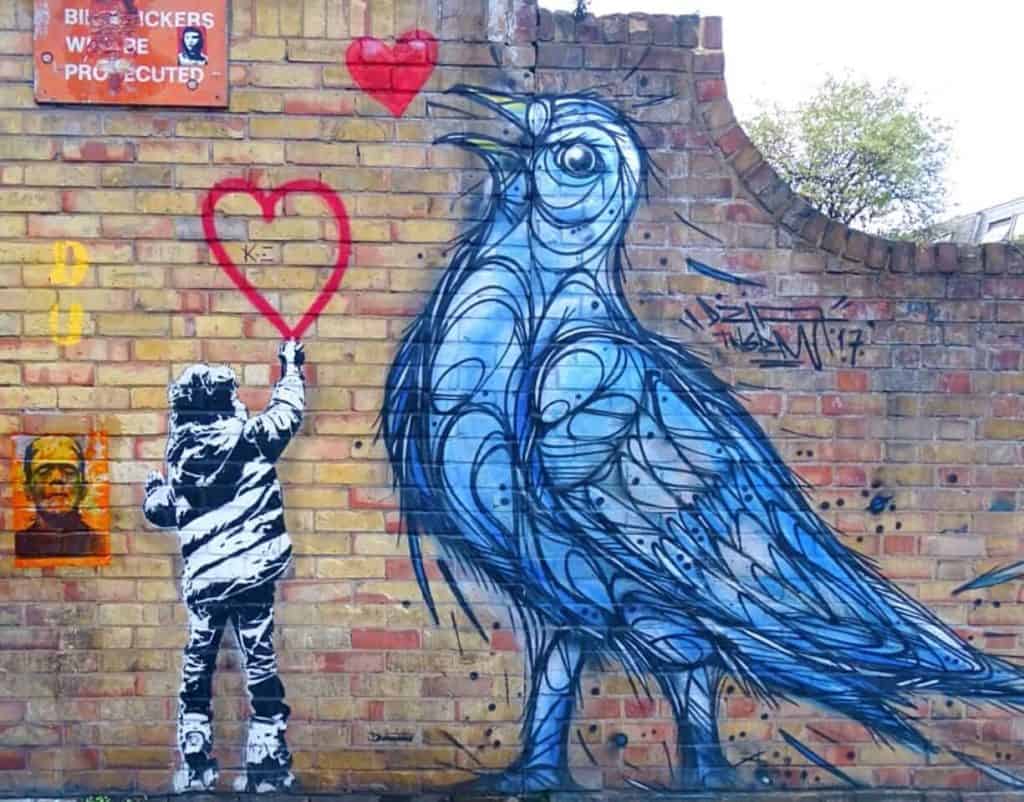 Further down the road you'll see this colourful piano image beside Castlehaven Open Space.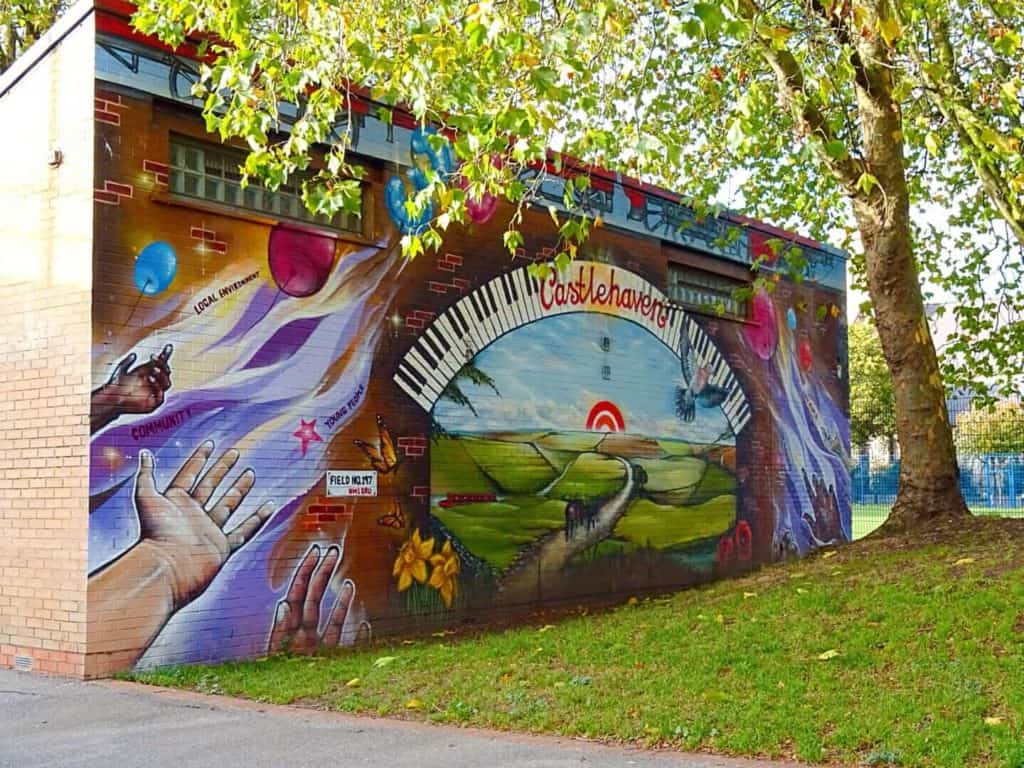 Hawley Road
Just two minutes from Castlehaven Open Space, you'll come to this interesting piece (location here). I'm not sure if it represents spray paint or a gas canister but either way, the colourful flames are really captivating.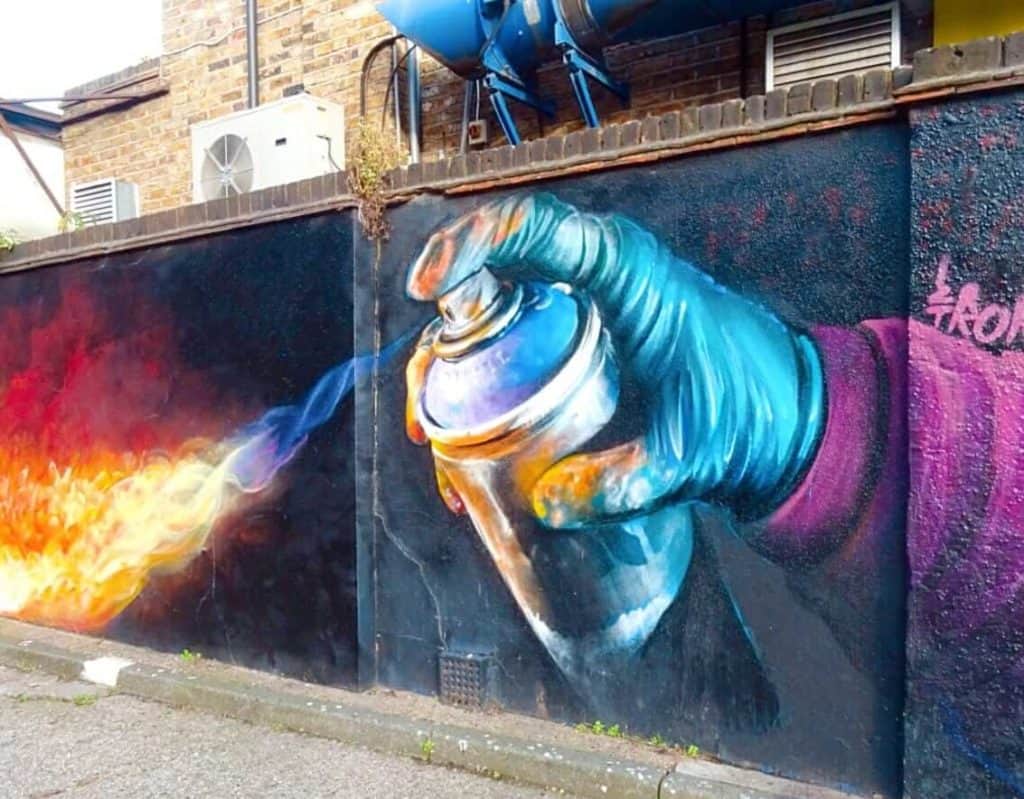 Stucley Place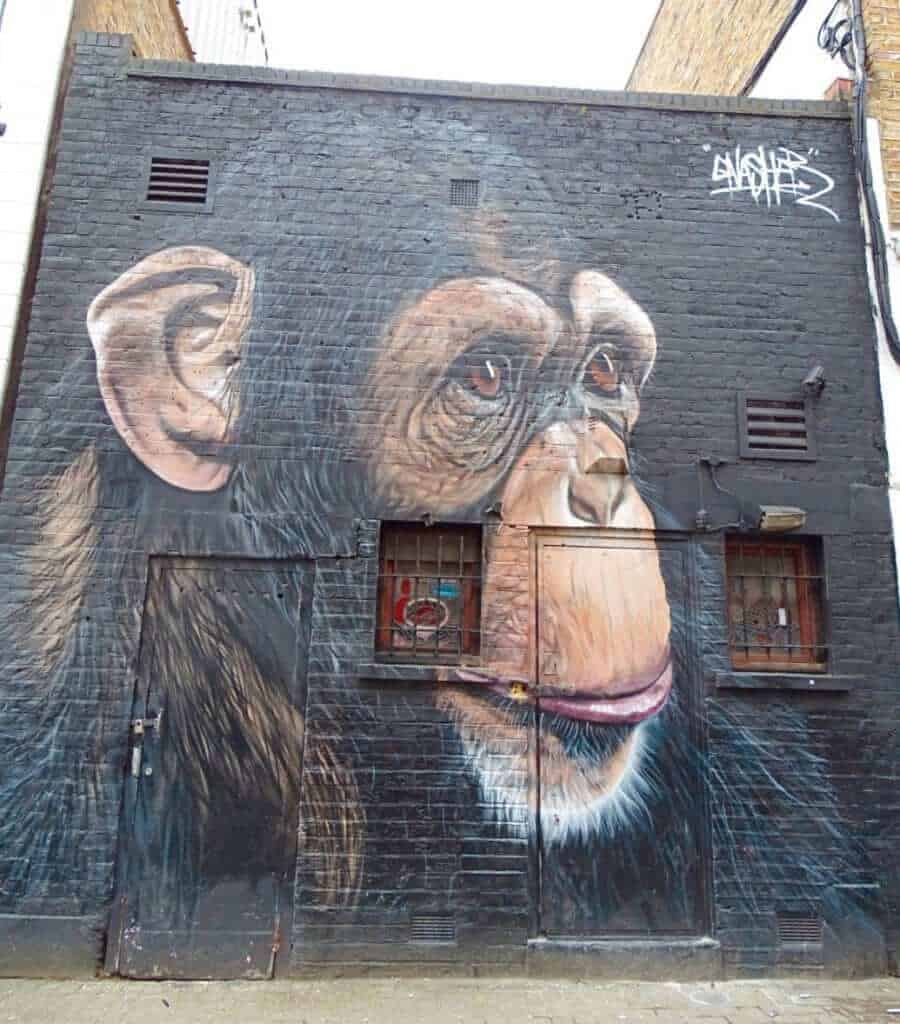 In 2018, this lifelike monkey mural by artist Gnasher appeared on a Stucley Place wall. Although I don't know the exact meaning behind this Camden mural, I often like to think that animal-themed murals relate to the environment and protecting our natural world.
Harmood Street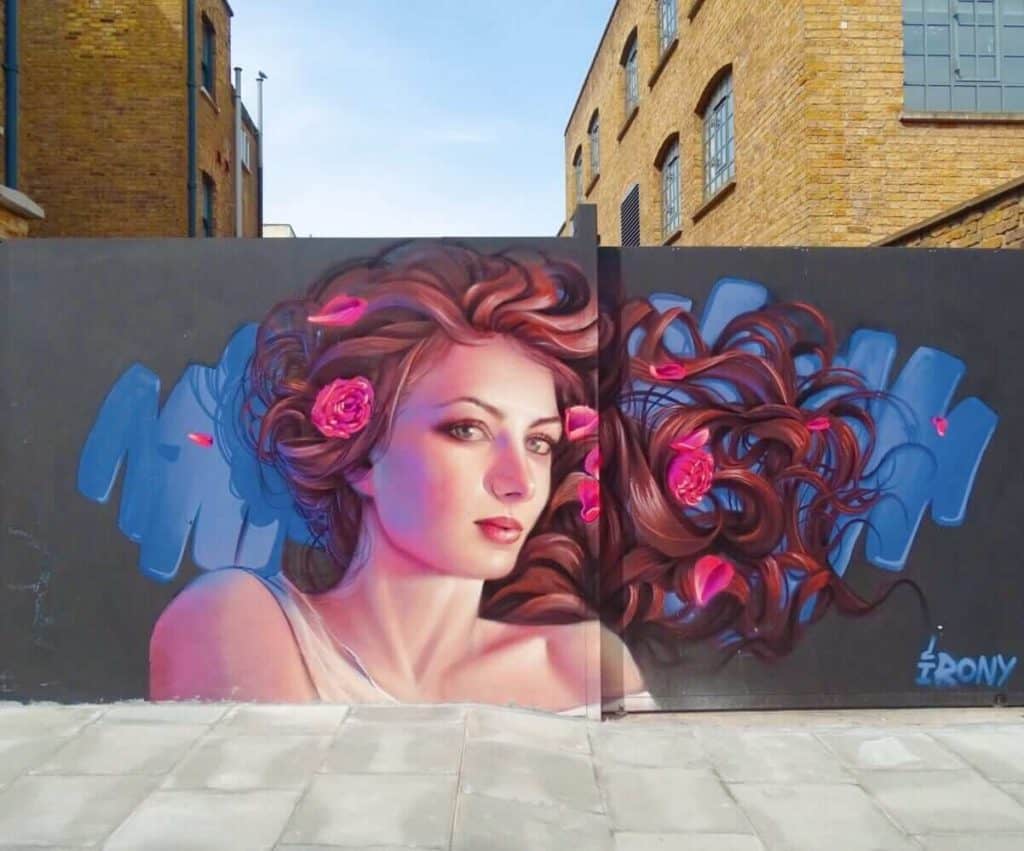 Another fantastic Camden mural that's popped up in the last few years is this piece by Irony. Irony is a British street artist most famous for his murals around Camden Town. See if you can spot any others by keeping an eye out for his tag (bottom right-hand corner).
Amy Winehouse street art trail
Sadly I didn't have time for the Amy Winehouse street art trail but I'll certainly seek it out next time I'm in town. It's a celebration of Amy who lived in Camden and even worked at the market before she became famous. You can find all the details in this Amy Winehouse street art guide.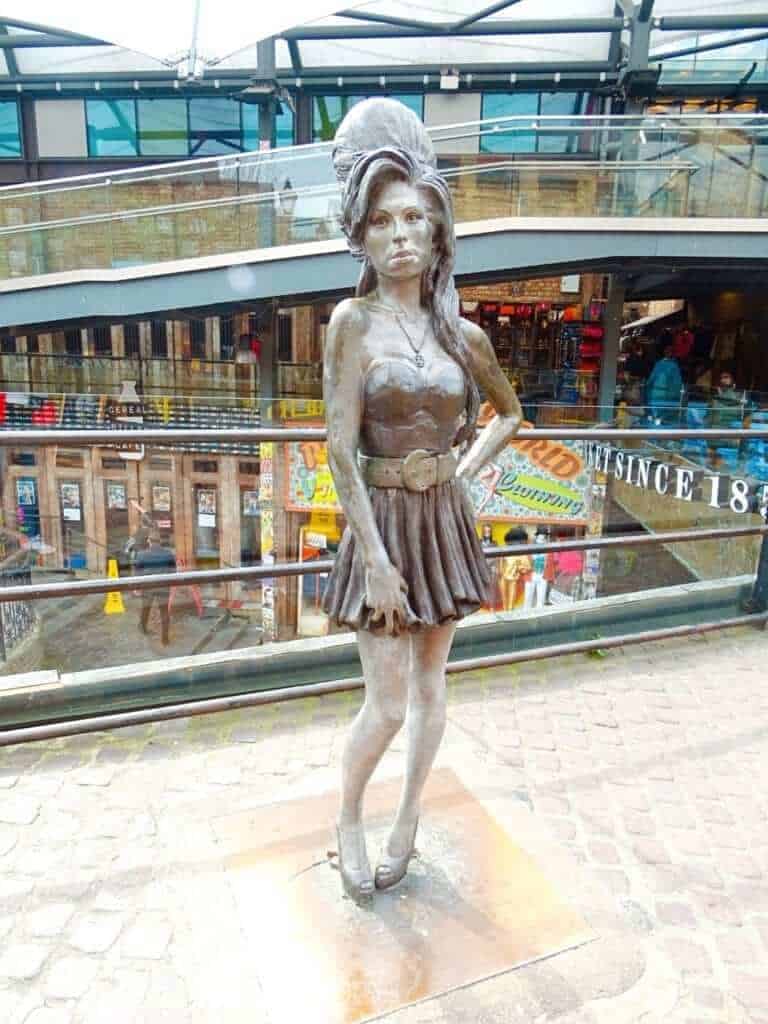 On the topic of Amy Winehouse in Camden, there's one other place in Camden you shouldn't miss. This is the bronze Amy Winehouse statue in the Stables Market. It's a lifelike representation of Amy's short but impactful life. While there, you can browse the market stalls and eat fantastic food!

So what are you waiting for? Go explore!
Street art Camden organised tours
There was an organised tour but, as of 2023, it's no longer running. I will update this if things change.
Thanks for reading my Camden street art guide!
For more travel content, follow me on Instagram, Facebook, Twitter and YouTube.
Check out my other UK street art blogs, as well as my London archives and street art archives!
Like London? Check out my other posts:
See you next time for more adventures,
Rose
Planning to visit the street art in Camden? Pin this for later!