This post may contain affiliate links to things like tours, hotels, Amazon associates and products. These help me earn a small commission at no additional charge to you.
There are so many things to do in Cape Town that I'd forgive you for being like 'do I really want to spend a whole day out of the city?'

The answer is yes! A Cape Peninsula day trip a must for your Cape Town itinerary, encompassing beautiful scenery, quaint towns and delicious cuisine.

The Cape Peninsula juts down below Cape Town and spoiler: it's absolutely stunning.

At the bottom tip, you'll find Cape Point which is Africa's most southwesterly point. There are views for days out over the ocean and you'll truly understand why 100% of people who have visited South Africa think it's the most beautiful country in the world.

I fully made up that statistic. Although if the only research participant is me and I say it so – then, surely it is? It's my blog – let's roll with it!
Cape Peninsular day trip
There are two routes to Cape Point, one along either side of the peninsula. Take one there and one back to incorporate some incredible activities along the way. This Cape Peninsular itinerary includes penguins, rainbow beach huts and a cliffside drive that will take your breath away.

In this Cape Peninsular itinerary, I'll run through the best stops to make and most importantly, how to time them around lunch and snacks.
How to travel
Car hire – I can't think of many places in the world where having a car is as useful as South Africa. Public transport is really not the one. Luckily car hires are affordable. Find a rental using Rentalcars.com.

The Cape Point Explorer bus – this option won't take you to all my stops but it will take you to Boulders Beach and Cape Point which are the key two. The trip costs R740 and includes all entrance fees apart from Boulders Beach. If you don't have a car but want to explore independently, it's a good option.

Day tour – the cheapest and easiest option without a car is an organised day tour including a penguin visit (R500). It's cheaper than the Cape Point Explorer bus and you get the benefit of a tour guide. The only downside is not being in control of your own schedule.
9am – set off from Cape Town
Wave goodbye to the Mother City and travel down the east side of the peninsula. Set Muizenberg as your destination – the drive should take about an hour.
10am – arrive in Muizenberg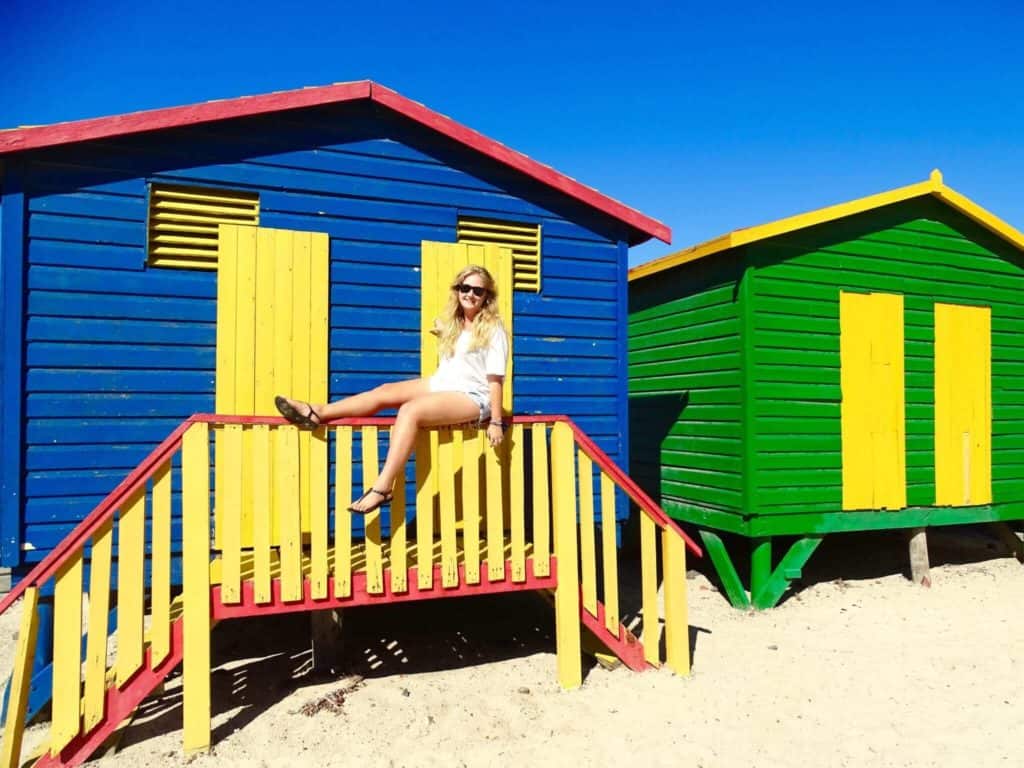 If there was a contest for the best beach town, Muizenberg would be a strong contender. It's home to a white sandy beach and the cutest beach huts I ever did see. The baby waves are apparently perfect for beginner surfers but don't forget your wetsuit as the water is COLD. Only my pinky toe made it into the icy Capetonian ocean. Seriously, it is freezing!
Next – St James Beach
The next stop on our Cape Peninsular itinerary is St James Beach. Drive another 15 minutes and you'll be treated to a second set of vibrant beach huts worth a snap or 10.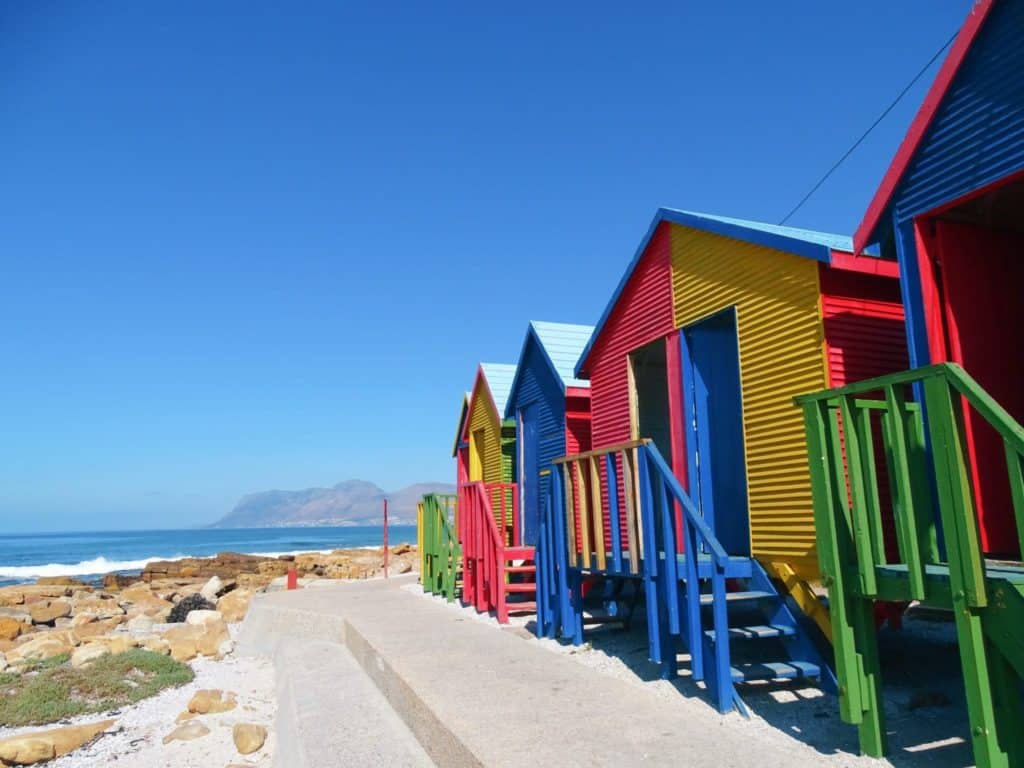 11.30am: Chill out in Kalk Bay
Just a 10-minute drive from St James is the gorgeous Kalk Bay town. For me, it's everything that Sundays should be: brunch, cake, coffee and browsing lovely shops. This will be one of the highlights of your Cape Point day trip for sure.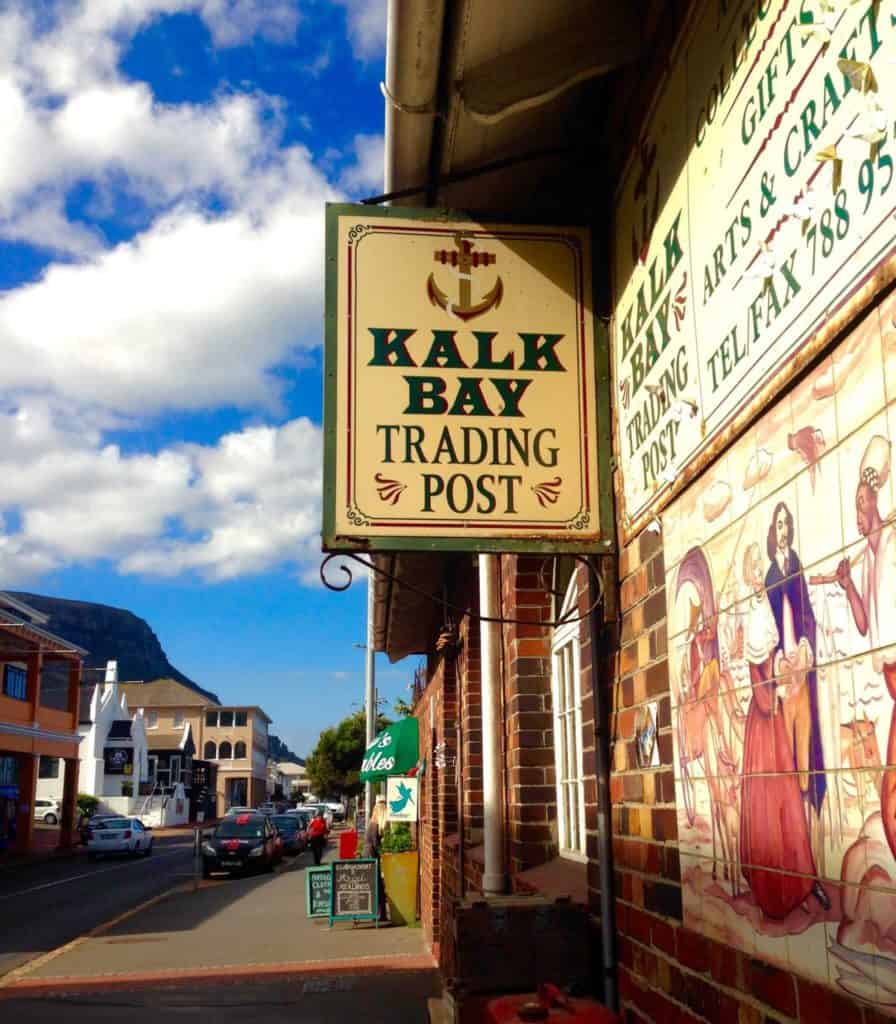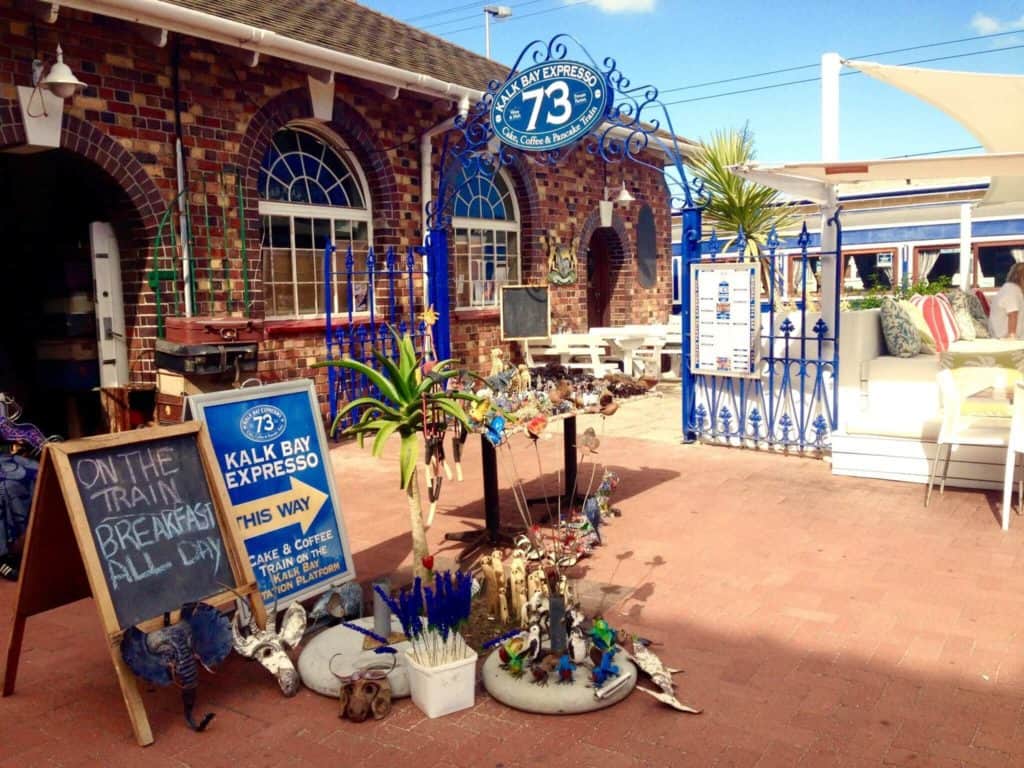 Whilst searching for a present for my friend's mum who had housed me, fed me and driven me around for two weeks, I ended up in a three-story china shop. I was surrounded from every angle by teetering crockery and with every movement I made, stacks shimmied and shook (filling me with terror that a hefty breakage bill was coming my way).

As I left the shop I witnessed a flock of hummingbirds drinking from a fountain. Seriously, Kalk Bay is all sorts of charming and well worth a slot on your Cape Peninsular itinerary especially if you like bookshops, trinkets and jewellery.

One place you shouldn't miss is Lekker, a cafe named after the Afrikaans word for 'tasty'. We ate sandwiches and red velvet cake but it's also a good spot to try some typical South African deserts like melktert and koeksisters. I can confirm it was very very lekker!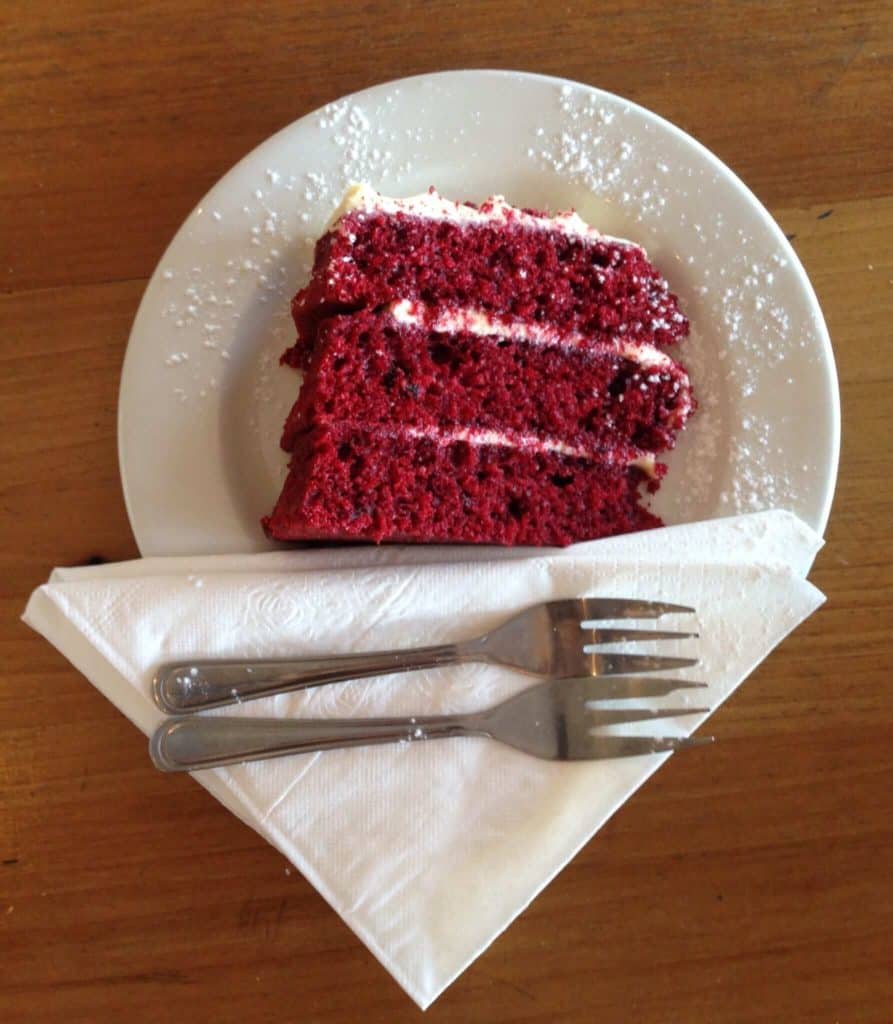 Greet some penguins at Boulders Beach
This was the stop of the day I was most looking forward to and it didn't disappoint at all.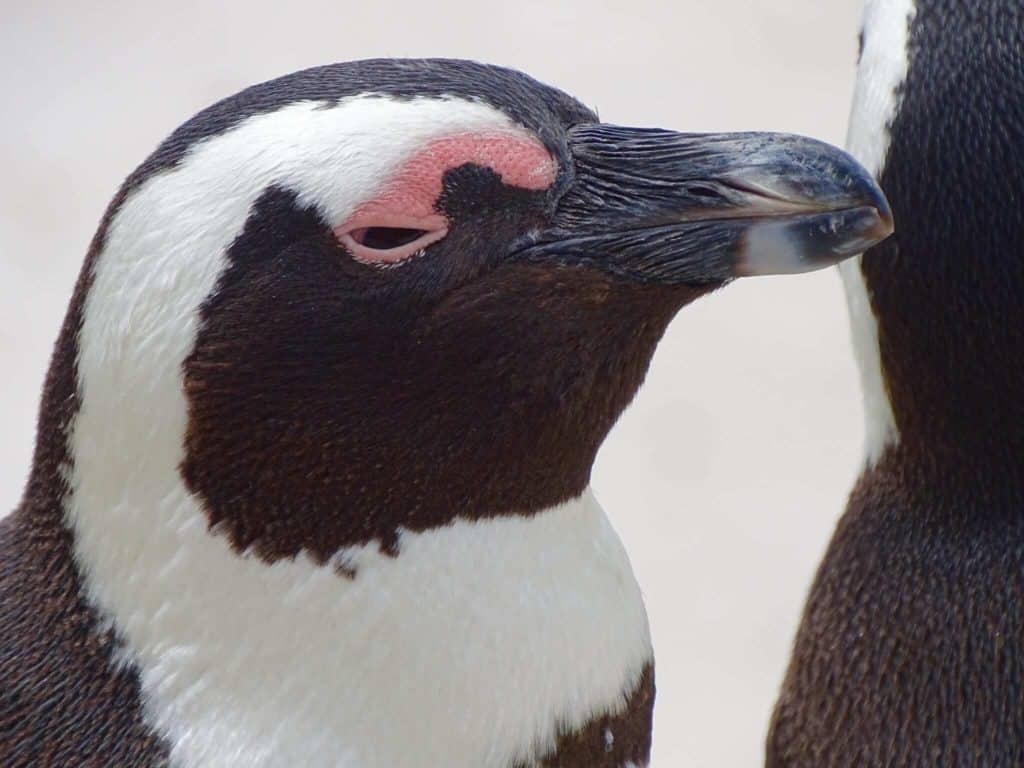 While penguins are probably the last animal to waddle into your imagination when you think 'African wildlife', they're in no shortage at Boulders Beach.

Peak breeding season is March-May so if you want to see some adorable fluffy chicks, that's your window. My trip luckily coincided with this and I marvelled over the fact that some of the chicks were almost as big as their parents and clad in brown-grey down. Apparently, it's so heavy it would cause them to drown so they have to malt before heading to sea.

Entrance fee: R160.
2pm: Stop off in Simon's Town
Just 5 minutes from Boulders is Simon's Town, another coastal settlement and a chance to grab lunch. I prefer the vibe in Kalk Bay but there are a few shops and restaurants here if you haven't eaten already.
2.30pm: enter the Cape of Good Hope Nature Reserve
To get to Cape Point you'll need to drive through the Cape of Good Hope Nature Reserve which is part of Table Mountain National Park. Get ready for some stunning views of the rugged cliffs and ocean as you make the 30-minute drive towards your end destination.

Entrance fee: R360.
3pm: arrive at Cape of Good Hope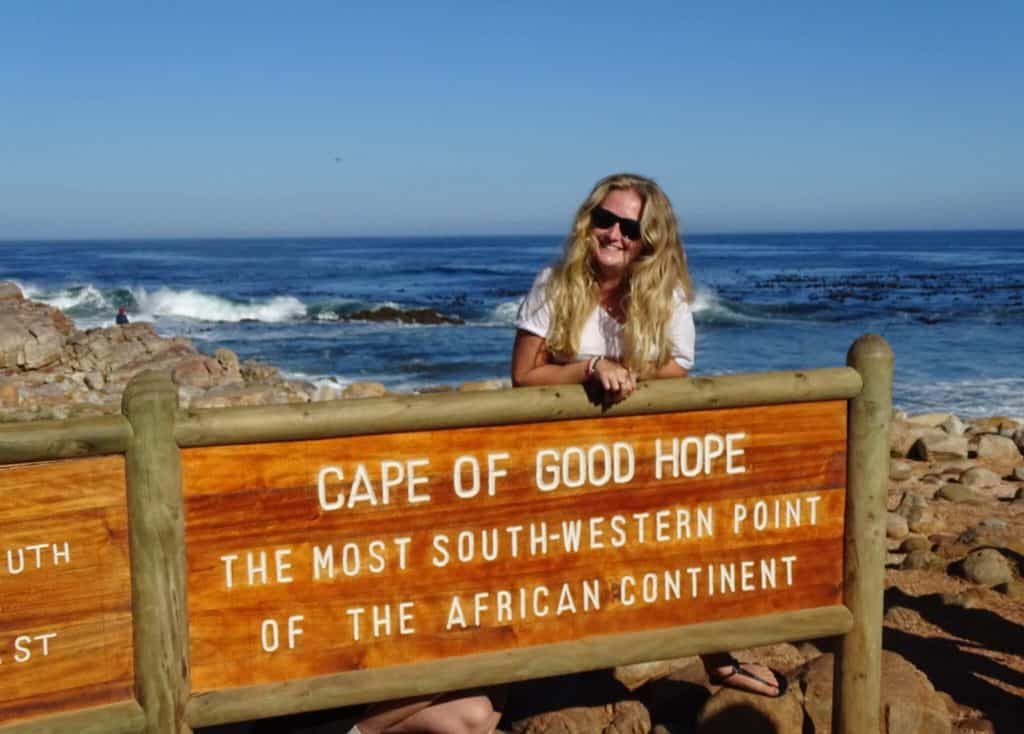 This rocky spot was originally named the Cape of Storms by a Portuguese sailor. As you can imagine, this didn't make anyone feel particularly upbeat or positive and it's now called the Cape of Good Hope – music to the ears of sailors on choppy waters!
3.30pm: Cape Point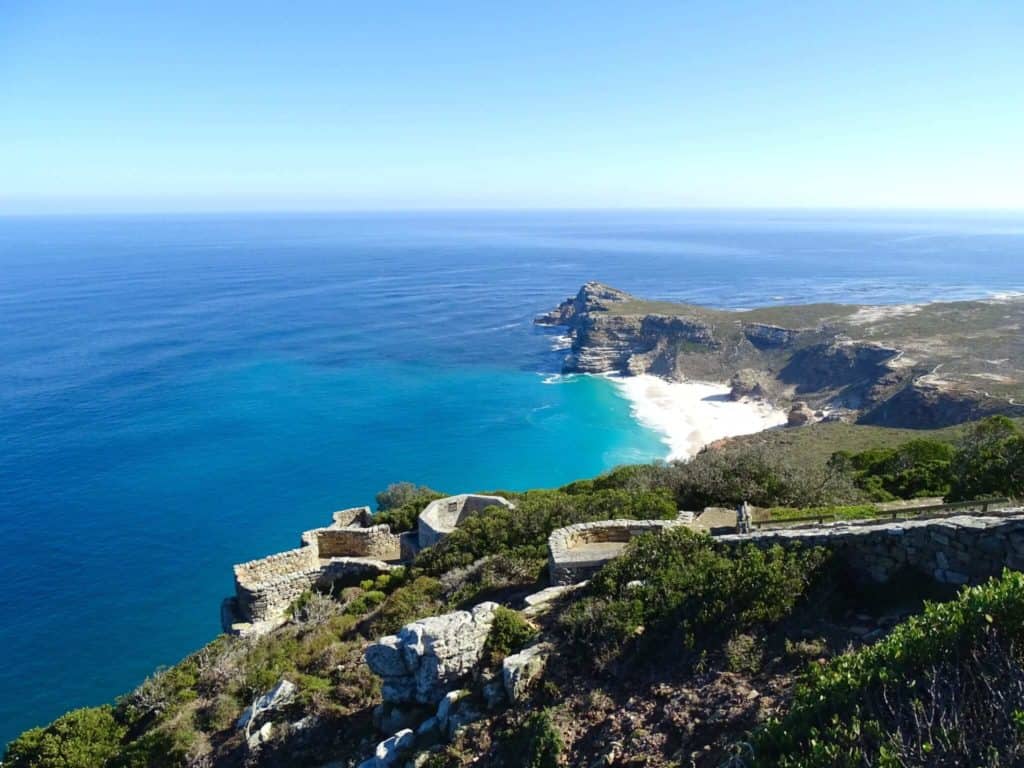 Just 1km from the Cape of Good Hope is Cape Point, the most southwesterly stop during your Cape Point day trip and indeed all of Africa.

Climb up to the cliffs for fantastic views either on foot or with the Flying Dutchman funicular (we did this, natch).

Flying Dutchman cost: R80 return / R70 one way.
5pm: Cruise home via Chapman's Peak Drive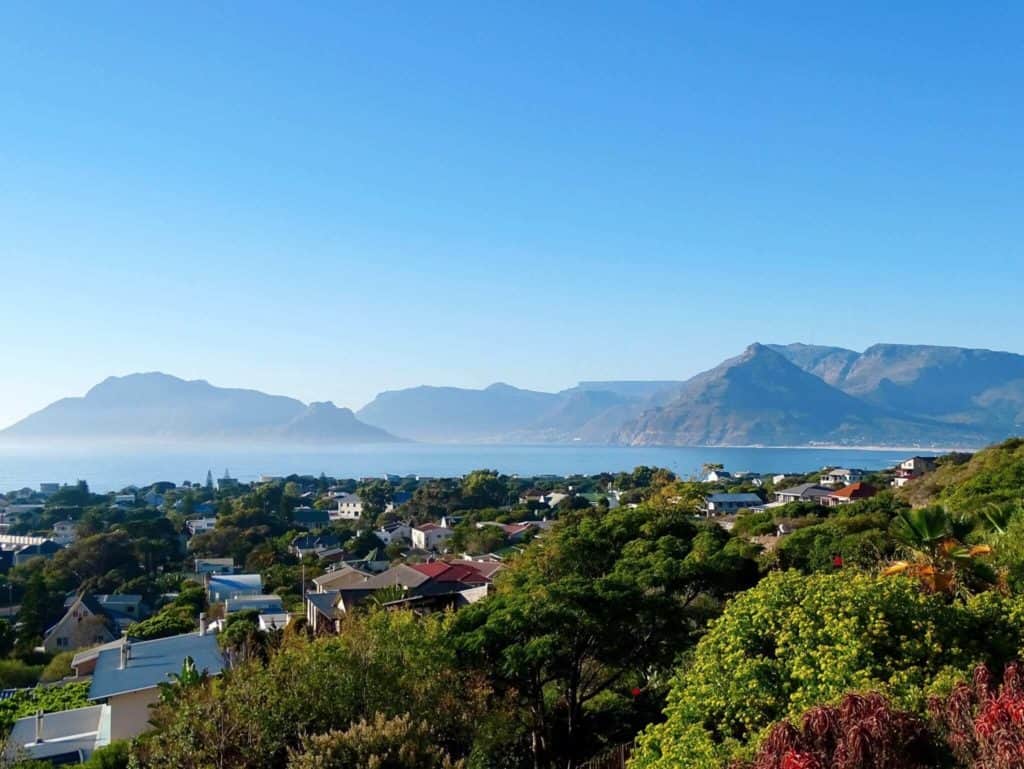 Drive back through the Nature Reserve and head towards Cape Town, this time on the west side of the peninsula. This drive is a real treat and you'll spy misty mountains, craggy rocks and endless ocean – if you're not totally over them from having seen so many!

The best part of your trip home will be driving down Chapman's Peak, a windy road carved into the mountainside. I would love nothing more than to cruise down it, ideally in an open-top convertible wearing some kind of vintage hair scarf and looking like a model.

Instead, I sat in the backseat of my friend's dad's car because I haven't passed my driving test (I also don't look like a model). But who was to complain – after all, I was in the most beautiful city on earth as voted by yours truly!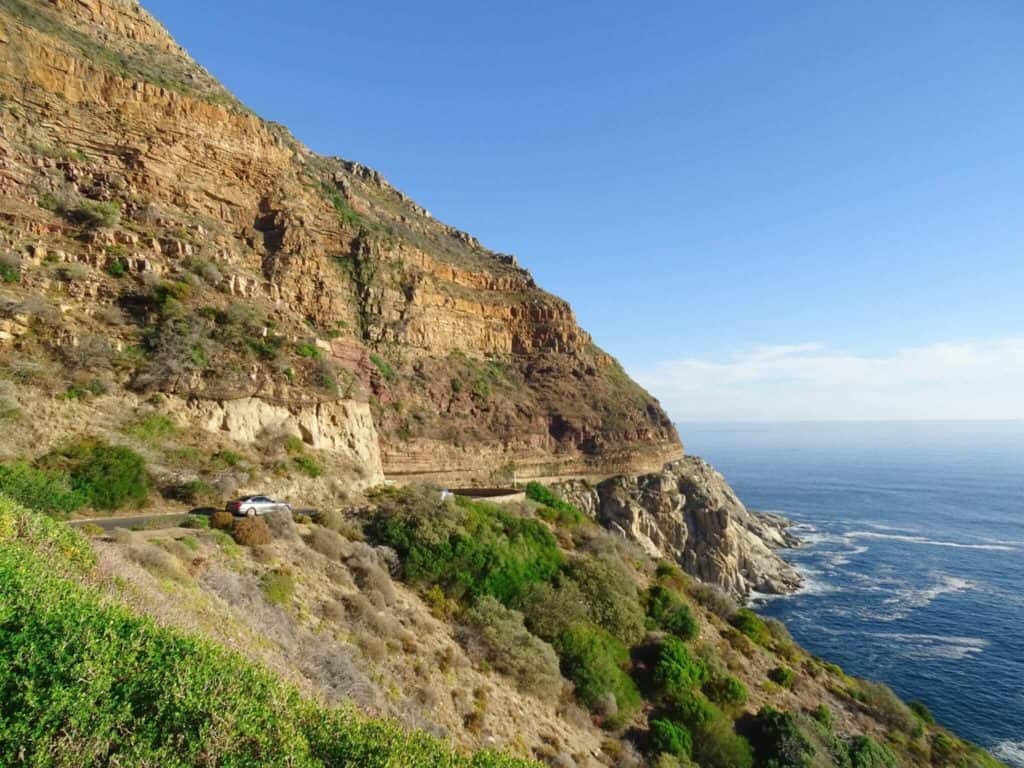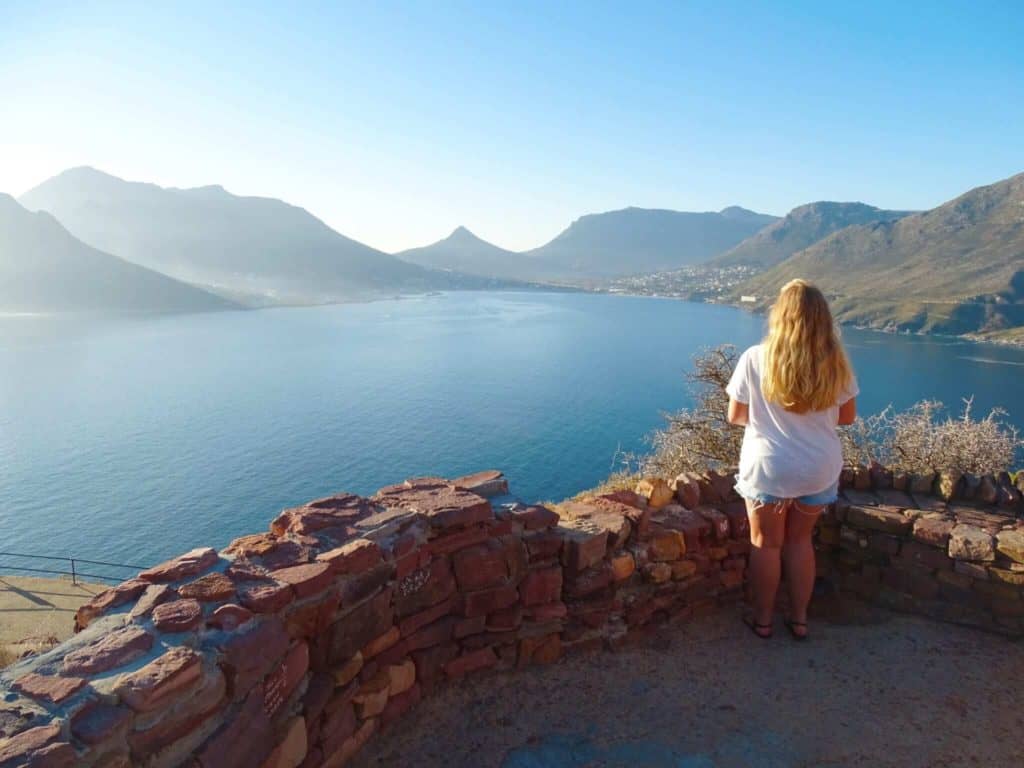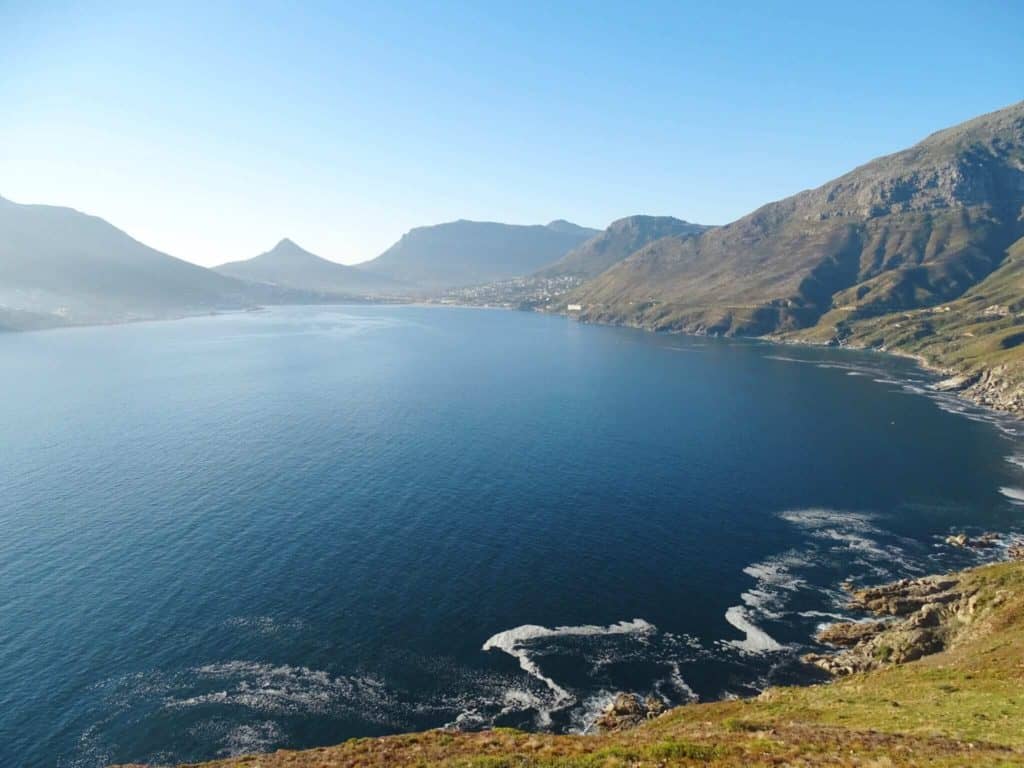 6pm: Have a sundowner in Camp's Bay
There are a few cool areas which you'll pass on your way back to the city. Hout Bay, Camp's Bay and Seapoint can be visited in that order and will be sure to enhance your Cape Peninsular itinerary.

Hout Bay is your one-stop for fish and chips and harbour views while Seapoint is a pretty residential neighbourhood with some great restaurants.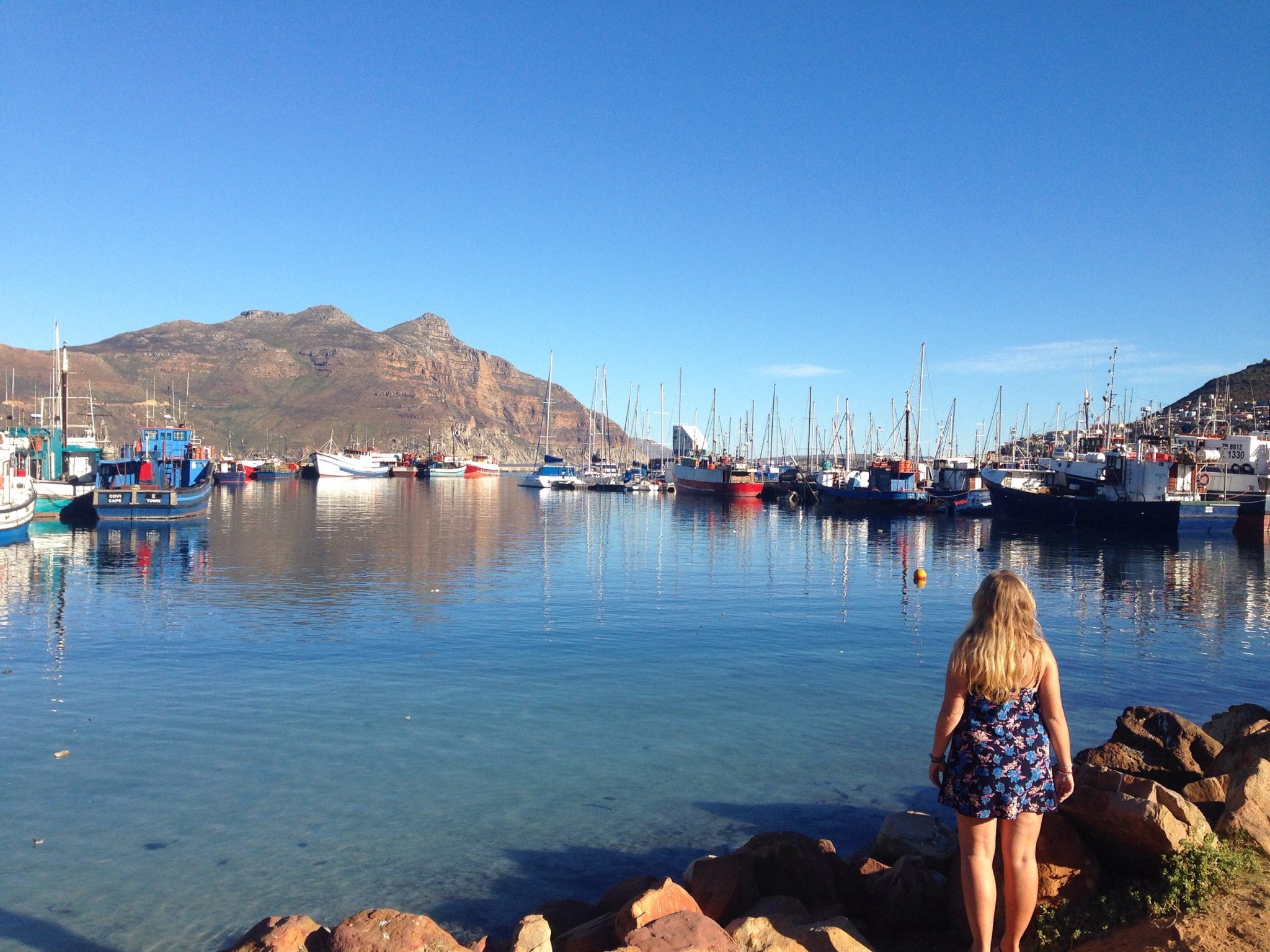 Either of the three would be a good pick for drinks or dinner but fancy Camp's Bay is particularly famous for its beachside location and range of bars. Grab a cocktail in Camps Bay and watch the sun go down after your busy day on the road.

Need a dinner recommendation in Camp's Bay? I have no greater words of advice then get yourself to the Codfather. Jump in the car, hail a taxi, don your trainers – I don't care how you get there but do it pronto. The sushi was the most delicious I've ever eaten (and I've been to Japan).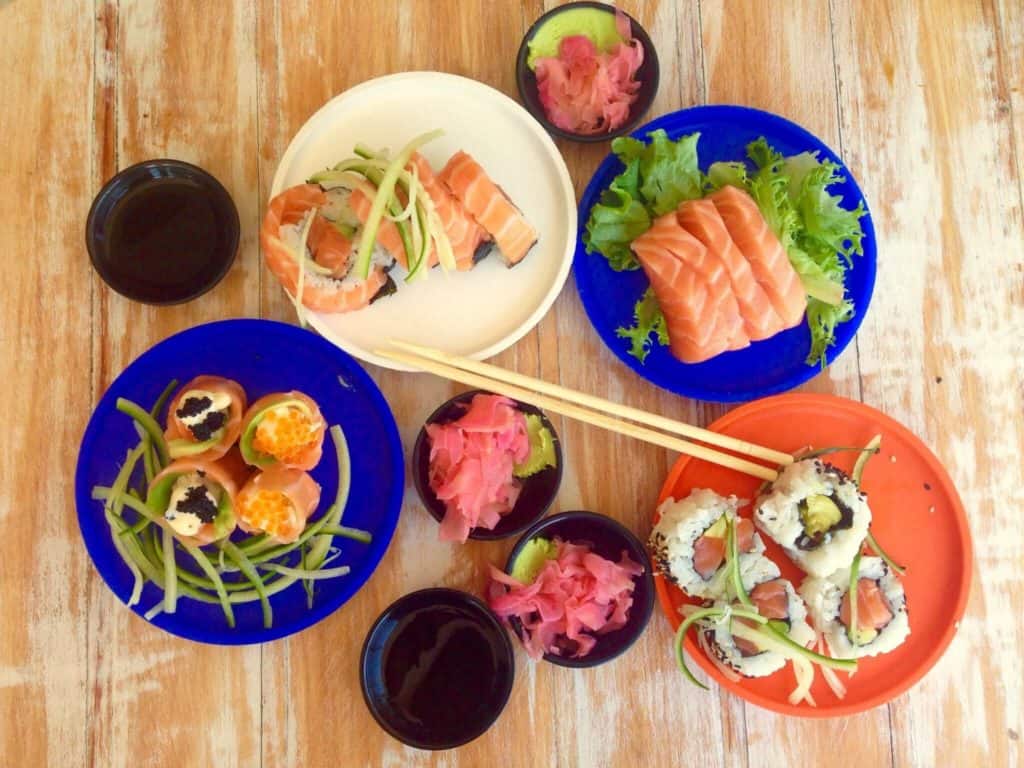 Costs
Budget R360 to get into Cape Point Nature Reserve and if you want to ride the funicular, 80 return or 70 each way. Boulders Beach entry costs R160. These are your only essential costs for the day but you'll probably want to buy lunch, browse the shops in Kalk Bay and sip a cocktail in Camp's Bay.
Thanks for reading my Cape Peninsular itinerary!
If you liked it, please share it 🙂
Check out my other Cape Town & South Africa posts:
See you next time for more adventures,
Rose
Ps. Liked this Cape Point day trip itinerary? Pin it for later!