This post may contain affiliate links to things like tours, hotels, Amazon associates and products. These help me earn a small commission at no additional charge to you.
Whether you've been to the Czech Republic or not, you'll no doubt have seen photos of Prague Castle. But have you heard about Cesky Krumlov Castle? If not, it's about time you added this majestic cultural and architectural gem to your Central Europe bucket list.

Located in the quaint and traditional town of Cesky Krumlov nestled in Southern Bohemia, the Castle looms over the sleepy settlement.

While there are plenty of other things to do in Cesky Krumlov, you can't miss the Castle… Firstly, because it's everywhere you look! I challenge you to find a street where the tower isn't in view.

In this Cesky Krumlov Castle guide, I'll share the whys, whats and wheres to visiting this spectacular complex often overlooked by travellers to the Czech Republic.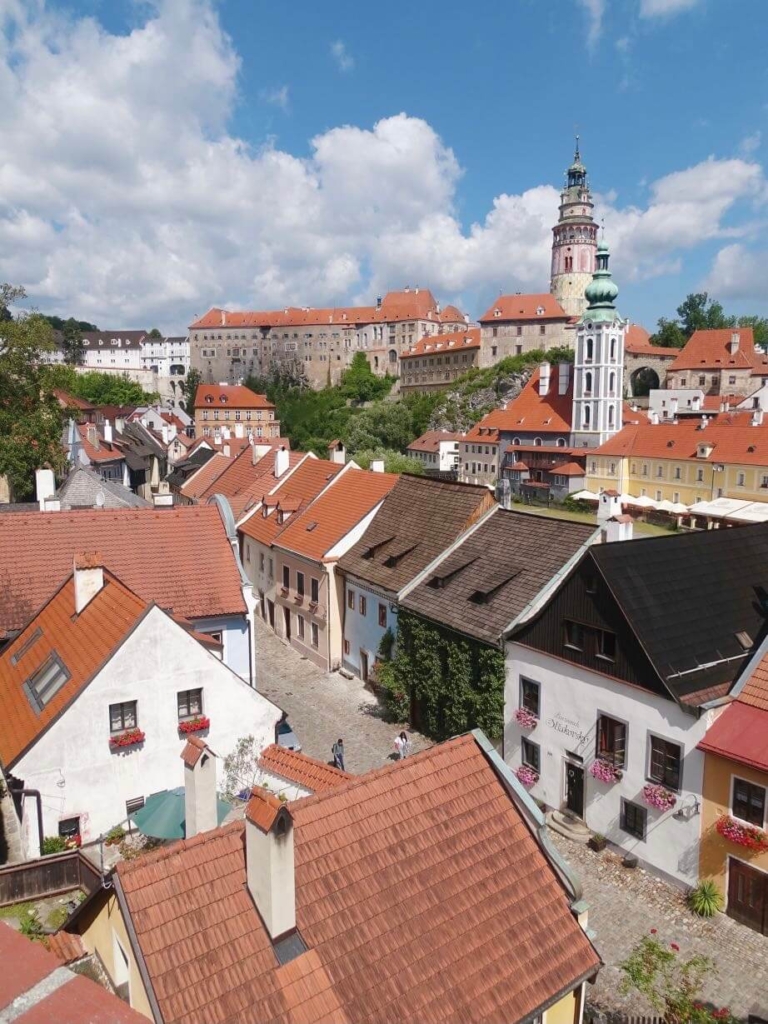 CESKY KRUMLOV ESSENTIALS

Accommodation: Booking.com / Hostelworld

Tours & activites: GetYourGuide

Getting there: Bus (FlixBus), Train (Omio)
Where is Cesky Krumlov Castle?
It's slap-bang in the middle of Cesky Krumlov in the south of the country (just north of the border with Austria). Cesky Krumlov is around 2 hours drive south of Prague.
Quick history of Cesky Krumlov Castle
Cesky Krumlov Castle was founded by a Czech noble family around 1240. Throughout history, it was handed between powerful families who all left their mark.

After the Lords of Krumlov died out, the Castle was passed to their relatives, the Rosenbergs, who maintained it for the next 300 years.

In the 1600s, it was brought by Emperor Rudolf II. von Habsburg then found its way to the Eggenbergs – who also died without ancestors – and then to the Schwarzenbergs. During this era, the castle was updated to match the modern style of Vienna and became a place for highbrow socialising.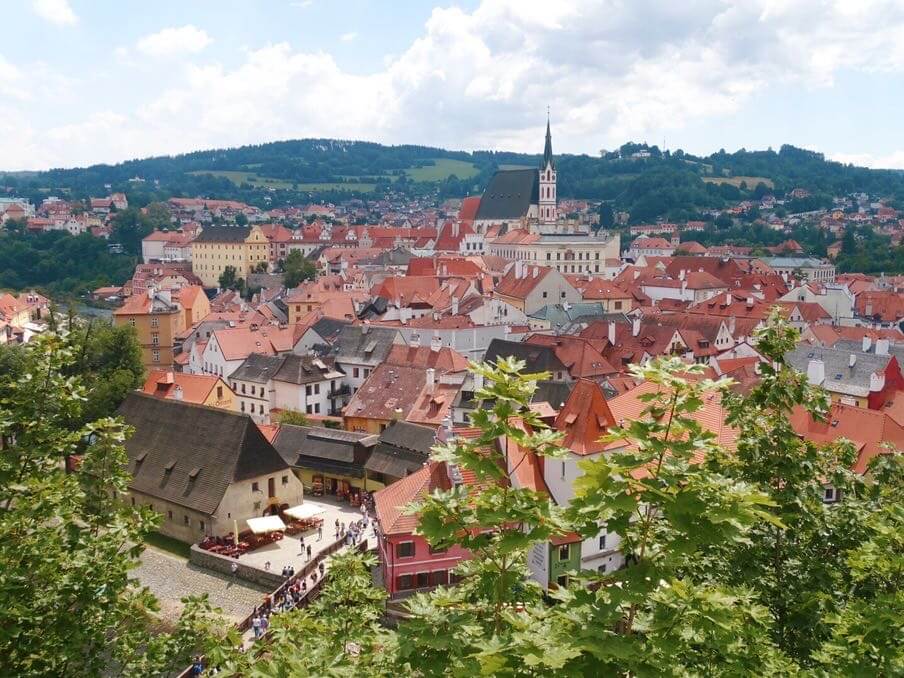 During WWI, Cesky Krumlov was part of German Austria but later it became Czechoslovakia, then was annexed by Germany, returned again to Czechoslovakia, then finally became part of the Czech Republic once they split with Slovakia. What a wild ride!

As a result of the Communism era, Cesky Krumlov Castle castle fell into disrepair as did much of the town.

After the Velvet Revolution of 1989, things started looking up. In 1992, the historic centre of Cesky Krumlov (including the Castle) was added to UNESCO's World Heritage List, putting it firmly on the map as a tourist destination.
Getting to Cesky Krumlov
By car: It's a 2-hour drive from Prague. If you're considering driving, use Rentalcars.com to compare car rentals in the Czech Republic.

By bus: I caught the FlixBus from Prague for $5. It also services Vienna (check out my 3 day Vienna itinerary if you're planning a trip!). The bus station in Cesky Krumlov is just a short walk to the centre. The bus takes 2.5 hours each way so it would be tight to visit from Prague as a day trip.

By train: The train also travels between Prague and Cesky Krumlov taking 2.5 hours. I hear the views are dreamy!

Book your journey from Prague to Cesky Krumlov.

By day tour: If you're visiting from Prague and can't spare the time for an overnight stay in Cesky Krumlov, there are several day tours that will whisk you from Prague to Cesky Krumlov Castle and bring you back by evening.
Entrance fees
It's free to wander the castle grounds and gardens but there are several additional experiences that require tickets. These include:
Castle Museum & Tower ticket (a must for the best views in town!): 150 CZ
Baroque Theatre Tour – 250 CZ
Tour of the original castle (Renaissance and Baroque era) – 210 CZ
Tour of the Schwarzenberg family era (up to the early 20th century) – 180 CZ
These are adult prices. See all concession prices and more details here.
Cesky Krumlov Castle map
Things to do at Cesky Krumlov Castle
Wandering the Castle grounds and gardens is a lovely experience that may be enough if you're travelling on a budget (we've all been there!).

However, if you're keen to learn about the history of the Castle and get a sneak peek behind the scenes, there are a few worthwhile experiences to be had.
Climb Castle Tower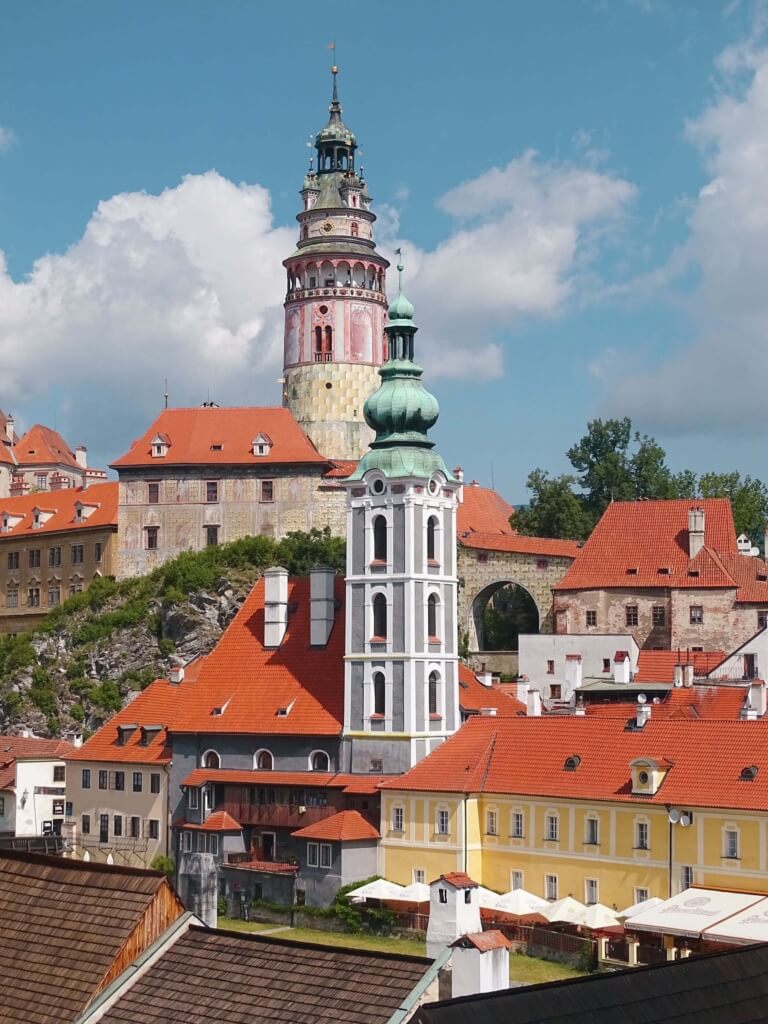 The Renaissance-style tower can be seen across town. The only thing more impressive is the view from the top!

If you pay for just one experience at Cesky Krumlov Castle, it's got to be the tower climb. The views are unrivalled, drinking in Cesky Krumlov's key features including the Vltava River. Although the climb to the top of the tower is steep, it's worth it.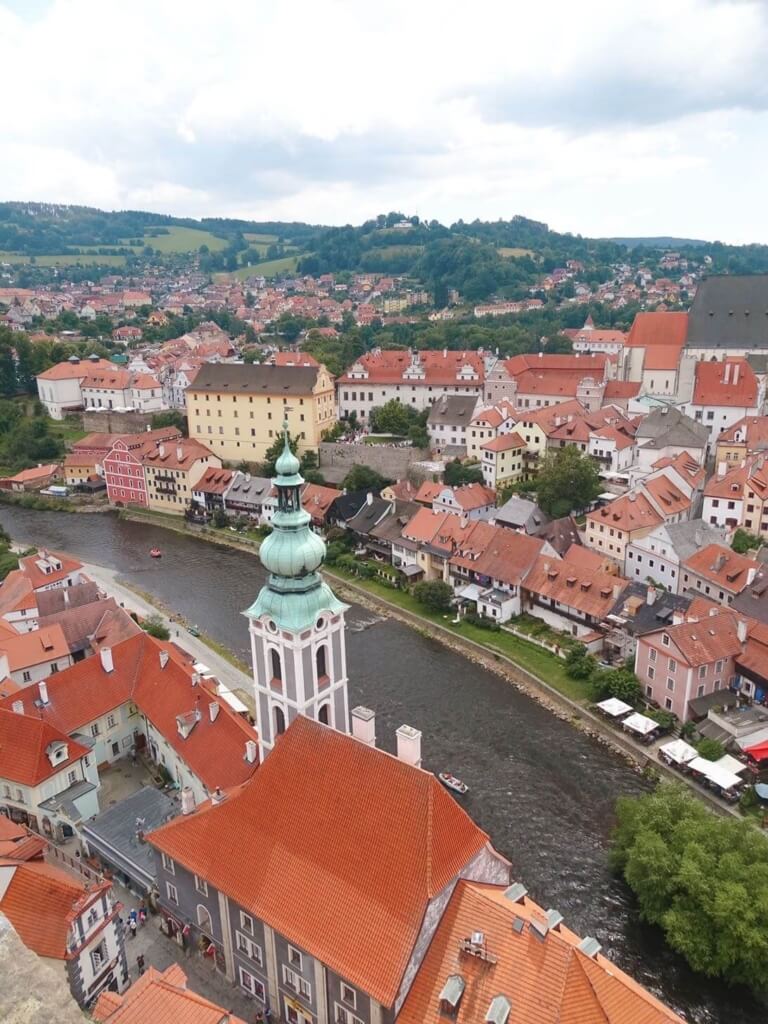 To climb Castle Tower, you need to purchase a Tower & Museum ticket for 150 CZ. There's no ticket for the tower alone but, on the plus side, you'll learn about the Castle's history at the museum.
Explore the Castle Gardens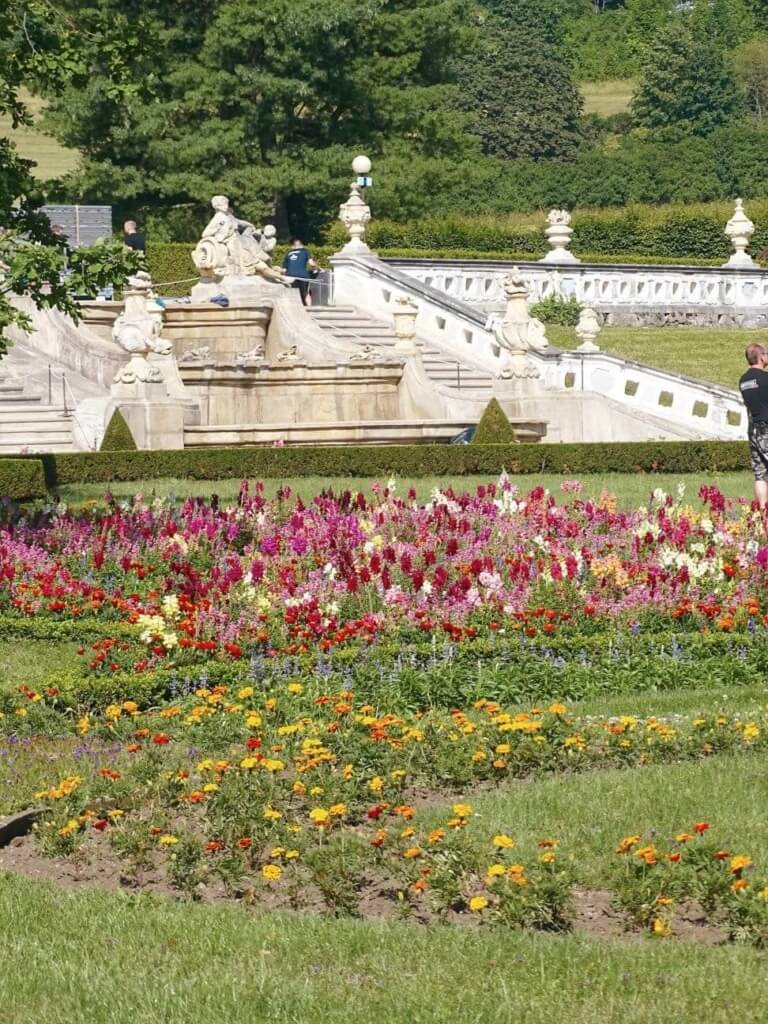 One of the most beautiful spaces in Cesky Krumlov is easily the Castle Gardens. At 10 hectares, they're the largest part of the complex, ideal for escaping the summer crowds and kicking back with a picnic or good book.

Originally named 'New Garden', the (now not-so-new) 17th century gardens have been renamed several times. After being called the 'New Princely Garden' and then 'Court Garden', they finally settled on the short-but-sweet Castle Gardens.

There are two parts to the Gardens: a terrace area with huge lime trees, and the lower gardens with manicured beds of pink and orange flowers and an impressive Rococo Cascade Fountain.
Castle Theatre
The best-preserved Baroque theatre in the world will appeal to many travellers visiting Cesky Krumlov. Although a tour costs 250 CZ per person, it's worth it to peek at this spectacular venue with its original auditorium, orchestra pit, props, decorations and more.

While the theatre dates back to the 15th century, its heyday was the 17th-19th centuries when the prosperous royals would entertain guests with elaborate shows.

Since Viennese style was all the rage, many of the Theatre's paintings and ceiling murals were created by top carpenters and artists from Vienna. You'll learn about the features of the theatre since your ticket includes the services of a knowledgeable guide.
Revolving auditorium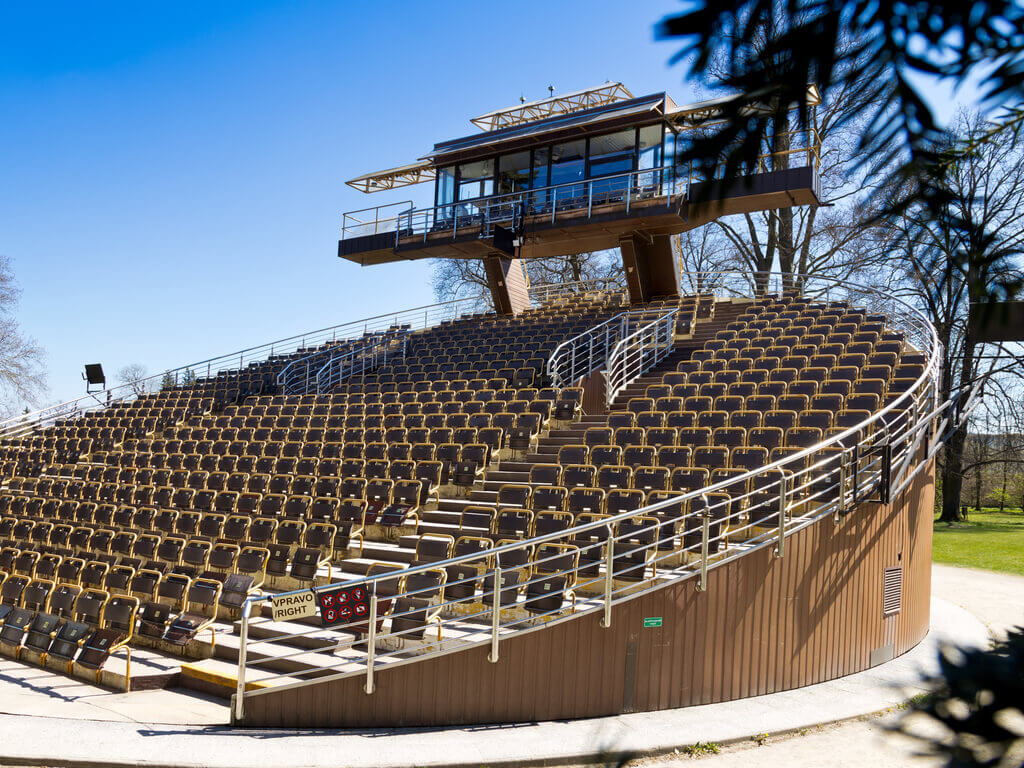 By far the youngest building associated with Cesky Krumlov Castle is the Revolving Theatre located in the grounds.

When it was built just over 50 years ago, it required human power to rotate the seating area during the performance, thus manipulating the appearance of the stage and sets. Saving the staff a lot of arm ache, it thankfully became mechanised a few years later.

While locals and tourists enjoy open-air summer shows, the Revolving Theatre is the source of controversy as some don't believe its modern design suits the traditional setting of Cesky Krumlov Castle.

Only time will tell what its future holds!
Spooky stories about Cesky Krumlov Castle
You didn't expect a castle this old to have no spooky tales, did you?

Perchta of Rožmberk was a key figure in Czech history. From a powerful, aristocratic family, she was married against her will to a cruel husband, Jan of Liechtenstein.

She wrote almost 100 letters to her father begging him to free her, but to no avail.

It's thought that when Perchta's husband died, he asked for her forgiveness and she refused. He cursed her to roam Cesky Krumlov Castle forever after her own death!

Many say that if she appears wearing white gloves, it represents good tiding, whilst black gloves mean looming misfortune! Gulp. I'm keen to ask the staff if anyone noticed her glove colour in March 2020…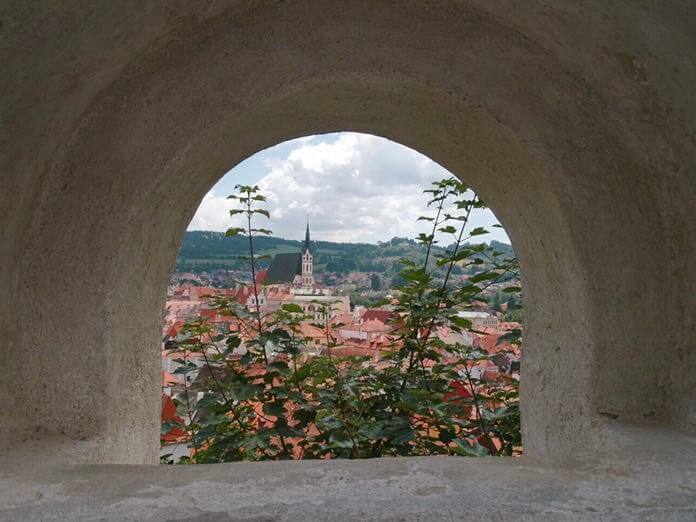 Other things to do in Cesky Krumlov
If the Castle alone doesn't persuade you, a few other things to do in the Bohemian city of Cesky Krumlov include:
Take a Wiseman Free Walking Tour to learn about the history of the town
Hire a raft, kayak or canoe on the river
Visit the many museums including Ceský Krumlov Regional Museum, the Wax Museum, the Marionette Museum and the eerie The Museum of Torture!
Admire art by Egon Schiele, Salvador Dalí and Gustav Klimt at Egon Schiele Art Centrum
Read about everything else to do, see and eat in my guide to Cesky Krumlov!
Like European Castles? Check out my guide to Nuremberg Castle in Germany.
Where to stay in Cesky Krumlov
Hostel: I stayed at Hostel 99 which is a comfy base with an attic room of single beds (no climbing ladders, yay!), a kitchen and social area. Check availability from €12 a night.
Hotel: Try Penzion U náměstí (At The Town Square), a period-style guesthouse with a sitting area and kettle in each double or queen room. Check availability from €50 a night (inc breakfast).
Private apartment: Apartment Adam has a living room and fully-equipped kitchen. Check availability from €55 a night.

Browse all hostels and hostels in Cesky Krumlov on Booking.com.
If you're heading to the Czech Republic, I'm sure you'll be visiting Prague. Use my Prague food guide to discover the best Czech dishes as well as the cafes, restaurants and markets to eat them at. Also, don't miss my guide to trying Czech wine at a real winery in South Moravia!
Looking for further Europe inspo? Check out:
Thanks for reading!
I hope you enjoy your trip. Let me know how you get on!
Liked this? Pin it for later!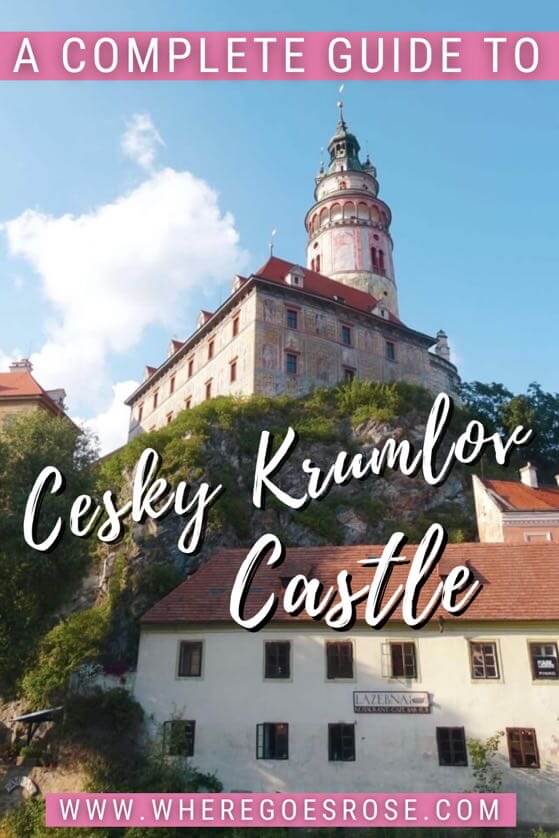 Disclaimer – I was compensated for this post by Visit Czech Republic. All opinions are my own.
TRUSTED RESOURCES FOR VISITING THE CZECH REPUBLIC

Getting around by air – I use Skyscanner to find the best-value flights, using the 'search by month' tool to find the cheapest dates. You can also use the 'to anywhere' feature if you're flexible on where you're going.

Driving in Europe – use Rentalcars.com to compare car rentals in European countries (and all around the world).

For trains, I use RailEurope. The search feature allows you to compare prices, and they show live departure times on the website.

For buses, I use FlixBus. Find journeys between European countries from €1! 

For hotels and self-catering apartments, I use Booking.com. You can filter by review score and price to find the best-rated budget places. For hostels, I use Hostelworld.com.

To save money on accommodation, I use Trusted Housesitters, a website that connects homeowners going away and travellers who can sit their homes & pets.

Browse tours and activities on GetYourGuide.

Need travel insurance? I use True Traveller (for UK & Europe residents) since it's some of the most affordable insurance out there but still covers everything you'd need including various activities, valuables and pre-existing conditions. Unlike some companies, they insure you if you're already travelling / don't yet have your flight home booked. Get a quote.

For travel insurance for other nationalities, I recommend Hey Mundo and for long-term digital nomad travellers, I suggest Safety Wing.

Check out my resources page for more travel discounts and budget tips from my 10+ years on the road!