This post may contain affiliate links to things like tours, hotels, Amazon associates and products. These help me earn a small commission at no additional charge to you.
Manchester is a foodie wonderland. There are hipster food markets, fancy restaurants and dessert cafes serving food from all over the globe. Today, I'm going to talk to you about cheap food in Manchester because it's a topic I know well. I've visited countless times over the years, never with a very high budget.
Cheap food in Manchester
Unlike London, there are lots of cheap eats in Manchester city centre. This is great because you don't have to work out public transport or travel too far afield to get your next meal.

A lot of the restaurants are a 10-minute walk from each other (better for dessert hopping) and none of it is too pretentious.

These are some of the best cheap restaurants in Manchester city centre…
Read next: the coolest Manchester restaurants for 2021
1. Federal Cafe – best brunch
Even though there are so many great brunches in Manchester, I always gravitate back to Federal. The brunch dishes start at £4.50 and there are some excellent £8 ones like the French toast and the halloumi & shrooms on sourdough. You can include a coffee and barely break that £10 budget.

There's usually a queue for a table at Federal on weekends but I'd recommend waiting it out. It's worth it.

Where: 9 Nicholas Croft.
2. Home Sweet Home – best desserts
Cosy Home Sweet Home is great for brunch and burgers, but the cakes are my favourite excuse to visit. The one I tried recently had four additional cakes (a Cherry Bakewell, Fondant Fancy, Angel Cake and Viennese Whirl) perched on top.

Just in case my daily sugar intake wasn't already off the scale, I sipped on hot chocolate loaded with toasted marshmallows and Oreo smores.
Brunch dishes cost £5.50-£12 and most of the cakes are around a fiver. Not bad for the Northern Quarter which is super trendy these days.

Where: Edge Street.
3. Northern Soul – best cheese fix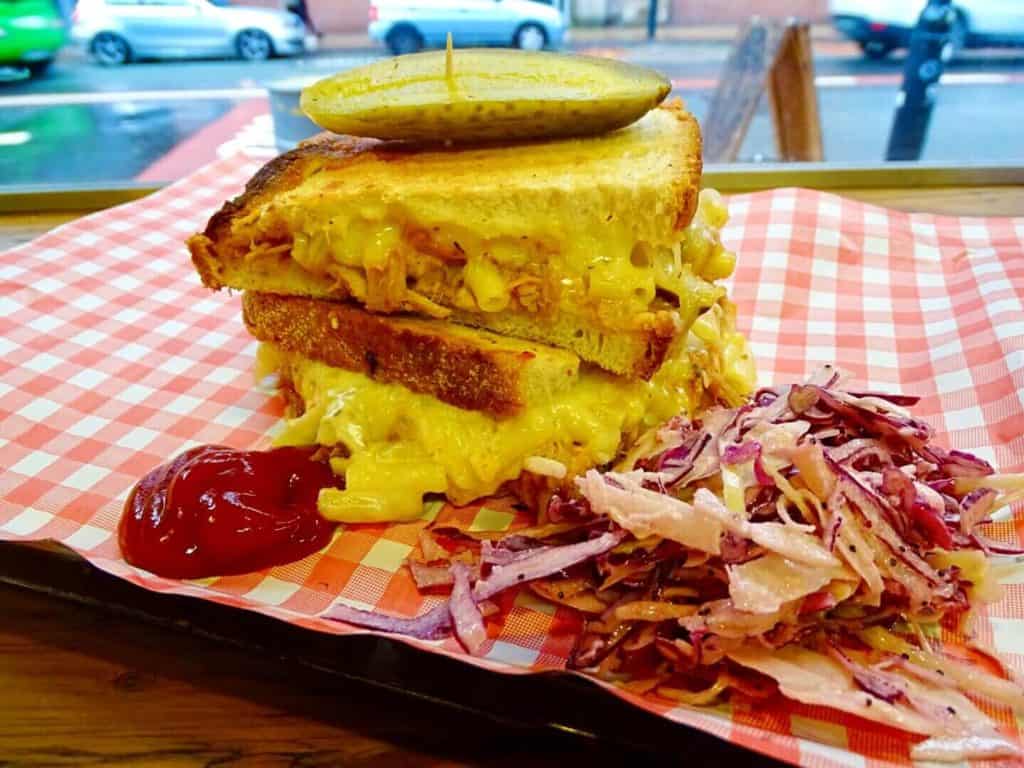 This mac 'n' cheese and pulled pork fried sandwich was so indulgent and salty-good. I sat in the window not caring it was all over my face.
The cheapest grilled cheese sandwich at Northern Soul is £6.90 so you can still add fries and be within a £10 budget. As one of the most filling and indulgent cheap eats in Manchester city centre, you'll be full for the rest of the day.
Where: Unit G20, 21, 44 Tib Street.
4. Next best toastie – Makers Market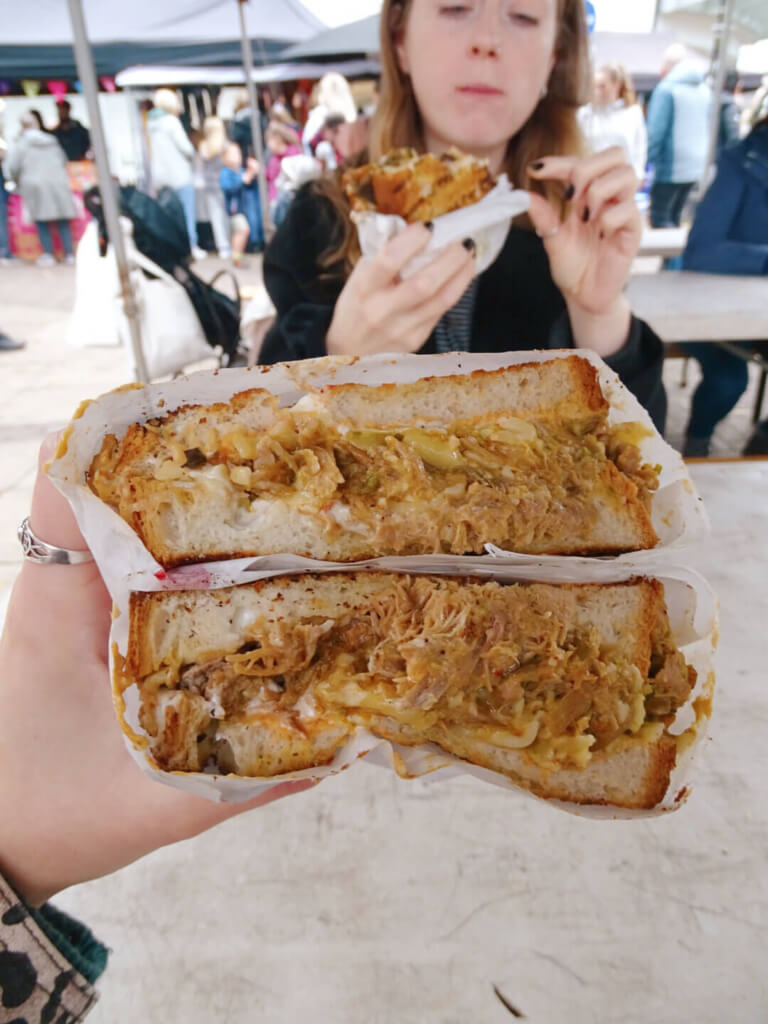 For more amazing cheese toasties in Manchester, head to the Makers Market held in different locations around the city on weekends. My sister and I visited the one in Sale (held on the third Sunday of the month) and tucked into these baddies for just £6.50 each!

My sister had a veggie aubergine, pomegranate and cheese toastie (vegan cheese also available) while I was tempted into a meat coma by the Cubano feat. pulled pork and cheese. There are lots of other combinations including Peking duck and truffle mushroom. Yum!

Where: For the closest markets to town, head to NQ on the second Sunday of the month, Chorlton on the third Saturday and MediaCity on the last weekend.
5. Rudy's – the 10th best pizza in the world!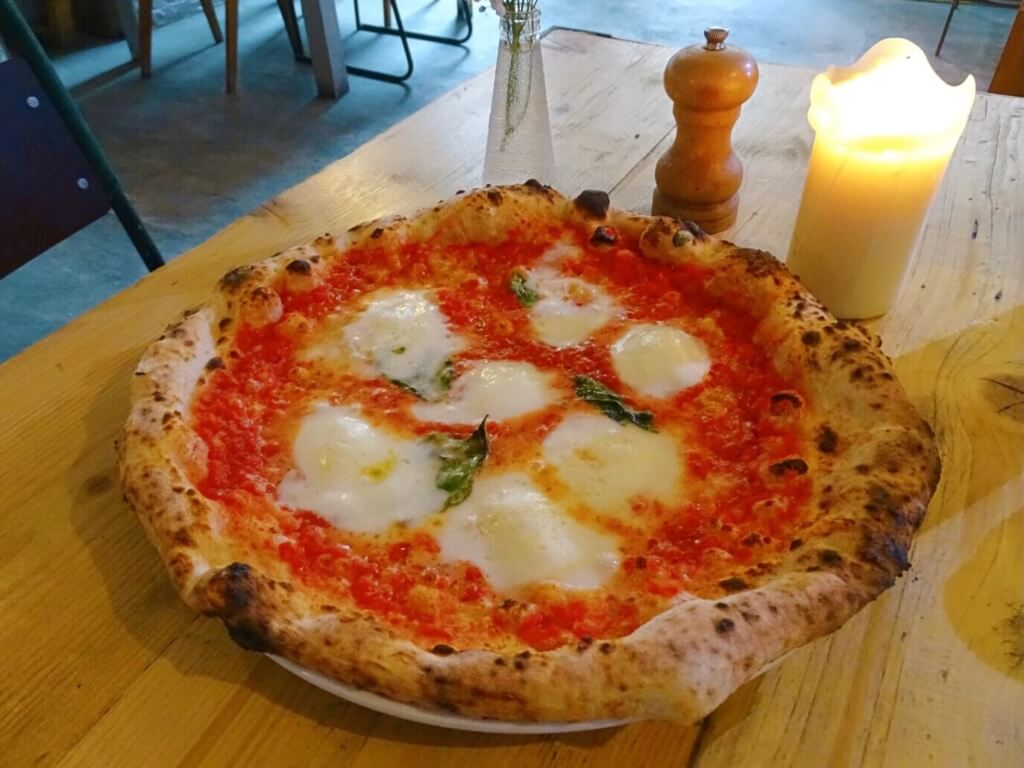 Woodfire oven. Sourdough base. Fresh ingredients. If you don't know the formula now, you never will.

Not only does Rudy's serve delicious and cheap food in Manchester city centre, but it's recently been voted the 10th best pizza in the world!

Pizzas start from £5.50 and go up to £10 if you opt for elaborate topping combos.

Where: Petersfield House, Peter Street and 9 Cotton Street, Ancoats.
6. Fig + Sparrow – best coffee culture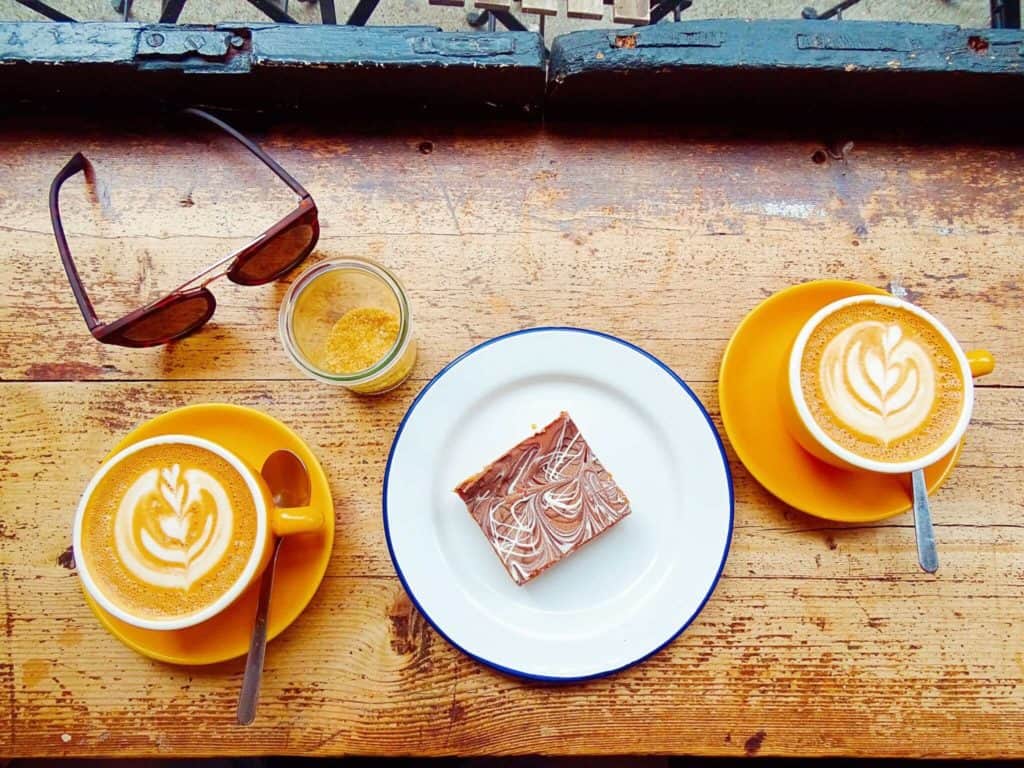 Typical Northern Quarter stuff, Fig + Sparrow is a bit hipster and probably styled with Instagram in mind.

The coffee's great and I love the salted caramel squares. Their breakfast dishes start at £2.50 (yes, really) making it a strong contender for the best cheap eat in Manchester.

Where: 20 Oldham Street.
Read next: where to drink coffee in Manchester
7. Habesha – best new experience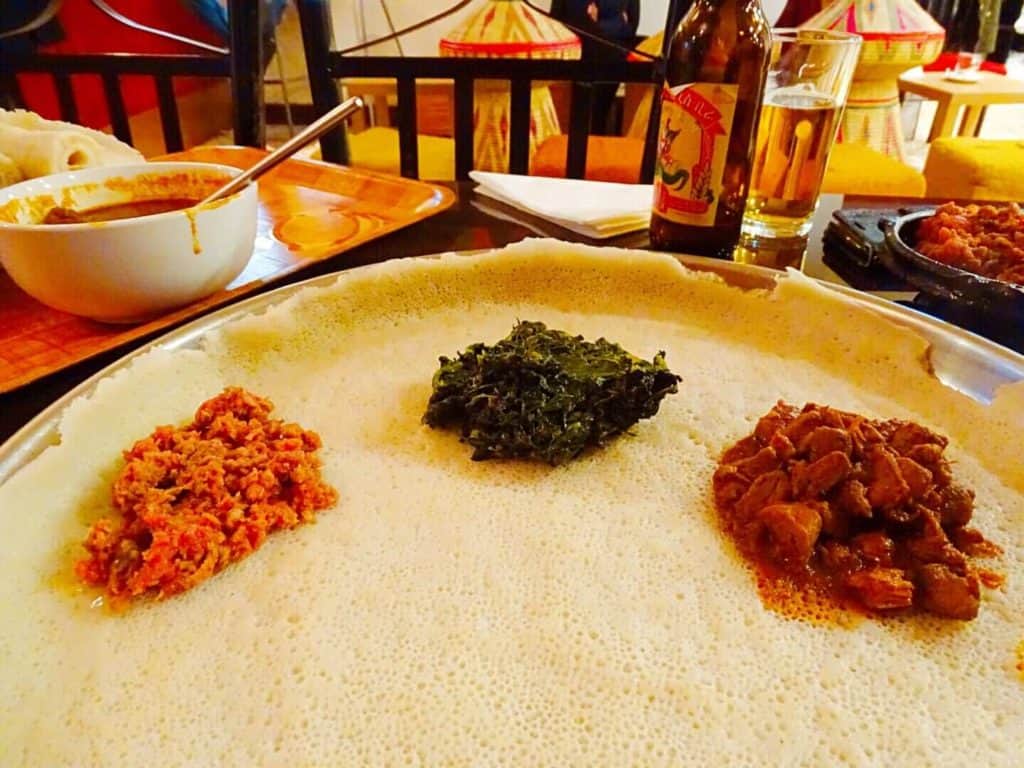 There's a no-fuss vibe at Habesha Manchester which serves authentic Ethiopian food. To get there you have to climb a spiral staircase inside a fried chicken shop but fear not, it's all part of the experience.

There are no desserts or starters, just £2 Ethiopian beers and £7 flatbreads piled with a choice of beef, chicken, lamb or veg curry. Dinner and an alcoholic drink for less than £10 in the UK is pretty rare so don't miss this window!

Where: 29-31 Sackville Street.
8. The Manchester Doughnut Company – best doughnuts
Dessert fans visiting Manchester shouldn't have without trying the best doughnuts in town. Mine was filled with blackcurrant cheesecake (minus the base) and was probably the best £2 I've ever spent.
Where: SiOP SHOP cafe on Tibb Street and at the Makers Market held in the Northern Quater on the second Sunday of each month.
9. Banh Mi Co Ba – best Vietnamese food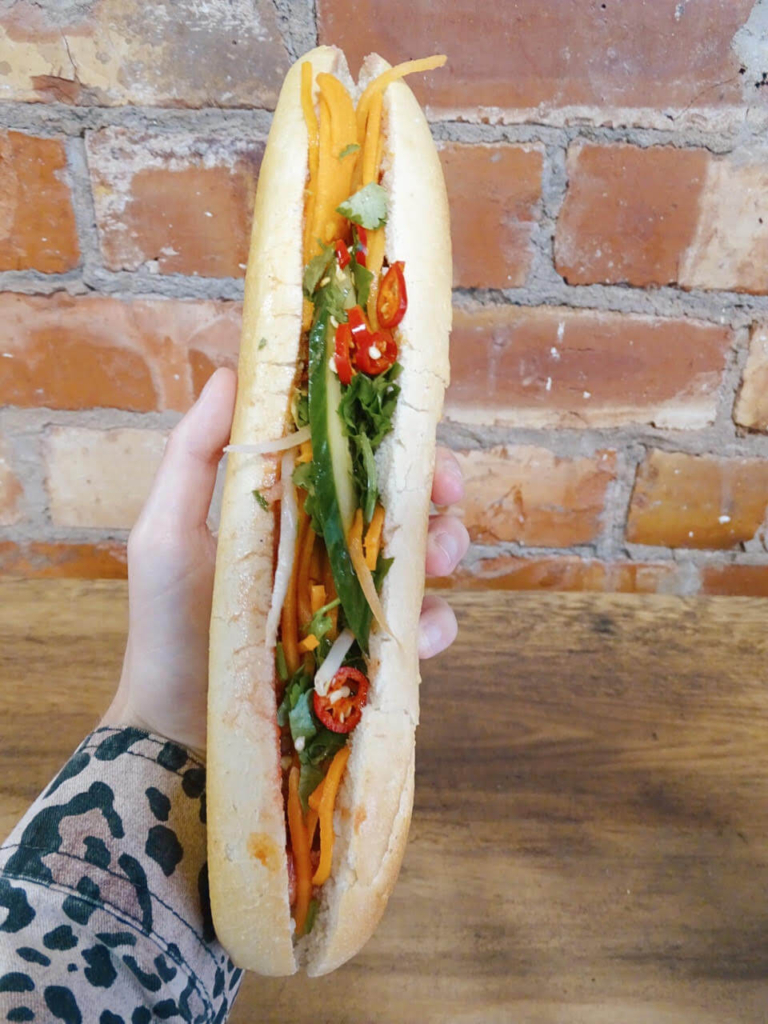 In the spirit of seeking out Vietnamese food wherever I go, of course I headed to Banh Mi Co Ba!

Near Oxford Road train station, this no-frills Vietnamese cafe is the place to grab a banh mi or steaming bowl of pho noodle soup without spending more than a tenner. There are just a couple of seats inside and outside so you may wish to get your food to-go.

I opted for a char siu (barbeque pork) banh mi for £6.50 which was almost perfect… Had they not ignored my request for no coriander and had the pork not been so fatty. It wasn't the best banh mi I've had but, for England, it was decent.

I'd like to return and try the pho and banh bao (bao buns) with all sorts of fillings. Oh, and the com tam (broken rice topped with meats, veggies and fried egg). Nothing on the menu costs more than £9.

Where: 87 Oxford Street. Visit for lunch or a very early dinner as it's open from 11am-7pm.

10. Little Yeti – momos!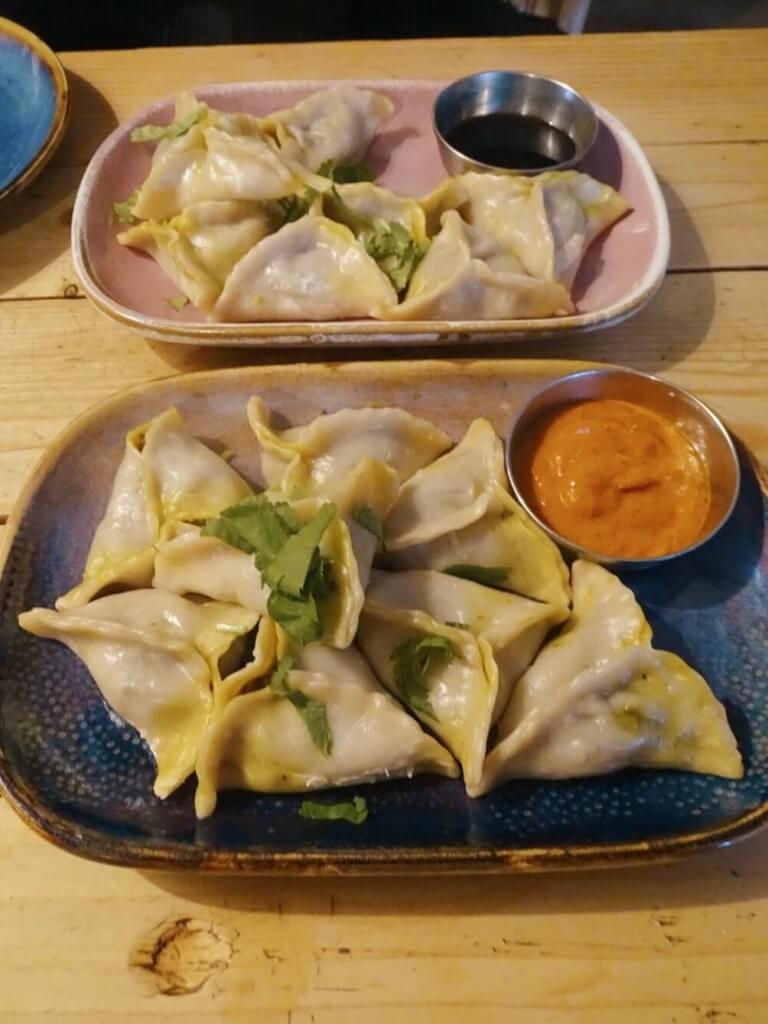 Okay, this isn't a cheap restaurant in Manchester city centre but it's not too far out (around 20 minutes on the bus). Chorlton is one of Manchester's fancier neighbourhoods so £7.50 for eight delicious momos is a bargain.

After a trip to Nepal and many failed attempts at visiting the Little Yeti (missing buses, double-booking plans… How could we make it around Nepal but not to Chorlton?), my sister and I FINALLY made it to this cosy Nepalese cafe. We were not disappointed!

We loved the freshly steamed momos with flavoursome fillings. Opt for veggie, chicken, buffalo, pork or king prawn. The dips are great; the dumpling vinegar was tangy and moreish but the achar is spicy and most authentic.

Where: 495 Barlow Moor Road, Chorlton.
11. Wolf at the Door
£1 bao buns and tacos in the city centre? You must be joking!

Wolf at the Door is easily one of the cheapest places to eat in the Northern Quarter. With a short but sweet menu, you can choose from quirky bao toppings like cauliflower shwarma and chip shop curry, and tacos with jerk chicken, char sui mushroom and masala potato. None cost more than £2.

As a major Asian and Mexican food lover, I confess the culture mash-ups distressed me for just a second… But for this price, who's complaining?

Address: 30-32 Thomas Street.
---
To summarise, you won't leave Manchester hungry and hopefully not out-of-pocket either. Let me know in the comments if you have any other recommended spots for cheap places to eat in Manchester!
Like Manchester?
Check out my weekend in Manchester guide for things to do, where to stay, the best coffee and day trips… basically everything you need for a fantastic visit.

More Manchester blogs:
Thanks for reading
If you liked it, please share it
As greedy as me? See my other foodie posts:
See you next time for more eating adventures,
Rose
Ps. Liked these cheap Manchester eats? Pin this for later!