This post may contain affiliate links to things like tours, hotels, Amazon associates and products. These help me earn a small commission at no additional charge to you.
There are so many reasons to visit Chiang Mai from ancient temples to nature hikes and the amazing food and coffee scene. Are the Chiang Mai cafes also worth travelling all the way from Bangkok for?

In my opinion, yes. I spent two months in Thailand last year and, since I'd explored the main Chiang Mai attractions a few years previously, I was there for the digital nomad scene. The Chiang Mai coffee is amazing which perhaps tempted the expats here in the first place. There are loads of cute cafes, some doubling up as stylish co-working spaces. It's no wonder it's become a nomad hub.

Whether you're working online or just working up an appetite for coffee, I'm here to spill the (coffee) beans on the best cafes and coffee shops in Chiang Mai. Especially during the hot summer months from April to July when the temperatures soar to the mid-40s, you'll definitely want to take shelter in an air-conditioned cafe and cool down with a Thai tea or iced flat white.
CHIANG MAI ESSENTIALS

Accommodation – Booking.com / Hostelworld

Getting there – flight / bus / train. Book using 12Go

Activities: GetYourGuide

Food tours: A Chef's Tour

Guide book: Lonely Planet Thailand

Airport transfers: Klook
Best cafes in Chiang Mai
Unlike cities with coffee giants everywhere, UNESCO-protected Chiang Mai Old City has managed to preserve its old-fashioned charm with plenty of independent businesses dotted around. Many of the Chiang Mai cafes can rival the temples for aesthetics, tucked away between down sleepy backstreets.

Besides, finding the best coffee in Chiang Mai is half the fun. You never know what else you'll see on the way. I'm always finding atmospheric markets, street food stalls and religious shrines while cafe hunting within the Old City.

Let's get stuck into the cutest Chiang Mai coffee shops and cafes…
Free Bird Cafe, Nimman
This gorgeous vegan cafe in Chiang Mai uses coconut milk for their freshly-brewed coffees and Thai teas. The drinks are only half the reason to visit though; Freebird also serves delicious meals using traditional Thai recipes and ingredients. You won't get the street market atmosphere, but the pretty cafe decor is simplistic yet homey. Oh, and the air-con is wonderful.

But the best thing about Freebird is their ethics: they donate 100% of profits to Northern Thai and Burmese hill tribes. This is an amazing cause, especially given the current refugee situation on the Thai-Burmese border. There's also a no-waste store where you can buy clothes, body products and reusable coffee cups and straws etc.

For wholesome food and coffee with a conscience, Freebird is located in stylish Nimman neighbourhood. Call an Uber or jump in a big red Songthaew (shared taxi) from central Chiang Mai.

Freebird is a laptop-free cafe so come here to eat and socialise, not work!

Address: 14, Siri Mangkalajarn Rd Lane 9.
GRAPH quarter
Just west of Thae Pae Gate is a small, blissfully air-conditioned cafe. GRAPH quarter will be familiar to expats in Chiang Mai because it's got all the staples of a hipster coffee shop, plus excellent coffee to boot.

It's a small cafe with just a few seats so it's more of a social cafe than a co-working one. Arrive early if possible to avoid the disappointment of the tables being taken and missing out on some of the best coffee in Chiang Mai!

As well as all your usual hot and ice coffees (don't miss the iced matcha!), they serve tantalising desserts like banoffee pie. The menu is incredibly informative, telling you about the different beverages, where the coffee was grown and even at what temperature!

Address: 25 Siri Mangkalajarn Rd Lane 13, Chiang Mai 50200.
Ristr8to Lab, Nimman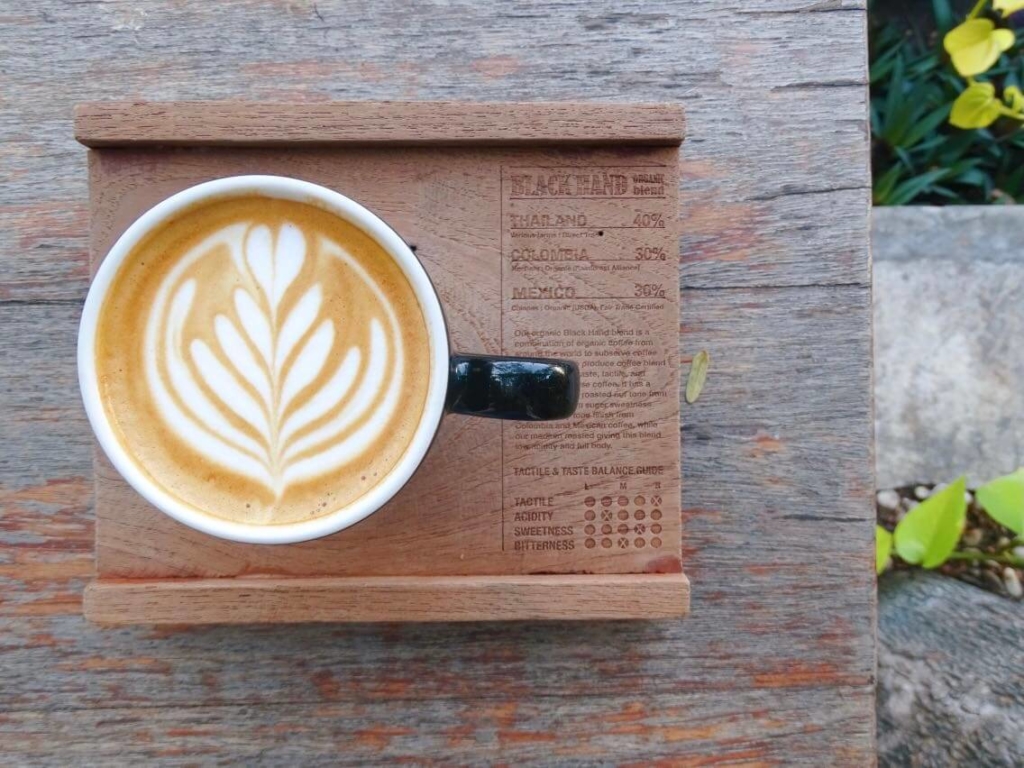 If you're looking for the best coffee in Chiang Mai, you've found it. Ristr8to Lab is a must with many Trip Advisor reviews deeming it the best coffee in all of Thailand. High praise but justified, in my opinion.

Locally-sourced Chiang Mai coffee beans are roasted on-site and used to make all number of aesthetically-pleasing coffees like my flat white (pictured) with a leaf drizzled on top. The baristas compete around the world in latte art competitions which explains why the drinks look so good.

Luckily, the taste can rival the aesthetics. The coffee menu is never-ending with all your usual coffees and unusual additions like the Mexican latte served inside a skull glass, the blue affogato, and the dirty white Russian served in test tubes.

Ristr8to Lab is also located just outside of the Old City in Nimman. Why not start your day at this Chiang Mai coffee shop then move over to Freebird for lunch?

Address: 15/3 Nimmanahaeminda Road, Tambon Su Thep, Chiang Mai 50200.
Fahtara Coffee & Restaurant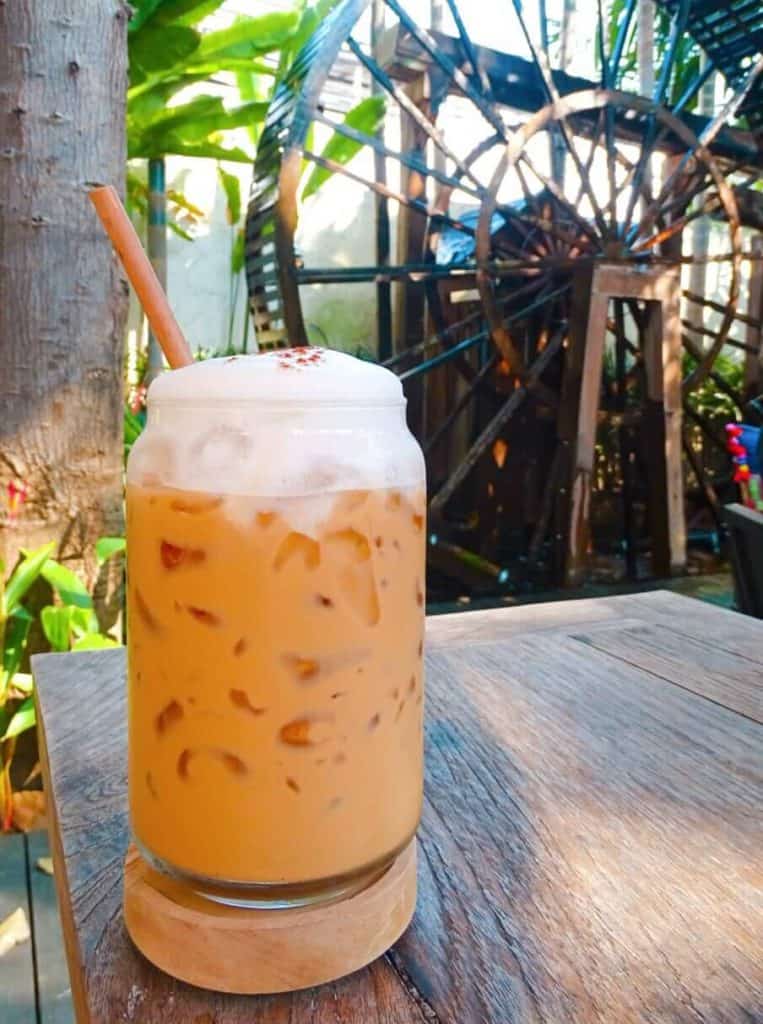 This cafe in Chiang Mai Old Town is an atmospheric place to sip iced coffee under the shade of trees, watching as waterwheels filter a small stream.

My coffee at Fahtara was enormous. I'm not sure this photo gives a sense of scale but it was basically a pint of coffee. I can't lie, I was buzzing for hours so you should probably have this before lunch rather than during the afternoon.
Iced coffees start at 60 baht which is reasonable given the size. Fahtara also serve fruit shakes, hot coffee and teas including matcha latte, as well as the national beverage, iced Thai tea. Don't leave Chiang Mai without enjoying several of these. They're flavoured with star anise and cardamom, reminding me of masala chai in India.

Fahtara also serve soups, sandwiches and other international dishes. I can't vouch for these myself but the reviews are positive. However, if you're looking for an atmospheric Chiang Mai cafe with excellent coffee, I can vouch for this relaxing spot.

Address: 57 Wiang Kaew Rd, Sripoom Mueang Chiang Mai District, Chiang Mai 50200.
Cotton Tree Coffee Roasters, Nimman
For quality coffee in Chiang Mai, Nimman neighbourhood is always a good idea. Beside Maya Mall, this cafe is a good pick-me-up when you need to go shopping.

Cotton Tree Coffee Roasters is worth the trek out of town: it's more like an estate than a cafe with endless indoor and outdoor seating and icy aircon. Relax while sampling Thai-grown coffee as well as blends from coffee hubs around the globe.

Visiting simply for the desserts would be legitimate. The tiramisu is what dreams are made of!

Address: 45/38 M.5 T.Chang Phuak Chiang Mai, 50300.
Blue Diamond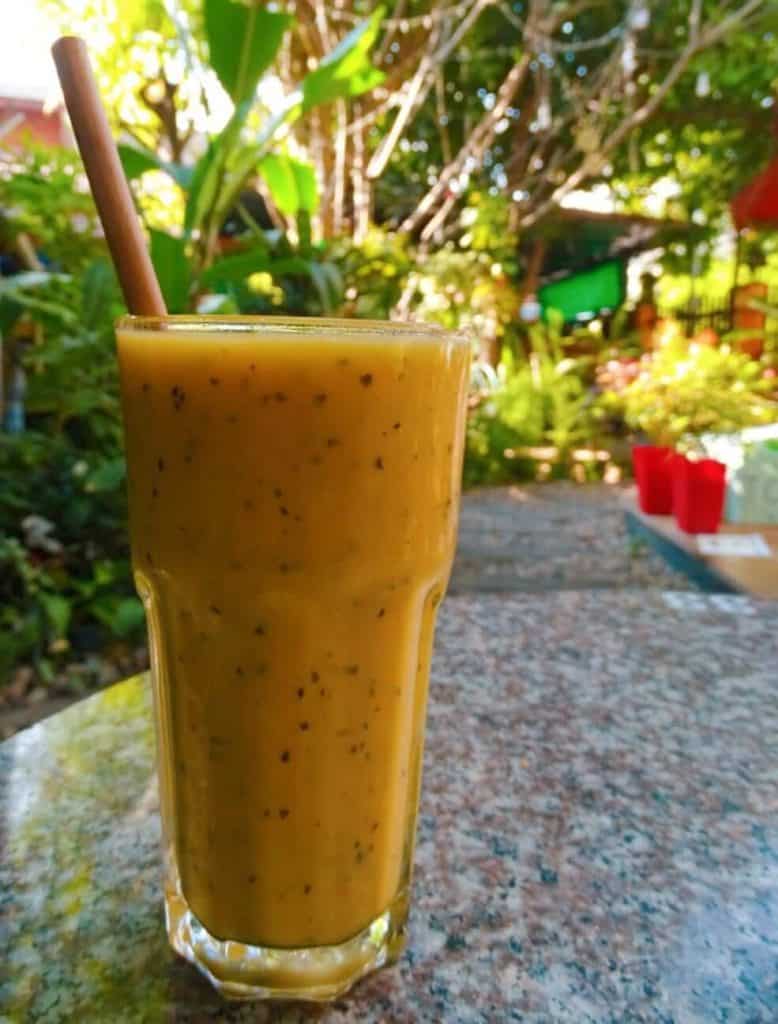 My favourite cafe in Chiang Mai for chilling out and spending a whole afternoon is Blue Diamond. Tucked away down a sleepy backstreet near Wat Chiang Man temple, you'd never find it by wandering.

Perch on a colourful floor cushion and eat from low tables in the garden, or sit at a proper table inside the open-plan cafe. As well as coffee, Thai tea and fruit smoothies, you can tuck into endless delectable baked goods from the counter. The coconut pie is to die for.
The food at Blue Diamond is veggie and vegan-friendly with lots of fresh stir-fries and veggie Thai curries. The only problem is there's no air-con since it's all outside. You may get a bit hot and sticky in the summer. Still, it's worth it to enjoy this gorgeous Chiang Mai cafe, plus an iced Thai tea will cool you down.

Address: 35/1 Moon Muang Rd Soi 9, Si Phum Sub-district, Chiang Mai 50200.
Ponganes Coffee Roasters
This tiny coffee shop in Chiang Mai can be found bang in the middle of the Old City. What it lacks in space, it makes up for with expertly-blended espresso. The staff seriously know their stuff so, if you're not sure what you want, you can sample the blends on offer first.

Come for your morning caffeine fix before sightseeing; Ponganes Coffee Roasters is surrounded by ancient Chiang Mai temples. Note that they don't serve food, so eat breakfast elsewhere (use my Chiang Mai food guide for inspo).

Address: 11/2 Khang Ruan Jum Rd, Si Phum Sub-district, Chiang Mai 50200.
Taste Cafe, Nimman
What's this, another Chiang Mai coffee shop in Nimman? Coffee snobs may want to base themselves in this neighbourhood simply to be surrounded by coffee at all times.

With a clean, minimal decor and plenty of plants, it's a hipsters dream that's become popular with young students. There's plenty of seating including two-person tables and a bar with stools for co-workers.

With milk-based coffees, iced coffee and homemade cold brew, Taste Cafe will impress even the most refined coffee fanatic. There are Thai dishes on the menu as well as international brunch dishes and baked goods. You won't find better croissants elsewhere.

Address: 2 Chiang Rai Rd, Tambon Su Thep, Chiang Mai 50200.
Yesterday Cafe, Nimman
This Nimman cafe inside a colonial-style white mansion is another place to escape the heat and relax in stylish surroundings, coffee in hand.

Expect inside seating as well as outdoor tables under a shaded veranda, all decorated in stripped-back style with cool colour pops like retro movie posters.

Luckily, the quality of the coffee can compete with the aesthetics. There are espressos from around the world to sample, milk drinks and iced drinks, plus desserts. Heaven!

Address: 24, 12 Nimmanahaeminda Road, Suthep, Chiang Mai 50200.
The Larder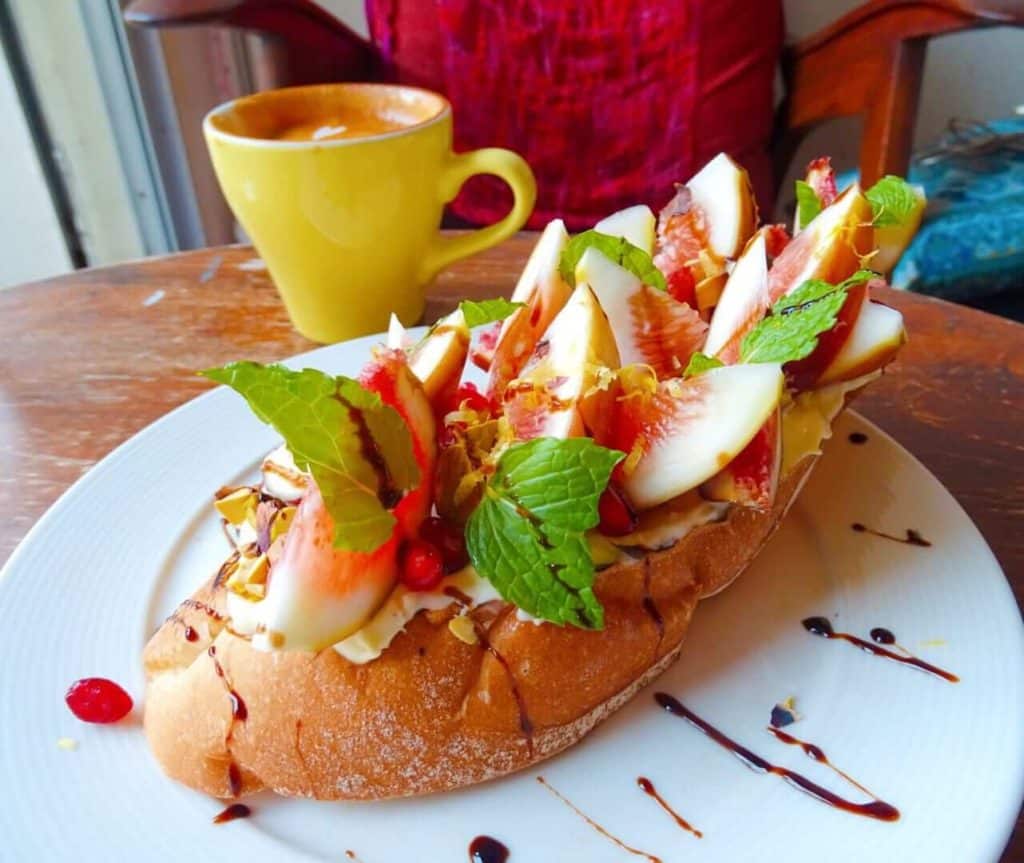 For some of the best coffee in Chiang Mai as well as the hands-down best brunch and breakfast, you can't do better than The Larder. This isn't necessarily the most atmospheric cafe in Chiang Mai, plus it's quite small and doesn't accommodate large groups, but it's still worth a visit for coffee and brunch fans.

After a sweaty morning hiking The Monk's Trail, I headed to Nimman area. Here I rewarded myself with goat's cheese toast with fig, mint and balsamic honey dressing, washed down with a flat white. An indulgent treat but so worth it.

There are so many amazing places to eat Thai food in Chiang Mai that you don't really need Western food for lunch and dinner. I love Thai food but not always for breakfast so, if you feel the same, head to the Larder.

Address: 3, 9 Suk Kasame Rd, Tambon Su Thep, Chiang Mai 50200.
Nine One Nimman
To drink great coffee in Chiang Mai while also supporting local livelihoods, head to Nine One Coffee in Nimman. The coffee served is grown at Nine One Coffee Farm in nearby Doi Saket which has been employing locals since 1997. With the motto 'clean green coffee', they use only organic fertilisers and natural forms of power in growing their coffee.

As well as being one of the most ethical coffee shops in Chiang Mai, everything tastes great from classic cappuccinos to honey lattes and the house speciality, fruity flora iced coffee. The interior is comfy and quirky with lots of speciality coffee being equipment dotted around. They also serve brunch and dessert.

Address: Nimmana Haeminda Rd Lane 1, Suthep, Chiang Mai 50200.
Good Morning Cafe & Tropical Inn
In the Old City, this fashionable cafe inside a colonial mansion is full of retro clutter and boasts a large garden area.

The aesthetics are on-point and so is the coffee! You can find better, and cheaper, food so visit for a coffee in unique surroundings before going for lunch elsewhere.

Address: 29/5 Ratchamanka Soi 6, Chiang Mai 50200.
My Secret Cafe in Town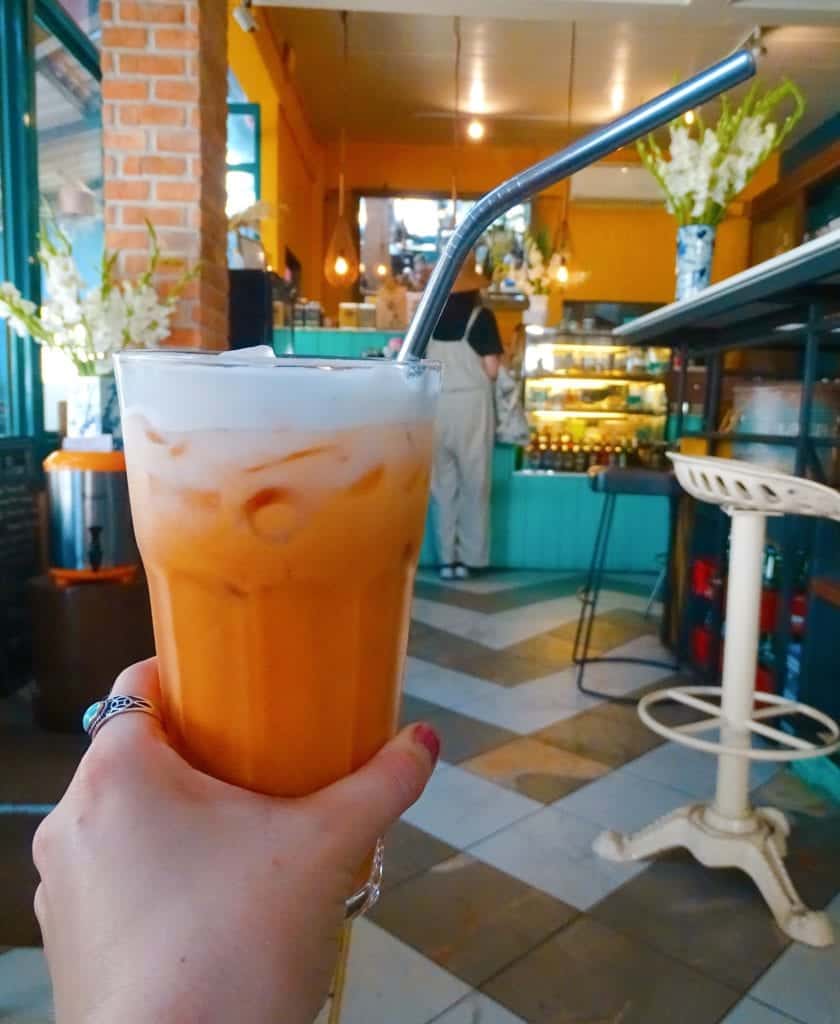 My Secret Cafe in Town is a gorgeous Chiang Mai coffee shop with beautiful decor, a delicious selection of hot and cold drinks, and icy-cold air-conditioning. As the name suggests, it's hidden away from the busy main streets – perfect if you need a little peace and quiet.

Unlike the chilled, hippie-style cafes in Chiang Mai, this spot feels more upmarket. If you want to feel transported to a stylish cafe in London or New York, this cafe will do it. While there's nothing particularly 'Thai' about the interior, they do serve a mean Thai iced tea.

Overall, my Secret Cafe in Town is a lovely spot for Chiang Mai coffee and cake. Don't miss the Oreo brownie or passion fruit cheesecake, even if it means visiting twice.

Address: 175, 12 Rachadamnoen Rd, Tambon Si Phum, Chiang Mai 50200.
Gateway Coffee Roaster
Just outside Tha Phae Gate and surrounded by other cool Chiang Mai eateries, this is a well-known cafe in Chiang Mai with a minimalistic interior and excellent coffee from around the world.

Hidden away upstairs, there's a spacious loft with wooden details ideal for reading or working online.

Gateway roast their own beans next door, making classic coffee drinks as well as more unusual offerings like white coffee infused with orange. For real coffee snobs only!

Address: 50300 Chang Moi Rd Soi 2, Tambon Chang Moi, Chiang Mai 50300.
Akha Ama Coffee
This iconic cafe is no hidden gem: everyone knows Akha Ama serve some of the best coffee in Chiang Mai. Not only this, but they practise sustainability from farming to supporting local livelihoods.

Visually, it's a hipster's dream with coffee merch for sale and plenty of indoor and outdoor seating. It's more of a social cafe so don't come to work.

Head to Akha Ama Coffee (La Fattoria) in the centre of town or the second branch just north of the city walls.

Address: 175 Rachadamnoen Road, Chiang Mai 50200, Thailand.
Nowhere Coffee Brewers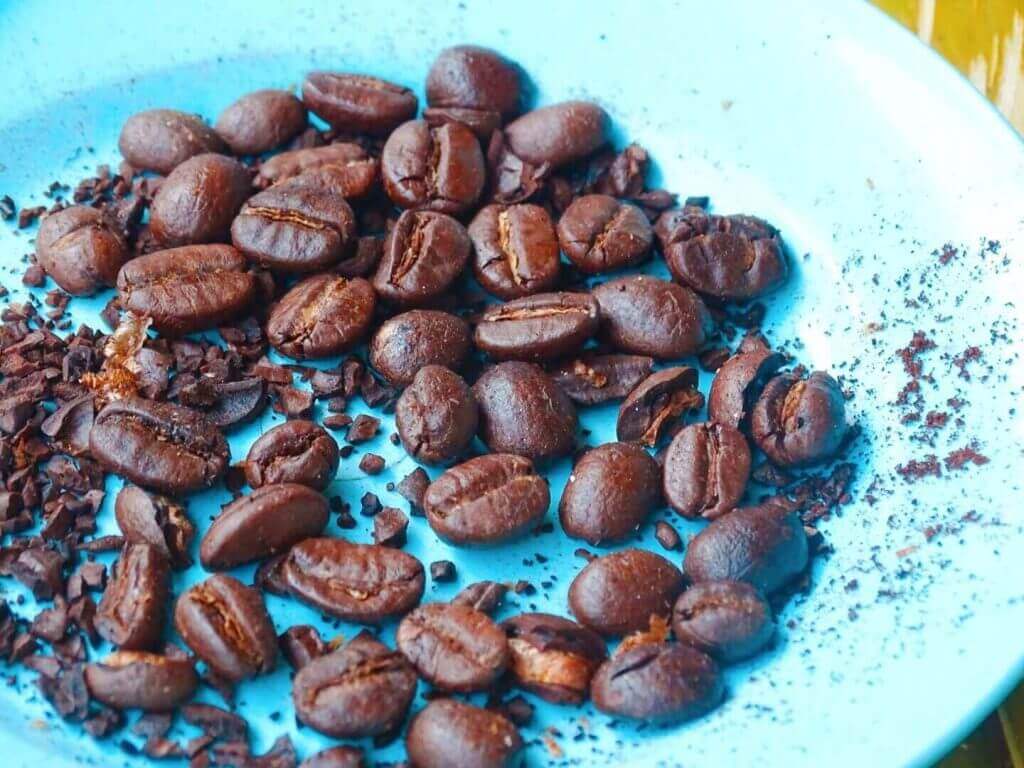 Nowhere Coffee Brewers isn't the fanciest coffee shop in Chiang Mai but I'm a fan. Worlds away from the stylish interior of My Secret Cafe in Town, this relaxed venue will suit those searching for the best Chiang Mai coffee and not too bothered about the surroundings.

Surrounded by a large garden, Nowhere Coffee Brewers roast their own Chiang Mai coffee beans onsite. Place your order at the wooden counter attached to the colourful house (where I believe the owners live) and come back when your hot or iced coffee is served. Sit under a shady awning and admire the casual street art murals topped around.

Despite it being a bit hot outdoors and there not being any adaptors to charge my laptop, I enjoyed the relaxed vibes and friendly staff at this casual coffee shop. They experiment with recipes to serve creative concoctions like iced coffee with coconut shavings on top.

Nowhere Coffee Brewers is open Friday-Monday.

Address: 20 Moon Muang Rd Lane 6, Tambon Si Phum, Chiang Mai 50200.
Thor-Phan Coffee Roaster
Thor-Phan Coffee Roaster is a cosy cafe near Suan Dok Gate known for its strong, aesthetically-pleasing beverages. You can tell they take coffee seriously: not only do the flat whites look the part, but the taste is rich with subtle bitterness.

Ambiance-wise, it's a spacious cafe with exposed brick walls and shelves stacked with coffee beans for sale.

As well as all your standard coffee drinks, they serve cocoa, iced chocolate, matcha, Thai milk tea and refreshing sodas in flavours like watermelon, peach and passionfruit. On a hot, humid day, this is exactly where you need to be!

Address: 109 Intrawarorot Rd, Chiang Mai 50200.
Artisan Cafe
For a stylish place to hang out, get some work done or simply bask in the delightful aircon, Artisan Cafe is one of the most visually impressive cafes around Chiang Mai.

With great food and drink options, this cafe in Haiya Sub-district (south of the Old City) is full of plants quirky light fixtures and indoor murals. Try the cold brew coffee, lemon meringue pie or the brunch dishes like shakshuka and French toast.

Address: 149 153 Wua Lai Rd, Tambon Hai Ya, Chiang Mai 50100.
Tip – from Artisan Cafe, you're just a short walk from Wat Sri Suphan, a lesser-visited temple entirely made from engraved silver. Don't miss it!
Enjoy these Chiang Mai cafes!
I hope you enjoy finding the best coffee in Chiang Mai and exploring this gorgeous city in general.
For more travel content, follow me on Instagram, Facebook, Twitter and YouTube.
Check out my other Thailand blogs:
See you next time for more adventures,
Rose
Ps. liked these coffee shops in Chiang Mai? Pin this for later!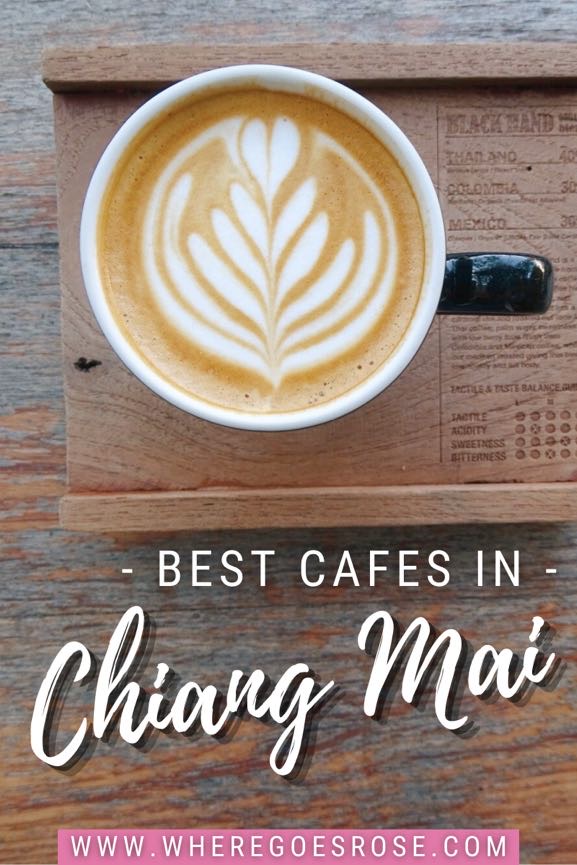 VISITING THAILAND?

These are my trusted resources:

Getting around by air – it's easy to get between cities by flight. I use Skyscanner to find the best-value flights, using the 'search by month' tool to find the cheapest dates. You can also use the 'to anywhere' feature if you're flexible on where you're going.

Buses – buses are comfy and efficient. Use 12Go to book.

Trains – these are a good option for long journeys because you have a bed rather than a seat. Use 12Go to book.

Driving in Thailand – use Rentalcars.com to compare car rentals.

For hotels, I use Booking.com – they also have self-catering apartments. You can filter by review score and price to find the best-rated budget places. For hostels, I use Hostelworld.

Browse tours and activities on GetYourGuide. I also check Viator and Klook in case they have a better price.

For food tours with passionate local chefs and foodies, check out EatWith.

Need travel insurance? I use True Traveller (for UK & Europe residents) since it's affordable but covers everything you'd need including various activities, valuables and pre-existing conditions. Unlike some companies, they insure you if you're already travelling / don't yet have your flight home booked. Get a quote.

For travel insurance for other nationalities, I recommend Hey Mundo and for long-term digital nomad travellers, I suggest Safety Wing.

Check out my resources page for more travel discounts and tips!